The first half of the blog this week consists of my usual slices of life, while the second half is from a beautiful green oasis in the hills north-east of Benidorm called Fonts del Algar. The pictures are presented more or less chronologically.
27_1
My daughter Monica spent week 26 on a school trip, a cruise around the Mediterranean. She came back on Monday afternoon, and in the evening she was showing us her pictures from the trip: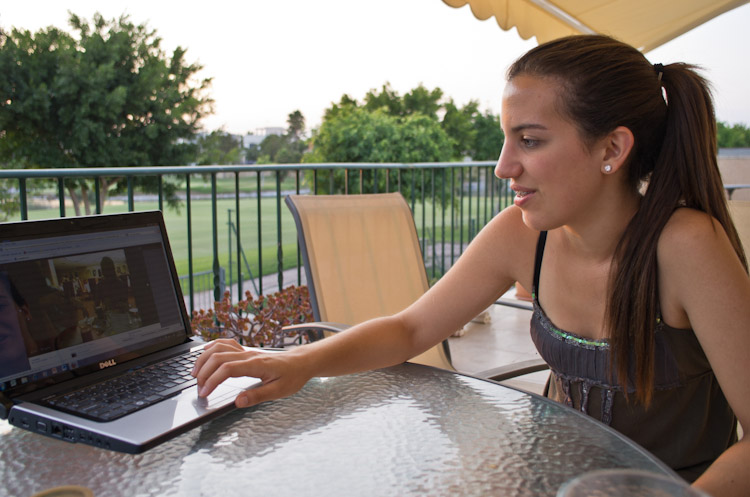 The next several pictures are taken while walking my dog, and during errands in the centre of town.
27_2
Our neighbourhood bakery opens late, around 8 or so, but it also stays open well into the evening. Here, the owner is bringing in the outside tables and chairs at closing time, around 10 pm: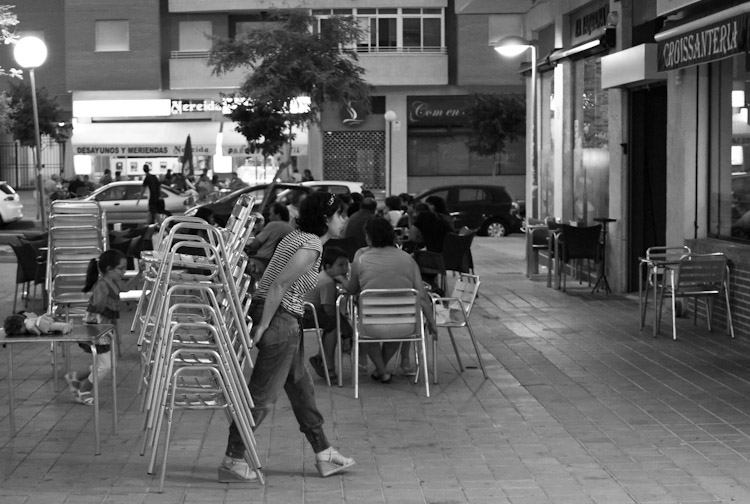 27_3
Her daughter and a friend are helping: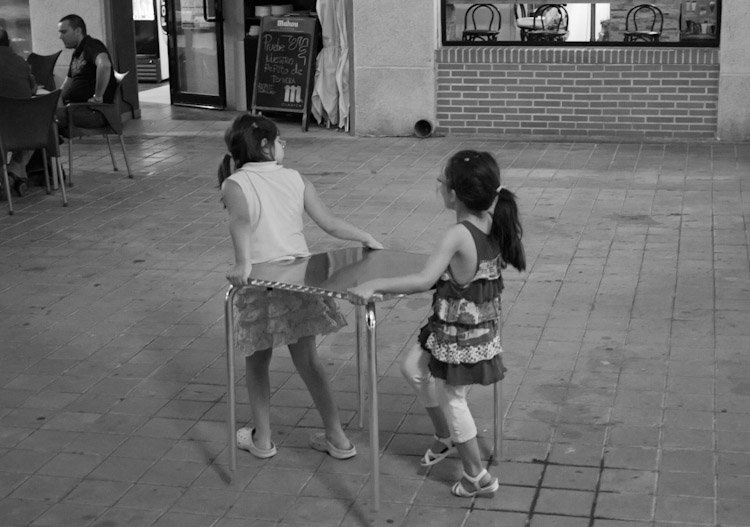 27_4
Since school is out, the little girl spends her mornings at the bakery as well, usually watching cartoons on TV. I don't think she is particularly unhappy being at work with her mother: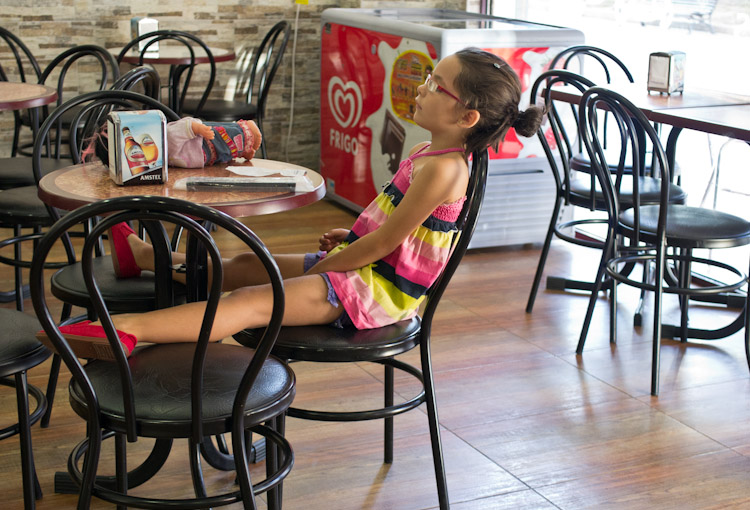 27_5
"She and she", Avenida Vicente Ramos: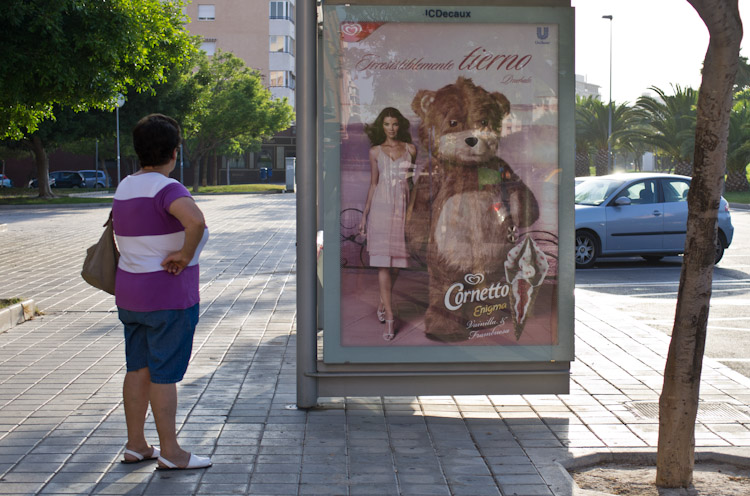 27_6
Jumping, Avenida Vicente Ramos. Spanish children do not go to bed early, and certainly not in the summer, when daytime temperatures are too high to do anything outdoors: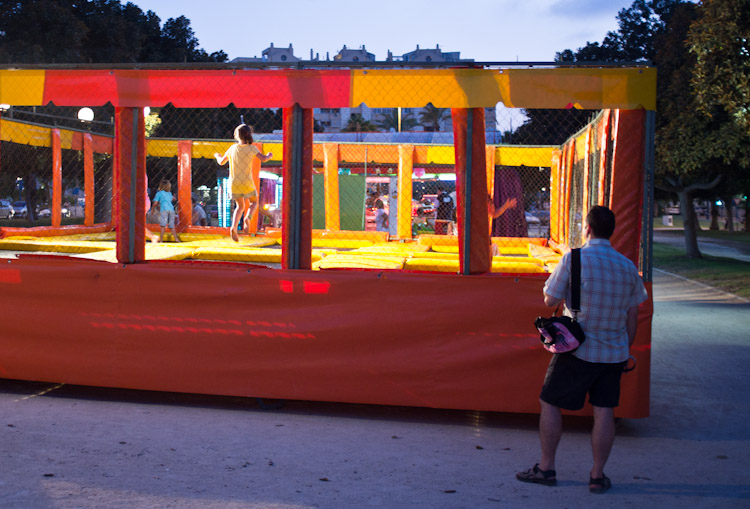 27_7
Back at the bakery, people eating breakfast. The dog was very interested in my Cheeta: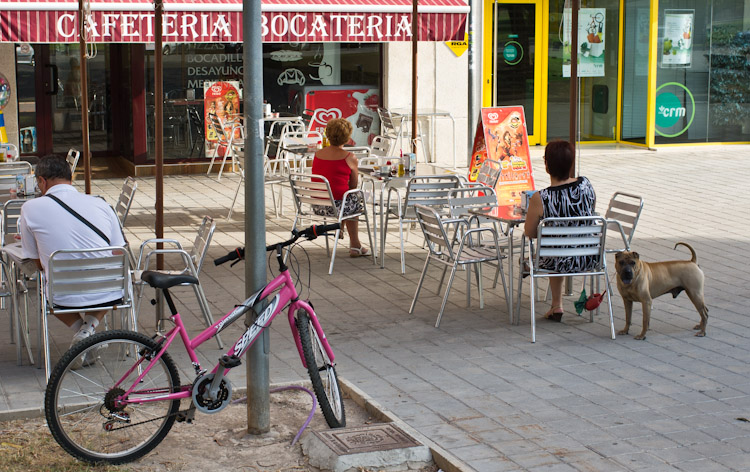 27_8
In the centre of town. I liked the combination of the man's hand and the relief: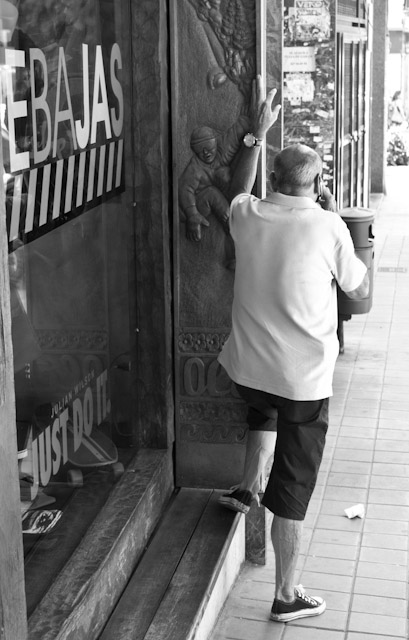 27_9
Man and the machine, centre of Alicante: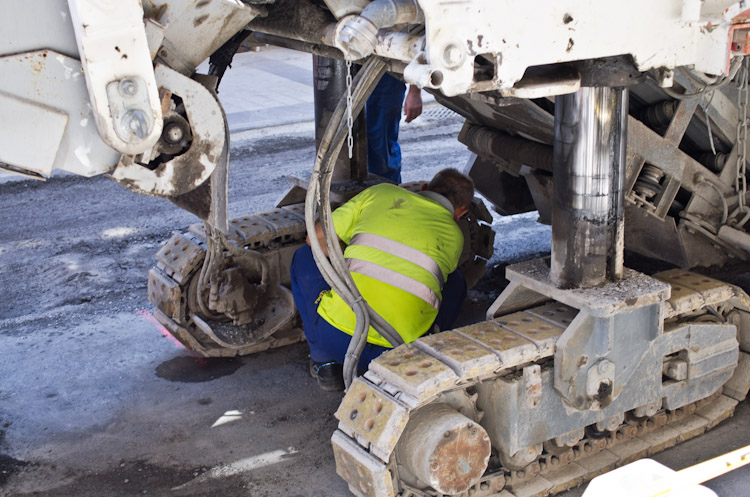 On Thursday evening, our wine club at work held its last monthly tasting before the summer break. Except that this time we tasted beer.
27_10
A beautiful sight: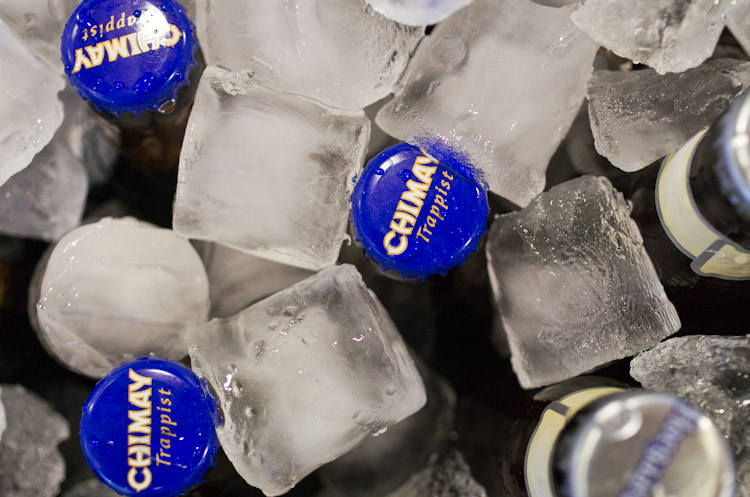 27_11
An even more beautiful sight: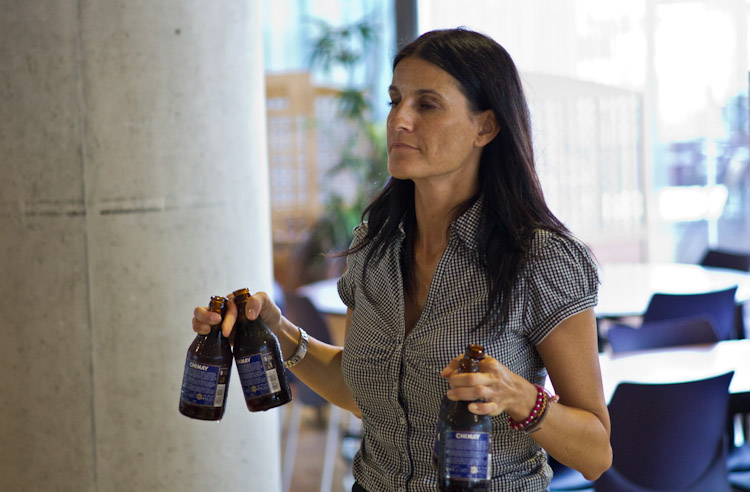 27_12
A light snack following the tasting is part of our protocol: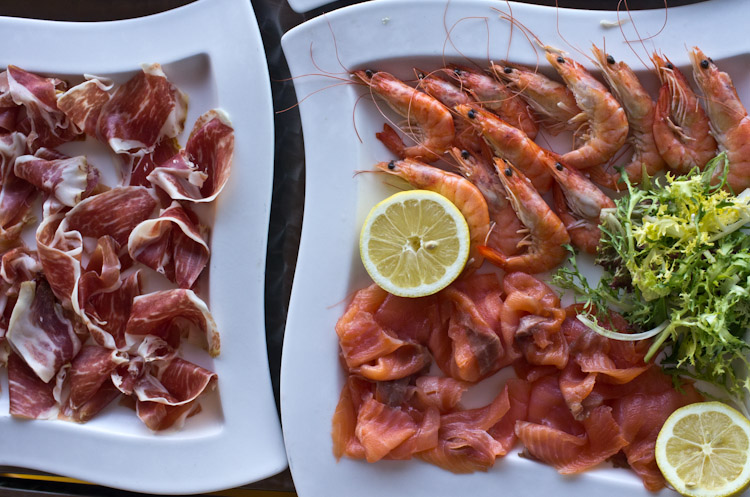 On Saturday afternoon, we went to a place called Fonts del Algar (fonts=fuentes=springs), a bit north-east of Benidorm. Basically, it is a river in a forest, with some small waterfalls. It is popular among the locals, providing a nice contrast to the otherwise arid landscape around here, and a refreshing alternative from the hustle and bustle of the beach.
27_13
We started with lunch at the restaurant at the entrance to the park. The waitress was delightful: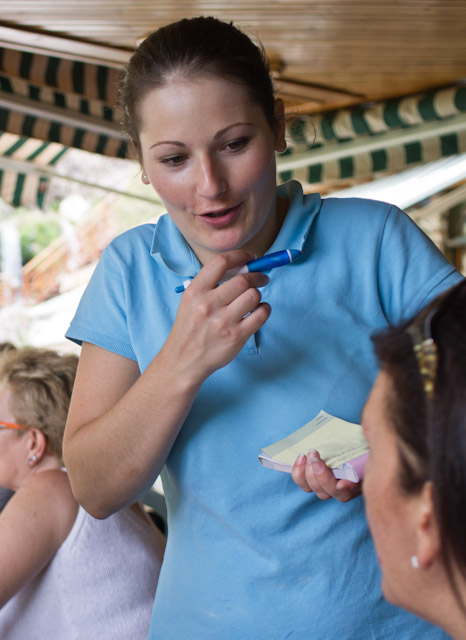 27_14
This is the view from our table at the restaurant: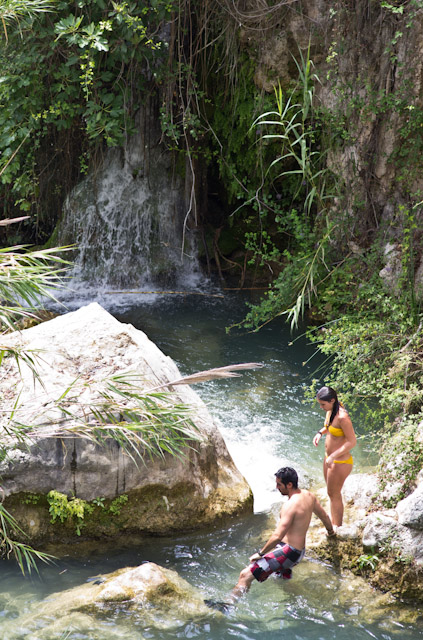 27_15
Father and son: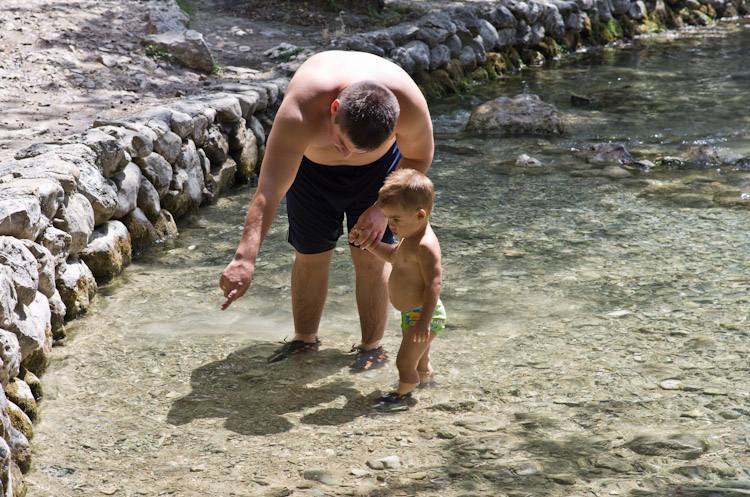 27_16
The overall scene at the river: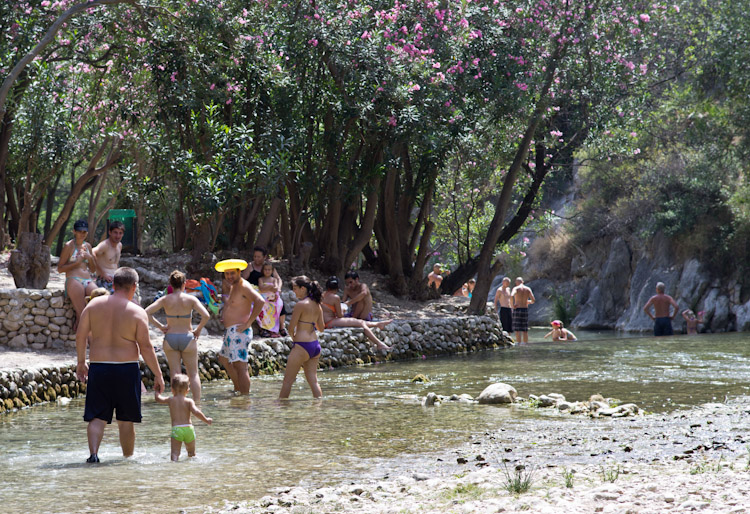 27_17
A rock: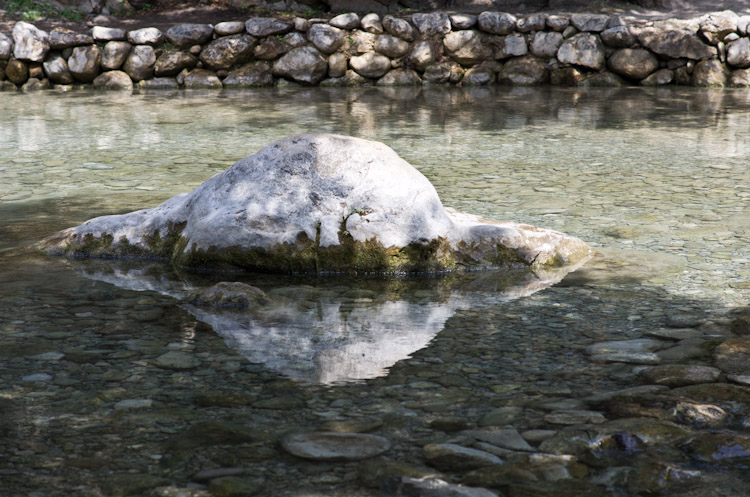 27_18
Not exactly El Capitan, but still nice: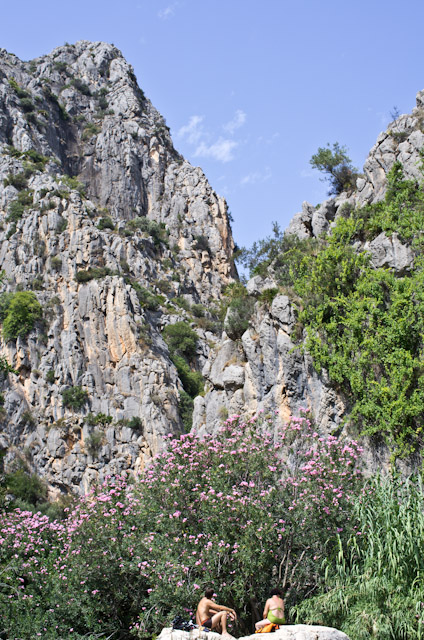 27_19
This kind of lushness is unusual in our part of the Valencia region: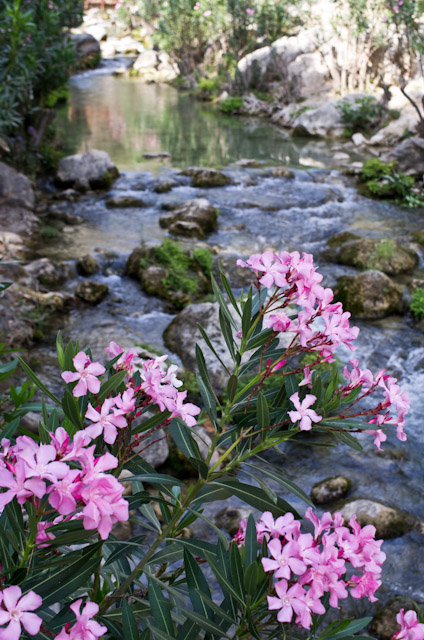 27_20
Towels: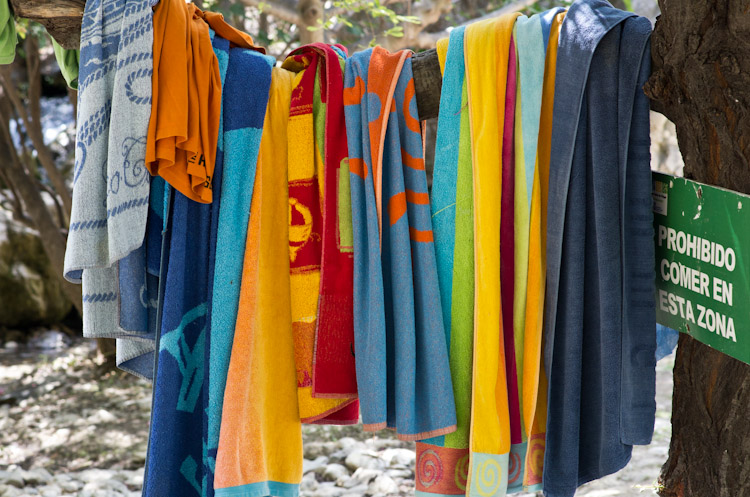 27_21
Siesta: