On Tuesday the 4th I went to the office, my first working day in 2021. That morning, I had some cold-like symptoms, which in normal times one ignores, but these are not normal times. So after work on Tuesday afternoon, I went to have a test. But the queue at the clinic was such that I gave up and drove home. The following day was Three Kings' Day, a public holiday here in Spain, and so on Thursday morning I had the test and sure enough, it came out positive. So instead of going to the office, I went home with instructions to isolate for 10 days etc. Hence, my photos from the second week of 2021 are very much local: either at home, or from solitary walks on the beach, when the chances of infecting others with Covid were nil.
2_1
My daughter also tested positive, but unlike me, she has no symptoms. On Thursday, Friday and Saturday I stayed home, but on Sunday, Monica and I took a walk on the beach, of course staying away from other people and wearing our masks: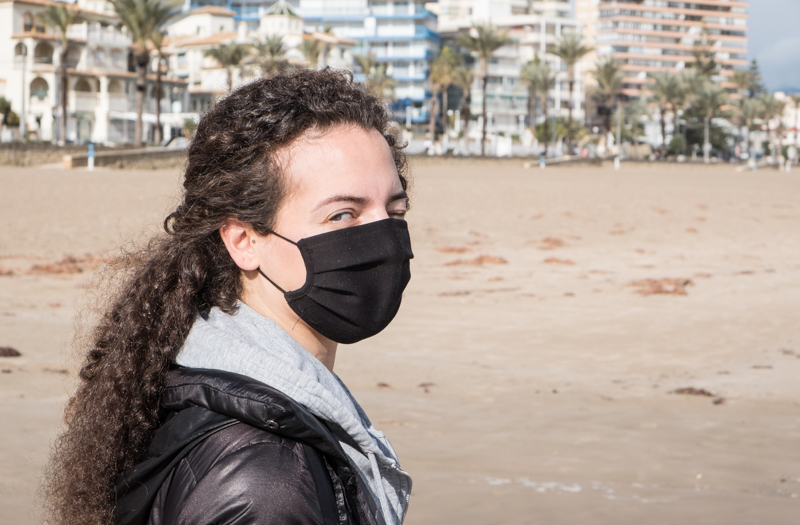 2_2
It was a rather blustery day, with the wind blowing in from the Mediterranean: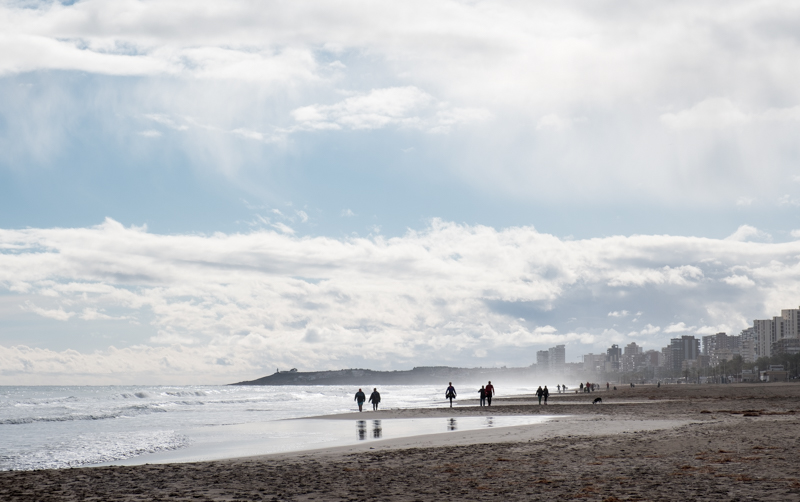 2_3
We had some days with strong winds in the preceding days, and the traces were visible on the beach: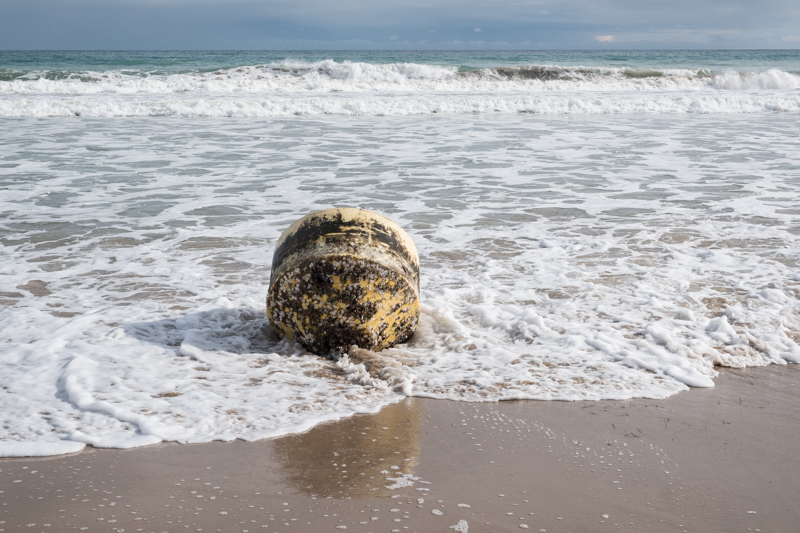 2_4
As usual, I looked for small details: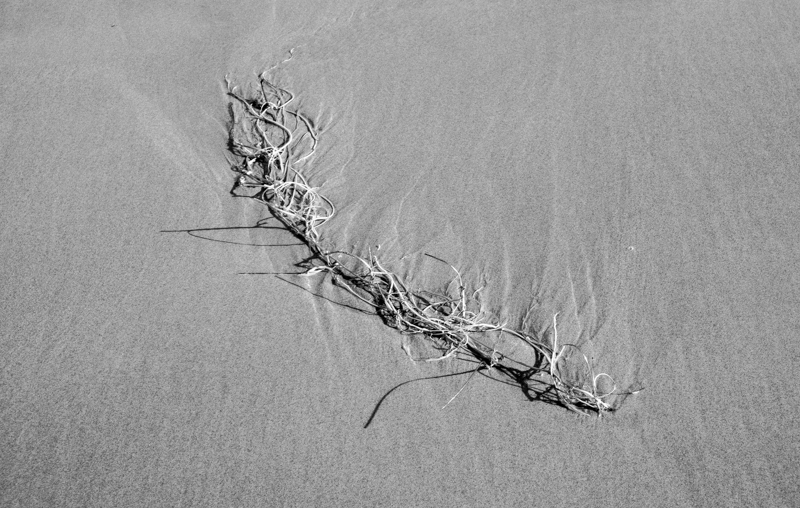 2_5
We happened upon a group of surfers: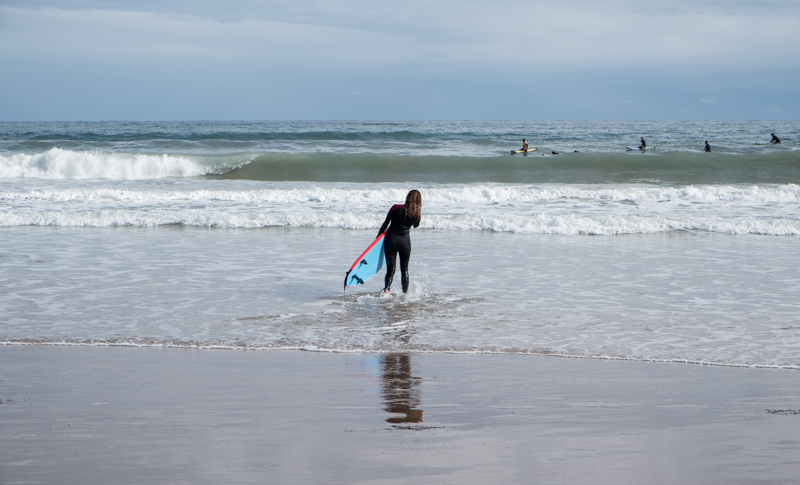 2_6
Monica said they were evidently beginners: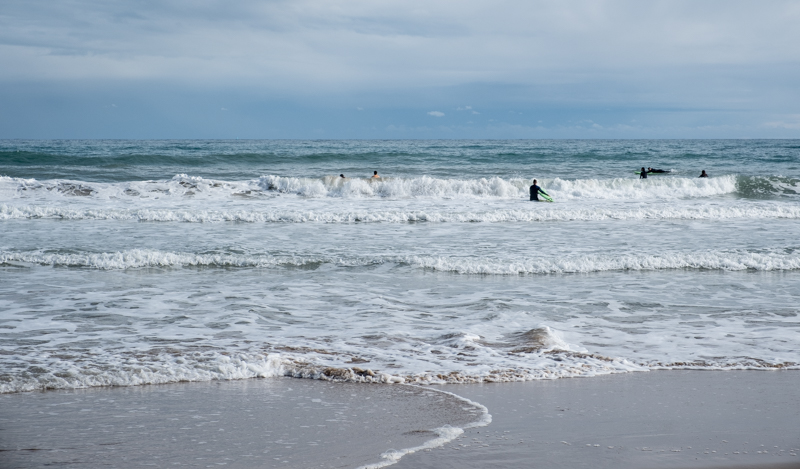 2_7
And based on their rate of success in terms of riding the wave, I could not disagree with that assessment: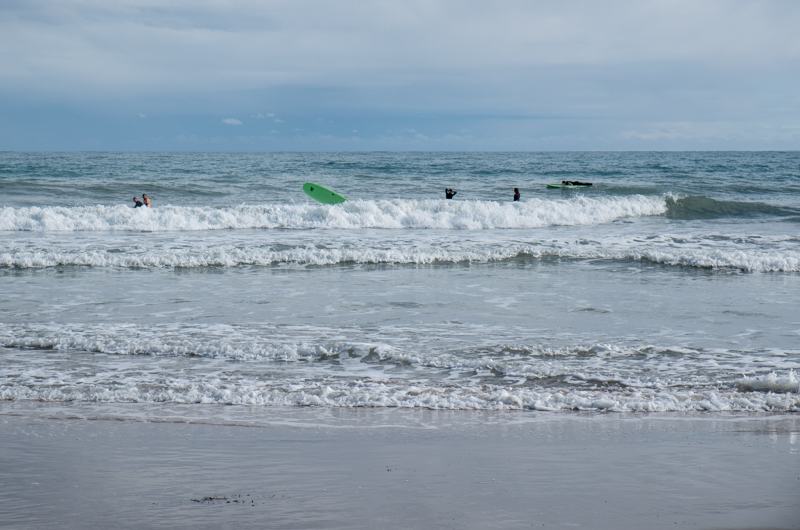 2_8
On Sunday afternoon, my wife decided to make a paella. We usually get together with friends for a long, leisurely lunch on Sundays, but this day it was obviously not possible. Still, Aixa insisted on the proper Sunday food. She started with peppers, garlic and onions: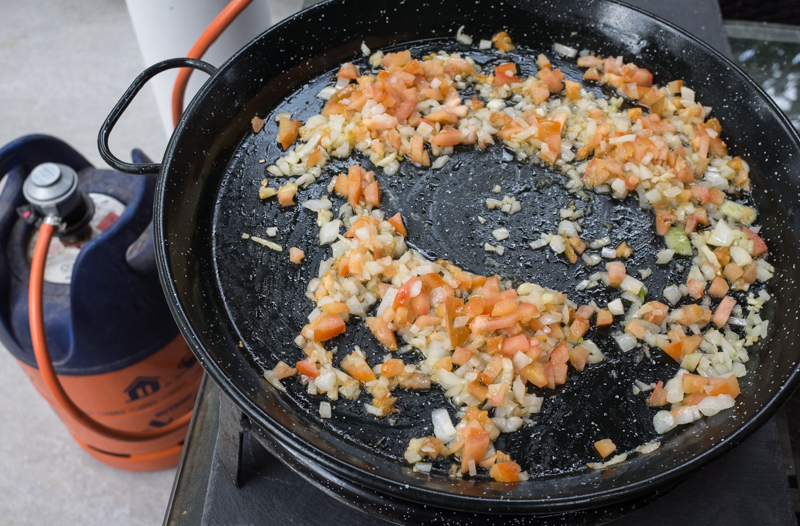 2_9
Then the baby squid and ink are added: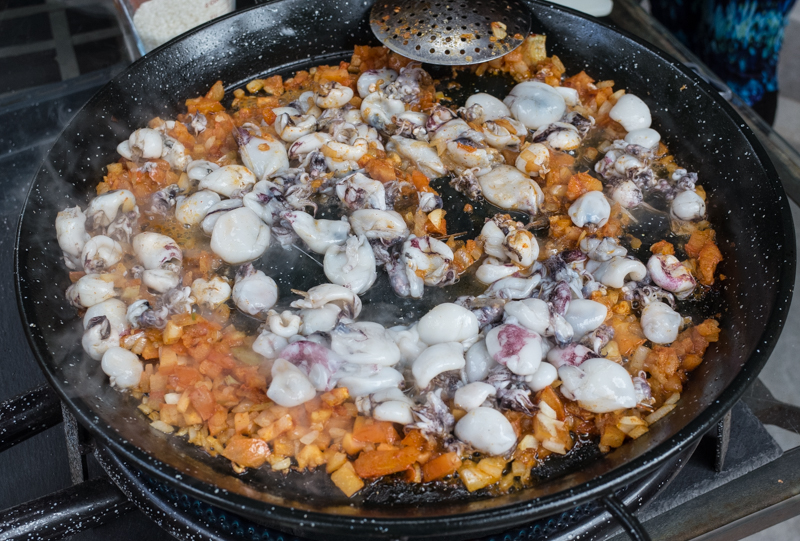 2_10
The key to a good paella is the rice: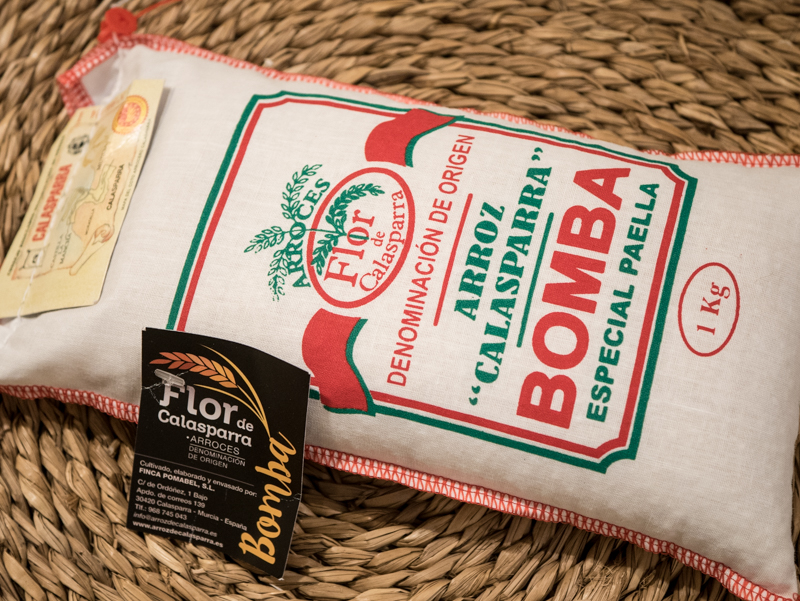 2_11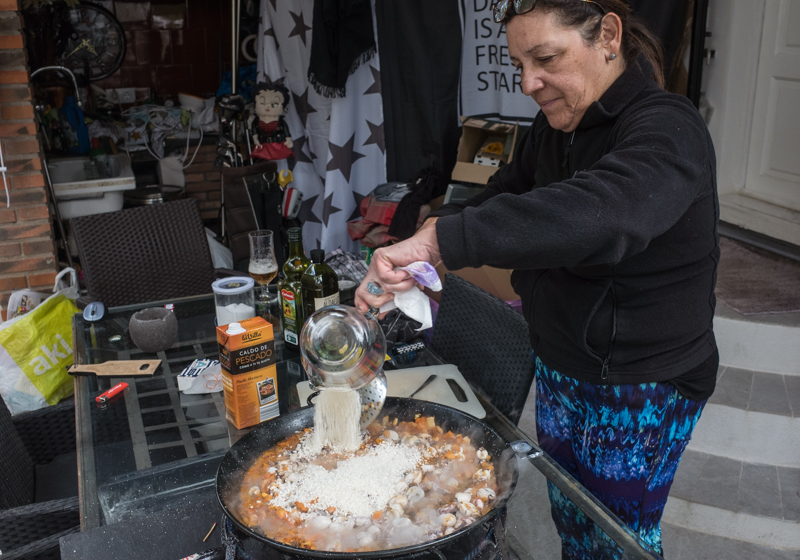 2_12
Ready to serve: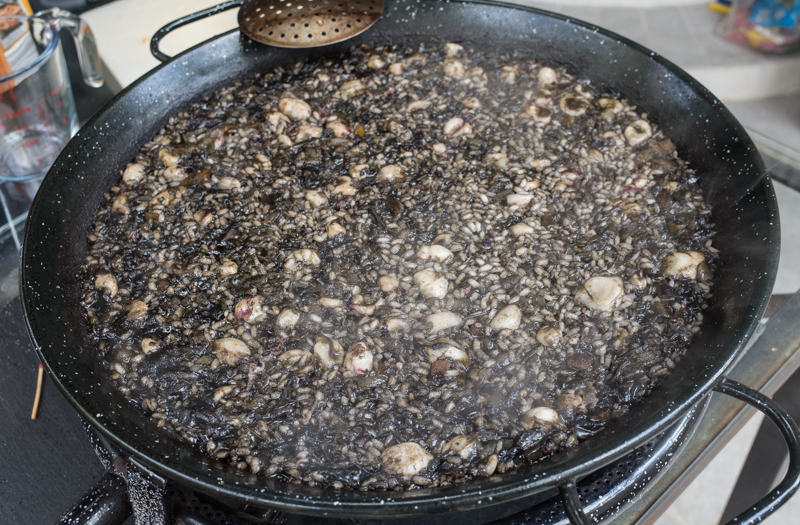 2_13
Before we sat down to eat, I enjoyed the sight of our lemon tree, yielding well this winter: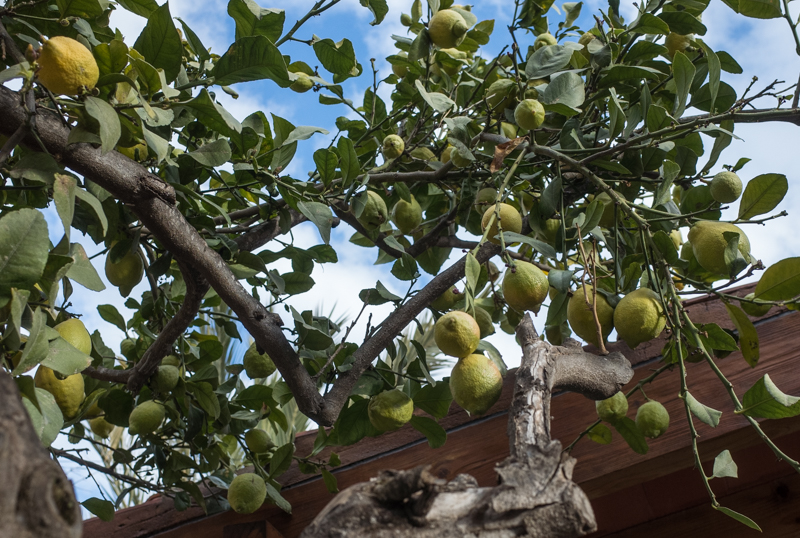 2_14
On Tuesday I took a brief walk near the harbour of El Campello. It was a sunny afternoon, and the pétanque players were at it: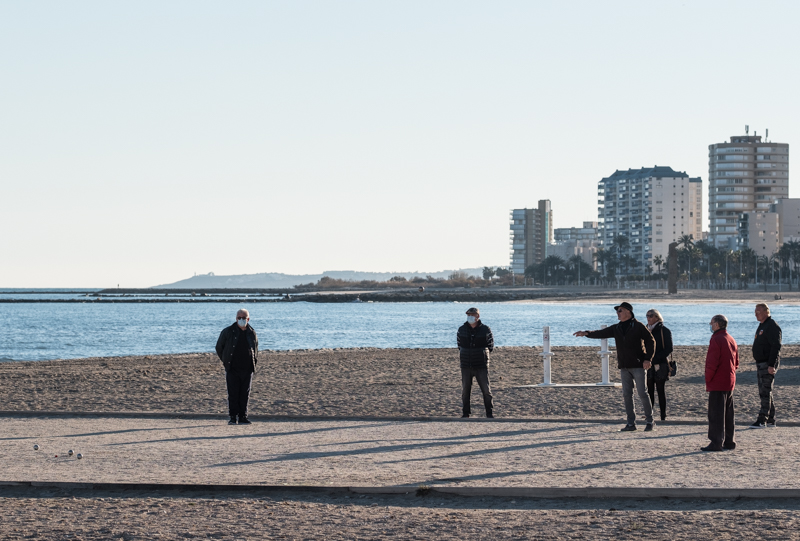 2_15
These two ladies had front-row seats, but they did not seem too interested in the pétanque action:

2_16
Same story on Wednesday; my only escape from the home office (which also doubles as my bedroom since my wife tested negative) was a walk on our beach: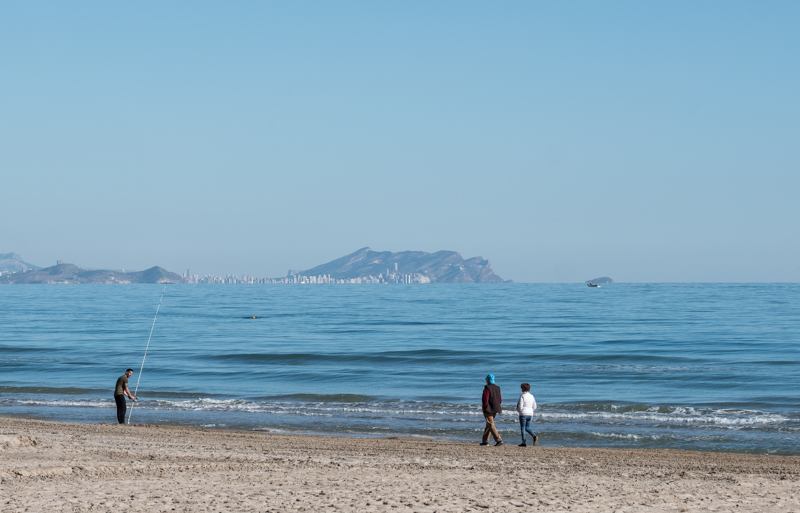 2_17
Runner I: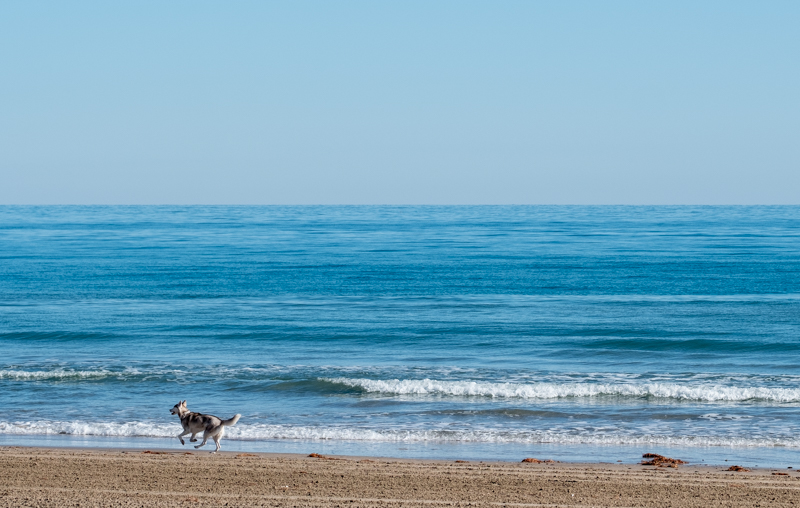 2_18
Runner II (it is still cold in the mountains, so the weekend's snow is still there on top of Sierra de Aitana, starting at around 1300 meters altitude):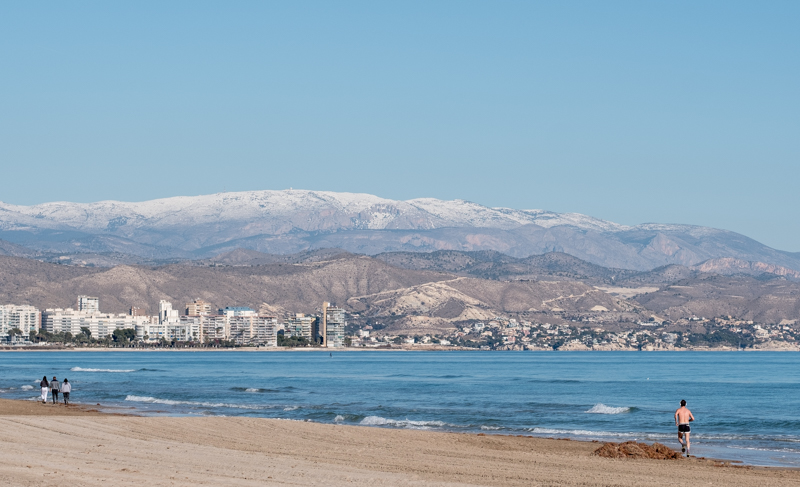 2_19
That evening, my wife's choir held an online practice. This is much more difficult than holding a meeting on Zoom, but given the danger of gathering singers in an enclosed space, this is the only way they can practice right now: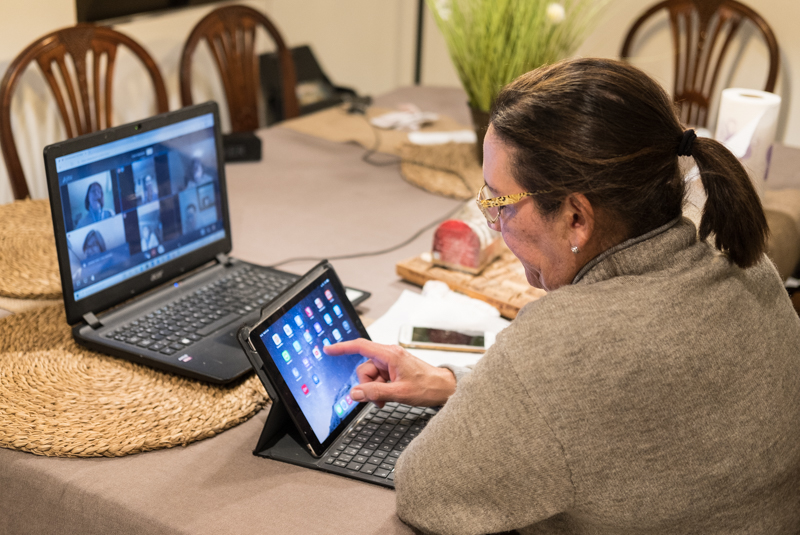 2_20
Friday morning, more of the same. I walked down to the beach to enjoy the morning light: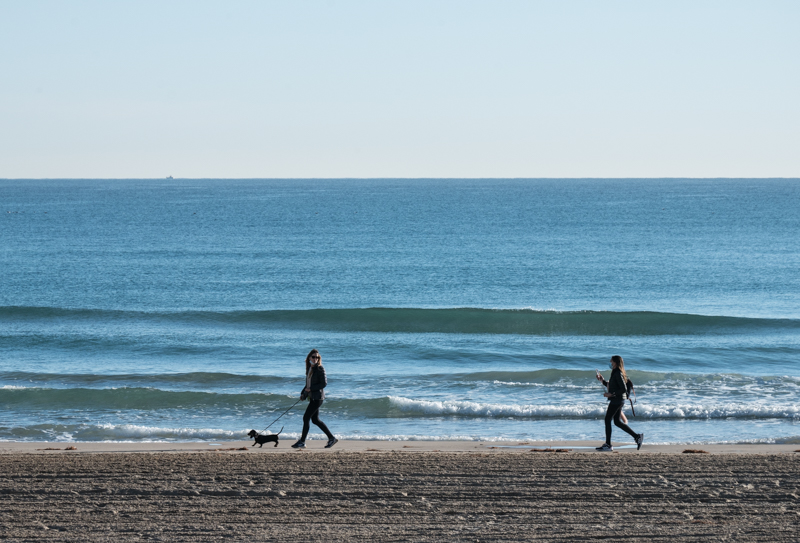 2_21
A restaurant on the promenade, ready for the day with the socially distanced tables. They are very optimistic, chances are that less than half will be occupied at any given time: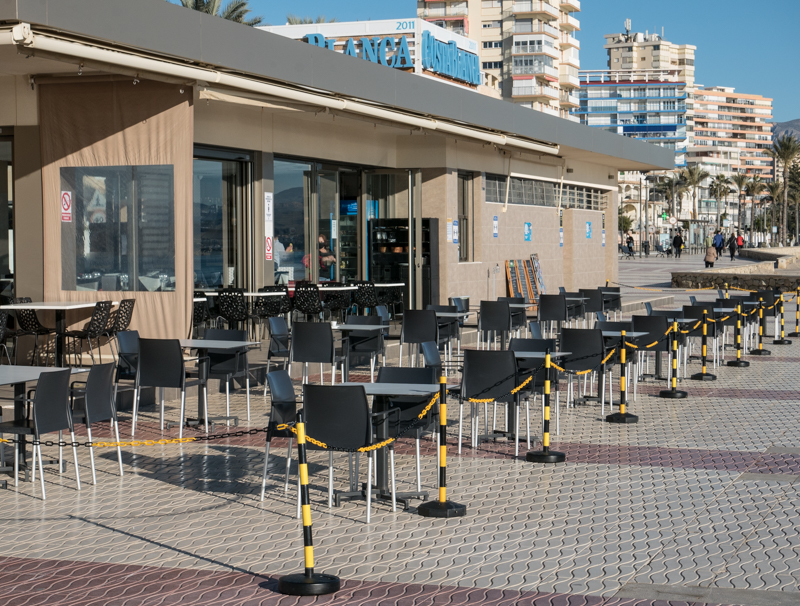 2_22
A closed restaurant, with a god praying for better times, perhaps: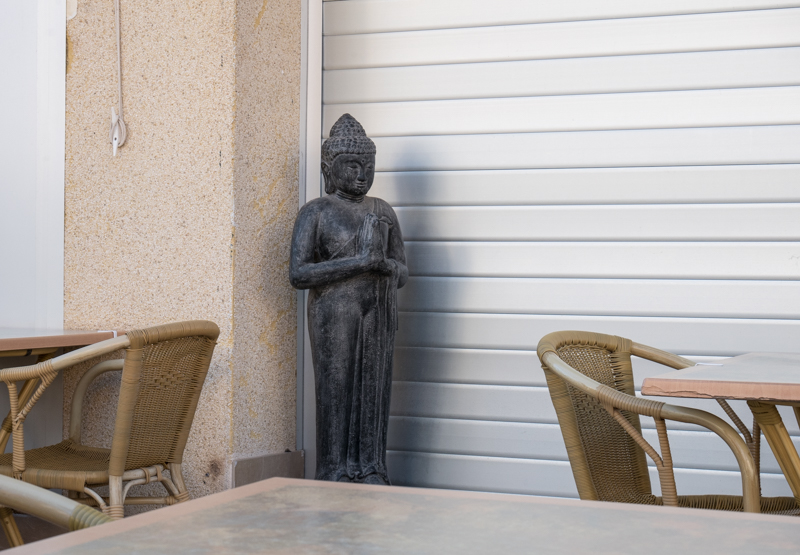 2_23
In the afternoon, Monica and I walked down to the beach again, to look at the sunset. On the way, we met this cute dog on a balcony: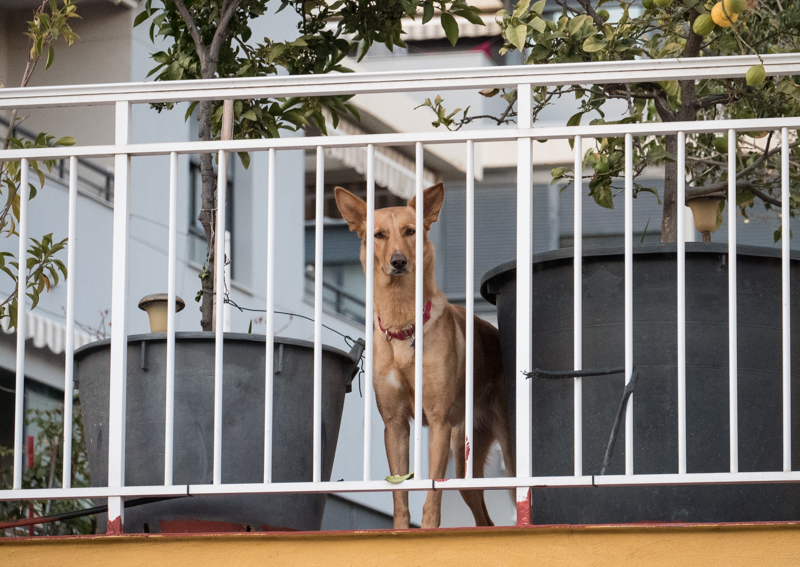 2_24
The snow-capped Sierra de Aitana looked almost pink: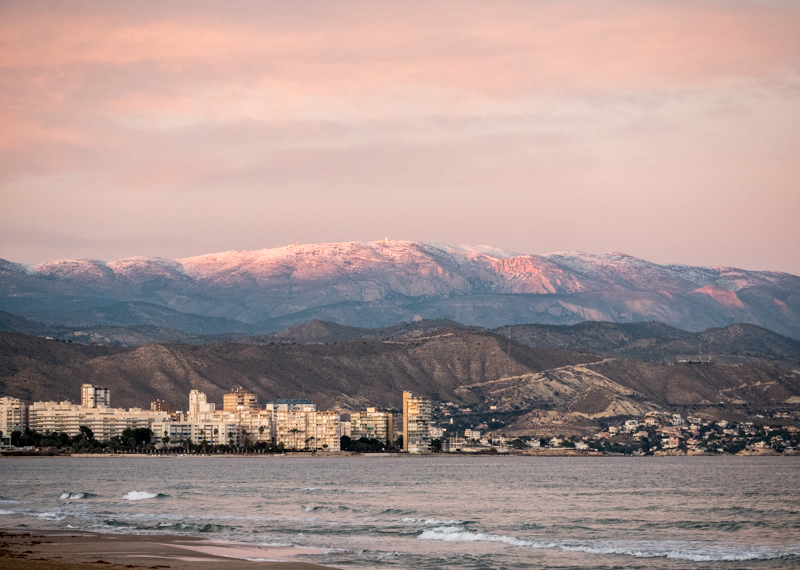 2_25
Looking south towards Alicante and Cabo de las Huertas with the lighthouse: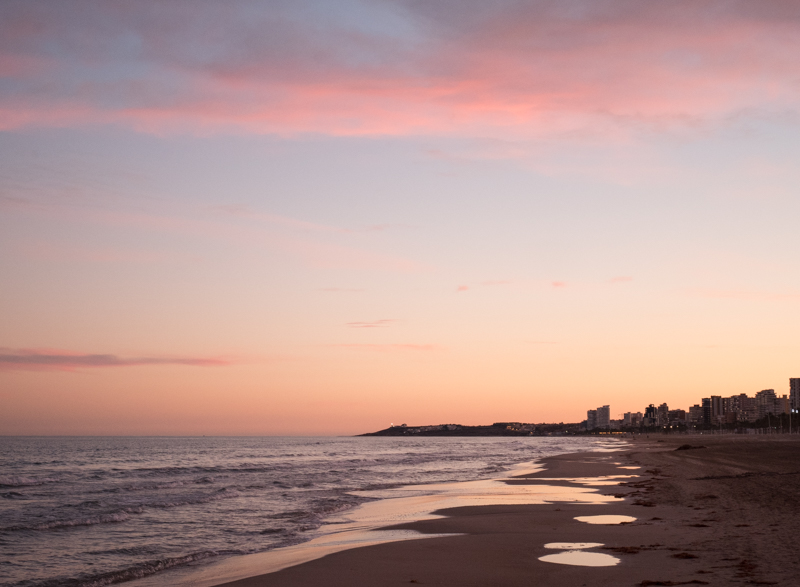 2_26
We have a habit of getting pizza on Friday night. Our local pizzeria, like all restaurants, operates under strict restrictions, among which is no seated dining after 5 p.m. So while the tables are still there, they are just decorations. All the business is take-away (until they close around 9:30 p.m., to allow the employees to get home before the nightly curfew begins at 10):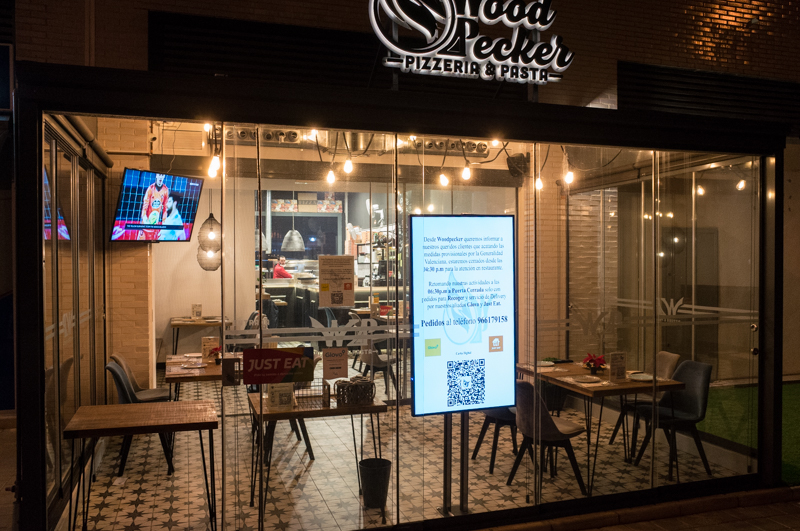 2_27
Having previously called in my order, I paid (with a card, no cash) and the pizzas were delivered to me like this: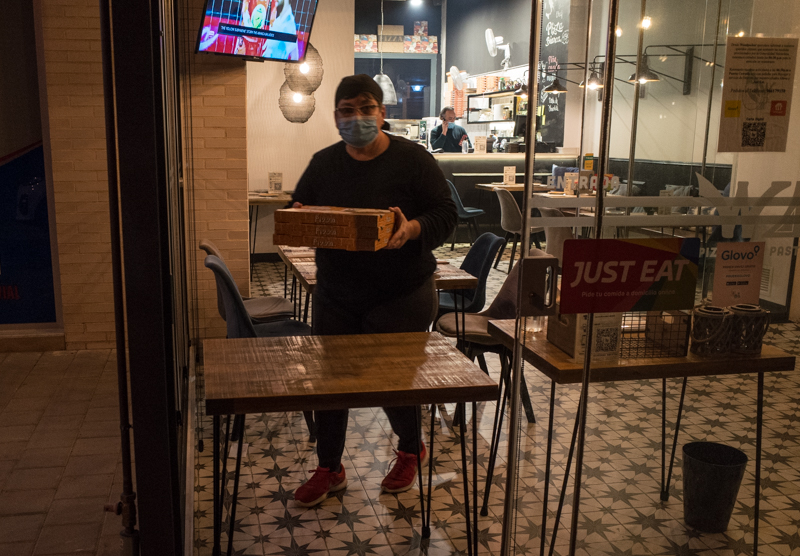 2_28
Saturday was a big day. I had not been on a bicycle for 12 days, following doctor's order to avoid physical exertion while recovering from the Covid. But as of the weekend, I was permitted to re-start my favourite sporting activity, and my first ride was to the usual destination of Aigües. Much to my consternation, the square in front of the church was empty, and the seating places were all cordoned off: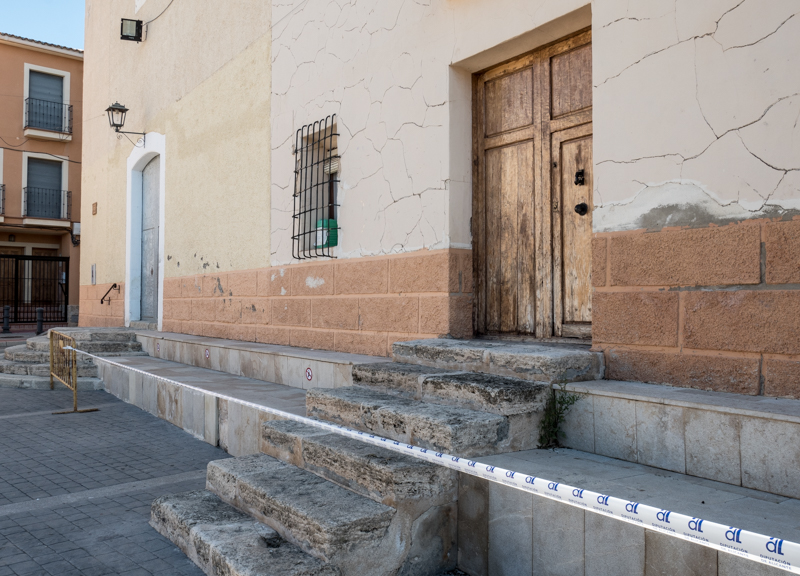 2_29
Clearly, the municipality does not want people congregating in the square, as they usually do. The lady in the small store where I bought my usual Coke told me that there had been a few cases in the town, so a decision was made to close spaces where people tend to gather: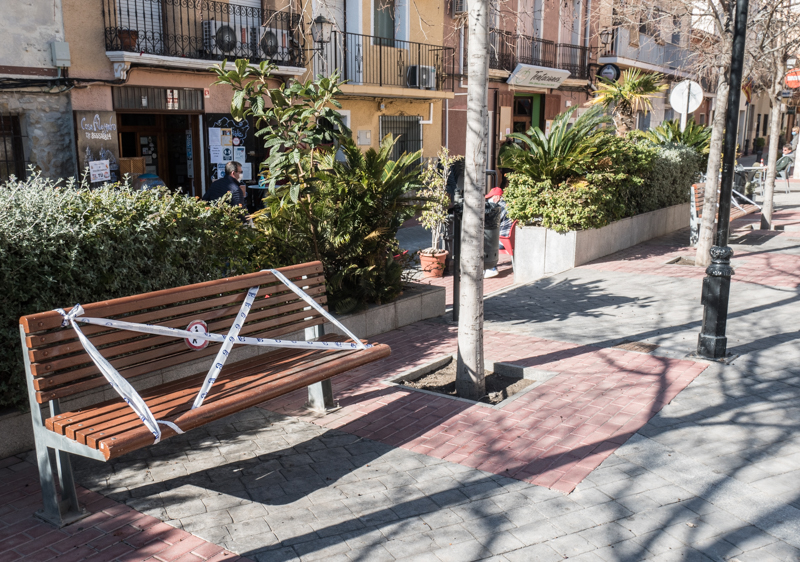 2_30
In the evening I went to the supermarket, and found large chunks of the parking lot closed as well. This particular supermarket is one to which people always drive, so reducing the number of parking spaces is an effective way to reduce the number of customers inside the store: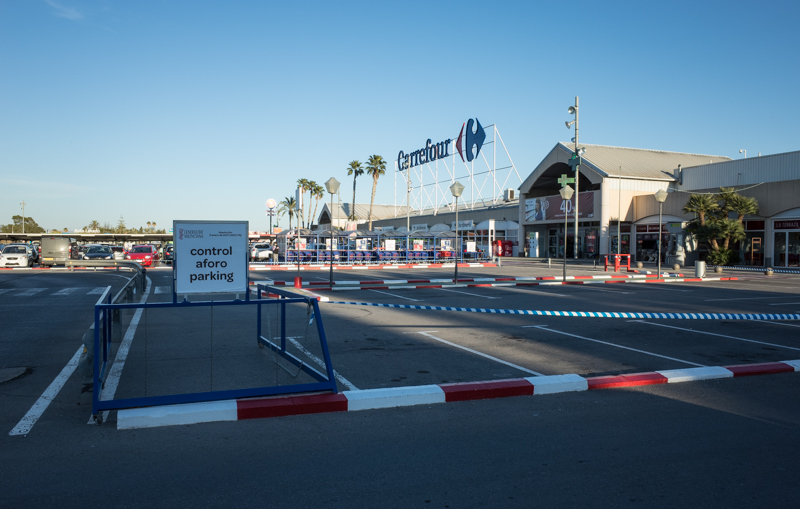 So, as is evident, we are very much in the third wave of the epidemic here. As I write this, my own recovery from the virus is virtually complete, but the overall numbers in our area are bad and getting worse, and in fact some of the activities depicted in the blog above are no longer allowed–no pétanque or other group sports, all restaurants and bars are closed (except for take-away), and it is likely that in the coming days, the nightly curfew will start already at 8 p.m. But at least my cycling will continue to be permitted, and I will be able to go to work and shop for essentials like food and beer, so we are not confined by any means.