In the early part of the week I had another one-night trip to Brussels. I had an all-day meeting at the European Commission on Monday, so I flew to Brussels Sunday morning so as to have a free day there. And the weather more than cooperated, it turned out to be a beautiful spring day. After I came back to Alicante, it was back to the office for a couple of days, but then Thursday was my wife's birthday and her wish was to go skiing for a couple of days. So the last part of this week's blog is from Sierra Nevada, a ski resort in Andalucía, about 400 km SW from Alicante.
13_1
I landed at Brussels airport around noon on Sunday, and discovered to my annoyance that the direct train to Schuman only ran once an hour on weekends and I had just missed one. So I took another train to the North Station instead, and then travelled to Schuman by metro. While changing at the Gare du Nord, I looked up at the urban fauna inside the station: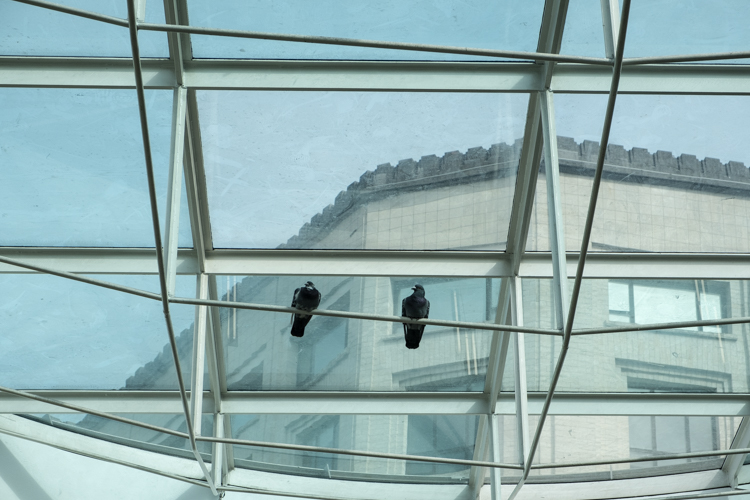 13_2
A short while later, I emerged from the metro at Schuman, to see the familiar impressive sight greeting me on the escalator: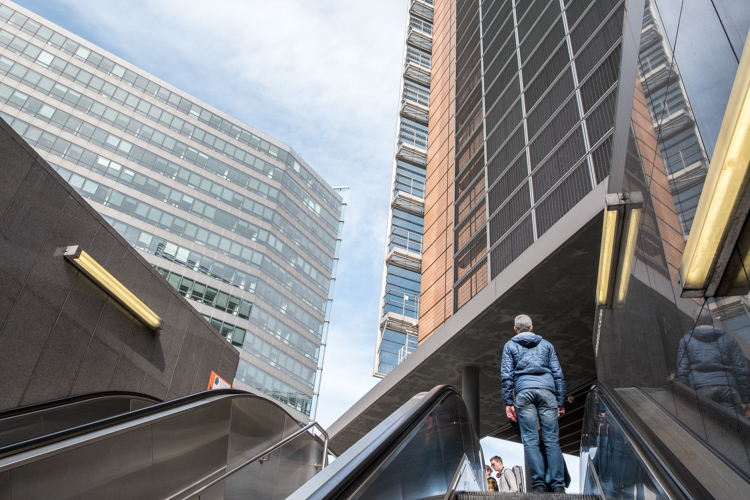 13_3
And another familiar (and most welcome) sight, my usual watering hole in the EU quarter: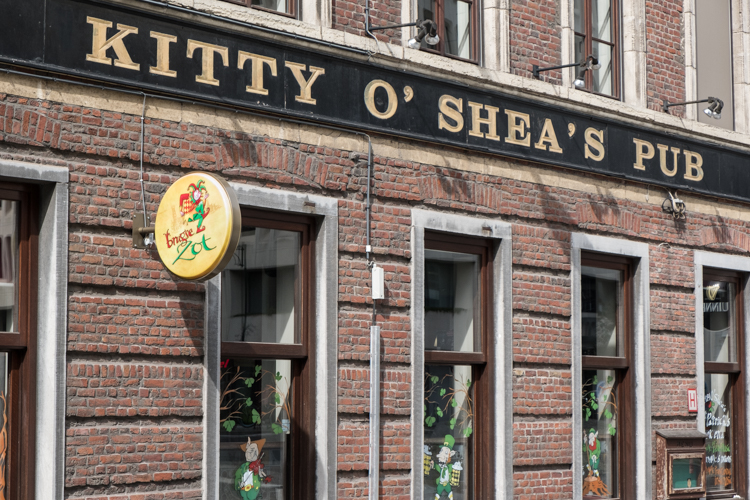 13_4
Following the usual routine of checking in at the hotel and hanging my suit for Monday in the closet, I ventured out to enjoy the city. Already while waiting in the metro station, I found the first image. I never found out what was the occasion: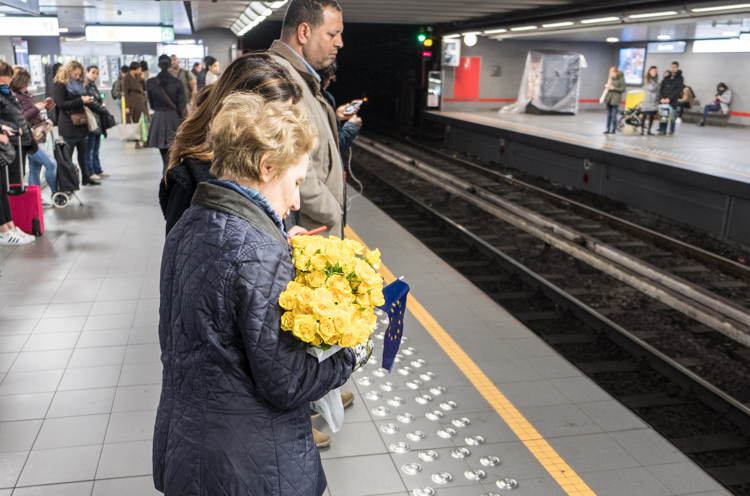 13_5
The first item on my itinerary was the Sunday market at Place du Jeu de Balle, a Brussels institution for many decades. To get there, I took the metro to the Porte de Hal station and walked along the Rue du Midi. Spring was clearly on: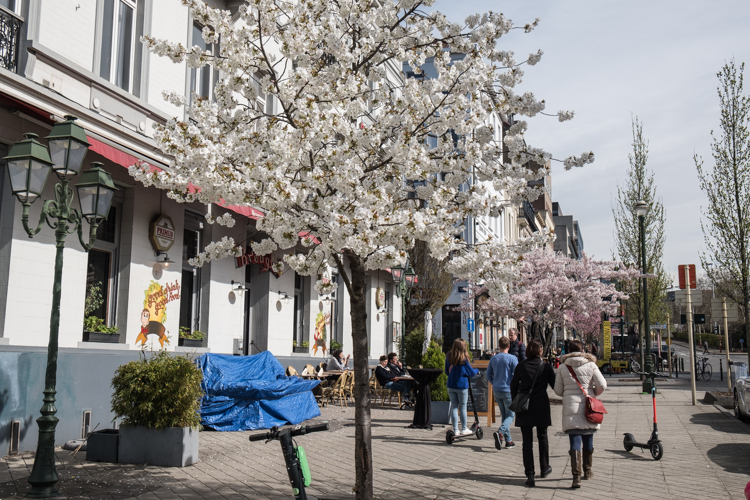 13_6
How do you prevent people from urinating in public? As we saw last week, in Paris one is threatened by fines; in Brussels, the problem is handled by providing public pissoirs, like this one on Rue du Midi: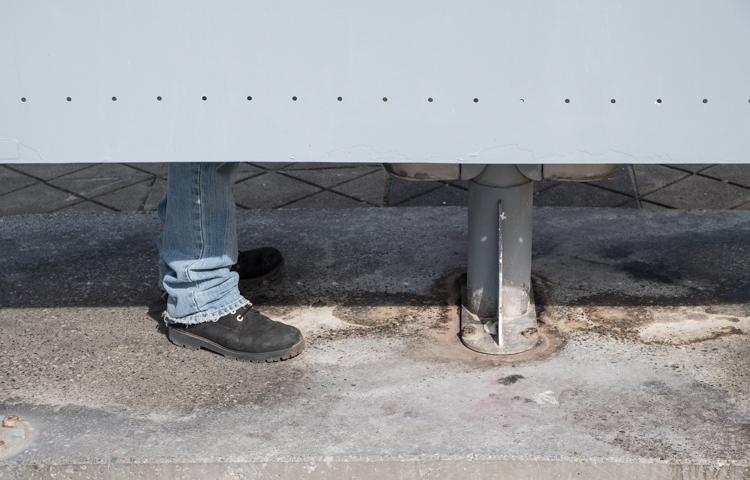 13_7
The neighbourhood through which I was walking is called Marolles. It is a multi-cultural, multi-ethnic part of Brussels, the kind of place where within 100 m you can find a halal butcher, a gay bar, and a Polish grocery store: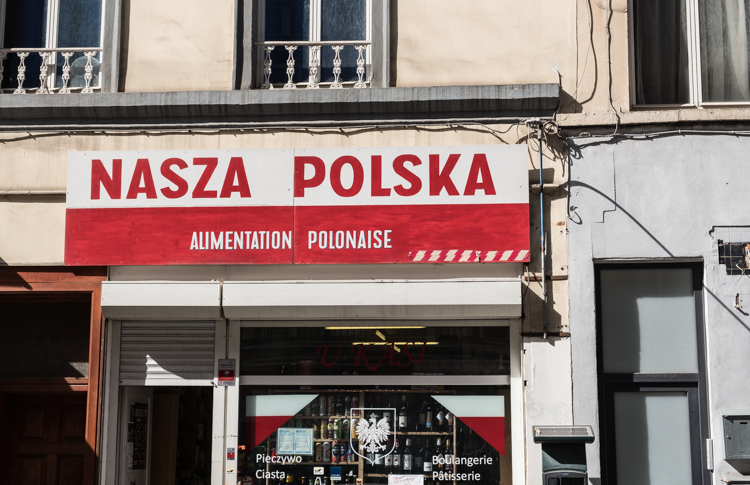 13_8
After visiting the market on Place Jeu de Balle (a separate gallery is here), I walked along Rue Blaes towards the art museum Bozar where I was going to see a couple of exhibitions. The part of Rue Blaes between Place Jeu de Balle and the heart of Brussels (the Grand' Place area) has many art galleries and shops: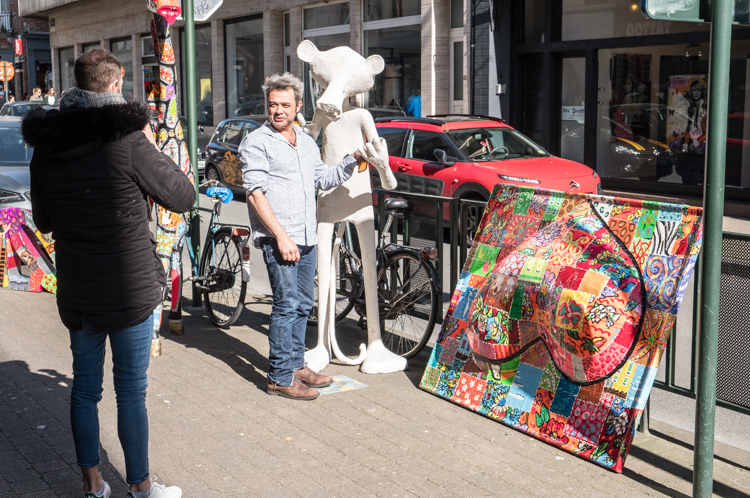 13_9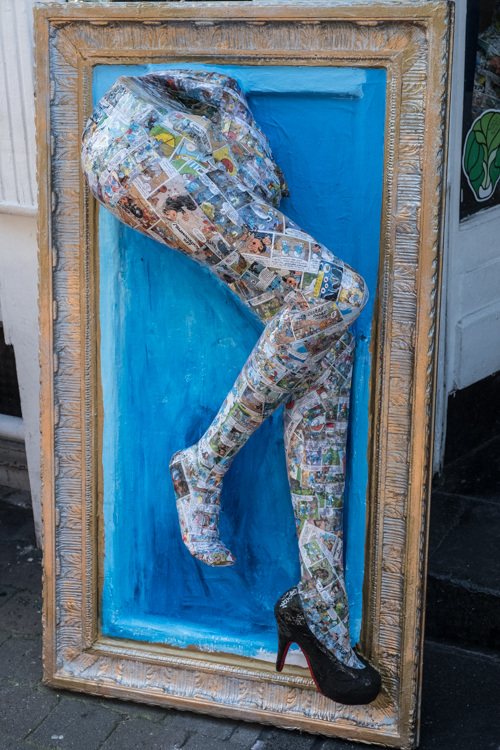 13_10
I arrived at the Mont des Arts, a part of the centre where several art museums are located. Young people were enjoying the spring sunshine:

13_11
Bozar is one of the main art museums of Brussels (the name is a phonetic play on the French beaux arts, "fine art"). In the impressive lobby, there were several stands in celebration of the Iranian and Central Asian New Year, Nowruz: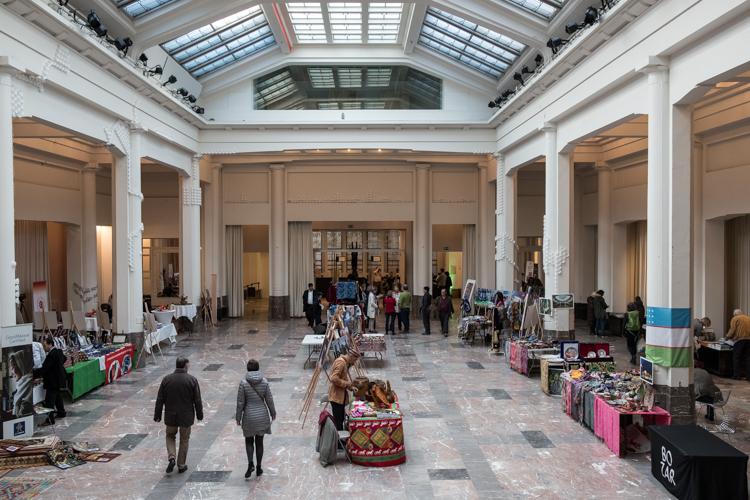 13_12
But I was there to see a couple of exhibitions related to the 450th anniversary of Breughel's death. The occasion is being used to stage a number of exhibitions and events around Belgium, including some, like those at Bozar, that aim to put the Flemish masters in context. This is a tapestry by Bernard van Orley, more than 500 years old. One thing I learned at this exhibition that tapestry was valued higher than painting in those days because it was more technically challenging and more expensive to produce, thus showing off the status of the owner: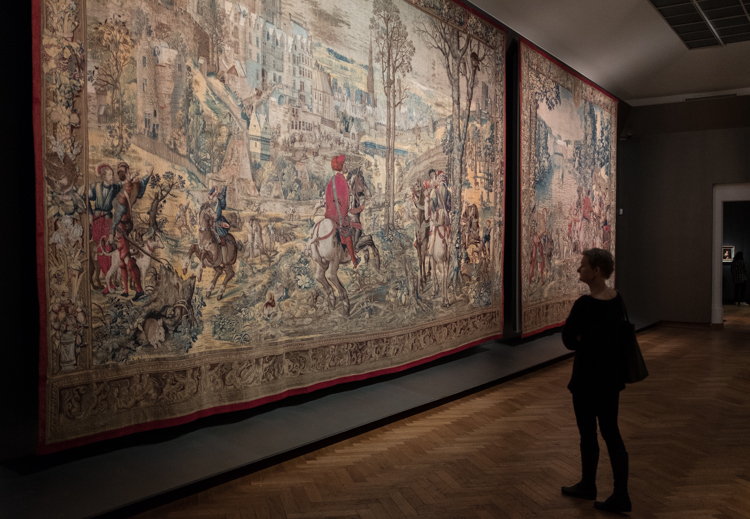 13_13
Witty bar, near Grand' Place: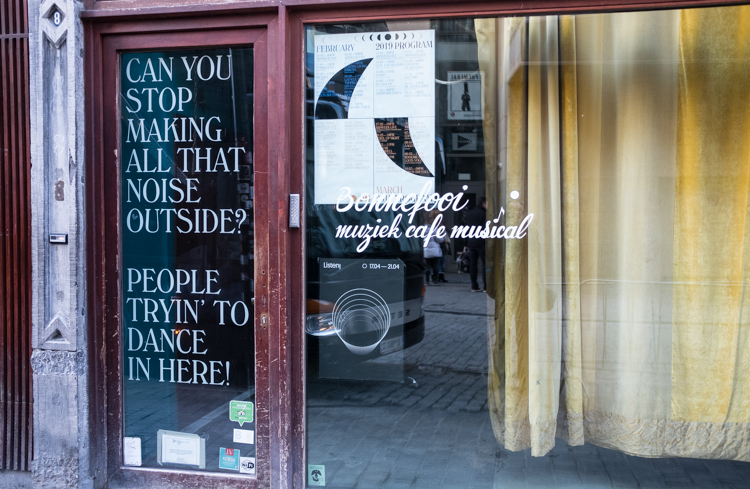 13_14
I skipped Grand' Place this time and walked down to Boulevard Anspach, a major thoroughfare that has recently been made pedestrian. It was full of people on this nice Sunday afternoon, including a very impressive dancer: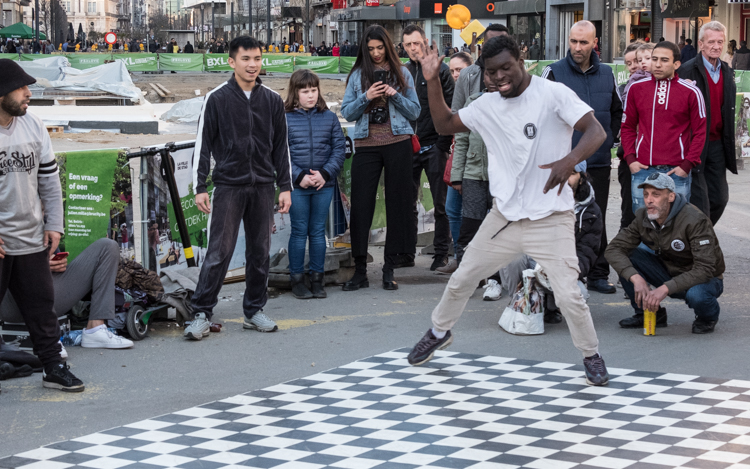 13_15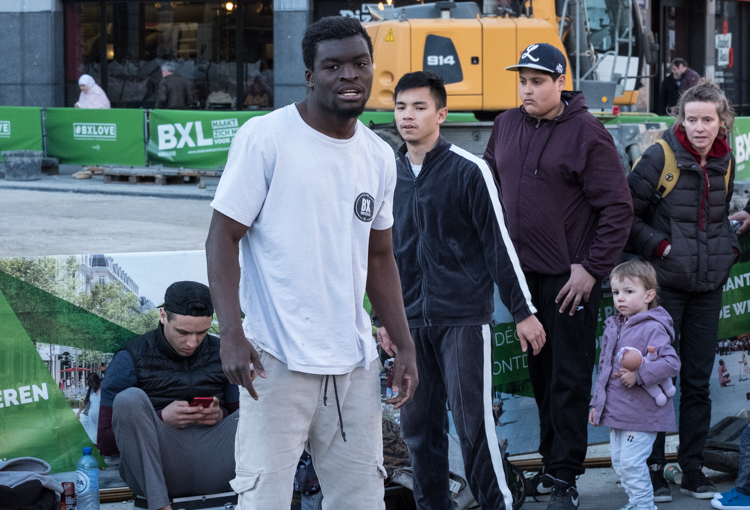 13_16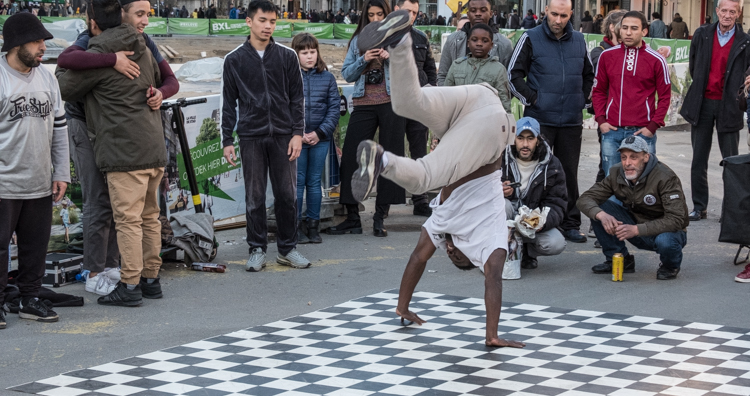 13_17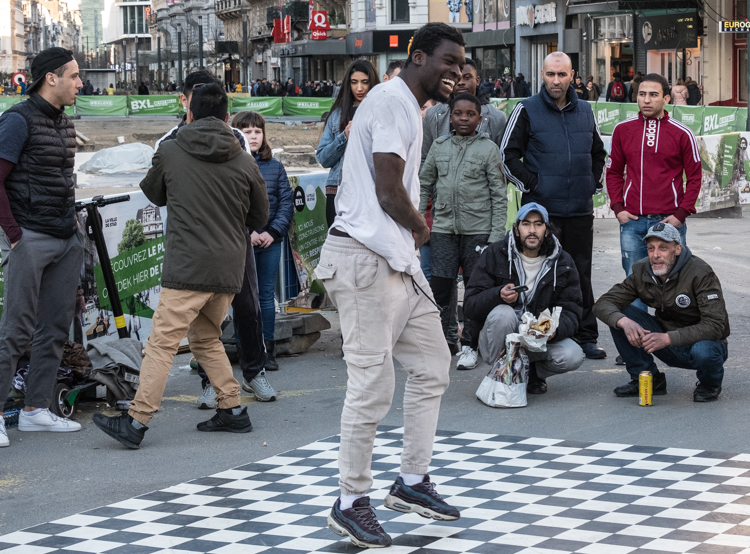 13_18
I had arranged to meet some friends at Halles St-Géry, an arts-and-bars space off Boulevard Anspach. I arrived a bit early, so I sat down for some badly needed nourishment: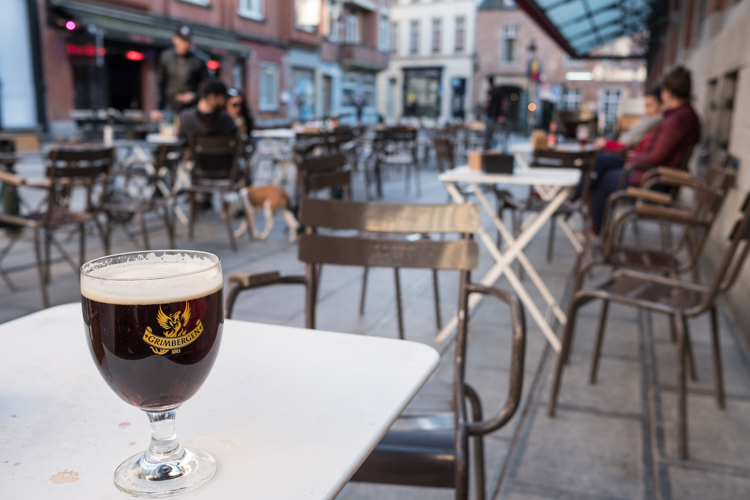 13_19
It was getting a bit chilly at this point, but there were still people at the outside tables: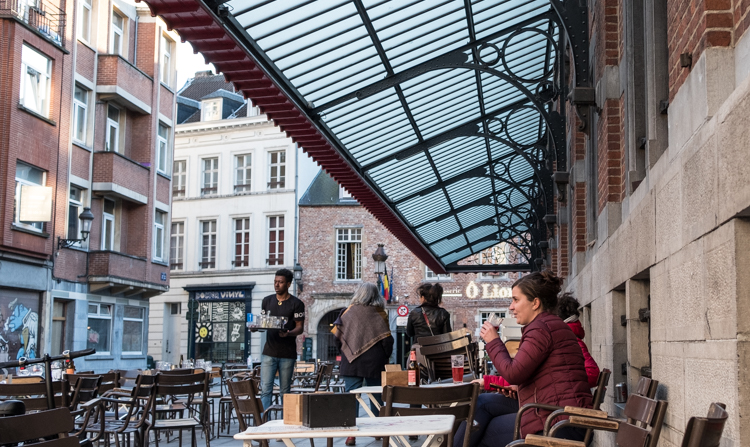 13_20
After drinking a beer, a toilet visit is de rigeur, and at this place it is even a visual pleasure:

13_21
Then my friends Caroline and Alun arrived. Alun is the president of Viewfinders, the international photography club in Brussels. I joined it when I lived there in the late 1990s and have remained a member ever since. I do not often make it to the monthly meetings, but I have participated in the exhibitions from time to time, and when I am in town, Alun and Caroline try to get together with me, as was the case this evening. The menu was beer, what else?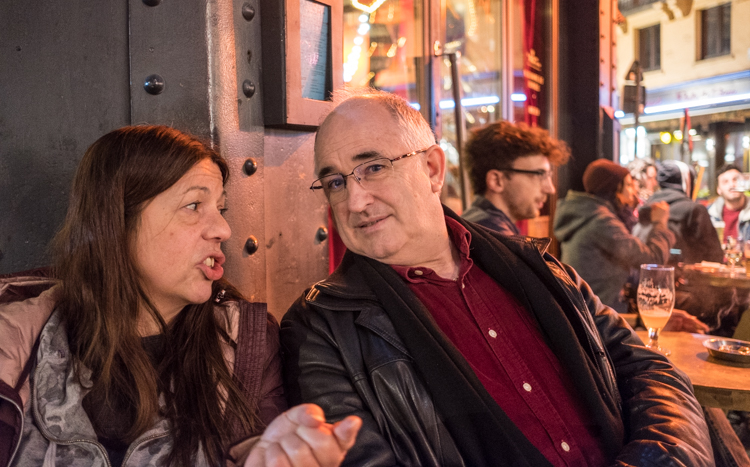 13_22
Lots of other people had the same idea on this nice evening: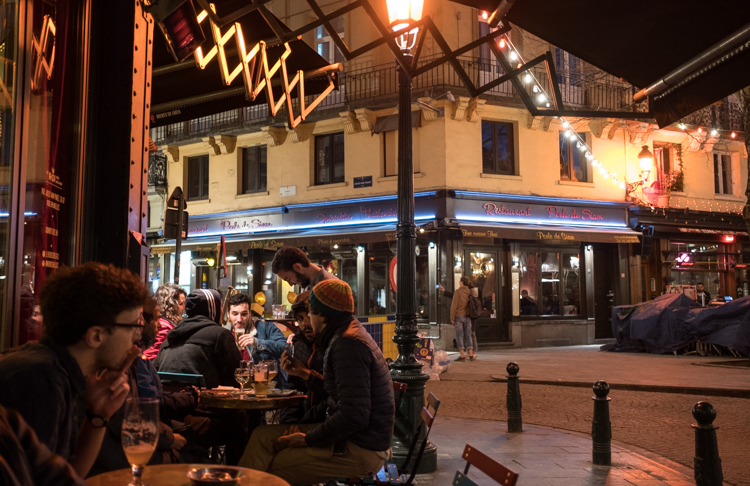 13_23
My last photo of the evening, somewhat blurry but not because of my beer consumption: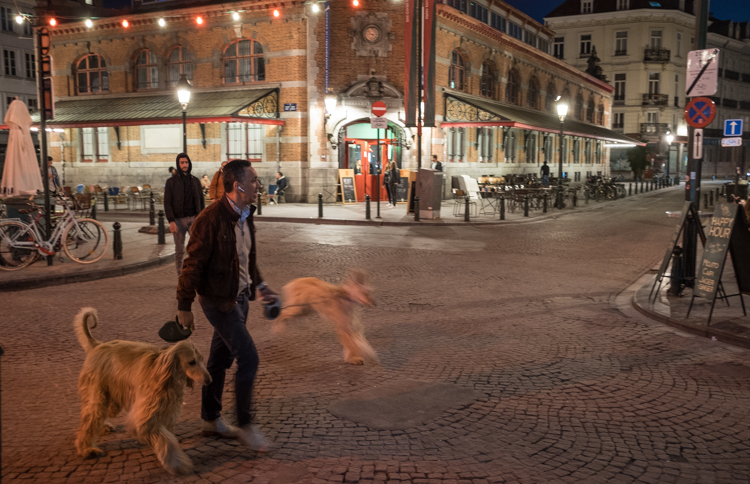 13_24
On Monday morning I got up early as usual, and went for a walk near the hotel. The weather was not as nice as the day before (and indeed, it rained later but since I was in a meeting room anyway, I did not care). But I "discovered" a neighbourhood right on the edge of the EU quarter which for some reason I had not prowled before. These ponds are on Square Ambiorix: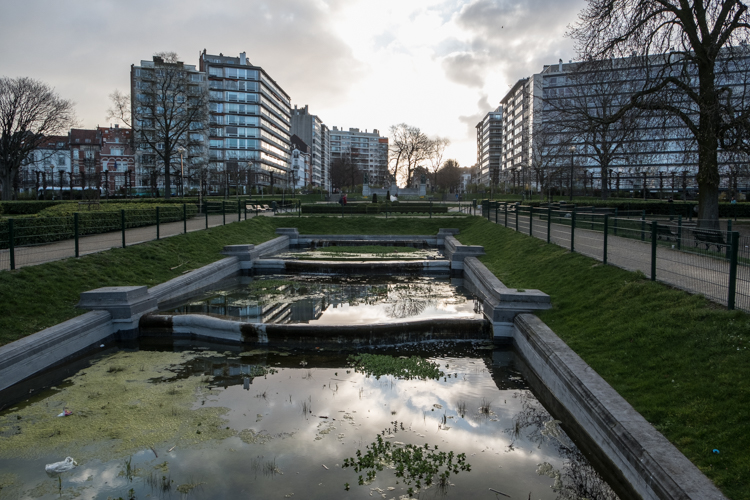 13_25
Morning exercise, Square Ambiorix: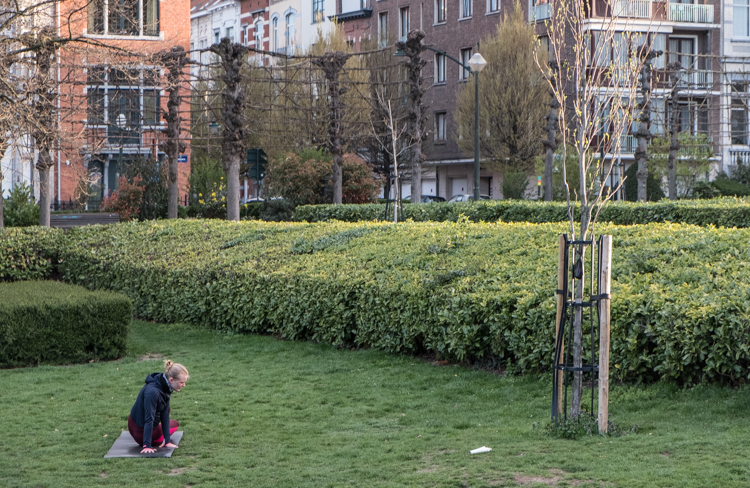 13_26
Painted rubbish bin, Square Ambiorix: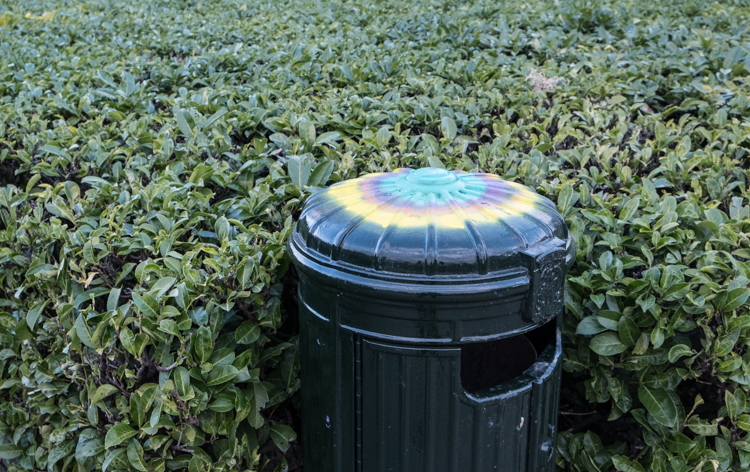 13_27
Next to Square Ambiorix is another lovely park/square, Square Marie-Louise: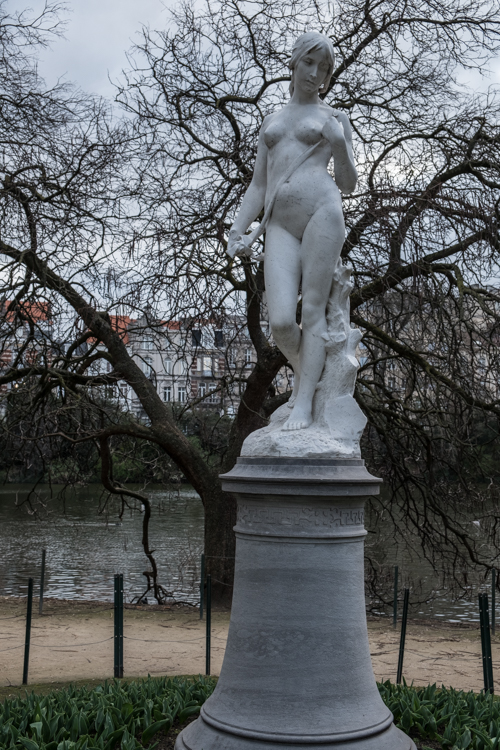 13_28
Another morning walker, Square Marie-Louise: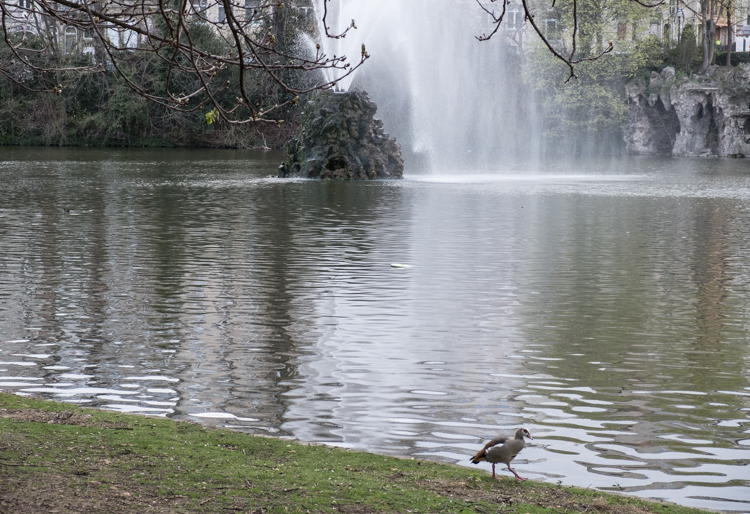 13_29
Long-term parking: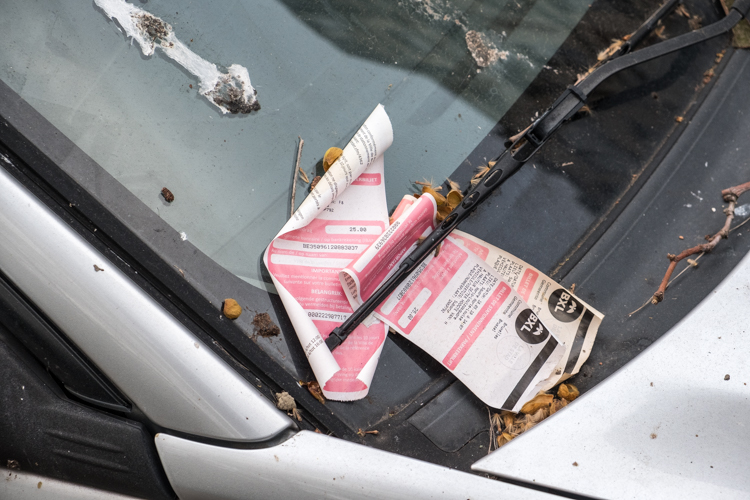 13_30
Then it was time to go back to the hotel, shower, have breakfast, and go to work. I spent the rest of the day in this meeting room inside Berlaymont, the headquarters of the European Commission: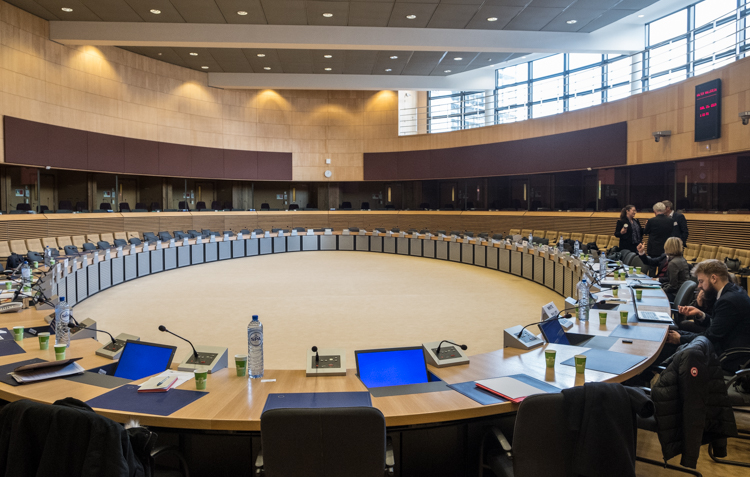 13_31
After the meeting ended, I walked the 100 meters to the Schuman station to take the train to the airport. Just before descending into the metro, I photographed this piece of the Berlin wall on the Berlaymont square. It symbolises many things to someone like me who was born on the wrong side of the Iron Curtain, and serves as a reminder of what has been achieved since 1989 and of a time when American presidents spoke with moral authority: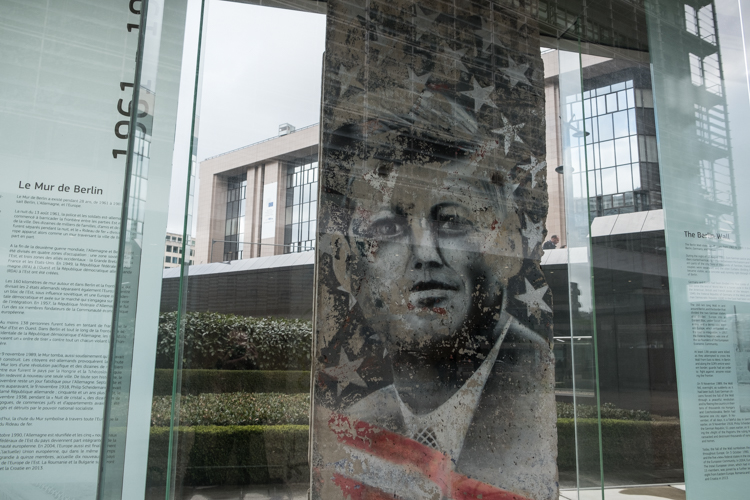 13_32
The very last image of this trip, the new Council building in the background: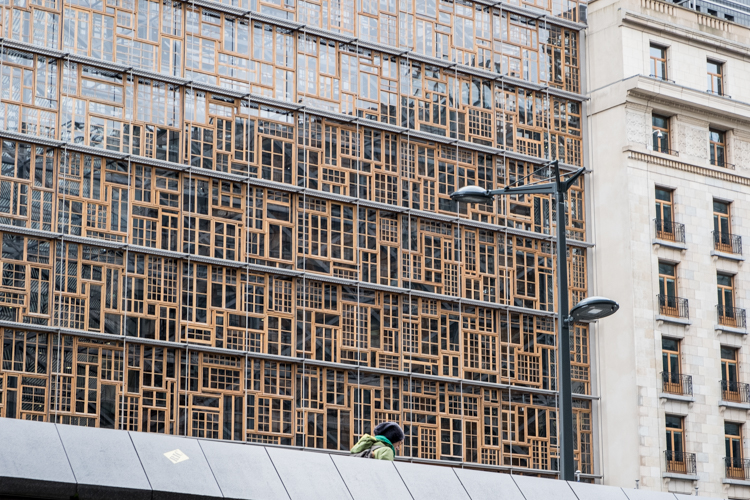 13_33
Back in Alicante, we had some windy and cold (by our standards) days: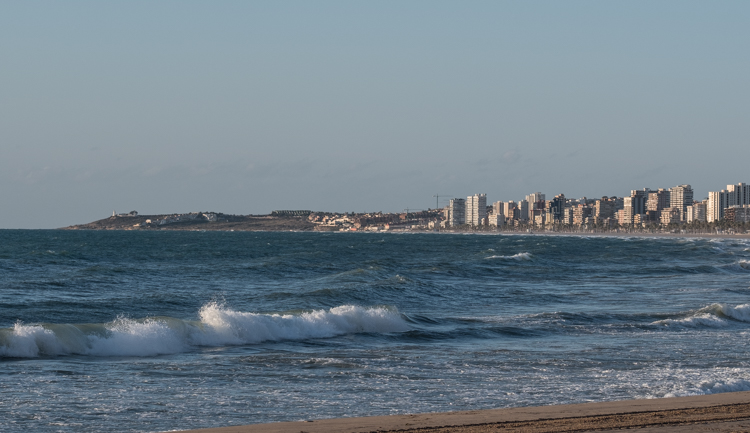 13_34
On Thursday afternoon, my wife, our daughter and I drove the 400 km to Pradollano, the main town in Sierra Nevada. On Friday, my two girls headed to the mountains with their skis and snowboard, while I set out on my bicycle, something I had really been looking forward to–both for the cycling and for the opportunity to photograph places on the road which are difficult to photograph from a car (because there is no safe place to stop a car). This spot on the A395 road between Pradollano and Granada is a good example: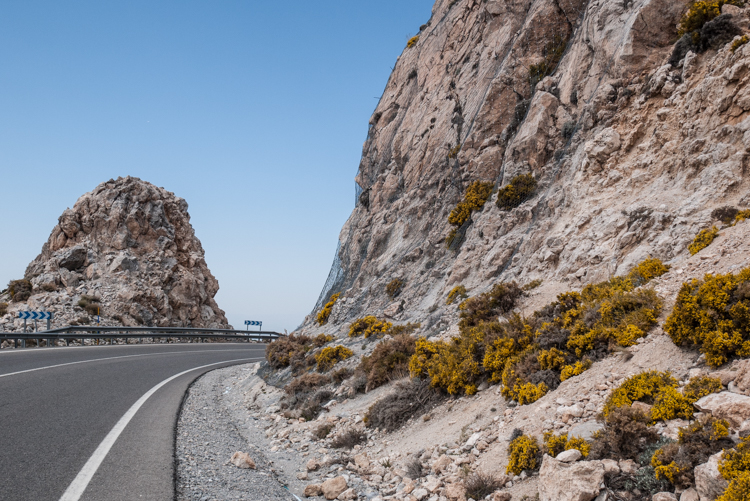 13_35
On Saturday morning, I went out again, this time reaching my highest altitude ever on bicycle. Pradollano is at 2100 m, but I first cycled down to around 1600 m before climbing towards Veleta, the third-highest peak on the Iberian peninsula. I did not have time to try to make it to the 3170 m end of the road, that will be for my next visit: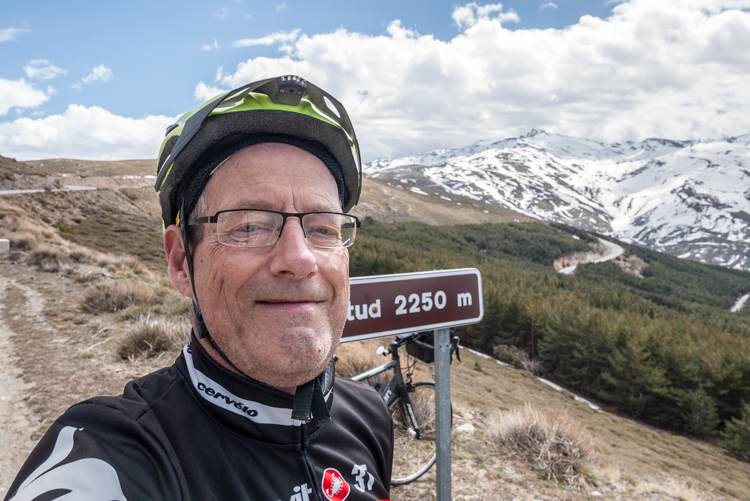 13_36
After my ride, I changed into street clothes, put my bicycle in the car, and waited for my wife and daughter to finish skiing/snowboarding. I spent the time wandering around the village. On the main square there were several manteros, African immigrants selling various counterfeit goods. We have them here in Alicante during the beach season; in the winter they move to the ski resorts: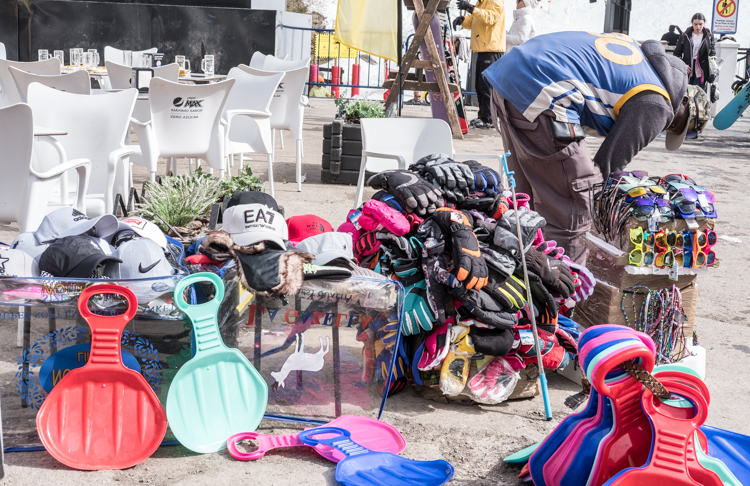 13_37
One of the things that struck me about Sierra Nevada was the many dogs that people brought with them. Some were small: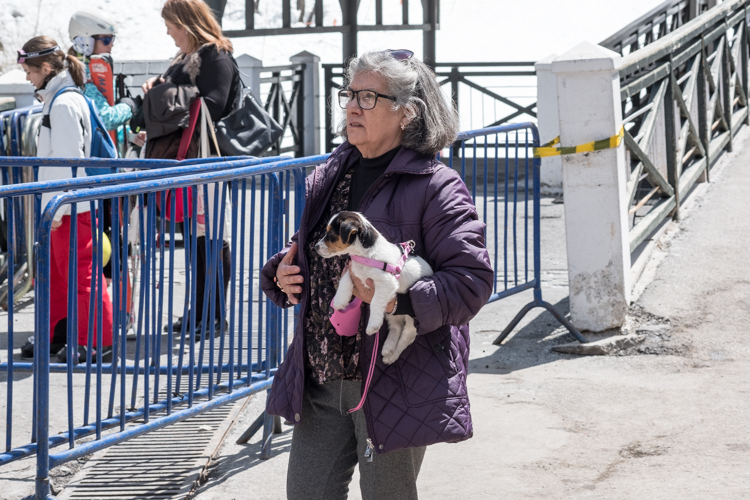 13_38
Some were young: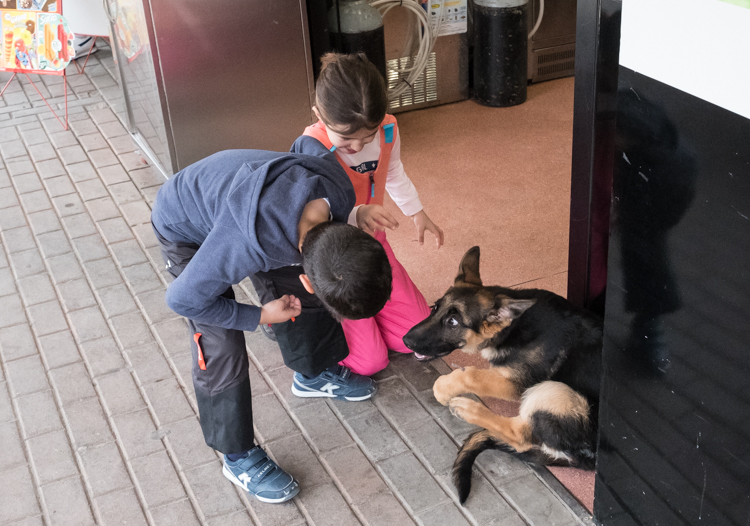 13_39
These two were waiting at the end of the slope, just as I was: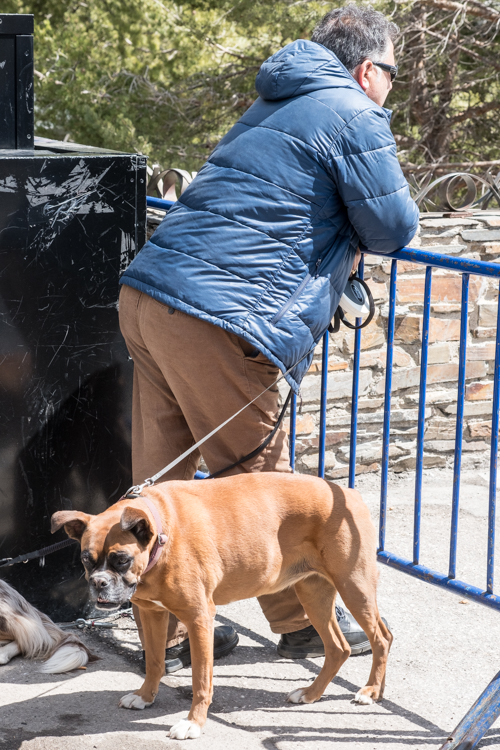 13_40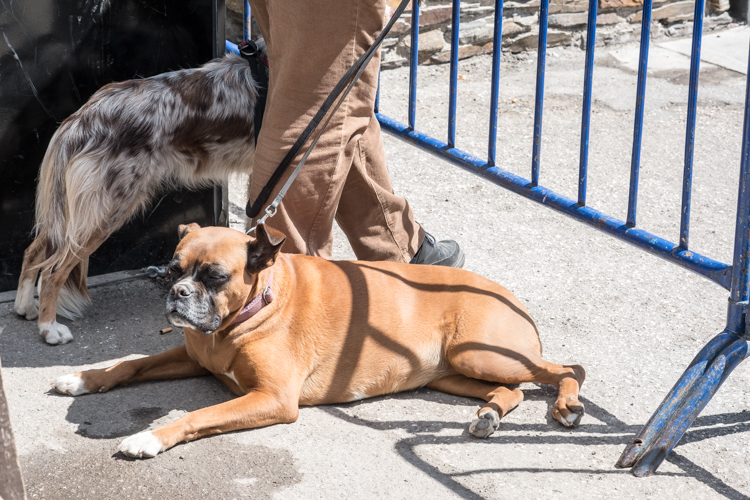 13_41
Finally, my women arrived and we could drive back to Alicante. Here is Monica at the end of her last run: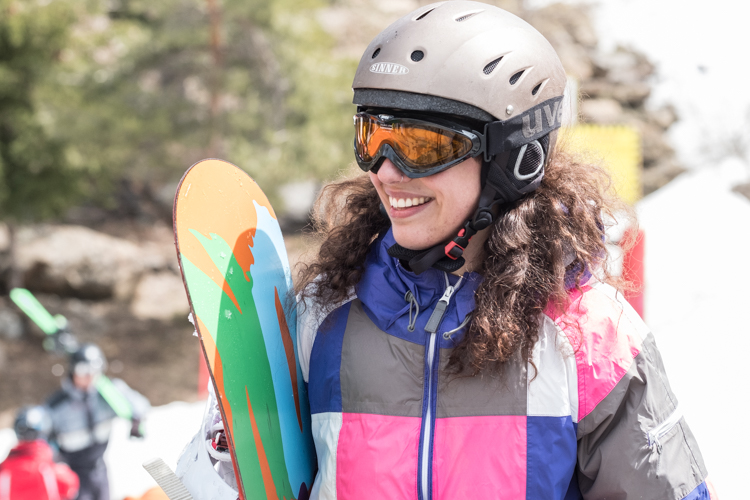 More Brussels images are in my Brussels Winter gallery, and there are additional photos from Sierra Nevada here.