I was back in Brussels again last week, this time from Wednesday afternoon to Saturday morning. What was special this time was that I had considerable free time between meetings, so there are more pictures than usual. The week is presented chronologically, starting with two pictures from home.
15_1
Outside our local Media Markt there is a small German sausage-and-beer stand: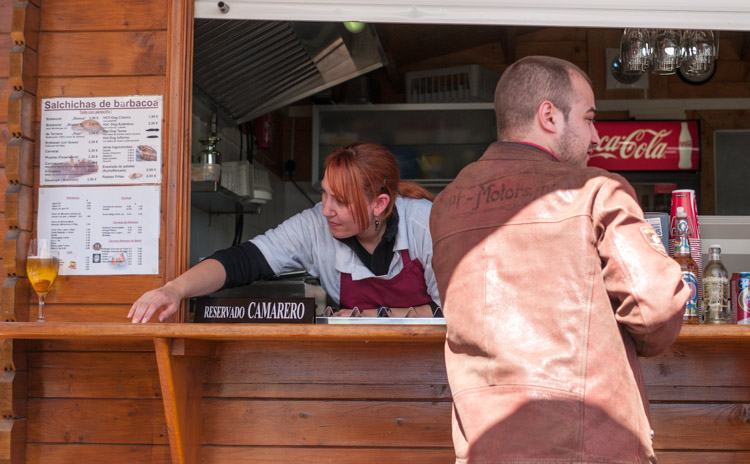 15_2
Monica and I sat outside with a Coke and a beer, respectively:

15_3
Wednesday afternoon, I flew to Brussels, checked into my usual home there, the Aloft Hotel, and took a walk through Parc Leopold: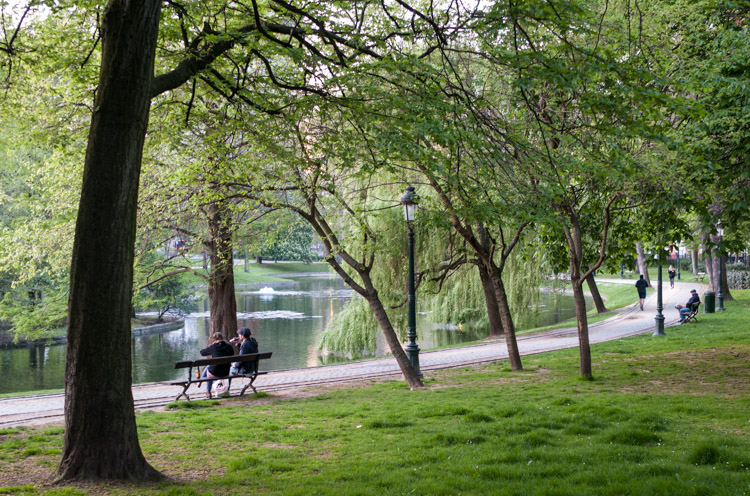 15_4
As dinner time approached, I headed to Place Jourdan to have a beer and find a restaurant. In the middle of the square is Antoine's fritterie, which supposedly has the best fries in Brussels. Given that Brussels is the world capital of fries, this is quite a reputation: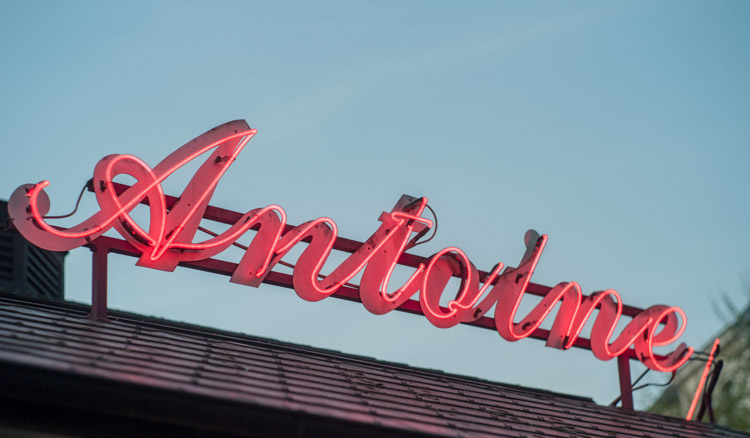 15_5
I sat with my pint at an outdoor table and looked at the slow-moving queue at Antoine's: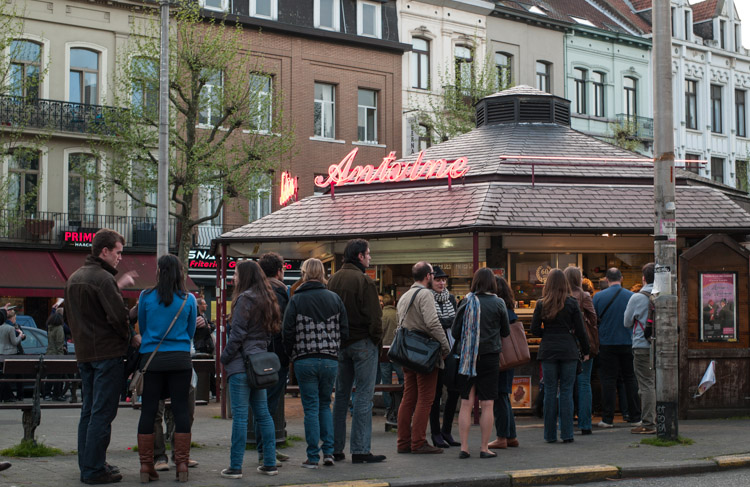 15_6
I moved on to restaurant Schievelavabo, a quirky place nearby. This is how the menu was presented at the table: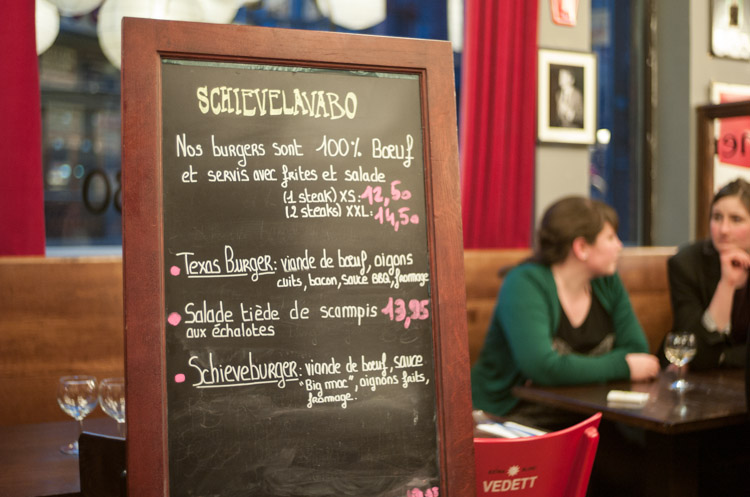 15_7
Schievelavabo is decorated with classic advertising images: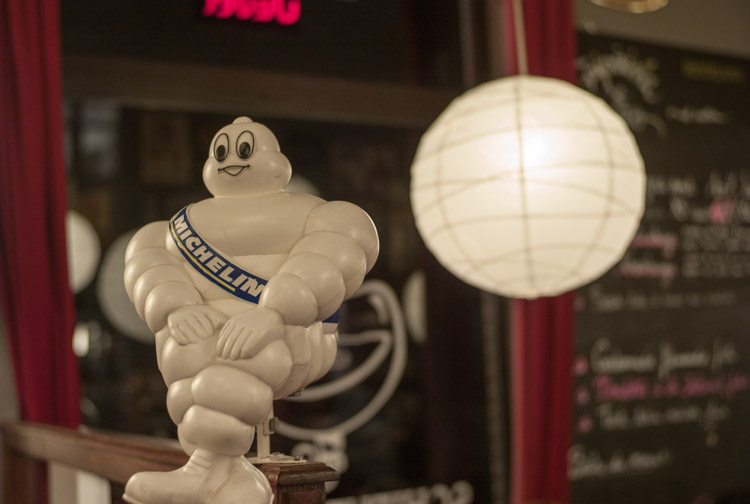 15_8
"Lavabo" means "sink", so in keeping with the theme, this is the tips jar:

15_9
I had been invited to give a talk at an event held at the European Parliament on Thursday morning. The EP is about 10 minutes walk from my hotel, starting at Place Jean Rey: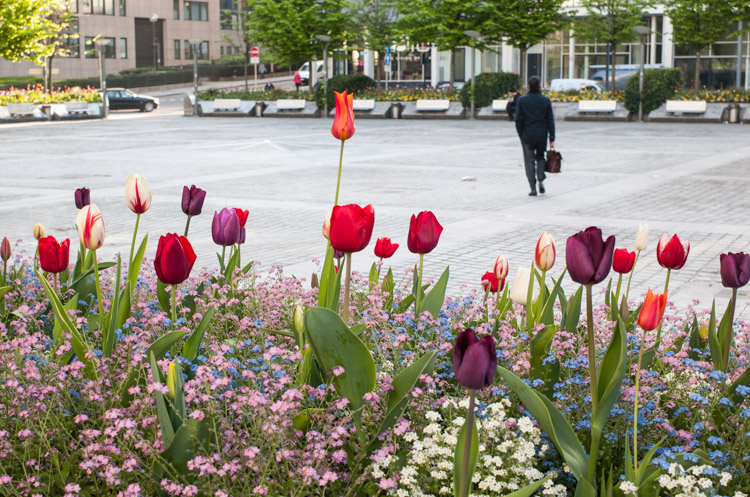 15_10
This emblematic footbridge across Rue Belliard links two buildings that used to house the European Parliament and now belong to other EU institutions: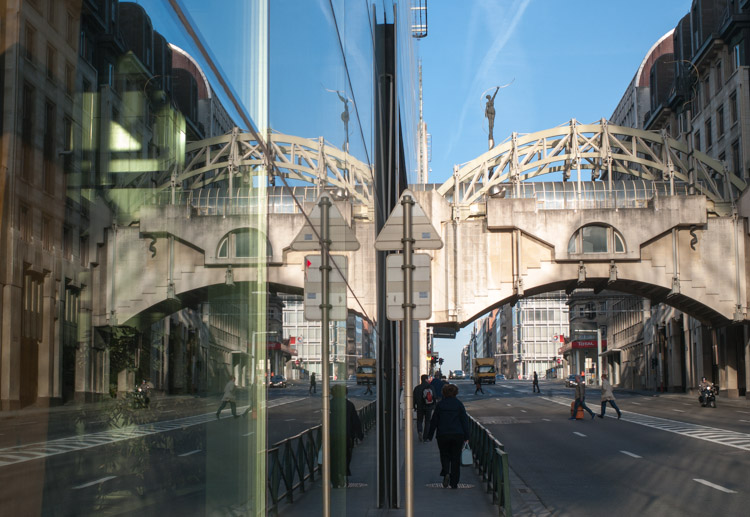 15_11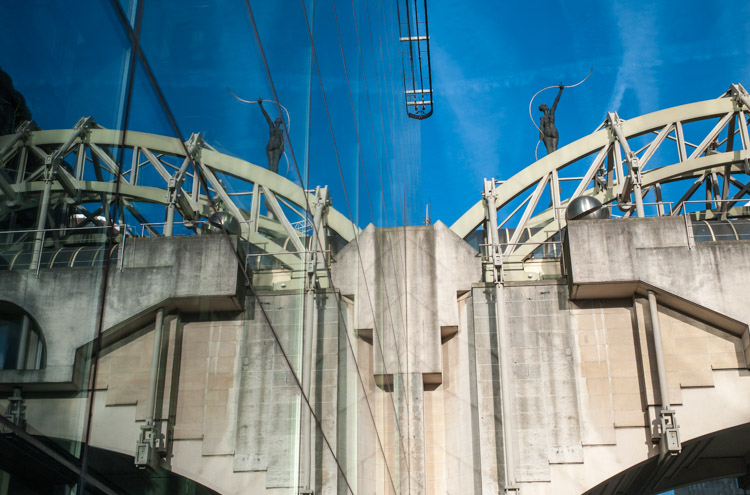 15_12
Today, the European Parliement is housed in an impressive complex. The main esplanade is named after Solidarity, the Polish trade union movement in the 1980s which marked the beginning of the end of the Iron Curtain: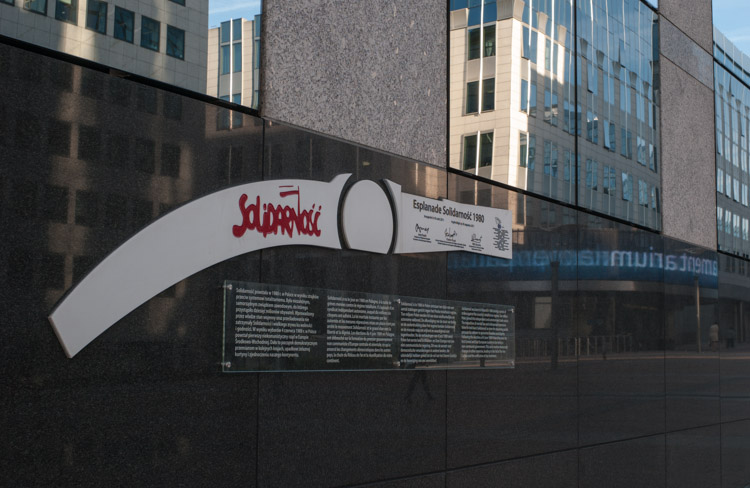 15_13
Overall view of the Solidarity Esplanade: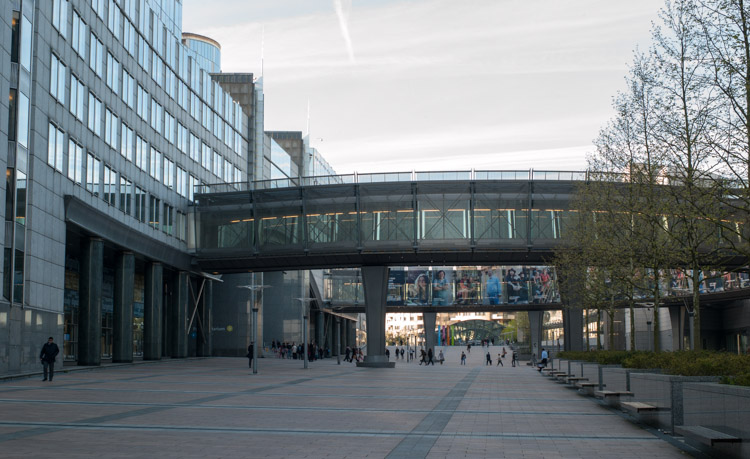 15_14
The EP complex is dotted with various memorials and interesting details which I "discover" every time I go there. This is a plaque in honour of Simone Veil, the first president of the directly elected European Parliament in 1979 (prior to that, members of the EP were appointed by national parliaments):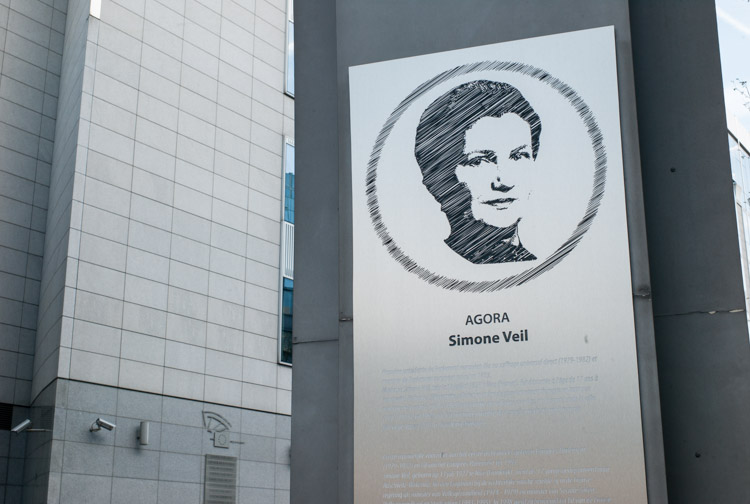 15_15
A piece of colourful art on the Place du Luxembourg side of the EP: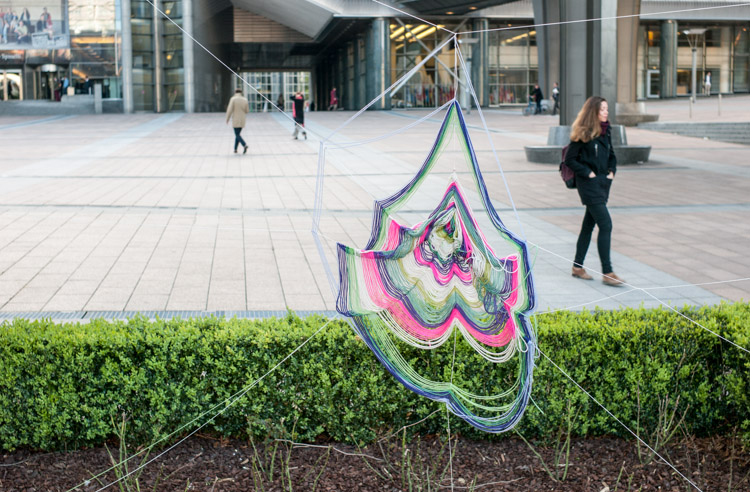 15_16
A few metres away, a rather more serious piece of art. The upside-down B was how the prisoners at Auschwitz expressed their defiance when ordered to make the infamous ARBEIT MACHT FREI sign. This sculpture was made by workers at a Volkswagen plant in Hannover. The symbolism is deep indeed: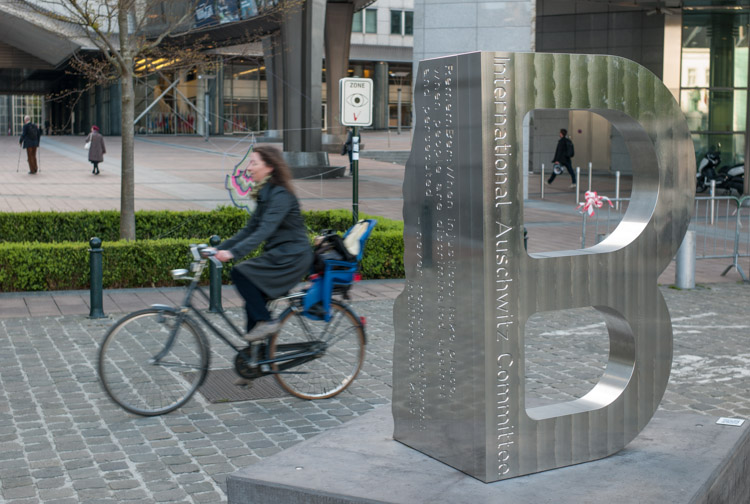 15_17
A reminder of battles past: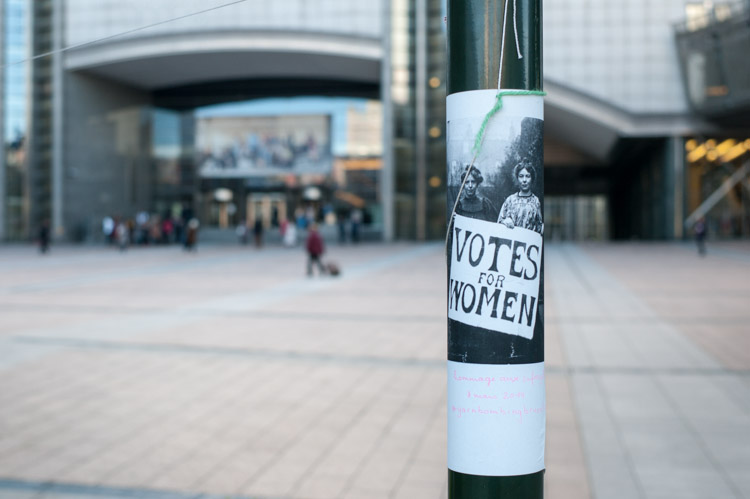 15_18
Typical sight near the Parliament (also frequently seen around the other EU institutions)–a TV crew doing their work: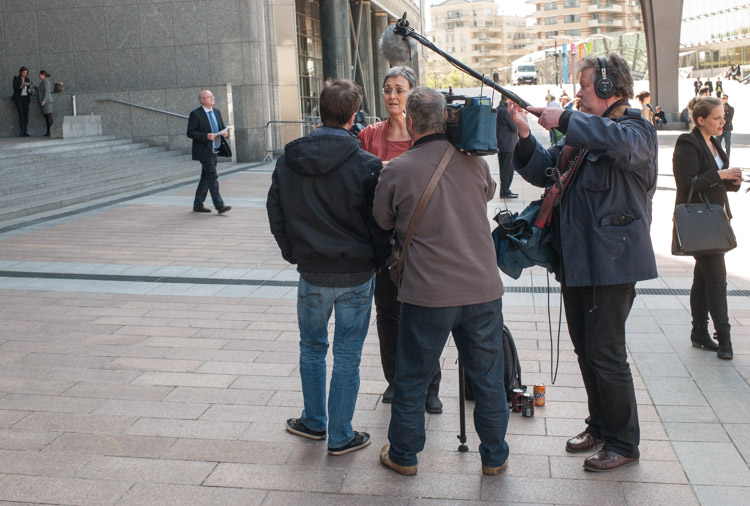 15_19
Reflections: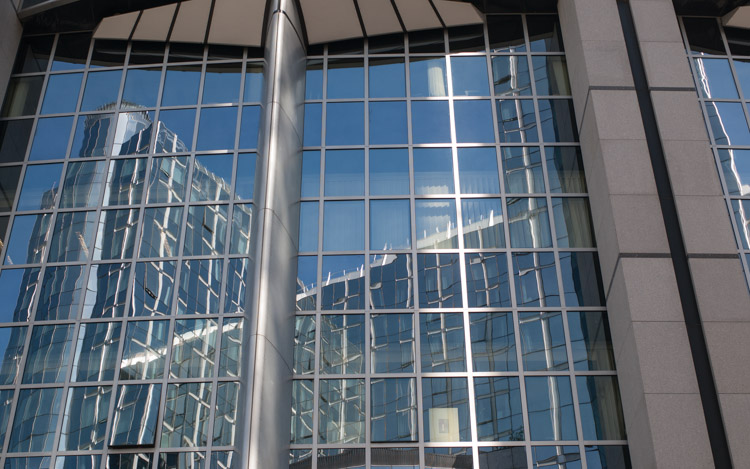 15_20
After the event at the EP, I walked back to my hotel, through Parc Leopold, to change into comfortable clothes and enjoy an afternoon off: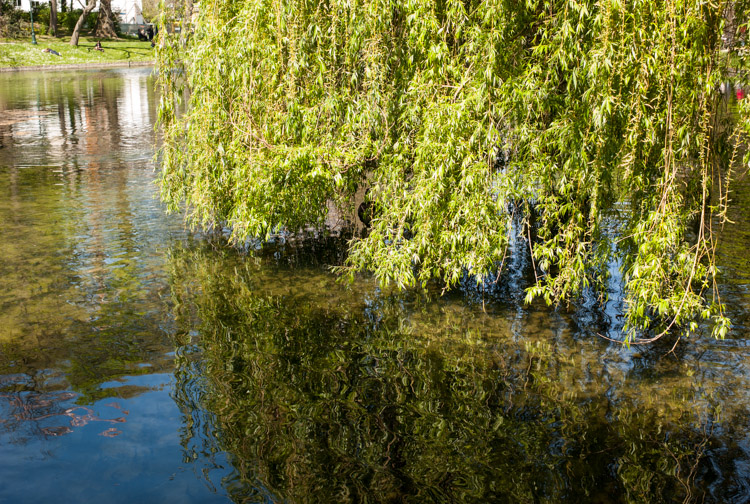 15_21
I had decided to see an art exhibition in the centre, so I took the metro to the Bourse station. Upon emerging from the depths, I was greeted by sunshine and Easter eggs on Boulevard Anspach: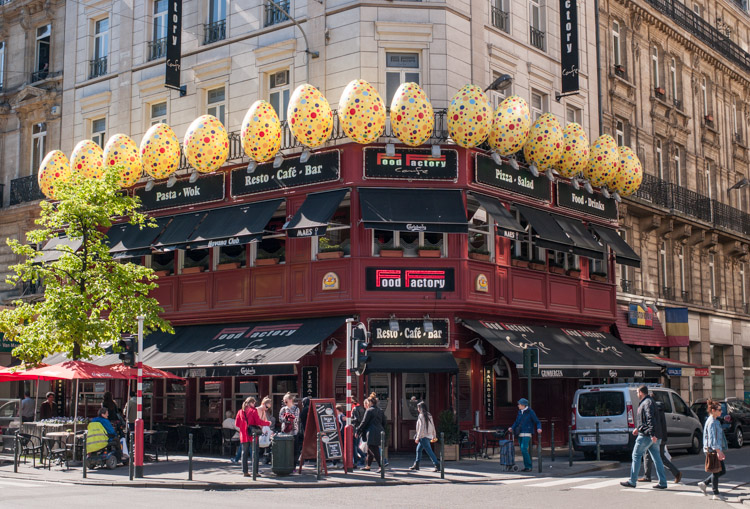 15_22
The exhibition I went to see was called "Art of the Brick". It consisted of paintings and sculptures by the American artist Nathan Sawaya, all made entirely from Lego bricks. This has nothing to do with Legoland: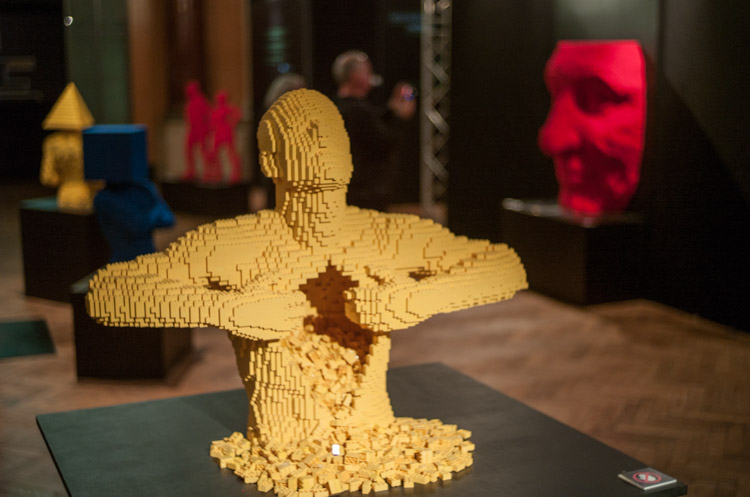 15_23
The face: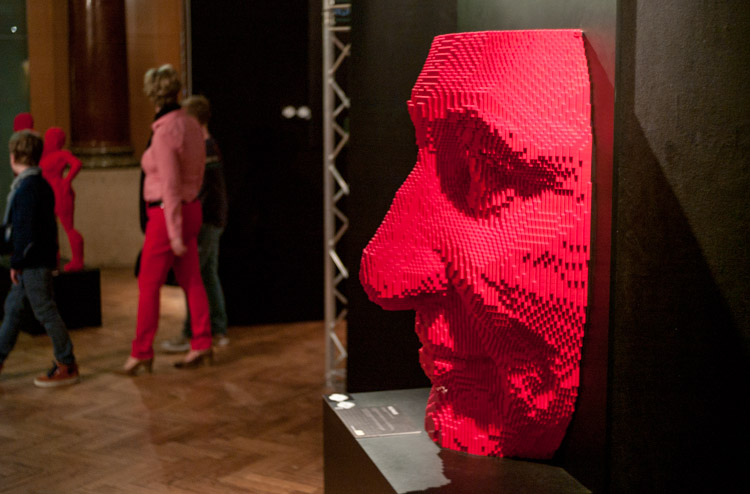 15_24
The ladder: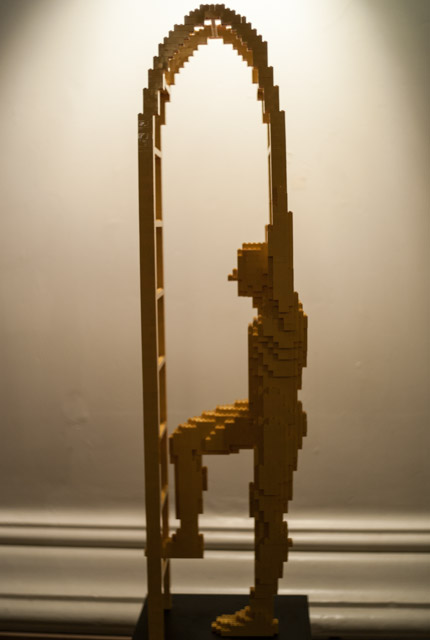 15_25
The couple: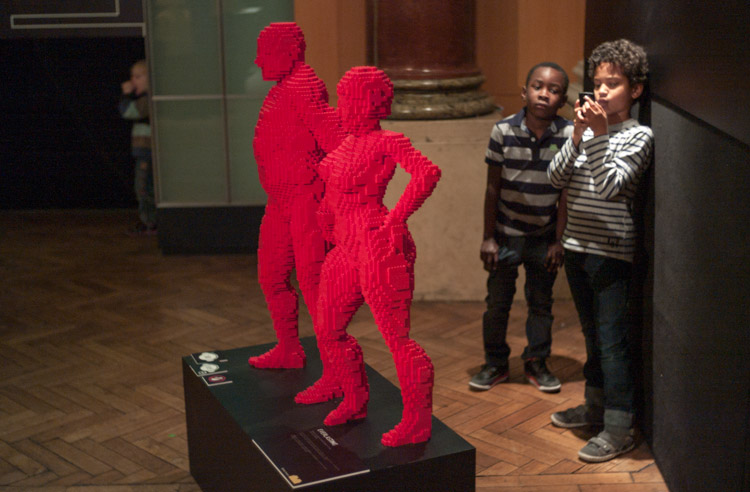 15_26
World peace: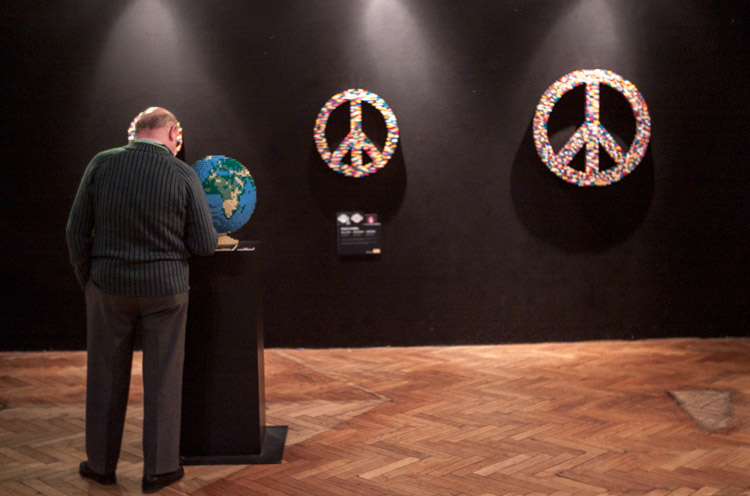 15_27
American Gothic: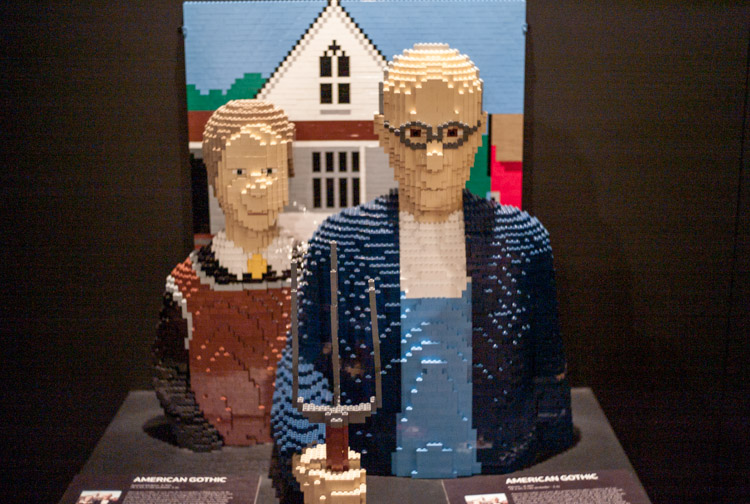 15_28
1066 and all that: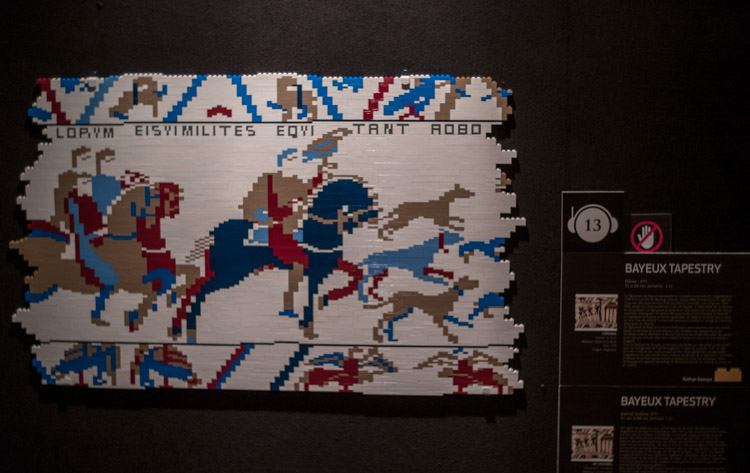 15_29
This is serious art: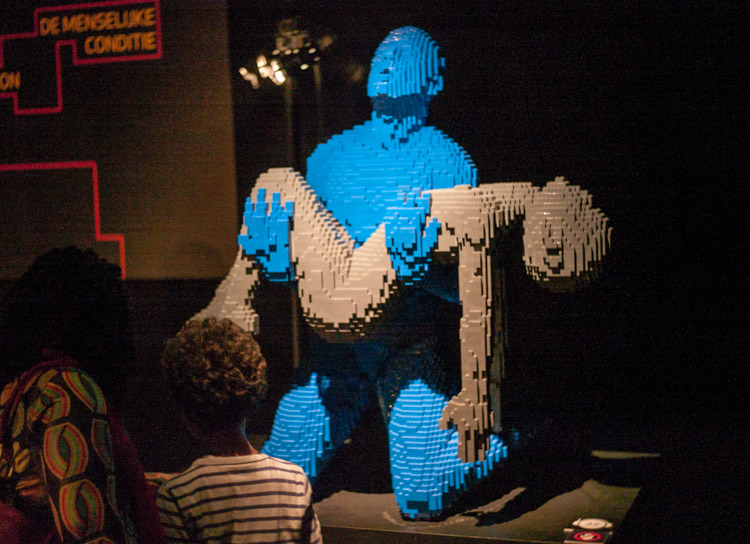 15_30
Afterwards, I headed back to my hotel to relax and visit the gym before getting together for dinner with several colleagues that evening. There is a quite striking advertising campaign for chewing gum in the Brussels metro: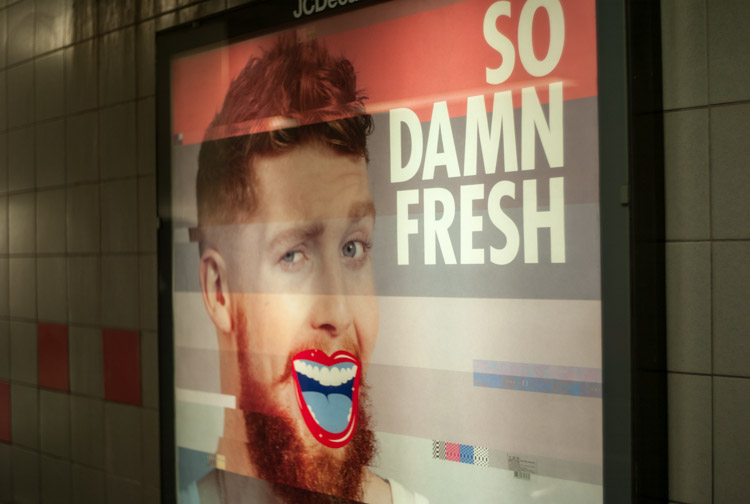 15_31
Everything is prohibited: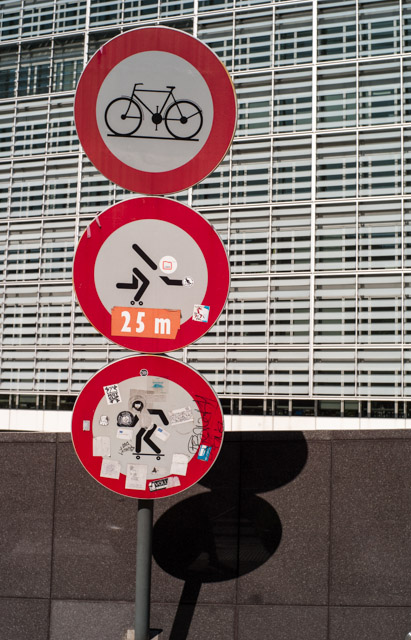 15_32
Painted container, Matongé (African neighbourhood in Ixelles):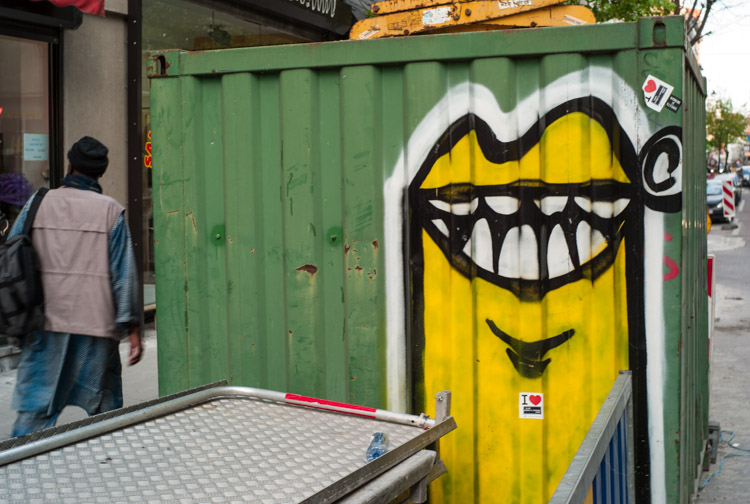 On Thursday night we were having a surprise dinner for Phil. Phil is from Wales and used to work at the UK Intellectual Property Office before being seconded to the Commission in Brussels several years ago, and to our agency in Alicante since 2012. But now it was time for Phil to return to the UK, where he will retire later this year. His many friends from Brussels and Alicante had arranged to surprise him with a dinner at one of his favourite restaurants, Le Soleil d'Afrique.
15_33
Here is the moment when Phil enters the restaurant and realizes what is going on. The scheme worked to perfection: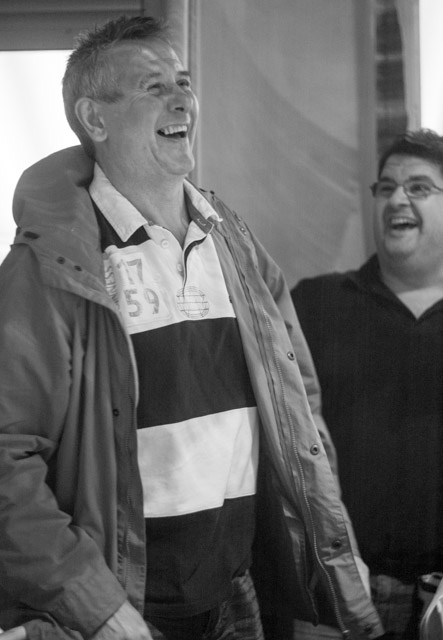 15_34
Lots of happy conversation (and eating and drinking) ensued: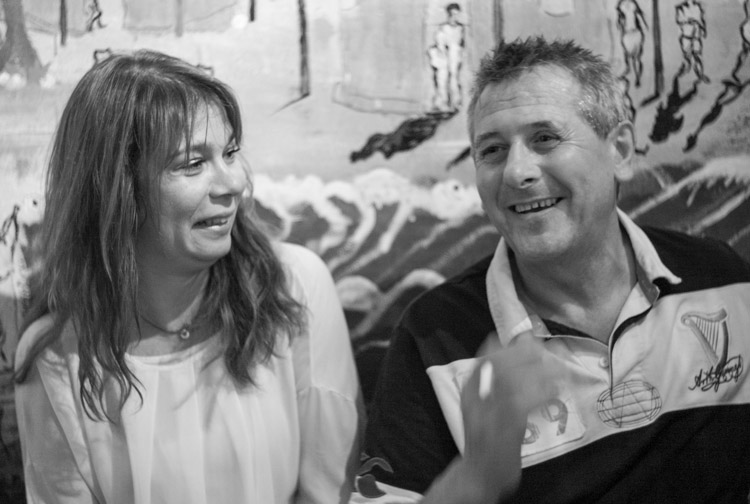 15_35
One of Phil's Brussels friends: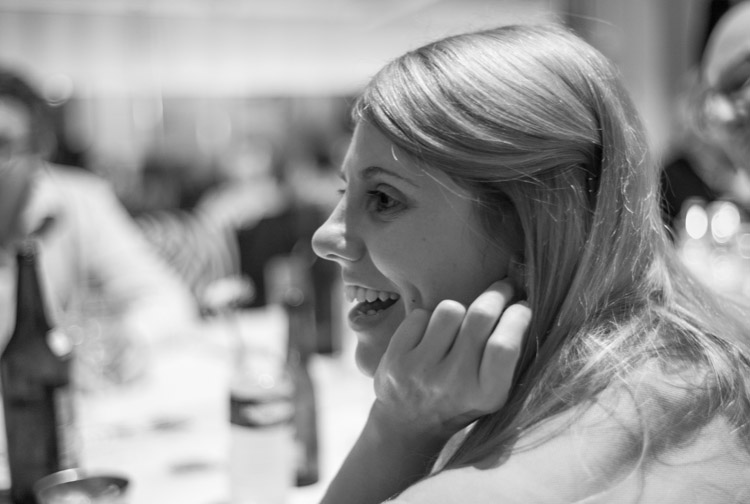 15_36
Phil is a rugby fan and Welsh patriot, and towards the end of the dinner he sang a Welsh ballad for us: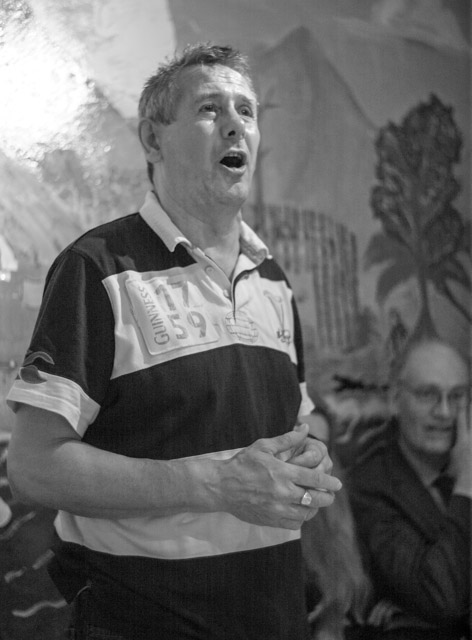 15_37
Afterwards, the hard core retired to L'Ultime Atome for several nightcaps: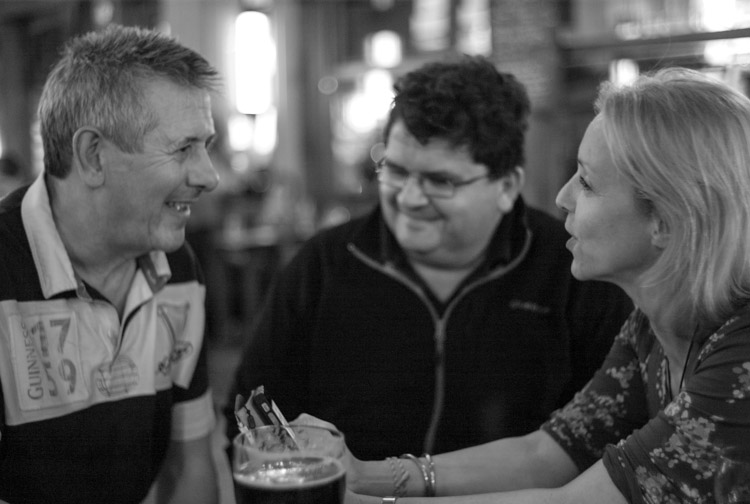 The hard core paid the price, as we had a major meeting starting at 9 on Friday morning. Making a presentation when you have a cold and are hung over is not fun. But I survived, and on Friday evening I was going to have dinner at my cousin Nicole's place.
15_38
To get from the hotel to Nicole's house is a 20-minute walk, though the Parc Cinquantennaire and a residential neighbourhood. Brussels is in bloom right now: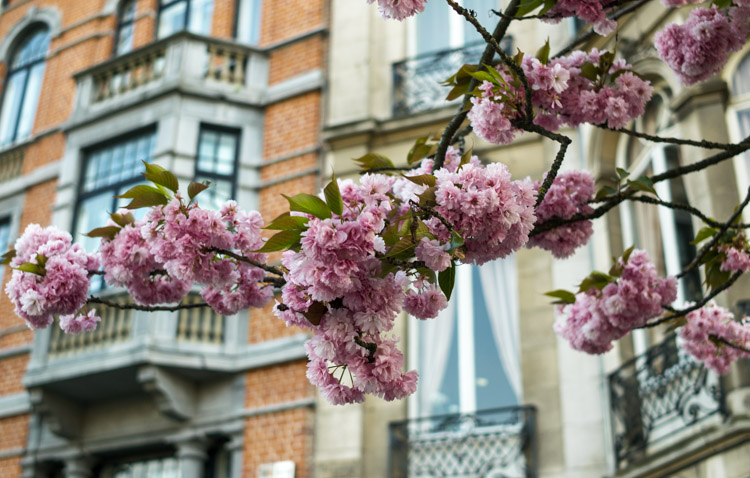 15_39
The low setting sun makes everything beautiful, both small details…: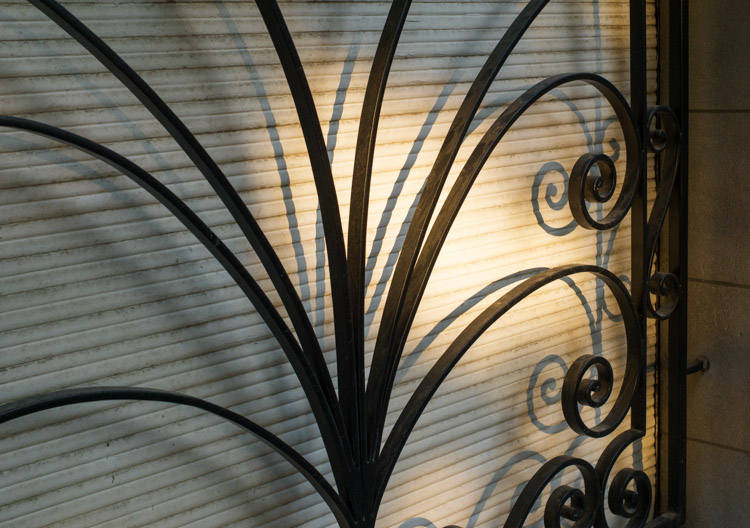 15_40
…and the big views. This is the entrance to the park from the Merode end, with the triumphal arch commemorating Belgium's independence. The building on the right is an aircraft museum: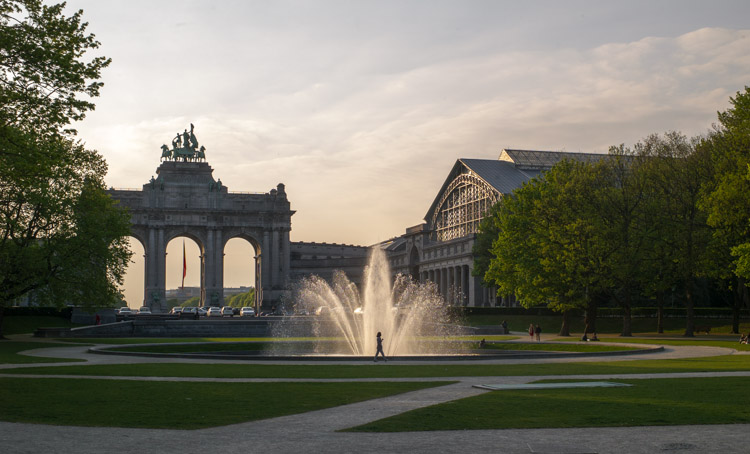 15_41
Nicole and her husband Luc are French, they love oysters, and had bought some at a market which receives a daily shipment from Paris: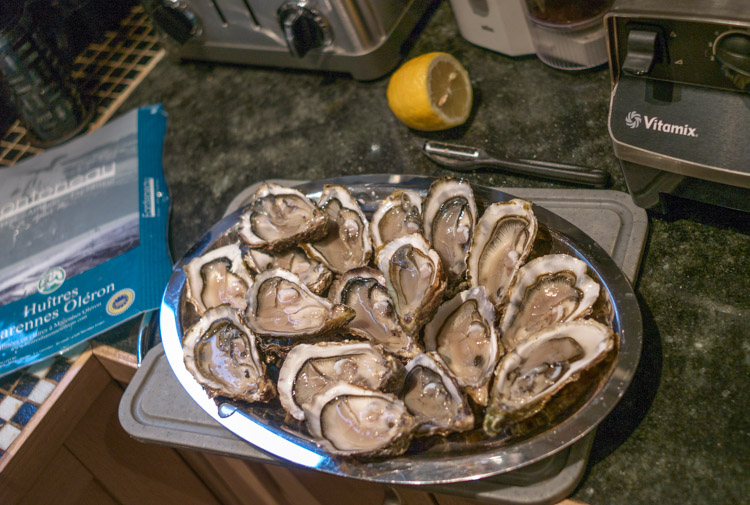 15_42
And then we sat down to good food and good wine, and I took no more pictures during this trip: