Another trip to Brussels this week, but with a very special event on Friday afternoon and some interesting art at BOZAR. And after I came home, an outing to Hostal Maruja with my sister and brother-in-law, a tradition when they make their annual October visit here.
41_1
But first a few pictures from home. A friend who lives in Paris brought us this amazing cheese, proving once again that France is to cheese what Belgium is to beer; simply the best: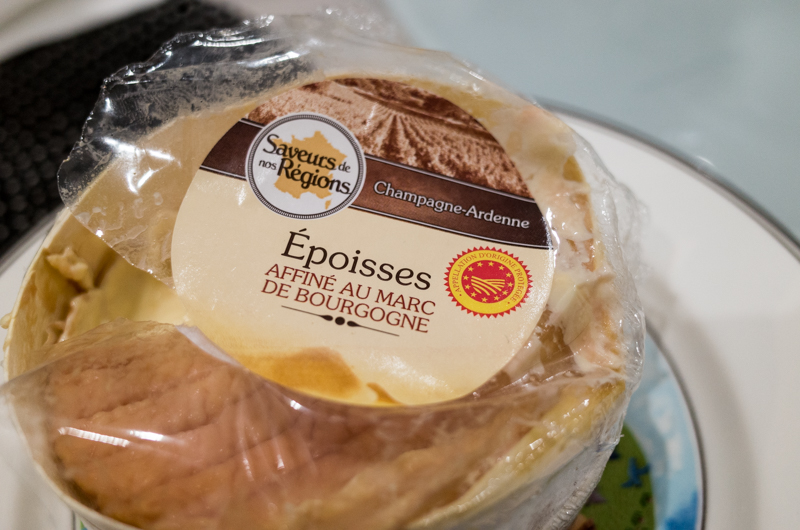 41_2
My mother's cactus was at it again: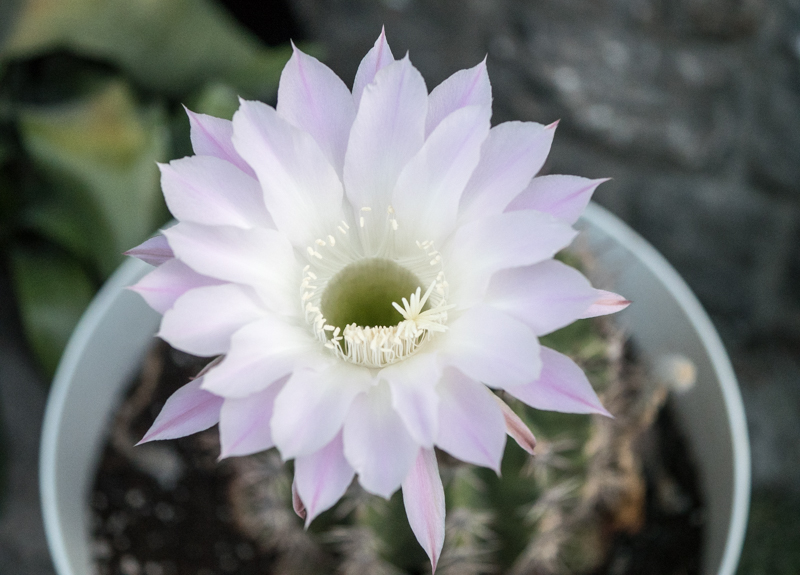 41_3
I was out on two wheels regularly, including one day when the light was particularly nice along the road from Aigües to Busot: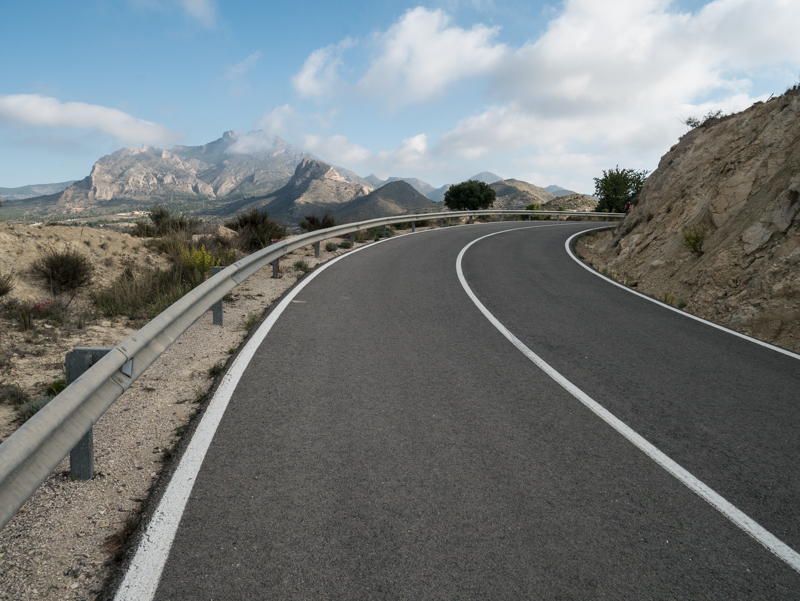 41_4
The real mountain goats (and a sheep in there too):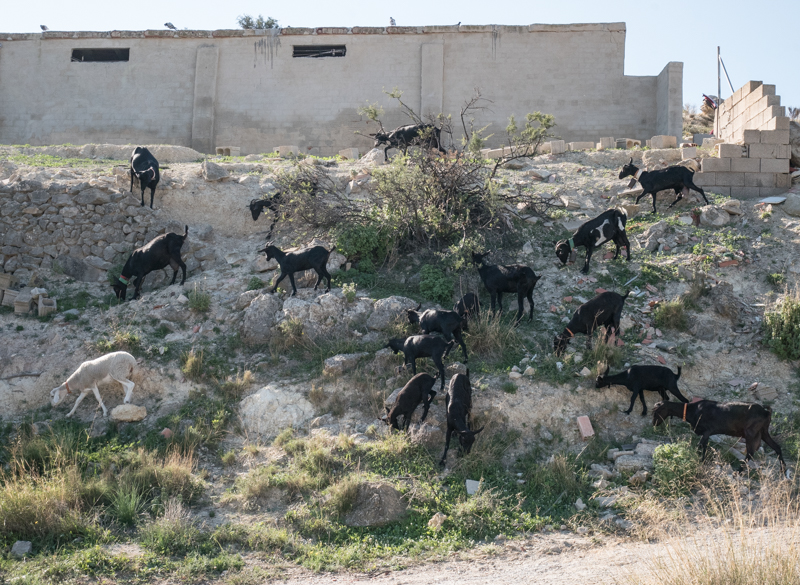 41_5
The view of Busot. I love this view, partly because it is pretty and partly because seeing it means that the remainder of the ride is mostly downhill: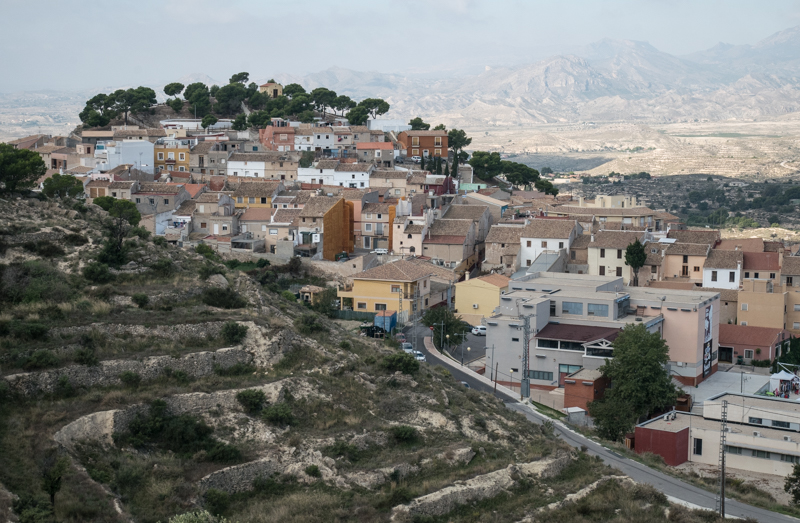 41_6
In Busot, I have often looked at this impressive mural celebrating the local Moros y Cristianos fiesta. This time I stopped to photograph it: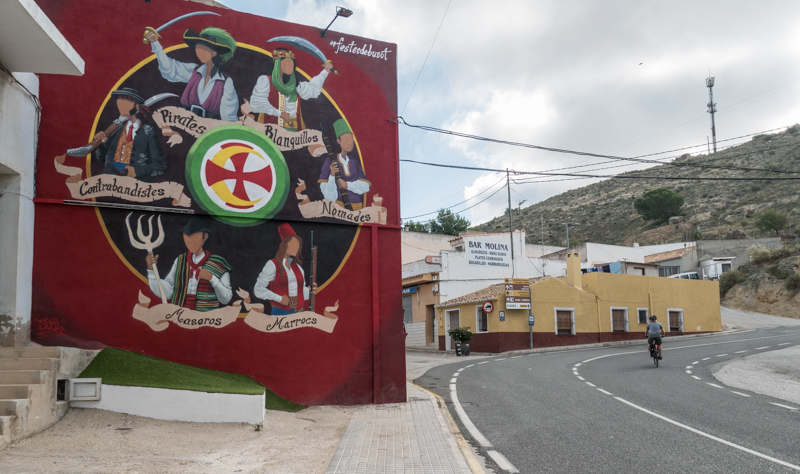 On Wednesday morning, I went to work as usual. But in the afternoon, instead of driving home, I drove to the airport and flew to Brussels, where I had meetings at the European Commission Thursday and Friday.
41_7
When I go to Brussels, I usually stay in one of the hotels in the EU quarter around the Schuman roundabout. But this time, I stayed at a hotel on Place Stephanie, near the top of Avenue Louise, a rather posh part of Brussels and not too far from the centre. As I was walking from the Louise metro station to my hotel, I passed this messy-looking scene. But this is not a mess; apparently Thursday morning was recycling pickup day, and in Belgium recycling is taken seriously, with plastic and glass carefully separated: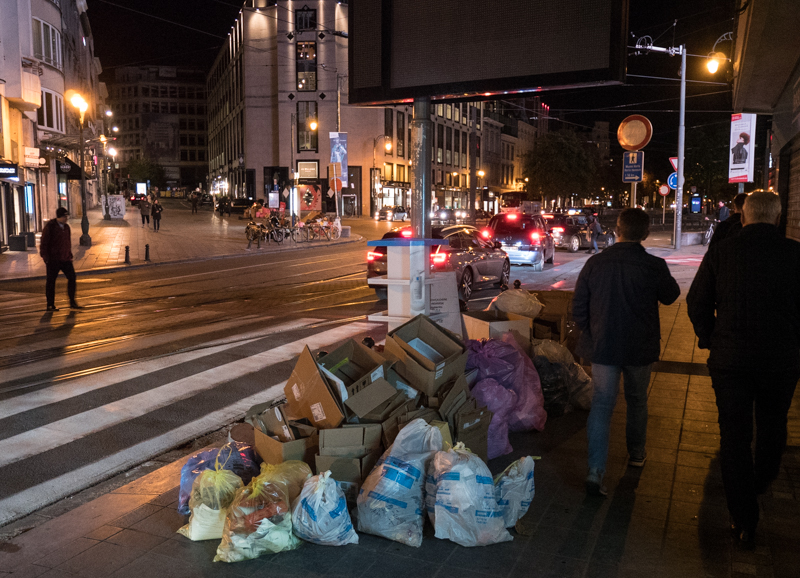 41_8
I was really tired after a full day at work and the flight, so I just looked for a place to have a couple of beers and a bite to eat near the hotel. And fortunately, just a hundred meters up Avenue Louise there was a small pedestrian street with lots of bars and restaurants: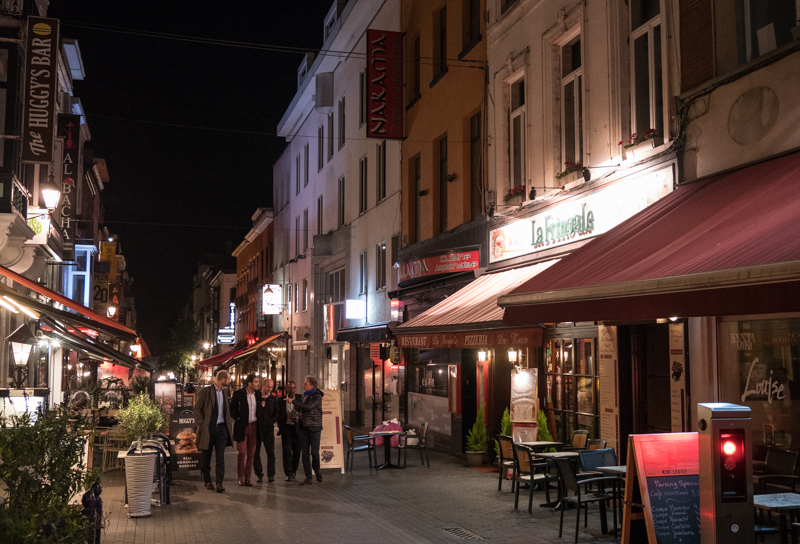 41_9
On Thursday morning I took the metro to the Schuman station. It is a large station with several exits. The one I needed was very clearly marked: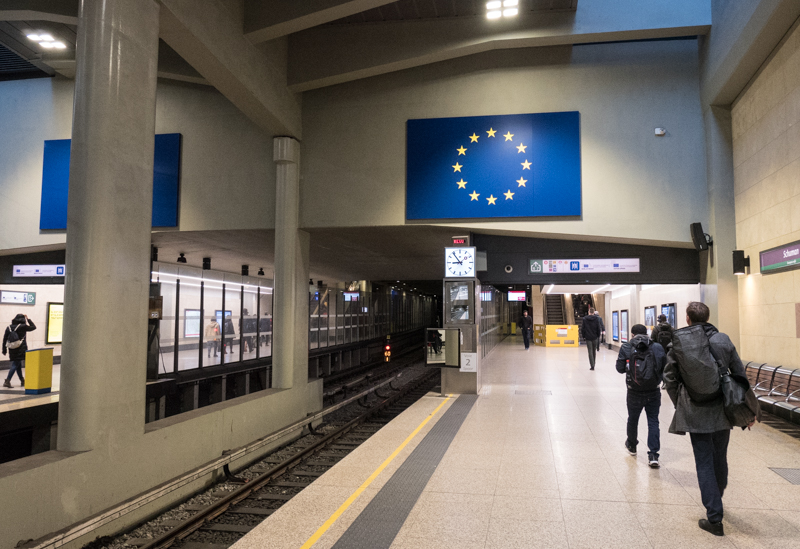 41_10
Emerging on the escalator, I was greeted by this familiar sight: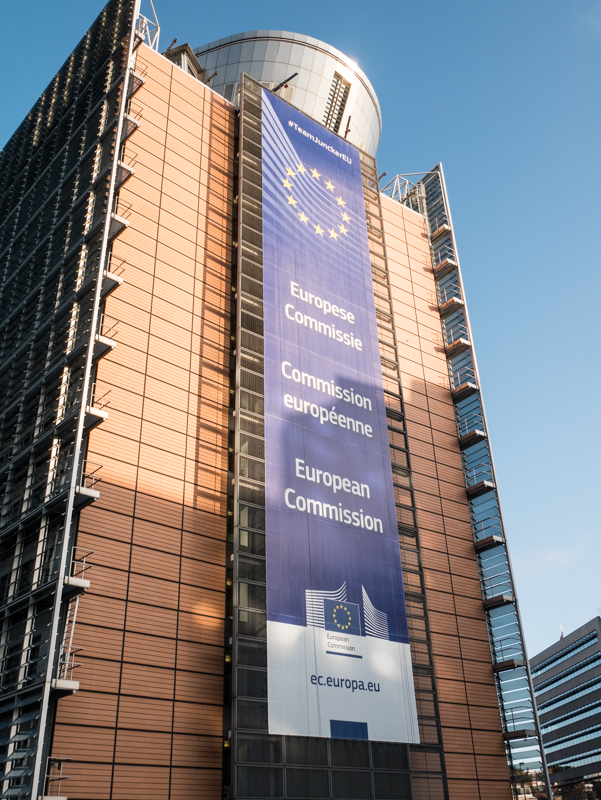 41_11
A typical scene in this part of Brussels–some official or politician being interviewed, with the Berlaymont building as a backdrop: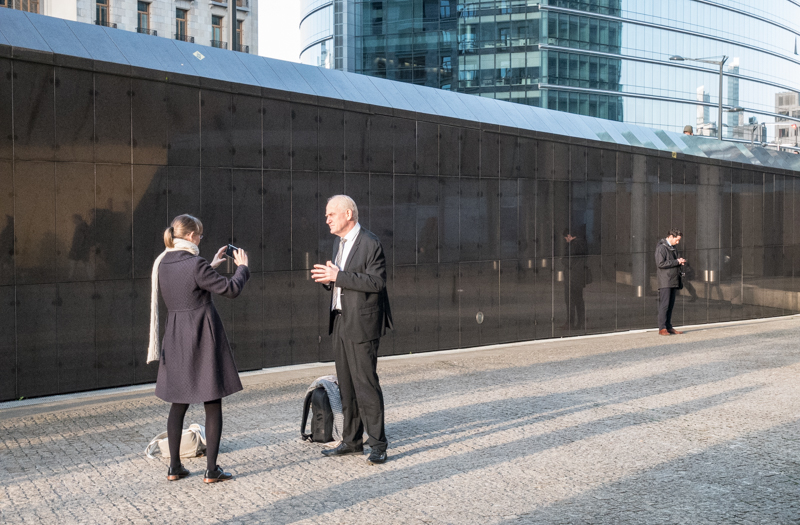 41_12
Berlaymont is the headquarters of the Commission. The Commissioners and their support staff are based there, but mostly it is used for meetings and press conferences. The specialised Commission departments are housed in separate buildings dotted around the EU quarter for the most part. The meeting I attended on Thursday was inside Berlaymont, in this rather impressive meeting room: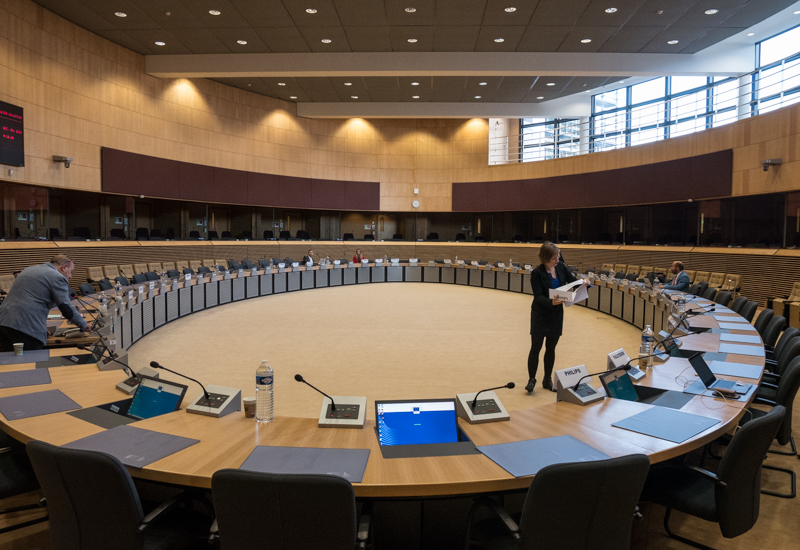 41_13
Once the meeting had ended around 5 pm, I made my way back to the hotel to change into comfortable clothes and venture out. At the top of Avenue Louise there is a mobile Belgian waffle vendor, doing good business at this peak hour: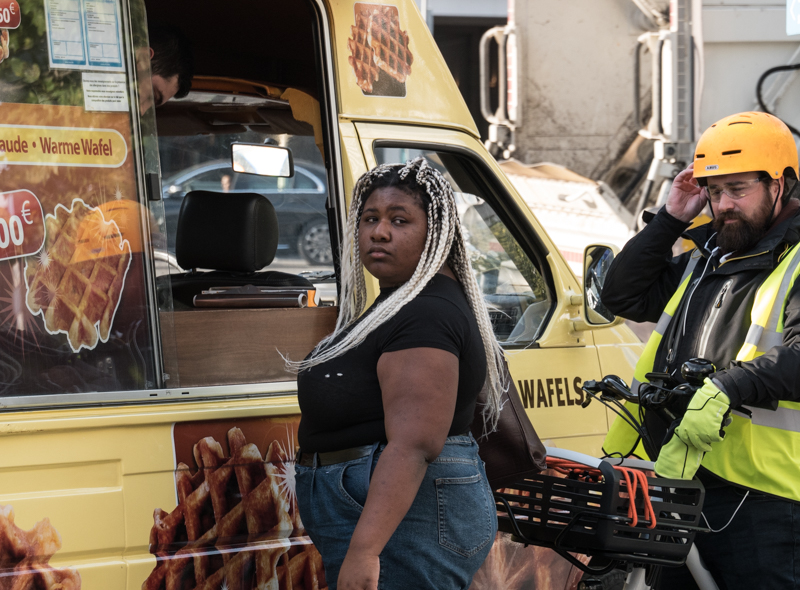 41_14
My first stop was the art museum BOZAR where I wanted to see an exhibition of Romanian art. Just as I was crossing the street, a group of young people ran across, chanting and seemingly having a good time. I never found out what it was about: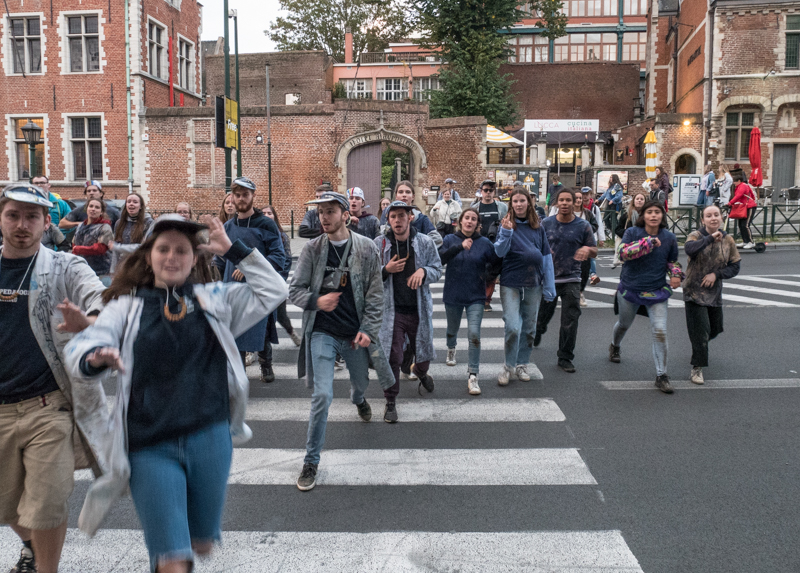 41_15
BOZAR is hosting several Romanian-themed exhibitions this year, probably because Romania held the rotating presidency of the EU in the first half of this year. I was particularly interested in the exhibition of works by Constantin Brancusi, one of the most important sculptors of the 20th century with whose work I was not familiar. But already in the entrance hall there was some striking stuff–unfortunately I did not note the artist: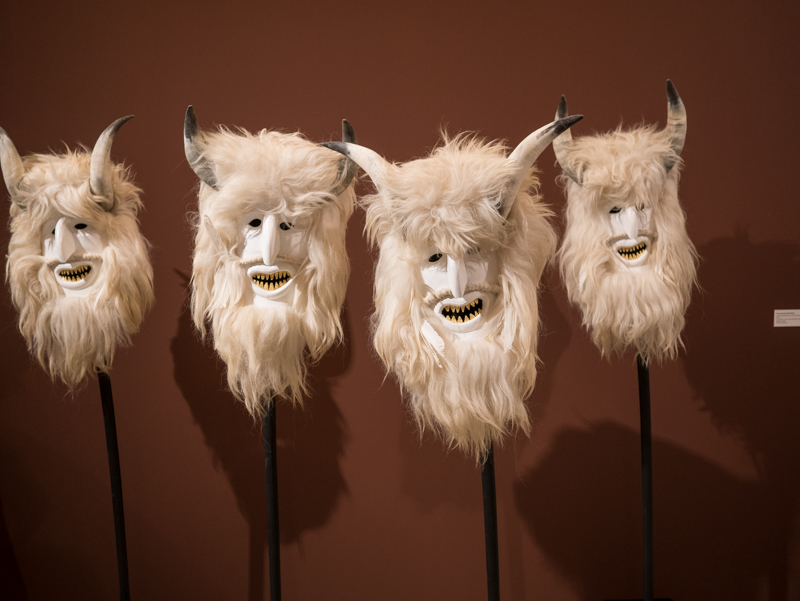 41_16
This column harks back to antiquity; also here I did not write down the artist's name–I was just focused on getting to the Brancusi exhibition: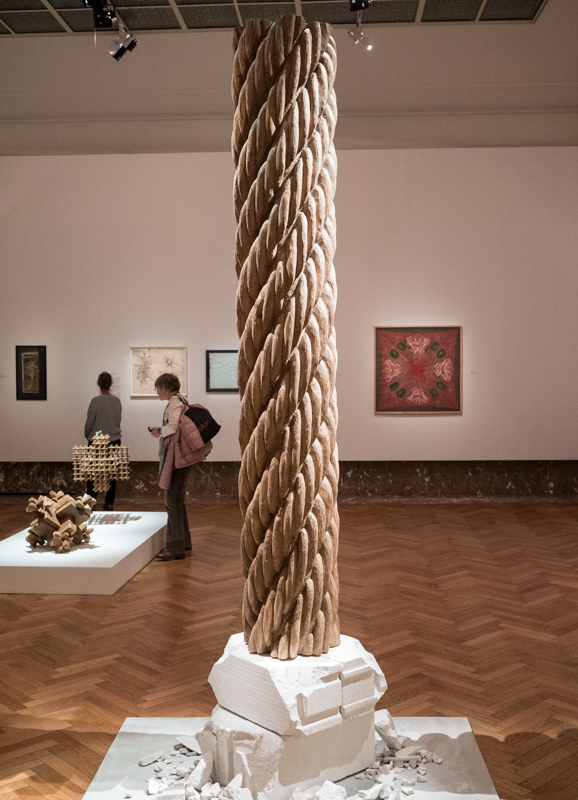 41_17
Brancusi's work was quite a revelation. This sculpture is from his early period, when we was influenced by Rodin:

41_18
Several of Brancusi's best known works were exhibited. Here, The Prayer (1907):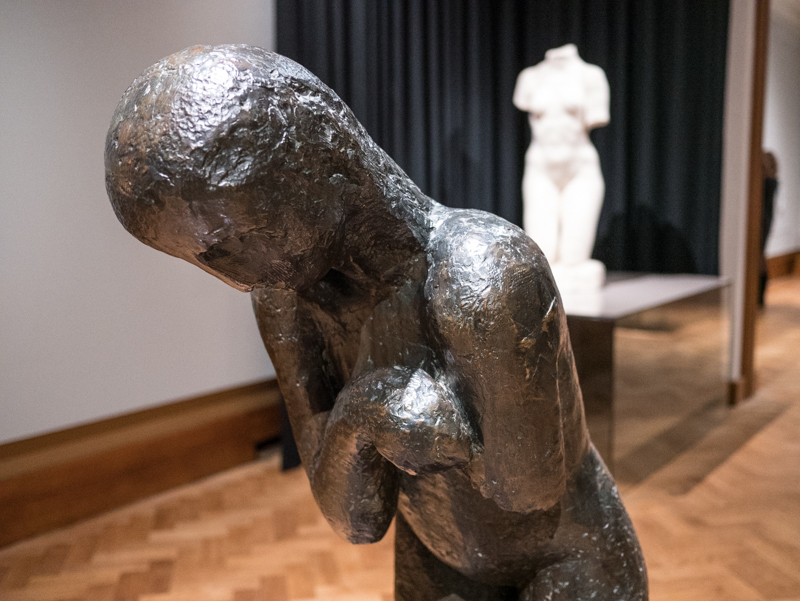 41_19
The Kiss (1907-1908):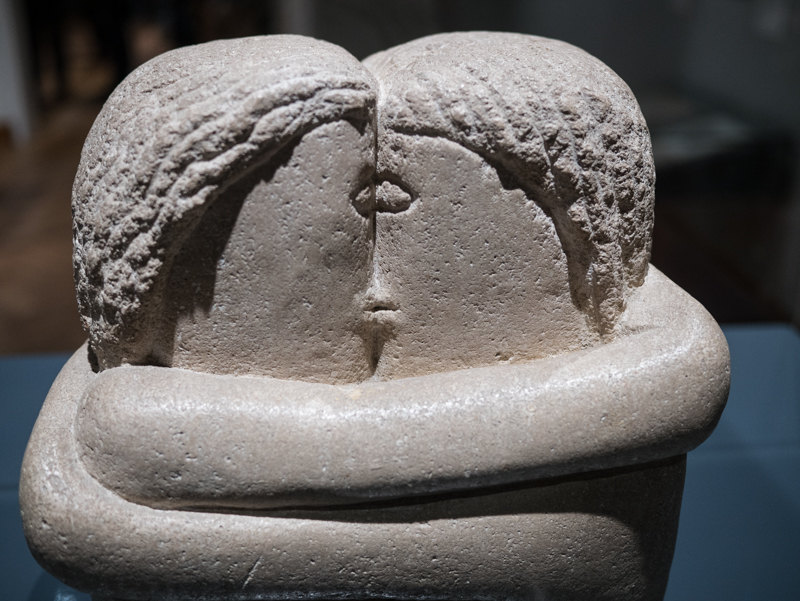 41_20
The Muse, of which Brancusi made several versions:

41_21
Another depiction of The Muse: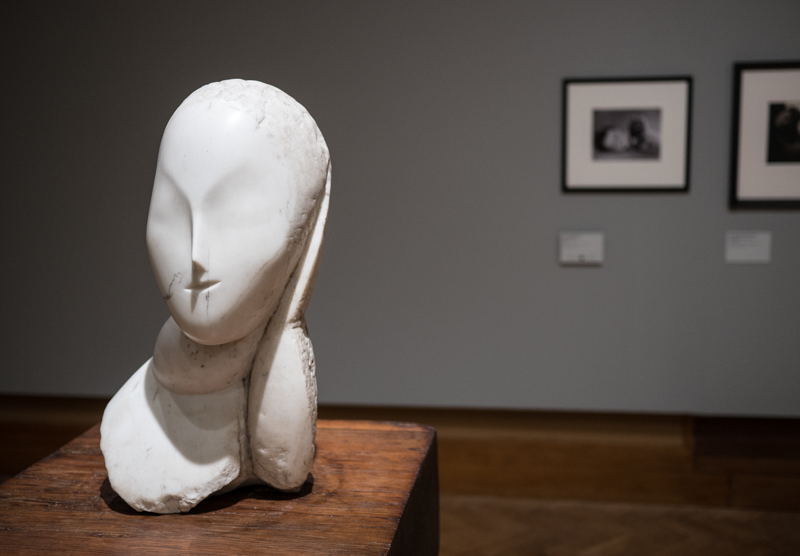 41_22
After taking in the Brancusi exhibition, I lingered at BOZAR a bit longer, looking at some of the other art, including this amusing scene:

41_23
I then walked down to Grand' Place. It was crowded and beautiful, as usual: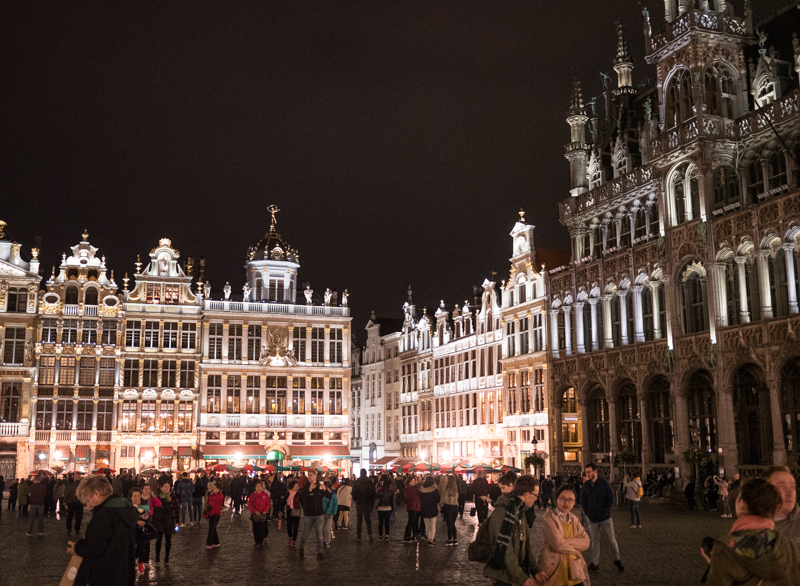 41_24
I continued on to Place Ste-Catherine, where I had a couple of beers at one of my usual watering holes, The Monk:

41_25
After a nice pizza at Nona, a pizzeria recommended to me by an Italian ex-colleague, I took the metro back to the hotel. This couple are a good example of modern Belgians of Moroccan origin. I liked the way they smiled and interacted: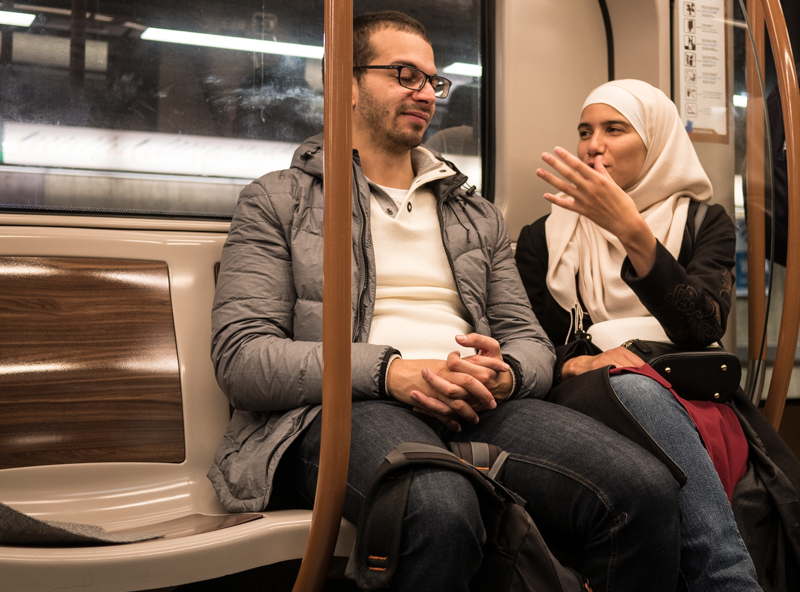 41_26
Friday morning my meeting was only about 1.5 km from the hotel, so I walked. Along the way, I looked for little details in the urban landscape, as is my habit: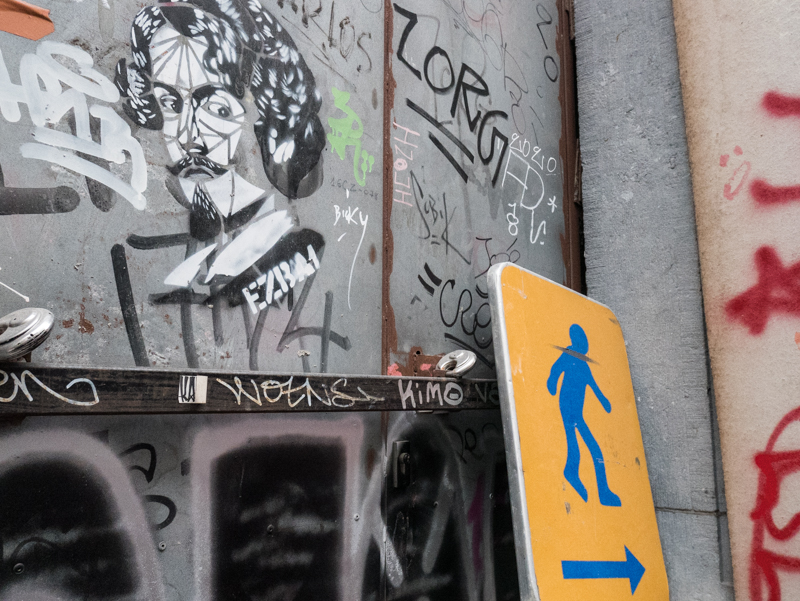 41_27
I saw several of these stickers around the centre, with the message "I will pay you back on Monday". I have no idea what it refers to: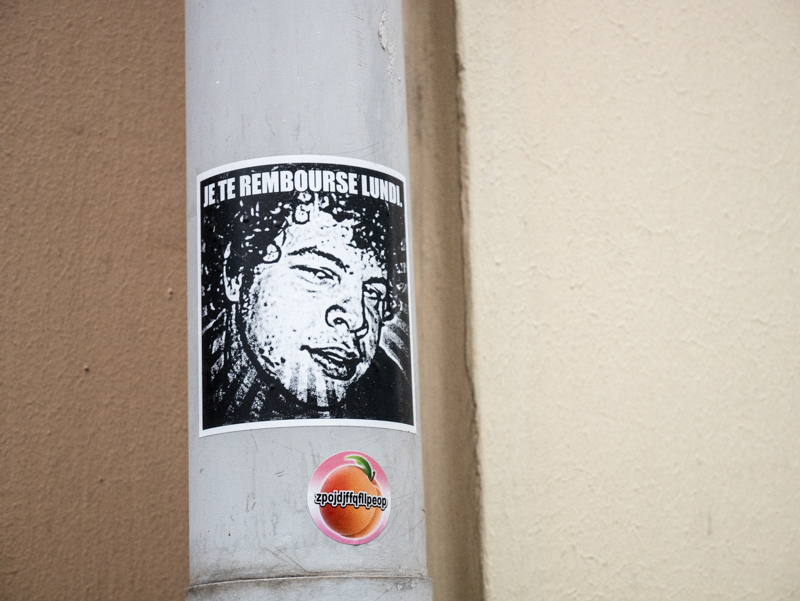 41_28
A play on Magritte in Ixelles–"this is not a dump"–a plea from an inhabitant to not throw trash through his mail slot: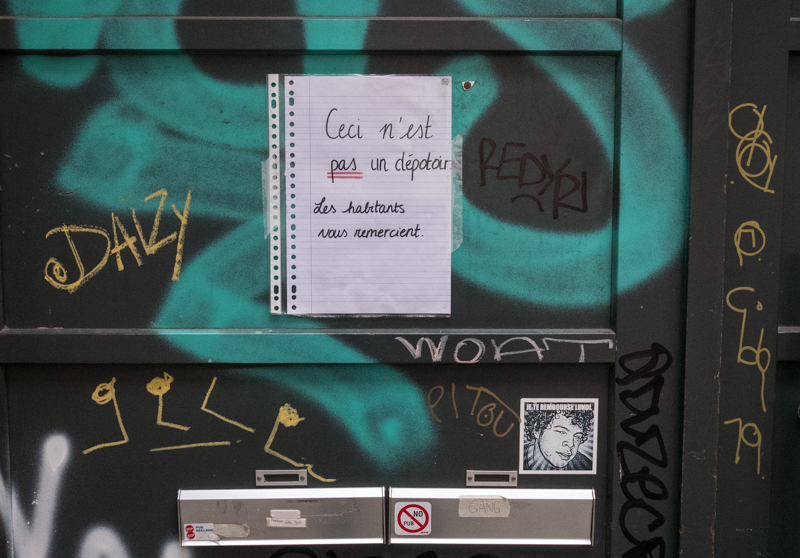 41_29
Square de Meeûs, a small green square in Ixelles, where I lived for 3 months in the summer of 1995, just after I moved to Brussels from New Jersey. I have fond memories of playing catch with my then 5-year old son in the small park at the centre of the square: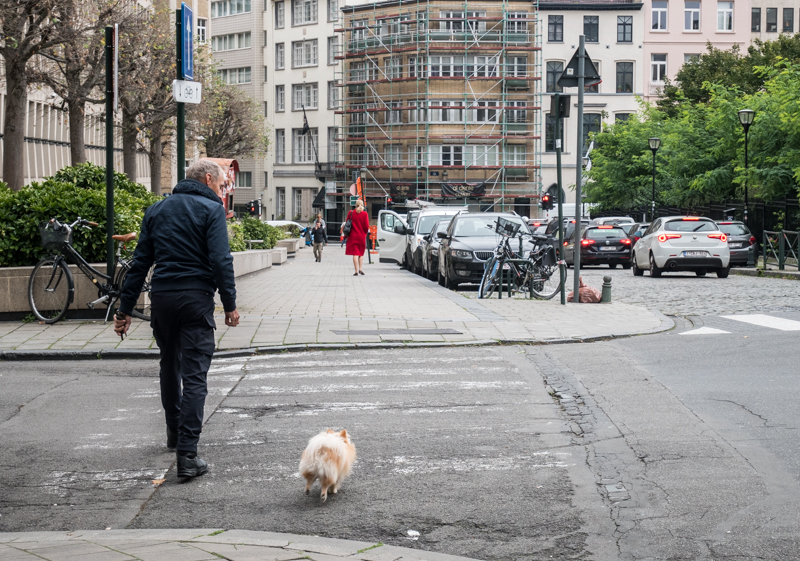 41_30
Finally, I arrived at my destination for that morning's meeting, the European Commission's Joint Research Centre:

41_31
After the meeting ended around lunchtime, I went to the train station, put my bag in the locker, and set out to spend the rest of the afternoon in the immigrant neighbourhood St-Gilles, where I was going to meet up with my cousin Nicole for a special event later on. I took a long walk through the neighbourhood, passing this Polish grocery store along the way: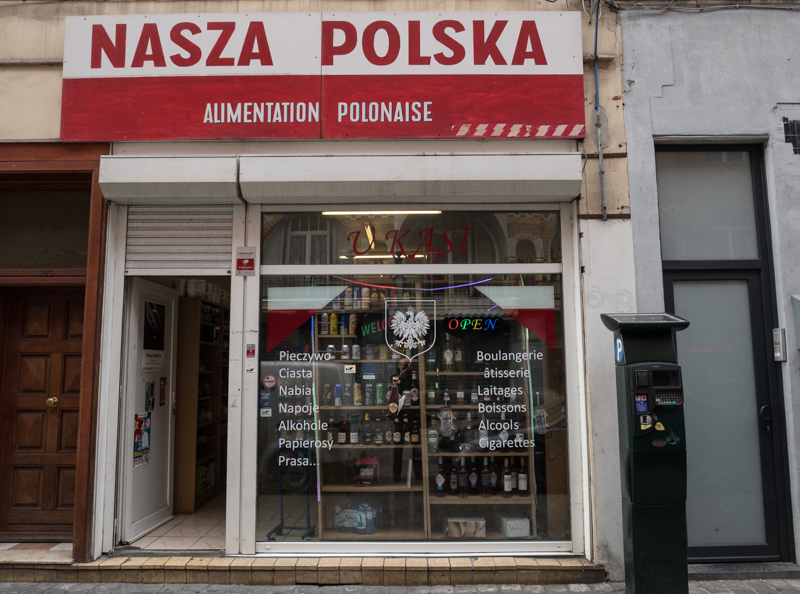 41_32
And a skateboarding rink provided some visual entertainment: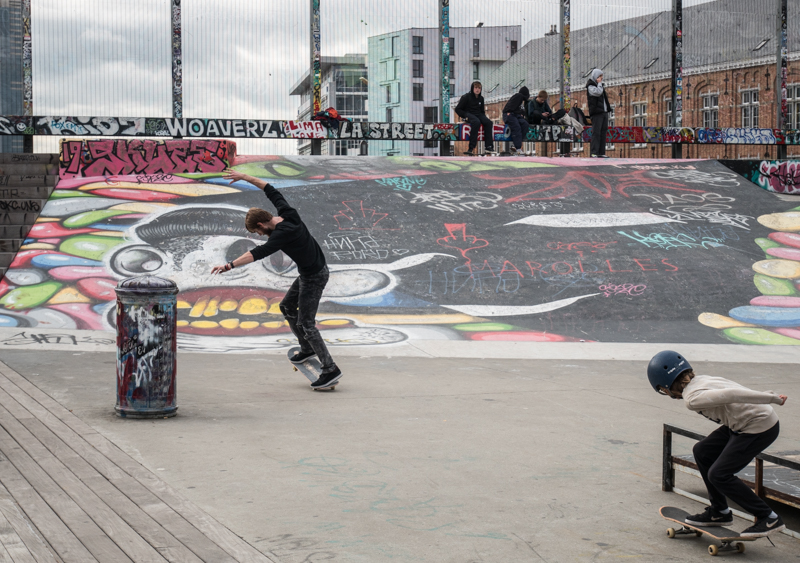 41_33
My destination was this street, Rue Joseph Claes. The "alternate" street name has been placed there by a group that argues for naming more of the city's streets after deserving women to redress this particular gender imbalance: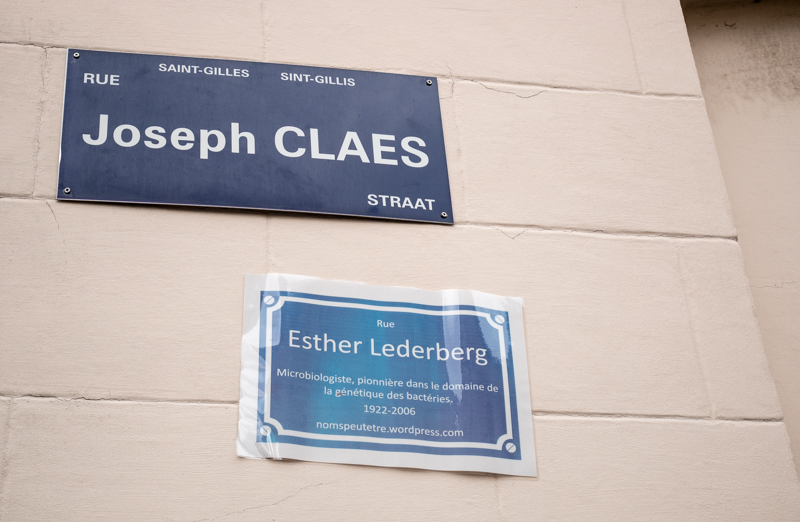 41_34
I had come to this place to witness the placing of a "pavé de mémoire", or "remembrance stone", in front of Rue Joseph Claes 103. These stones are placed in front of houses where a Holocaust victim lived. The programme is sponsored by Association pour la Mémoire de la Shoah, in which my cousin is active (if you can read French, more information is available here). That day, ASM were going to place 16 such pavés around Brussels, and my cousin had told me that she would be present at this particular location. First, the representative of the association made a short introduction: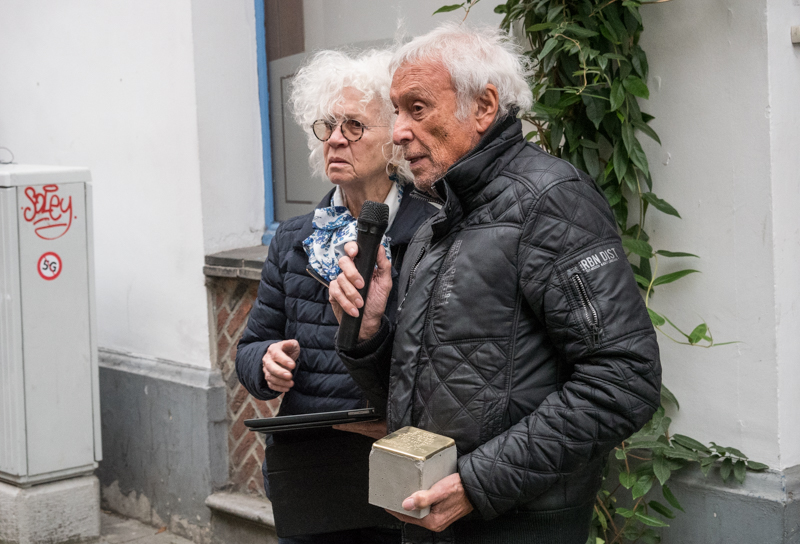 41_35
Placing the pavé: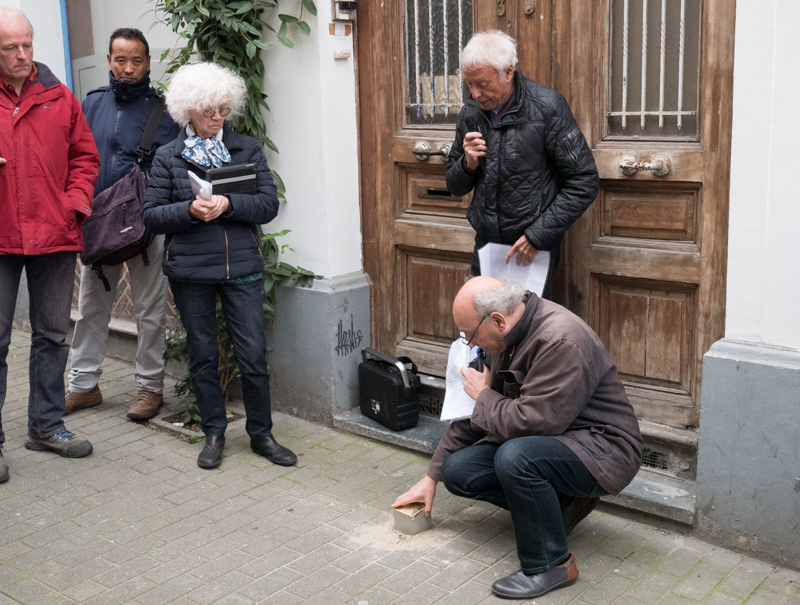 41_36
Another speech, by a representative of the Auschwitz Foundation:

41_37
Close-up of the pavé: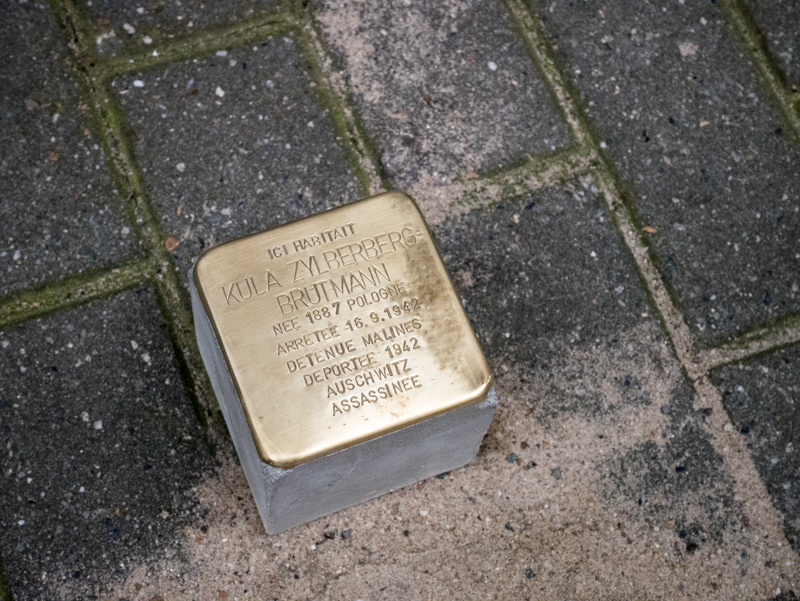 41_38
My cousin Nicole also spoke: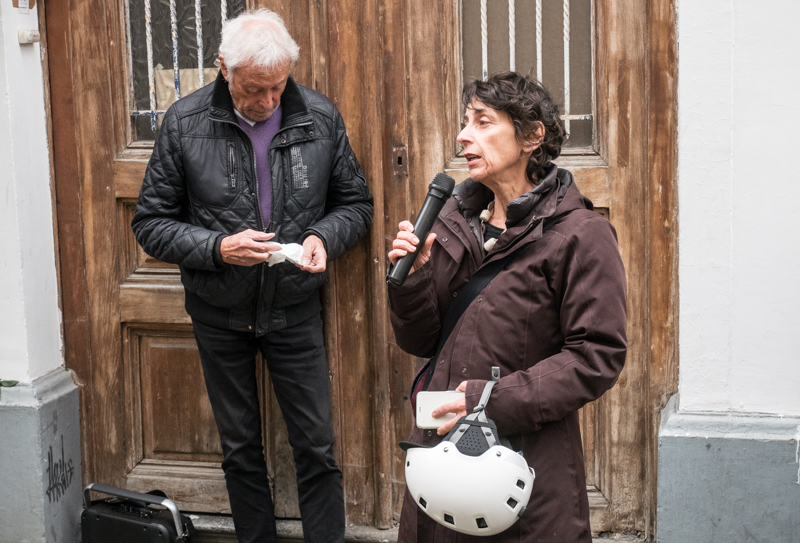 41_39
The small ceremony finished with a very nice touch. A group of students from a local high school were there, and they were very much a reflection of the ethnic diversity of today's Brussels. First, one of the boys made a speech: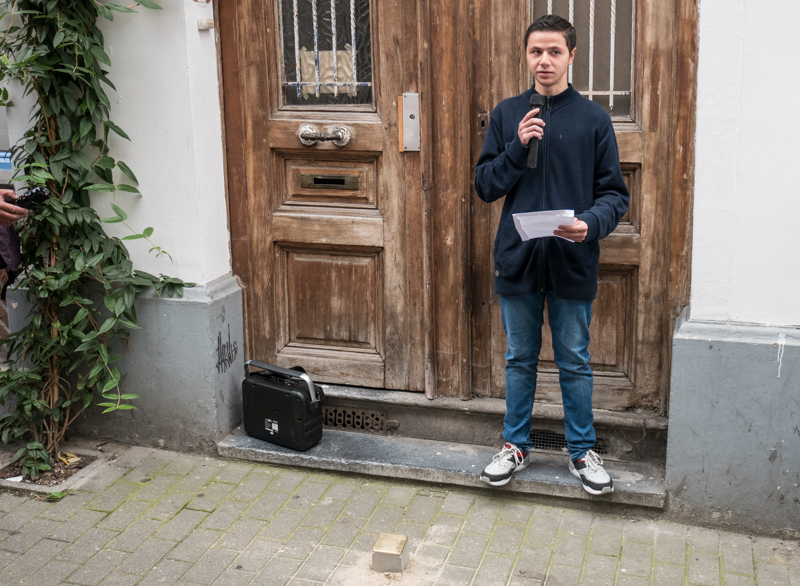 41_40
Afterwards, each of the 10-15 students stepped up to the microphone and said "we will never forget" in his or her mother tongue (in a few cases this was French, but there was also Arabic and various Eastern European languages):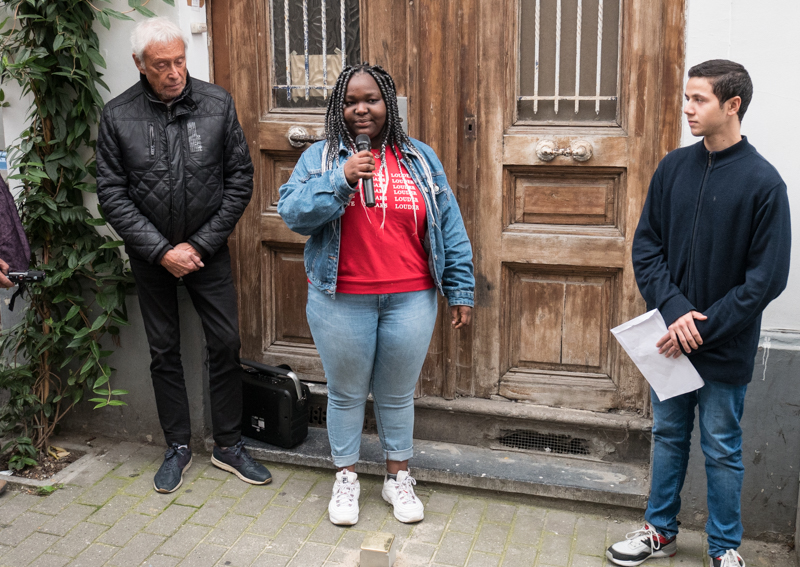 I then walked back to the train station, retrieved my bag, took the train to Brussels airport and flew home.
41_41
On Saturday, I took my sister and brother-in-law for lunch at Hostal Maruja, something we do every year: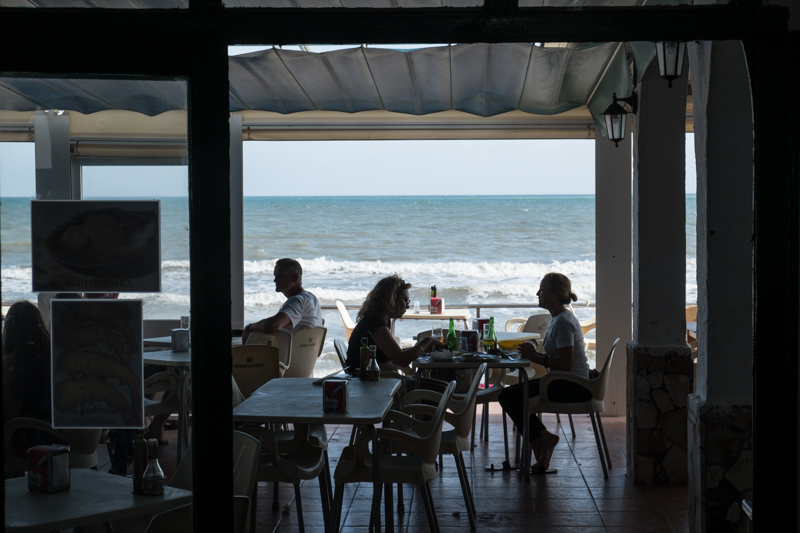 41_42
The view from the terrace, looking north: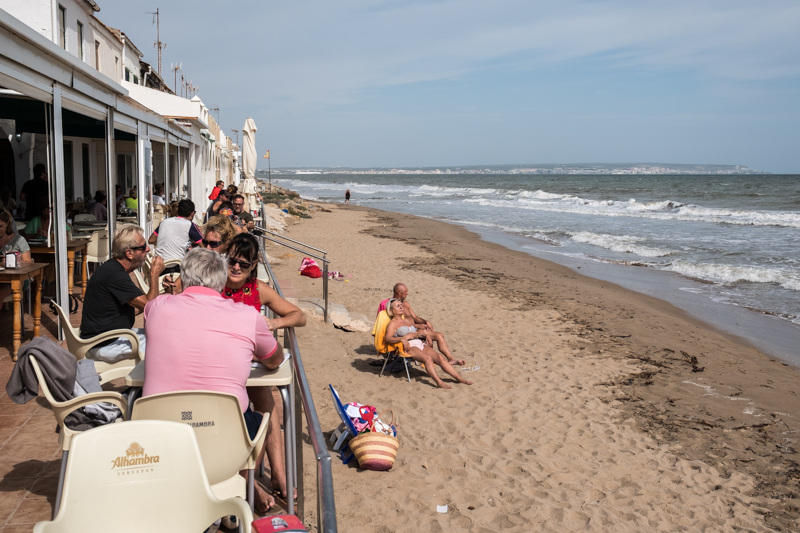 41_43
Playing in the sand: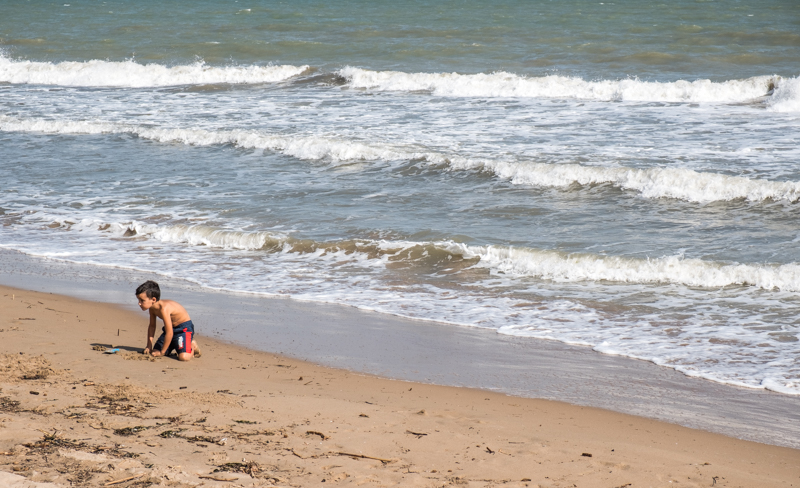 41_44
A rare picture of me, enjoying my pint: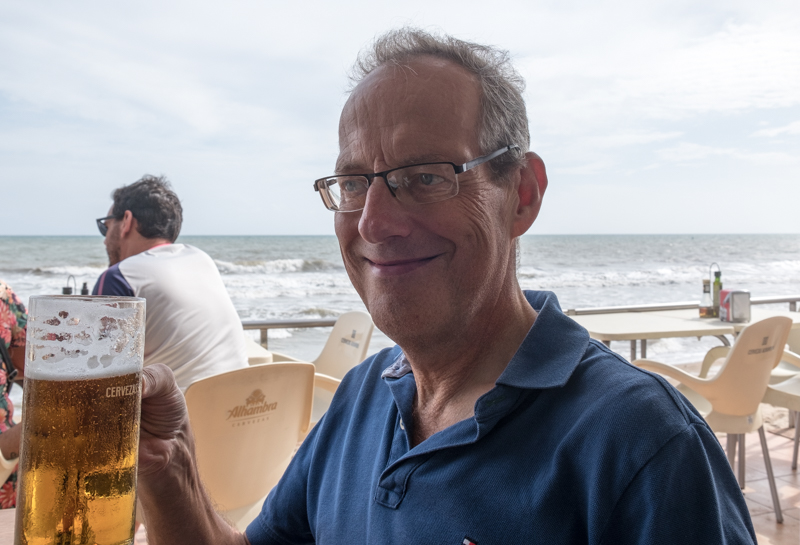 41_45
Brother and sister: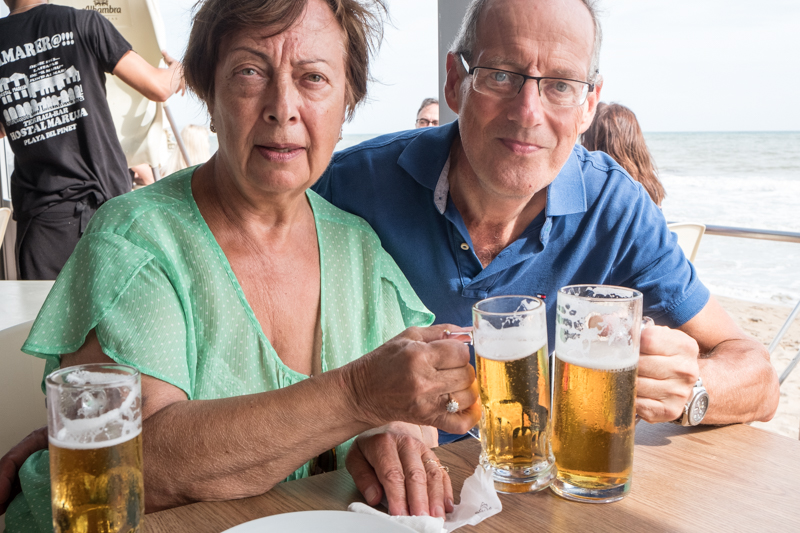 41_46
Of course, we come for the food, not just for the views. A dish we always take is sepia a la plancha: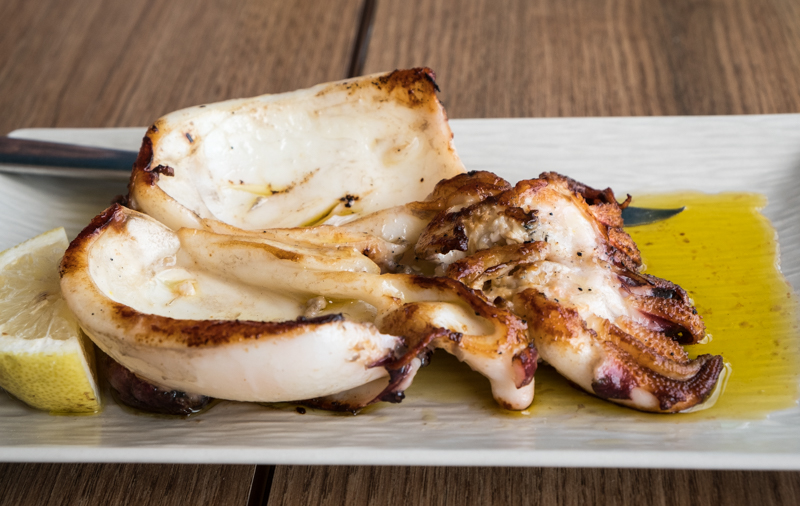 41_47
And they also do an excellent vegetable paella, which we "discovered" a couple of years ago when my vegetarian daughter was with us. We have since started ordering it even when she is not with us, simply because it is delicious: