Of course, the focal point of the first week of the year (or the last week of the previous year, if you will) is New Year's Eve. This year, because both children were here, my wife decided to have a big party, and a lot of effort was spent on decorating the downstairs den. But the results were very nice. Other than the party, we enjoyed the good weather in Alicante, sunny and a bit cold, with temperatures around 16-17C in the afternoon.
1_1
Like me, Moses appreciates good beer, so I had bought two bottles of Westvleteren, the Holy Grail of Beer, in preparation for his visit. A couple of days before New Year's Eve we finally performed the Ritual of the Sacred Hops: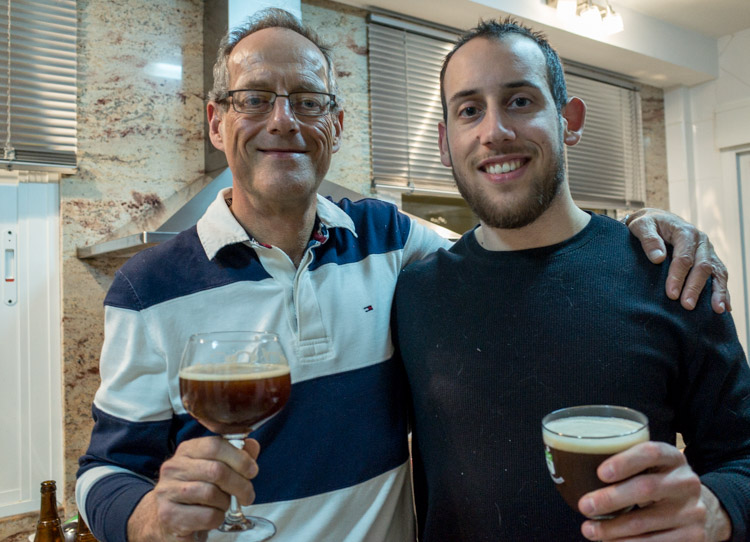 1_2
A snap during a walk in the centre of Alicante. A man reads his newspaper inside a bakery/coffee shop: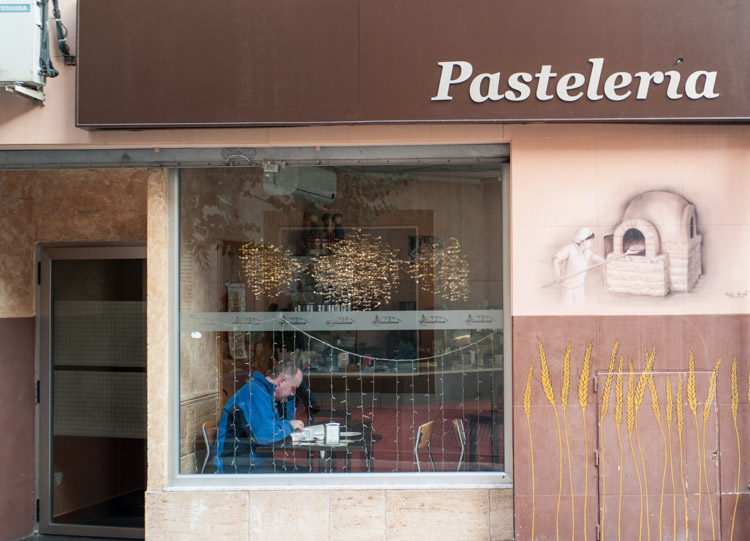 1_3
Outside a clothing store in the centre: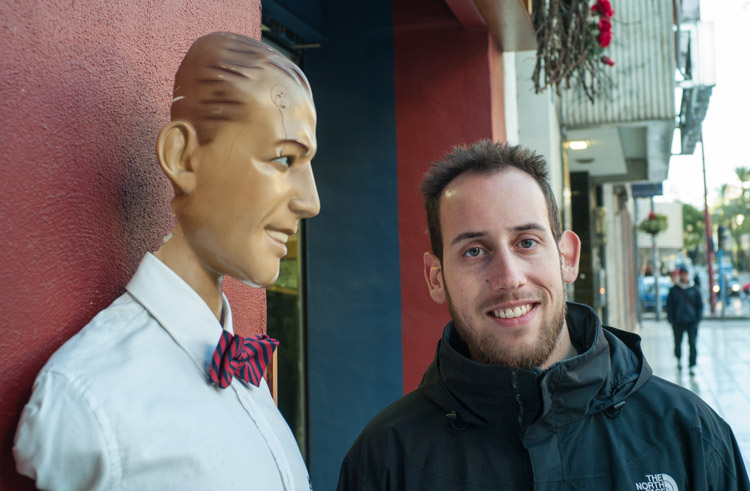 1_4
The Christmas season was still in full swing, because the culmination of Spanish Christmas is not Christmas Day, but Three King's Day on January 6th, which is when Spanish children get their presents. There are many small traditions, one of which is that special pastries, polvorones, are offered to customers in shops, along with sweet wine. Most shops have a bottle of wine and the pastries on the counter, here in Apedales, my local bicycle shop, which adds the additional touch of using a porrón for the wine: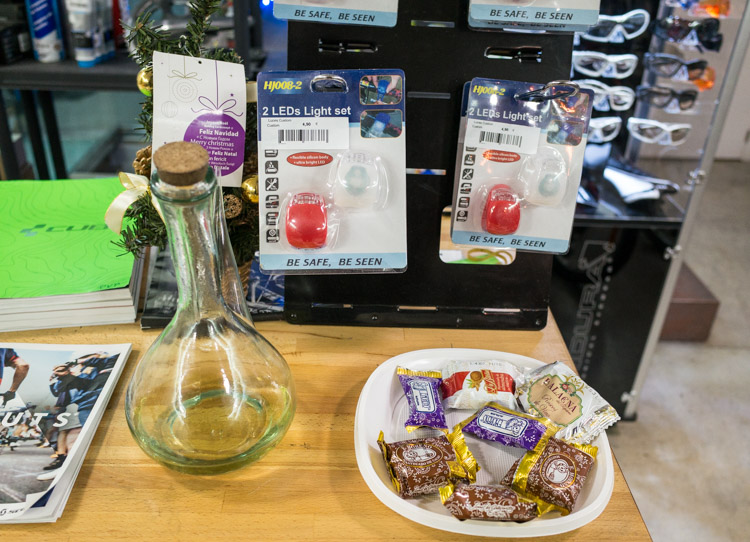 1_5
As usual, I was out cycling every day, enjoying sights like this: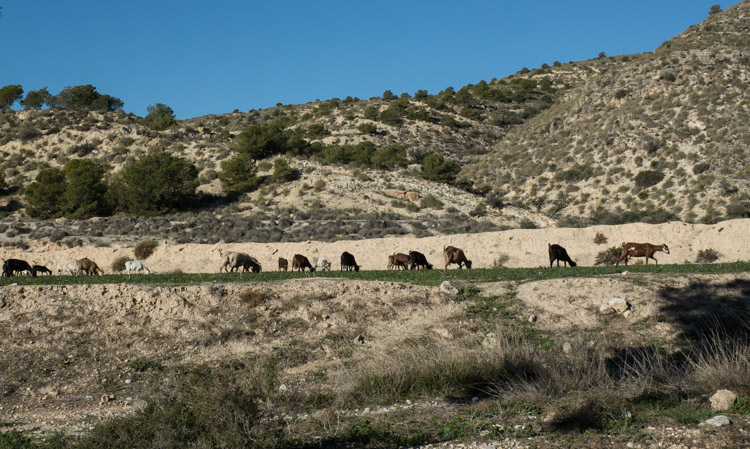 1_6
December 31st has arrived, and our den, usually occupied by my bicycles and various odds and ends, has been transformed: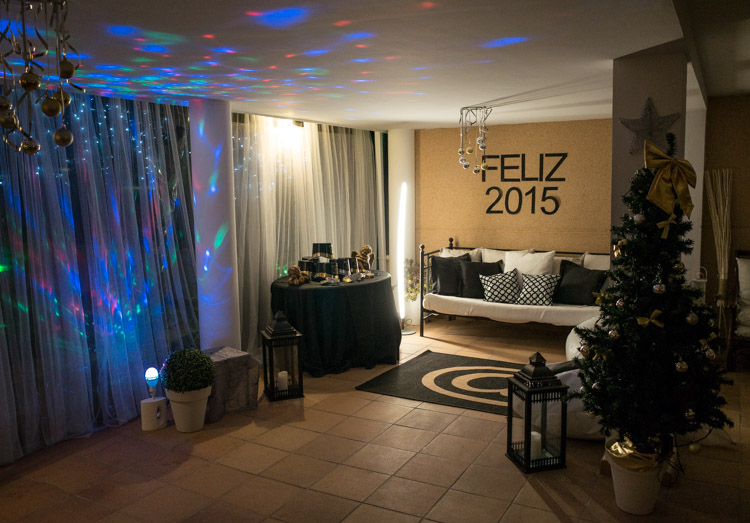 1_7
We dressed up for the party: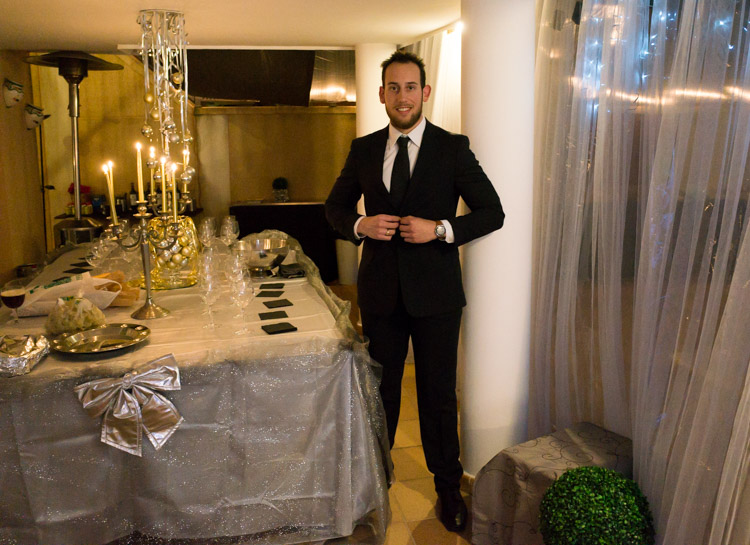 1_8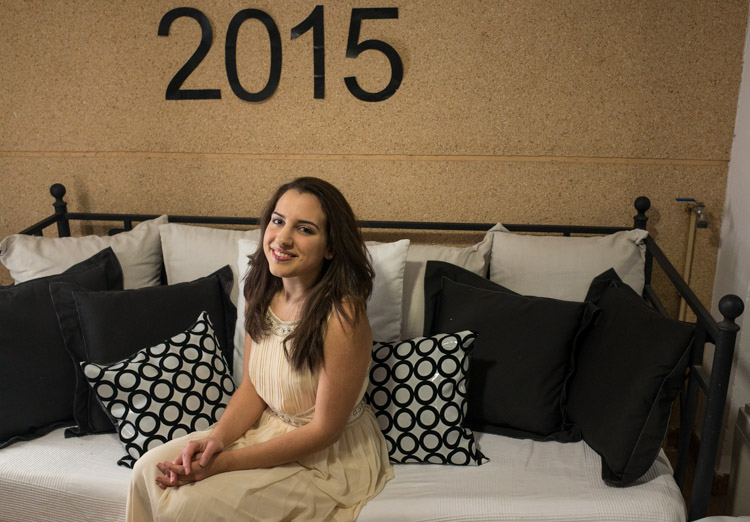 1_9
Finally, the guests are here and the party starts: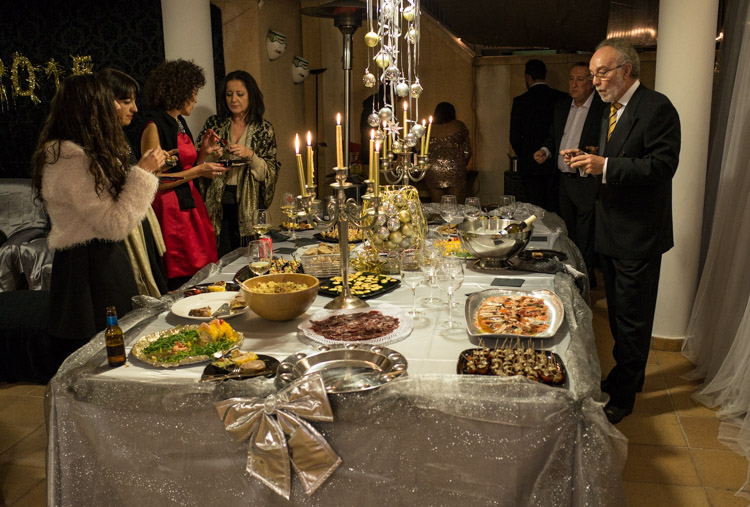 1_10
The women pose: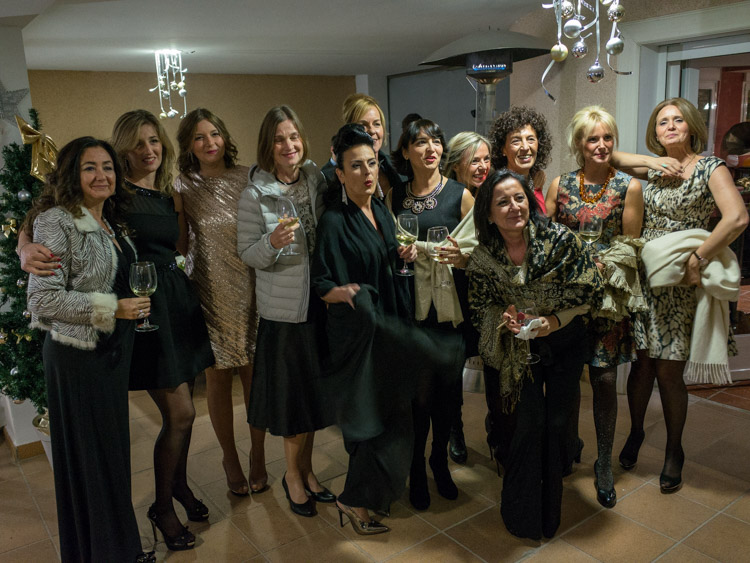 1_11
The men take pictures: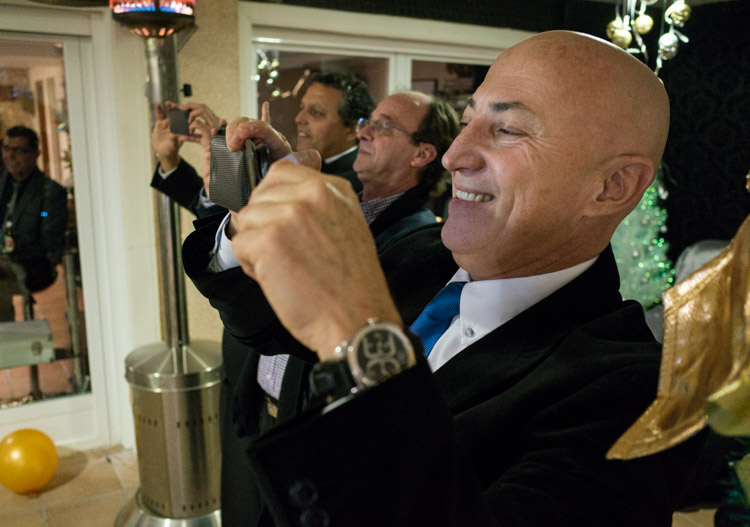 1_12
When the clock strikes midnight, everyone eats a grape for each stroke of the bell. The twelve grapes are put on a stick for easy retrieval. Obviously, to minimize the risk of choking, seedless grapes are used: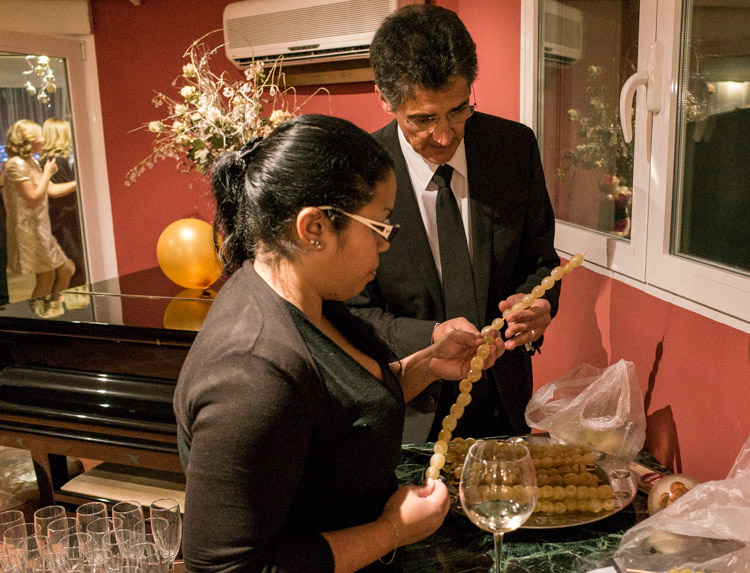 1_13
2015 is here: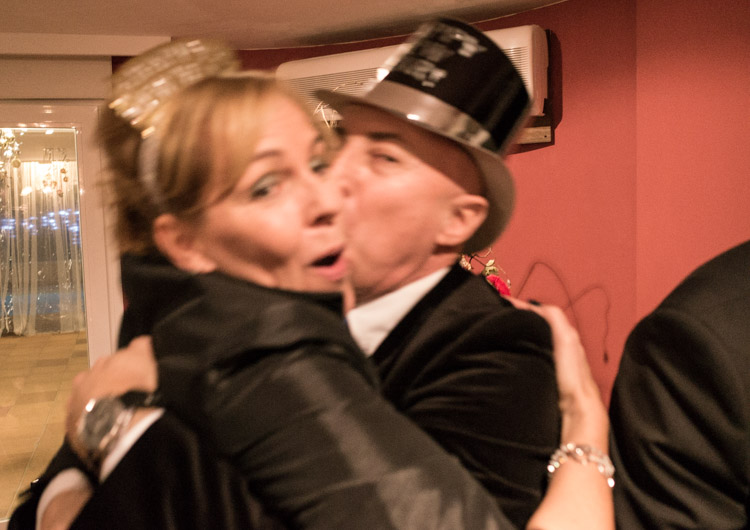 On Sunday afternoon we went for a walk in the city.
1_14
For some reason, someone put knitted warmers on this railing on the Esplanada. No idea what or who is behind this: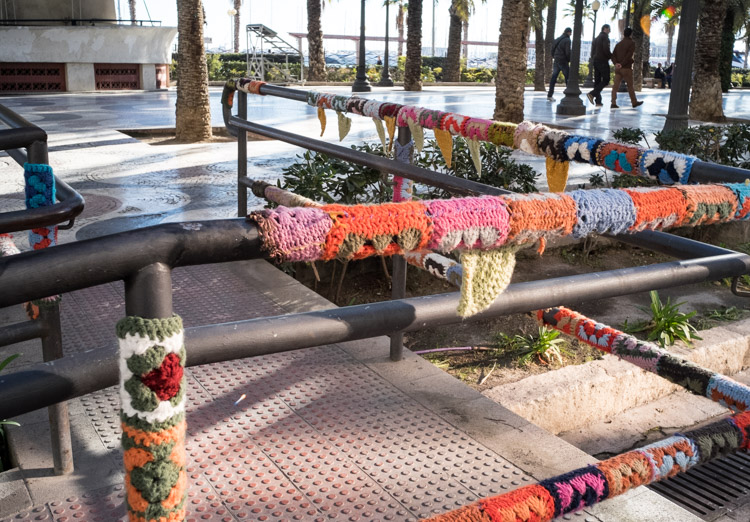 1_15
We went to the Valor shop for some hot chocolate: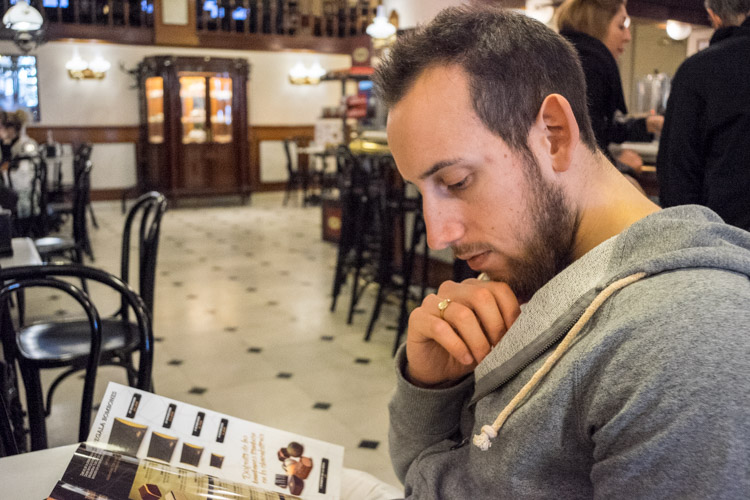 1_16
Moses also bought a selection to take back to Buffalo: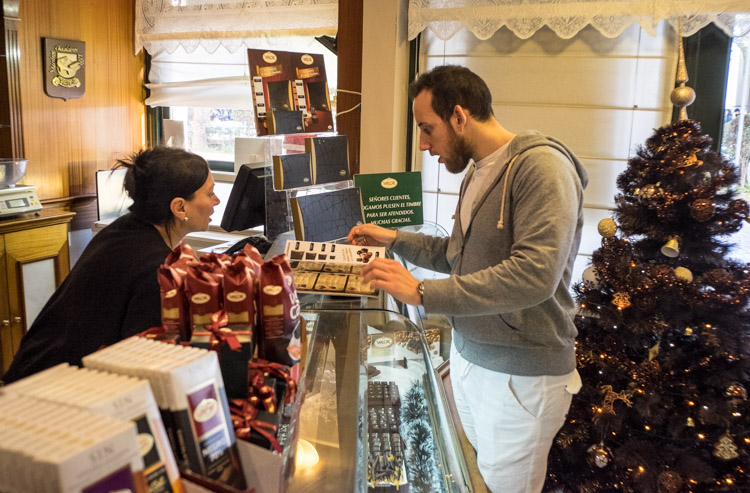 1_17
Enjoying the sunshine on the Plaza Puerta del Mar: