A week with a variety of activities here on the Mediterranean coast: some of the same ones as every week (cycling), some less frequent–paella with friends or a drink on the beach with our daughter who does not live at home anymore.
14_1
A couple of times a year, usually during school vacations (this week schools were still out because of Easter), a medieval market comes to our neighbourhood. I usually go to have a look, as it is 500 meters from where we live, in the central reservation of the main thoroughfare, Avenida Vicente Ramos. Because this region was in Muslim hands until the late 13th century, there is a strong Moorish flavour to the decorations: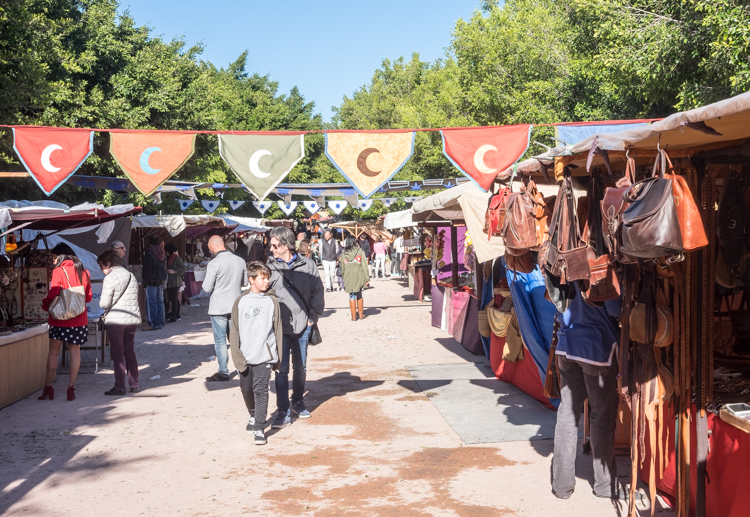 14_2
There are always some food vendors, and although the medieval dress is fake, the food is usually authentic regional stuff, like these cheeses: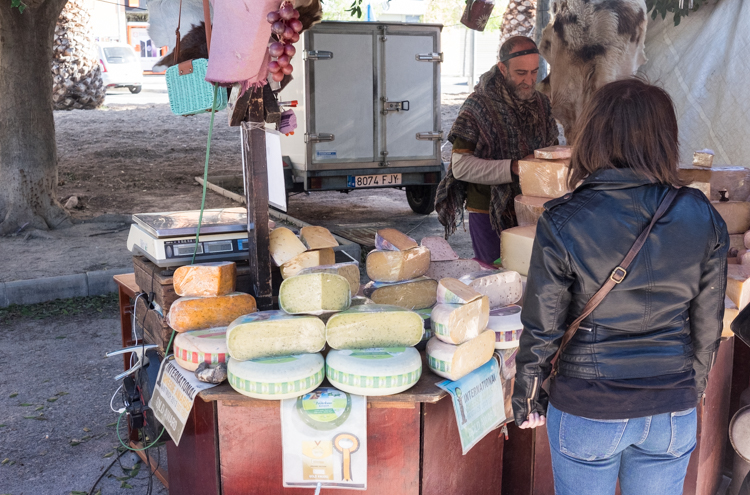 14_3
Chorizo and various other sausages and meat products: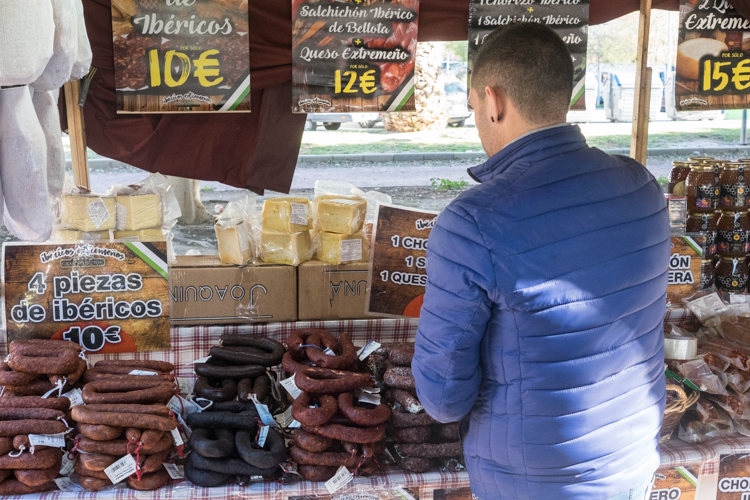 14_4
Waiting for customers; I never eat at these places, the food tends to be grilled meat, rather fatty and always overpriced: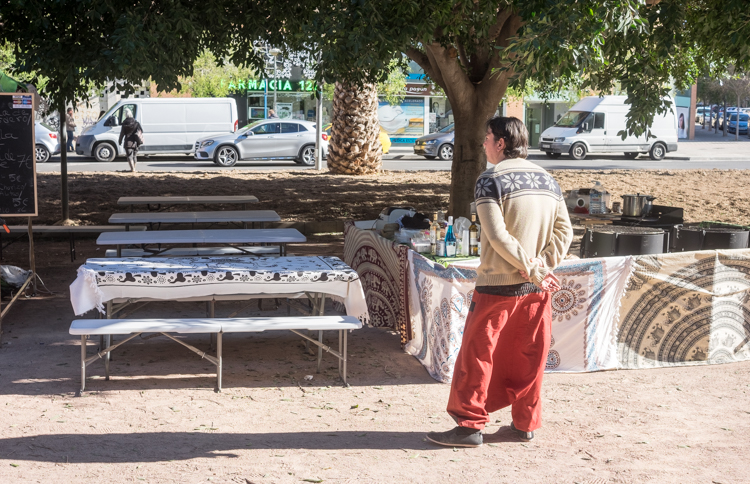 14_5
The entertainment, such as it is, is mostly aimed at children: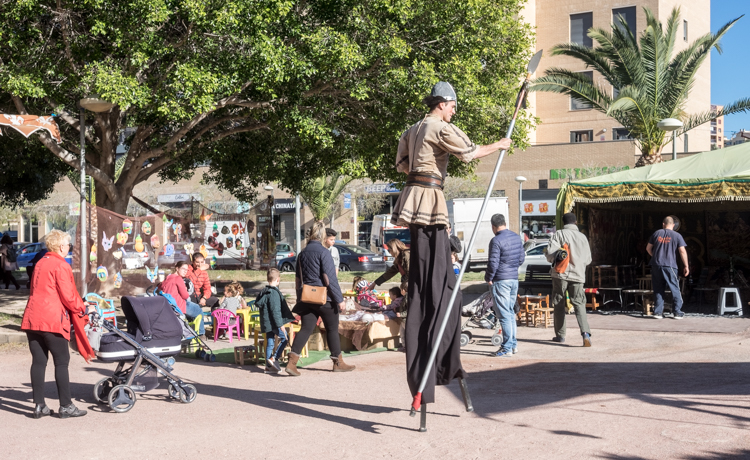 14_6
I don't think these instruments were available to medieval minstrels, but nobody seems to mind: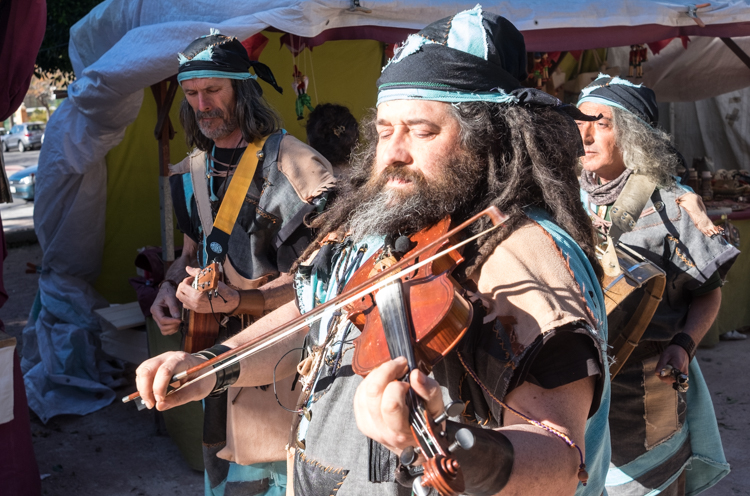 14_7
The following day I cycled south to Elche and Santa Pola, stopping for a break in Santa Pola's fishing harbour. Since it was Sunday, the fishermen were not working, and their ropes and nets were drying in the sunshine: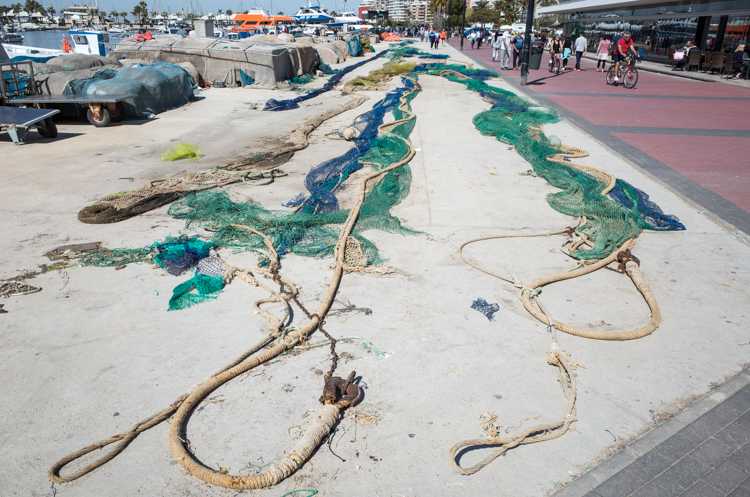 14_8
Spain has one of the world's largest fishing fleets, and Spanish boats can be seen in many faraway places. But not the ones from Santa Pola–these guys fish in the waters off the Alicante region's coasts: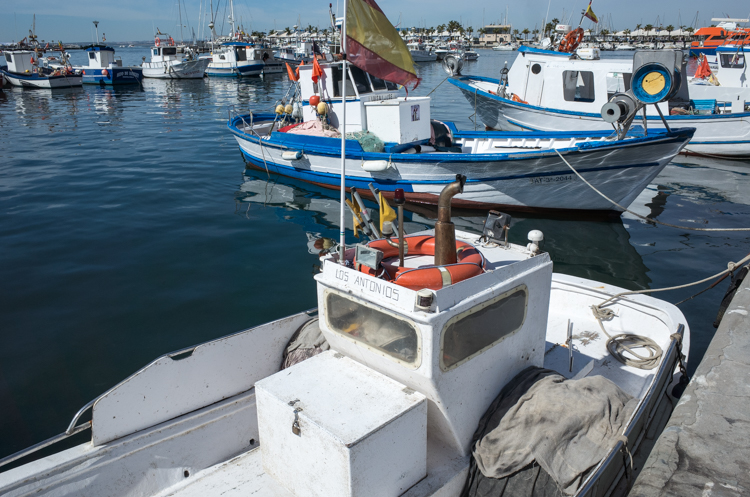 14_9
On the way back, about 13 km from home (out of a total 74 km on this ride), I stopped to take this picture on the beach in Urbanova. When I later posted it on Facebook, I labelled it 'The invasion of the Yellow Plates has begun'. This refers to the many Dutch and British campers we get down here, and especially the Dutch ones like to park in places where it is free, like here. In the interest of full disclosure, of the four campers in this photo, two have Spanish license plates, one is from the UK and one from the Netherlands: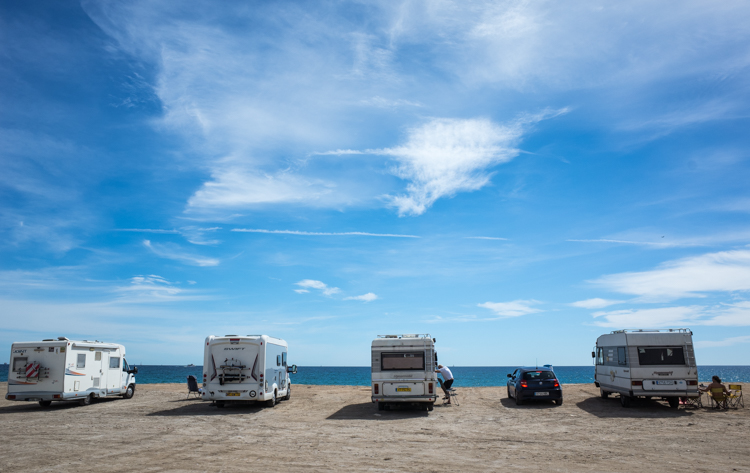 14_10
When I returned from the ride, two of our friends, Roberto and his wife Mariluz, were already here. Roberto had offered to make a rice (this what paella is referred to around here, simply arróz). So the deal was that he would provide the tools and his considerable expertise while we provided the ingredients and of course hosted the small party of about 12 people. I have put up a small gallery of the complete proceedings here, but in this blog I just show a few selected images. This one I call "the genesis of the paella":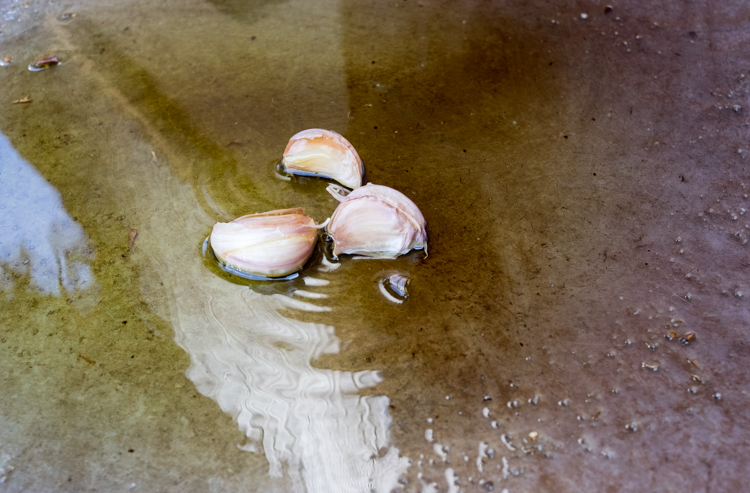 14_11
This was a paella with meat (chicken and rabbit) and vegetables, not the better known seafood variety: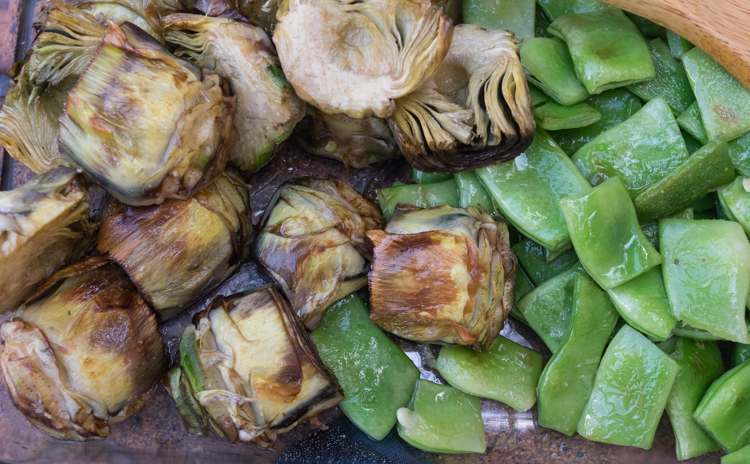 14_12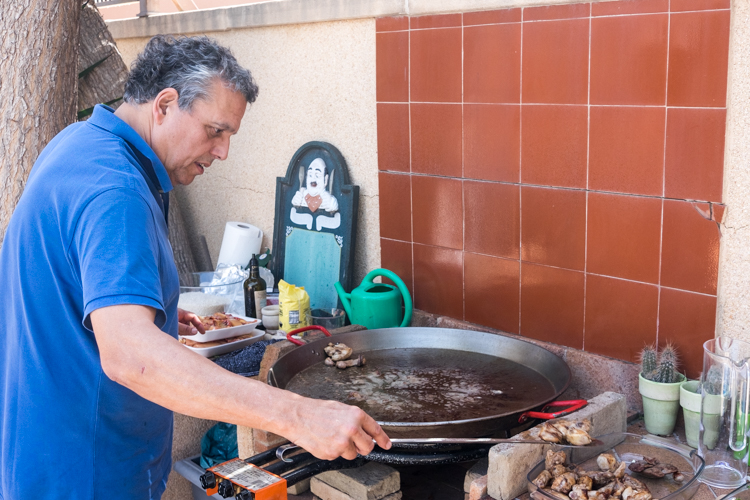 14_13
Iñaki is consulted on the all-important task of tasting the caldo, or broth: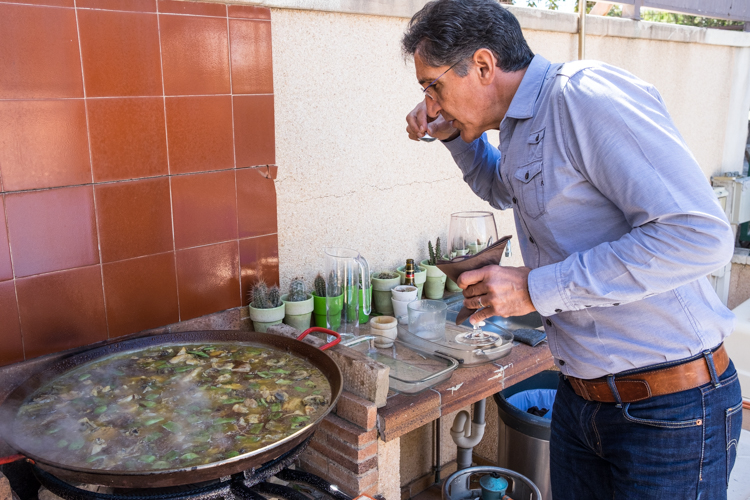 14_14
It met with his approval: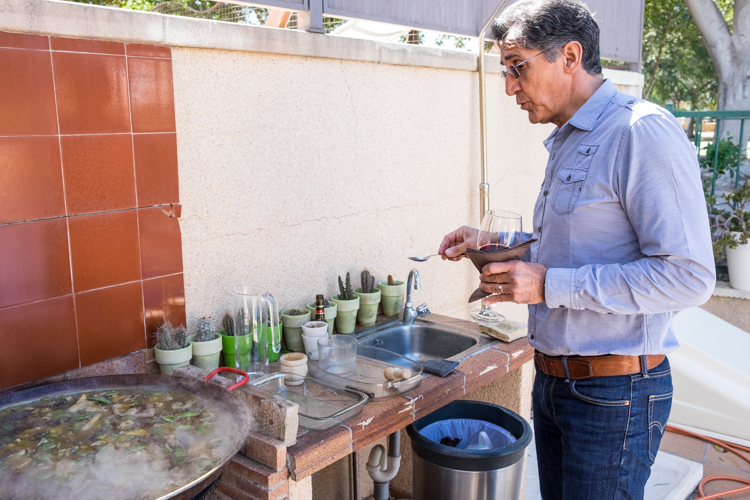 14_15
The last milestone–the rice is added to the broth. Now it is just a matter of time: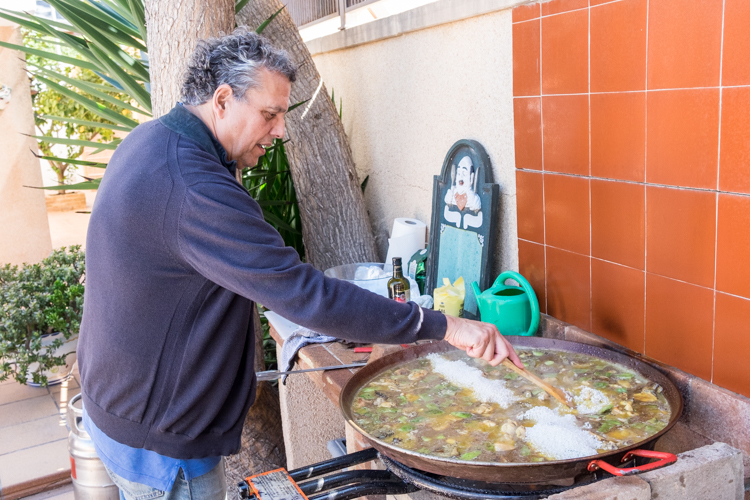 14_16
Roberto makes a fine adjustment: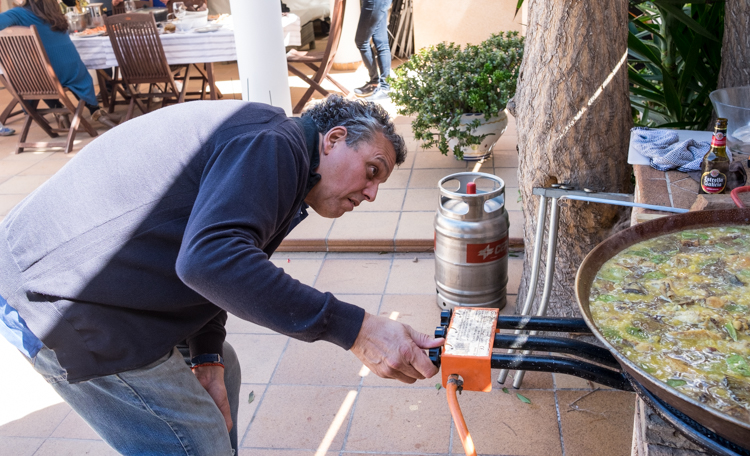 14_17
An important decision is being taken–is it ready?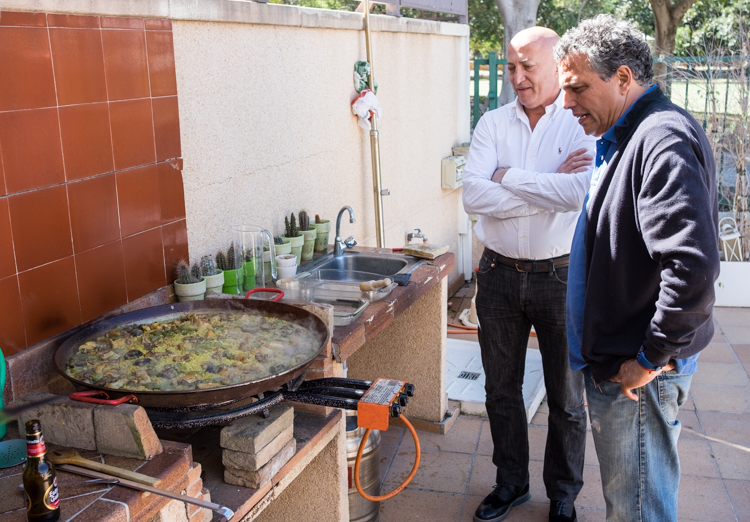 14_18
Mariluz dishes out the delicious finished product: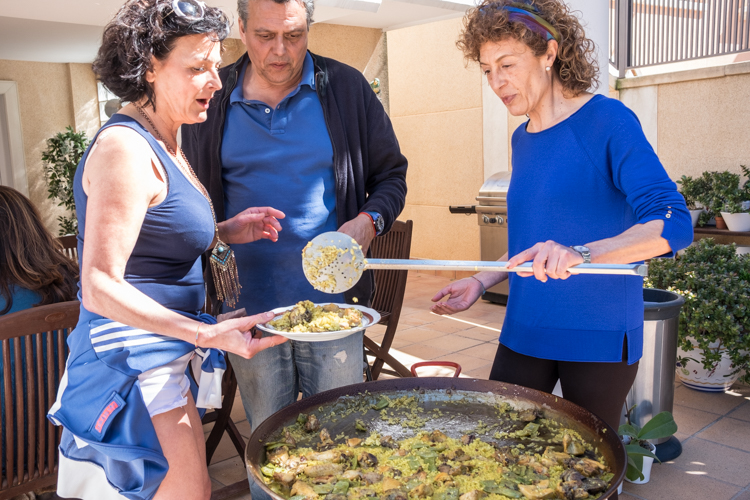 14_19
Just a random photo from our neighbourhood. Newly-built apartment buildings have retail spaces on the ground floor, but this one is still a work in progress: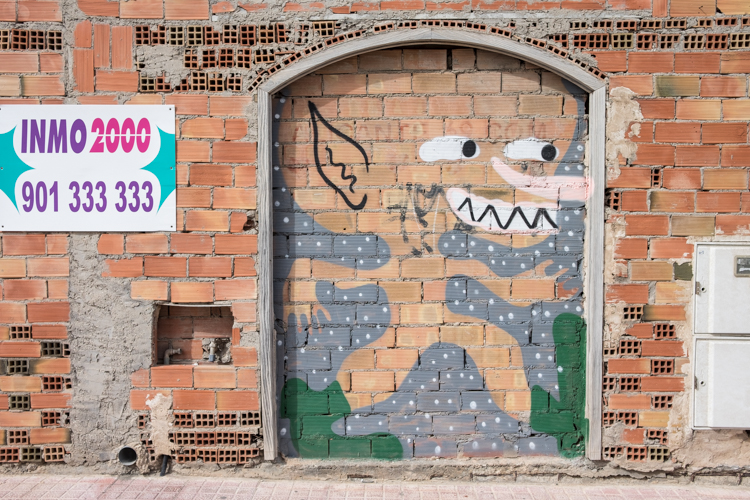 14_20
On Easter Monday, a public holiday here in Spain, our daughter Monica came to visit, and we went for lunch at a local Italian restaurant called La Mafia se Sienta a la Mesa (The Mafia sits down at the table). This is a Spanish chain, and the name, which I thought was an ethnic slur towards Italians when it first opened a few years ago, has indeed generated legal controversy. The company had registered an EU trade mark in our office back in 2006, but in 2015 the Italian government filed a cancellation motion on the grounds that the trade mark violates the principle of public morality, one of the possible grounds for cancellation. Our office granted the cancellation, the company sued all the way to the EU General Court but lost. This is similar to the Redskins legal action in the US, where the USPTO also invalidated the trade mark but that was eventually overturned in court on First Amendment considerations. Never mind, the food was good and the drink, which Monica is photographing here, was pretty: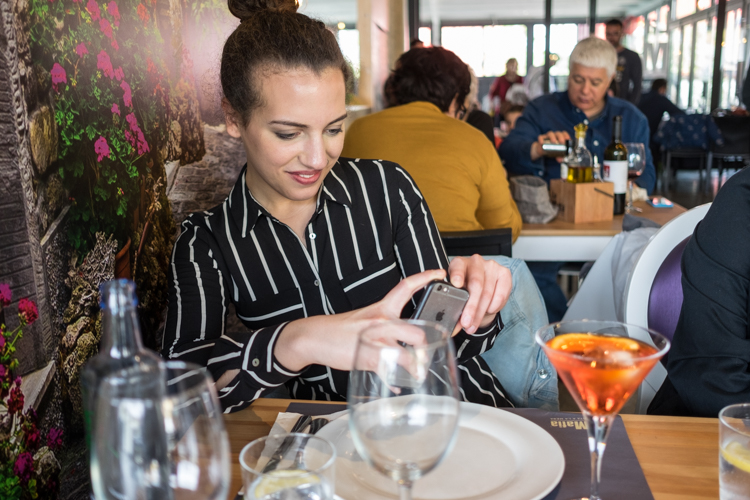 14_21
After lunch, we went to have a drink on the beach promenade in El Campello. This is my preferred way to enjoy the beach–having a drink and just looking at the sea: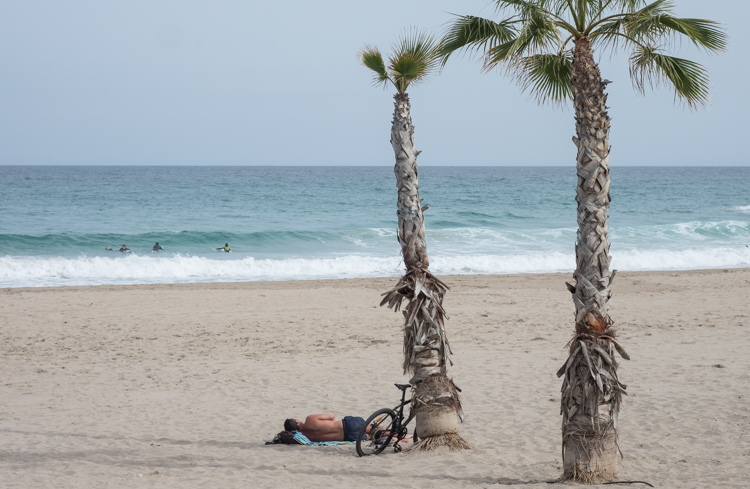 14_22
Monica with her Piña Colada: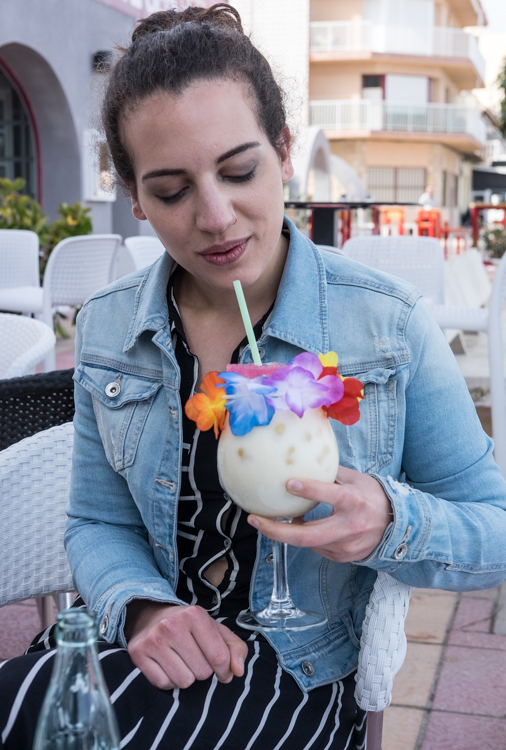 14_23
I especially like to watch the human traffic on the promenade. This little girl was tired, so she simply lay down and refused to get up: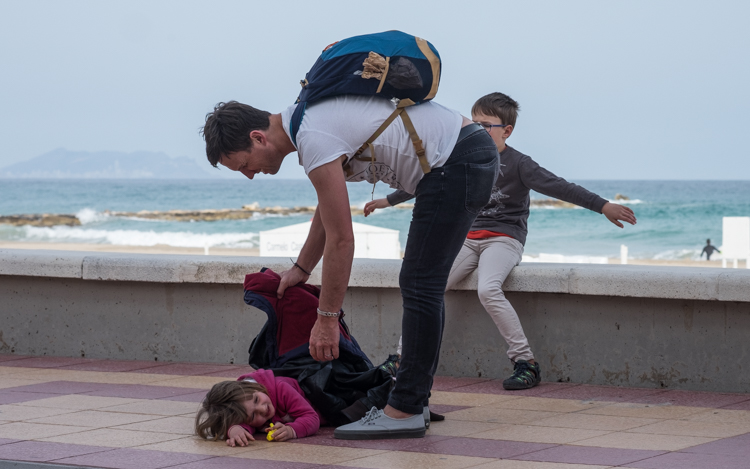 14_24
Two Dalmatians and their people. I guess I caught the decisive moment here: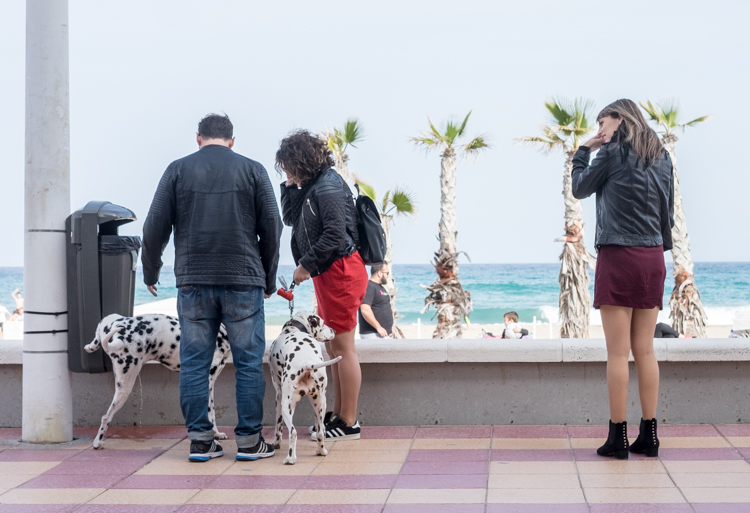 14_25
It was not cold at all, but Chihuauas are tropical dogs, so they still need clothing in early April: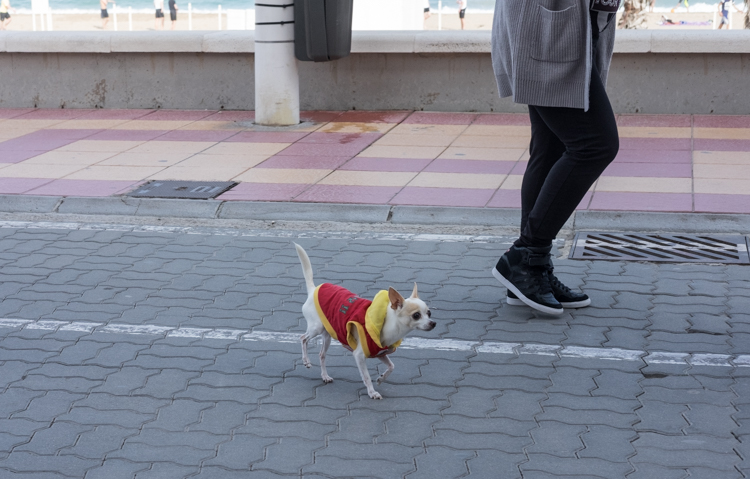 14_26
Continuing the dog theme, but now in the city centre in mid-week: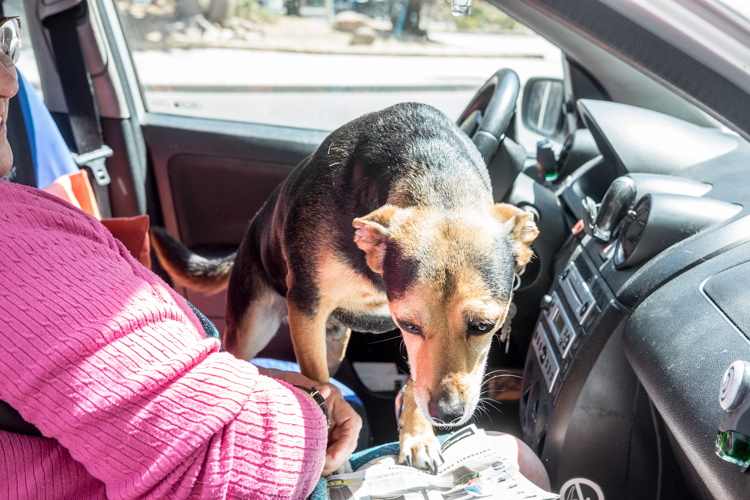 14_27
And on a balcony in Aigües, where I cycled on Saturday (at the end of the week):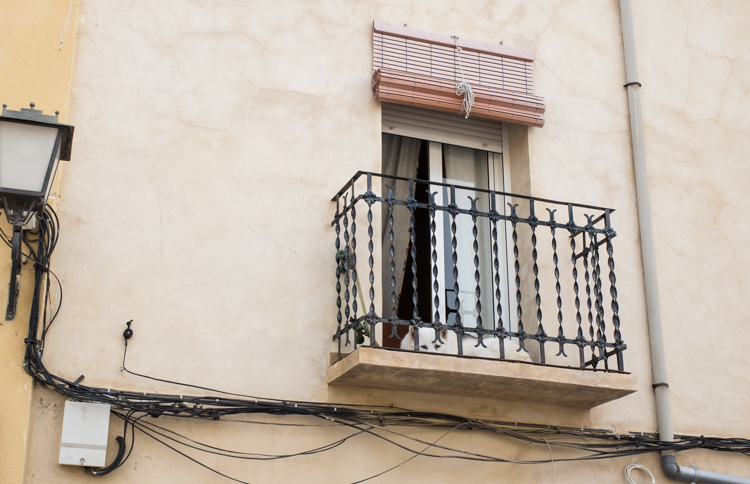 14_28
During the same bike ride, I also went to Busot. The colours of the village looked pretty against the grey sky. It was not cold (I was cycling in short sleeves) but it looked like it might rain, although it didn't in the end: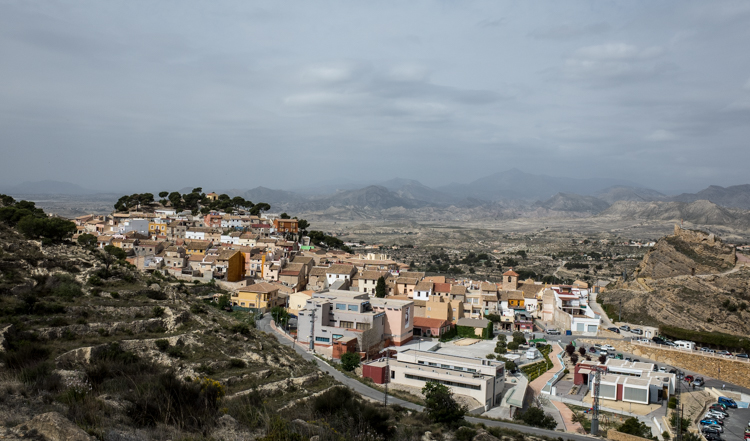 14_29
When I rolled into the town, I came across this sight. Busot was about to start celebrating their Moros y Cristianos festival, and the band was assembling next to the church: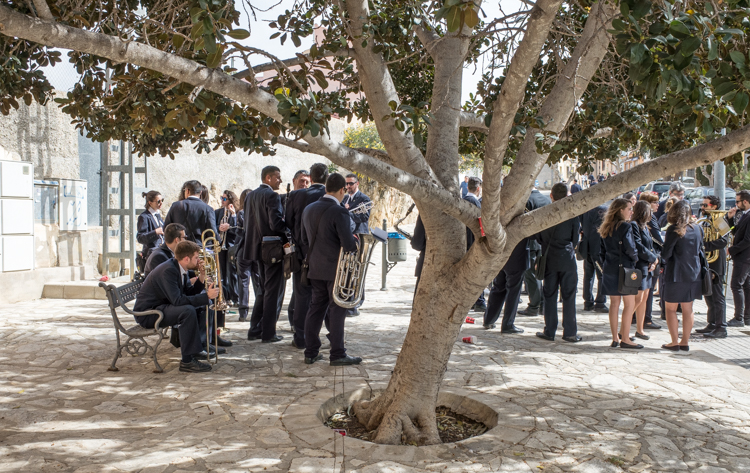 14_30
The big drums: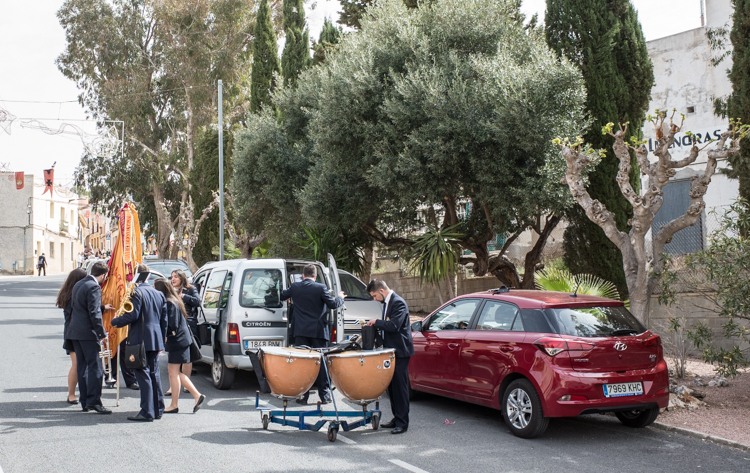 14_31
A last look at the notes: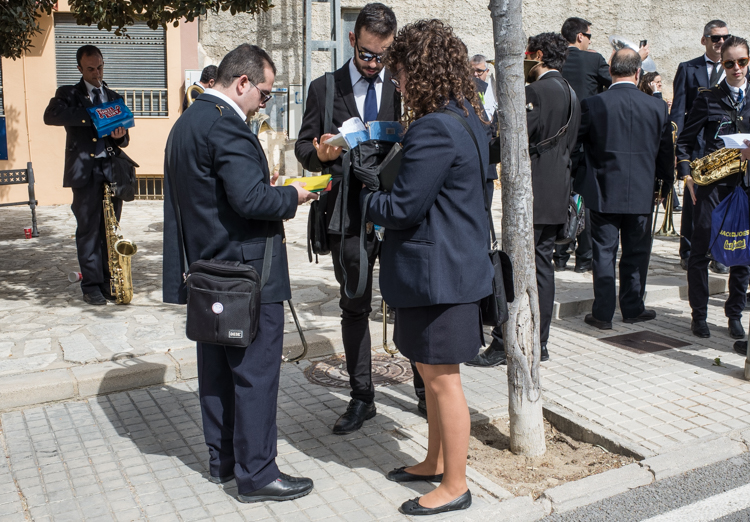 14_32
The horn section; time for a smoke before the lungs are needed for other things: