I spent much of the week in my hometown Ã…rhus in Denmark. I have a dedicated gallery of images from Ã…rhus elsewhere, but have chosen some of the quirkier images for this blog. The images are presented chronologically.
Main
I start off with a picture of the Spanish flag on a modern office building in downtown Alicante, taken the day before I left for Denmark: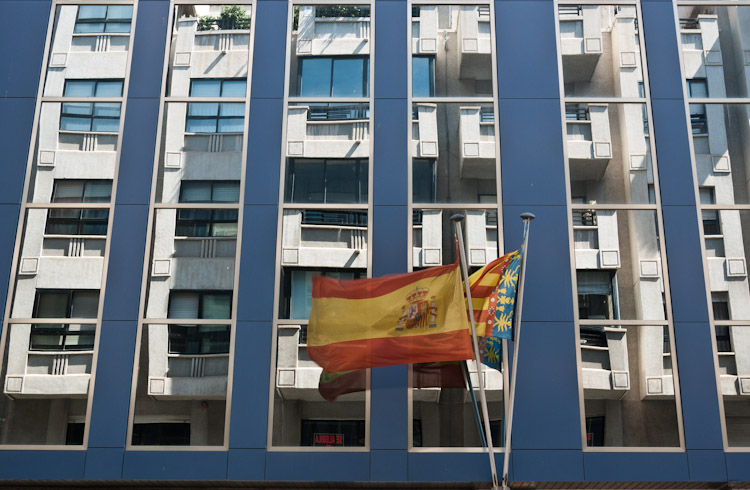 Alternates:
Alternate 1
Wednesday morning I flew to Ã…rhus. I was going to be staying in my best friend's apartment. But since he was away for a couple of days, my first stop was his sister's law office where I was going to pick up the key. Hanne's office is decorated with her own paintings. The one in the foreground contains the words "Med lov skal land bygges", which means, roughly translated, "You build a country with law". Those are the first words of the first codex of law in Danish history, promulgated by King Valdemar Sejr in 1241 and considered the founding stone of the construction of the Danish nation state:

Alternate 2
Once installed in my friend's apartment, I went for a walk in the surrounding streets in the centre of town. This macabre-looking mannequin caught my fancy: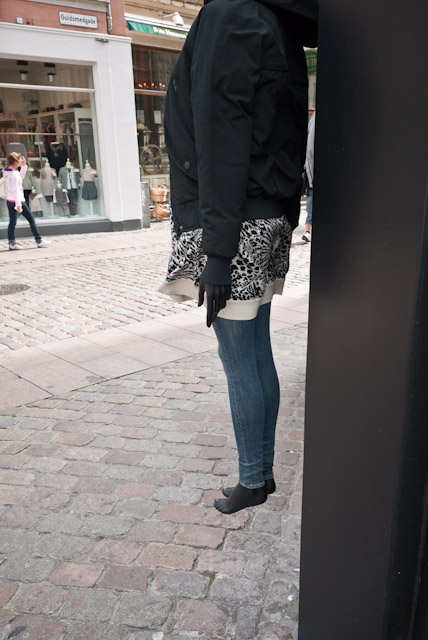 Alternate 3
Ã…rhus is a very bicycle-friendly city; here new bike racks are being installed on the square in front of the cathedral: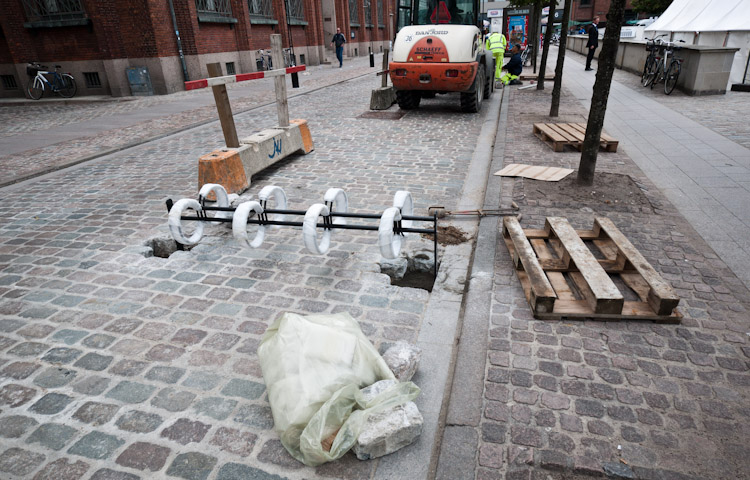 Alternate 4
Thursday I went to have lunch with some old classmates in a restaurant in the harbour. On the way there I photographed these two signs of a superior civilization: rental bikes and a public toilets: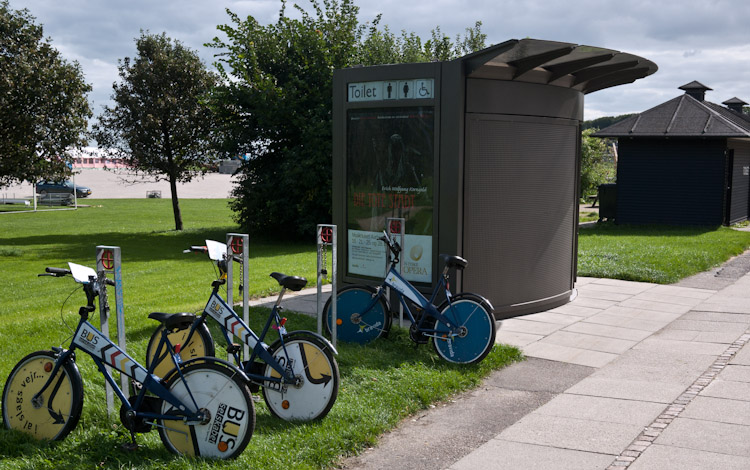 Alternate 5
I have known Lone since I arrived in 6th grade in Skt. Knuds Skole in Ã…rhus, 37 years ago: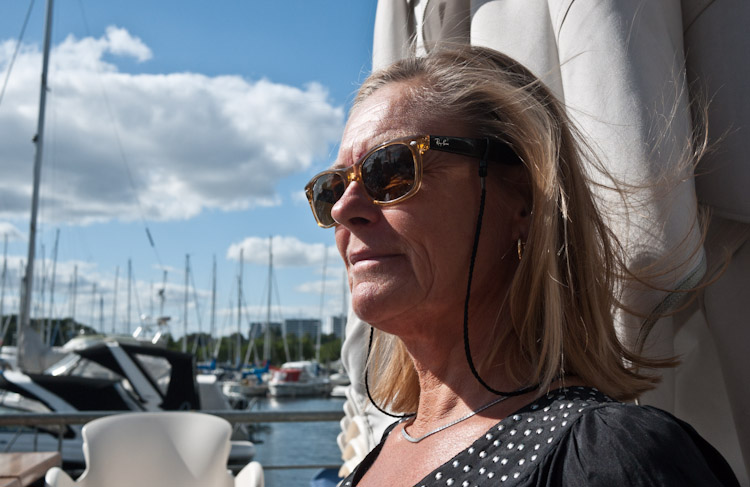 Alternate 6
The week following my visit was the annual Ã…rhus Festival Week, when the city becomes an orgy of concerts, art, all manner of street events and other activities. This has been going on since 1965. This year's theme was "Neighbours", interpreted very widely. A group of artists set up a Mexican slum on one of the squares in the centre: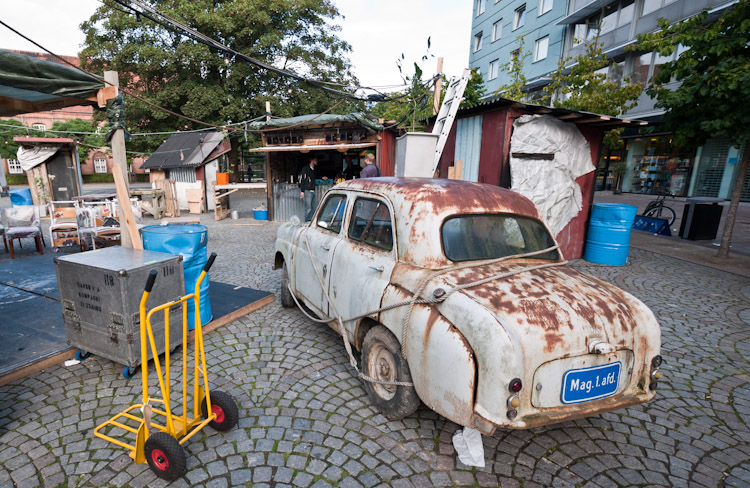 Alternate 7
Of course, the "slum" contained a bar and had music: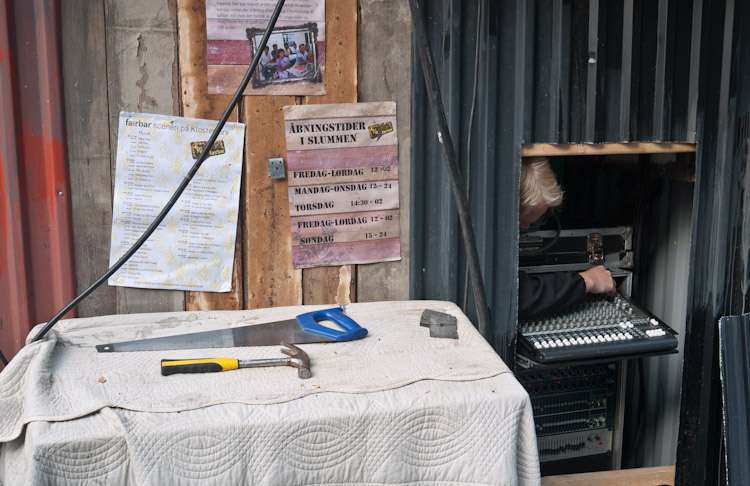 Alternate 8
Friday, morning walk. A man drinks coffee outside a café in one of the old, cobblestone streets in the centre: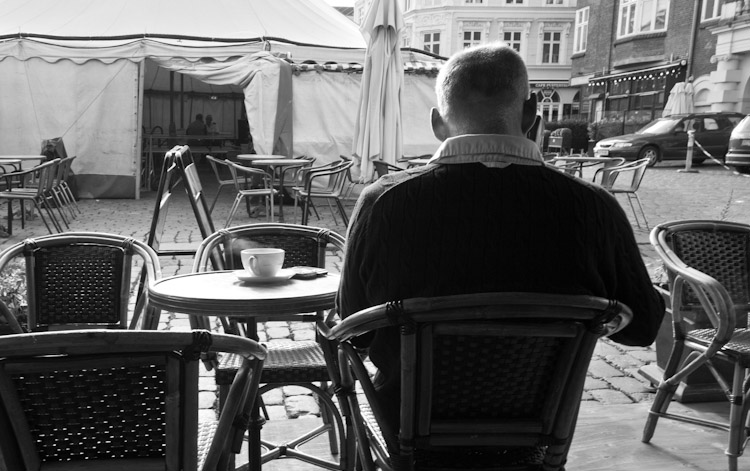 Alternate 9
Part of the Festival Week is that temporary installations like this playground are set up all over the centre: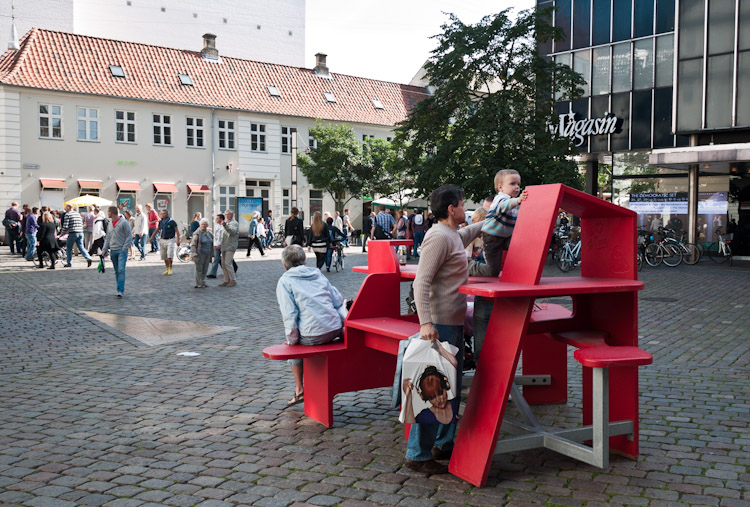 Alternate 10
Typical Danish street scene. Two women doing their shopping on the pedestrian street stop with their bicycles to have a chat: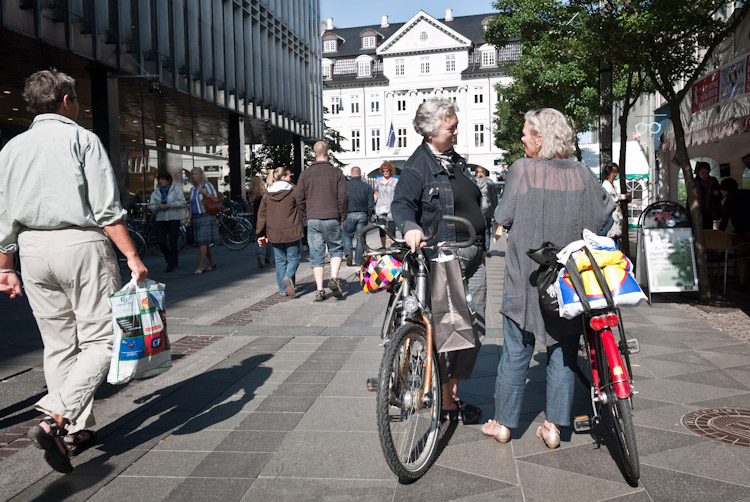 Alternate 11
Another festival attraction, a bubble in the river: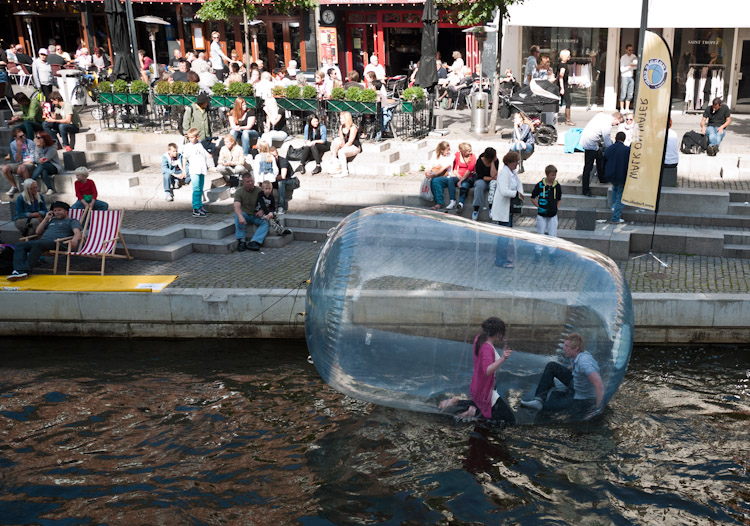 Alternate 12
Staying upright is not easy: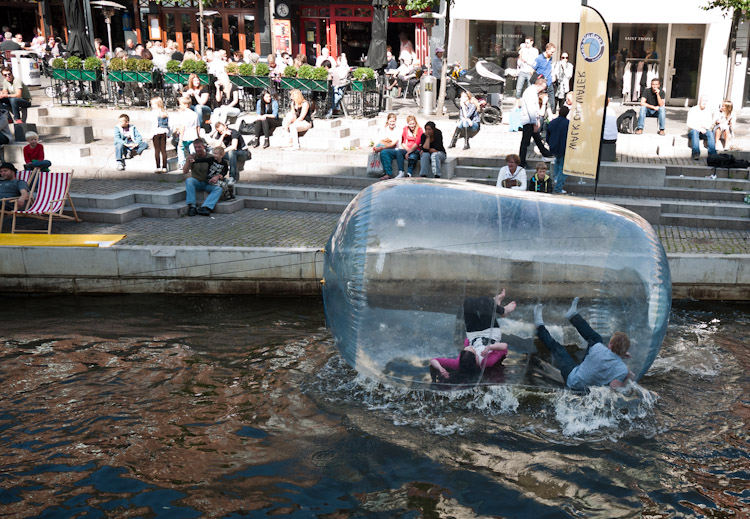 Alternate 13
On festive occasions and national holidays, Danish buses are decorated with flags: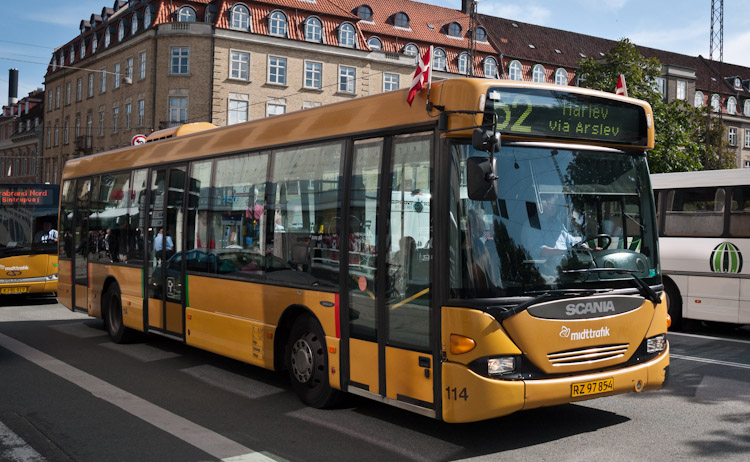 Alternate 14
I want to get on that red carpet!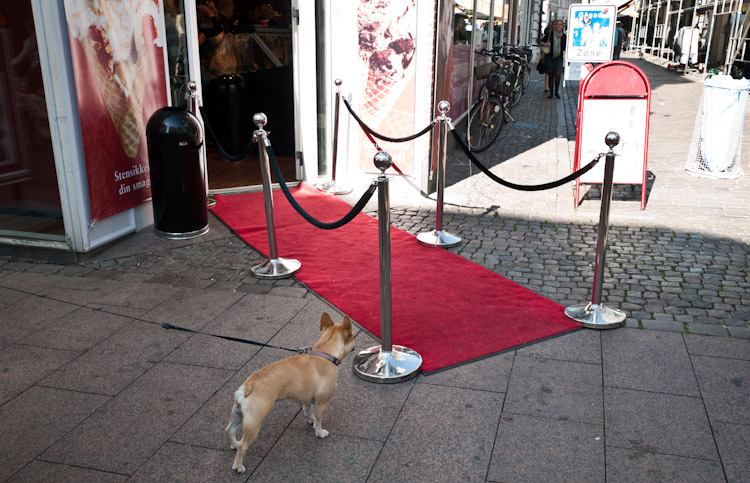 Alternate 15
Saturday morning, on the way to the bakery to buy rolls for breakfast, I spotted this near my friend's apartment. No idea why: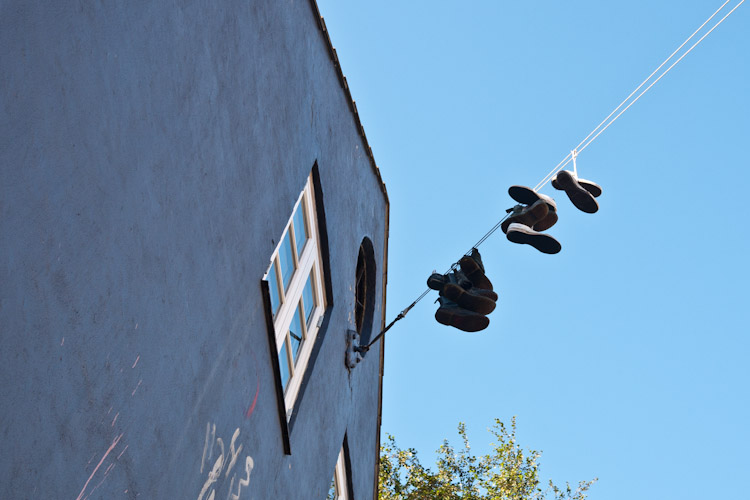 Alternate 16
Finally, the real reason I went to Ã…rhus last week. On Saturday my friend and I participated in a 100 km bicycle race in the pretty but hilly countryside south of the city. It is an annual event and also part of the Festival week. There were more than 800 cyclists in the 100 km category and another 1500 or so in the shorter 28 km and 50 km events. Here we are waiting for the start: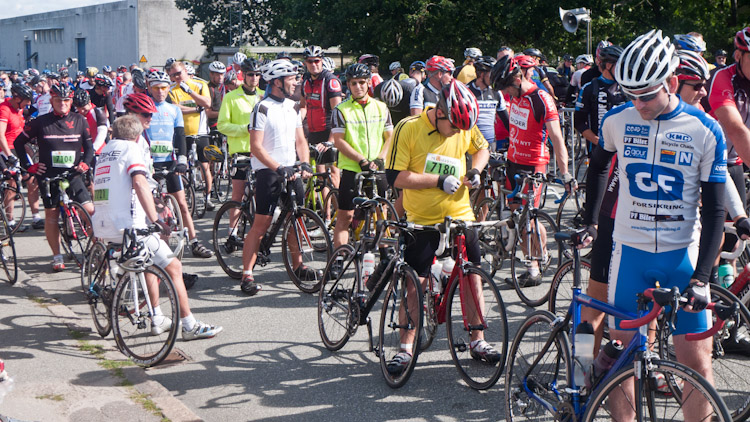 And yes, I did make it 🙂