Another week of travelling, with a trip to Strasbourg and Brussels in the first part of the week. I had never been to Strasbourg, so I was really looking forward to seeing the city, and to meeting my friends Philippe and Alice on their home turf. And the week ended with a belated Thanksgiving dinner on Saturday–since Thanksgiving is obviously not a holiday in Spain, we celebrate it on the following Saturday.
48_1
Even though I have lived in the same neighbourhood for more than 5 years, I still notice little things when I walk my dog in the morning, such as this funny security sign. Usually such signs show a silhouette of a guard, but this one is different: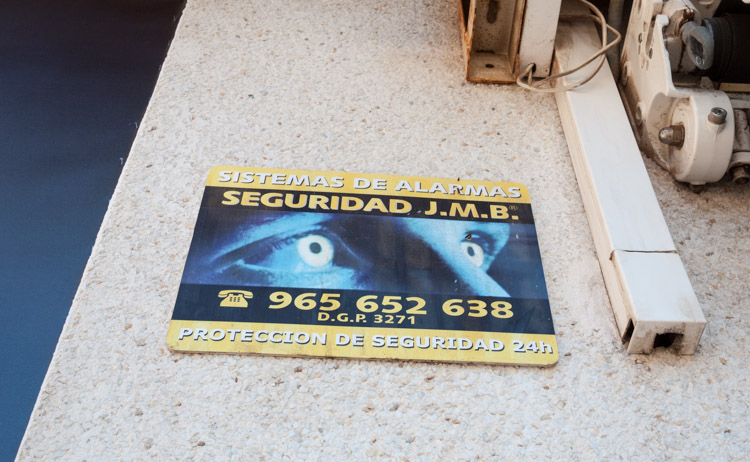 48_2
As usual on weekends, I took a long bicycle ride. It is now harvest time for various vegetables: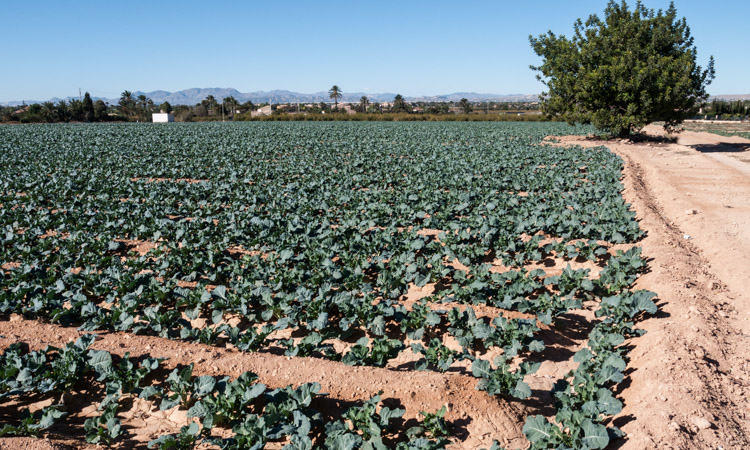 48_3
I stopped for a Coke break at one of my usual places, and had my bicycle examined by the resident kitty: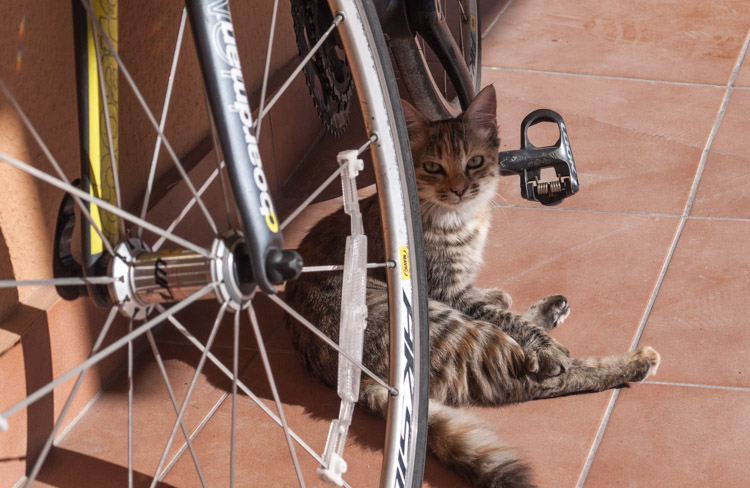 Then, on Sunday morning I flew to Basel and was picked up by a taxi and driven to Strasbourg, where I was going to give a lecture on the economics of intellectual property at the law school of the local university.
48_4
I checked into my hotel and waited for Philippe and Alice to come and pick me up from there. Of course I did not waste my time and so immediately started looking for local señoritas: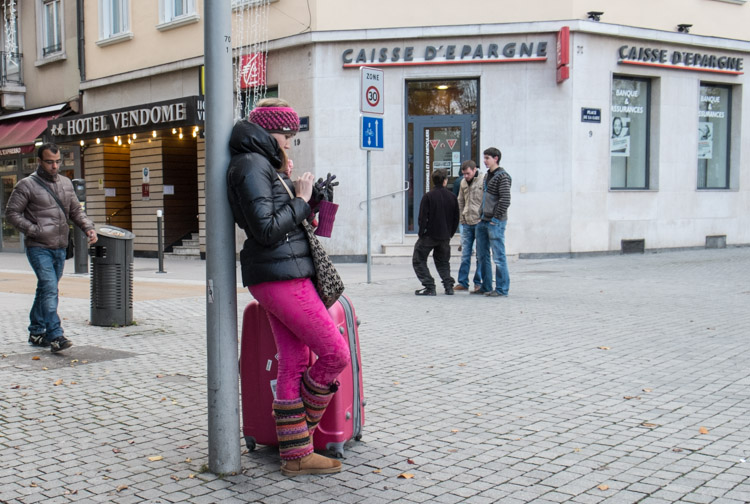 48_5
Shortly thereafter, Philippe and Alice arrived and we set out to walk the streets of their city, with the weather now sunny and cold, just as it should be in Alsace this time of year. We happened upon the official city Christmas tree being set up: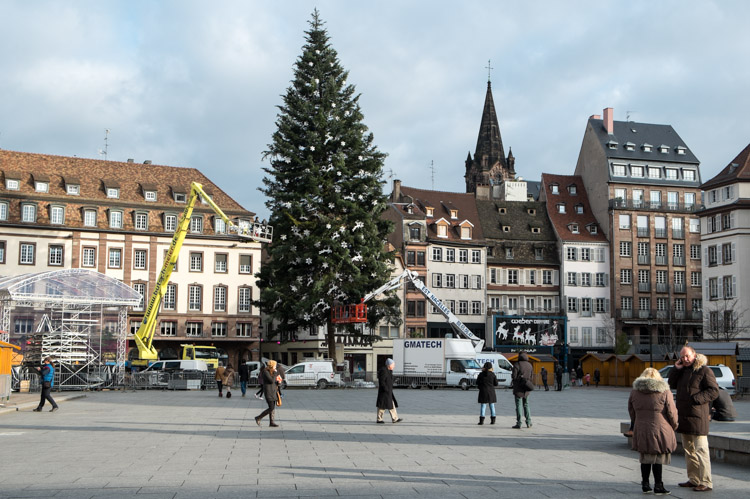 48_6
Philippe and Alice explained to me that this old lady, a retired prominent person (the source of her prominence escapes me at the moment) is in charge of the decorations. She certainly looks to be in charge: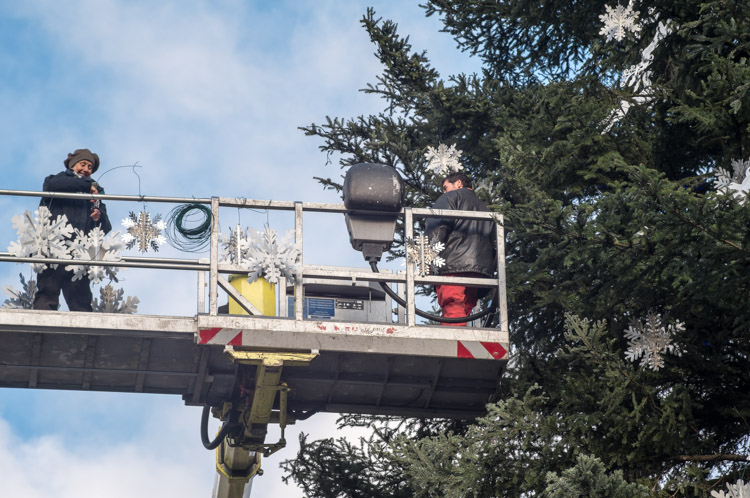 48_7
Nearby, the Christmas market was being set up. Alsace has a large population of storks, so those wooden birds in the nest are the local equivalent of pink flamingos: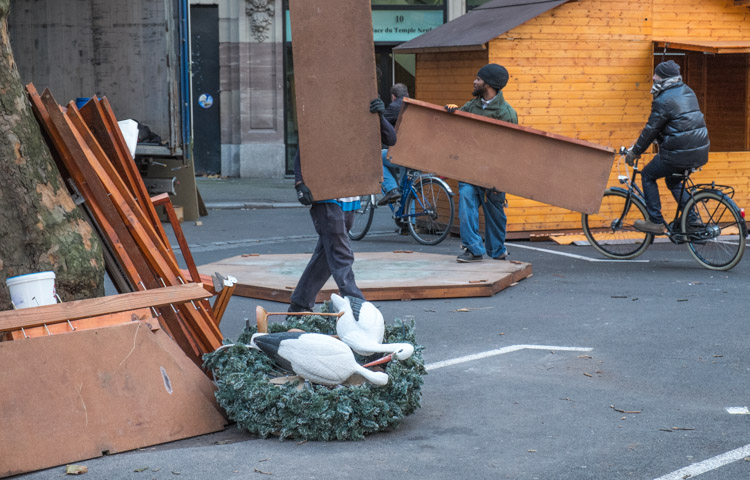 48_8
Shops of all types were tastefully decorated for the season: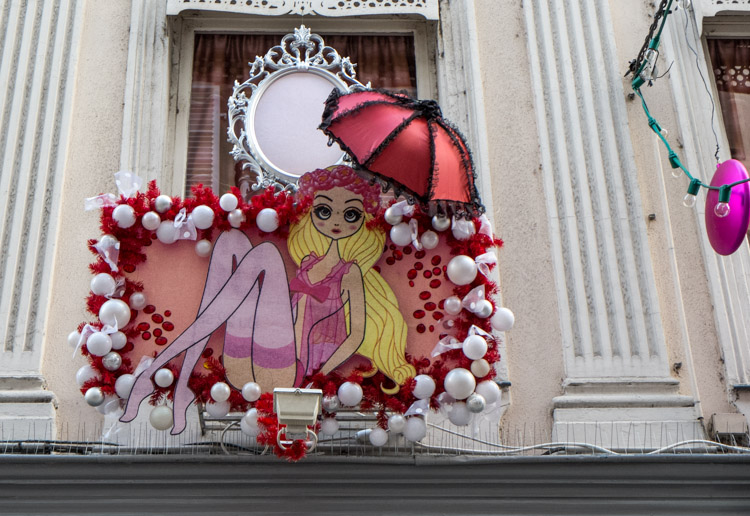 48_9
The weather had in the meantime become so clear that we decided to climb the cathedral tower to enjoy the view, despite the unexplained absence of a lift; I guess they were tough back in the middle ages: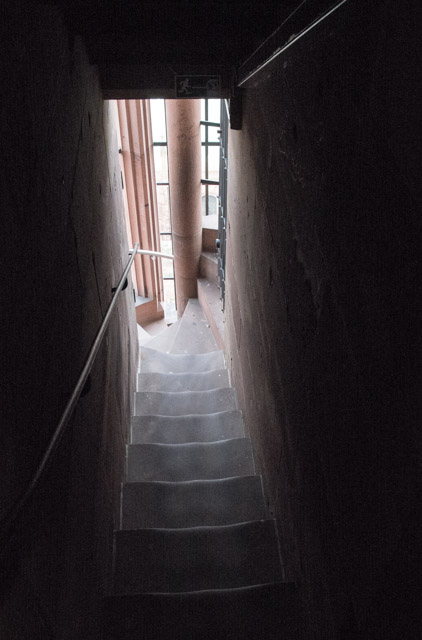 48_10
Philippe doing what we photographers do when we have a good vantage point:

48_11
Rooftops as seen from the cathedral tower: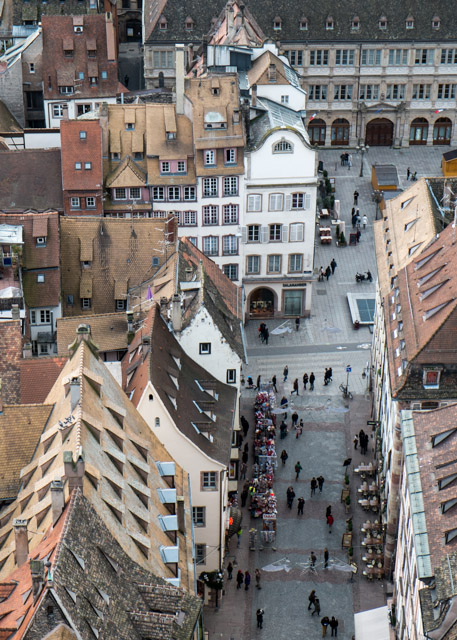 48_12
We then descended and walked around a neighbourhood called La Petite France, where I noticed that a set of eyes similar to those in the first picture were also following me in Strasbourg: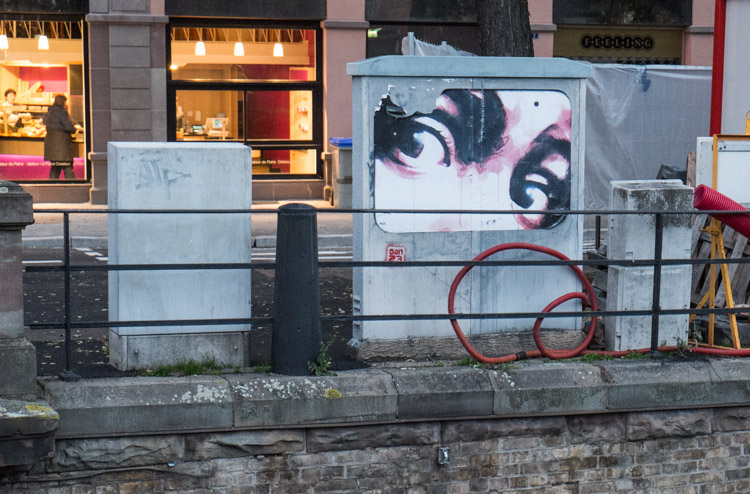 48_13
Alice had an event to attend, so Philippe and I passed the time at the local art museum. Here is Philippe not being particularly impressed: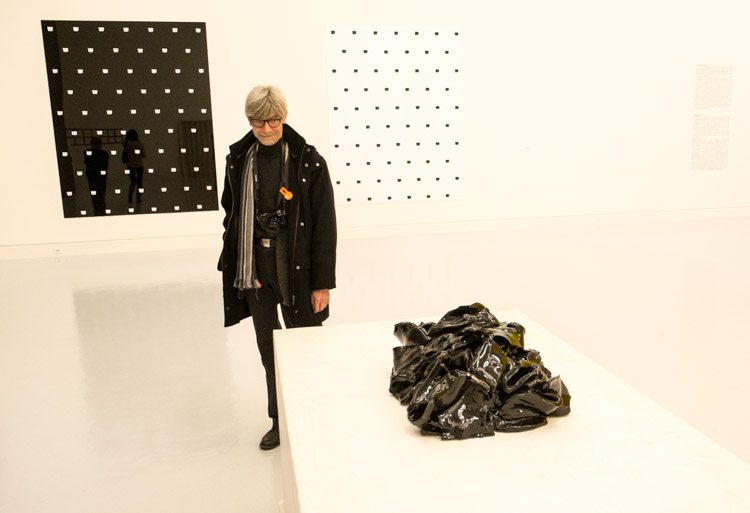 48_14
It gets dark early this time of year, but the night is magic in La Petite France: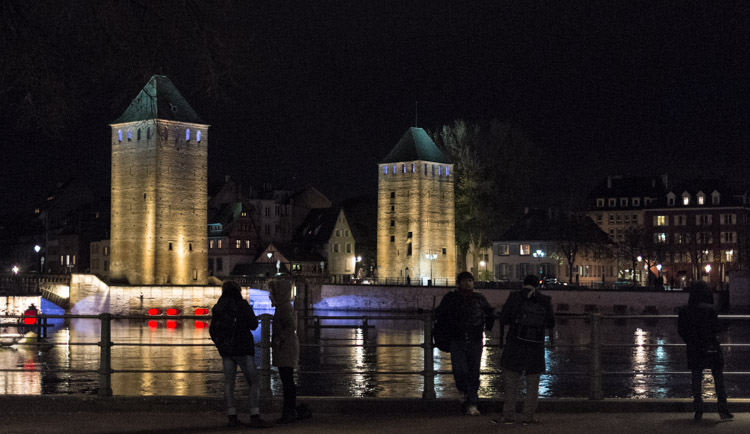 48_15
I simply loved this covered bridge: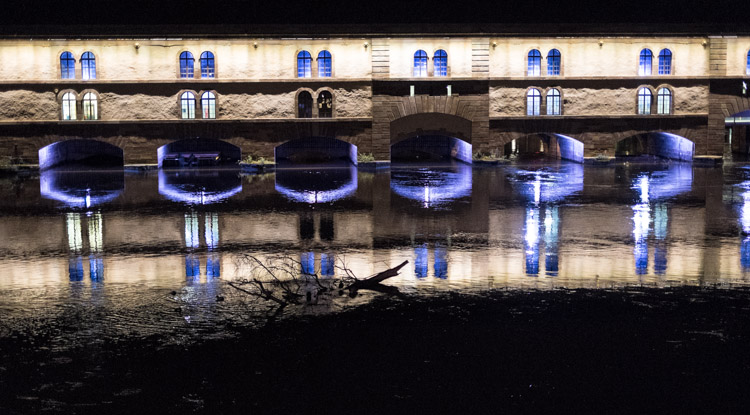 48_16
Then it was time for dinner, at a typical Alsatian restaurant. I really enjoyed spending time with Philippe and Alice: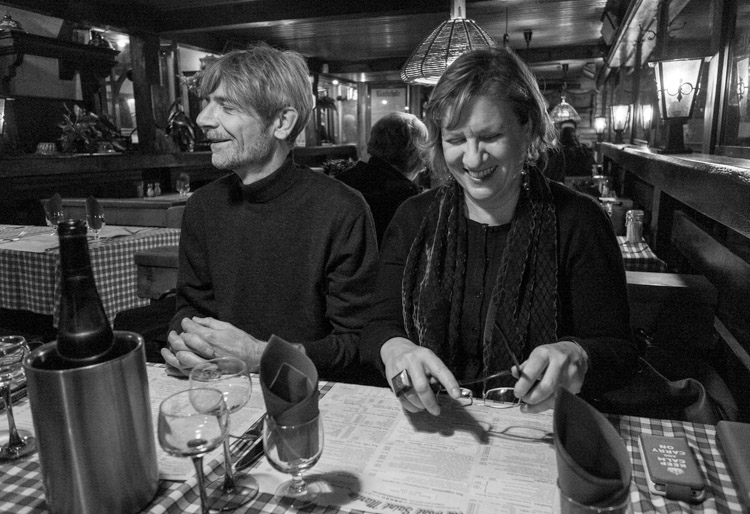 48_17
We had a classic Alsace dish, Bäckeoffe, a hearty mix of various meats, potatoes and vegetables. I love eating in Alsace as it combines French quality with German quantity: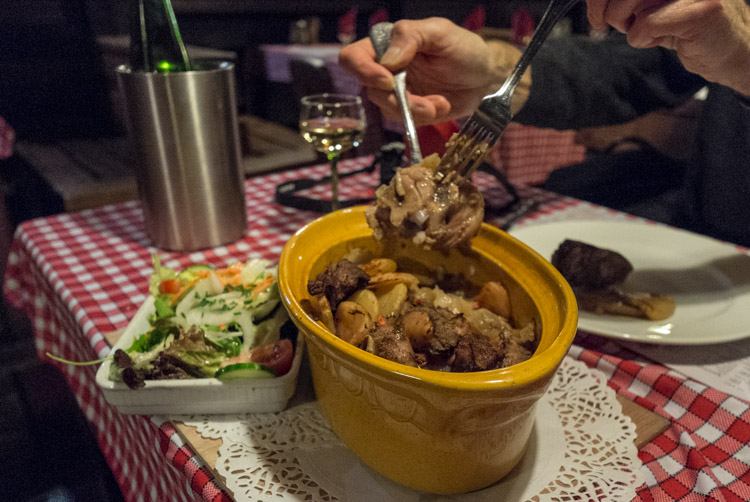 48_18
On Monday morning, I walked around Strasbourg on my own. My lecture at the university was in late afternoon, so I had plenty of time to explore. Here is a detail that I think says something about France–a hair salon in an underground car park: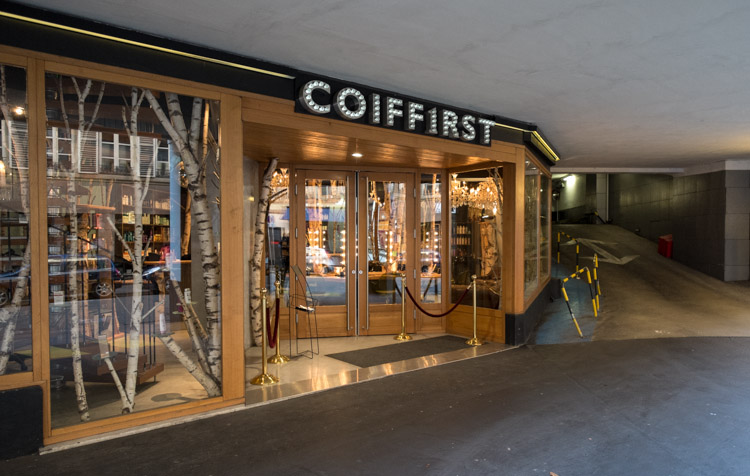 48_19
A McDo advertisement at a tram stop. The slogan means "even the Americans want to taste it" and the menacing hand made me think of the NSA. At the bottom is a health warning like on cigarettes. Apparently all advertisements for fast food in France now carry messages about limiting fat and sugar intake, exercising etc.: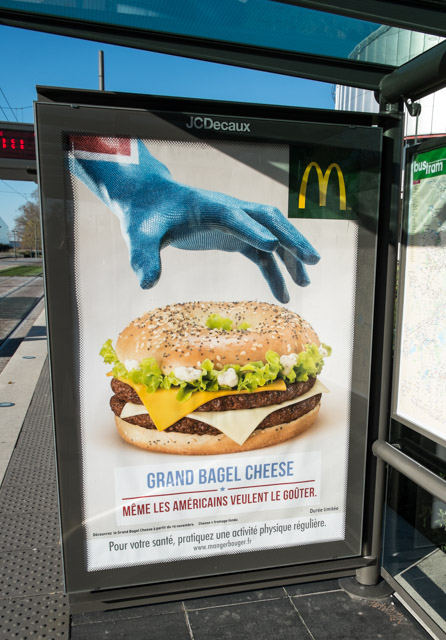 48_20
A Jewish boy on the tram with a city bike. France is home to Europe's largest Jewish population, and also its largest Muslim population, which sometimes leads to nastiness. But most of the time everyone just lives a normal, French life: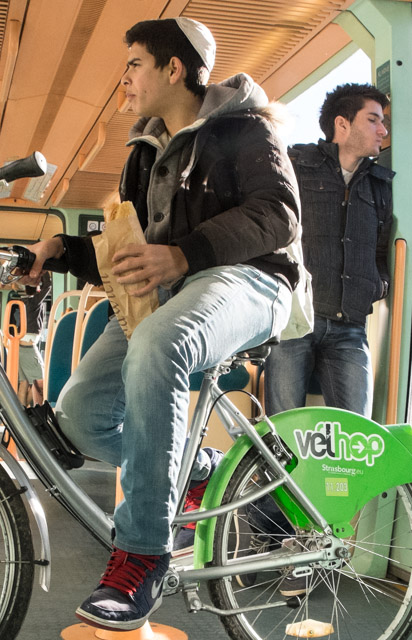 I delivered my lecture in the evening, had dinner with a couple of professors and went back to my hotel. The next morning I took an early train to Brussels for a full day of meetings and not much photography.
48_21
I flew home from Brussels on Wednesday morning and decided to take the afternoon off to get some cycling done, taking advantage of the good weather. An hour later, having cycled just 23 km, I came home to this: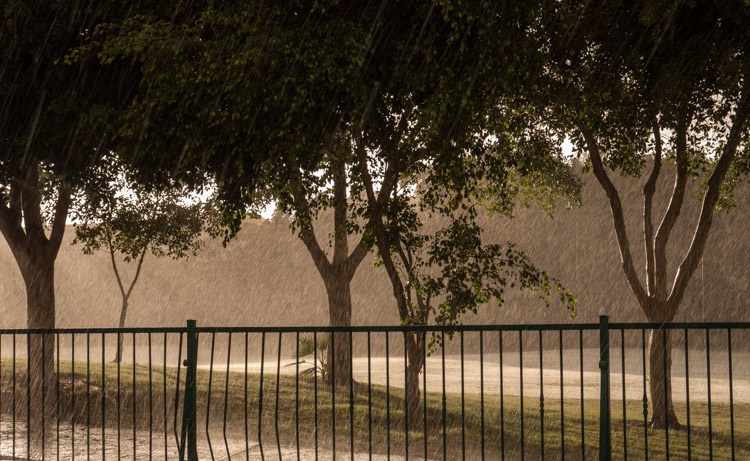 48_22
This is not how I am used to seeing our swimming pool: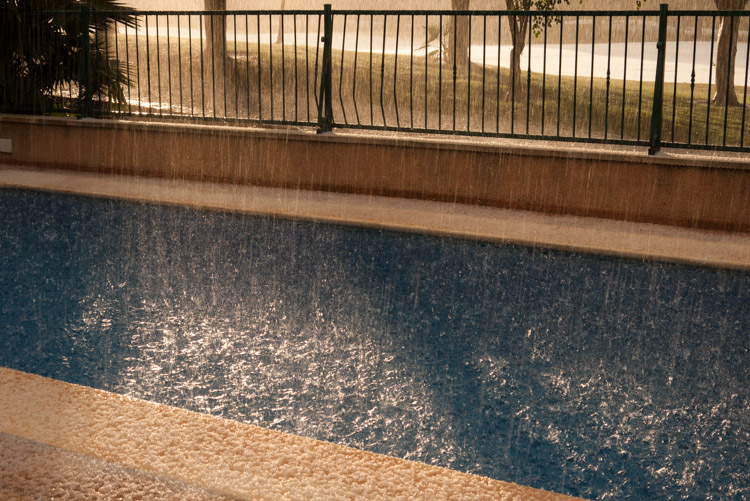 48_23
And the aftermath. No sitting on the terrace today. Hail melts slower than snow, good thing too, as otherwise our crappy drains probably would not have coped: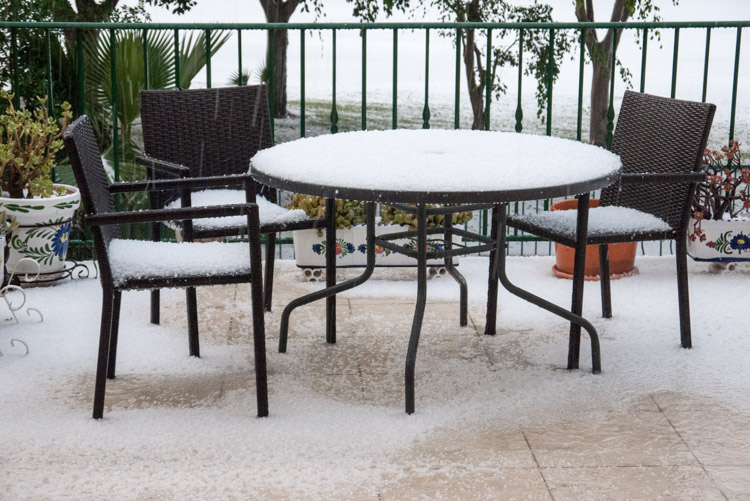 The last six images are from Saturday's Thanksgiving dinner. We invited some Spanish friends and prepared (well, mostly my wife prepared) a nice menu consisting of turkey with old-style stuffing and gravy, roquefort and pine nuts salad, sautéed mushrooms with fresh parsley, glazed baby carrots, green bean casserole, classic macaroni and cheese, Brussels sprouts with pancetta, mashed potatoes, fresh cranberry sauce, carrot cake and almond pie (we could not find pecans). All finished off with a selection of French cheeses brought home from Strasbourg and washed down with copious quantities of Spanish and French wine.
48_24
Stuffing in the making: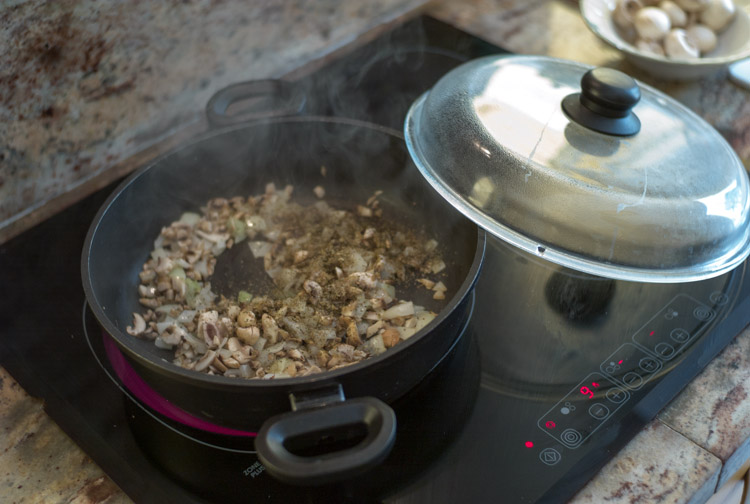 48_25
Turkey ready for brining, with an interested onlooker: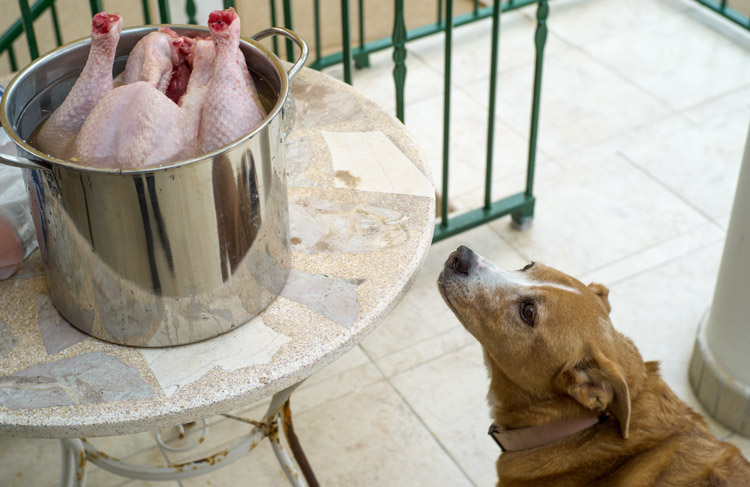 48_26
Stuffing it: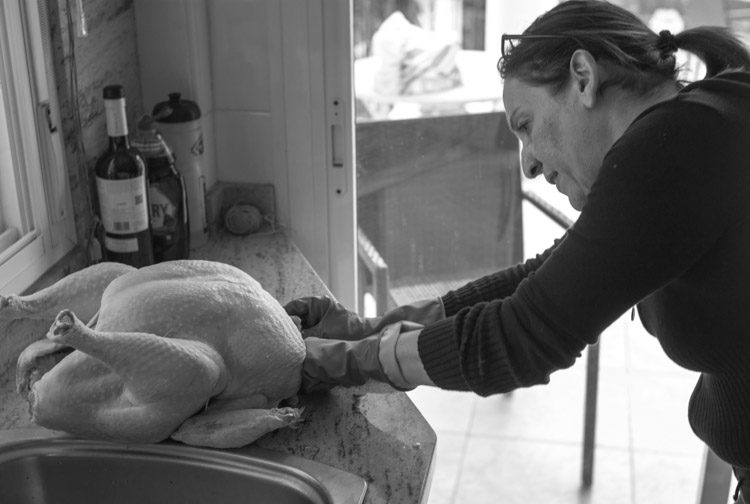 48_27
Into the oven: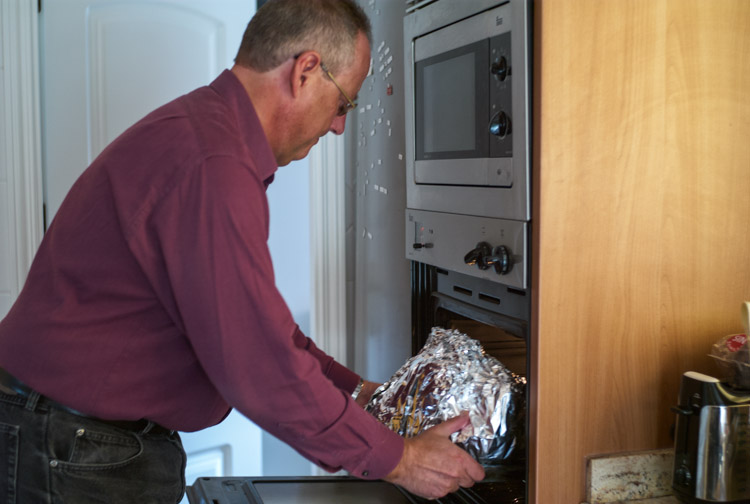 48_28
Intermediate quality control and a spot of basting: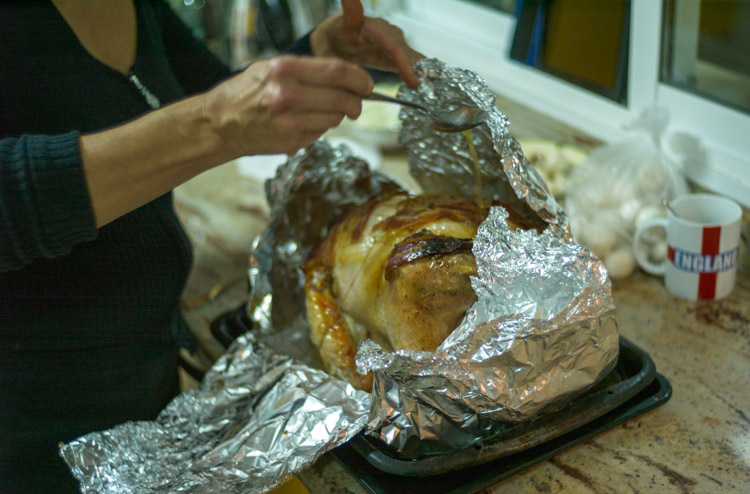 48_29
Finally, I get to do the honours: