The week started with a business trip to Brussels. I took an early Sunday morning flight to what Ryanair calls "Brussels South". Nobody in Belgium calls it that. As is their habit, Ryanair does not fly to Brussels' main airport in Zaventem, but rather to a small airport in Charleroi, about 60 km south of Brussels. But that gave me an opportunity to explore a town I had never really visited, despite having lived in Belgium for 5 years.
Main
Right outside the Charleroi train station there is a monument to the various French armies that have passed through the town, mostly on their way to one defeat or another: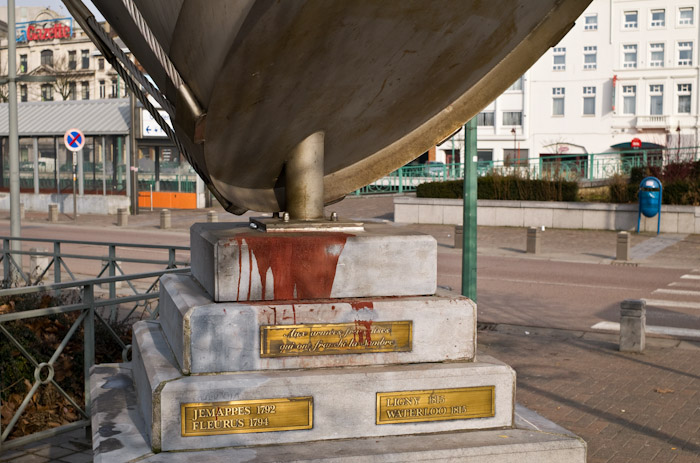 The alternates:
Alternate 1
On the Charleroi high street, I was amused by this poster promoting cleaning up after your dog, a novelty in Belgium: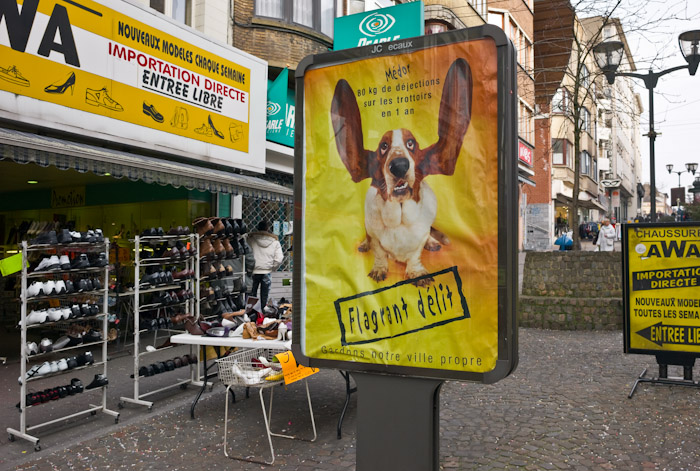 Alternate 2
On the same street, yet another sign of the recession: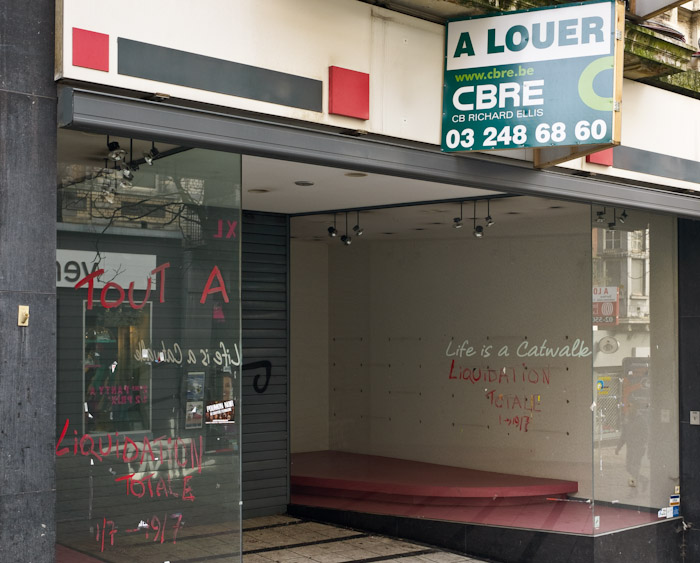 Alternate 3
As is the case in most Belgian towns, there was a Sunday market: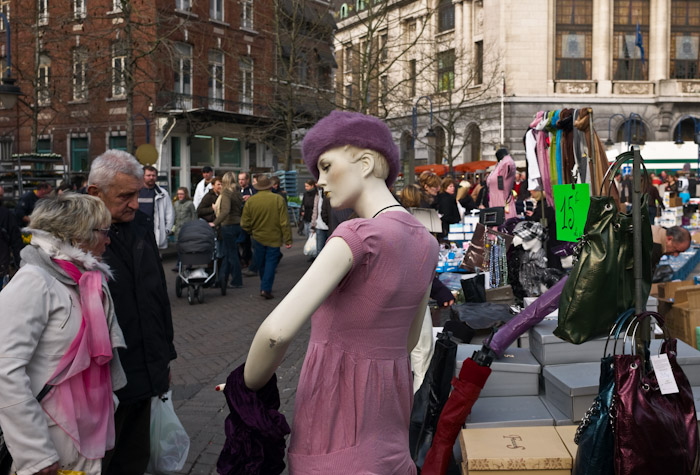 Alternate 4
Looking for new hair: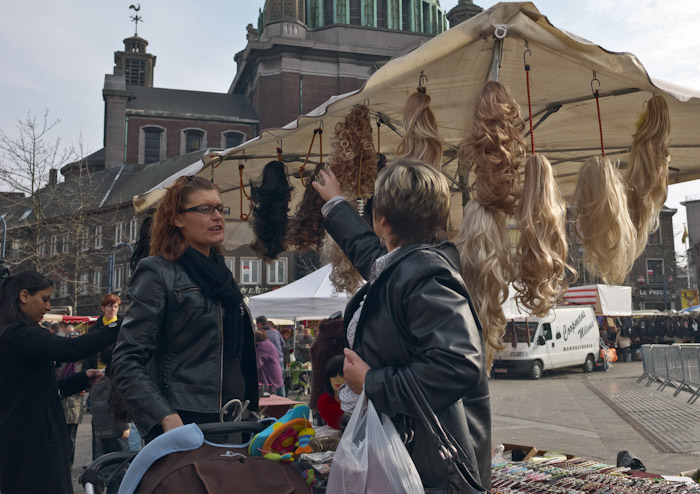 After the walk in Charleroi, I took the train to Brussels, where I was going to spend the following day in meetings at the EC Commission.
Alternate 5
Place Ste-Catherine is one of my favourite hangouts. There is a high-class fast food seafood stand: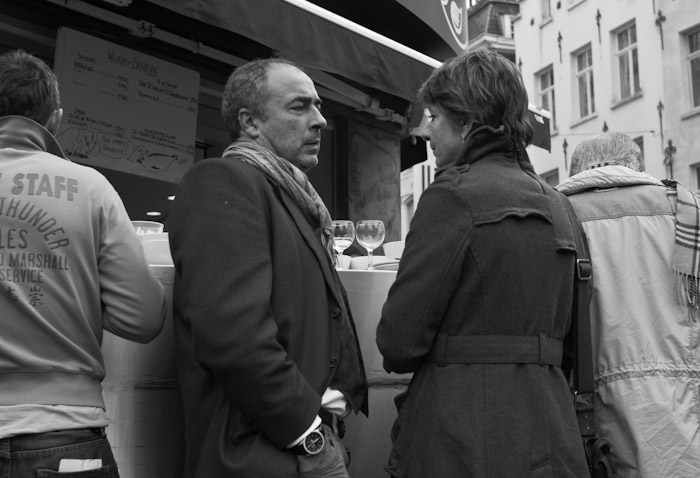 Alternate 6
I walked around Brussels until my legs hurt and ended up at Parc Elisabeth in the northern part of the centre. Spring is slowly coming after a harsh winter, and this photographer was going to capture it: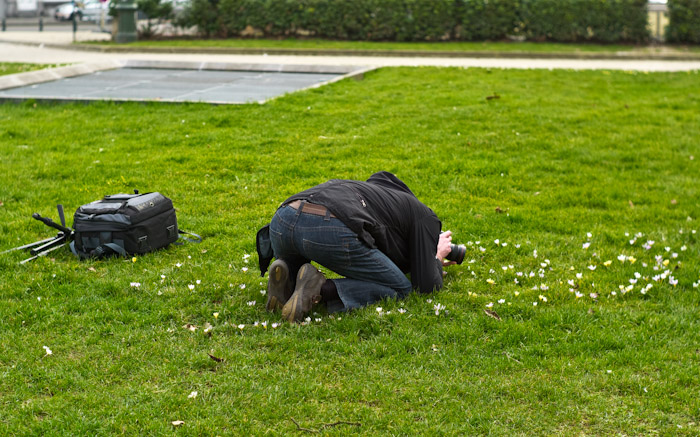 Alternate 7
I took the metro to Place du Luxembourg, near my hotel. After all this walking, I definitely deserved a beer, and there was a conveniently located Irish pub. Much to my delight, they had the Carling Cup final on the telly: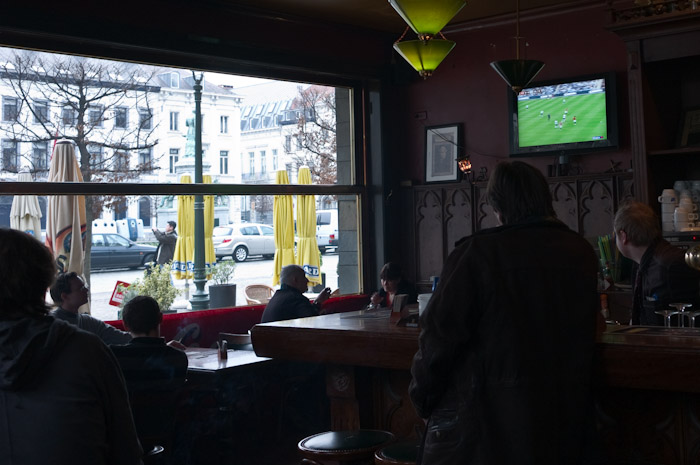 Alternate 8
Monday morning I went to my meetings at a Commission building near Place Jourdan. Just before going inside the building, I saw these two women with some peculiar shopping loot: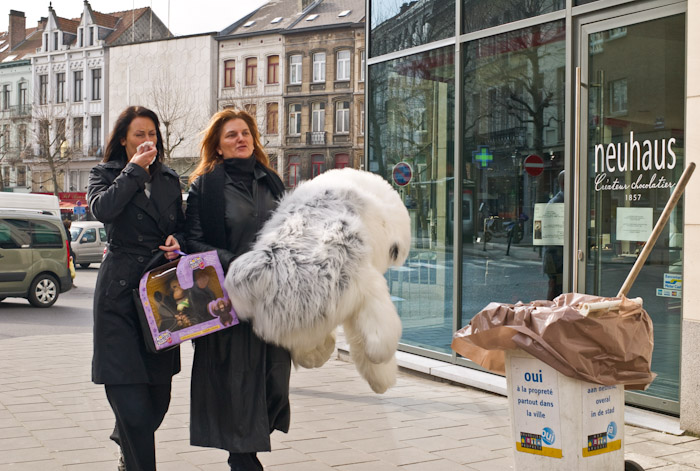 Alternate 9
My meeting ended early, so I had time to wander around the city during the afternoon, including a visit to a wonderful cheese shop where I bought my sandwich for lunch: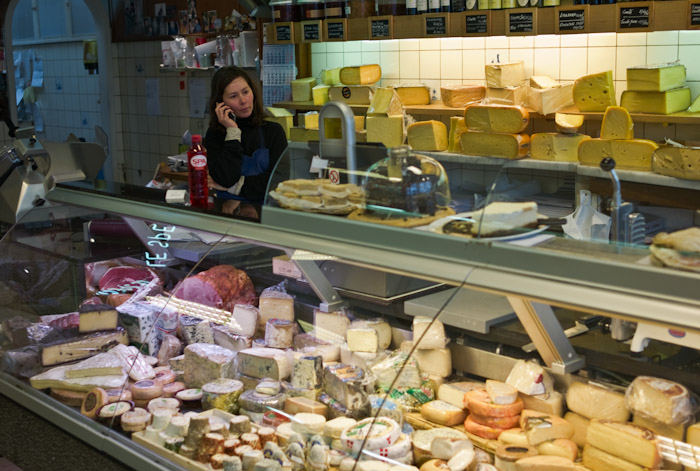 Tuesday morning I flew back to Alicante, and the following day my uncle Joseph from France arrived for a brief visit, joining my family from Florida who were already here.
Alternate 10
Joseph is a great French patriot, so of course when it was time to go shopping, I took him and my American uncle to the nearest Carrefour supermarket (for the uninitiated, Carrefour is a French chain and the world's second-largest retailer after Walmart):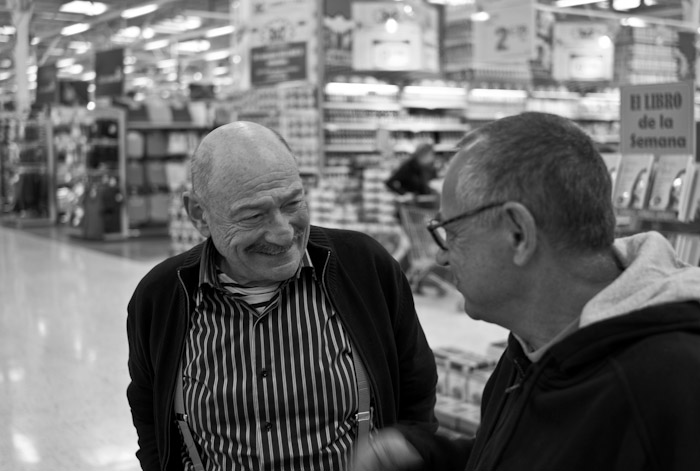 Alternate 11
But the serious food shopping we did at the Mercado Central: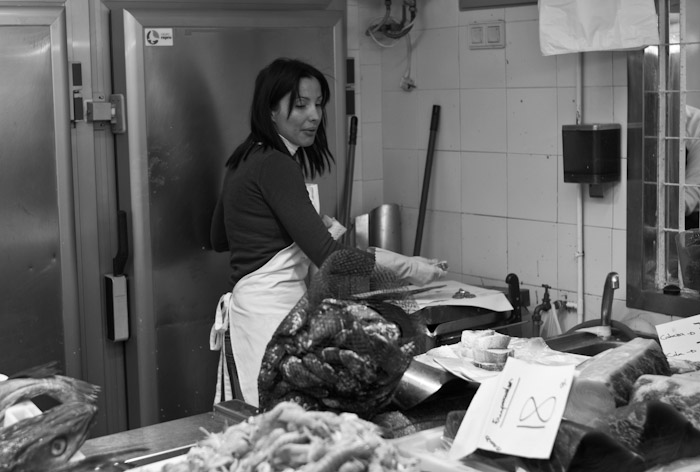 Alternate 12
The market is not just a place to shop, it is also a place to meet your neighbours and chat: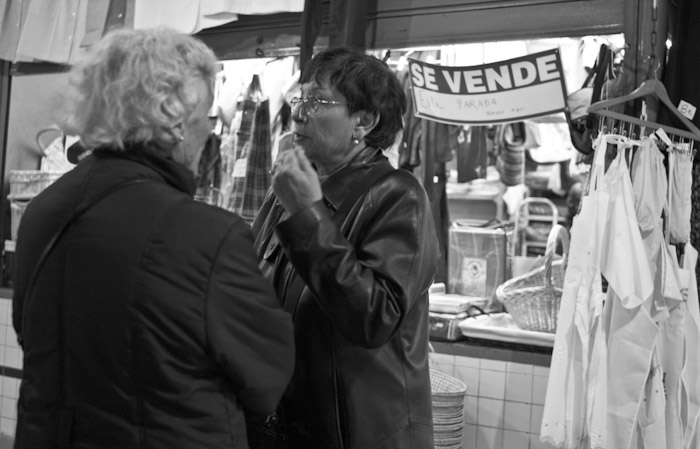 Alternate 13
Friday night we went out to eat in a nice restaurant in the centre of Alicante. I consider it a good sign when a restaurant lets you see the kitchen from the table: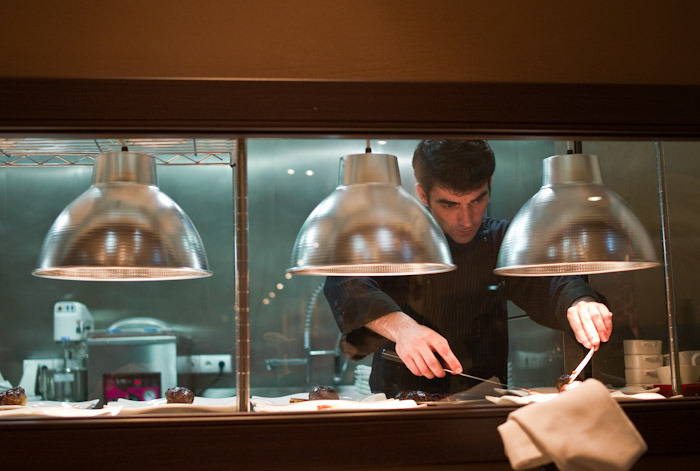 Alternate 14
We walked around the old town, the barrio: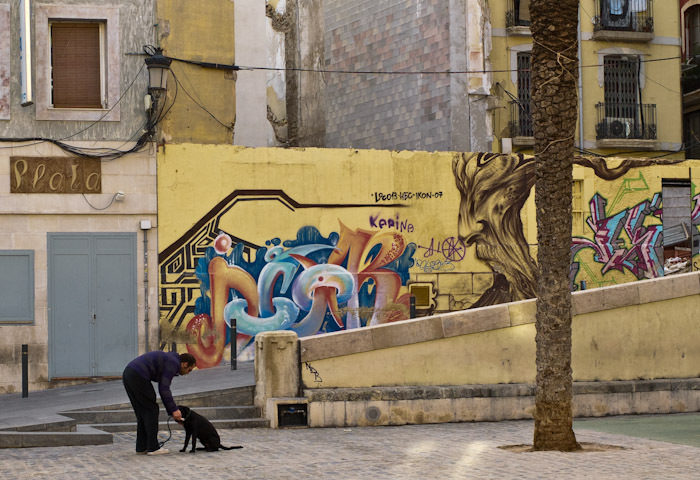 Alternate 15
We went for a walk along the beach on Saturday: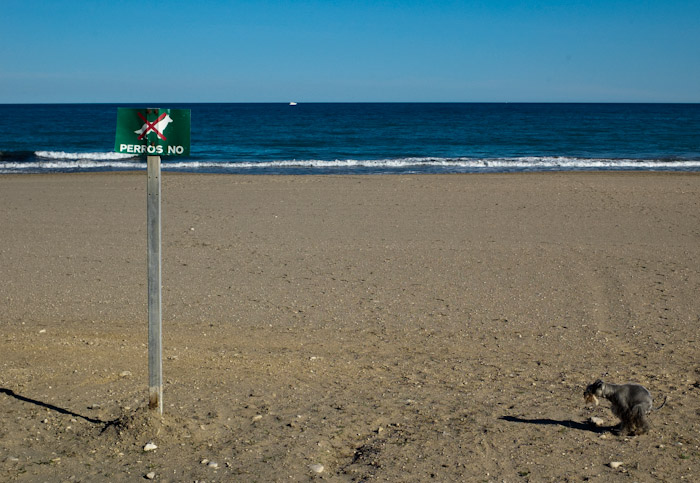 Alternate 16
Spring in Alicante is lovely. This guy is not giving me the finger, he is just gesturing with his companion. In the background one can see Benidorm: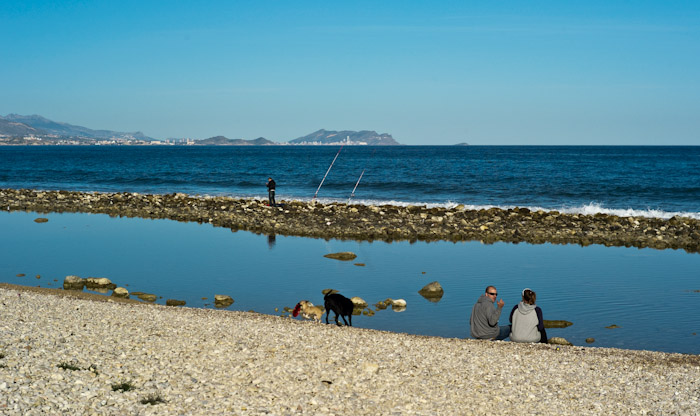 Alternate 17
Family on the beach: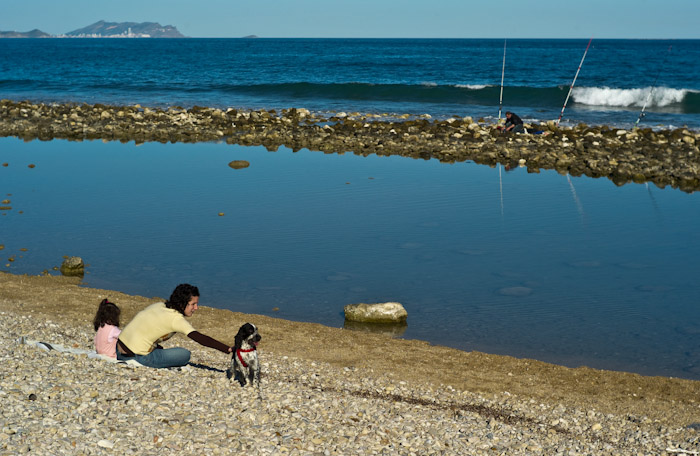 Alternate 18
The snowbirds from the UK and the Netherlands have arrived: