It was a truly whirlwind week of travel. It started in Helsinki, a city which I used to visit frequently in the 1990s but had not been to since 2001; it continued with a couple of days in Copenhagen, visiting my parents' graves and spending time with my childhood friend Beata; and it finished in my hometown Aarhus, visiting my best friend Lars and getting together with some high school classmates to celebrate the 40th anniversary of our graduation. So lots of enjoyment, perhaps with a tinge of nostalgia.
44_1
I flew to Helsinki Monday morning with some colleagues from work. Because Finland holds the rotating EU presidency in the second half of 2019, we were holding our public sector stakeholders meeting there. After settling in at the hotel, the others went for dinner. But I wanted to spend the time exploring the city which was once such a familiar place but which I last visited 18 years ago. I first walked down the Mannerheimintie (Mannerheim Road), Helsinki's main thoroughfare and home of the iconic Stockmann department store: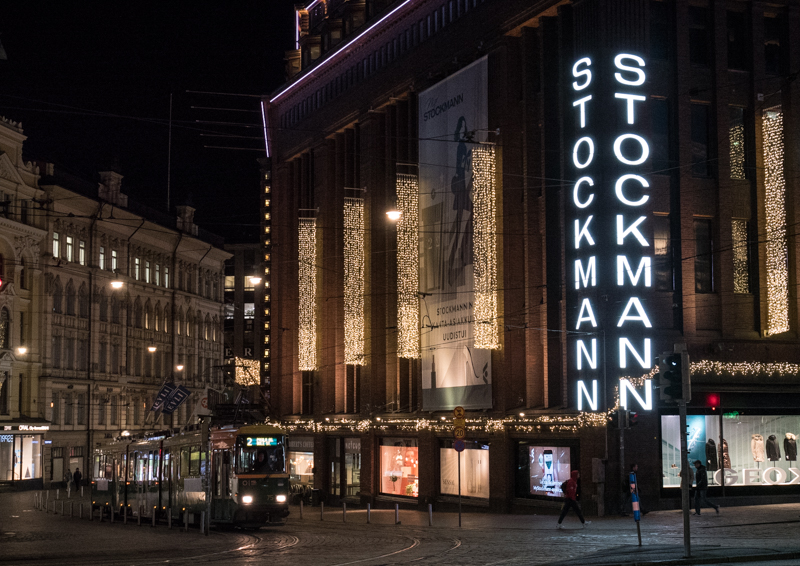 44_2
The oversized Golden Arches caught my eye: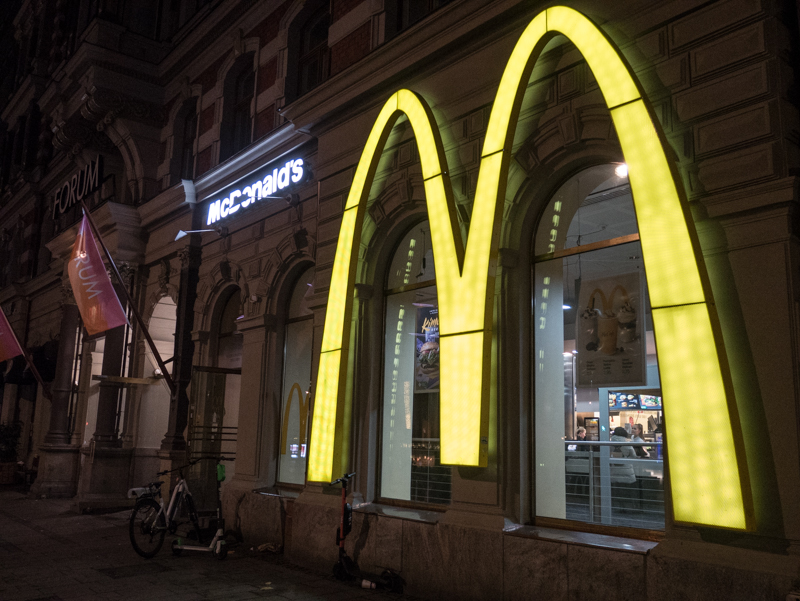 44_3
I continued my walk to the Pohjoisesplanadi (Northern Esplanade), a wide alley with a park in the centre, leading to the waterfront. It was cold and there were not many people out and about: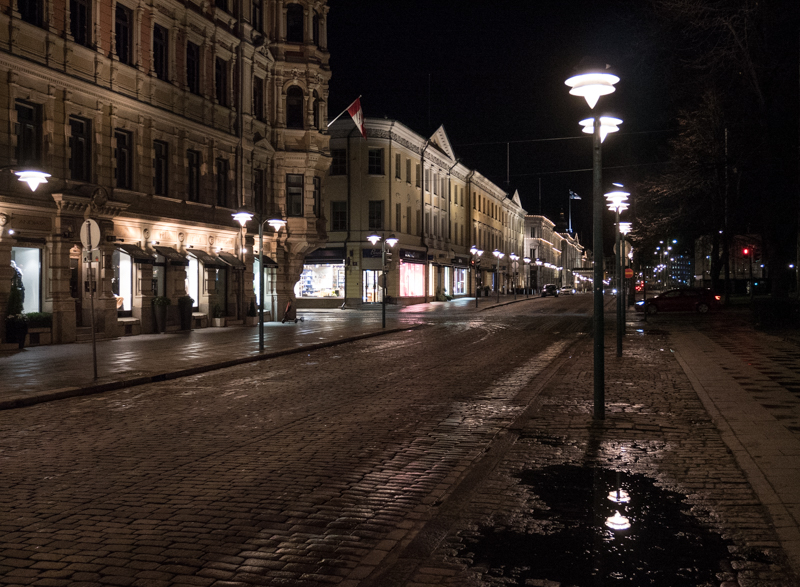 44_4
On Tuesday morning I went out for a frosty early morning walk before our meeting started at 9:30. It was, shall we say, bracing. I got my first look at Helsinki's main library, one of the many stunning modern buildings in the centre of the city: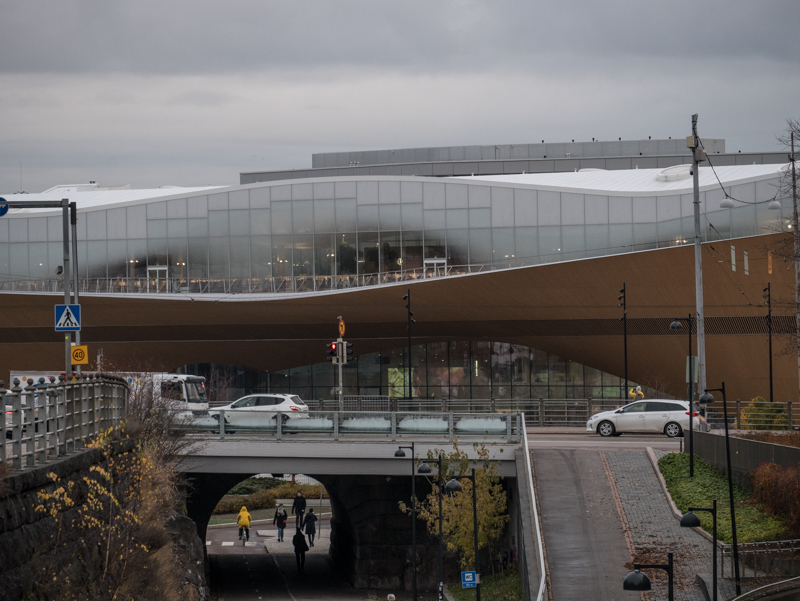 44_5
I am not used to seeing autumn leaves like this in October: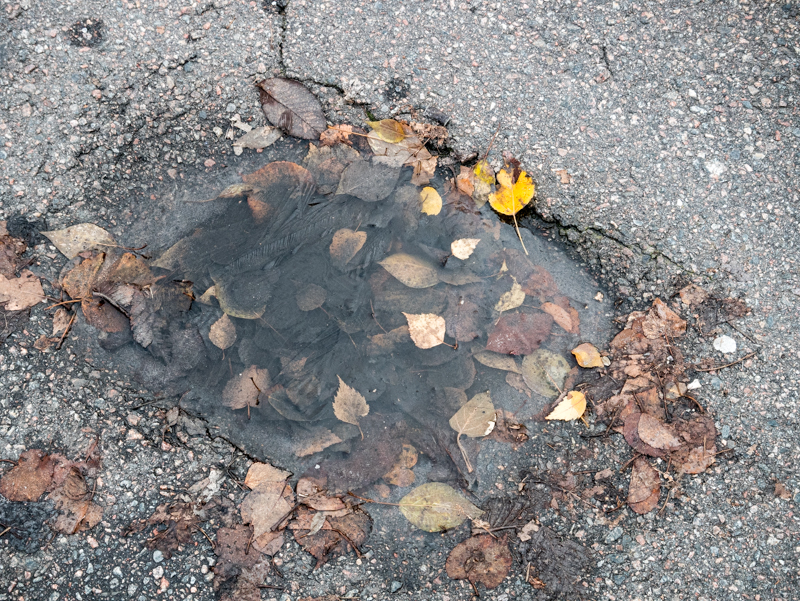 44_6
During the lunch break I went out for another walk. Even though it was only early afternoon, the sun was already low (sunset is around 4 p.m. in Helsinki in late October):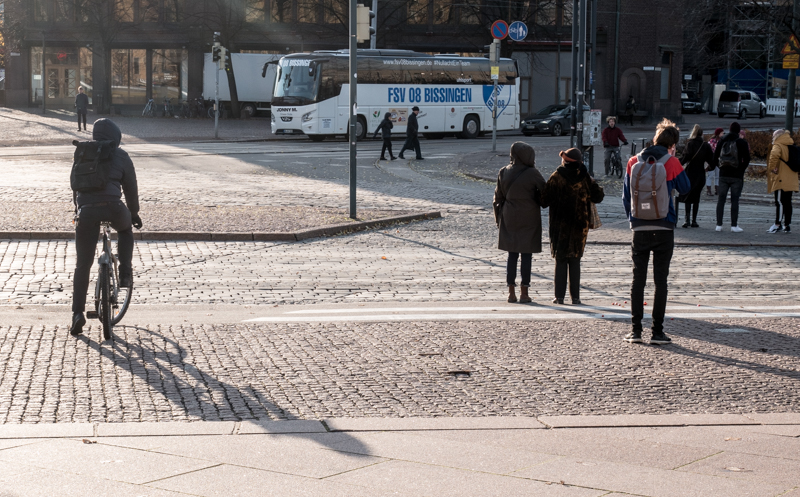 44_7
On Tuesday afternoon our hosts arranged a walking tour with a guide. It was interesting but also bone-chilling, especially when we approached the waterfront: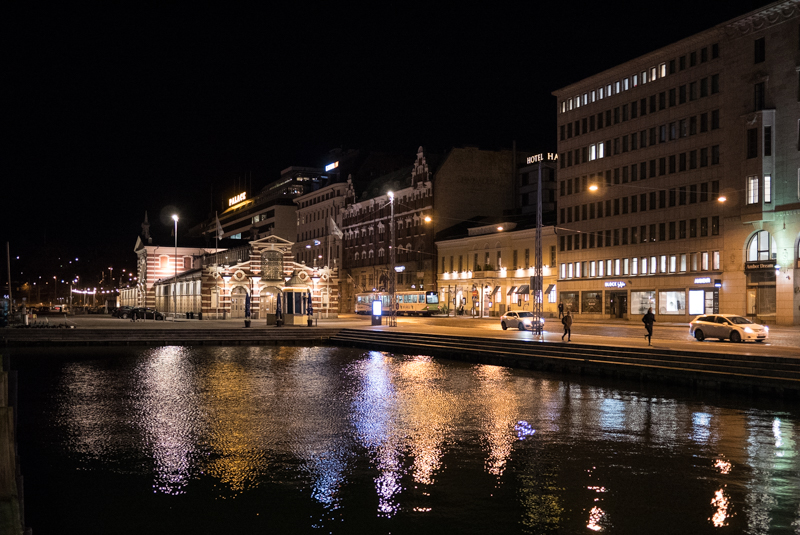 44_8
As always, I was on the lookout for little details like this strange piece of graffiti: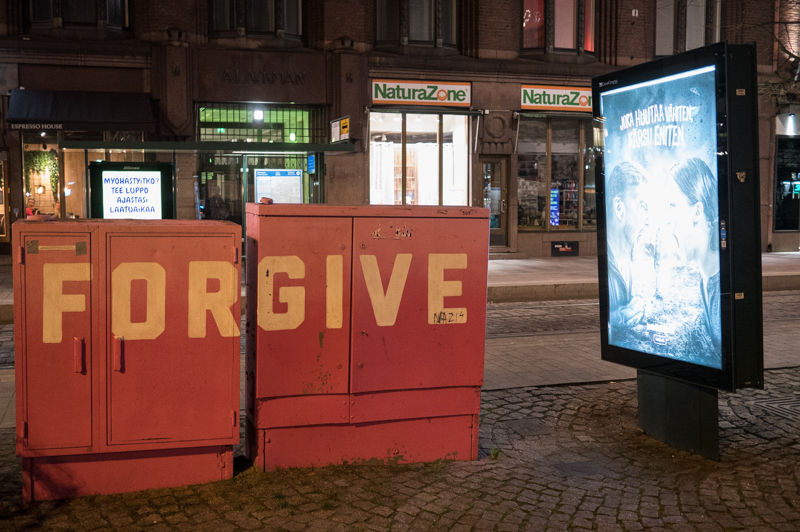 44_9
It was not all sightseeing and fun, of course. Mario is the guy in charge of much of the organisation, and making sure everything runs smoothly: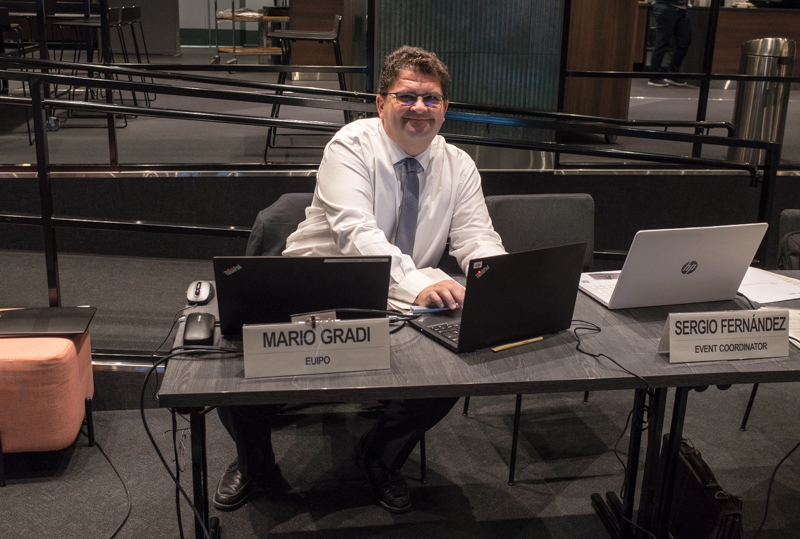 44_10
On Wednesday the Finnish Patent Office had arranged a conference on intellectual property use by small and medium-sized enterprises, and both I and my English colleague Andrew made presentations: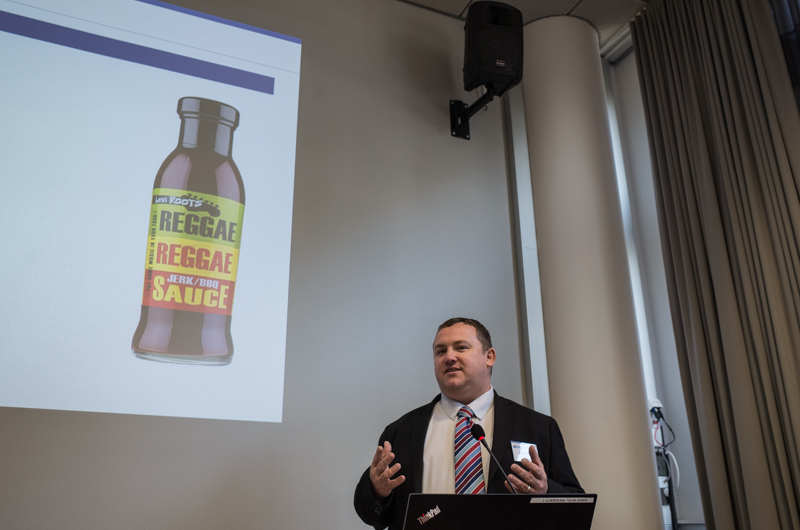 On Wednesday afternoon my work was done, and I flew to Copenhagen to begin my brief vacation in Denmark.
44_11
After spending Wednesday evening with my friend Beata, I spent all day Thursday enjoying Copenhagen, starting with a visit to the cemeteries where my parents are buried. On the way to the metro station I passed Sortedams Sø, one of five rectangular lakes that stretch from the northern neighbourhood Østerbro to the heart of the city. When my parents and I arrived in Denmark in the spring of 1972, we used to go for walks here and to feed the ancestors of these birds with the parts of our packed lunches that we found inedible: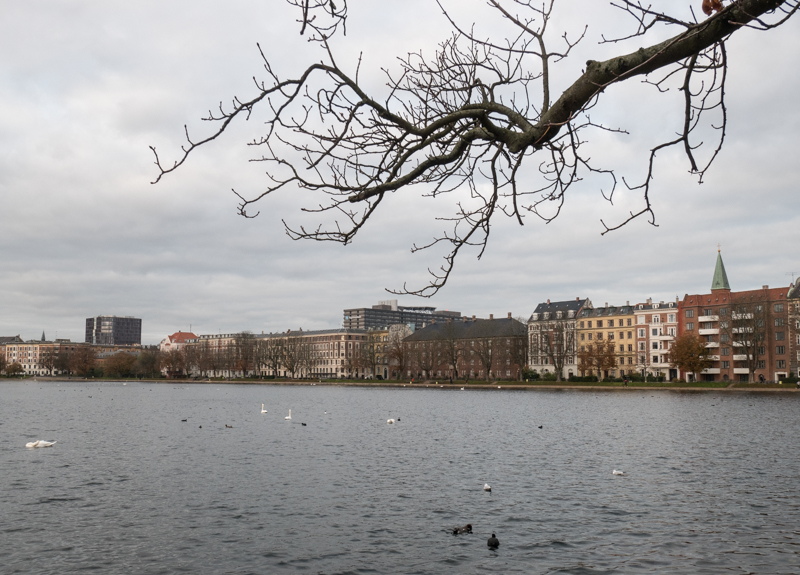 44_12
As is my habit, I first went to my mother's grave in one of Copenhagen's main cemeteries, Vestre Kirkegård. Since I only visit a couple of times a year, I pay an annual maintenance fee so that the grave is kept nice and tidy, and the flowers of the season are planted as appropriate: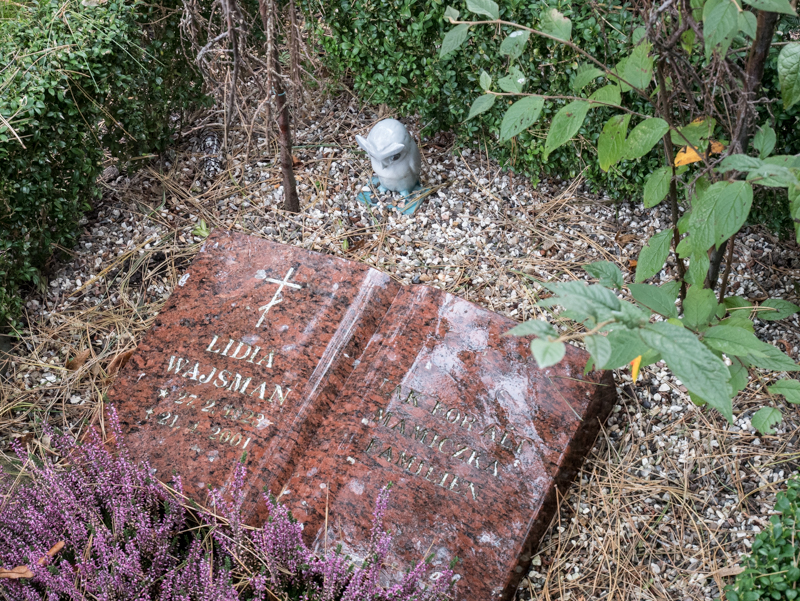 44_13
I then walked over to the adjacent Jewish cemetery, taking a small stone from my mother's grave along with me, to put it on my father's grave. I always do it like this. This year the visit was especially important since Friday was the 15th anniversary of my father's death: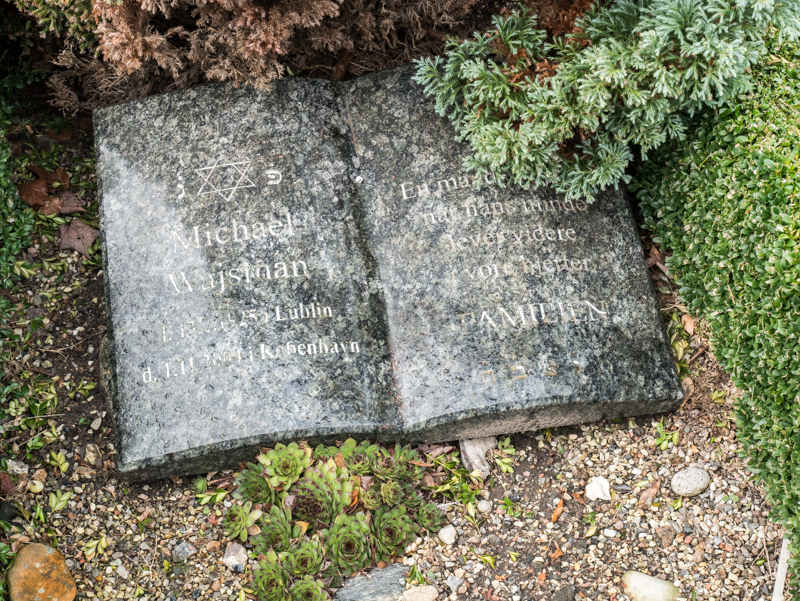 44_14
On the way out, I noticed this grave with an English inscription. I later learned the Elias Gechman was a New York physician who founded an organisation called "Tribute to the Danes" to commemorate the 1943 rescue of Danish Jews. So it is only natural that his final resting place is in Copenhagen: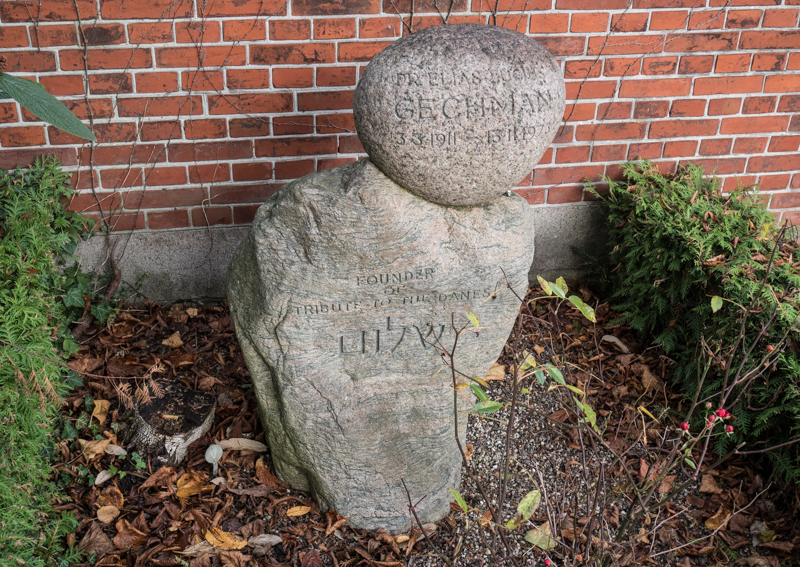 44_15
I spent the remaining daylight hours on walking around Copenhagen and enjoying the city. What I love about it is that even though I have been visiting regularly since my parents moved there in the late 1980s, I always find something new and interesting, without of course neglecting the familiar places. I started the walk on the main square in front of the City Hall, Raadhuspladsen, where I photographed this feeding frenzy: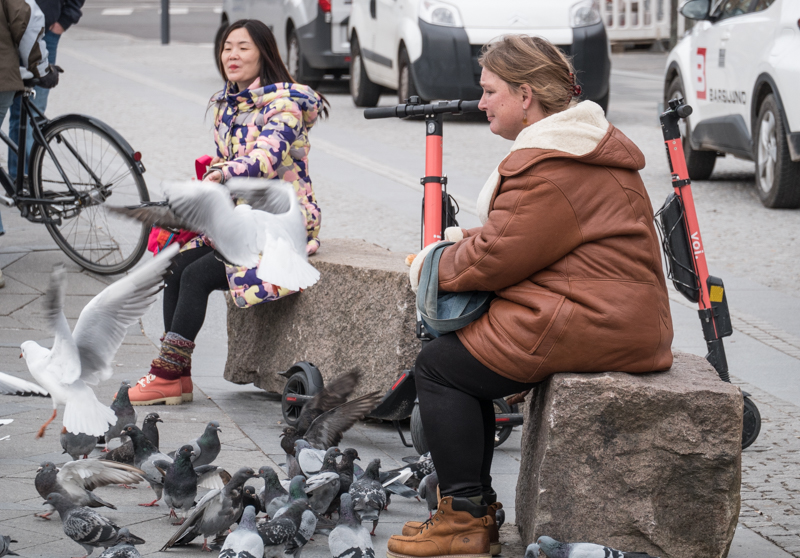 44_16
A bit further on, I came to the main building of the University of Copenhagen. It is one of the oldest universities in Scandinavia, dating from the 15th century. Today, most of the campus is in the suburbs, on the island of Amager (which also houses Copenhagen airport). But there are still some departments in the inner city, and in particular this building which houses an auditorium used for graduation ceremonies and the like. The outside is decorated with busts of important alumni: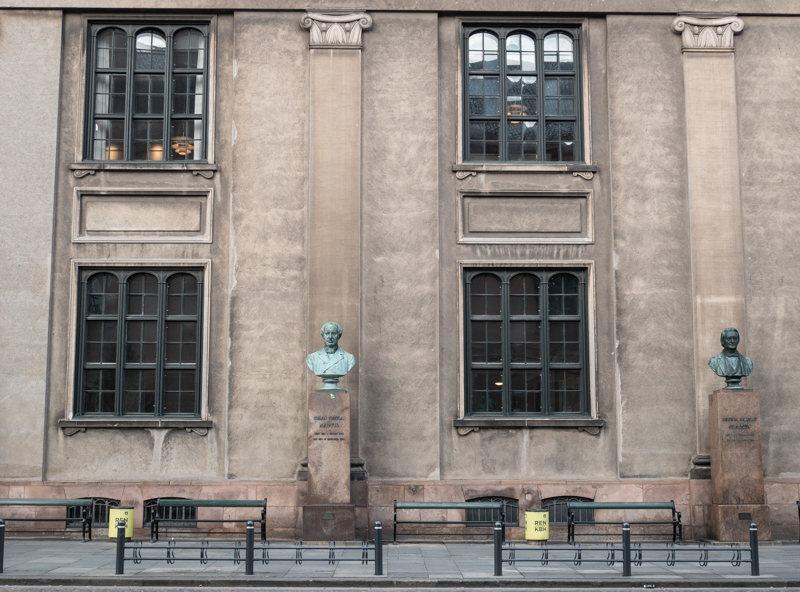 44_17
The main entrance, with a Latin inscription meaning "it sees the heavenly light":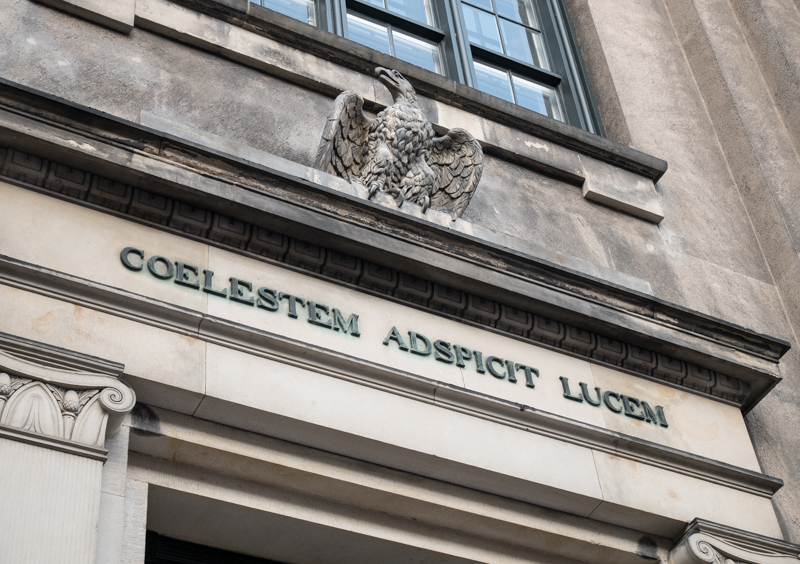 44_18
The inner courtyard: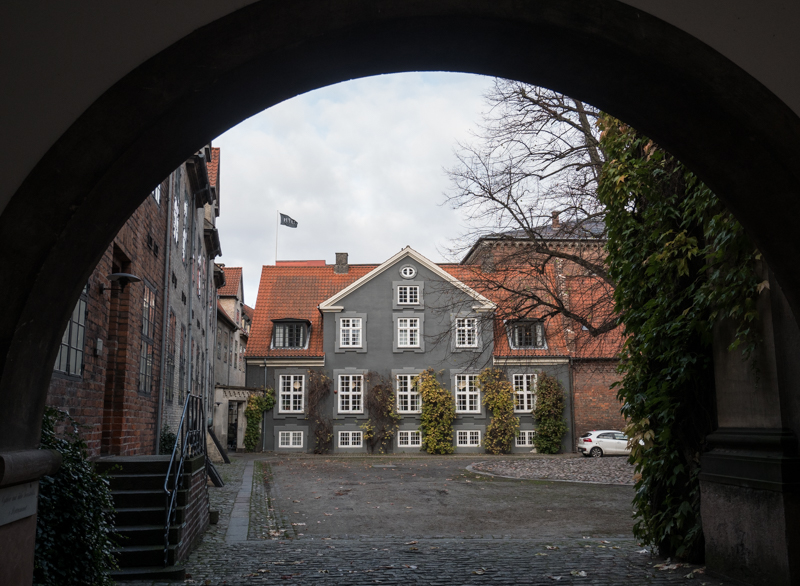 44_19
The main pedestrian street of Copenhagen is called Strøget. It leads from the city hall to a big square called Kongens Nytorv, and along the way there are a couple of lovely smaller squares. One of those is called Gammeltorv ("old market") and houses, among other things, the Caritas Fountain, built during the reign of Christian IV in 1608. It is the oldest surviving fountain in Copenhagen: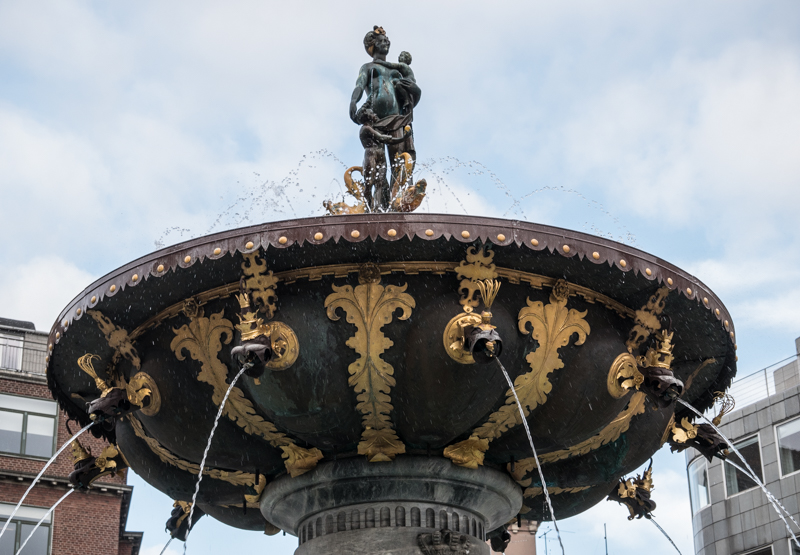 44_20
Next to the university is Vor Frue Kirke (Church of Our Lady), Copenhagen's cathedral. I have walked past it hundreds of times, but had never gone inside–until now. The church is quite simple and austere, almost modern. There has been a church on this spot since the 13th century, but the previous incarnation was burned down by Nelson's troops in 1807 (Denmark took the French side in the Napoleonic wars, bad move). The present church was consecrated in 1829. This sculpture of Jesus is the main adornment, produced by our great sculptor Bertel Thorvaldsen in the 1820s: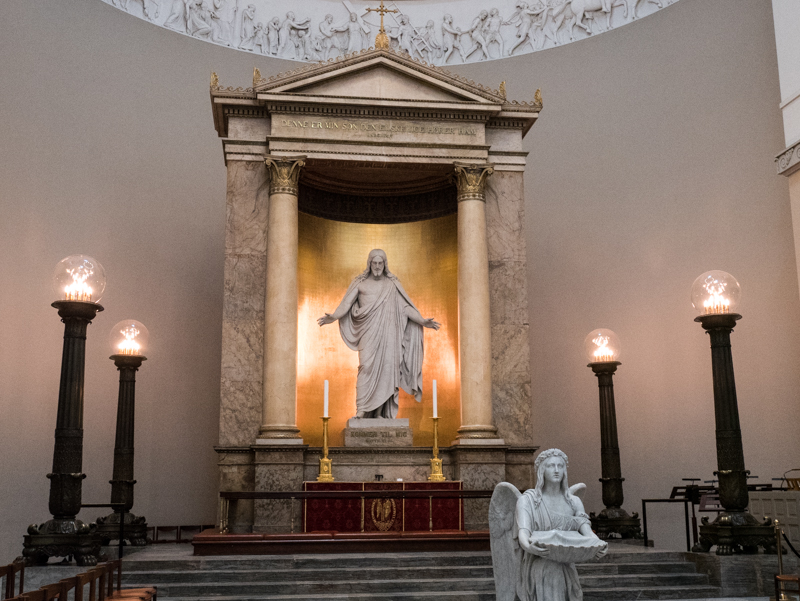 44_21
The candle holder: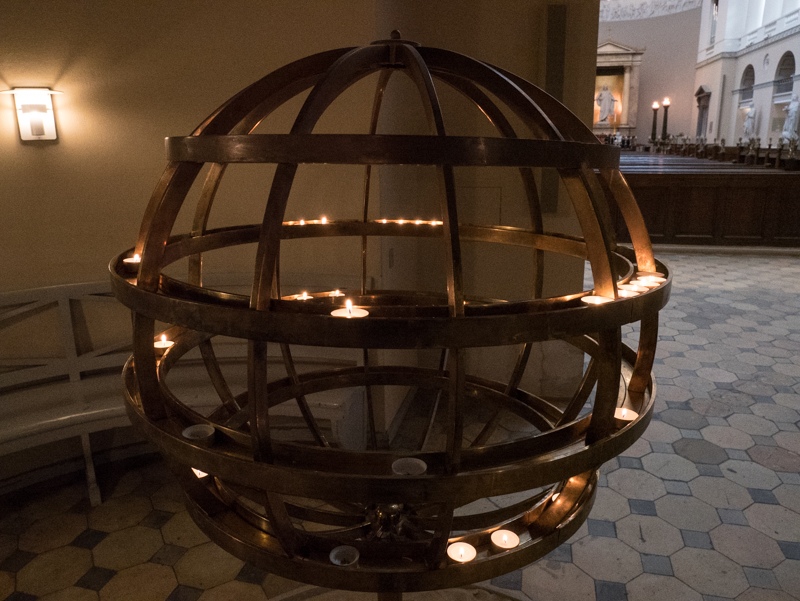 44_22
Returning to Strøget, I stopped in the flagship Lego shop–this is a place that is always on my itinerary: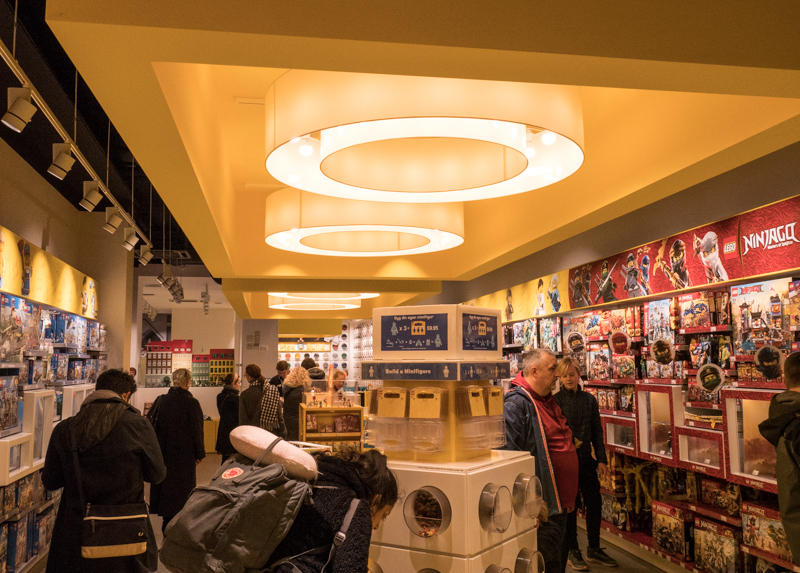 44_23
Funny enough, there are usually more adults than children in the store: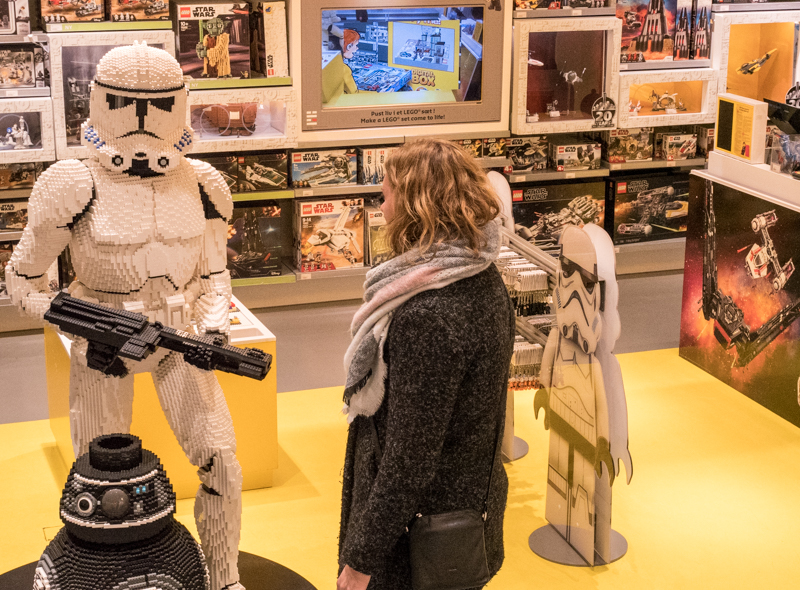 44_24
A different kind of shopping, in the annex of Helligåndskirken (Church of the Holy Ghost), a second-hand book market: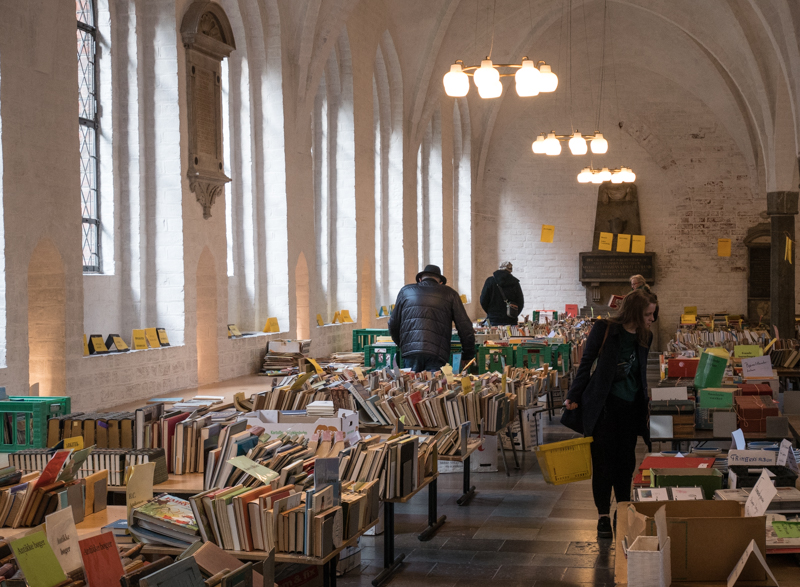 44_25
At this point, I was a bit cold and ready for something warm. Rather than popping into one of the many cafés, I went into the Illum department store (a rather posh place) and took the lift to its rooftop café, from where I could enjoy a nice view of Copenhagen. On the left is Christiansborg Palace, the home of Denmark's Parliament, and on the right is Copenhagen City Hall: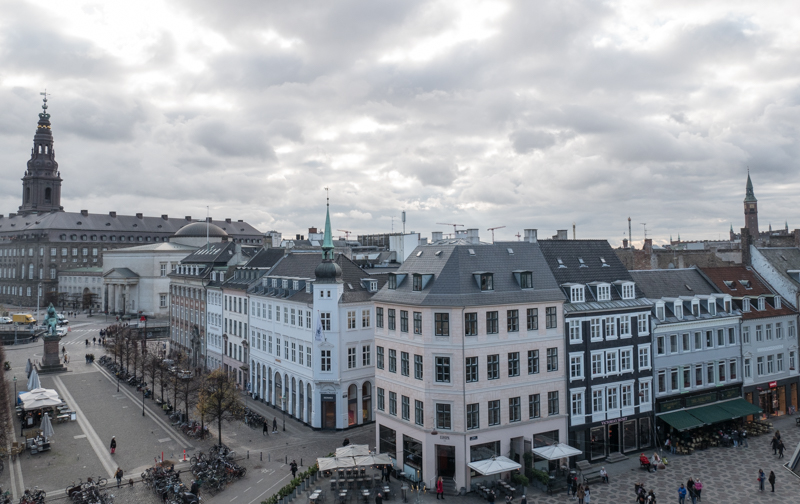 44_26
Thus warmed up, I made my way along Købmagergade towards a Turkish restaurant called Ankara, next to Copenhagen's main synagogue. When my father was alive, we often went there for lunch, and when I am in Copenhagen, one of the ways in which I honour his memory is by eating and drinking at the restaurants and bars that we used to go to. Along the way, I stopped to photograph this sculture by Danish artist Anders Tinsbo from 1970, called Vandkunsten ("water art"):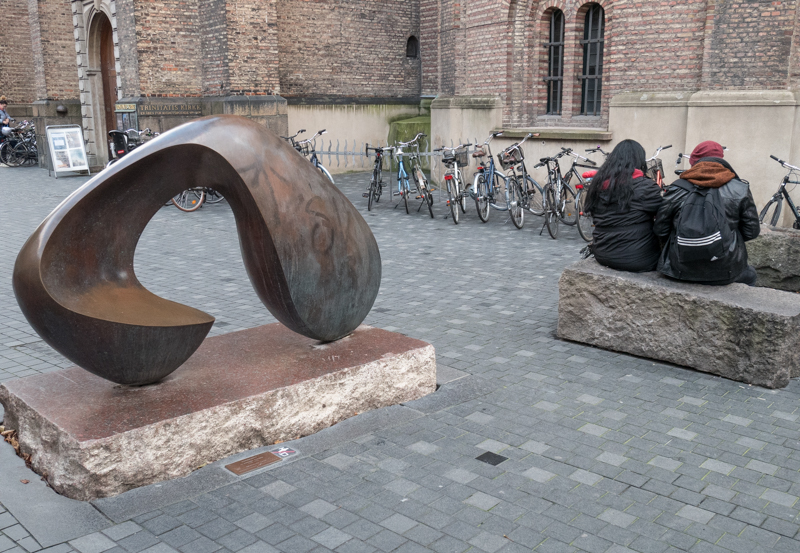 44_27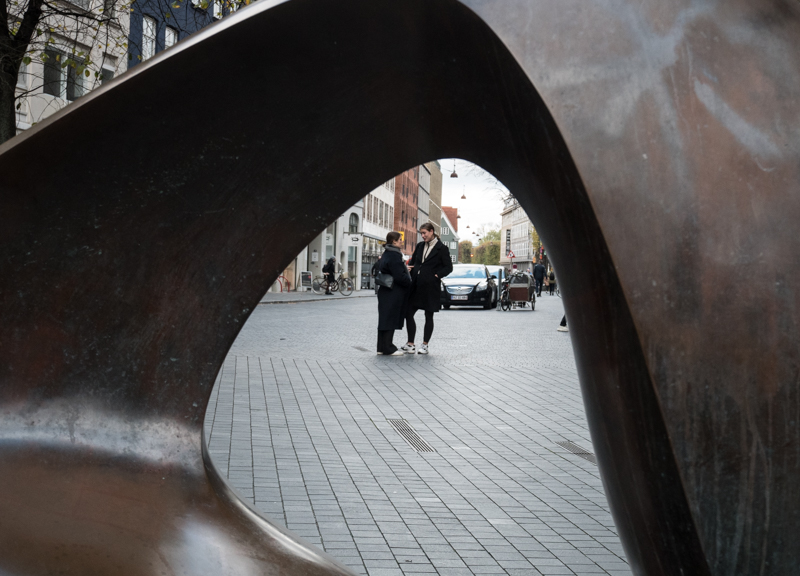 44_28
After lunch, I walked on towards Kongens Nytorv. On Højbro Plads there is a statue of Bishop Absalon, the 12th century founder of Copenhagen. Not exactly the standard depiction of a man of the Bible: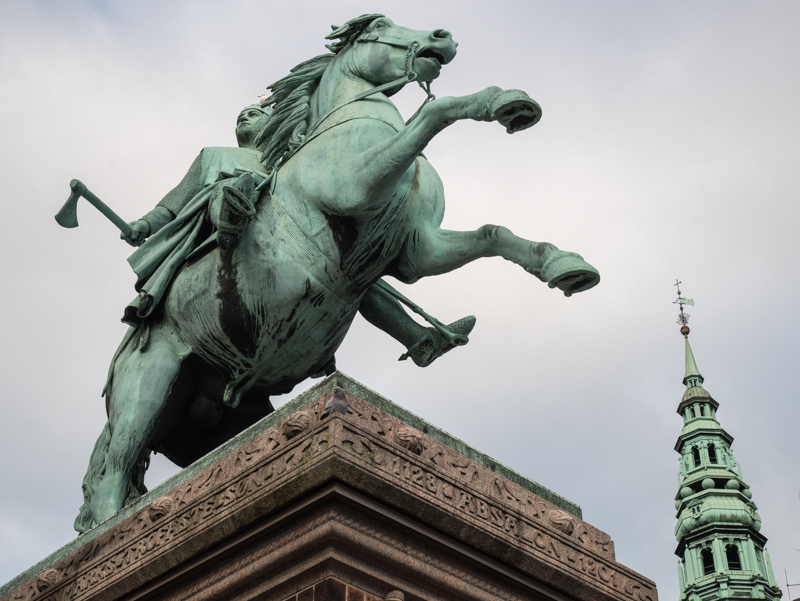 44_29
This area is very much the heart of Copenhagen. The Parliament, the Royal Palace, and numerous other important buildings are within a radius of 500 meters. The beige building on the right is the Thorvaldsen Museum, the world's largest collection of the great sculptor's works (and his final resting place is in the inner courtyard of the museum):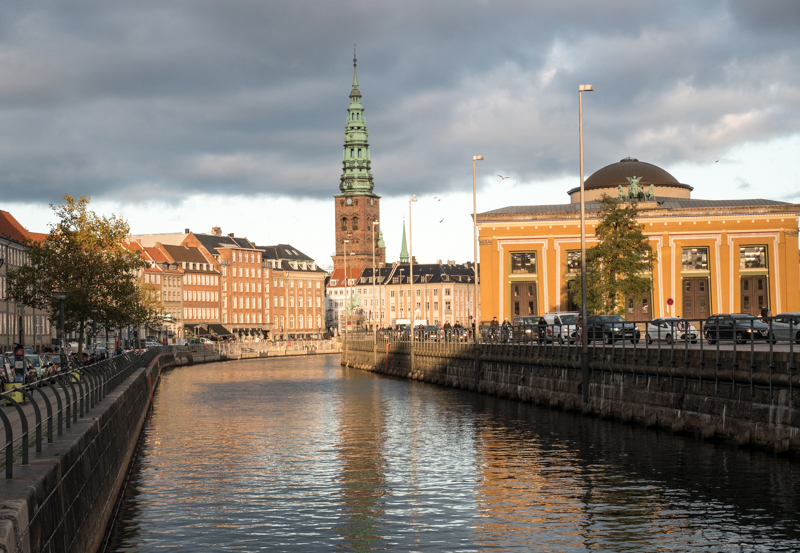 44_30
As with the cathedral, this is a place which I have passed by many times but never visited. But this time I decided to pay Thorvaldsen a visit, and I was not disappointed. There were not many other visitors on this day, except for many people drawing the statues. On reflection, they make good models–they are patient, the light is good, and no need to chitchat with them: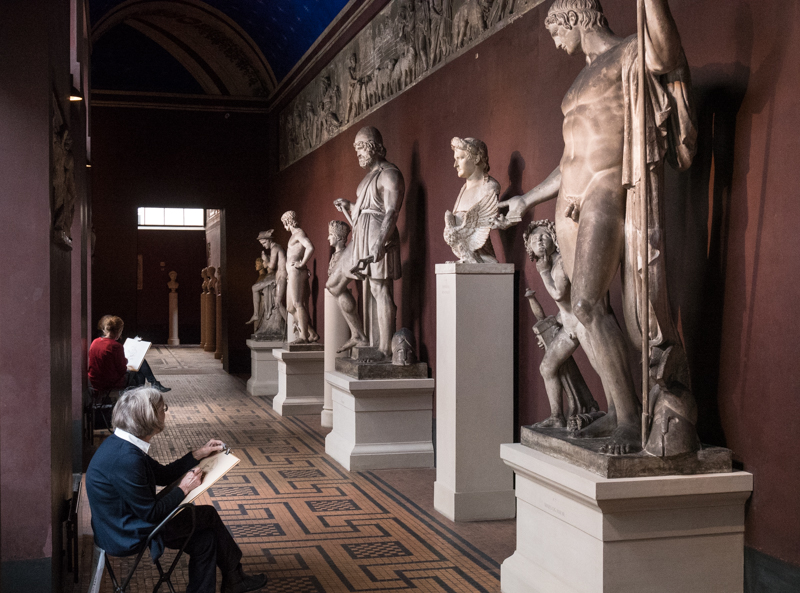 44_31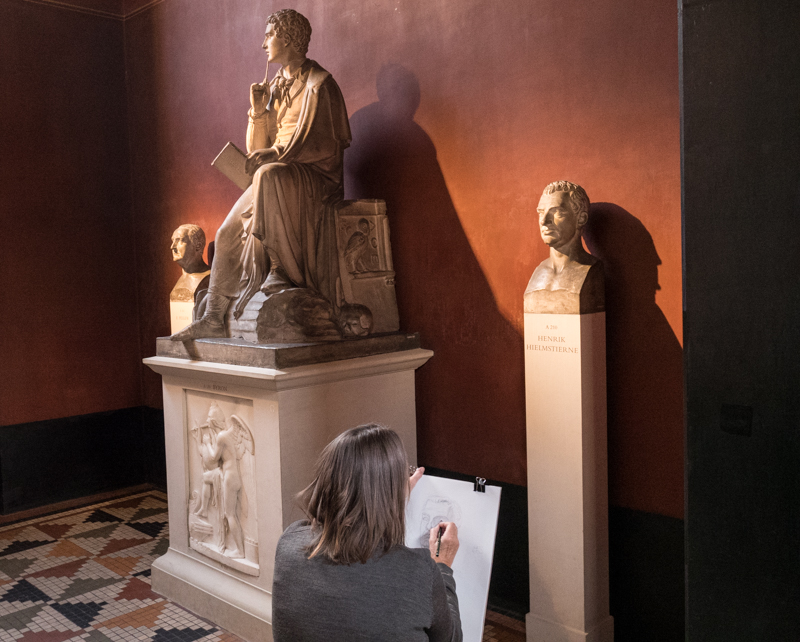 44_32
Thorvaldsen lived and worked in Italy for many years, and much of his sculpture consist of Biblical and classical motives. But he also made portraits of famous people, and I enjoyed those. Here, Lord Byron (1831):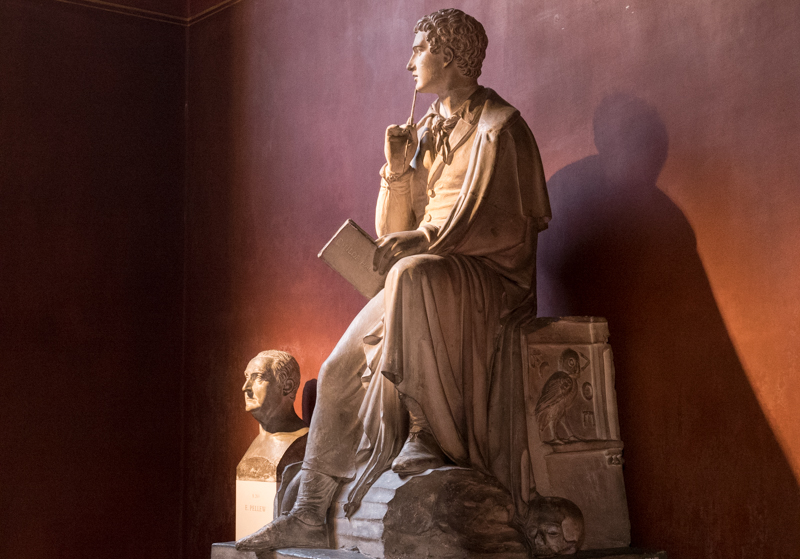 44_33
Recumbent Lion (1825):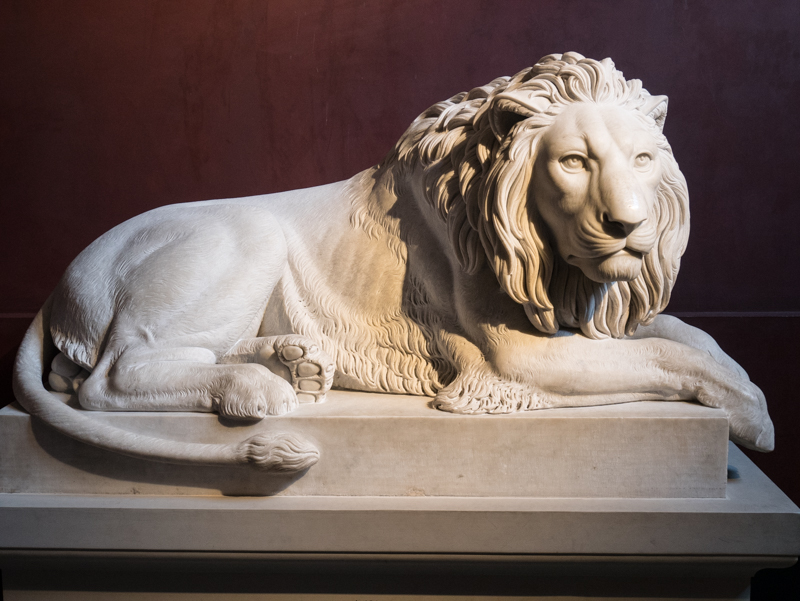 44_34
Ganymede with Jupiter's Eagle (1817):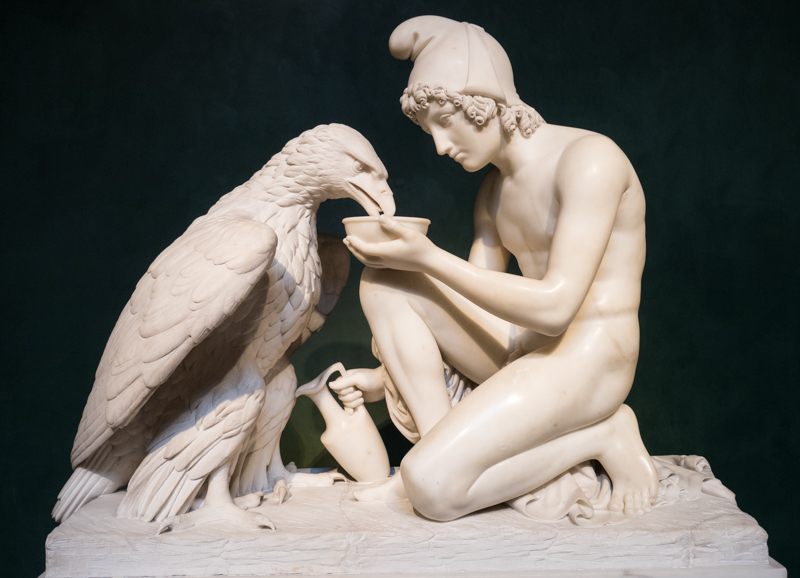 44_35
Jesus and the apostles (same as those in the Church of Our Lady):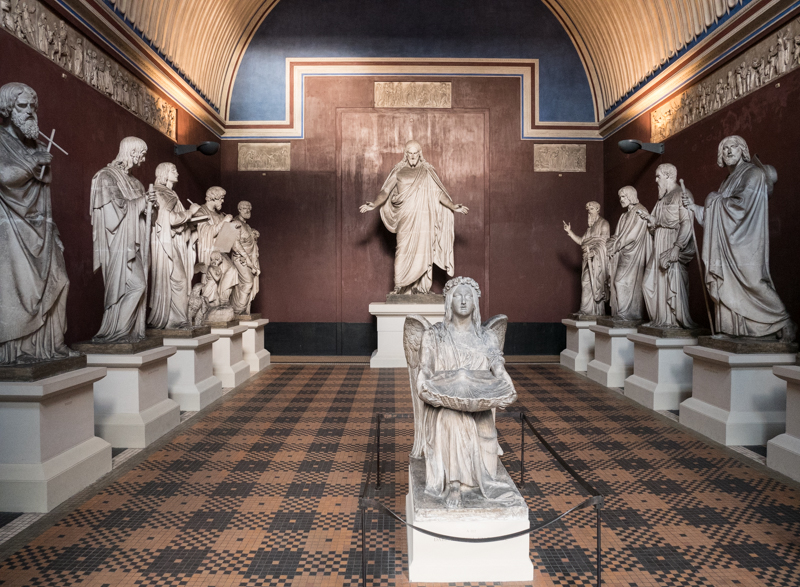 44_36
After my visit at the museum, I walked past Christiansborg, the Danish Parliament, with the protections against vehicular terrorism that have been installed following the attacks in France and Germany in recent years. The statue on horseback in front of the palace is King Frederik VII, who signed into force the democratic constitution which converted Denmark into a constitutional monarchy on 5th June 1849: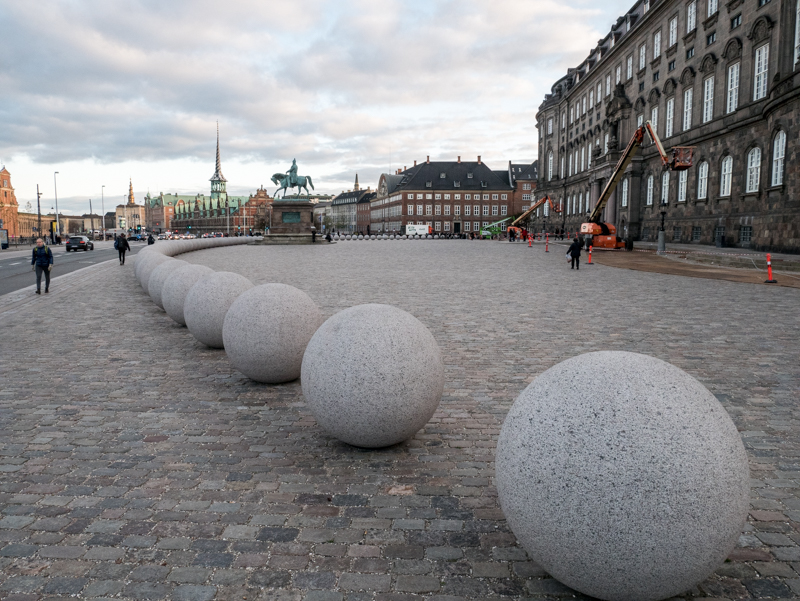 44_37
In the evening, Beata and I went out for drinks and dinner, and we were in a good mood in the metro on the way home (my hotel was 200 meters from her apartment). We have been friends literally our entire lives; my earliest childhood memories involve playing with her when we were toddlers in Poland in the 1960s:

44_38
My last photos from Copenhagen are of amusing details. Halloween decorations in Beata's apartment building. The holiday did not exist in Denmark when I was growing up but has become popular in recent years: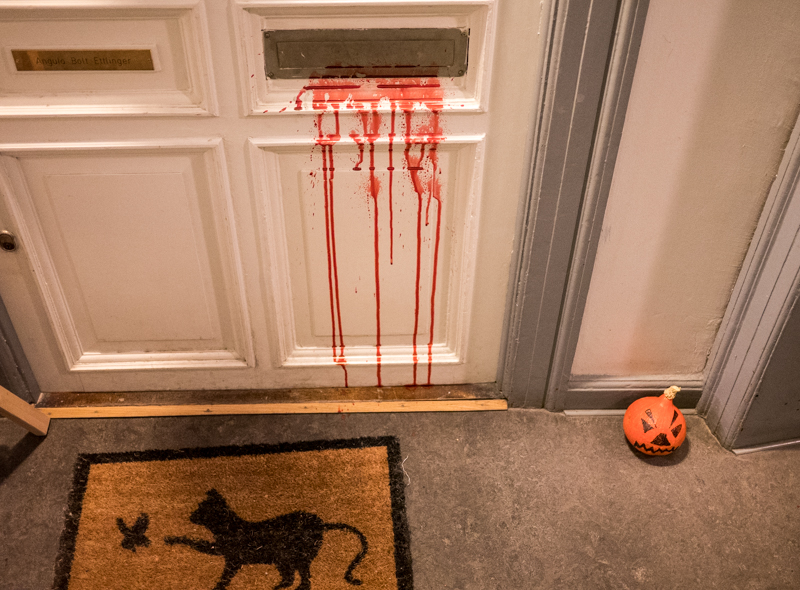 44_39
Friday morning, while walking from my hotel to the Østerport commuter train station, I photographed this car, parked next to the gate of the British embassy to Denmark: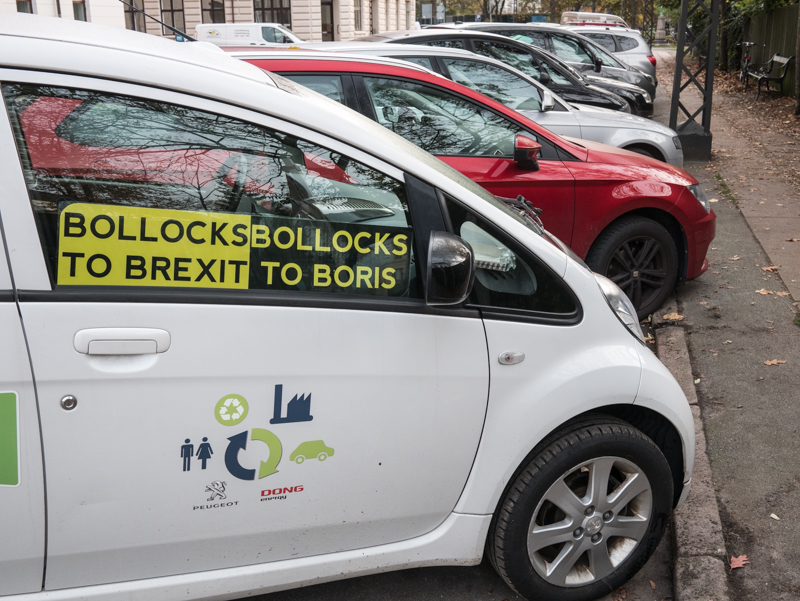 44_40
I then made my way to Copenhagen Central Station and took a train to Aarhus, my hometown. Three hours later, Lars met me at the station there, and we went for lunch in a book café near his place: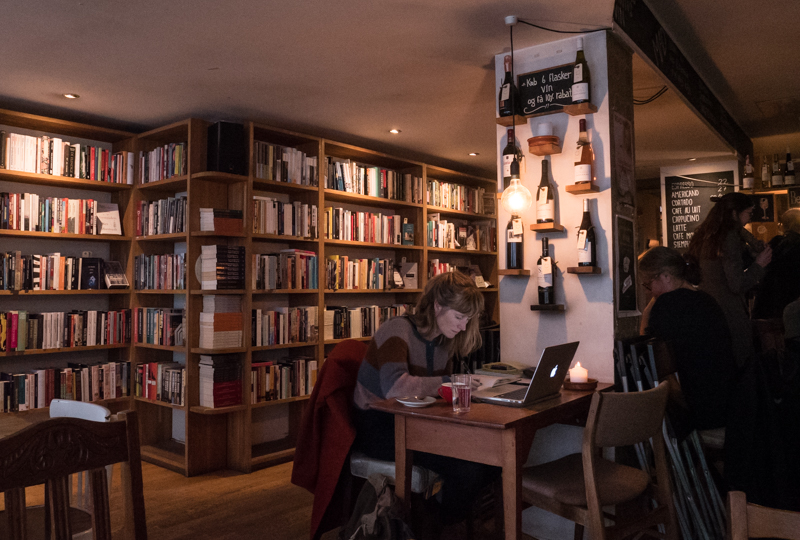 44_41
Friday was my 59th birthday, and Lars made his wonderful homemade pizza for my birthday dinner: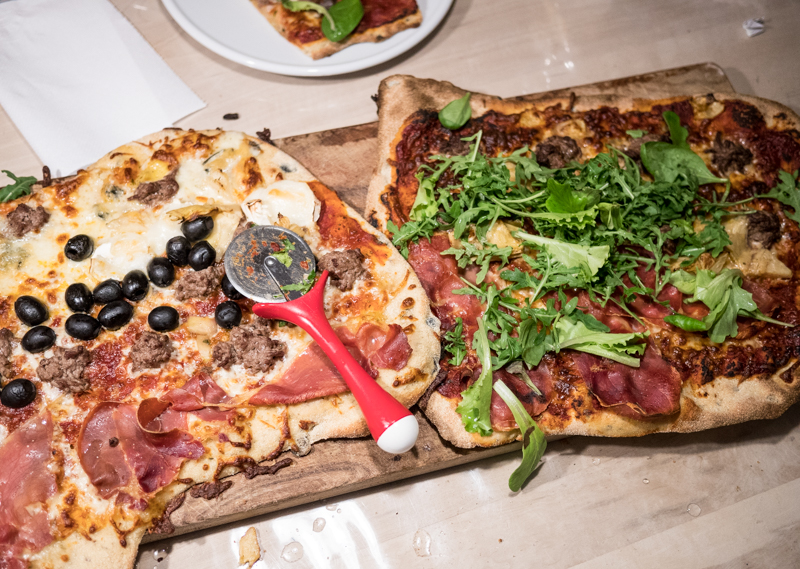 44_42
The younger of his two daughters, Klara, came for dinner with her husband and their baby, one of Lars's three grandchildren: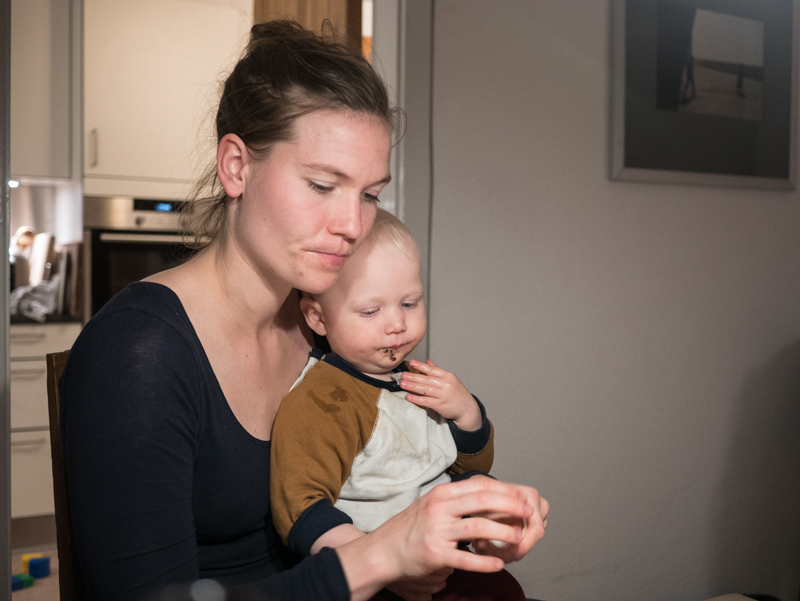 44_43
The grandfather; I never imagined that I would see Lars in this role when we became friends more than 40 years ago: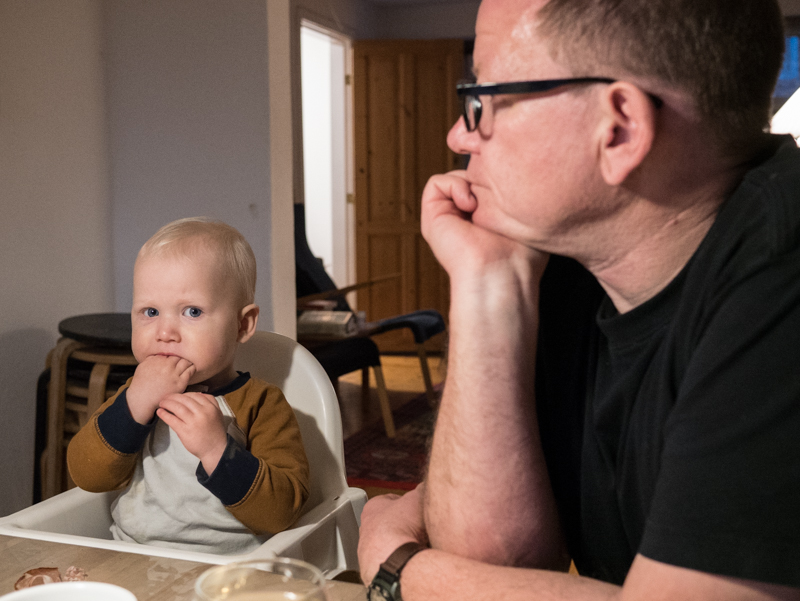 44_44
On Saturday morning I woke to up to typical Danish autumn weather. This is Aaboulevarden, the main avenue leading to the harbour. The river was covered in the 1930s for easy access to the harbour, but in the 1990s it was opened again, and in the summer this area is full of people enjoying themselves outside. But not in November: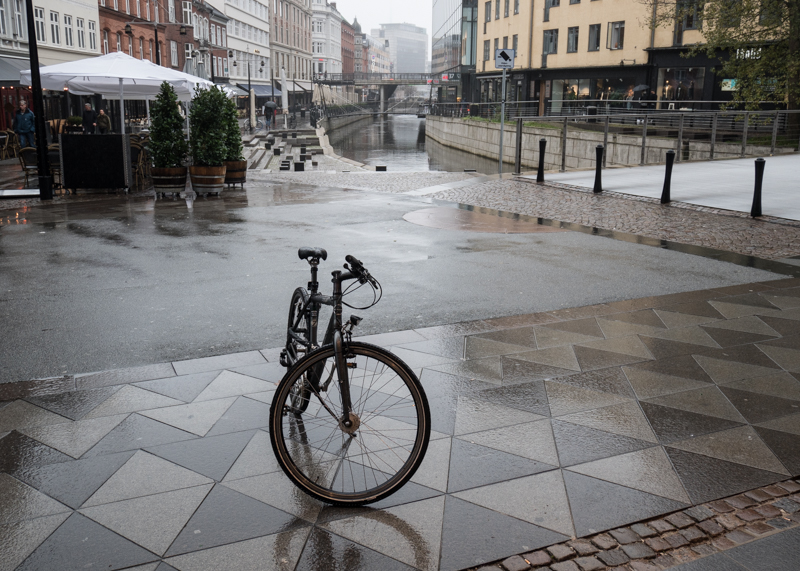 44_45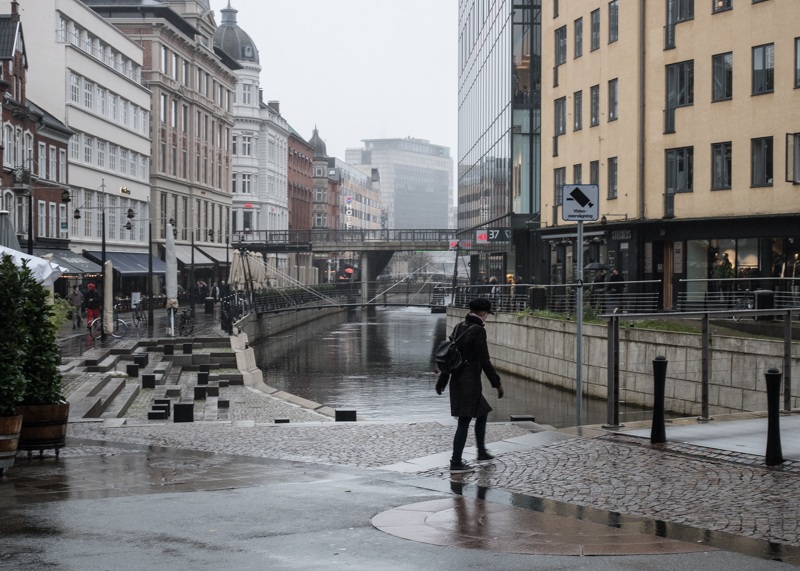 44_46
A splash of colour: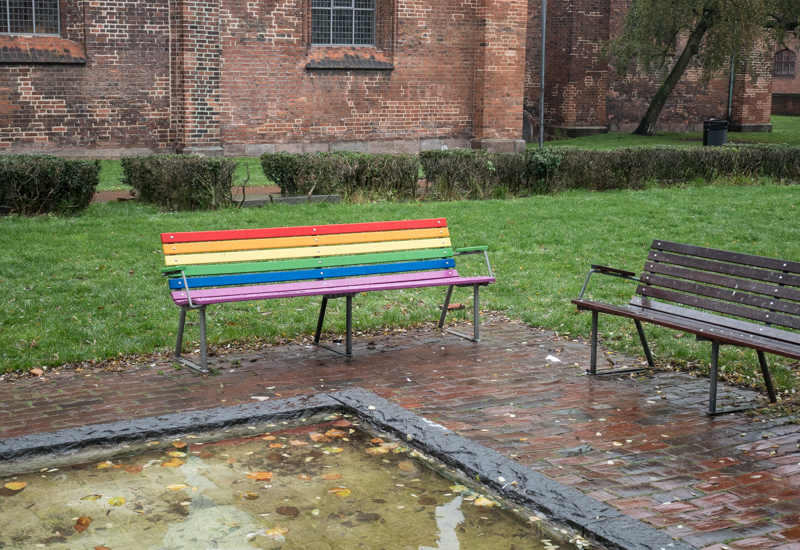 44_47
Lars's partner Winnie (who lives in Copenhagen) had come over for the weekend, partly to see me but mostly because we were going to celebrate Lars's birthday on Monday. Yes, not only are we best friends but our birthdays are 3 days apart. During the afternoon, we went to have a look at one of the many small art galleries in this part of Aarhus: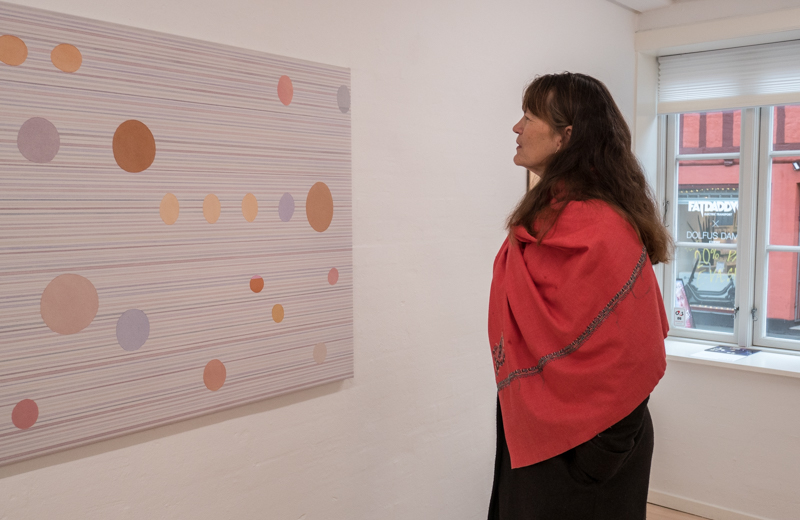 44_48
In the summer of 1979, Lars and I graduated from the Aarhus Statsgymnasium high school. Many of our classmates live in or near Aarhus, and on Saturday evening some of us met up for dinner to celebrate the 40th anniversary of our graduation. The four people in this image (from left to right) are called Heidi, Peter, Jonna and Bo; I have seen Heidi and Jonna from time to time over the years, but I do not recall seeing Peter since we were in high school. A truly strange experience, especially because he had developed in a completely different way from what one would have expected back then: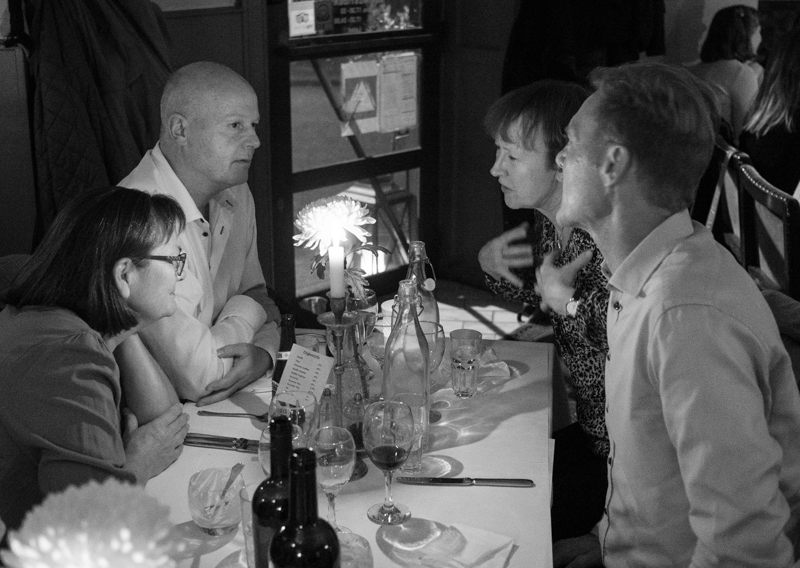 44_49
We continued to drink and talk for a few hours, long by Danish standards. But for Lars and me it was fine, since his apartment was just a 10 minutes walk from the restaurant: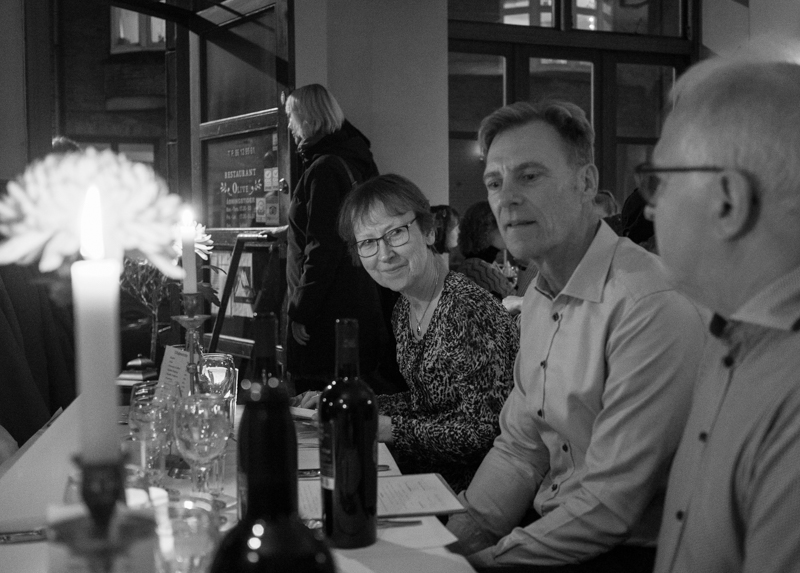 44_50
This is Sonja, who is the driving force for keeping contact to as many of us as possible (Facebook has made it easier these days) and who had arranged the dinner: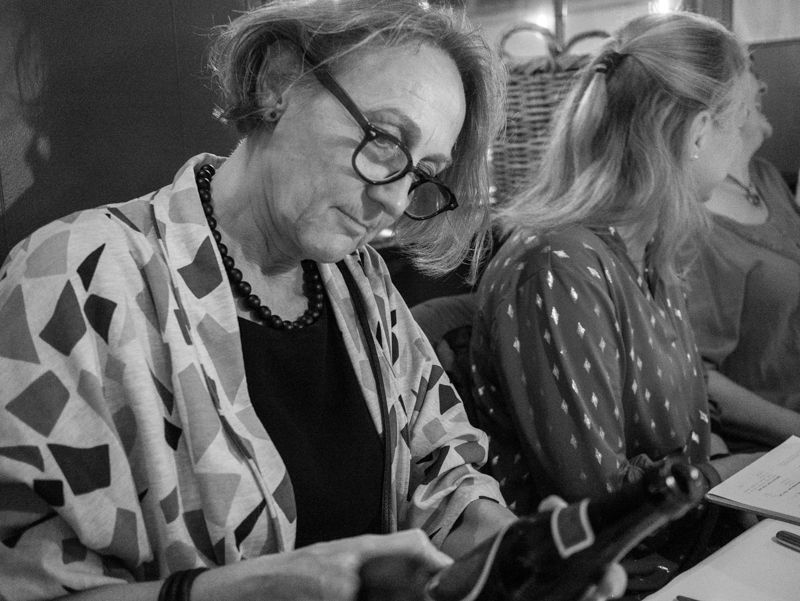 These last three photos are not technically good–the light in the restaurant was very dim. But I include them because they are important to me.
There is a dedicated gallery from Helsinki here, and one from Copenhagen here.