This was the week when my doctor ordered me to stay at home as much as possible. So aside from a presentation to Thai officials on Tuesday morning, I did obey his instructions and worked from home. But I suffered bouts of severe cabin fever, so at times I had to go out for a walk, either in my immediate neighbourhood or in the centre of Alicante. And to my great joy, the enforced rest did help, and following the second visit to the doctor on Thursday afternoon, I received permission to re-start cycling, of course gradually and carefully.
21_1
In the centre of Alicante there is a pedestrian street whose official name is Calle San Francisco. But for reasons that are obvious from this photo, everyone calls it "calle de las setas" (mushroom street):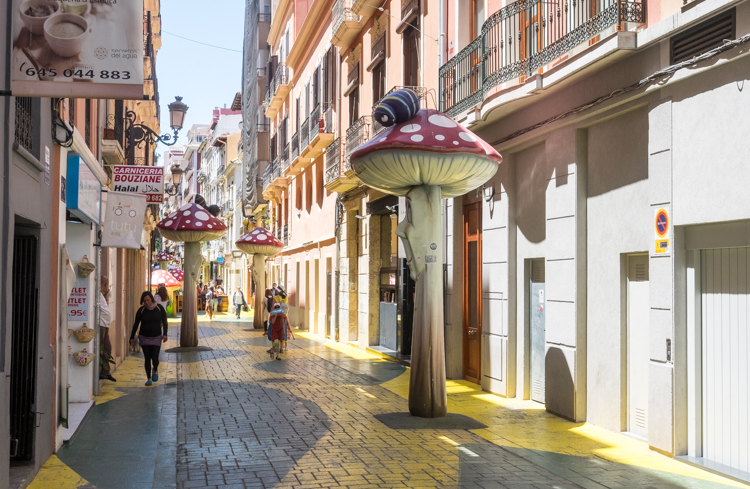 21_2
It is a nice spot for people-watching. Here is a mother with her two children: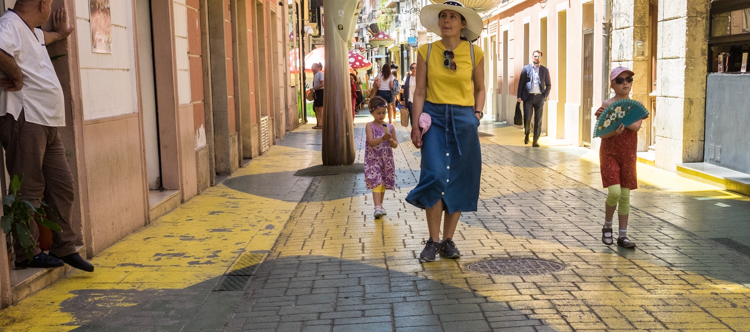 21_3
Two young women doing an impromptu portrait session: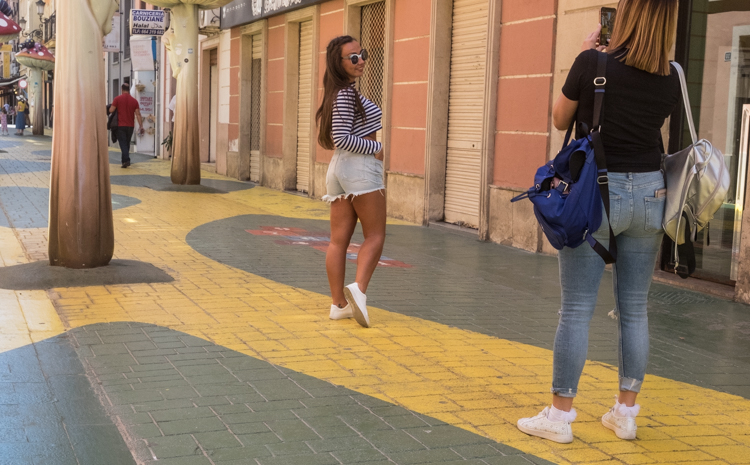 21_4
Stickers on a building: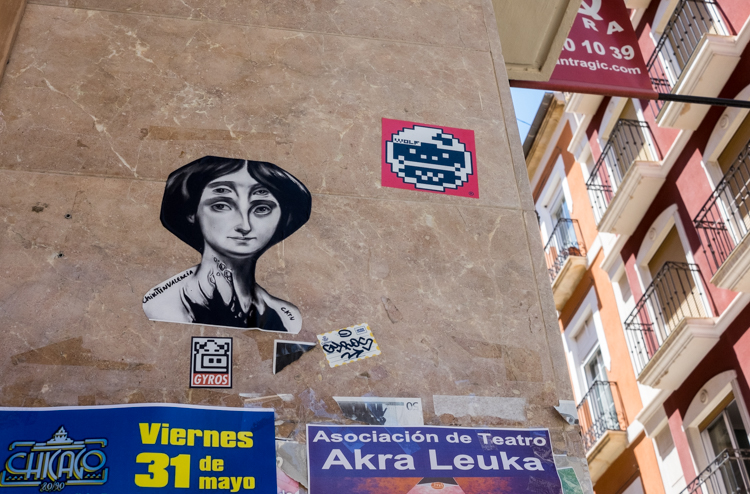 21_5
A new place to be explored: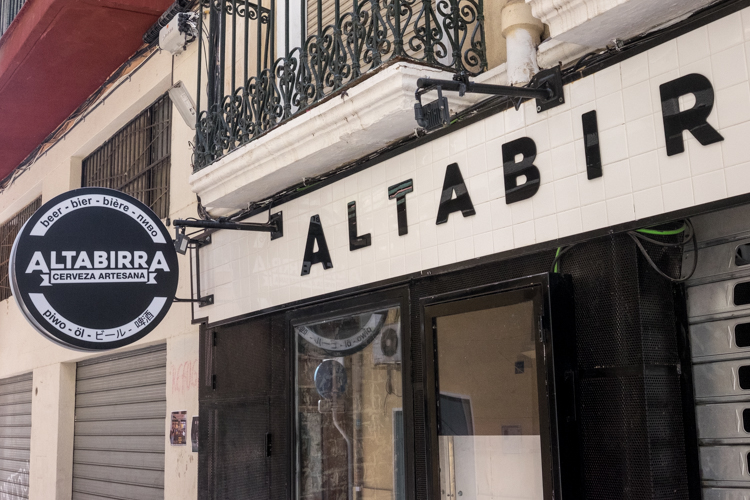 21_6
Calle San Fernando is another street in the centre; as I walked by, I passed some kind of video shoot. I never found out what kind of shoot this was, presumably a video advertising the hotel:

21_7
Down the street, they had a rather attractive traffic manager to ensure that a passing car would not ruit the shoot: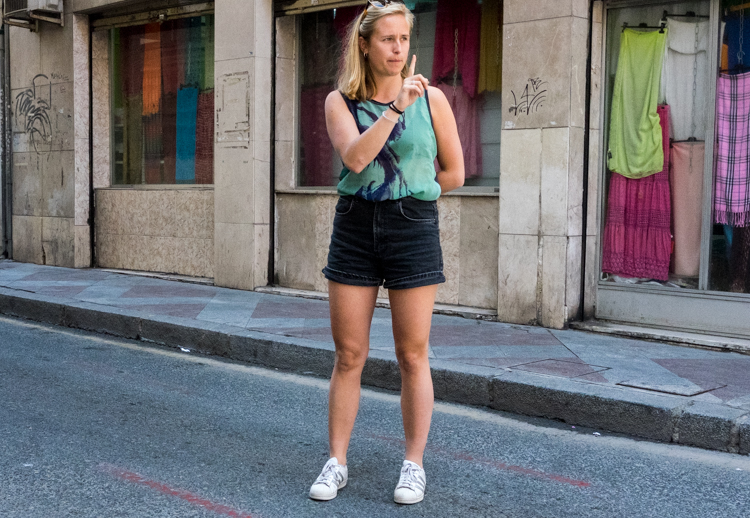 21_8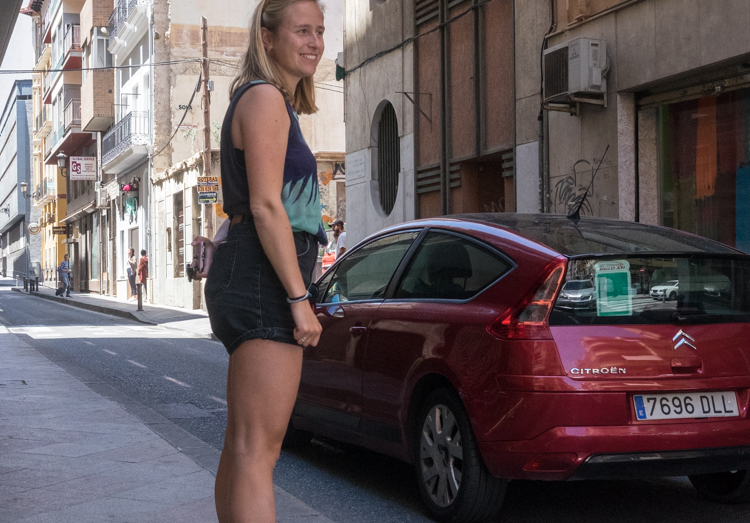 21_9
This is the kind of detail I always look out for. A pair of abandoned shoes. When I see something like this, I wonder about the story behind it–why did some woman decide to get rid of a seemingly good pair of shoes in the street? Did she continue barefoot?: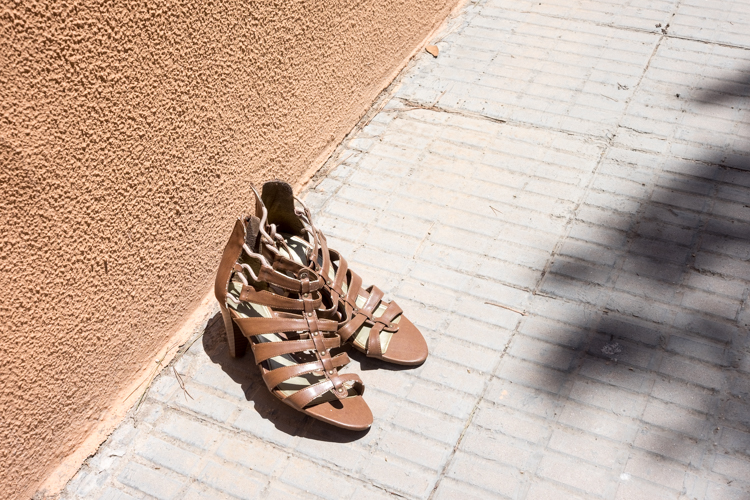 21_10
Eye contact: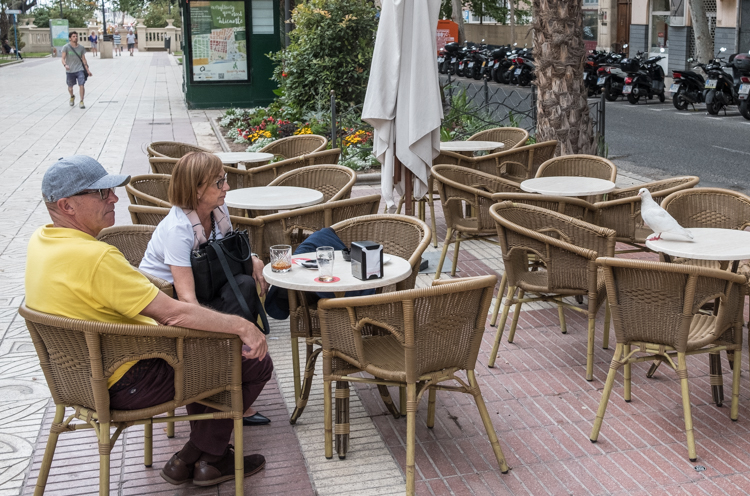 21_11
Another day, I drove to the fishing harbour of El Campello to check on the cats that live there, and to have a look around. The cats were still there: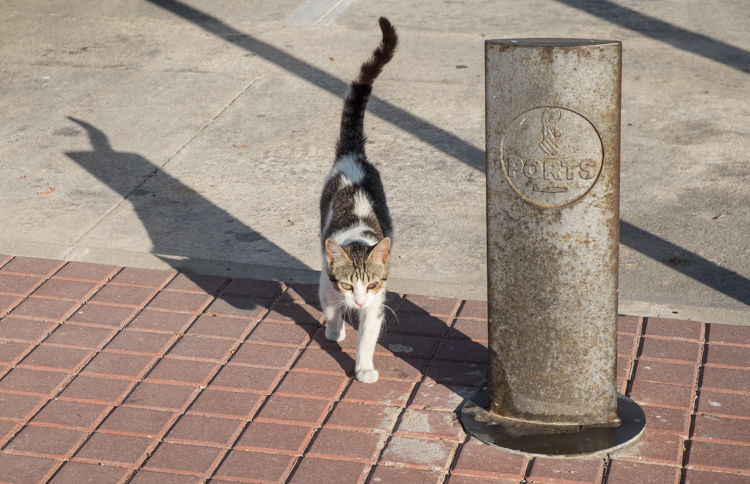 21_12
The cats have a good life; they have places to lounge on, shelter for when the weather is bad, and a diet consisting of freshly caught fish and cat food: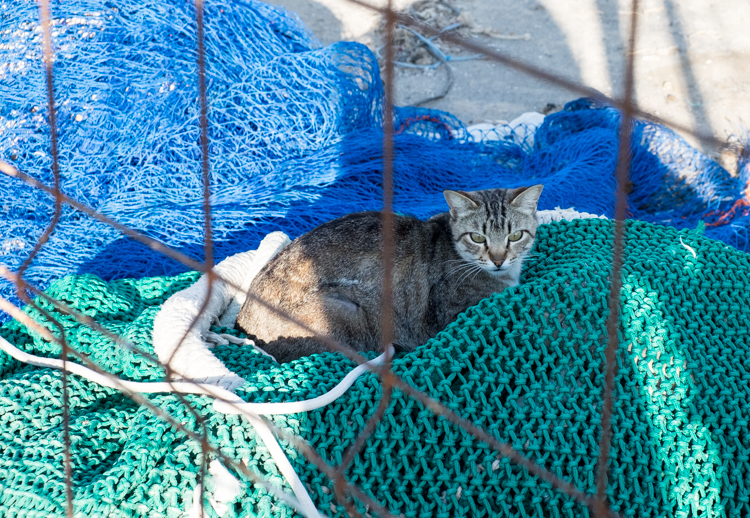 21_13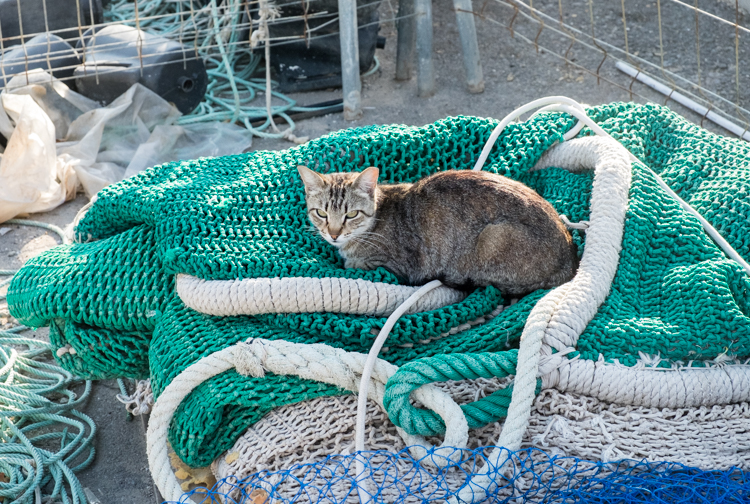 21_14
This particular cat was quite wary of me: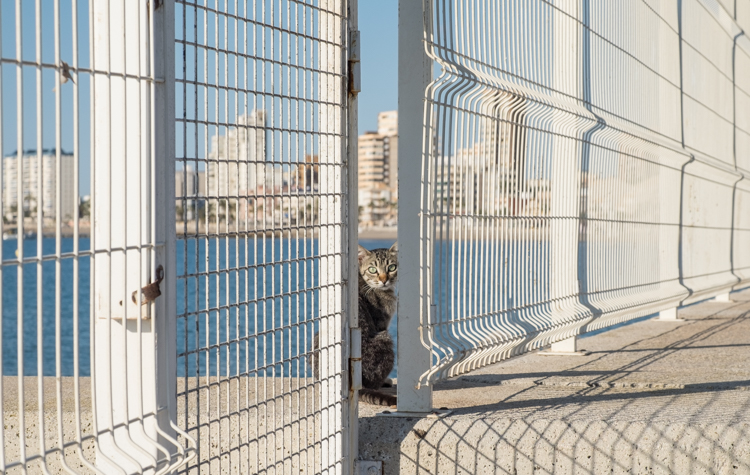 21_15
Since it was a working day, most of the fishing boats were out at sea: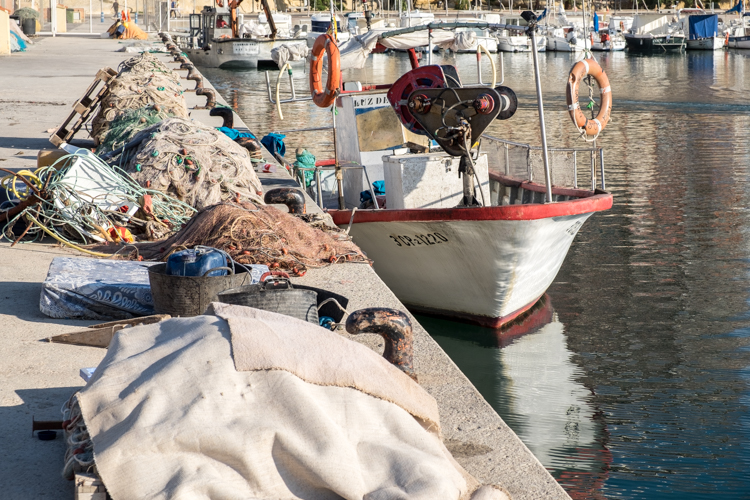 21_16
Lobster traps, I think: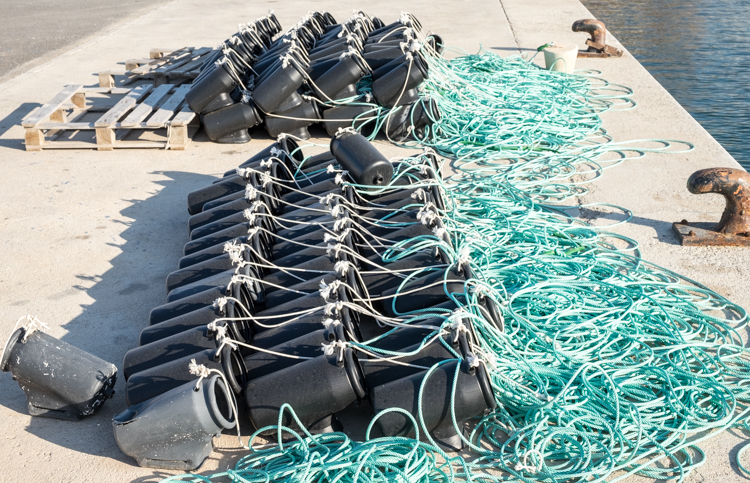 21_17
Some sacks were being loaded onto a small boat, to be transported to another part of the harbour: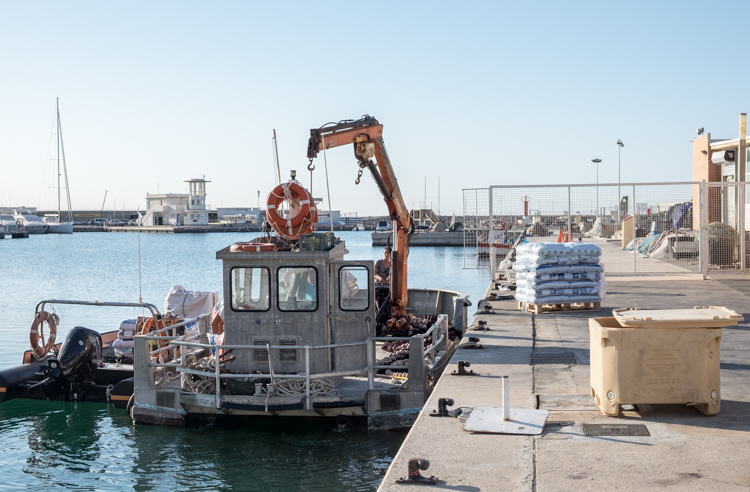 21_18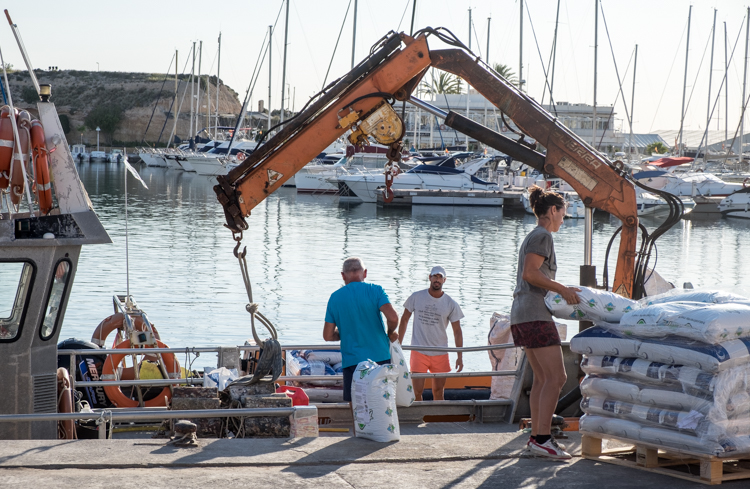 21_19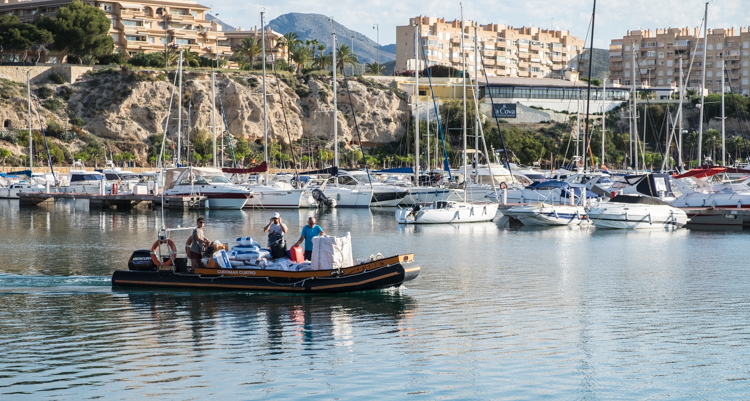 21_20
One morning I drove to a nearby camper parking, which now is full of Dutch, French, German and a few Spanish caravans. From the look of it, the facilities are pretty basic, but there is power, water, picnic areas and wifi, at 12 Euros per day. As I was taking this picture, the owner of the place came out and told me that I could go inside and photograph all I wanted: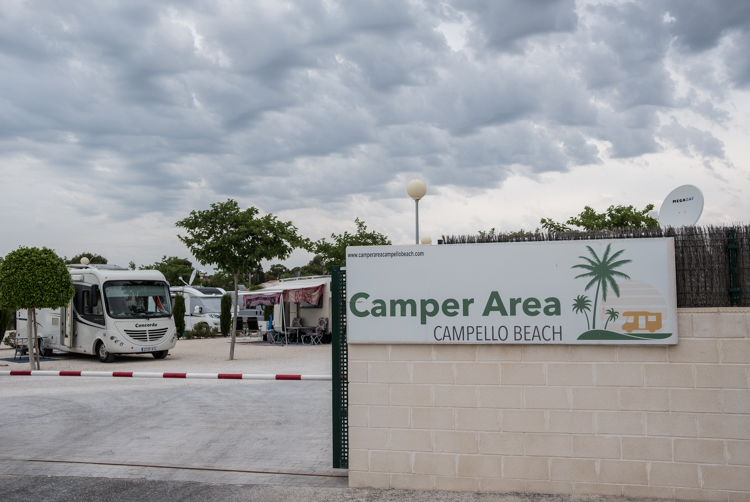 21_21
The place was quiet that morning; perhaps people were still in their caravans, or out shopping. The typical camper leaves the caravan at the parking and uses a bicycle to go shopping: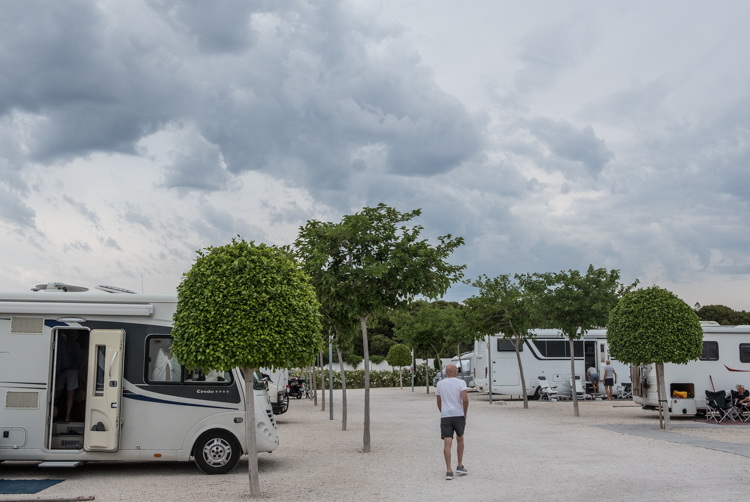 21_22
A French camper who likes both countries: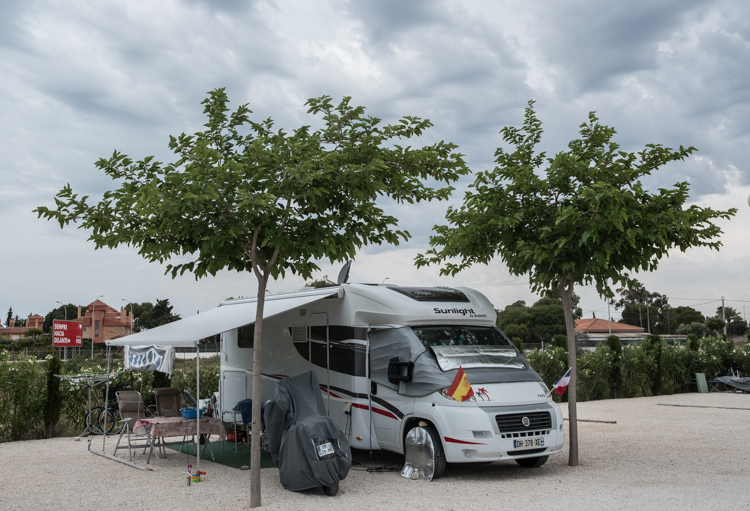 On Saturday I was going to take my first ride in almost three weeks, but in the morning it looked cloudy, so I decided to ride in the afternoon. Instead, I took the car and drove up to Aigües to take some pictures of the place with my regular Fuji camera rather than the small GF1 I use when cycling.
21_23
The view from the beginning of the climb to Aigües: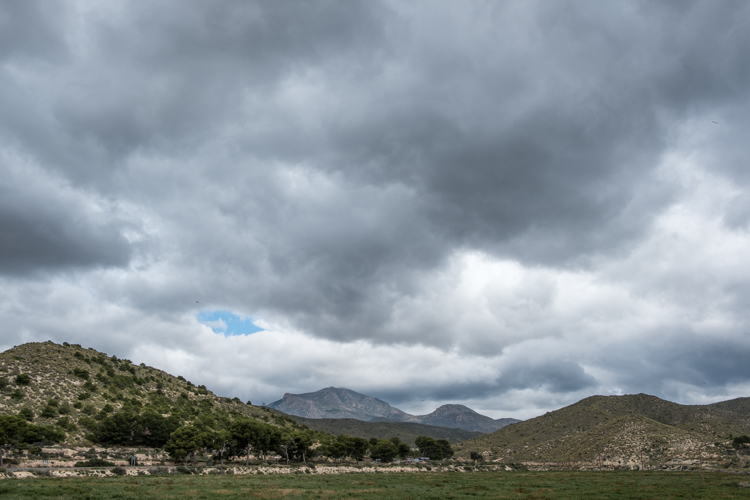 21_24
About 7 km later, there is a place called Finca de las Delicias, with a rather steep climb: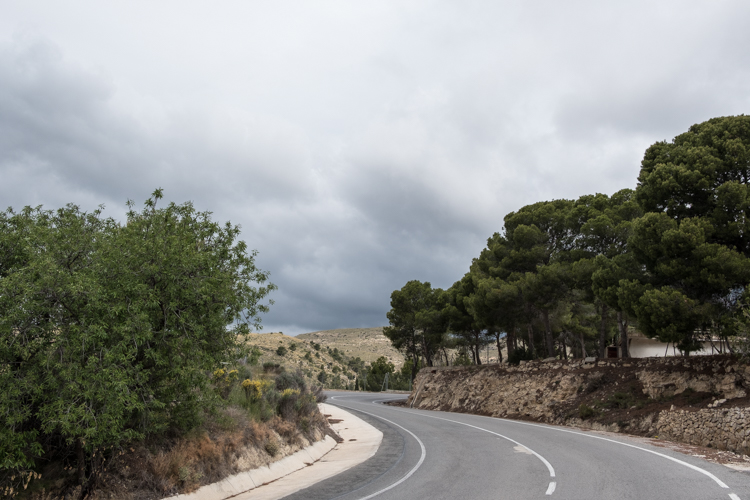 21_25
There is a nice view from that spot of the coast and the sea: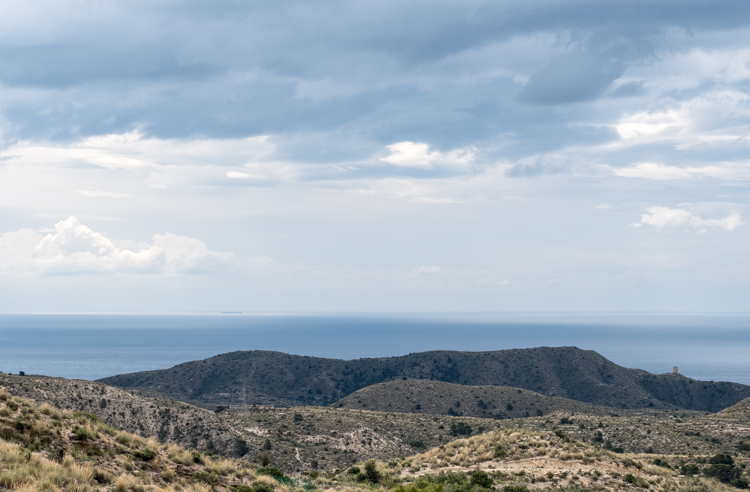 21_26
Another spot on the way to Aigües. There is a dirt road leading to a cluster of houses, so to make life easier for the postman, the mailboxes are on a stone wall next to the main road. The names are a good reflection of the multinational character of our part of Spain:

21_27
The main street in Aigües, with election banners for the two main parties, PSOE (the Social Democrats, the party I support) and PP, the conservative party. The following day, Sunday, we had elections to the European Parliament and municipal elections. In Aigües, the 7-member town council ended up with 6 Social Democrats and one conservative, not typical for this area: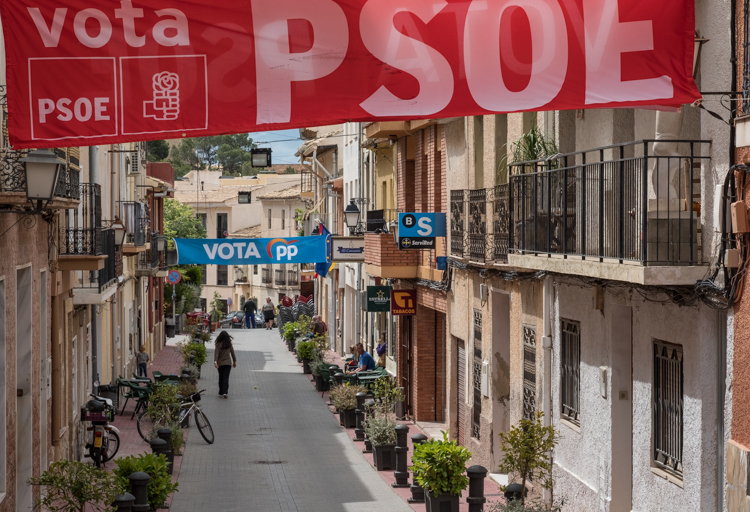 21_28
The clouds indeed looked ominous: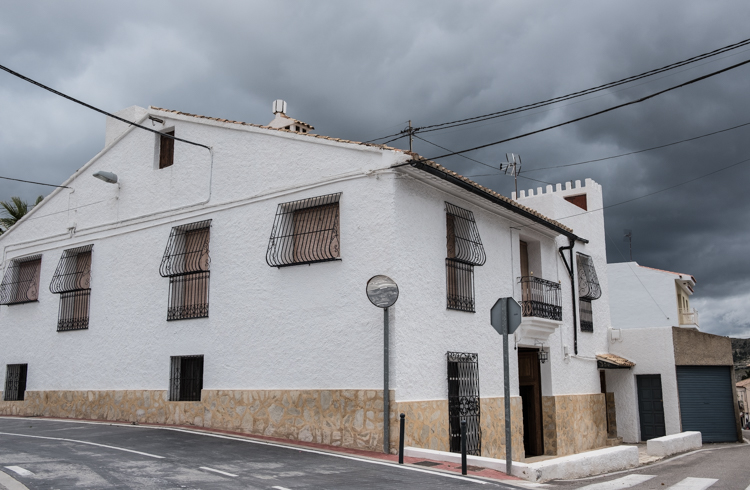 21_29
Back on the main street, Aigües has quite a few artsy types (which partly explains the voting results). This is just a typical balcony on that street: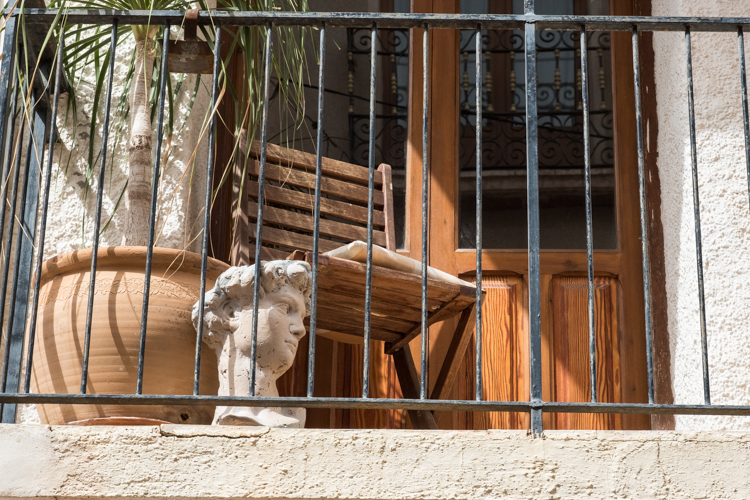 21_30
A small art gallery on the main street: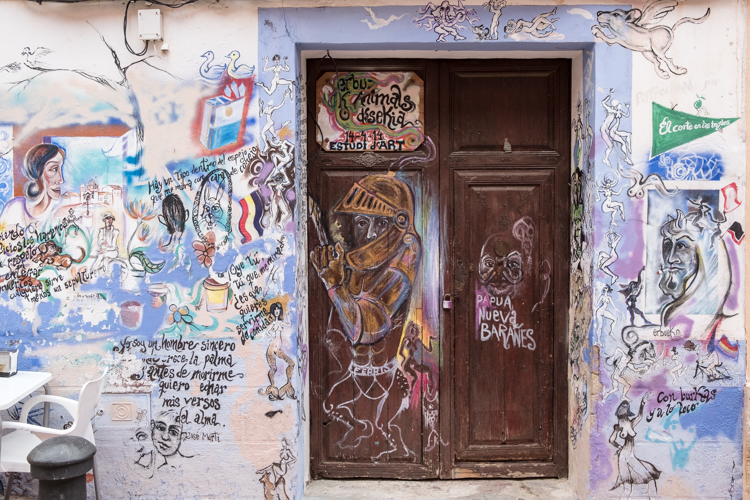 21_31
"Going crazy in burkas", a play on words that is difficult to translate. The movie "Some like it hot" is called "Con faldas y a lo loco" in Spanish (falda means skirt):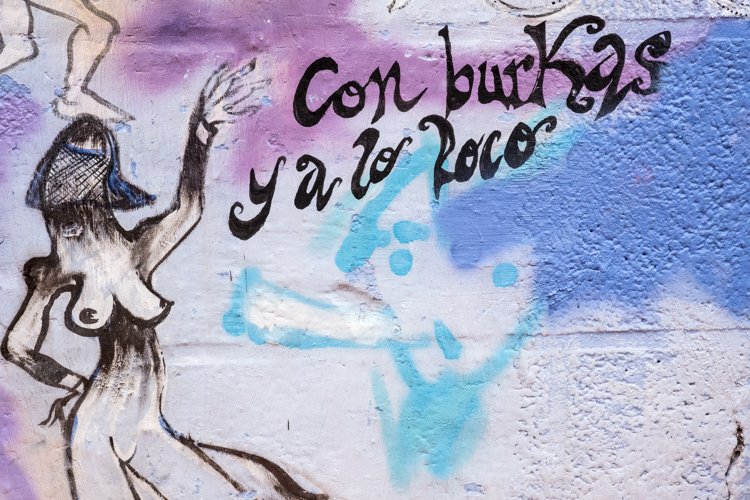 21_32
A shy Aigües cat in front of a painted utility box: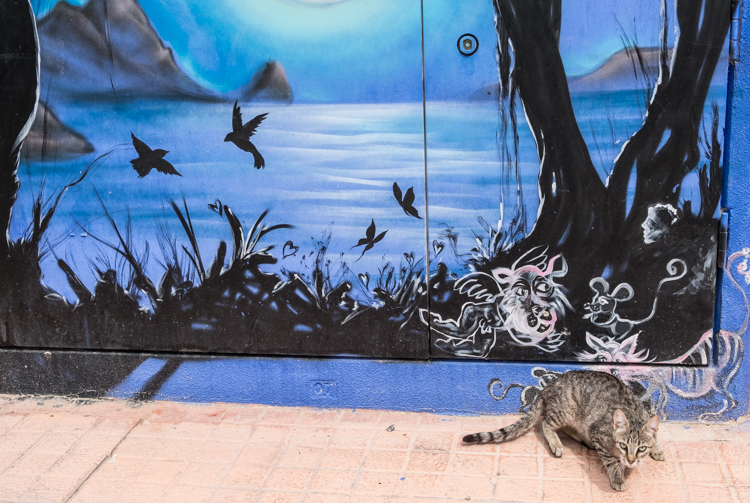 21_33
Finally, in the afternoon it was time for my first bike ride since May 7th. I started softly, of course, with just a 23 km ride, hardly enough to break a sweat. But I was so happy to be on the beach road on two wheels, again: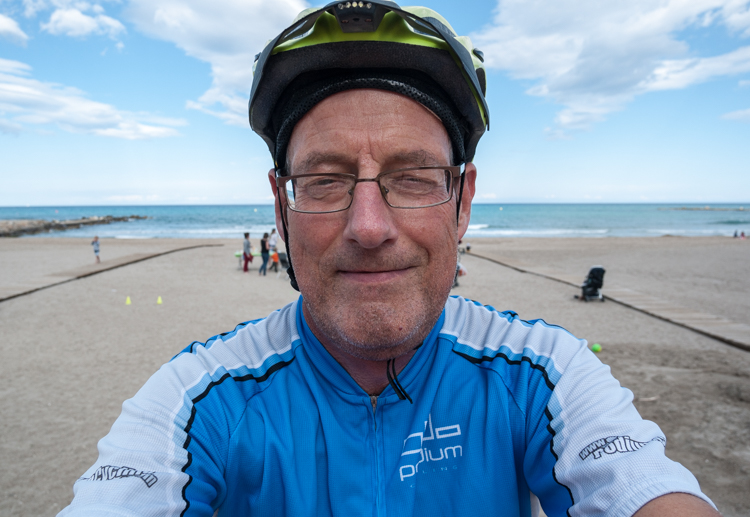 21_34
I have to wear an ankle compression thingie until the next checkup later this month: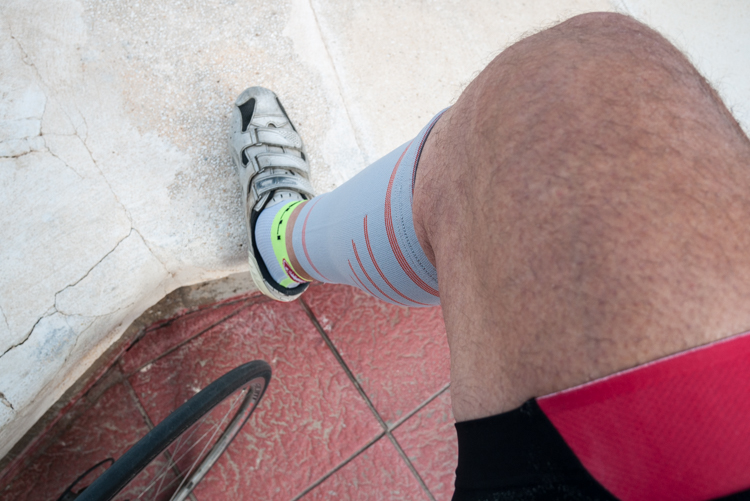 21_35
I never get tired of the view while I am cycling on this road: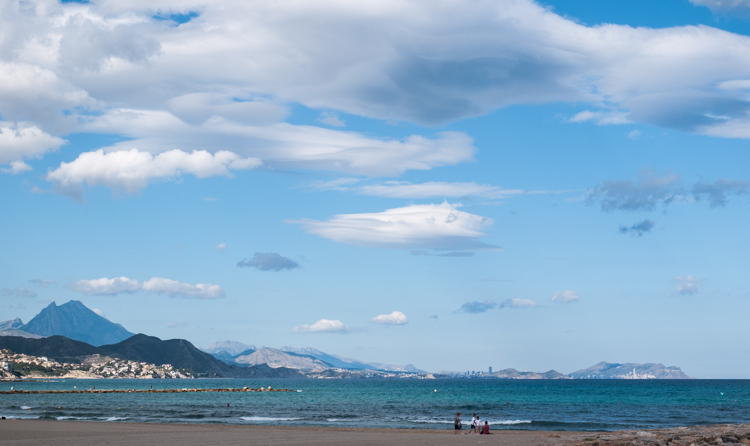 21_36
There were lots of people on the beach, like this large group having an elaborate picnic: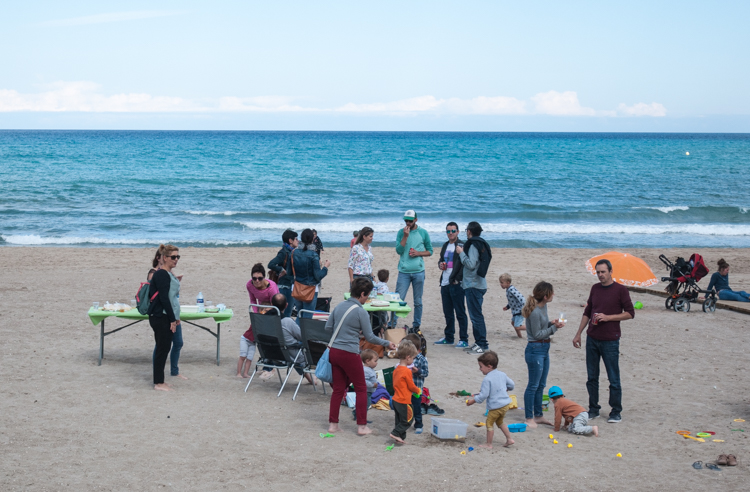 21_37
Finally, two images to continue my theme of waiting dogs. This cutie was in Aigües: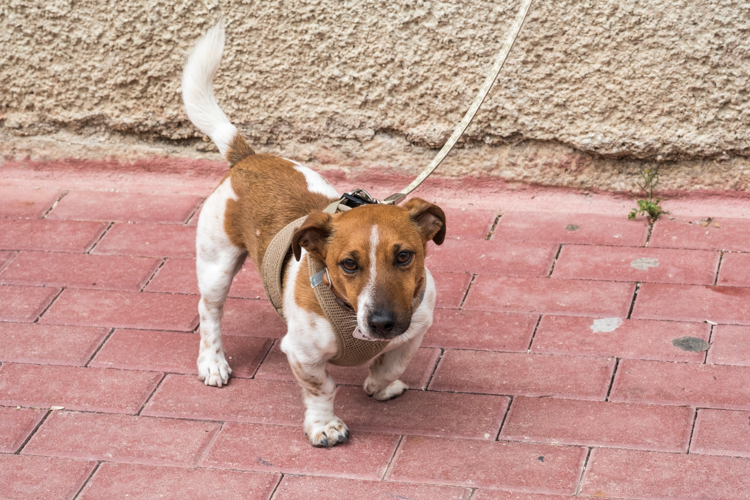 21_38
And these two characters in the Consum supermarket parking lot: