The first week of August was marked by the arrival of my new Fuji X-E3. I already have the X-E2 and an X-T2; but the latter is bigger and heavier than what I want to use for travelling, while the X-E2 has a sensor that is getting a bit long in the tooth. The X-E3 was a happy compromise, a modern sensor in a body with a form factor similar to the X-E2. So some of the pictures this week are effectively my test images, taken during a walk in the centre of Alicante.
31_1
But I start with some cycling pictures, from a ride on the mountainbike on the Vía Verde. To get there, I rode through the village of Verdegás and stopped for a brief break there. I was amused by this grandly named "social centre of Verdegás" which apparently consists of two public toilets and not much else: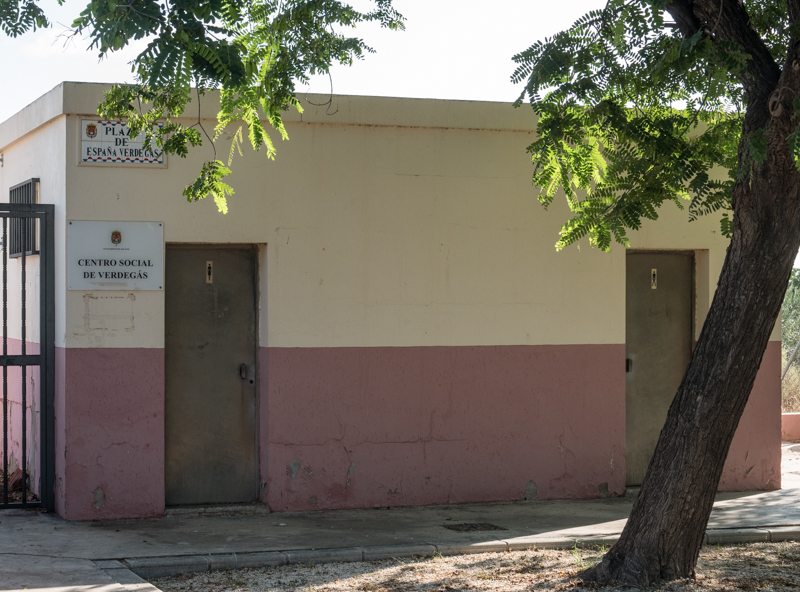 31_2
Still, lofty sentiments apparently exist in Verdegás ("struggle or die"):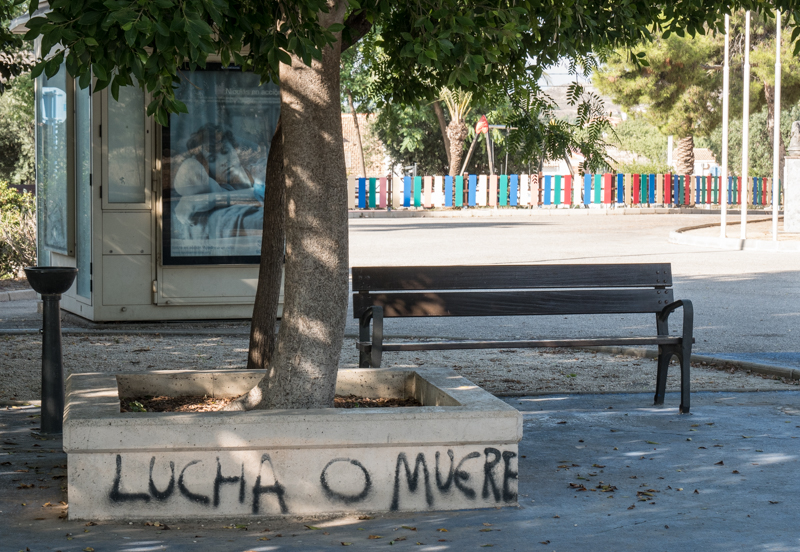 31_3
The initial few km of the Vía Verde run through agricultural areas near Agost, such as this field of green onions: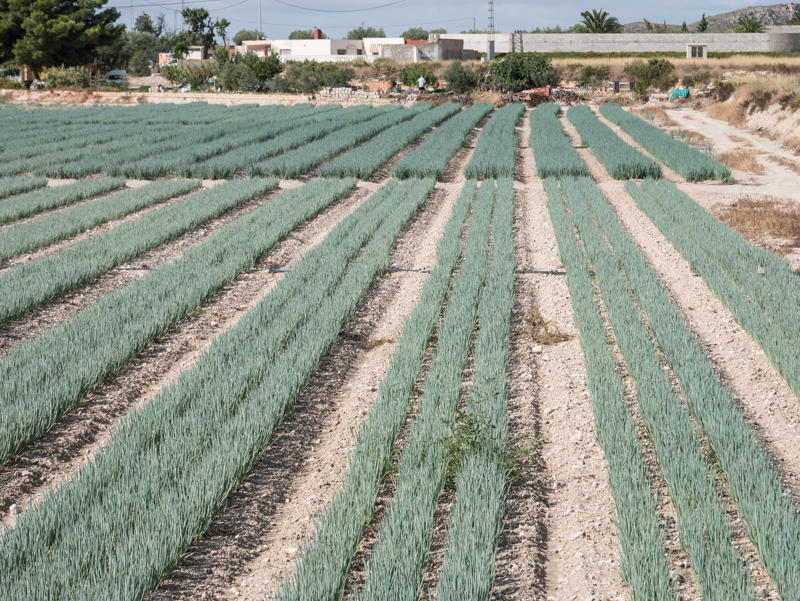 31_4
Further up, the views get more majestic: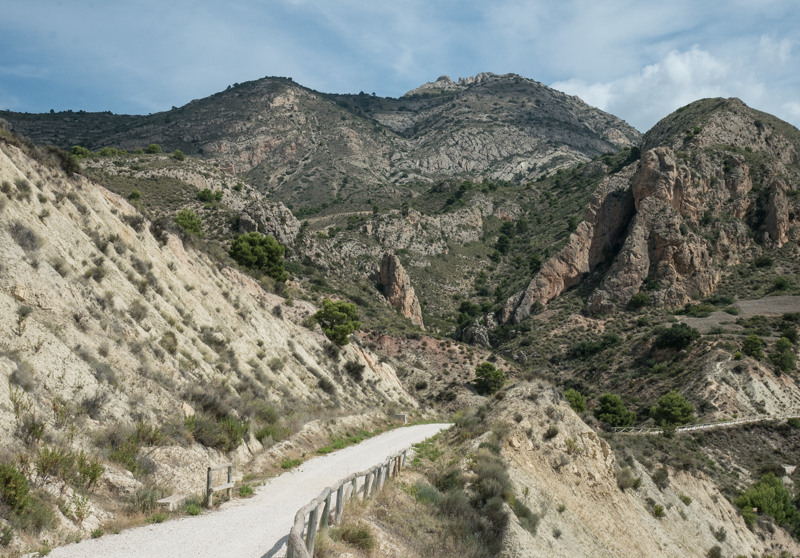 31_5
Two cyclists on the adjacent paved road, looking as if they are floating amid the bushes: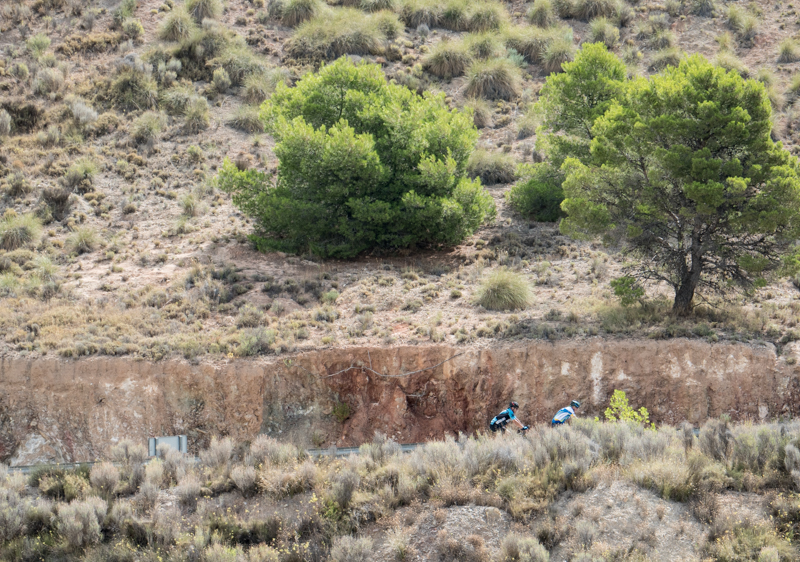 31_6
A more accurate view of their route; I, on the other hand, did not have to deal with this uphill, since I was on a former railroad track and so there was a tunnel for me to ride through: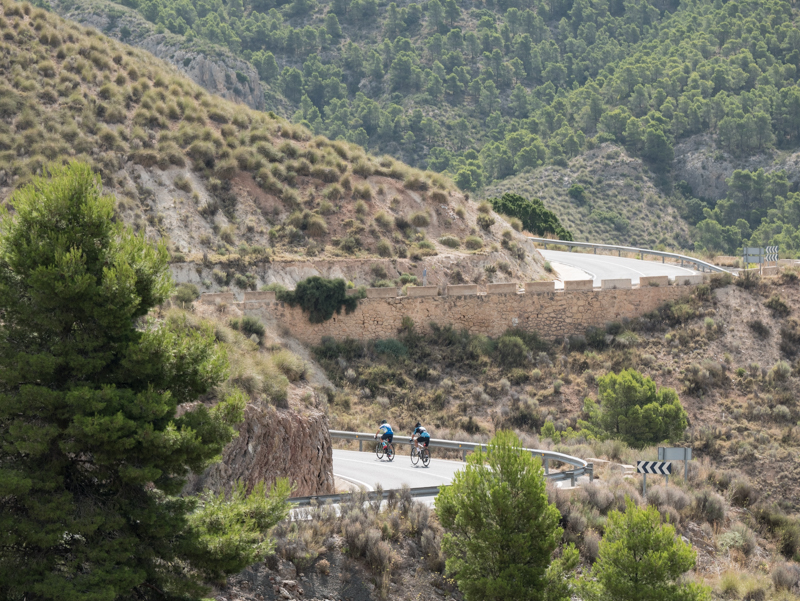 31_7
In the afternoon, as we often do on Sundays, we got together with Eliot and Assumpta for lunch, this time at their place. They live in a townhouse, so their garden is microscopic (which would be fine for me, since I hate gardening). Eliot showed me some of his more useful plants, including one yielding very spicy peppers: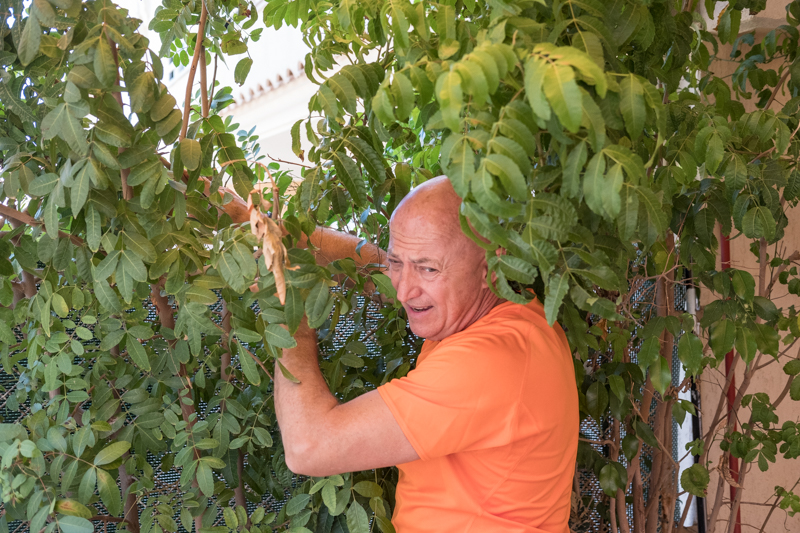 31_8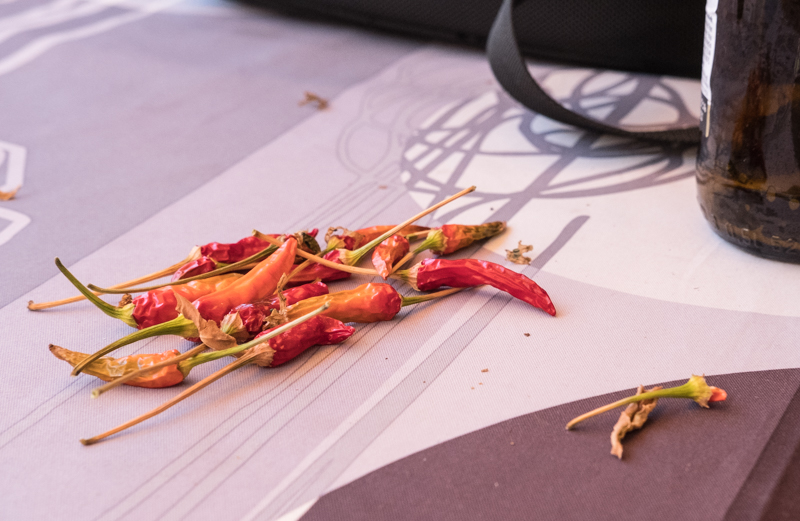 31_9
Then Eliot got down to the business of searing flesh, something he does truly expertly: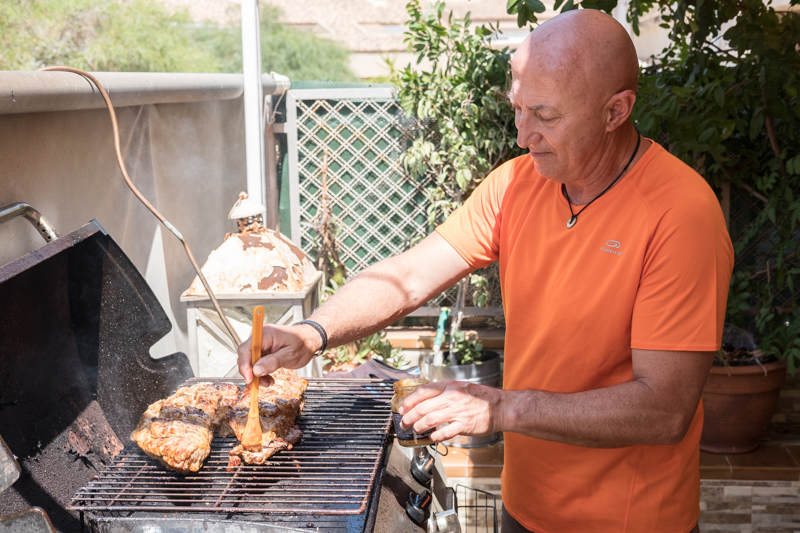 31_10

31_11
As usual, Balu followed the proceedings with great interest: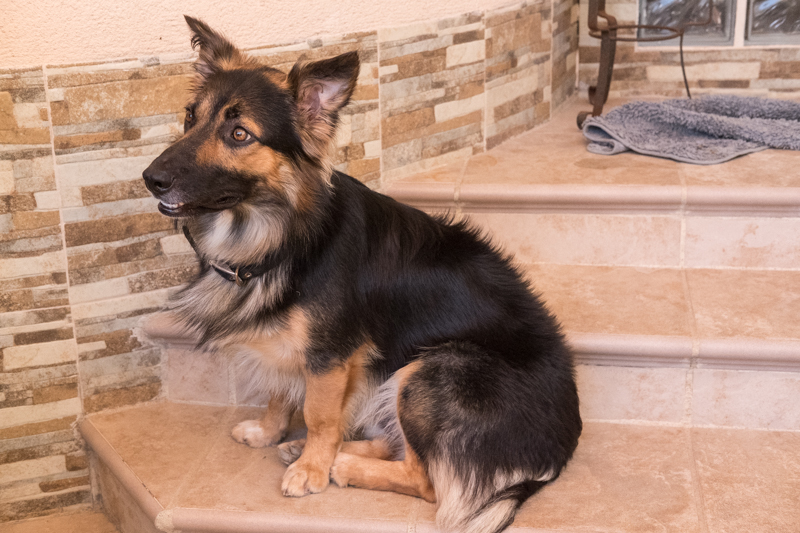 31_12
On Tuesday, my new Fuji X-E3 arrived at the office. After making the required adjustments (disabling the touchscreen and other silly features), I set about testing it. At home, my mother's magic cactus provided a first test subject, having gone crazy with five flowers: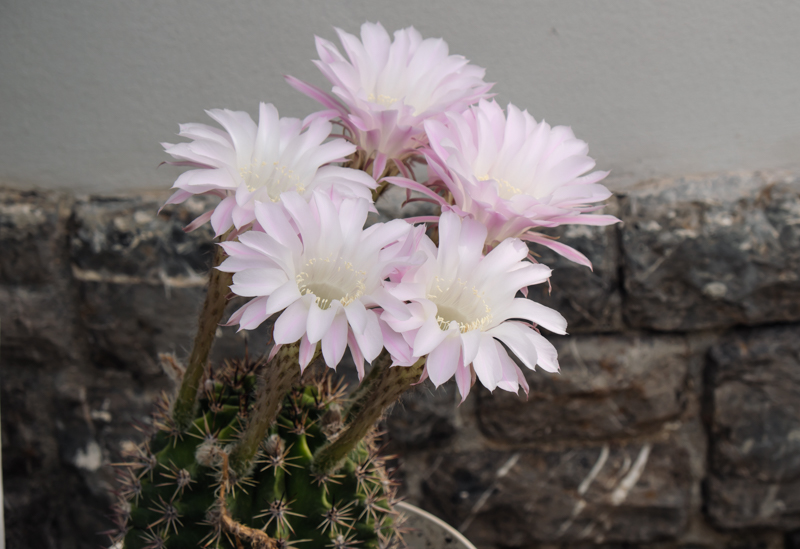 31_13
The next day, I did some more testing. I stopped in the centre on my way home from work and went for a walk, starting on Plaza Montañeta, site of various government buildings and this nice little fountain: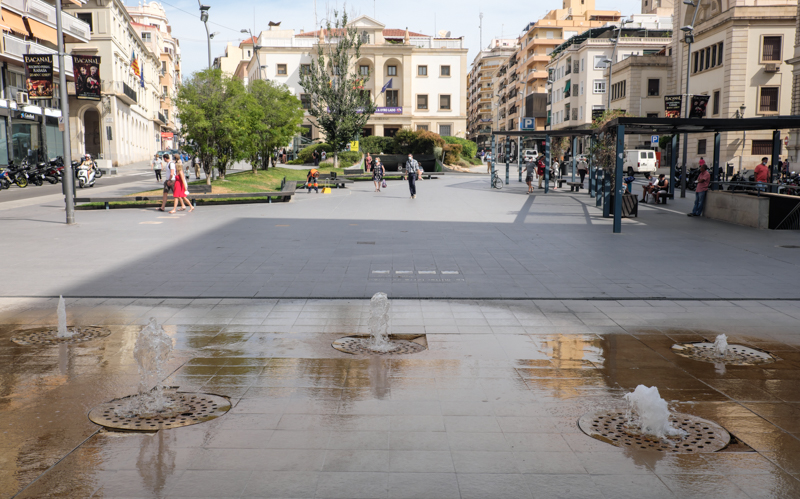 31_14
I hung around the fountain a bit, photographing some of the people who stopped by: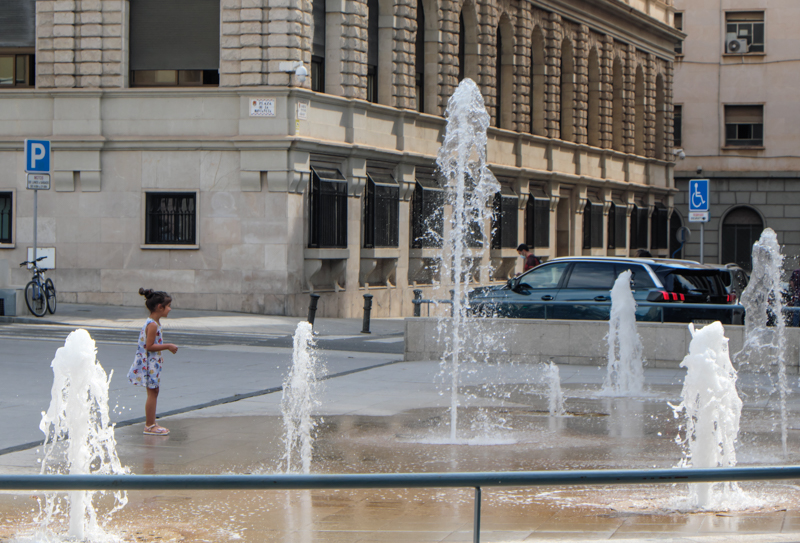 31_15
Fierce little dog: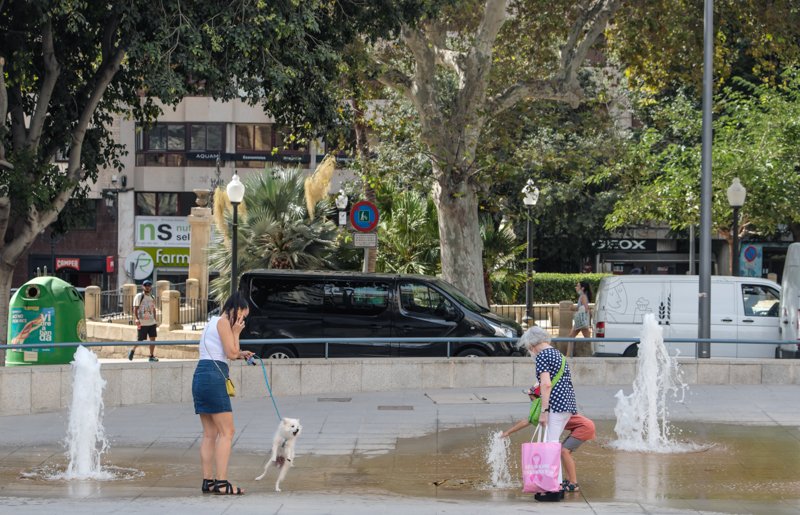 31_16
Staying with the canine theme, a conversation while walking the dog: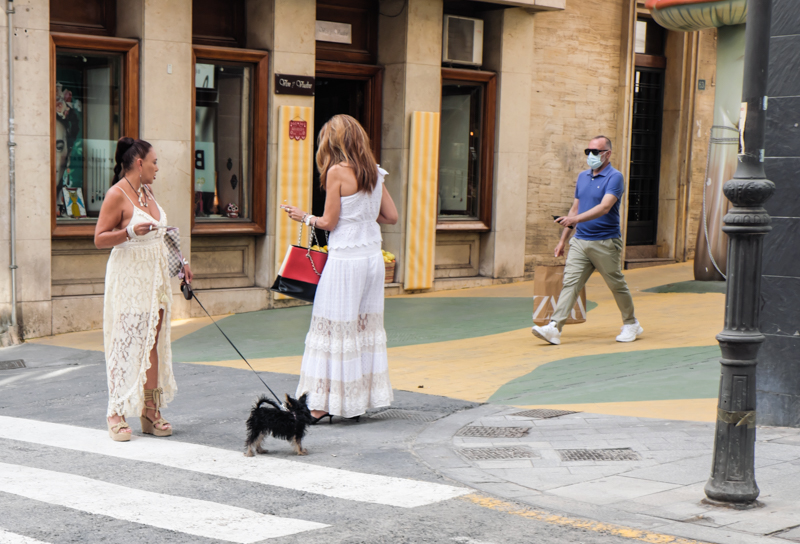 31_17
There is a buste of some great man on Plaza Montañeta. The pigeons show no respect: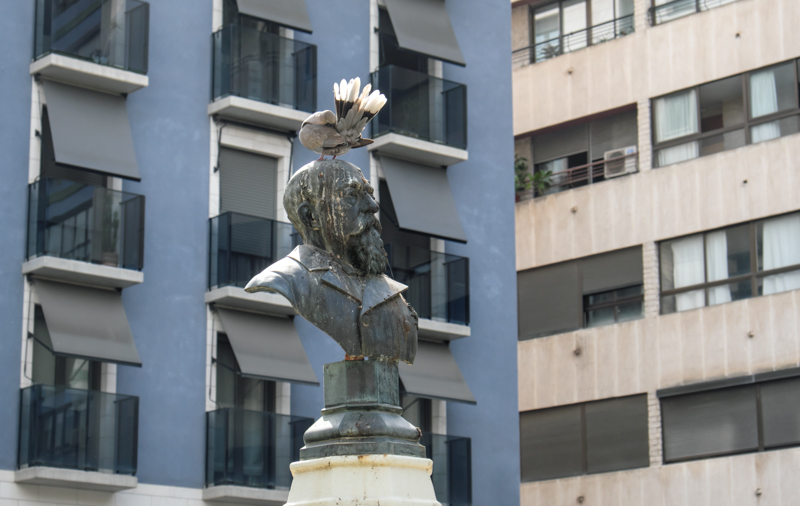 31_18
I moved on to the Esplanada de España, the main seafront promenade. It is usually full of tourists in August, but not this year; there are some, but mainly people from Madrid, and a few foreigners who have vacation homes here. Still, this street painter was setting up shop for the evening: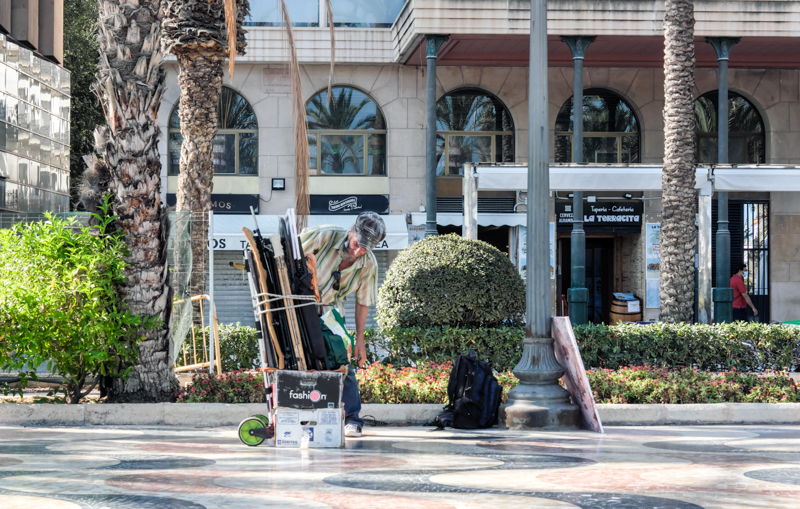 31_19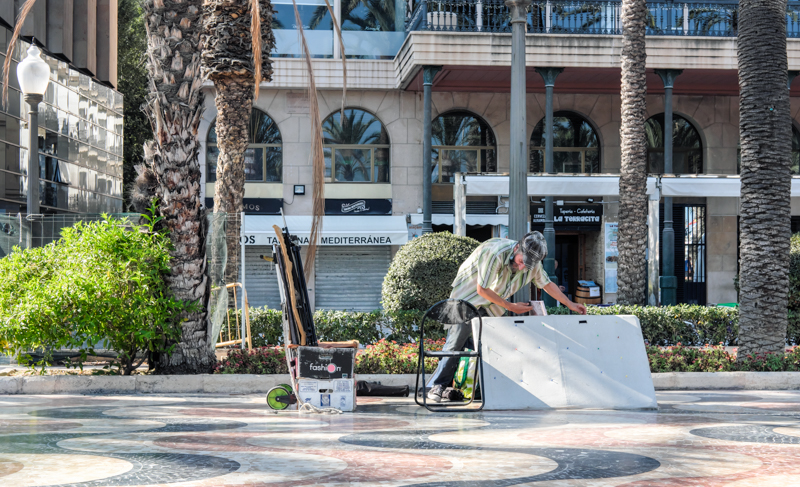 31_20
And this vendor of fake sunglasses was hungrily eyeing the few prospects passing by: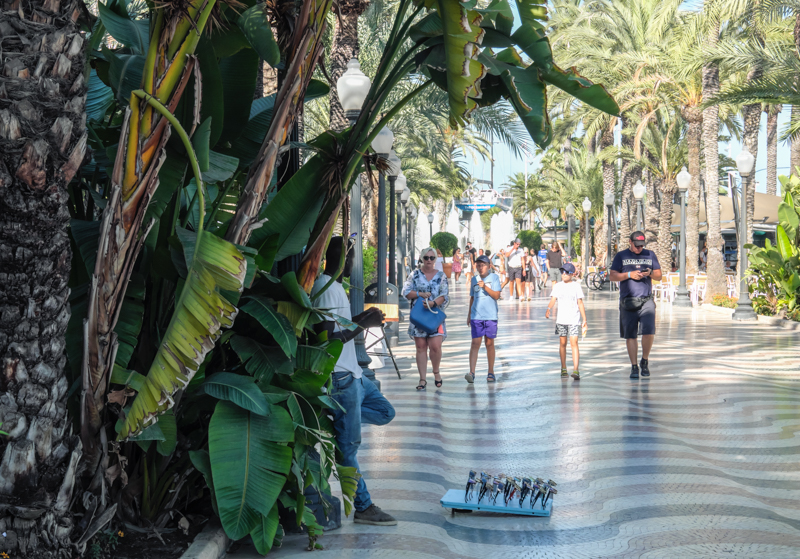 31_21
But this part of life on the Esplanada was the same as always, senior citizens congregating on the wooden chairs once the afternoon heat has abated somewhat: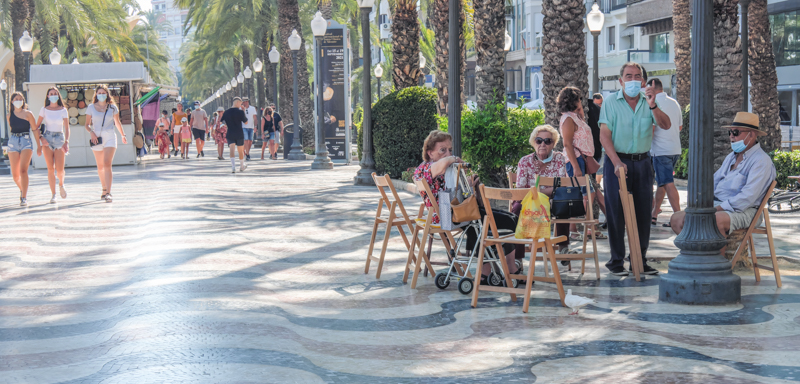 31_22
On Saturday afternoon I went to the beach with my wife. I don't do it often, as I dislike both sand and water, but sometimes I make an exception. I usually take a book, a couple of beers, and the same little Panasonic GM5 camera that I use when cycling. This time, I noticed the two women in burkinis with their children: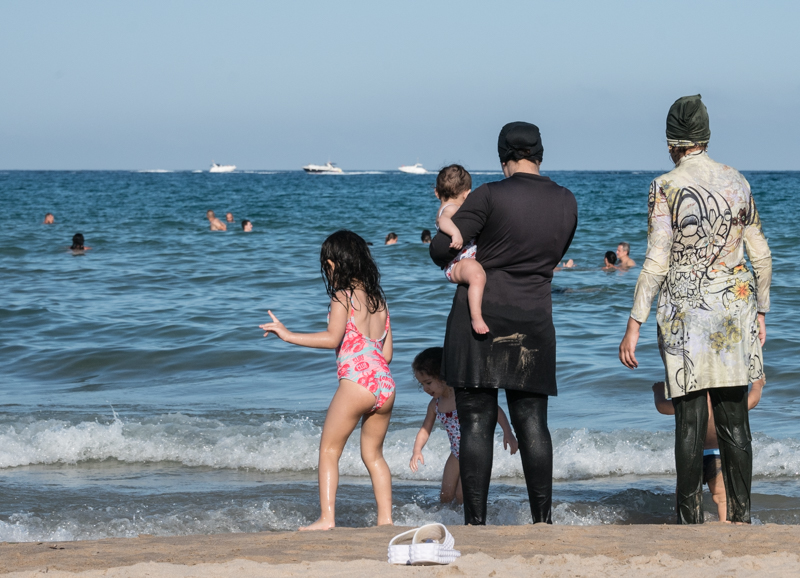 31_23
Needless to say, their husbands were swimming around in regular swimming trunks like all other men:

I finish with some pictures from my Rolleiflex. They were not taken during this week, but I got four rolls of film back from the lab and scanned them during the week.
First, a couple of portraits of my Dutch colleague Caroline that some viewers have already seen elsewhere, on Ilford Delta 100 film:
31_24
Masked: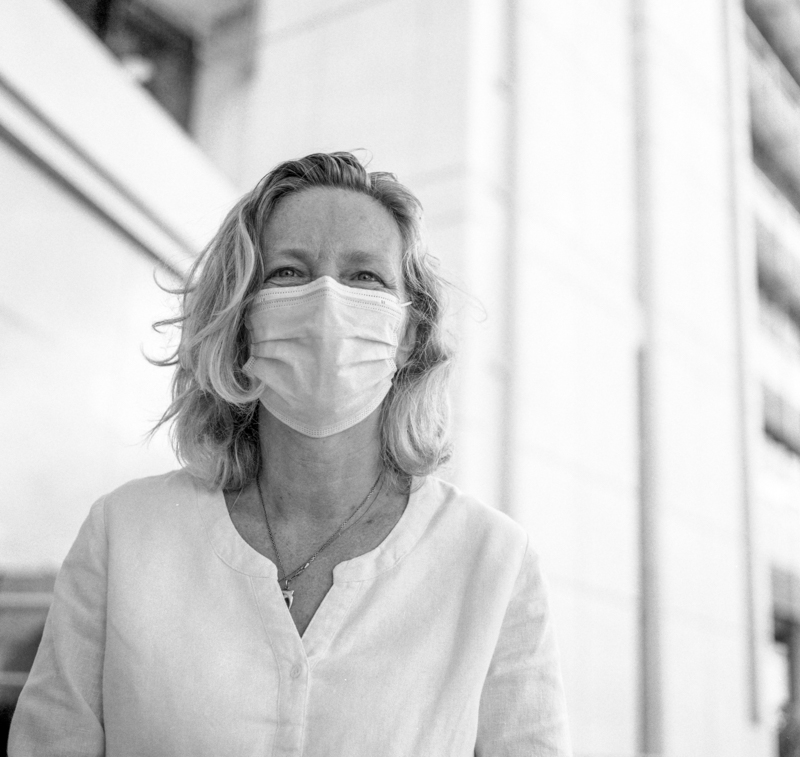 31_25
Unmasked: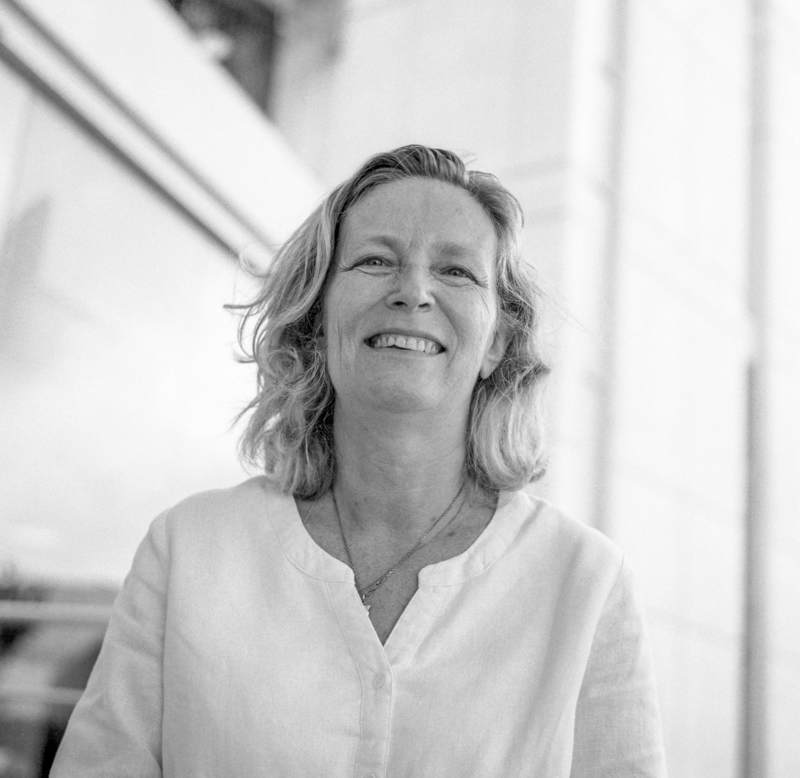 31_26
An attempt at street photography with the Rolleiflex, on Ilford SFX film. A couple on a bench on Plaza Seneca: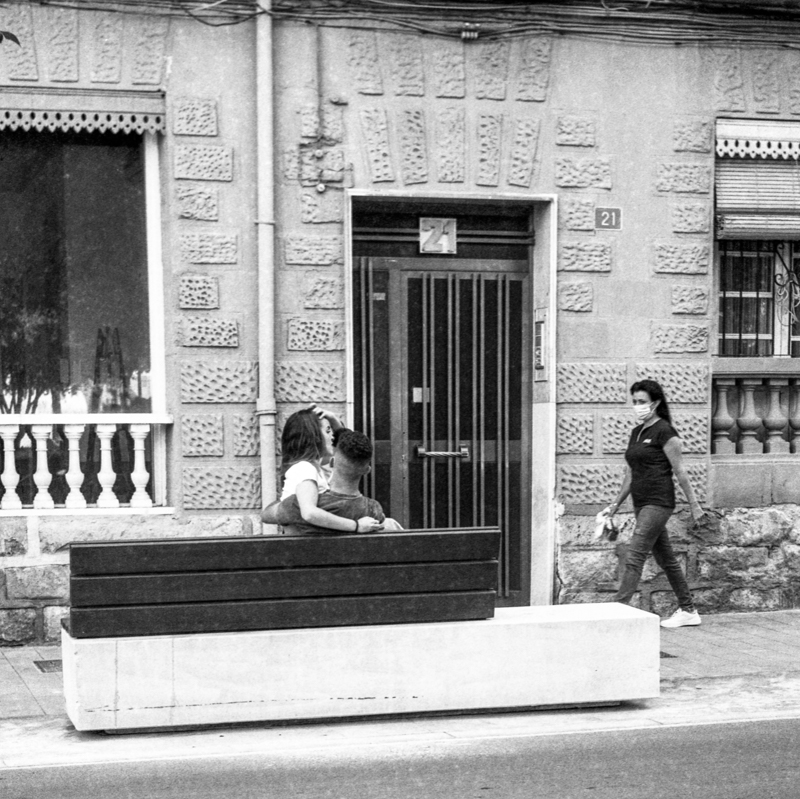 31_27
A churro cook outside the Corte Inglés department store, taking a break. He noticed my Rolleiflex and we chatted about it a bit before he posed for me (Ilford Delta 100):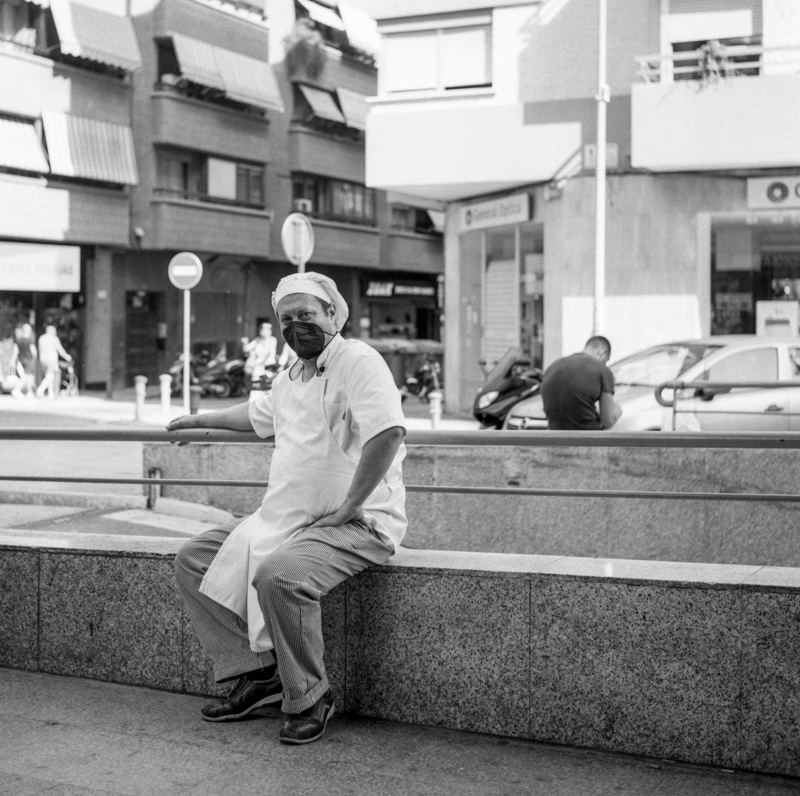 And that was the end of the week.