Thursday was a public holiday in Spain, so I did the sensible thing and took Friday off. I used those two extra days to spend a couple of days in Madrid with my son–yet another little trip together before he goes off to work in California at the end of August. Most of the pictures this week are from those two days in Madrid.
33_1
We started the week with a rare afternoon on the beach (for me anyway, since I am not a beach person):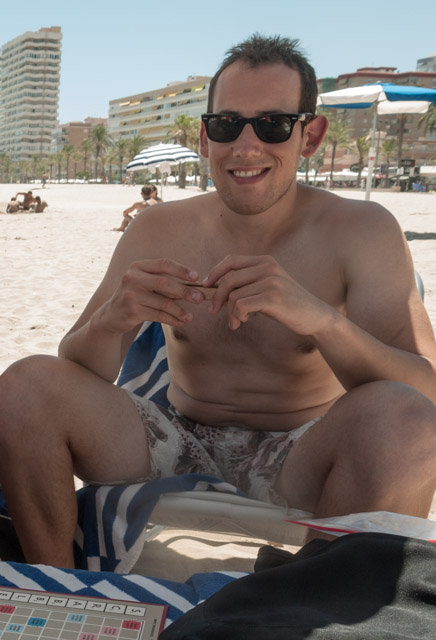 33_2
Police officer with a tough job (not!):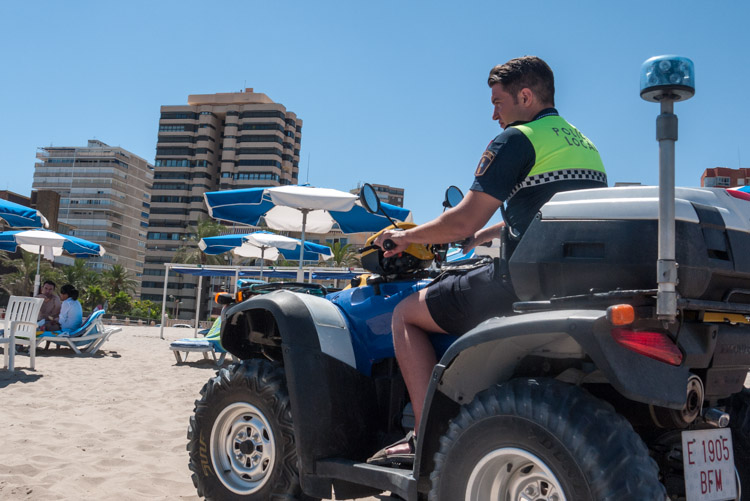 33_3
Tuesday was our 30th wedding anniversary, and the children got up early to make us breakfast: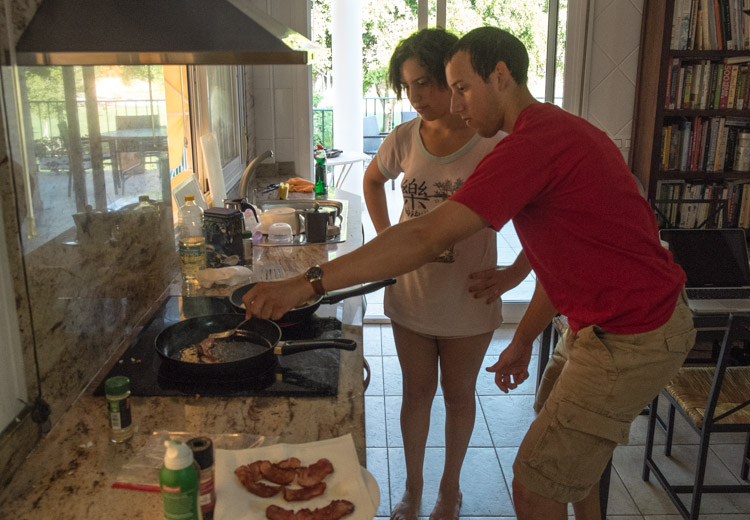 33_4
The breakfast spread. Cheeta is on her post: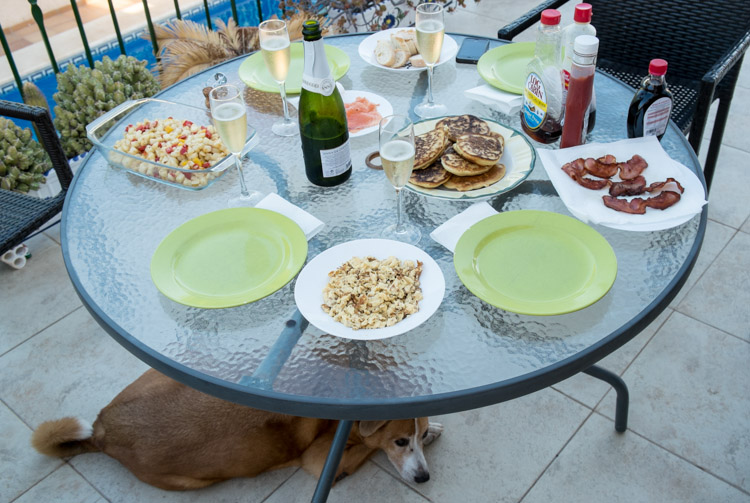 33_5
Thursday morning my son and I drove the 440 km to Madrid, left the car at the hotel and took the metro to the Rastro neighbourhood to start our exploration of the city. One of the first sights that met us was this happy woman listening to a band of buscers playing rather good jazz: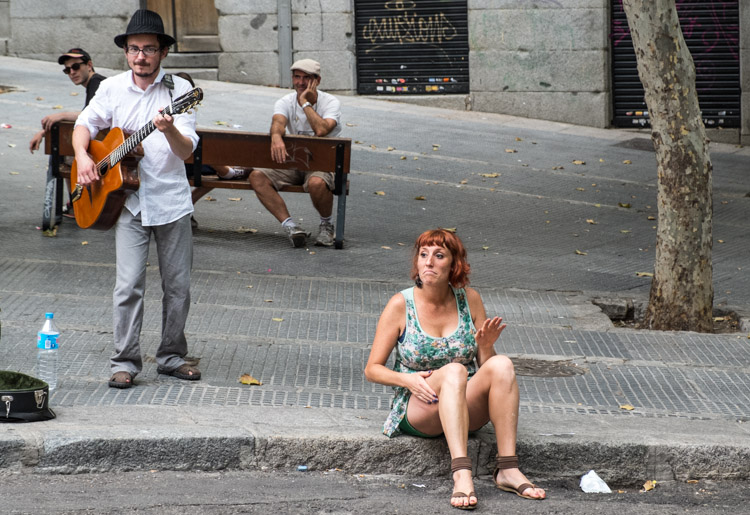 33_6
Personalized scooter for two: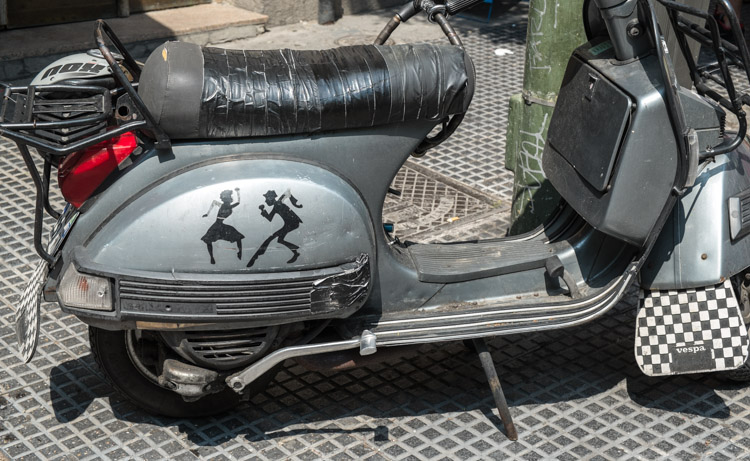 33_7
Recently I have become fascinated by wall art in cities. There is something inherently democratic about having art out there, not on a museum wall. Some of it is good, some less so, but more often than not, it is interesting. Here is a request for silence, presumably motivated by noisy bar-goers in the evenings: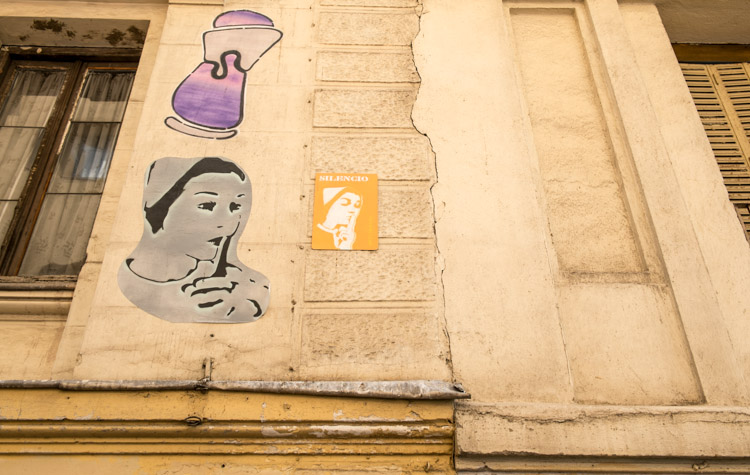 33_8
Street sign and flower: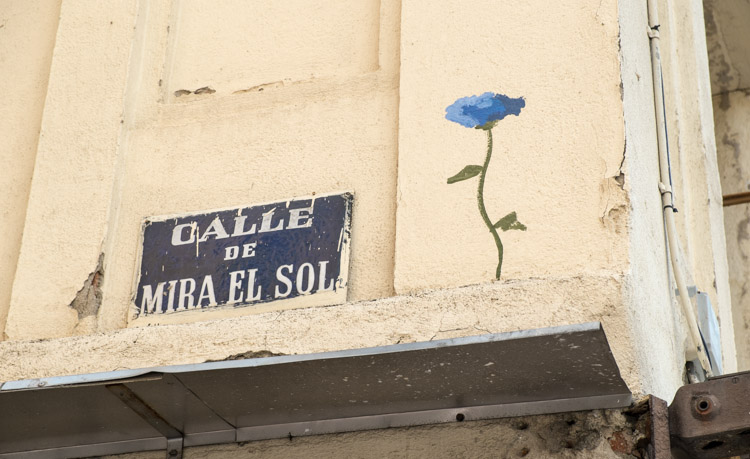 33_9
Trans-Atlantic cultures meet in El Rastro: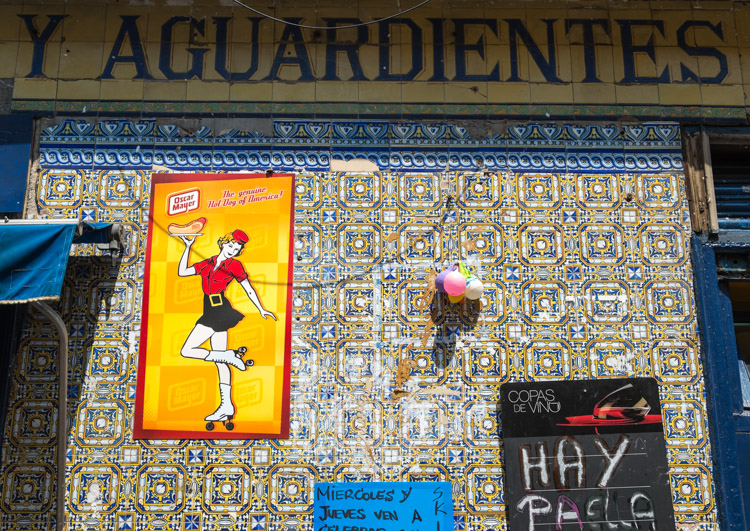 33_10
My son's lunch, Rabo de Toro, or bull tail, a traditional Spanish dish: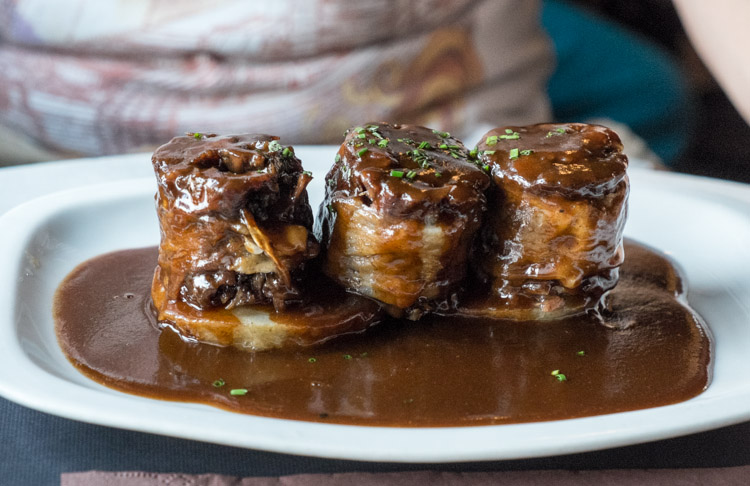 33_11
We walked from El Rastro to the Royal Palace, and then through the old city towards Plaza Mayor. Suddenly we saw black smoke among the buildings: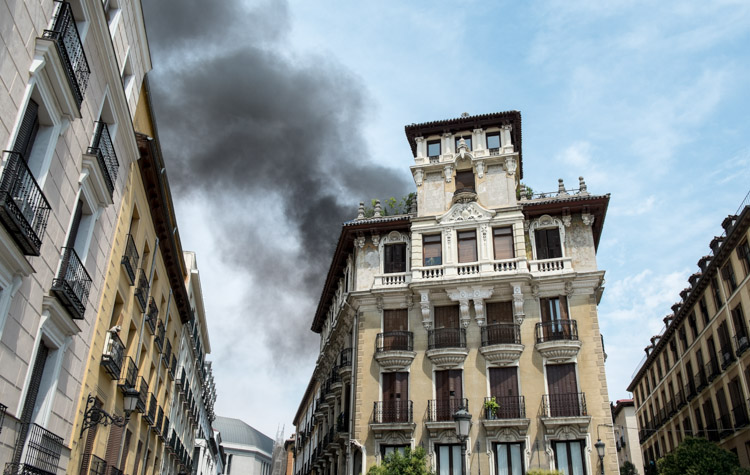 33_12
As we came closer, the cause became clear. The fire was quite spectacular, but in the end nobody was hurt and there was no significant damage. What burned was garbage that had accumulated in a vacant lot, so it did not take the firemen long to put it out once they had navigated the narrow streets with their fire engine: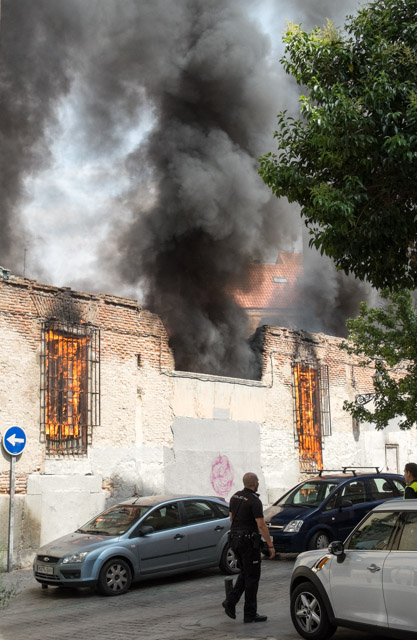 33_13
A gym near our hotel. It was closed for the holiday, so I could amuse myself with the runner with a cigarette painted on the shutter:

33_14
Even in the courtyard of the hotel there was wall art. This was the view from my room: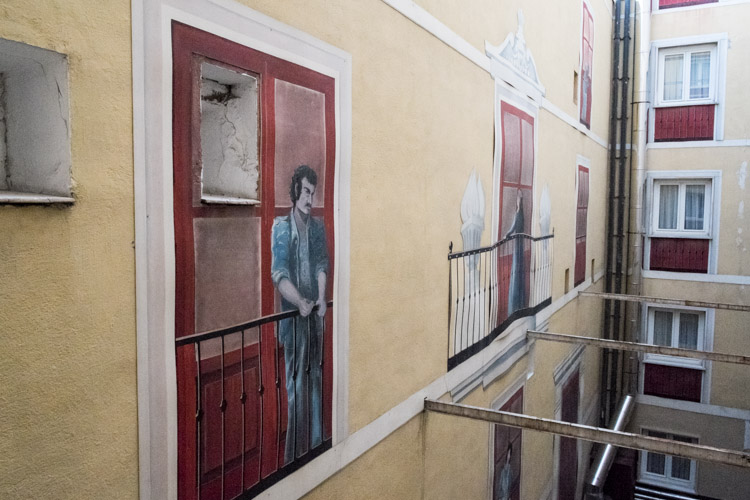 33_15
If Madrid can be said to have a central square, it is Plaza Puerta del Sol. The main pedestrian shopping streets emanate from this square which also contains one of the main metro stations. And it is also the traditional place for rallies and demonstrations. This evening, it was a group of elderly people. I never figured out exactly what it was about but it had to with Civil War memories, still a subject of controversy in Spain: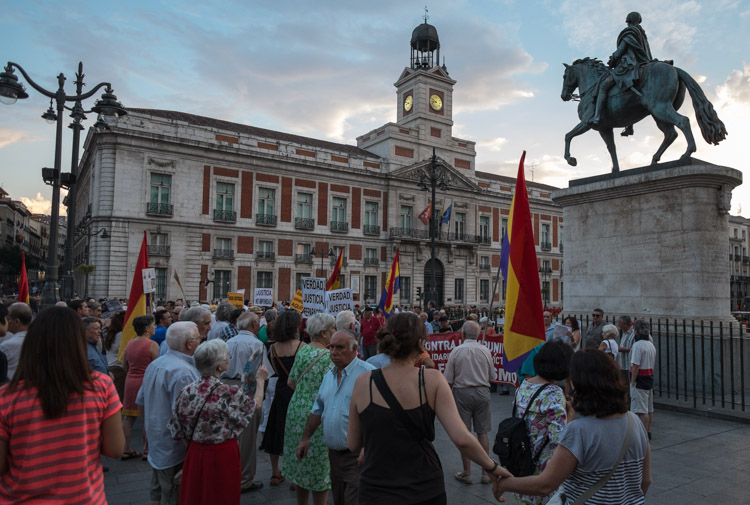 33_16
Bar Los Marcianos near the Sol square: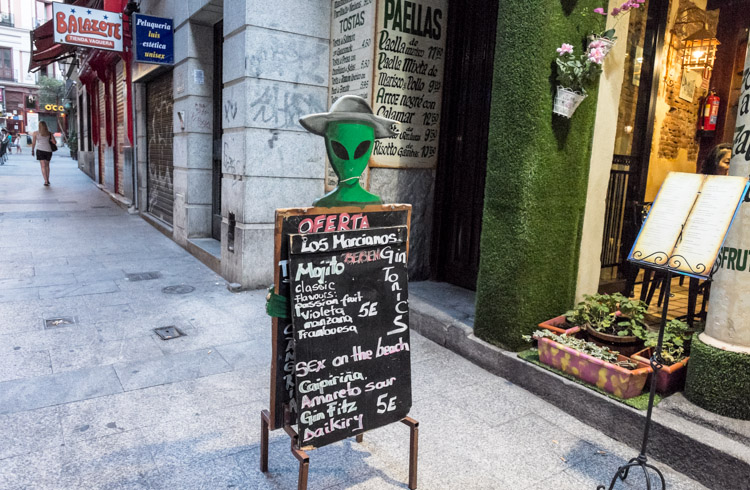 33_17
We went to have dinner at Bayres Beef, an excellent restaurant just a few hundred metres from Sol, which we had found on Tripadvisor: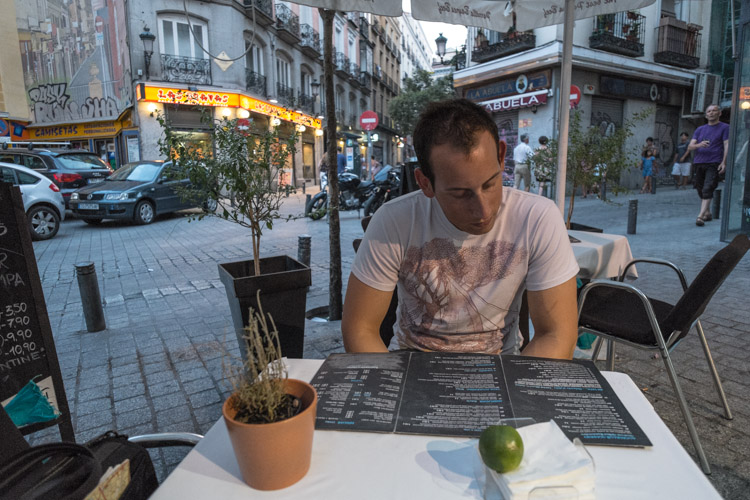 33_18
The food was great, and the bartender was cute: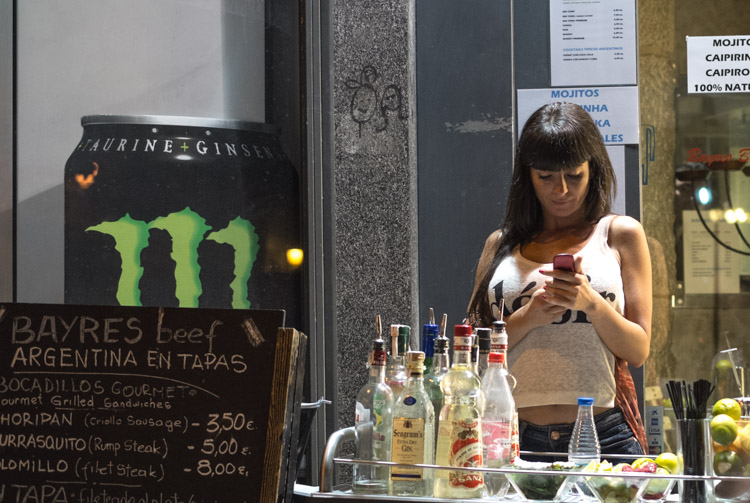 33_19
The next day we spent most of the morning in the Prado, where photography is not permitted. Afterwards, we had lunch, and the lady at the neighbouring table demonstrated a very handy device to give her little dog water in the Madrid heat: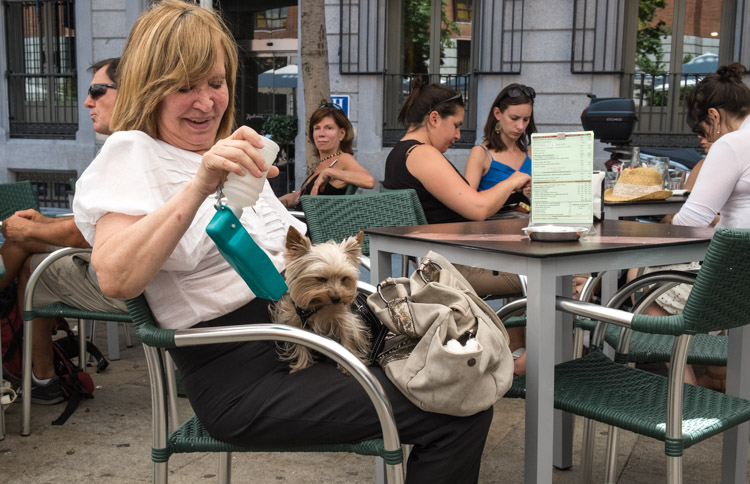 And then we drove home to Alicante. More Madrid pictures can be seen here.