I have shown pictures from the Game Café before. It is a bar on the beach, about 2 km from our home, where every Sunday afternoon local amateur bands play. The bar gets a lot of traffic at what would otherwise be a slow time, and the musicians get a stage on which to perform. And I get to take pictures and have a few beers. It has become part of our Sunday afternoon routine to go there.
But first a few pictures from a motorcycle ride up the coast.
Main
Sunday morning in the harbour of El Campello. Two fishermen are tending their nets while chatting to a local girl: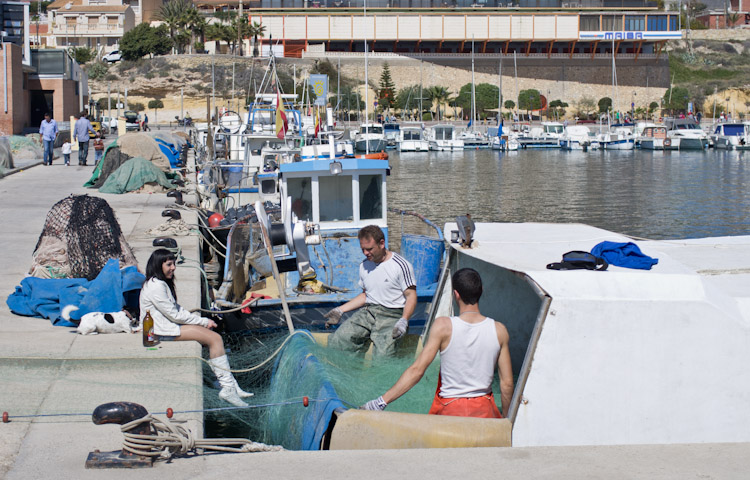 Alternates:
Alternate 1
The weather was beautiful: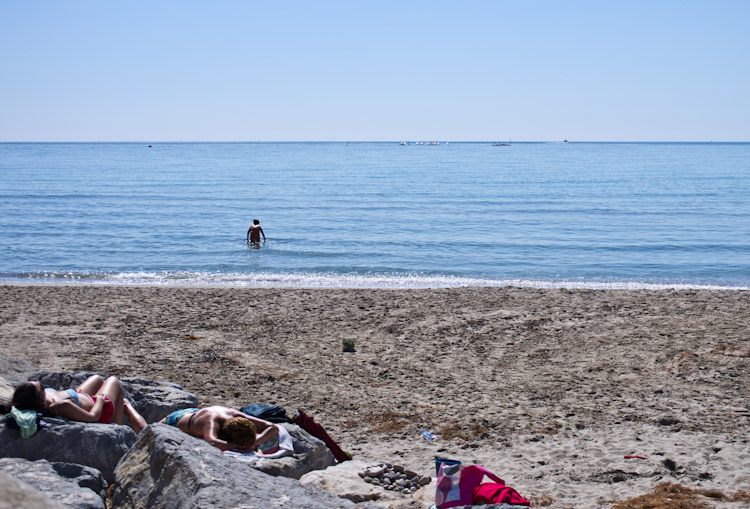 Alternate 2
I continued up the coast to Villajoyosa. On the way, I took a little side road on whim and found a place with this beautiful view of a small piece of unspoiled coast: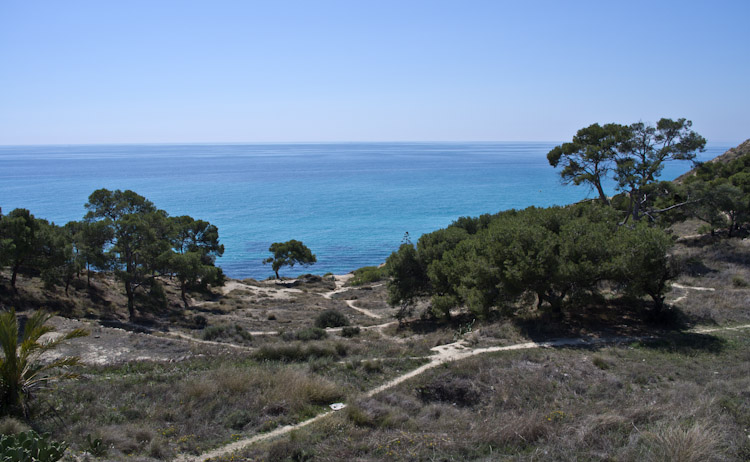 Then we go to the Game Café on Sunday afternoon.
Alternate 3
This Sunday the music was actually very good: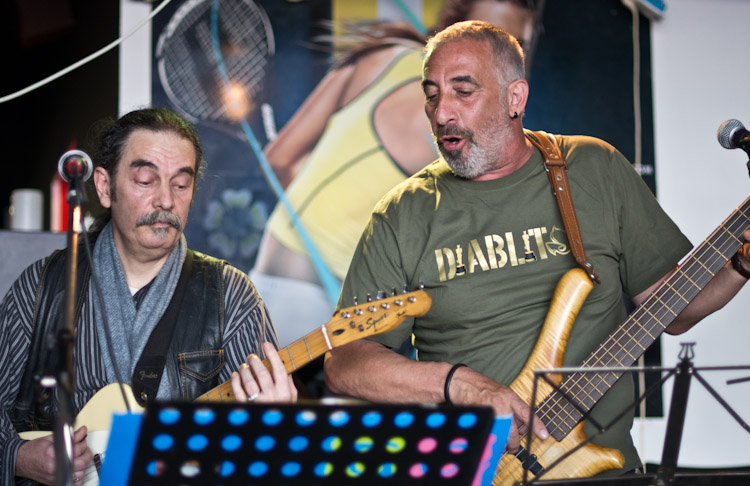 Alternate 4
The bass player in particular was very photogenic with his expressions: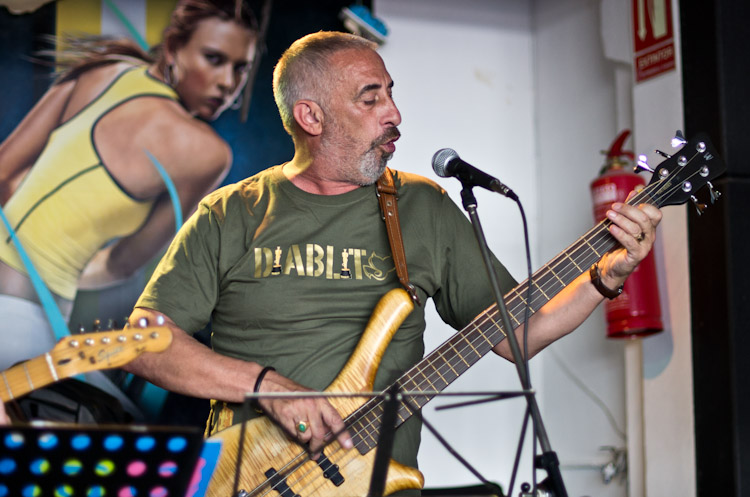 Alternate 5
This girl stepped out for some conversation: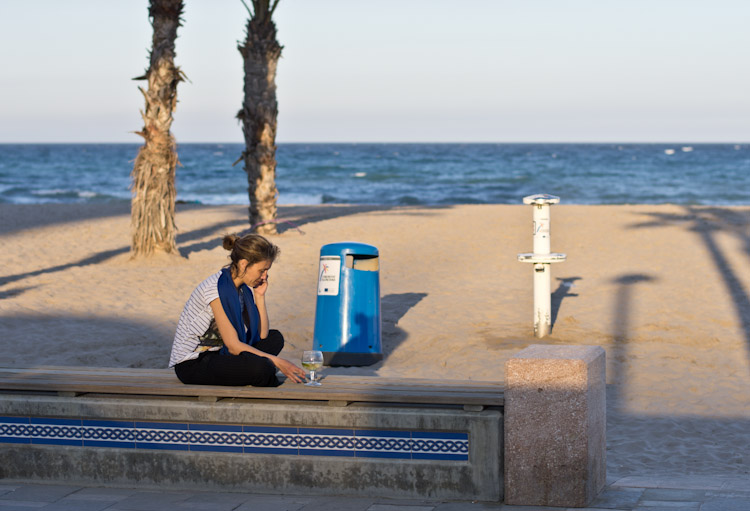 Alternate 6
Dancing girls: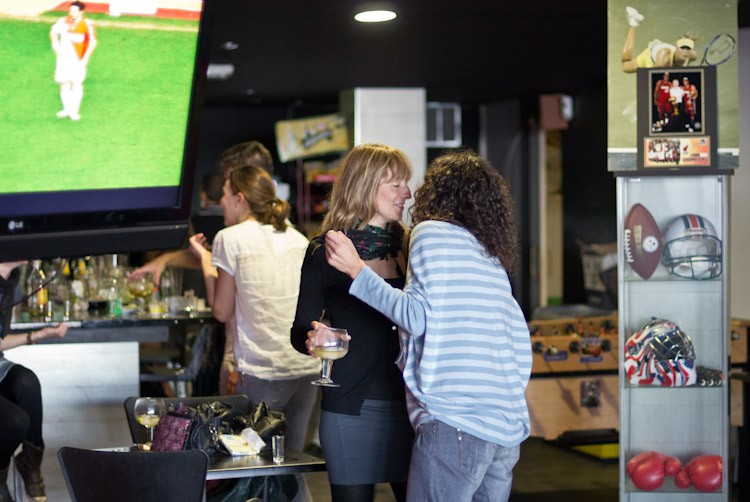 Alternate 7
Singing with feeling: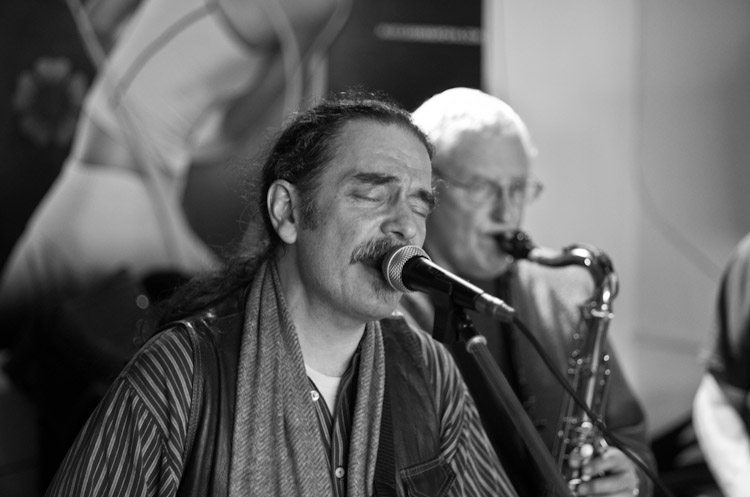 Alternate 8
Middle-aged musician looking for groupies?: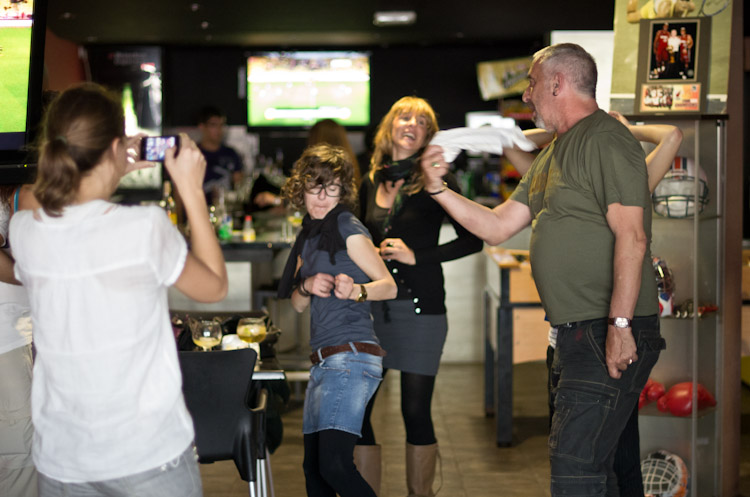 Alternate 9
Love documented: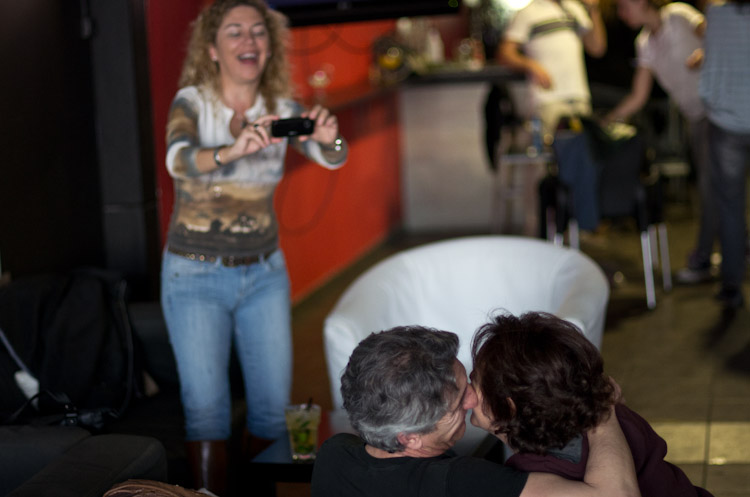 The remaining pictures are from Saturday. I spent the day making Indian food, preceded by a necessary visit to the Mercado Central. The reason for this cooking spree was that my son was coming to visit for a few days that evening, and curry is not something that is available at his current location in Orbe, Switzerland, a small town near Lausanne.
Alternate 10
Green light outside the Mercado:

Alternate 11
I bought some of the good ham: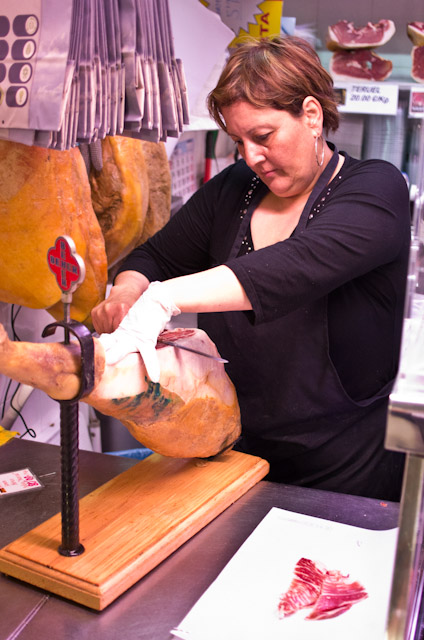 Alternate 12
As I usually do when visiting the Mercado, I made sure to walk through the fish section: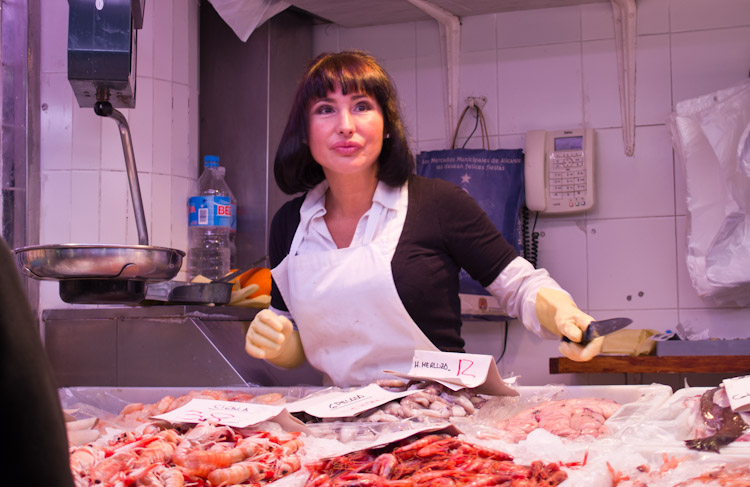 Alternate 13
While waiting my turn at the stand where I get the best fresh coriander in town, I was idly snapping the fruit: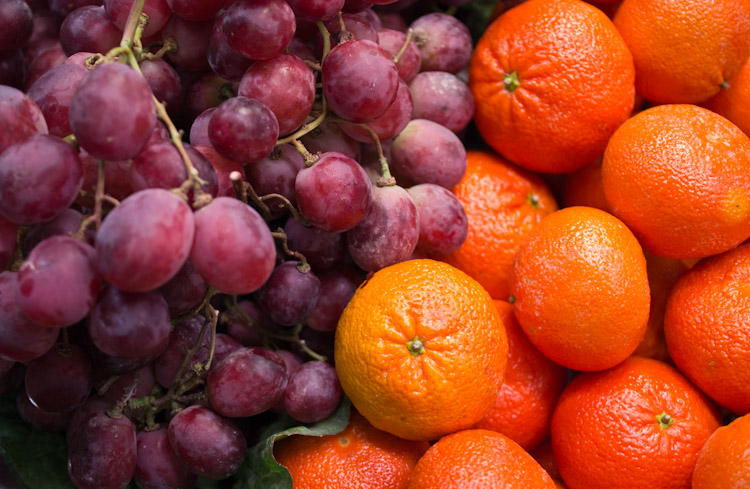 Alternate 14
Mother and daughter shopping together: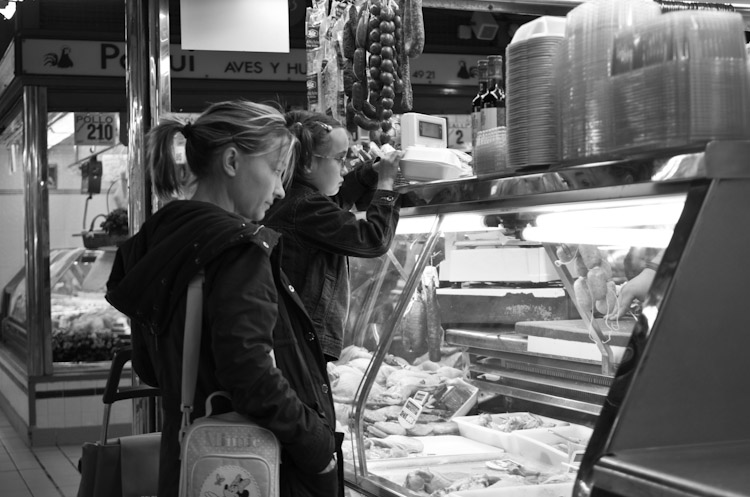 Alternate 15
Paying and chatting: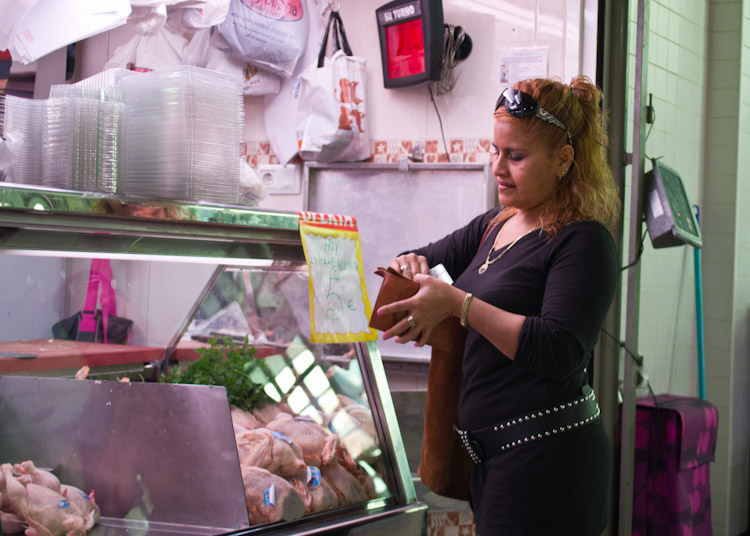 Alternate 16
Relaxing outside: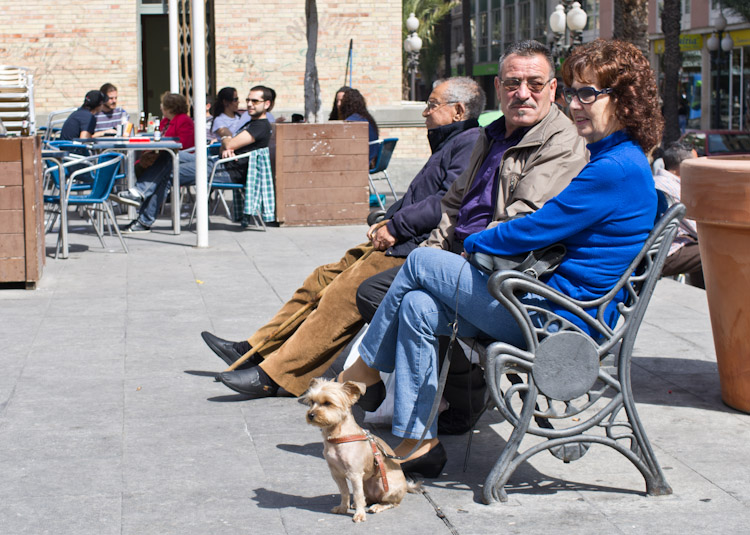 The last picture is from Alicante airport, snapped while waiting for my son in the arrivals hall.
Alternate 17
These women had just arrived and apparently the person that was supposed to meet them was not in sight. It could also be that he or she was in the wrong place; a new terminal opened two days ago, and while it appears much nicer than the old one, a lot of people were somewhat confused: