A blog marked by the late summer fiestas in the small towns around here which I visit on my bicycle, and the Vuelta a España bicycle race came through our part of Spain, including the nearby village of Busot where I cycle 2-3 times a week.
35_1
The blog starts with Sunday afternoon at the beach. As is my habit, I went down to the Xaloc beach bar for my afternoon pint(s). For the princely sum of 3 Euro I get a pint of good Spanish beer (particularly good from the tap on a warm afternoon), a small bowl of olives, and I then sit back and take in the sights on the beach. Here, a father with his young son on their way to the water: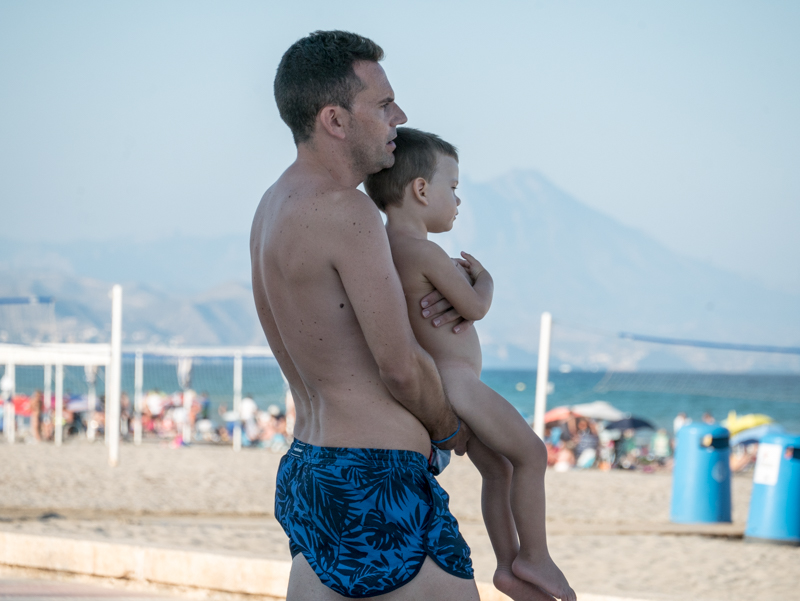 35_2
And here, women of various backgrounds and with different styles of dress, leaving the beach: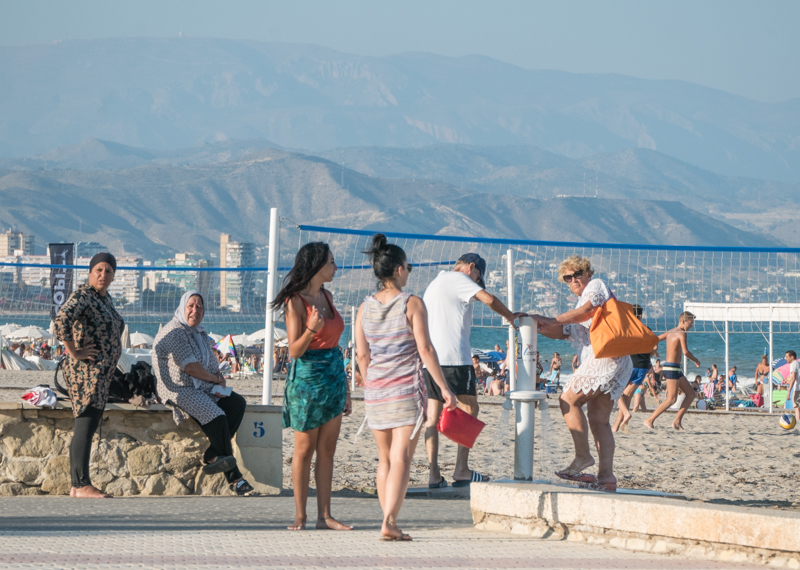 35_3
On Monday afternoon, the 3rd stage of the Vuelta a España was run in the mountains around Alicante. I was really excited about the race coming to my "playground", so I took Monday afternoon off to go and watch it pass Busot, one of the villages on my standard itinerary. Of course, when you go to see a bicycle you come on bicycle yourself–in this case, my Boardman: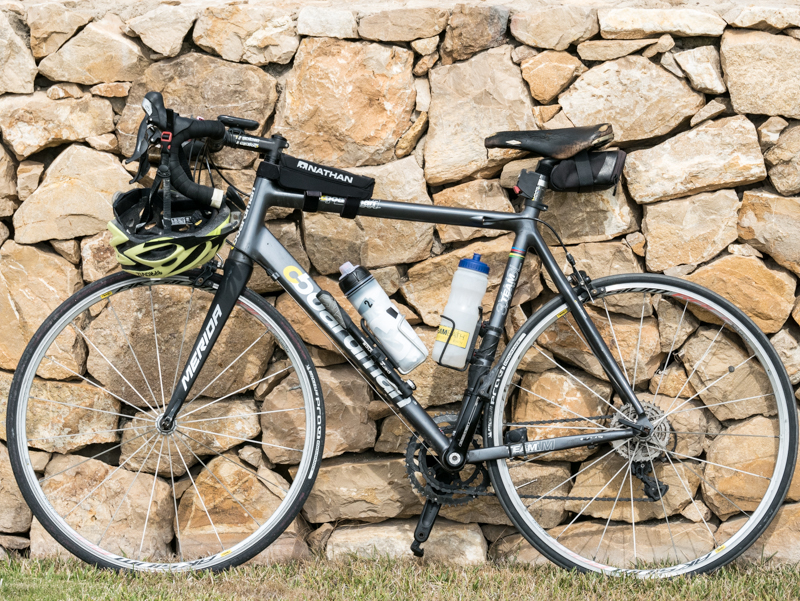 35_4
I had chosen a particular roundabout as the place to watch, partly because it was a good vantage point and partly because I knew that the racers would have to slow down to negotiate the curve. Many others had the same idea, and I was delighted to run into this Danish-Polish couple whom I had met a few months earlier during a ride to Jijona–on that occasion we started chatting because I was wearing my Danish cycling jersey, and as I was wearing the same outfit this time, they recognised me: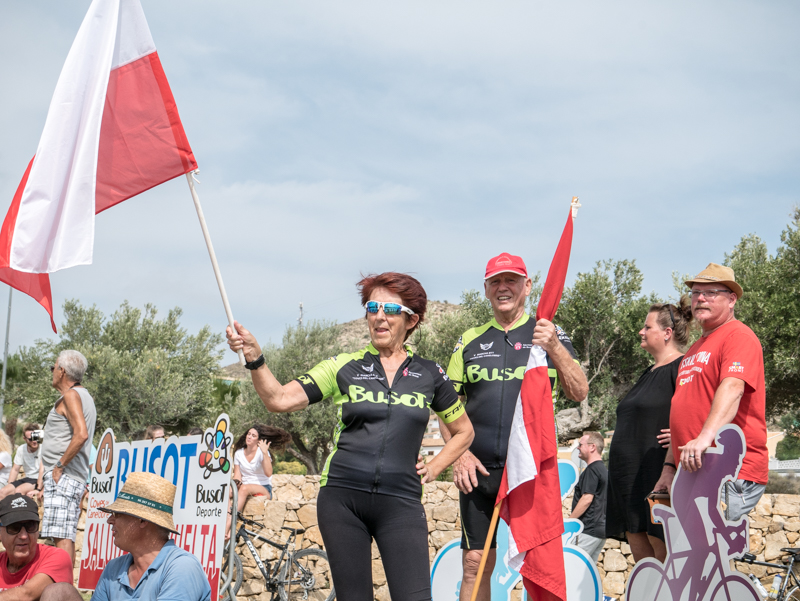 35_5
The crowd on the roundabout, waiting: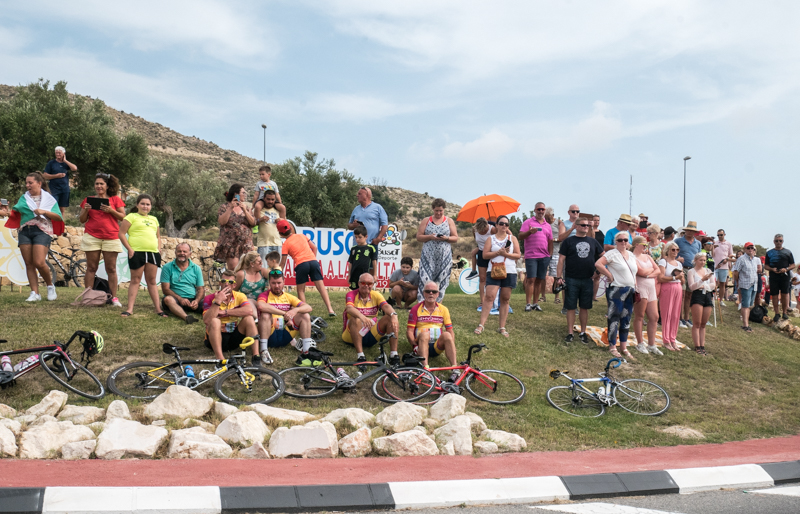 35_6
Finally, the peleton passes by in a whirld of colours and faces. At this stage, the cyclists have around 170 km in their legs, so they look remarkably fresh: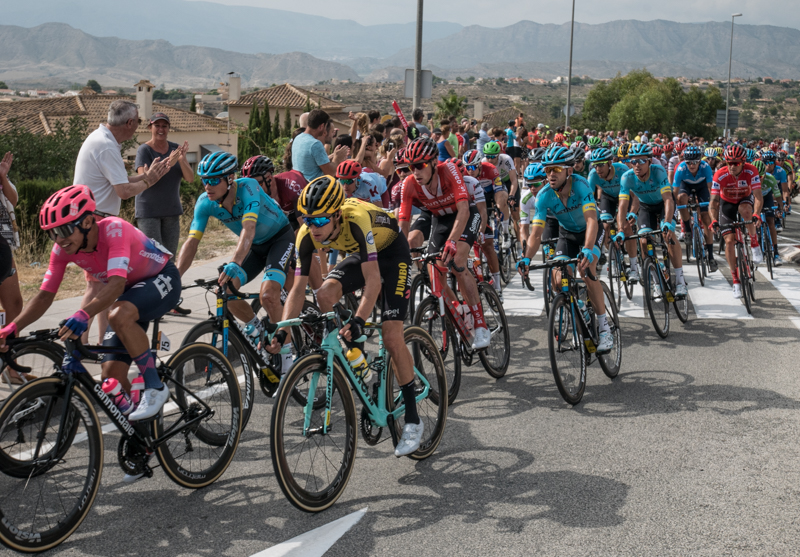 35_7
But some of them, like Fabio Aru (who won the 2015 edition of the Vuelta), had clearly been down on the tarmac earlier in the stage, as evidenced by the heavy bandages on his left leg (Aru had to abandon the race after stage 12 due to a muscle injury):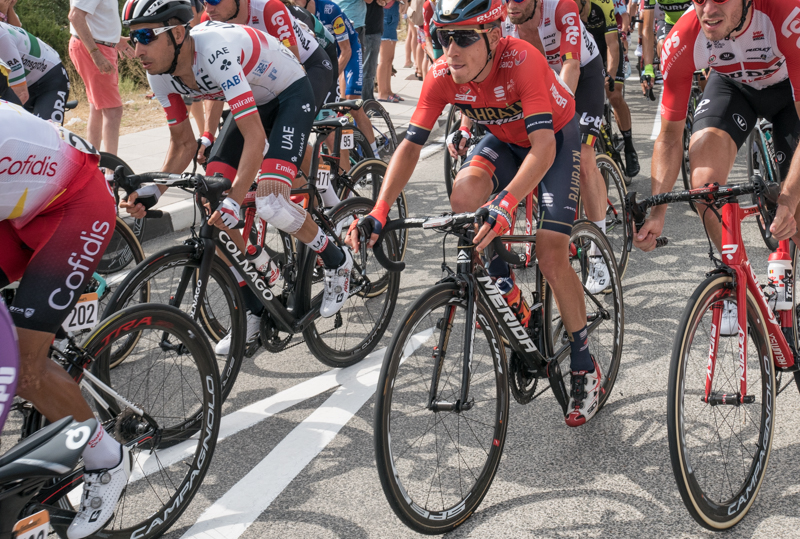 35_8
After the main bunch had passed by, a couple of stragglers, one of whom had also clearly had problems earlier on the route, came by on their way to the finish in Alicante: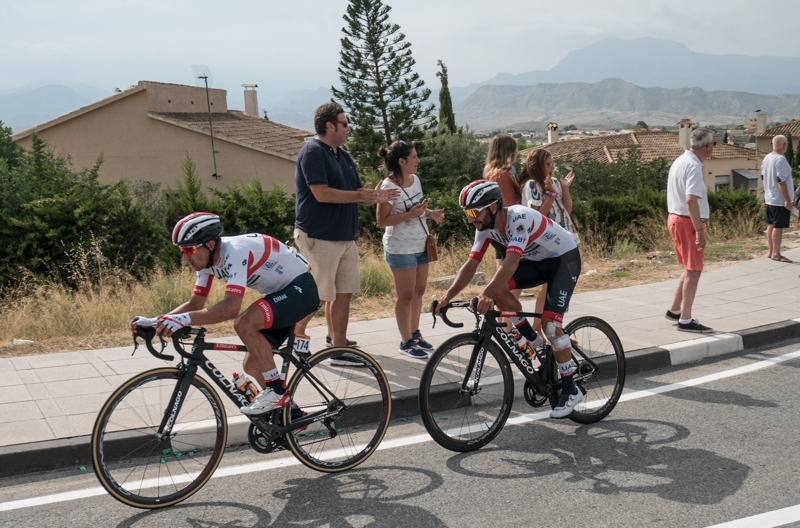 More photos from the Vuelta are here.
35_9
On Tuesday morning, it was windy and there was some rain out over the Mediterranean: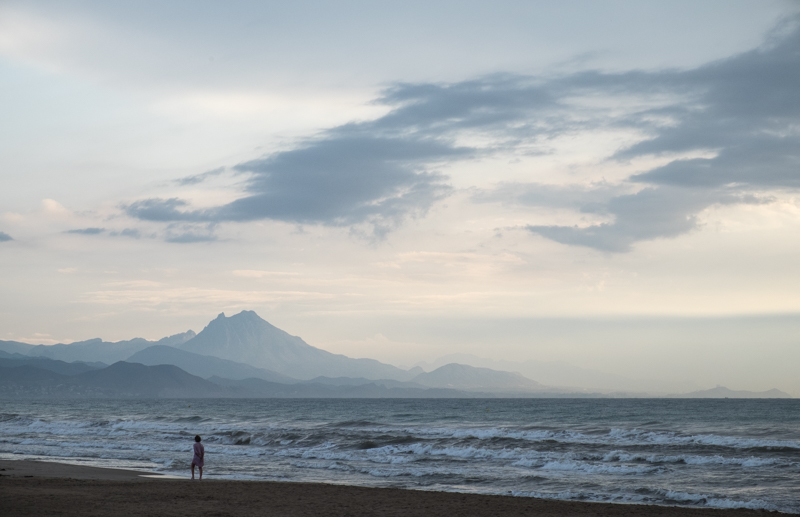 35_10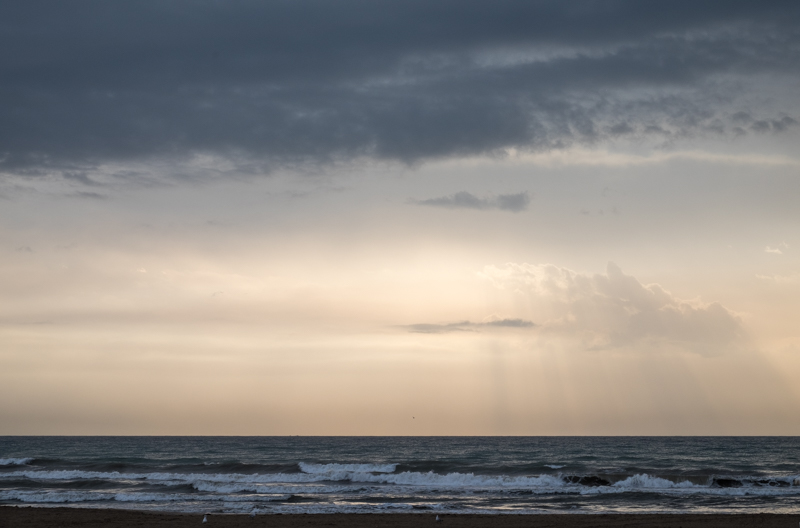 35_11
Back at the office, the metal dinosaurs were busy munching the abandoned construction project: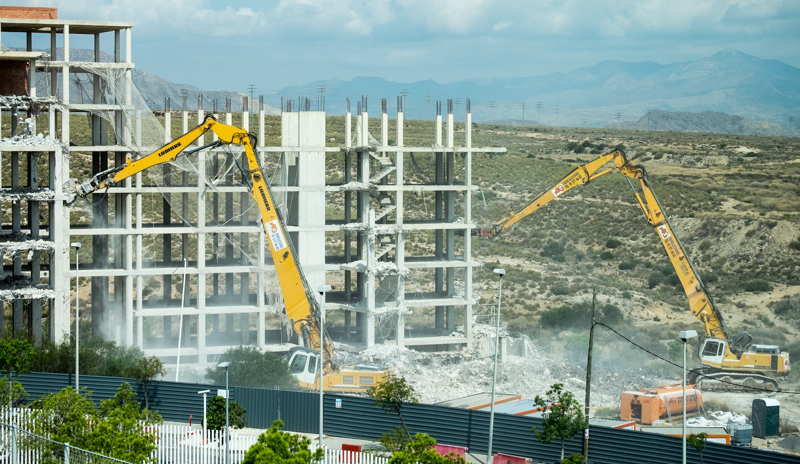 35_12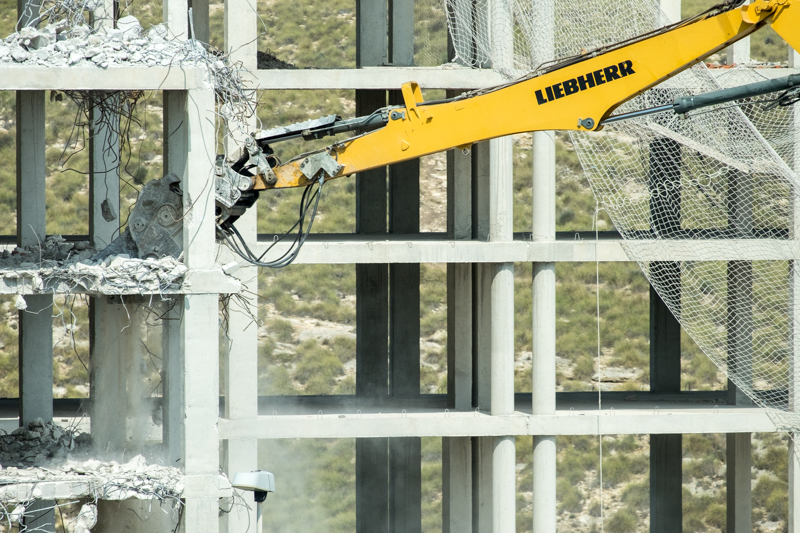 35_13
At home, my mother's cactus and its offspring delivered an explosion of flowers: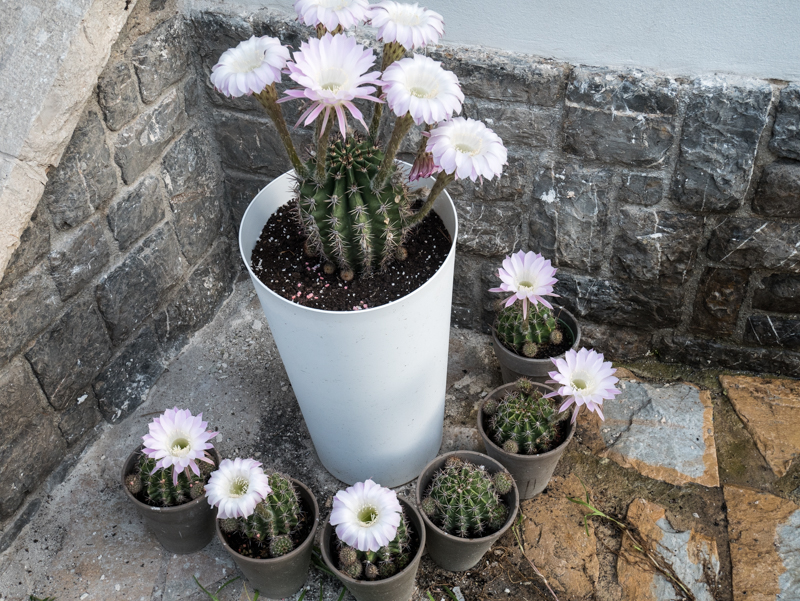 35_14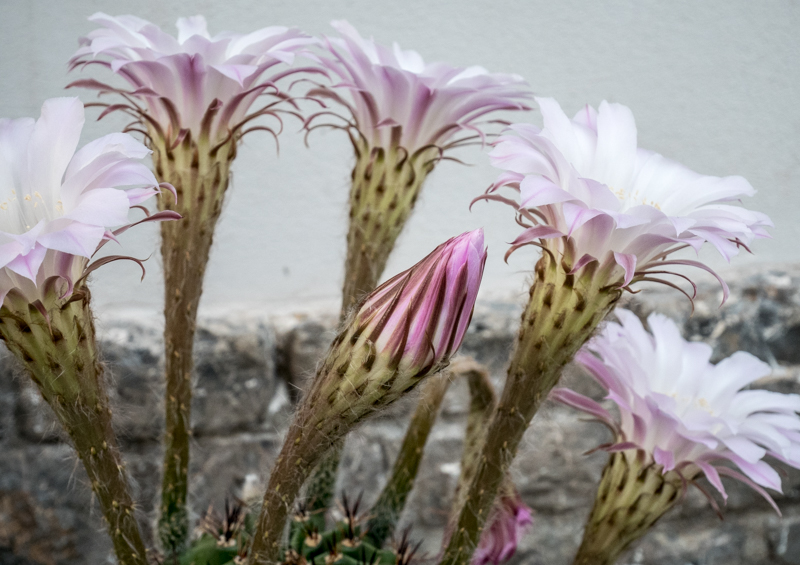 35_15
On Thursday afternoon I was back in Aigües on my bicycle, and watched the preparations for that evening's installment of the week-long Moros y Cristianos fiesta. Friends greet each other: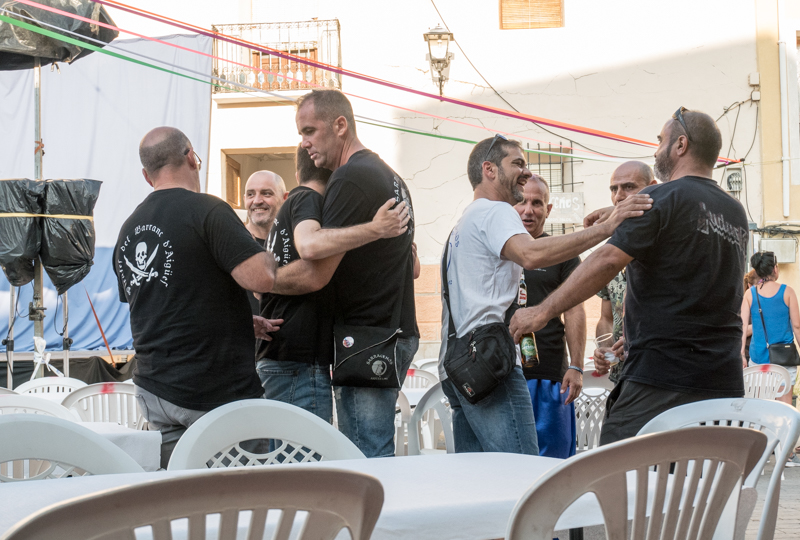 35_16
Reflecting the nature of this fiesta as a real community effort, both young and not-so-young came by to help set up the tables: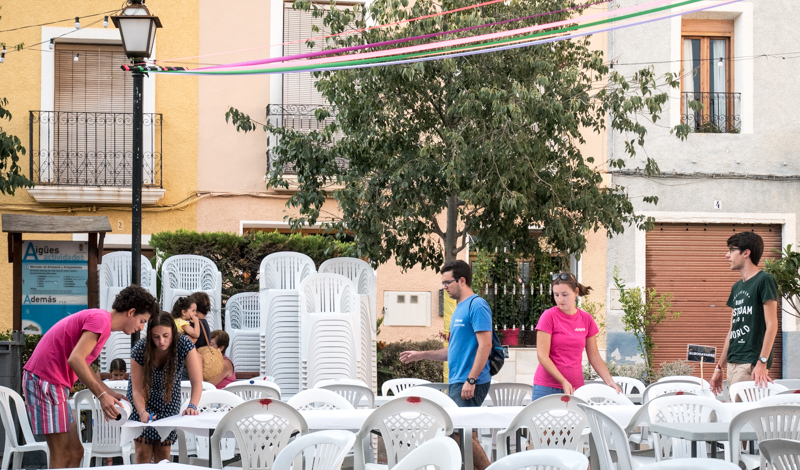 35_17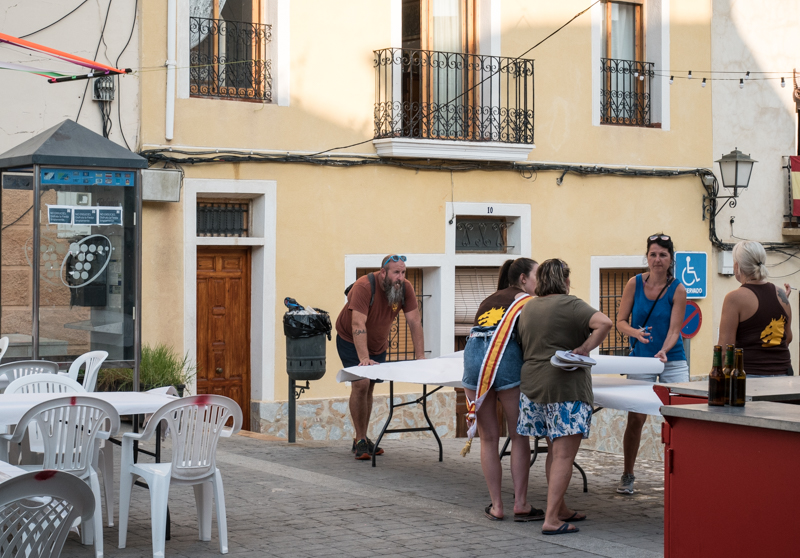 35_18
Here is the entire police force of Aigües, in conversation with one of the residents: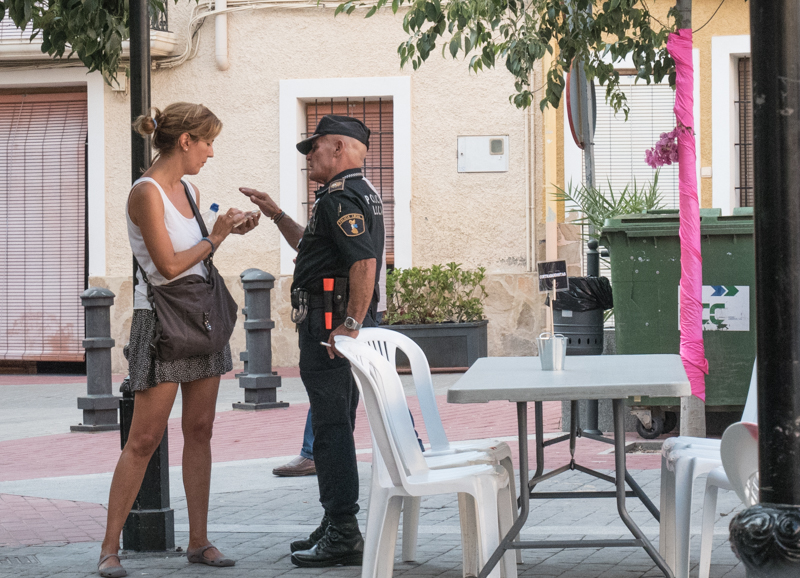 35_19
I was back in the village Friday morning (I had taken the day off). Around 10:30, people were milling around on the square, waiting for the day's festivities to begin: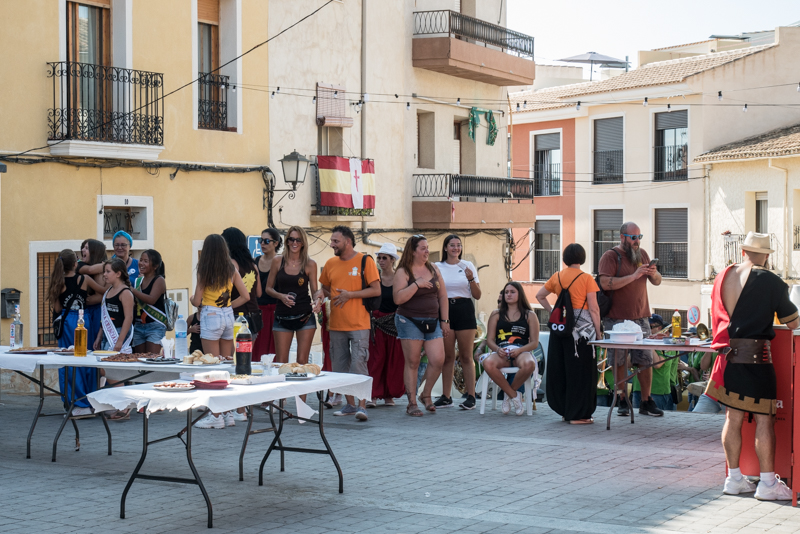 35_20
Then I heard music, signalling the imminent arrival of the marching band: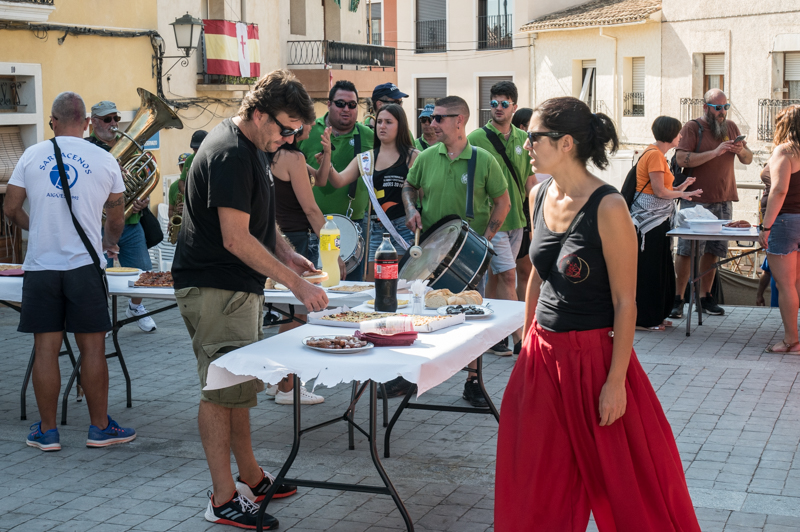 35_21
It was early, but they had already walked around the village for some time, and they were hot and thirsty: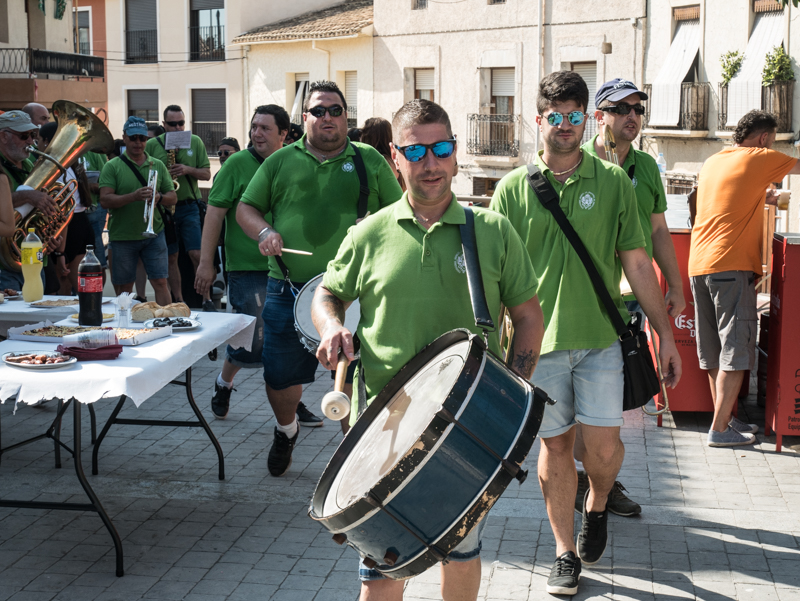 35_22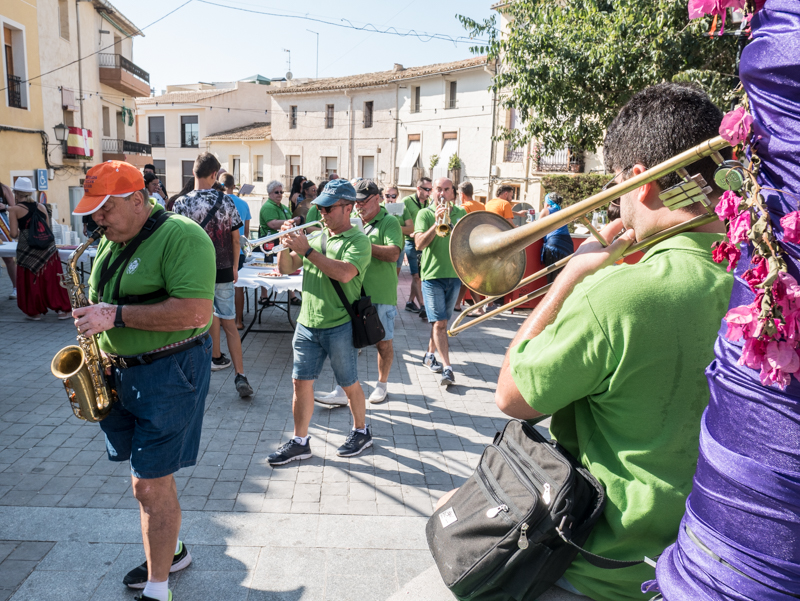 35_23
The little boy seems to be looking enviously at his father's beer: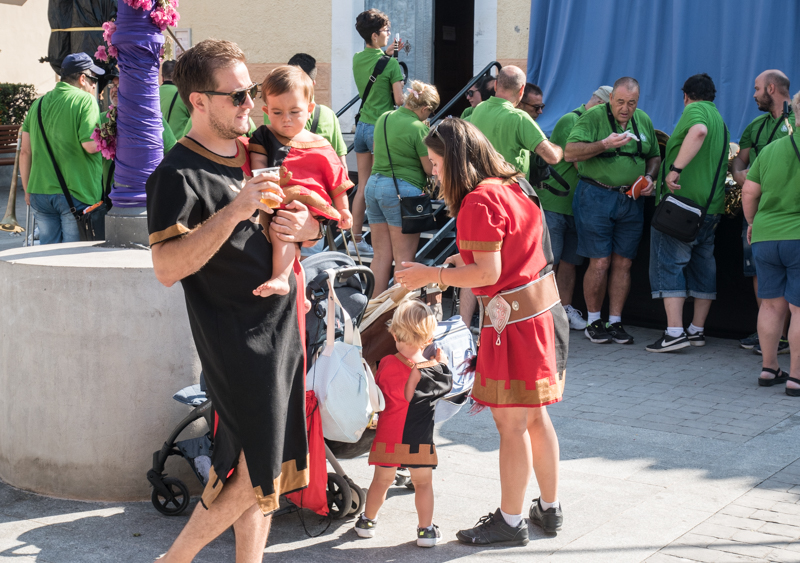 35_24
This lady yelled, "¿Quien quiere cerveza?" ("who wants beer?") and was greeted with a chorus of replies, "¡Yo!" ("me!"):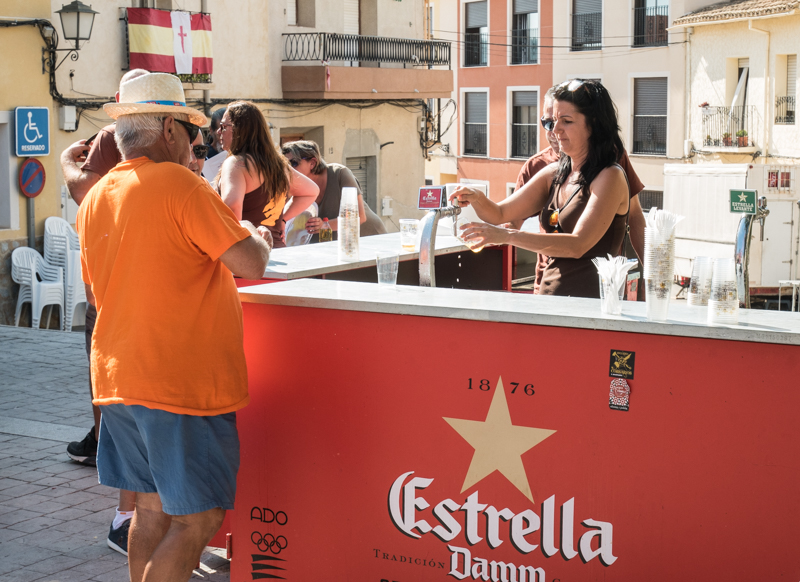 35_25
And there was breakfast too, by the looks of it coca, the local version of pizza: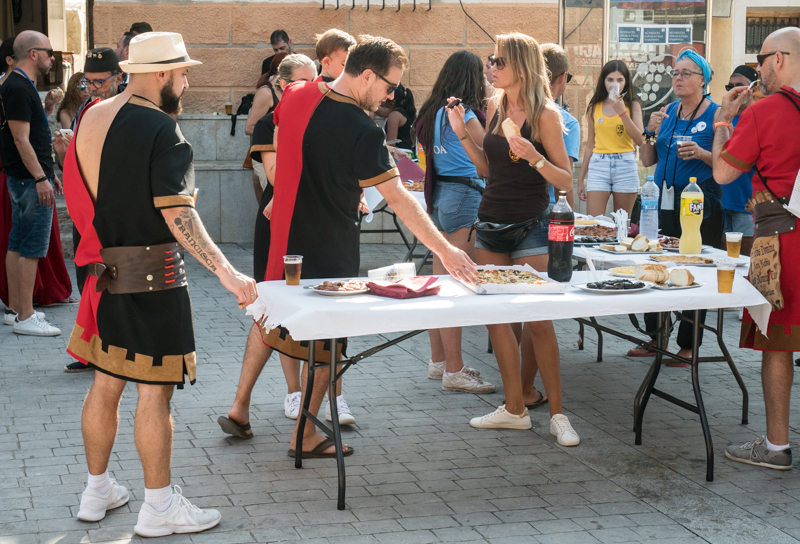 35_26
After taking in the Moros y Cristianos in Aigües, I continued on to Busot, 8 km away. Just before reaching that village, I came across these amazingly agile goats: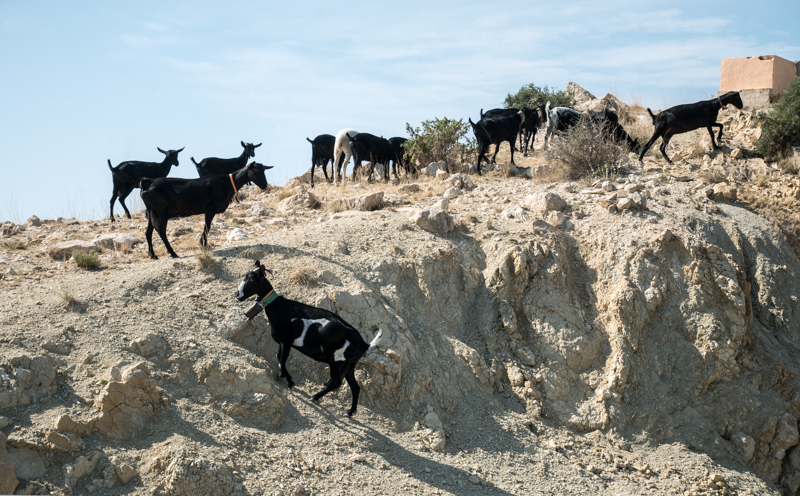 35_27
They had been grazing closer to the road but scurried up and away when I approached. Perhaps they did not like the colours of my outfit: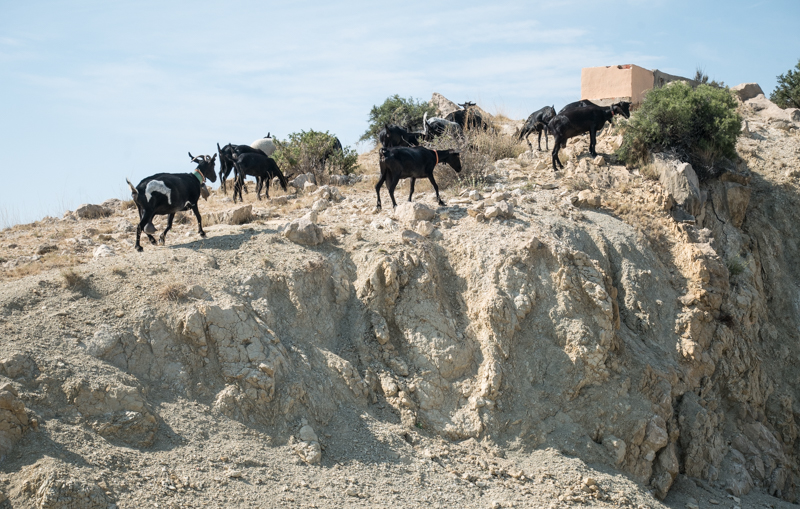 35_28
On Saturday morning, the last day of August, my wife and I walked down to the beach to watch the sunrise. We were not the only ones with that idea: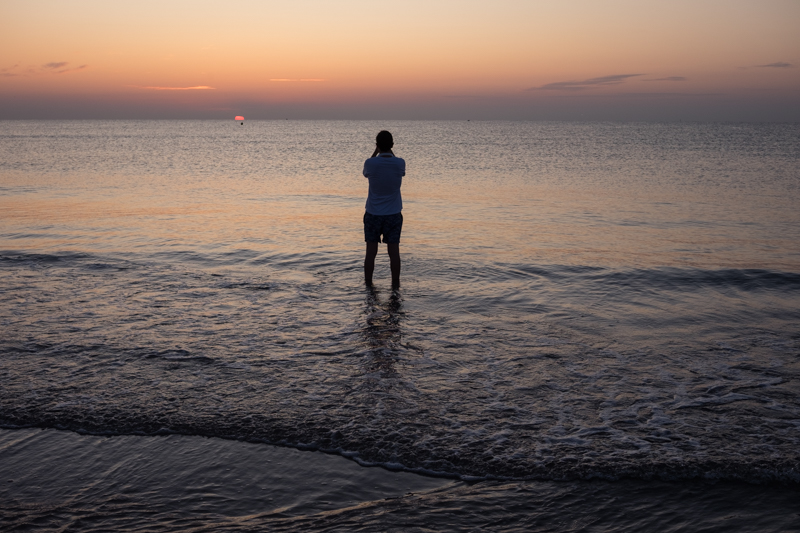 35_29
And it was indeed pretty: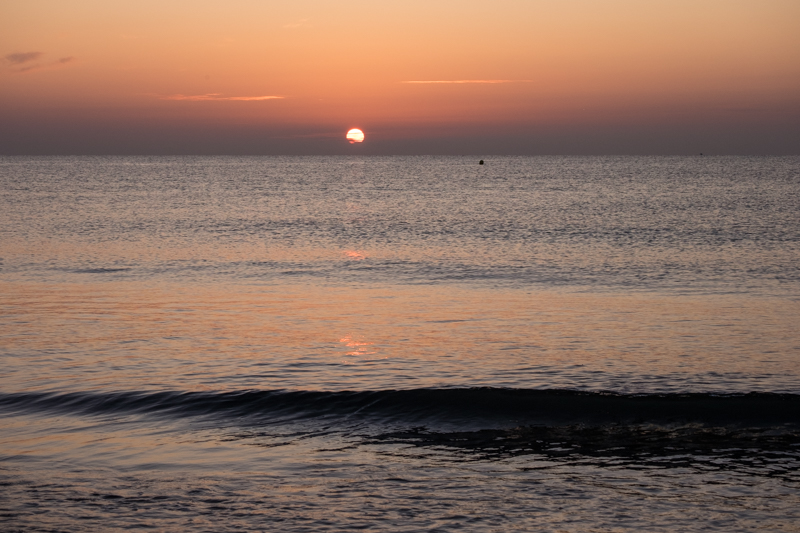 35_30
An unusual photo in two ways–first, I rarely walk in the water like this (I generally dislike water unless it is suitably diluted) and second, I rarely post pictures of me: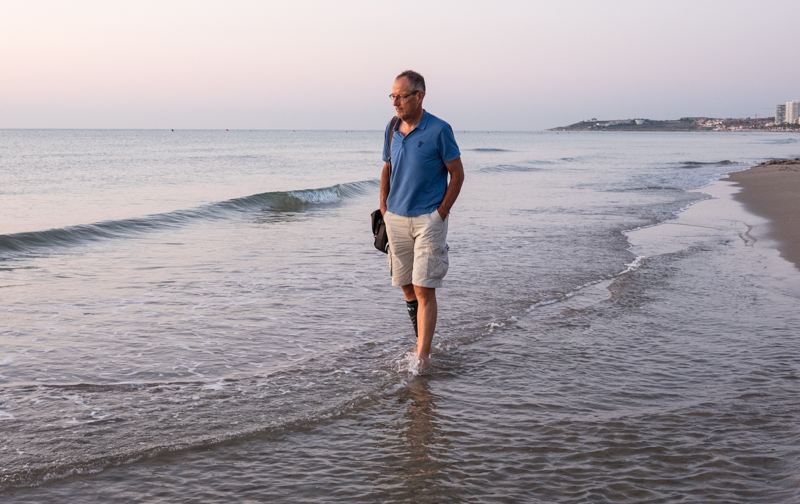 35_31
I then turned my lens to things illuminated by the rising sun. First, the buildings of El Campello: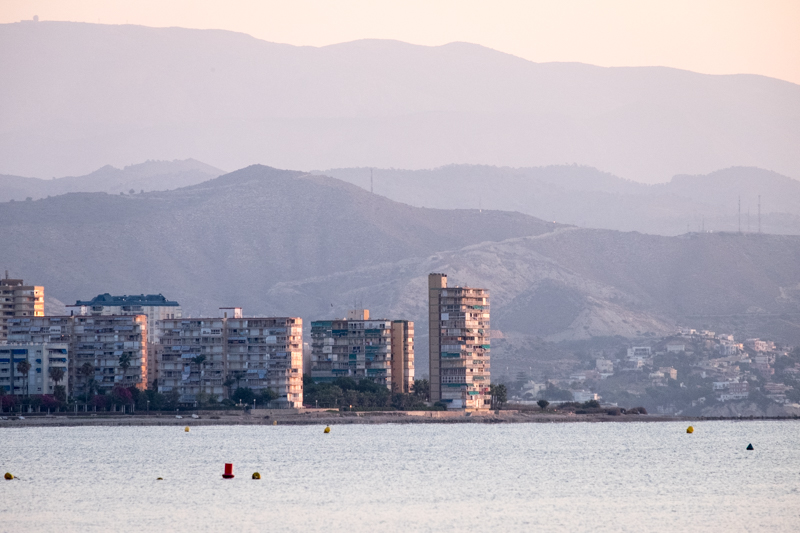 35_32
Then, just the sand and the water: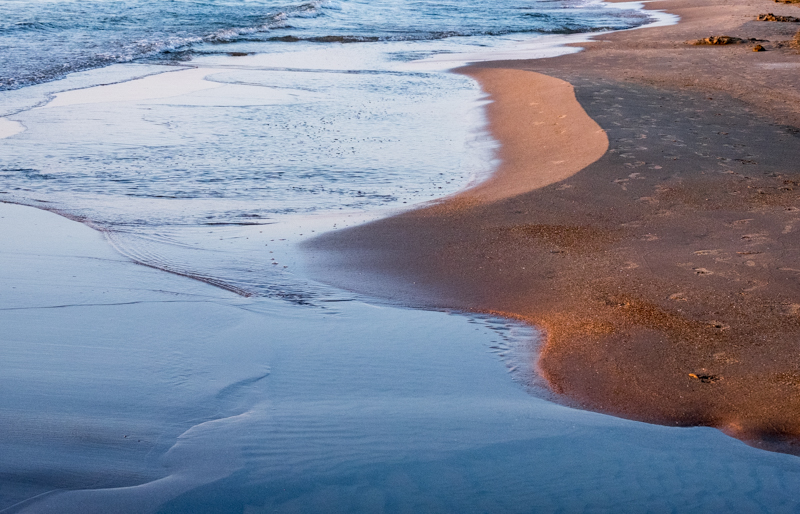 35_33
Later in the morning I went for my usual bike ride, this time to Agost. While looking for a bench to drink my Coke, I noticed the Brazilian-themed painting on the pavement: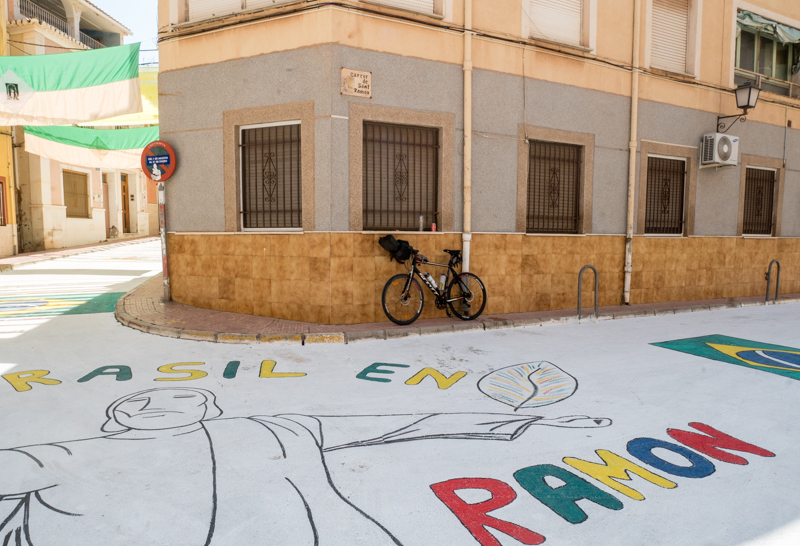 35_34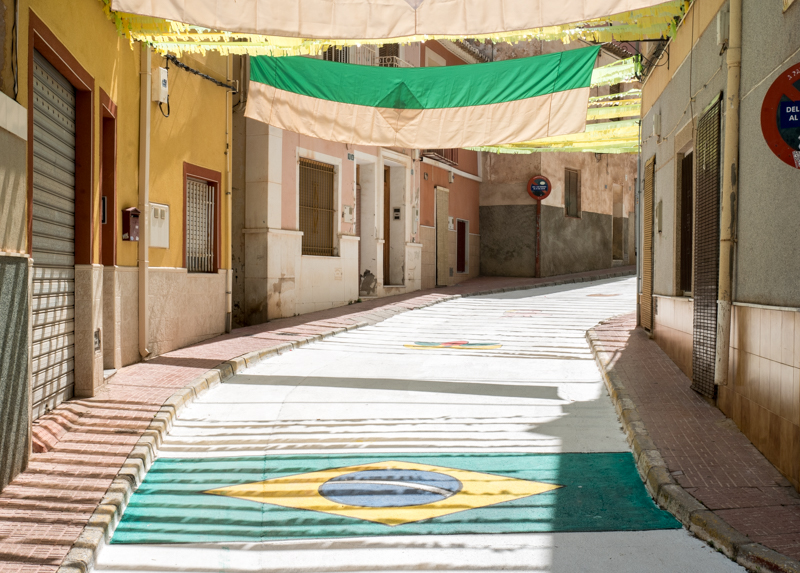 35_35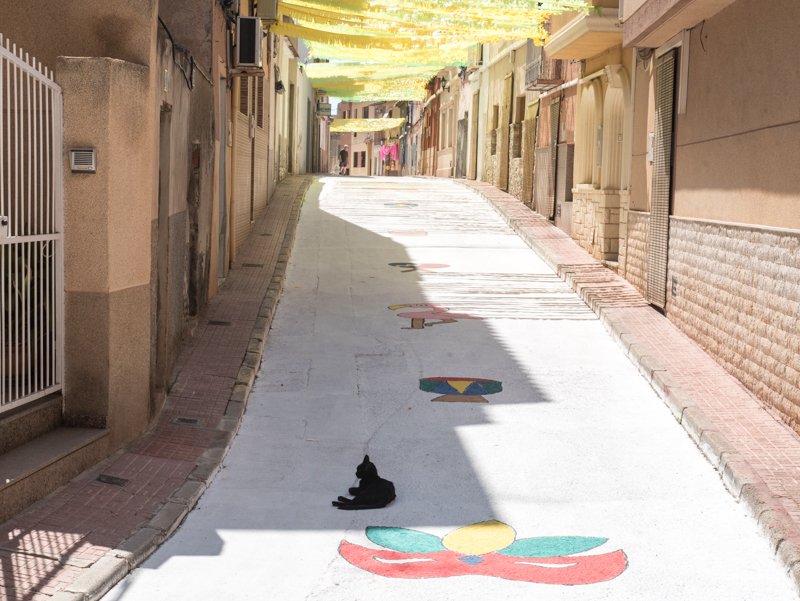 35_36
Then I heard music, and this very informal marching band came by: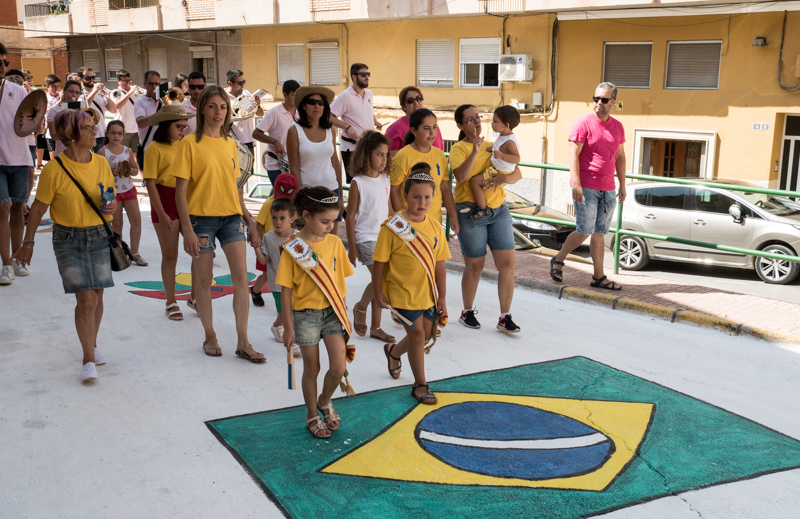 35_37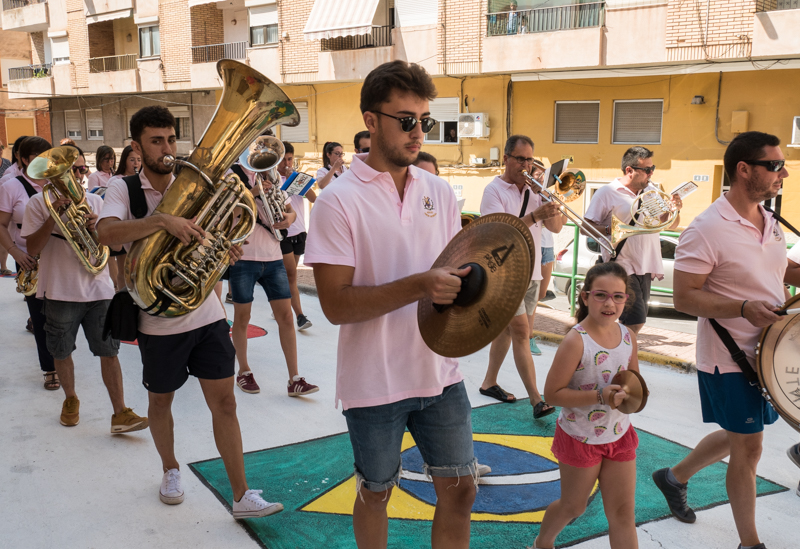 35_38
I never found out what, if any, is the connection between a small town in the mountains above Alicante and Brazil. Maybe the whole thing is just an excuse for another fiesta, the people around here are good at that: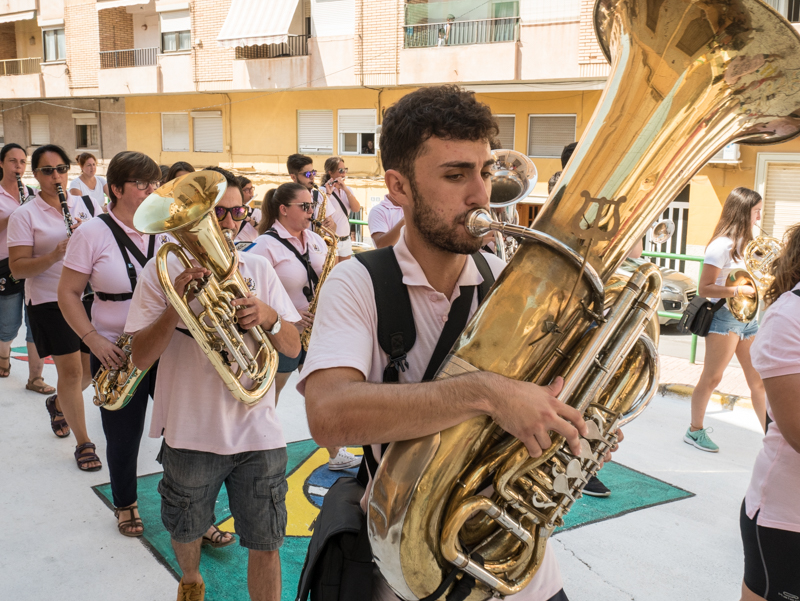 35_39
Finally, a pure grab shot from the centre of Alicante. I needed kimchi for a dish I was making for dinner, and the only places in Alicante where I can find it are the Chinese groceries in the centre. I liked the bulletin board outside the shop, with its mix of Chinese and Spanish: