According to the original plans, last week's pictures would have been from Singapore and Jakarta, where I was scheduled to lead a workshop for ASEAN economists Monday and Tuesday. Instead, I spent a good part of the week in the Clínica Vistahermosa with a painful case of acute diverticulitis. Altogether I was hospitalised for 6 days, from Thursday night of the preceding week to Wednesday of last week. So there are pictures from the hospital, but also some post-liberation images of local festivities.
18_1
Once I had stabilised and the pain was controlled, I was told to walk around, but at the same time I was not supposed to leave the floor, so I tried to make something out of nothing and photographed the hallways: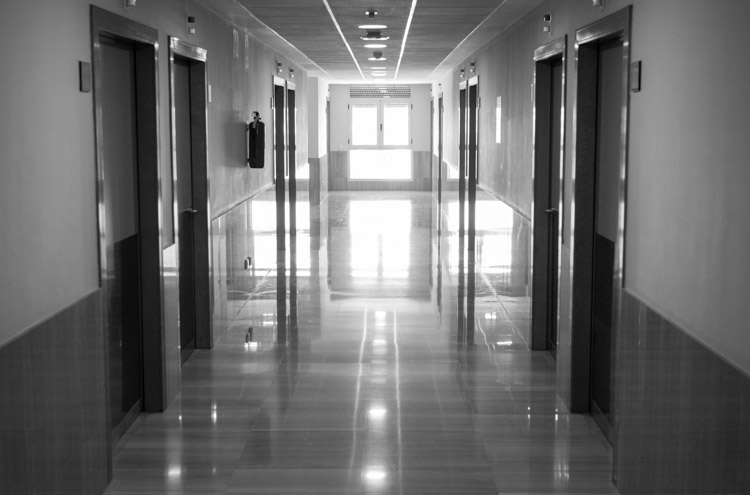 18_2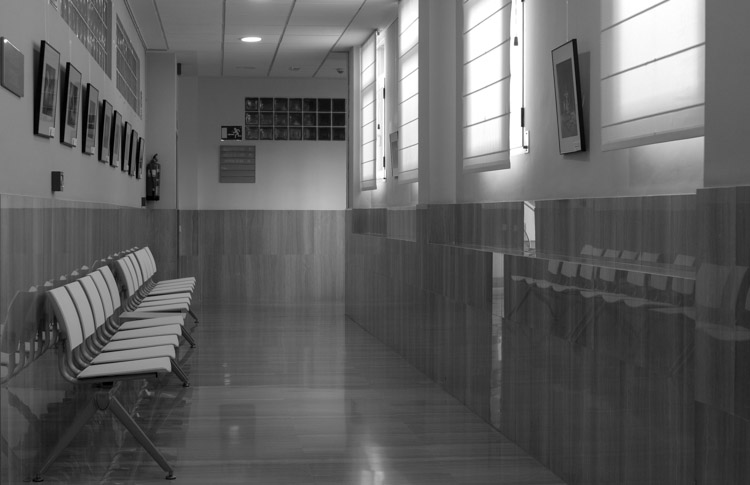 18_3
Like a real prisoner, I would walk to the window at the end of the hallway several times a day to look at the view outside: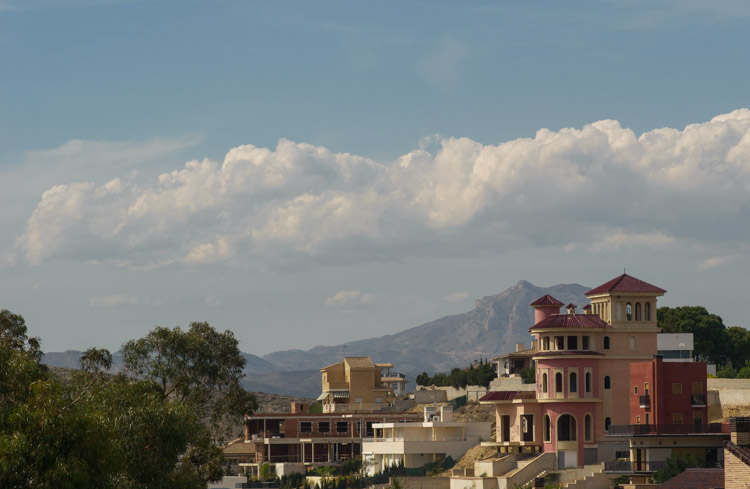 18_4
The worst part was that during the first four days, I was not allowed any food or drink. The only thing I was allowed to ingest orally was half a glass of water a day to take a pill. Otherwise, it was all IV. Needless to say, I was getting increasingly hungry and started to fantasize about food. The view from my window did not help matters, even though I usually do not frequent such places: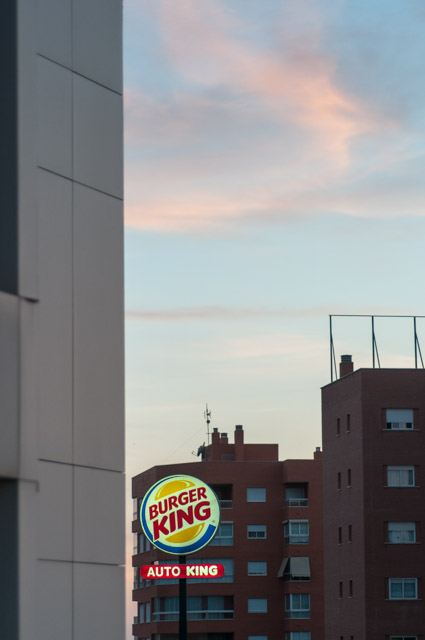 18_5
I saw many nurses during my stay, but especially this lady was nice and always smiling and singing: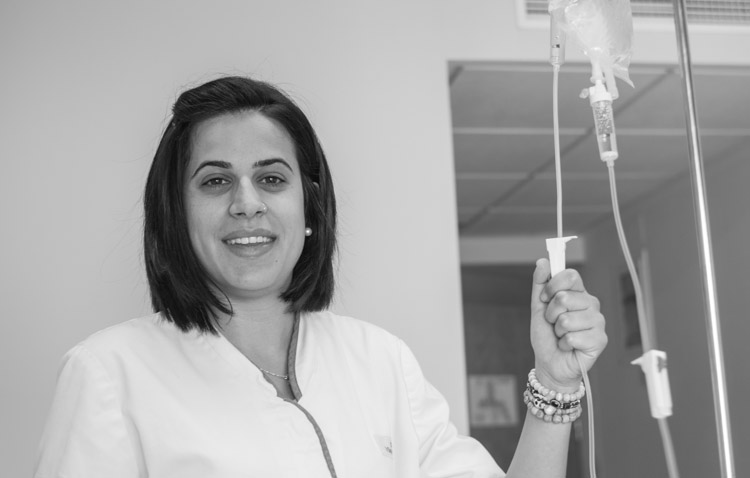 18_6
And this guy was the last nurse I dealt with–he removed my IV on Wednesday morning in preparation for my discharge: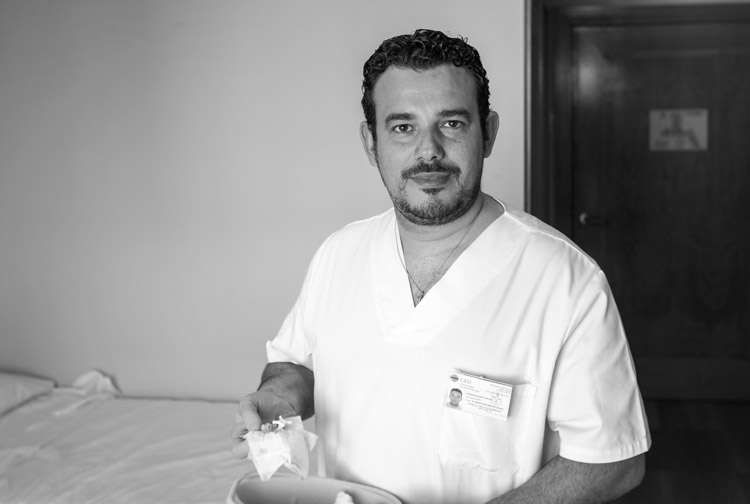 18_7
My wife picked me up from the hospital, and later that afternoon, we drove to the supermarket to do some shopping. I am on a strict low-fibre, low-fat and no-booze diet, but fish are very much allowed: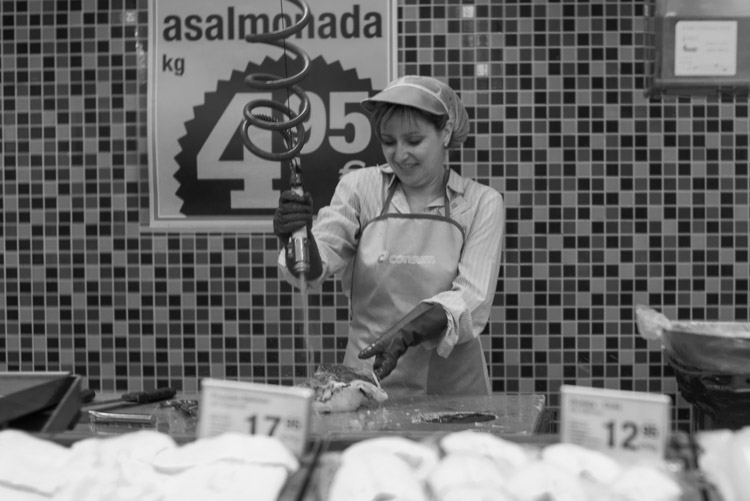 On Thursday, my wife and I rode our bicycles 4-5 km to Santa Faz, a monastery which houses a piece of cloth supposedly used to wipe the sweat off Jesus's face on his way to the crucifixion. Each year, the second Thursday after Easter, a huge procession takes place, covering about 8 km from the cathedral in the centre of Alicante to the monastery. The relic is taken out only this one time a year, and a mass is held. This year, approximately 300,000 people participated in the procession. So I wanted to go and have a look, and a light ride like this fit in very well with my recovery programme.
18_8
Towards the end of the pilgrimage, people queue up to receive a commemorative tile. Many houses around here have these tiles around the front door: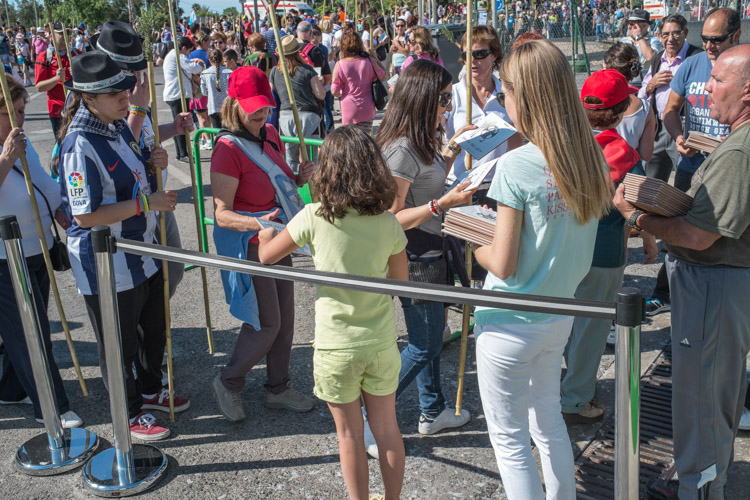 18_9
This young girl felt very important, having been enlisted to help distribute the tiles: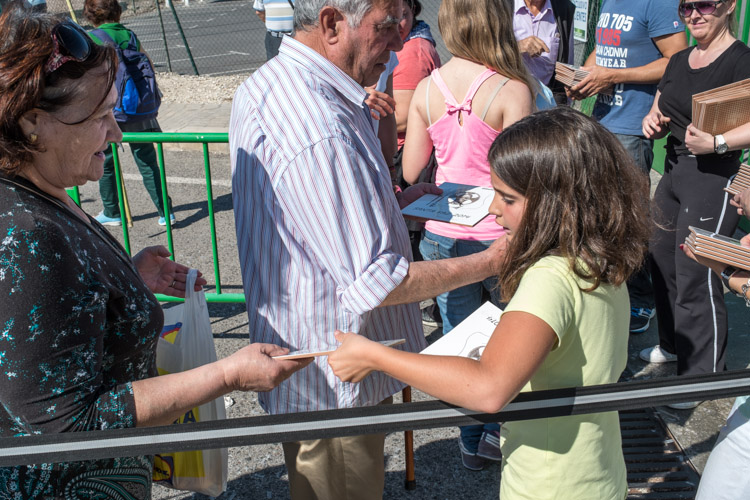 18_10
Another queue, this time to enter the church visible in the background: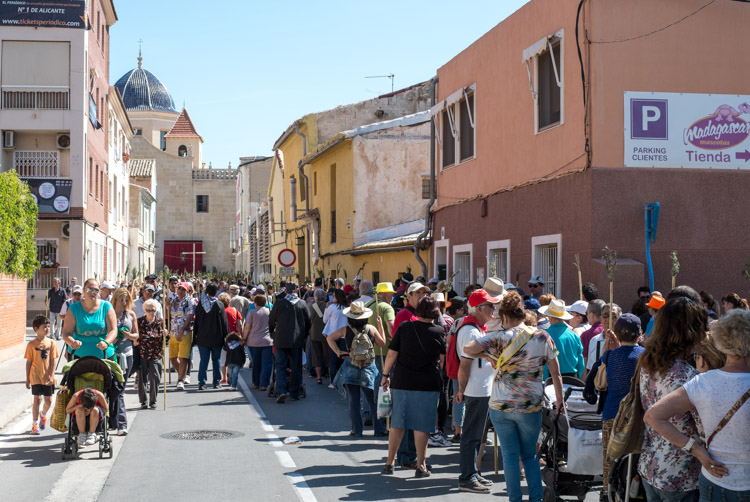 18_11
The mass is ending: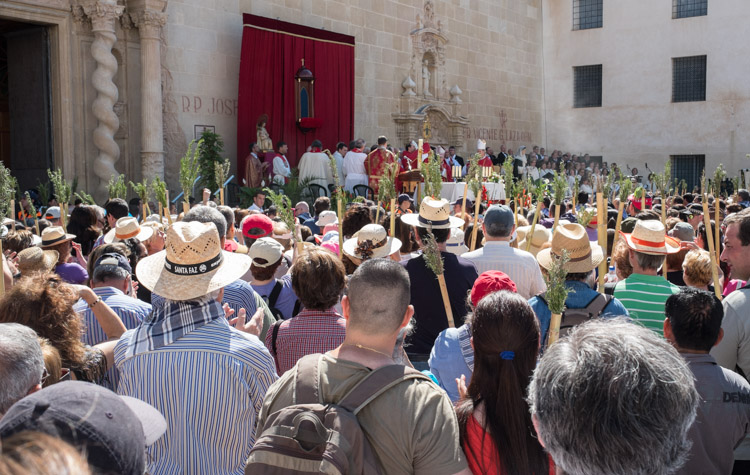 18_12
The mass has ended, and the relic is carried back inside the church where it will remain until next year's Santa Faz pilgrimage: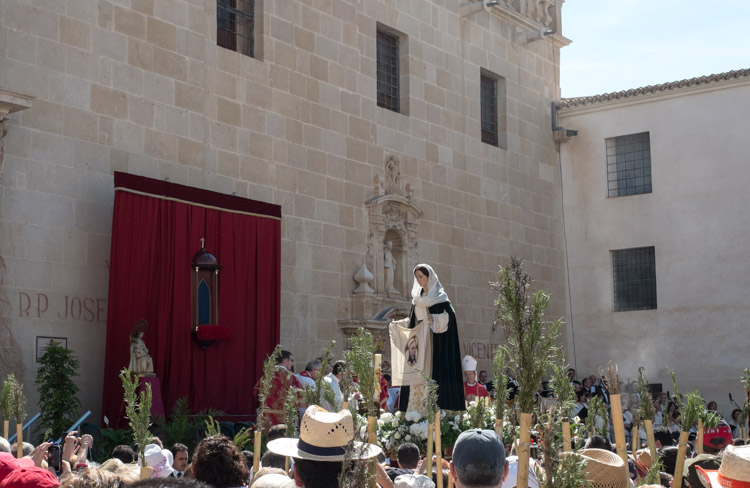 18_13
The people who live around the square have a privileged view of the proceedings: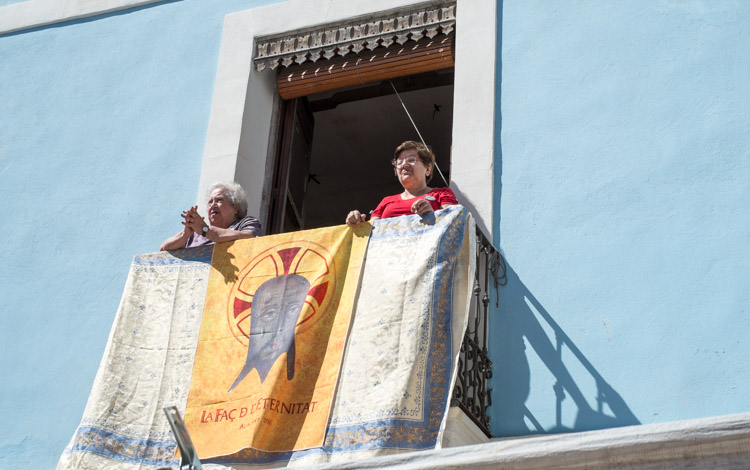 18_14
Afterwards, the older pilgrims find a place to sit down and eat a badly needed sandwich or other snack (the procession starts at 8 a.m. and ends around 11 a.m.):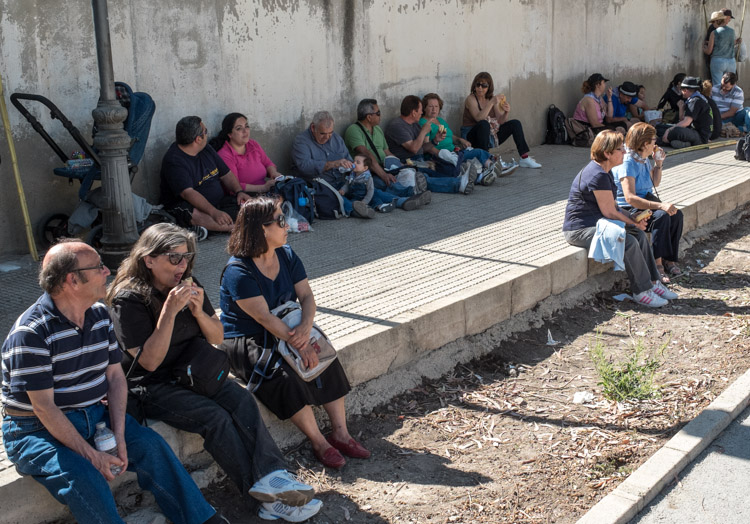 18_15
In addition to the religious aspect, Santa Faz is about eating, drinking and having a good time. In fact, this aspect is probably more important than the religious bit for a majority of the participants. The streets surrounding the monastery are completely filled with stands and people milling around: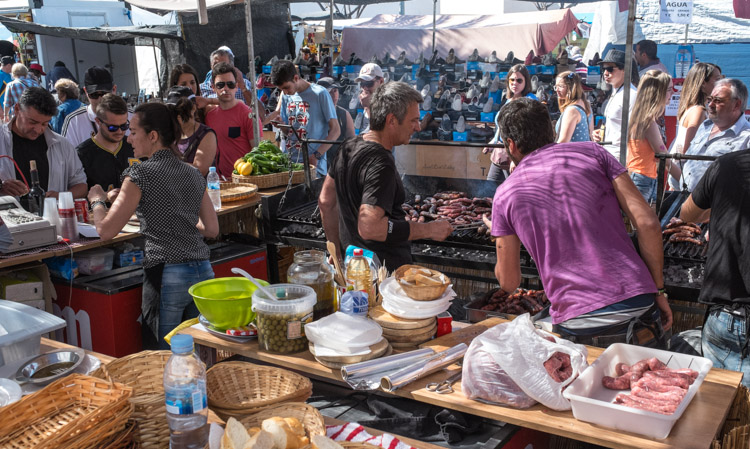 18_16
Grill: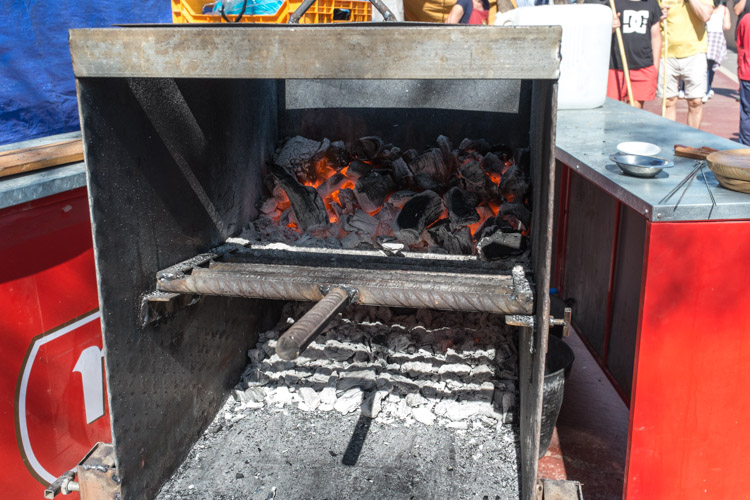 18_17
The ubiquitous lottery vendor: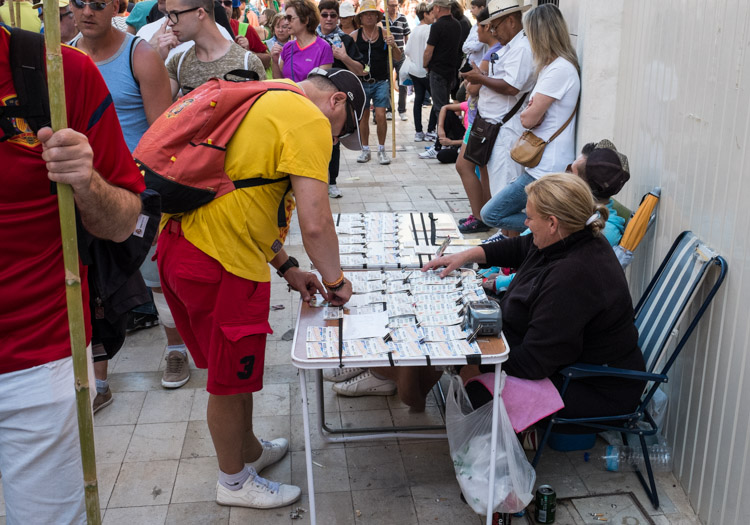 18_18
Faces in the crowd: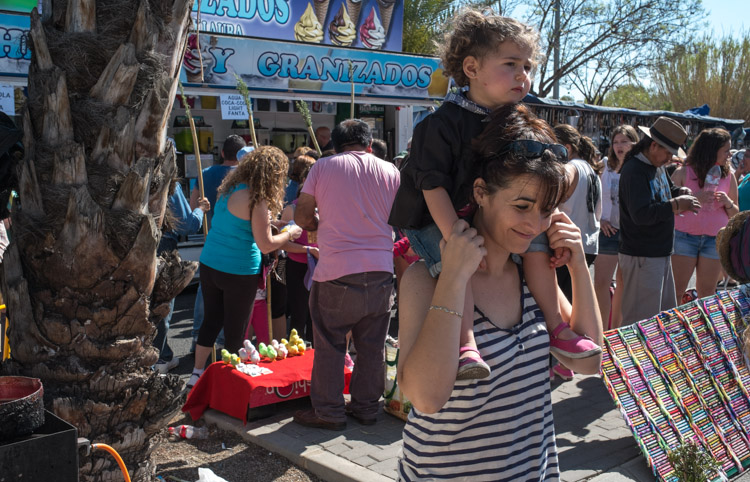 18_19
Another face in the crowd: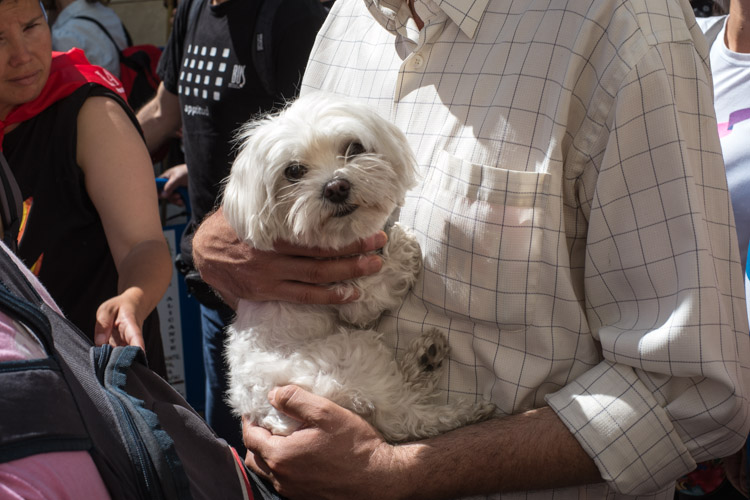 18_20
For the young people of Alicante, Santa Faz is an excuse to have the biggest botellón of the year. They start the party already in Santa Faz, and then around noon walk to Playa San Juan, about 3-4 km away, and do the serious partying there. The shopping carts are used to transport vital supplies: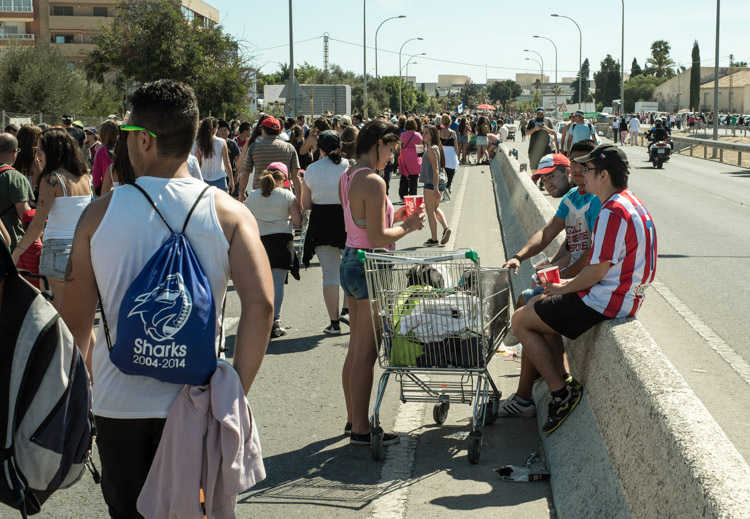 18_21
A baby stroller can also be used: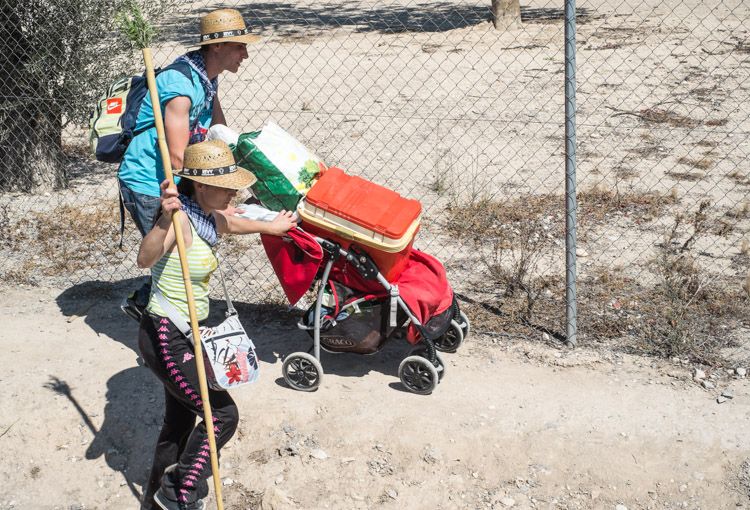 18_22
Body paint, usually using thick black markers, is an important part of the ritual: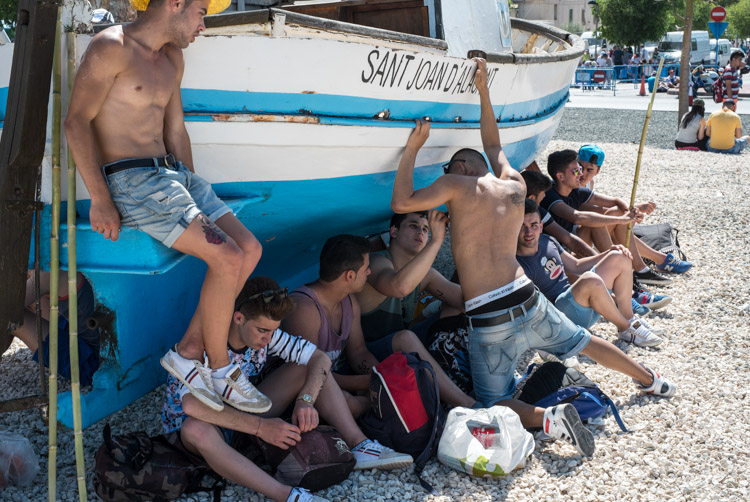 18_23
About six hours later, my wife and I went to Playa San Juan (only 2 km from our home) to have a look at the aftermath of the giant party. Even though it looks chaotic, it was all well controlled, and the "regular" tourists looked bemused at the mess: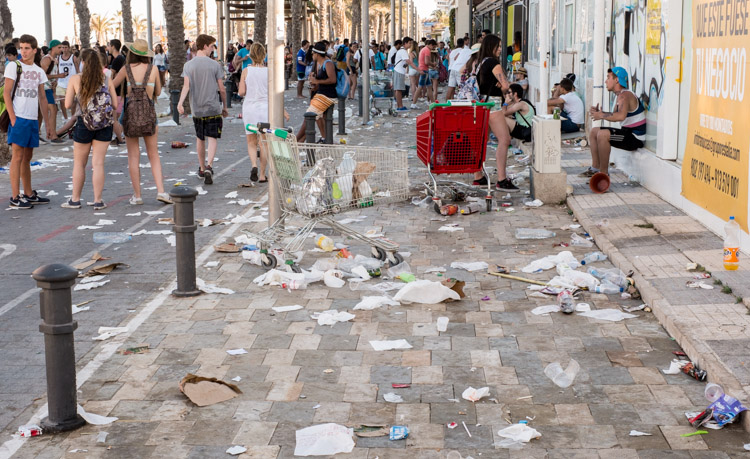 18_24
Twin setup: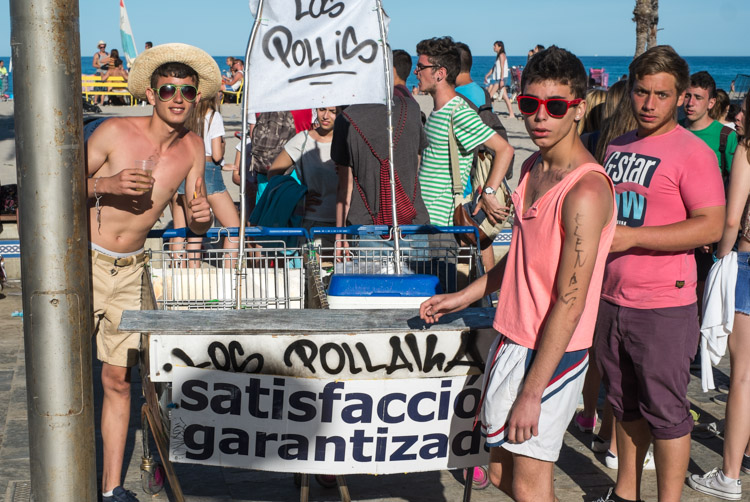 18_25
Things are winding down at this point: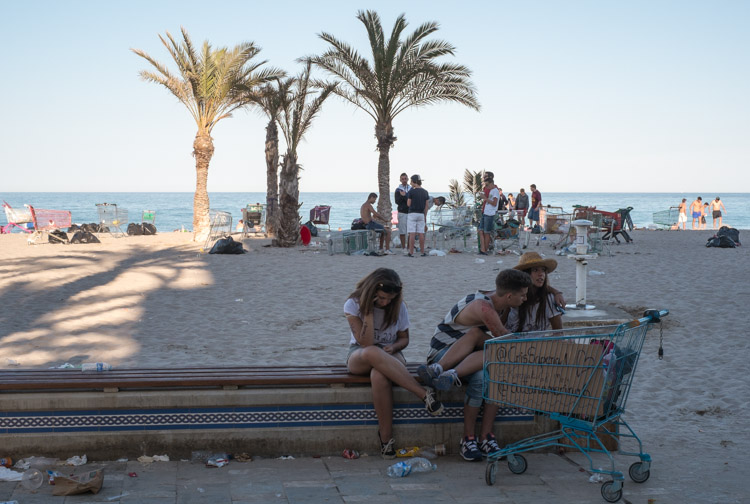 18_26
Left behind: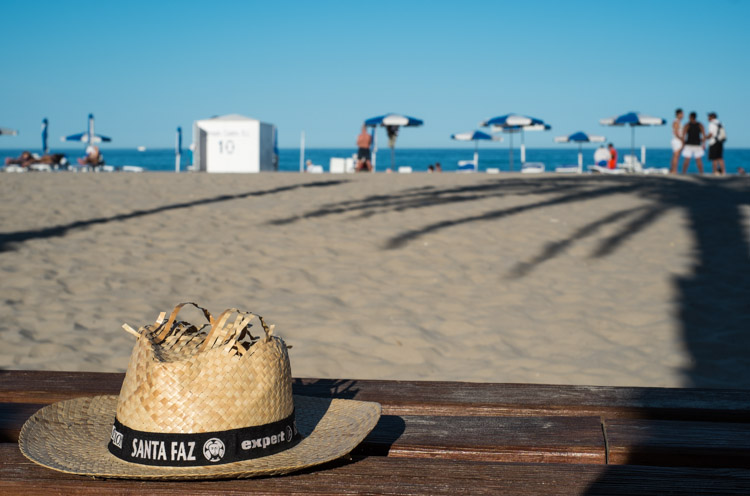 18_27
Thursday was also Cheeta's 13th birthday, so the obligatory photo with a candle was taken. Instead of cake, she got some healthy mango sorbet: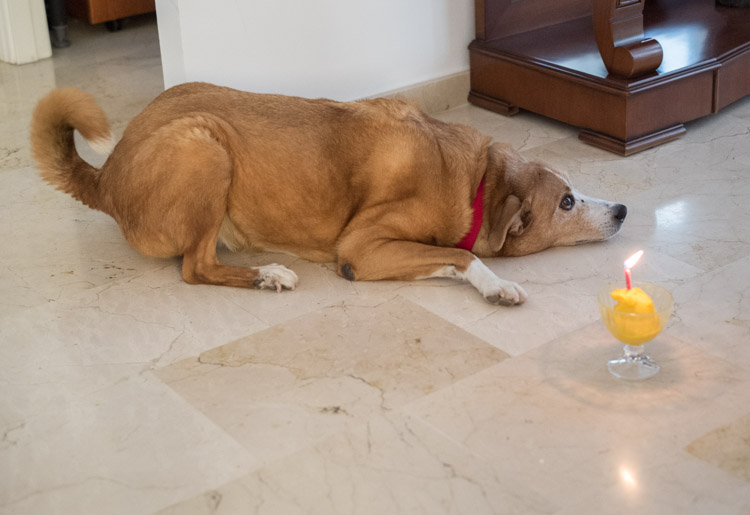 18_28
Candle removed, Cheeta can get down to business: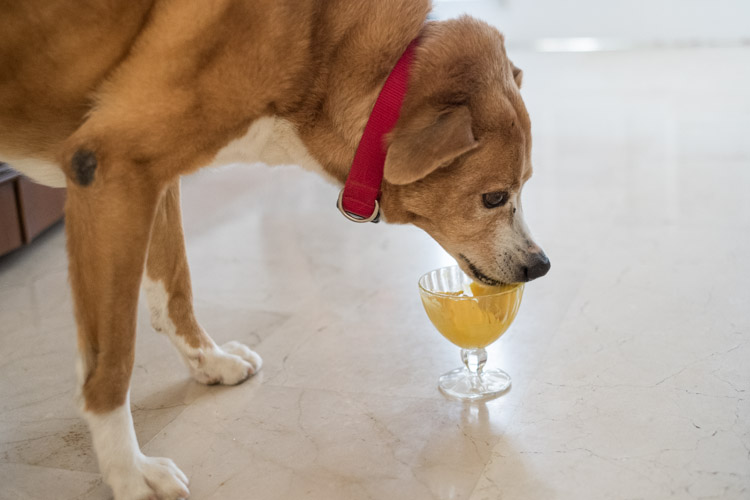 18_29
On Friday, I cycled a bit further away, 10 km to the harbour of El Campello. It was a nice spring day (they are all nice spring days now) and there were people in and on the water: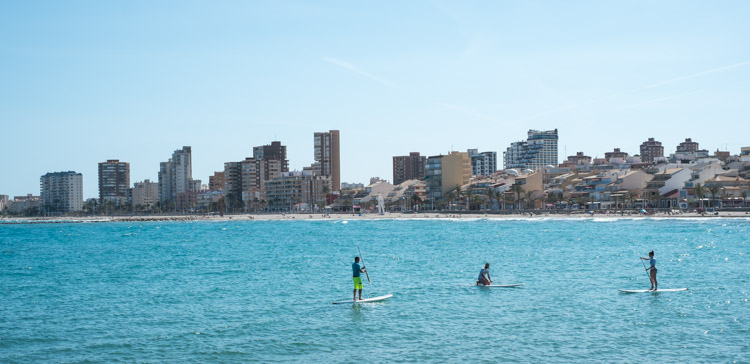 18_30
The fish auction house in El Campello, ready for that afternoon's action: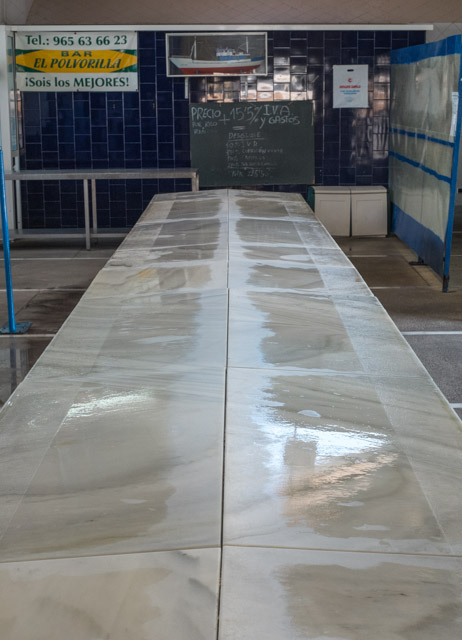 18_31
Virgin Mary and baby Jesus watch over the proceedings: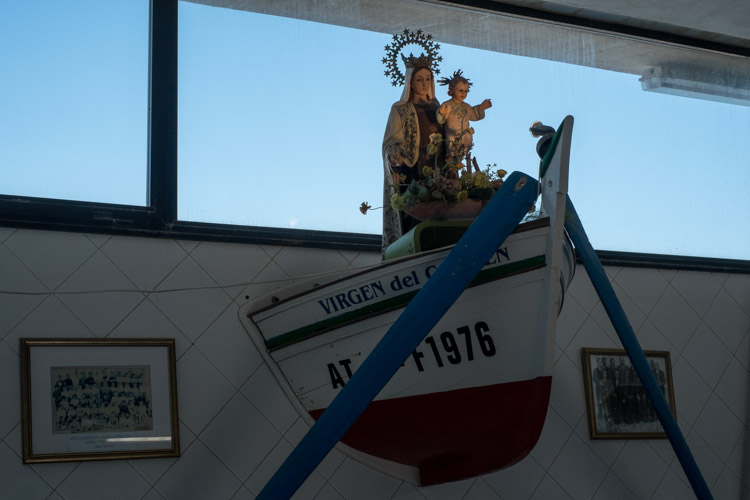 18_32
On Saturday, we were out cycling along the beach again. Here are two playgrounds, one for children and one for adults. It is unusual to see a chiringuito open already in early May. Normally they are allowed between June 15th and the end of September. But this year, because Easter fell late and brought many visitors, the municipality allowed some of them to open early: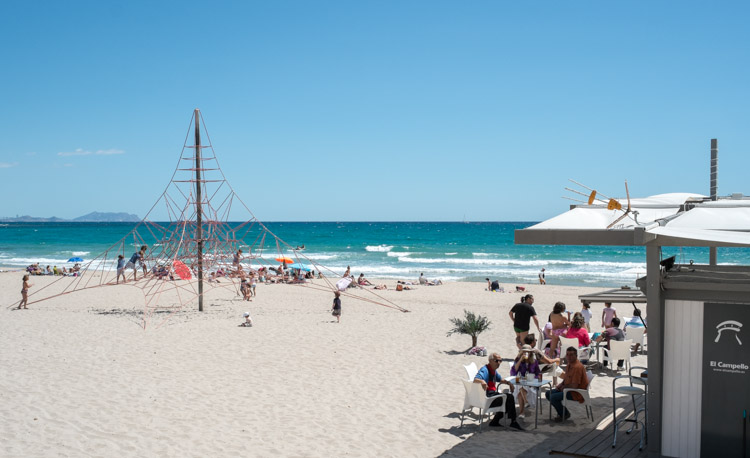 18_33
On the way home, we stopped for my wife's usual pre-lunch beer at a bar on the beach promenade (I am on the wagon these days), and I took a few pictures of the children swarming around the ice cream menu: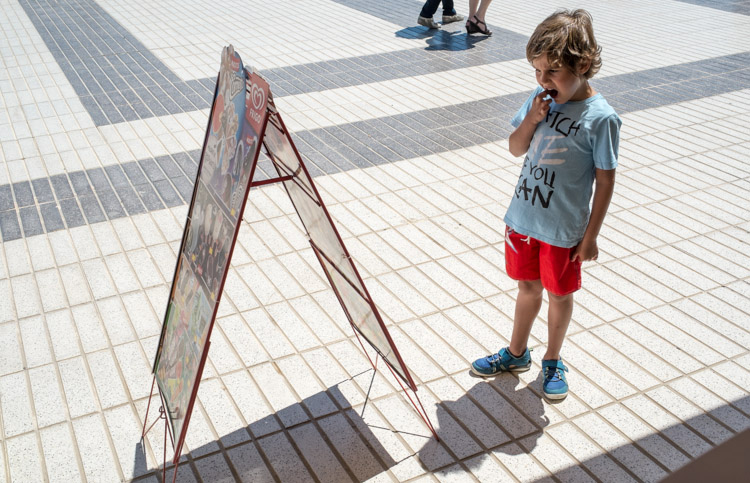 18_34
This is the dog belonging to the owner of the bar. He is 15 years old but in good shape, and regards that part of the promenade as his territory. He also considers it his natural right to beg for food at the outdoor tables: