This was the second week of my sister's visit, including her birthday on the 13th. As it happened, I had to participate in an event at the European Parliament in Brussels that morning, but I was able to fly home in time for dinner. I also had time to drive my visitors to the mountains around Alicante, and we also visited the centre on a couple of occasions.
41_1
On Sunday morning, we drove to Villajoyosa, stopping at a nearby beach, La Caleta, which I had not visited before: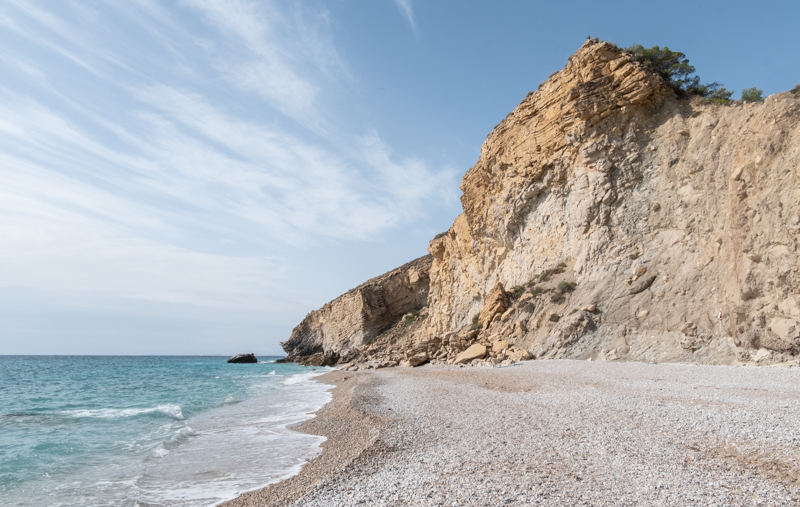 41_2
Looking south towards Alicante: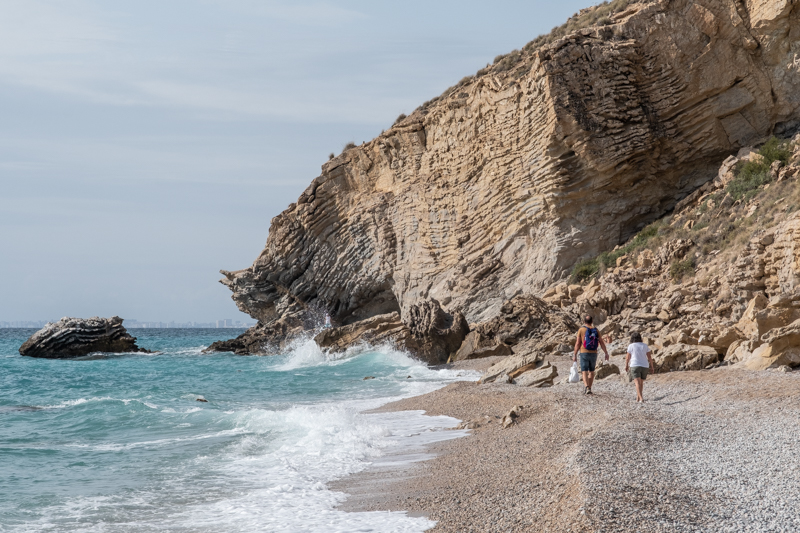 41_3
My sister and brother-in-law, on the rocks: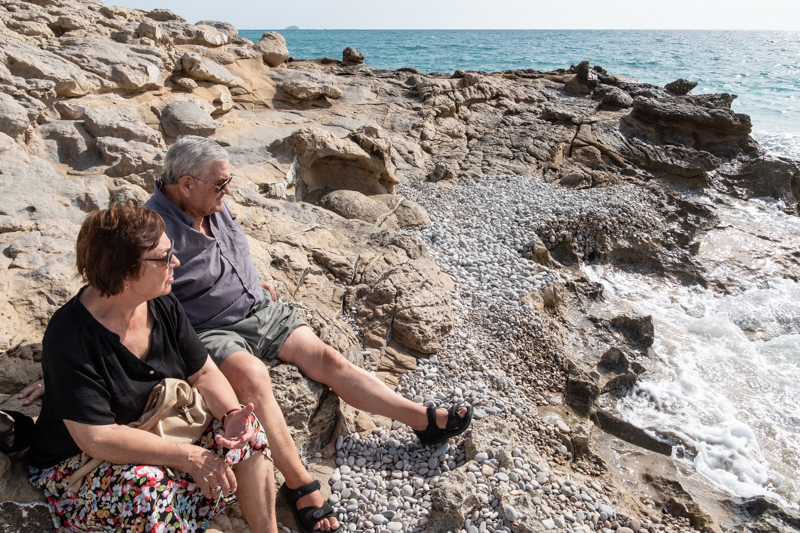 41_4
Rocks, and Piñon de Ifach in the distance: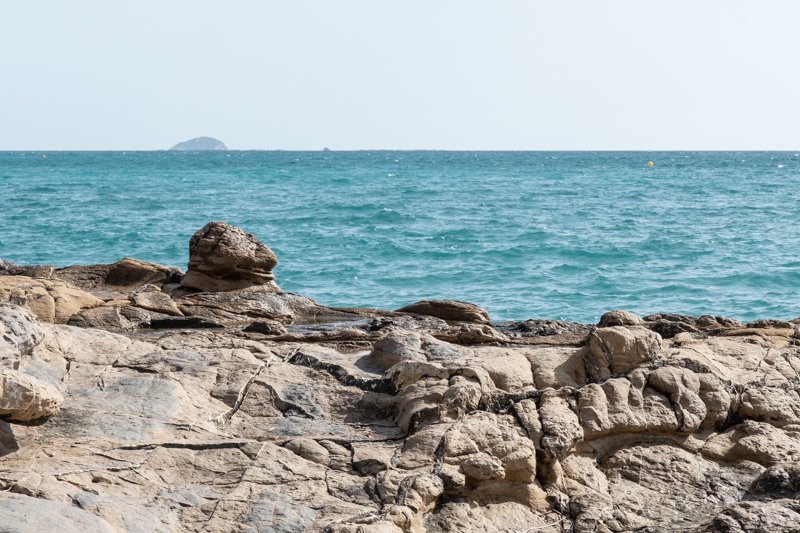 41_5
In the afternoon, we walked down to our "own" beach, Playa Muchavista, 450 meters from my house. Not many people there, but plenty of seagulls: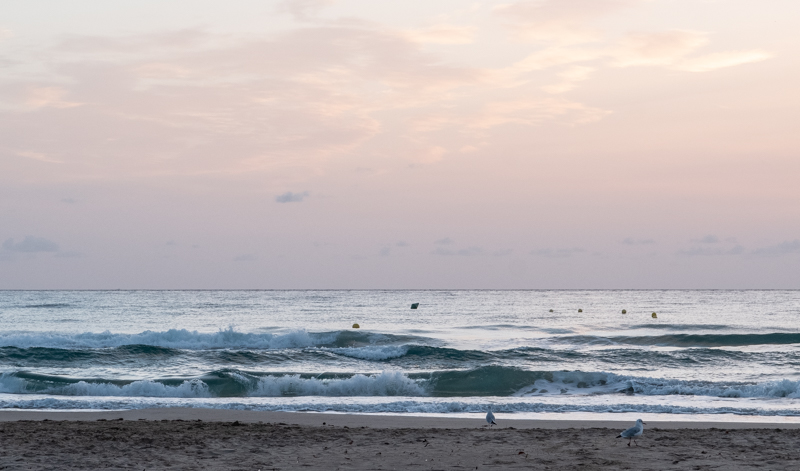 41_6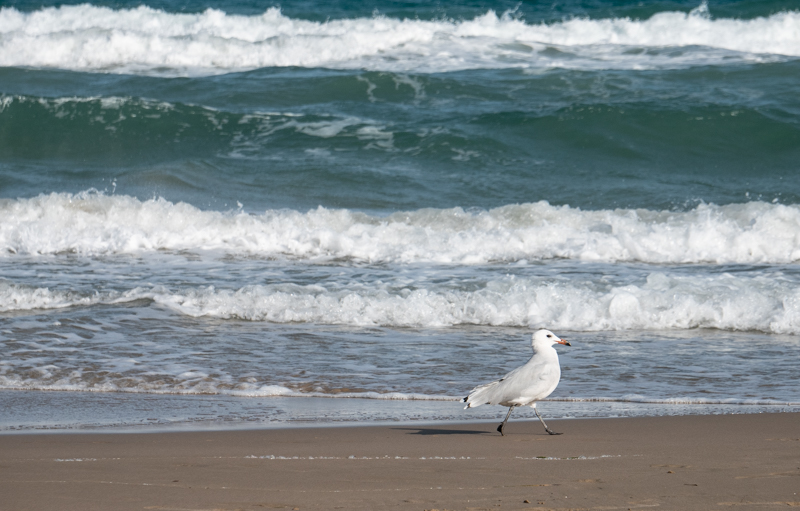 41_7
On Wednesday afternoon, I flew to Brussels for my talk in the European Parliament the following morning. After checking in to my hotel, I went for a long walk around the centre, enjoying Brussels for the first time this year. As always, I looked at the small details, including the many political stickers on the lightpoles: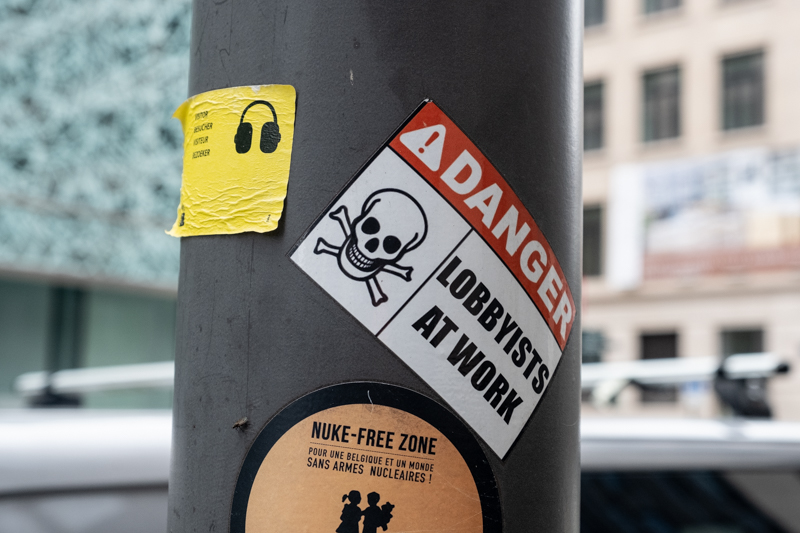 41_8
I took the metro to the Gare Centrale and walked towards Grand' Place, passing Place d'Espagne along the way, appropriately marked with a statue of Don Quixote and Sancho Panza: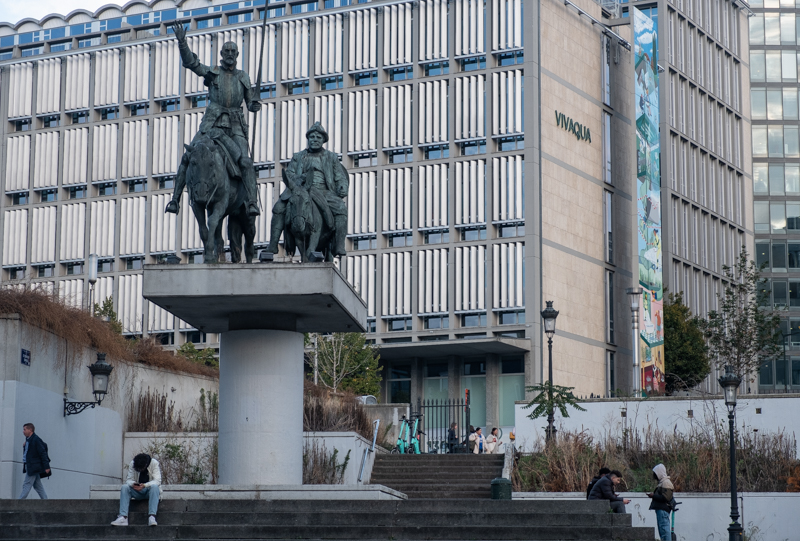 41_9
Grand' Place, glorious as always: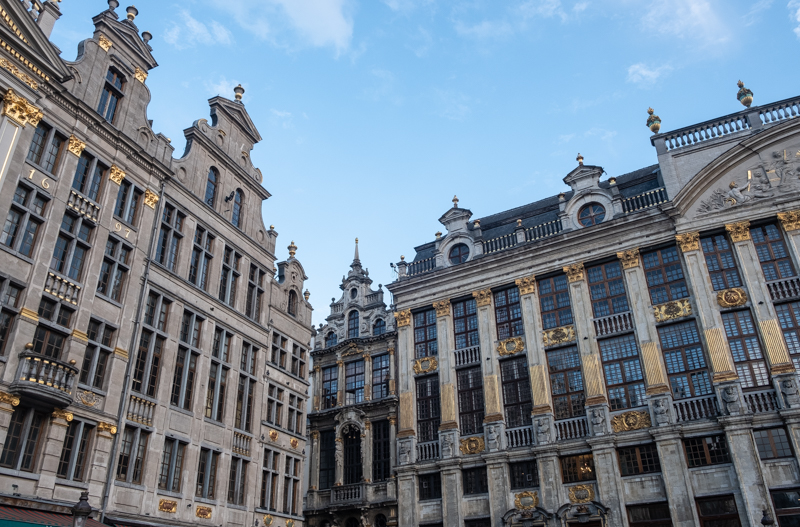 41_10
The graduation ceremony of the Free University Brussels (ULB, Université Libre de Bruxelles) had just been held on Grand' Place, and the centre was milling with happy young people, appropriately decked out. I walked to one of my favourite bars, Poechenellekelder, just opposite from the Mannekin Pis, sat down with my beer at an outdoors table, and watched the people: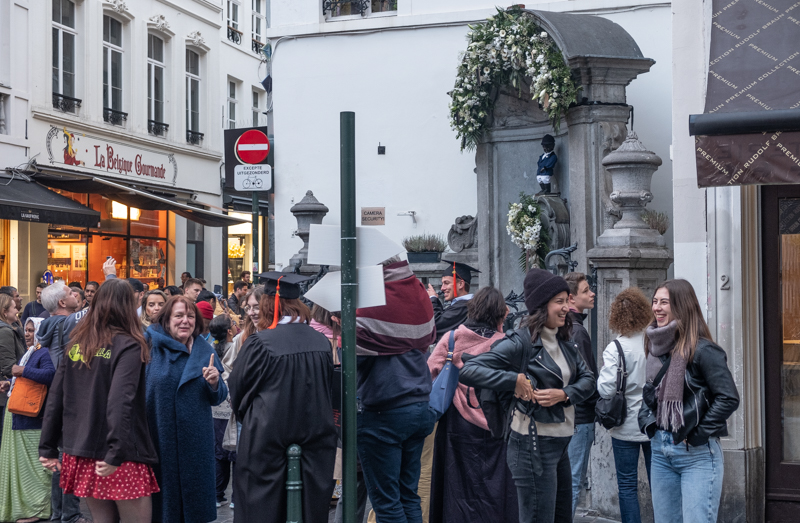 41_11
A selfie to remember: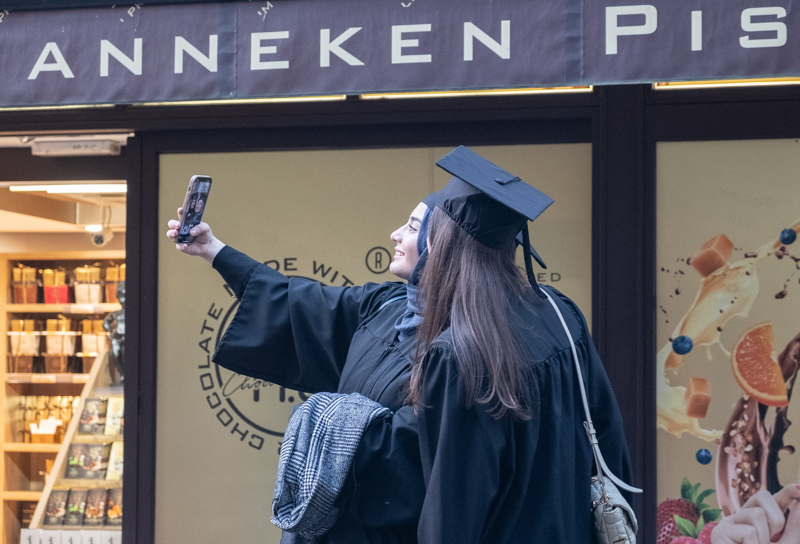 41_12
I walked back to Grand' Place, now even prettier with the lights on: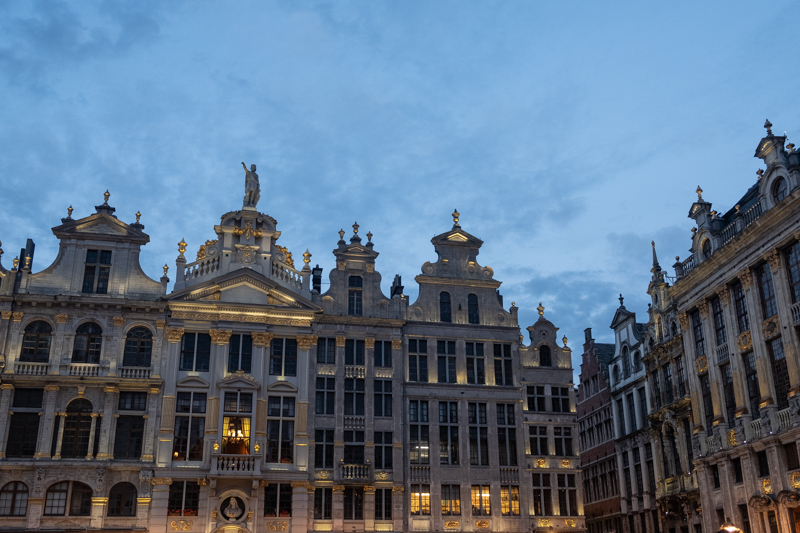 41_13
This is one of Brussels' classic restaurants, 't Kelderke, right on Grand' Place, serving traditional Belgian food such as stoemp or waterzooi. I went there for dinner and as always, was not disappointed: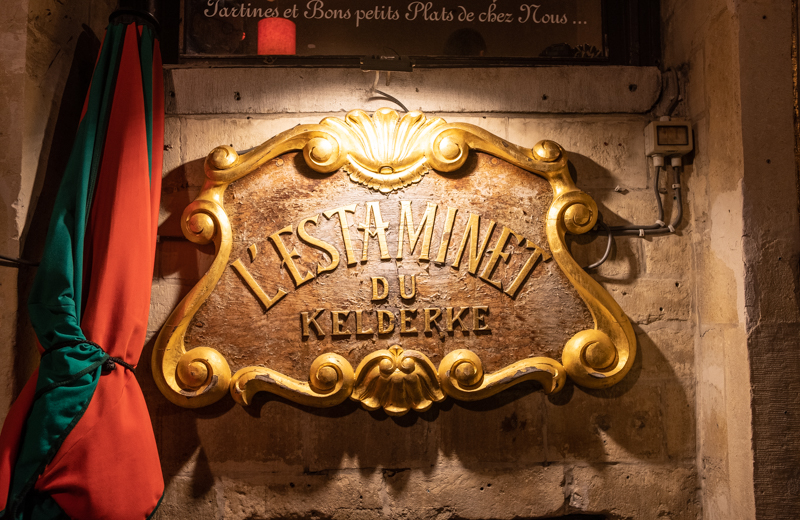 41_14
After dinner, a last look at Brussels City Hall: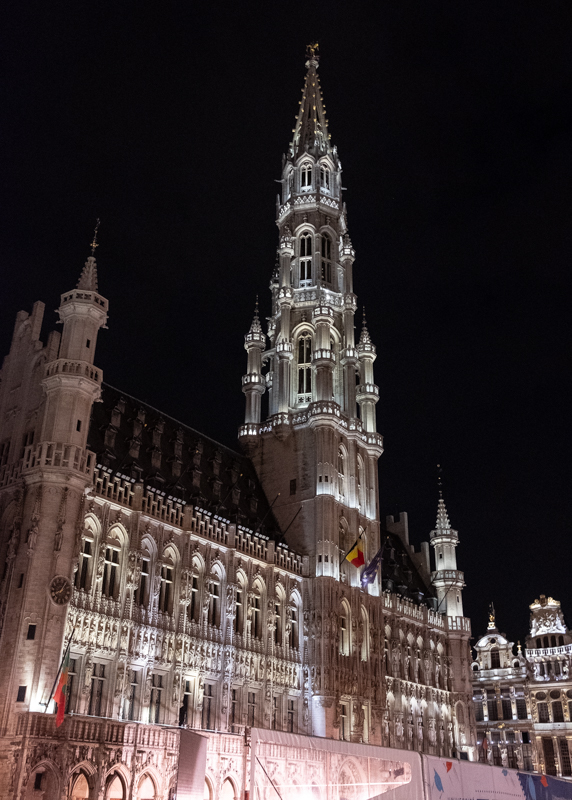 41_15
Thursday morning it was time to work. This is the room where our event was going to be held: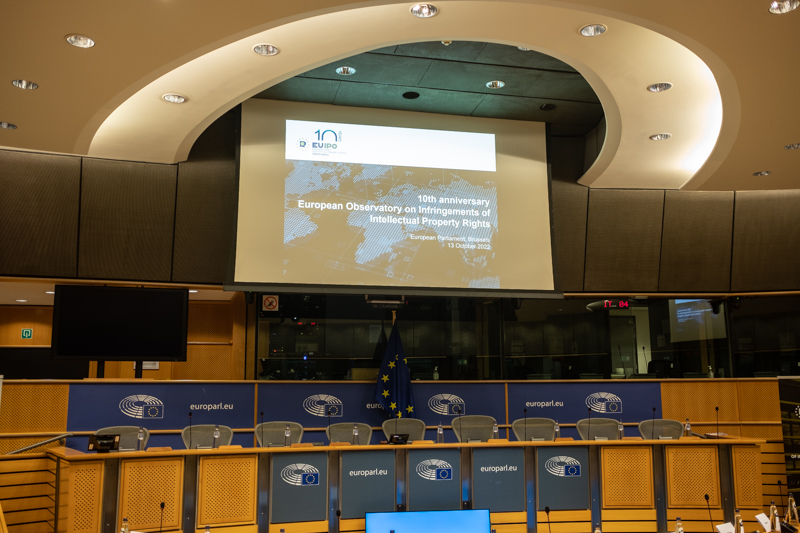 41_16
My colleague Nicolas talking to a technician to make sure everything is ready: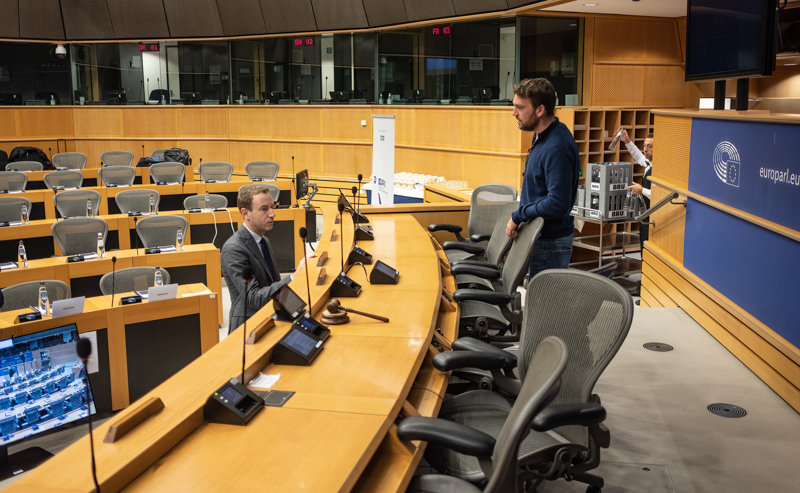 41_17
Also important that those of us on the podium are seated according to protocol: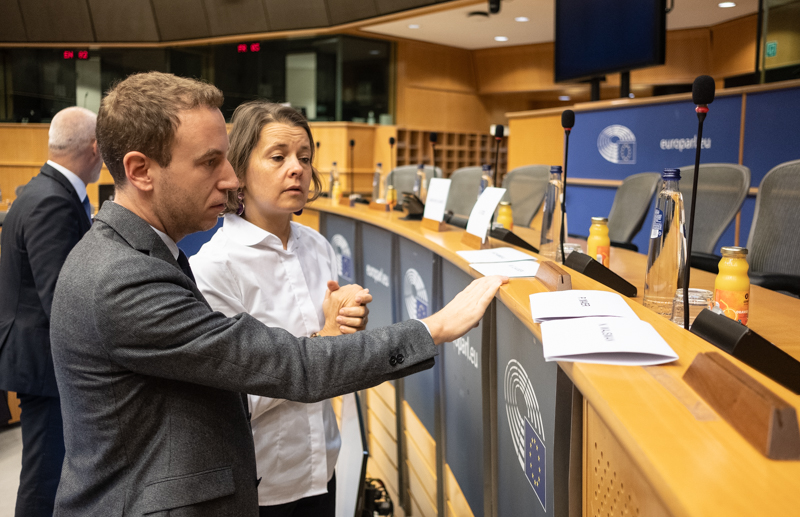 41_18
My view from the podium. The room is beginning to fill up: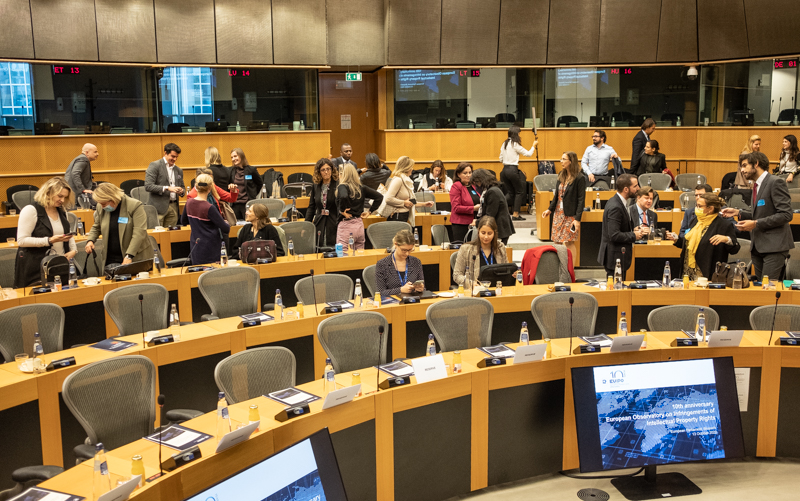 41_19
No photos from the event itself, I was busy giving my presentation and answering questions. Afterwards, I walked back to my hotel, picked up my luggage and headed for the airport. My last picture from this trip was this reception centre for Ukrainian refugees, something one sees in many European cities these days: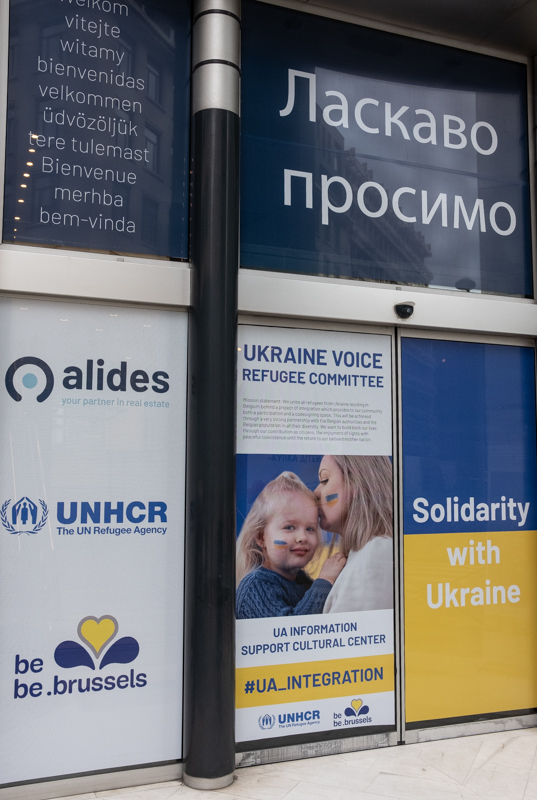 41_20
I arrived back in Alicante around 5 p.m., in time to have birthday dinner with my sister. My wife decided to violate one of the main rules of Spanish cuisine and made paella for dinner (normally, paella is never eaten in the evening, only at lunch, and restaurants that have it on the dinner menu are those that cater to Northern European tourists):

41_21
Then time for some presents. My sister is now 77 but she is keeping well: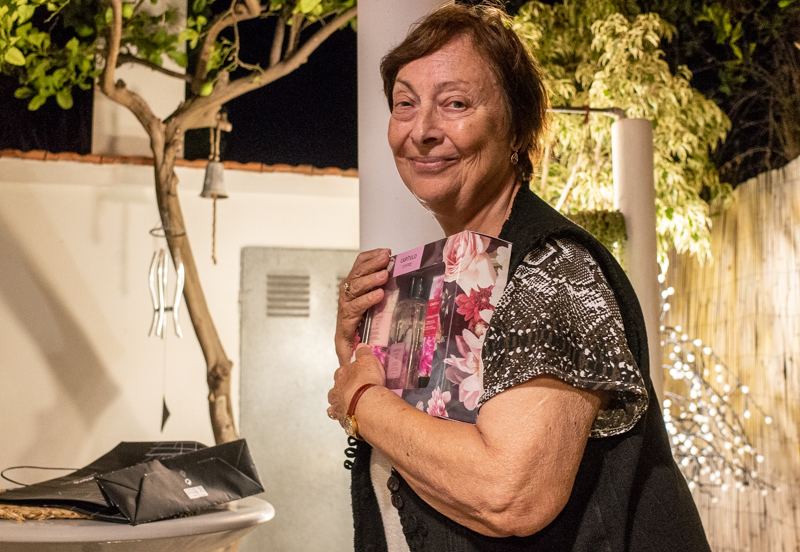 41_22
On Saturday we walked around the centre of Alicante a bit: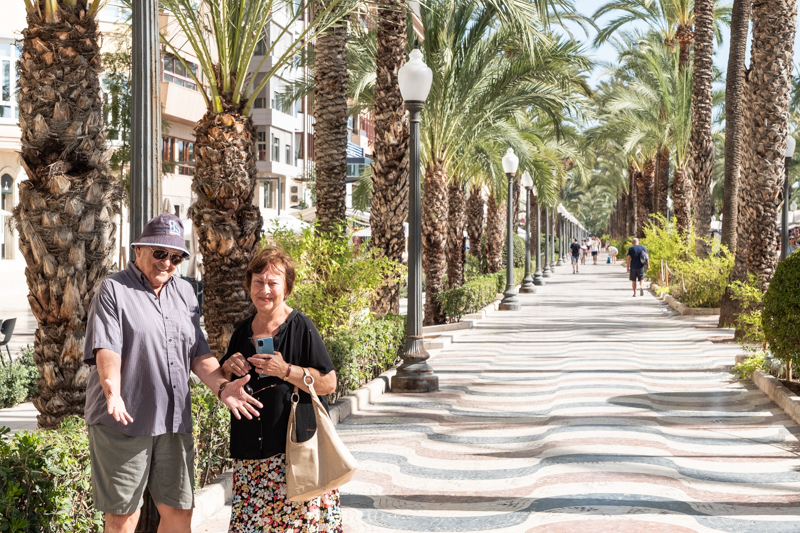 41_23
A typical Spanish scene. Children playing at a café on the Esplanada de España, while their parents are having a drink at one of the tables: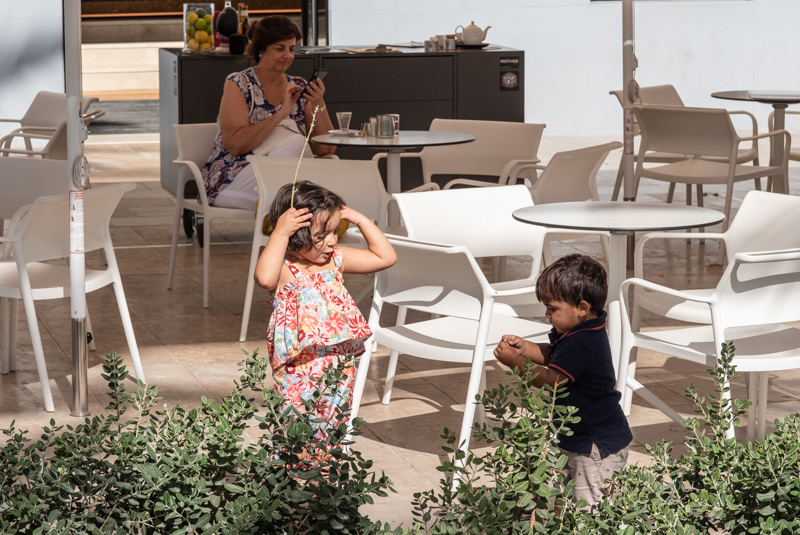 41_24
Some wall art: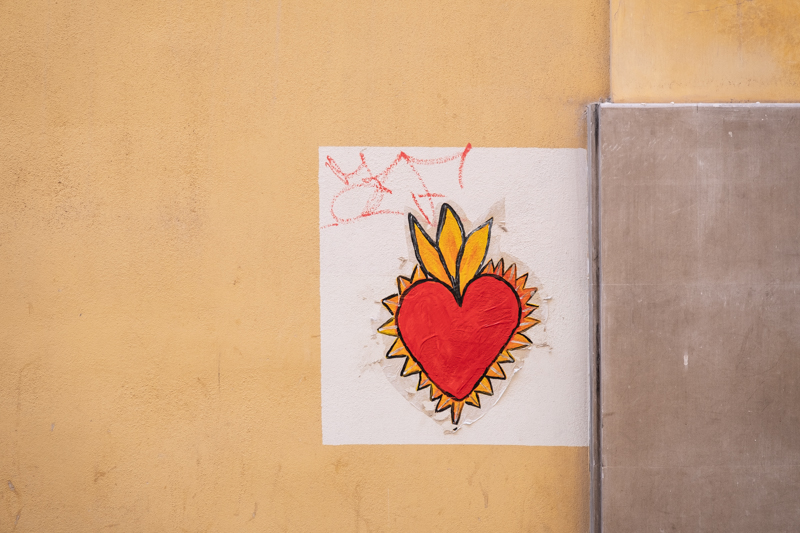 41_25
I took them to Malatesta, my favourite watering hole: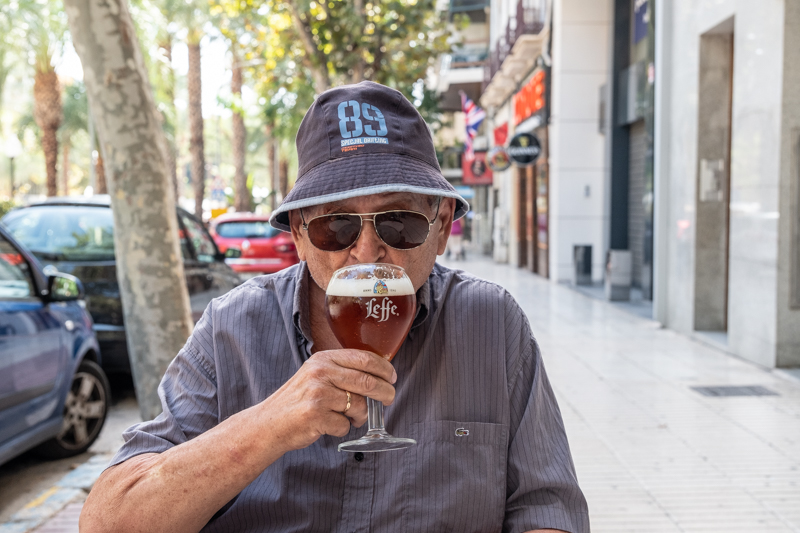 41_26
Local fauna, perched on the Duvel (strong Belgian beer) sign outside Malatesta: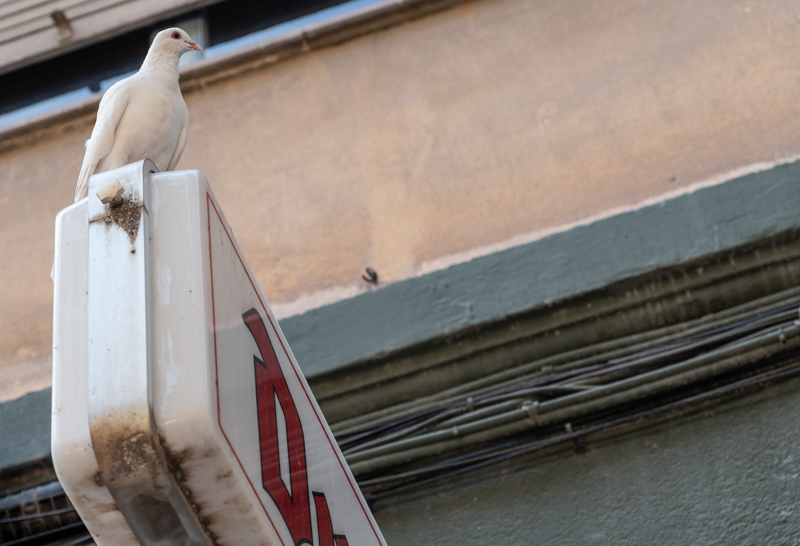 41_27
Sunday was the last day of my sister's visit, she and her husband were flying back to Poland in the afternoon. But I wanted to make sure they enjoyed this day, so in the morning we drove to Carrasqueta mountain pass, one of my most challenging cycling routes. We stopped at Venta Teresa for a drink, something I always do when I cycle there: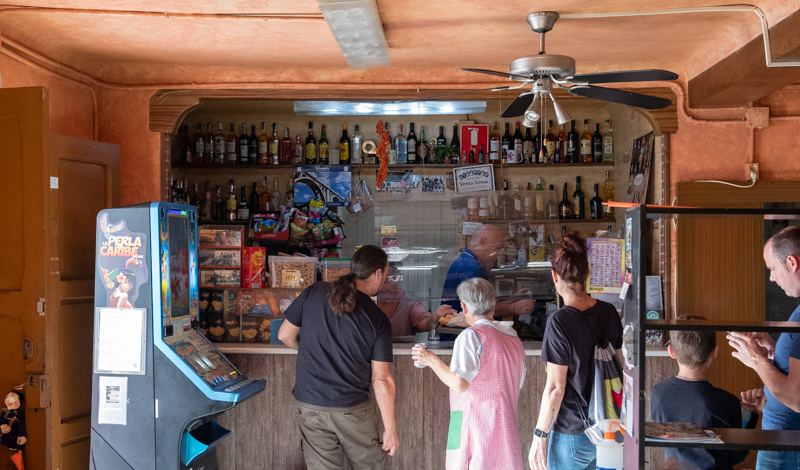 41_28
The weather was nice, so all the outside tables were taken: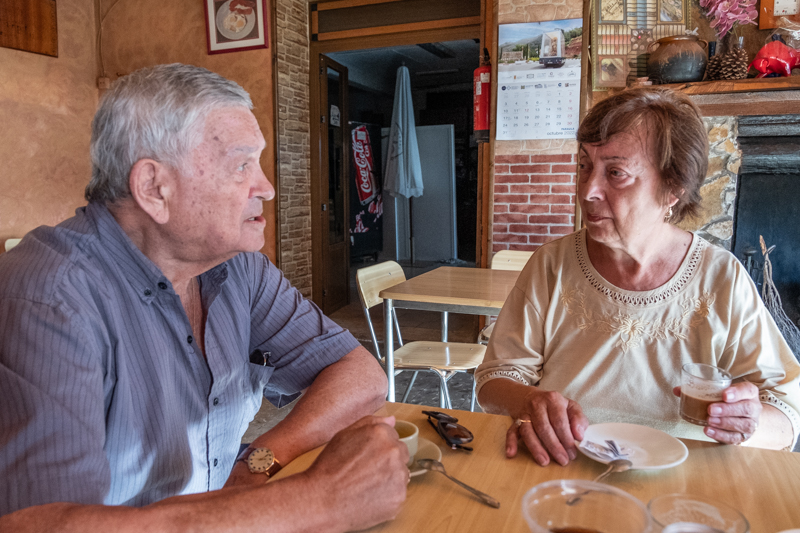 41_29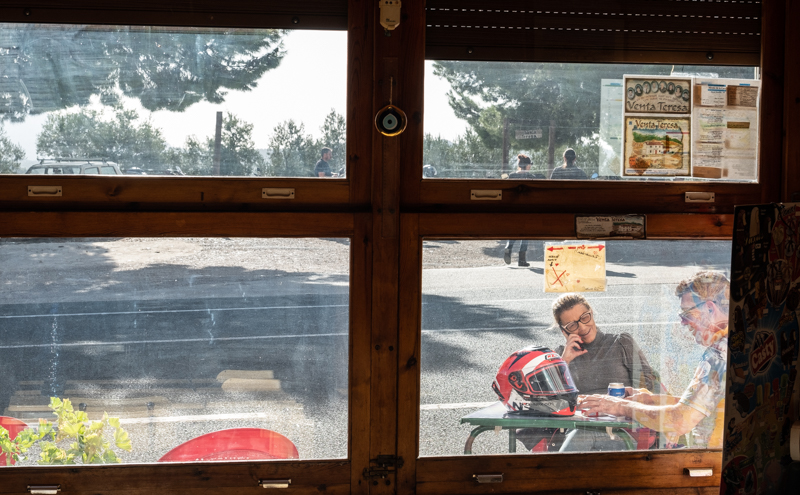 41_30
The family that owns Venta Teresa have a sense of humour, as evidenced by this "menhir space" in their parking lot. For those who do not get the joke, google Obelix: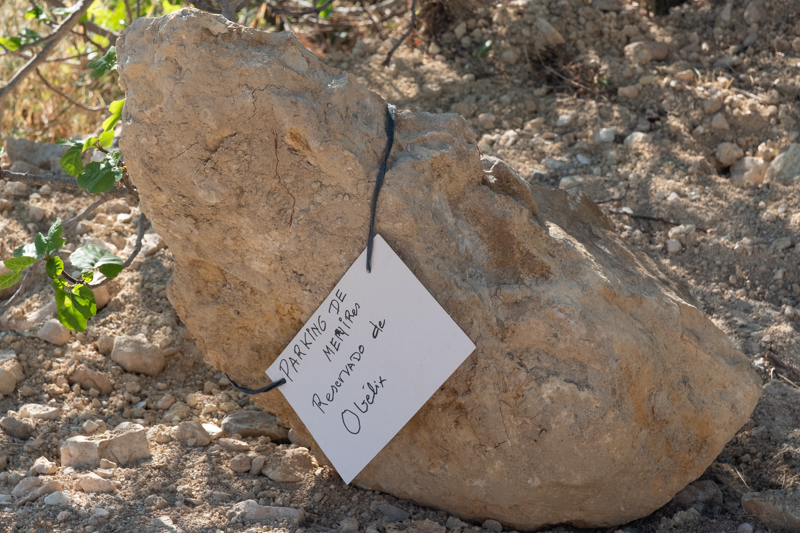 41_31
My brother-in-law enjoying the view from Venta Teresa. The restaurant is at about 750 meters altitude: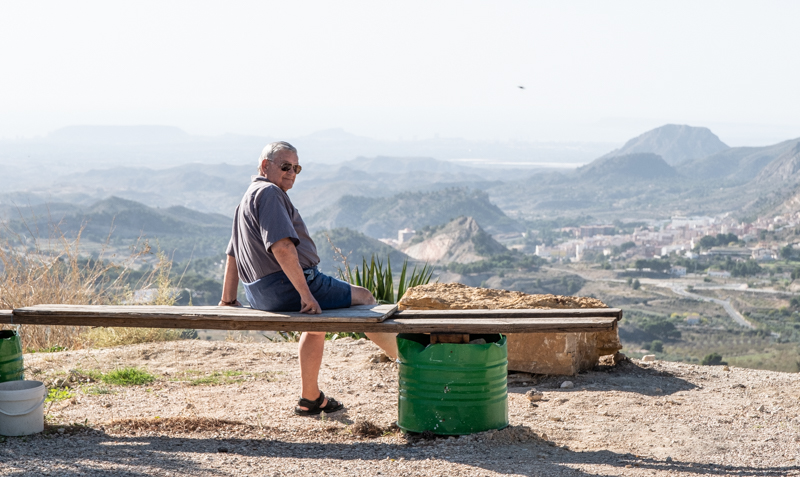 41_32
Finally, we arrived at the Carrasqueta pass (altitude 1024 m) and my sister, brother-in-law and daughter posed for a portrait: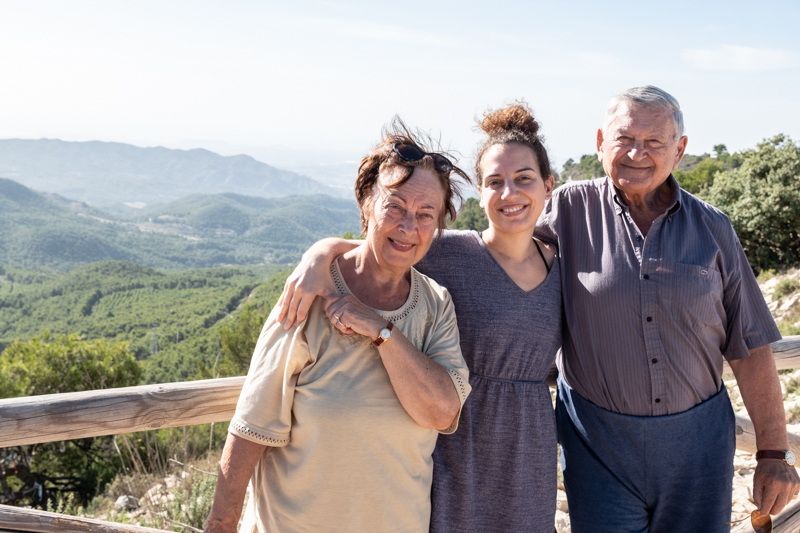 41_33
A bit further up from the Carrasqueta parking lot there is a small hotel and restaurant with a beautiful view of the mountains. Monica wanted a picture on this bench; the inscription reads "next stop, the clouds":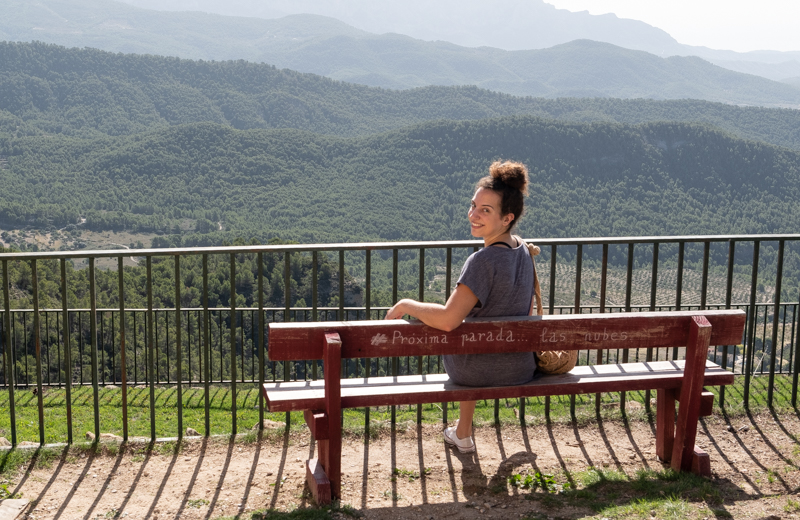 Then we drove home, ate lunch, and I drove my visitors to the airport.