Lots of images this week, it was a week of rich picking, photographically speaking. The first 10 images are of my usual "slice of life" variety, made mostly around my neighbourhood. The other 11 are from a very special event that I had a chance to witness on Wednesday afternoon.
First the ordinary stuff.
Main
Father and baby wait at a table in a rest area along the A7 motorway while their women check out the food on offer (taken during a drive to Barcelona on Saturday afternoon):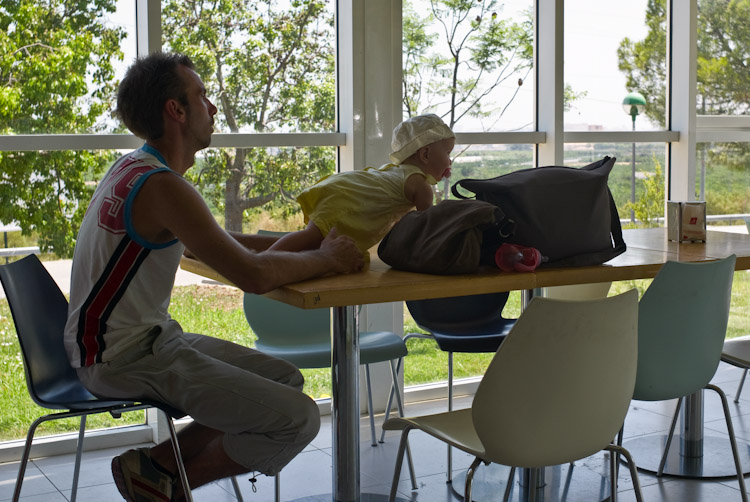 The alternates:
Alternate 1
Morning newspaper, Avenida Maissonnave, centre of Alicante: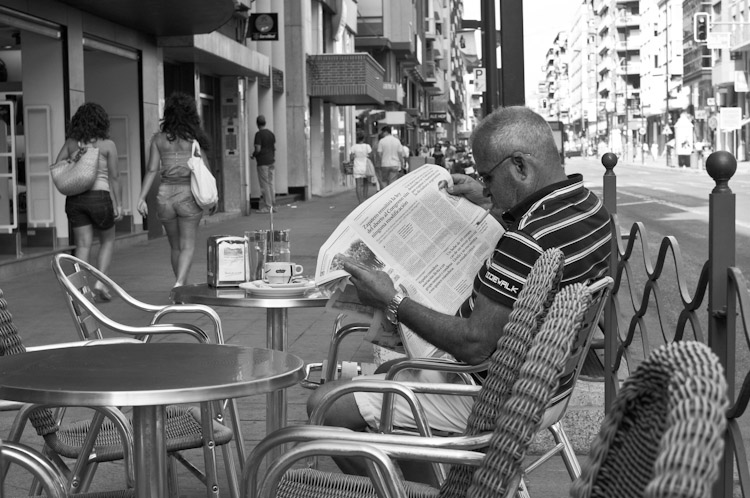 Alternate 2
Morning sunshine, Avenida Vicente Ramos near my home. I just liked the way the sun backlit the leaves:

Alternate 3
New life sprouts: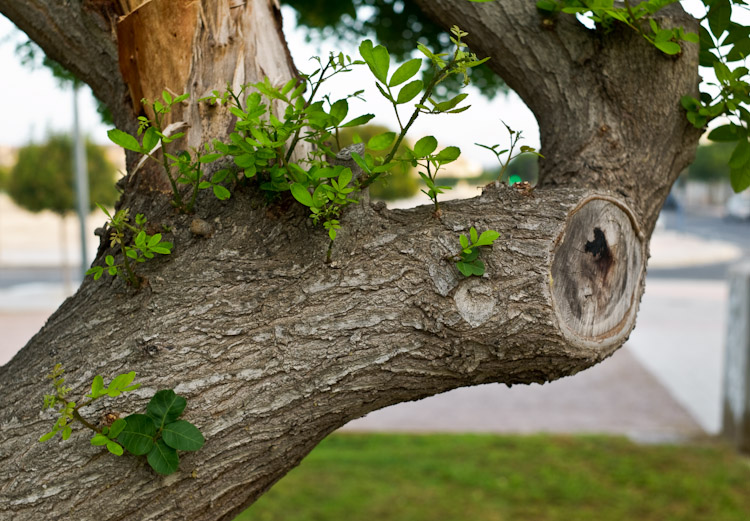 Alternate 4
Water is generally a scarce commodity in Alicante (although not this year, as the wet winter has left the reservoirs in good shape). It has not rained for almost 3 months now, so any greenery has to be watered. Normally drip irrigation is used, but sometimes it breaks: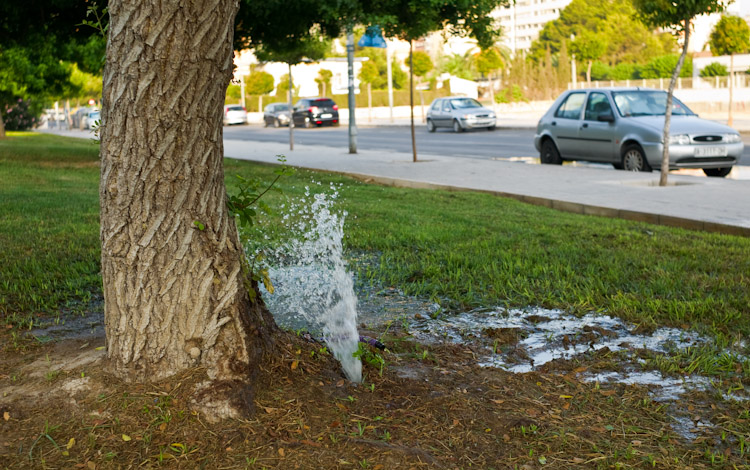 Alternate 5
This light pole does not need to be watered, but tell it to the dogs in the neighbourhood (including mine!):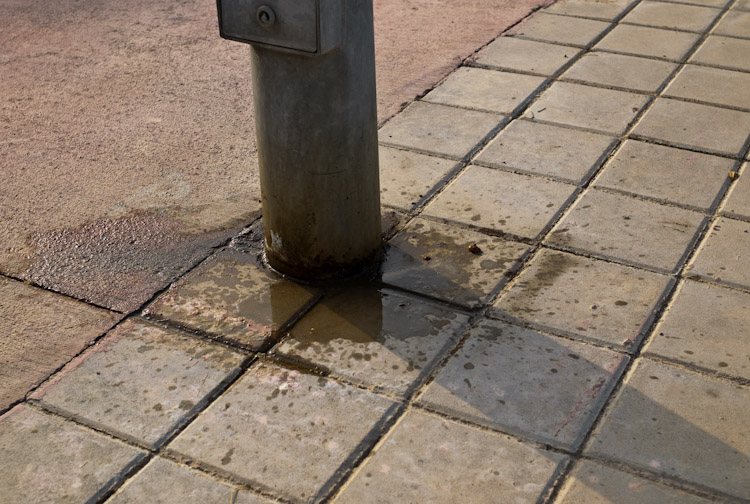 Alternate 6
Because this place is so dry, it is also dusty, both from the semi-desert around here, from the construction sites, and even sand from the Sahara gets blown all the way to Alicante. So once in a while the streets need to be hosed down: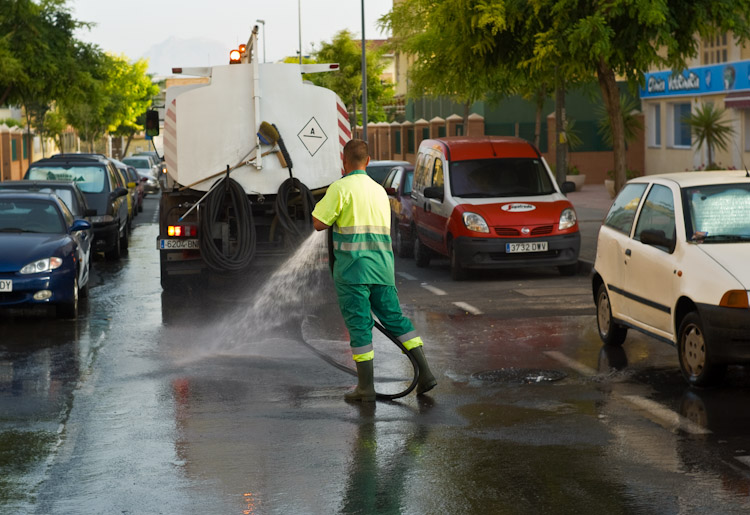 Alternate 7
Waiting patiently, but tail up and ready to wag when his human emerges from the pharmacy: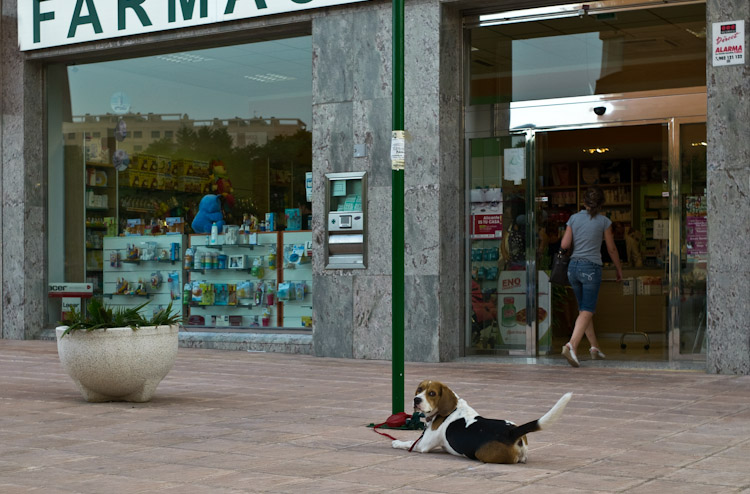 Alternate 8
On Saturday I was going to Barcelona to pick up my wife and daughter from a cruise. Since it was an overnight trip, I had to take Cheeta to the doggie hotel, something she actually enjoys since she loves playing with other dogs. This is how she travels; she is too crazy to just let loose in the car: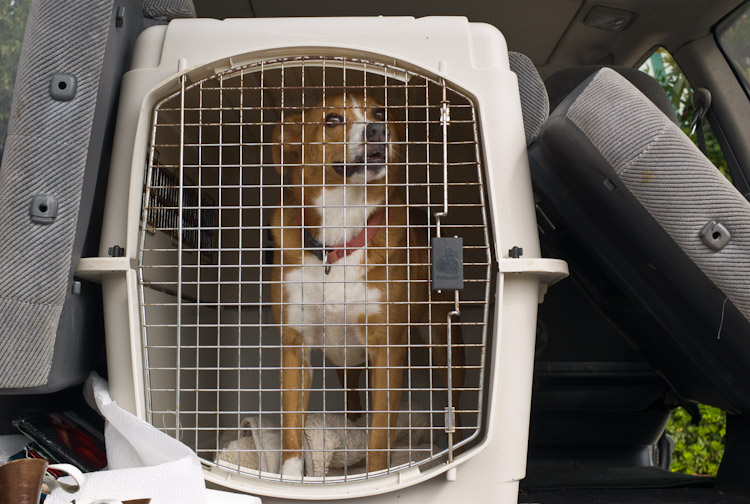 Alternate 9
The reception area of the doggie hotel, with the owner coming to greet me: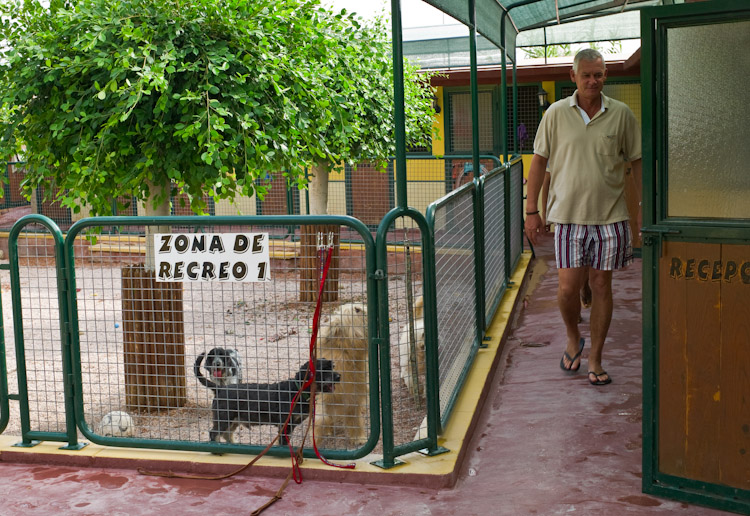 The remaining pictures are from Wednesday afternoon. One of my colleagues at work is a member of a diving club, Fundación Greenwich, which has as one of its main objectives to explore and catalogue the many sunken ships in the waters off Spain's Mediterranean coast. What they also do, however, is to work with an organisation that looks after people with Down's Syndrome, helping them find work and lead normal lives to the greatest extent possible. As part of the latter effort, the divers have been giving diving lessons to a small group. Back in March I went along to document an "exam" in a large swimming pool (see here). Now it was time to have their first dive in the sea.
Alternate 10
These are two of the diving instructors: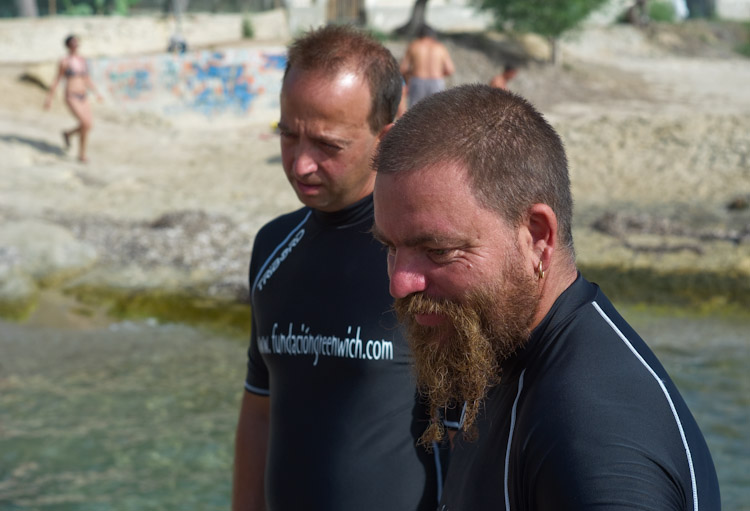 Alternate 11
Families and friends lined to up to look and to document the occasion: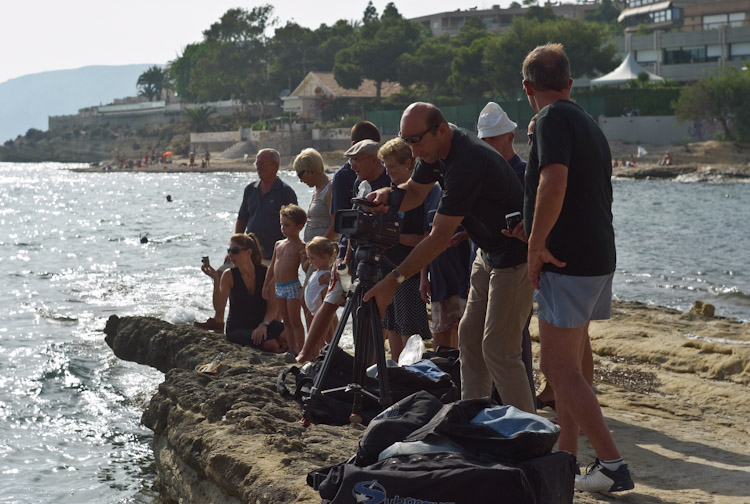 Alternate 12
The first two "niños" are in the water, making the final adjustments to the equipment. Each of them is with an instructor at all times during the dive: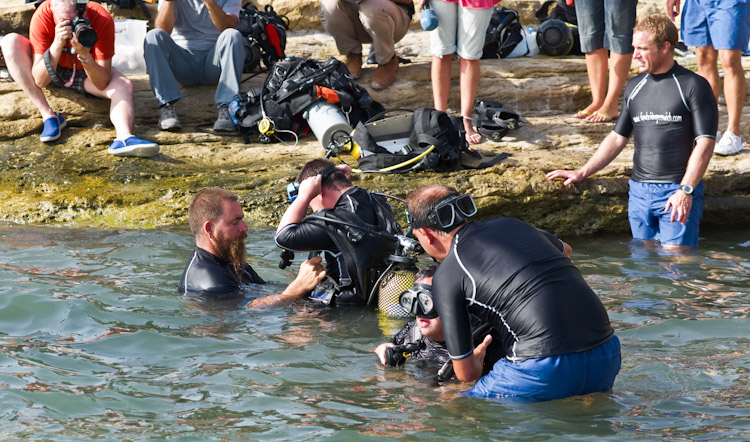 Alternate 13
Local TV was on hand to interview the "niños" and their families, here one of the fathers: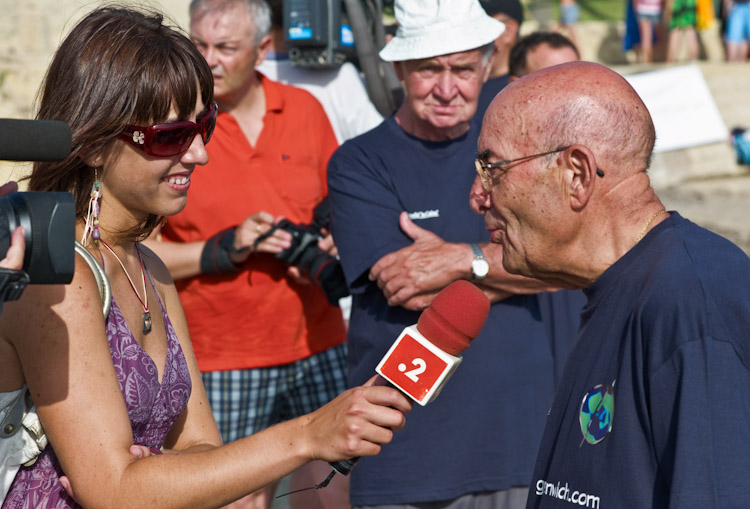 Alternate 14
My colleague Guillaume was interviewed as well. The foundation is of course very keen to get as much publicity as possible for their charitable work so as to elicit more support: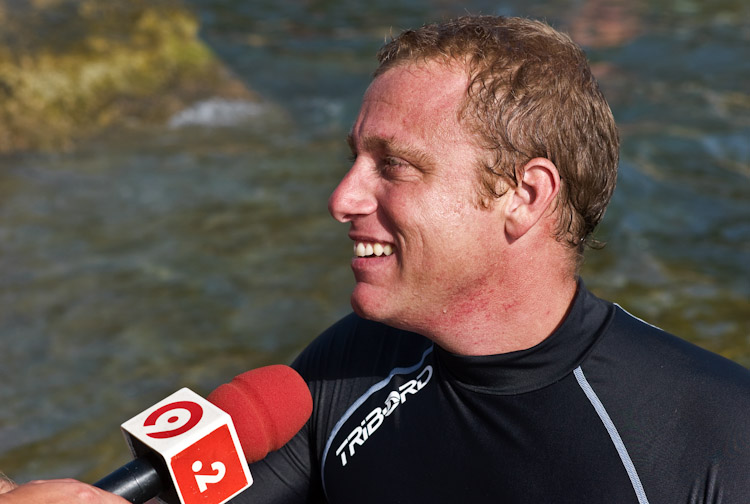 Alternate 15
A handshake in the water: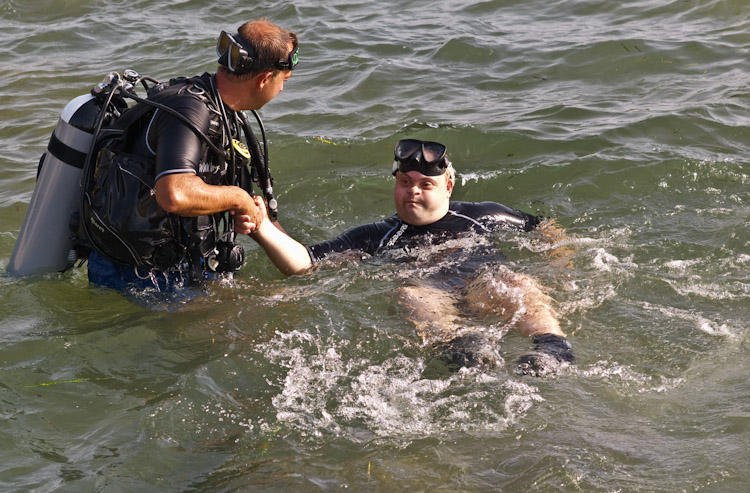 Alternate 16
The depth was only 4-5 metres, but for him it was a triumph: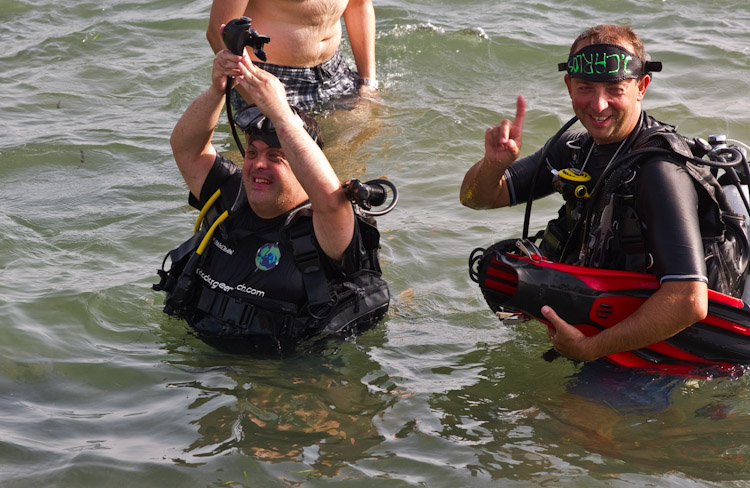 Alternate 17
A hug from his father. My colleague Guillaume tells me that moments like these is what makes it all worthwhile for the diving instructors:

Alternate 18
Another hug just about to happen: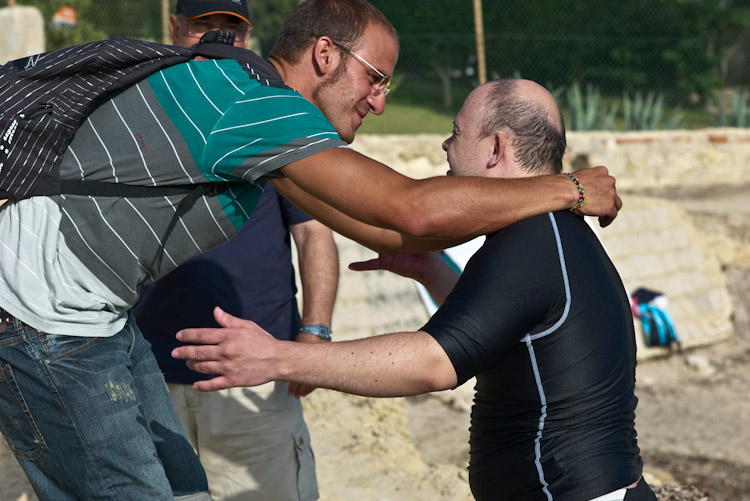 Alternate 19
Diplomas get handed out afterwards: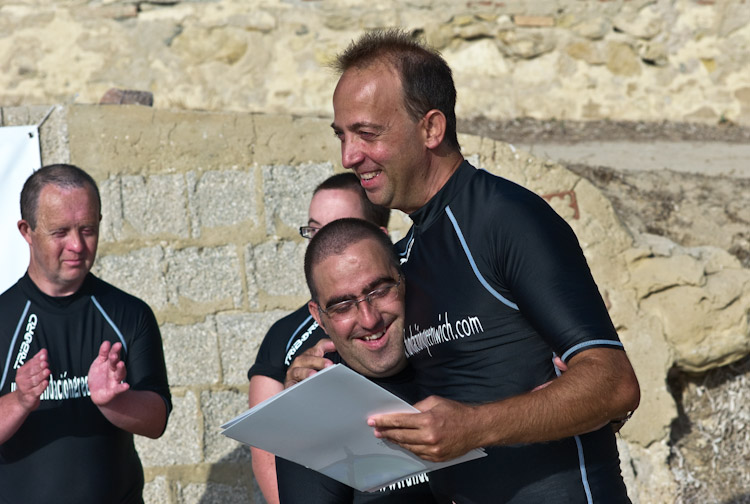 Alternate 20
…and those diplomas are certainly appreciated by the recipients: