My first full week back after the trip to Denmark was a nice one, because I only worked Monday and Tuesday. Wednesday, 1 May, was the International Day of Labour, and Thursday was a local Alicante holiday called Santa Faz. And like every sensible person in the office, I had taken Friday off to "make the bridge" and create a 5-day weekend. So lots of time to take pictures, cycle, and enjoy life. From a technical point of view this blog is also noteworthy in that the photos were taken with 4 of the 5 cameras that I use on a frequent basis: the Leica M8, the Fuji X-T2, the Ricoh GRII, and the Panasonic GF1.
18_1
On Sunday, we drove about 70 km north to the coastal town of Moraira, where our English friends from Switzerland have a holiday home. Whenever they are here, we usually get together at their place; we have known them since we lived in Zurich from 2000 to 2003. Their apartment is on top of a hill above the town. This is the view of Moraira from their balcony: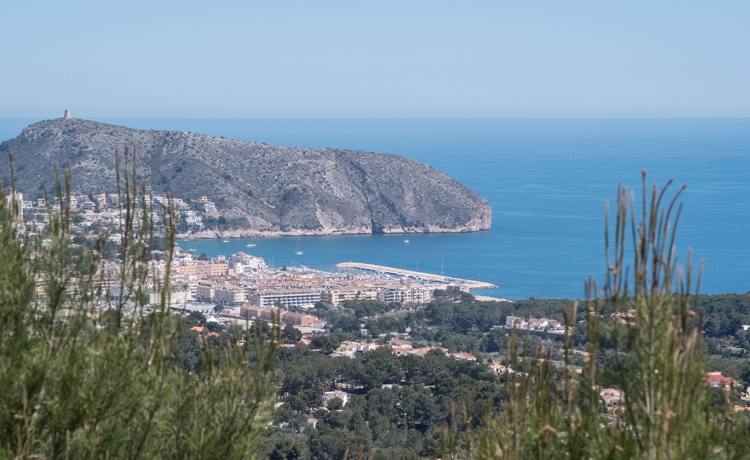 18_2
A view of a neighbouring development on a hill: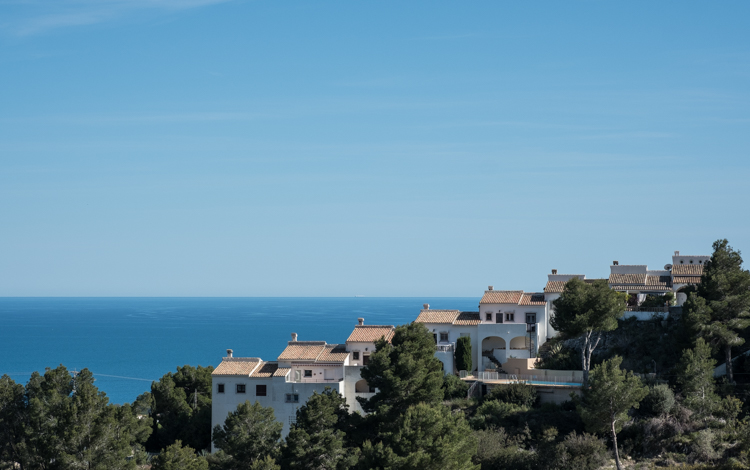 18_3
An informal portrait of Georgina: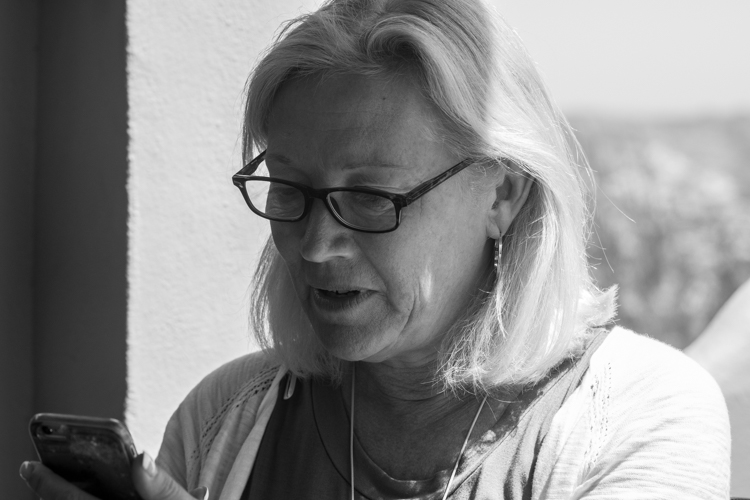 18_4
And one of her husband Michael: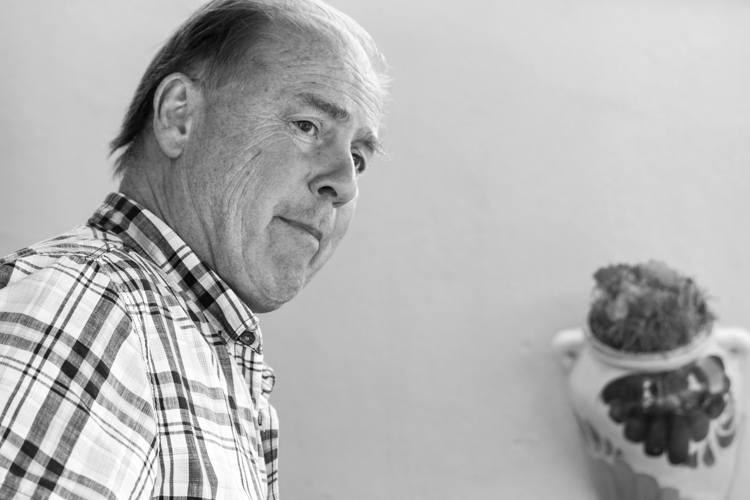 18_5
A snap from my kitchen doorstep early in the morning. Fortunately for the snail, it was not close to lunchtime, so I left it alone and a while later it had moved on: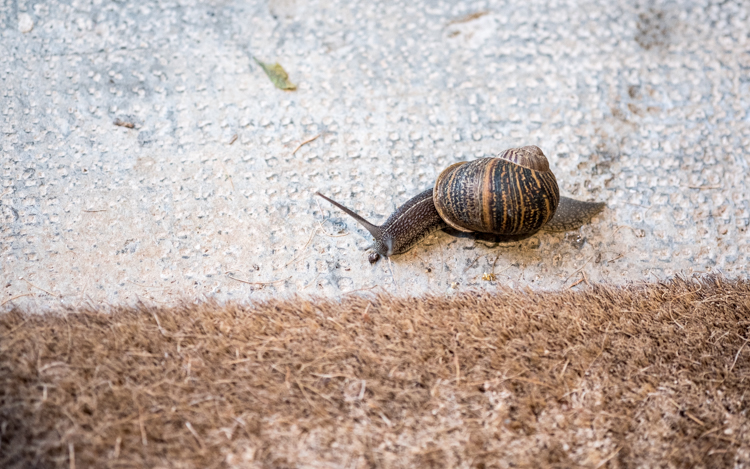 18_6
Now for some cycling pictures. A herder with his assistants near Busot: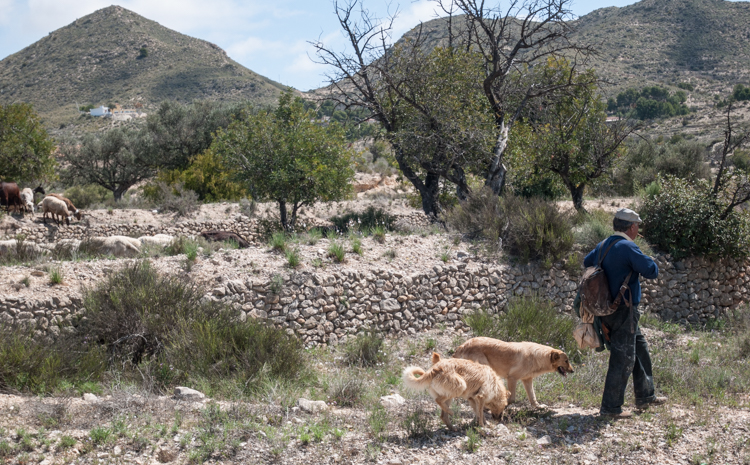 18_7
His flock: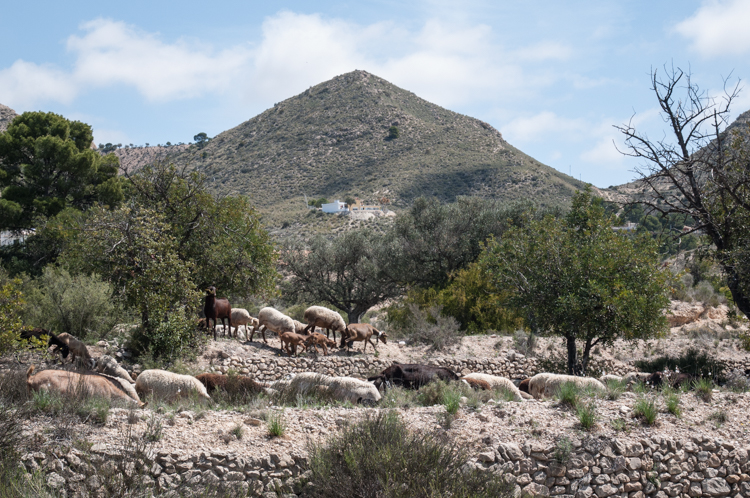 18_8
Two adventurous goats: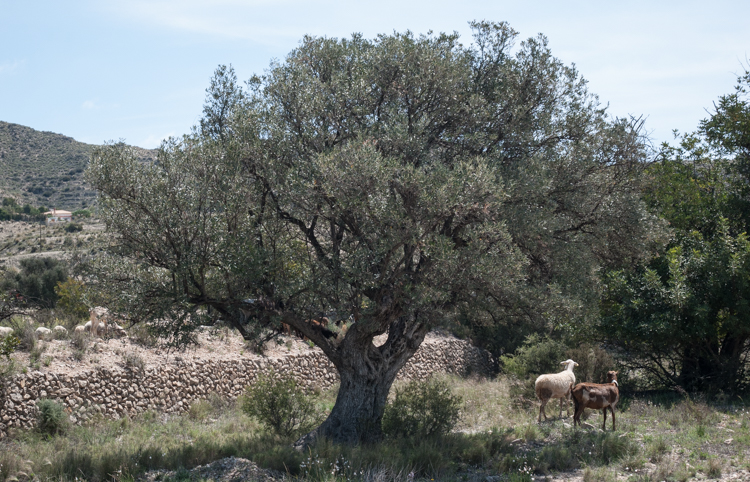 18_9
A standard rest stop on one of my habitual cycling routes. This road runs along a motorway, sometimes passing under it. This spot is 26 km from my house, and I always take a breather here because right after the underpass that is a 1 km climb with a 10% average gradient: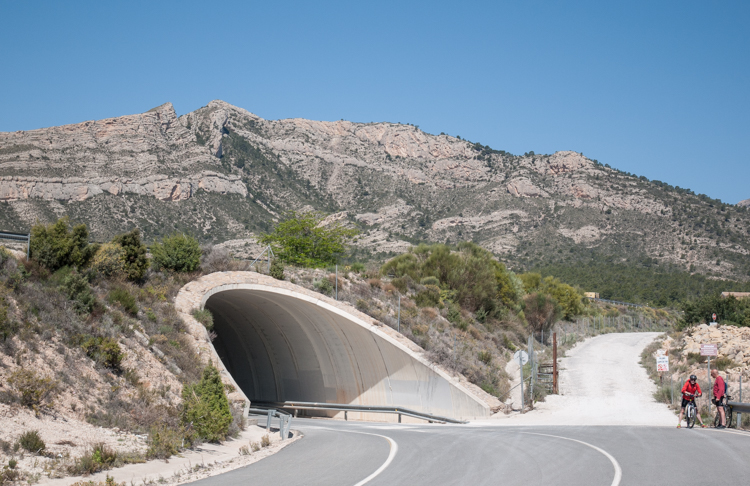 18_10
A few km later, I am on my way down to the town of Agost. The road is very nice and is popular among cyclists: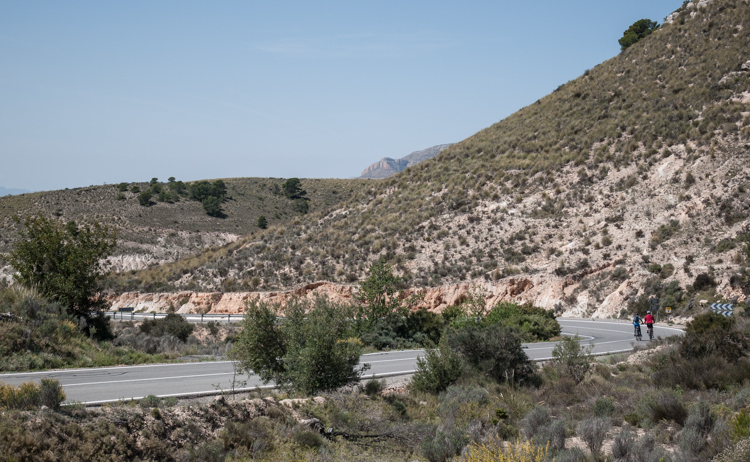 18_11
For those cyclists who prefer a car-free road, there is a very nice one in the same area, called Vía Verde de Maigmó. It is a hard-packed gravel path, running 22 km between the towns of Agost and Alcoi. It used to be a railroad track, but it had been disused for many years and was then converted to recreational use. There is an extensive network of such "green roads" all over Spain because many local railroads have shut down as the countryside has become depopulated during the past few decades. This particular track includes six tunnels like this one: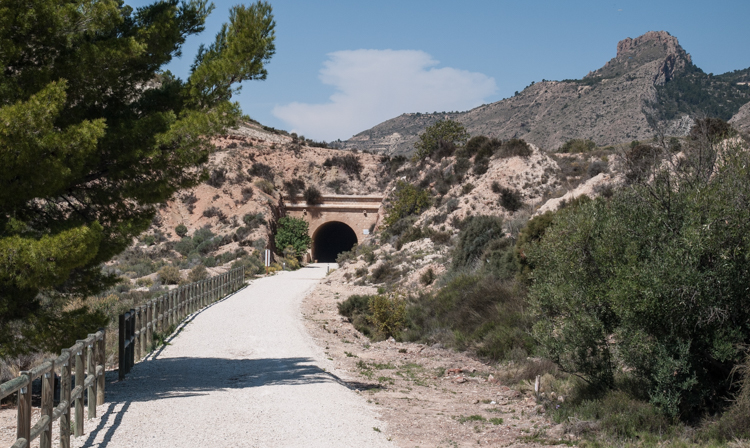 18_12
A family out enjoying the green road. One of the nice things about these tracks is that since trains cannot climb steep hills, the ascents are mild and manageable for just about everyone in semi-decent shape: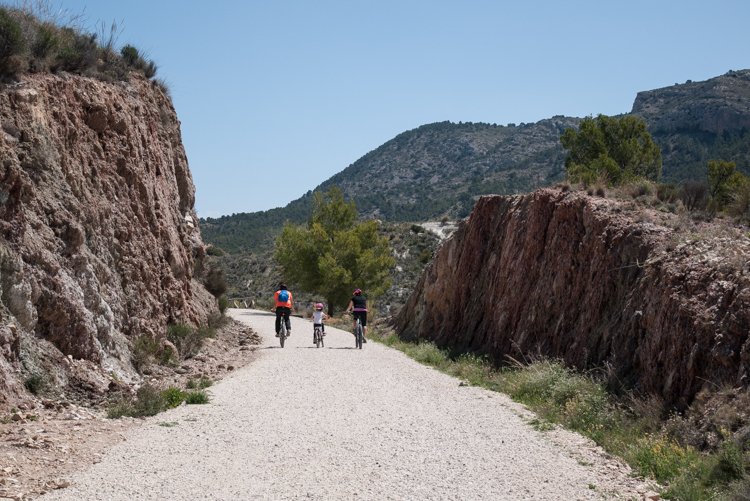 18_13
Agost is a sleepy town on a weekend afternoon: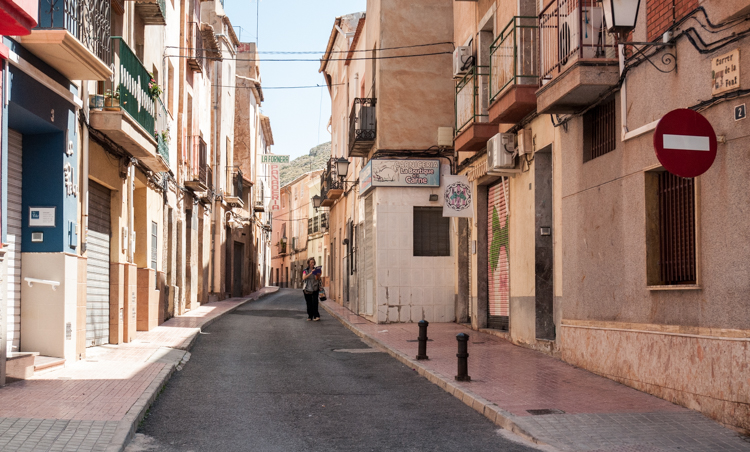 18_14
A blast from the past on this May Day; a poster for the Spanish Communist Party which was a powerful force in the 1970s and 1980s, part of the reformist "Eurocommunism" movement, but today exists only as a small religious sect with no representation in parliament: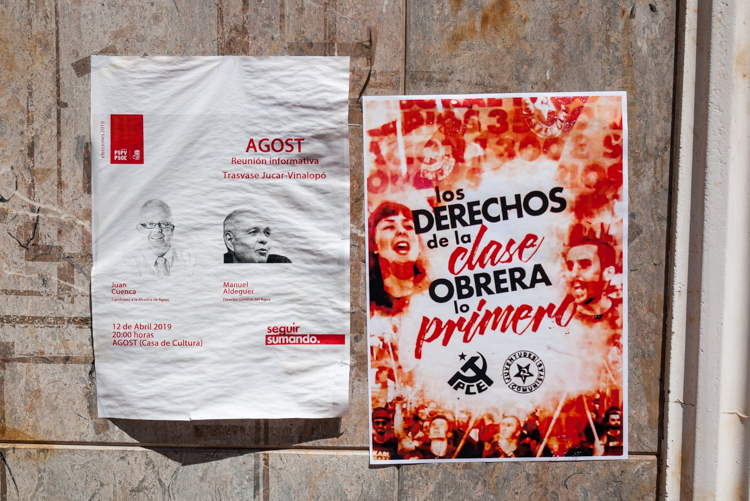 18_15
Thursday was Santa Faz, a local holiday in Alicante, held on the second Thursday after Easter each year. The main event is a huge procession, an 8 km walk from a basilica in the centre to a monastery in the suburbs which houses a piece of cloth allegedly used to wipe Jesus's face on the way to the cross. How this ended up in a monastery outside Alicante is unclear (as is its true provenance). No matter; it is a major local event, and well over 100,000 people participate in the procession. Here it is, about midway, along a busy arterial road which is closed to cars this one day a year:

18_16
I was on my bicycle and moved up and down along the procession, which allowed me to pick out interesting people like these two old-timers: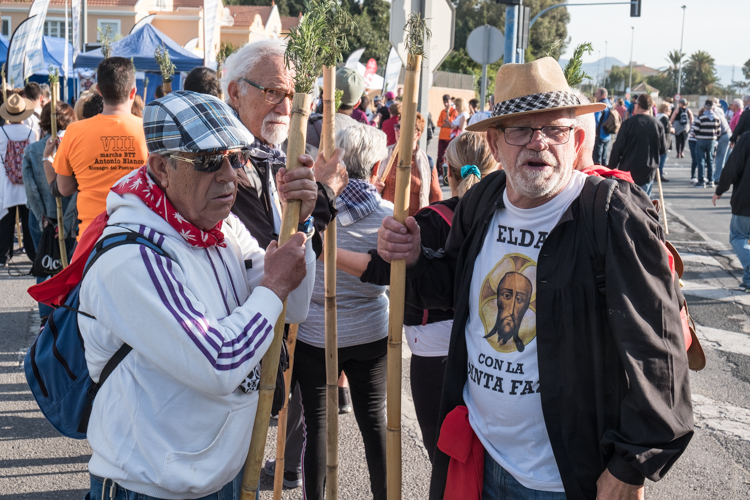 18_17
The more devoted pilgrims walk barefoot: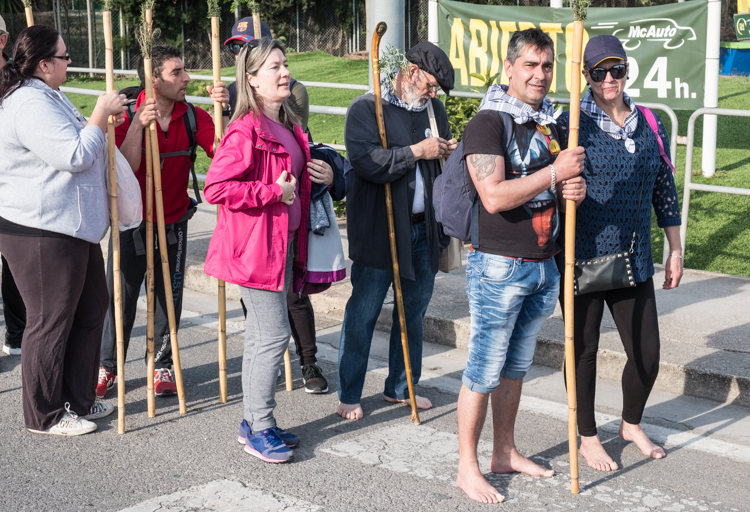 18_18
The square in front of the monastery, awaiting the appearance of the relic and the subsequent Mass: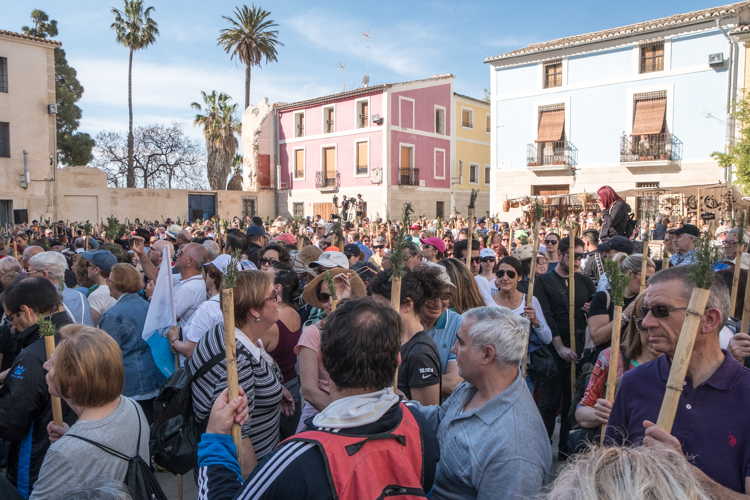 18_19
The relic is brought out, and Mass is said: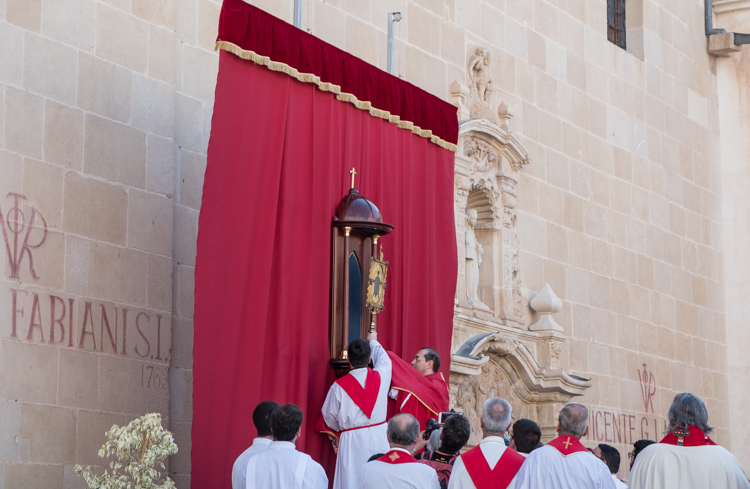 18_20
It is fair to say that many (probably a majority) of the pilgrims have non-religious motives; for them, this is just a tradition and a day to have some fun. So rather than staying for the Mass, they fill the local bars: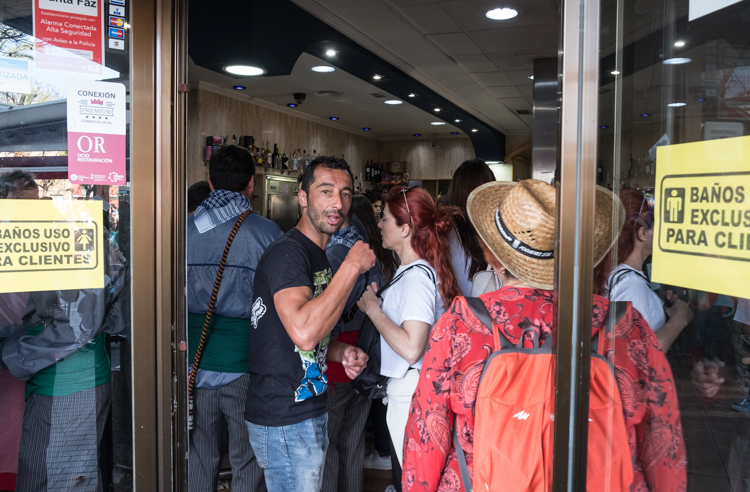 18_21
The inevitable consequence of beer intake: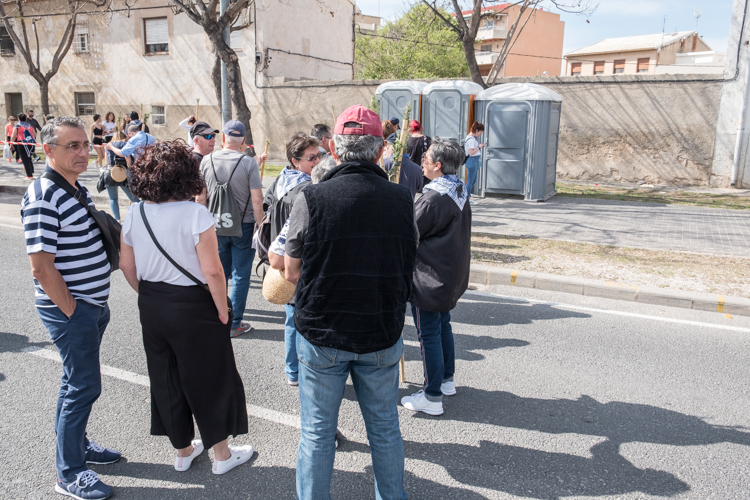 18_22
Many people bring dogs along for the walk, and like many humans, dogs sometimes have problems with their feet. This one was OK though, once his human had tended to his paw: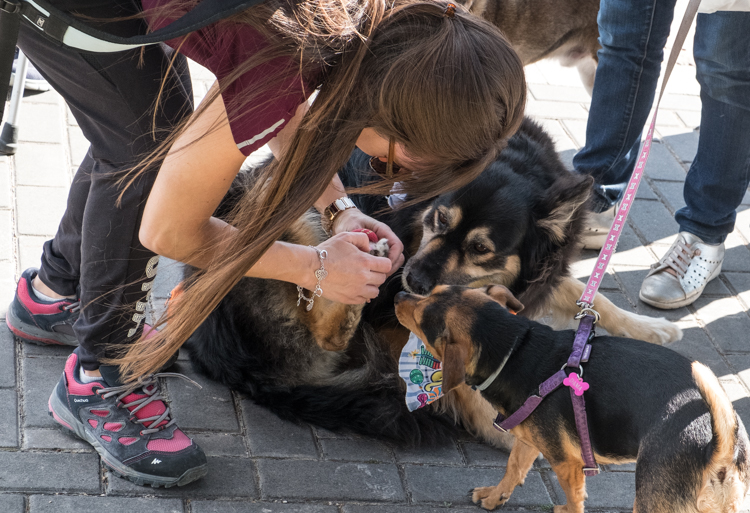 I have an entire gallery of Santa Faz photos here.
18_23
On Friday it was time to hit the mountains again on the bicycle. This time I cycled up to the entrance of a cave complex called Cuevas de Canelobre. It is not that far, about 22-23 km from my house, but the climb to get there, about 2.5 km long, is quite sharp with 8-9% average gradient and sections up to 13%. So the rest at the top is well-deserved. This time, when I looked up at the face of the mountain rising above me, I saw a guy coming down on his ropes. I got scared just looking:

18_24
And then a selfie with the Alicante coastal plain as background. Not the most flattering of portraits but I was satisfied with my efforts on this ride: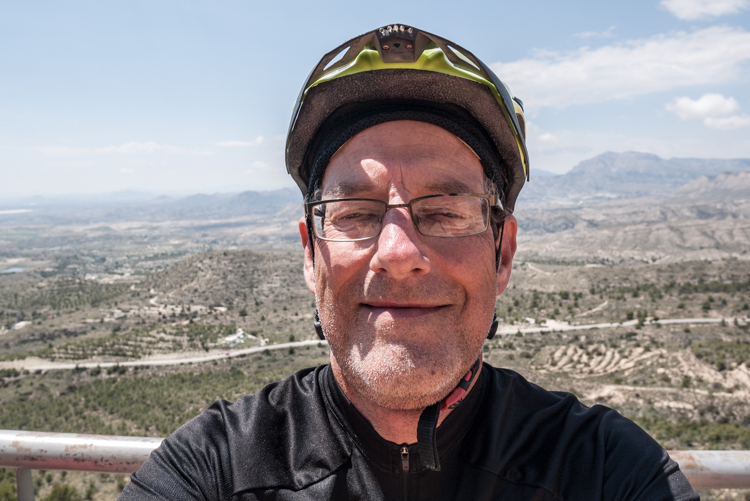 18_25
Friday afternoon was very windy, so not many people were lounging on the beach, but the windsurfers had a good time:

18_26
In the evening, as I do almost every Friday, I walked to Tutti Pizza & Pasta for dinner, and recorded the scene with my camera while waiting for my order: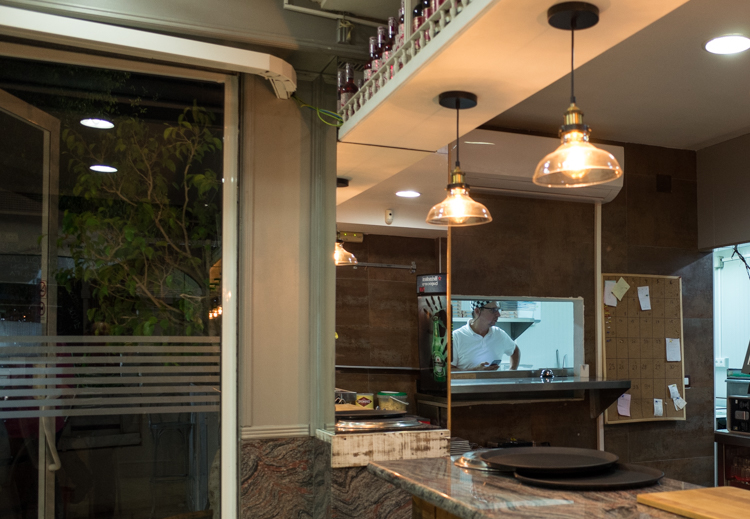 18_27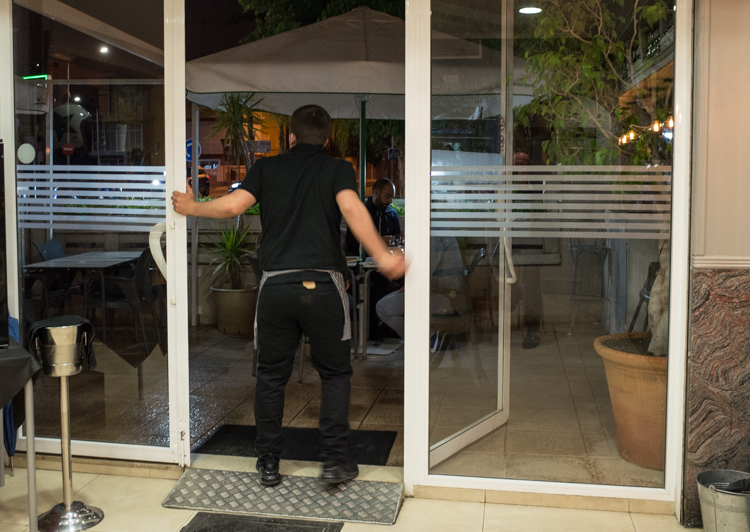 18_28
On Saturday morning I went to the Mercado Central in the centre to buy some stuff and, more importantly, to walk around a bit while exercising my camara. The square behind the market hall was full of people having their breakfast: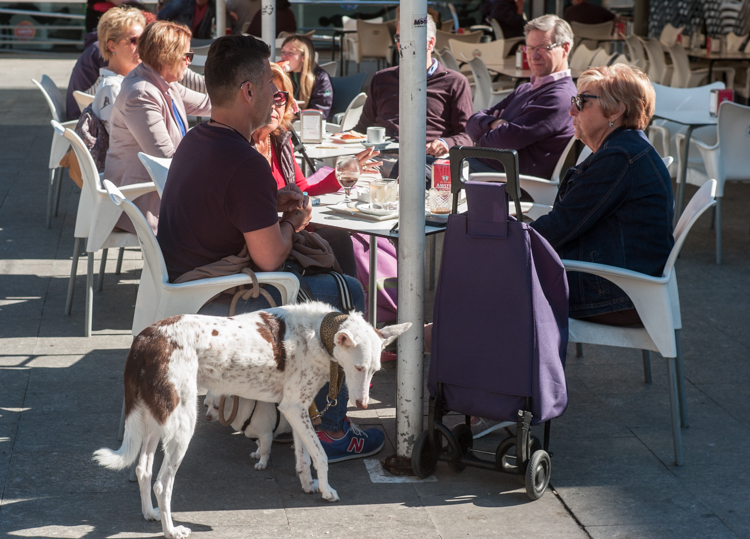 18_29
Then I went inside, starting with the fish and seafood section: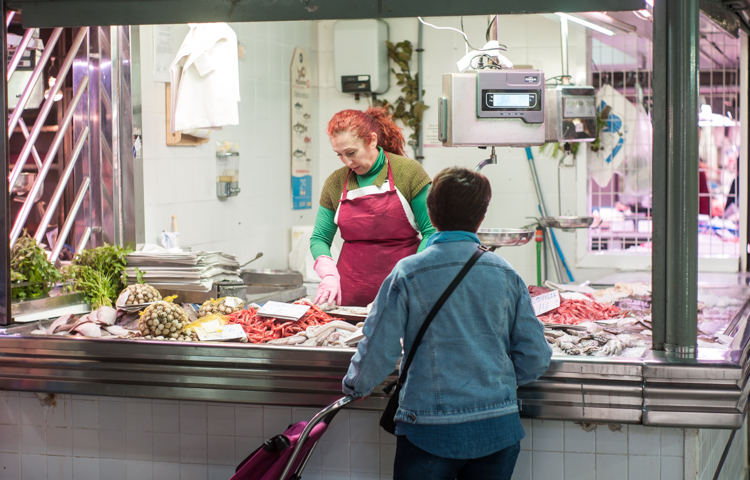 18_30
I love watching the fishmongers at work:

18_31
Then on to fruit and vegetable section: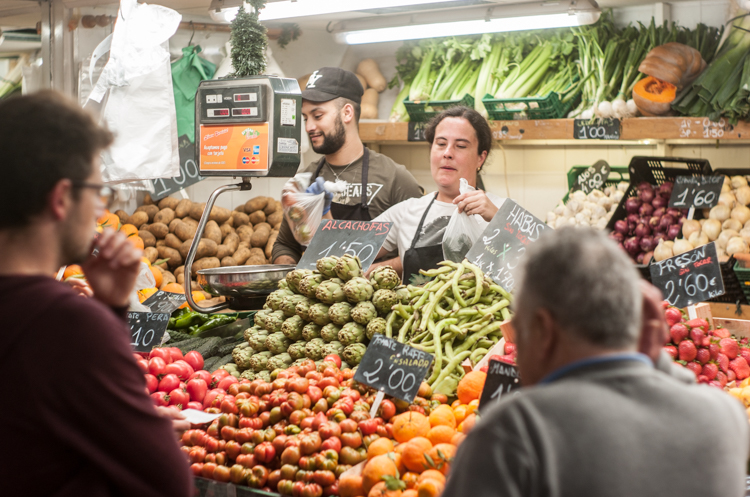 18_32
Super-sized leeks: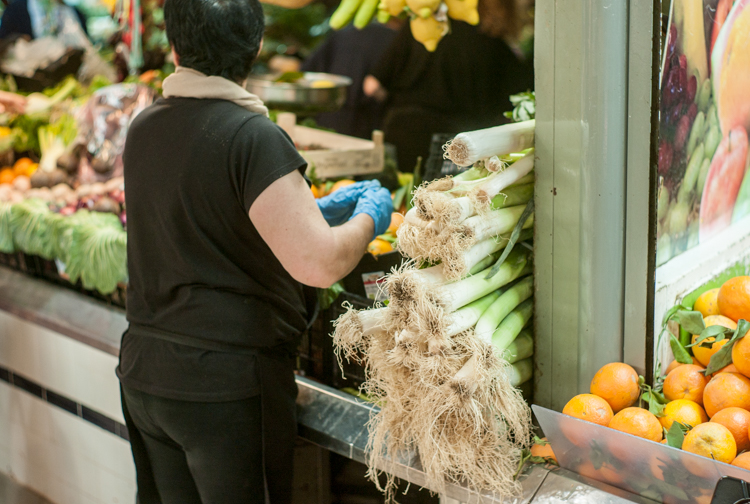 18_33
And finally, the meat section: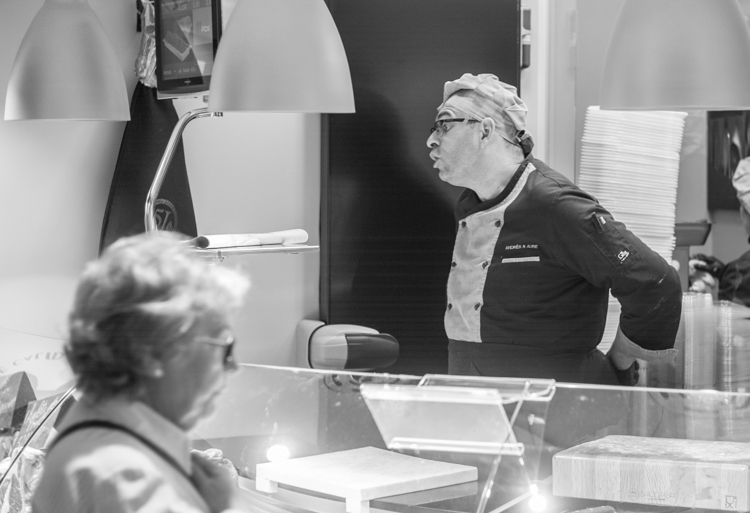 18_34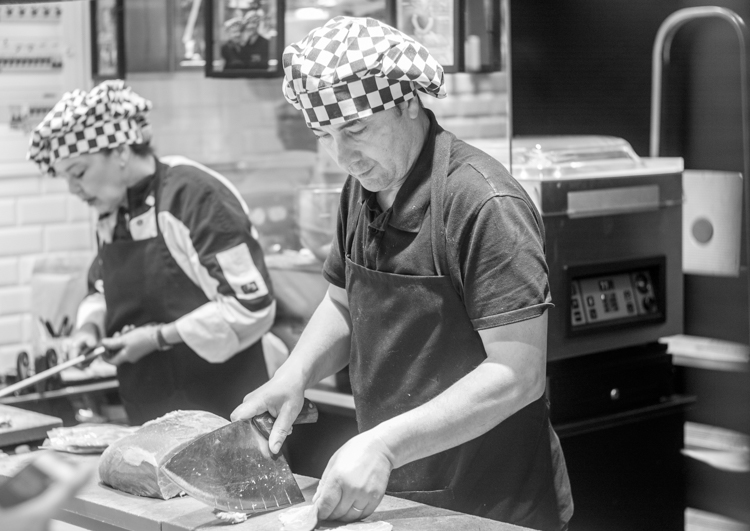 18_35
Should one get hungry from looking at all that food, there are a couple of tapas bars inside the Mercado: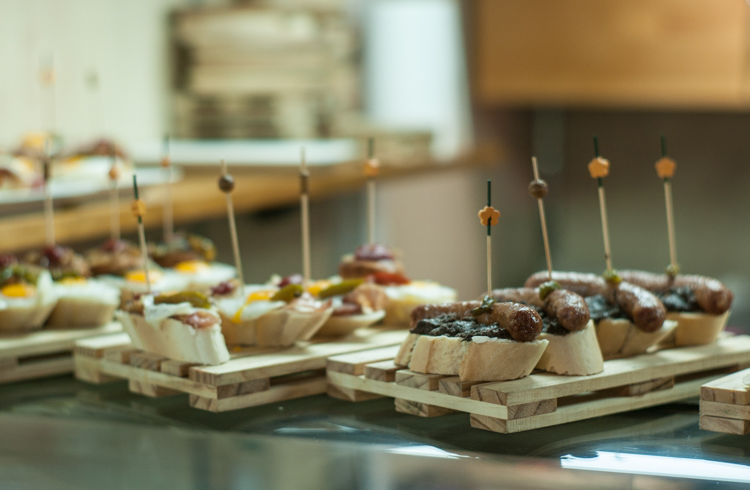 18_36
There are often buskers and various bums on the benches behind the Mercado, but this morning there was a well-dressed man with a loom. A lot of curious people stopped to talk to him, but I never found out what his business model was: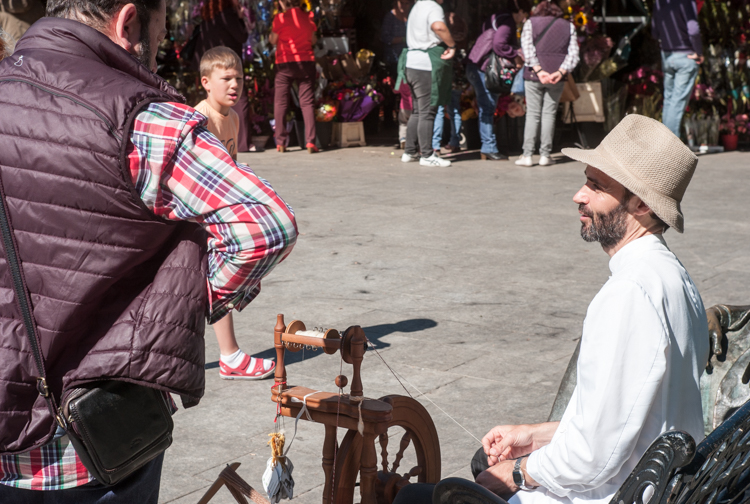 18_37
I walked around a bit in the surrounding streets, and made this very pleasing image of a man reading a newspaper in a doorway. The light and colours were very nice, I thought: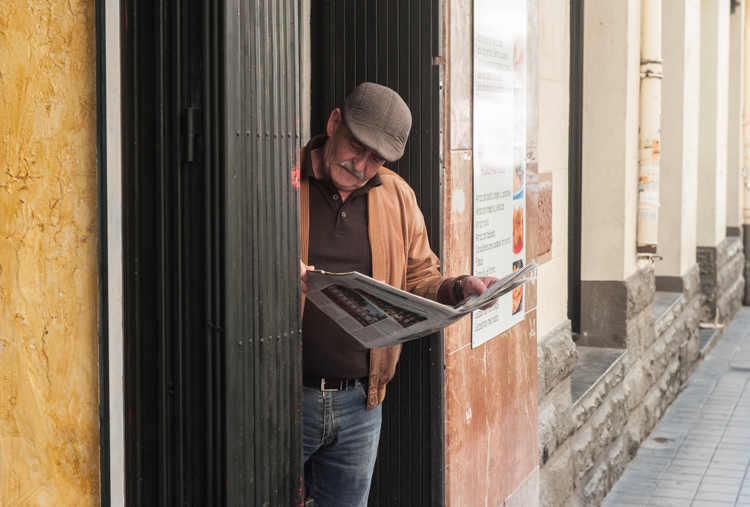 18_38
A bit further down the street, a bar was advertising vermouth from a town in the mountains, probably an acquired taste: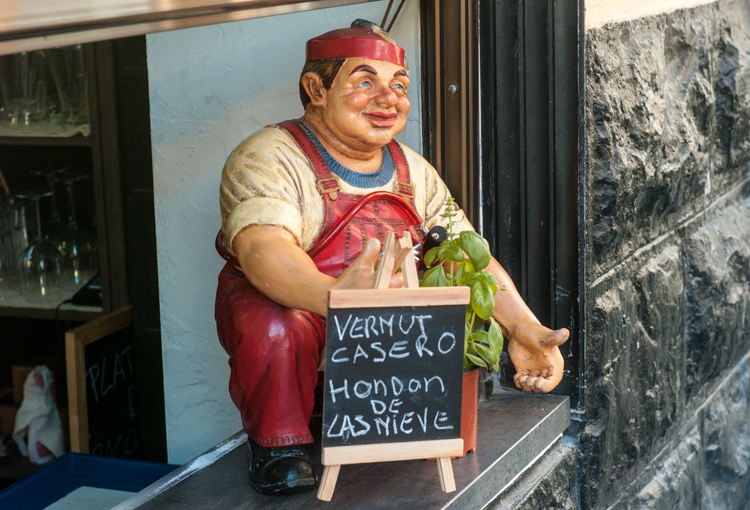 18_39
The week's final image is from the Saturday bike ride to Aigües, just like the previous week. But this time there were some very well-dressed people celebrating and photographing each other in front of the church. Most likely a baby was being baptised: