It was a week spent at home with the usual pursuits of work, cycling and so on. But we also had my in-laws from Puerto Rico visiting, and my daughter flew in from Wales to spend a week with us, including a celebration of her 22nd birthday on May 18th.
21_1
But first some pictures from home, starting with my Cheeta. She just turned 15, and her hearing is not as good as it once was. So when I come back from my bike rides, she does not always wake up right away when I open the gate: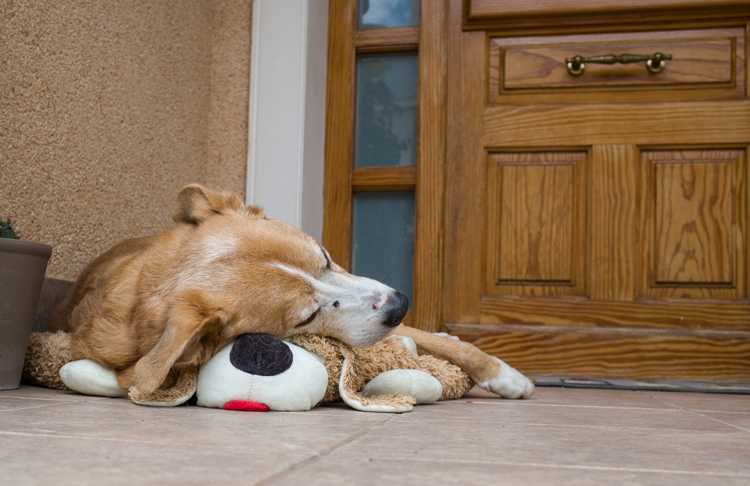 21_2
Then I talk to her and she does wake up: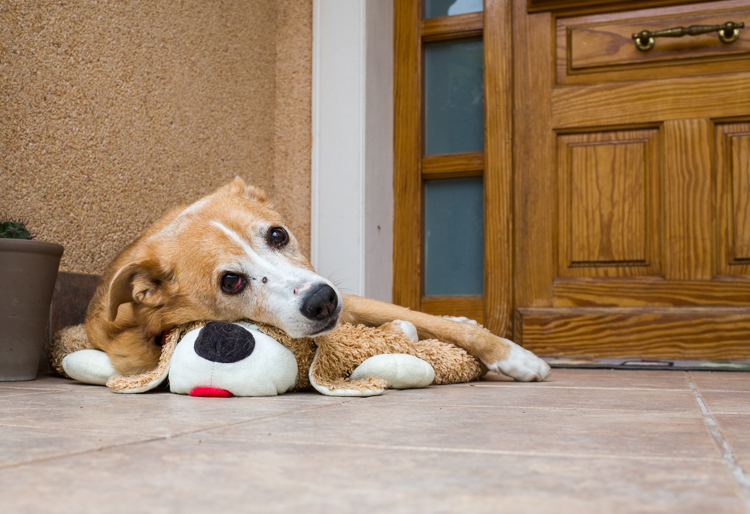 21_3
As if anticipating my daughter's visit, my late mother's cactus got ready to bloom again. This is Saturday afternoon: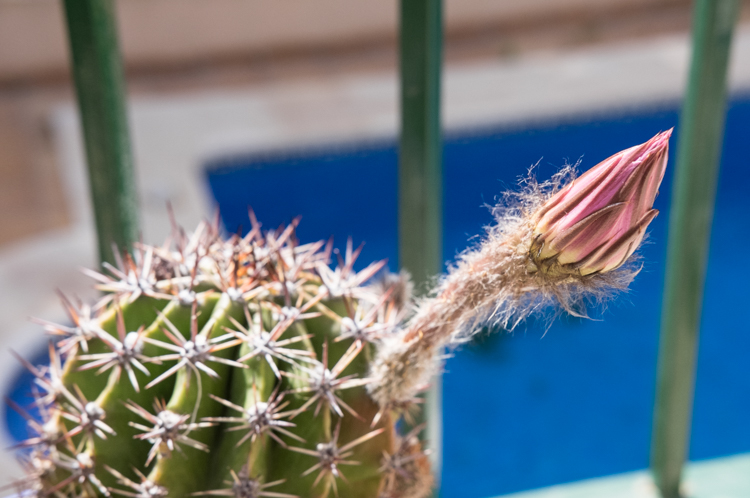 21_4
Sunday afternoon, almost there: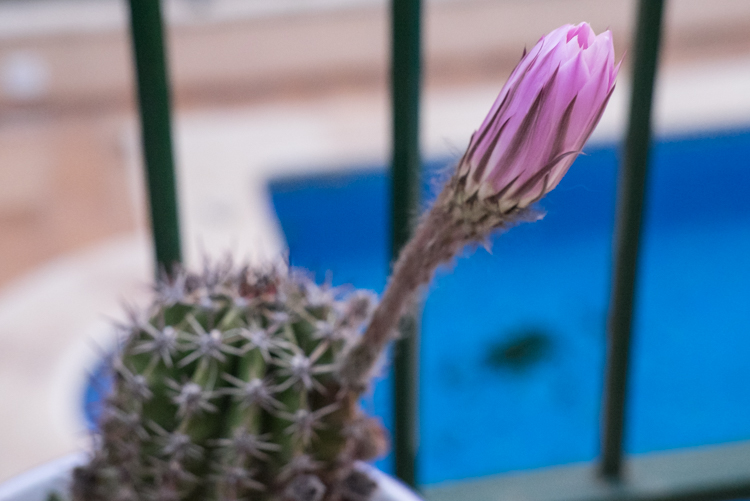 21_5
Monday morning, in all its glory:

Monday was a day off for me, and my sister-in-law wanted to visit some alternative medicine guy in a town called Jumilla, about 100 km from Alicante. So I drove her there to get a little day trip out of that.
21_6
The area is a major wine producer, and Jumilla has its own Denominación de Origen (the Spanish equivalent of the French Appellatión Contrôlée):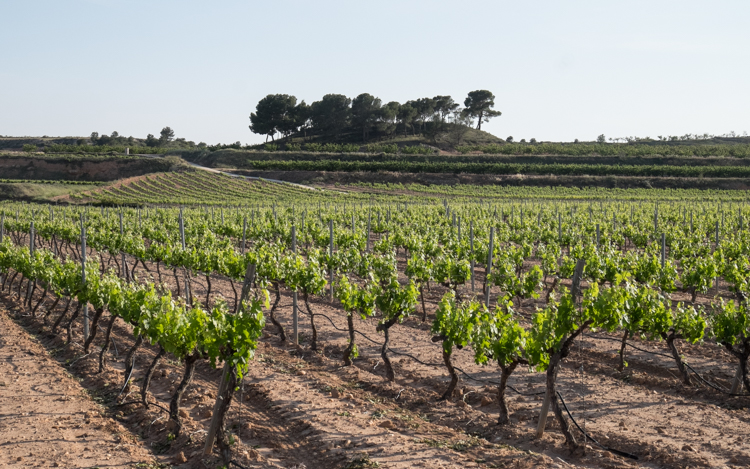 21_7
I loved this statue, just on the outskirts of town, next to the road: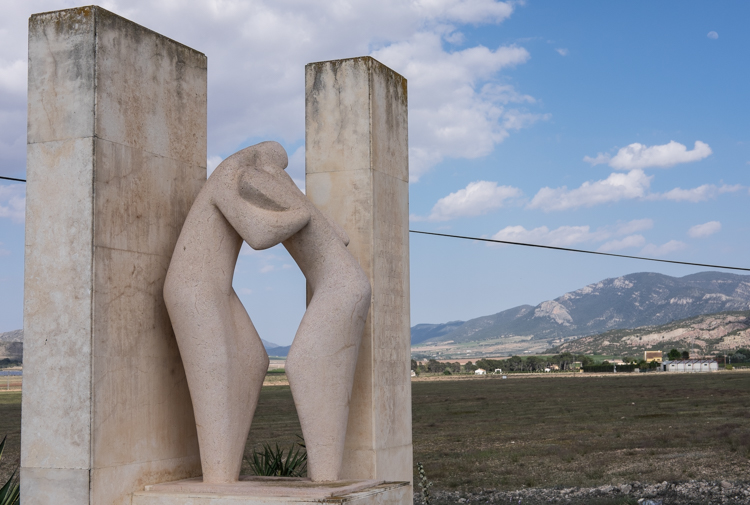 21_8
In the centre of Jumilla. No doubt about wine's central place in the town's identity: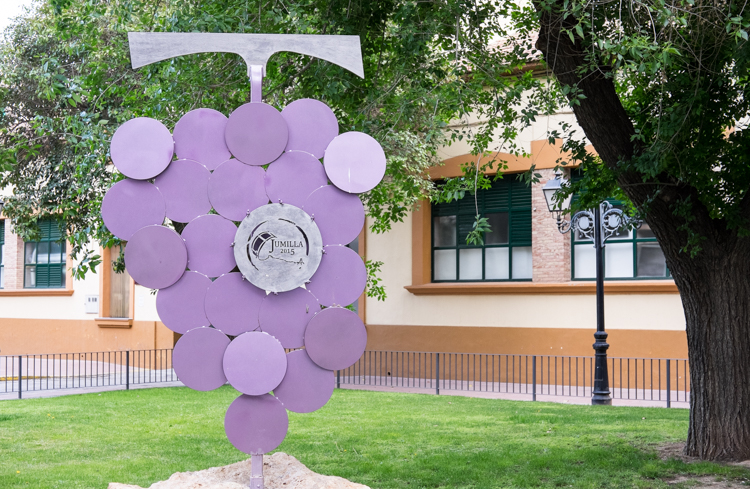 21_9
Truth be told, Jumilla is a sleepy town in the interior of Murcia province. There not much of the coastal vibe here: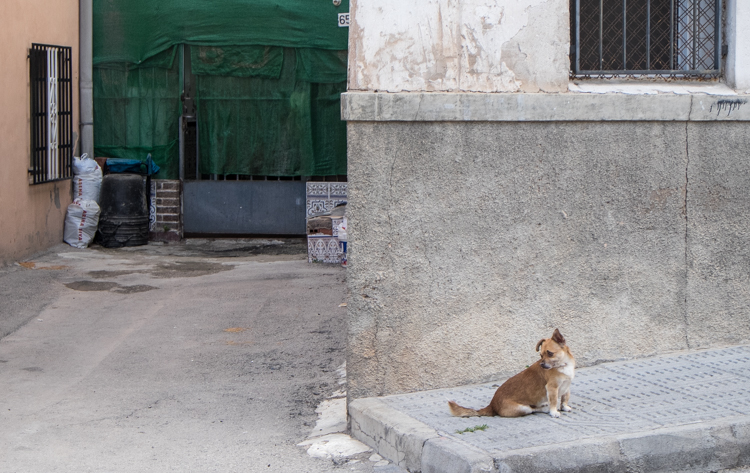 21_10
"Please do not leave garbage here":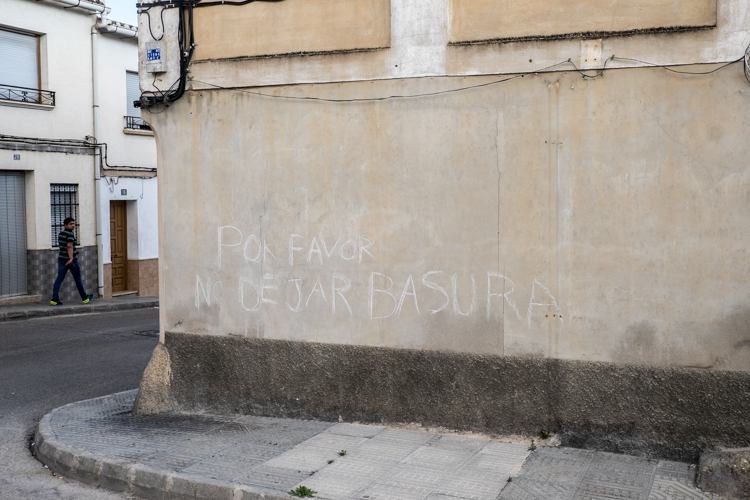 21_11
Hearts: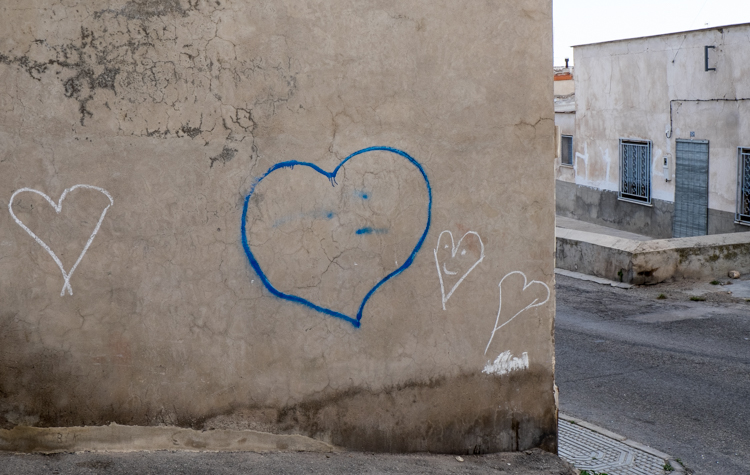 21_12
The town is nothing special but its location in the landscape is visually attractive:

21_13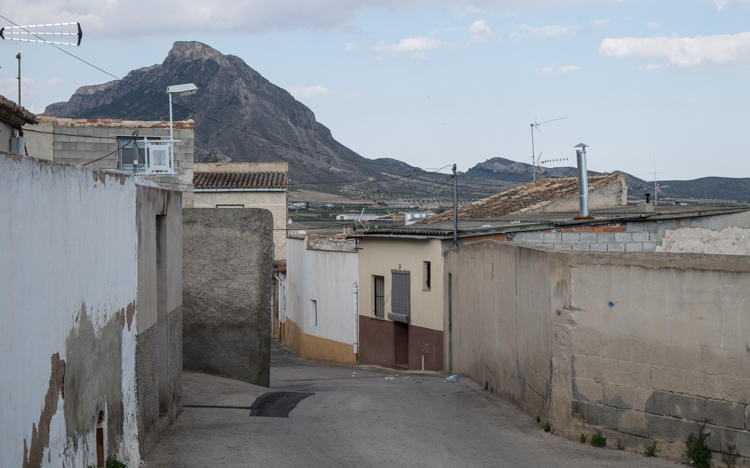 21_14
Late Monday evening, I drove to Alicante airport to be met by this joyous sight: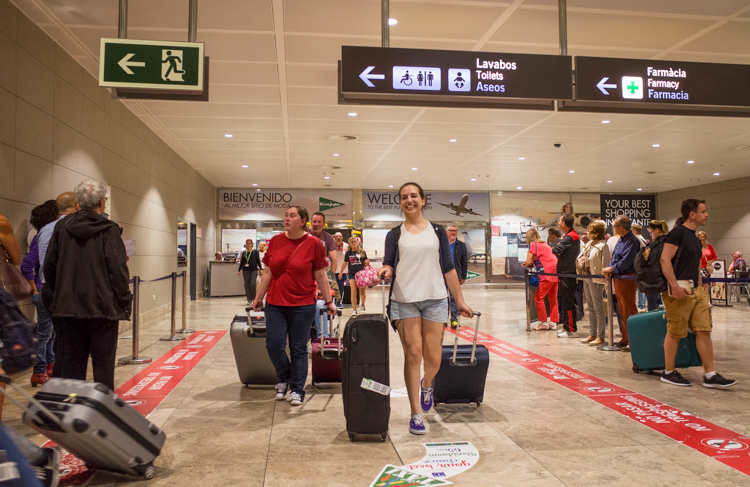 21_15
On Wednesday we all met for lunch to celebrate Monica's birthday. On the way from the car park to the chosen restaurant (Bhodigreen, Alicante's best vegetarian restaurant), I stopped to snap this little guy patiently waiting for his people: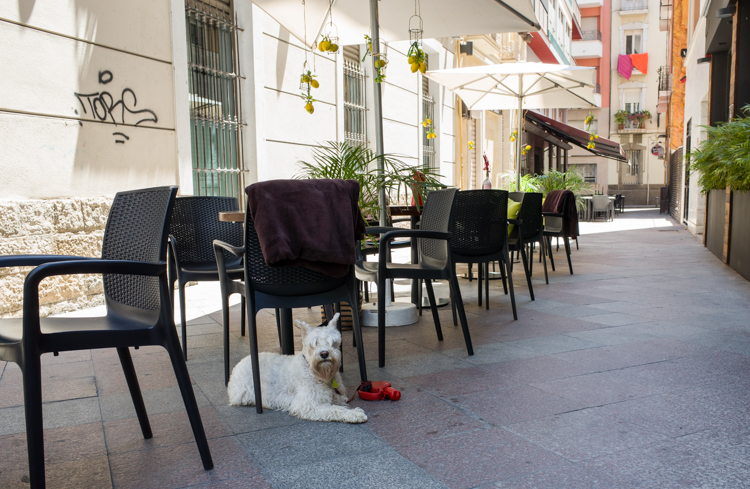 21_16
Monica talking to her aunt Damarys (my sister-in-law from Puerto Rico):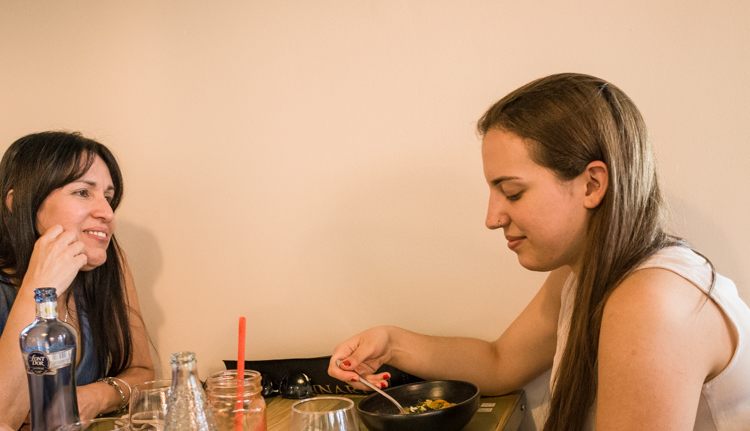 21_17
A photo: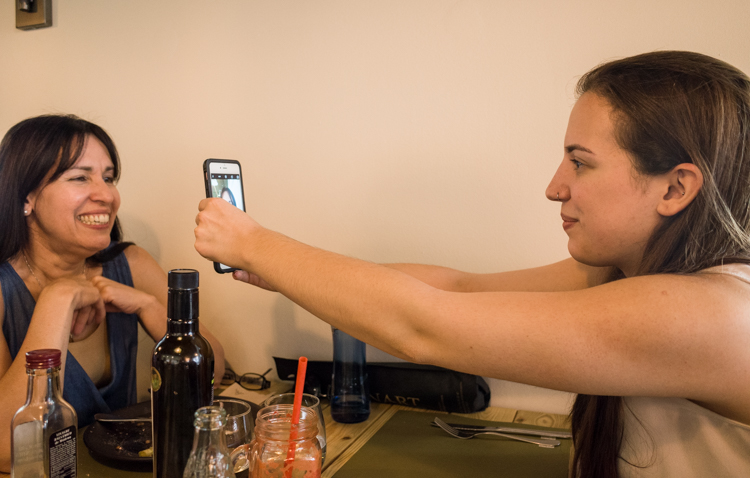 21_18
We brought Monica's presents to the restaurant: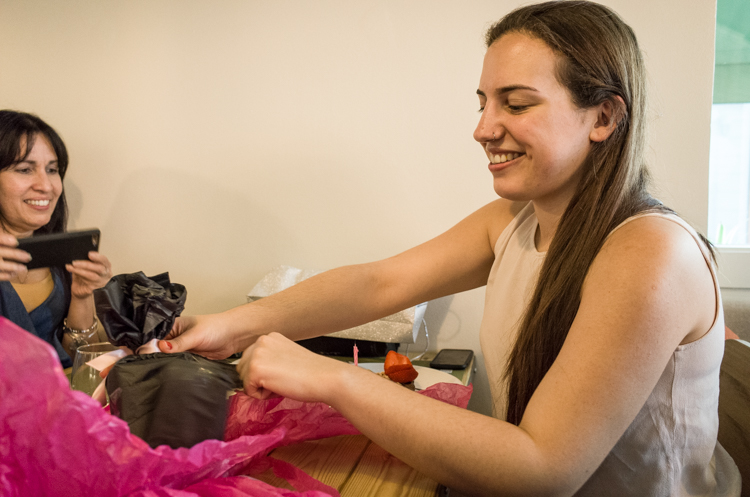 21_19
Monica likes to experiment with make-up, and to document the results with close-up photos. So she was very pleased with the macro lens I got her: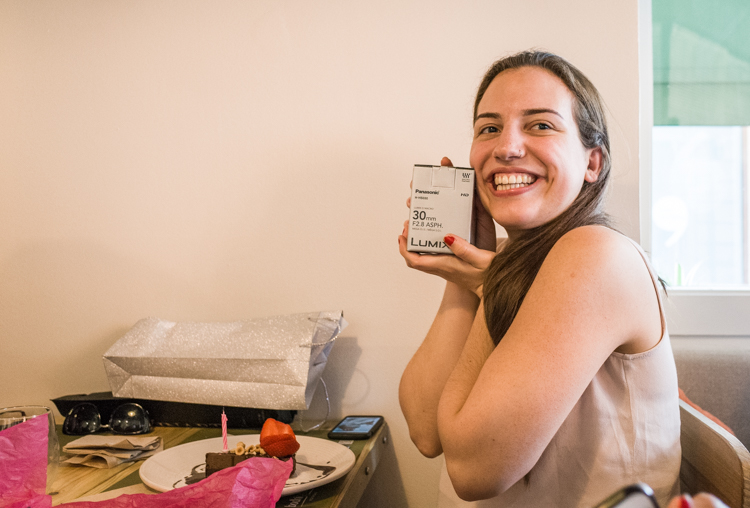 21_20
On Wednesday night, Monica and I went to the Crowley bar to watch the Europa League final between Sevilla and my beloved Liverpool. The result was not what I wanted but I still enjoyed spending an evening with my little girl who is not so little anymore: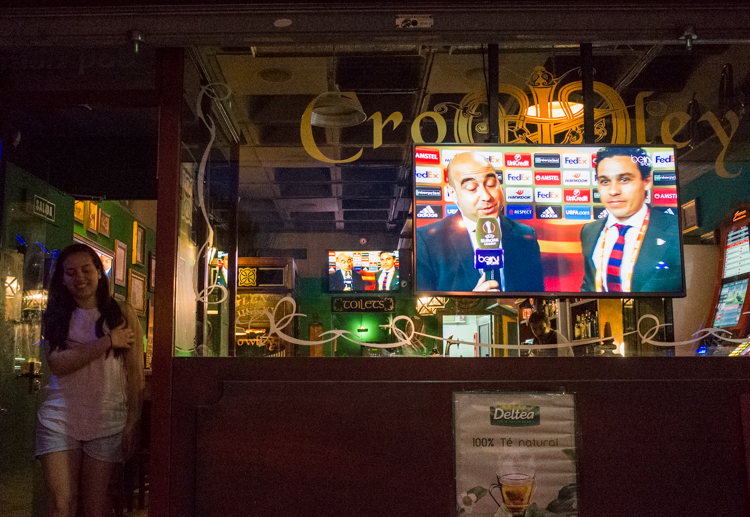 21_21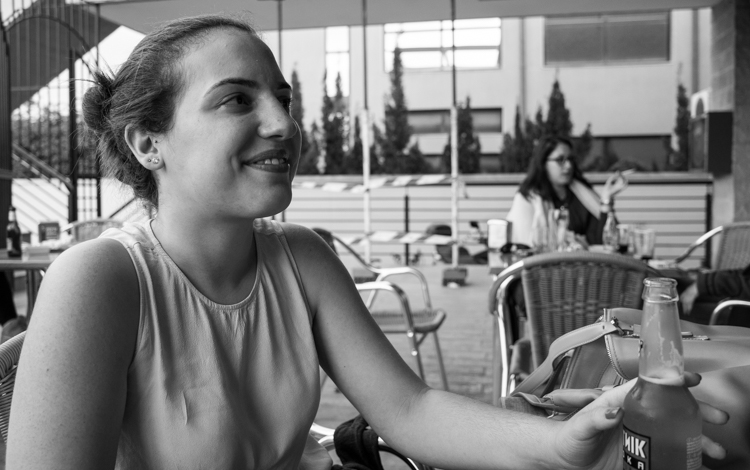 21_22
Having a smoke outside while keeping an eye on the game: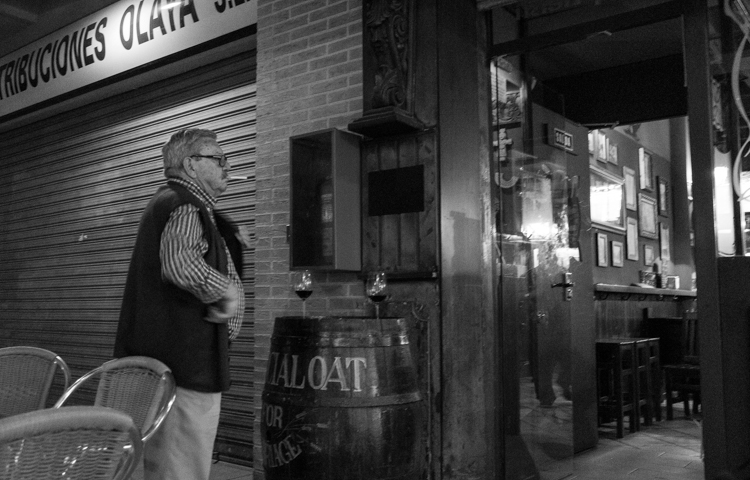 21_23
Back to my dog walks. Morning light, Avenida Vicente Ramos: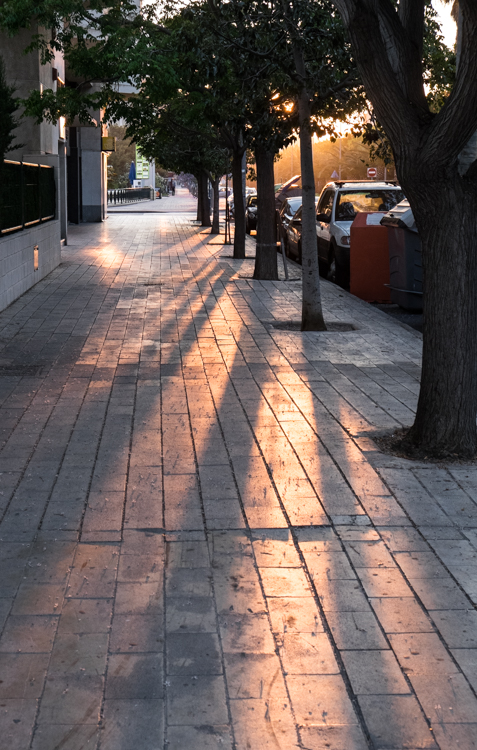 21_24
Morning light, our house: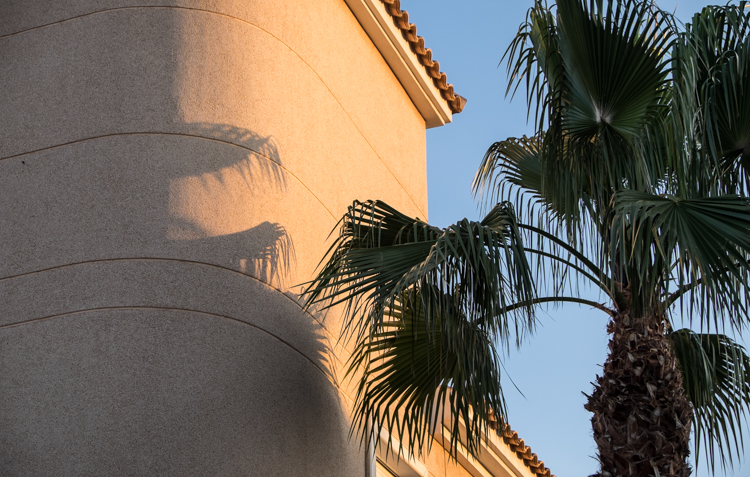 21_25
Two pigeons: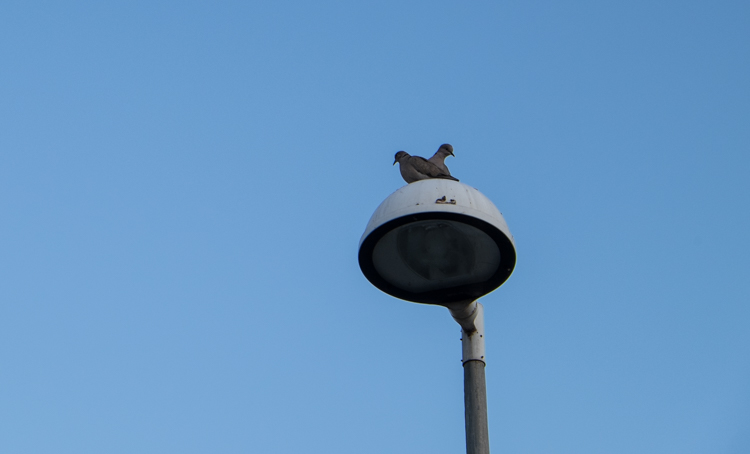 21_26
Now one pigeon: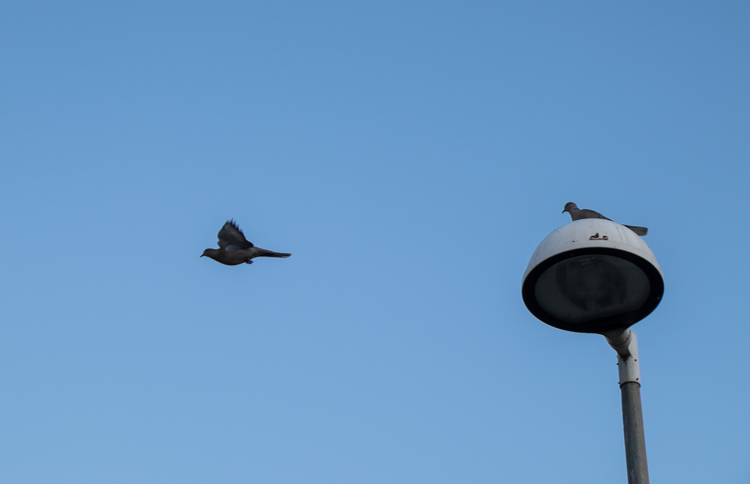 21_27
On Saturday morning, I cycled up to the Puerto de la Carrasqueta mountain pass, as I often do. On the way to Jijona, I passed this herder with one dog a small flock: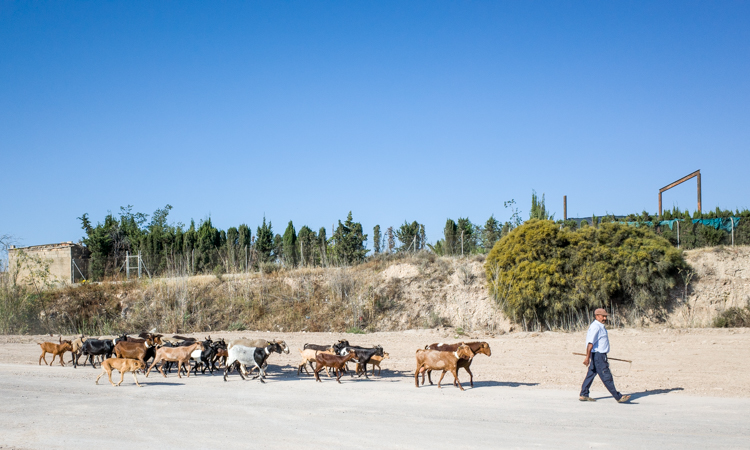 21_28
The wider view. He was taking the animals to pasture. The road is a relatively new highway, CV800, connecting Alicante to Alcoi and passing by Jijona: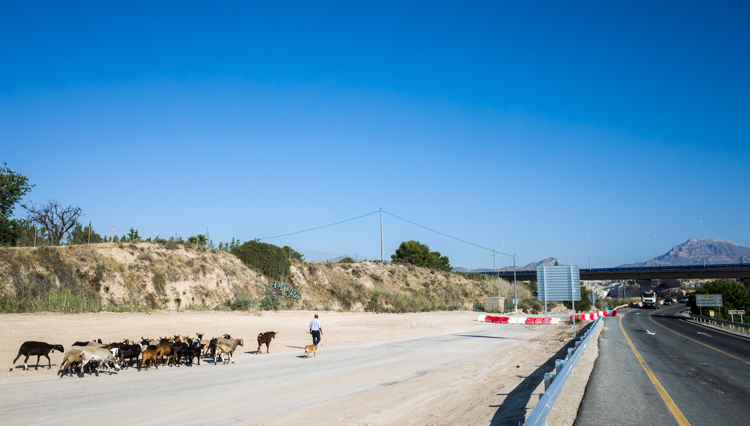 21_29
About an hour later. At this point, I have been climbing for about the 21 km indicated, there is another 8 km left to the top. There were lots of cyclists on the road, taking advantage of ideal cycling conditions: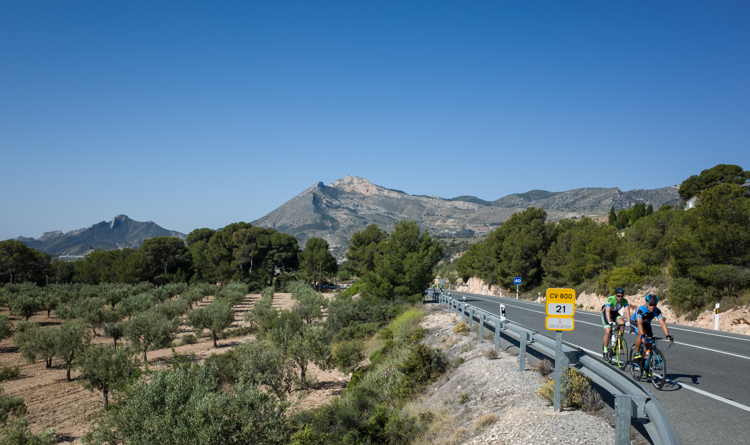 21_30
At the pass there were lots of cyclists. Both the main species were represented, road cyclists (of which I am one) and mountain bikers: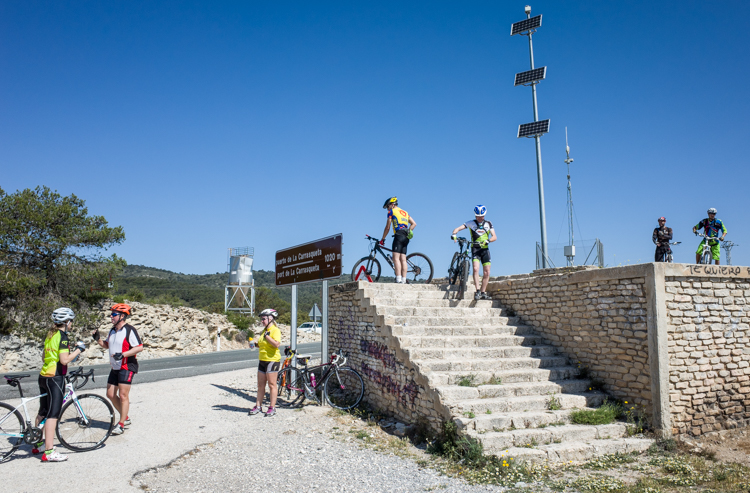 On Saturday night we went to a small party in Benidorm, and met some of our usual friends there.
21_31
A hug: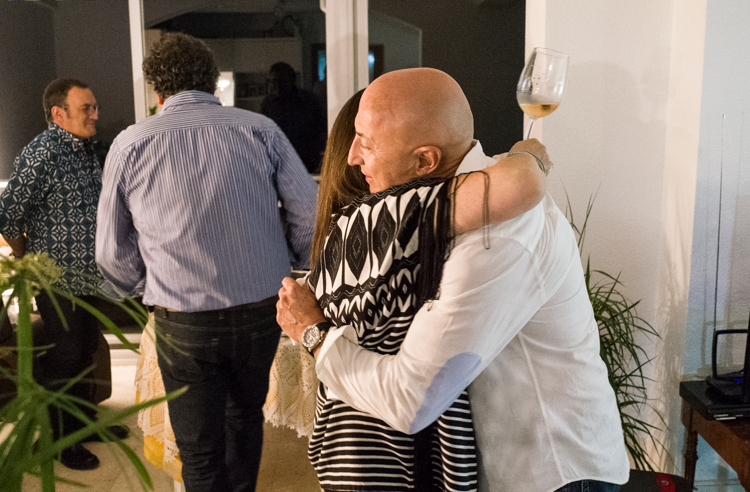 21_32
This is the nice thing about friends; they discovered that I had taken the previous picture and reacted by posing for me: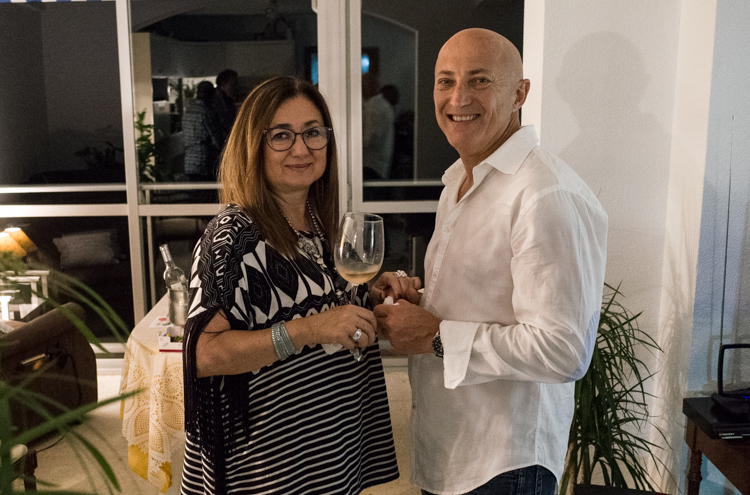 21_33
Talking to his son: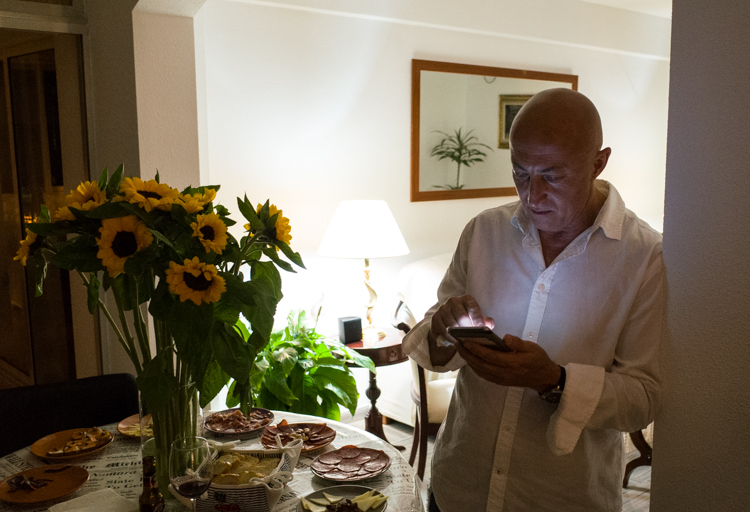 21_34
"You don't say!":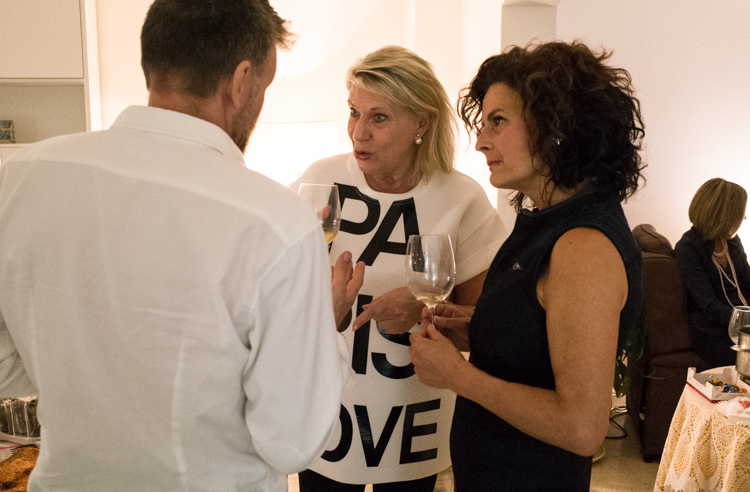 21_35
A hearty laugh: