The week just ended was of course marked by Semana Santa, which is a big deal here in Spain, with processions in all Spanish cities. I have a separate gallery for the Good Friday and Easter Sunday processions in Alicante, but for my weekly blog I have selected a mixed bag of images showing other aspects of the week.
14_1
This is my colleague Claire on the 5th floor terrace. We were outside looking at some helicopter firefighting training taking place down below, when I snapped this photo of her without even raising the camera to my eye. It turned out quite pleasing, despite the less than ideal light conditions–Claire likes it too: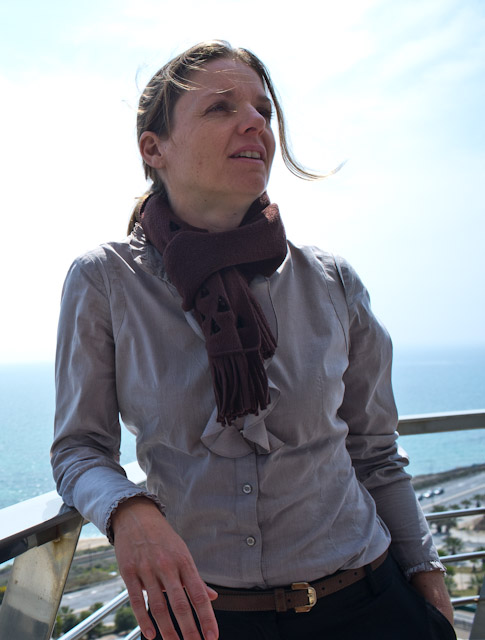 14_2
Another colleague from the office, Corinne, during a lunch at Bodega Adolfo: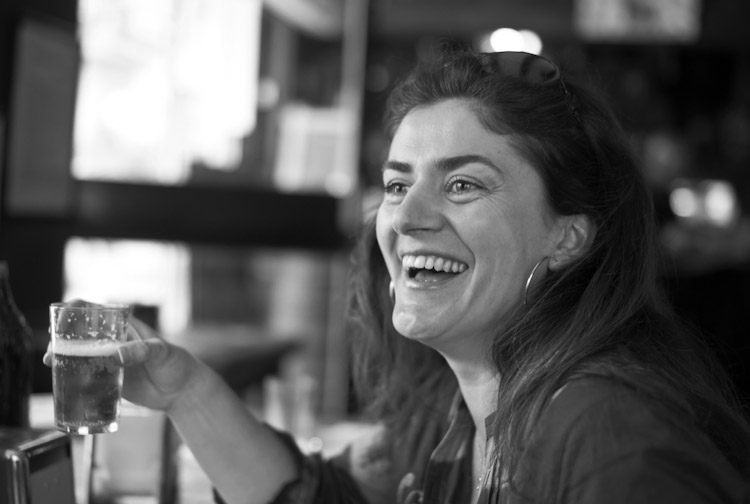 Next, several pictures from my neighbourhood.
14_3
A rather depressing sign of the crisis in Spain. All the shops on this block along Avenida Vicente Ramos, a busy thoroughfare, are closing or have already closed. The crisis is especially hard for small businesses; bank credit is difficult to get, and otherwise viable businesses throw in the towel: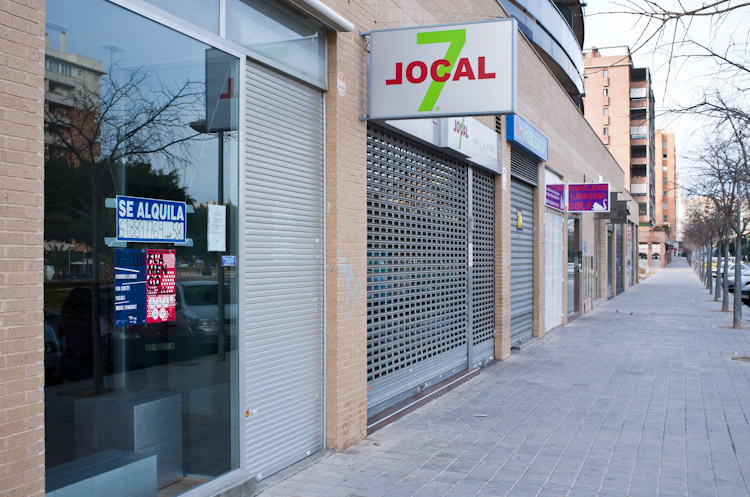 14_4
A half-finished building a few hundred metres further down. Increasingly, such structures are being used as canvasses for street art: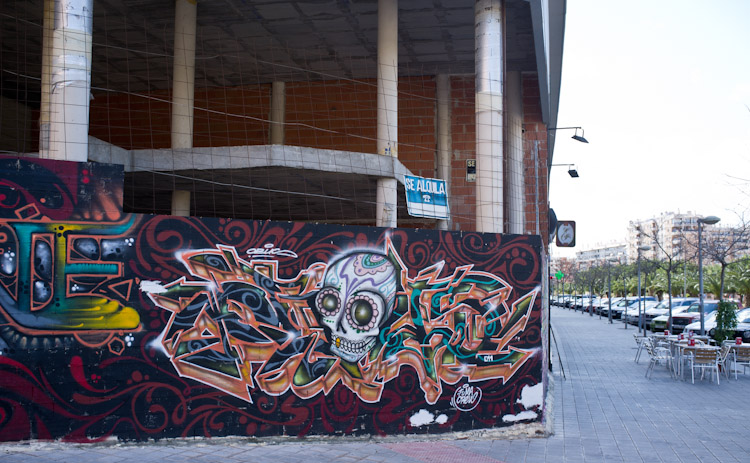 14_5
A defunct condo development near our home. All that is left is the fence and what was intended to be the sales/information office: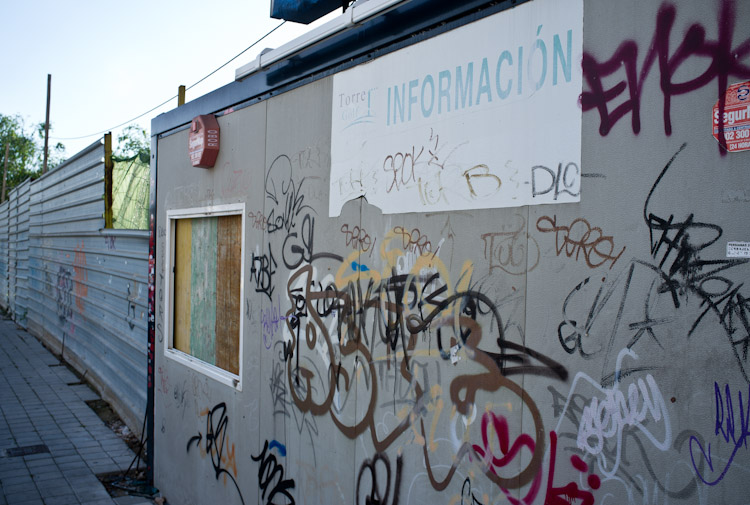 14_6
On a more cheerful note, early in the week the avenue began showing signs of the traditional medieval market that always takes place during Easter week: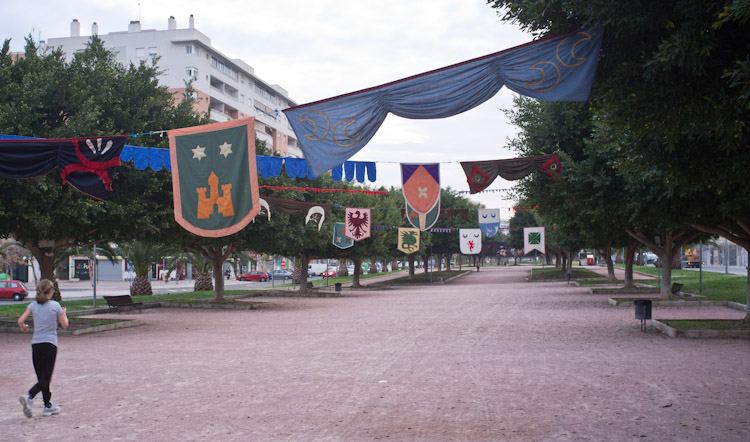 14_7
The next morning. The booths are now set up and will open later in the day: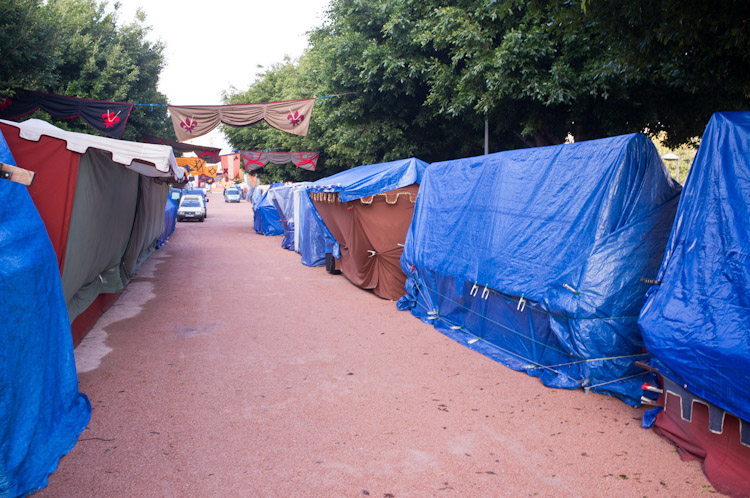 14_8
Good Friday. The market is in full swing, and this giant BBQ is one of the main attractions. There are not many people about, because it is around 4 p.m., so the lunch crowds have left: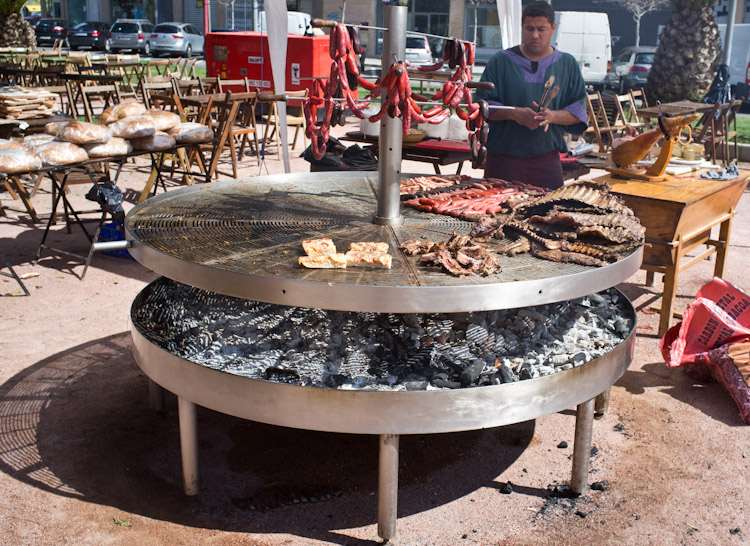 14_9
The donkeys get a well-deserved break after providing rides to hordes of children: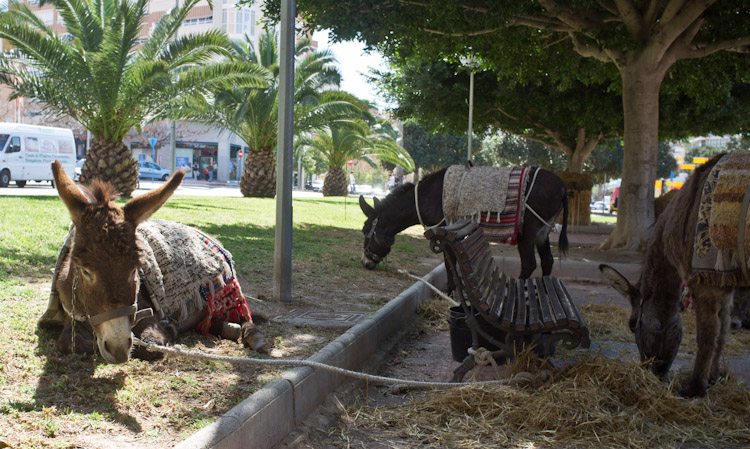 14_10
The terrace at the office where the first picture was taken. We had the first rain in many weeks for a couple of days. In other parts of Spain, especially down in Andalucía, much of Semana Santa rained out–you cannot parade wooden statues around in rainy weather. This is really rotten luck for Spain; the winter has been very dry, the water reservoirs are low, and there have already been many forest fires this spring. And then we get rain precisely at the worst possible time: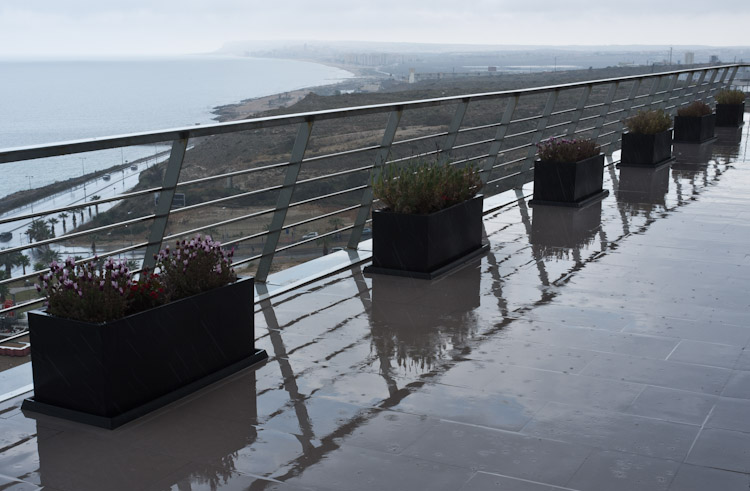 14_11
For me personally, the two days of rain were no big deal since I was at work. I tried to make the best of it, photographically speaking: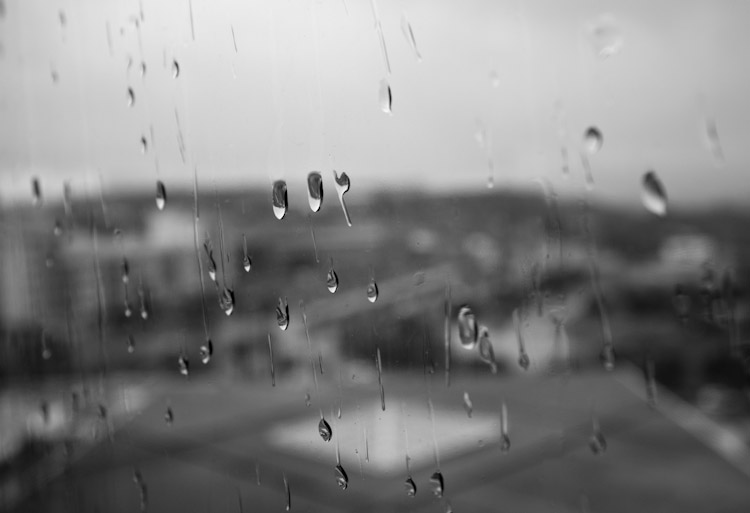 The rain lasted only two days, and nice weather returned just in time for the 4-day Easter weekend (Good Friday and Easter Monday are holidays here).
14_12
One of "our" golf course cats. Even though I feed them, they are quite shy and I rarely get a decent picture of them, especially because I usually have my dog with me: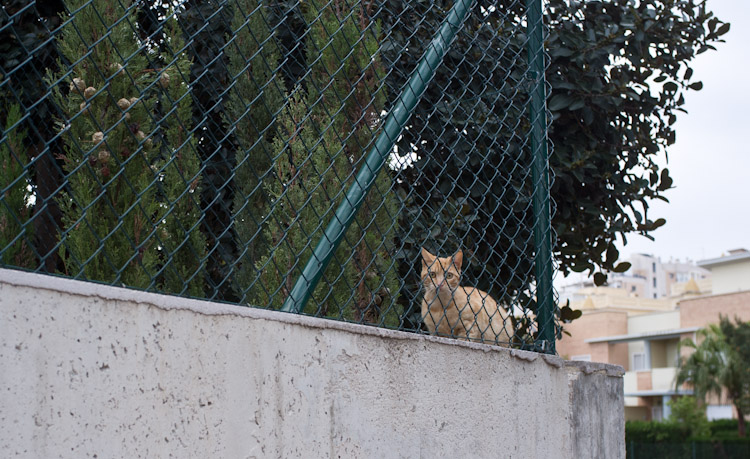 14_13
This cat is an exception. When I approach him with my dog, he does not run away. Instead, he hisses at us: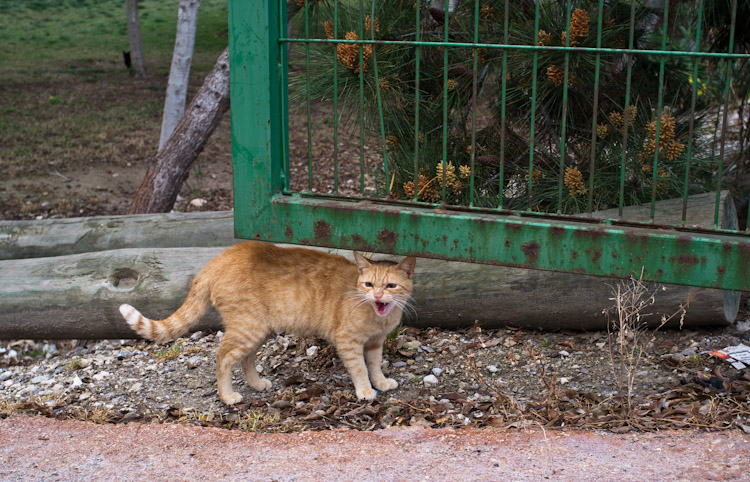 The last three pictures are from the centre of Alicante.
14_14
More wall art, this time near the Mercado Central. The slogan reads "more graffiti for the city":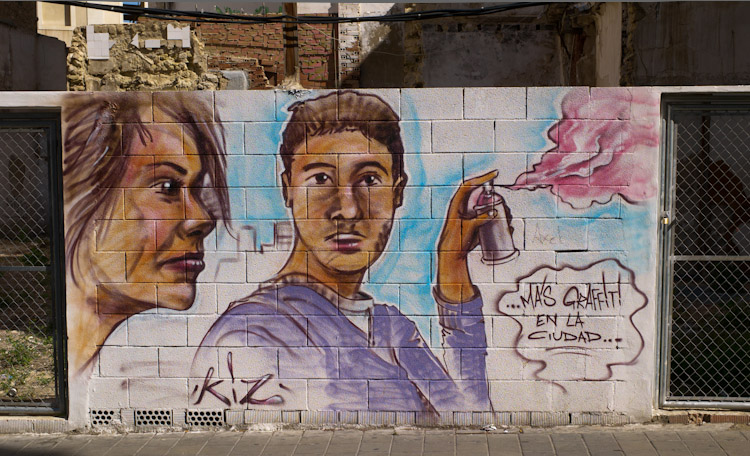 14_15
A man looks at a newsstand on the Rambla. Reflecting Spanish media, the emphasis is on sports and the lottery. There are several national daily papers devoted solely to sport, with Marca the best known and considered to be the party organ of Real Madrid. The one bright spot in the depressing media landscape is El País, Spain's only truly quality newspaper: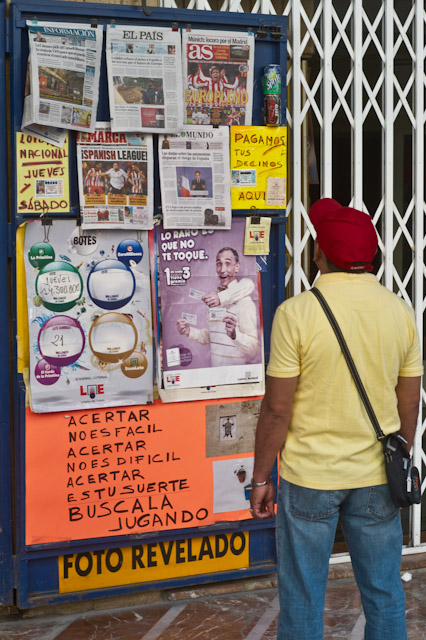 14_16
The square behind the Mercado Central is unusually empty on Easter Sunday. It is called the 25 May Square. One of the worst atrocities of the Spanish civil war happened here on 25th May 1938, when Franco's forces bombed the market on a day when the otherwise besieged city had received a shipment of fish and the market was therefore full of people. About 330 people were killed here. This was a crime on the same scale as Guernica, but nobody knows about it because Picasso painted Guernica and nobody painted Alicante. Today, the name of the square and a small plaque on the wall of the Mercado Central (put there only in 2006!) are the only reminders of that terrible day: