I flew to WrocÅ'aw in Poland, the city where I was born and where my sister still lives, to spend 8 days there. WrocÅ'aw is a city of about 700.000 people in south-western Poland, more than a 1000 years old and with a very turbulent history. Until 1945 it was a German city by the name of Breslau, one of the most important cities in the German empire. In 1944-45 Hitler "chose" it is as one of a handful of German cities that was not going to surrender. As a result, by the time "Festung Breslau" was taken by the Red Army in March 1945, the city was largely in ruins. From my childhood in the 1960s, I remember still seeing some of those ruins. Not anymore. Since the fall of Communism in 1989, WrocÅ'aw has probably been enjoying the best decades in its long history. This week's blog is mostly from my wanderings around the city.
52_1
The day before leaving, I took my pets to the "hotel" where they are going to spend the next 10 days: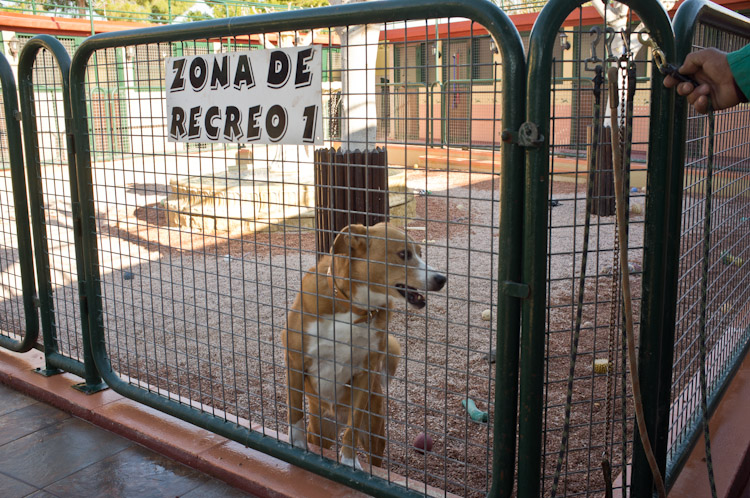 52_2
I then stopped by the Alcampo supermarket to buy some chorizo, manchego cheese and other goodies I was going to take to my sister. The setting sun provided a nice view of Alicante: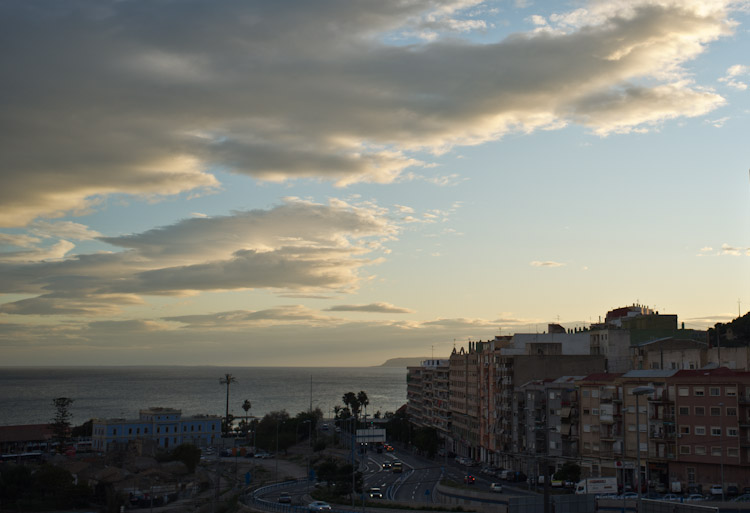 52_3
The next day I flew from Alicante to Madrid, from Madrid to Warsaw, and then from Warsaw to WrocÅ'aw. A long day spent looking a scenes like this, here in Madrid's Barajas airport: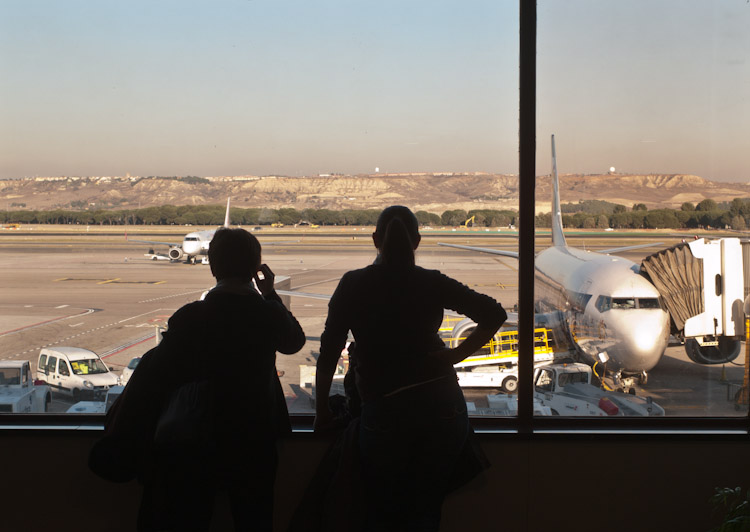 52_4
This is a very wide view (12mm lens on a Leica M8) near my sister's apartment. The big roundabout in the foreground is called the Ronald Reagan Circle. The late president is considered a hero in Poland for his tough stance towards the Soviet Union: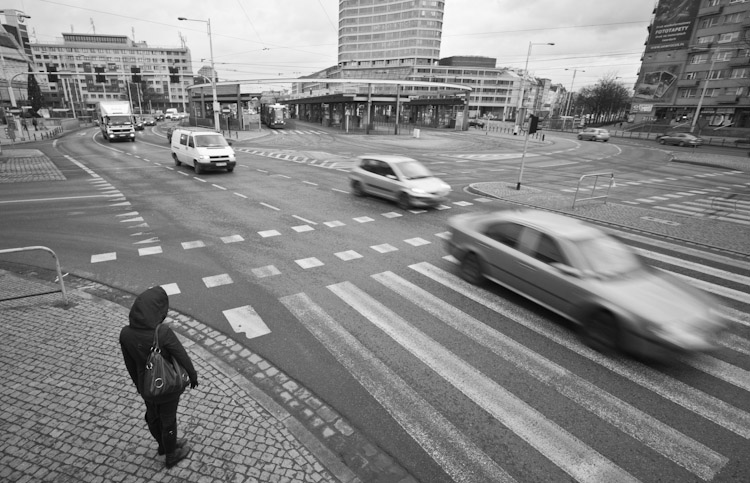 52_5
My sister's neighbourhood can best be described as a vibrant student neighbourhood (there are several institutions of higher education in the vicinity) but with some Communist drabness still around. The fact that winter stayed away this year did not help. This place looks a lot nicer when covered in snow, as it should be this time of year: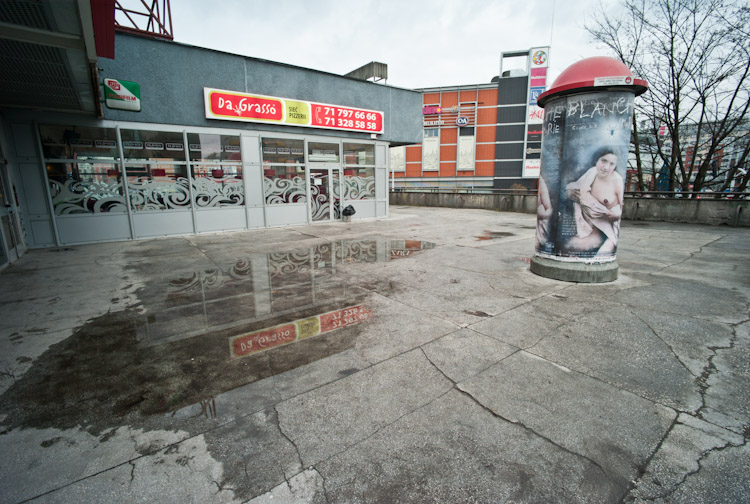 52_6
Poland has lots of big supermarkets and shopping malls now, but small shops like this greengrocer's still survive in places: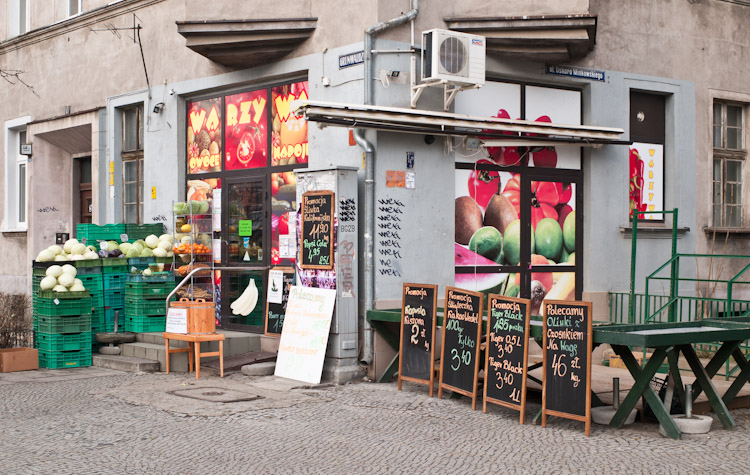 52_7
Naked trees, naked billboard: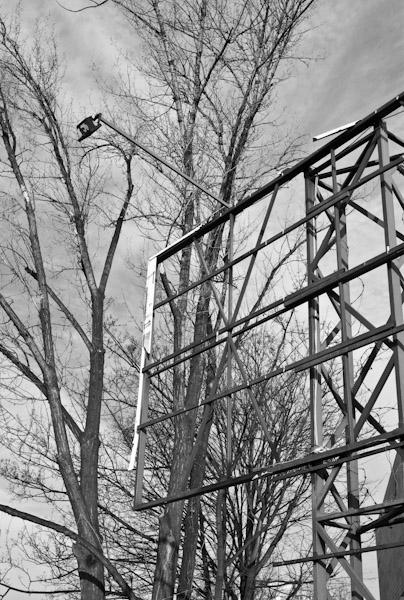 52_8
Sculpture outside the new university library, sadly vandalised by "supporters" of the local football club. Poland has a level of football hooliganism that easily rivals that seen in the UK, the Netherlands or Germany: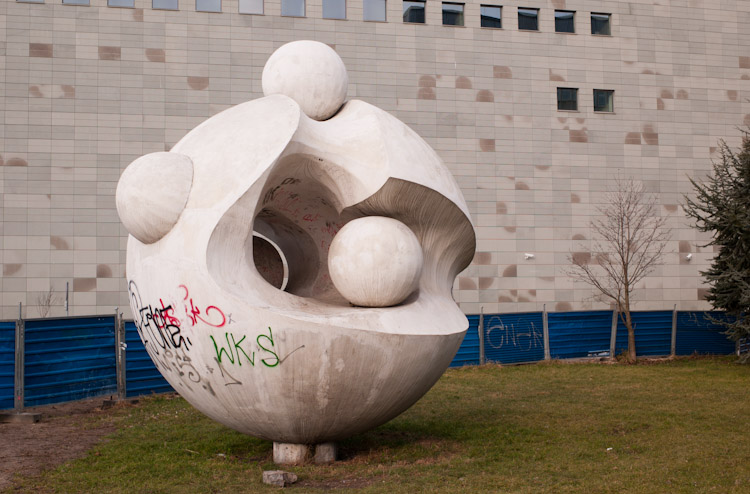 52_9
Ostrów Tumski is an island on the Odra river (actually, thanks to silting and such, it is now just a peninsula) which houses the local cathedral, the archdiocese and several other institutions of the powerful Catholic church. These giant balls are of course Christmas decorations: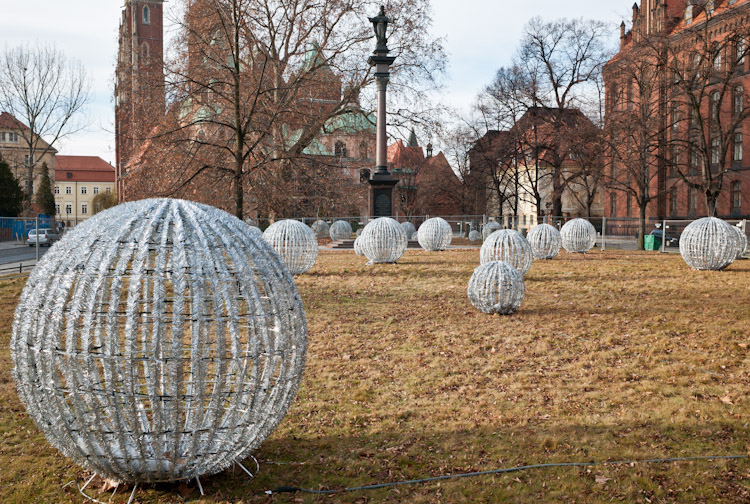 52_10
This is what they look like at night: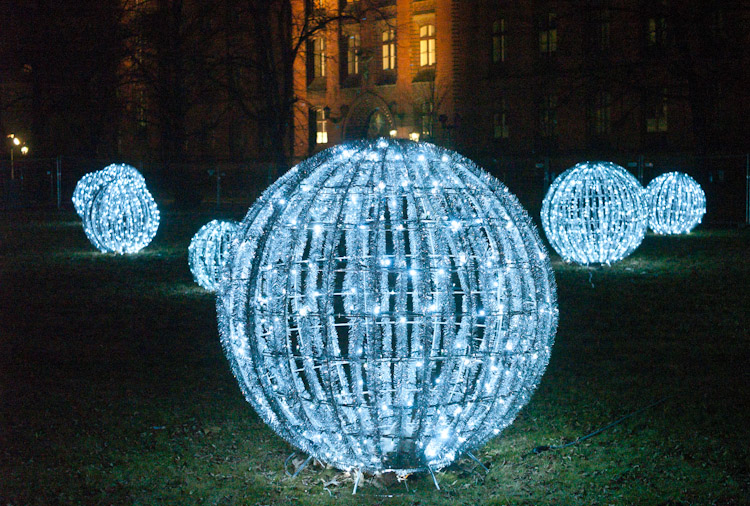 52_11
The bridge linking Ostrów Tumski with the "mainland" is called Most Piaskowy (Sand Bridge, no idea why):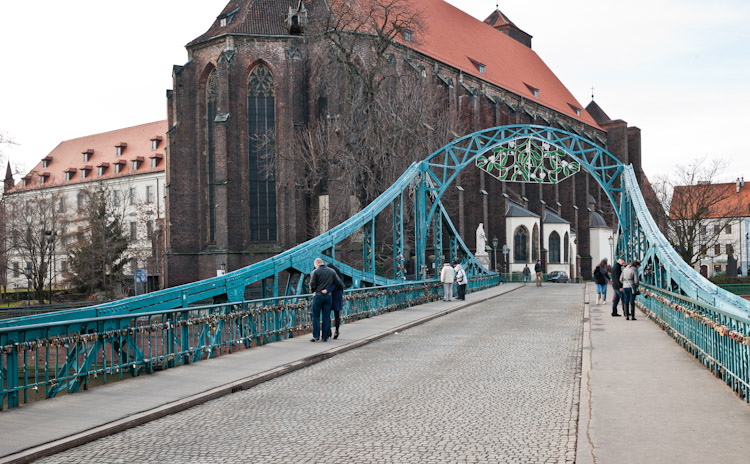 52_12
A new development during the past year is that Polish couples have adopted the Spanish and Italian tradition of placing locks on bridges as a sign of their love: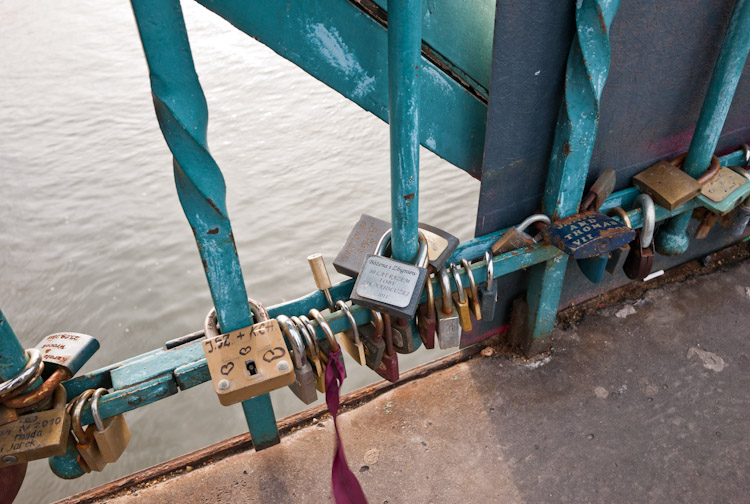 52_13
Even some decidedly non-Polish sounding names appear: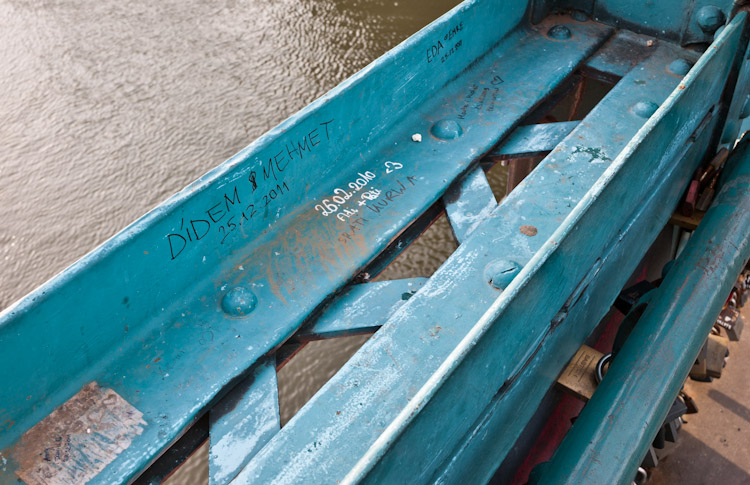 52_14
Ostrów Tumski is walking distance from my sister's place, and so we can also walk there at night to enjoy the views: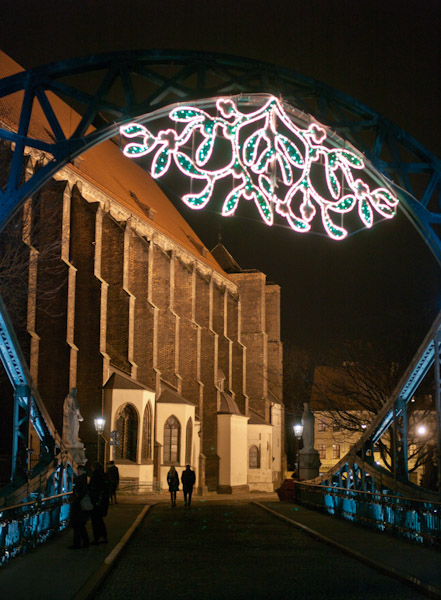 52_15
OPEN sign outside an antiques bookshop in my sister's neighbourhood: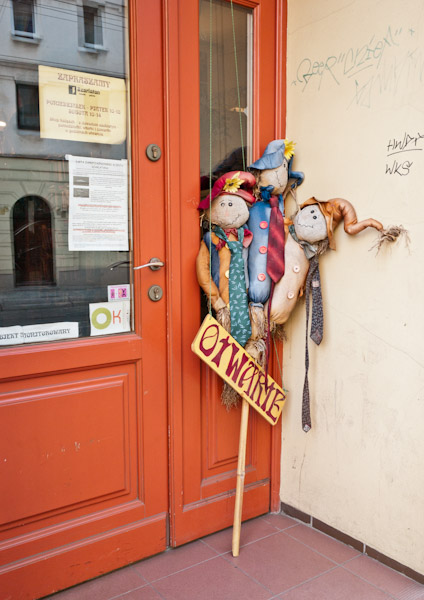 52_16
The next day we went to the old town to see something remarkable, a synagogue which had been built by the prosperous Jewish community in German Breslau in the 19the century, then destroyed by both the Nazis and the Communists, and then resurrected in 1996. It is NOT a museum, it is a centre for a growing congregation. The narrow street leading to it is decorated with some nice art: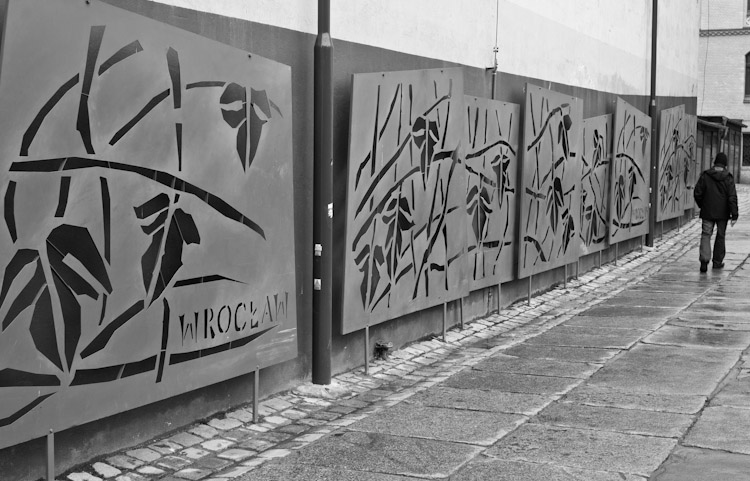 52_17
The interior of the temple is nice and modern, almost Scandinavian: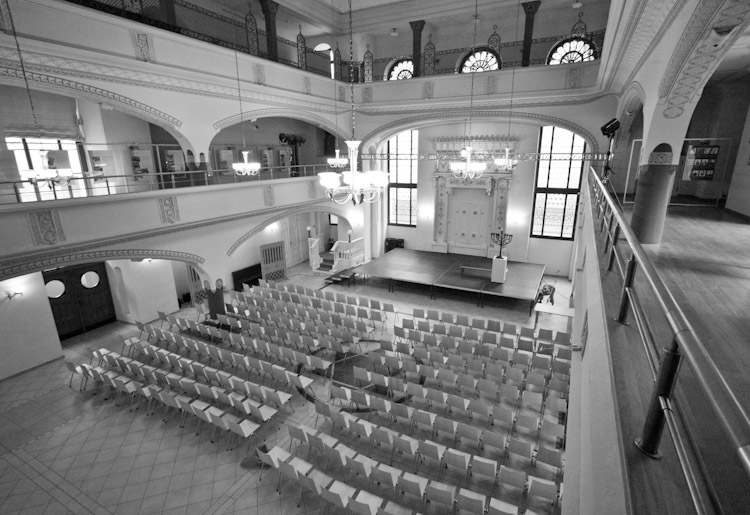 52_18
Although traces of the tragic past are never absent: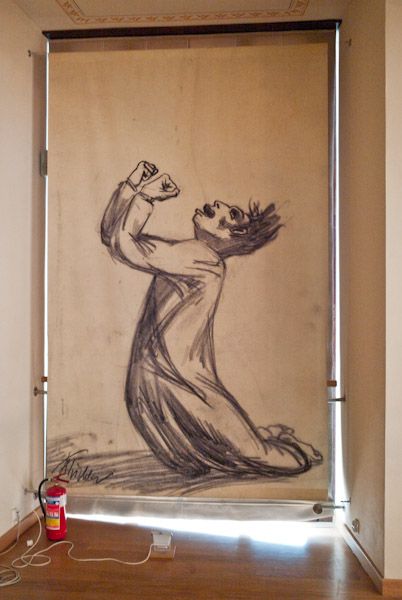 52_19
Back outside, I happened on this ground-level ad. It means "Heads up". I have not had the time to check the web site yet: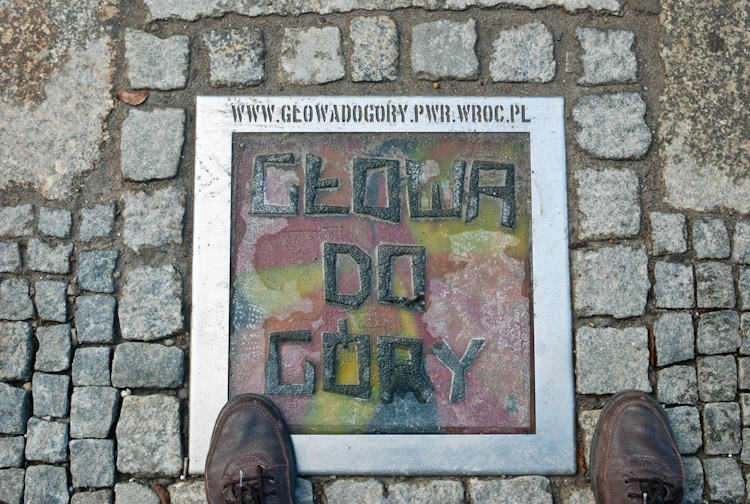 52_20
My sister, drinking coffee at a rather grand place near Rynek, WrocÅ'aw's central square: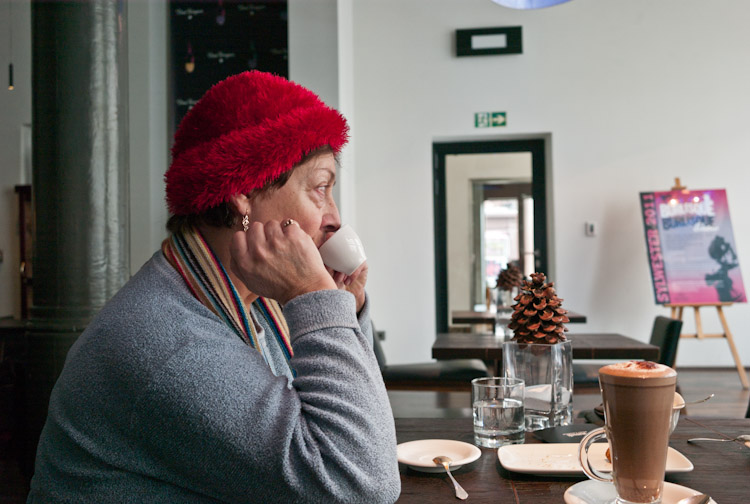 52_21
As usual, I was looking around at the other guests, and was drawn to this woman, listening extremely attentively to her companion: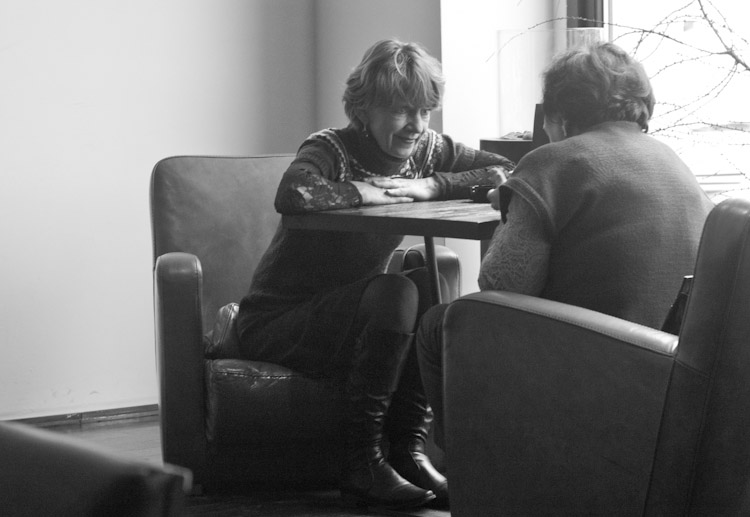 52_22
WrocÅ'aw's best-known building, its townhall dating from the 14th century: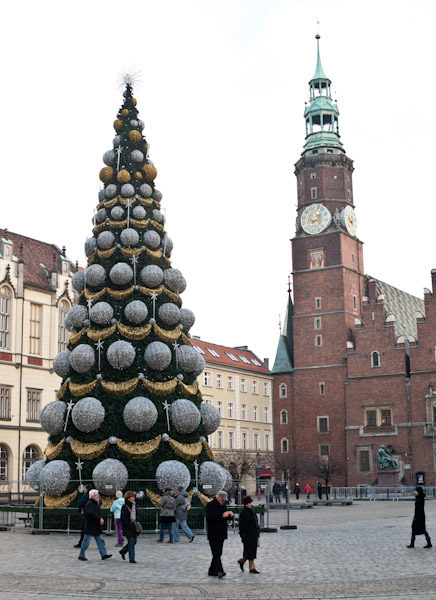 52_23
A true advance in customer service, a bar where you can drink beer and vodka 24 hours a day: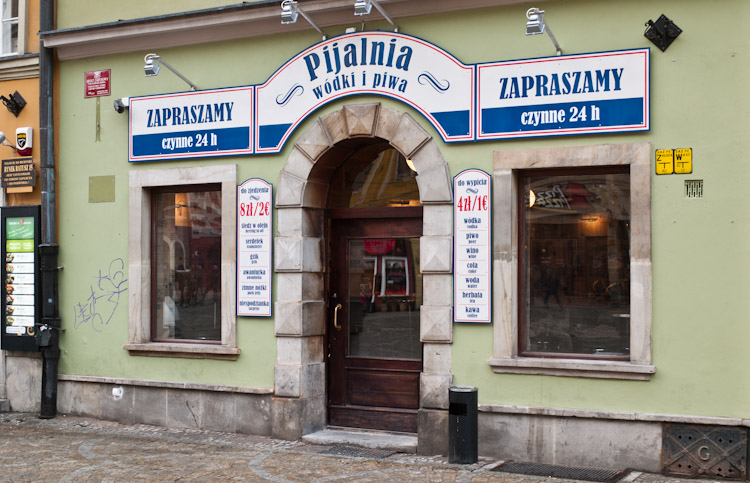 52_24
Nearby, much more civilised imbibing is available:

52_25
When I was a child in WrocÅ'aw, we were indoctrinated in school with the idea that it had always been a Polish city, that the German presence was some kind of brief interlude, and that it had been "recovered" in 1945. The reality is that the city had always been a melting pot of Czechs, Poles, Germans and Jews and others, but mostly German. Following World War II, three million Germans from western Poland were forcibly resettled in East Germany, to be replaced with Poles from the East who were being similarly evicted from parts of Poland being annexed by the Soviet Union. In effect, the entire country was moved west. Following the end of the Soviet occupation in 1989, WrocÅ'aw has been re-discovering its German heritage, not least because tourists from nearby Germany are an attractive business proposition. Here, this discovery is quite literal; German inscriptions on the wall of a church is being uncovered and restored: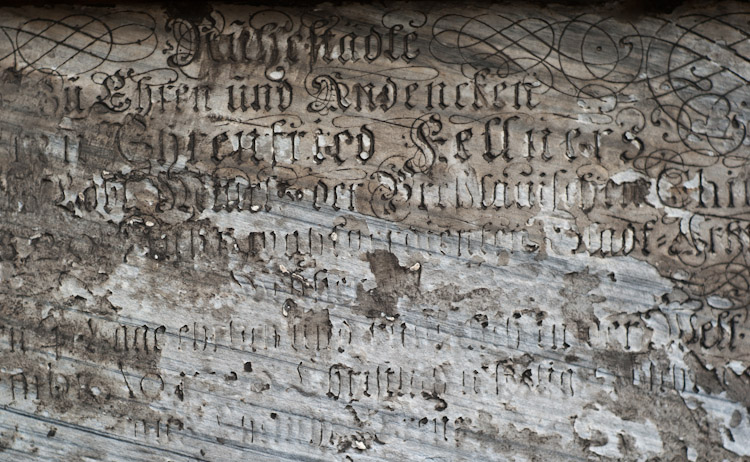 52_26
Lest the reader thinks that all I did was to walk around, here is a typical Polish lunch at my sister's place, consisting of eggs, pickles, herring, various meats and sausages, and of course vodka: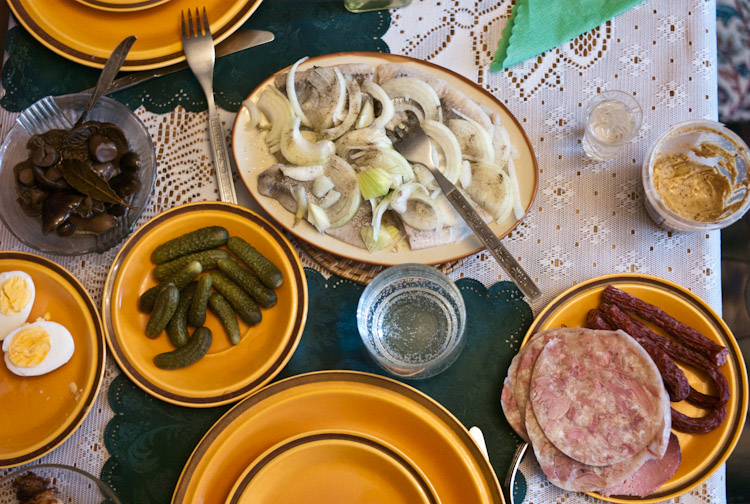 52_27
We spent New Year's Eve at home. At some point, the neighours came by with their dog Ara: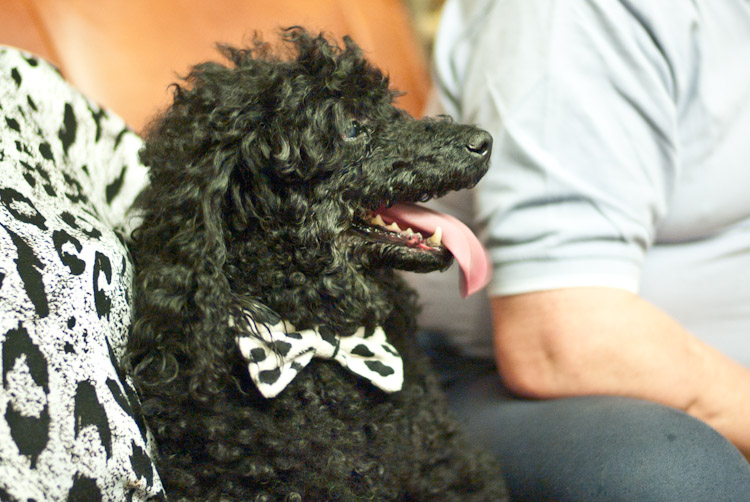 And so ends my last blog of 2011, and with it, my 11th year of posting Pictures-of-the-Week. Next week on to the 12th year!