The week marked the start of the summer vacation season. My children both arrived on Saturday evening, so I took 2 weeks off, partly to be with them, and partly to attend a family reunion in France. Given that our family is spread across seven countries on three continents, such events are rare. I have hundreds of pictures from France, from which I will select a few for a dedicated gallery. I have included just a few in this weekly blog, an amuse-bouche so to speak.
29_1
As I often do, I start with some pictures taken while walking my dog in the neighbourhood. A call for social justice near our nearest supermarket: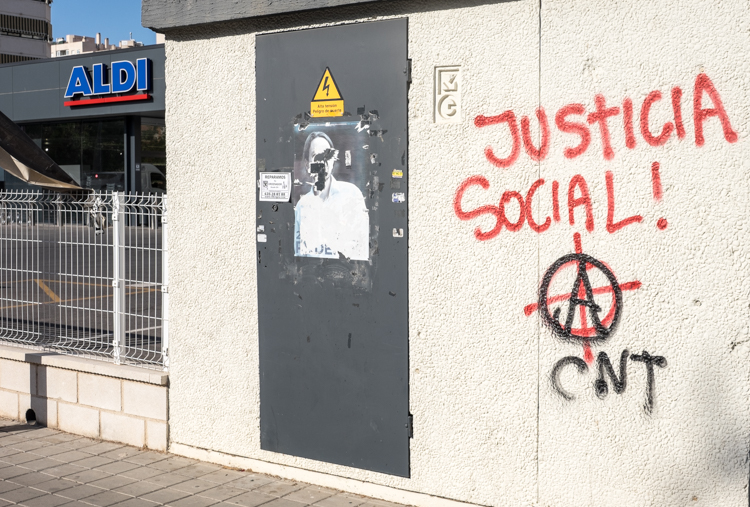 29_2
While I despise bullfighting and hope it will soon end, I do like the old-fashioned posters announcing upcoming events: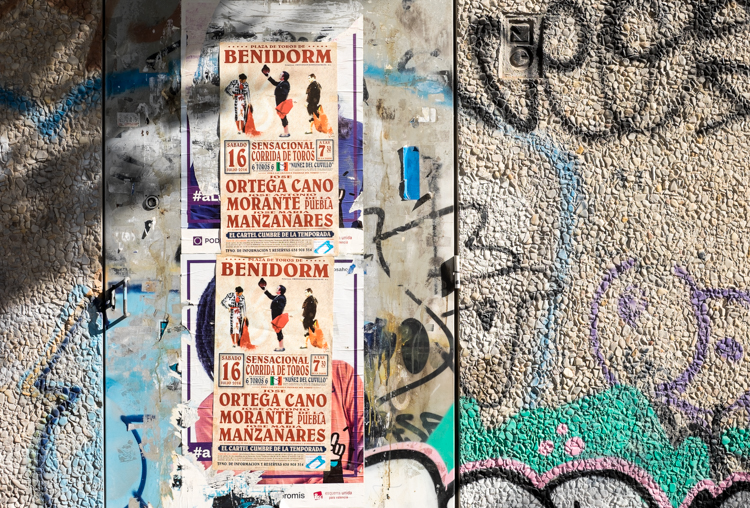 29_3
Some lady did not like her shoes: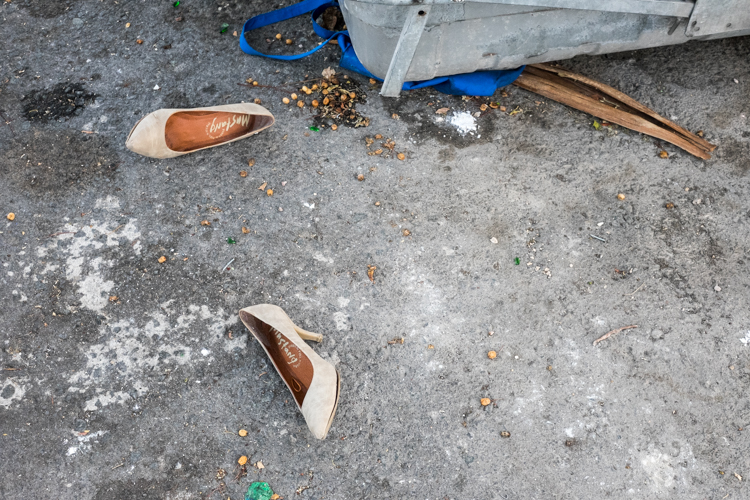 29_4
A street cleaner takes a break: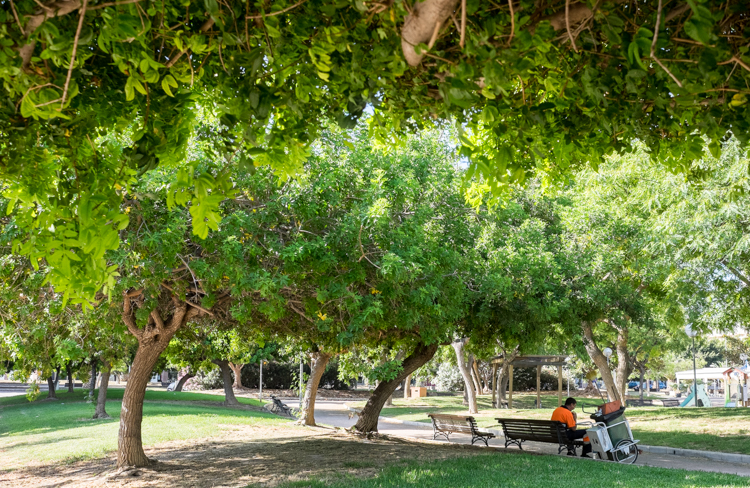 29_5
Customers at my local bakery: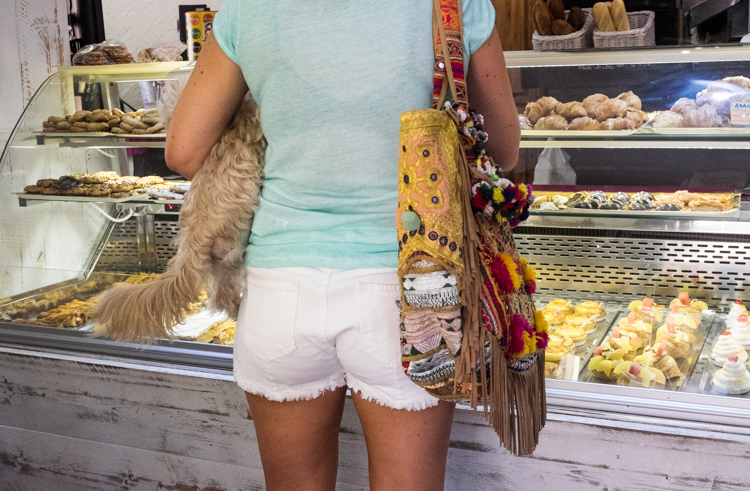 29_6
My son walking his beloved dog outside the same bakery. Notice the tables; in Spain, many people eat breakfast outside the home, in places like this. A fresh-squeezed orange juice, a pastry or toast with olive oil and grated tomato and an excellent espresso will set you back perhaps 3 Euro: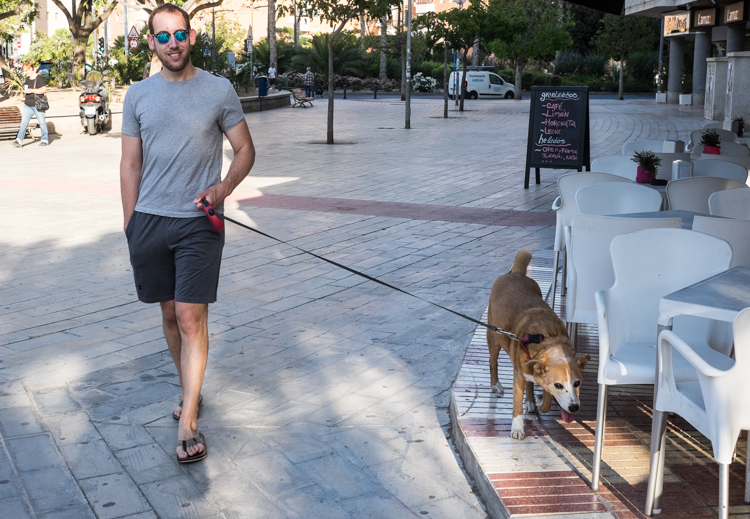 29_7
As if to celebrate the children being here, my late mother's cactus went totally nuts, with five flowers emerging: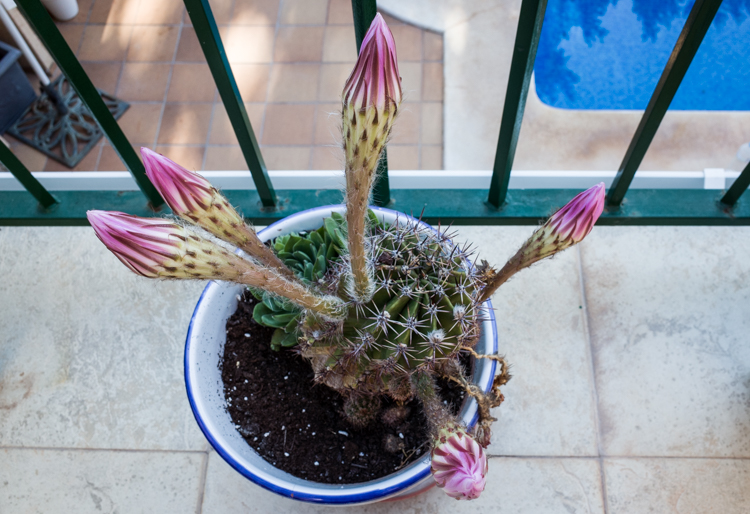 29_8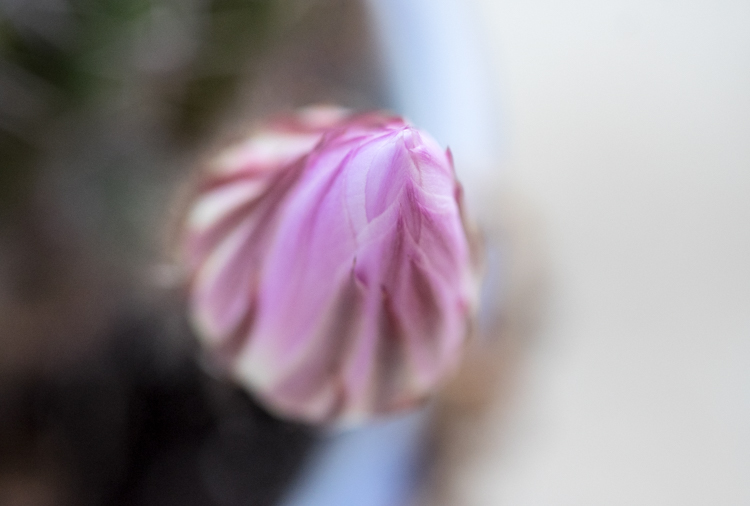 29_9
A day later, all open: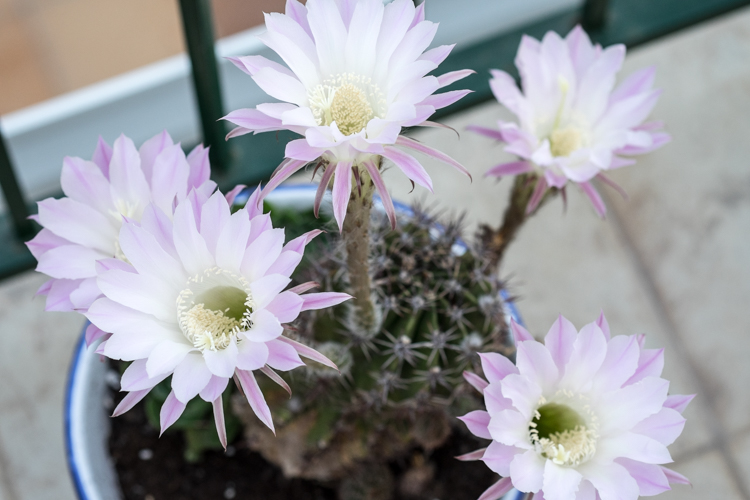 29_10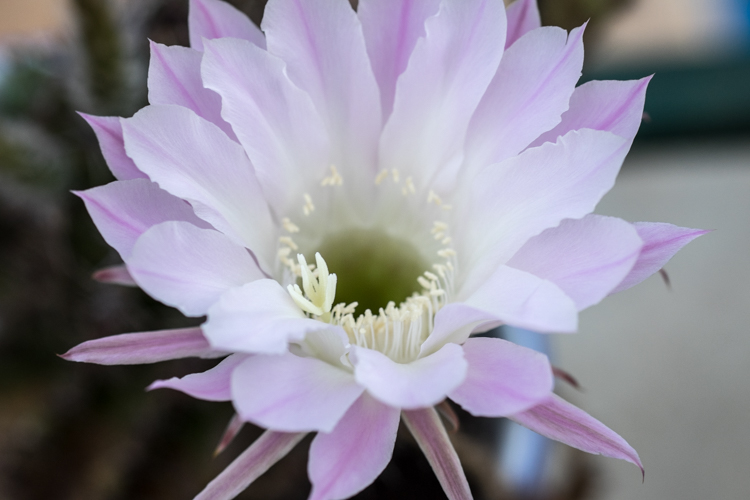 29_11
But the flowers do not last long in the July heat: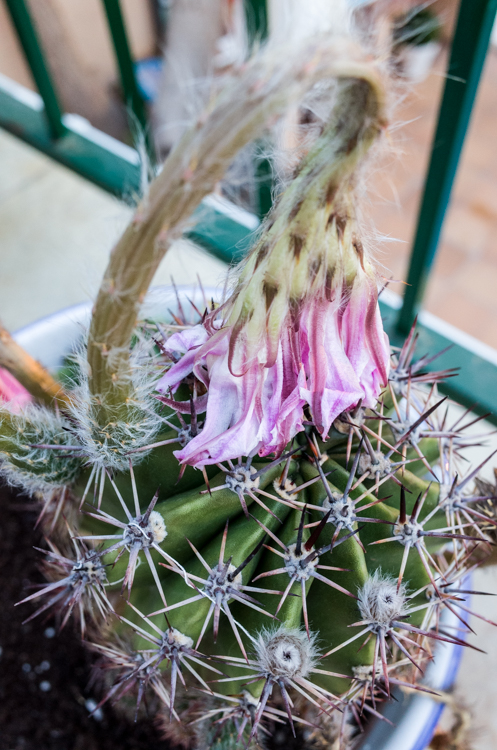 29_12
I continued to enjoy shooting film in my Leica M2, including some portraits of my children. First in conversation: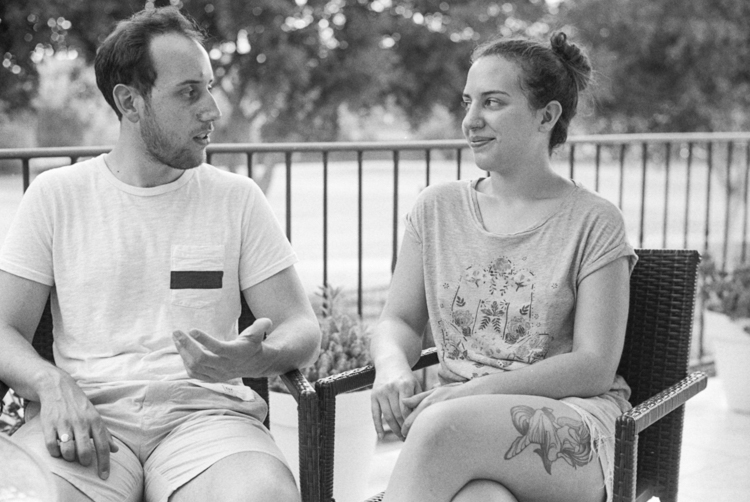 29_13
Then posing: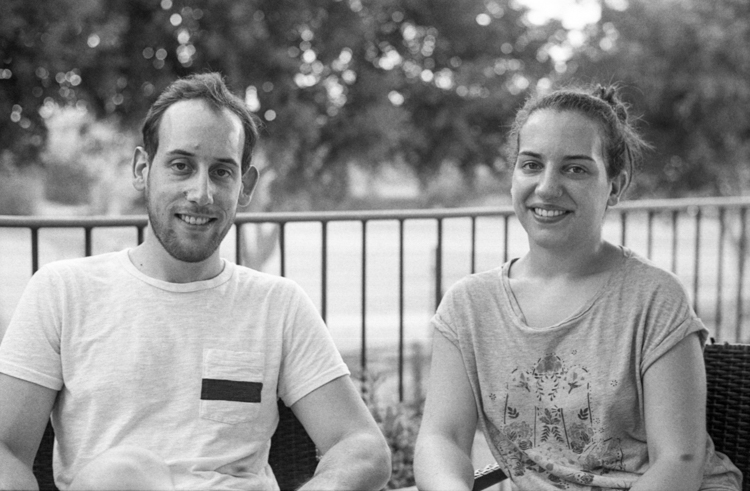 29_14
I also walked throught the Mercado Central with the Leica one day and photographed this very well-dressed butcher at work: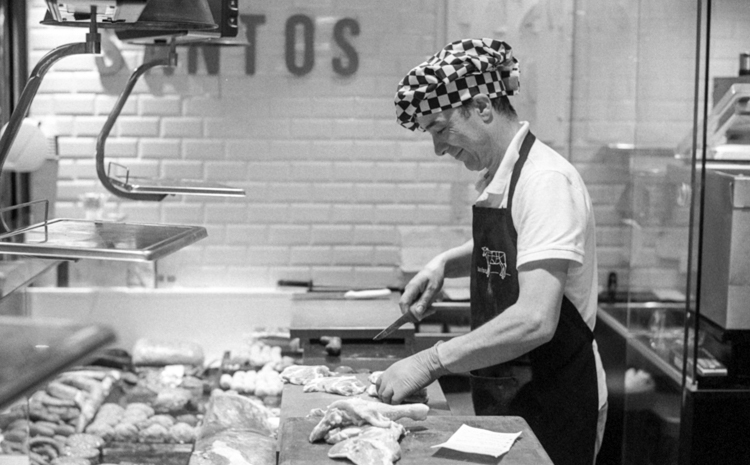 29_15
I got caught in the act, but to no ill effect: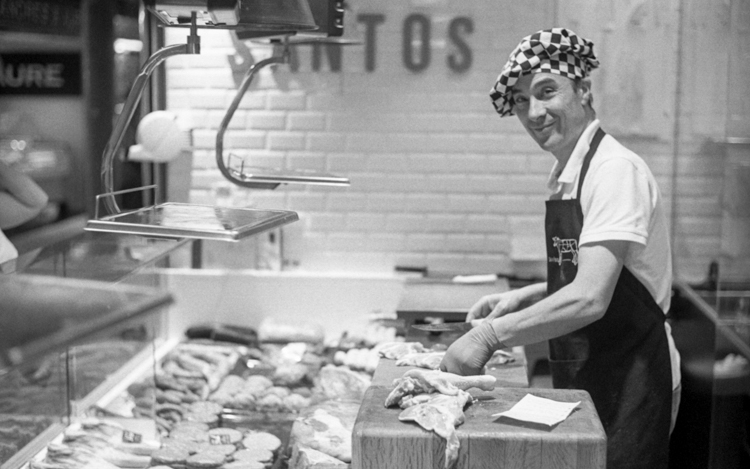 29_16
Another day we went to have lunch at Moments, the nice seaside restaurant that has become the favourite of many people at the office. It was nice to be there with family instead. And one of the things I really like at Moments is their beer selection which includes many craft beers, and often ones I have never tried before: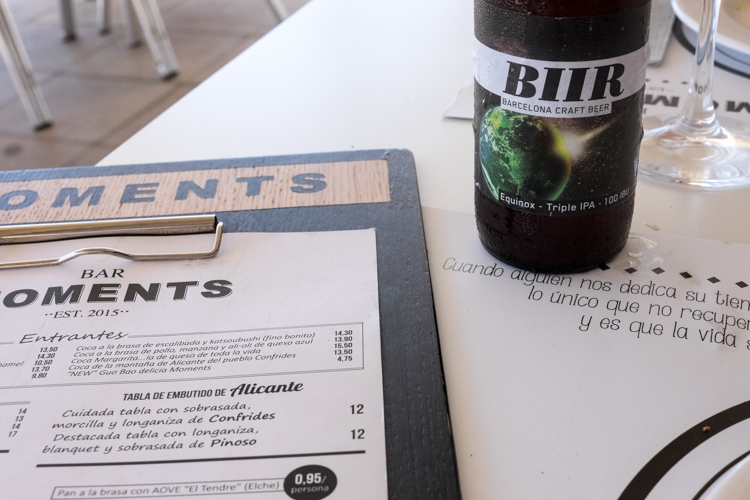 29_17
I had mounted a 60mm macro lens on my Fuji X-T1, to photograph the food. While we waited, I turned the lens to Monica and Moses instead: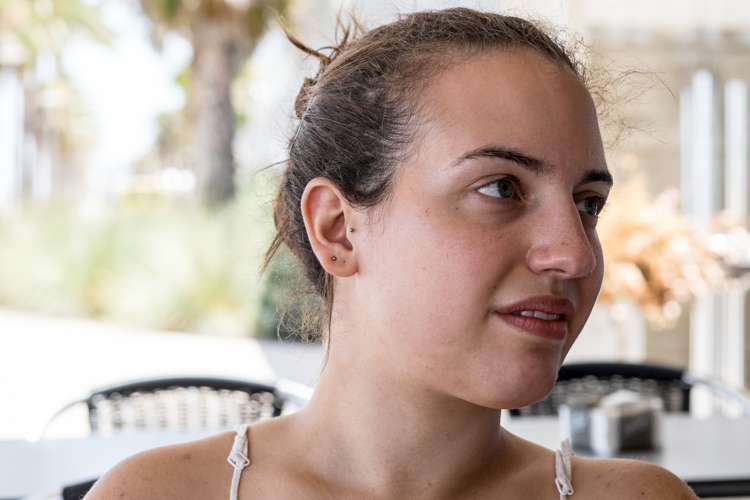 29_18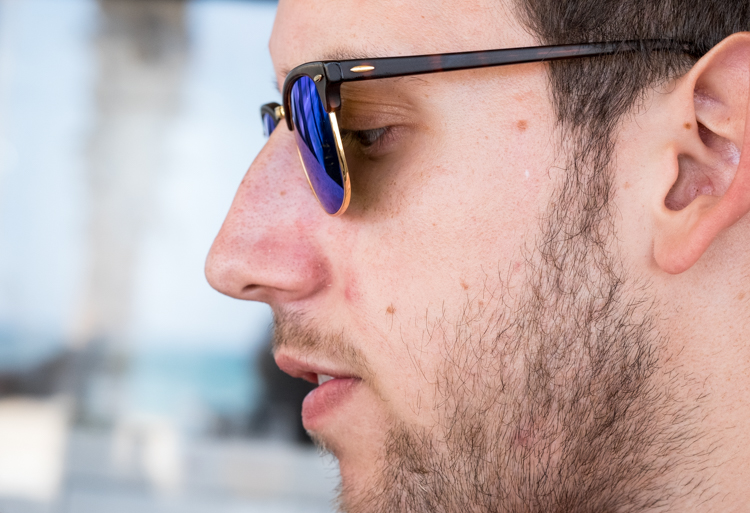 29_19
Aperitif de casa, or amuse-bouche as the French call it; a sort of high-end Slurpee with a small slice of Iberian ham: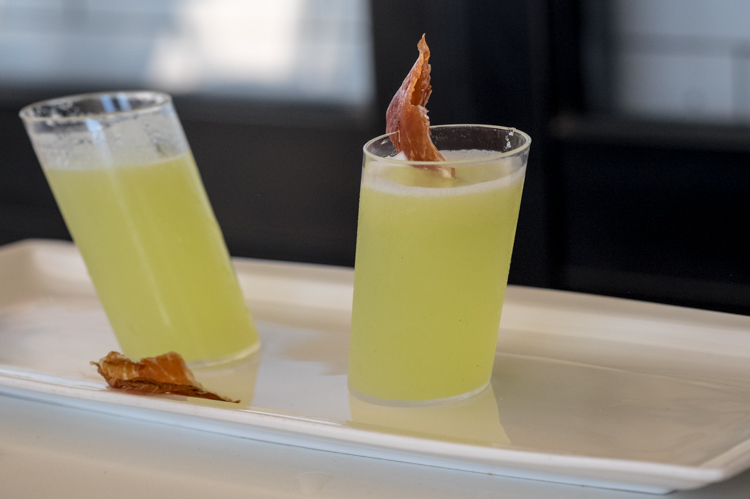 29_20
Moules: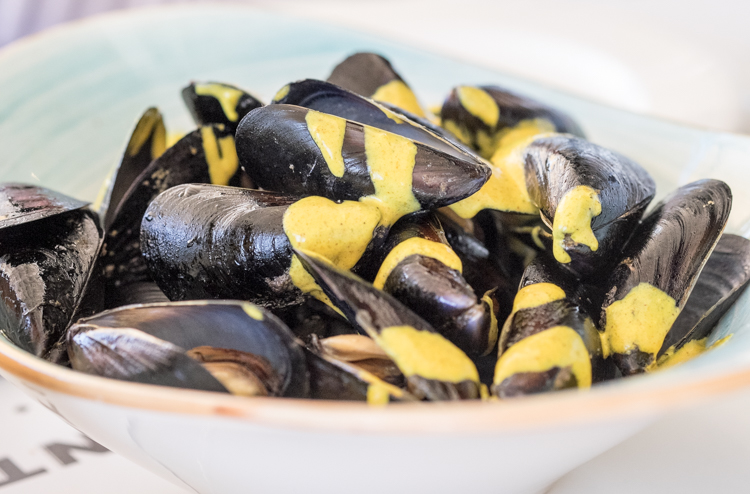 29_21
Coca de mar y montaña, a local version of very thin crusted pizza: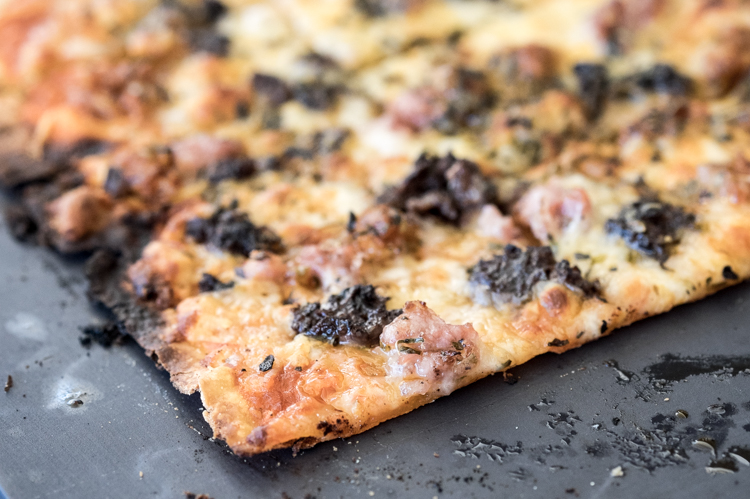 29_22
Roasted vegetables for my vegan daughter:

29_23
A burger for me. I never eat at McDo or the Burger Trough but a burger at Moments is an entirely different matter: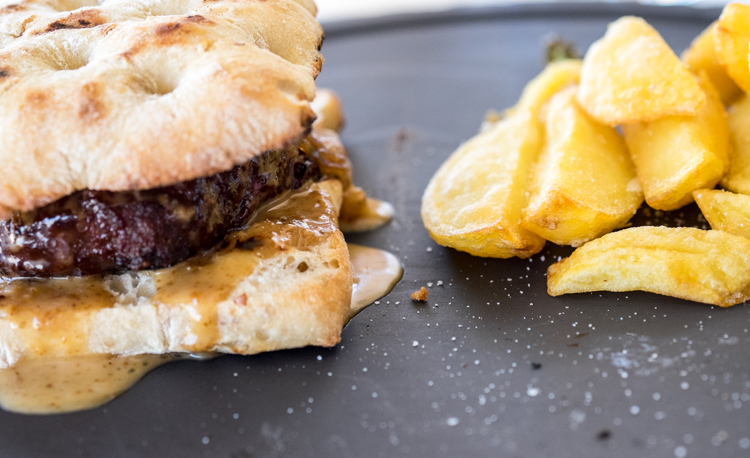 29_24
The restaurant is located on the beach in Urbanova, a suburb south of Alicante with relatively few tourists. The food at Moments is excellent, but the beach views are the icing on the cake:

29_25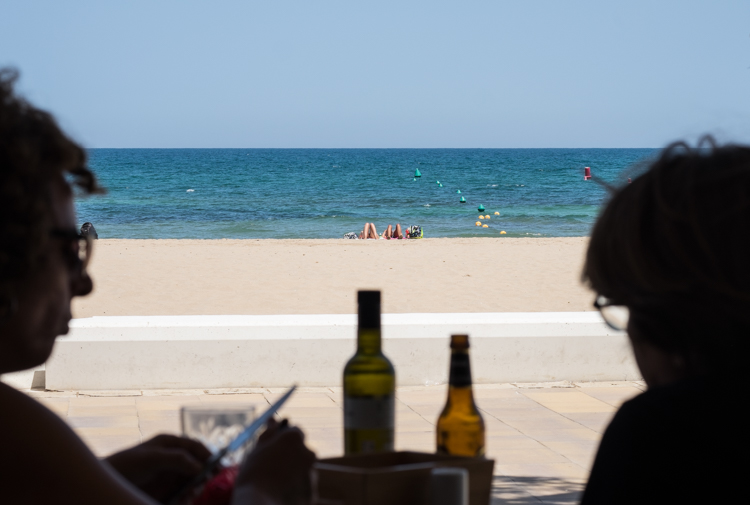 29_26
As usual, I was out cycling in the mountains, including a climb to the Puerto de la Carrasqueta one morning. On the way to Jijona, along a busy local road, I came across a herder crossing that road. Given the volume of traffic, he had to do it quickly, but both he and his dog were highly skilled at their job: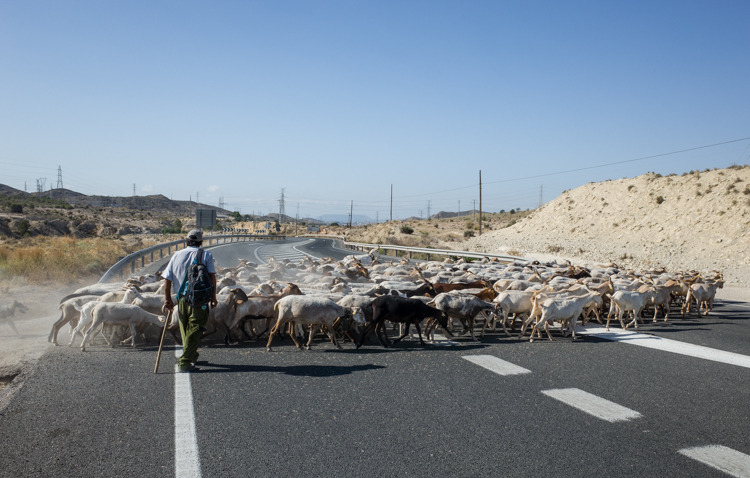 29_27
The rear guard: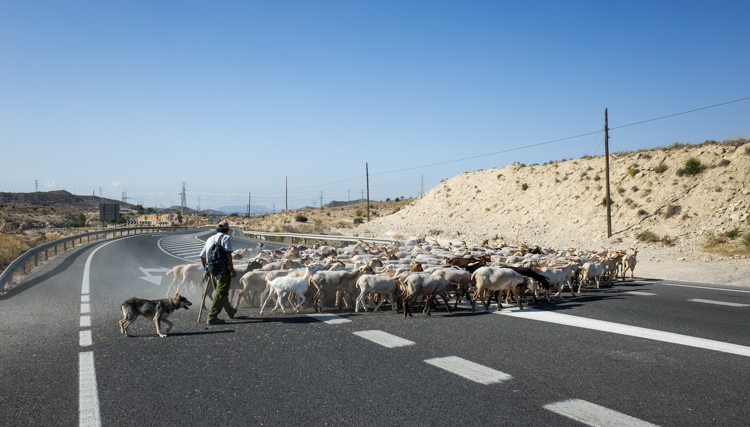 29_28
Crossing virtually completed: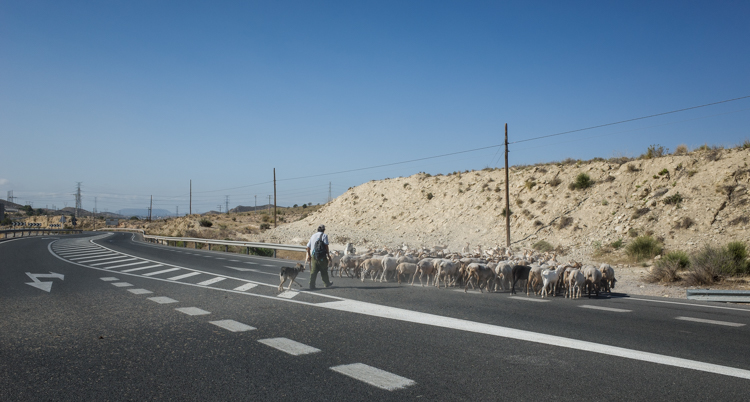 29_29
This is just about the only place to buy a drink on the way to the mountain pass: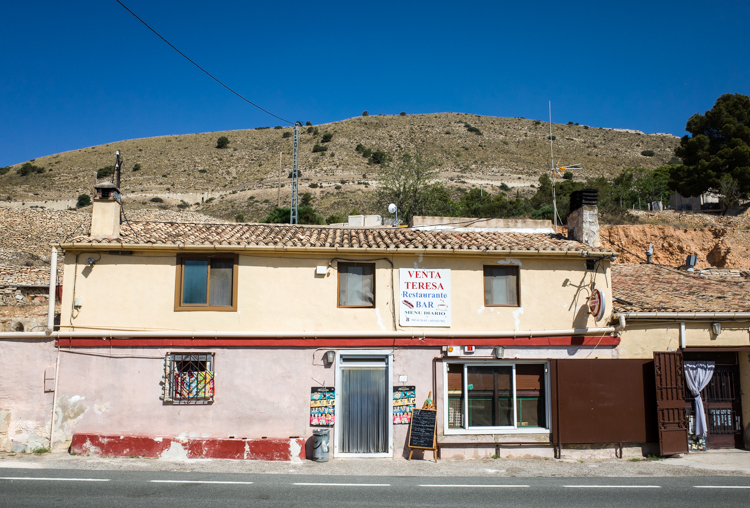 29_30
They have set up an area with benches and tables across the road. On weekends it is full of motorcyclists and cyclists relaxing, but this was a working day so the place was empty:

On Wednesday morning we drove the 1350 km to Manoir le Gravier, a country house about 40 km south of Le Mans in France, where we would have an international family reunion during the next few days. I am still working on hundreds of pictures from that reunion as I write this, so here I present just a small selection.
29_31
We stopped at a rest area somewhere in Aragón in northern Spain. I liked this roundabout with a striking structure in the centre: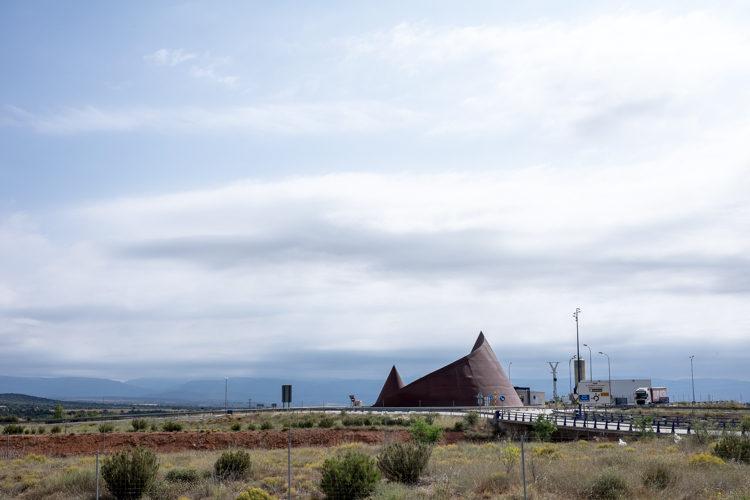 29_32
All creatures stretch their legs: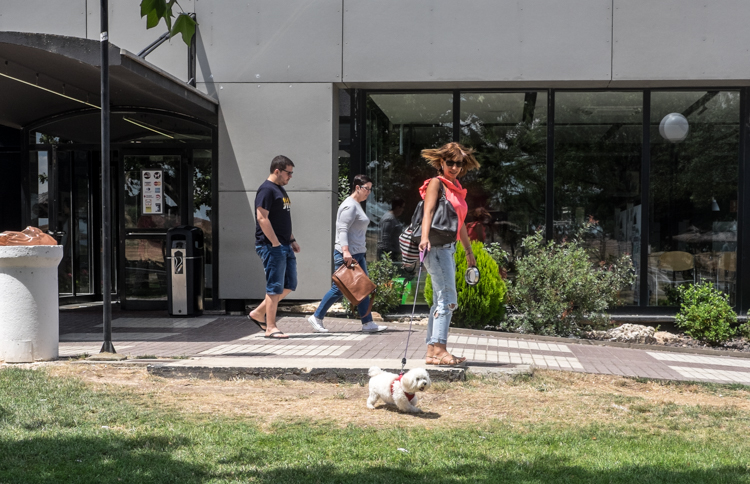 29_33
Monica took the stretching a bit further: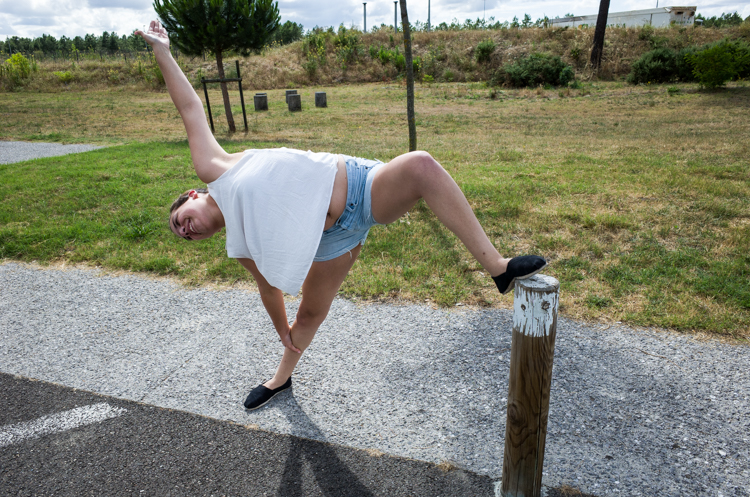 29_34
We continued north into Navarra, and besides getting lost for a few minutes on local roads in Pamplona, driving was easy. We crossed into France near San Sebastian, and again the first couple of hundred km were uneventful. But once we got to Bordeaux, as I expected, we were faced with this. The motorway forms part of the city's outer ring, and there is always a traffic jam. It took us about an hour to get through it: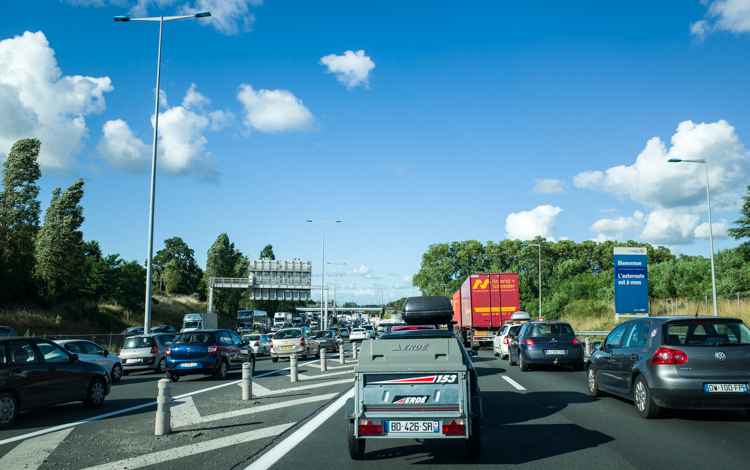 29_35
Once past Bordeaux, it was just a matter of another 500 km or so before we arrived to be greeted by family members from France, Israel and the USA. Sadly, the Belgian branch could not make it. This is the main person in the event, my uncle Joseph from Le Mans, talking to my cousin Mirale from Tel Aviv: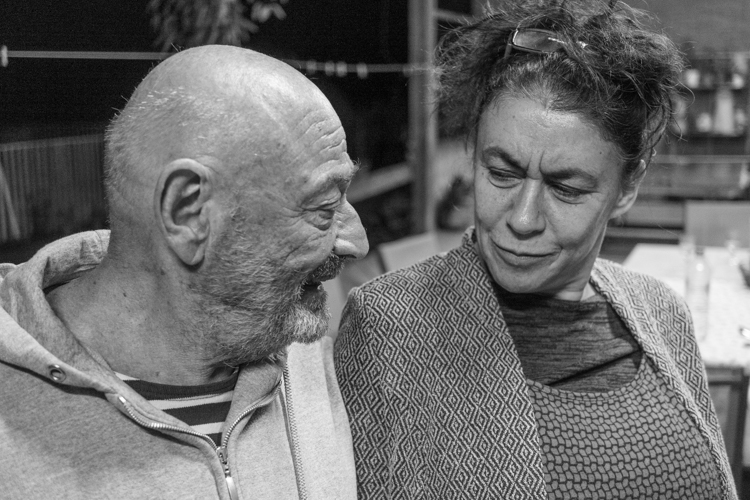 The next 9 images are all shot with a 50mm collapsible Summicron on Kodak 400 TMax film.
29_36
During the next 3 days, we spent a lot of time together, doing various things such as bike rides in the lovely countryside, a visit to a local winery, some sightseeing, but most importantly, just being together, and in some cases re-connecting with family members whom I do not see that often. Most important for us was to bring together the youngest generation, i.e. my children and their cousins, since they will one day "inherit" the responsibility for keeping the family connected. This is my cousin Isabelle, a lawyer in Le Mans, who did much of the work organising the logistics of our reunion: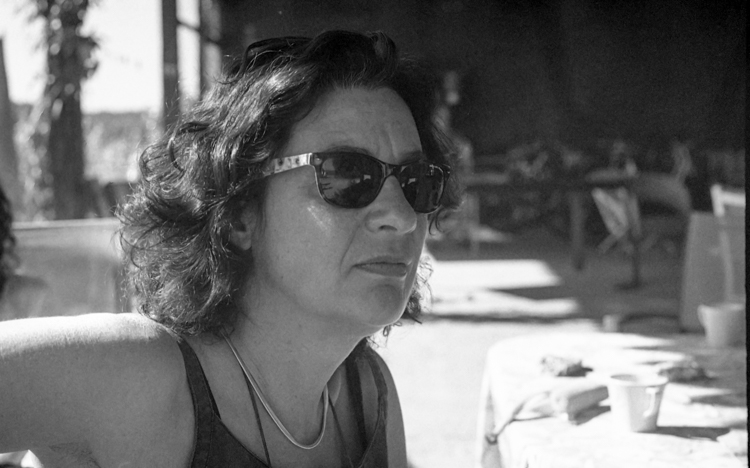 29_37
The mornings were beautiful, and I would get up at 6 or 6:30 and go for a walk around the grounds. There was this little pond with a few benches and quite a lot of fish: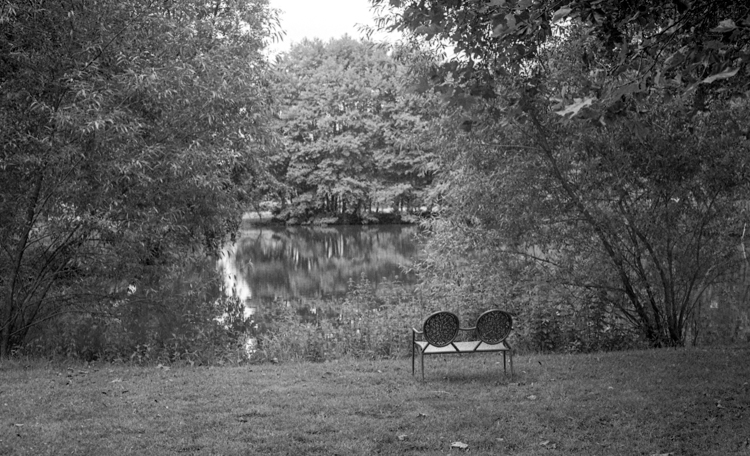 29_38
It is hard to imagine a more idyllic setting than this: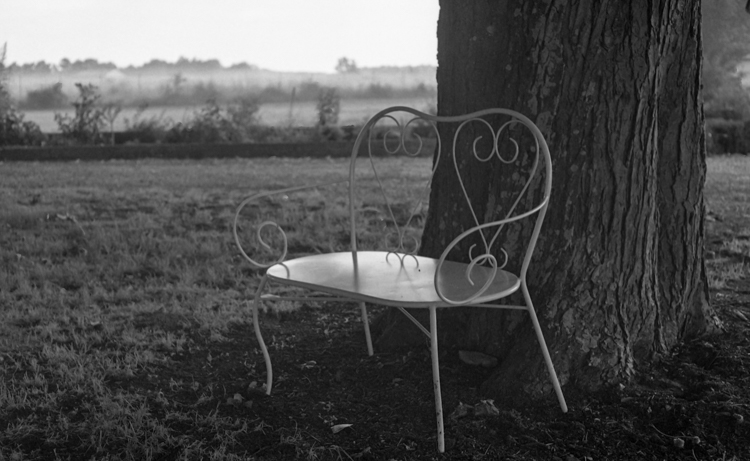 29_39
The morning fog was beautiful: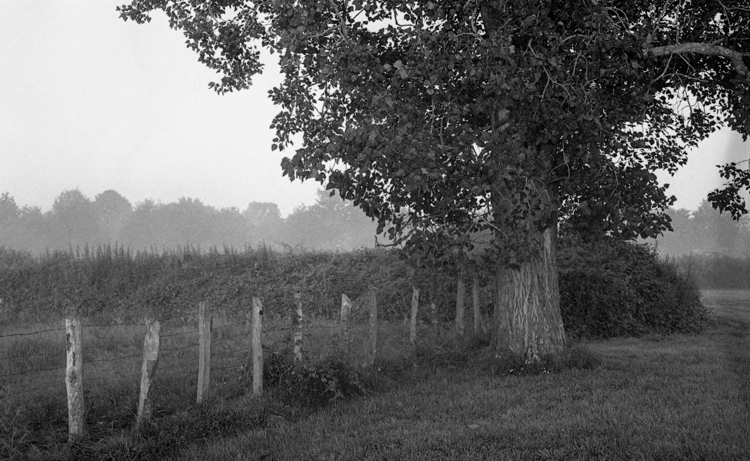 29_40
And the bokeh of the old 50mm lens only added to the impression: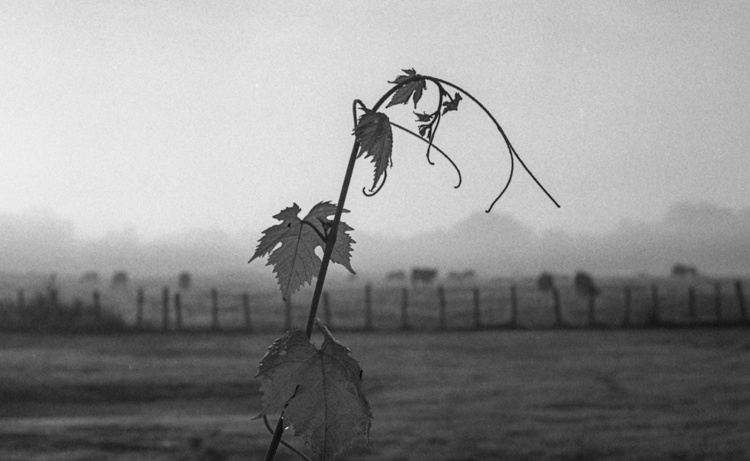 29_41
The neighbours noticed me and came over to check me out: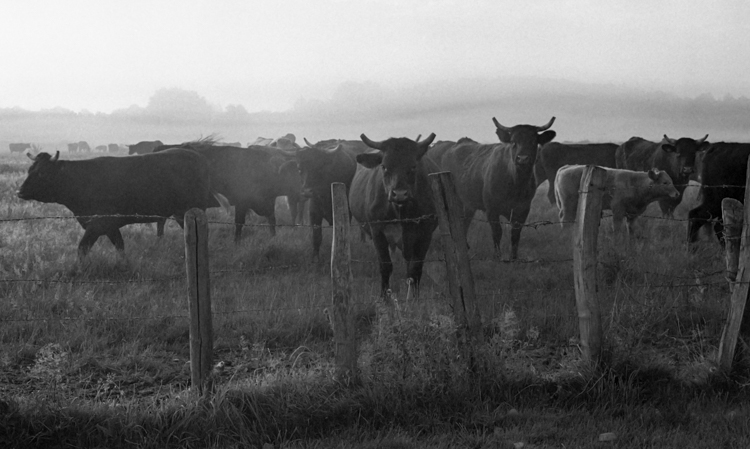 29_42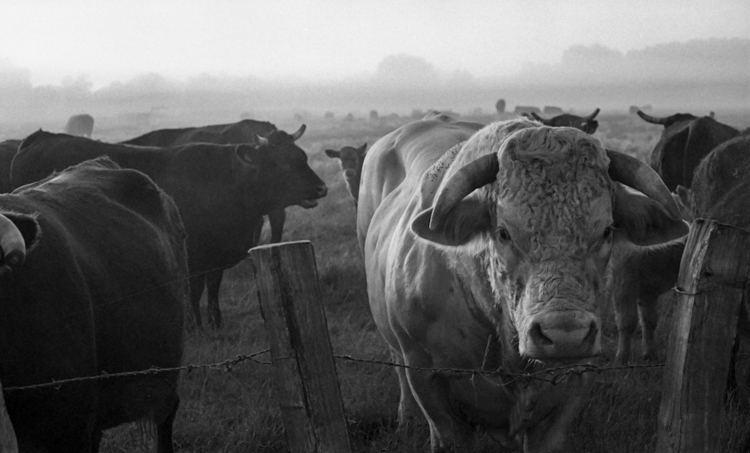 29_43
Trees and reflections: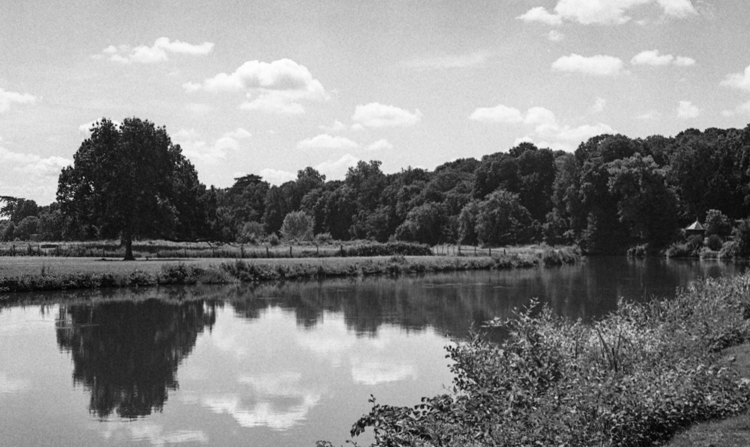 29_44
Monica does it too: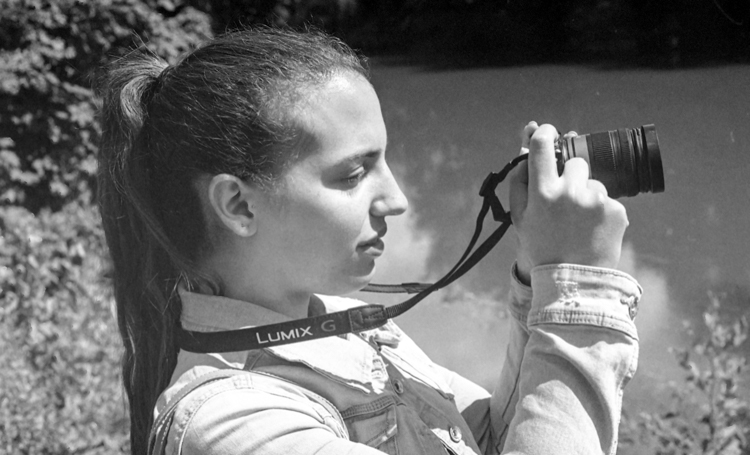 Then we moved on to Le Mans itself for some ceremonies and events to be documented later. And on Sunday we drove home. Same way as driving up, same traffic jam in Bordeaux, but we skipped the part about getting lost in Pamplona. We arrived home at 4 a.m. Monday morning.
29_45
And this is what the car looked like: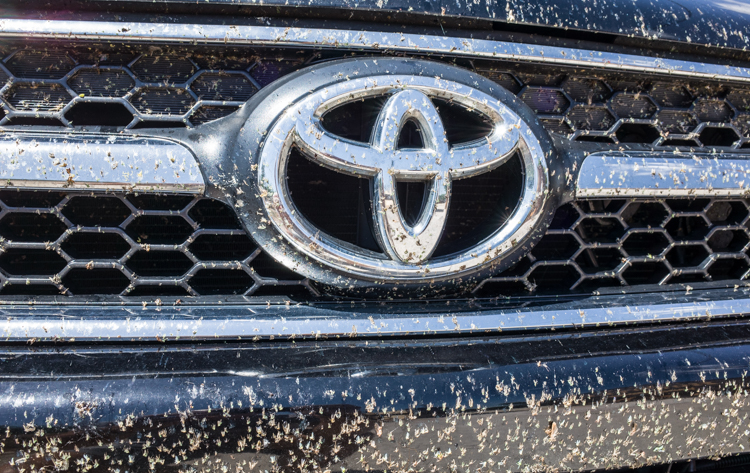 Pictures from our family reunion and the ceremony in Le Mans are here. And there are also galleries of images from the countryside around the Manoir du Gravier, and from the city of Le Mans.