The highlight of last week was the visit to Sitges to spend a day photographing with my friend Lluis up there. So the overwhelming majority of this week's pictures are from my trip to Catalonia Thursday and Friday.
34_1
But I start with a few pictures from home. Now that my Taco is no longer here, one of the golf course cats has begun taking liberties with our backyard. Of course, Cheeta the dog is still around but she is a senior citizen and unless she happens to be downstairs when the cat comes, she does not react. It is always the same cat; I recognise it because it is missing almost half of its tail. He is very shy and ran off as soon as I managed to take a couple of pictures: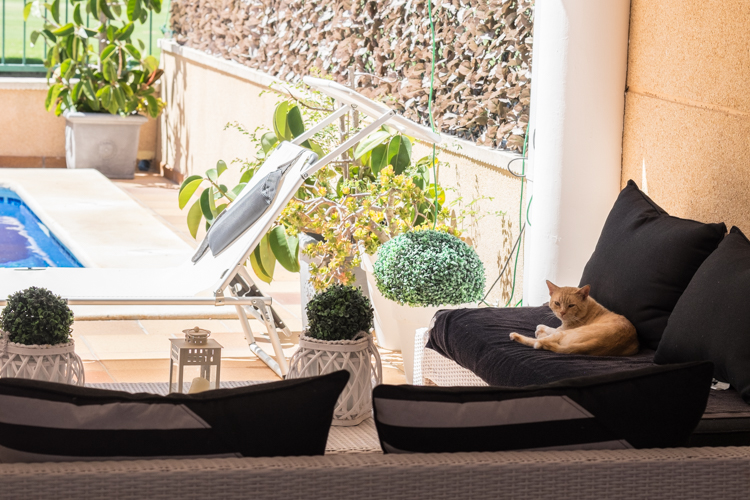 34_2
This white cat intrigues me. I do not think he is feral, and he seems relatively uninterested in the food I leave behind. So I suspect that he lives in one of the houses and just likes to roam around a bit: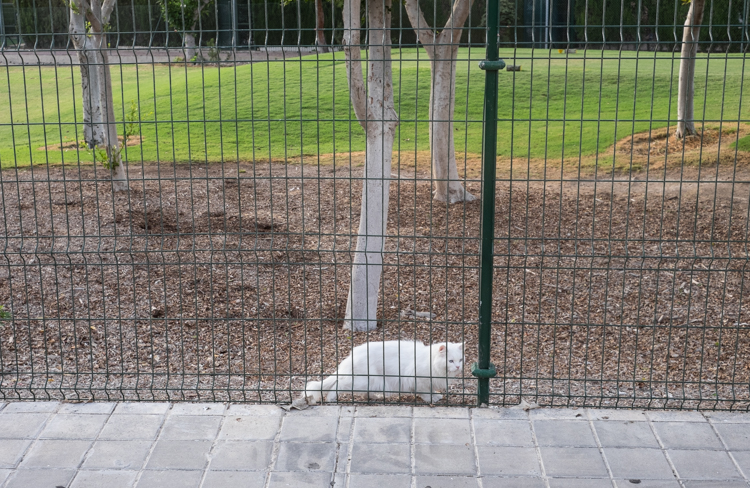 34_3
Staying with the animal theme, a beagle waits for his human outside our Aldi supermarket: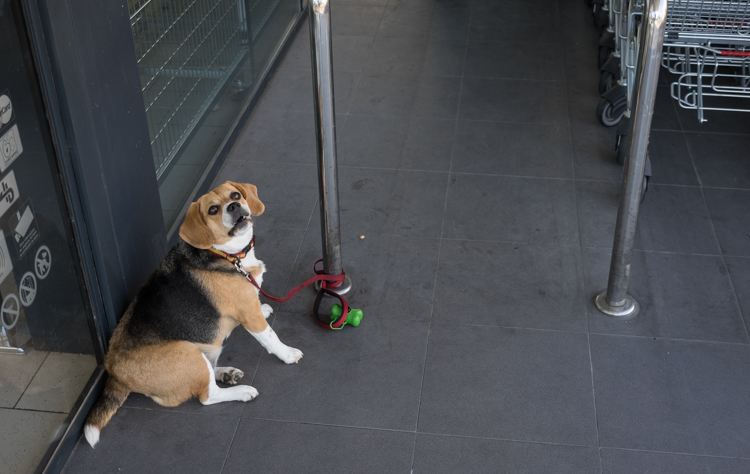 34_4
Morning light in my kitchen: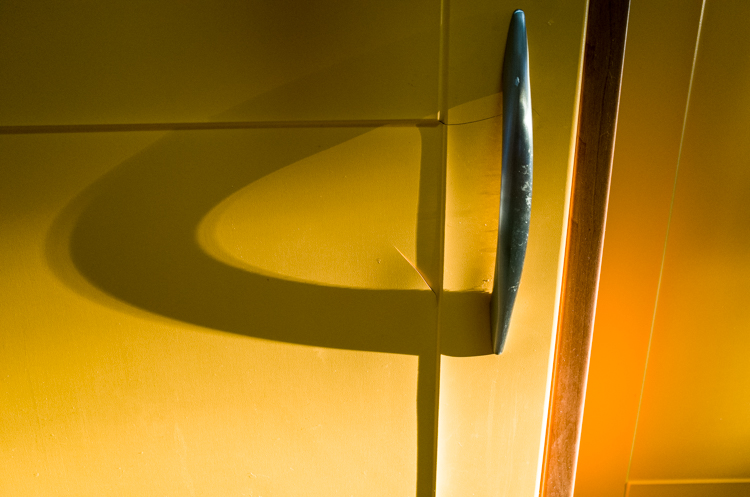 34_5
As an antidote of all the pictures I have posted from various eating and drinking activities at the office, here is a picture of our gym. In addition to my cycling, I do some weights once or twice a week. Until a couple of weeks ago, I never used the gym at the office, preferring to go to one near my home. But finally I decided that it was stupid to pay 50 Euro a month for my membership when I have a very nice gym available to me free of charge: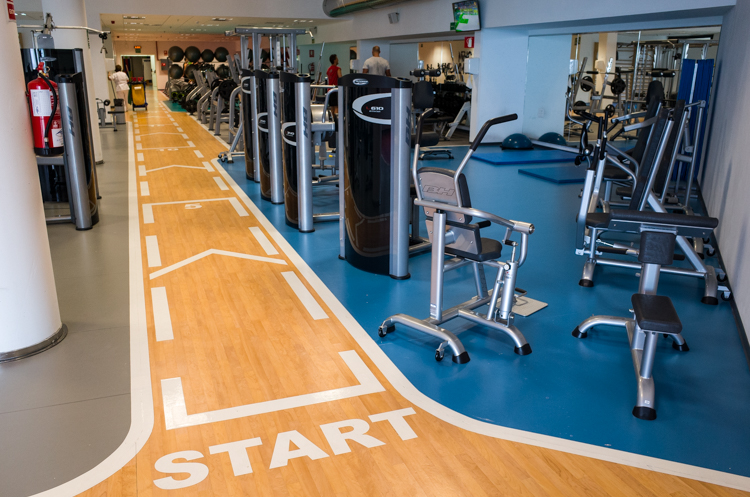 34_6
And now to the key part of the week. On Thursday morning I drove the 500 km to Sitges, arriving there around lunchtime. My friend Lluis from Barcelona has a summer home in Sitges, and he met me at my hotel. After checking in, we installed ourselves at a table outside a nice little place and got our cañas (small beers):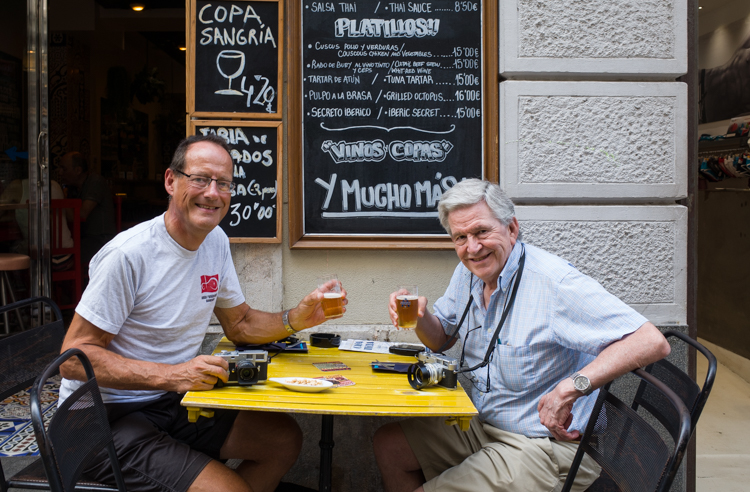 34_7
Lluis studies the menu…: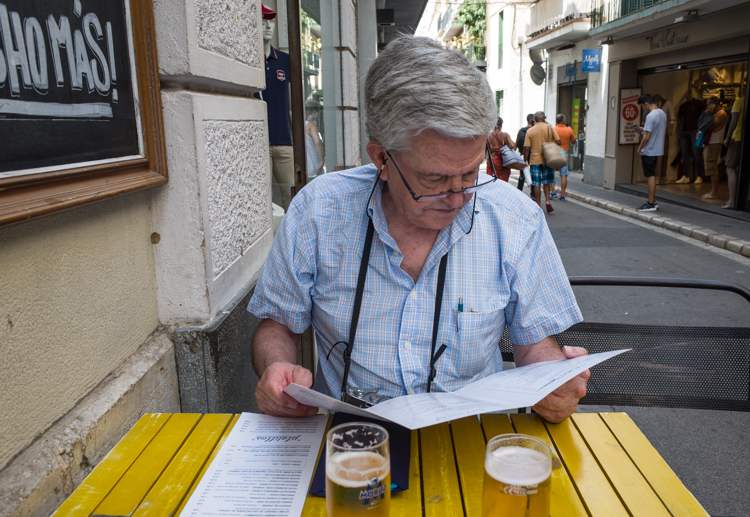 34_8
…and we ended up with this delicious light lunch: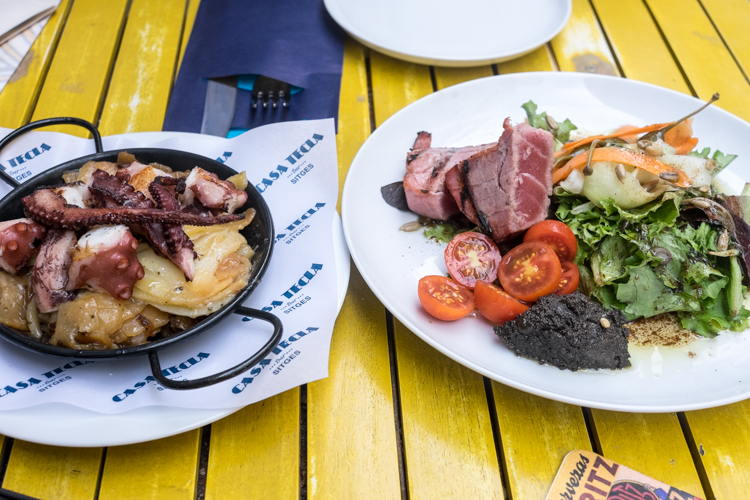 34_9
It is lovely to sit outside and watch human traffic, such as this delightful mother and daughter: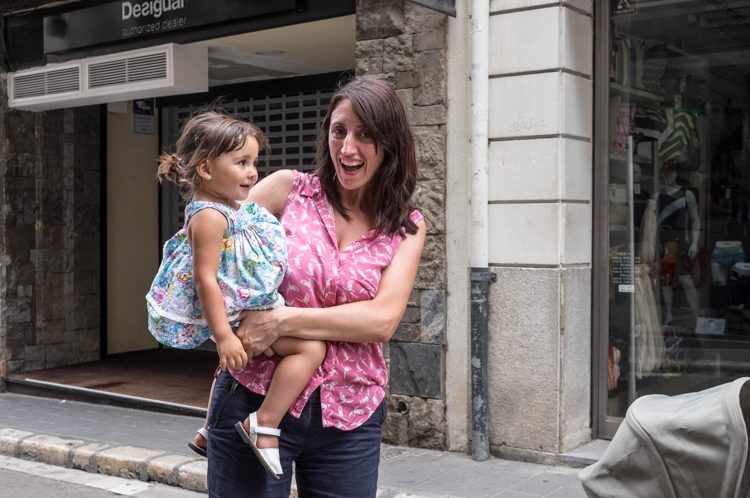 34_10
After lunch, we set out to explore Sitges on foot, for several hours. The town has many lovely places, such as this, called Racó de Calma (the corner of calm). A father is trying to get his young son to pose: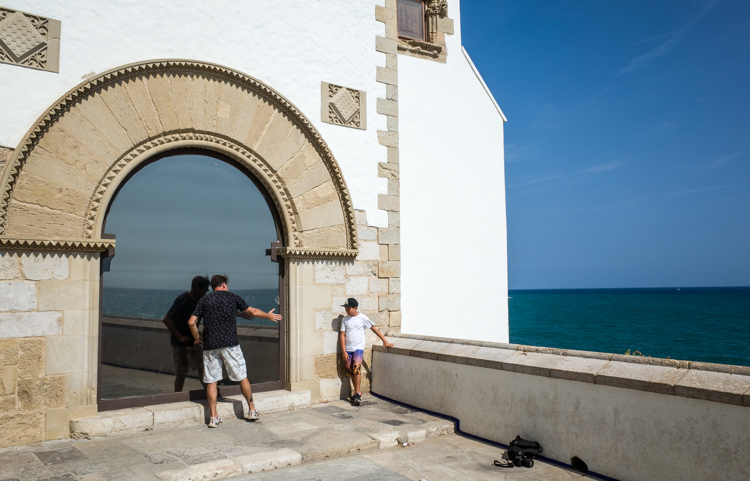 34_11
An Asian tourist. Either her jaw dropped because of the beauty of what she is photographing; or she is examining her mouth, using the phone as a mirror; or she is bored. Take your pick: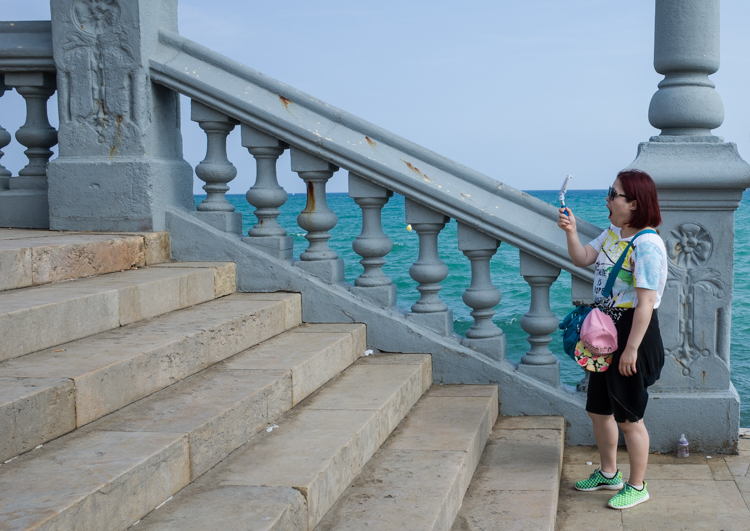 34_12
A curious sign. Lluis did not know what the "hippie fair" referred to: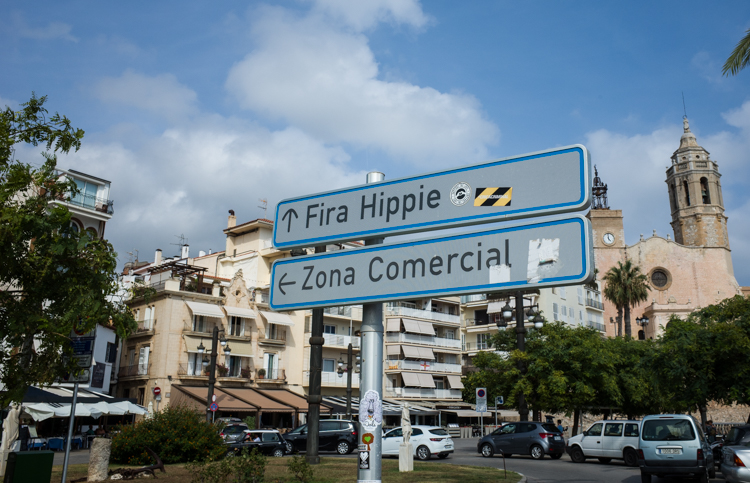 34_13
After a couple of hours, we got thirsty and sat down for a beer at the oldest chiringuito (beach bar) in Sitges, right on the beachfront promenade. Before I knew it, Lluis was taking a picture of these two French ladies at the neighbouring table: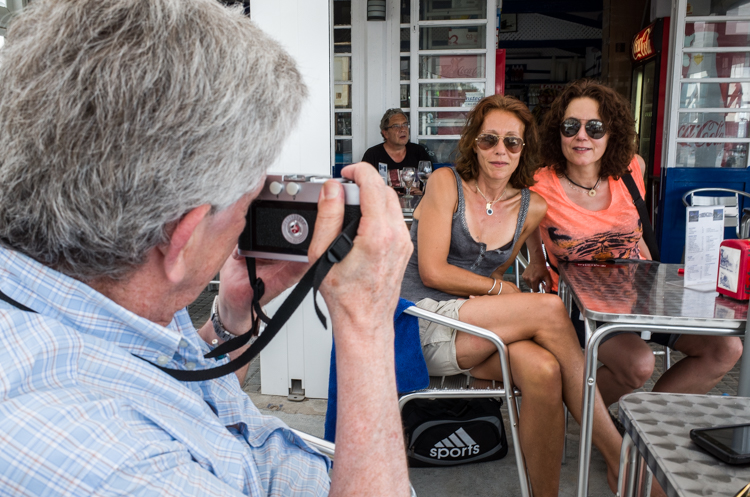 34_14
And then, at their request, he is writing his e-mail address in their notebook: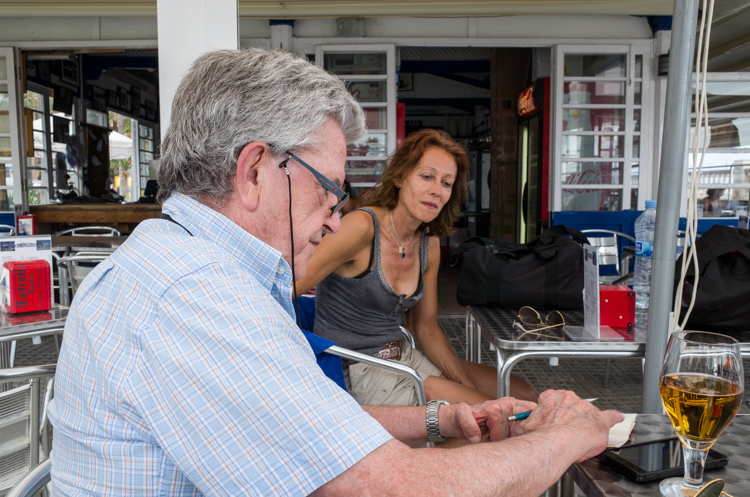 34_15
A sign at the entrance to the bar's toilet. It is unclear how "emergency" is defined: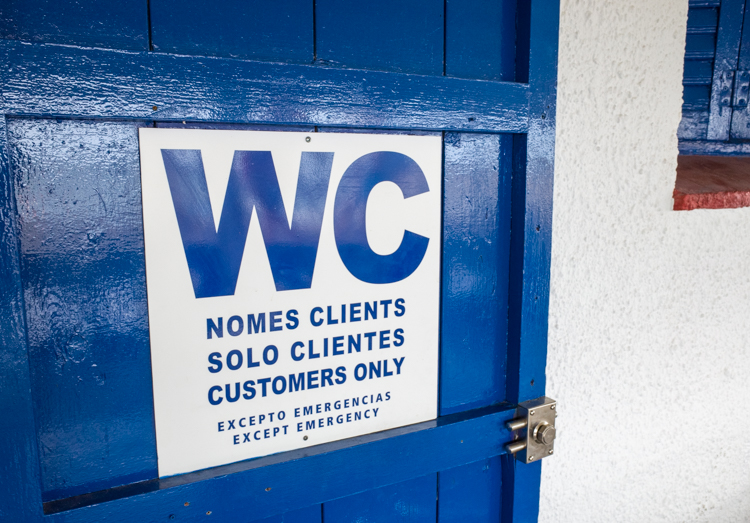 34_16
The seating area of the bar was below the level of the promenade, which provided for some interesting angles to take pictures. This part of the promenade was like a shopping mall of cheap trinkets, counterfeit sneakers and sunglasses and the like. Despite prominent signs that this kind of commercial activity was forbidden, it was obviously completely tolerated: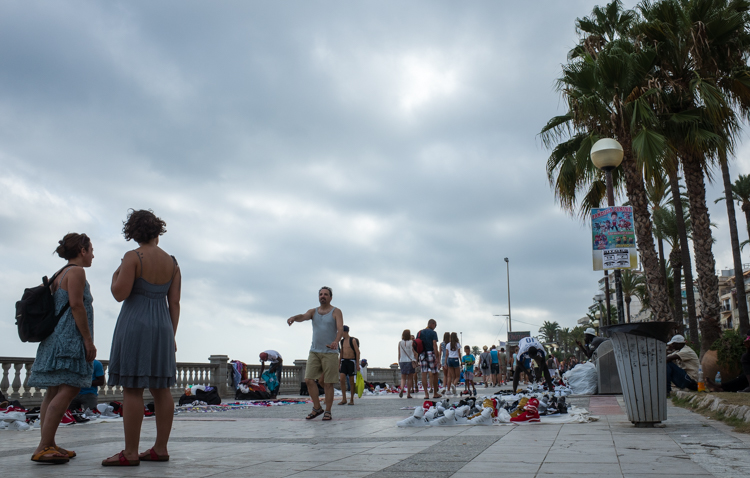 34_17
Two women want to have their picture taken by a third woman; but first the putative photographer must be trained in the operation of the camera: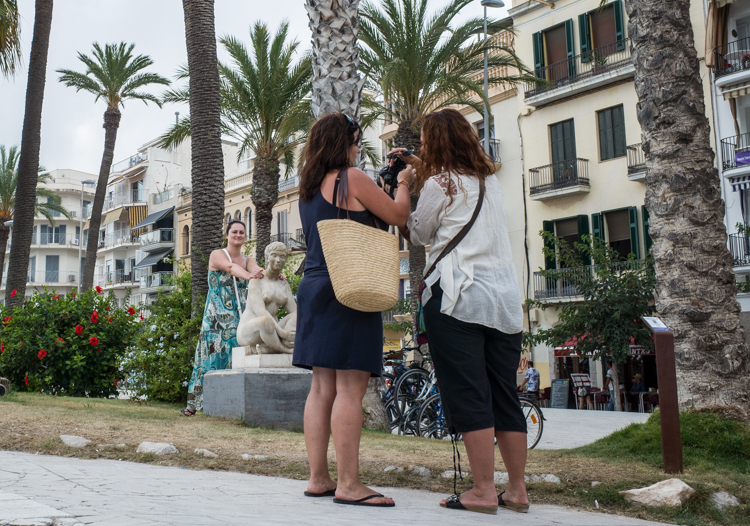 34_18
And the picture gets taken: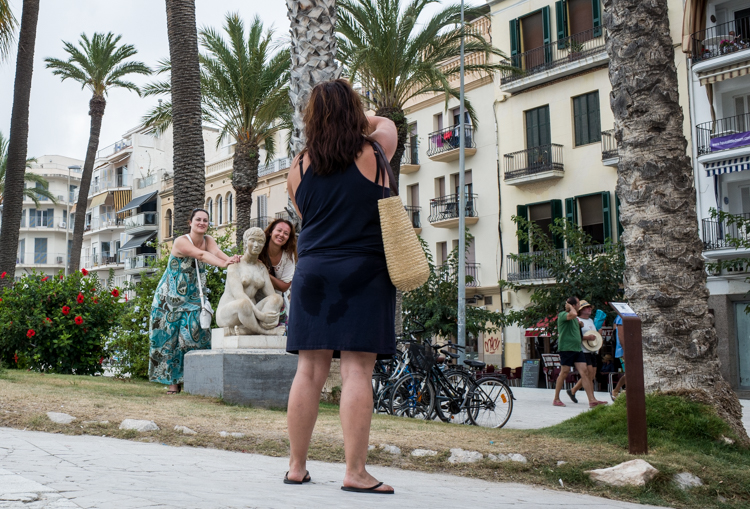 34_19
Having enjoyed our beers and conversed with the French ladies, Lluis and I kept on walking down the promenade. The commercial activity continued: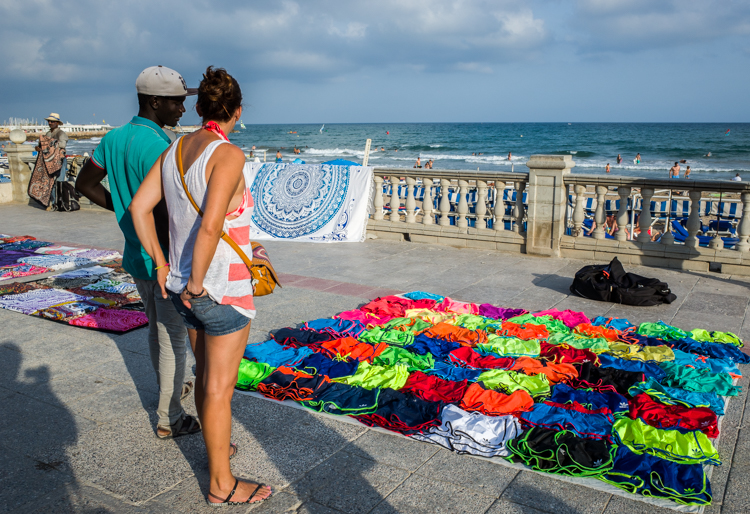 34_20
Entertainment for the children: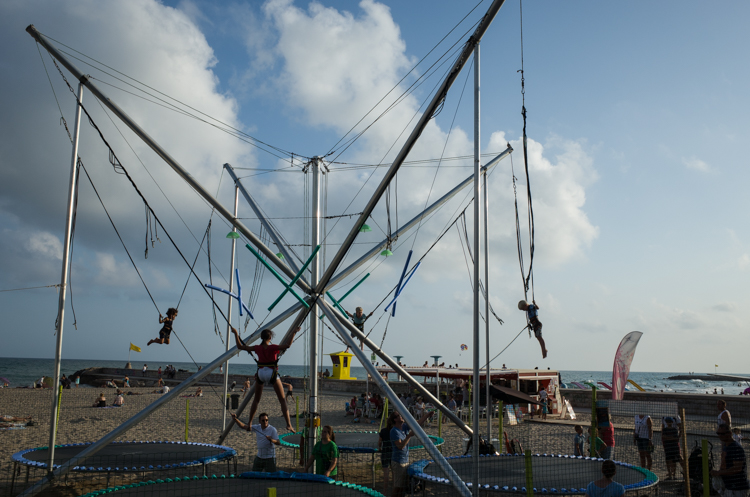 34_21
Conversation, human:

34_22
Conversation, canine: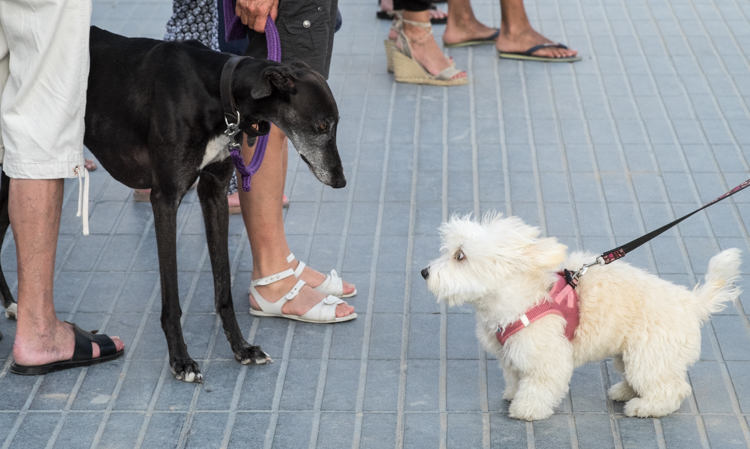 34_23
A bit later in the afternoon (what would be considered early evening anywhere but Spain), we met up with Lluis's family. This is the first time I have met them, so it was a great pleasure for me. Lluis and his wife have two delightful daughters and have been blessed with grandchildren too. Here is Lluis and one of his daughters: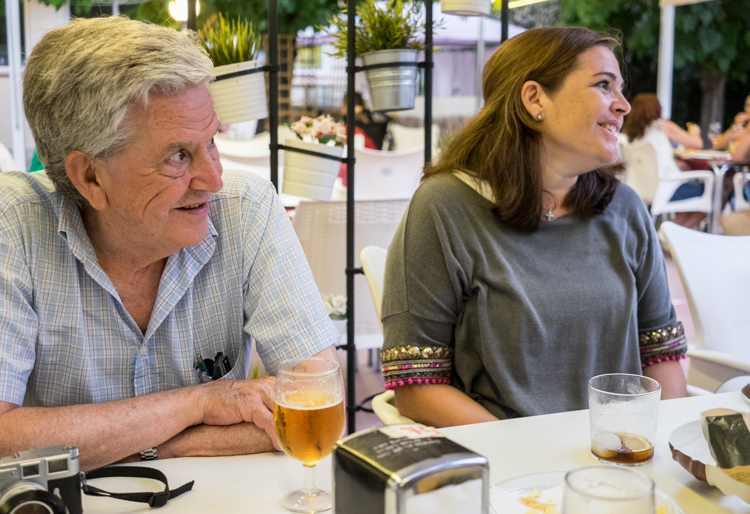 34_24
Lluis's wife and granddaughter: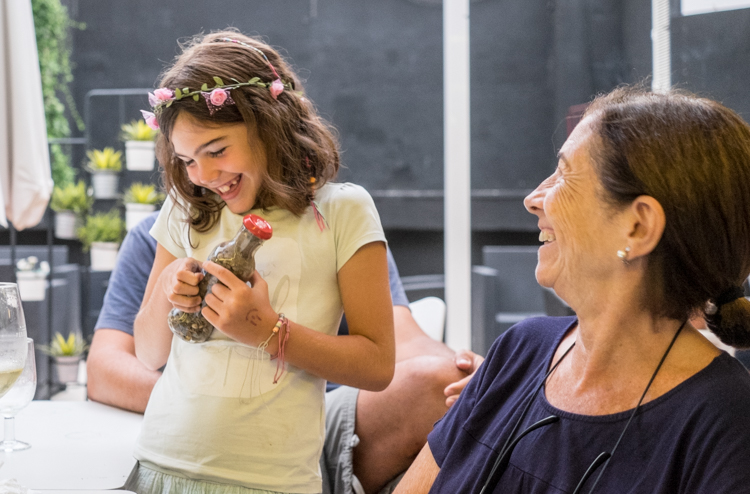 34_25
Lluis's two daughters and the youngest grandchild: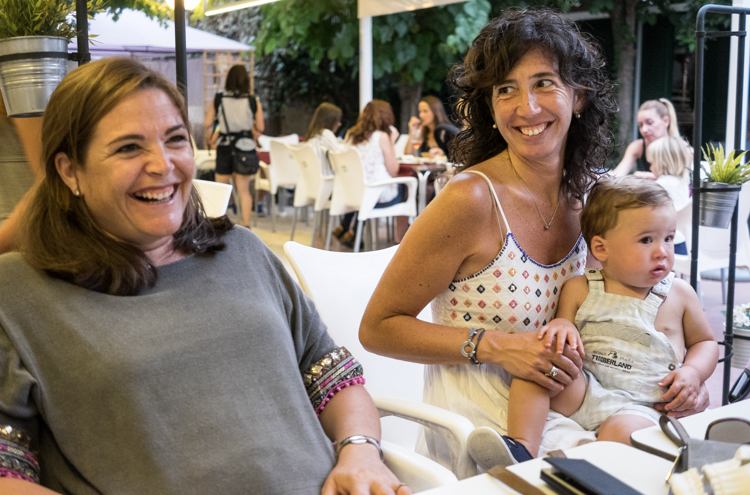 34_26
As is often the case, the baby is the centre of attention: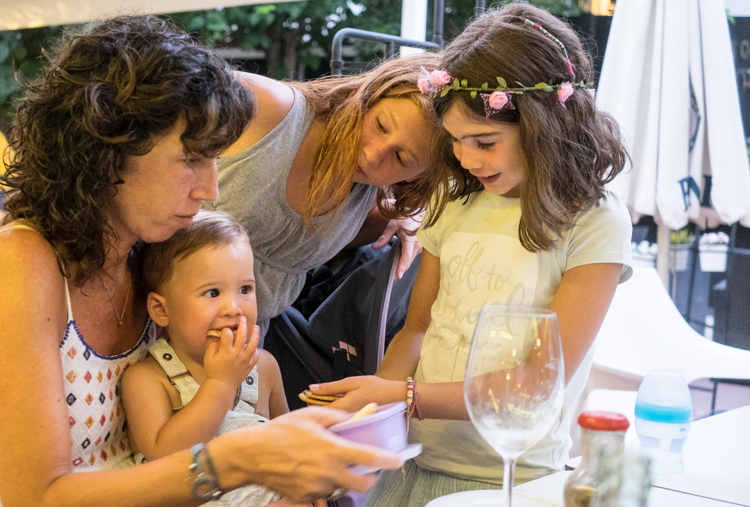 34_27
I am always the one taking the pictures, but when you are with another photographer, then sometimes your own camera gets turned on you (picture by Lluis):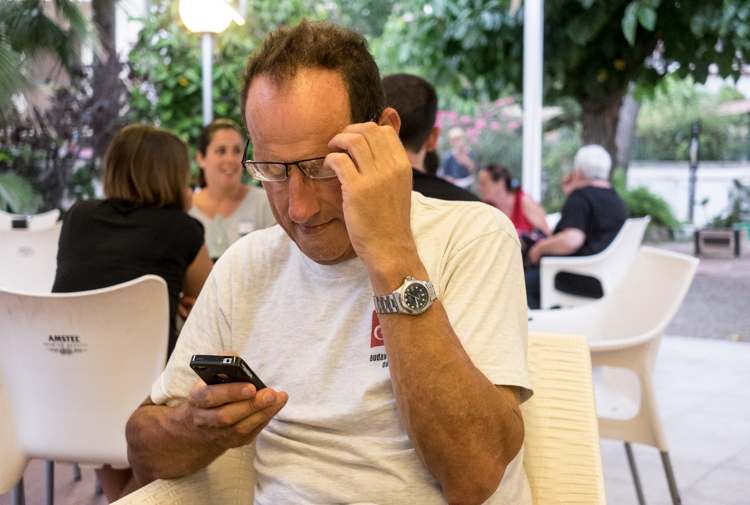 34_28
Lluis and I stopped for a glass of wine at a newly opened wine bar. The wine was a locally made Gewurztraminer (one of the classic grapes from Alsace), very nice and refreshing: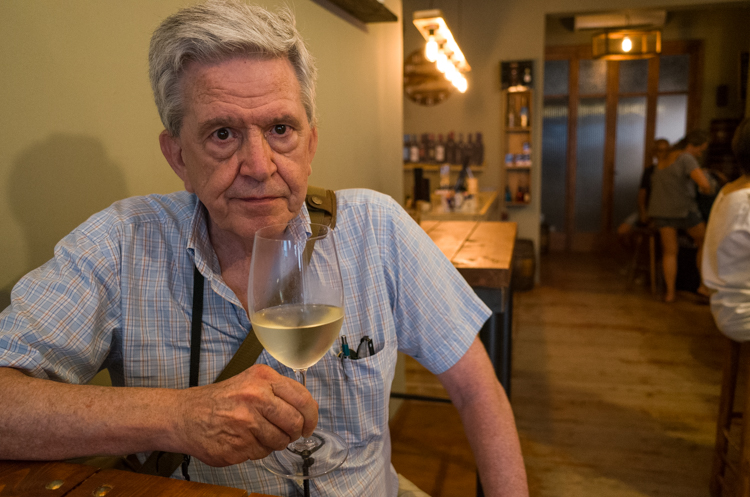 34_29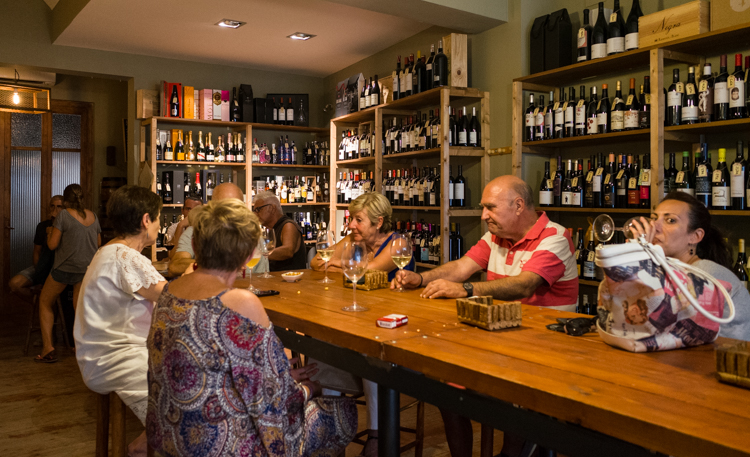 34_30
While passing the cathedral, we happened upon this nice scene. A wedding ceremony had just finished, and the newlyweds were getting ready to start their honeymoon in this magnificent driving machine: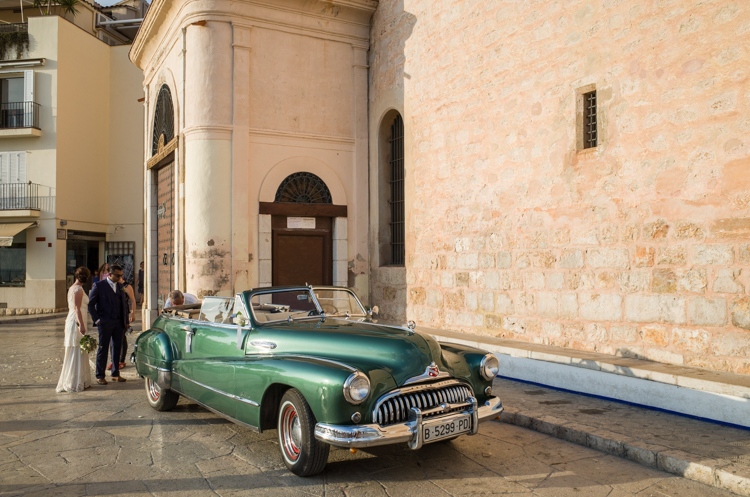 34_31
It was hot, so the driver broke decorum and took off his jacket: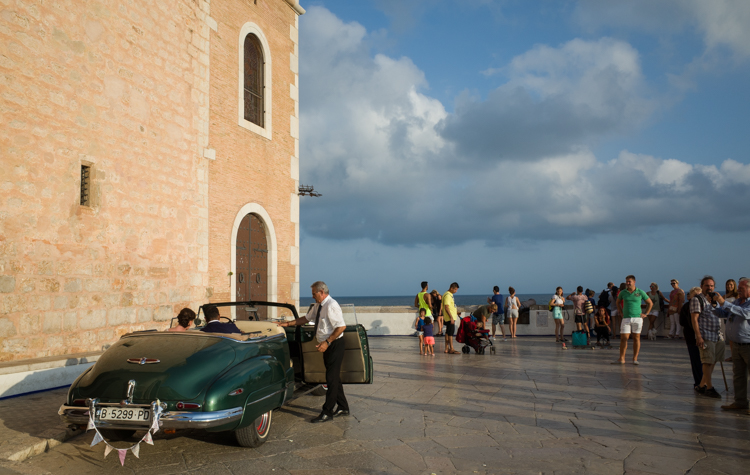 34_32
The wedding photographer gets one of the classic shots: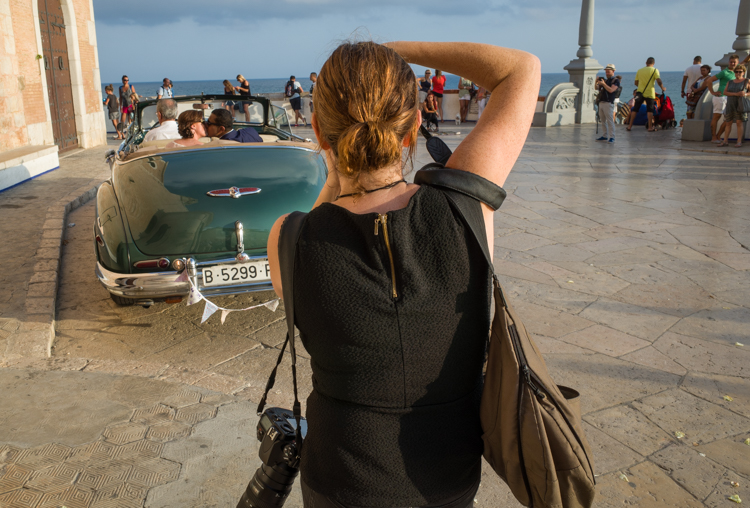 34_33
And then they drive off: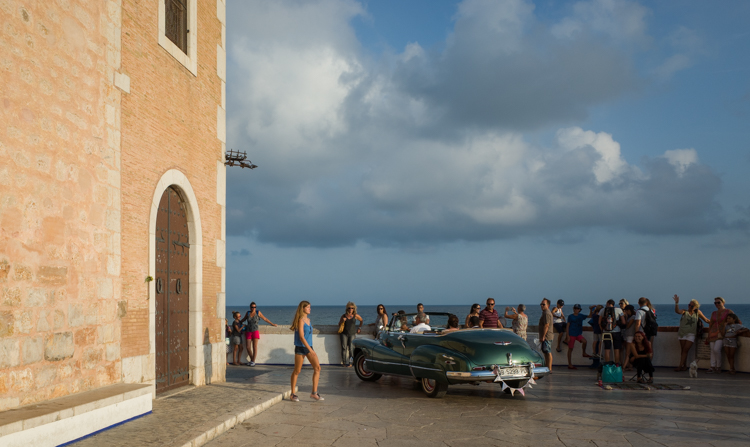 34_34
We then walked towards Lluis's car to drive to the port area where we were going to have dinner. Along the way, always on the lookout for things to photograph, I spotted this sad, broken figurine on a wall: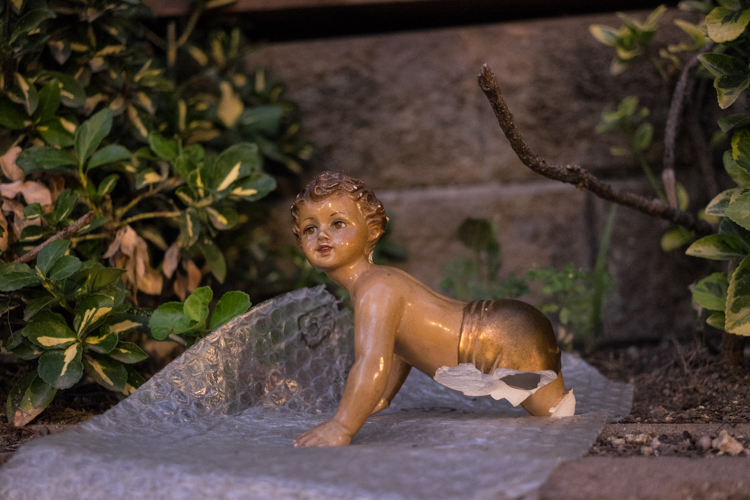 34_35
We found a nice restaurant at the harbour, and our waitress was as lovely as the food was good: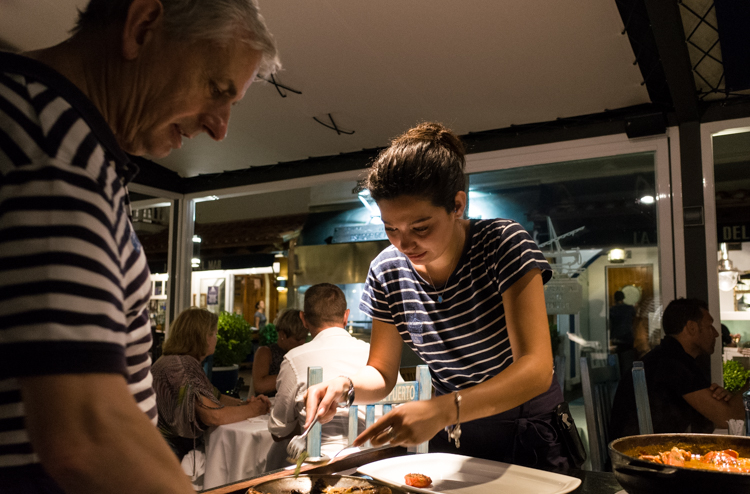 34_36
I got up early on Friday morning and went for a walk in the still empty streets. The beach was almost deserted and the moon was fool: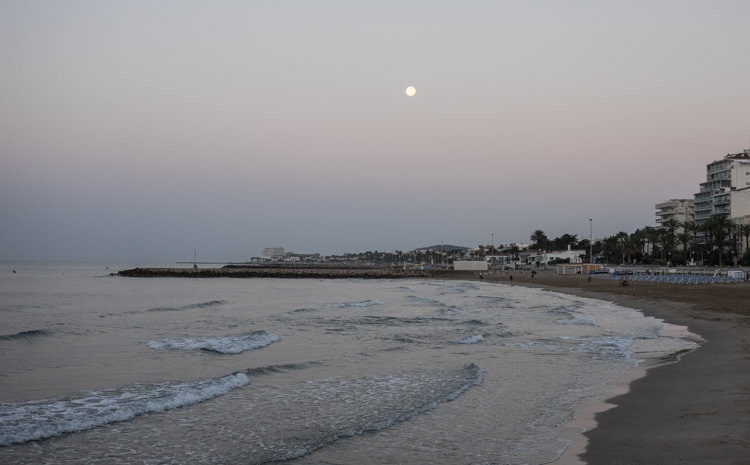 34_37
The only people out and about were joggers and a few rollerskaters: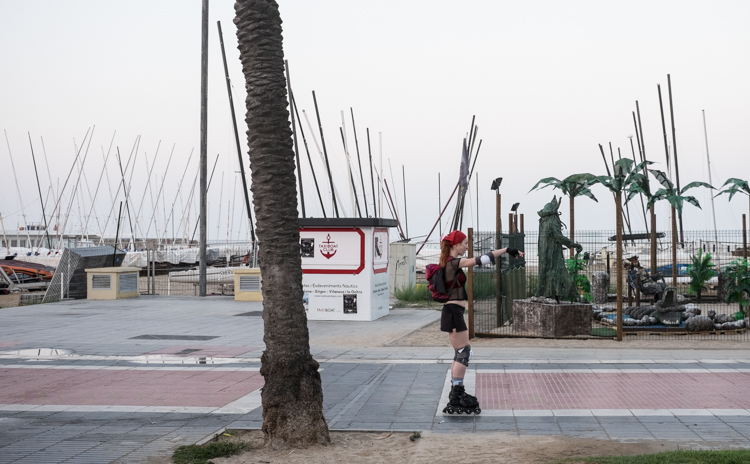 34_38
I walked to the steps from the promenade to the cathedral, a good spot from which to watch the sunrise. As I approached, I saw this lovely scene, a juxtaposition of cat and mermaid: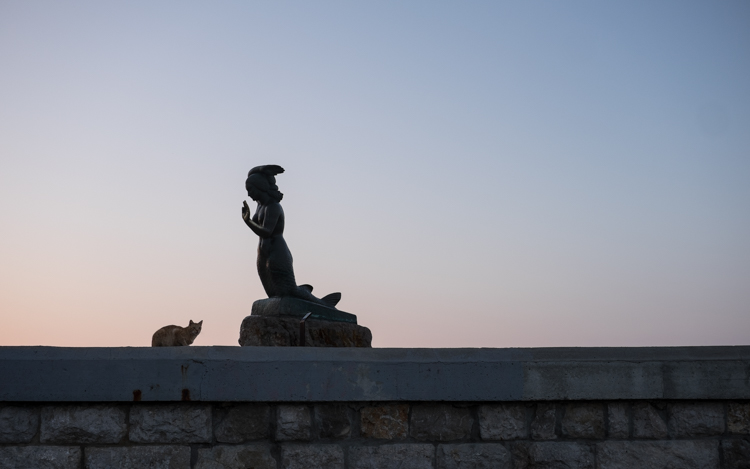 34_39
A straight portrait of the same cat:

34_40
These two girls were also waiting for the sunrise: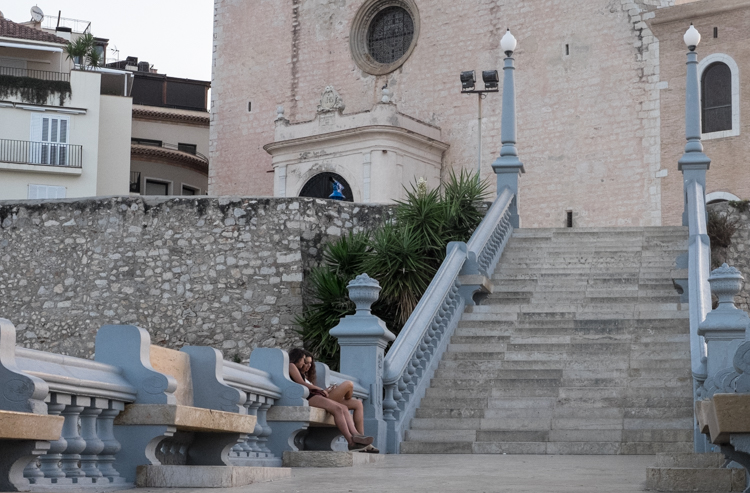 34_41
Sunrise over the bay: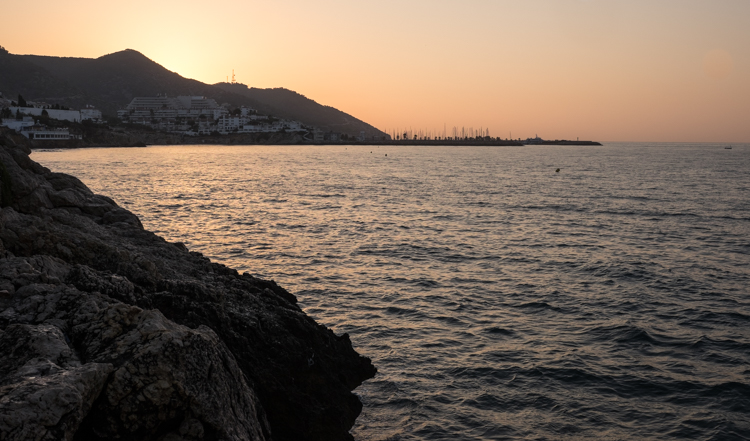 34_42
Sunrise over the bay, a different view: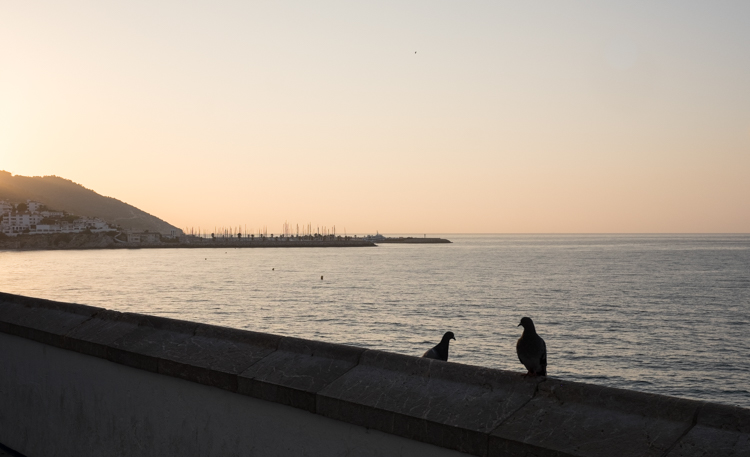 34_43
Morning light on the sculpture: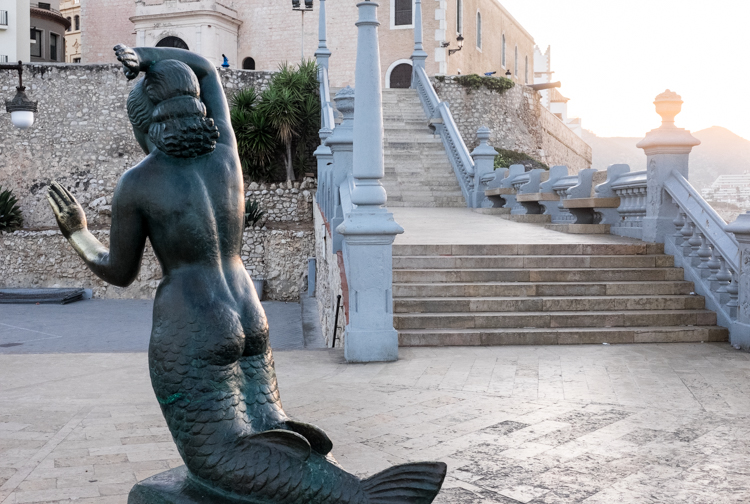 34_44
Morning joggers: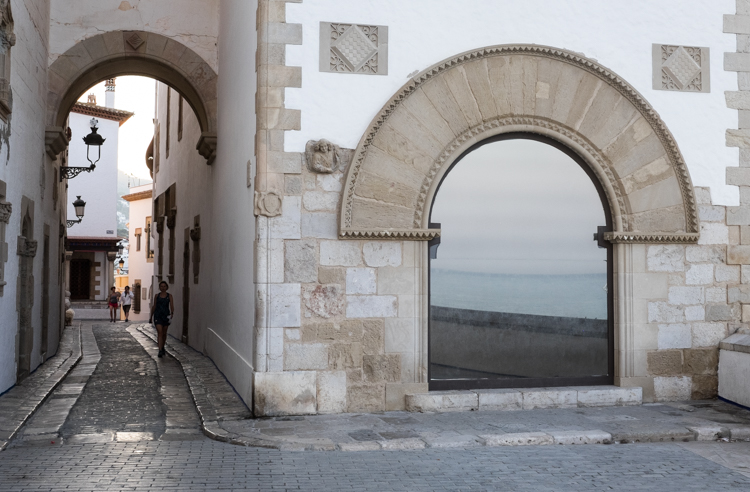 34_45
I walked to a lovely little square and saw this man getting ready to feed the pigeons. It looks like they are used to him: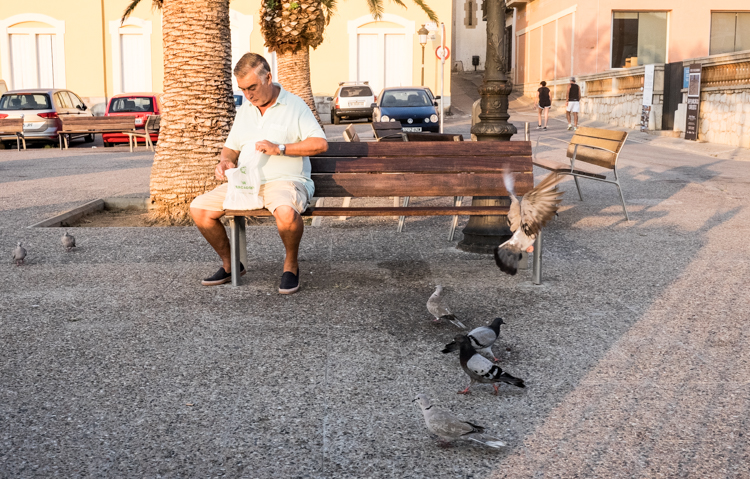 34_46
Breakfast for the birds: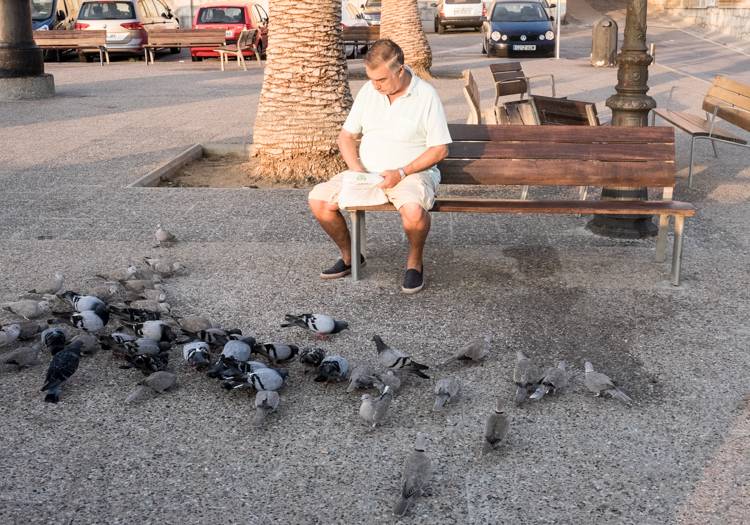 34_47
Something that really warmed my heart–a municipal feeding station for the stray cats of Sitges: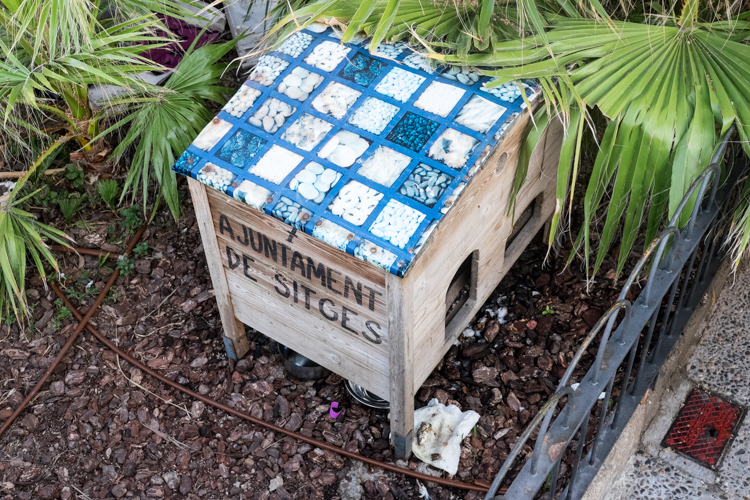 34_48
Sitges has changed a lot during the past couple of decades, according to Lluis. Sometimes for the better, sometimes not. Here is an example. What used to be a local food market is now Bacardi House: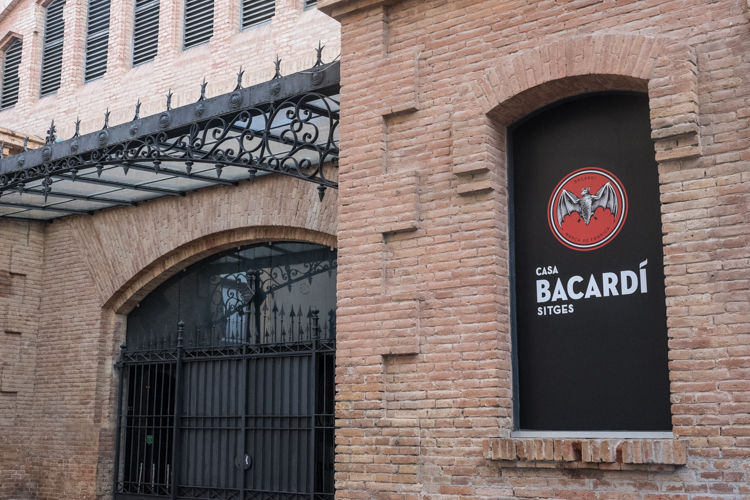 34_49
Finally it was 8 a.m., and the coffee shops began to open. I sat down for my morning coffee: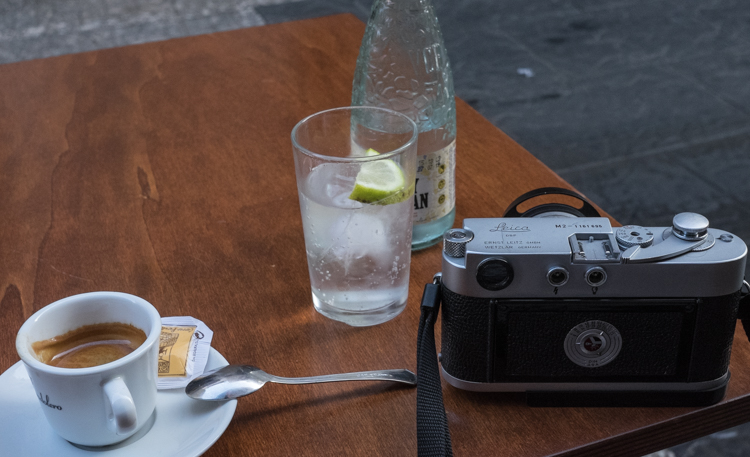 34_50
A final image of Sitges, from the night before. It is a very lively town, with a large LGBT presence: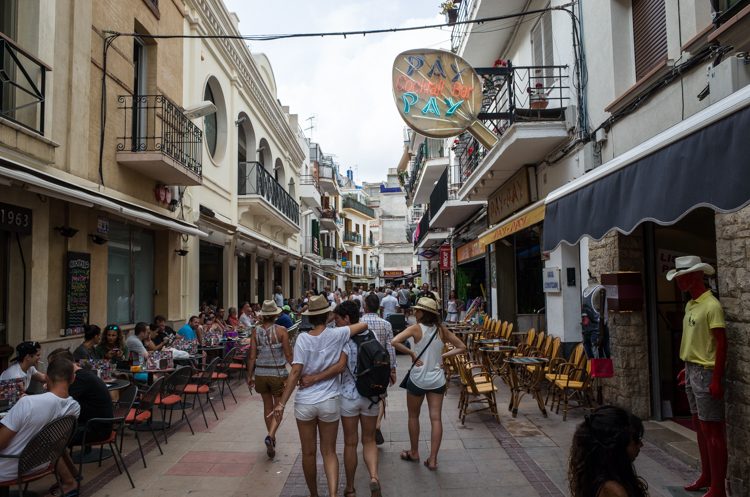 34_51
I walked back to the hotel, had breakfast, checked out and began my drive home. But on Lluis's recommendation, I made a detour to the mountain village of Siurana, near Tarragona. Besides being amazingly beautiful, Siurana has a lot of historical significance, as it was the last town in Catalonia to fall to the Christian conquerors in 1153. Legend has it that the last Moorish queen (more accurately, the wife of the local ruler) committed suicide by jumping off a cliff astride her white horse. This is the view from the village of the reservoir down below: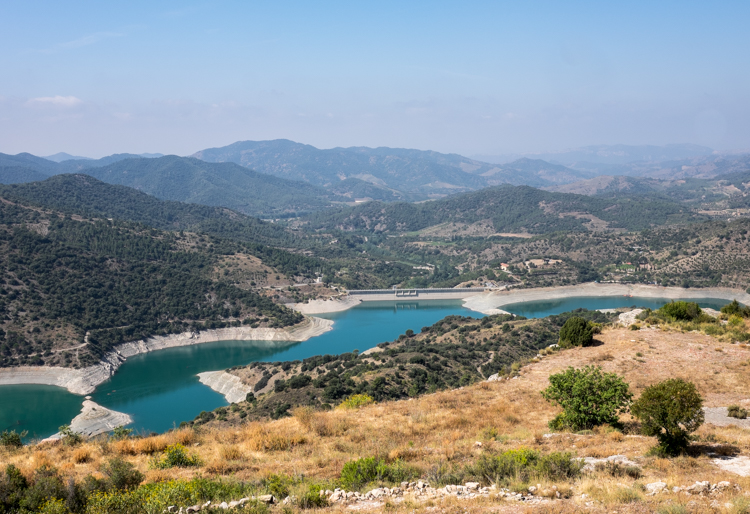 34_52
I was shooting both digital and film, so here is the same scene on Ilford SFX film shot in my Fuji 6×4.5 rangefinder: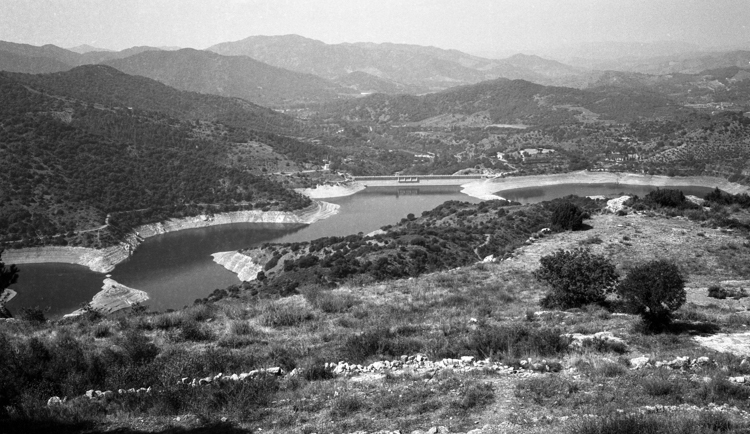 34_53
I finished my visit in Siurana by buying a couple of bottles of the local wine and olive oil from the village shop. Siurana has its own Denominación of Origen for both wine and olive oil. While I have not tried the oil yet, the wine turned out to be excellent: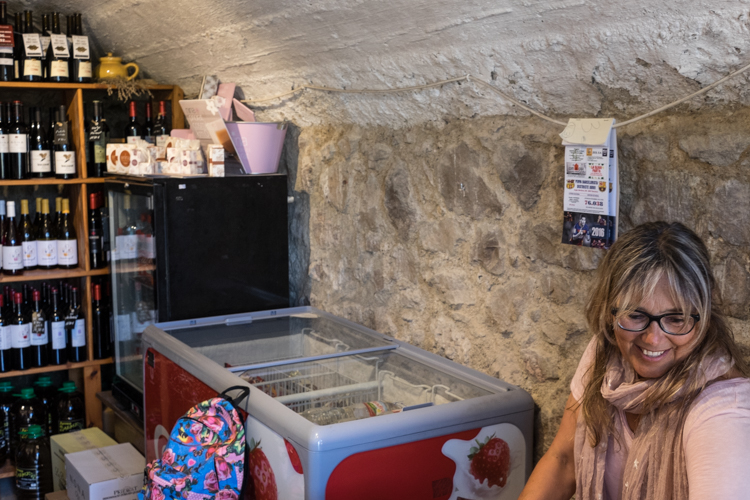 More photos from Sitges are available here, and I have also set up a separate gallery of Siurana images.