I spent most of the week in Malta, where we had 3 days of meetings and a conference. I have created a separate gallery of sights from Malta, but in this blog I focus more on the people with whom I spent the week, and various details, not least the delicious food we ate. But I start with some images from Sunday's bicycle ride in the mountains.
9_1
Mountains and clouds, near Busot: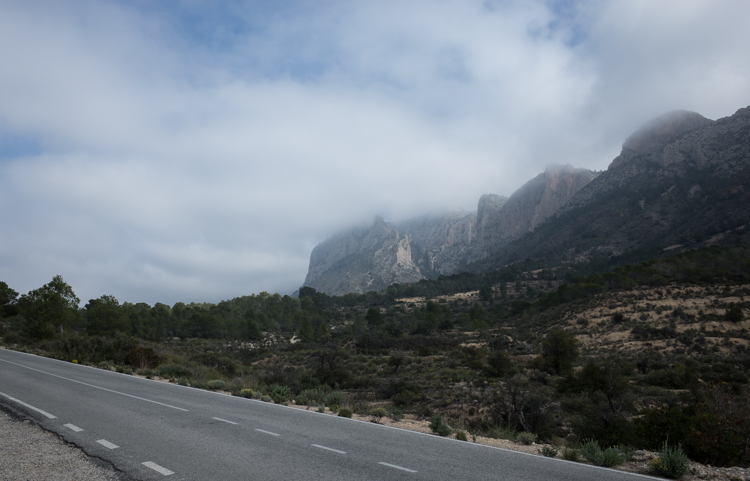 9_2
A small Danish flag in a driveway near Busot. Apparently there are Danes living in the house, and they must have had a celebration of some kind. It is very common in Denmark to use the flag in this manner: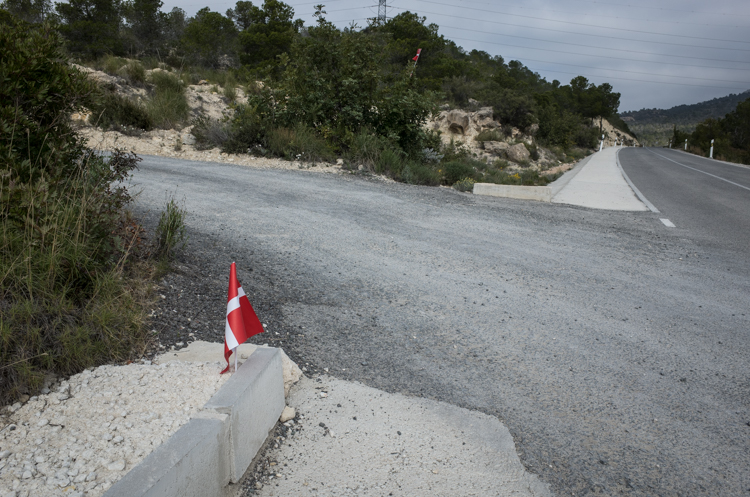 9_3
Along the road between Busot and Aigües. There was a rally here in December, and a driver died in an accident. His friends have installed this small memorial plaque: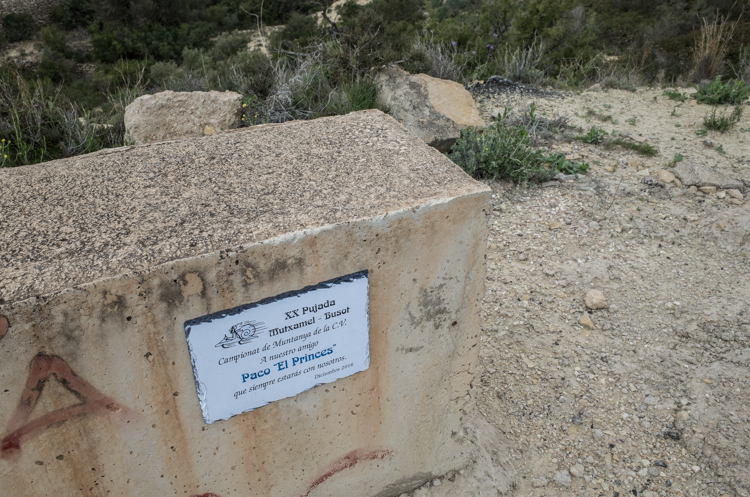 9_4
At the entrance to Aigües, there is a colourful mural, advertising the pleasures of living in this small town and claiming that you do not need a doctor if you live here: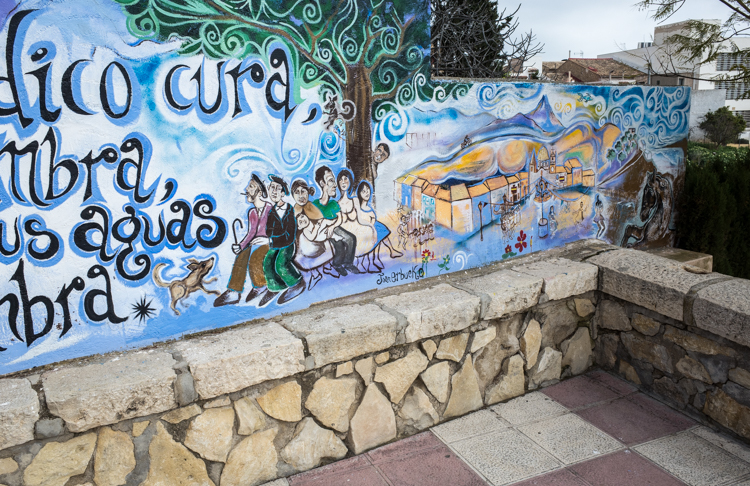 9_5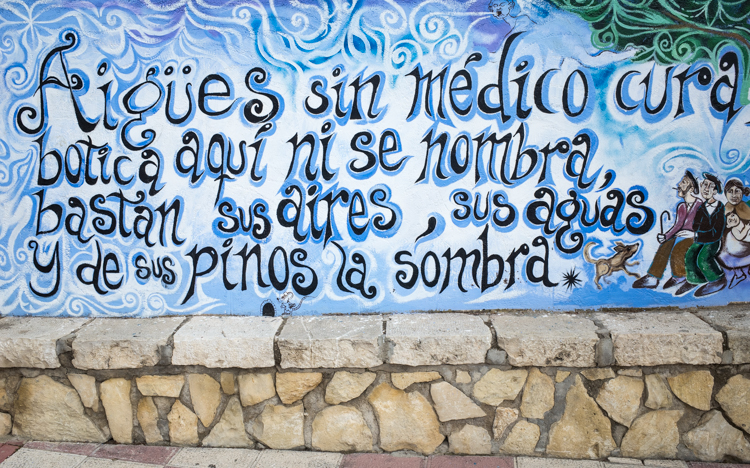 9_6
On Monday morning, I flew to Valletta via Barcelona. At Barcelona airport, I came across this nice family. I asked the man if I could take a picture, and he agreed: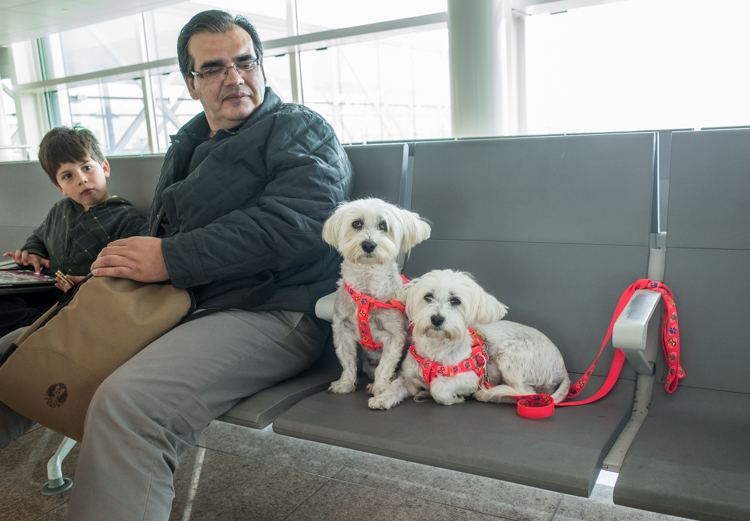 9_7
After checking in at my hotel, I went for a walk. Malta has lots of stray cats, just like Spain: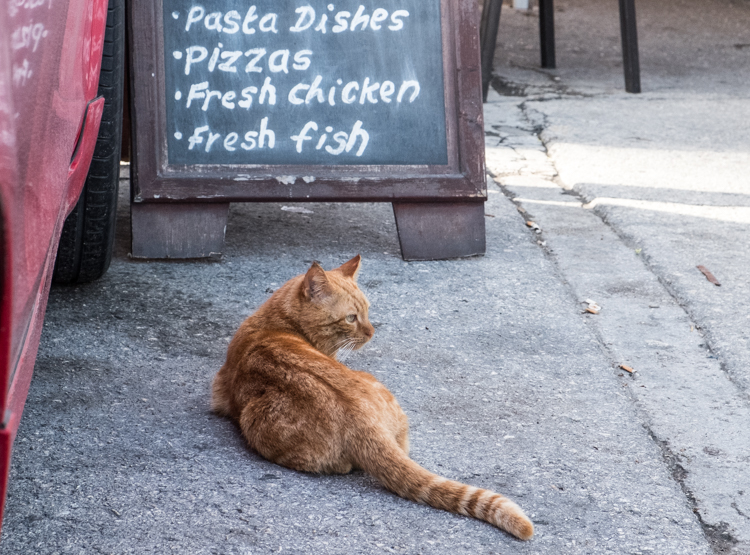 9_8
I stopped by the Bayview shopping centre to buy some essentials such as beer. They were having a carnaval event for children: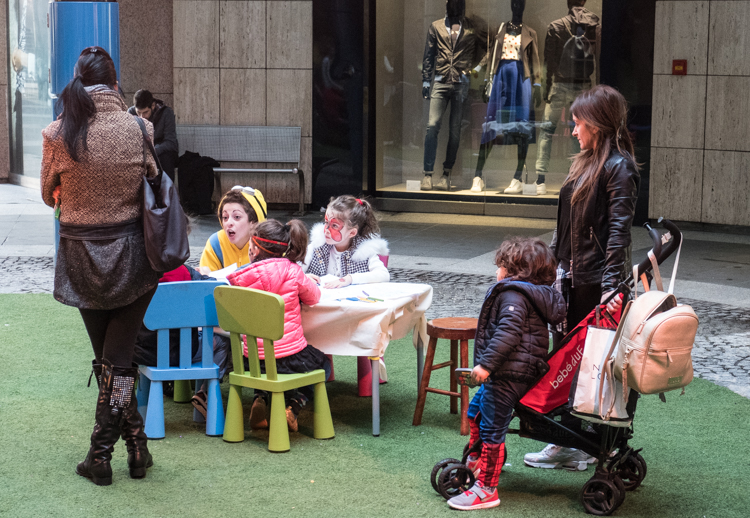 9_9
The beach at St George's Bay. Not the usual beach attire on display here: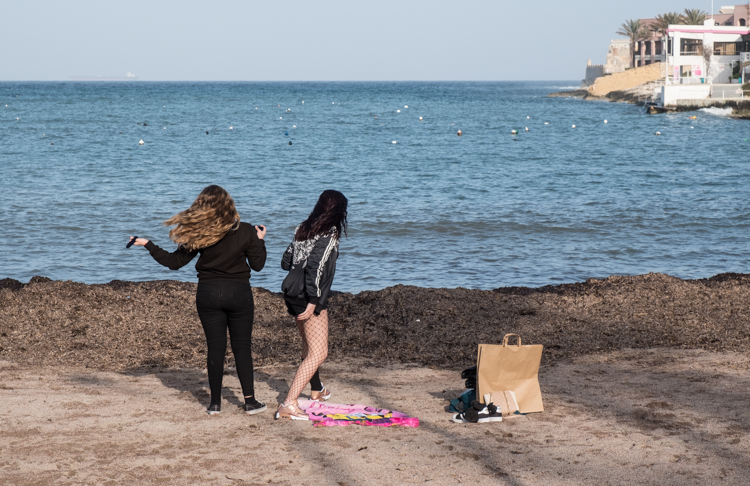 9_10
In the evening, I went for dinner at Del Borgo, a very local restaurant in the centre of Valletta. The olive oil and dressing bottles are very standard all around the Mediterranean: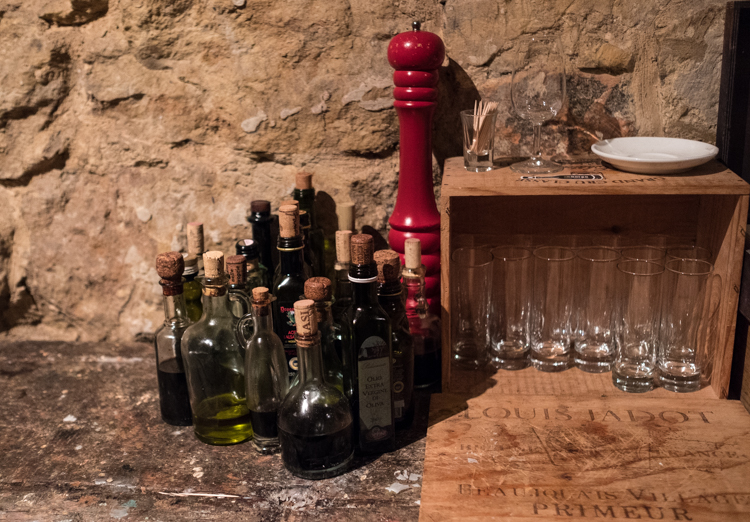 9_11
Maltese food is an eclectic blend of Italian, North African and other Mediterranean influences. It is different from the Spanish food I am used too, but delicious nonetheless. This is the appetizer we had, a Maltese platter consisting of peppered cheese, sundried tomatoes, marinated sausage, fresh tomatoes, artichoke hearts and a kind of hummmus but made of beans rather than chick peas: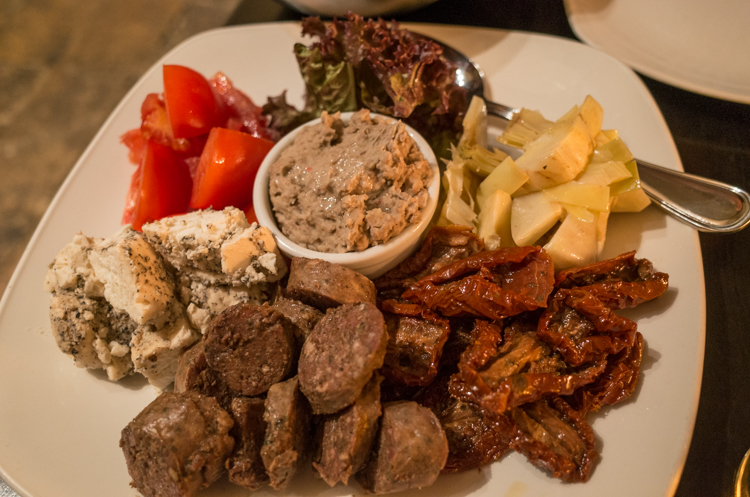 9_12
Our main dish. I replicate the restaurant's description: "BIL-GUNGLIEN: Maltese bread dough stuffed with pork belly meat, ricotta cheese and oregano, sprinkled with sesames seeds and oven baked". This is not light food by any means, but a a delicious indulgence: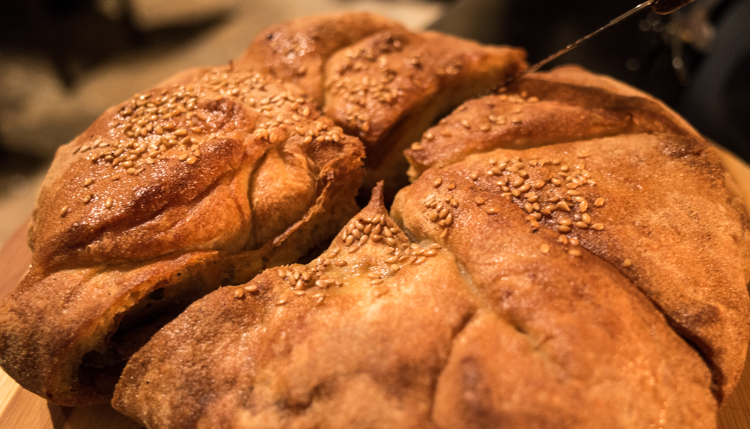 9_13
Wednesday afternoon, we had a guided tour of Valletta. We started at Upper Barrakka Gardens, from where there is a great view of the city and its harbour: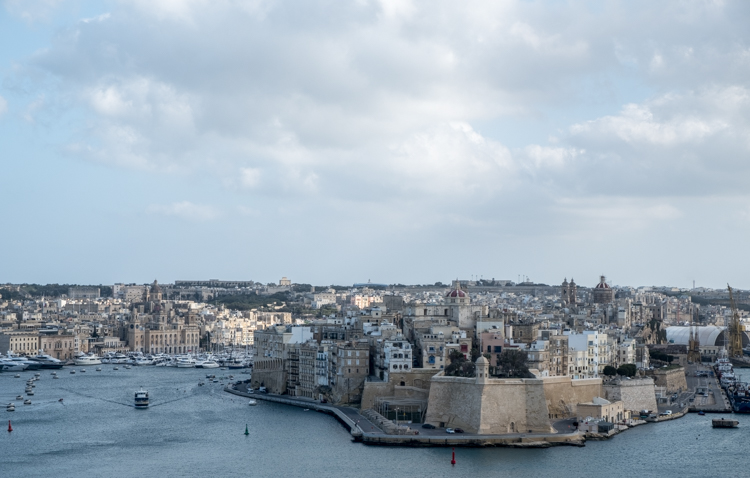 9_14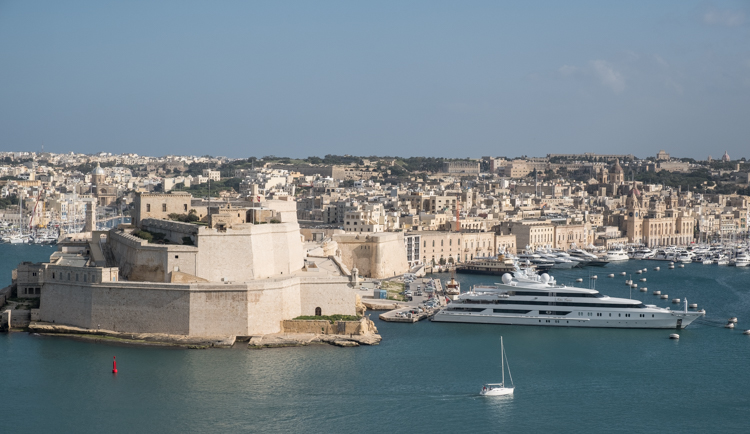 9_15
Here is a distant relative of my golf course cats back in Alicante, on a statue in Barrakka Gardens: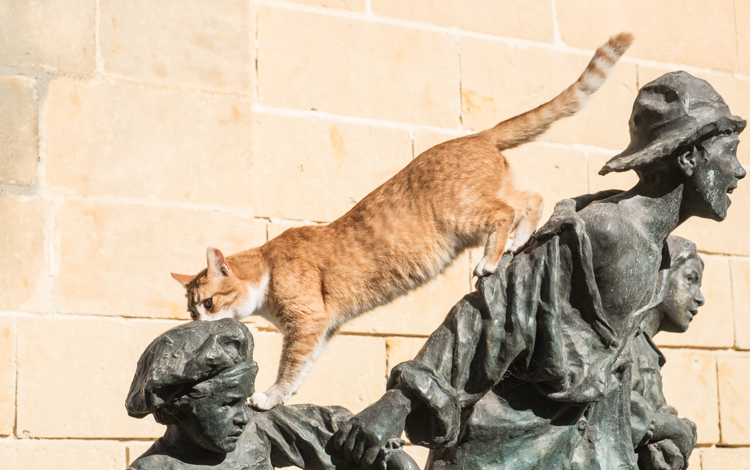 9_16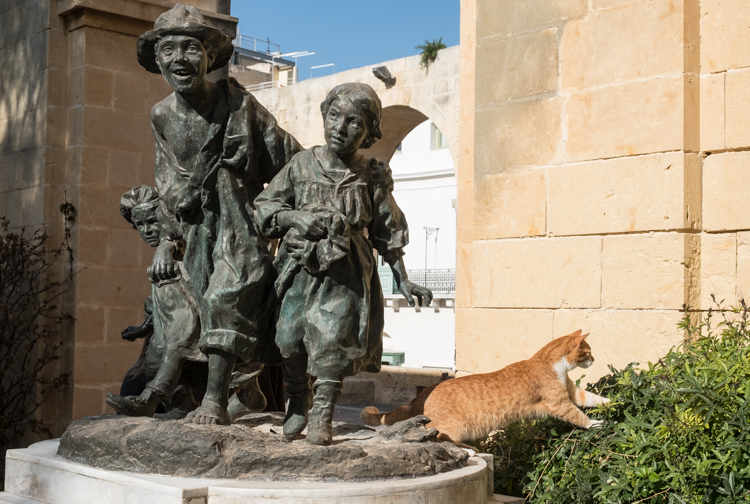 9_17
Here is another kitty, enjoying the sunshine near St John's Cathedral: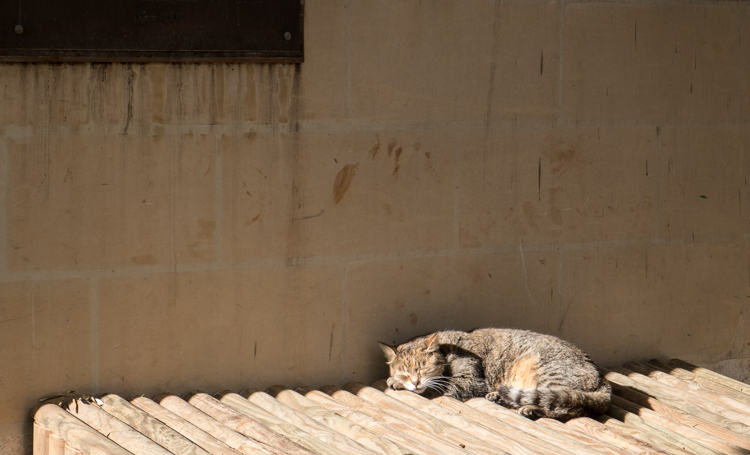 9_18
Our tour continued to St John's Cathedral, an utterly magnificent church: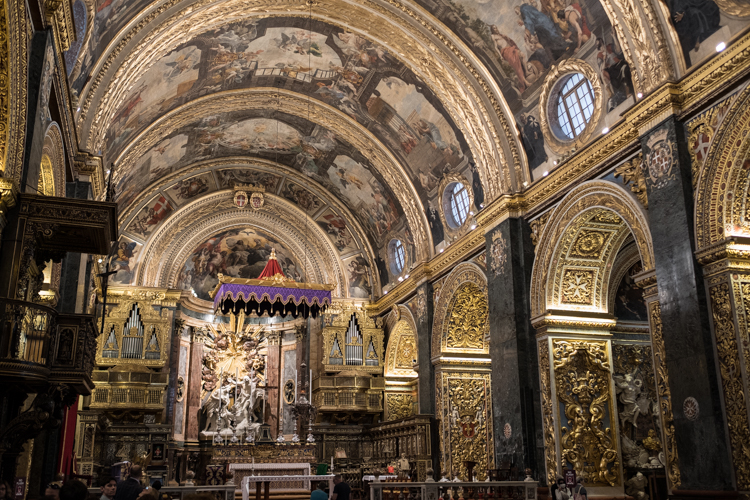 9_19
The Ten Commandments: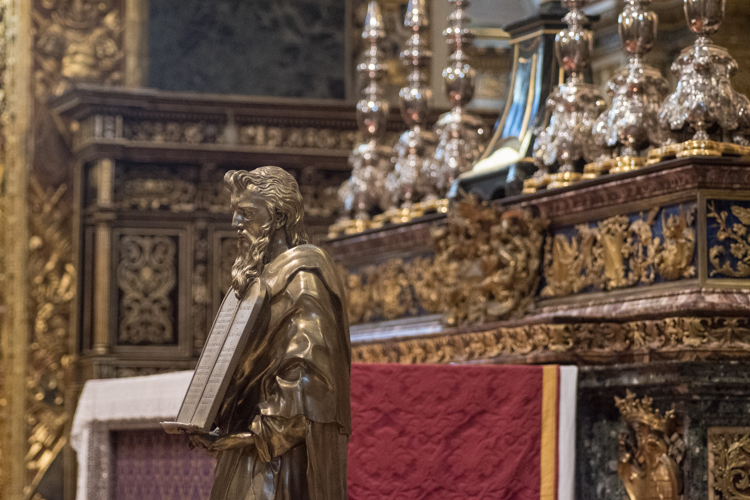 9_20
A grave inside the cathedral. Our guide explained that the smiling skulls were a particular (and strange) Maltese tradition: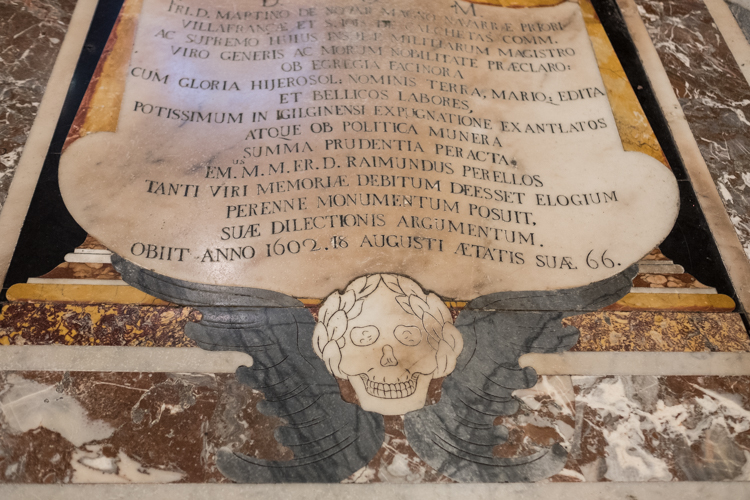 9_21
We continued on to Mdina, an ancient walled part of Malta with narrow streets like this one: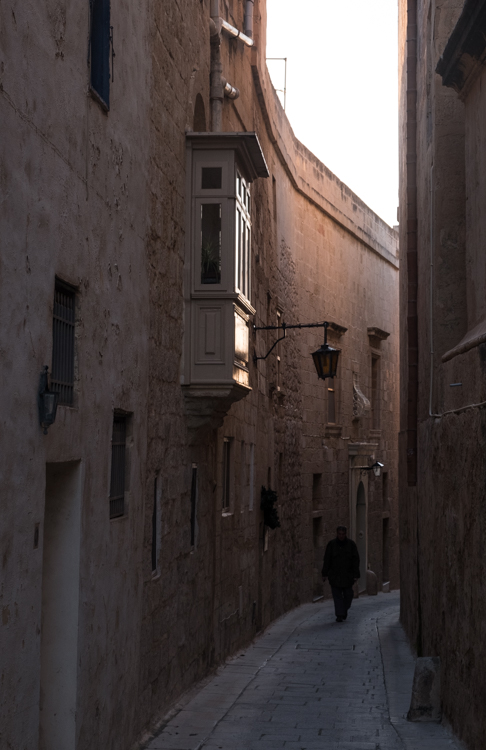 9_22
Claire and Stephanie, two dynamic ladies: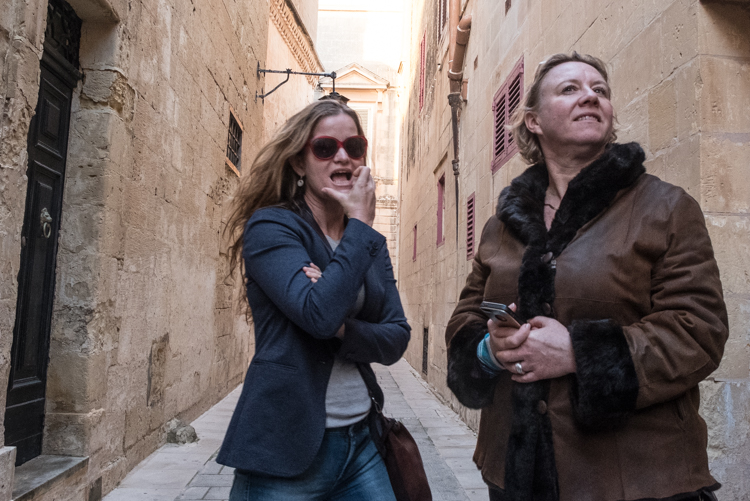 9_23
An evening view of St George's Bay. The Corinthia Hotel on the right was my home during the stay in Malta: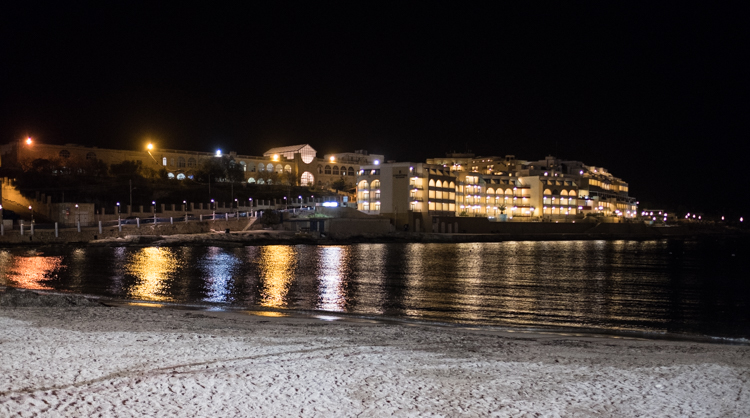 9_24
On Thursday, we had a conference on enforcement. I made a presentation early in the day on counterfeit smartphones, but afterwards I took my place among the audience and could photograph my colleagues in action. Here they are on the right; on the left is George Agius from Maltese customs, a very nice and very competent public servant, together with a Finnish customs officer: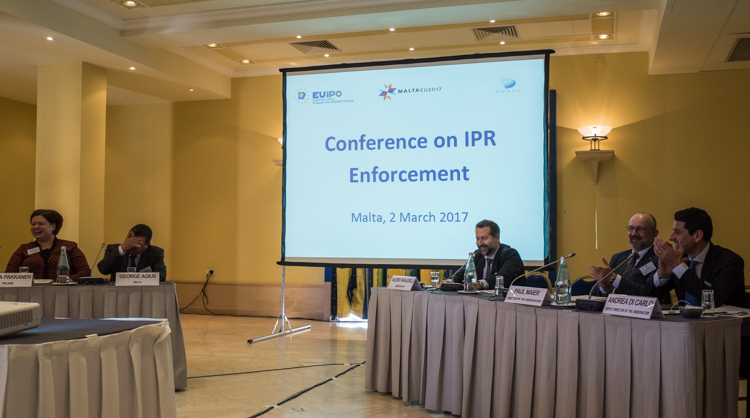 9_25
During a lunchtime walk along St George's Bay, I took two pictures that are among my favourites from the week, when juxtaposed. First, a group of young people playing beach volleyball: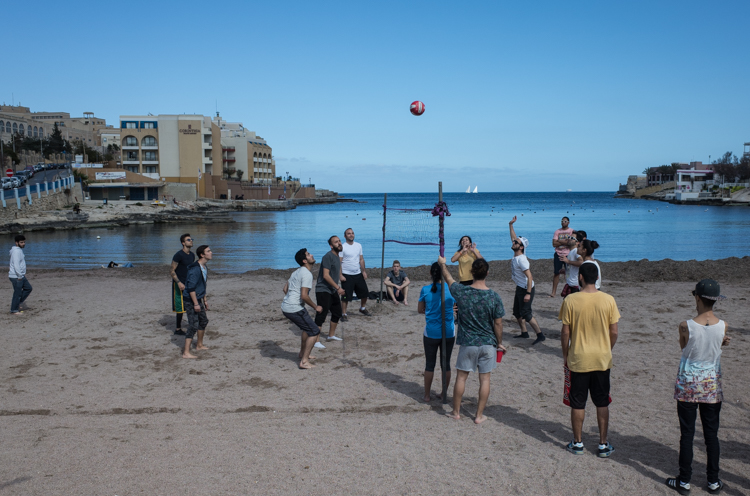 9_26
An old man emerges from the water: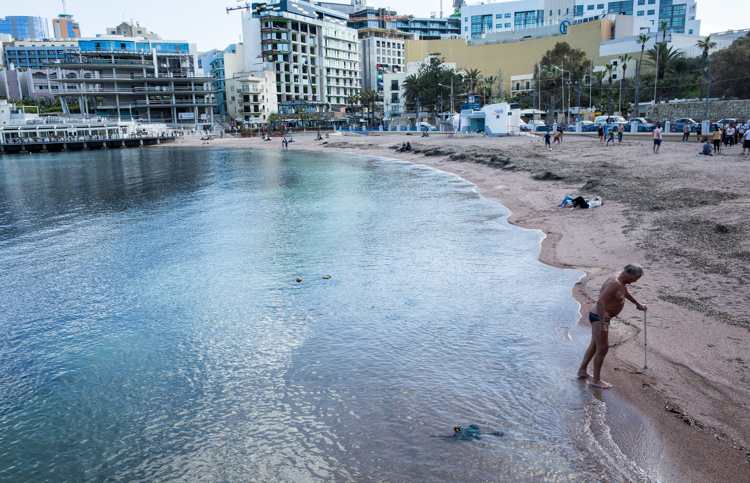 9_27
On Thursday night, we were going to a restaurant near the fishing harbour, owned by a friend of our Maltese host George. On the way out, I saw yet another kitty near the hotel pool area: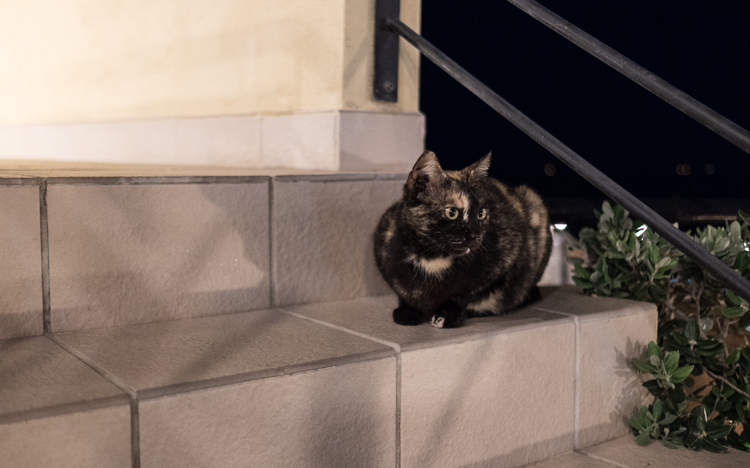 9_28
The area where we were going to eat is called Marsaxlokk. We arrived a bit early, so we went for a walk along the harbour. Stephanie found her boat: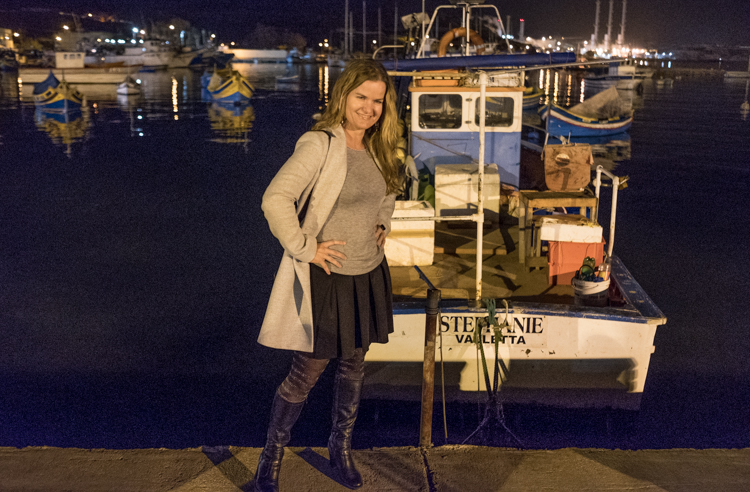 9_29
The restaurant was called Ta'Victor, Maltese for "at Victor's" or something like that. The owner is Victor Aquilina, a delightful man who takes pride in his cooking, and rightly so. Before dinner, he explained to us what were going to eat: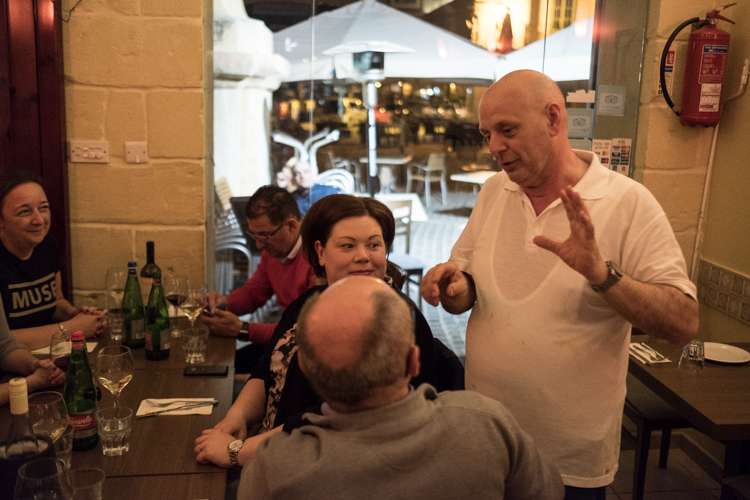 9_30
And Victor's food turned out delicious, and the servings were huge. Quality in quantity is a winning combination. This was our starter, a platter of marinated sausage and other Maltese delights: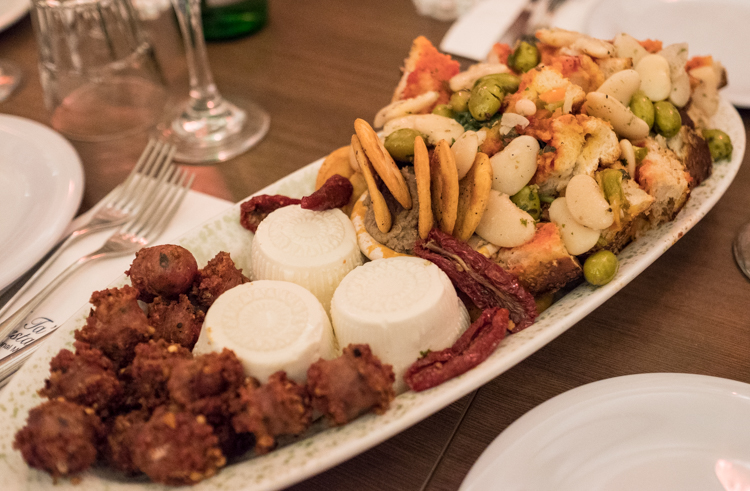 9_31
The second dish was this delicious ravioli. There is a discernible Italian influence in Maltese cuisine: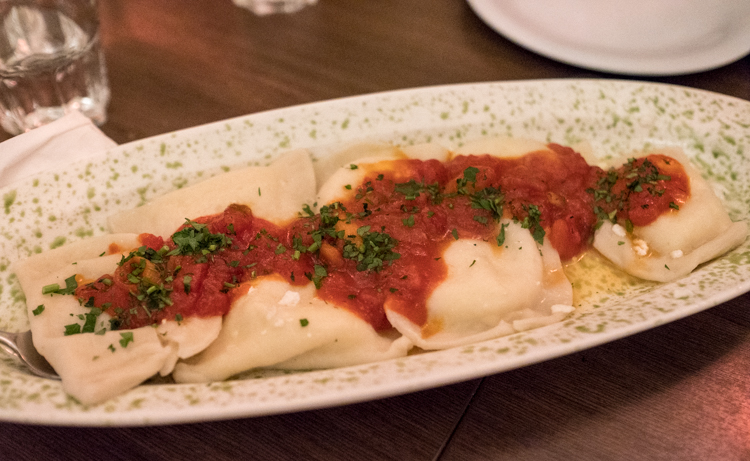 9_32
The main dish was a generous serving of fish: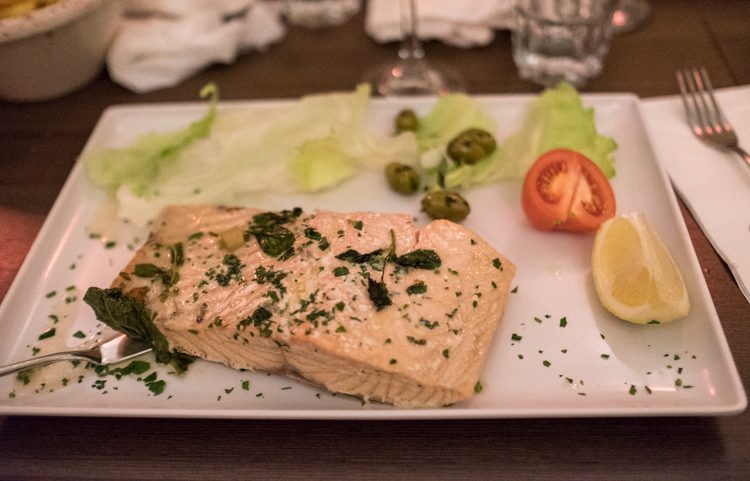 9_33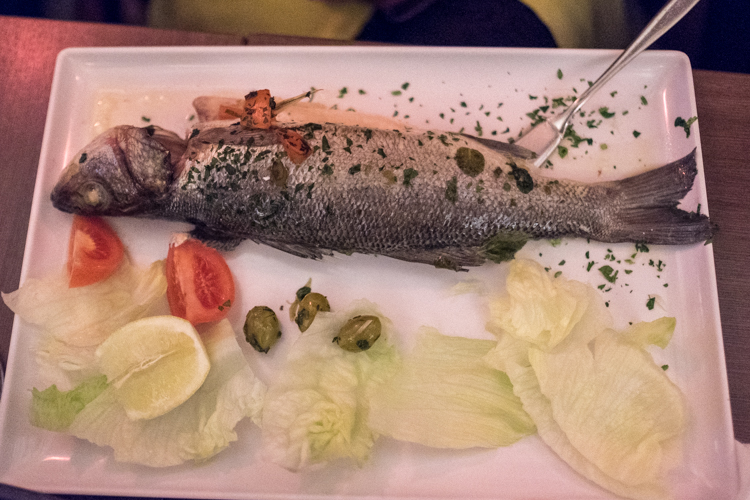 9_34
A good time was had by all: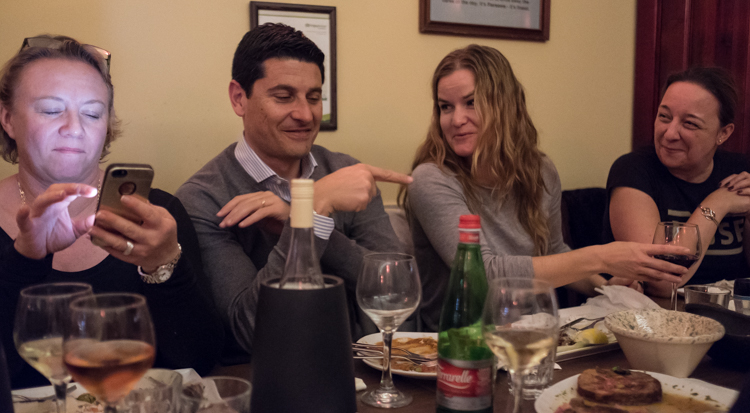 9_35
Malta is overwhelmingly Catholic, and small altars like this one, on a corner of Victor's bar, are common: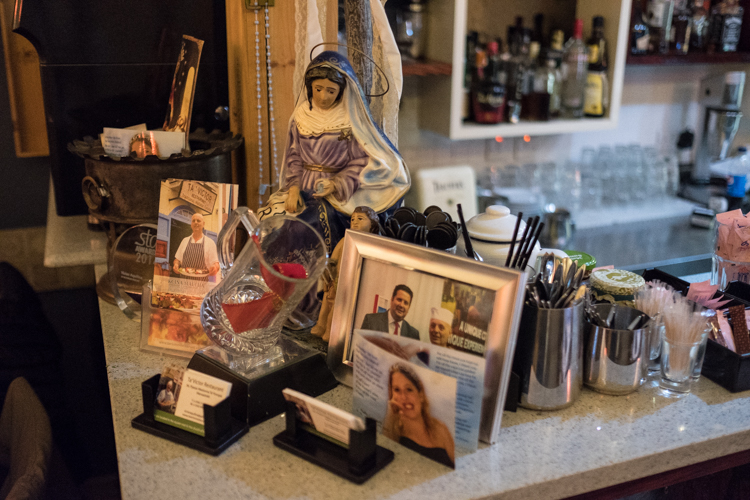 9_36
Dinner is finished, and Victor relaxes and chats with his guests: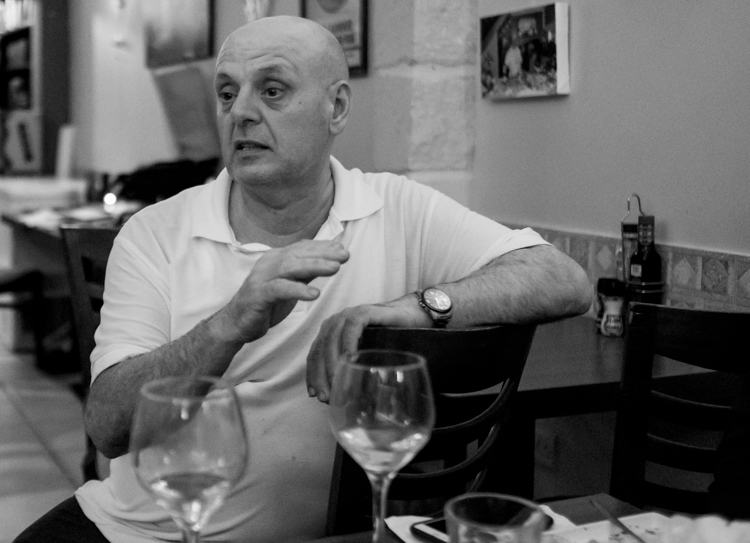 9_37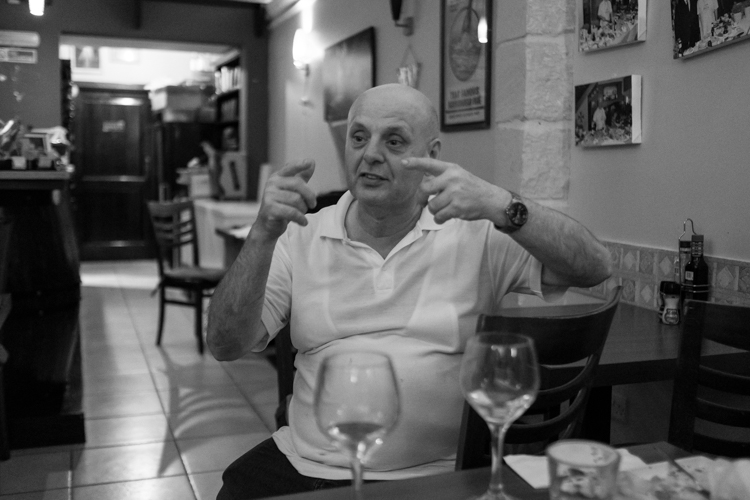 9_38
George looks stern here, but really he is not: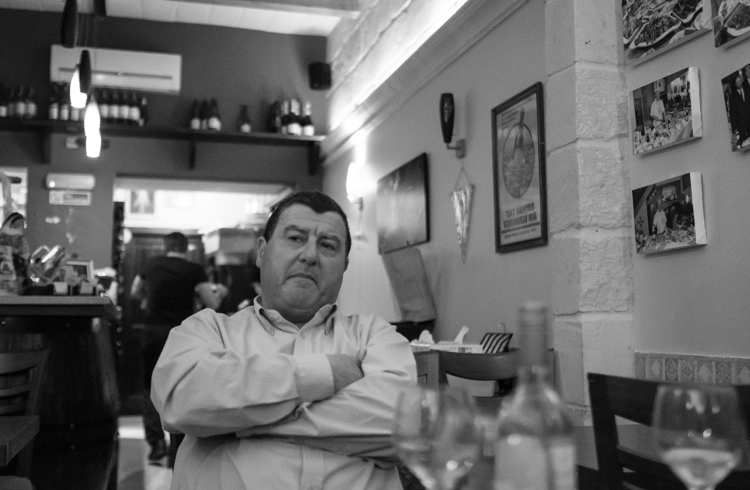 9_39
After dinner, we were offered a chupito by Victor: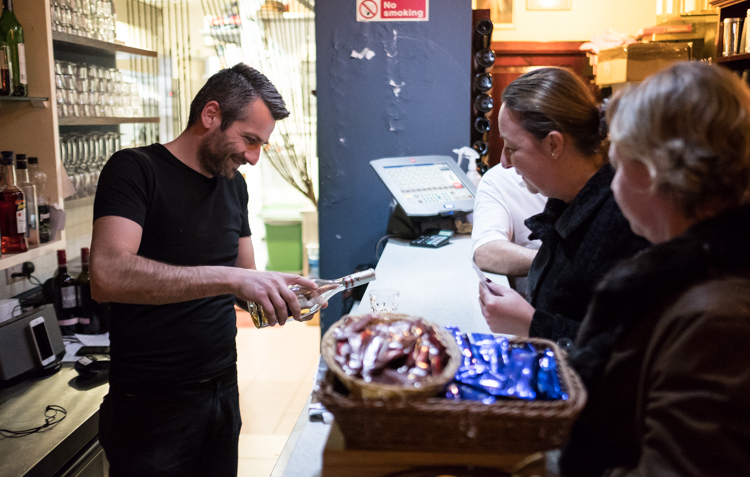 9_40
The restaurant is decorated with articles and photographs, and Victor clearly enjoyed talking about them: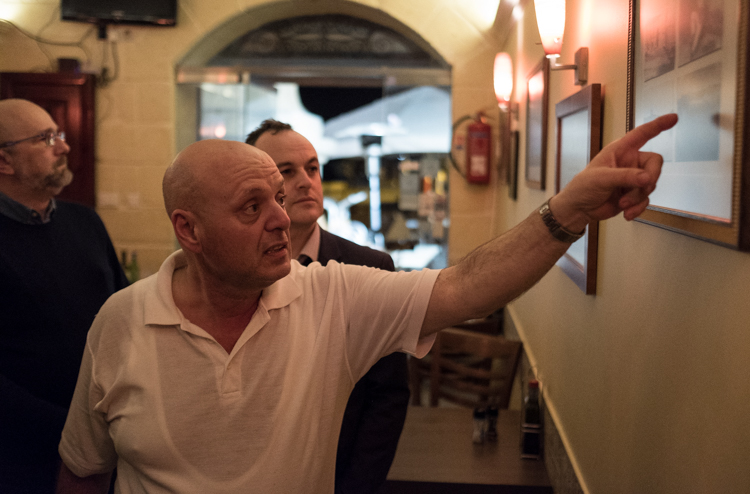 9_41
We finished a delightful evening with a group photo outside the restaurant: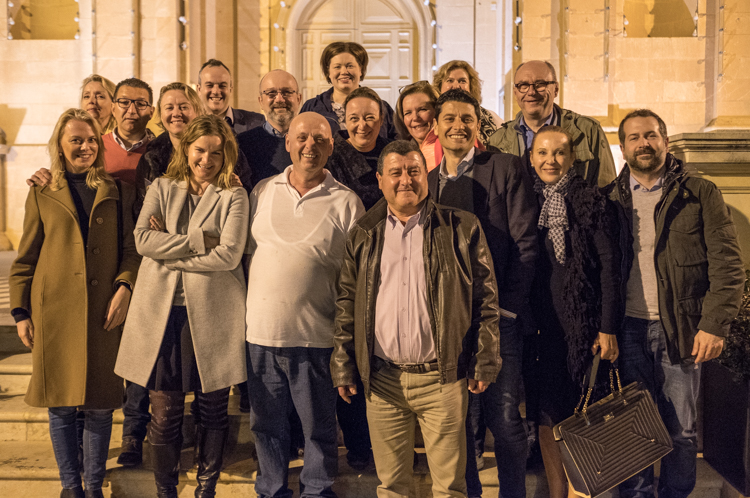 And then we took a taxi back to the hotel, and on Friday we made our way back to Alicante. A wonderful week had come to an end.