This was the last week of the year. On Christmas Day my cousin from Florida and his family arrived for a brief visit, and otherwise I spent my time cycling and walking around Alicante.
52_1
This is my cousin Ilan, from Jacksonville, FL. He is 4 years younger than me, and we were quite close when I lived in the US. In recent years we have not seen each other that often–last time was 7 years ago when we visited Florida–so it was nice that he came to Alicante for a couple of days, part of a 10-day driving vacation in Spain. They arrived from Seville on Christmas Day and continued on to Barcelona on the 27th: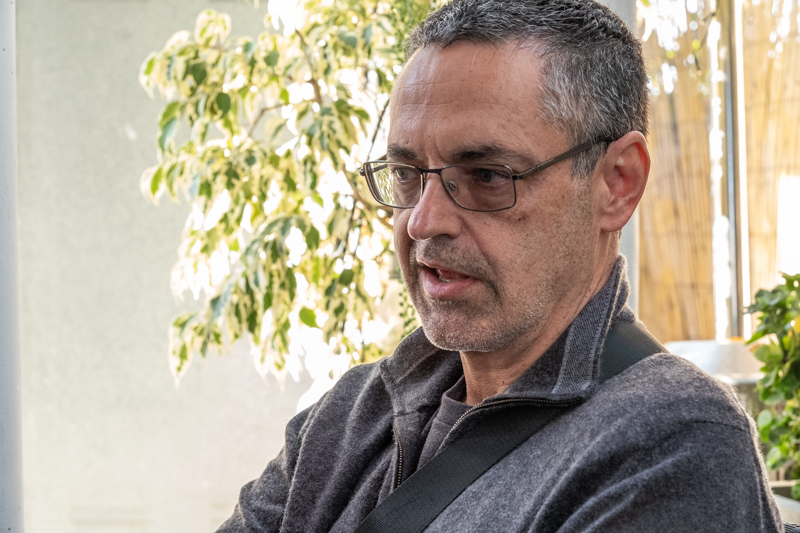 52_2
I spent Boxing Day showing Ilan, his wife and their 3 children around Alicante, including the giant nativity scene on the Esplanada de España which Ilan's youngest daughter Eden (15 years old) described as "creepy":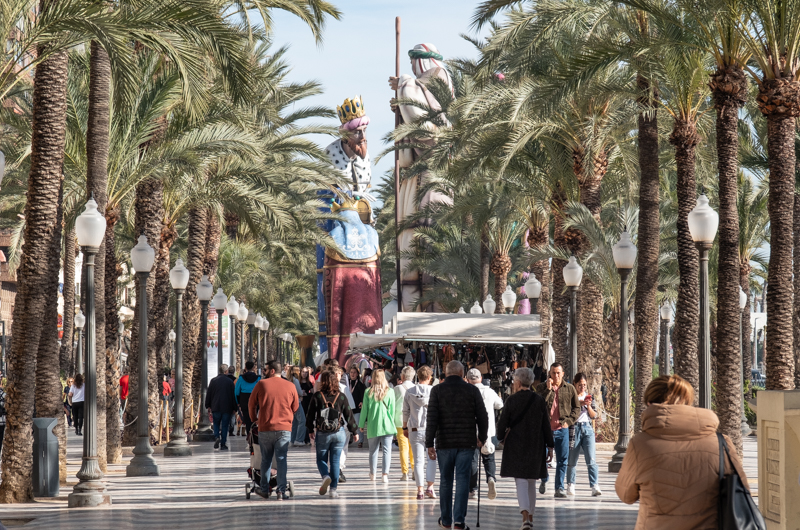 52_3
What Eden found creepy was the giant baby: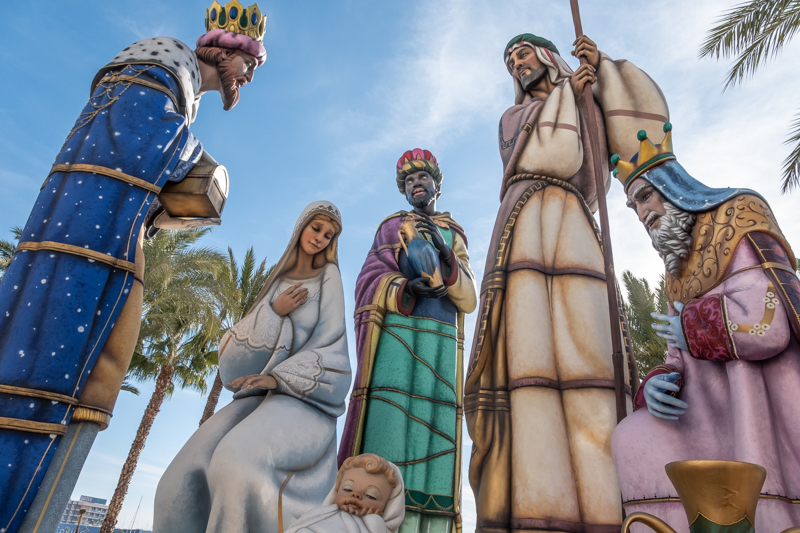 52_4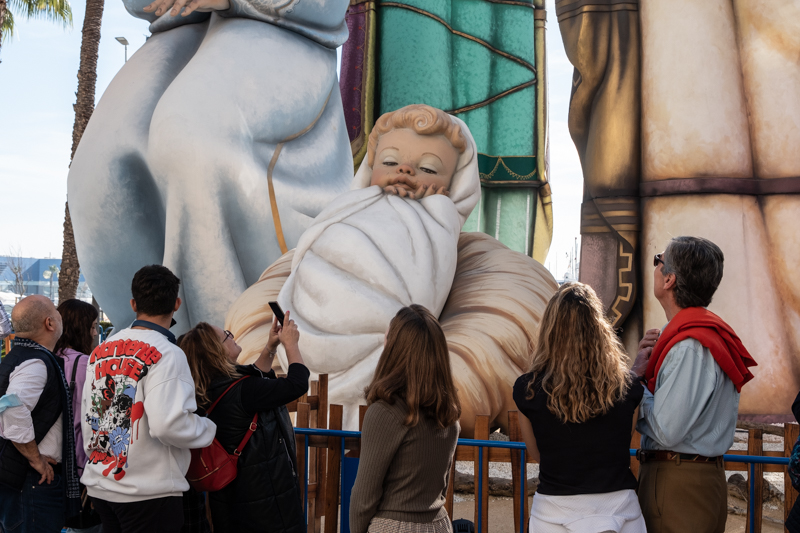 52_5
We walked down to the City Hall to have a look at the Dalí statue in the vestibule and the nativity scene installed inside: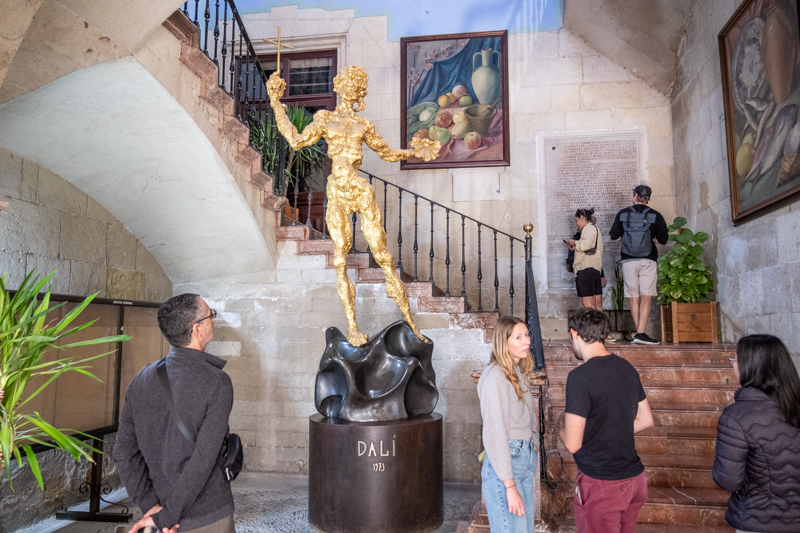 52_6
The nativity scene was interesting. While the standard characters are all there, the setting is not Bethlehem but rather Alicante's waterfront as it looked in the 19th century: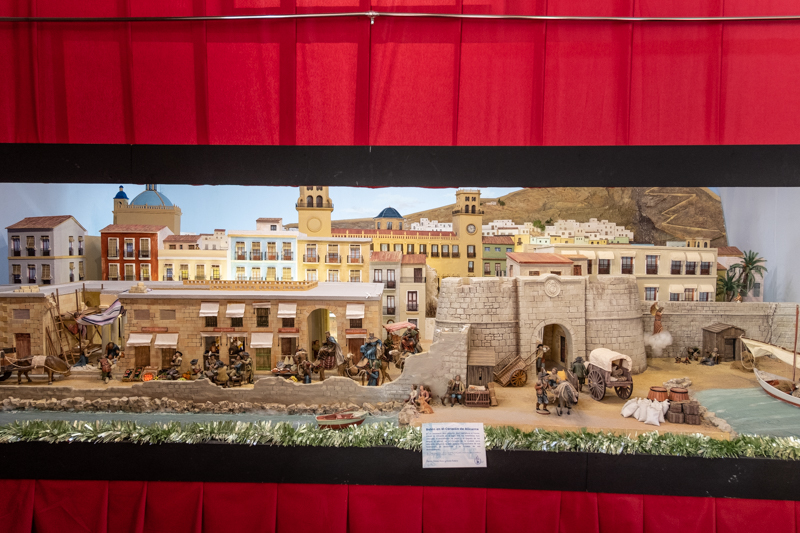 52_7
In the afternoon, my wife made paella for a late lunch, while we sat around the table on the terrace: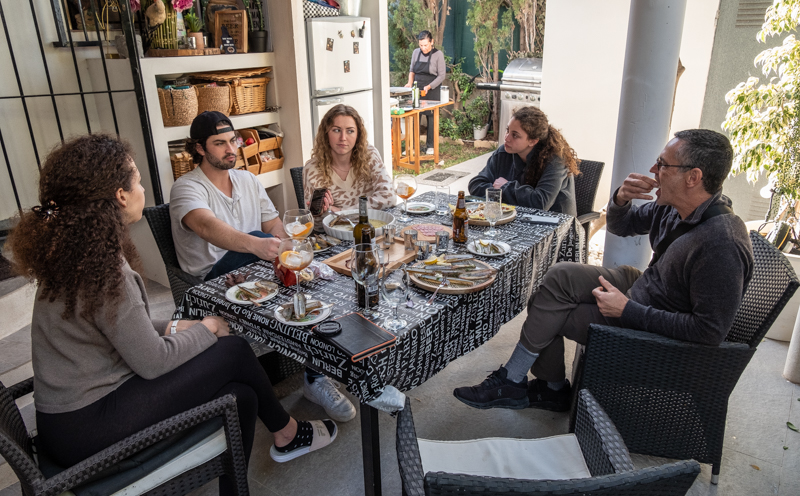 52_8
While waiting for the paella, we feasted on various appetizers, like these razor clams: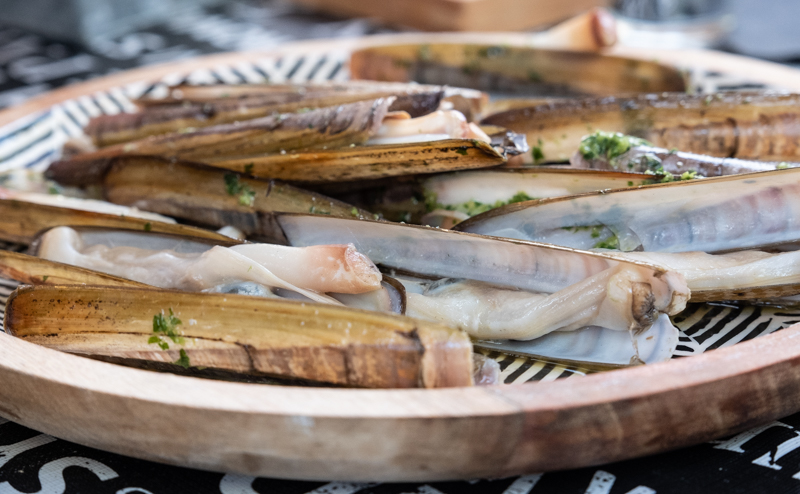 52_9
Then my wife got down to business. This was not a traditional paella valenciana from our region (that involves rabbit and chicken) but rather a paella de mariscos: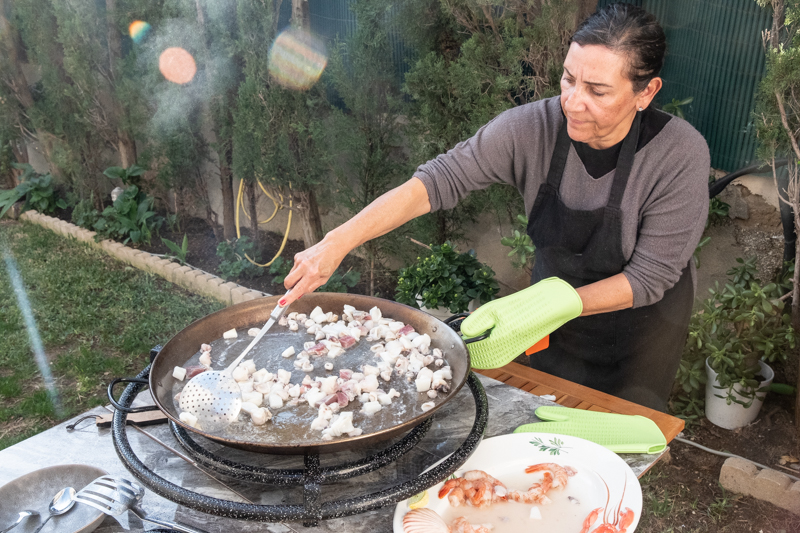 52_10
Ready to serve: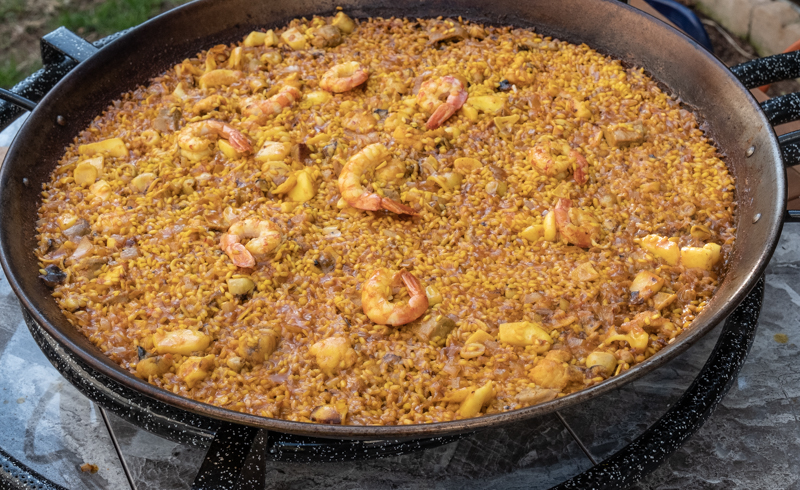 52_11
Ilan's daughter Arielle working hard on opening a bottle of cava, an excellent beverage to accompany a paella: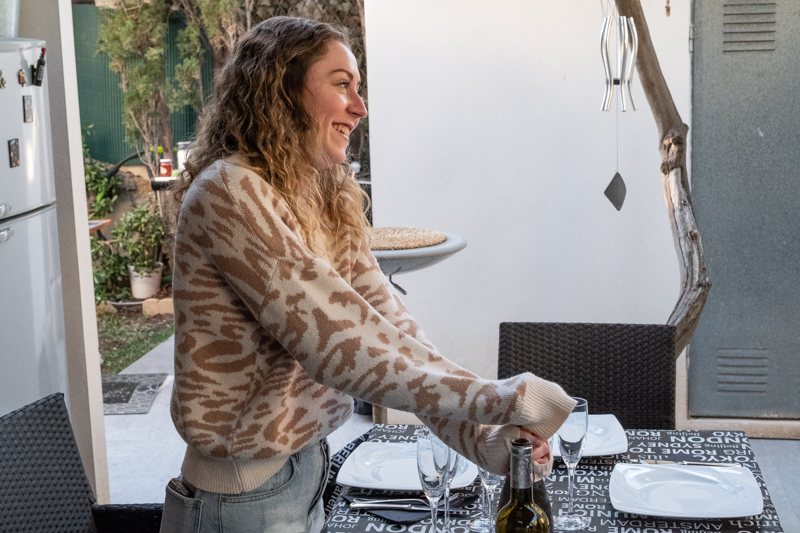 52_12
My daughter Monica and Ilan's daughter Eden; the shared genes are clearly in evidence: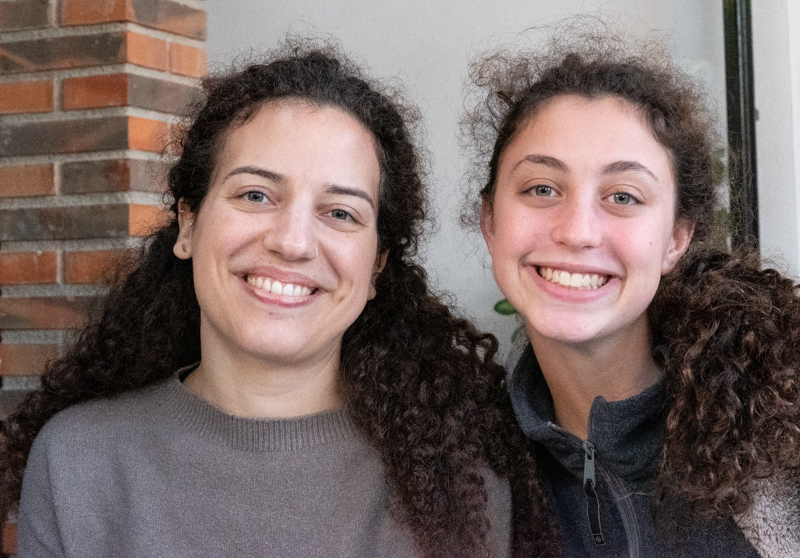 52_13
On the 27th, Ilan and his family drove off to Barcelona, and I was out on my bike again. I stopped in the fishing harbour of El Campello. All the boats were in, the holiday hiatus was evident: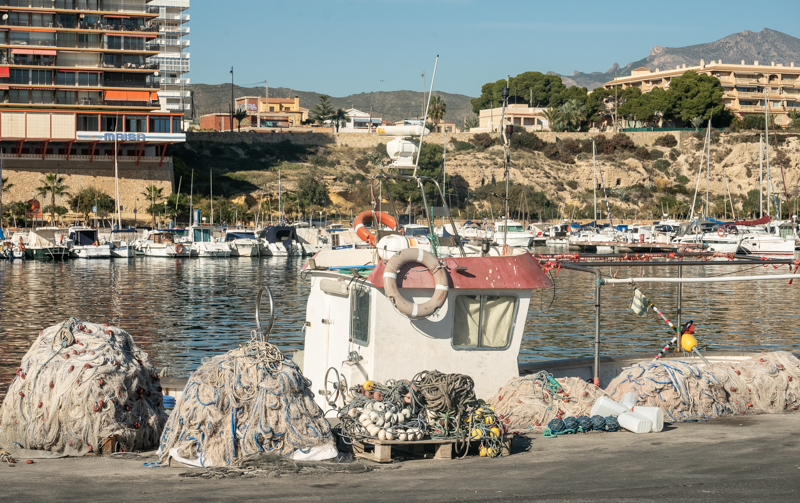 52_14
There was a new big boat that I had not seen before: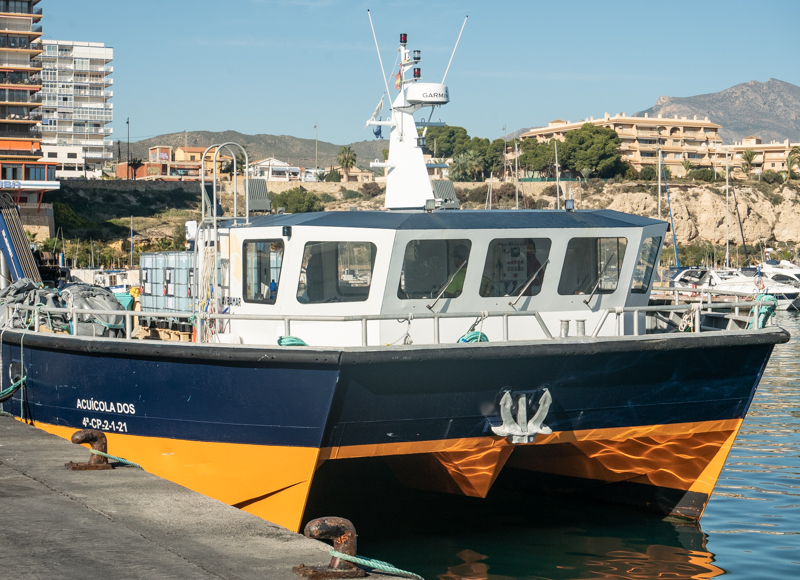 52_15
It provided me with a nice, semi-abstract image: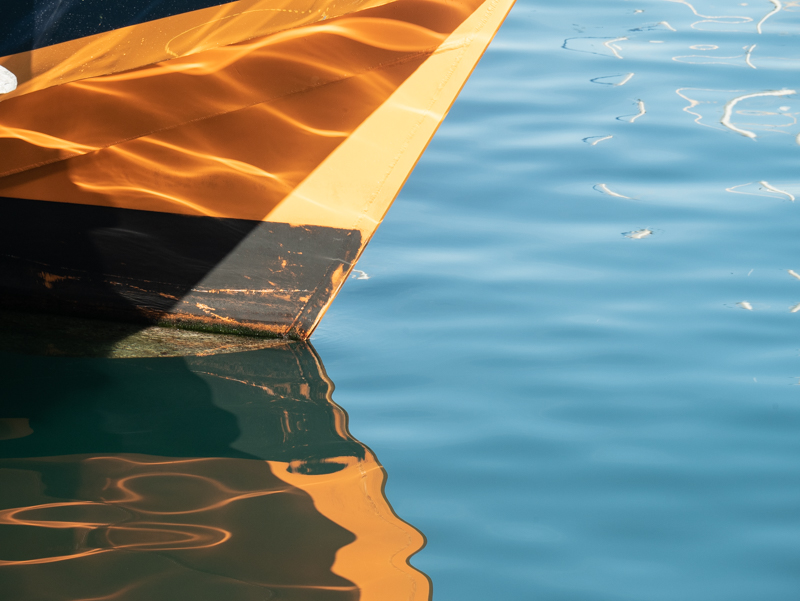 52_16
Some people were enjoying the adjacent beach: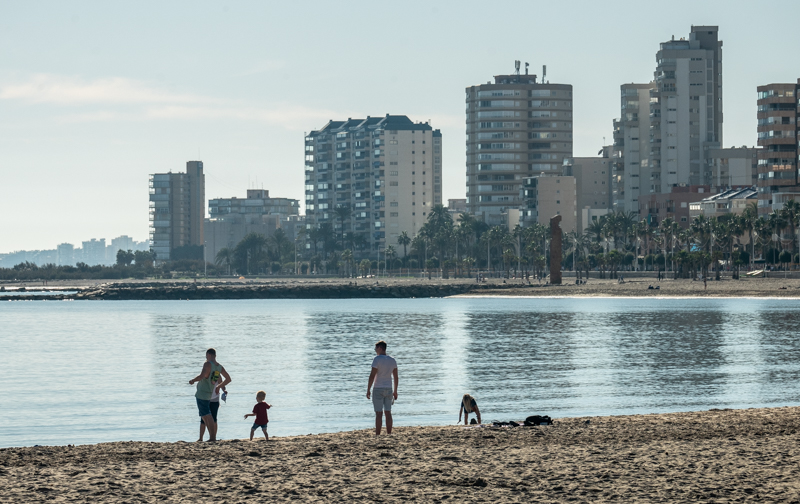 52_17
Others were enjoying the bars on the promenade: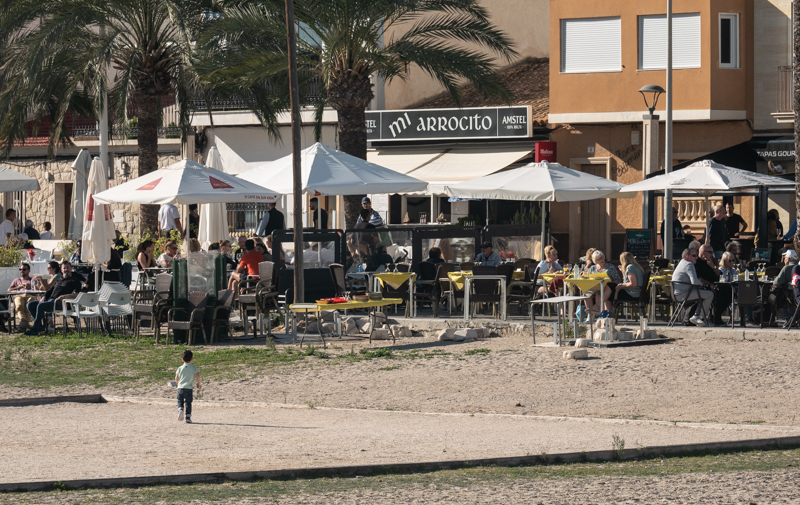 52_18
And a family of three sat down for a picnic: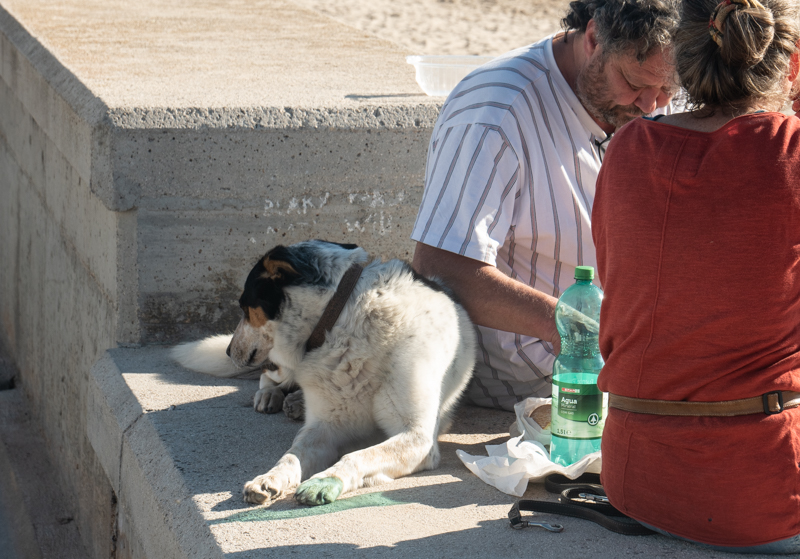 52_19
A couple of days later, on the beach closer to my home, Playa San Juan, in late afternoon. A mother looks on while her child is playing on the beach play tool (I don't know what this structure is actually called):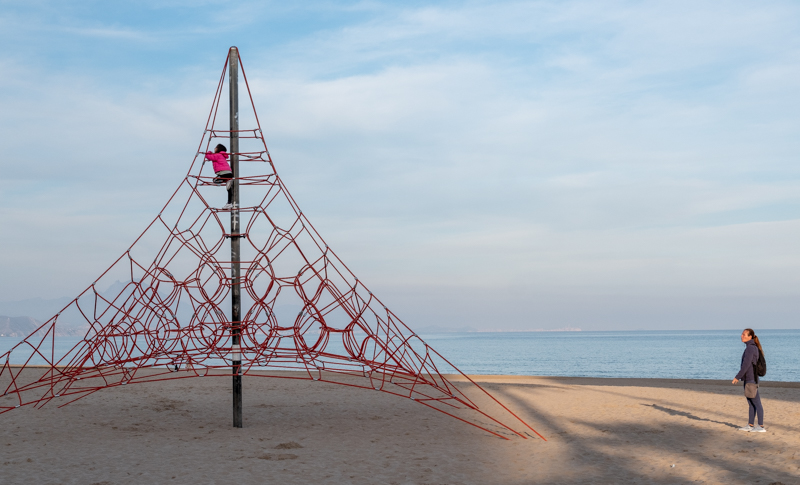 52_20
As I do every week, I collected another couple of dog portraits in the supermarket vestibule: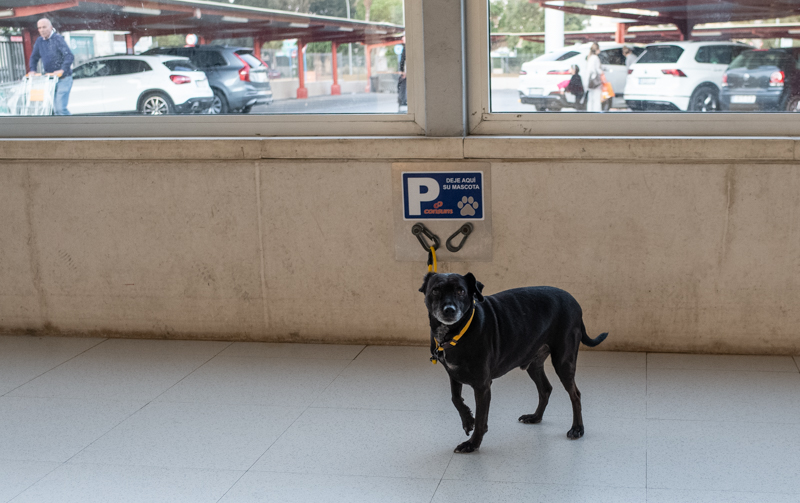 52_21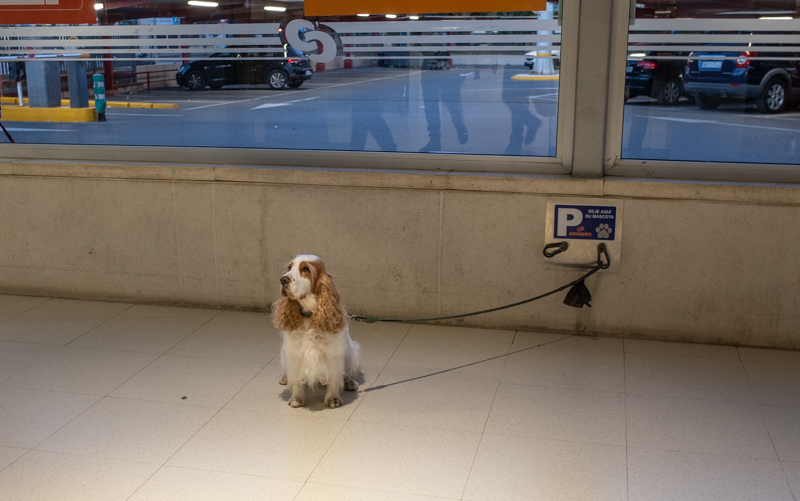 52_22
I wanted to finish the year with some strong bike rides, starting with a 70 km ride, climbing the Carrasqueta mountain pass. It was tougher than usual due to the strong wind that changed direction frequently, so it felt extra good to be at the pass and make this selfie: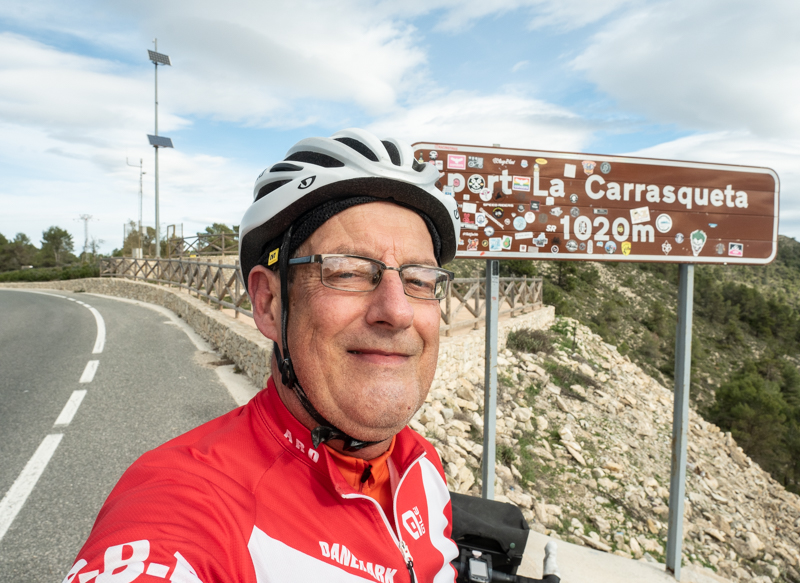 52_23
The view was especially nice that day due to the dramatic clouds: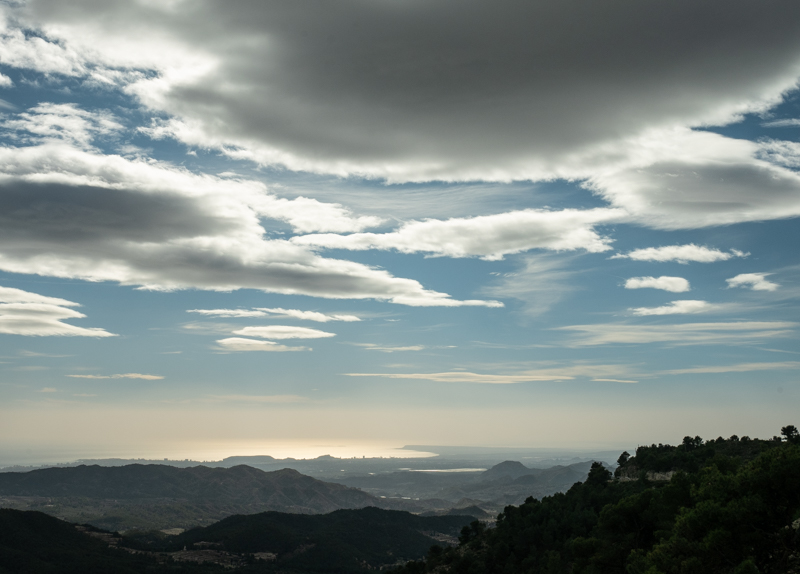 52_24
On the way down, after about 6 km, I stopped to photograph this bend in the road. Definitely a place to slow down: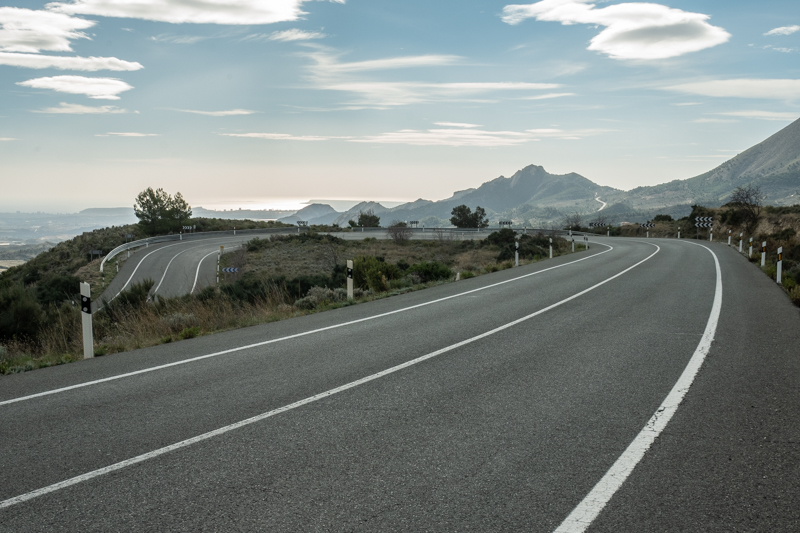 52_25
Later that day, I went to a part of Alicante that I seldom visit, Plaza de España, where the bullfighting arena is located: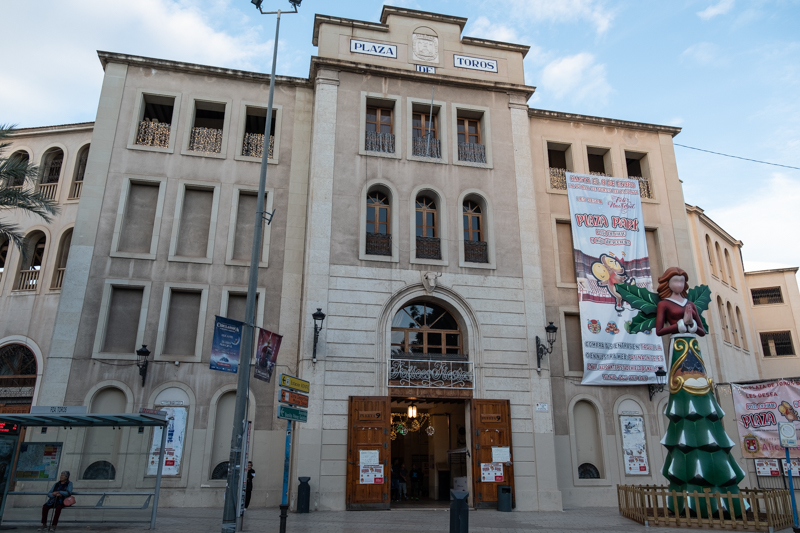 52_26
Obviously I was not there for the bullfighting (of which there is less and less, fortunately). I wanted to see the skating rink set up by the city inside the Plaza de Toros. Seems a bit absurd when the outside temperature is 22C: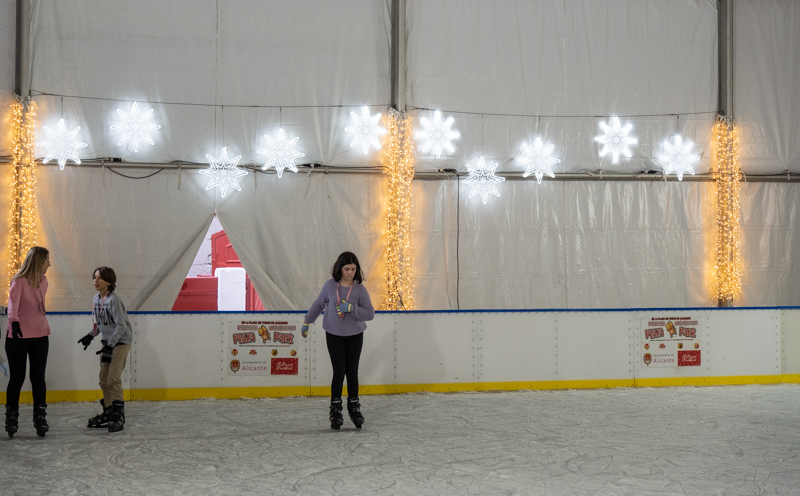 52_27
Mother and daughter: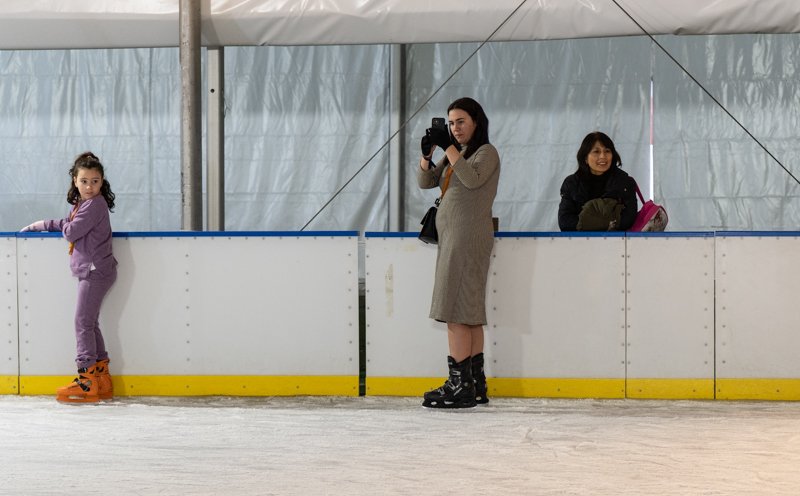 52_28
Messi fan: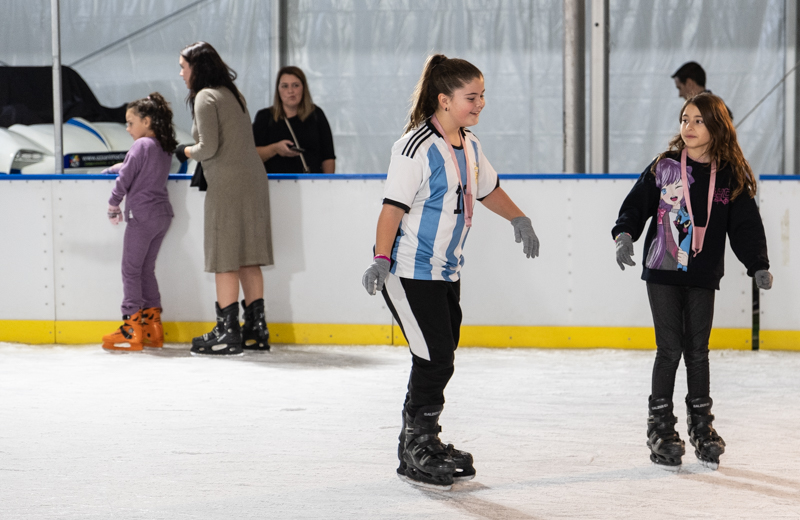 52_29
I wandered around the empty arena a bit, a place I have never visited before. It looks a bit run down, symbolic of the state of bullfighting today: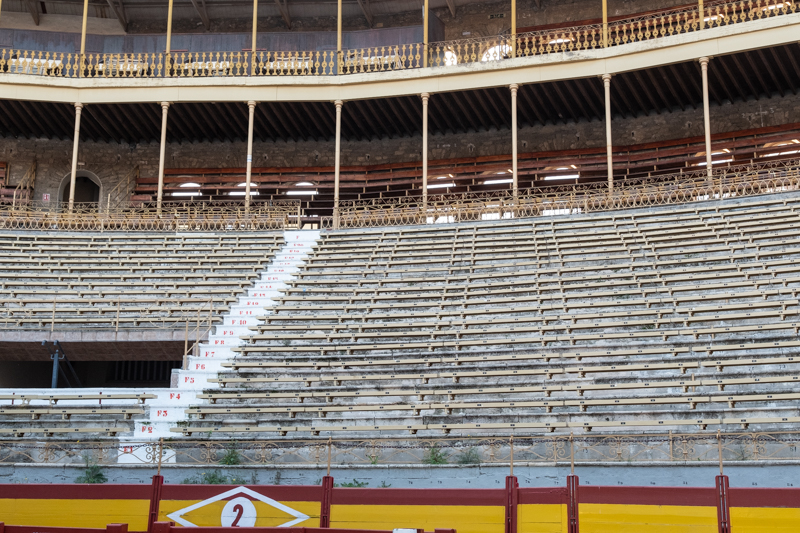 52_30
Reserved seats for government dignitaries, an echo of Franco times: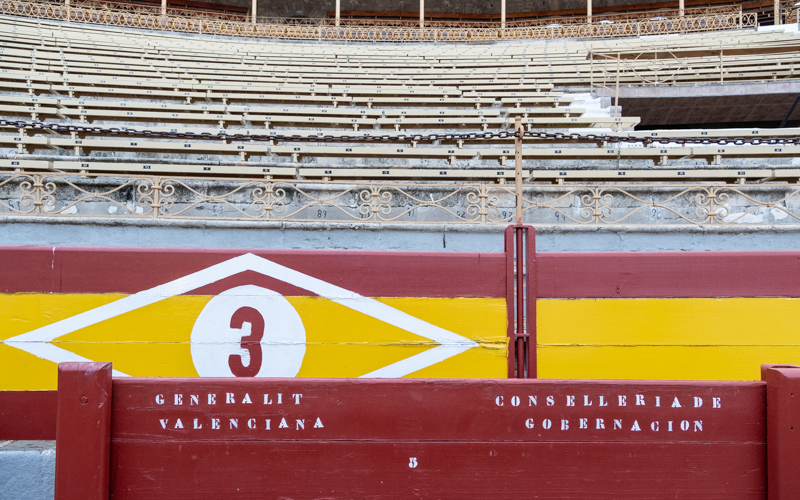 52_31
I walked around a bit more: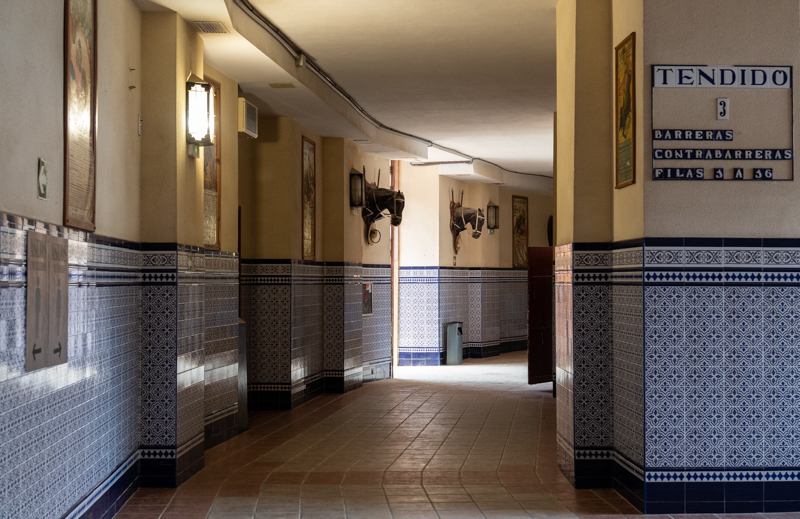 52_32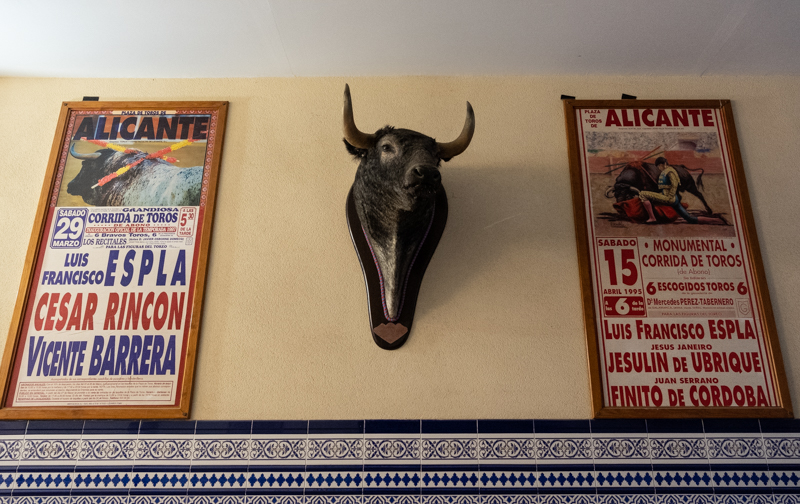 52_33
Outside the arena is a sculpture celebrating bullfighting: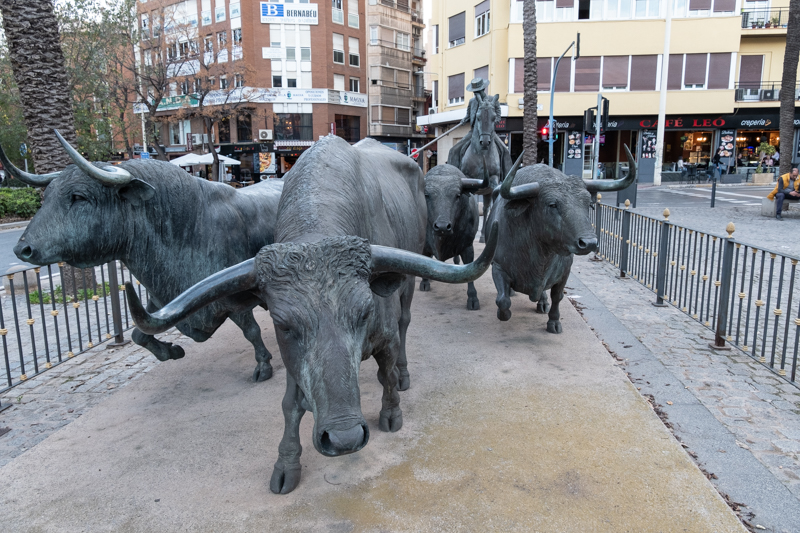 52_34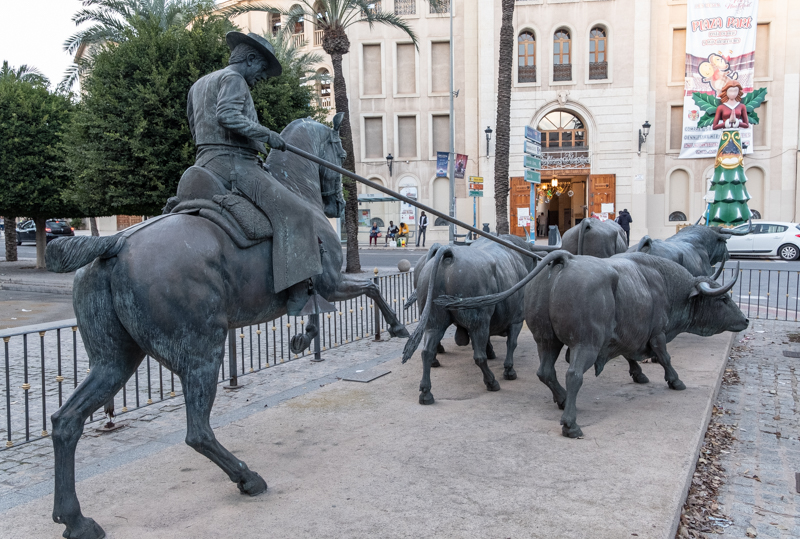 52_35
A nice lady with a bag with a fitting bovine motive: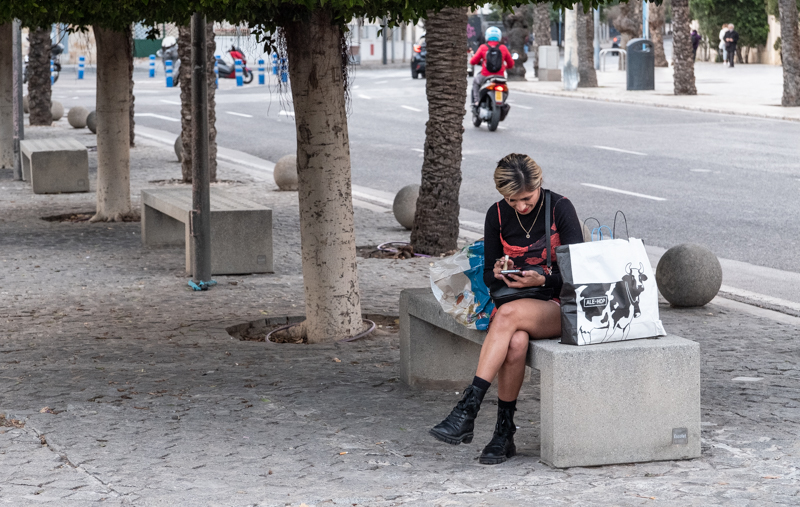 52_36
Another sculpture on Plaza de España, more to my liking. This is a drill head used to drill a huge water collector under Alicante to prevent flooding during our autumnal torrential rains: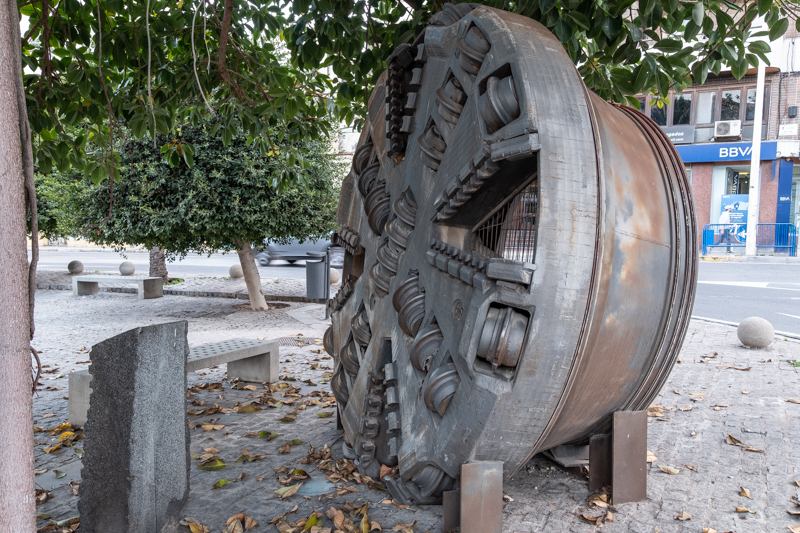 52_37
Afterwards, I stopped at the Corte Inglés to buy something, and also passed by Conchi's roasted chestnuts stands, a Christmas tradition here: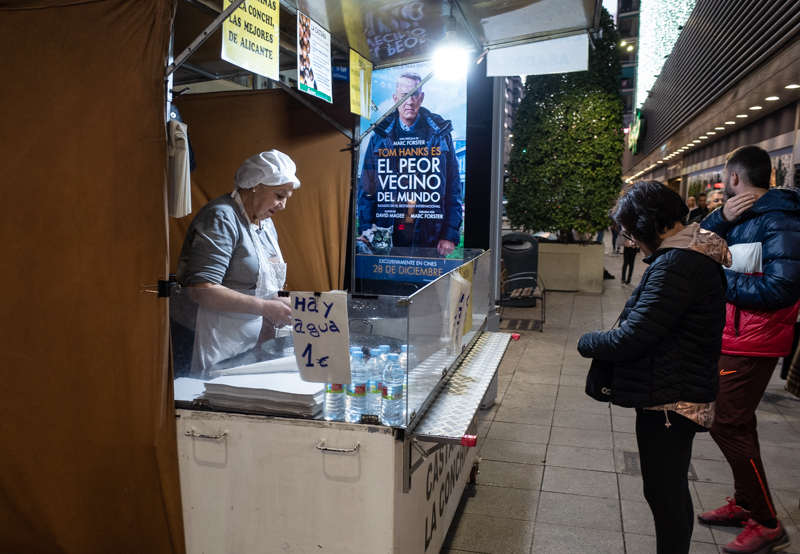 52_38
The following day was the 31st, and I wanted another long ride on the last day of the year. This time I chose an easier route, going south to Elche and Santa Pola, on relatively flat terrain. I stopped for a break at the Urbanova beach and saw this combination of container ship and sailboats: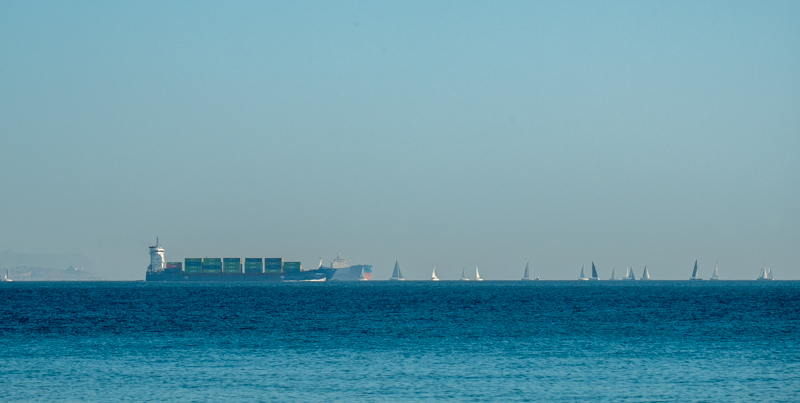 52_39
There was a Polish invasion on the seaside campground: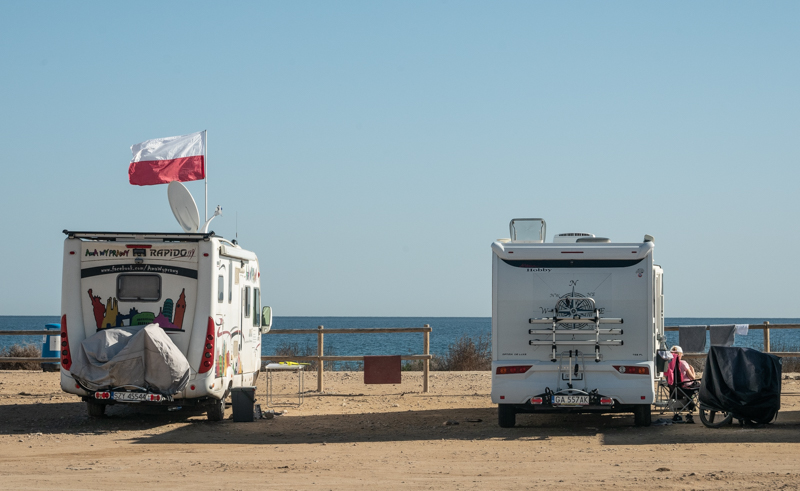 52_40
The New Year's Eve arrived. We celebrated with our local friends, and my wife prepared this magnificent cake as our contribution: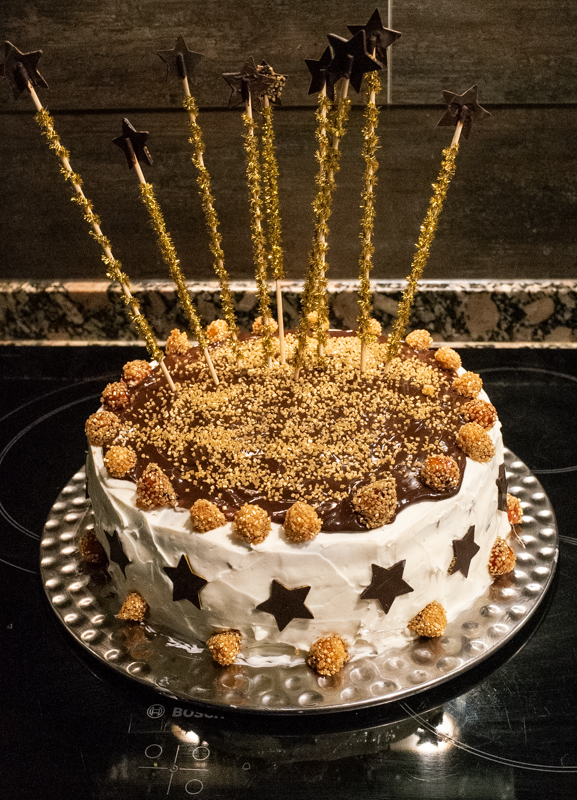 This completes my 22nd year of weekly pictures. Onwards to 2023!