The week that had started with the aborted brevet on Sunday continued with more pleasant activities in Aarhus, my hometown. Even the weather cooperated. Aarhus is the European Capital of Culture this year. Because of that, the annual Aarhus Festuge (Aarhus Festival Week) was even bigger and more wide-ranging than usual. I also had the pleasure of meeting some old classmates, Lars's two daughters and his two grandsons, and, last but not least, his new partner Winnie, a delightful lady as it turned out.
35_1
I start with an example of Lars's creativity. This is the gate to the inner courtyard where people park and where Lars's storage room (where the bicycles are parked) is. The gate was always very noisy, so Lars thought of a way to dampen the metallic noise and making a bit of an artistic statement using old computer cables and bicycle inner tubes: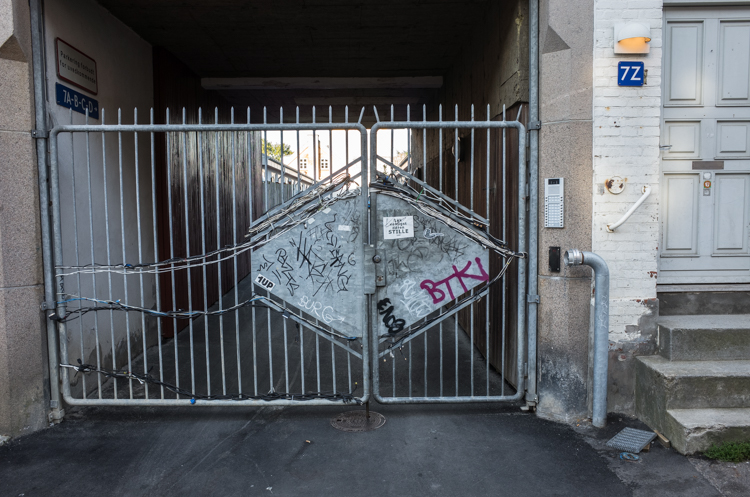 35_2
A closer view: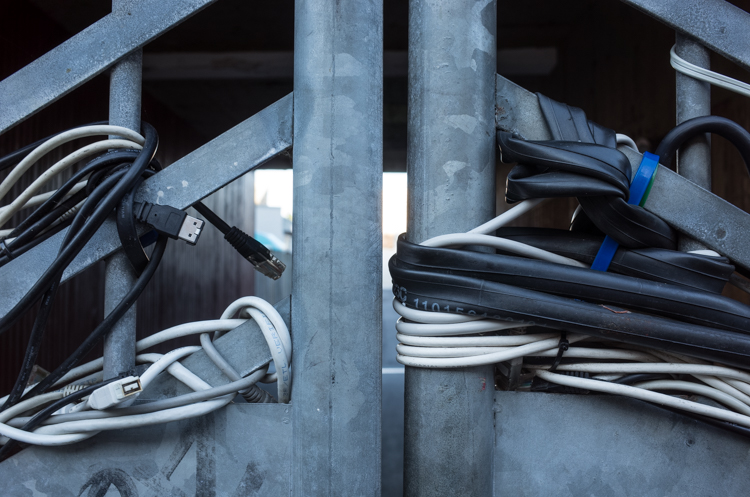 35_3
On Monday I limited my cycling to a leisurely ride of around 20 km in total, going to a beach south of Aarhus called Moesgaard. Part of the attraction is the road to get there, through a forest: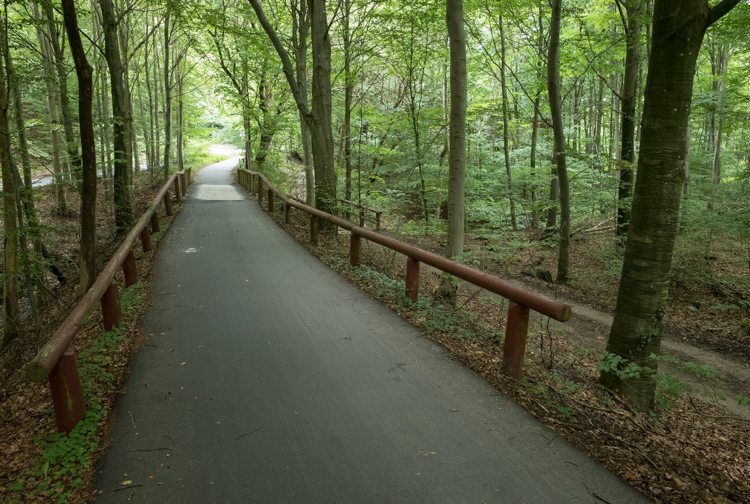 35_4
This made me think of the Florida swamps: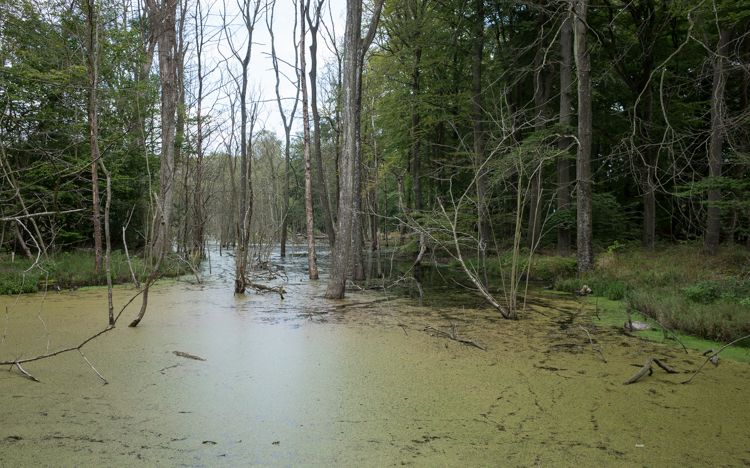 35_5
The forest contains a park, Marselisborg Dyrehave, with deer and wild boar. The deer are always trying to hit up the humans for some food: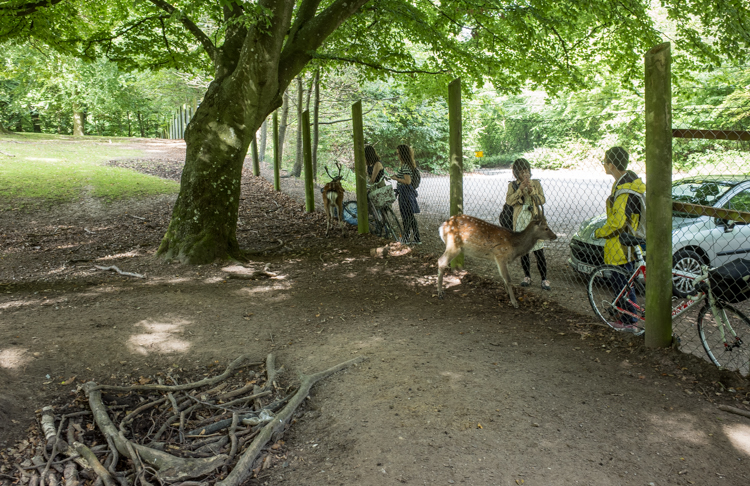 35_6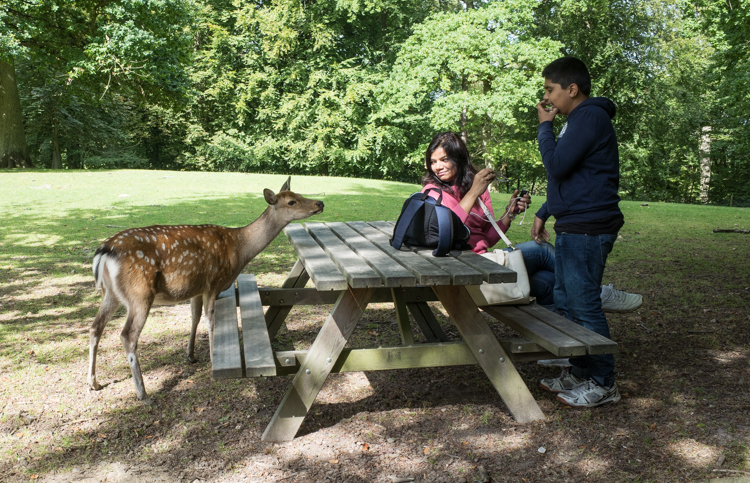 35_7
Tight portrait of Bambi: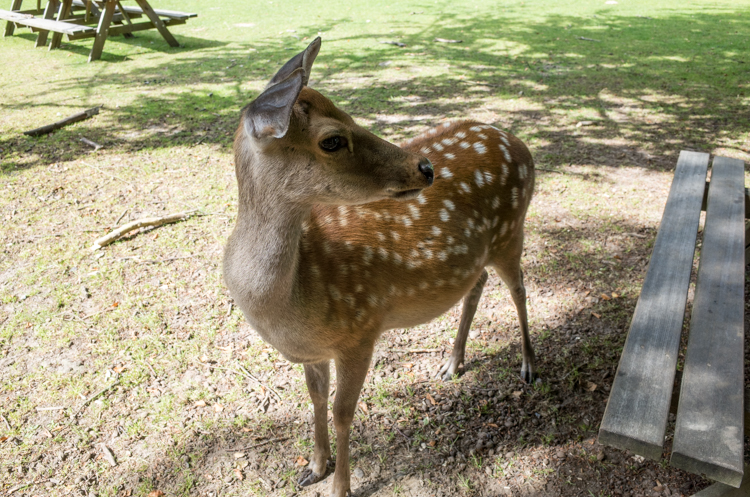 35_8
Moesgaard Strand. It is a nice place just to go for walks. I used to go to the beach from time to time as a teenager, not to swim but to drink beer and look at the topless women. Today was not exactly beach weather, it was dry but cool: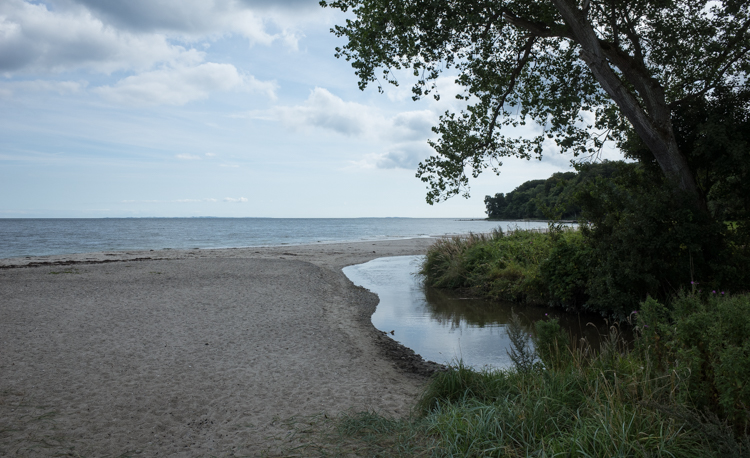 35_9
Back in the centre later that day, I walked past another Festuge installation near the harbour: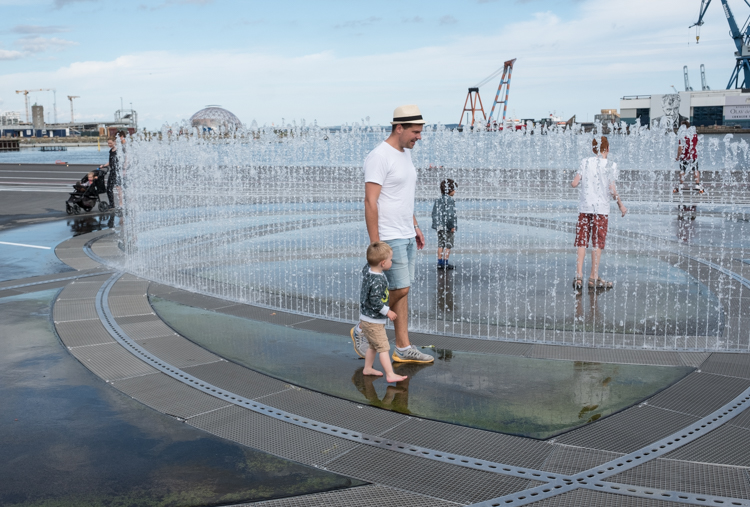 35_10
The little boy is clearly interested: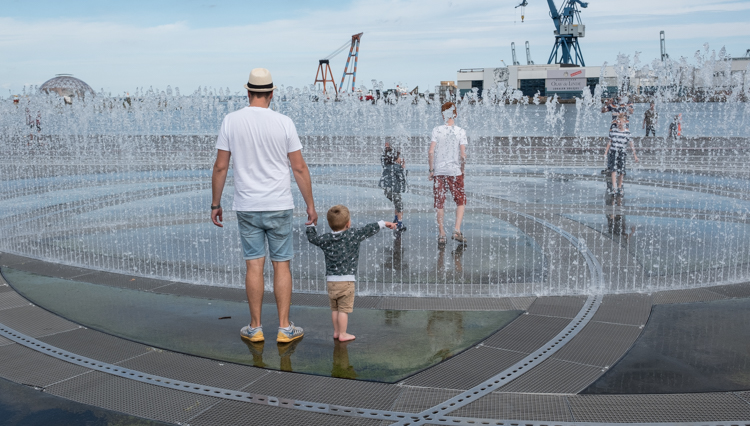 35_11
And in they go: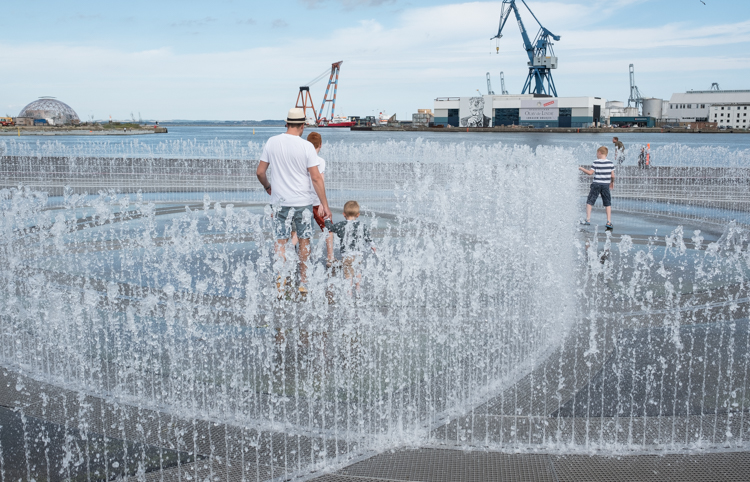 35_12
One of the things I like about my hometown is the combination of history and modernity. While walking back to Lars's apartment, I passed Katedralskolen (the Cathedral School), the oldest high school in the city, and as the name implies, originally attached to the church, although today it is just one of the city's normal public high schools. But the plaques on the wall of the school tell a story. Among the alumni is Ole Worm, born in 1588, who became King Christian IV's personal physician and later died during a pest epidemic in Copenhagen: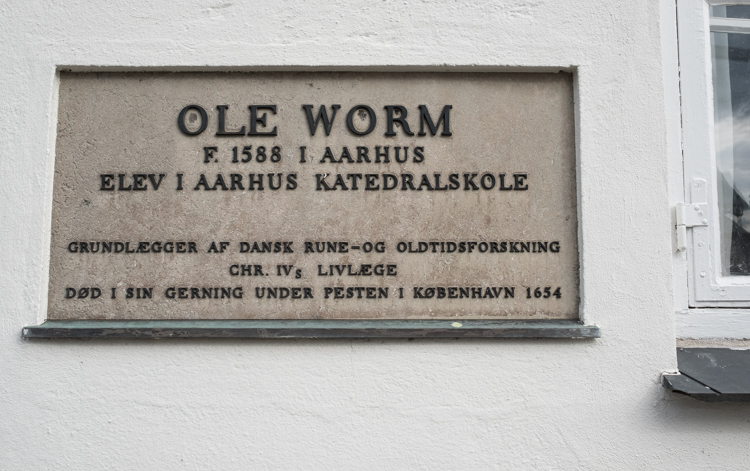 35_13
The next morning I was going to cycle a 90 km route while Lars was at work, so he prepared a nice healthy dinner for us: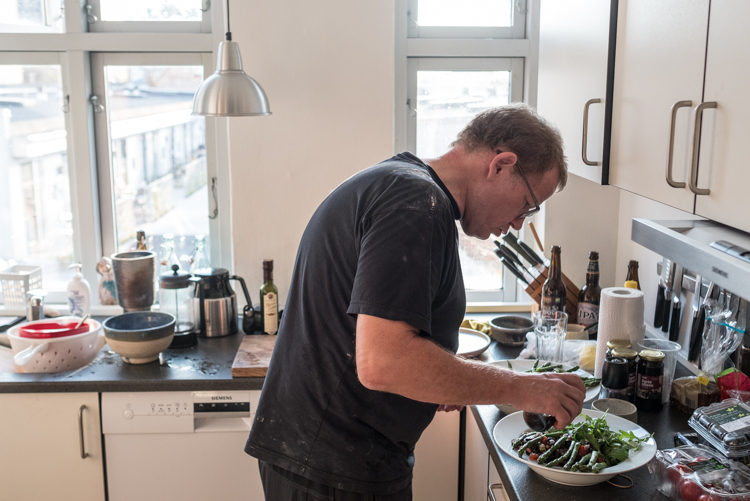 35_14
Sunset on our dinner table: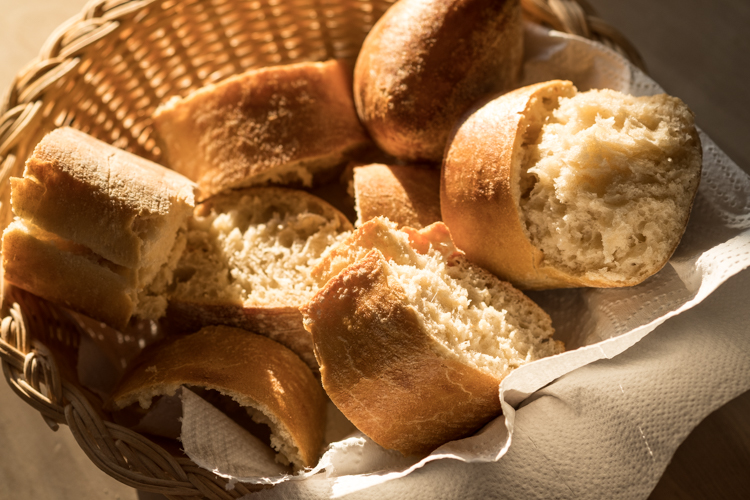 35_15
Cycling fuel–chicken and asparagus and other veggies: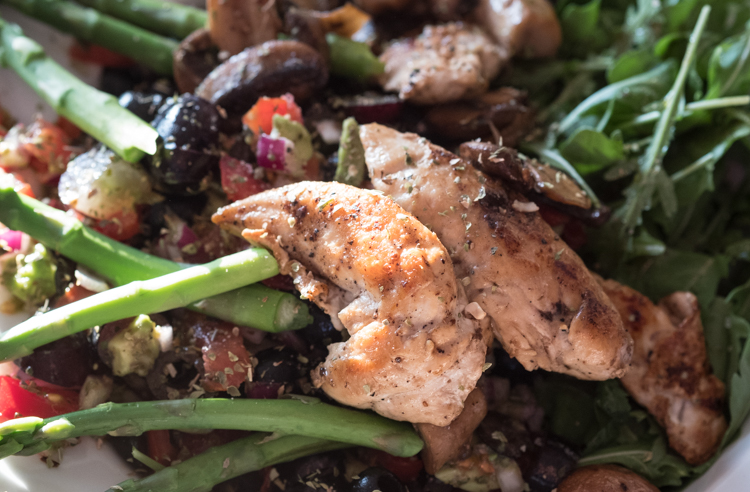 35_16
On Tuesday morning I did my 90 km ride (some images are here). Afterwards, I met up for lunch with three classmates from primary school, in other words from the years 1972-76. The guy on the left, Ole, I meet every year, but I had not seen Pia since we left primary school in 1976: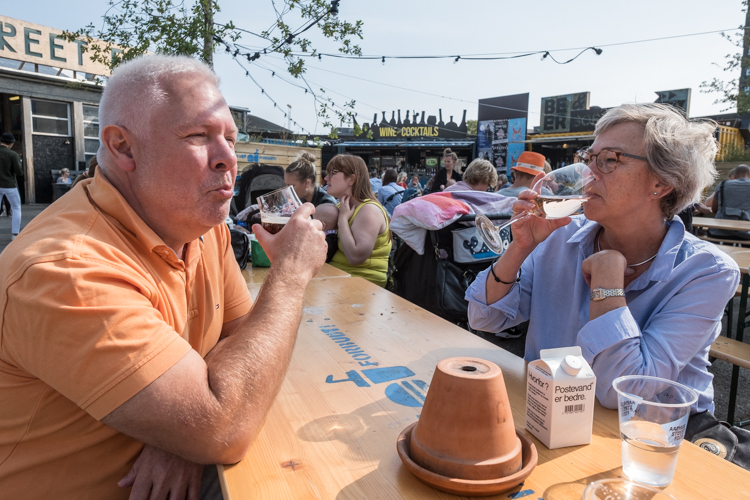 35_17
Of course we are all slightly older, to put it mildly, but Pia actually looks close enough to her schoolgirl past that I would recognise her in the street: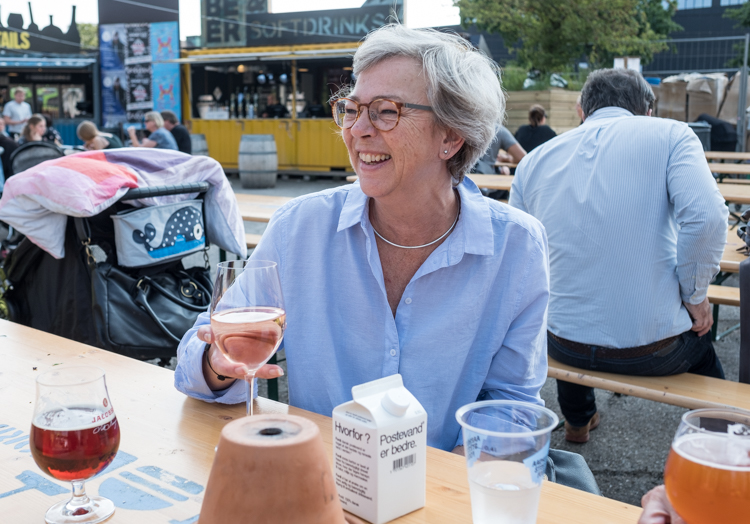 35_18
The place where we were having lunch is Aarhus Street Food, a new addition to the city's food scene. Basically, it is a bunch of small restaurants and bars in a former industrial building (given Danish weather, it is best to have this sort of thing indoors):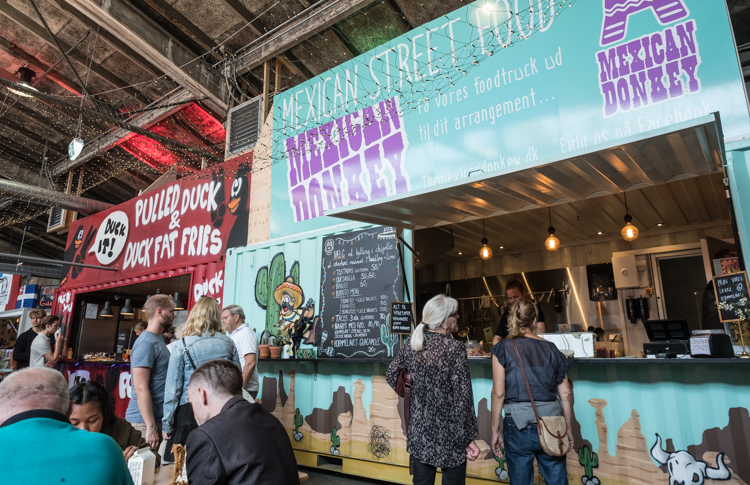 35_19
I was hungry after the 90 km bike ride, so I went with two burritos and a serving of guacamole: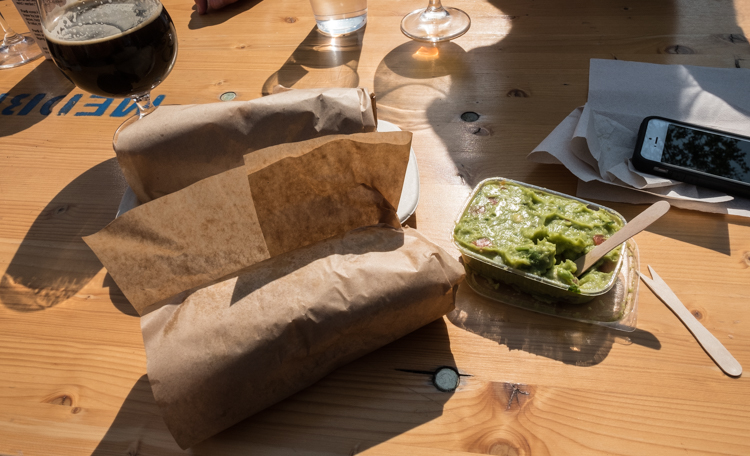 35_20
After Lars came home from work, we did another thing we always do when I am in town–we went to the ARoS museum of modern art: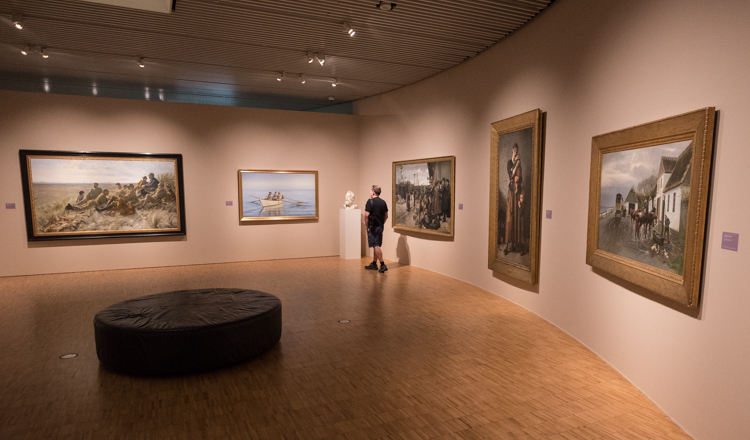 35_21
A sculpture; I forgot the name of the artist: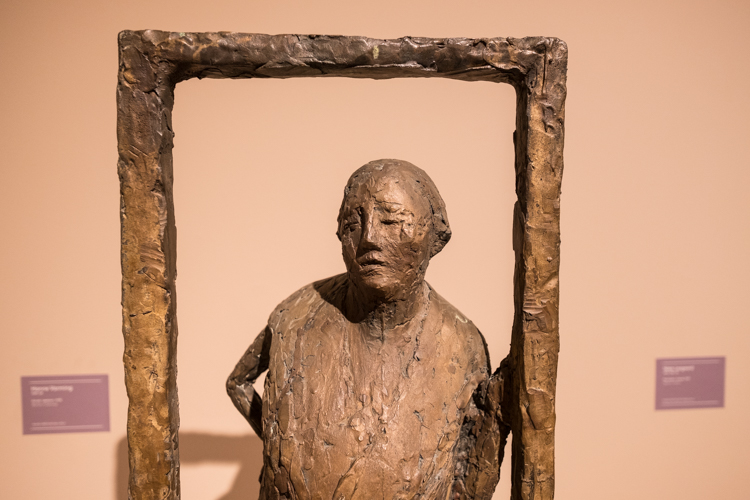 35_22
A painting by one of Denmark's classical masters, from the northern Jutland town of Skagen: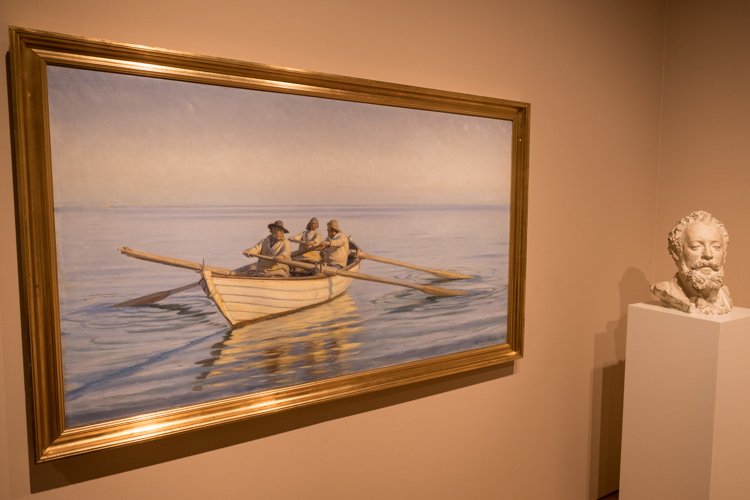 35_23
This and the next sculpture were part of the "Human Nature" exhibition: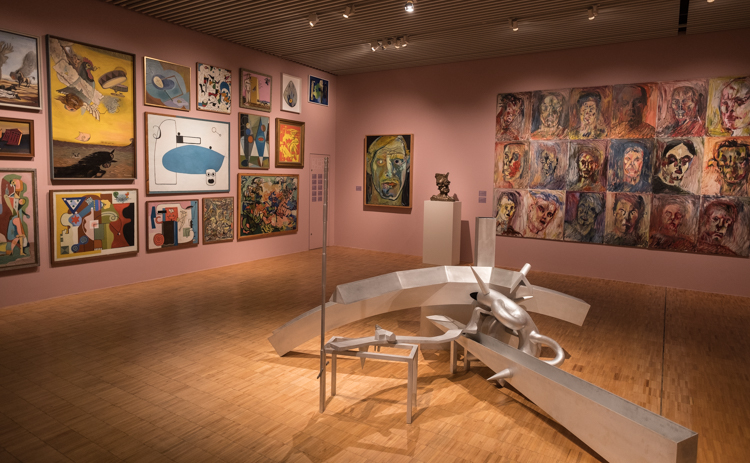 35_24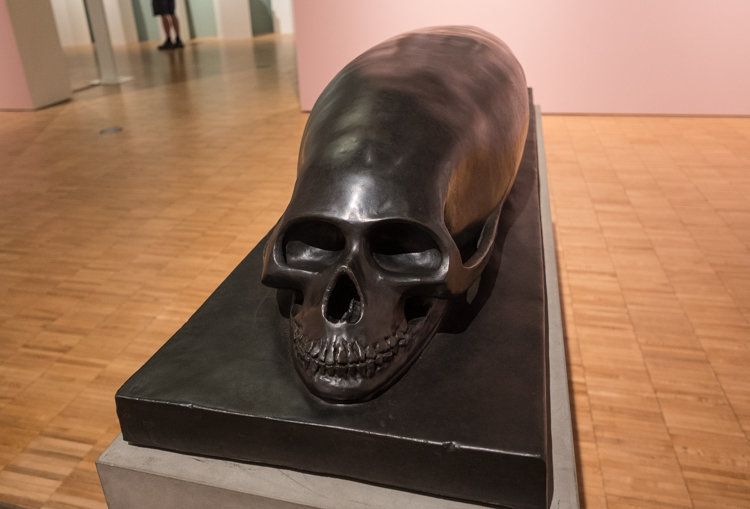 35_25
Ron Mueck's "Boy" from 1999 has always been an ARoS favourite. He has recently been relocated to a more confined space, somehow making it easier to explore the work in detail: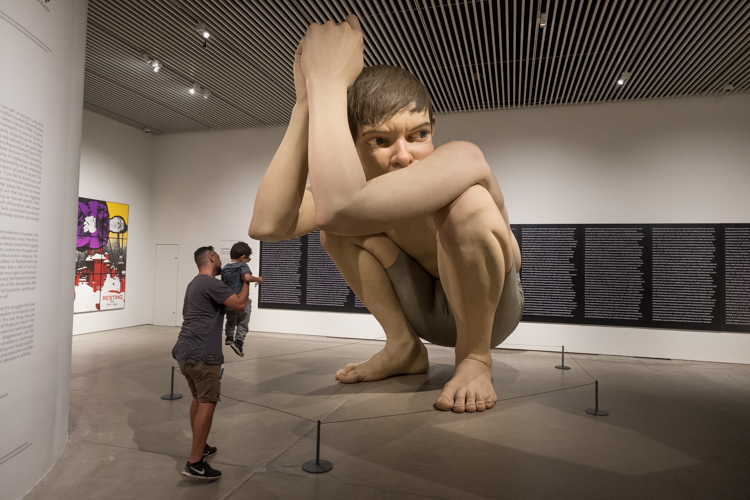 35_26

35_27
A recreation of an artist's table, in ceramic!: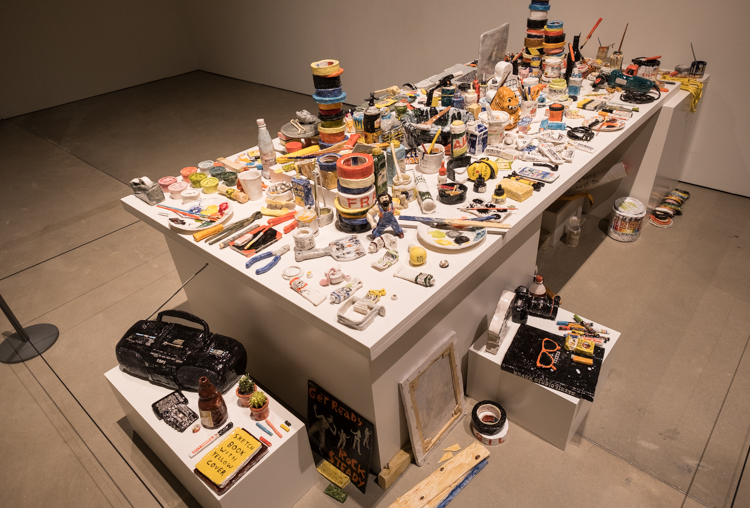 35_28
ARoS has the space for large installations, such as "Unlearning Optical Illusions" by Norwegian artist Toril Johannessen: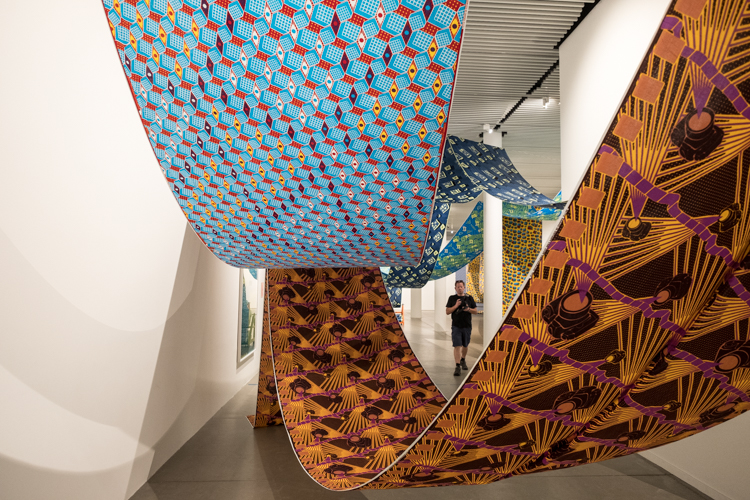 35_29
"Beauty", a work of light and water, by Olafur Eliasson, 1993: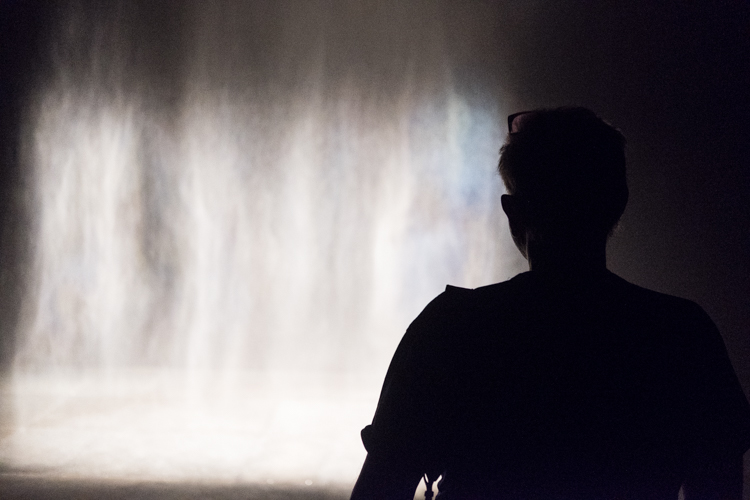 35_30
We noticed two female musicians from inside the museum. They did not look like the usual buskers: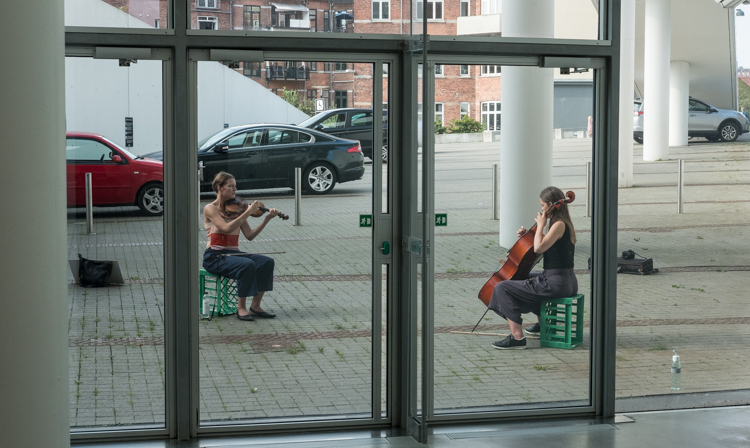 35_31
After finishing our visit at ARoS, we walked around to the back to check out the two musicians. It turned out that they were part of the Festival Week. This lady played her violin while the other one sang a haunting melody from behind us. They were making use of the acustic properties of this space, in a masterful way: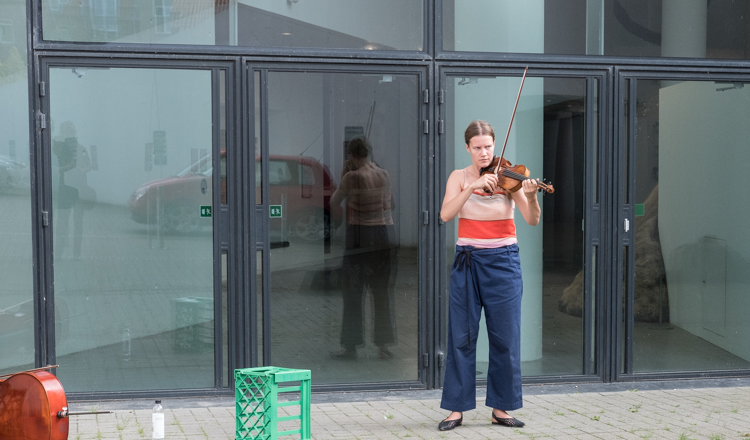 35_32
On the way back to Lars's place, I spotted this plaque on a wall in Nørre Allé, indicating that this was the building in which the first classes of the newly founded Aarhus University were held in 1928. That university is my original alma mater. Of course, by the time I was there, in the 1980s, we had a nice, green campus a couple of km from the centre:

35_33
Patriotic potato: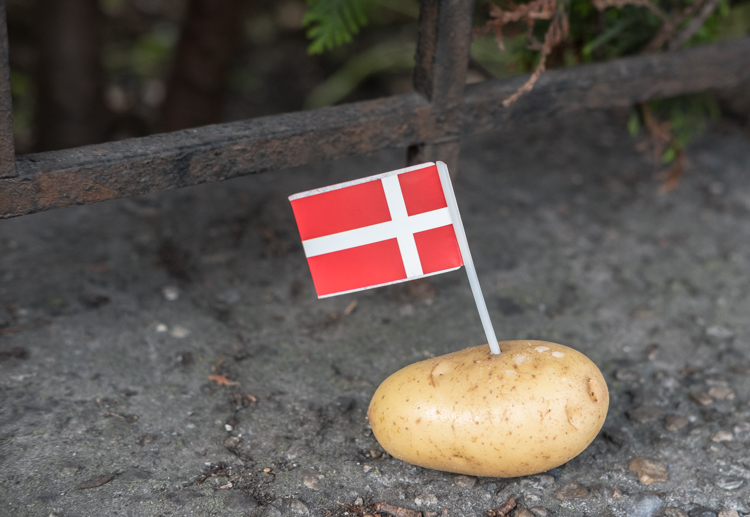 35_34
Back home, Lars set up his 4×5 camera and took some portraits of me: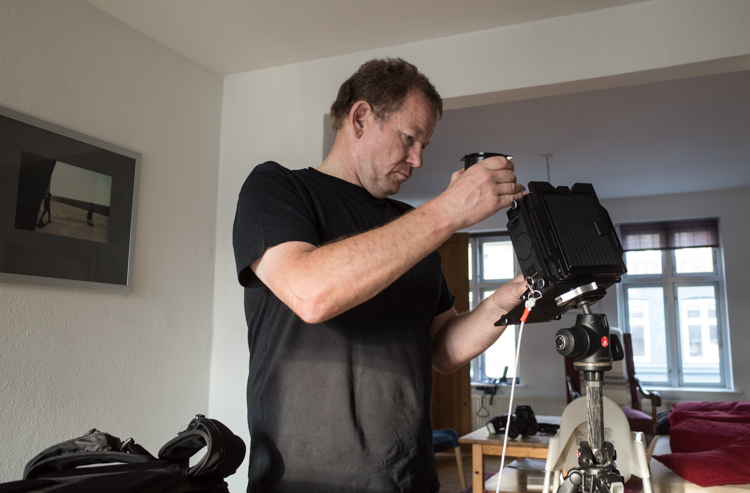 35_35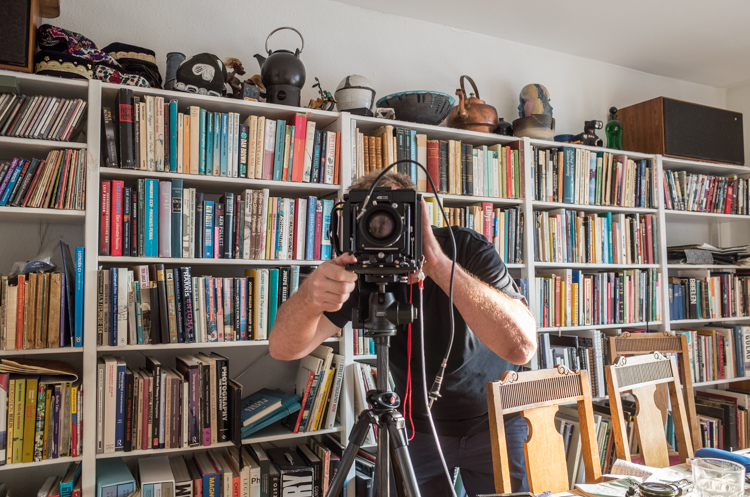 35_36
After dark, we went out again, to look at another Festuge event, a huge flower projection onto the pavement of Bispetorvet, the square next to the cathedral:

35_37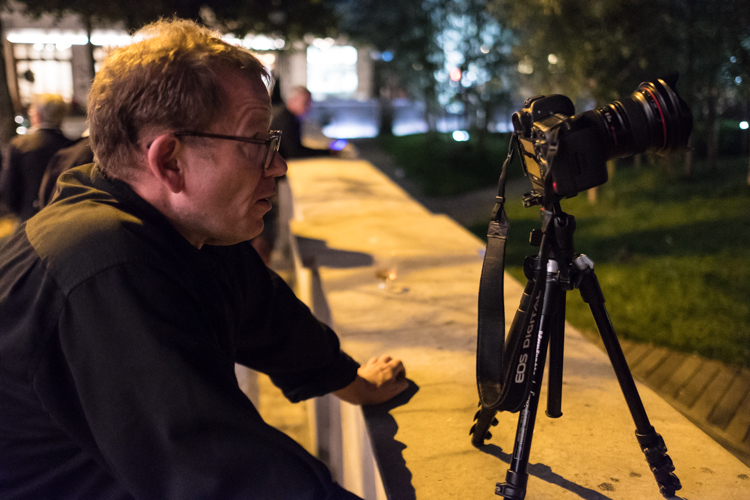 35_38
On Wednesday morning, Lars was working again, while I went out to see more of the Festuge installations. This time I went to Frederiks Allé, a major street next to Aarhus City Hall, which had been closed and turned into a street art exhibition. This painter is originally from Barcelona but now lives in Copenhagen: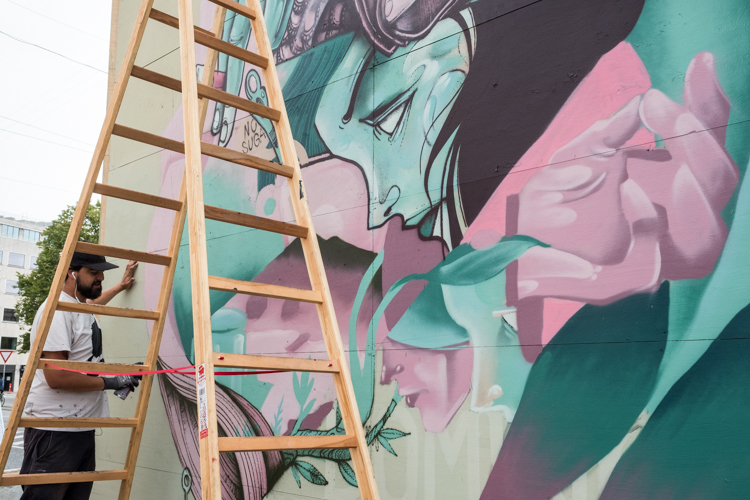 35_39
A nursery school out on a little field trip to look at art: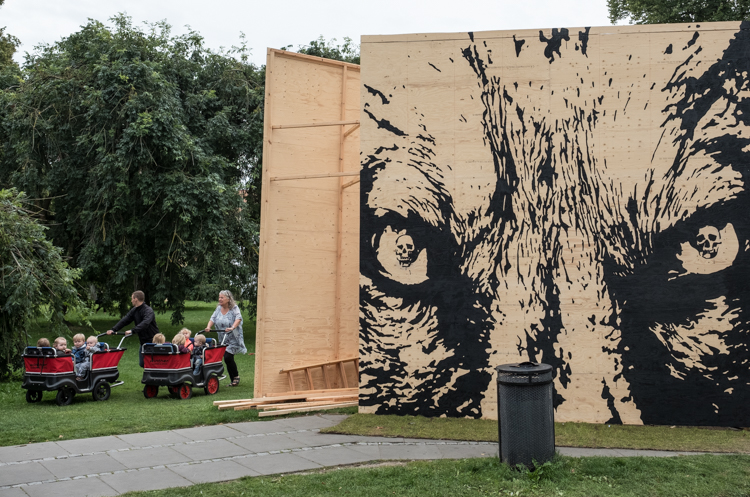 35_40
There was also this pen containing a bunch Toulouse geese; I never figured out the meaning of this, but looking at the web page of the Festuge, I learned that they were led periodically around the city, referring to a H.C. Andersen fairy tale: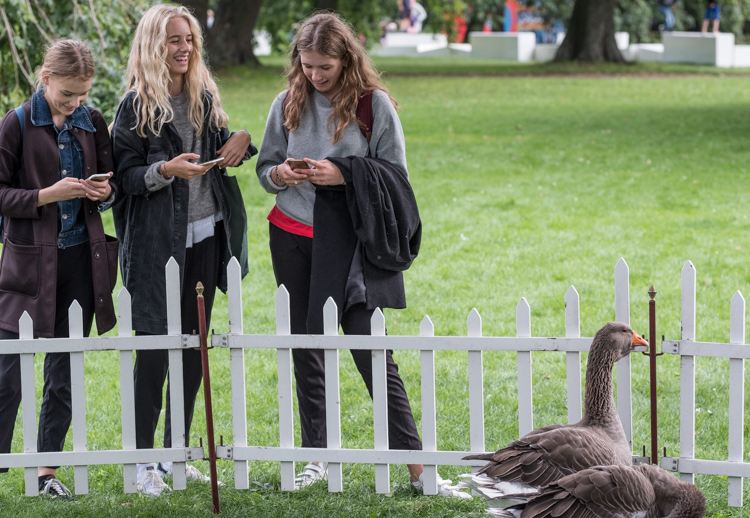 35_41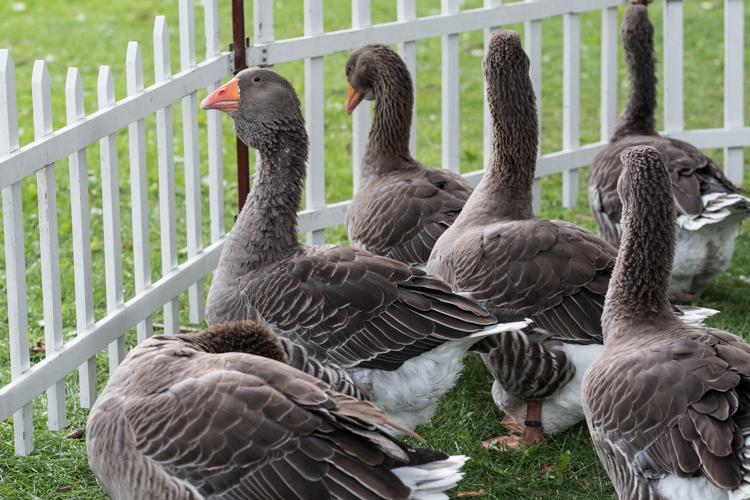 35_42
On the way back to Lars, I stopped to buy coffee in this old-style shop: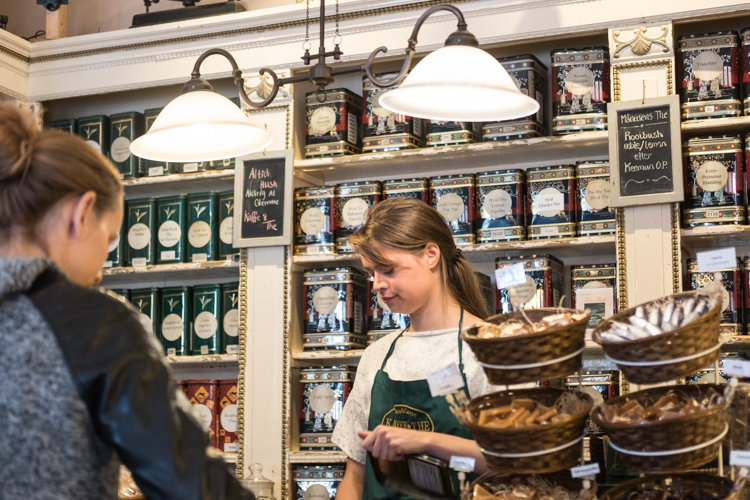 35_43
Wednesday was my last full day in Denmark, so Lars had invited his two daughters and his new partner Winnie for dinner. In the morning, he prepared the dough for pizza: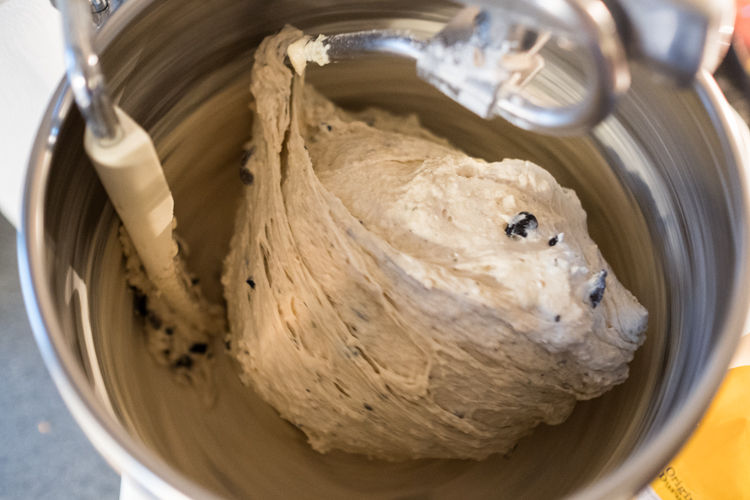 35_44
In the afternoon, the pizza bottoms are prepared: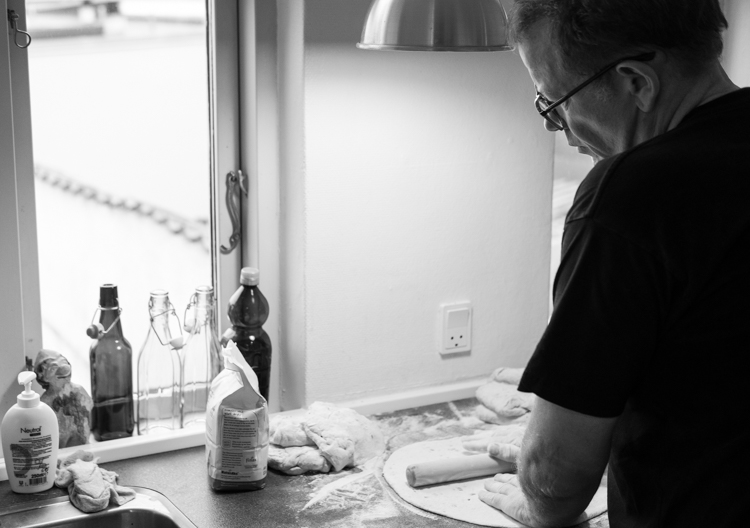 35_45
This is as far removed from Domino's cardboard as one can imagine: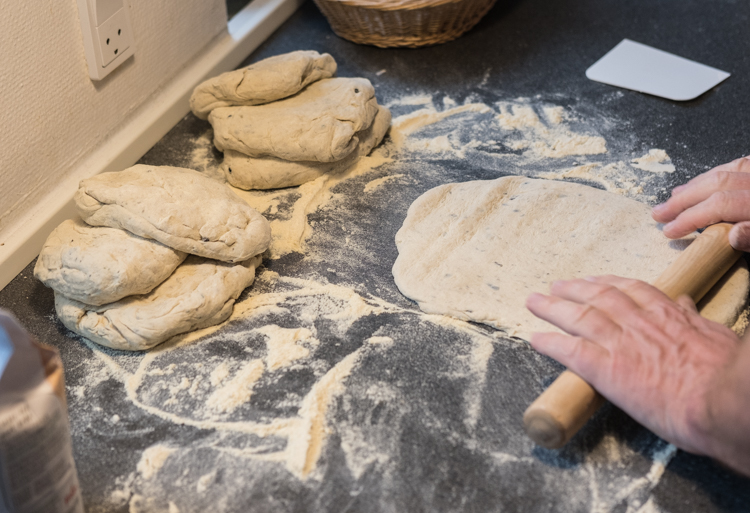 35_46
The guests arrive: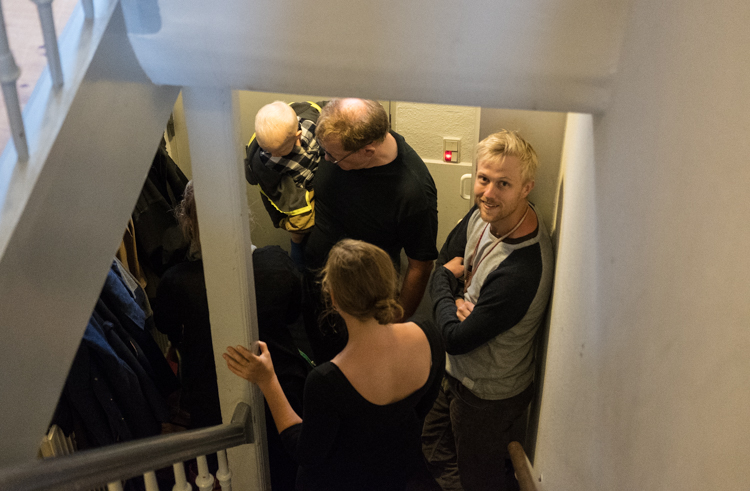 35_47
Thanks to his daughter Marie, Lars has two grandsons. This is the youngest of the two, Emil, 15 months old: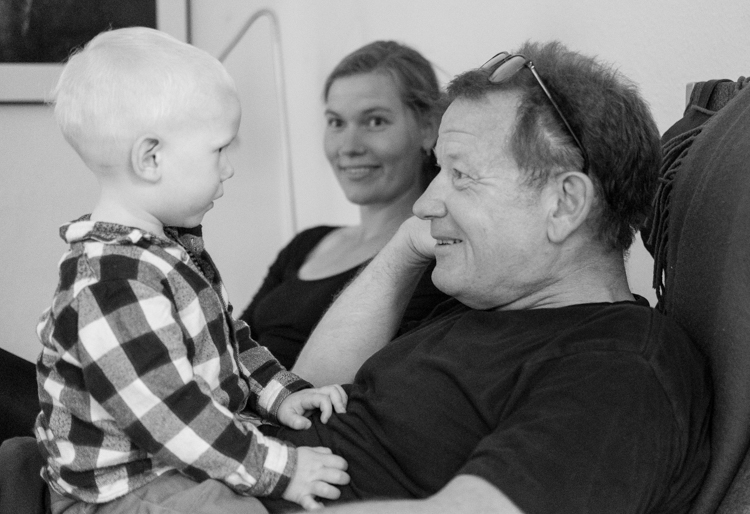 35_48
Lars's daughters, Klara and Marie, with Emil: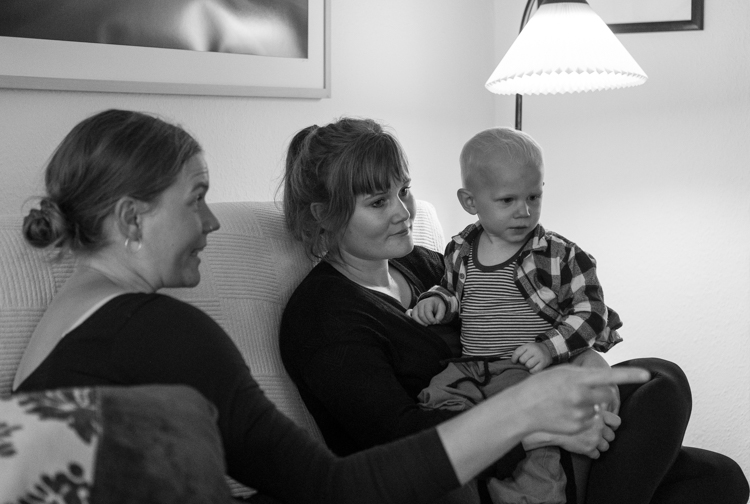 35_49
Marie is divorced from her sons' father, but has recently found a new partner, a very nice guy called Andreas: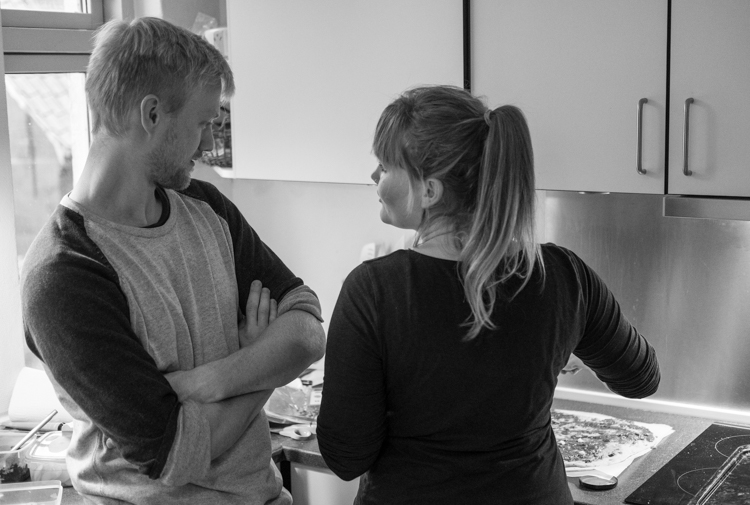 35_50
Exploring: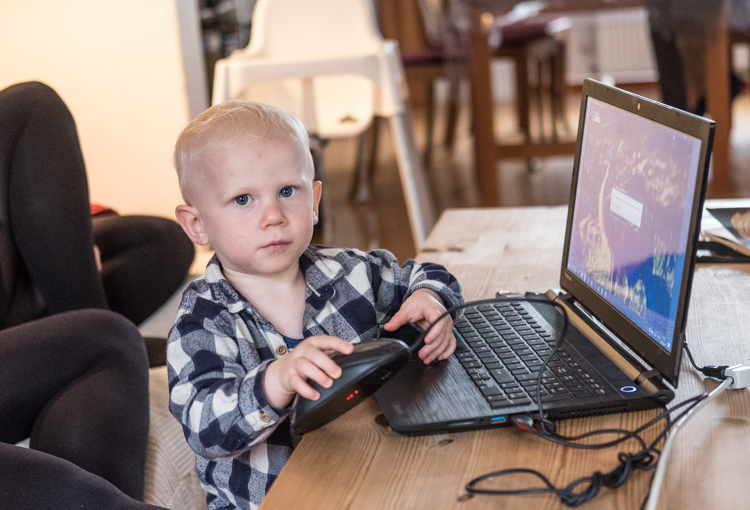 35_51
Lars's new love, Winnie. She is an opera singer (had just spent several days in another town in Jutland, singing Wagner), she likes Belgian beer (the stronger the better), she is great fun: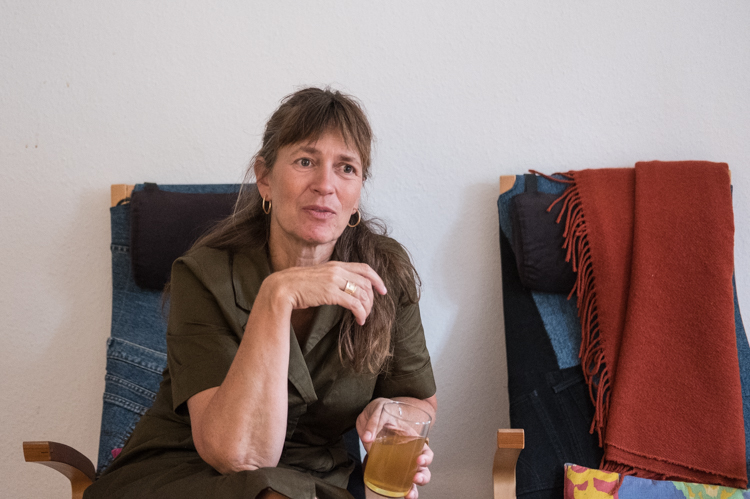 35_52
Then we all sat down to enjoy the pizza: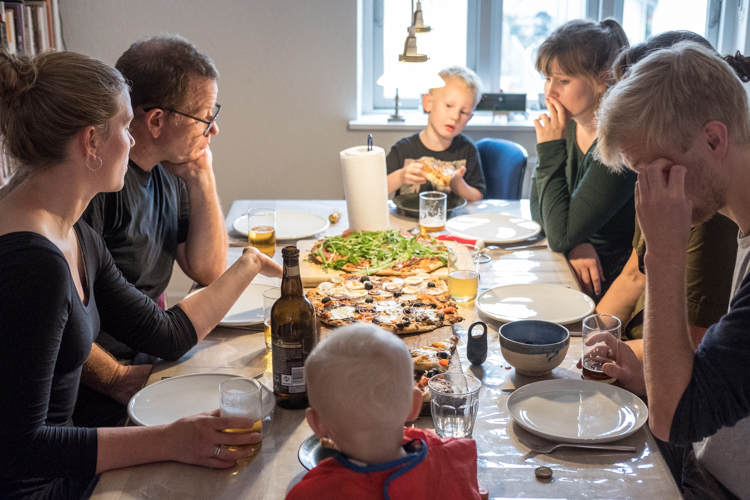 35_53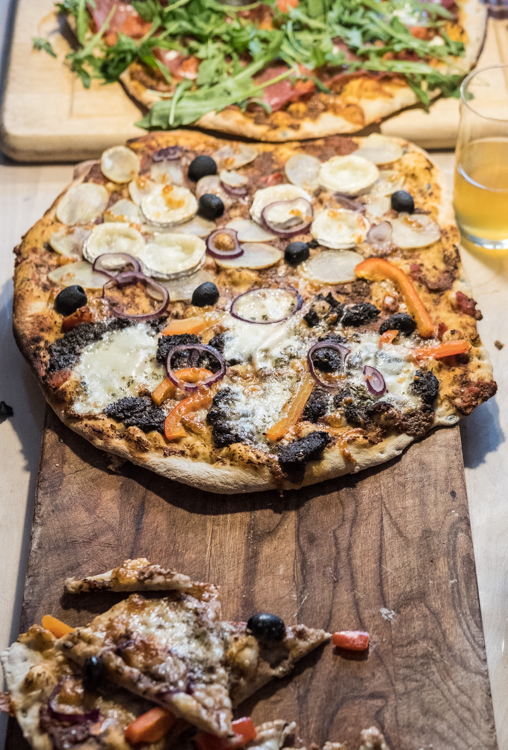 35_54
Lars's younger daughter, Klara, playing with her nephew Lauge: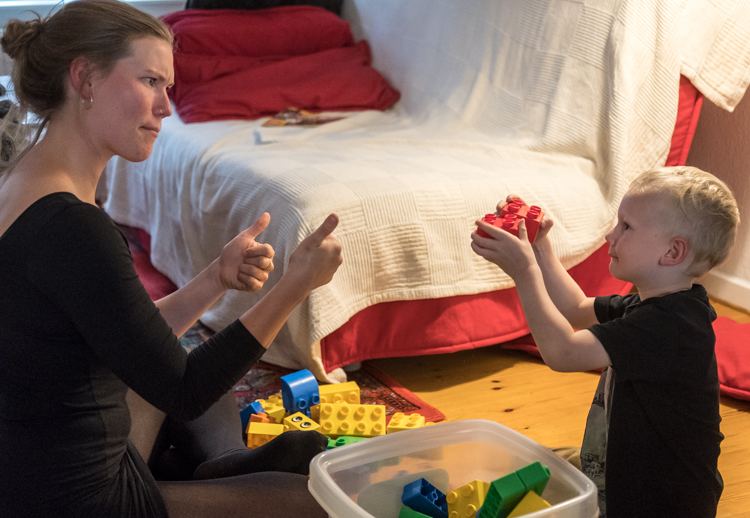 And thus ended my visit to Aarhus this time around.
35_55
The next morning, Lars drove me to Billund airport, where I took my last picture from this trip, a sculpture in the airport terminal: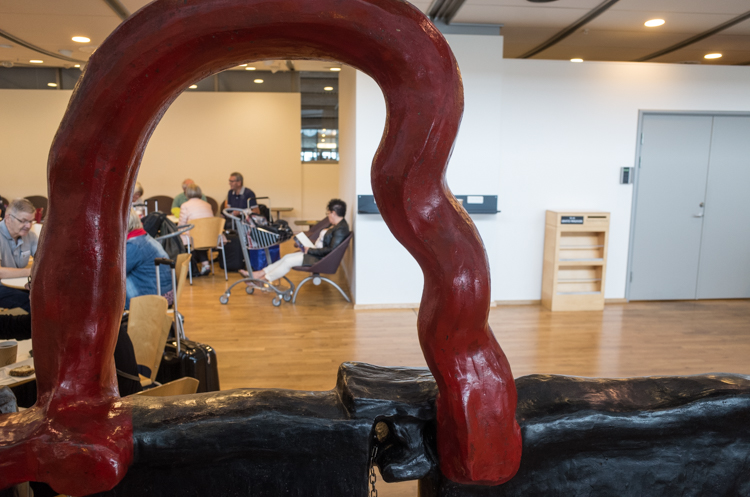 A dedicated Aarhus gallery, focusing on the city itself, can be seen here.