A long blog this week, because there were two big events, my wife's birthday followed by a trip to Denmark, my first trip abroad since November (also to Denmark), not easy in these Covid times.
13_1
Sunday 28 March was my wife's birthday. Last year, we were unable to celebrate it with friends since we were in lockdown. This year, we still have many restrictions, so no way to have a party, but at least we were able to invite Eliot and Assumpta and their sons for a long lunch at our house. Actually, even this is strictly speaking forbidden right now (meeting with people from outside your household is only allowed in public spaces, not at home), but we are a close-knit small group and consider it safe to meet like this: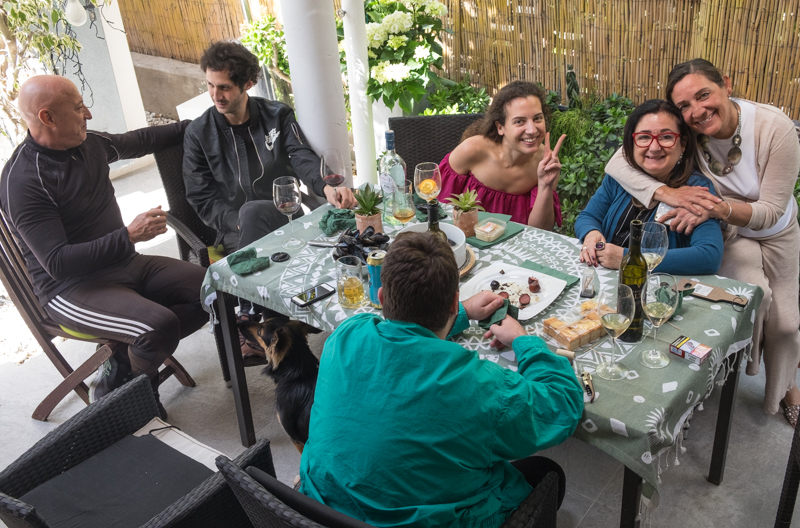 13_2
Balu was there too, of course: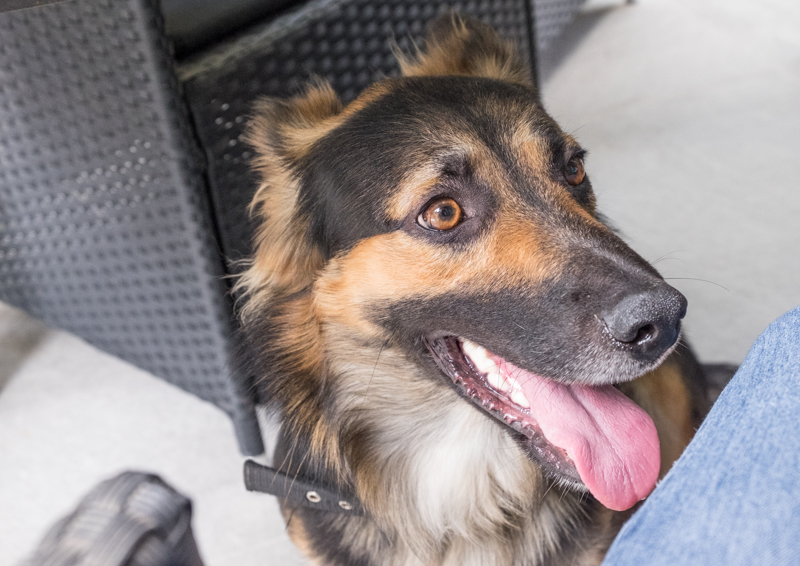 13_3
My wife got her presents: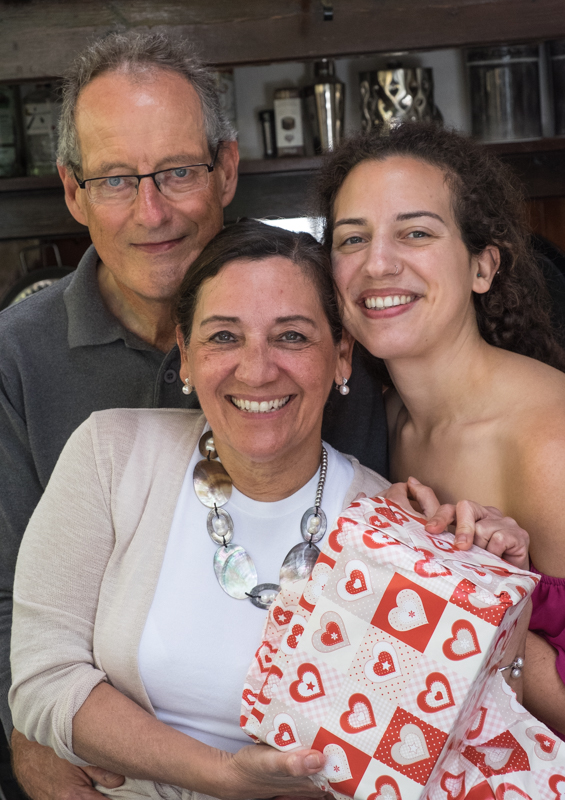 13_4
Then we sat down to our extended lunch. This was the main dish, lamb roast accompanied by roasted vegetables: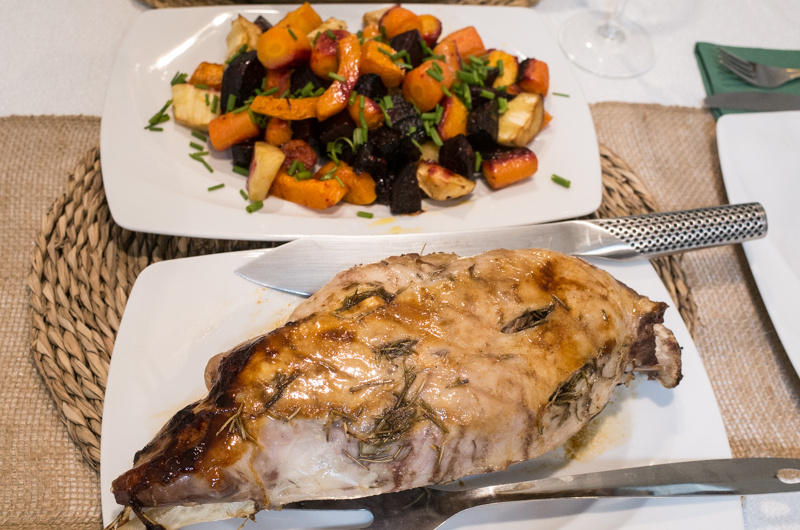 13_5
Balu got his share too: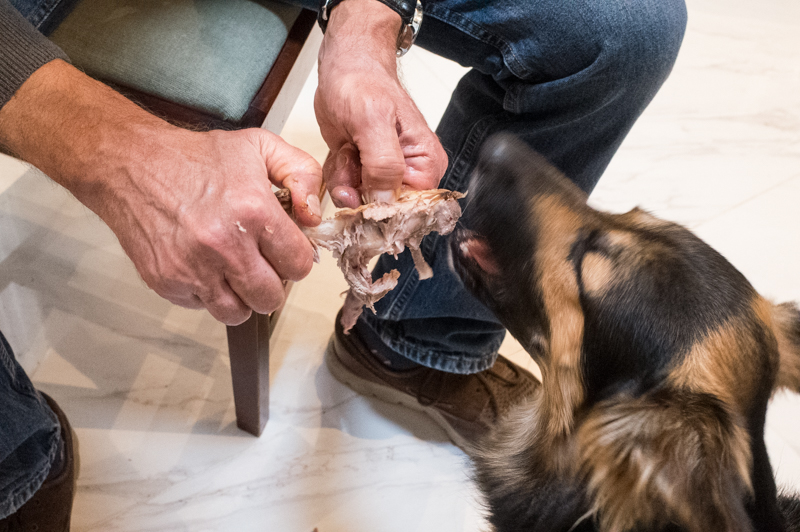 13_6
The birthday cake, made by a local high-end bakery. Expensive but delicious: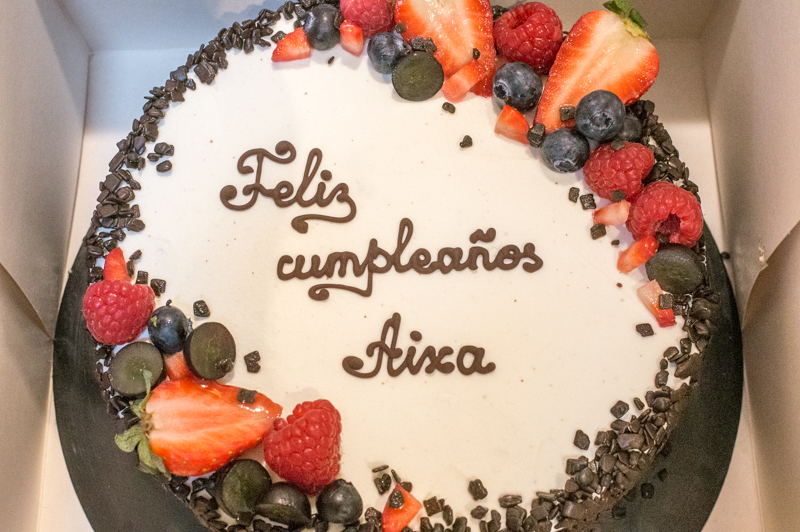 13_7
On Monday morning, I was out on my bicycle as usual. It was cloudy, providing a different backdrop for the animals watching me just outside Busot: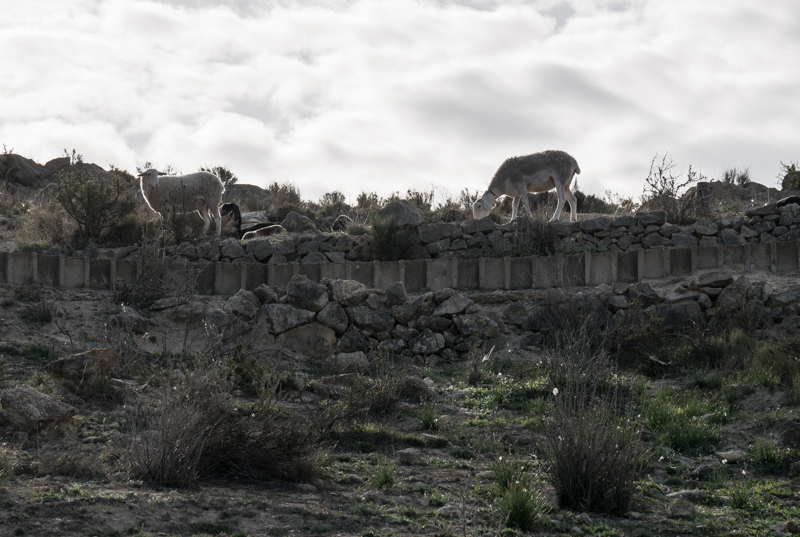 13_8
A balcony in Aigües: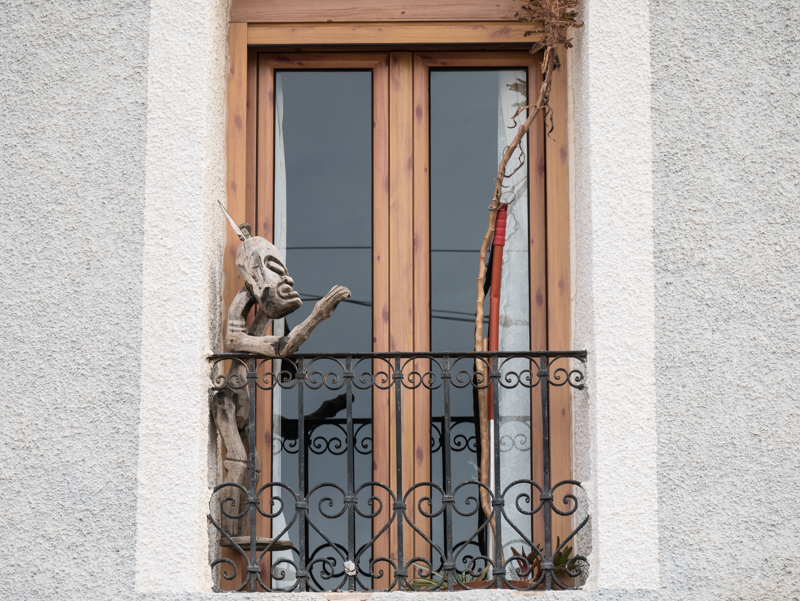 13_9
Then Wednesday arrived. I had been awaiting this day eagerly, since it marked the beginning of my trip to Denmark. I usually go there in late April, but this year I wanted to take advantage of a special Danish Covid rule; in general, people arriving in Denmark have to isolate for several days. But people who have had the disease within the past 12 weeks are exempt from this requirement. And since I had Covid in January, my 12-week window was closing on April 1st. So I wanted to travel before that date. Alicante airport, where I had not been since November, was a rather depressing sight: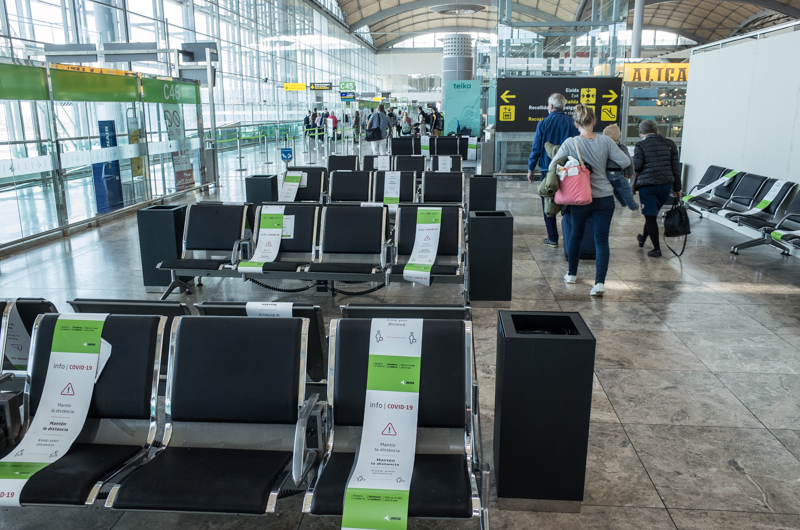 13_10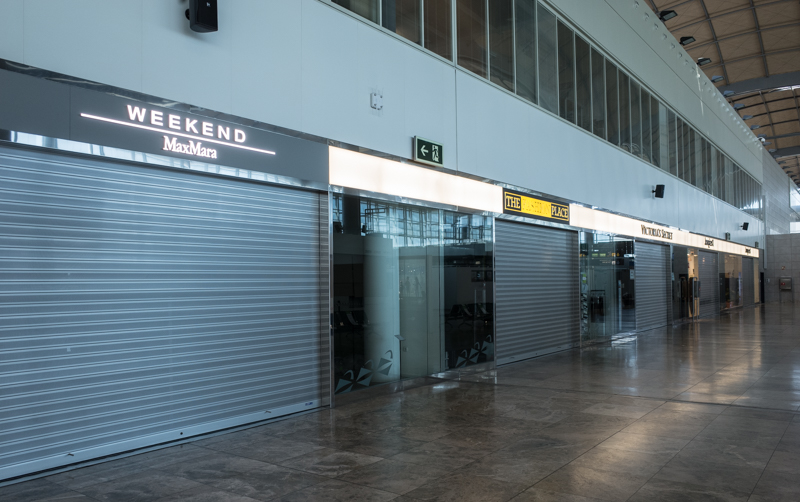 13_11
But my flight to Copenhagen was uneventful, and I landed there in the afternoon. I picked up my rental car and drove the 300 km to Aarhus, my hometown, where I was going to spend a couple of days. Along the way, I stopped to photograph the sunset at the magnificent Great Belt Bridge, linking the islands of Sjælland (where Copenhagen is) to the island of Funen (which in turn is linked to Jutland with another bridge), making it possible to travel between Denmark's two main cities without using a ferry: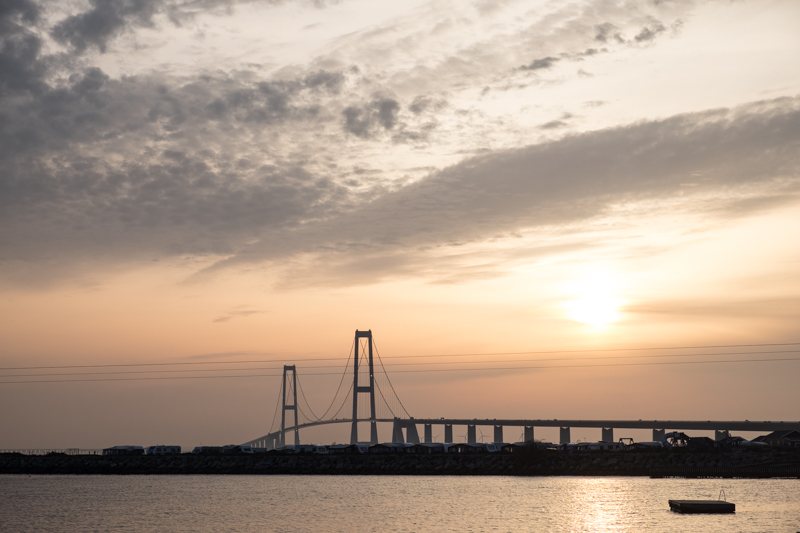 13_12
Around 9 p.m., I was in Lars's apartment in northern Aarhus (temporary, see below), and Lars had his delicious homemade pizza ready for the oven: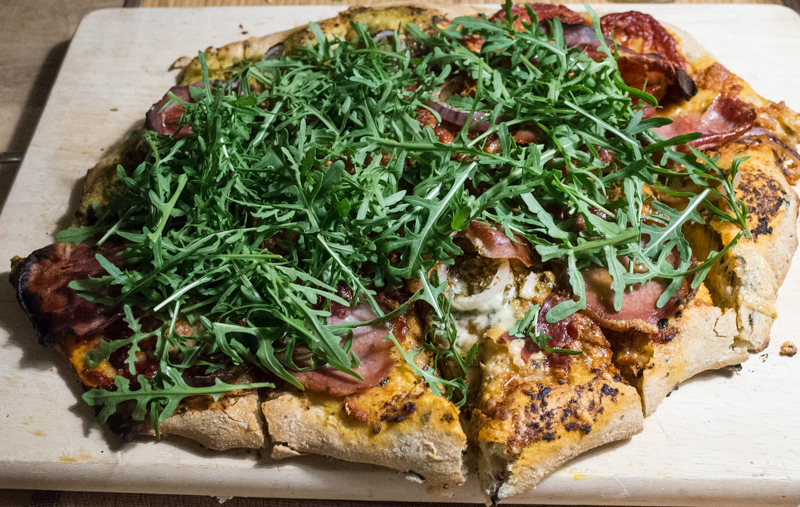 13_13
In fact, Lars had overestimated our hunger, so leftover pizza dough was repurposed for bread, which was delicious as well:

13_14
Lars currently lives in a temporary apartment. His usual place in central Aarhus is undergoing a heavy renovation, so the cooperative that owns the building had to rehouse him for about 6 months. He still has access to his apartment, so we stopped by to have a look. This is the living room: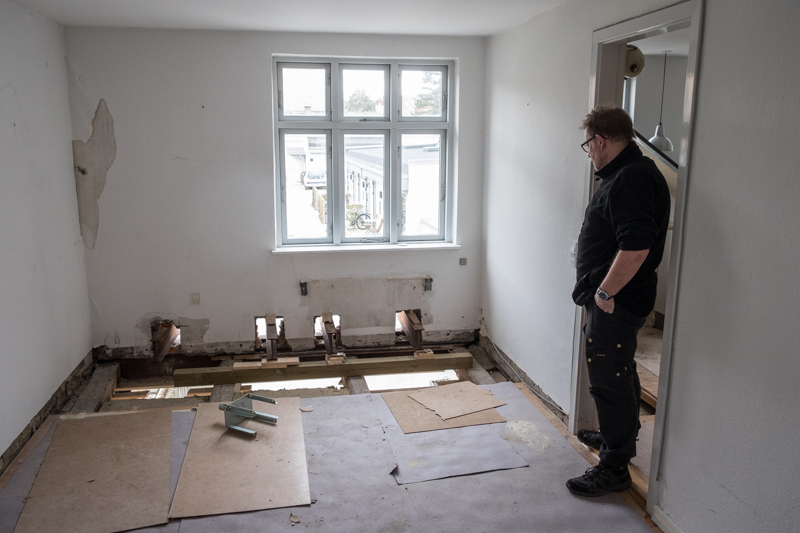 13_15
The kitchen. Not much cooking going on here: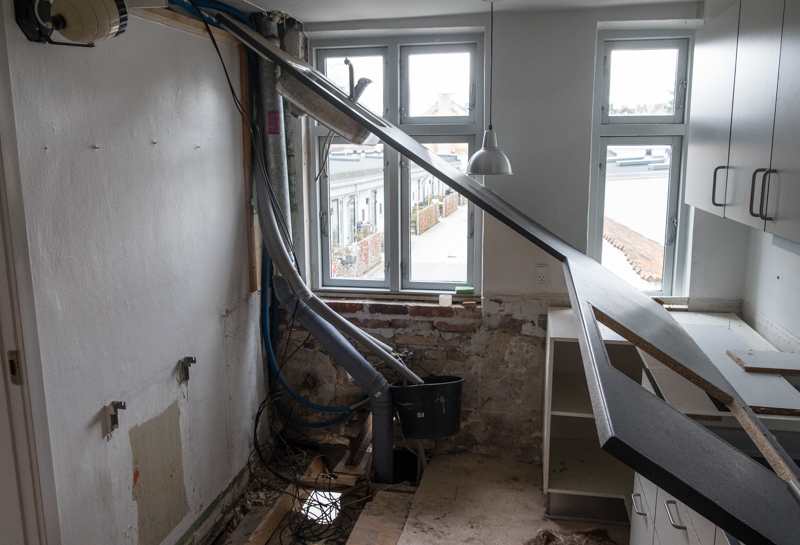 13_16
We then went for a walk in the centre. I have always liked this mural, just 20 meters from Lars's apartment:

13_17
Outside a bar on Guldsmedgade, "it is expensive to smoke":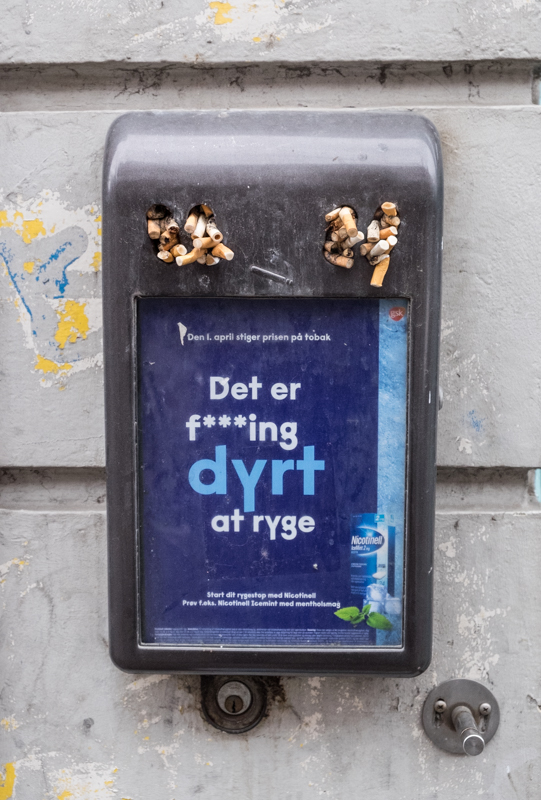 13_18
The principal theatre of Aarhus: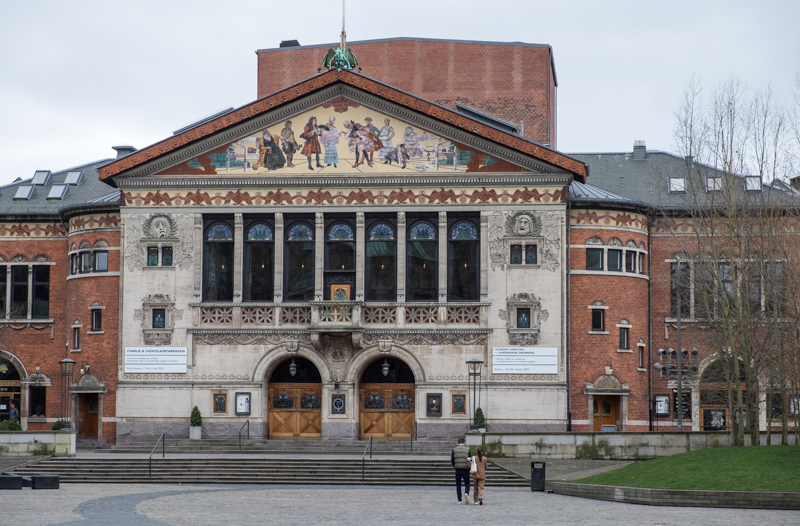 13_19
Grand old department store, with an optimistic message: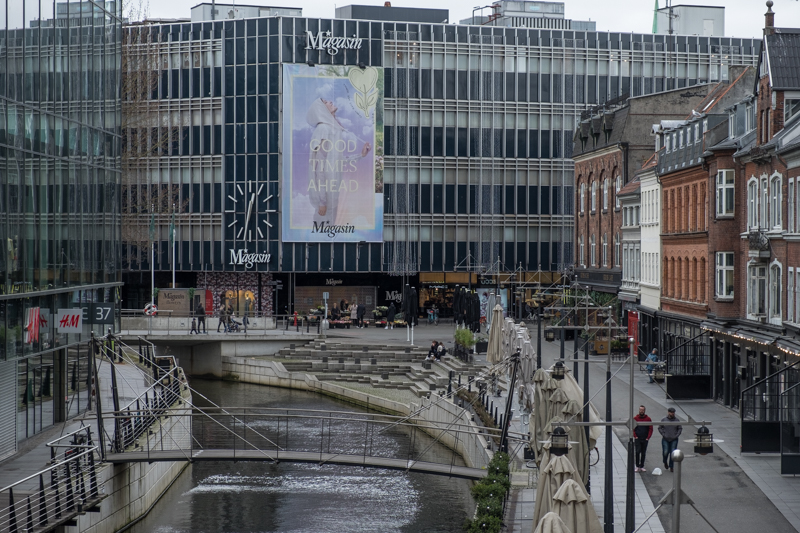 13_20
The most emblematic building in my town, City Hall, built in the early 1940s: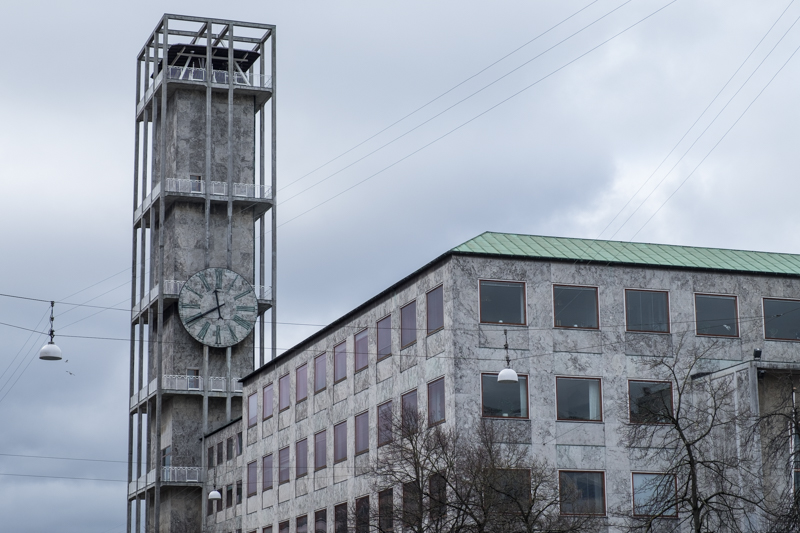 13_21
On the corner of Østergade and Frederiksgade there is a sculpture called Hønemor ("hen mother"), by Aage Bruun Jespersen, erected in 1984: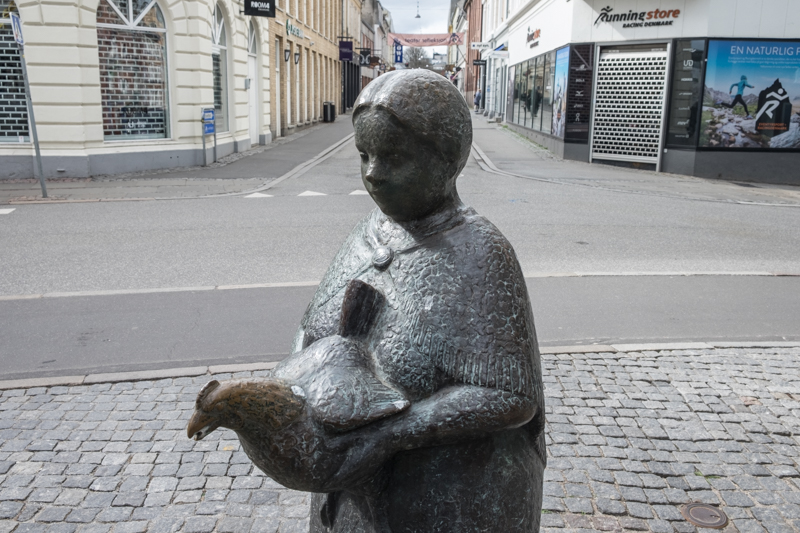 13_22
In normal times, this lady would be sitting in a café with her laptop. But in these corona times, with all bars closed, she has to sit where she can: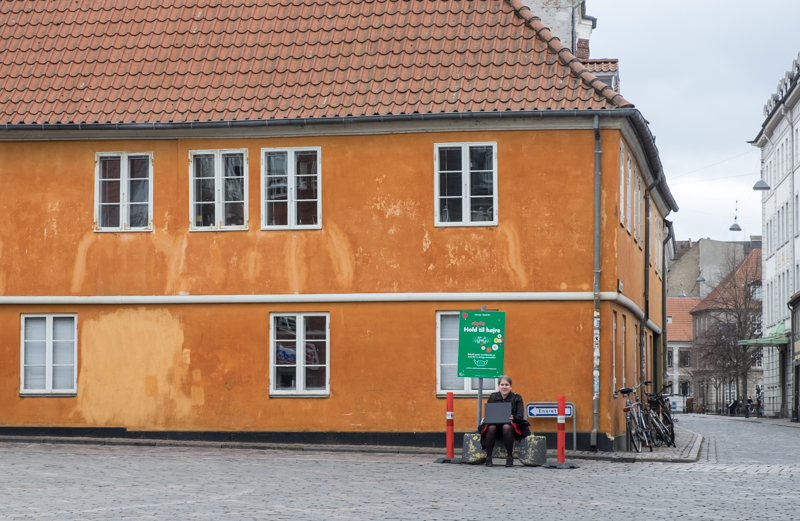 13_23
On Saturday afternoon, I took a nostalgic drive, taking advantage of my rental car. I drove to the student housing complex called Skjoldhøjkollegiet, in a somewhat distant suburb, where I lived from 1980 to 1983 during my studies at Aarhus University: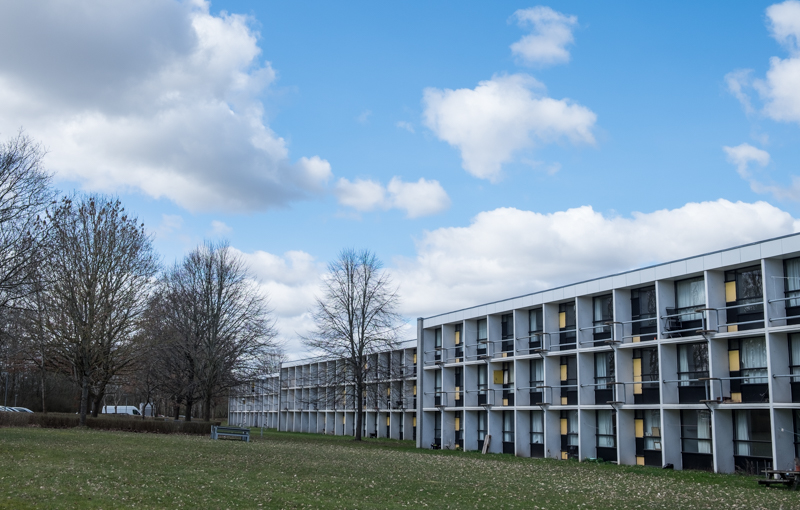 13_24
I walked down this path many times: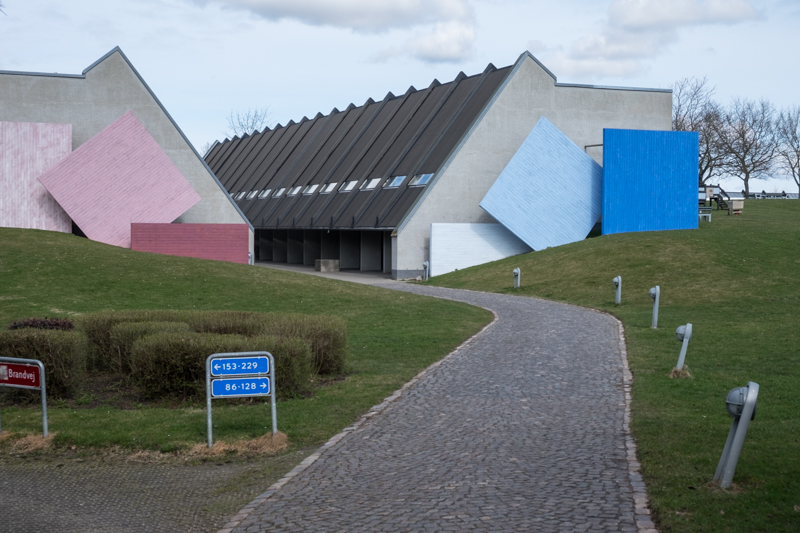 13_25
The main square of Skjoldhøjkollegiet: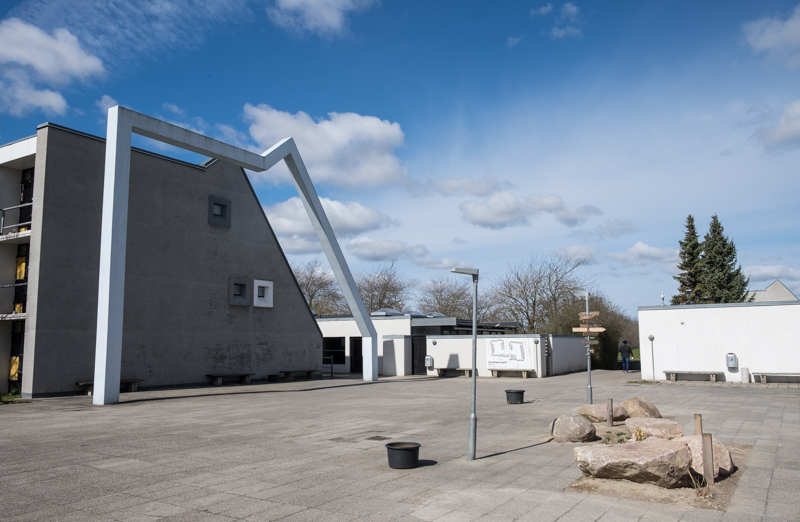 13_26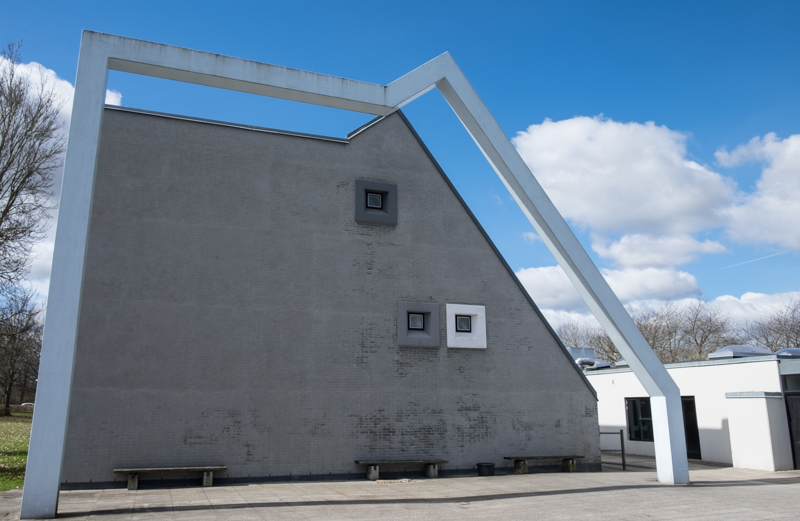 13_27
I lived in one of these apartments for 3 years: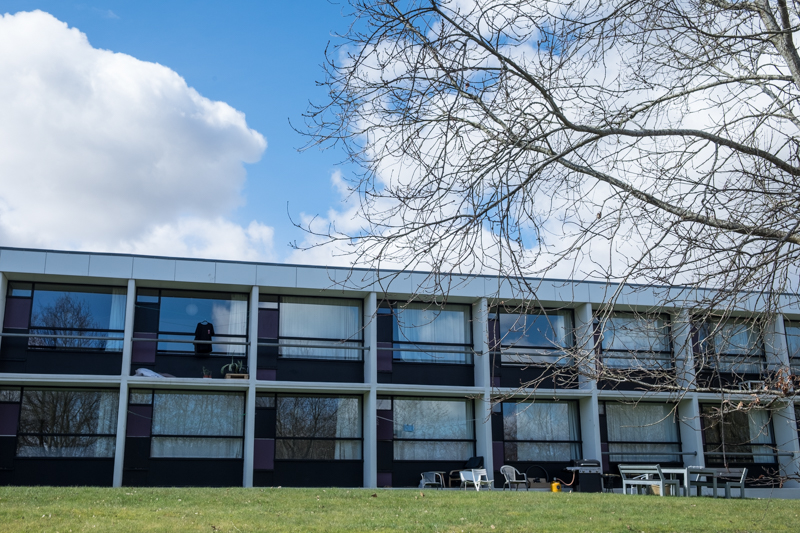 13_28
And the supermarket where I did my grocery shopping back then is still there: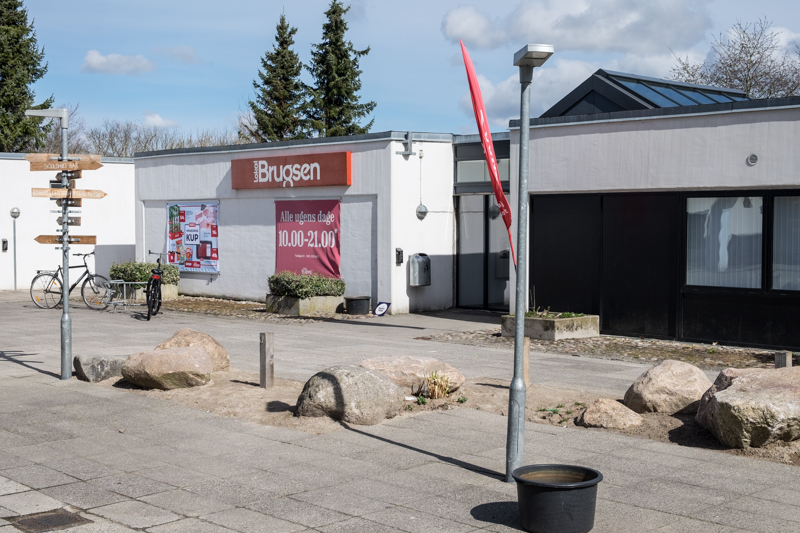 13_29
Continuing on my nostalgic drive, I went to the campus of Aarhus University, where I studied economics for 3 years in the 1980s: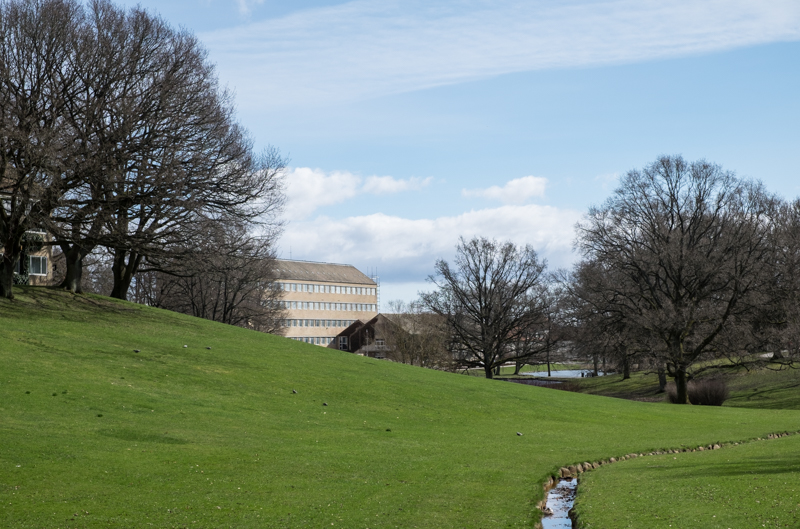 13_30
The university is not that old, about 100 years. The campus was built in the 1930s. Despite the lack of history, it is one the most attractive campuses in the world, with a large park at its centre: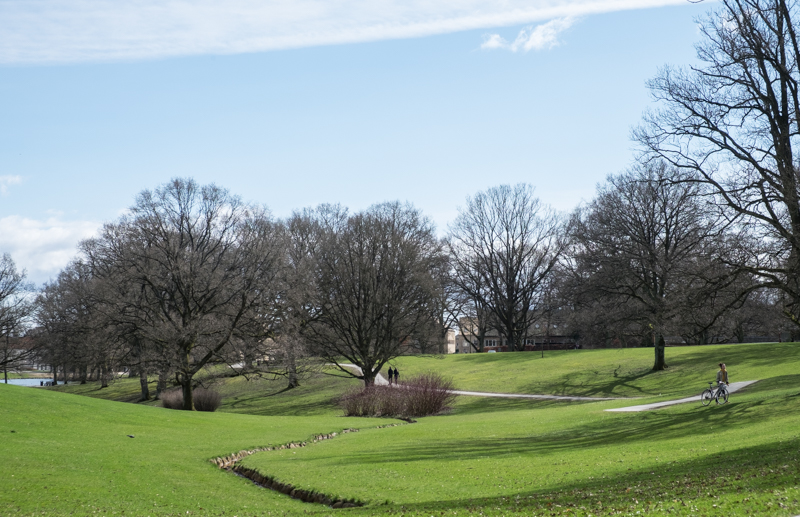 13_31

13_32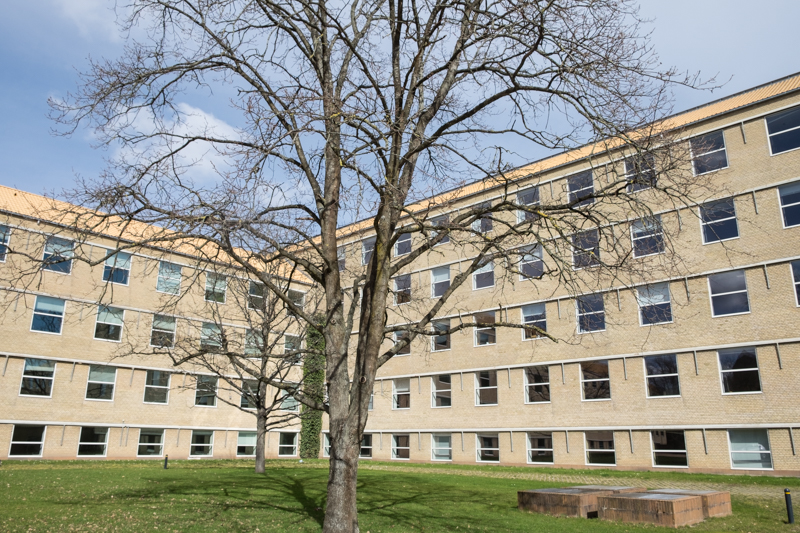 13_33
This building houses the political science department. It forms one side of a cluster of three buildings, with the other two housing the law school and, back in my day, the economics department where I studied from 1980 to 1983. More importantly, it also houses the canteen where I used to eat lunch every day during those years. I looked through the window and saw that the canteen was still there, but all the buildings were closed due to Covid (all lectures are online right now):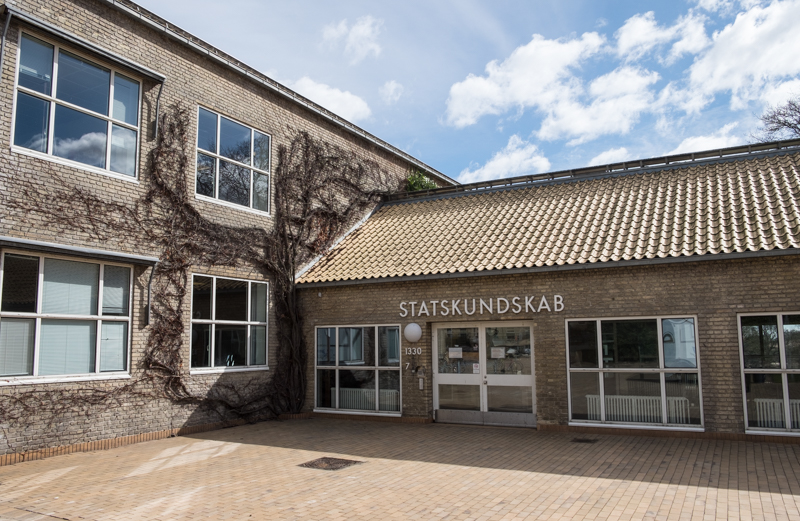 13_34
Having thus completed my nostalgic outing, I returned to Lars's place, and we drove to the house in a seaside suburb called Riisskov where Lars's sister Hanne lives with her husband, their two sons, and their two dogs (there is a cat too, for a complete family). We had afternoon coffee and a nice conversation. Hanne and her husband are both criminal defence lawyers, and talking to them can be amusing; for example, they were telling us of tentative plans to move their office from its current city centre location to the suburbs where they can have more space, parking etc. When I asked if it would not make it more difficult for their clients to visit, Hanne replied that "our clients are usually in jail, so they don't come to our office anyway." Here is Hanne with one of her furry children: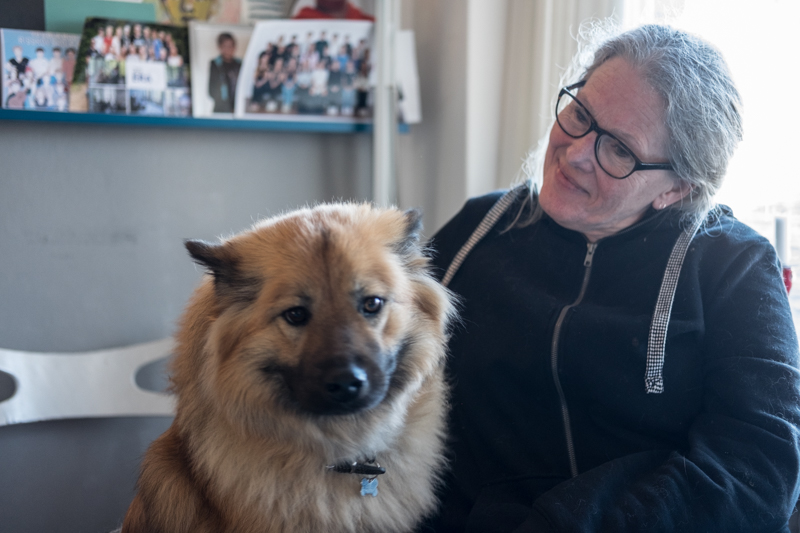 13_35
The two dogs are a bit shy and reserved but they warmed to me as the afternoon went on, and I did get to pet them in the end. And they are certainly photogenic: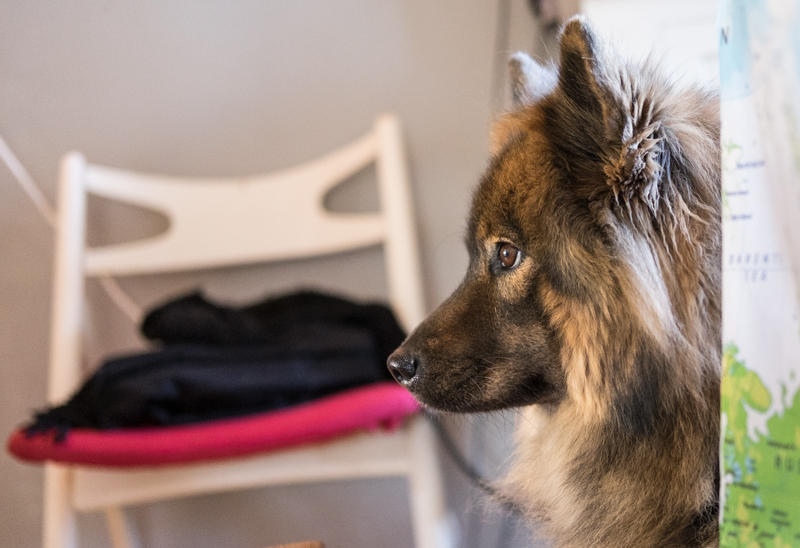 13_36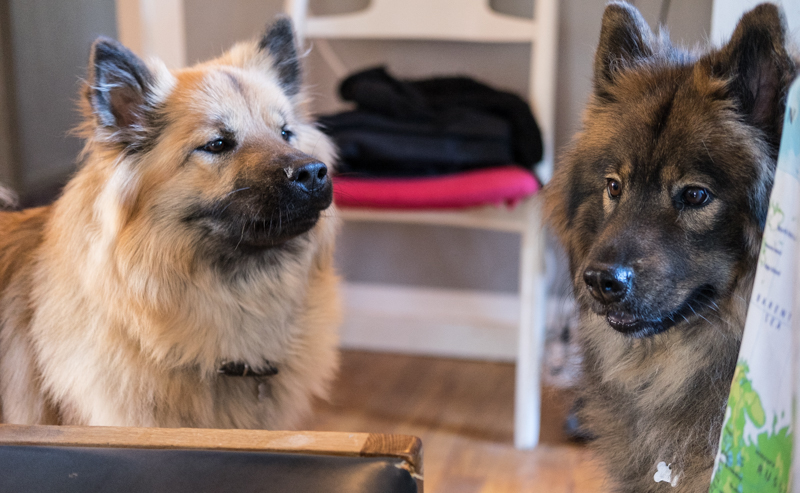 13_37
On Thursday evening, we were invited for dinner by Lars's younger brother Niels. He is the one among the three siblings who has had the most profitable career. He is an IT security guy who founded a company providing such services to other companies with two partners (after working for the likes of Cisco and TeleDanmark for a few years). That company was acquired a couple of years ago, and Niels and his partners made quite a bit on the transaction–and they still work there, as this was one of the conditions of the deal. Niels and his wife live in a beautiful apartment in central Aarhus, with fabulous views of the city and the bay of Aarhus. Niels has a penchant for champagne, and we indulged quite a bit on this last evening in Aarhus for me this time around: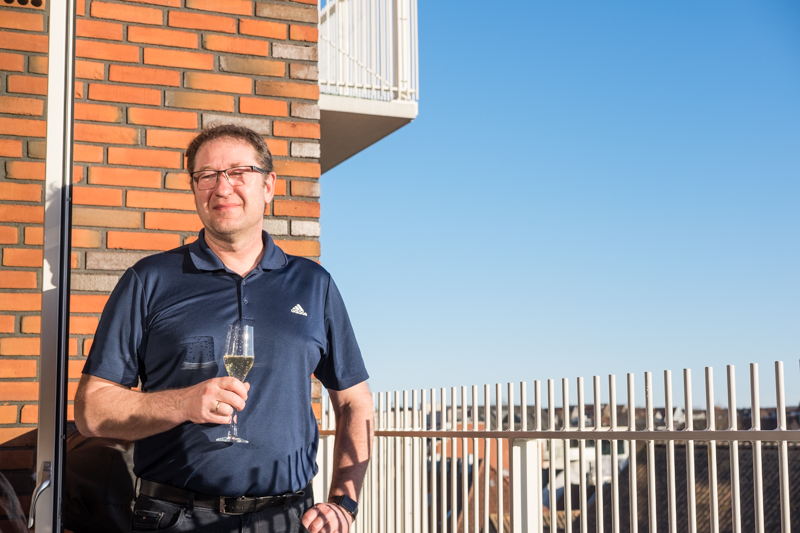 13_38
On Friday morning I drove to a hospital in Aarhus for my PCR test, required to fly back to Spain two days later. Afterwards, I had a light lunch with Lars, we said goodbye, and I drove to Copenhagen. Approaching the city from the south, I passed through the suburbs where my parents lived until their deaths in 2001 and 2004, and I simply had to stop at the beach in Vallensbæk where I have walked with them so many times. From there, I could see the apartment buildings where they lived: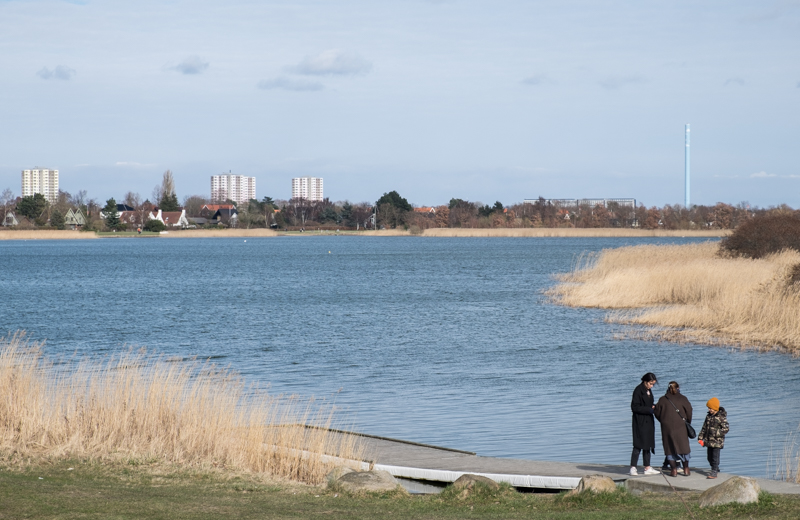 13_39
I walked around the beach park a bit: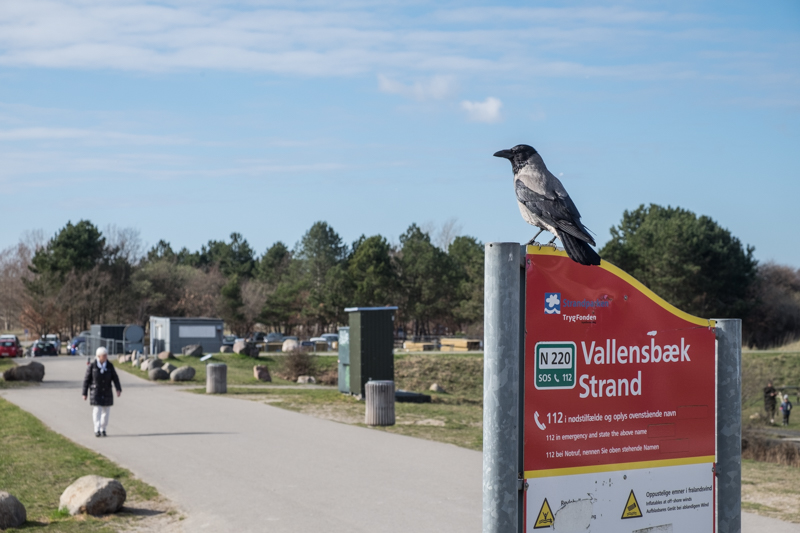 13_40
Take-off: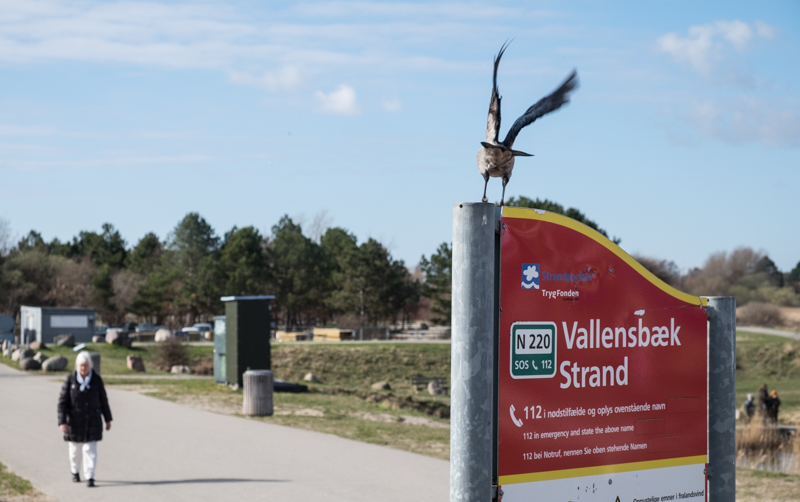 13_41
The path I have walked many times:

13_42
And the bench on which I have sat many times: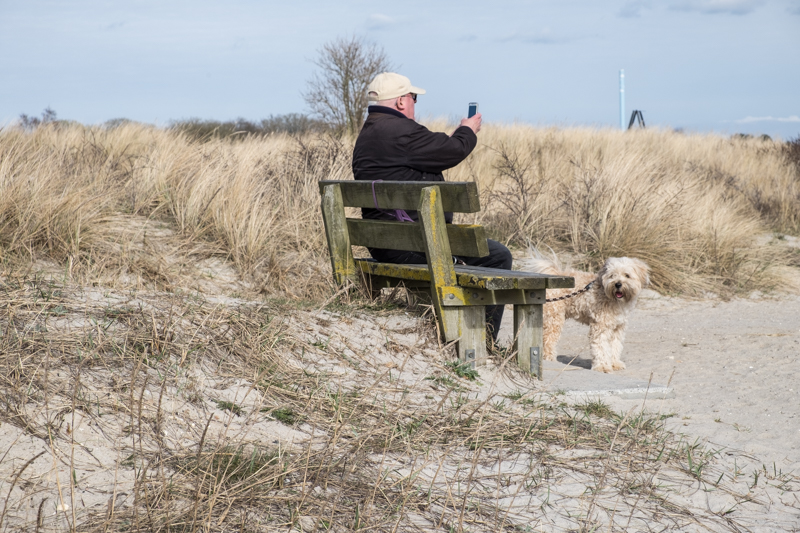 13_43
I continued driving towards the centre of Copenhagen. On the way, I stopped at my father's grave at the Jewish cemetery, since I assumed it was going to be closed the following day (Saturday). I had taken two stones from the beach in Vallensbæk, a place my father loved: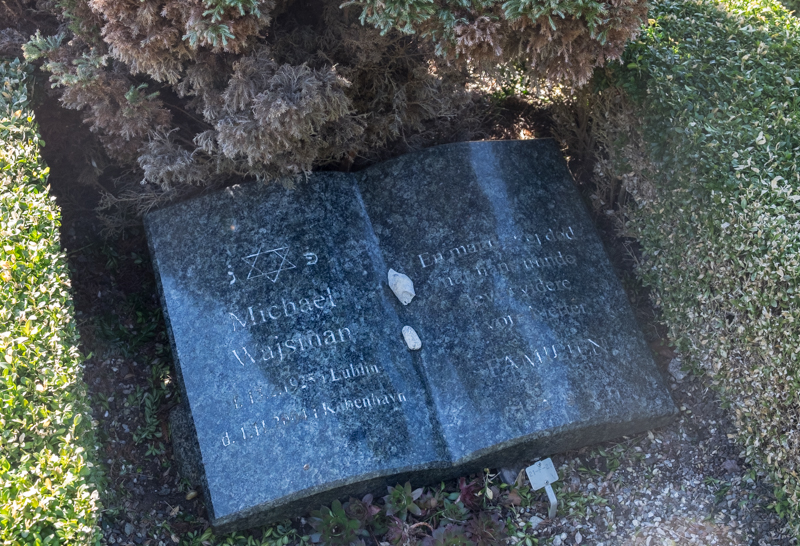 13_44
I continued to my hotel, checked in, and then went to return my rental car. During the two days in Copenhagen, I did not need it. Afterwards, I walked around the centre a bit. Most places, like this cinema, were closed. Denmark has done a really good job of managing the Covid epidemic, perhaps because of its strict restrictions, but it results in sad signs like this: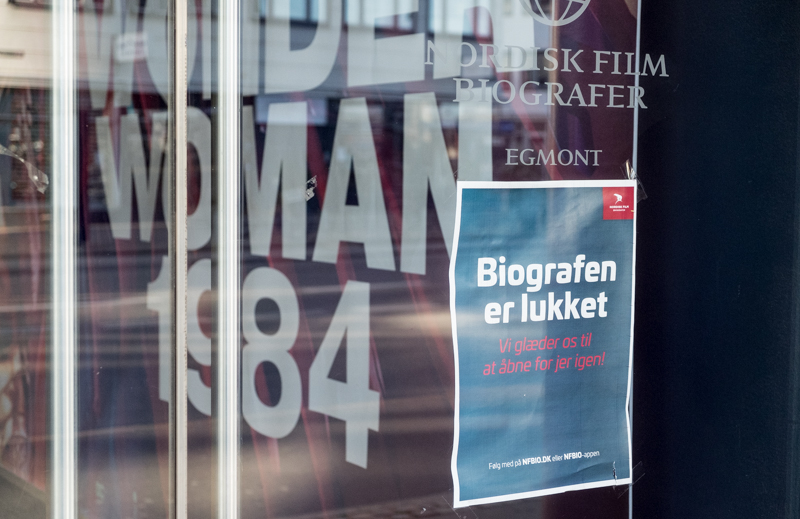 13_45
An art gallery on Gammel Strand, a place I always visit when I am in Copenhagen–but not this time: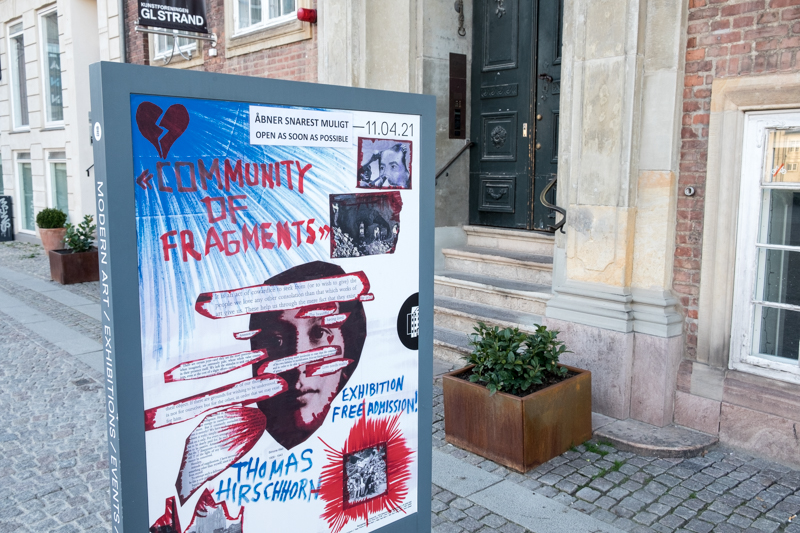 13_46
A bar, trying to put a humourous spin on the restrictions: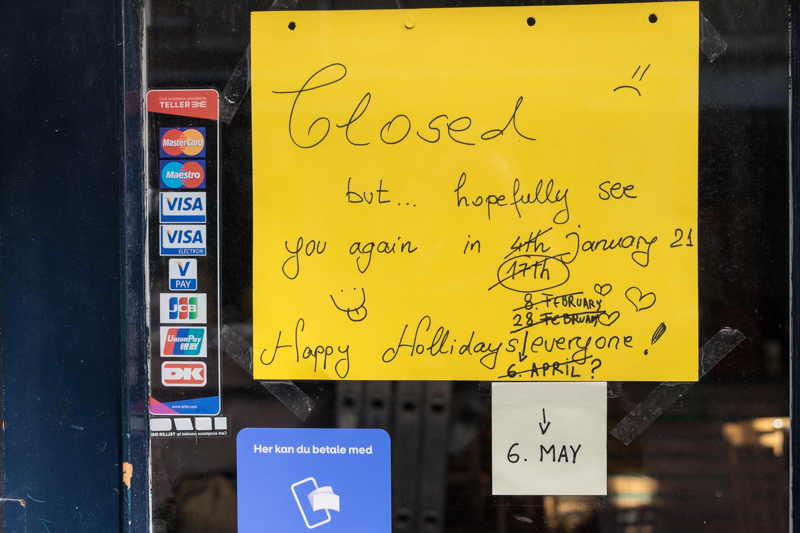 13_47
A sentiment widely shared: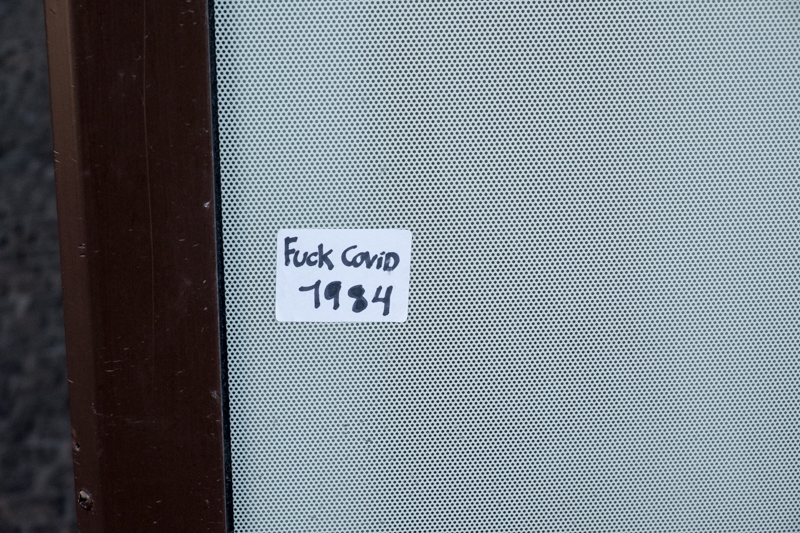 13_48
One of the few open places, Tivoli. I thought of going in, but since my test results from Aarhus were not on my phone yet, I could not (a negative test or proof of vaccination is required):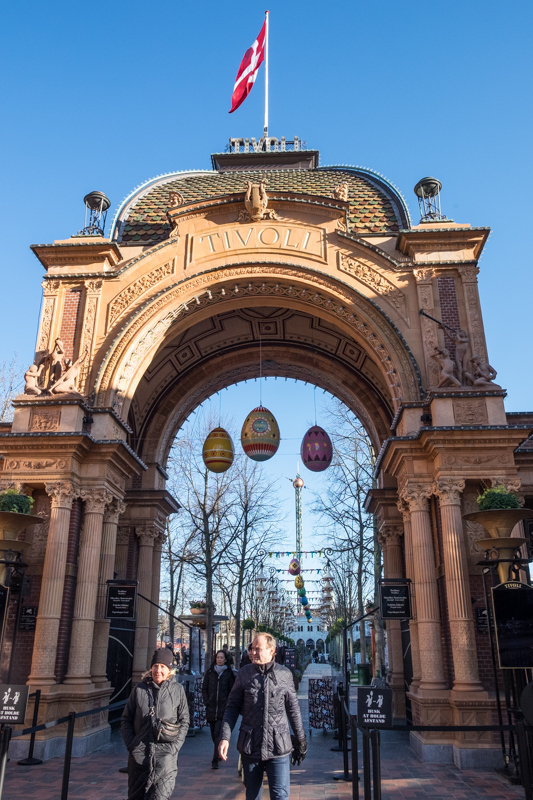 13_49
Later in the evening, my childhood friend Beata met me at the Central Station, after her work day had ended. We looked at the miniature trains: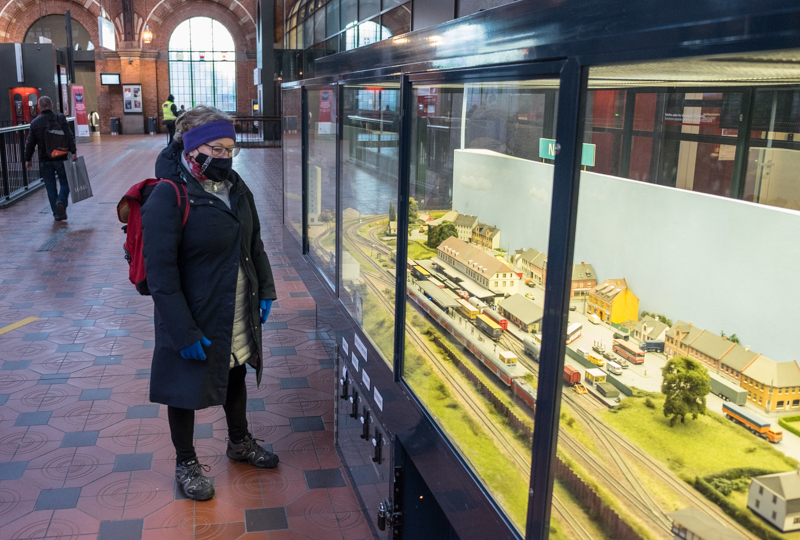 13_50
Then we looked for a place to eat dinner, but the restaurant scene in Copenhagen did not look inviting, so we ended up going to Beata's place and grazing there: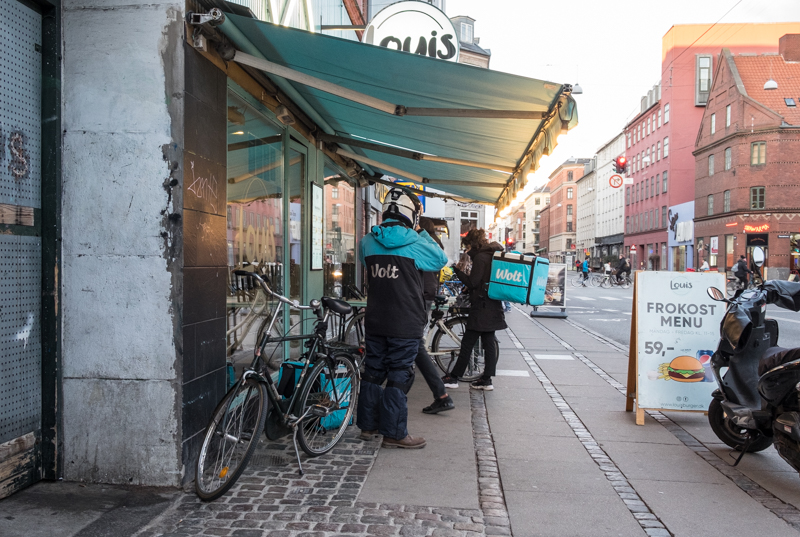 13_51
Beata and I were going to spend Saturday together. In the morning, I went to her place in Østerbro, stopping to have a look at the rectangular lake called Sortedams Sø on my way from the train station to Beata's apartment. The walking/jogging path is now one-way, one of the many changes brought on by the virus. Of course it is not enforced by police (they cannot be everywhere), but people still obey the signs: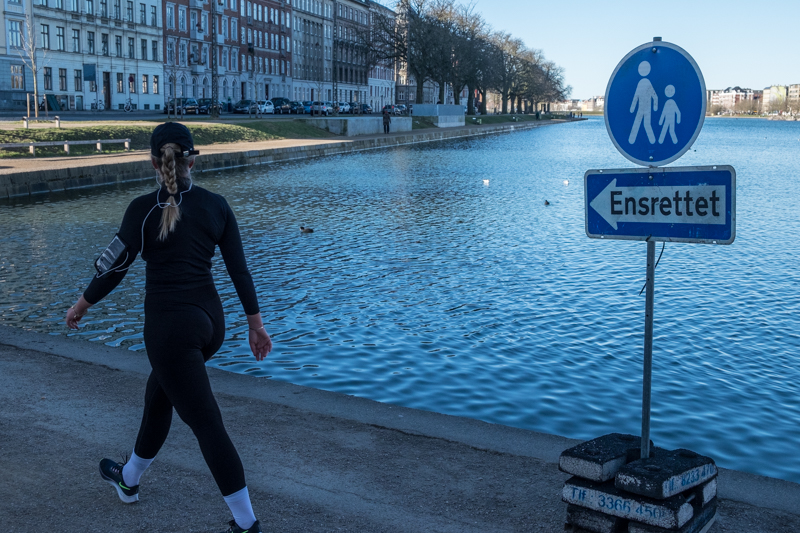 13_52
The mural on the corner of Classensgade and Kastelsvej (where Beata lives) has been there for many years, but the BLM addition is new: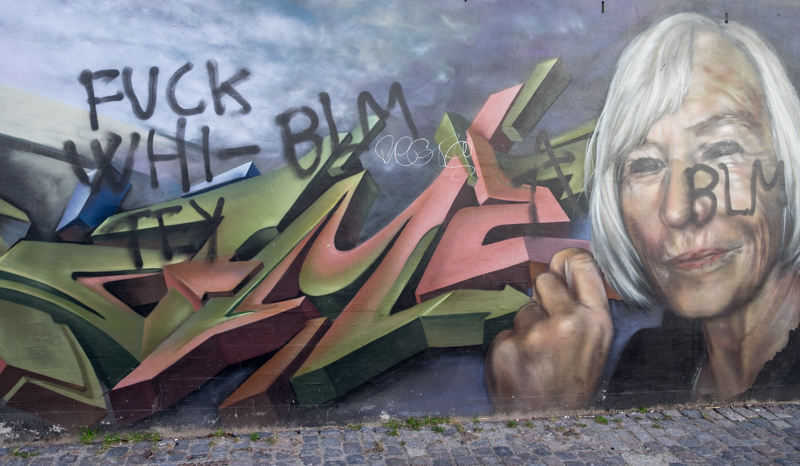 13_53
Beata and I then ventured out together. Our first stop was the two adjacent cemeteries–the municipal Vestre Kirkegård where my mother is buried, and the Jewish cemetery which is my father's final resting place. I had thought the latter would be closed on a Saturday, but much to my surprise it was open. After visiting my father's grave, we walked around a bit. I do not usually do that; I go there to visit my father's grave and leave. But Beata wanted to look for the grave of someone she knew who died recently, so we wandered around a bit. I photographed some graves which were decorated in ways that are not typical for a Danish cemetery, especially not a Jewish one. This is the grave of André Rotschild, a young man who died tragically in an apartment fire at the age of 29. He was deeply involved with the FC Copenhagen football club: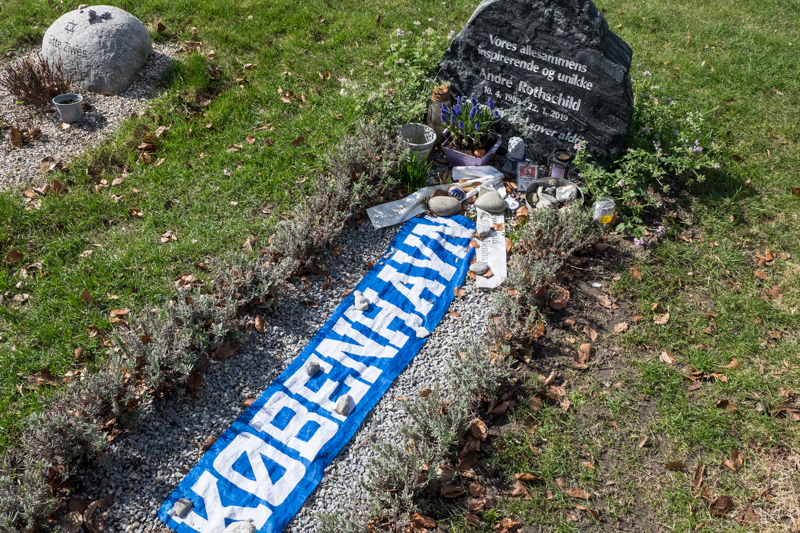 13_54
The stone with the rainbow flag and the mix of Danish and English indicating an international connection are both atypical for this place: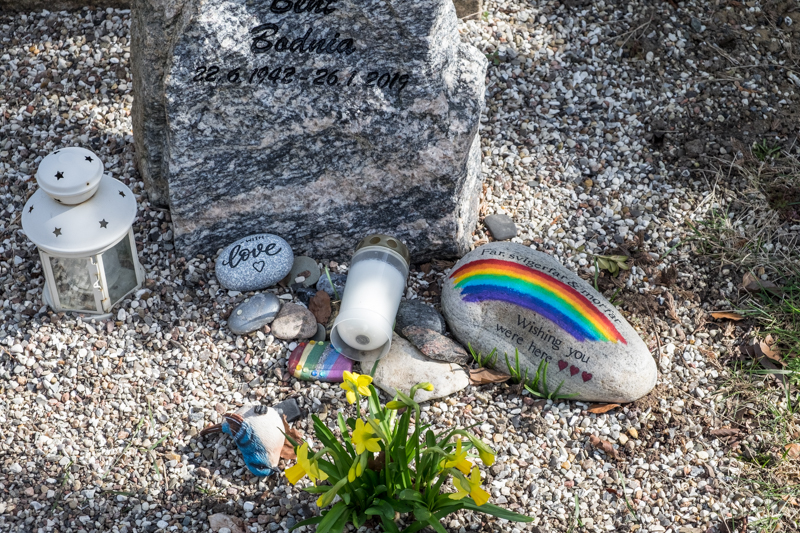 13_55
Normally Jewish graves here are adorned with stones, sometimes candles (especially on the graves of immigrants from Eastern Europe), but this is the first time I have seen something like this: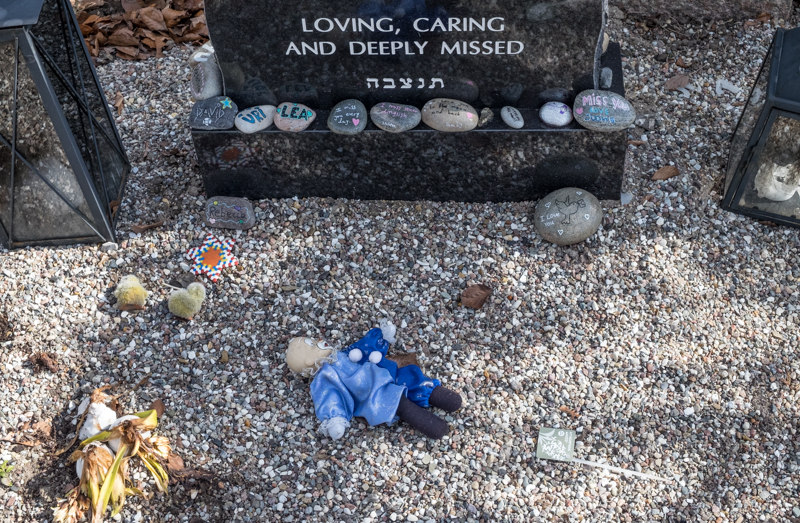 13_56
On the way out we happened upon a squirrel that sat still long enough for a photo:

13_57
We then made our way to the centre to walk around and enjoy the sunshine. This is typical Copenhagen traffic, on Gammel Strand. More cyclists than cars: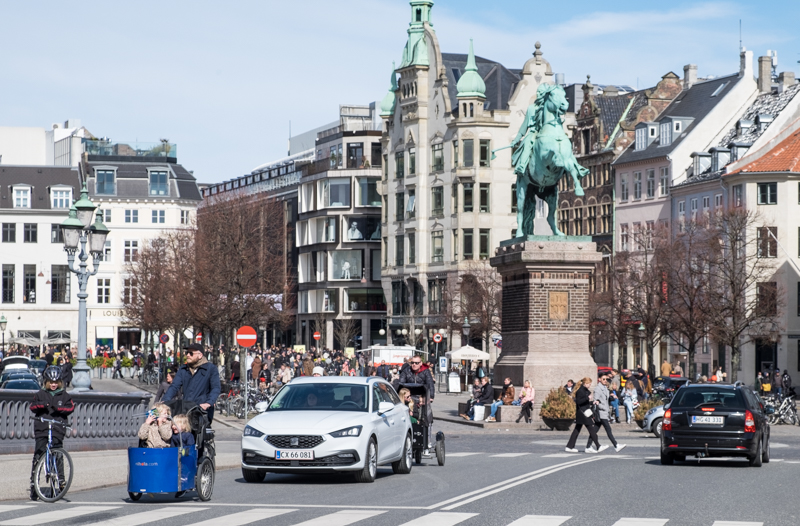 13_58
We then went to Nyhavn, which was surprisingly crowded despite most of the bars being closed: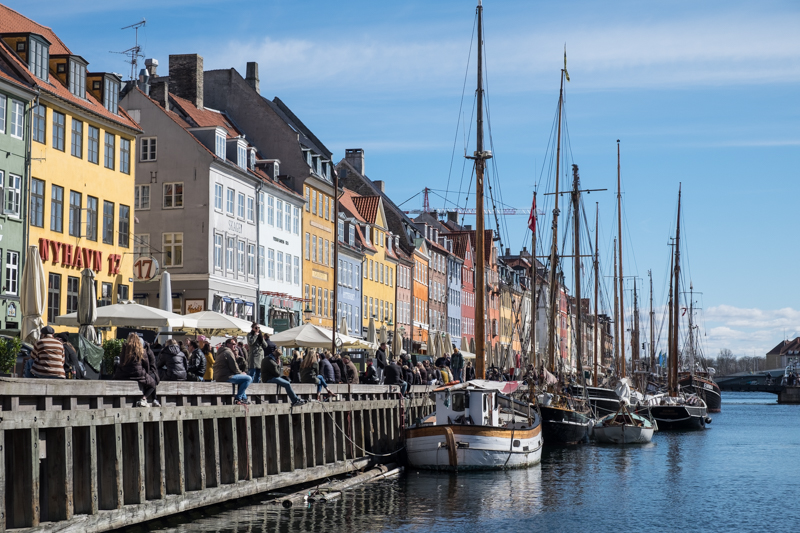 13_59
However, takeaway is allowed, and the few bars that had chosed to open on that basis were doing good business: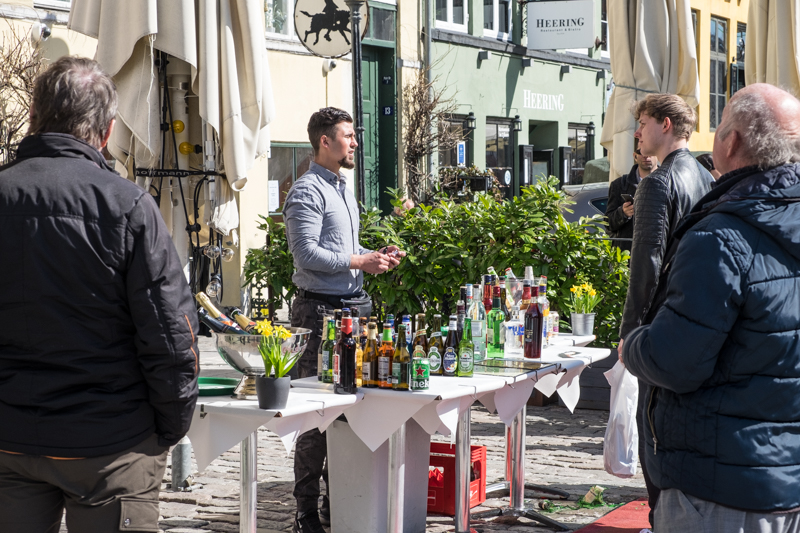 13_60
So people would buy a drink (or bring a beer with them) and then sit on the edge of the canal to enjoy it: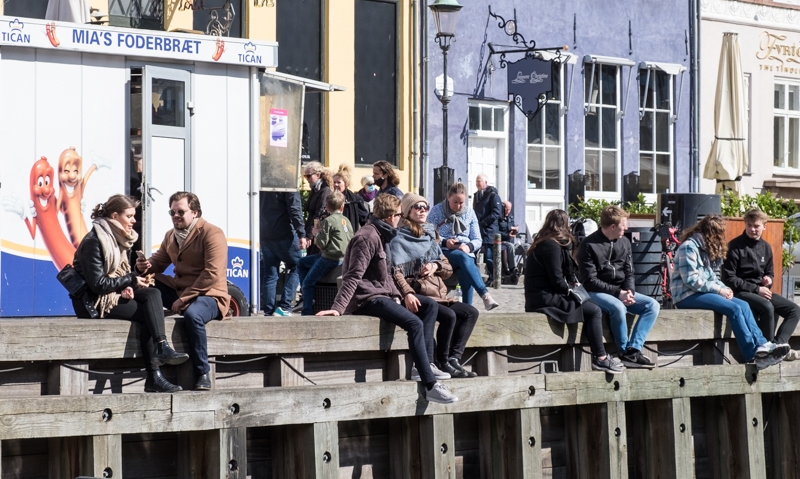 13_61
On the metro with Beata. Masks are not required outside, but they are mandatory in all indoor spaces, including public transport: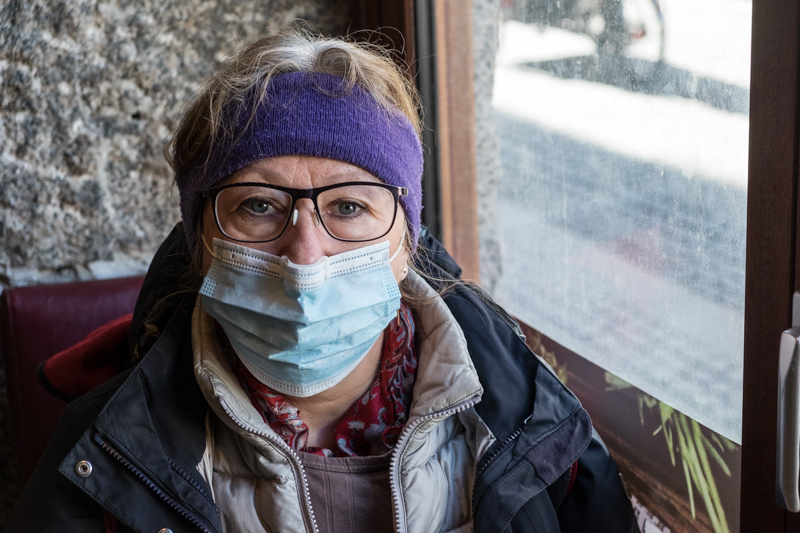 13_62
A bit later we found ourselves on Christianshavn, a part of central Copenhagen that lies on the island of Amager (most of the city is on the big island of Sjælland). We bought a pizza for lunch and ate in on a bench along a canal: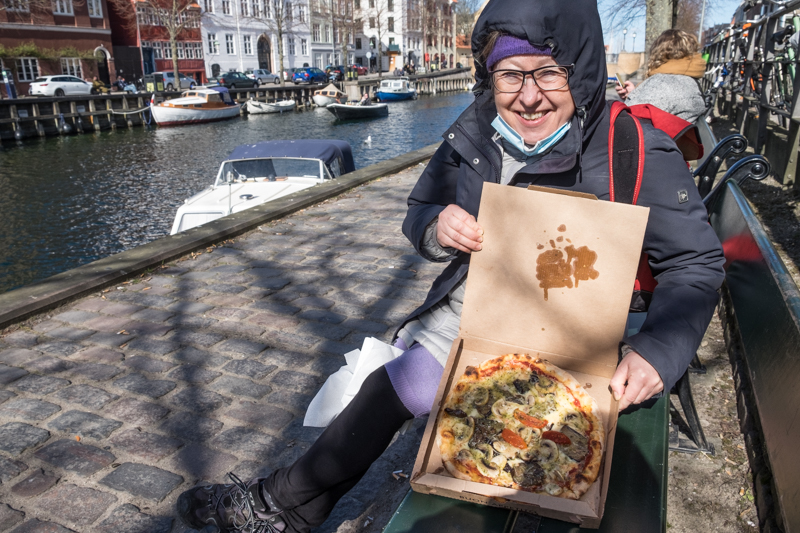 13_63
While eating, we looked at some rental boats sailing by. Looked like a nice way to spend a couple of hours, although Beata asked a very pertinent question–what do they do when they need a toilet, an inevitable consequence of beer consumption: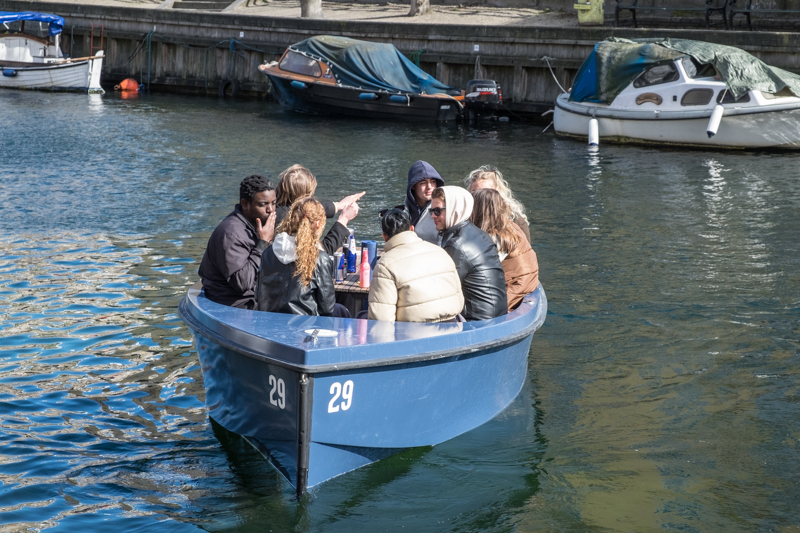 13_64
Non-food shops have only recently been allowed to reopen, and clearly there was a lot pent-up demand. Many of the clothing and other shops on the pedestrian streets in the centre (here, Købmagergade) had queues like this one: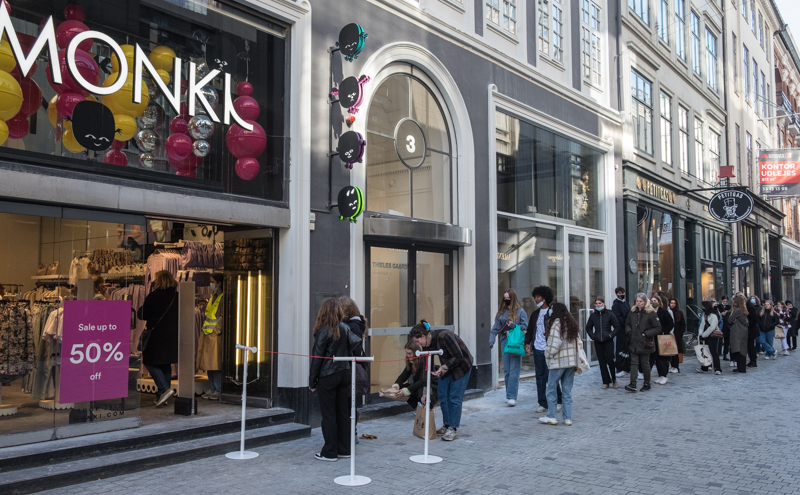 13_65
We finished the long day together at Beata's apartment, with some food, wine and conversation. We would not see each other on Sunday, as I had to go the airport during mid-morning and my hotel was not close by: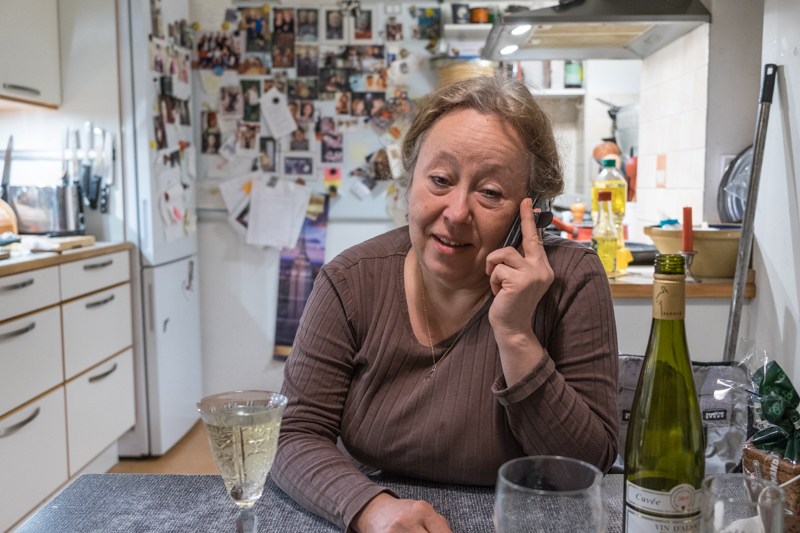 More Copenhagen photos can be seen here.