The beginning of the week was about recovering from my leg injury so as to be able to ride a 300 km brevet with my friend Lars at the end of the week. This consisted of rest and some cycling, but nothing heroic. I was flying to Denmark on Saturday morning, not sure if I was ready or not for the big ride.
34_1
But I start with some "home" pictures. This white cat hangs out on the golf course but he is not homeless; he lives in one of the houses that surround the course. He just likes to roam but he never eats the food I serve, leaving it to the real strays:

34_2
During one of my bicycle outings, I happened upon this flock, with one human and two dogs controlling it. The dog in the foreground is the boss, the small one towards the rear is either a hanger-on or a trainee: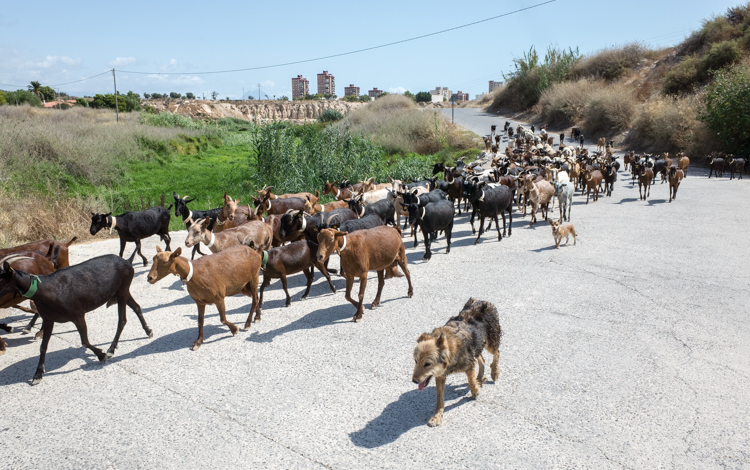 34_3
Bringing up the rear: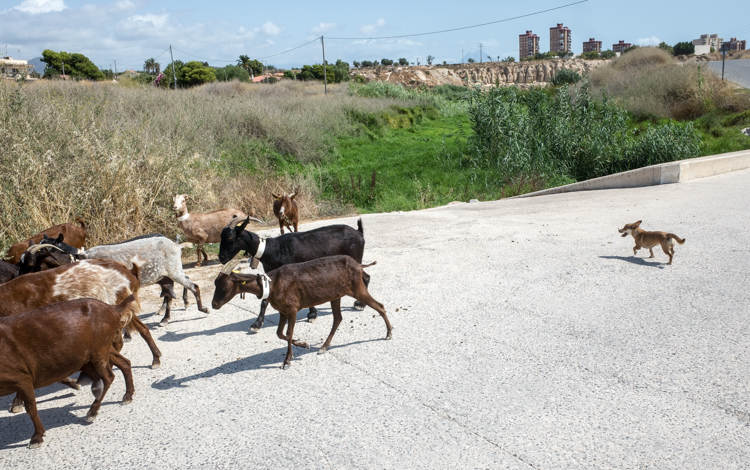 34_4
Disappearing into the distance, on their way home: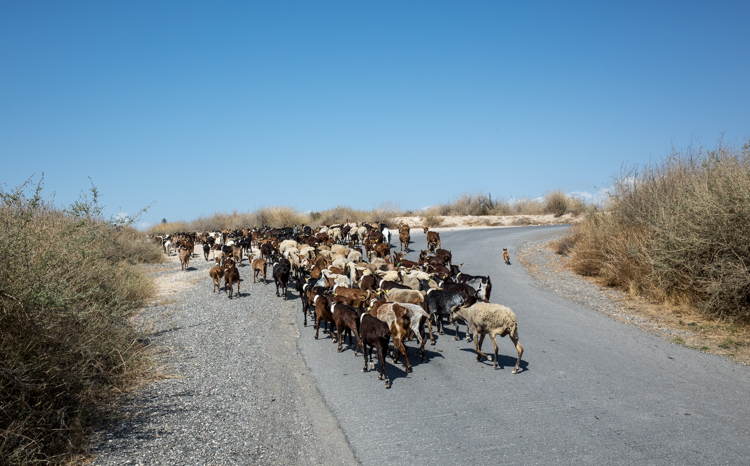 34_5
The next day I went to the golf practice range. In the parking lot of the golf club, there was this classic Citroen 2CV. It looked a bit out of place here, but it brought fond memories: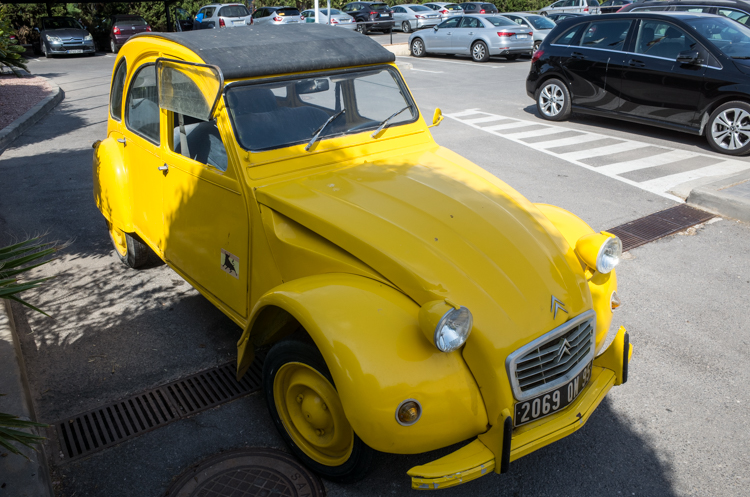 34_6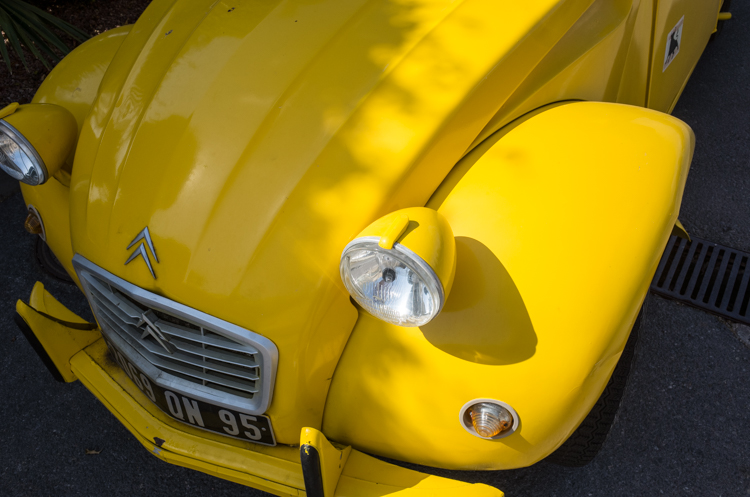 34_7
The rather basic interior, not exactly the lap of luxury: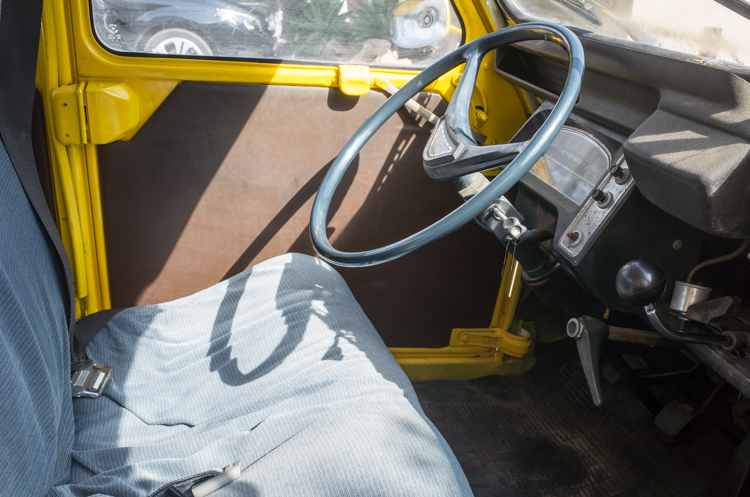 34_8
I have been cooking some new dishes this summer. These are some of the raw materials for roasted eggplant and tomato pasta, a recipe from the New York Times: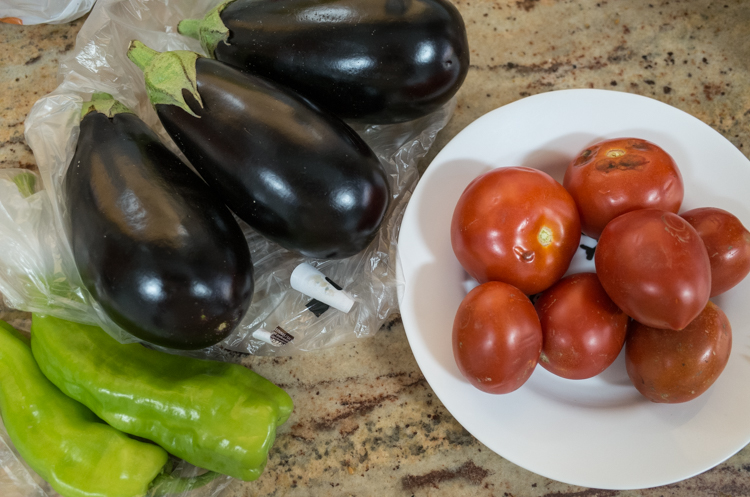 34_9
A bit later, the peppers and the aubergine roasted, the tomatoes ground into a fine pulp (no cans or jars involved here):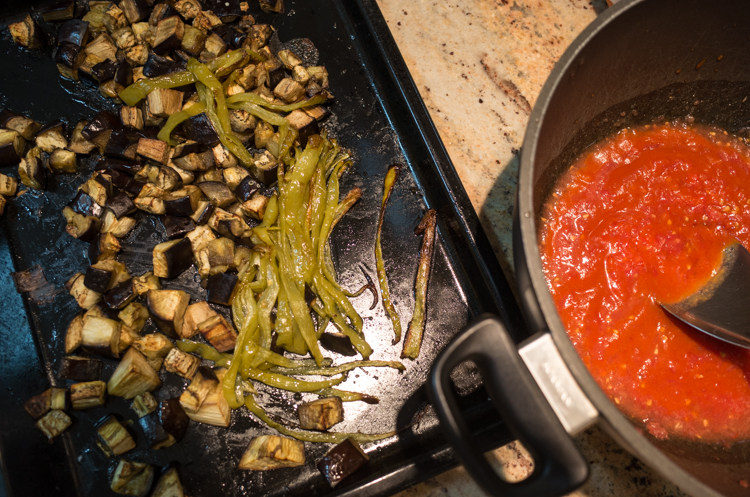 34_10
And the final product, absolutely delicious: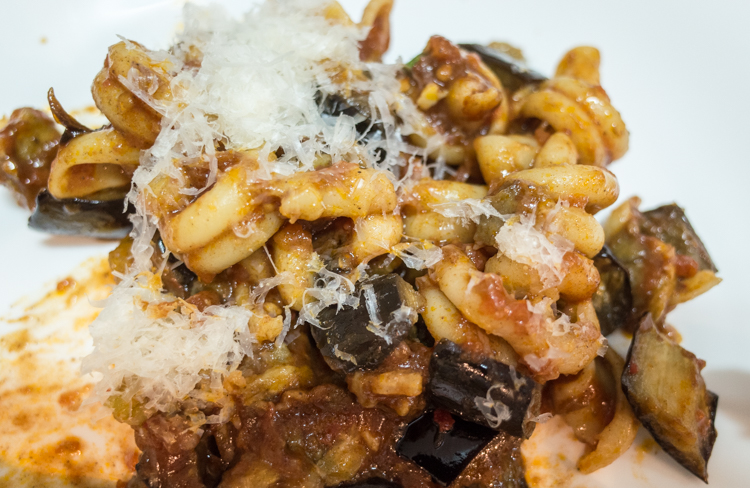 34_11
One day, my daughter was going out with some friends in El Campello, so I took her there. After dropping her off, I lingered a bit over a beer in a bar on the main street, and snapped some photos of life around me. First, a man relaxing in front of a gambling hall: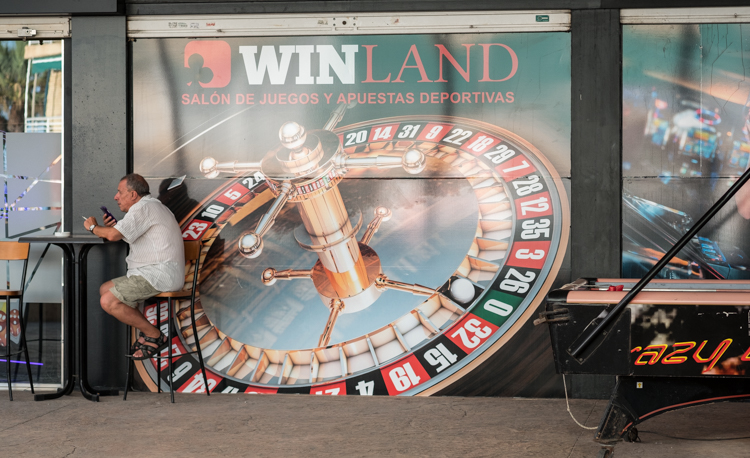 34_12
And this adorable sight. I regret that the man's face is obscured by the pole, but the expressions of the mother and young child are priceless, I think: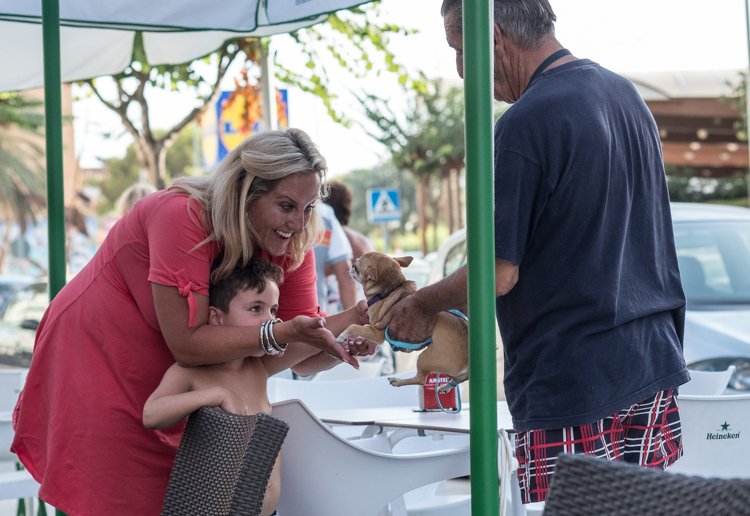 34_13
Then, on Saturday morning I flew to Billund, Jutland's main airport, where Lars met me and we drove the 80 km to Aarhus. As always, it warmed my heart to see my name alongside the names of Lars's daughters and grandchildren outside his front door. I truly feel among family when I am here: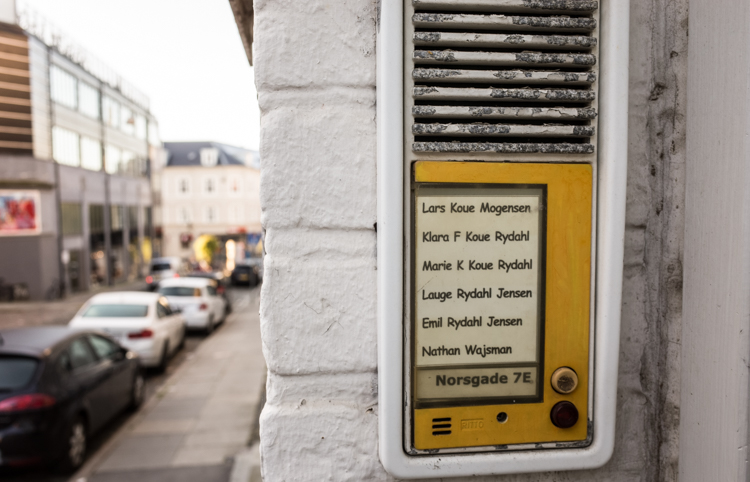 34_14
After unpacking and a quick lunch, we ventured out to enjoy the good weather by visiting Den Gamle By ("Old Town"), a wonderful open-air museum showing Danish life in time's past. Along the way, Lars took a cheesy tourist picture of me next to the Carlsberg horses. They were out because it is Aarhus Festival Week, a weeklong orgy of all manner of events, art, low-brow and high-brow, exhibitions, performances, happenings, you name it: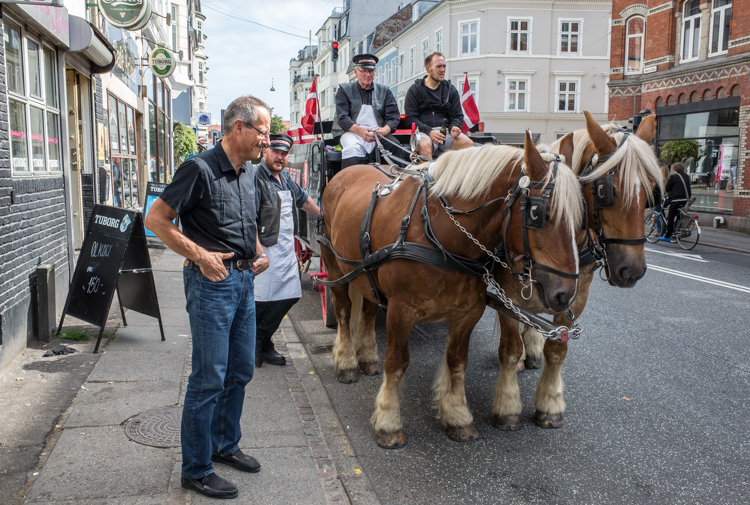 34_15
Den Gamle By started out as a collection of old houses from around Denmark from centuries past, like this blacksmith's house. They are all real, not copies, painstakingly moved from their original locations and reconstructed here: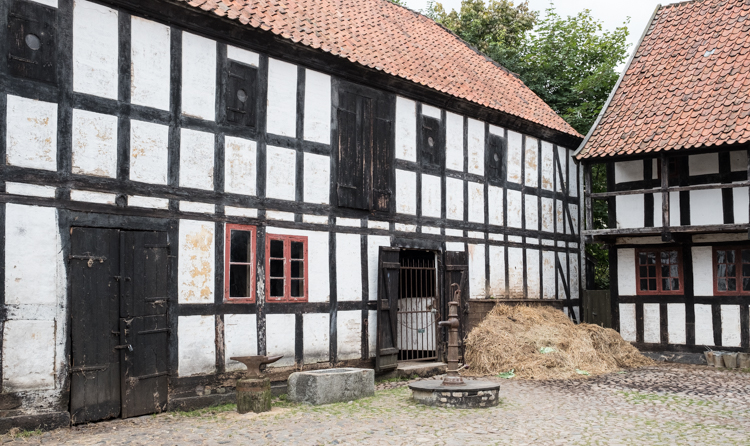 34_16
Old style "ferry" across: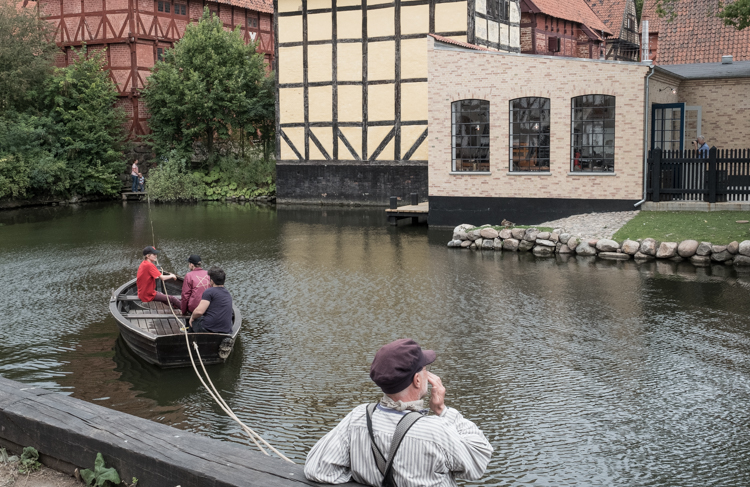 34_17
In recent years, the museum has started documenting more recent history, starting with the 1970s, taking advantage of the ready availability of artifacts and the fact that most of the people involved are still here to tell about life back then. The emphasis of this part is on Aarhus. This is a recreation of a legendary jazz club, Bent J, which opened in 1973 and despite its modest size, attracted top Danish and international jazz musicians. It closed in 2008. The bar looks exactly as it did when it was in operation, except the "no-smoking" sign: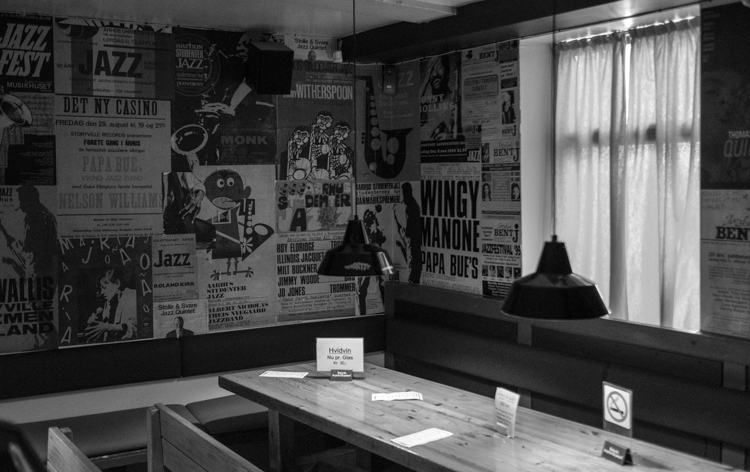 34_18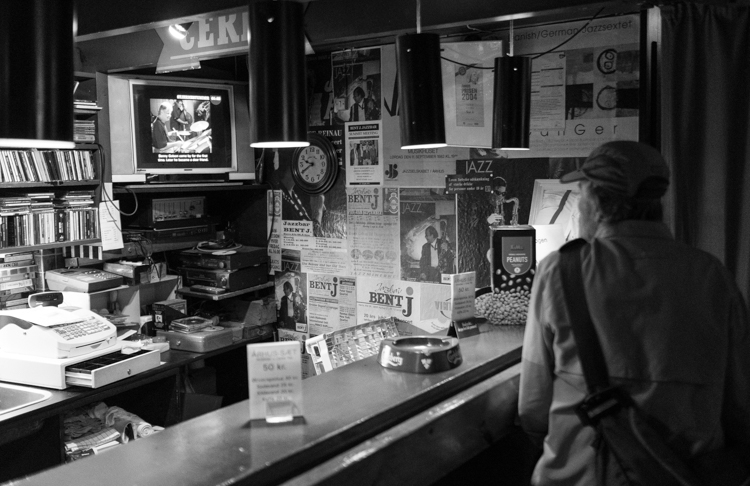 34_19
A plumber's workshop, with the obligatory Page 9 girl from "Ugens Rapport", a popular (back then) trashy weekly magazine: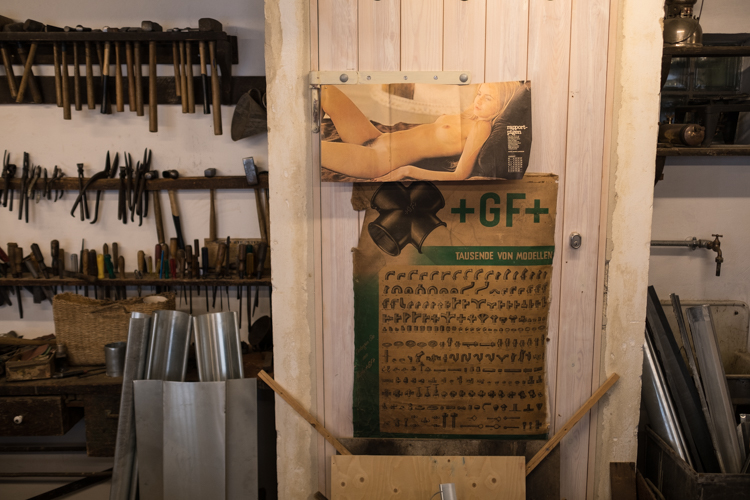 34_20
The IT of the early 1970s: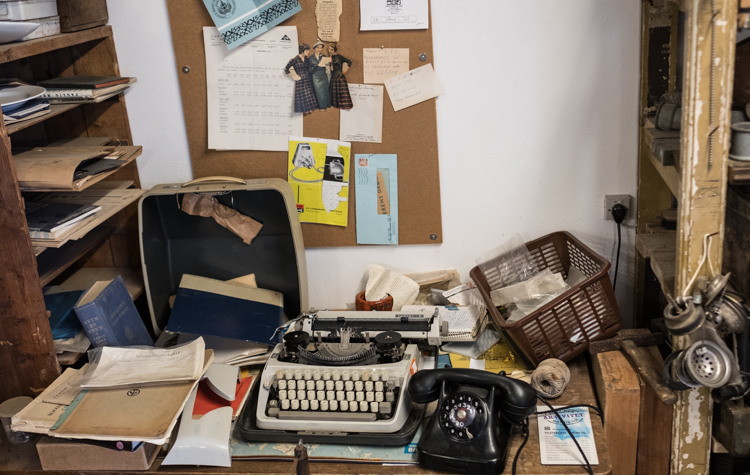 34_21
The original Fiat 500, and picnic table: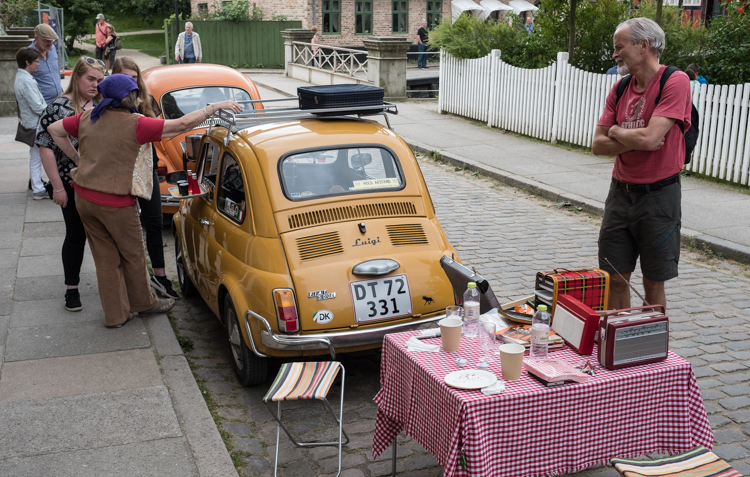 34_22
This Opel is more likely from the 1960s: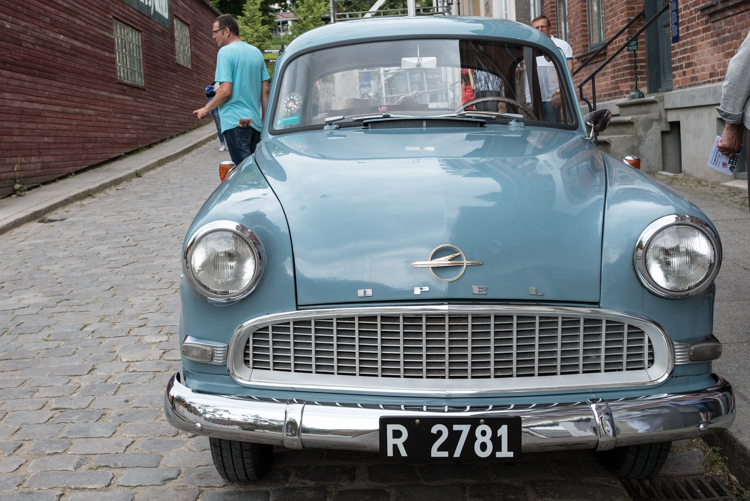 34_23
One of Aarhus's pedestrian streets, faithfully recreated with the same shops and advertisements that we remember from back then. Obviously, this 1970s part of Den Gamle By really speaks to Lars and to me because it corresponds to our teenage years: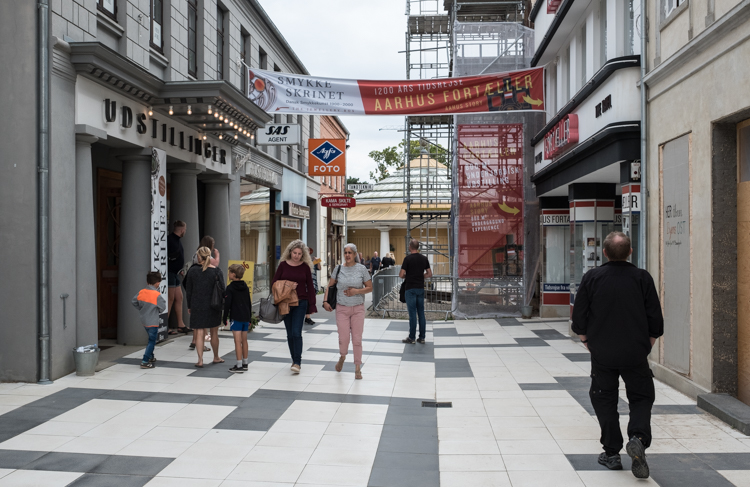 34_24
Aarhus was founded about 1200 years ago as a Viking village, and a new exhibition called The Aarhus Story documents the city's evolution over the centuries: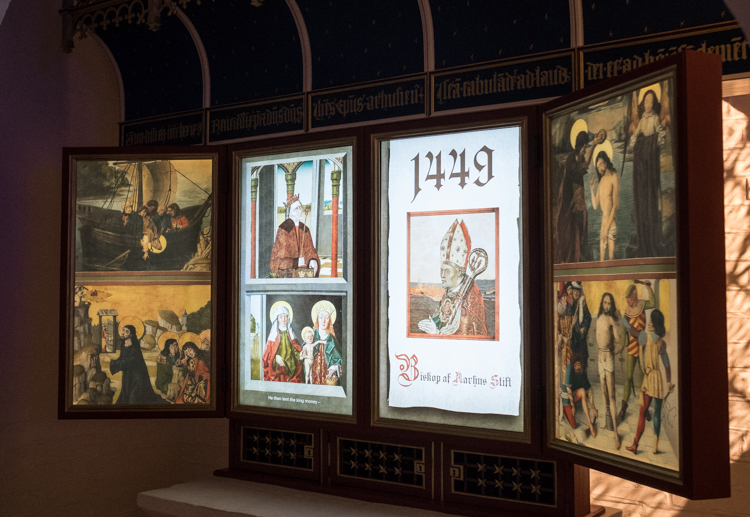 34_25
Life in the early Middle Age was not healthy, and this exhibit shows some of the afflictions common back then–including black lung due to the indoor smoke (according to the text, it was more harmful to the lungs than it is to live in today's New York and smoke a pack of cigarettes a day):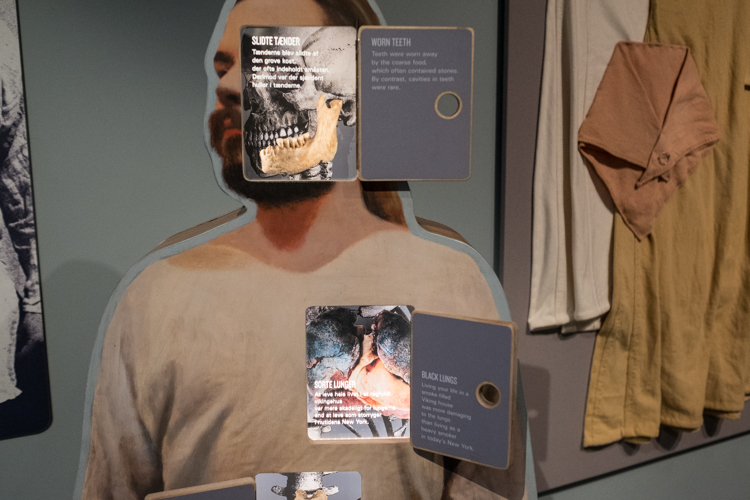 34_26
Fast forward to 1945. This is a living room of that era, with the radio playing the news from the BBC broadcast to occupied Denmark in the evening of 4th May 1945. The news informed the listeners that German forces in northern Germany, the Netherlands and Denmark had surrendered and five years' occupation was over: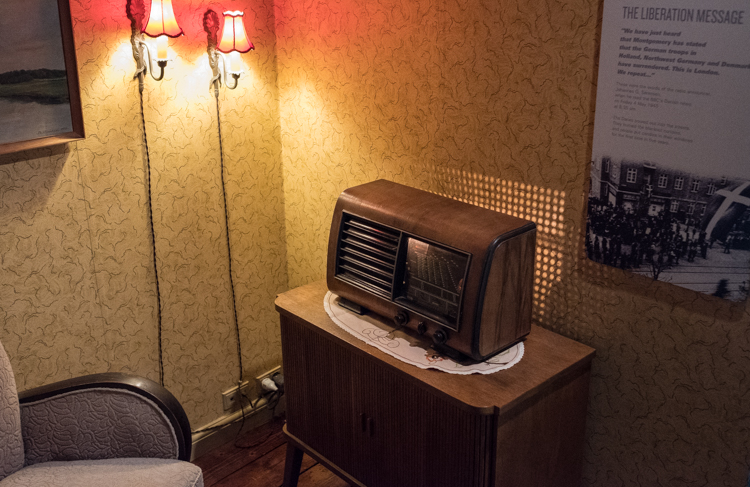 34_27
A map documenting the growth of Aarhus. The city has grown strongly in the past 200 years, and continues to do so. Population today is 335,000 and it increases by about 5000 a year: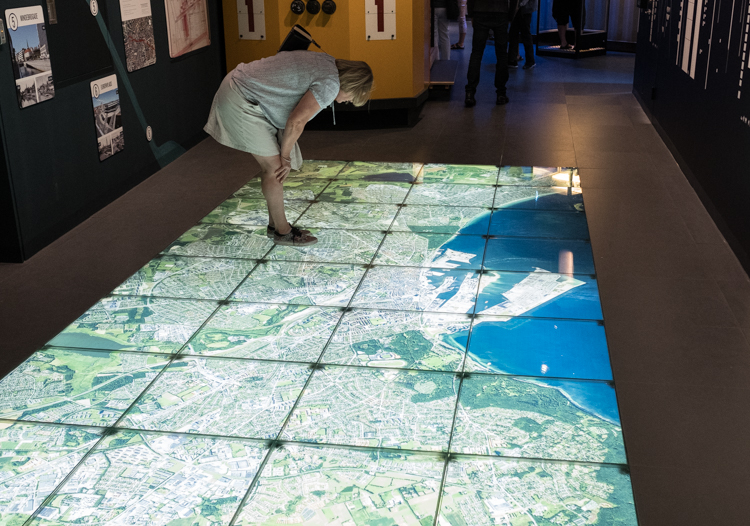 34_28
There are hardly any payphones left in Denmark, so this one in the museum is an attraction: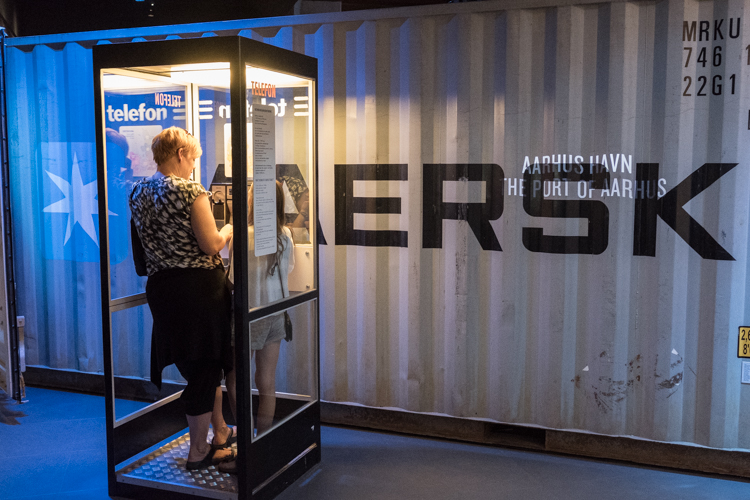 34_29
On the way back to Lars's apartment, we passed one of the many installations created for the festival week, an artificial waterfall on Vesterbro Torv:

34_30
On Sunday morning we got up early and set out to cycle our 300 km brevet. We expected to spend 15-16 hours on the road. The big unknown was whether my knee and ankle would hold up. I was not as ready as I hoped I would be, but still I was reasonably confident. And as Lars said, it is not a competition, it is two friends doing something important together. Here I am, just a few hundred meters after leaving Lars's place (photo by Lars Koue Mogensen):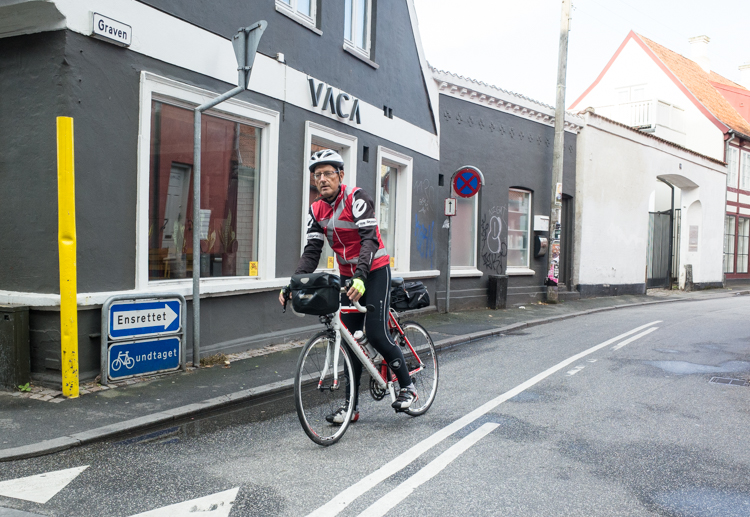 34_31
The weather was a bit chilly early in the morning, but dry, and my leg was holding up. After about 35 km, Lars needed to pee, so I took advantage of the brief pause to take a photo of Horsens Fjord: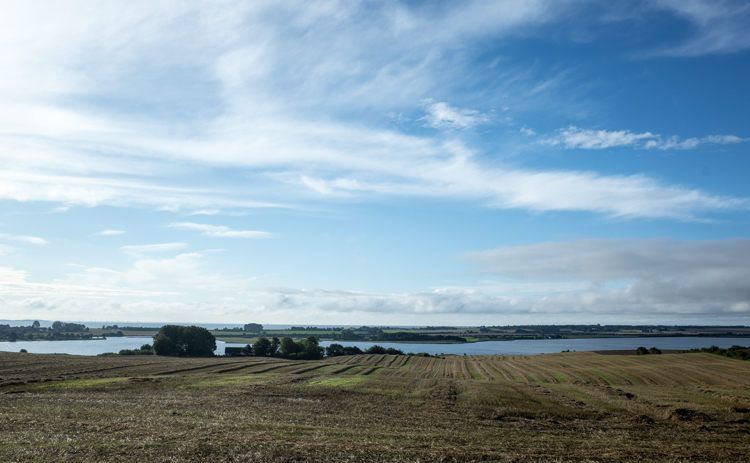 34_32
A brevet is a form of cycling sport but not a race; you just have to complete it within the maximum time (20 hours for a 300 km event) and you have to document that you were at certain spots at certain times. Our first control point was the town of Horsens, where we bought some bananas in a supermarket–the time stamp on the cash register receipt provided the needed evidence of our presence there: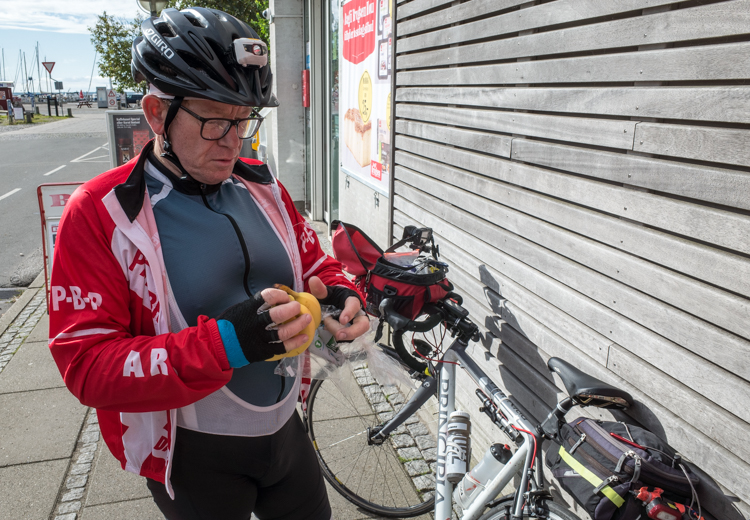 34_33
I love the Jutland landscape. It is truly "mi tierra", "my land", as the Spanish say, and once in a while I just had to stop briefly to take a picture (photo by Lars Koue Mogensen):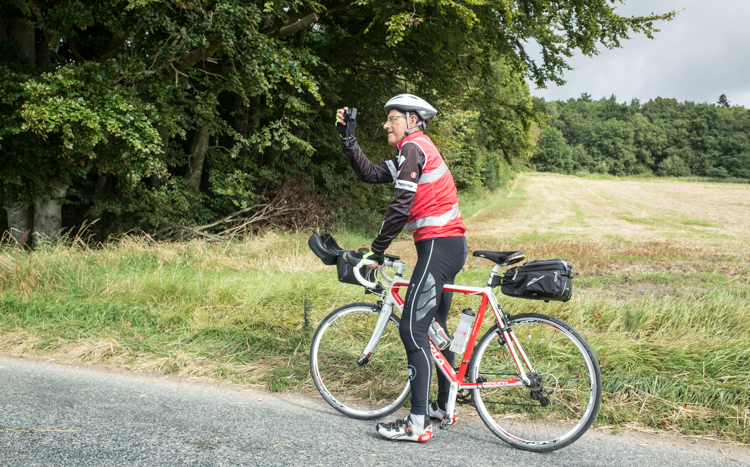 34_34
And this is the landscape I was photographing in the previous photo: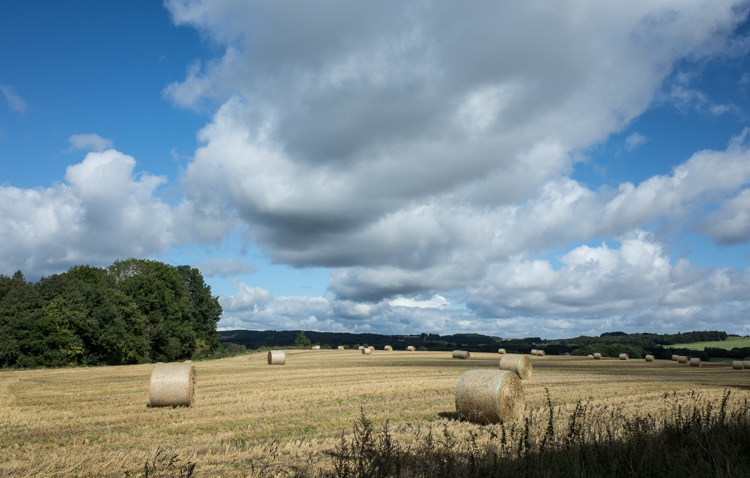 34_35
After 99 km, we had to stop at another checkpoint, Himmelbjerget ("Heavenly Mountain", a ridiculous name for a hill about 150 m tall). The receipt from the kiosk would serve as proof: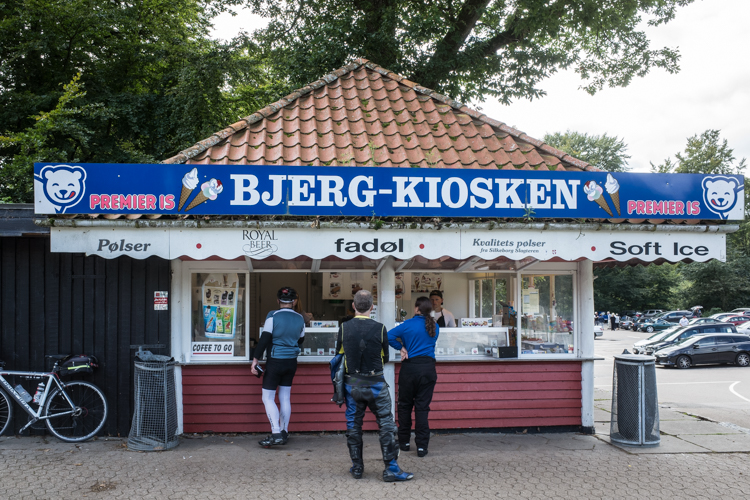 34_36
And this sausage was just what I needed at this point: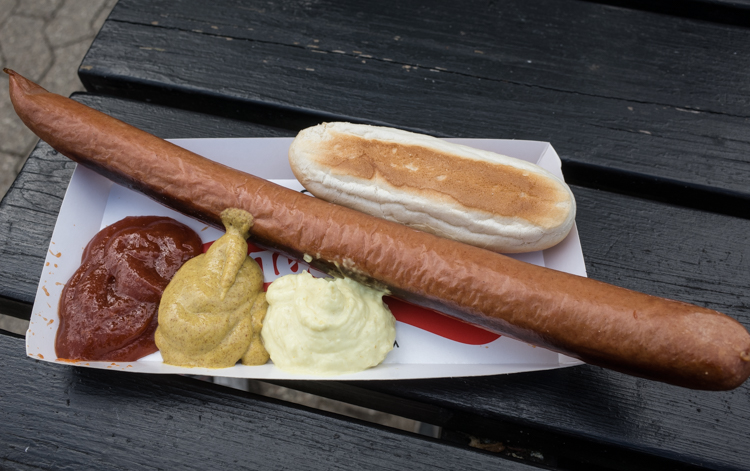 34_37
After Himmelbjerget, we turned north. At 132 km, we stopped for a brief break and coffee at a supermarket in a village called Ans. My leg was still OK, a little pain, but nothing that could not be overcome. But I felt a strange swelling in my lower lip, and Lars thought it looked really bad, so he call the on-duty doctor to ask about over-the-counter remedies we should get from the pharmacy in the supermarket. Instead, when the doctor heard that I had an apparent allergic reaction to something, presumably an insect bite, near my mouth, he immediately said that he was sending an ambulance to take me to the hospital for observation, as he was concerned that swelling might also develop in the throat, and not being able to breathe would not be good news. So instead of my bad leg, our brevet was ended by some unknown Danish bug. Here I am removing stuff from the bike while we wait for the ambulance (photo by Lars Koue Mogensen):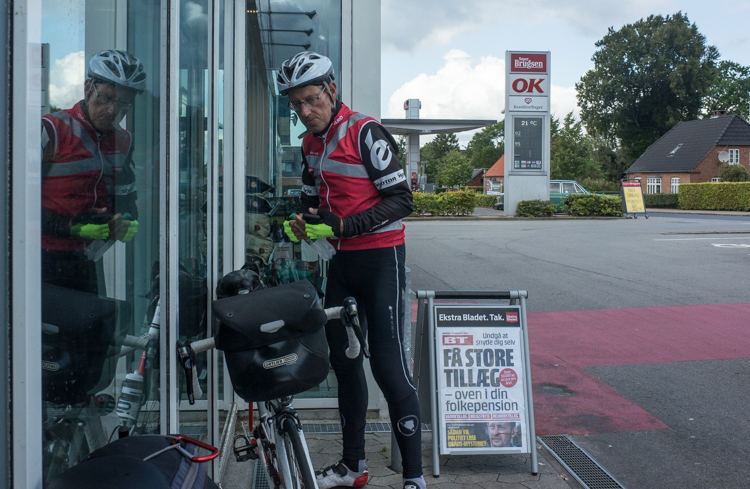 34_38
They gave me various IVs and carried out tests in the ambulance during the 20 minute drive to the hospital in the town of Viborg, about 50 km northwest of Aarhus. Needless to say, I was not pleased with the premature end of our ride (photo by Lars Koue Mogensen):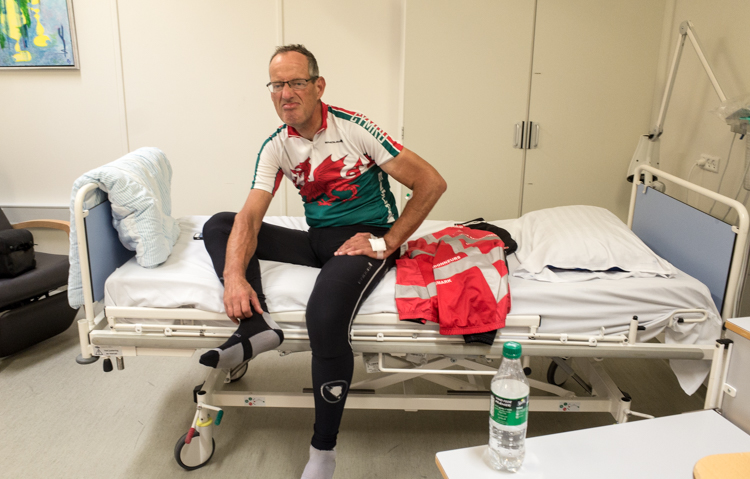 34_39
But I could manage a smile of sorts (photo by Lars Koue Mogensen):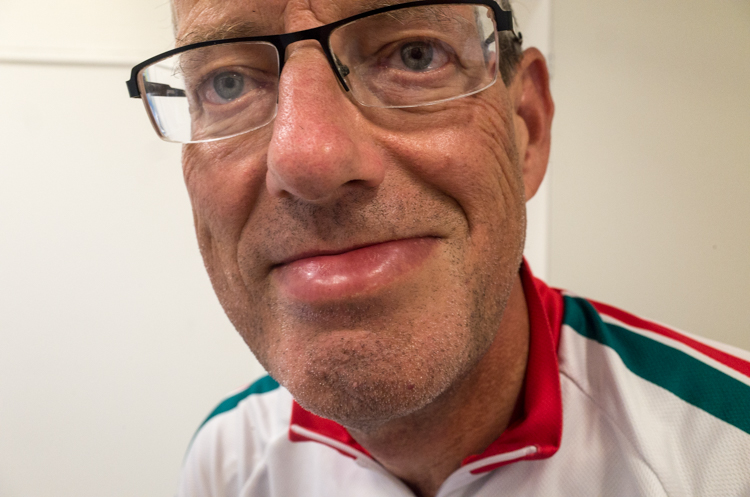 It all ended well. The allergic reaction was controlled, and after checking a few more things and giving me some more drugs (including some to take over the next 3 days), they discharged me. I have only good things to say about Danish medicine–this was my first interaction with it since my father died in 2004–both the ambulance crew and the people at the hospital were superb on this Sunday evening, and the issue of payment or insurance was not even mentioned by them. I did mention that I did not live in Denmark and had an EU employee medical cover, but they were completely uninterested in the financial aspects–all they cared about was the patient.
Meanwhile, Lars's brother had come from Aarhus to pick him up, and then Lars drove up in his own car (which has a bicycle carrier), picked up the bikes from the supermarket where we had left them, and then retrieved me from the hospital. We were at home around 9 pm and very much enjoyed the ensuing pizza and beer. Yet again, our friendship proved stronger than adversity.