The highlight of the week was a trip to Paris, where our office was co-organising a major conference on IP enforcement together with the OECD and the European Commission, hosted at OECD's headquarters in Paris Wednesday and Thursday. The other event was a design and crafts fair in the centre of Alicante at the weekend. It was nothing special really, but it provided an excuse for a nice outing with my daughter.
24_1
As always, I spent part of both weekends on two wheels in the mountains. On Sunday I cycled to Agost. As I was approaching the centre of the town where I usually buy a Coke and drink it on the central square, I found my way completely blocked by a multitude of happy and well-dressed people. It is First Communion season: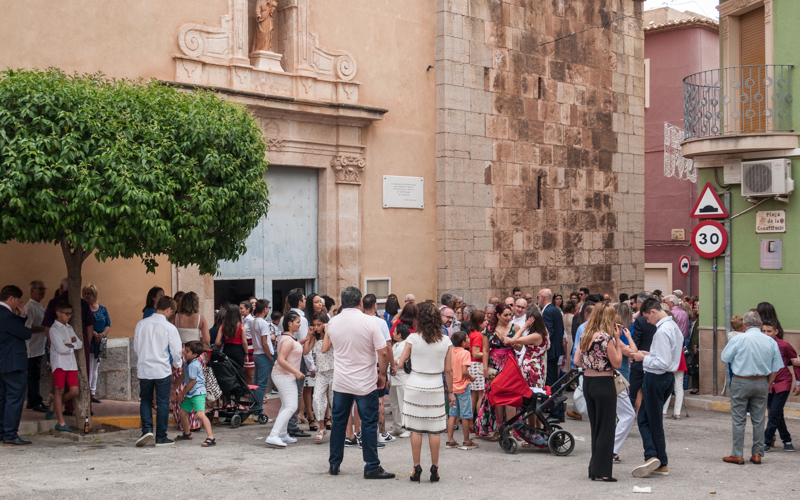 24_2
So, I resigned myself to having my Coke at a petrol station on the outskirts of the town; but I hung around for a few minutes to take in the atmosphere a bit: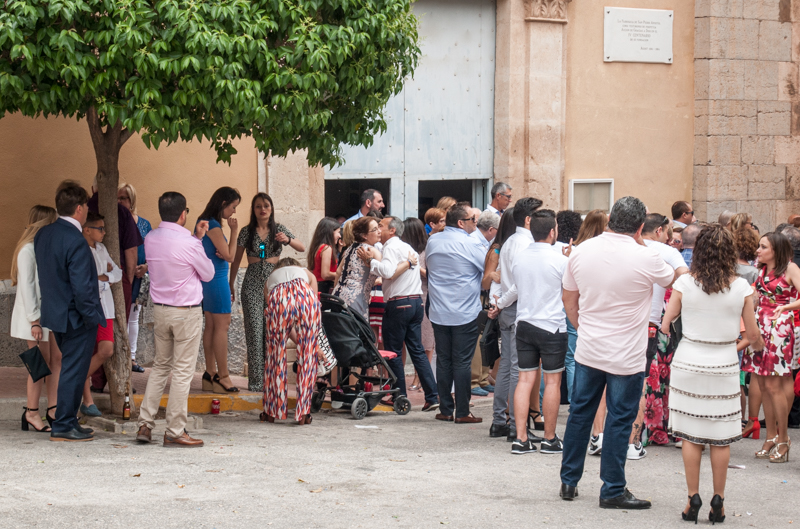 24_3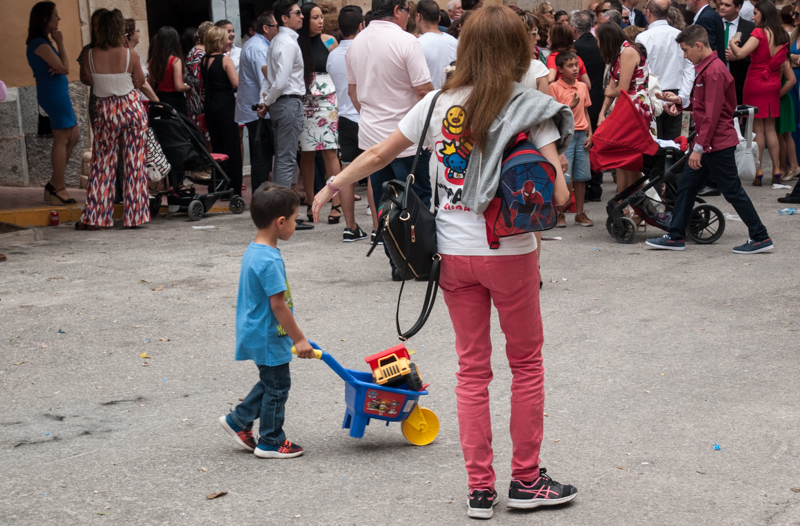 24_4
Late on Sunday afternoon, I went down to the beach to have a pint at one of the bars, as is my habit. Most beachgoers had left, and a man with a metal detector was looking for coins that people may have lost in the sand during the day: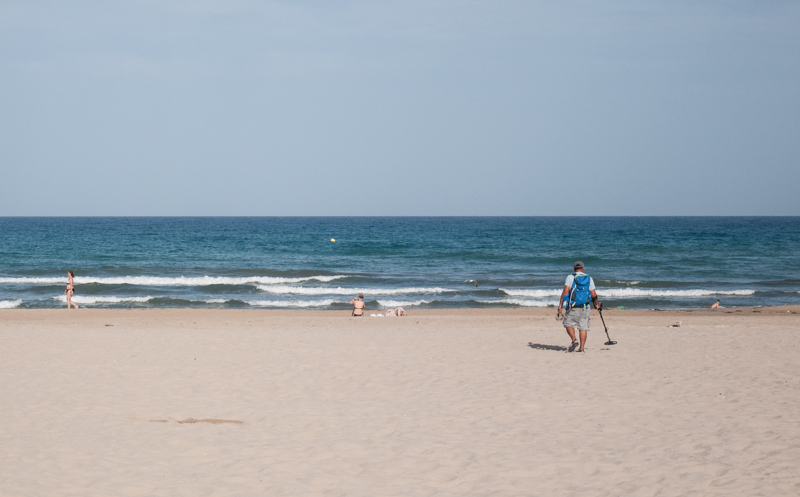 24_5
On Wednesday morning, I flew to Paris together with several of my colleagues. Blanca is always working, even when she is waiting for the bus from Orly airport to the centre of the city: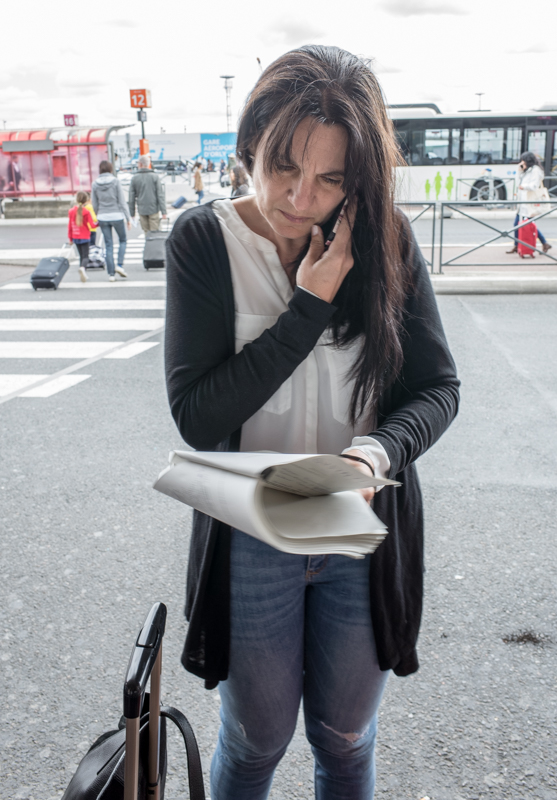 24_6
After we arrived at our hotel and checked in, I left my colleagues to have lunch etc. I wanted to take advantage of the free afternoon. I made my way to the Hôtel de Ville. The weather was nice, and there was a lot of activity on the street: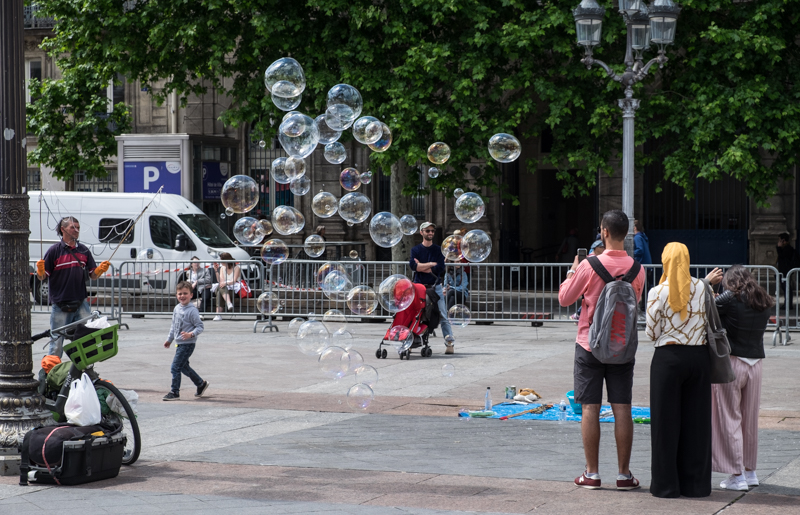 24_7
This guy, on a bridge across the Seine, was seriously good, and I gave him some money before taking a couple of pictures (this is my standard policy when taking picture of street musicians):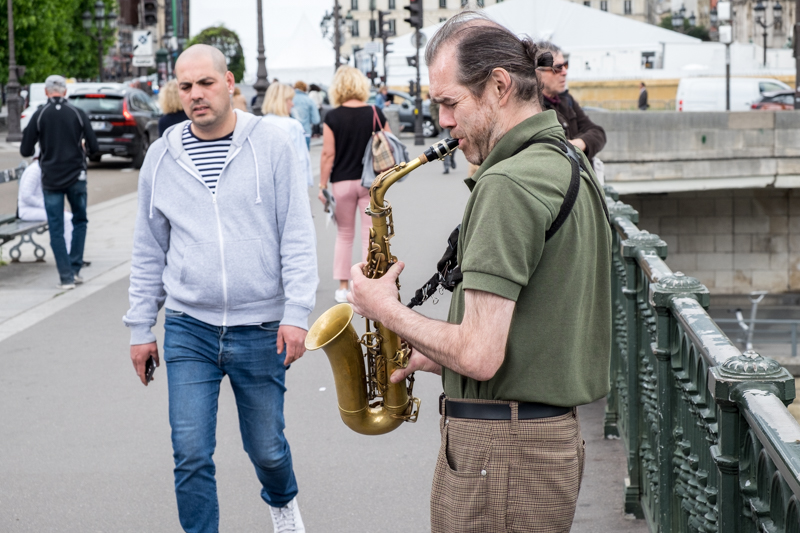 24_8
Of course, my main reason for visiting this area was to see Notre Dame after the devastating fire earlier this year. The repairs are well under way: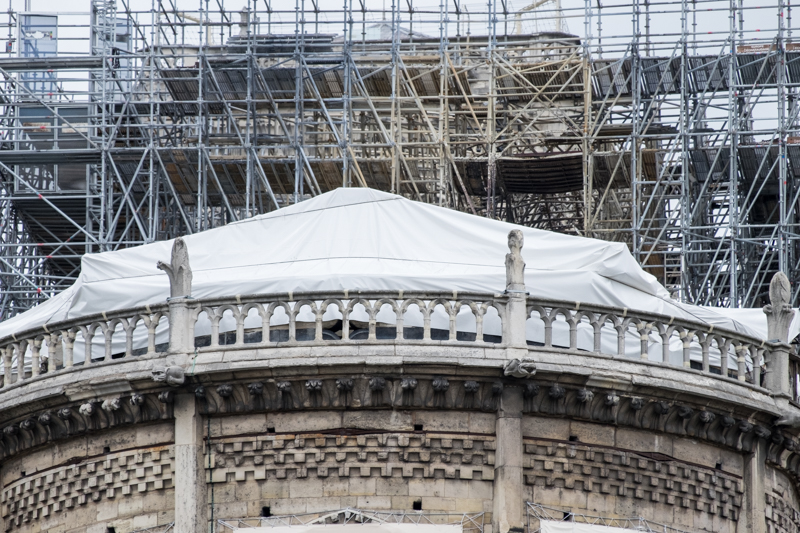 24_9
When I was in Paris in March, I wanted to visit the memorial on Ile de la Cité to the 200,000 people deported to concentration camps during the German occupation, among them 76,000 French Jews, including the family of my uncle Joseph. It was closed back then, but now it was open, and I had an emotional visit there. This is the entrance: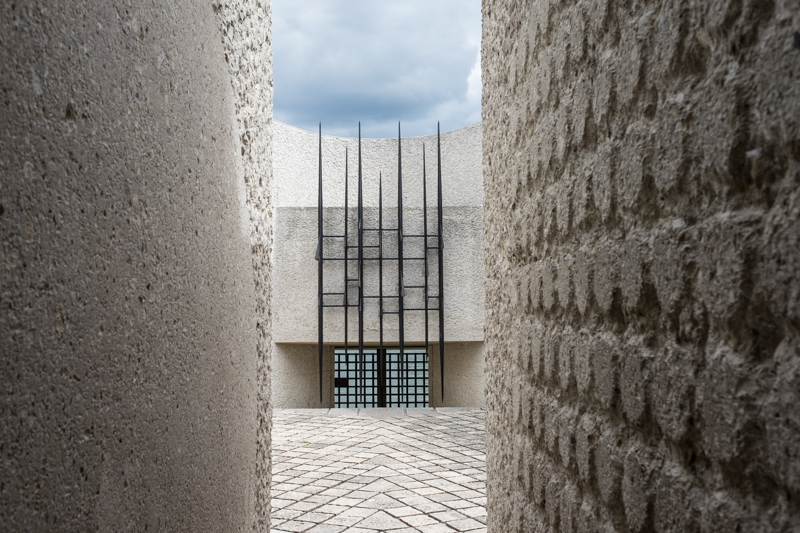 24_10
At this point I needed to pee and I was thirsty, so the natural solution was to visit one of the local bars: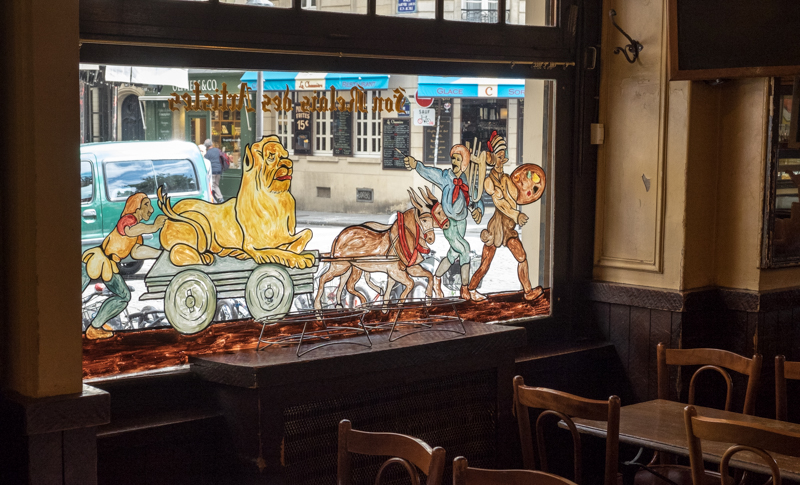 24_11
Next on my agenda was to visit Montmartre, where I had not been for several years, despite my frequent visits to Paris. Already when you emerge from the metro station, you see that it is a special place: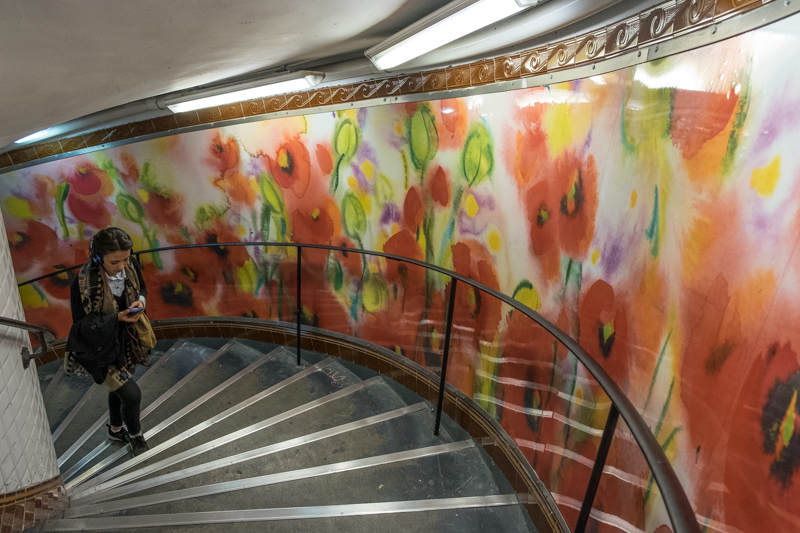 24_12
On the square there was good jazz–Paris has a great jazz tradition, not least because many American musicians settled there in the 1950s and 1960s, and the influence remains: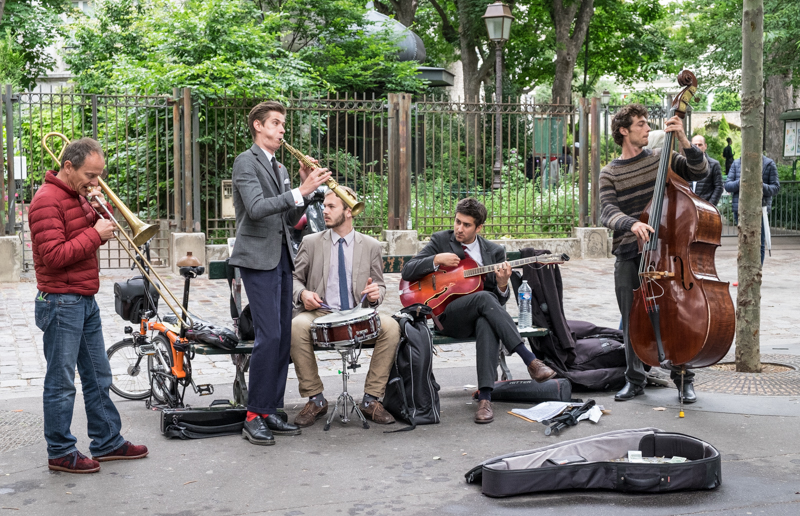 24_13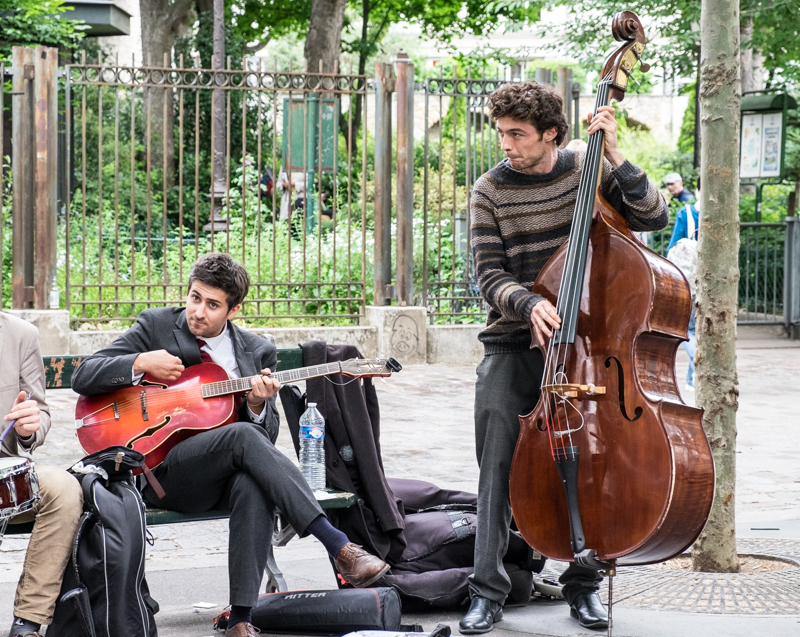 24_14
Social life, Montmartre: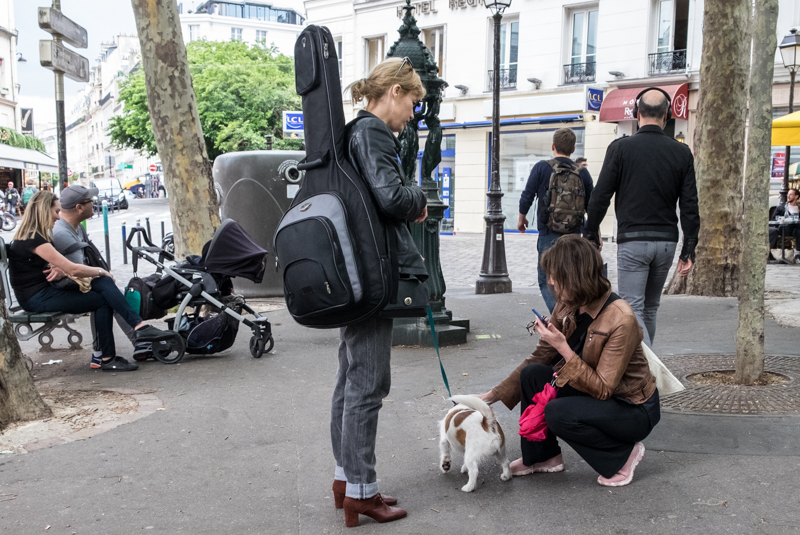 24_15
While I was at the square of Montmartre, the nice weather turn to rain. This did not deter me from climbing the stairs to the Basilica Sacré-Coeur from where there is a great view of Paris: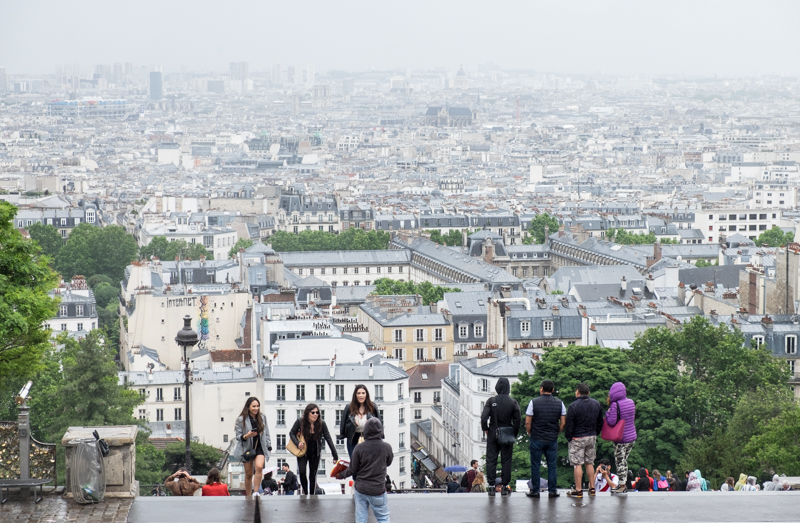 24_16
Back down, a queue of Asian tourists outside one of the few public toilets: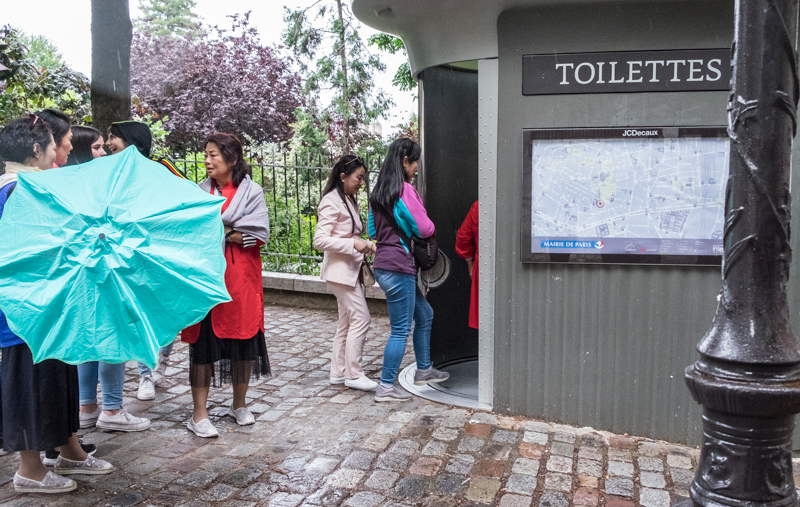 24_17
I needed to fortify myself with Belgian beer before heading to the restaurant where I was going to have dinner with my Alicante colleagues: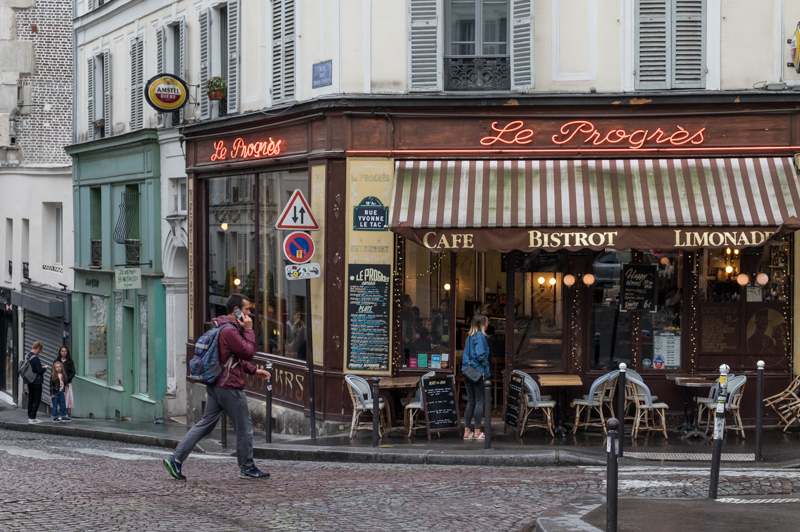 24_18
On Wednesday morning it was time to go to work: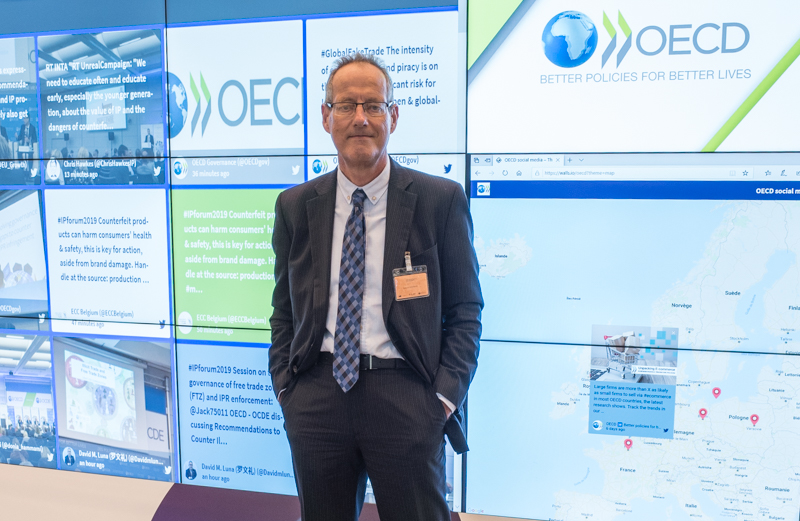 24_19
One of our keynote speakers was Vishal Amin, the US Intellectual Property Enforcement Coordinator, colloquially know as the IP Czar. Even though he was appointed by the vile regime in the White House, he is one of the US officials with whom the EU has common interests–the companies suffering from fake goods from China are mainly American and European: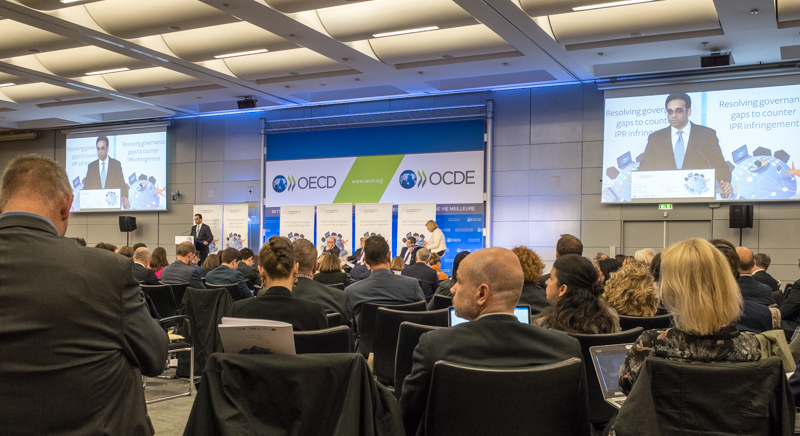 24_20
Our video guy, Pierre, was on hand to capture stuff that we can use on our web site and otherwise in our media outreach: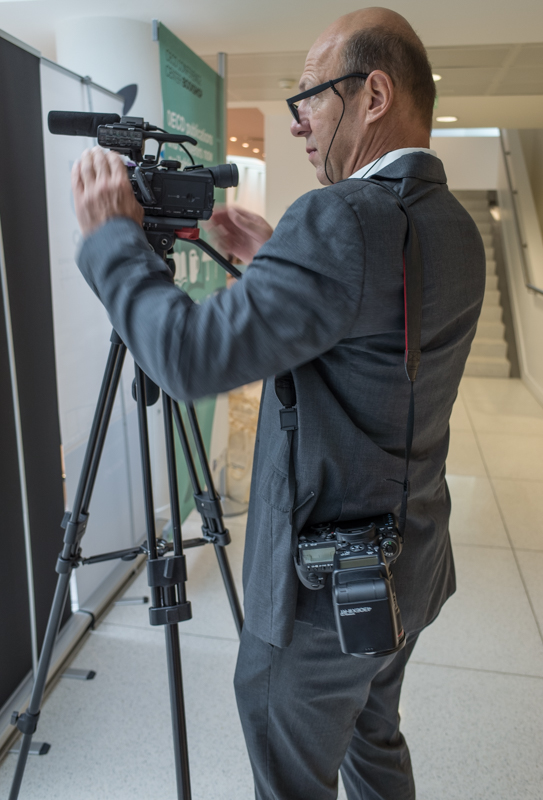 24_21
When I attend these events, I like to capture the interactions during the breaks, like here, with my colleague Blanca talking to a couple of the other participants: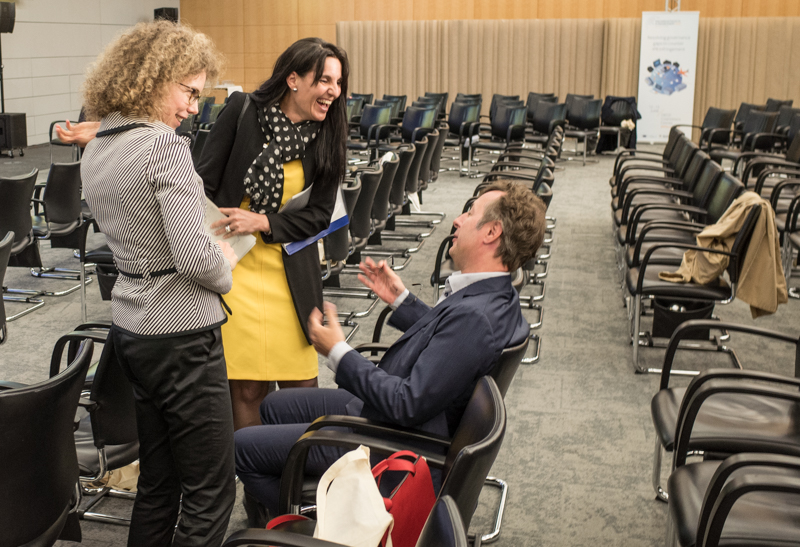 24_22
We had lunch at the Chateau de la Muette, the old part of OECD which houses the offices of the secretary-general of the organisation and has some very nice meeting rooms on the ground floor. There is also a nice view looking out from inside: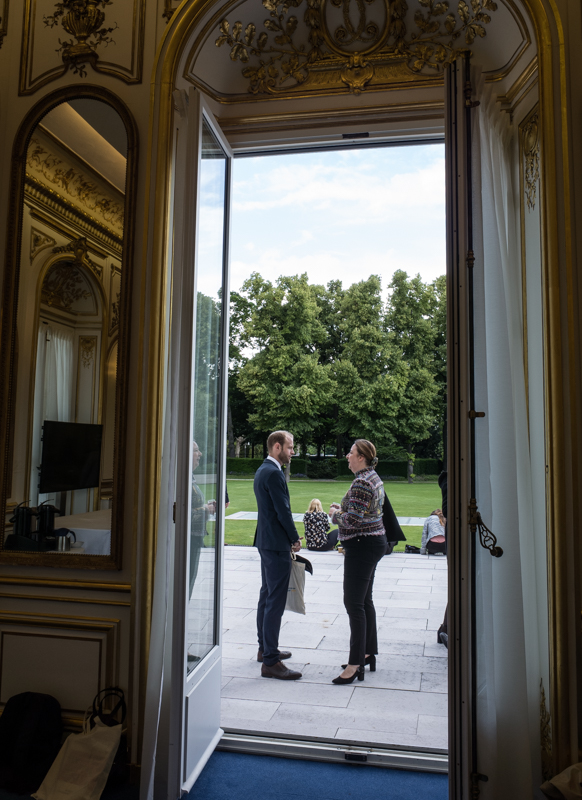 24_23
That evening, I had dinner with my cousin Francis, who lives in a suburb of Paris and came into the city to see me:

24_24
On Thursday, the conference continued. Ana from our communications service is conferring with my colleague Claire, who was in charge of the conference from our side. It was a very busy couple of days for both of them: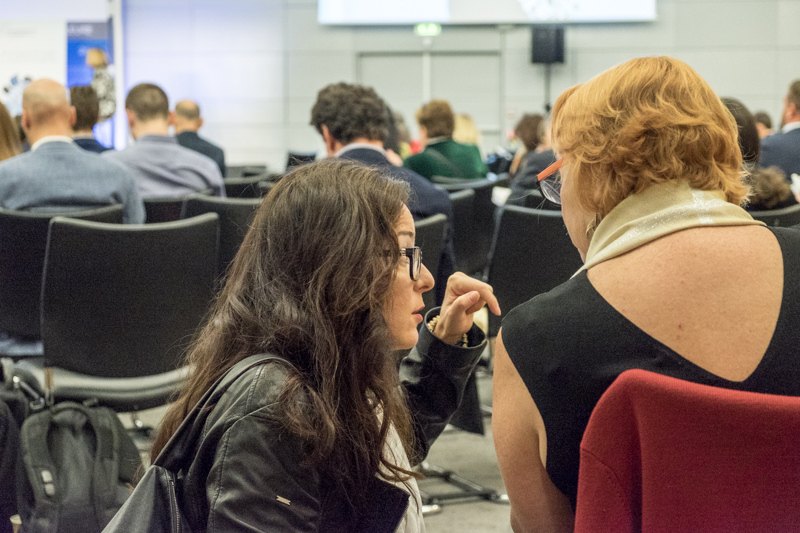 24_25
My colleague Nicki shows off our new Enforcement Portal, a tool for communication between brand owners and customs and police authorities, designed to stem the flow of counterfeits: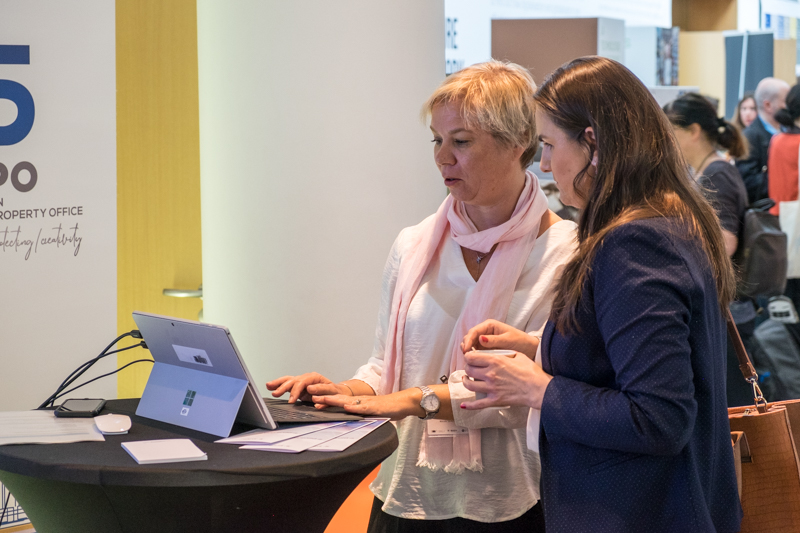 24_26
During breaks, I wandered around the OECD building, looking for interesting details. I have photographed this part of the roof of the Chateau on previous occasions, but I keep coming back in search of a better angle: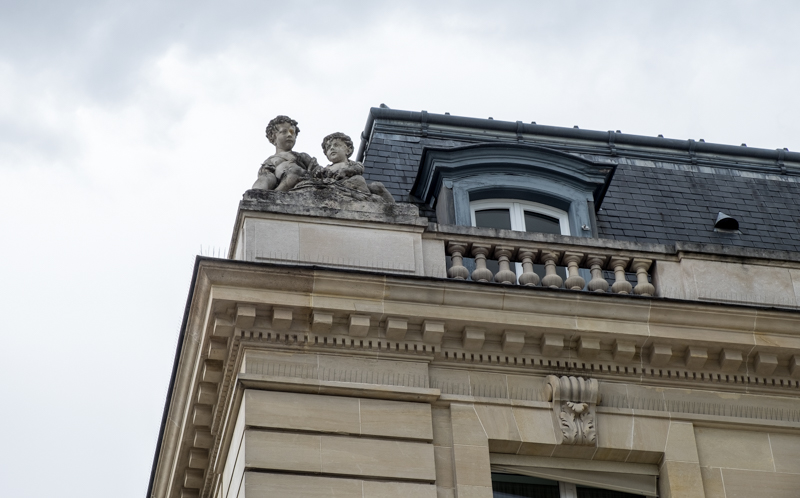 24_27
Blue and blue in the courtyard: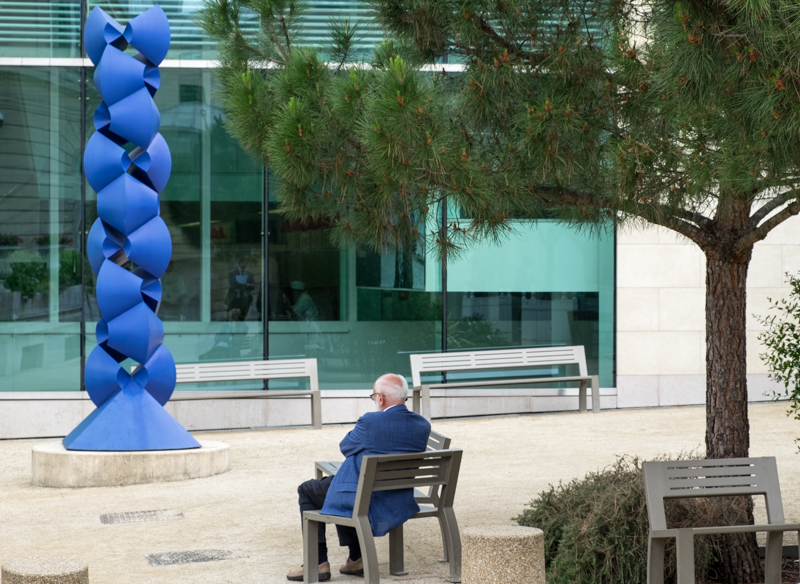 24_28
Outside the room used by the sound and video technicians, a collection of bags once used by news services to send their film for processing: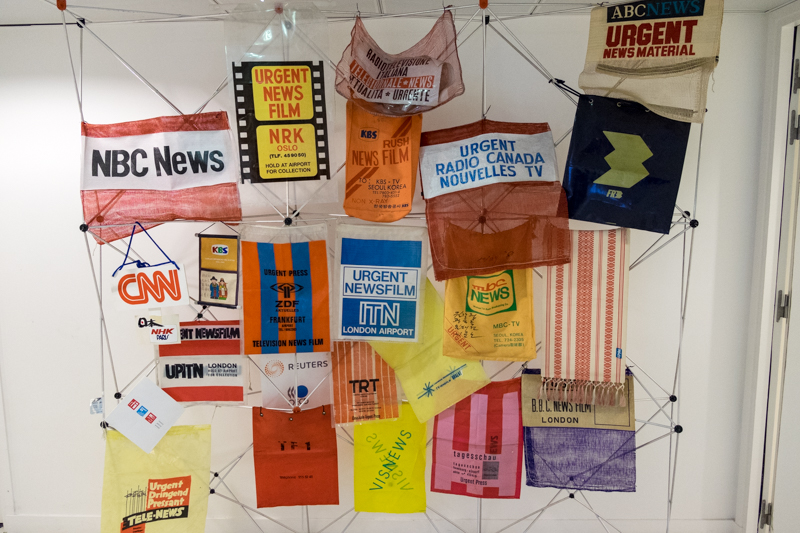 24_29
It is Thursday afternoon and the conference is finally over. Blanca and I go for a drink at a nearby bar: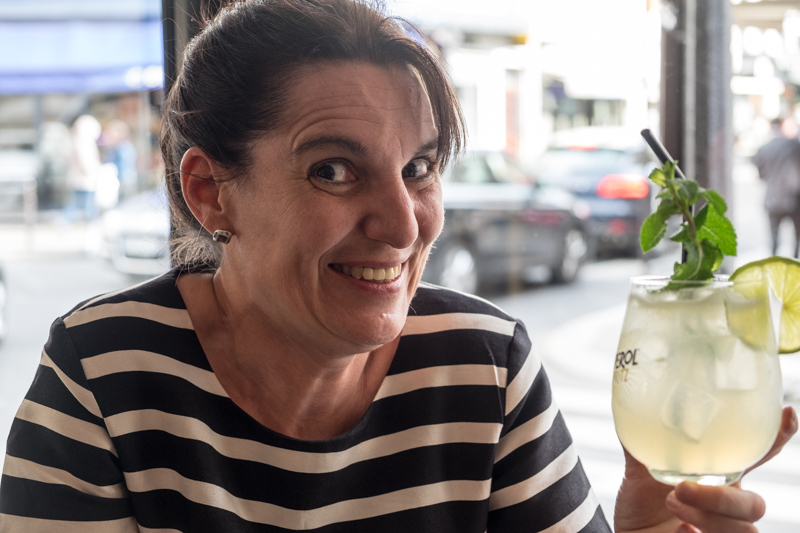 24_30
Just before getting on the bus to Orly for my flight home, I buy a baguette to take back to Alicante (phone photo by an OECD economist who accompanied me to the bus):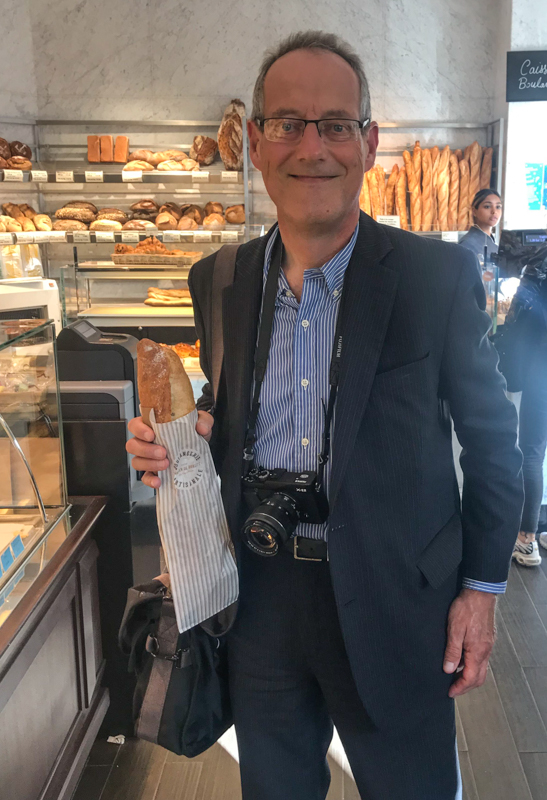 24_31
Back home, Friday evening was the usual pizza dinner from Tutti. The place was quite busy, good to see–I like their pizza and I want to see them do well:

24_32
On Saturday morning, I was back in the hills on my bicycle, along with many other cyclists: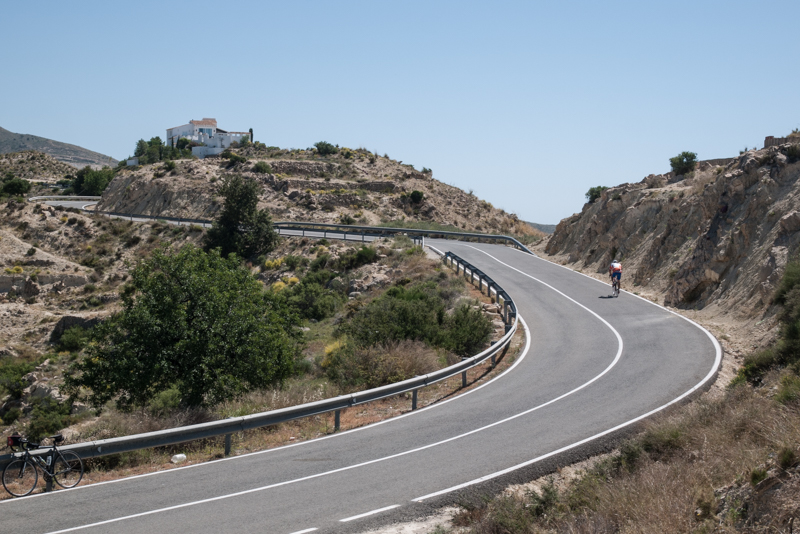 24_33
The road to Busot: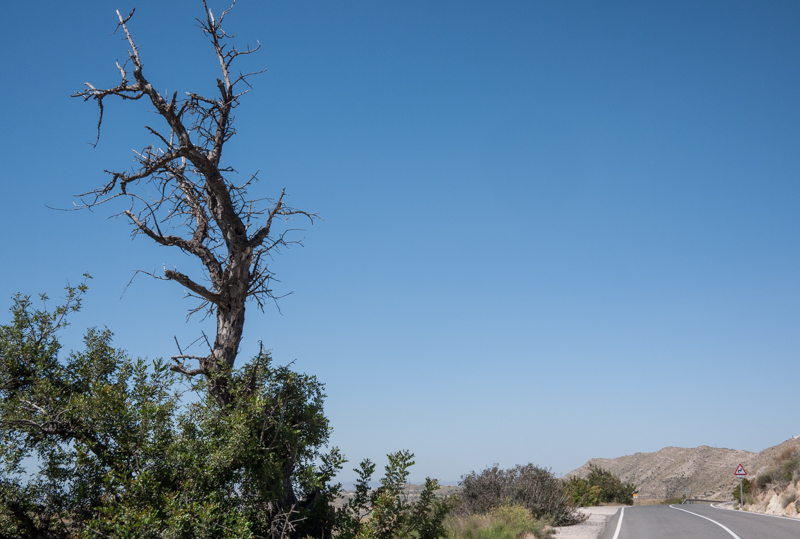 24_34
I often stop to photograph Busot as I approach the village. This time I walked up a steep driveway leading to an abandoned farm building to get a higher vantage point. The passing cyclist was an added bonus: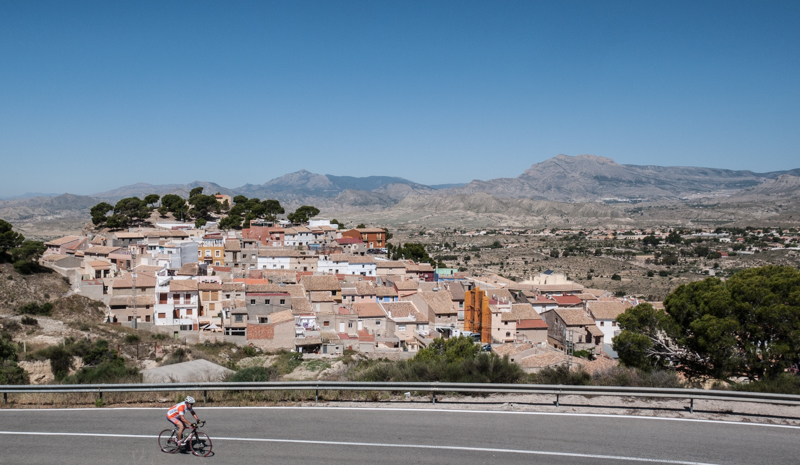 24_35
I tried to get the attention of these goats for a better pose, but apparently my "meeh" was not sufficiently convincing: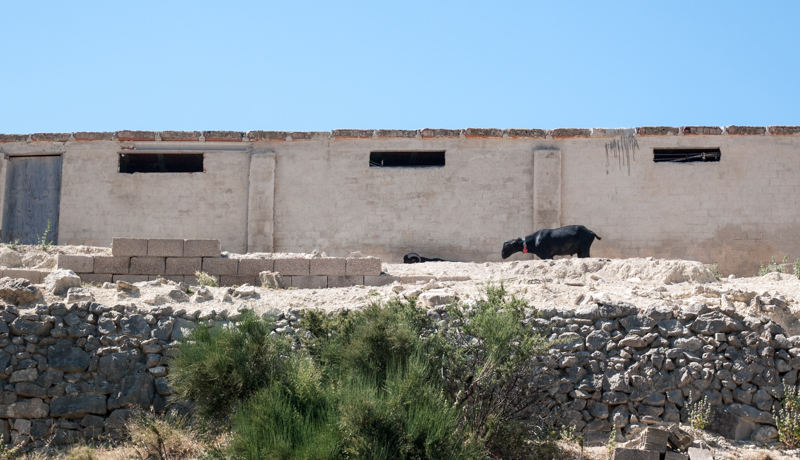 24_36
On Saturday afternoon I did something extremely unusual–I went shopping. Not with my wife, but with my daughter. She needed to go to a Mango shop downtown to exchange some stuff we had bought her for her birthday in May (it did not fit), so I hung around and suffered while she was choosing clothes: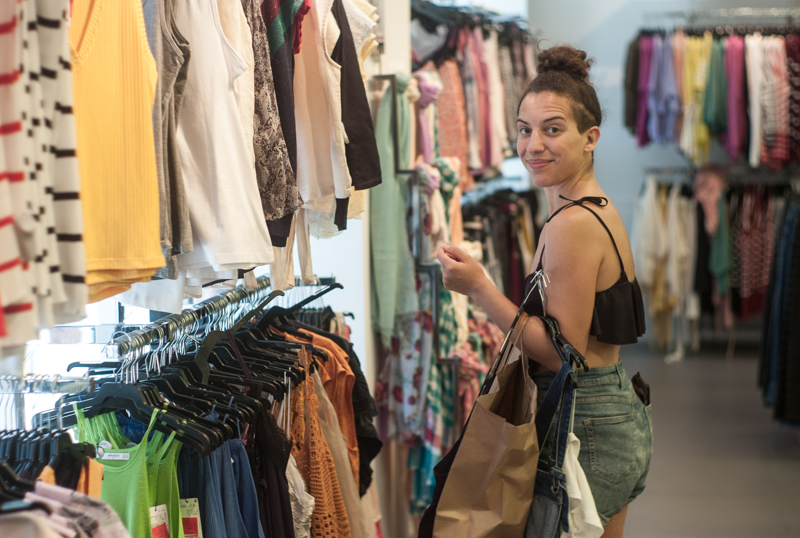 24_37
At least there were some photo opportunities:

24_38
I felt like this dog: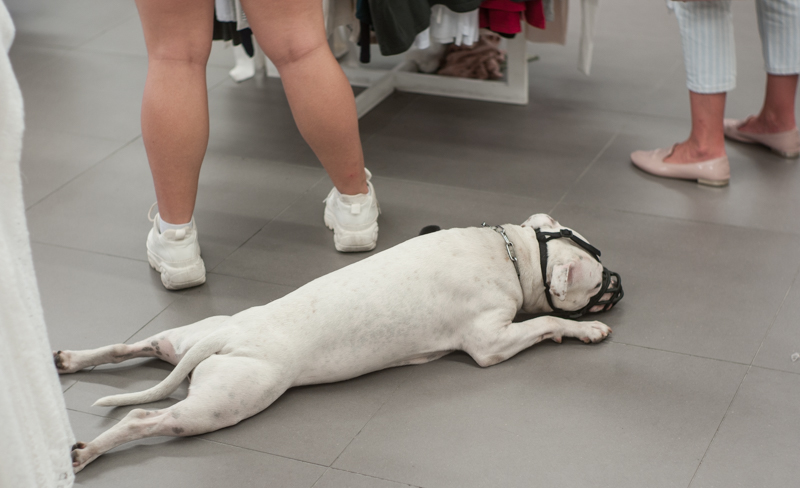 24_39
Shopping at Mango done, we moved on to a design and crafts fair at the old bus station on Plaza Seneca, now repurposed to host this kind of events: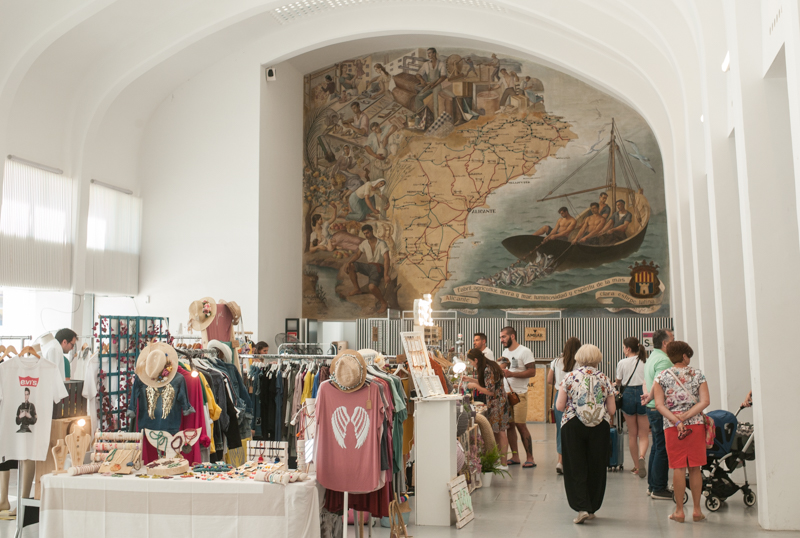 24_40
It was mostly clothes, unfortunately: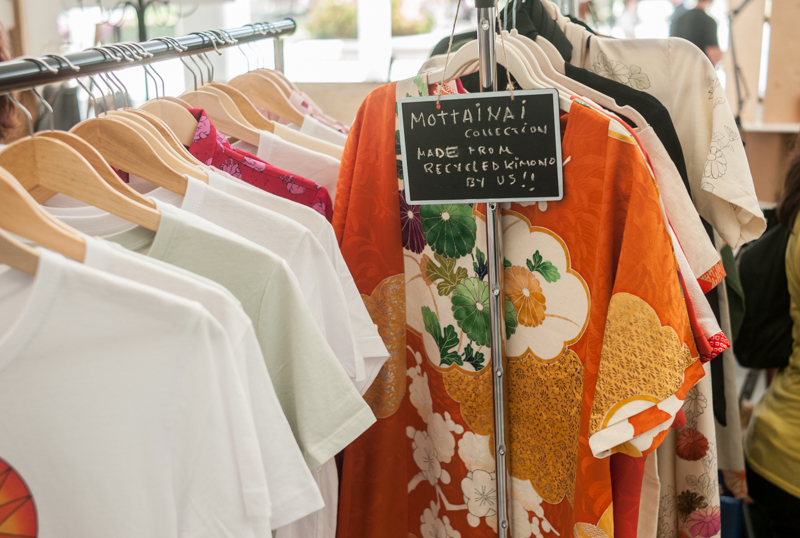 24_41
Shopping: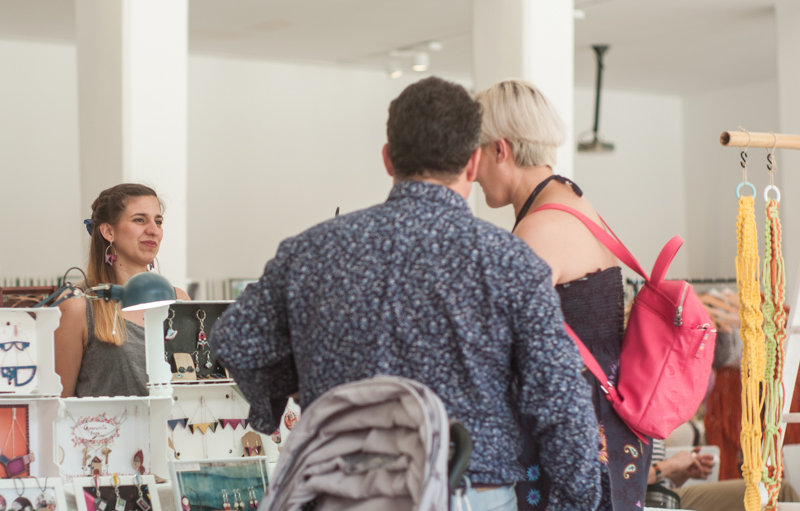 24_42
Bored baby: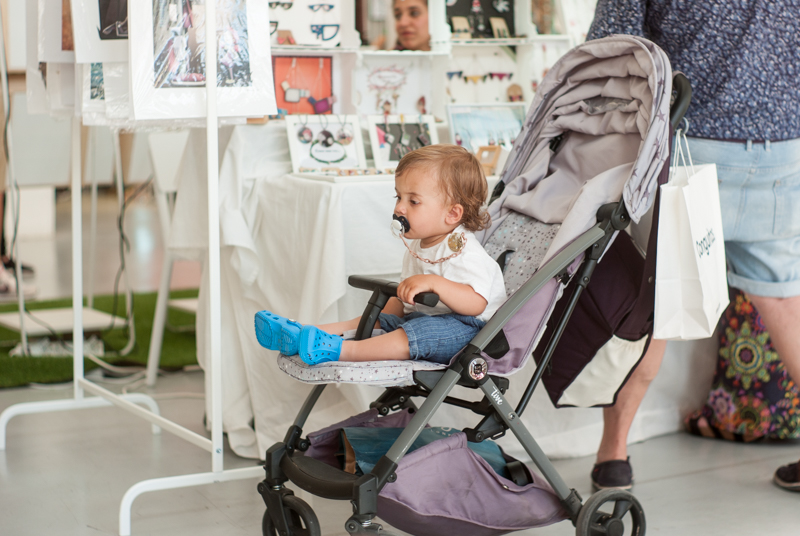 24_43
This was the most interesting item, a strange contraption of two bicycles: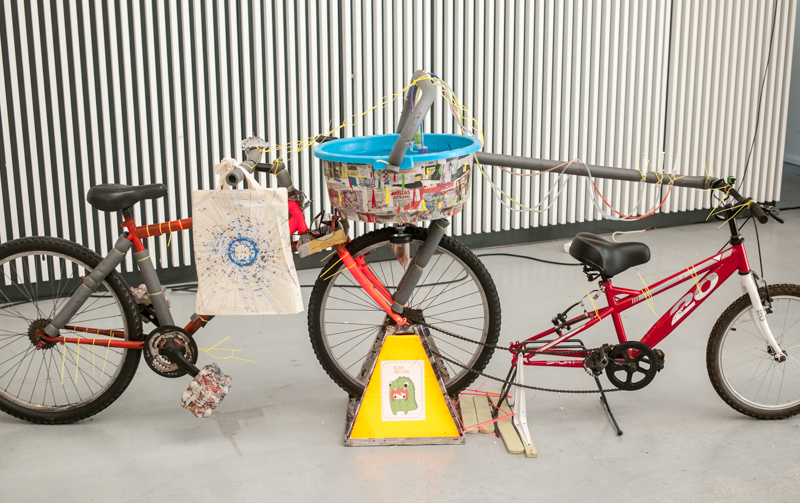 24_44
It was actually a kind of painting machine: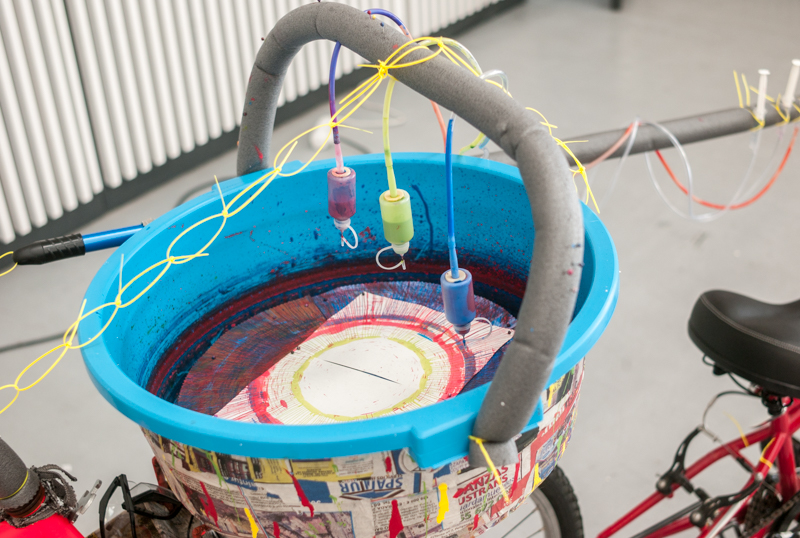 24_45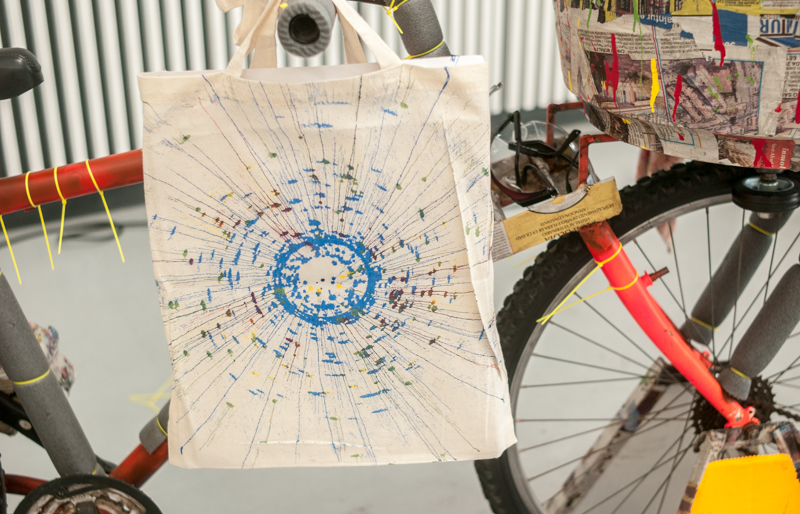 24_46
Monica scored a summery black dress, and then we went home to dinner and beer: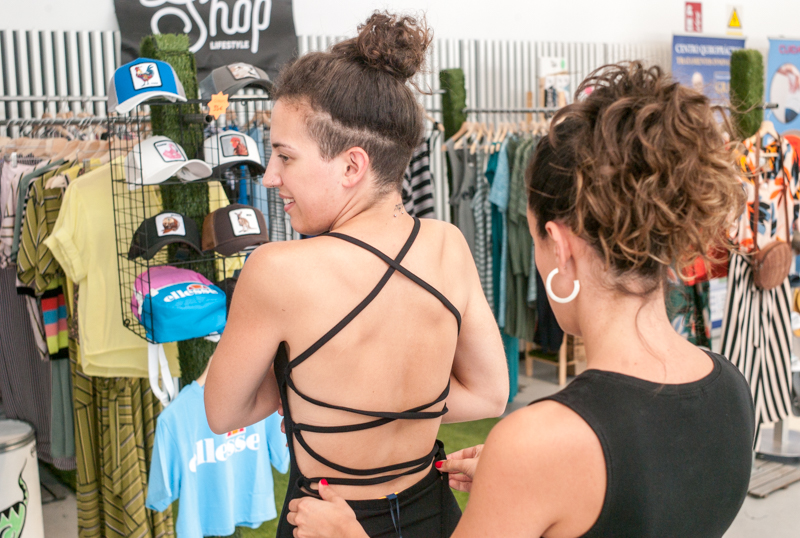 A full gallery from Paris can be seen here.