The second week of 2019 was mostly about the visit of my best friend, Lars. He lives in my hometown in Denmark and always visits in early January. We share the passions for photography and cycling, and much else. We have been close friends since our first year of secondary school in 1976.
2_1
Lars arrived on Sunday; I would have liked to take Monday off but I had some meetings that could not be skipped. So I made the best of it and took my Leica M8 to the office to play a bit with infrared photography:

2_2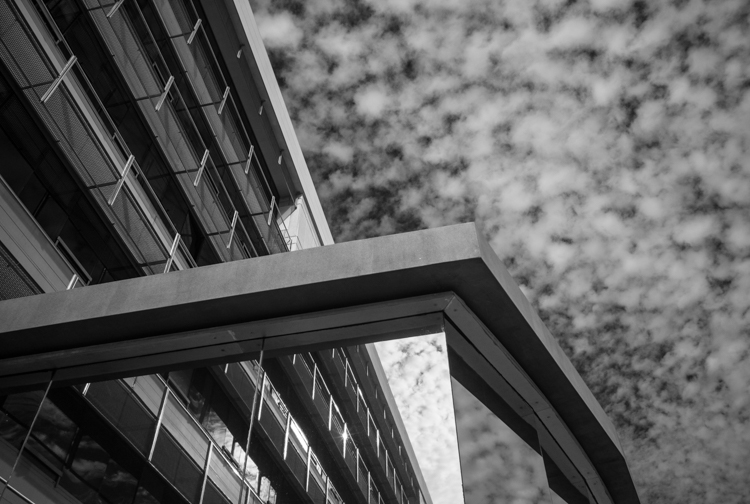 2_3
I was able to take Tuesday and Wednesday off. We hit the road on our bicycles on Tuesday morning. Lars, on our way to Jijona: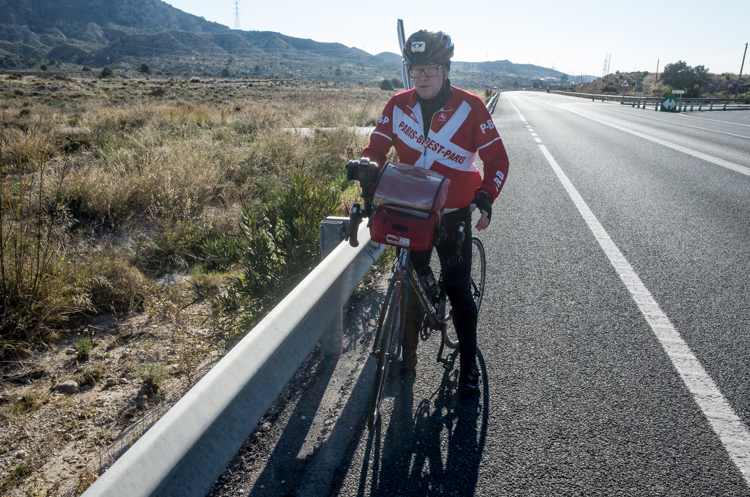 2_4
An old olive tree in the wild: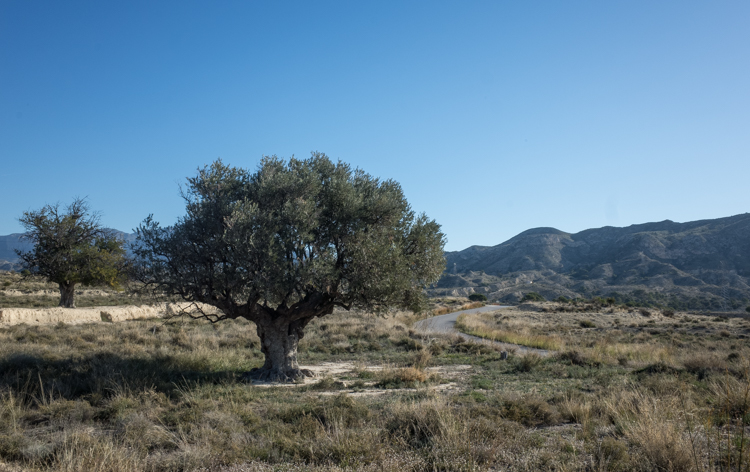 2_5
After about 2 1/2 hours of cycling uphill, we have reached our goal. For Lars, it is especially nice to cycle down here since there are no mountains in Denmark: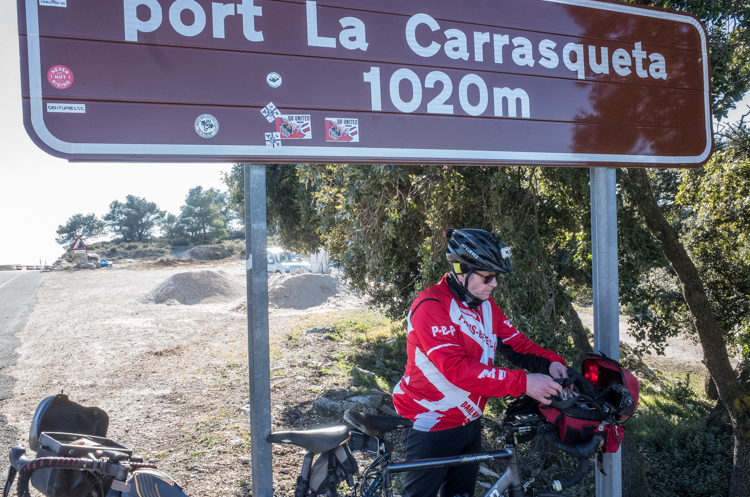 2_6
Lars had seen my beach sunrise photos, so of course he wanted to make some of his own. He likes to make long exposures so as to blur the waves: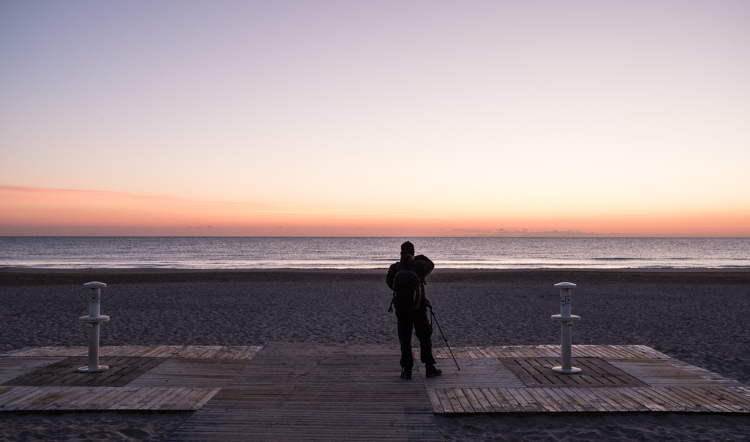 2_7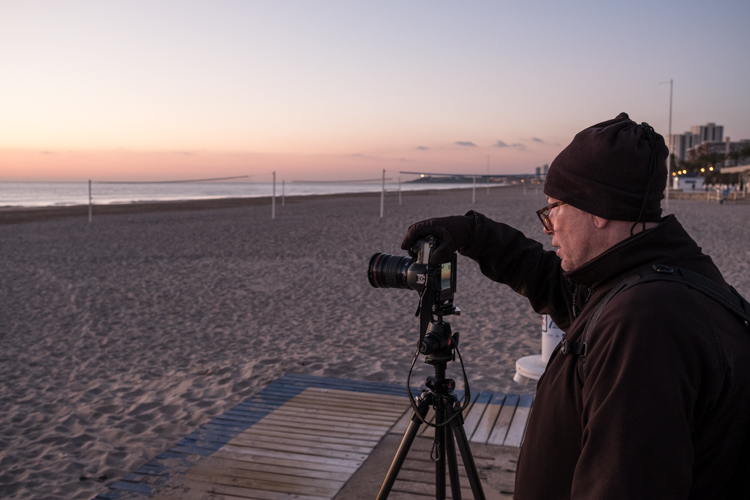 2_8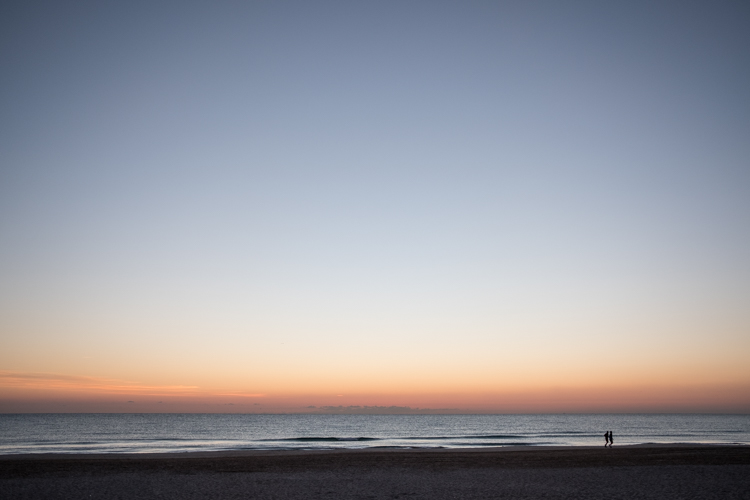 2_9
Later on Wednesday morning, we drove to Valencia, about 2 hours north of here, to explore the city a bit and to look at art. Valencia has a lot to offer in this regard, even just while walking the streets: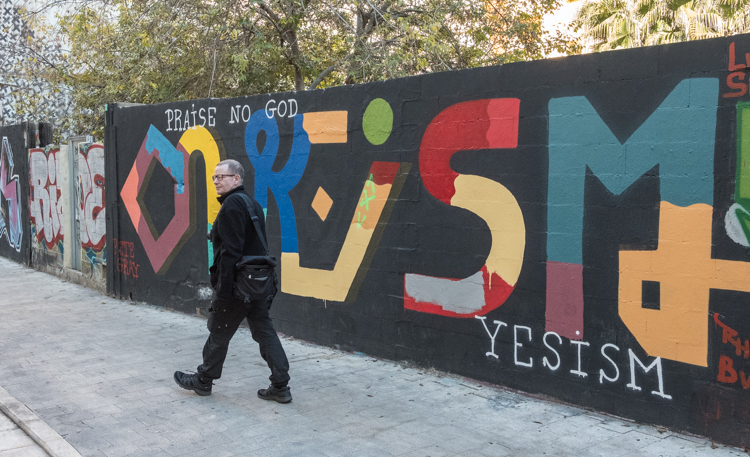 2_10
We started by visiting Valencia's main contemporary art museum, IVAM (Instituto Valenciano del Arte Moderno). It was OK, but the real revelation was the nearby Centre del Carme, another modern art gallery housed in a 14th century cloister. There was an interesting exhibition of new Polish art: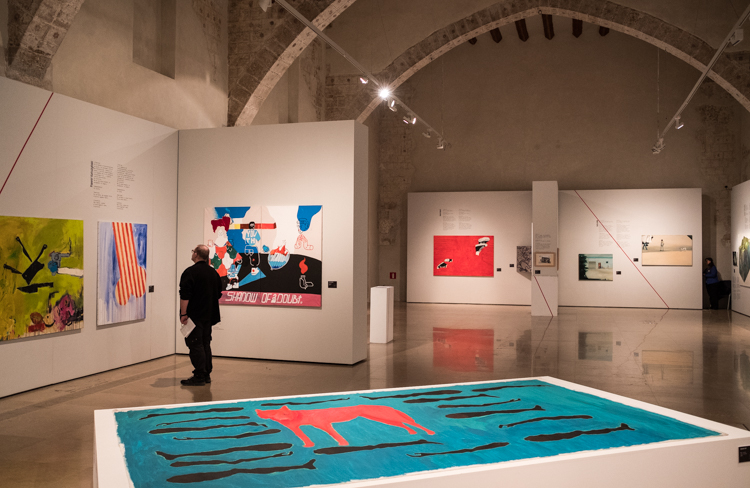 2_11
In another room there are copies of famous paintings in other Spanish museums, such as Bosch's Garden of Earthly Delights. The original is at the Prado in Madrid, and photography there is strictly forbidden, but here it was no problem: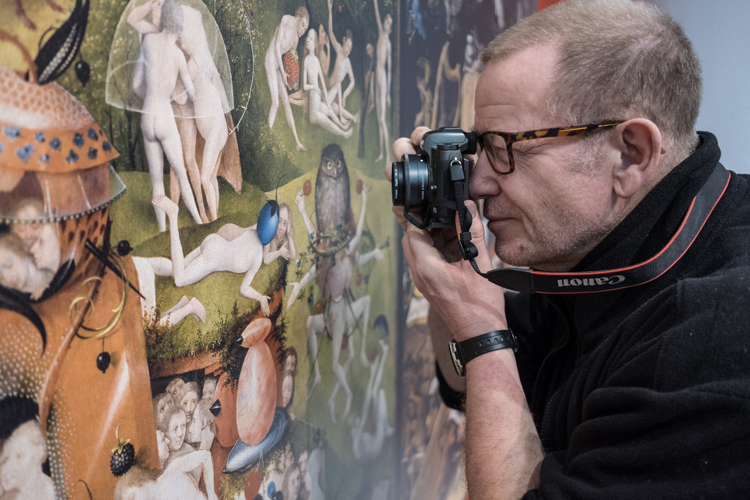 2_12
Through a plastic wall: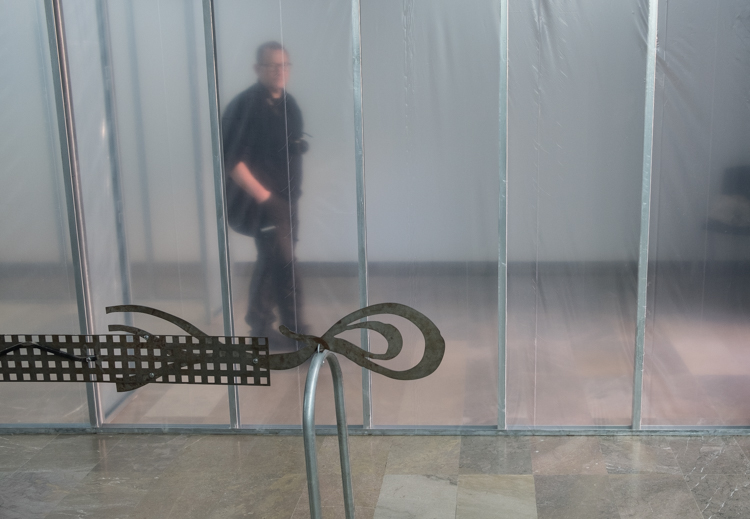 2_13
We then walked towards the cathedral, enjoying some more wall art along the way: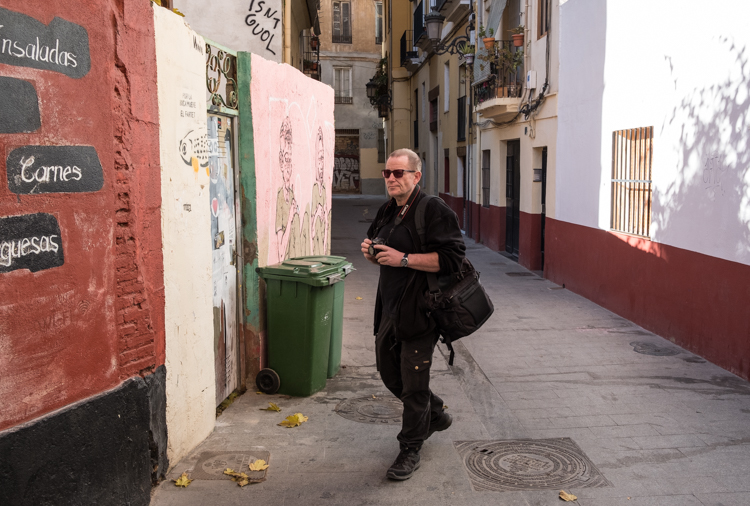 2_14
Valencia's cathedral dates from the 13th century, and of course numerous enhancements have been make over the subsequent centuries. The church is incredibly ornate. This is the main altar: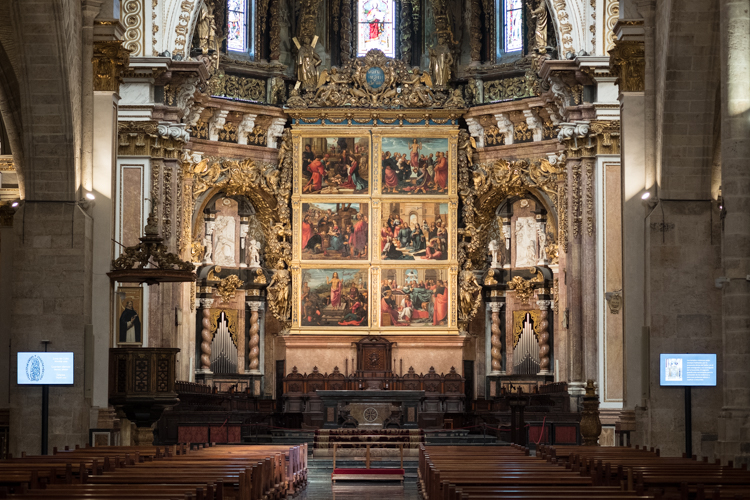 2_15
The cathedral houses several important relics, chief among them the Holy Grail. Of course, nobody can prove that this was the vessel actually used by Jesus at the Last Supper (and there are many other claimants) but at least this one dates from the 1st century, so it could have been the one: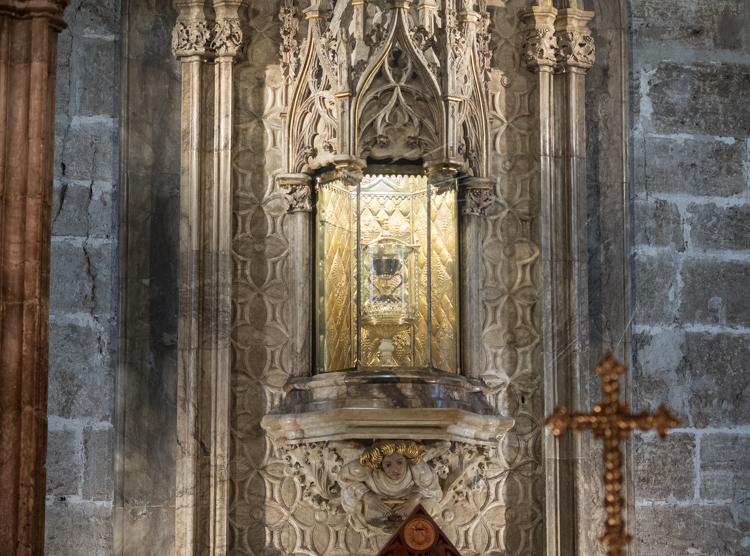 2_16
Candles outside one of the side chapels. The two on the bottom left were lit by me in memory of my mother–one for me, one for my sister: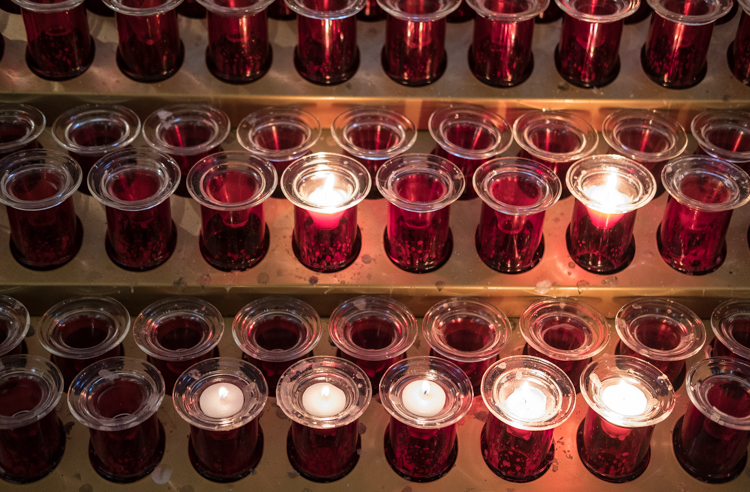 2_17
The cathedral has a small museum which contains some of the oldest statues and paintings, such as this one, depicting the Apostle Thomas examining Jesus' wounds; he was the original "doubting Thomas":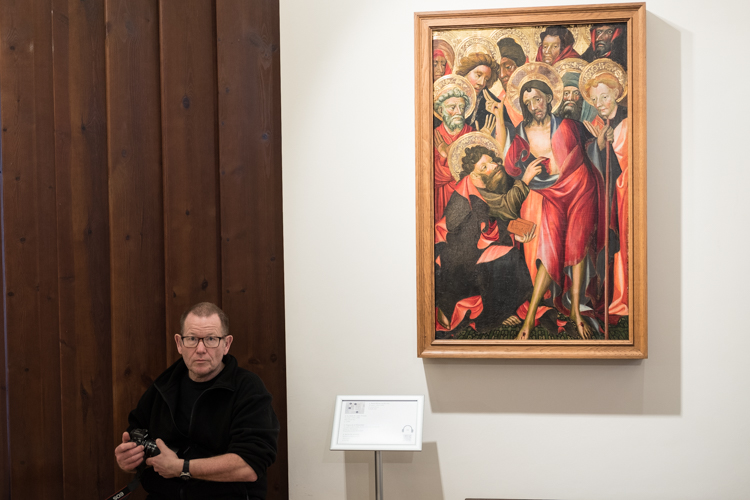 2_18
A grisly relic–the arm of Vicente de Huesca, or Saint Vincent the Martyr, executed in 303 during the reign of Diocletianus Augustus, the last Roman emperor who engaged in widespread persecution of Christians: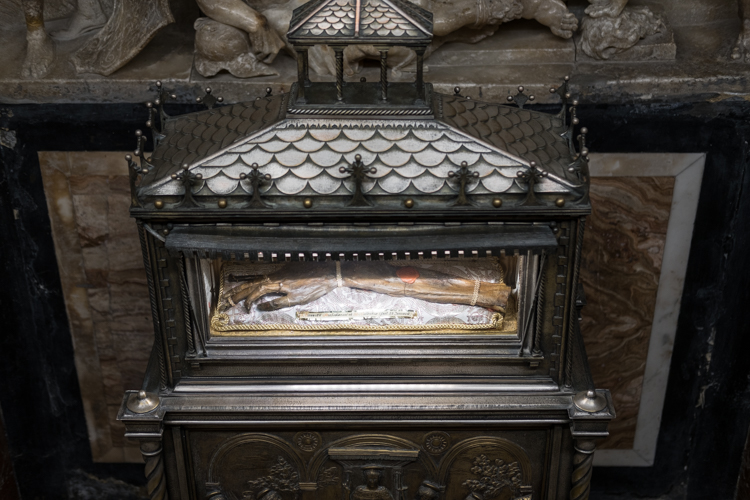 More images from Valencia can be seen here.
2_19
On Friday I was off again, and Lars and I cycled to the town of Tibi. While not as high as the Carrasqueta pass that we had conquered earlier in the week, the climb to get into the town is truly brutal, with double-digit grades. On the steep slopes I am faster than Lars, so this allowed me to get to the destination first and capture this image of Lars arriving: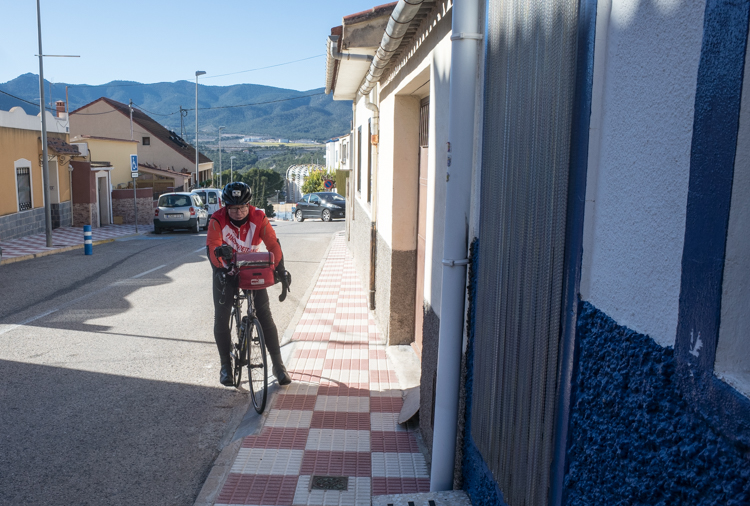 2_20
Our destination in this case was Quesería del Valle de Tibi. We bought some goat cheese from Lili: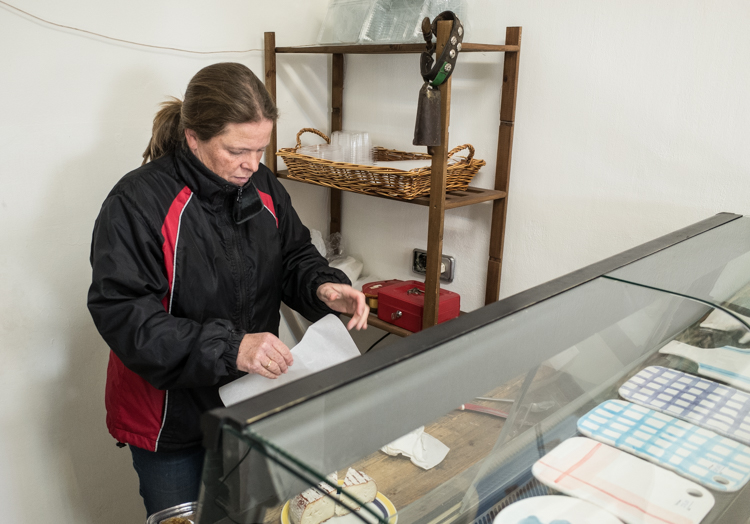 2_21
I got Lars to pose in front of the painting of Lili's goats that hangs in her small shop. When I posted this image on Facebook, I did it under the heading "Worship of the Goat":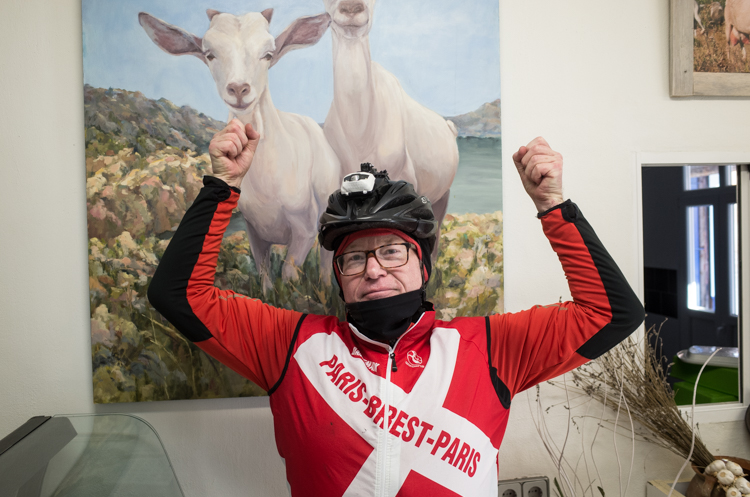 2_22
To get out of Tibi is also hard; an initial descent is followed by a 2.5 km climb that takes one to the highest point of the ride. Again, I got Lars to assume a triumphant pose at the sign: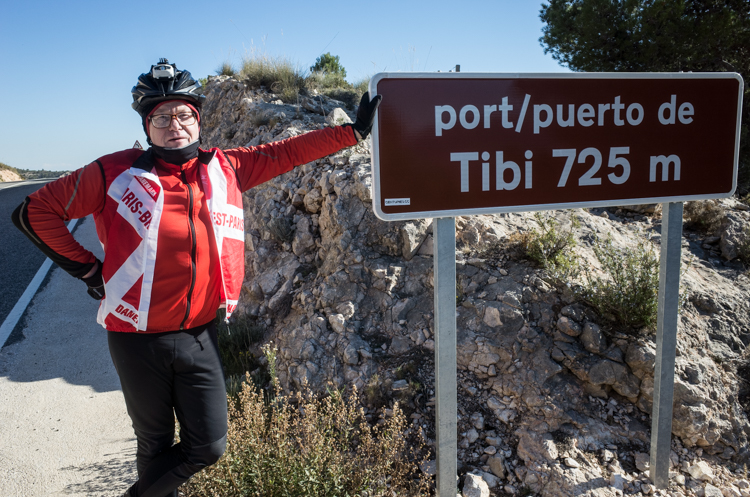 2_23
…and a less triumphalist image of another cycling ritual: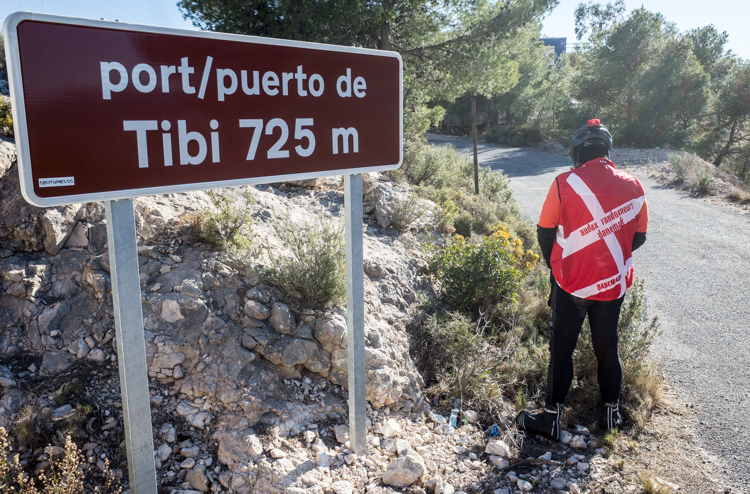 2_24
At the end of the ride, Lars emerging from our local supermarket with my reward: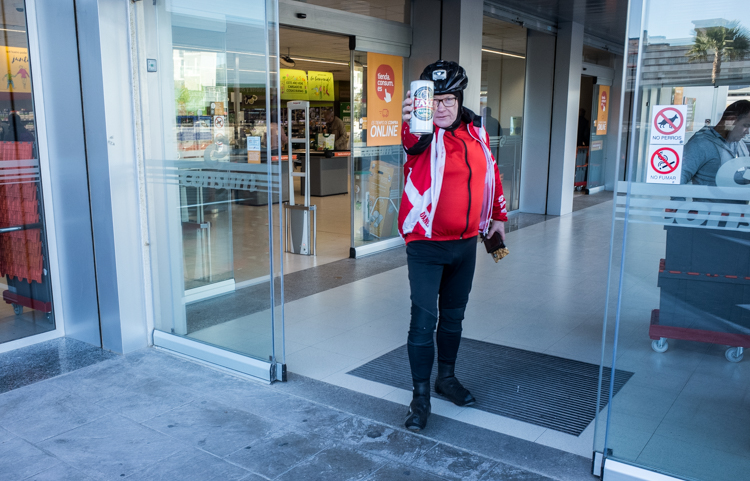 2_25
A further reward was provided by my wife Aixa. She made gołąbki, a Polish dish whose name means "little pigeons", completely nonsensical. But it is delicious. First, a large cabbage is parboiled: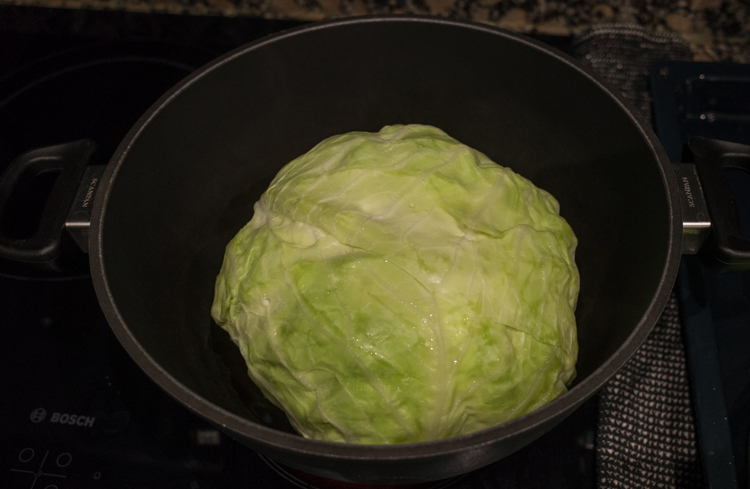 2_26
Then the leaves are removed and spread out like this: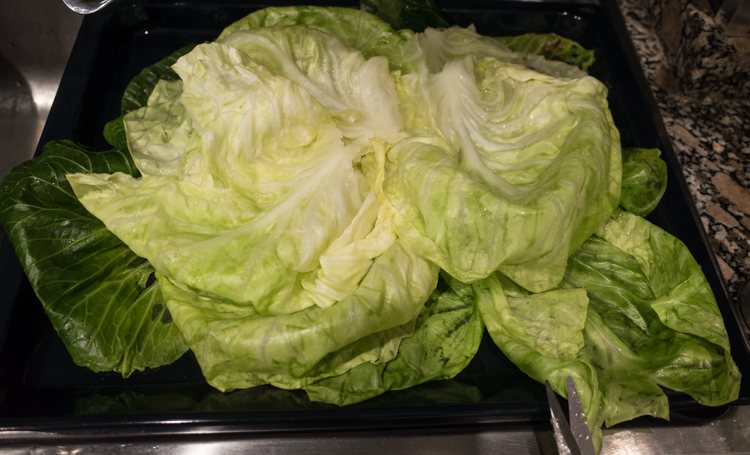 2_27
The leaves are stuffed with a mixture of rice or buckwheat, meat, mushrooms and spices: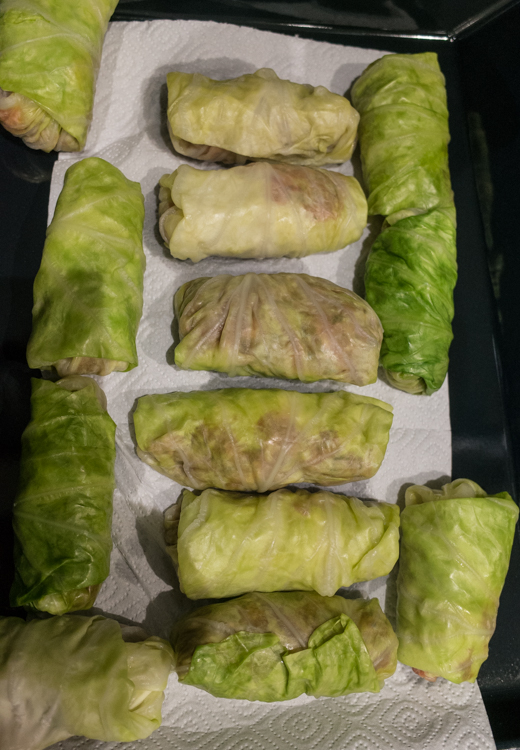 2_28
And finally, the cabbage rolls are cooked in a tomato sauce: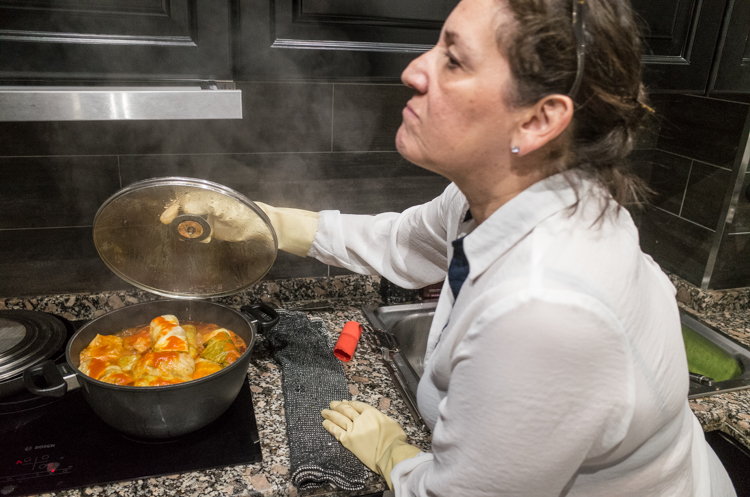 2_29
The final product, ready for our enjoyment. It is a testimony to the international nature of our family that my Puerto Rican wife makes an excellent version of this most traditional of Polish dishes:

2_30
We started Saturday with another pre-dawn visit to the beach. It was quite cold, in single digits C, so Lars moved around during his 5-minute exposure to keep warm: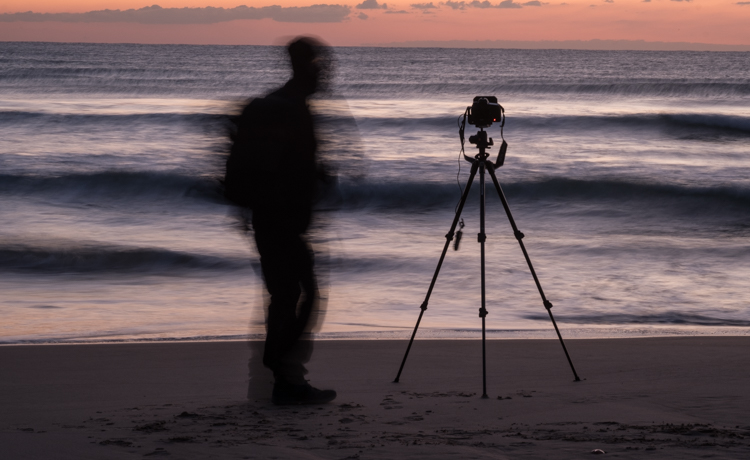 2_31
I decided to make a long exposure too but since I have no ND filters, I had to settle for a more restrictive definition of "long", in this case 1 second: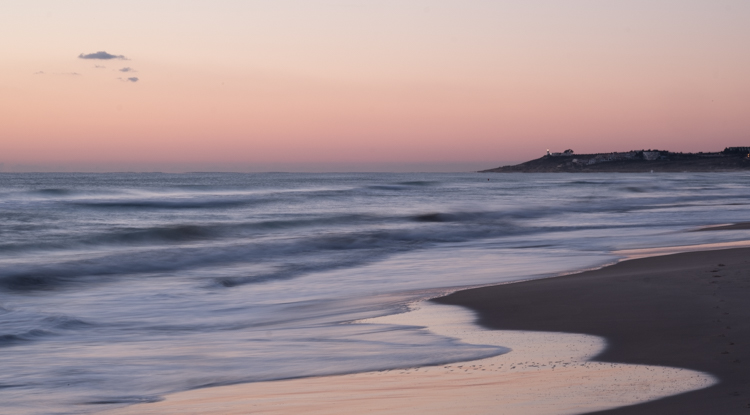 2_32
When the day warmed up, we took a short ride to Aigües where we took in the usual small-town life: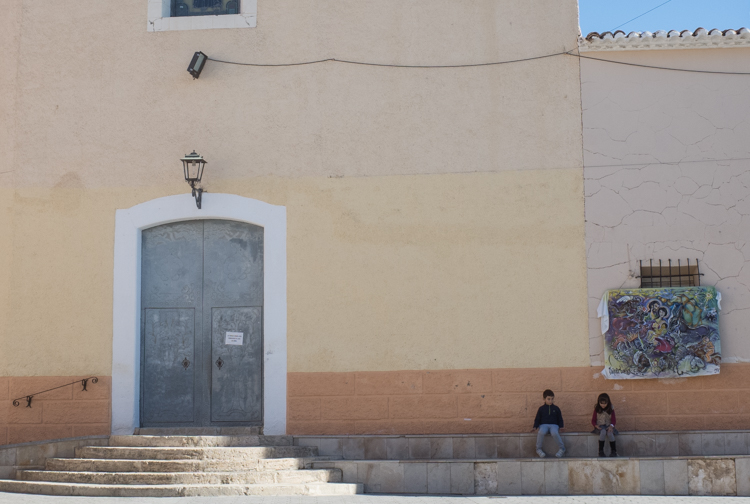 And that concluded a week of good food, cycling, interesting art, and, most importantly, good friendship.