Last week started slowly as has been the case for much of this summer, but then on Thursday we drove to Switzerland to visit our son who started a one-year internship at Nestlé a couple of weeks ago.
Main
We took a Sunday drive down to the salt flats south of Alicante: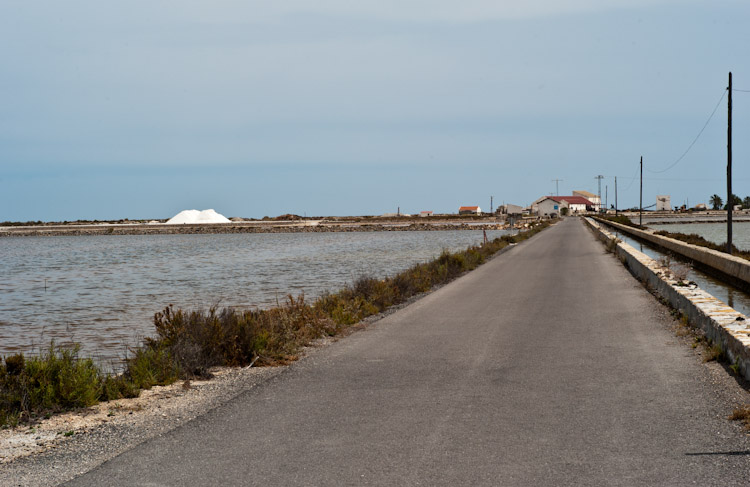 Alternates:
Alternate 1
The salt flats are also a nature preserve and home to many species of birds; sadly, all of them seemed out and about when we stopped by: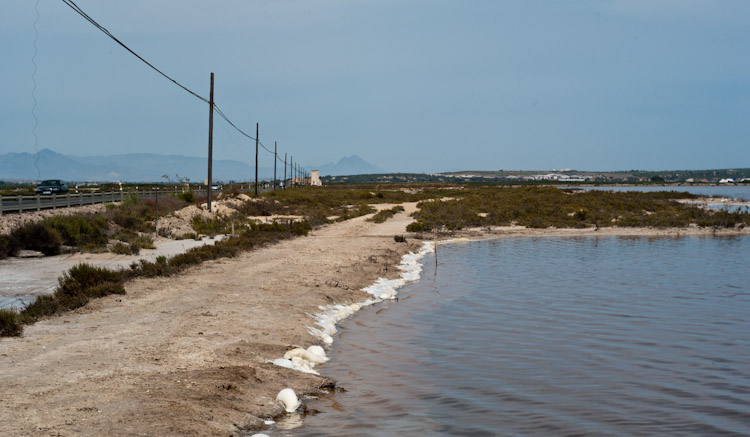 Alternate 2
Almost every week I show a picture taken while walking my dog. This is a typical early evening scene in my neighbourhood. Families out together, children playing around while the parents have a beer or coffee in one of the outdoor cafés: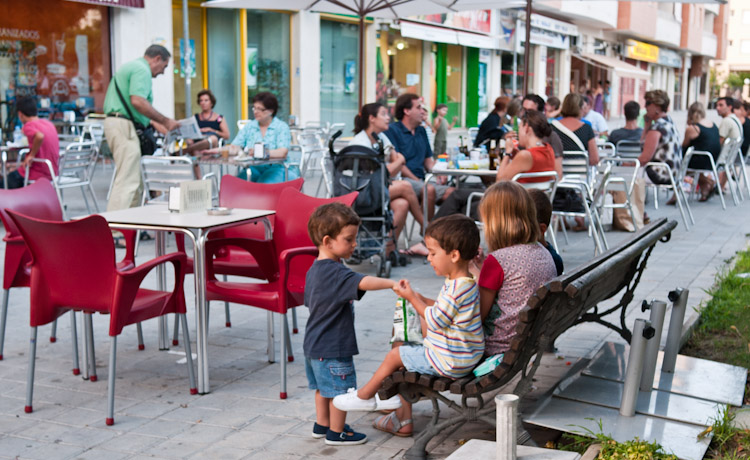 The rest of this week's images are from our visit to Switzerland, arranged chronologically.
Alternate 3
The Nestlé facility where my son works is a Product Technology Centre located in the small town of Orbe, about 25 km north of Lausanne. We arrived Thursday night after a 13-hour drive and after unloading the car went for a beer on the town square before everything closed: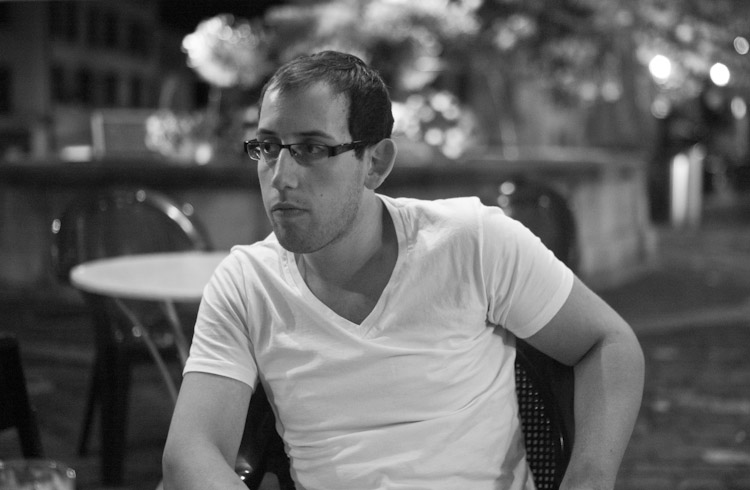 Alternate 4
Friday morning I went for a long walk to get a feel for the town. Here is a very typical Swiss scene. The Swiss are fanatical about cleanliness and one expression of that is to air the duvets every morning: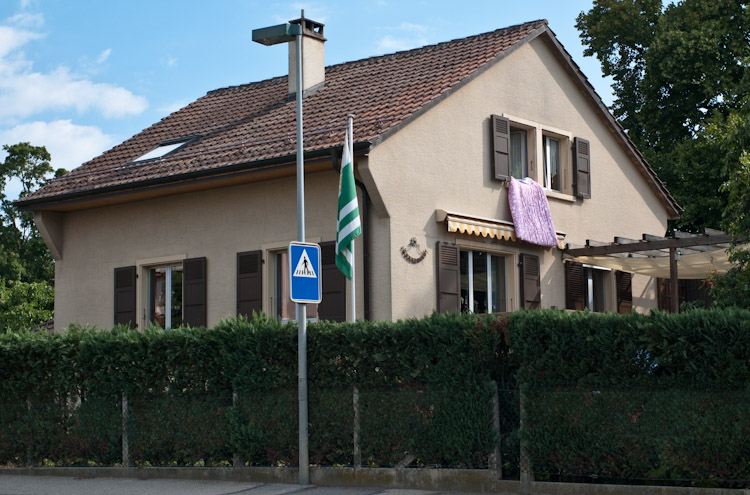 Alternate 5
Bench outside a house in Orbe centre. No squatting please: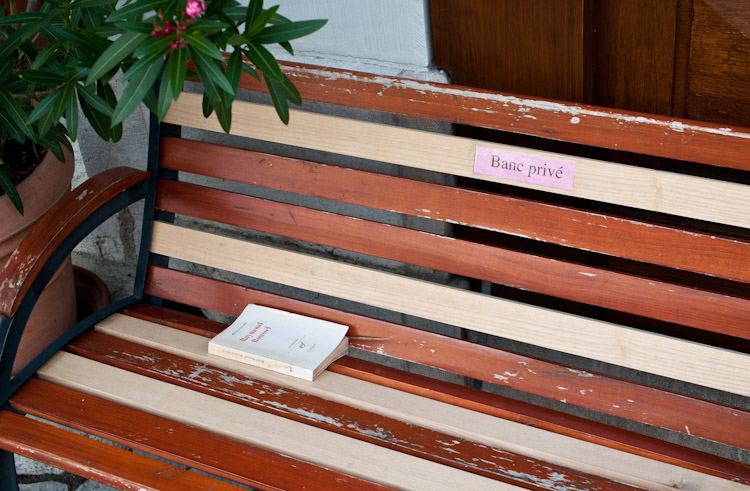 Alternate 6
Emergency entrance: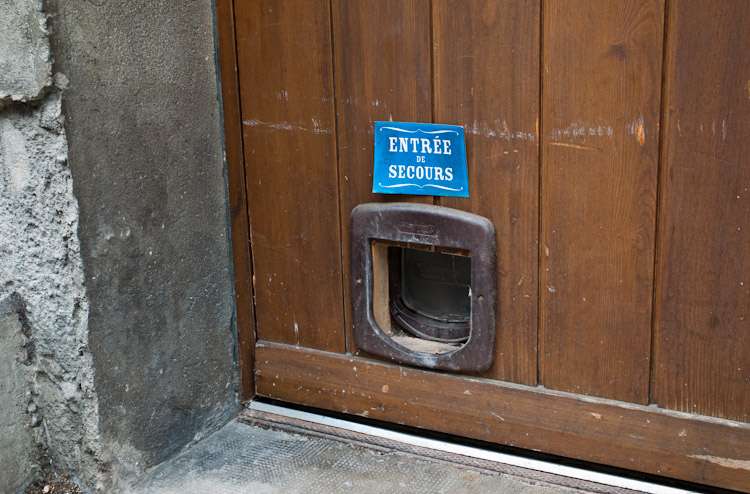 Alternate 7
Later on Friday, we drove to the nearest bigger town, Yverdon, to walk around there, have lunch and do some shopping. One thing about Switzerland is that it is simply so pretty. You drive on a country road between two towns and suddenly a sight like this appears: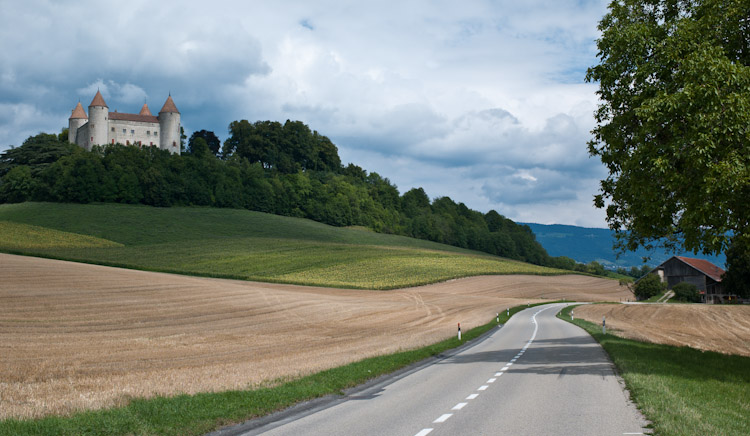 Alternate 8
The weather was nice, so we had lunch at an outdoor restaurant in Yverdon's central square: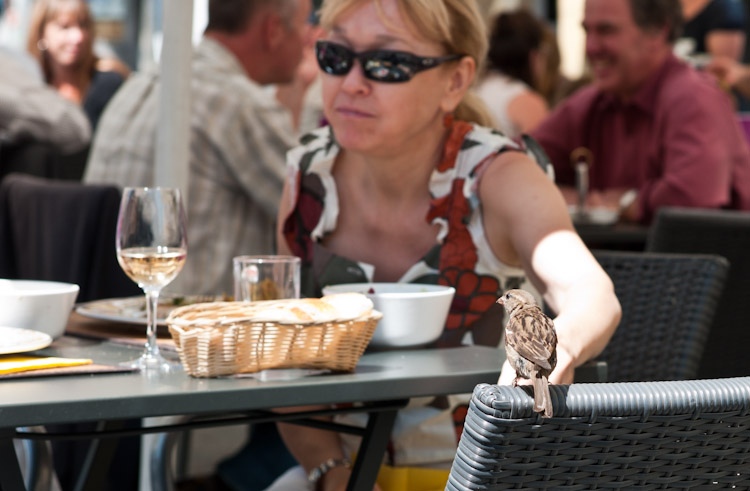 Alternate 9
Settling the bill: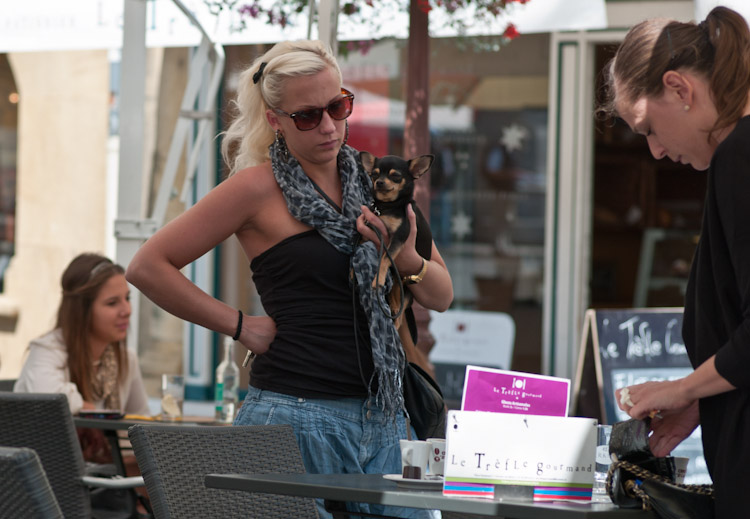 Alternate 10
Small bike, big bike: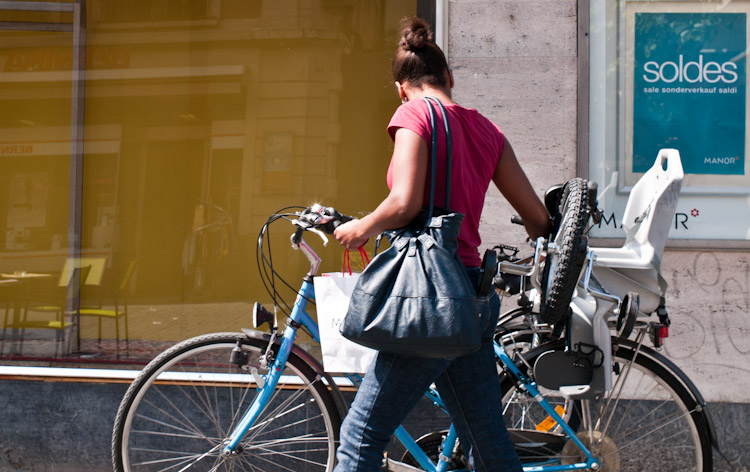 Alternate 11
While my wife shopped, I looked around in the crowded centre. This doggie was resting while its people had a drink: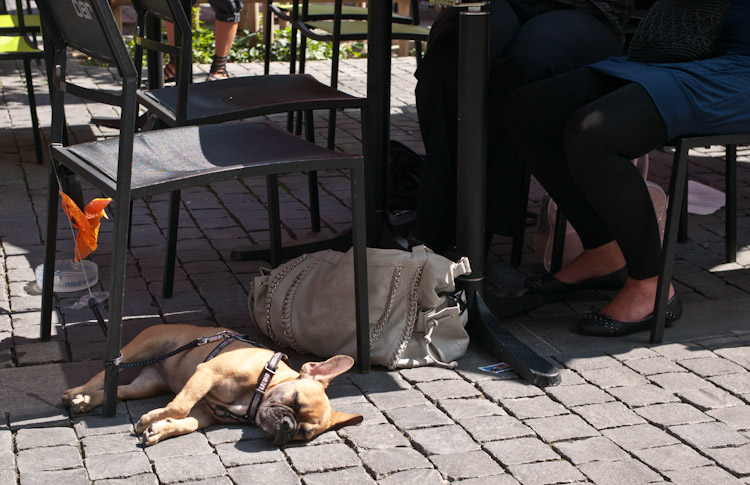 Alternate 12
Buying a steak in Switzerland is not a purchase; it is an investment (for reference, 1$=1.05 CHF and 1€=1.35 CHF):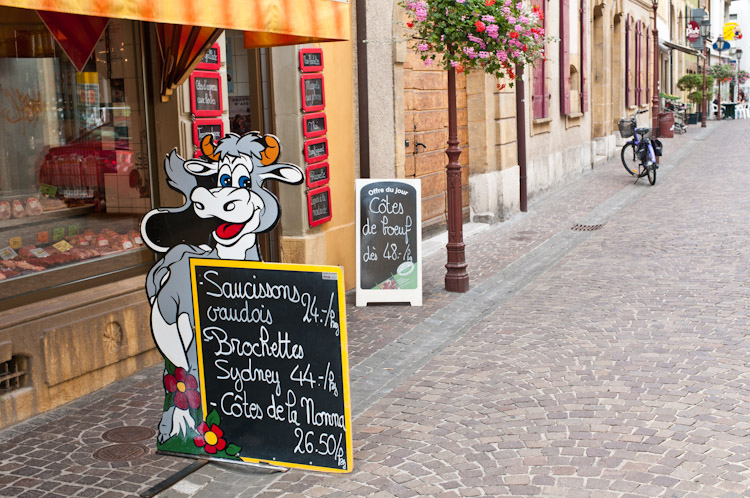 Alternate 13
In the afternoon, we drove back to Orbe to pick up our son and go for dinner in Lausanne to celebrate our 27th wedding anniversary: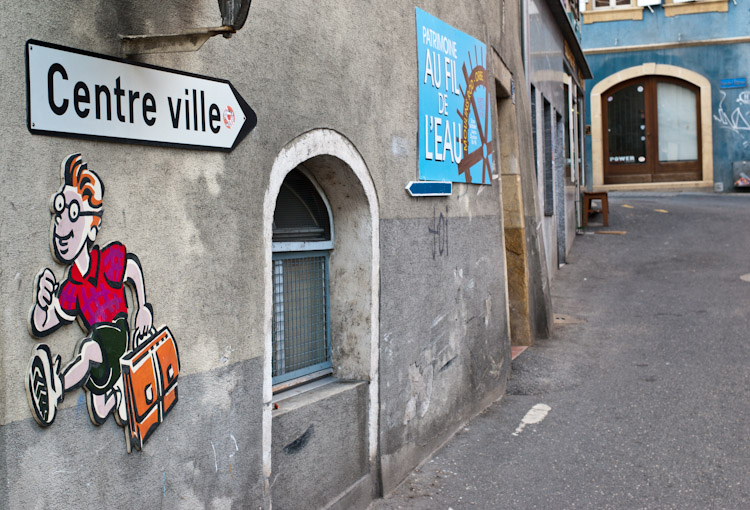 Alternate 14
We had dinner at a restaurant on the shore of Lake Geneva: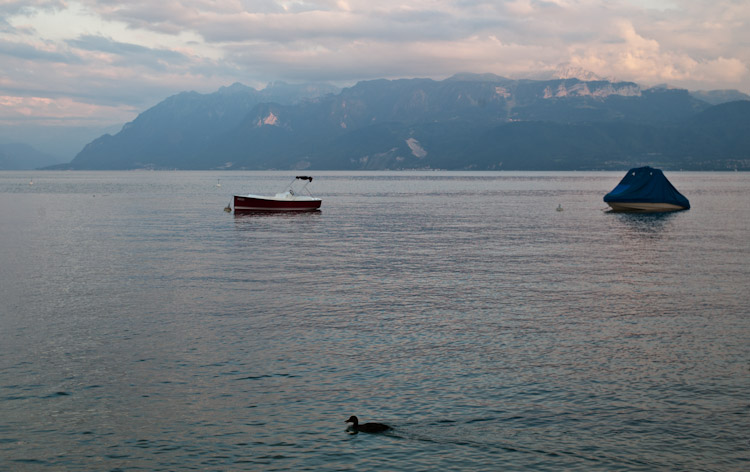 Alternate 15
We had decided to spend the weekend at Zermatt, a place where one can ski also in the summer (on a glacier). Unfortunately, the closer we got to Zermatt the worse the weather. Our hotel balcony looks nice enough: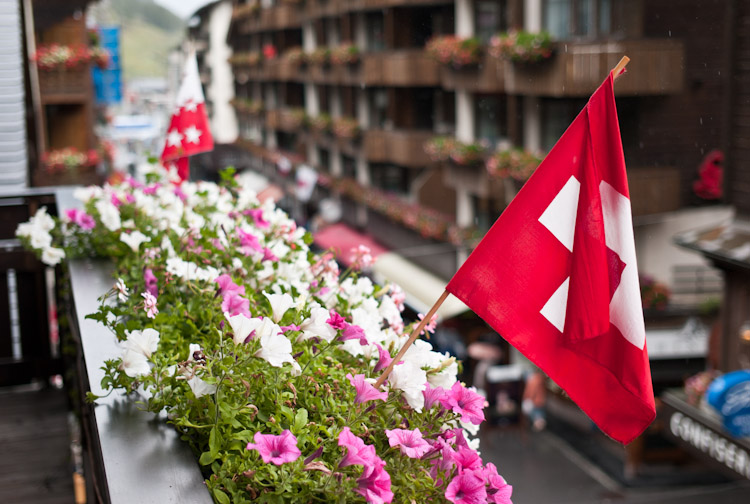 Alternate 16
The reality looked more like this–the main street in Zermatt as seen from our balcony: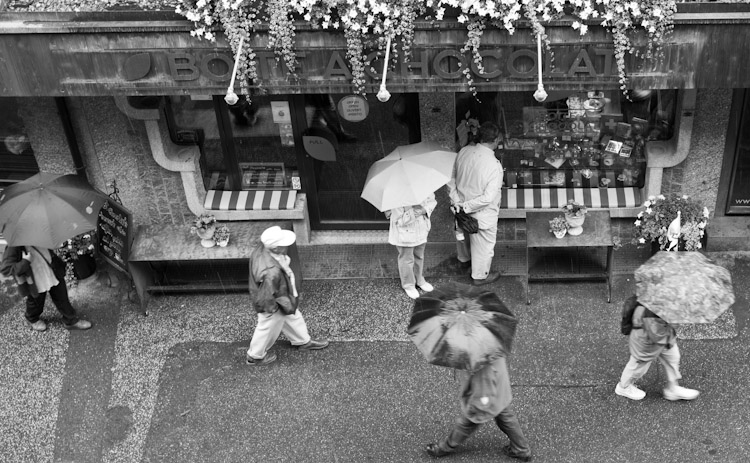 Alternate 17
We were not really hungry, so lunch was purchased from this gentleman: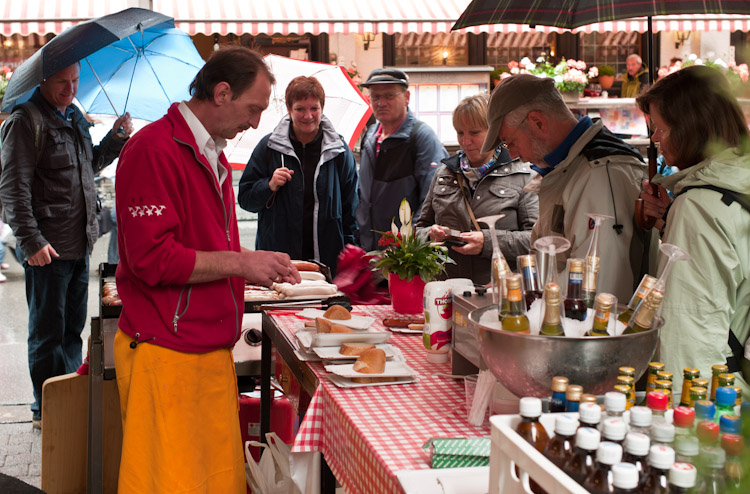 Alternate 18
And it was not bad at all: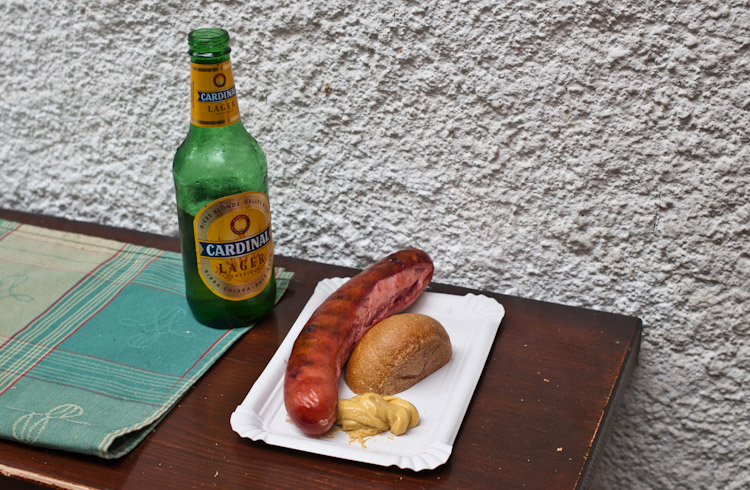 Alternate 19
Despite the weather, people were out and about. The glacier was closed due to poor visibility, so skiing was not possible, but that did not stop hikers, mountain bikers and just ordinary people walking around: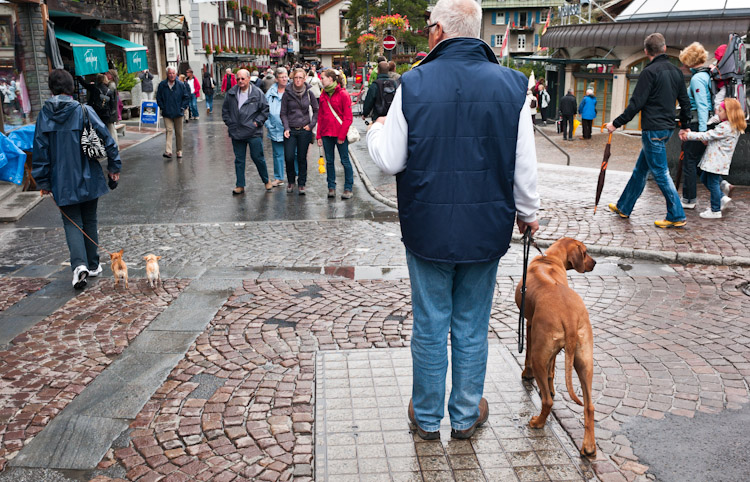 Alternate 20
Saturday night we had dinner at a traditional Swiss restaurant, complete with traditional music. Male singers: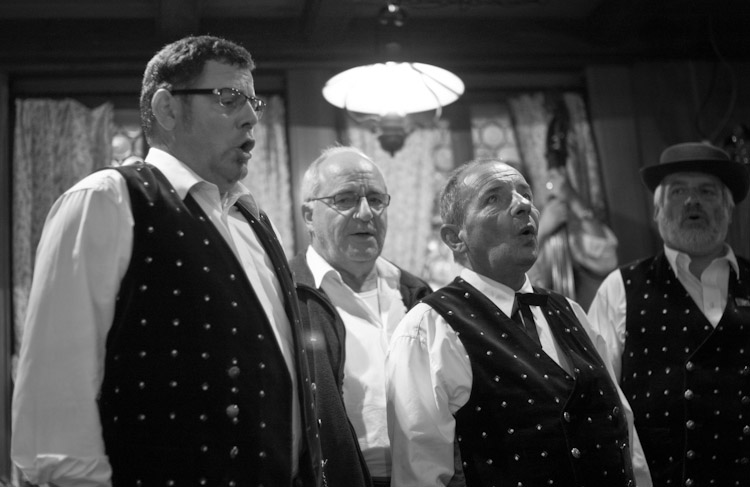 Alternate 21
Female singers: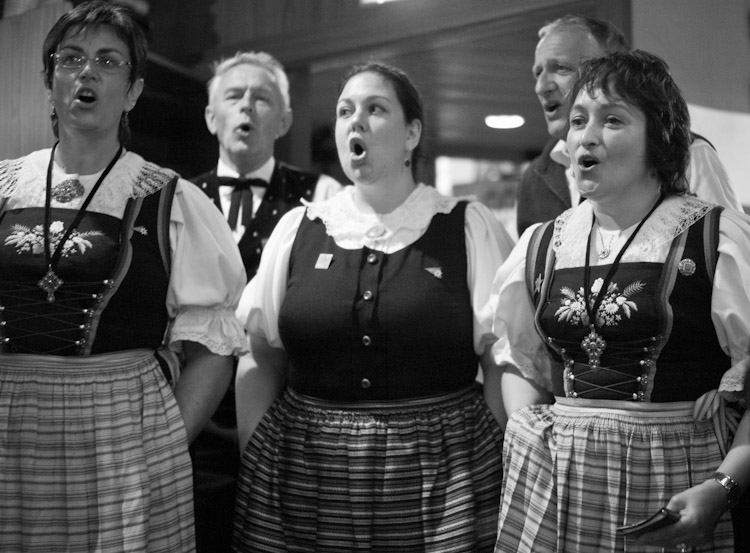 Alternate 22
The music: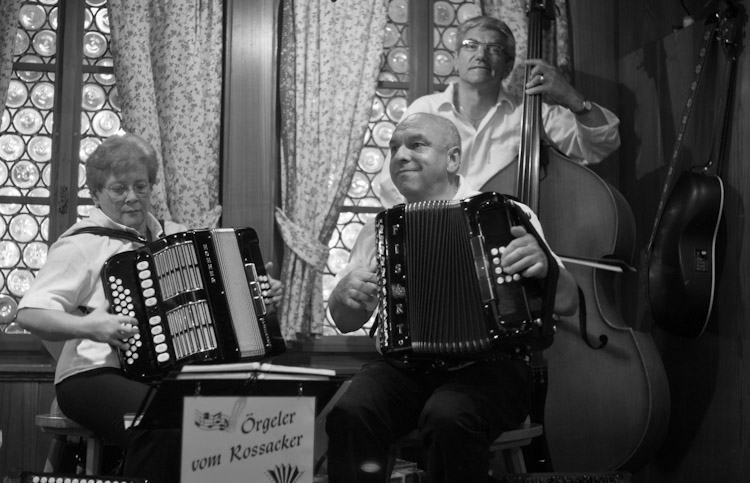 Alternate 23
Dancing, partly for show and partly because they wanted to: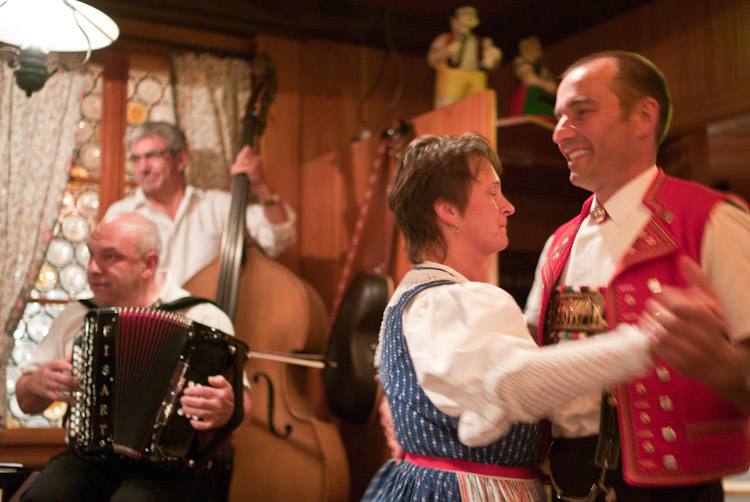 Alternate 24
Finally, a pretty face behind the smartphone: