After the little break in Lisbon during the preceding week, I was on the road again. On Wednesday I began a two-week trip that would start in France, continue in Washington DC and finish in New Jersey visiting my son. The photos in this week's blog are from the France leg of this trip.
17_1
On Wednesday I flew to Paris and then took a train to Angers, a small town about 100 km from Le Mans. Angers is home to the Community Plant Variety Office (CPVO), an EU agency that manages EU-level plant breeders rights, where I was the headline speaker at a big event the next day, presenting a new joint study on the impact of plant breeding on Europe's economy and environment. Angers turned out to be a lovely small town, and the bed & breakfast where I stayed was right in the centre: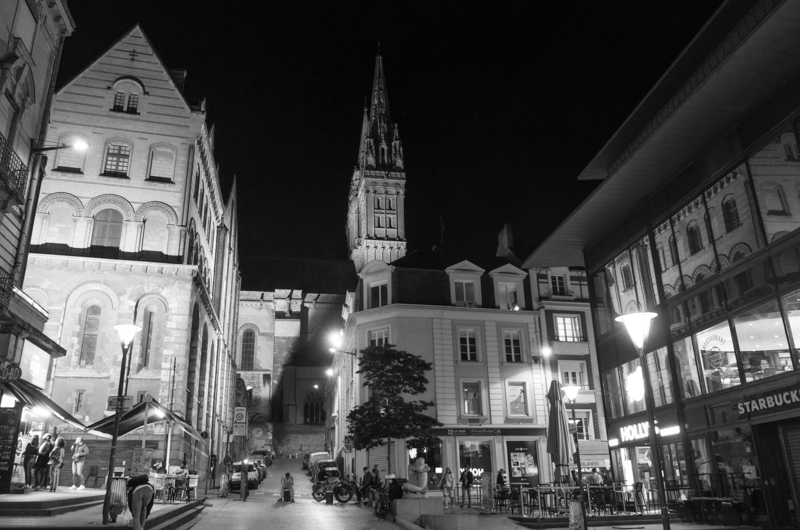 17_2
I photographed this statue on the square both that evening and the next day. Obviously, the light was better in daytime, but I prefer this evening photo: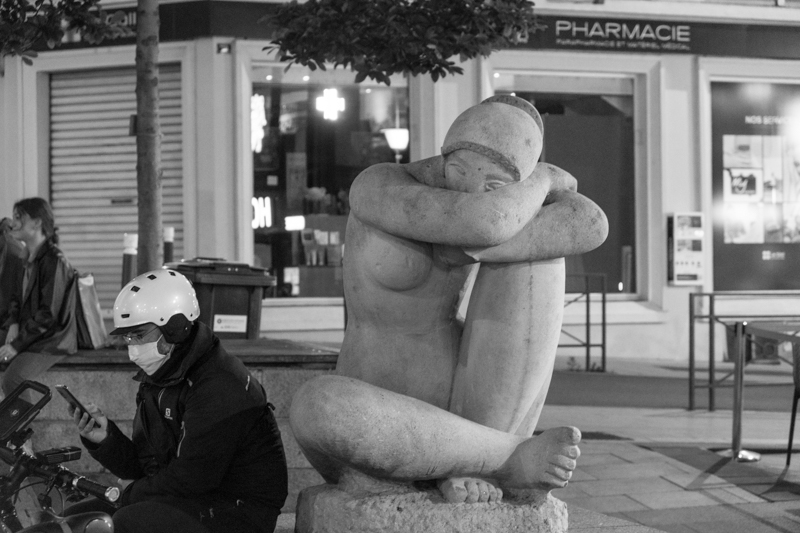 17_3
The view from my room, a lovely guesthouse above a crafts shop, run by two ladies who made an extremely generous breakfast for me in the morning: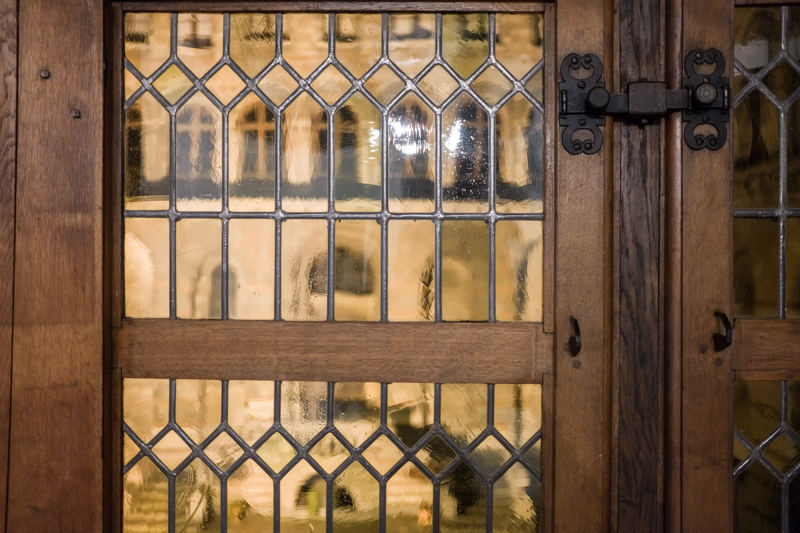 17_4
I got up in the morning and made my way to the conference centre where the event was taking place. It was a nice walk of about 1 km, some of which was along the Maine river-I always like to look at rivers and bridges: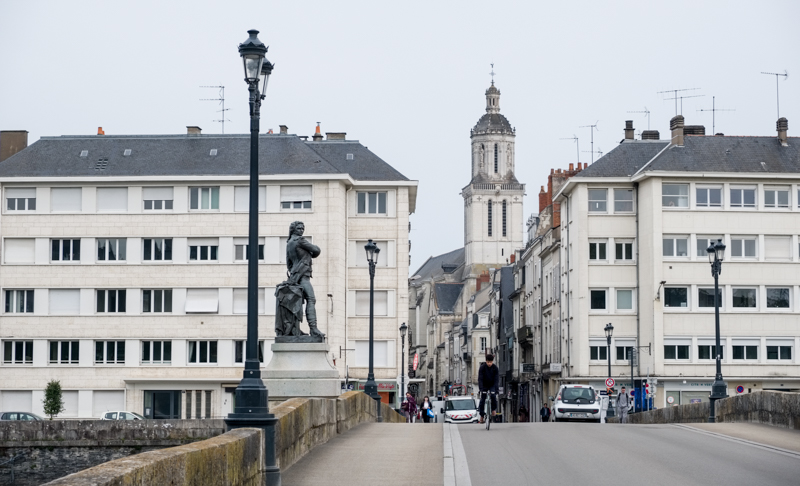 17_5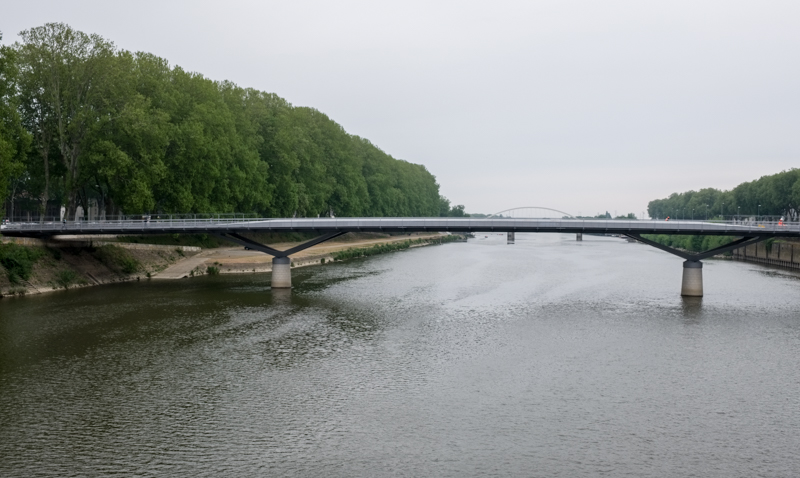 17_6
Something I have never seen before–a pizza vending machine. Gives quite a new meaning to fast food: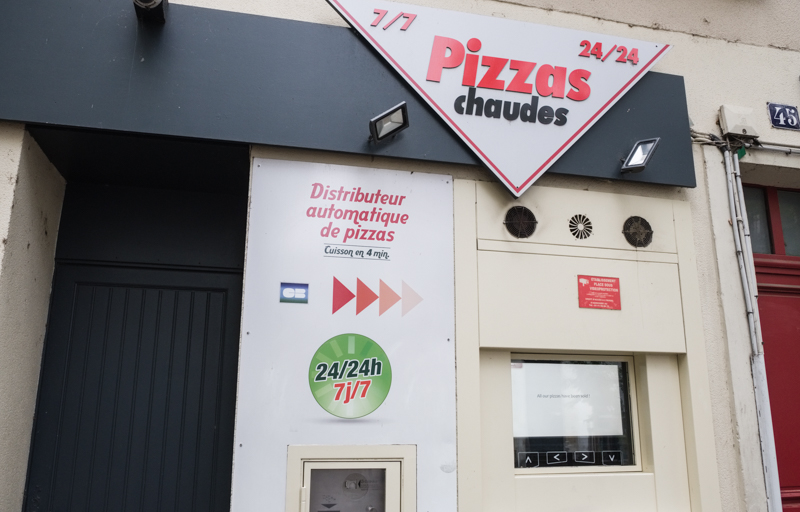 17_7
Angers is an old town, but the town hall is quite modern: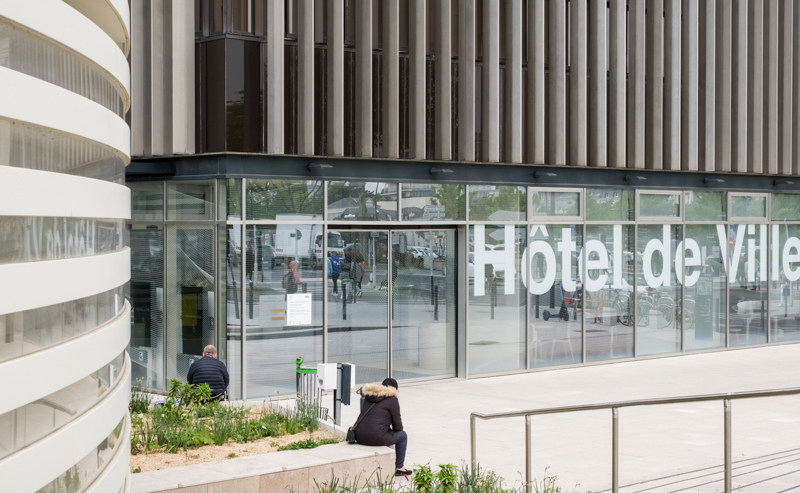 17_8
At the launch event, the moderator from CPVO introduces one of the panels: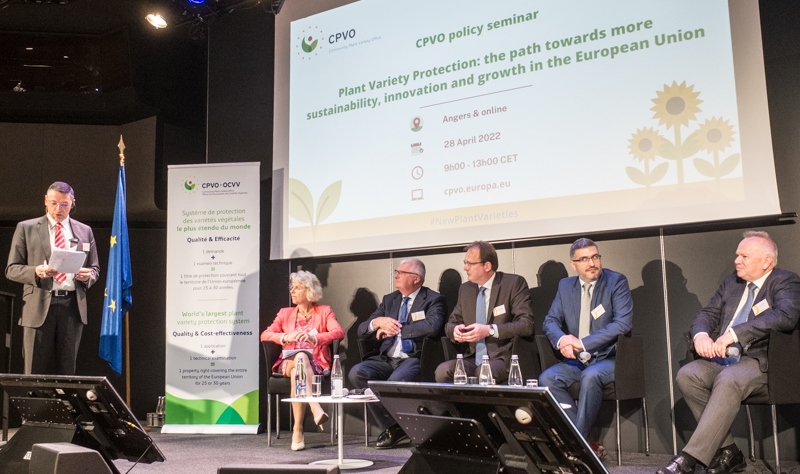 17_9
It was a hybrid event, with about 150 people in the room and another 250 or so online. Everything was well organised and worked well, including simultanous translation English-French. Here is Francesco Mattina, CPVO's president, on a big screen, while one of the two photographers is photographing him on the podium: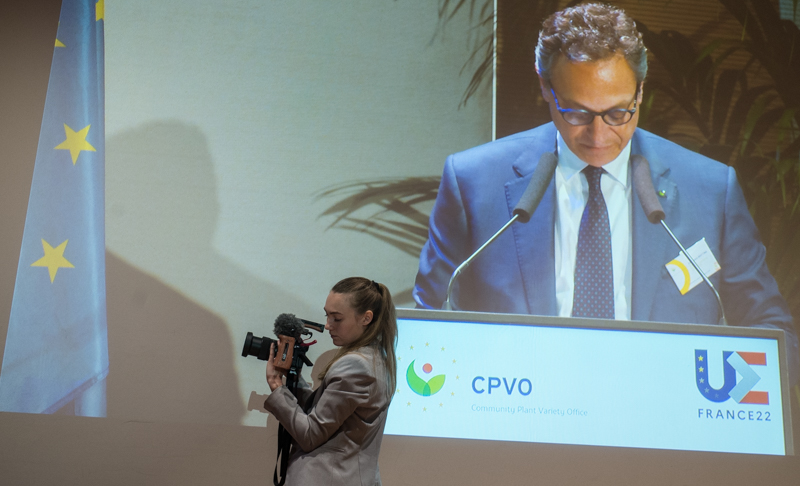 17_10
In the afternoon we had a visit to GEVES, a testing station outside Angers. A new plant variety is examined during two growing cycles (i.e. 2 years) on what is essentially an experimental farm. Here we are in the laboratory where the samples of the plants are analysed: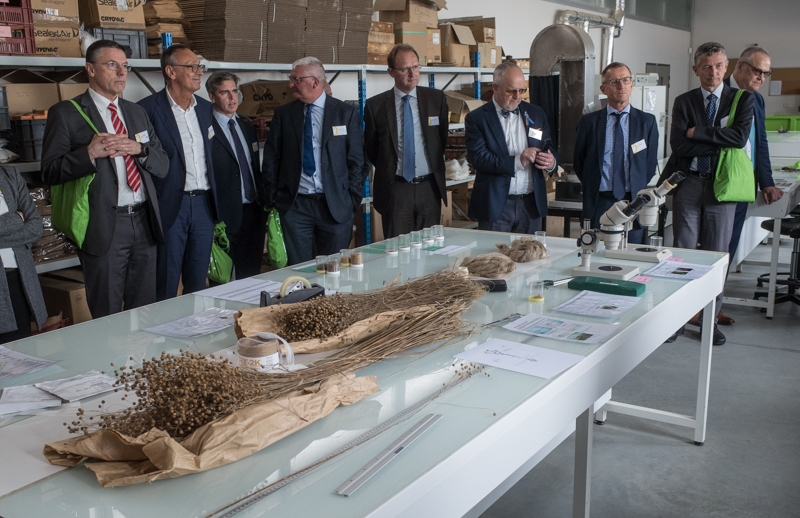 17_11
Afterwards, we walked out into the fields to see the research in action. It was a bit surreal to see a group of besuited people in this setting: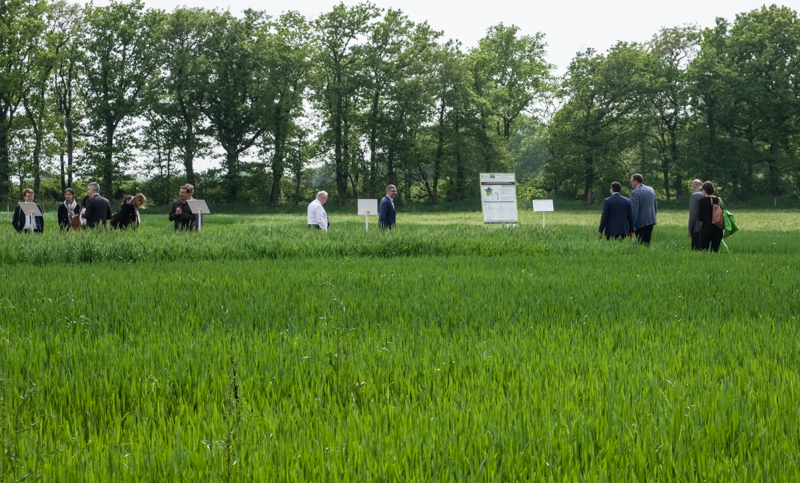 17_12
One of the GEVES employees explains testing rapeseed for disease resistance: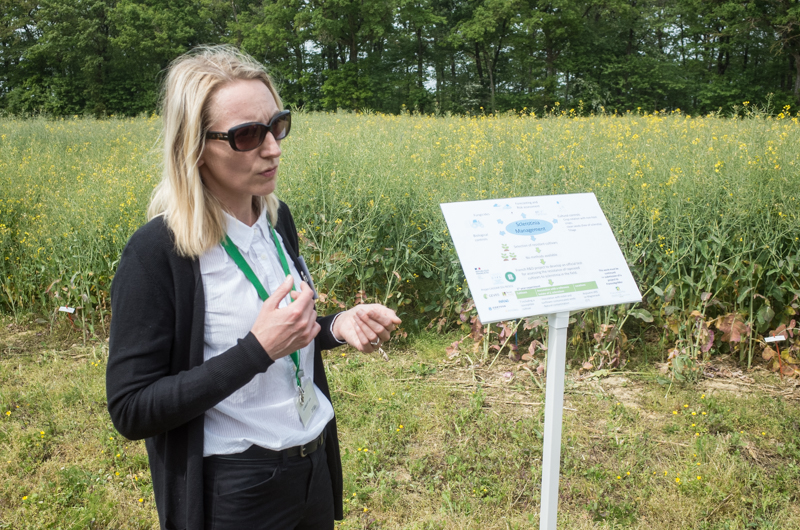 17_13
One of the women in our party was wearing high-heeled shoes, not the optimal attire for walking in dirt. GEVES is prepared for such eventualities and provides shoe covers for such visitors: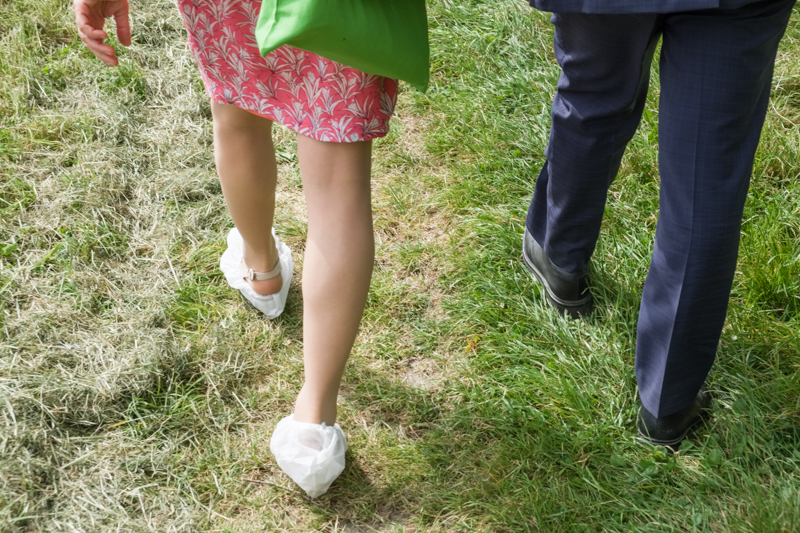 17_14
Another GEVES employee explains diseases of winter wheat: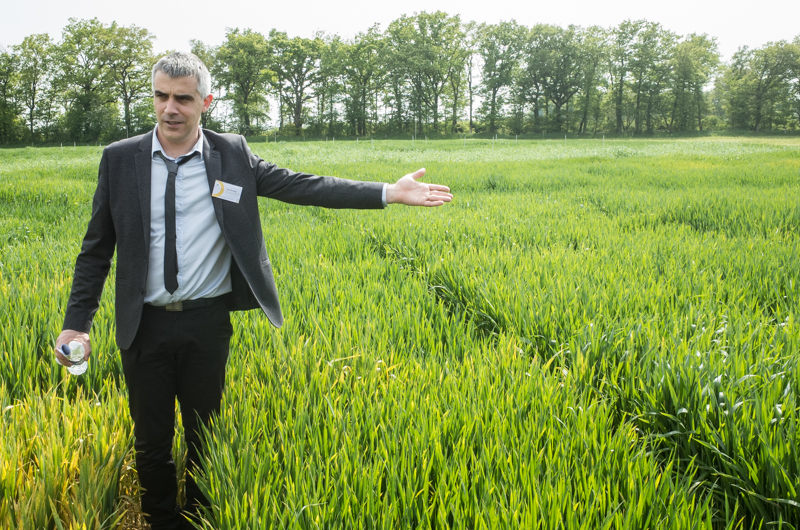 17_15
This is what diseased wheat looks like: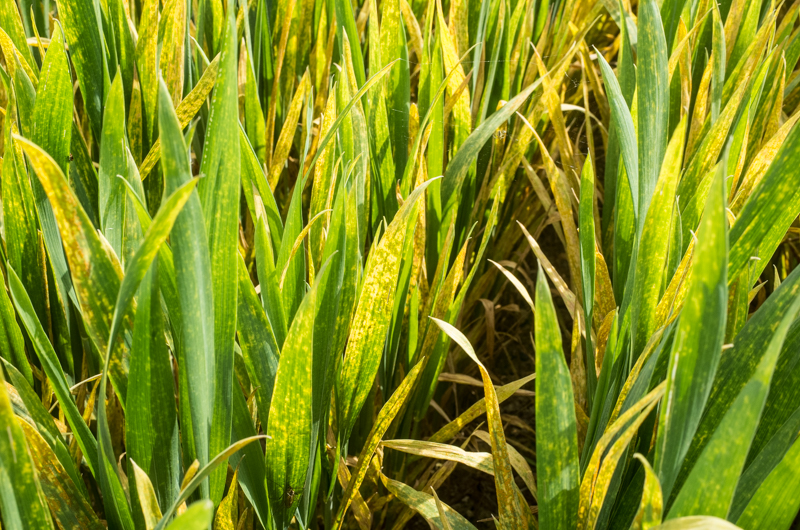 17_16
We had a couple of members of the European Parliament with us. This is Juozas Olekas, a Social Democratic MEP from Lithuania. I liked his public display of solidarity with Ukraine: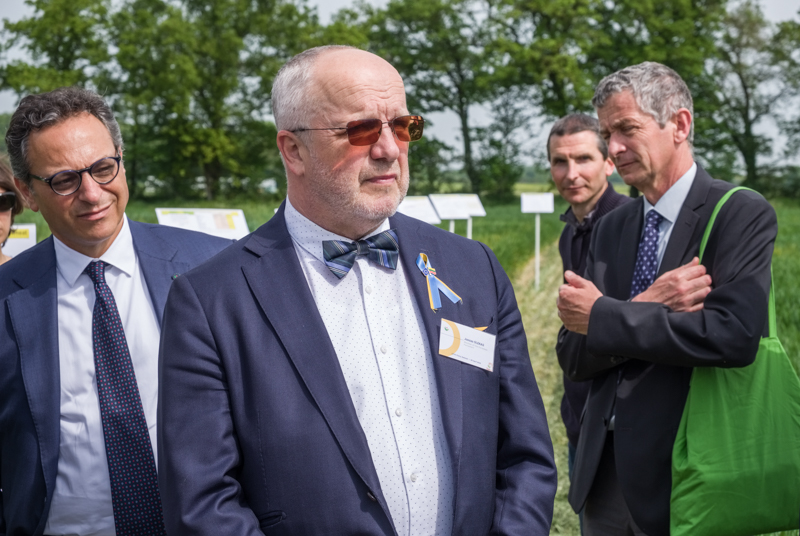 17_17
Around 5 p.m. we came back to Angers, and I walked around a little bit. This is the square in front of the main art museum: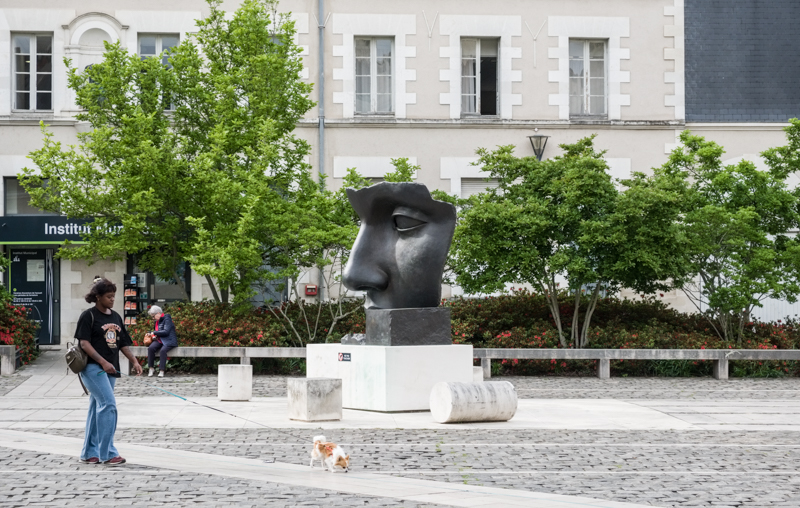 17_18
I noticed this dog looking at the world from his apartment window. I followed the usual photographer instinct to get the photo right away, to make sure I had one: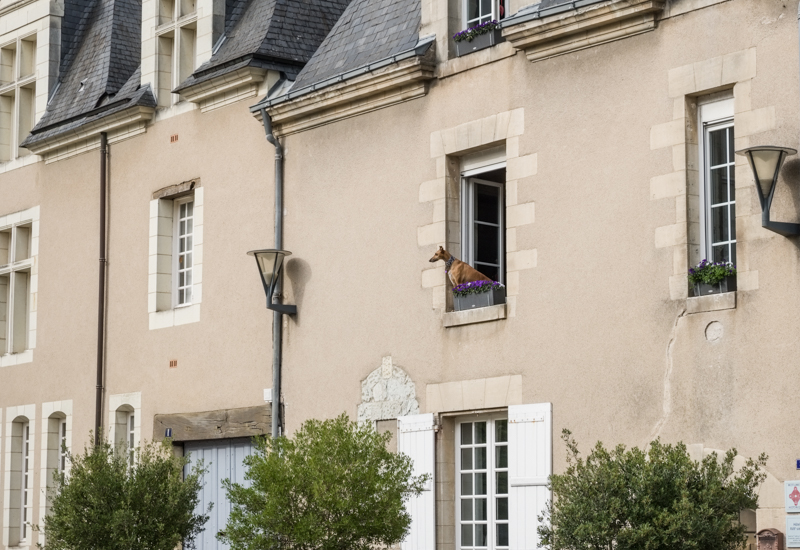 17_19
Then I moved in for a closer look: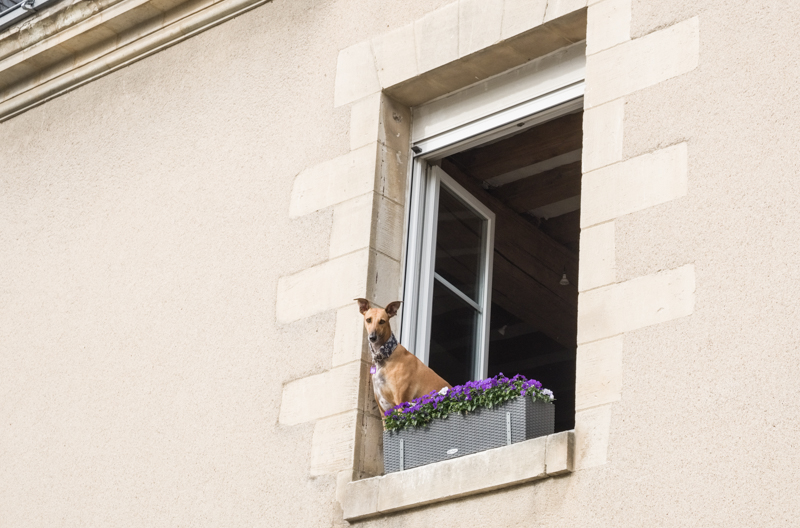 17_20
The square in front of Angers' train station. I had a train to Paris leaving around 8 p.m., but first I had to go to a nearby pharmacy for the Covid test which would determine whether I could travel from Paris to Washington the next day, or whether I would have to go back to Alicante, bitterly disappointed: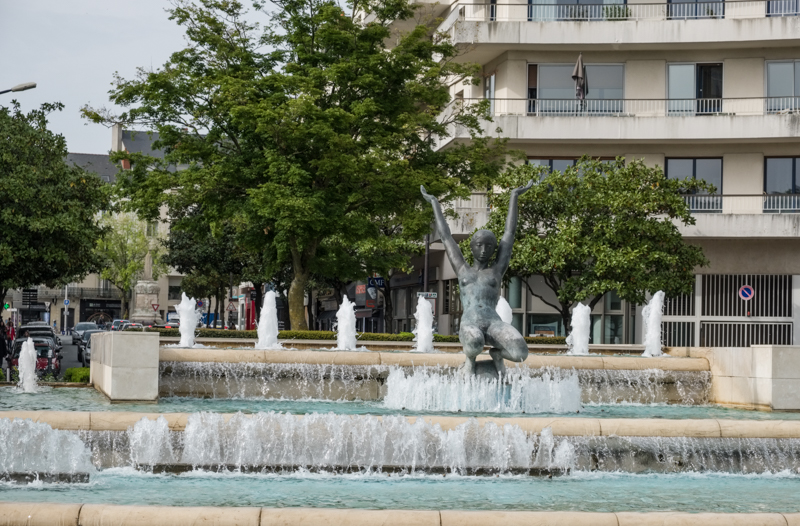 17_21
While waiting for the test result to arrive on my phone, I hung around the departure hall of the station and spotted this trailer with a sign "I live with my cat":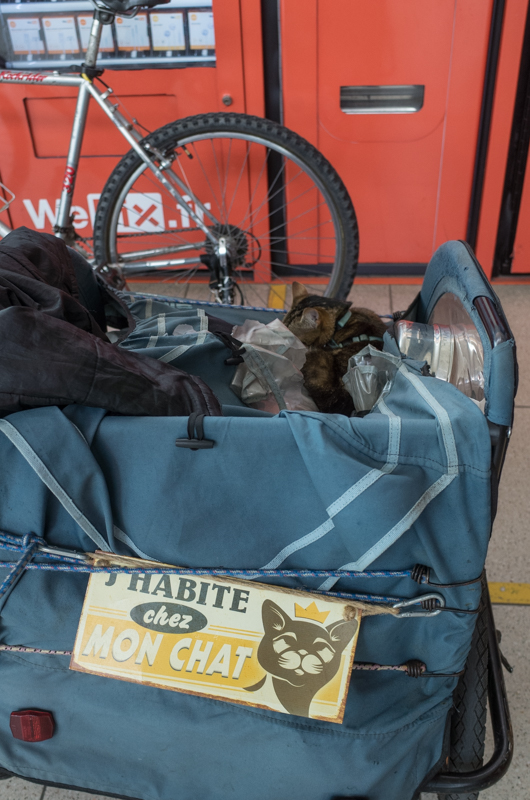 17_22
And indeed, there was a cat in the trailer. Right after I took the photo, the cat's human stormed out of a store and demanded that I delete the photo. I explained to him that although France has very strict anti-paparazzi laws (put in place after the death of Princess Diana), those laws do not apply to cats: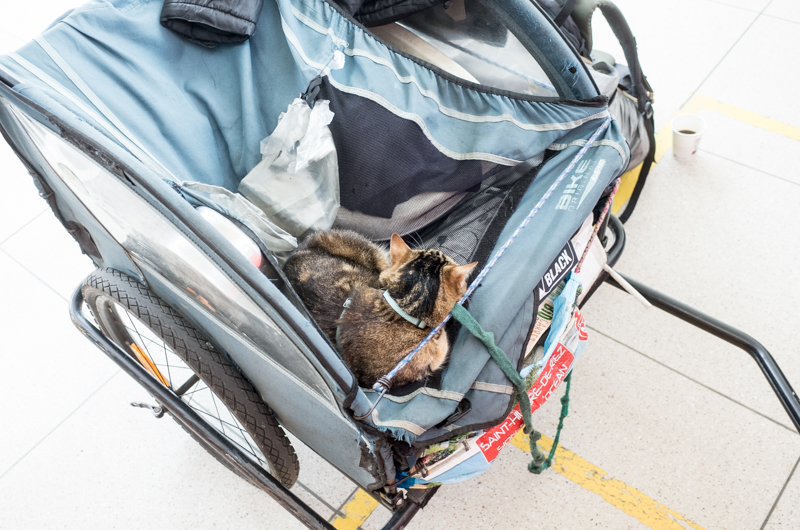 17_23
With great relief I received my negative test and shared it with my family–especially my son in New Jersey was happy to see it–and then I got on the train to Paris, took a taxi to my hotel and went out in search of a late evening beer (I had dinner in Angers before taking the train, so that need was taken care of). I had asked for a hotel in the Latin Quarter, and Sorbonne was just around the corner: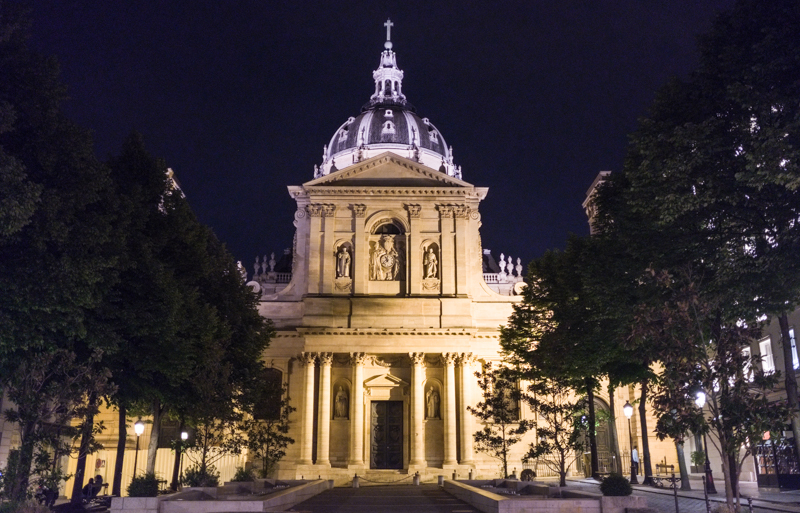 17_24
I walked along Boulevard Saint-Michel, looking for a suitable watering hole (and I found one, not pictured):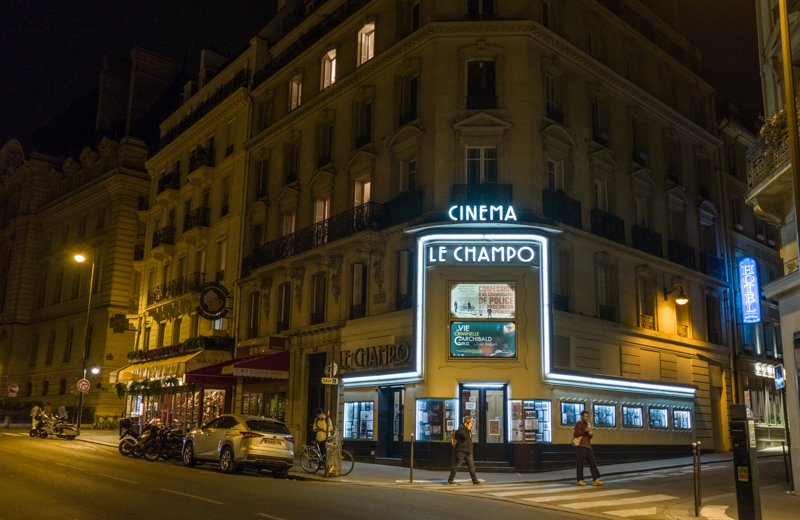 17_25
My flight for Washington left around 4 p.m., so I had a free morning in Paris. I decided to check out the area around the Panthéon, the resting place for the great and good recognised by the French state. On the way, I passed the Sorbonne law school: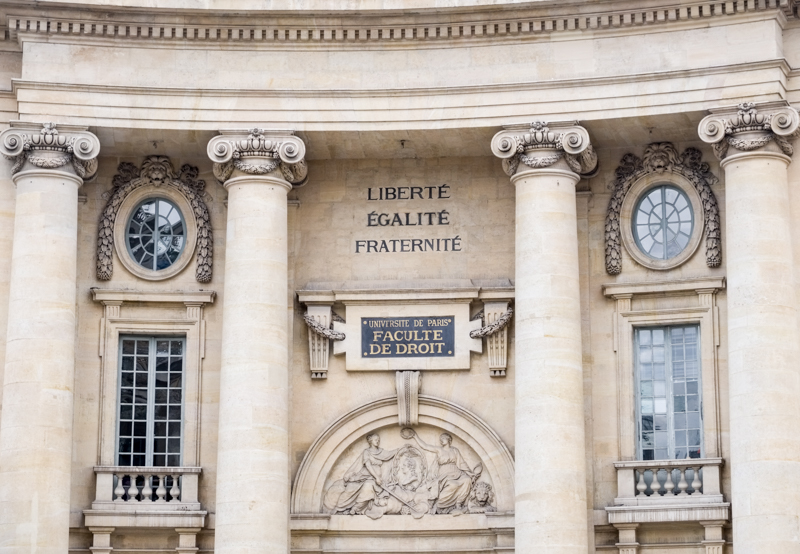 17_26
The Panthéon with a somewhat inaccurate inscription, referring to "great men" recognised by a grateful nation: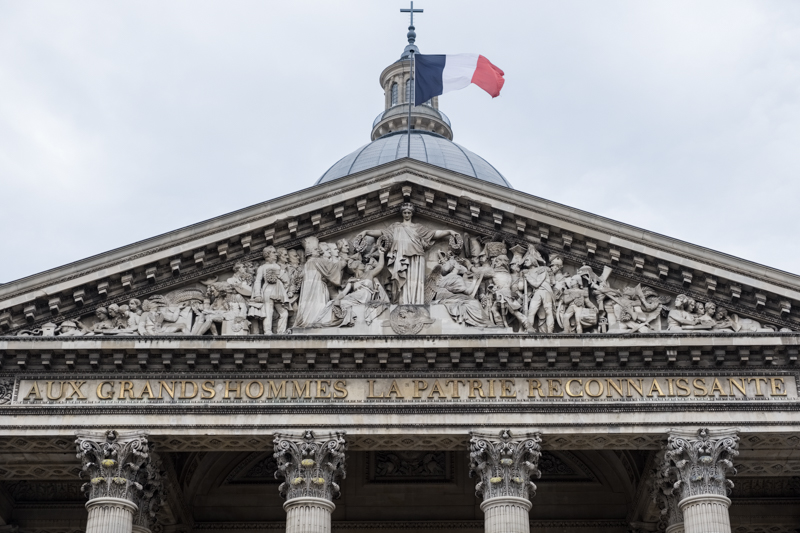 17_27
The main hall of the Panthéon was very impressive: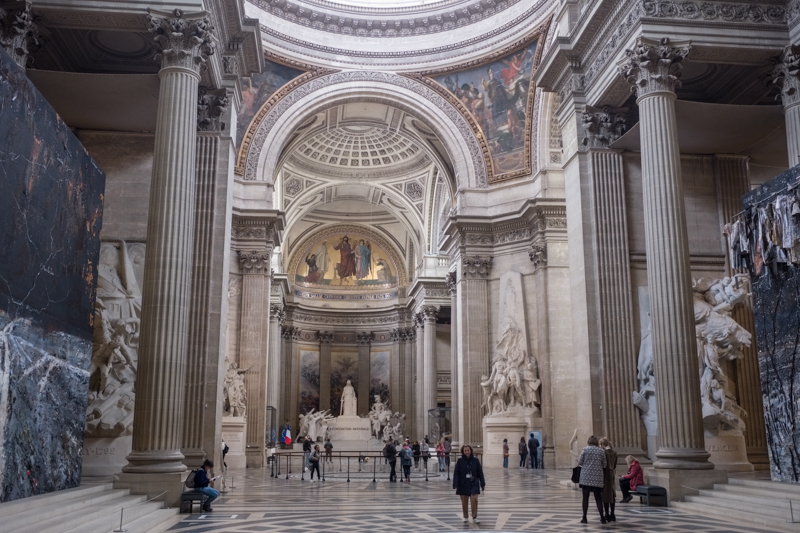 17_28
As I wrote above, when the Panthéon was established in 1791, one spoke of "great men". But we live in a different age, fortunately, and there are many great women there as well, some of whom are not even French: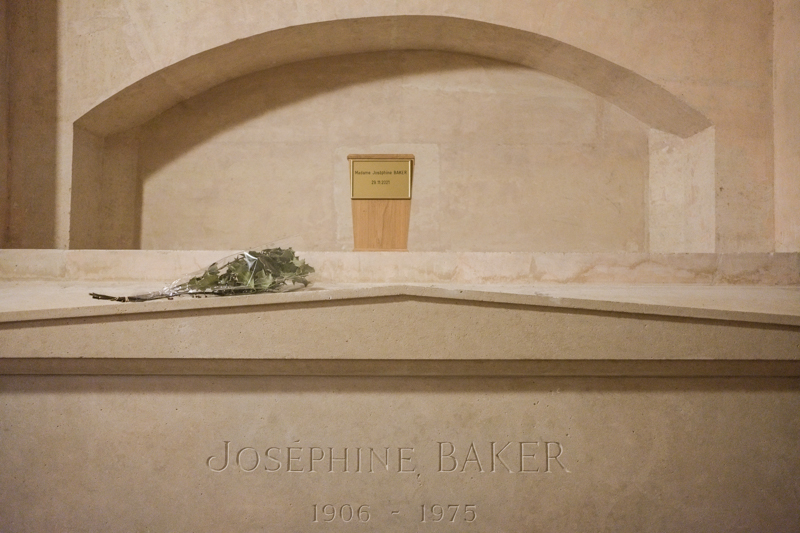 17_29
After spending an hour or so at the Panthéon, I continued my walk to one of my favourite places in Paris, Jardin du Luxembourg. Near the entrance, I saw something new, a memorial to the slaves in the French colonies: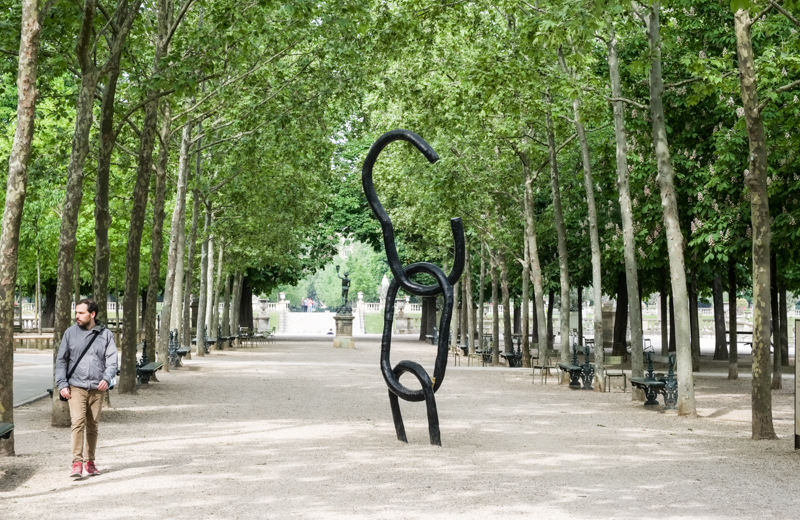 17_30
Jardin du Luxembourg is a wonderful park, with many interesting statues: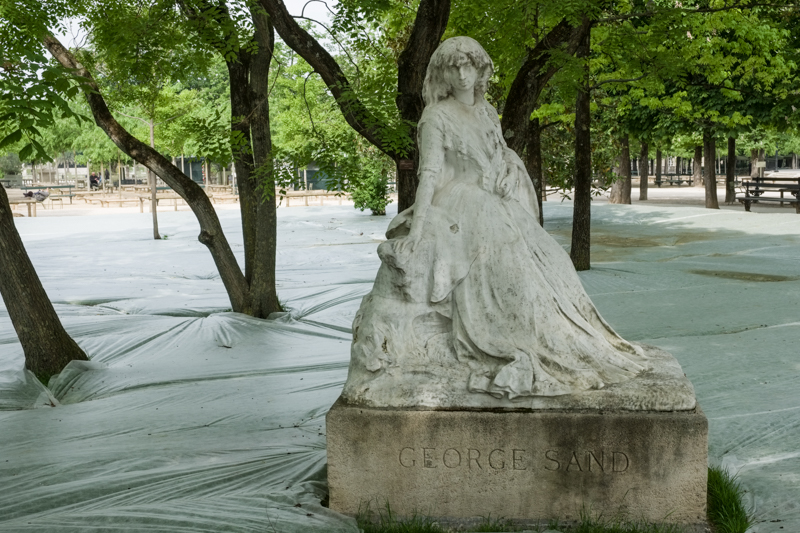 17_31
In the pond in front of France's Senate, you can sail little remote-control boats: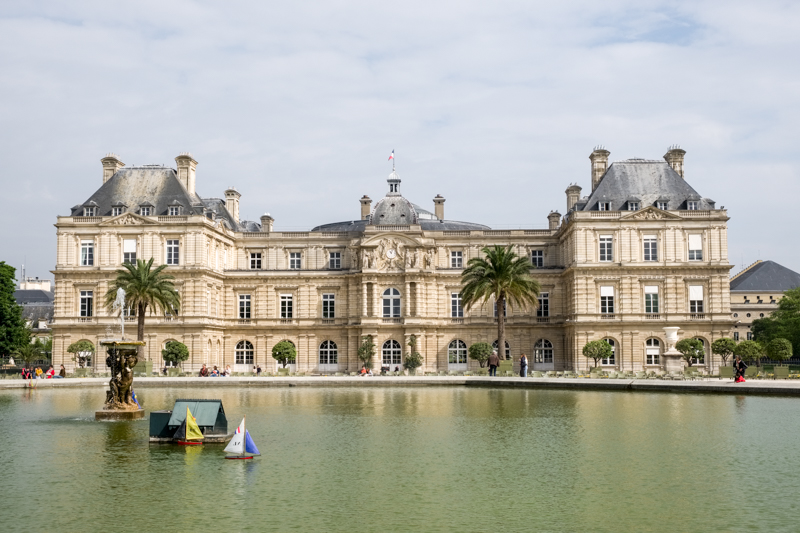 17_32
The boats are rented, and you can have them in your national colours: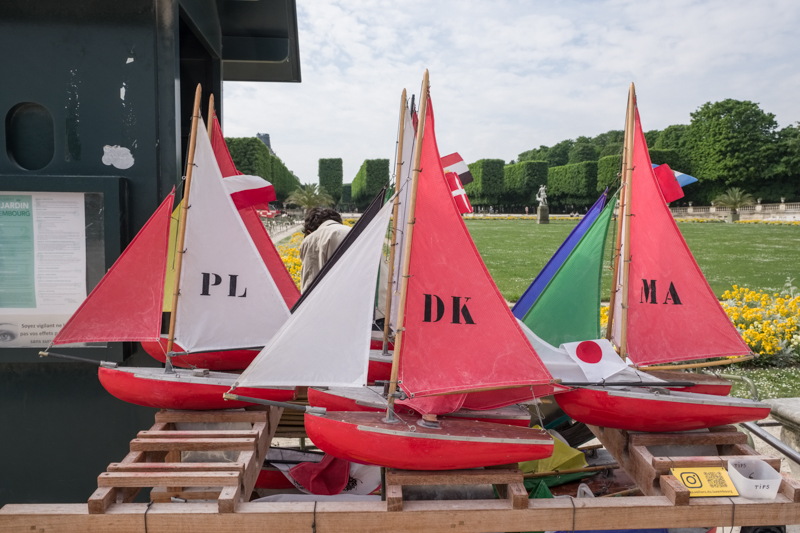 17_33
After enjoying the Jardin du Luxembourg, I walked back to the hotel to pick up my luggage and take the metro to the Charles de Gaulle airport. This is my last photo from Paris, a snap while passing a café on Boulevard Saint-Michel: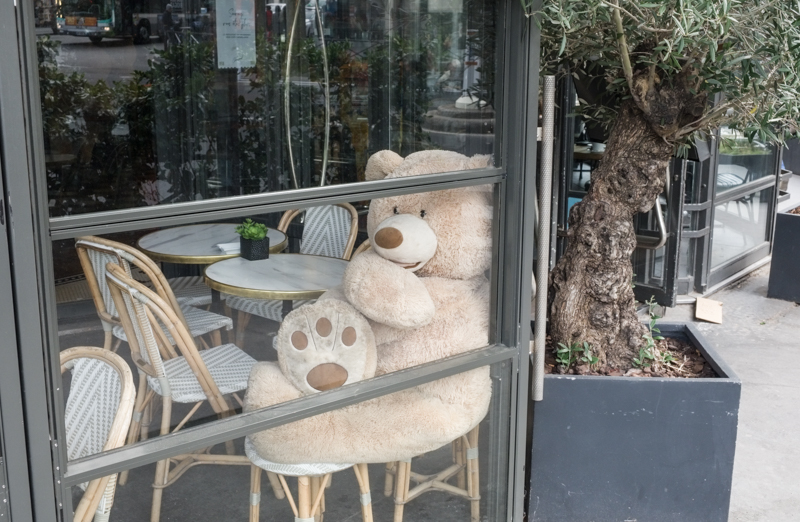 More photos from my evening and morning in Paris can be seen here.