The main event this week was my daughter's 27th birthday. I also did one of the harder bike rides in my repertoire, the climb up to the Cuevas de Canelobre. And as always, I spent some time on the beach early in the morning.
20_1
On Sunday, I cycled to Busot and then on the Cuevas de Canelobre cave complex. On the way to Busot, I stopped to pee at this spot. I call it my "toilet with a view":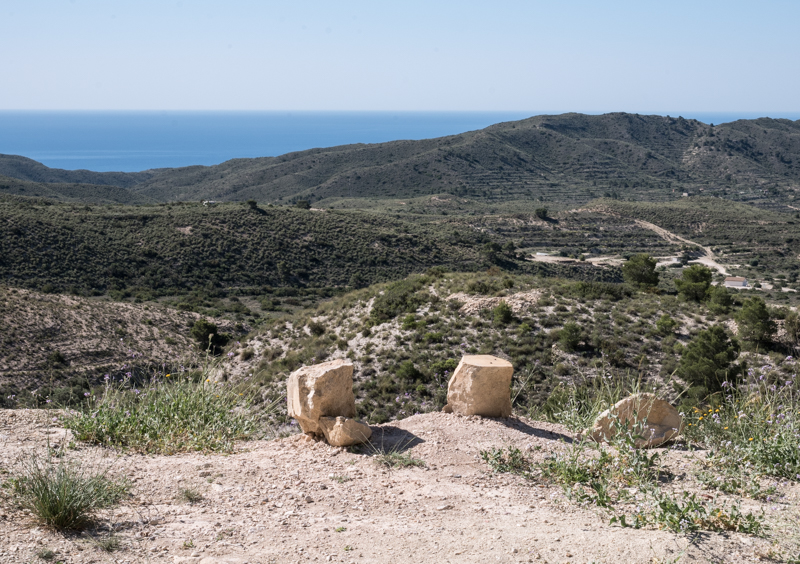 20_2
I took a break on the square in Busot, where there is a microscopic street market; it seems there is more chatting than buying: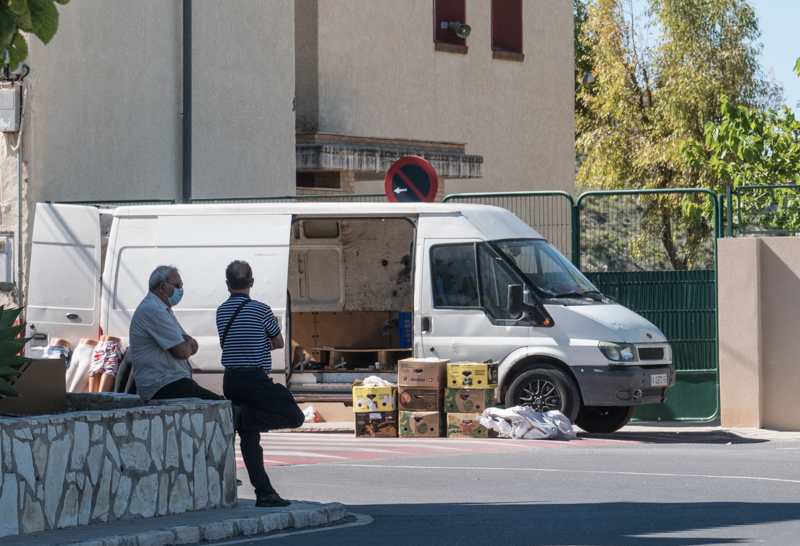 20_3
The centre of Busot is at an altitude of about 340 m. To get from there to the cave entrance involves a climb from there to 570 m on a 2.5 km road. In places it is so steep that if one stops, it is impossible to restart uphill. I actually took this photo on the way down afterwards: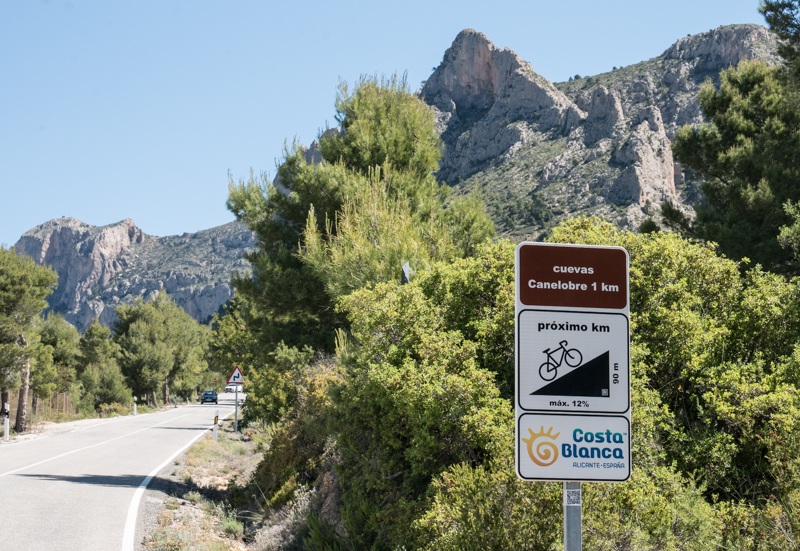 20_4
On a spring day with nice weather, the caves are a popular destination: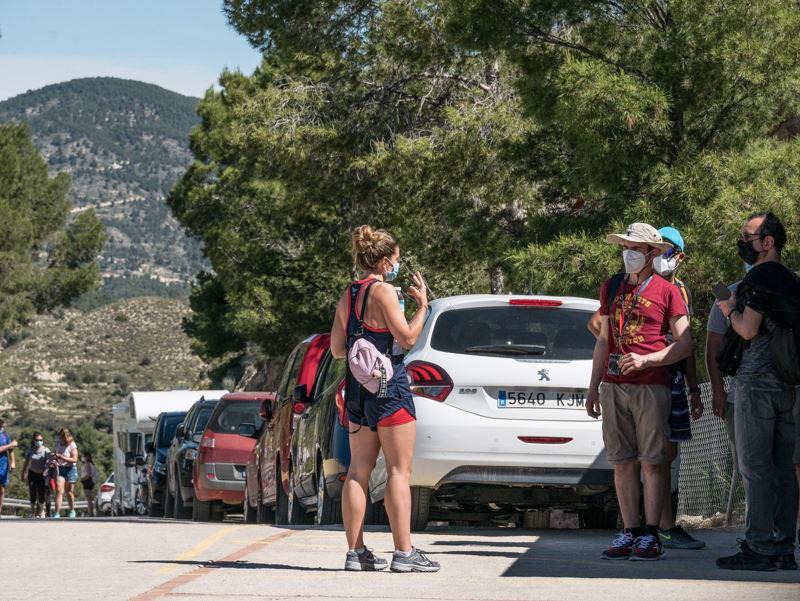 20_5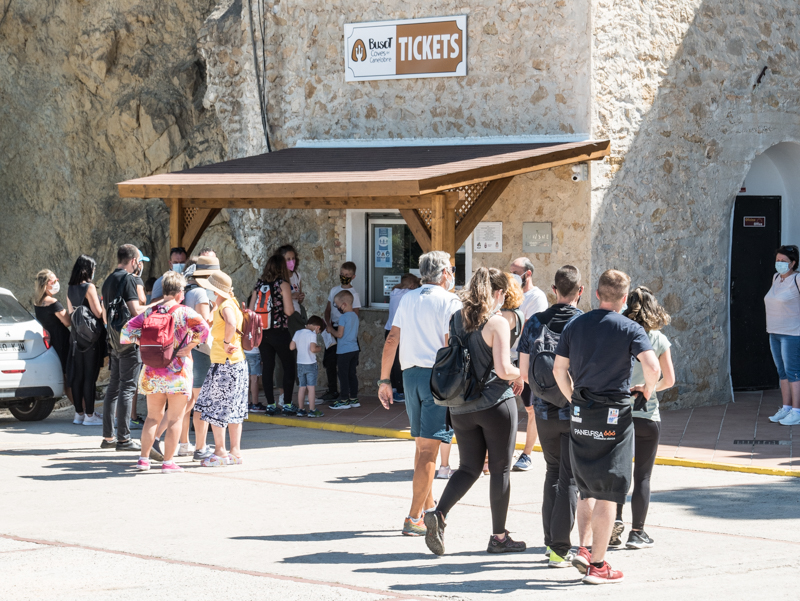 20_6
I bought a Coke and enjoyed the view for a few minutes before heading home: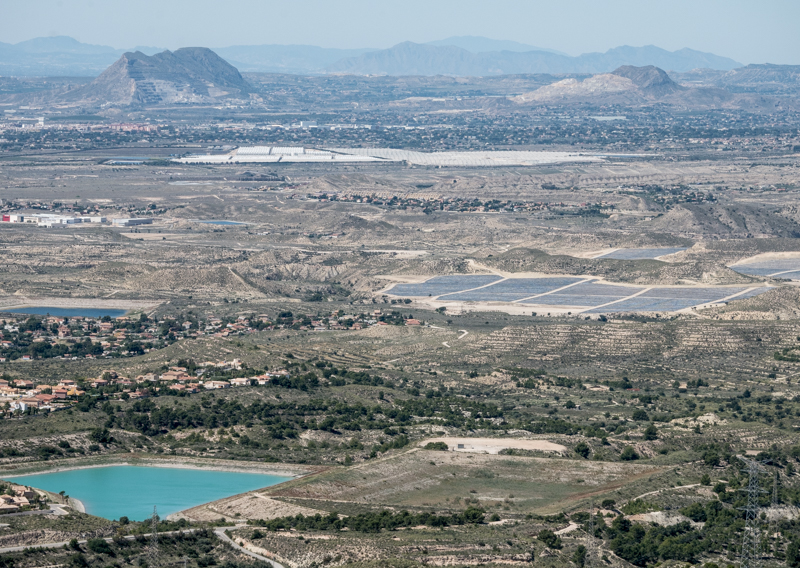 20_7
In the afternoon, I walked down to the beach. Life is returning to normal but still, the absence of foreign tourists is notable: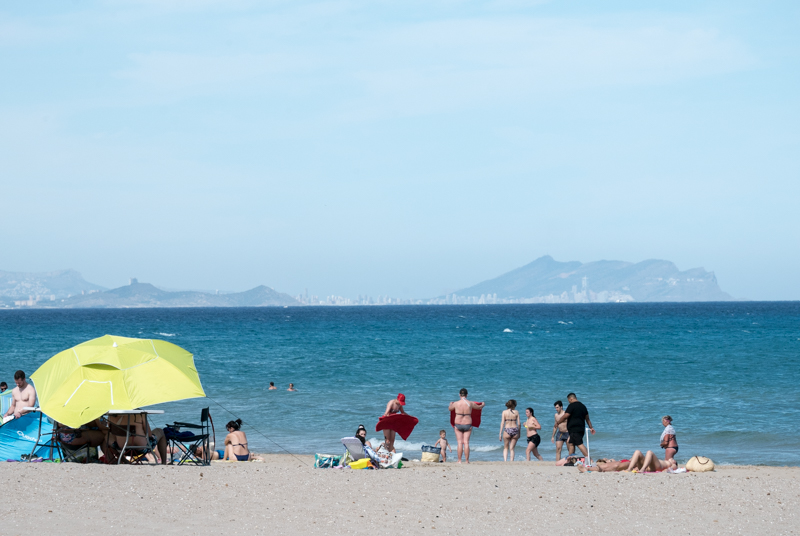 20_8
The ubiquitous African vendor is back too: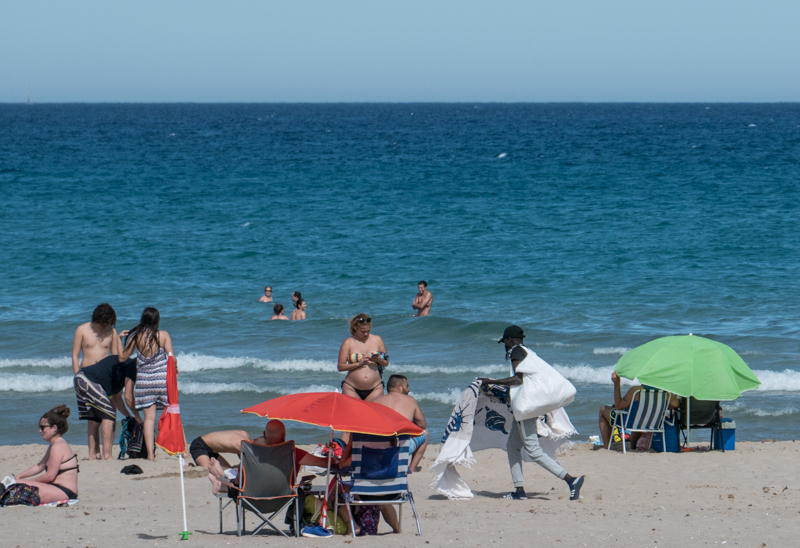 20_9
Tuesday was Monica's birthday. Since she got her driving license earlier this spring, we had decided to buy her a small car, something that would also benefit us since we no longer would have to drive her to places. In the morning, she was invited to unwrap her present: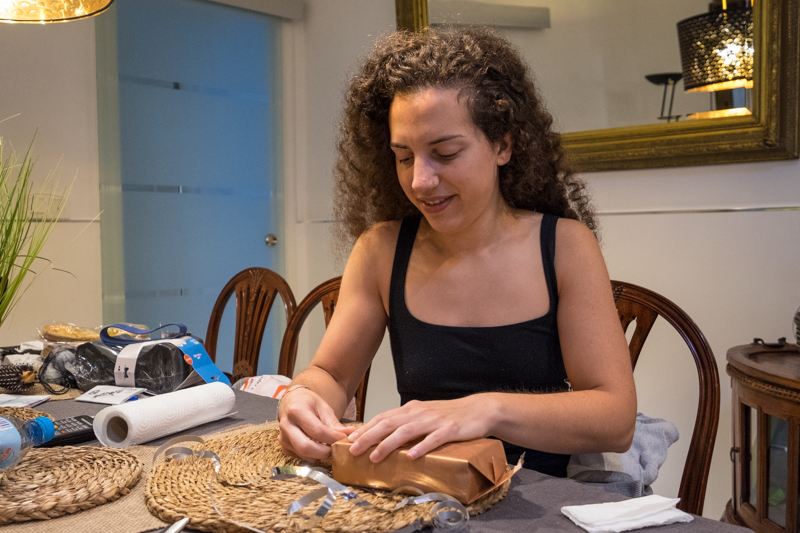 20_10
It's a Toyota key! But the surprise does not end here. She thought that this was the key to my Toyota Avensis, assuming that I had bought a new car for me and given her the old one:

20_11
Then we invited her to go outside, and in the driveway she saw that the key was to her own new car, not my old Avensis (actually, the car is second-hand, but it is much newer than my car):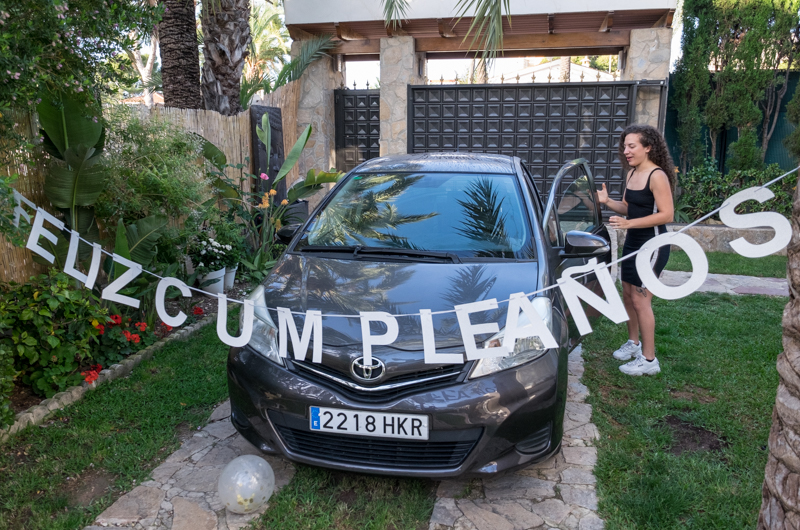 20_12
I had taken the day off, thinking that we might go out for lunch and such. But Monica had two exams that day, the first in the morning, presential, so the car was put to use right away, and the second in the evening, online, ending just before 9 p.m. Instead of going out, she wanted to invite a few friends for curry in the evening. We are now allowed to meet up to 10 people, and the nightly curfew starts at midnight instead of 10 p.m. as before. So I spent all afternoon in the kitchen, making various dishes. I take pride in making everything from scratch. This is one of the starters, a cucumber/onion salad: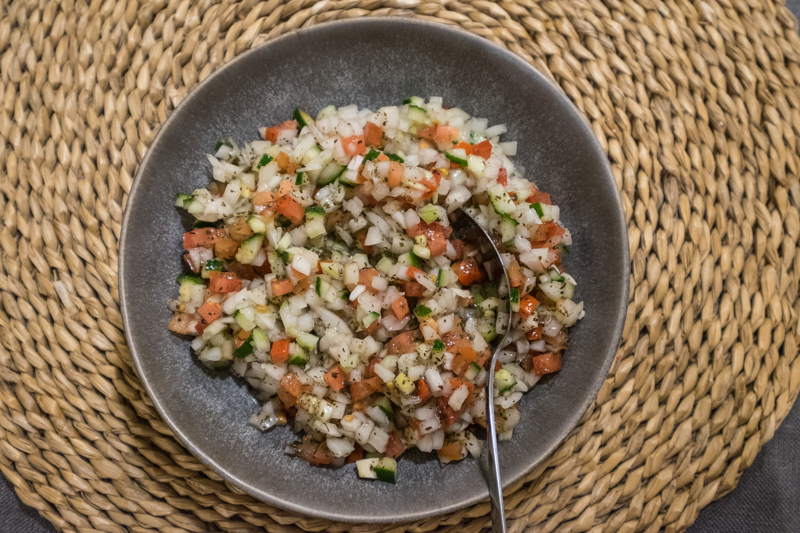 20_13
This is chicken do-piaza, our usual chicken curry: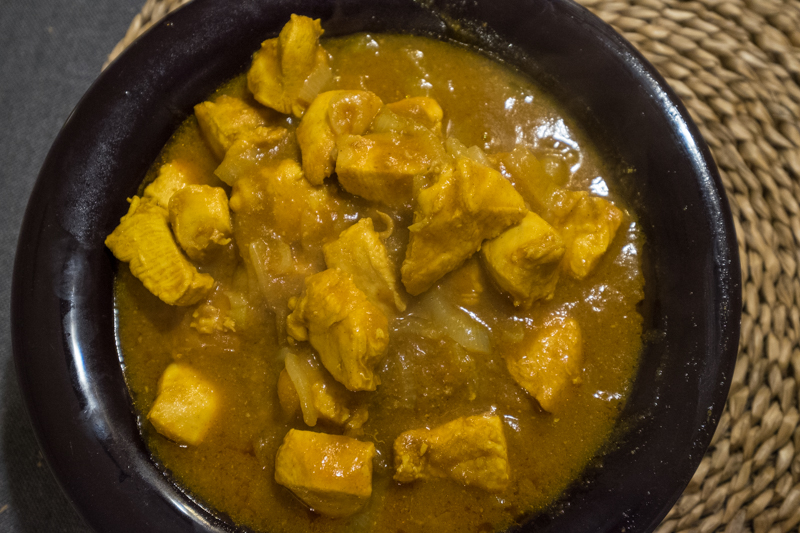 20_14
Prawn curry: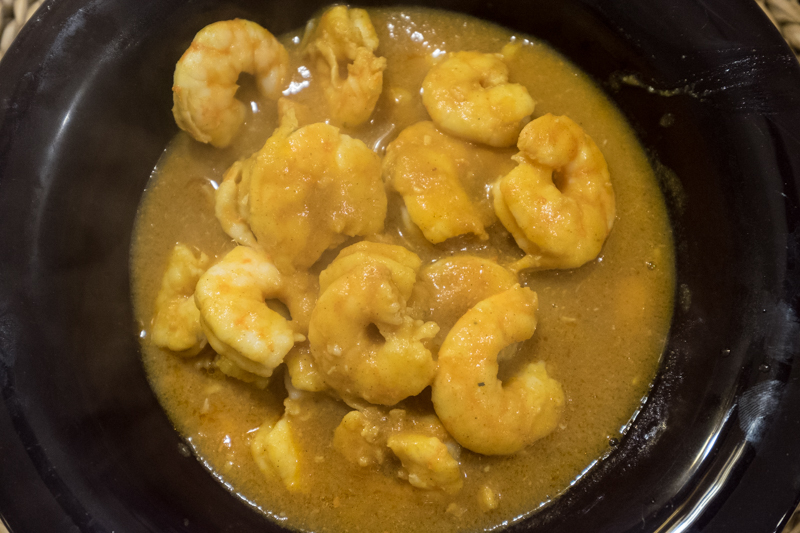 20_15
Vegetable curry. This is based on a dish called chana aloo, but I also add cauliflower to the potatoes and chick peas that the recipe specifies: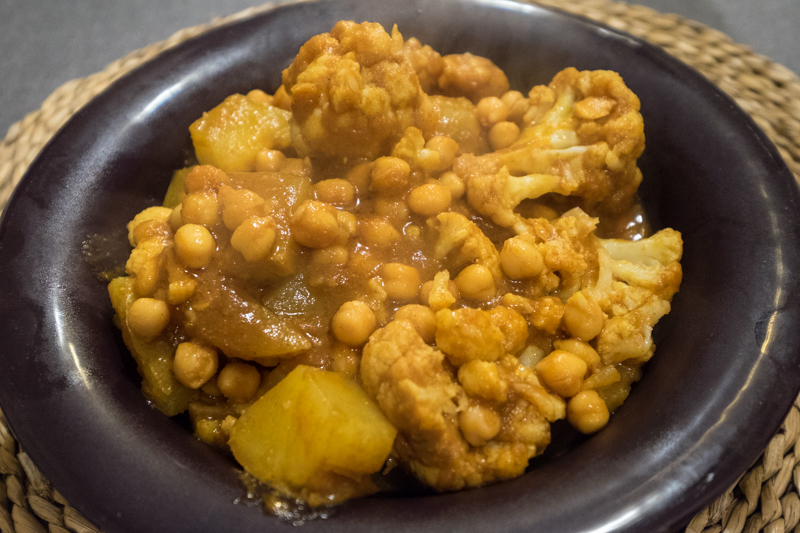 20_16
My wife had made the cake: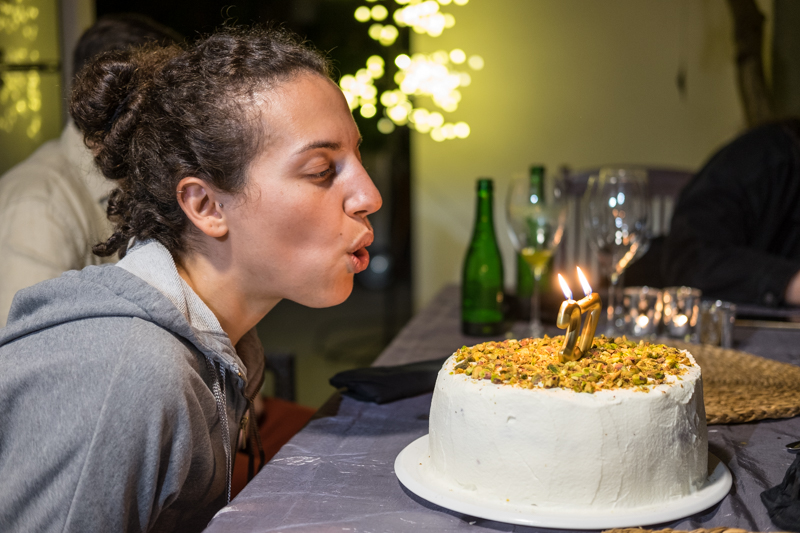 20_17
Once we had eaten the cake, my wife and I left the young people alone for the last bit of the mini-party: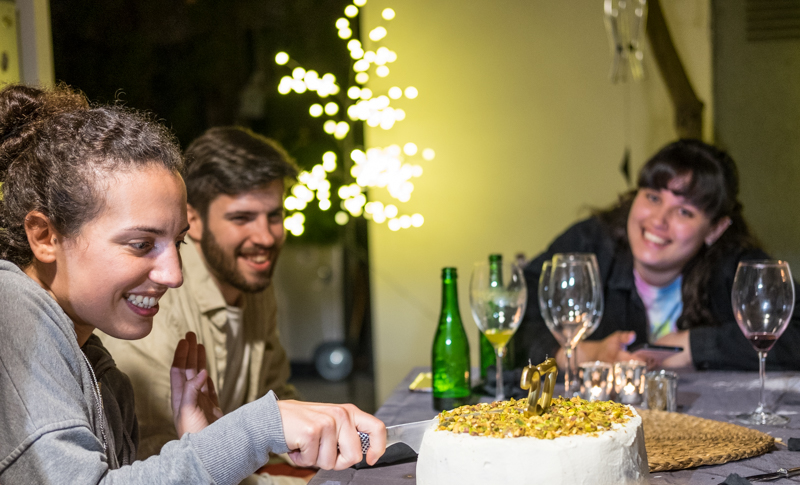 20_18
I continued my habit of going for a bike ride before work. I get up at 5:30, and usually I do not need to be in the office before 10, there is time to do all the usual morning things and a 1 1/2 hour ride. On Thursday morning the sunrise over El Campello was quite hazy: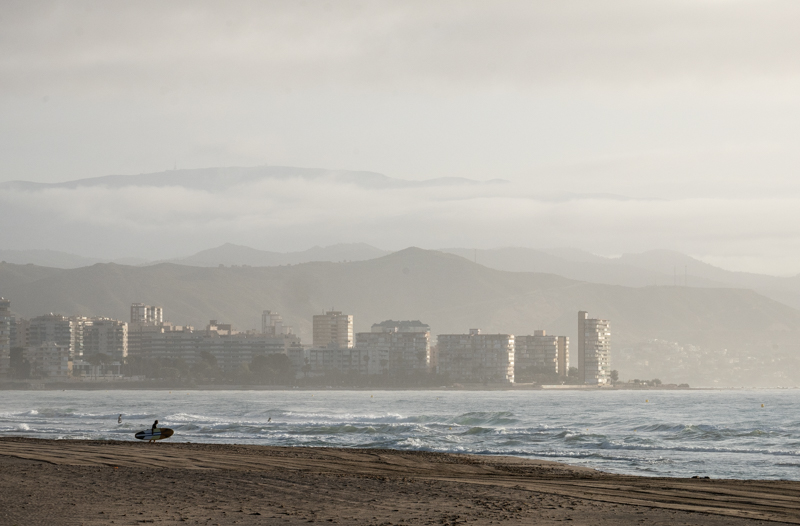 20_19
On Friday morning, things were entirely clear. I cycled to Busot, and just before reaching the village, I could enjoy this view of Alicante to my left: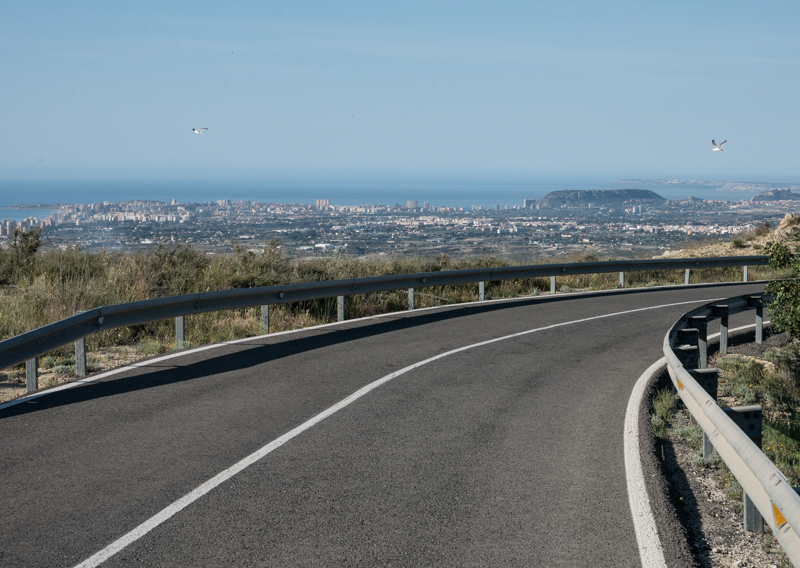 20_20
And looking right, I could enjoy Busot:

20_21
Portrait of Eri at the office on Friday afternoon. The background is that the painting hangs in the office of Claire, my neighbour, who had bought it from Carmen a few days earlier. When I arrived at the office in the morning, I noticed that Eri was wearing an outfit whose colour matched the colour of the sky in the painting. So we did a brief photo session. This was the first photo, a bit stiff: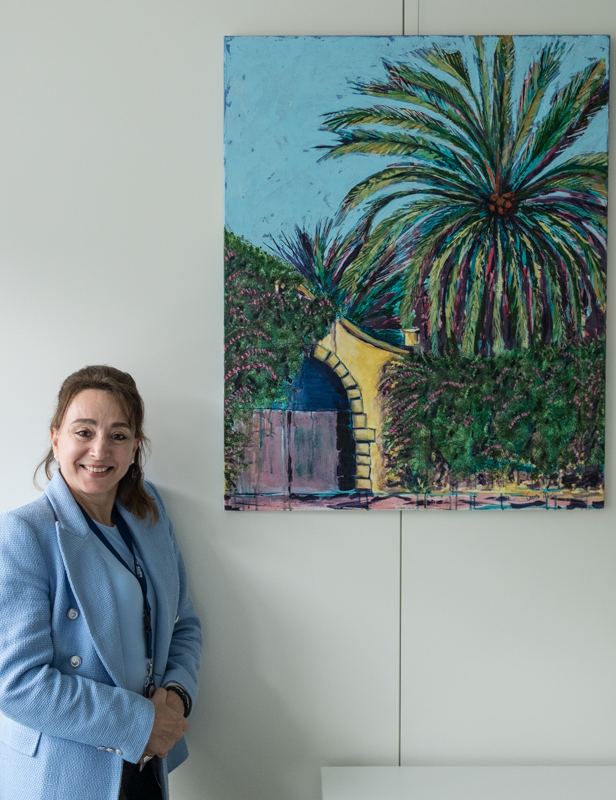 20_22
A few photos later, Eri's bubbly personality comes out. She is my favourite model: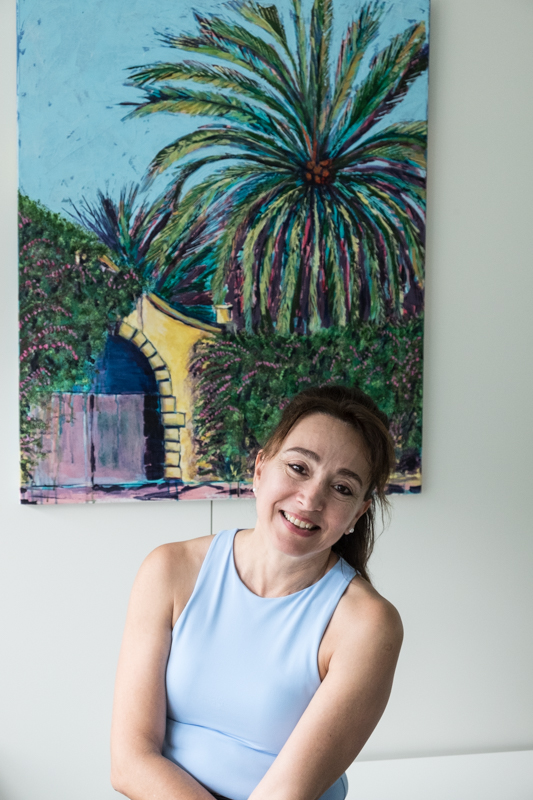 20_23
When I came home Friday evening, the magic cactus, which had just bloomed the week before, was at it again: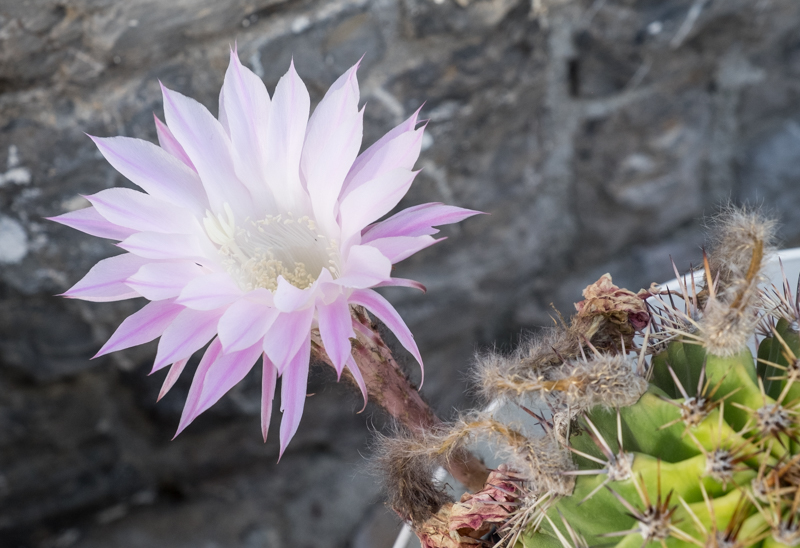 20_24
I started Saturday with a morning walk on the beach. I am always amused by this sign, advertising access to the beach via a walkway (our beach is meant to be wheelchair-friendly), except that there is no walkway: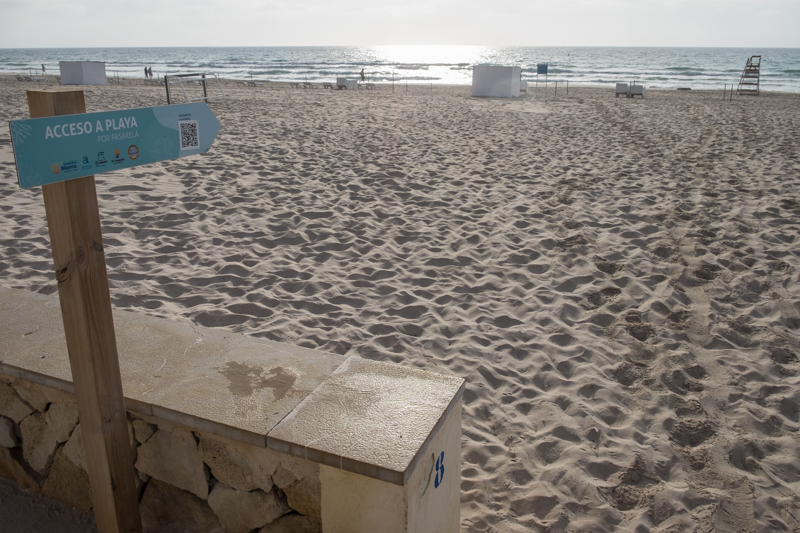 20_25
Foot prints in the sand, canine and human: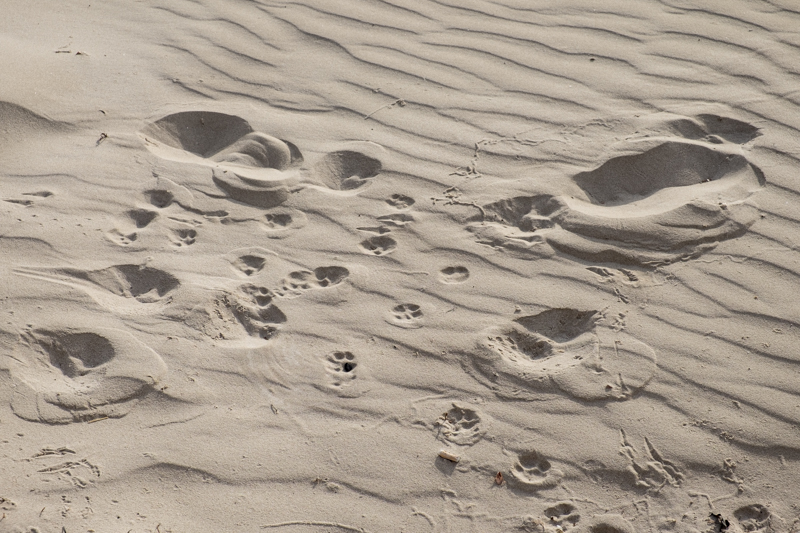 20_26
Getting the chairs ready for the day. It costs 3 Euro to rent one: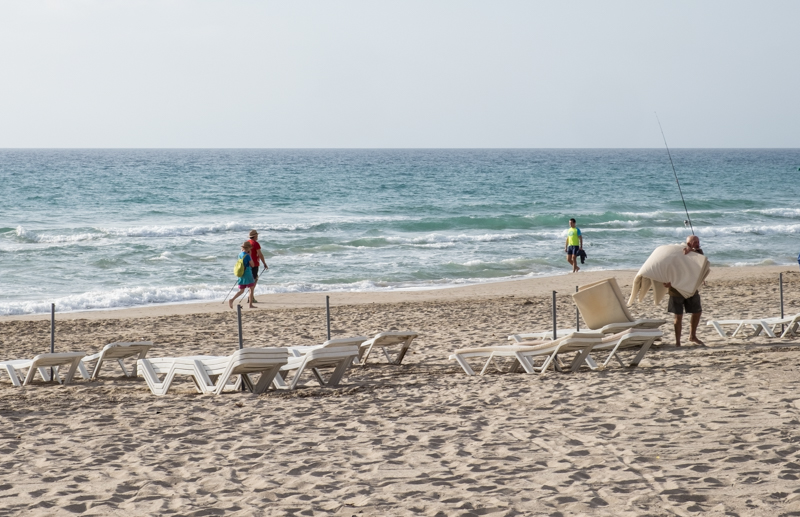 20_27
Later on Saturday morning, I hit the mountains again on my bicycle. The light was quite hazy again: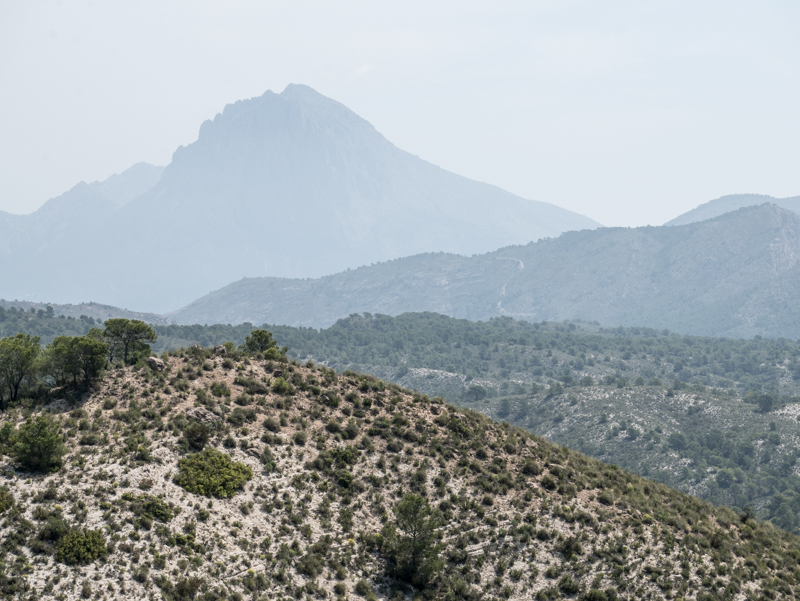 20_28
One can just about make out Benidorm in the distance: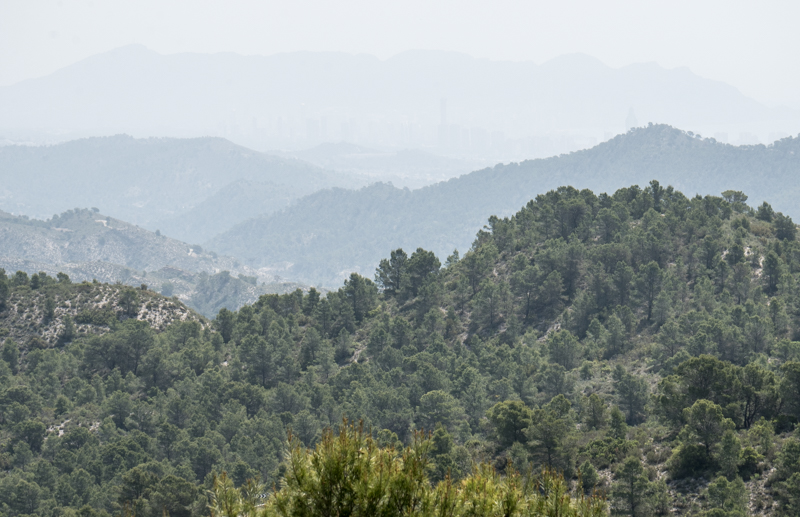 20_29
We finished Saturday with lunch at a friend's house to celebrate his 72nd birthday. Here is the host with his little dog: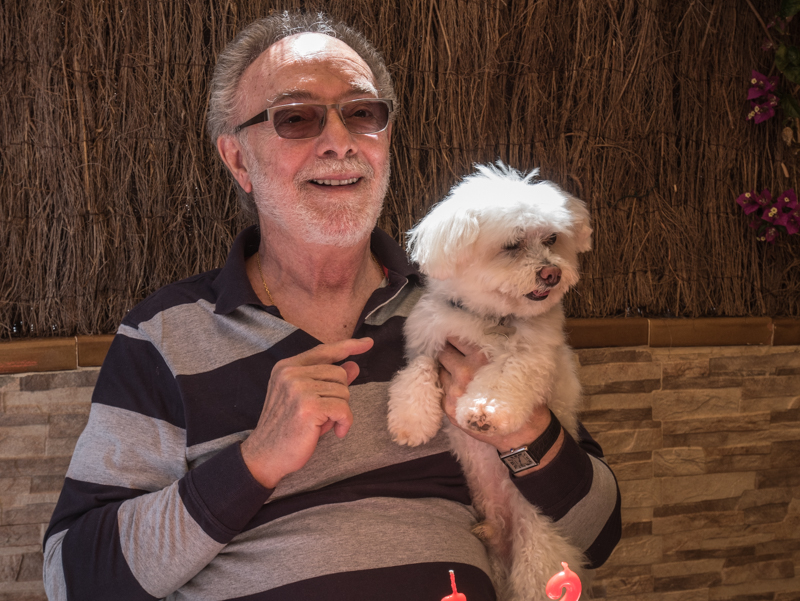 20_30
The doggie was a constant companion throughout the meal, which I did not mind at all: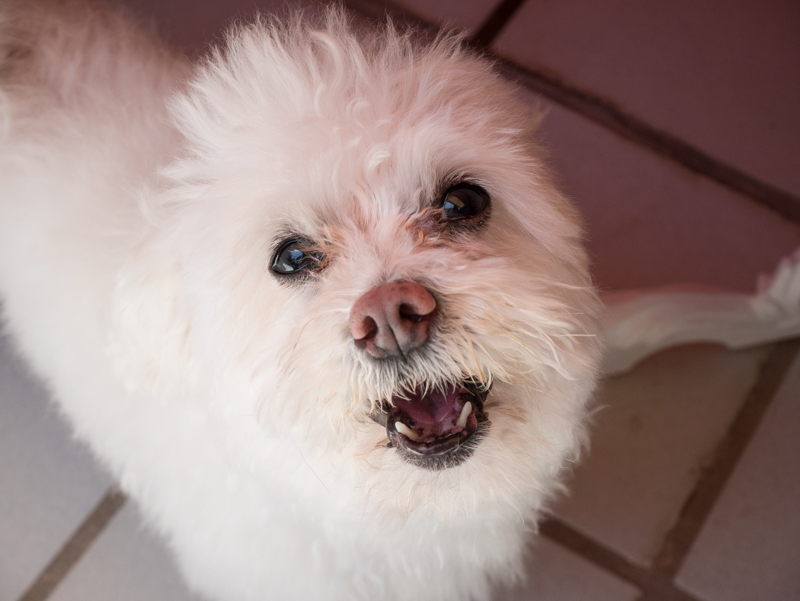 20_31
Some of the appetizers, including sausage and morcilla (blood sausage):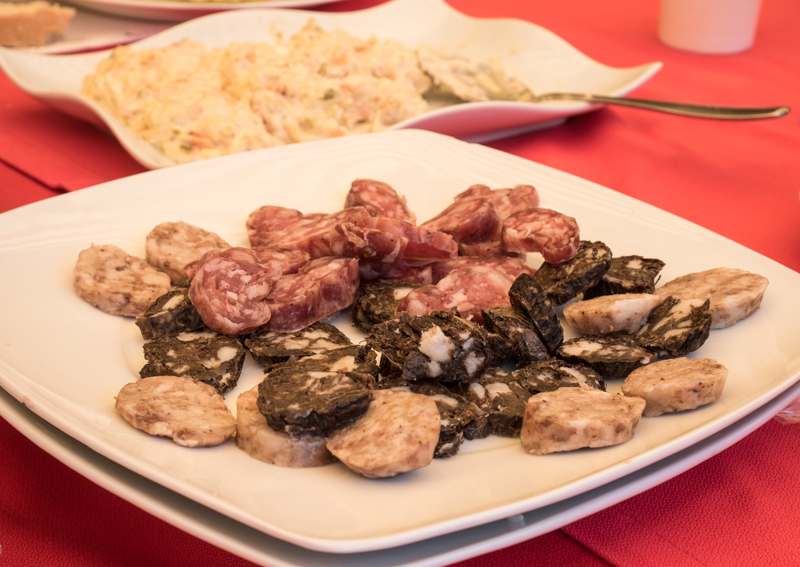 20_32
The most traditional of lunch foods around here, paella valenciana. If I want to really rile up my local friends, I just have to start talking about adding seafood or other non-standard elements; they rise up forcefully in defense of the paella, which must contain only chicken and rabbit, with other meats (like pork) just about tolerated:

20_33
I save the most important image for last. Our friend Cani (on the left) had major surgery to remove a tumor from under his jaw a few weeks ago. The tumor was not malignant but it had to be removed, and subsequently his entire lower jaw had to be reconstructed. This was the first time we have seen him since the operation, and it was good to see him eating and drinking again, although he is still clearly marked by the surgery: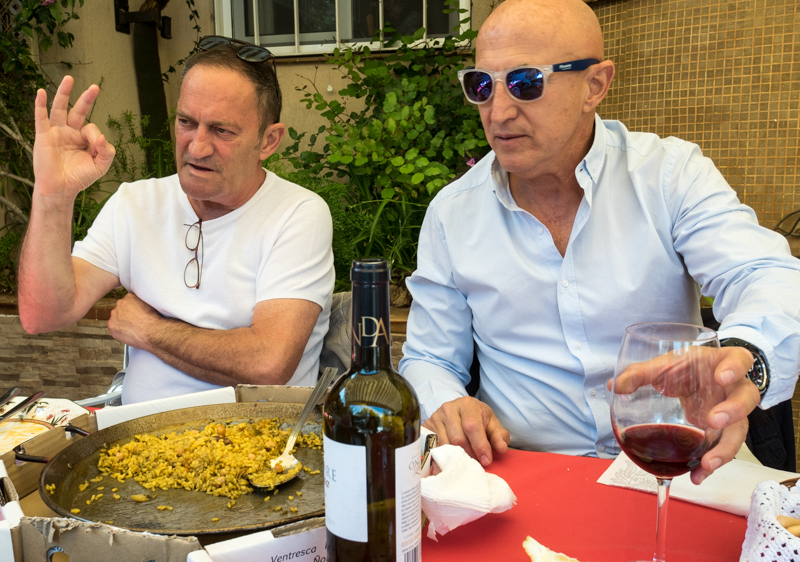 And thus ended a rather festive week.