All good things come to an end, and so this week marks the end of our family visit to the US. It was a real treat to see my son for the first time in almost a year, and to have the family together. We spent the first part of the week in Buffalo, and on Thursday after Moses got off work, we drove to New York where we spent the last 2 days of our visit.
34_1
Ties that bind. Buffalo has a large Polish community (these days usually 2nd, 3rd or 4th generation, but still). We went to visit the Broadway market downtown, but unfortunately most stalls were closed for vacation, so I was reduced to photographing flags and signs: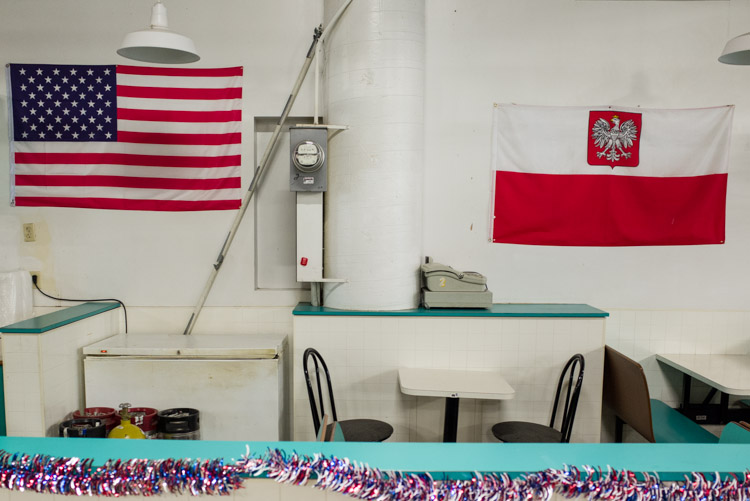 34_2
I was born in Poland, speak fluent Polish, have Polish friends, but I have absolutely no idea of any Polish soup that requires duck blood. But there must be one: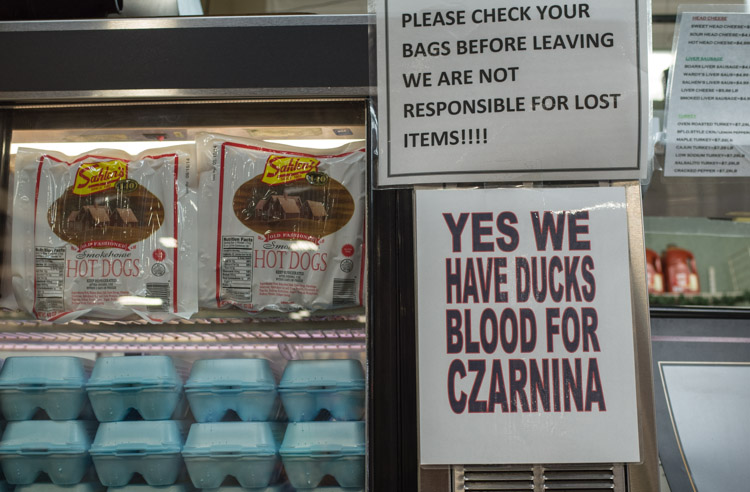 34_3
Another day we drove the few miles east from Orchard Park to the village of East Aurora. We had driven through it on the way to Orchard Park a couple of weeks earlier and noticed back then that it looked lovely. So now we went to have a walk and look for a café selling vegan cupcakes that my daughter had found on Happy Cow. But first I stumbled into the Chain Ring Rhythm bicycle shop and its owner Dan Park, with whom I had a nice chat about cycling in Spain and other topics: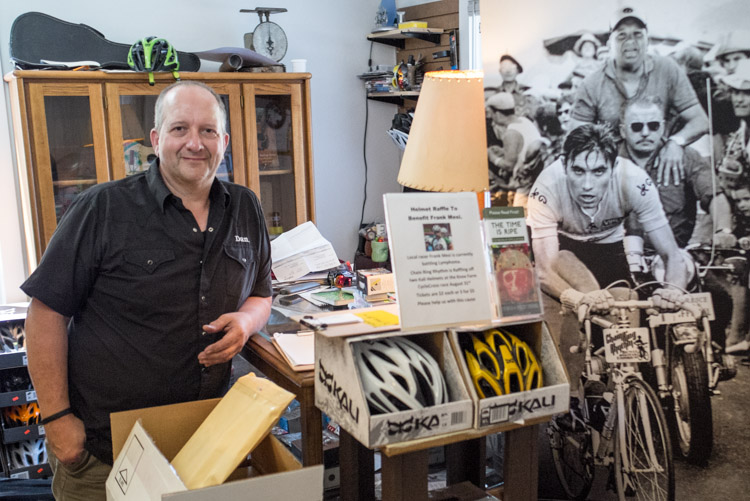 34_4
There were a lot of quirky shops with quirky signs, including this bookshop where we spent some time and some dollars: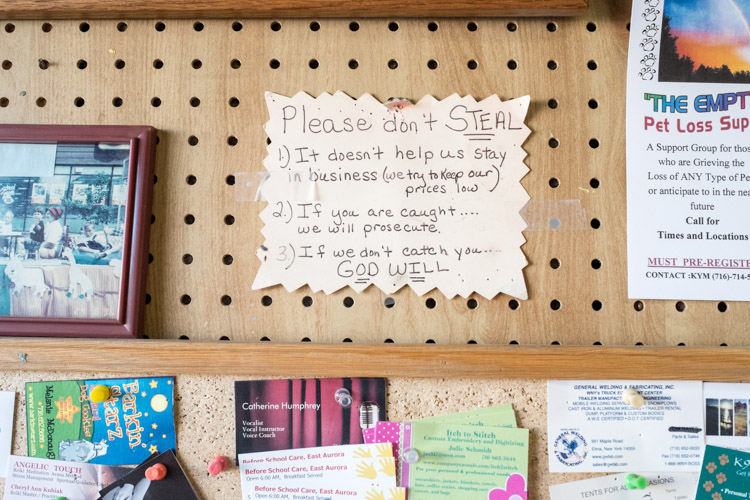 34_5
We did find the cupcake place: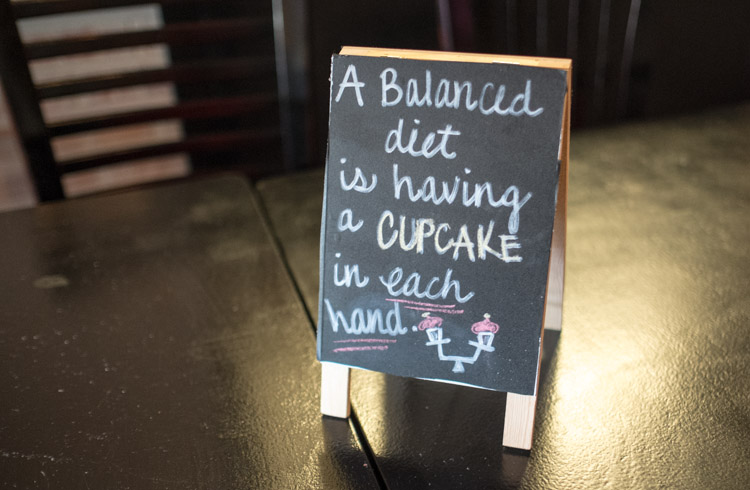 34_6
Mural, East Aurora: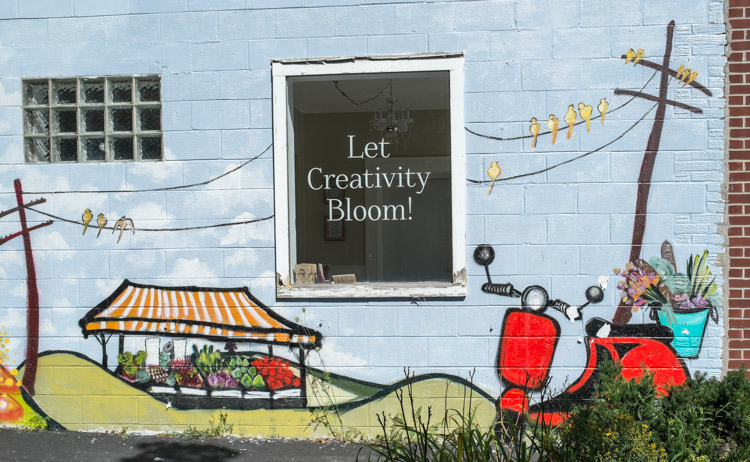 The remaining pictures are from our two days in New York.
34_7
We arrived at the Red Roof Inn in Queens well after midnight. The next morning I had to get up at 7 to move the car to the hotel's parking, and once the rest of the family was up, we walked to the subway station to go to Manhattan. On the way, I snapped my first picture: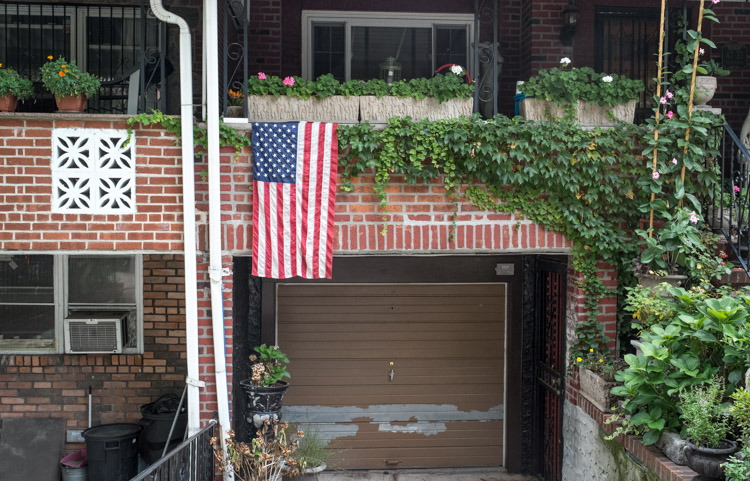 34_8
On the subway, typical New York crowd: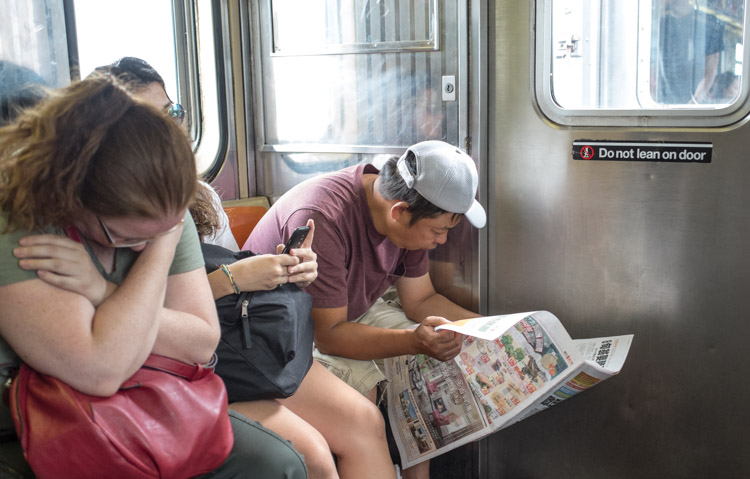 34_9
There are many impressive buildings in Manhattan, but the people are equally interesting if not more so. This man looks like he is in a situation that I also know quite well–waiting for his female companion to finish a store visit: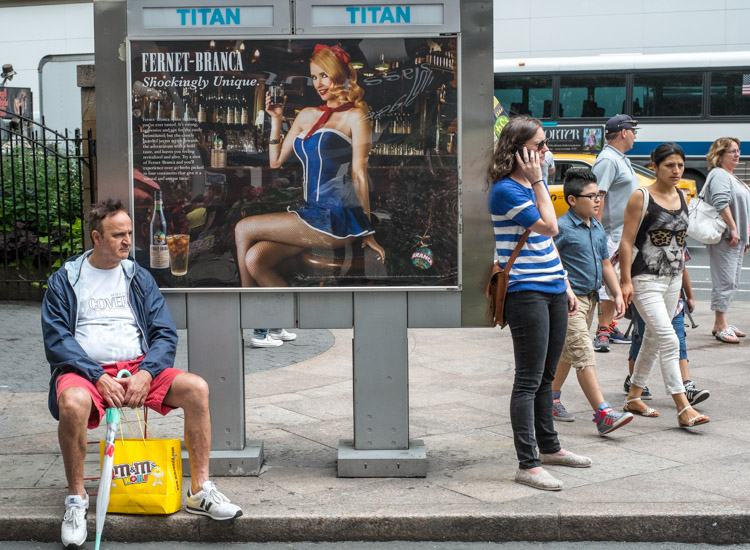 34_10
We had bought tickets to the Yankees-White Sox game, so on Friday night we travelled the long way up to the Bronx: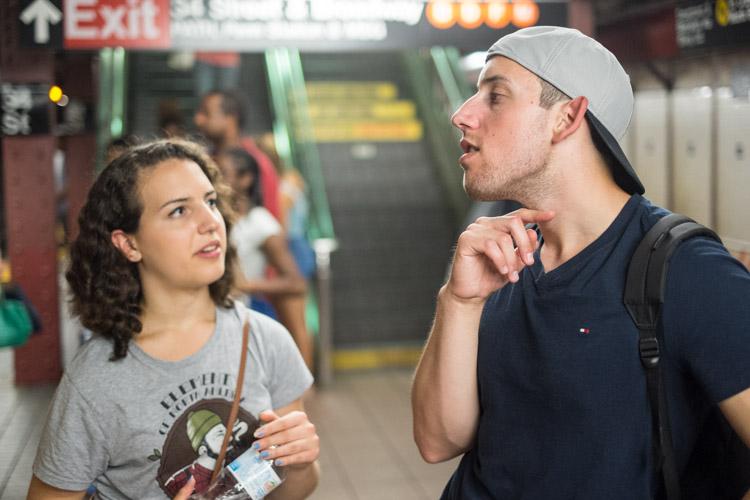 34_11
As always on the subway, I was looking for interesting fellow passengers. This woman attracted me not just for the obvious reason of being attractive, but rather I found myself reading the many buttons she was wearing: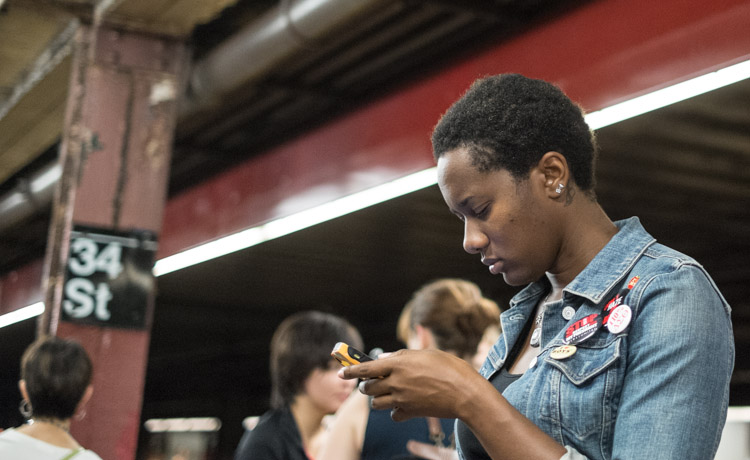 34_12
We had the cheapest seats at Yankee Stadium, meaning high up, but the view was magnificent: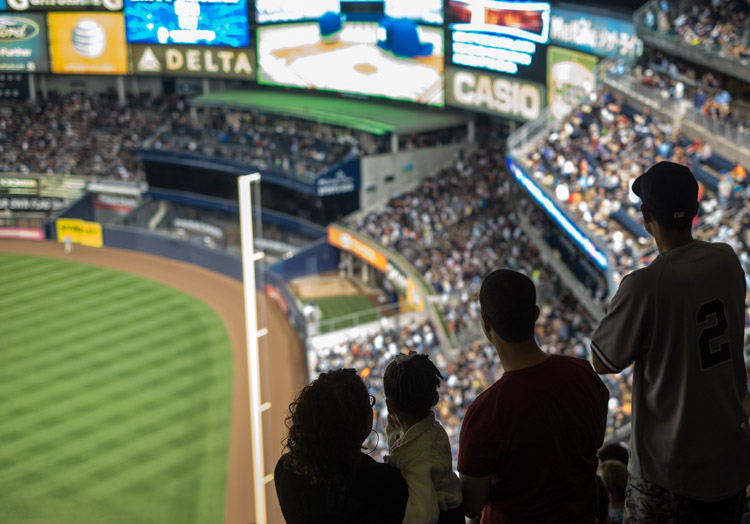 34_13
The pitcher has launched his pitch a moment ago, the ball is about midway to the plate:

34_14
The fans are unhappy with the umpire's call: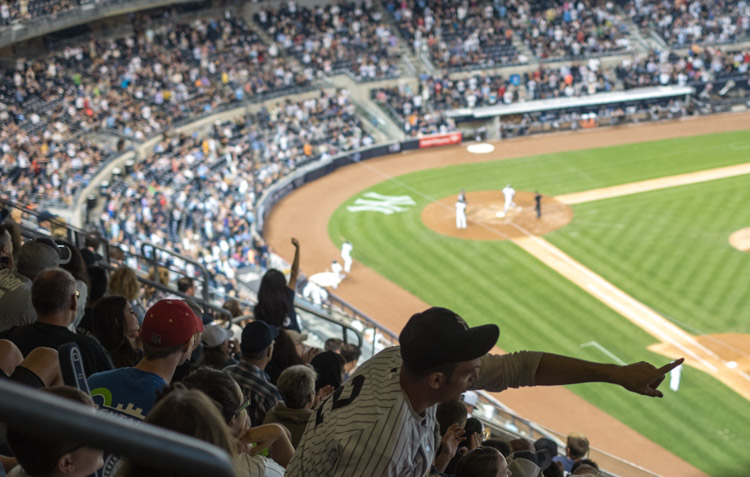 34_15
7th inning stretch–veterans are honoured and "God Bless America" is sung: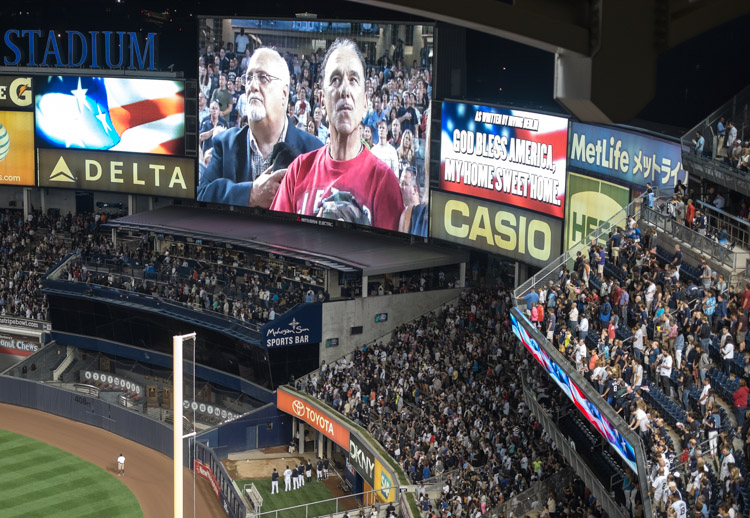 34_16
The beer at Yankee Stadium was very expensive, $12 a pint, but at least the selection was excellent: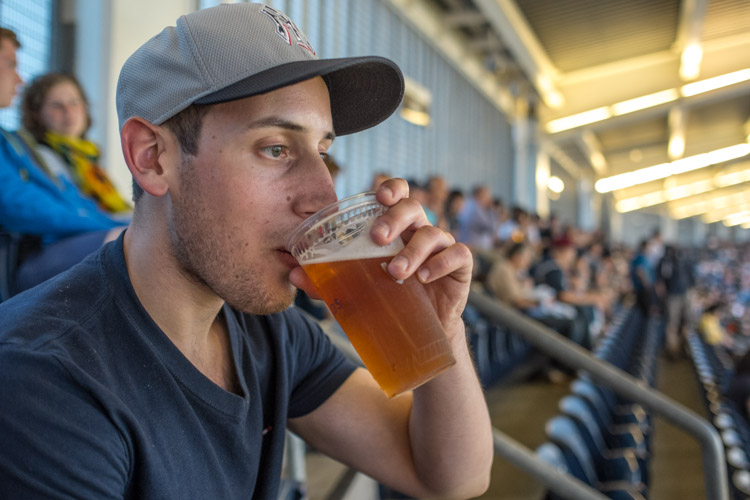 34_17
Back to people-watching: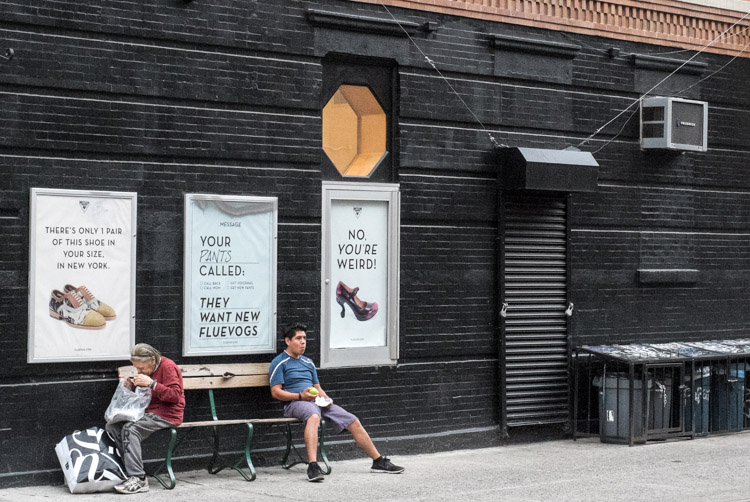 34_18
Big man, small chair on Times Square: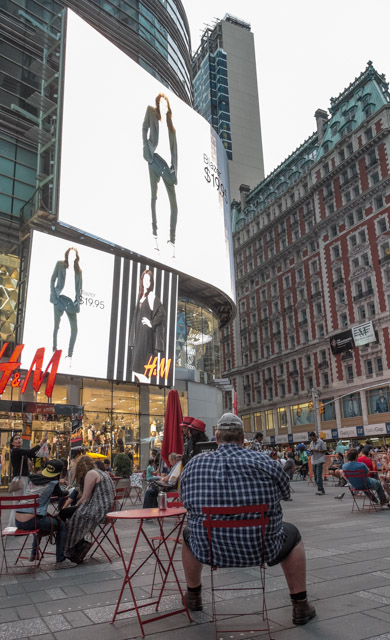 34_19
The Fierce Guardian of the Subway: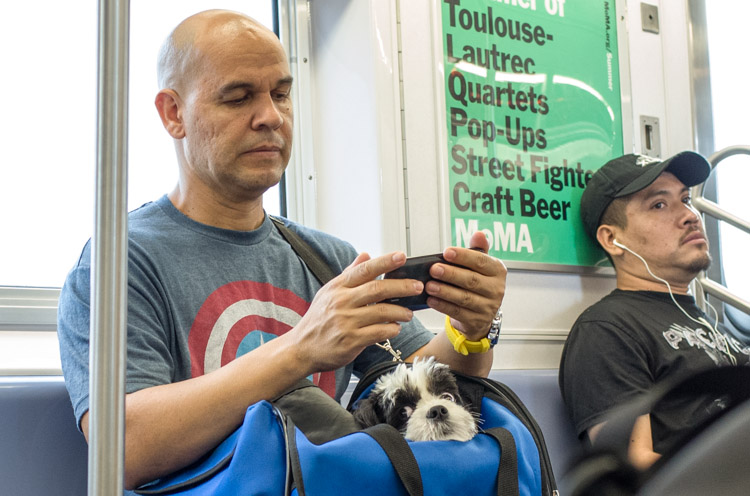 34_20
Since the breakfast at the hotel was very skimpy, on Saturday morning we stopped by this Colombian bakery near the subway station to get some proper coffee and food: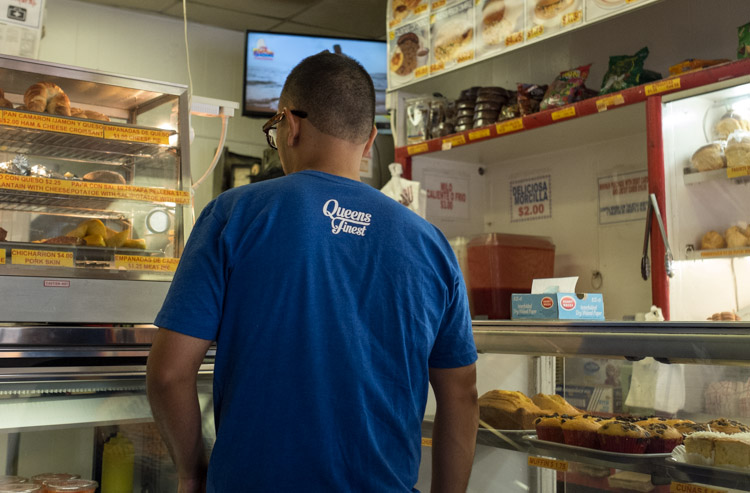 34_21
Then we made our way to lower Manhattan to see the 9/11 memorial, which we found moving and impressive at the same time: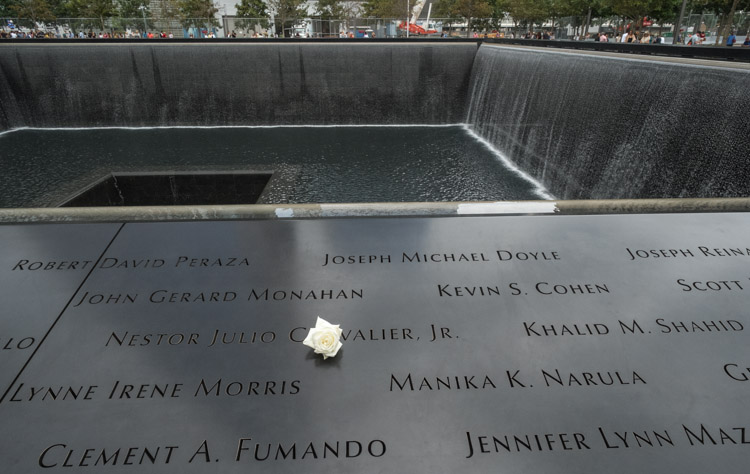 34_22
Religious discrimination? Not quite, the store is called "Amish" something or other: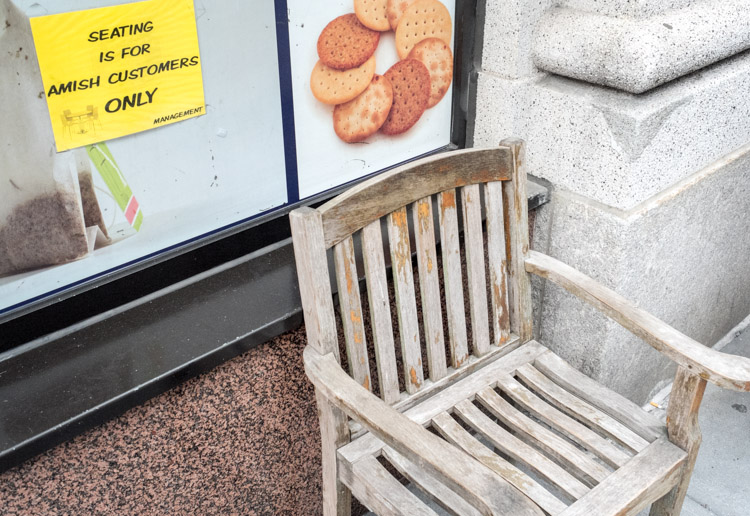 34_23
Mural, Houston Street. I suspect New York is one of the very cities in America where people care about what happens in Thailand: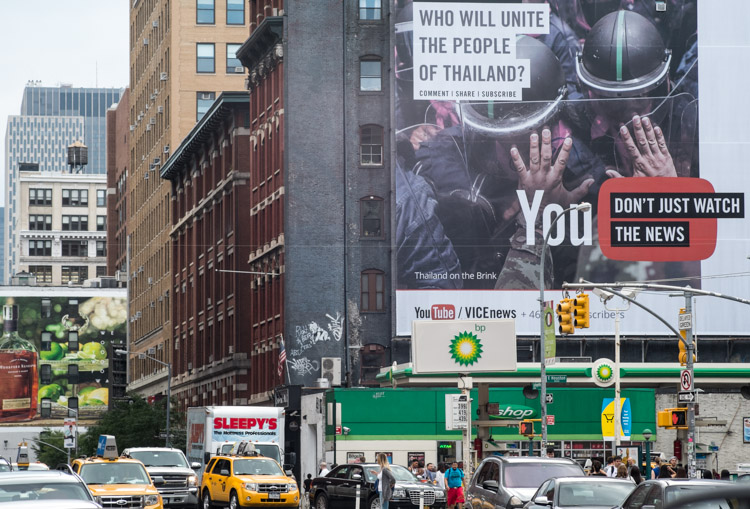 34_24
One change compared to my last visit to New York in 2010 was that there are many more regular bicycles on the streets of Manhattan (as opposed to just fancy racing bikes on Brooklyn Bridge on a sunny afternoon):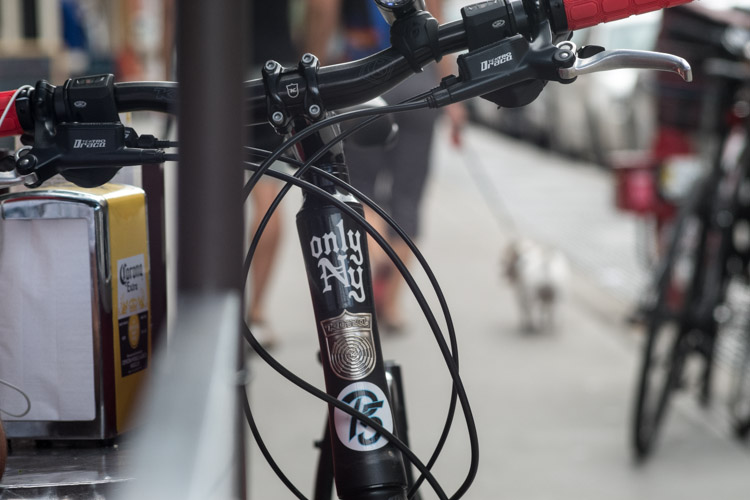 34_25
Strange scene in the financial district. No, I did not ask…: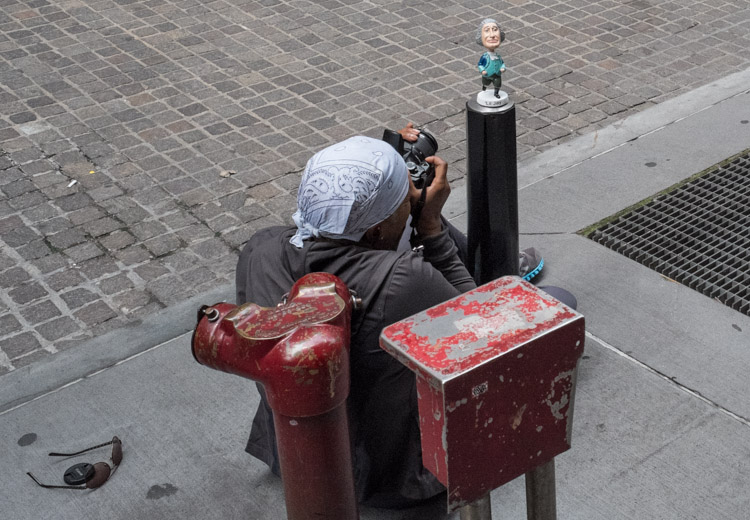 And then, in late afternoon, we made our way back to Queens, picked up the car and our luggage at the hotel, drove to JFK, returned the rental car, said our goodbyes, and went our separate ways–Moses to Terminal 8 for his Jet Blue flight to Buffalo, and we to Terminal 5 for our AA flight to London–which turned out to be just sufficiently delayed to make us miss our connection at Heathrow and have to wait 3 hours extra for the next flight to Madrid.
34_26
But we were not the only people at JFK with time to kill: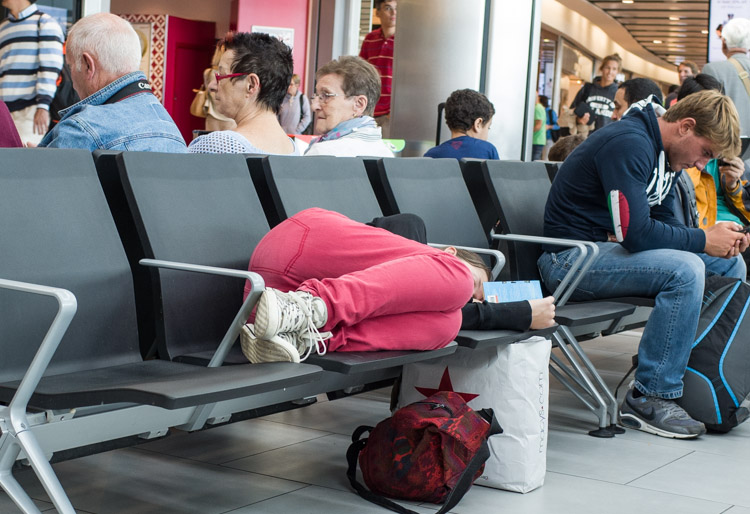 More New York images can be seen here.