I spent the working week in Warsaw. Every two years, our office sponsors a major award for industrial design called the DesignEuropa Award, and this year we held it in Warsaw, co-hosted by the Polish Patent Office in connection with their 100th anniversary celebrations (which are in turn part of Poland's 100th independence celebrations). Since we also hold a set of meetings of our stakeholders around this time of year, we moved those meetings to Warsaw as well since many of the people attending our meetings would also like to attend the design award ceremony. As usual, I have made a dedicated Warsaw gallery here, but in this weekly blog I focus on the people with whom I spent the week. The images are presented chronologically.
48_1
I arrived in Warsaw Monday afternoon, got settled in at the hotel that was going to be my home for the next four nights, and then went out in search of sights and food. It gets dark early in Warsaw in late November, and the temperature quickly dipped below freezing where it stayed during the remainder of my visit. My hotel was located next to a huge roundabout, the cross of two major arteries, Aleje Jerozolimskie and Marszałkowska Street. On the other side was the Pałac Kultury i Nauki (the Palace of Culture and Science). The Stalinist structure, which used to dominate Warsaw's skyline during Communist times, was a "gift" from the Soviet Union in 1955: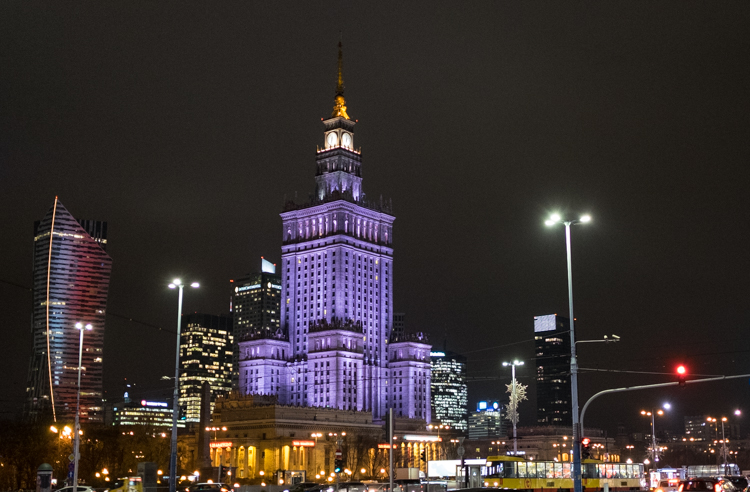 48_2
The only way to cross the very wide Marszałkowska Street is to use the underground passage which also serves as the entrance to the Warszawa Centrum metro station. I stopped to photograph this snack shop selling baked goods, both sweet and savoury, at very reasonable prices: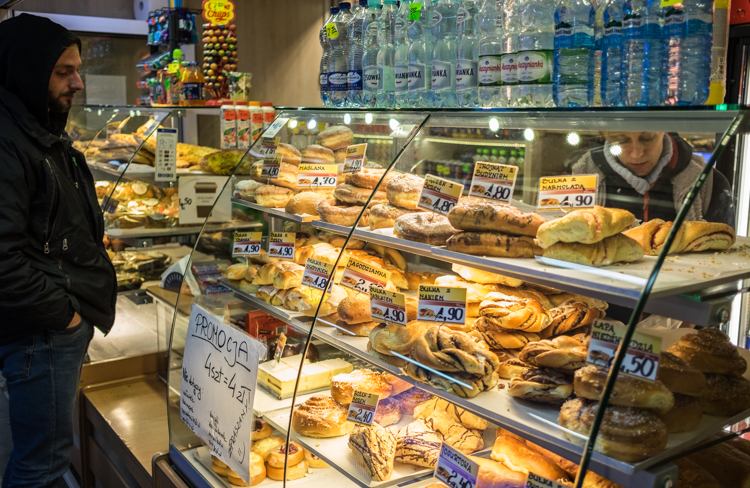 48_3
On the other side, I walked to the main entrance of the Palace of Culture and went inside. Today, the palace houses offices, theatres, restaurants and congress facilities:

48_4
I took the lift to the observation deck on the 30th floor. It was cold and windy up there, but the view of modern Warsaw's skyline was magnificent: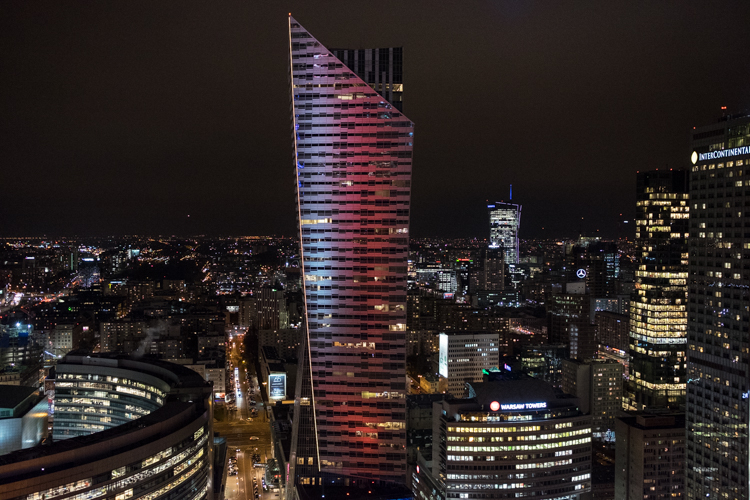 48_5
The hotel where I was staying: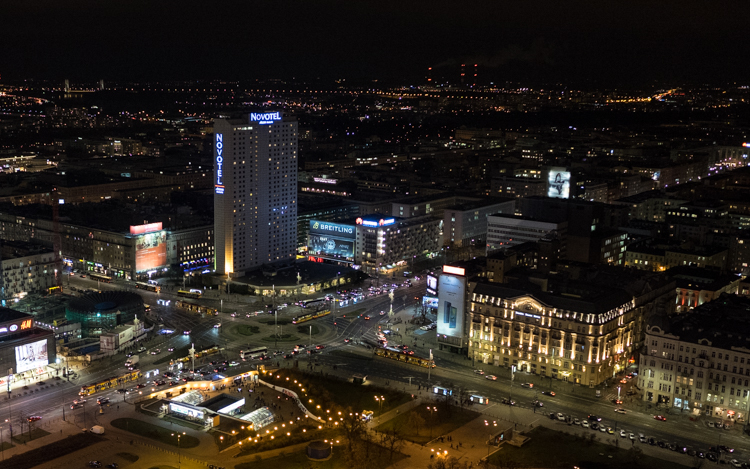 48_6
I went back down and made my way to a large shopping centre across the street. I spent some time browsing in the large Empik bookstore there. I like such places both because I like books and because there are often images to be found: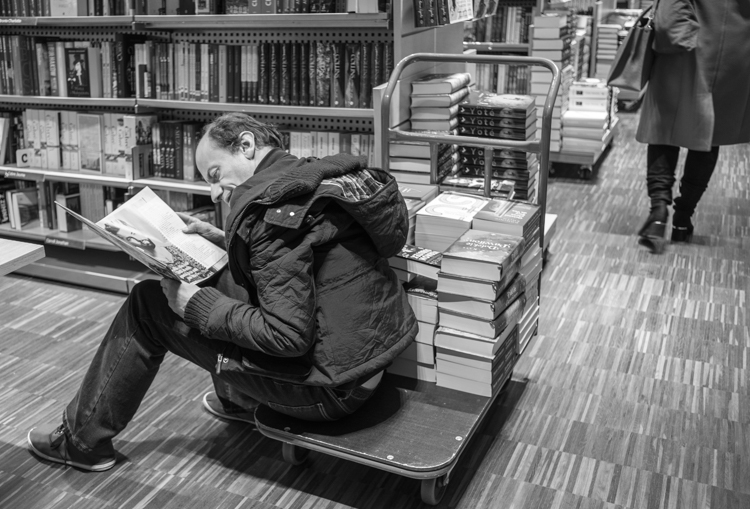 48_7
On Tuesday morning we had the DesignEuropa award ceremony. The venue was POLIN, the Museum of the History of Polish Jews. At first I thought that a museum with so much serious and tragic history was not an appropriate venue (I had visited it in June) for an award ceremony, but then after some reflection, I decided that if hosting such events helps the museum make ends meet and to continue its mission of remembrance and education, then who am I to say that they should not do it? And it is a beautiful building, even more so this morning because of the lighting they put on for us: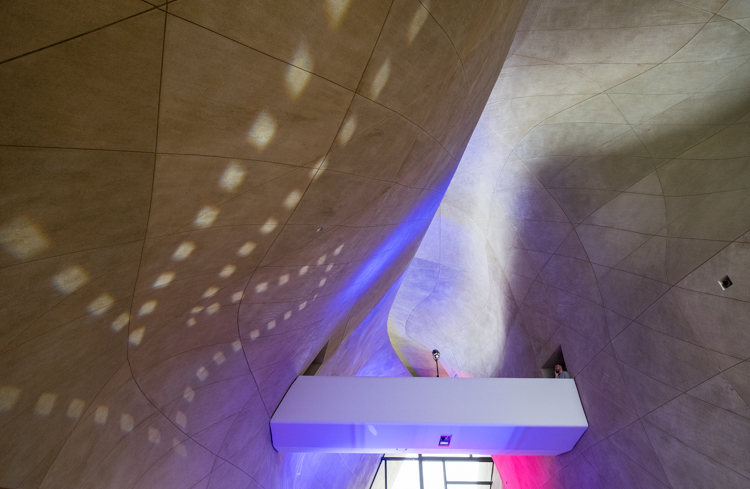 48_8
The award ceremony gets under way, led by the two moderators: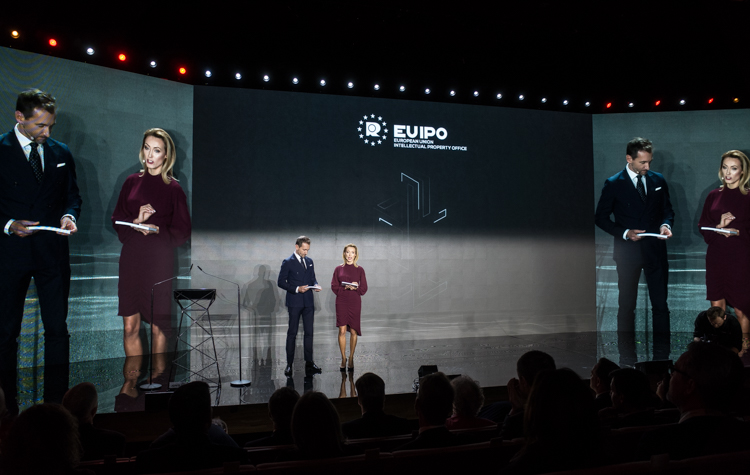 48_9
The Executive Director of our office, Christian Archambeau, gives the opening speech: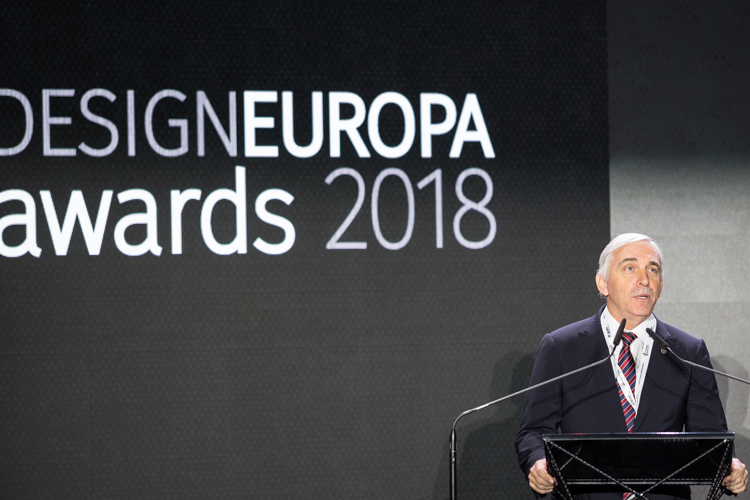 48_10
A video prepared by our communications people was then shown, including a 40-second blurb of me talking about the economic importance of industrial design: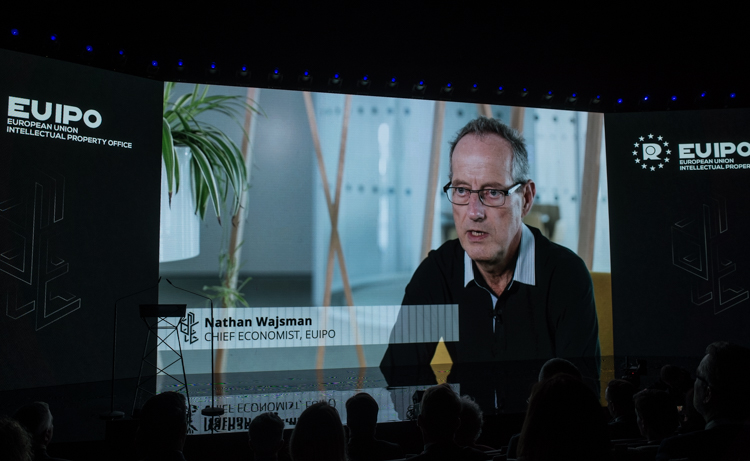 48_11
Then it was time to actually award the awards. There were two main categories, small and large companies. Among the small companies, the winner, much to my delight, was a Danish firm that had designed a visually attractive and efficient self-service luggage drop-off system for airports, called Air.Go 2.0. Here is the CEO of the company, Marcus Pedersen, and the in-house designer, Sara Clement, with the award: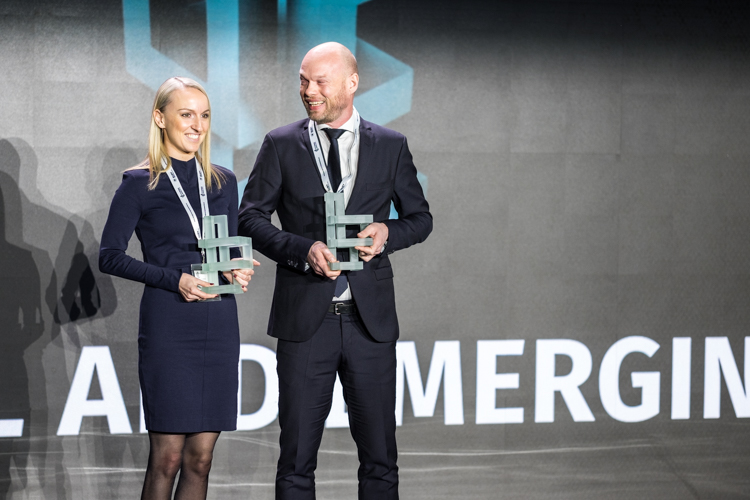 48_12
The large company award went to Siemens Healthcare for a robotic arm angiography system called ARTIS. The two designers, Nadja Roth and Tobias Riese, received their award from the president of the Polish Patent Office, Alicja Adamczak: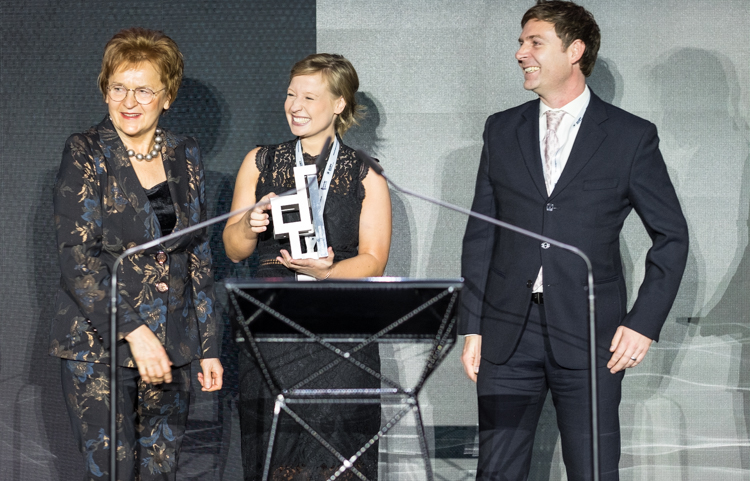 48_13
Finally, there was a Lifetime Achievement Award to German designer Hartmut Esslinger, who has worked for Sony, Apple, Lufthansa, Disney, Microsoft and many other household names: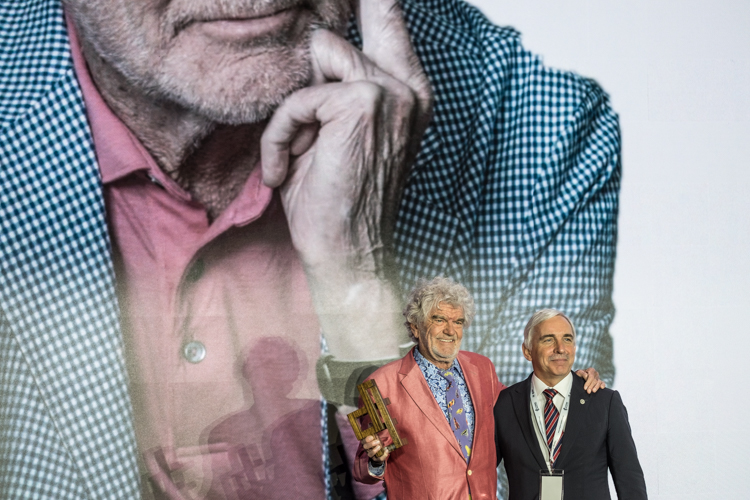 48_14
Esslinger delivered a very nice, non-rehearsed speech: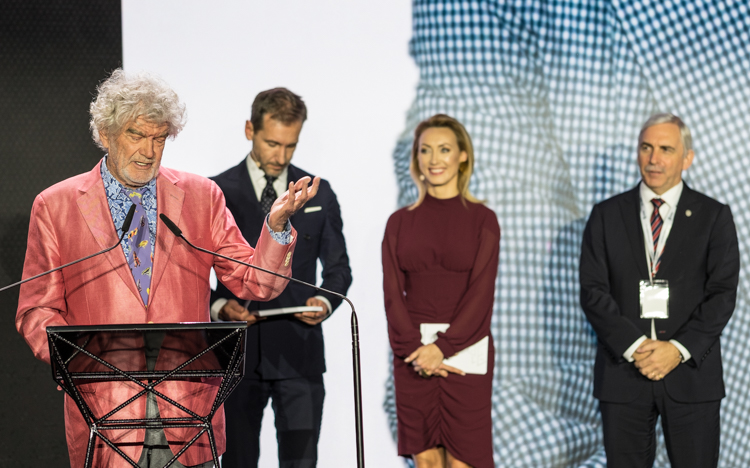 48_15
That afternoon, I was again walking around the area around the hotel. Sunset is around 3:30 pm in late November in Warsaw, so I did not have to wait long to capture the Palace of Culture and Science in the low afternoon light: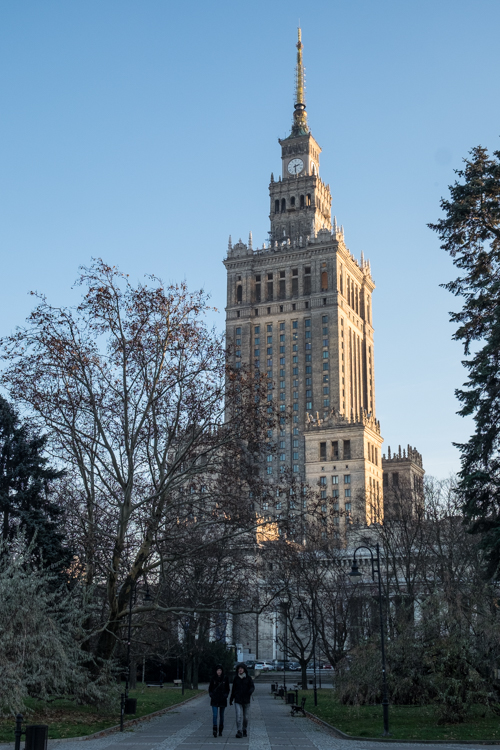 48_16
Entrance to the Centrum station. The poster refers to a social media campaign related to the Polish national anthem; apparently, many people sing the opening phrase ("Poland has not yet perished, so long as we still live") using an incorrect word for "so long as" (in Polish "póki" instead of "kiedy"), an issue of apparent concern to whoever is behind the campaign: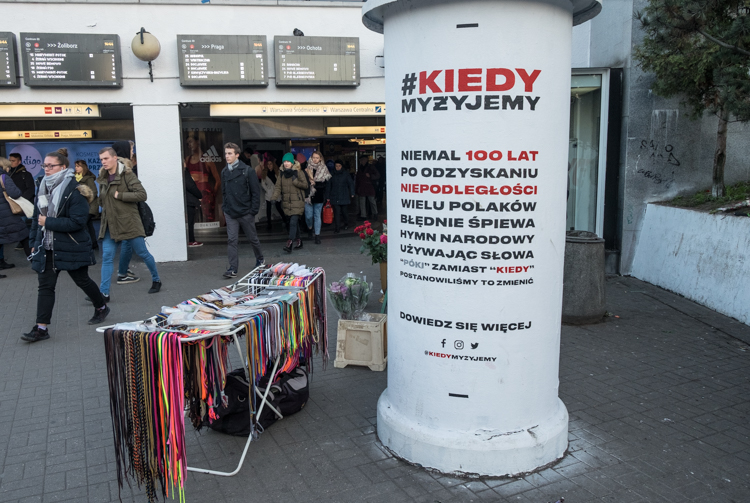 48_17
This year, I have been in eastern Europe seven times; five trips to Poland and two to Bulgaria. Both countries have made tremendous progress since throwing off Communism in 1989 and joining the EU in 2004 and 2007, respectively, but as I sometimes say, there is still too much history, painful history. As I was walking around Warsaw, I kept seeing plaques such as this one, with the inscription "this place was sanctified by the blood of Poles who fell for Poland's freedom" and details below. In this case, the plaque was next to my modern Novotel hotel, marking the spot where the German occupiers had executed 102 Polish prisoners in January 1944: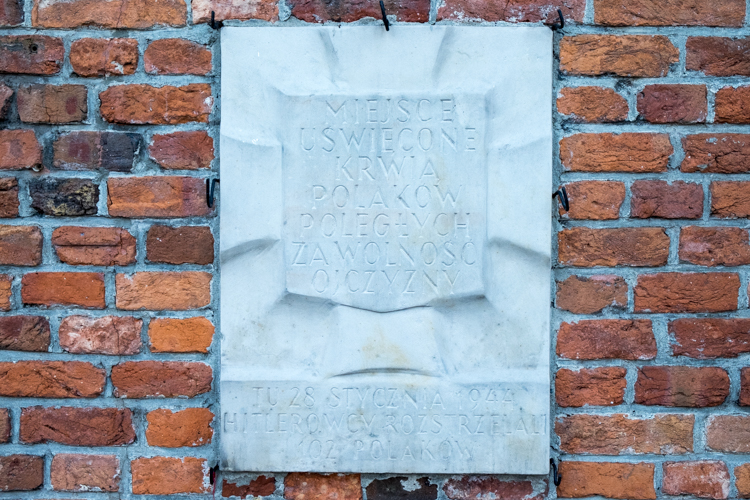 48_18
On a more cheerful note, I found the armchairs outside our conference rooms at the Novotel quite interesting: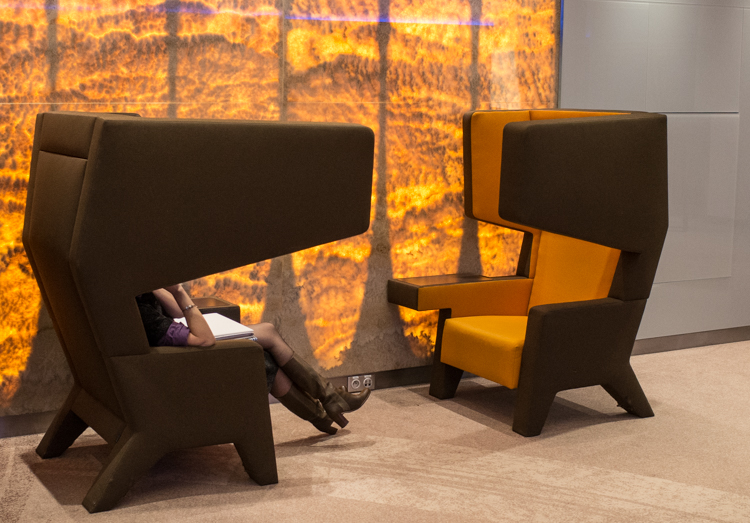 48_19
On Wednesday morning we started the Working Group meetings at the hotel. Here is my boss, opening the proceedings: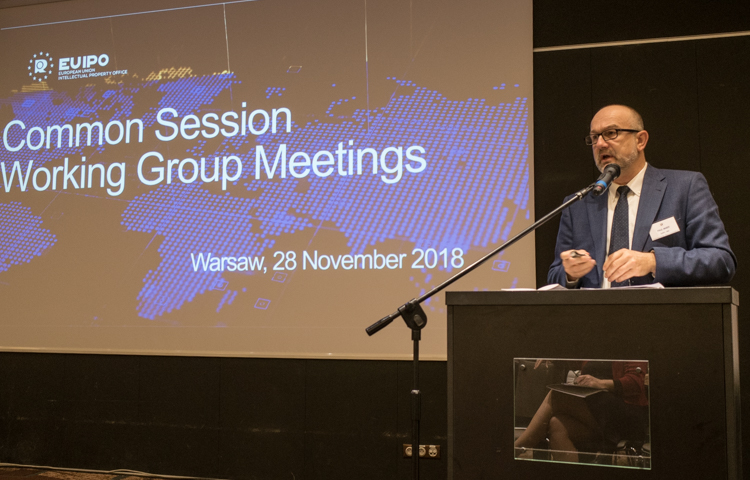 48_20
Natalia from the European Commission gave an update on their plans: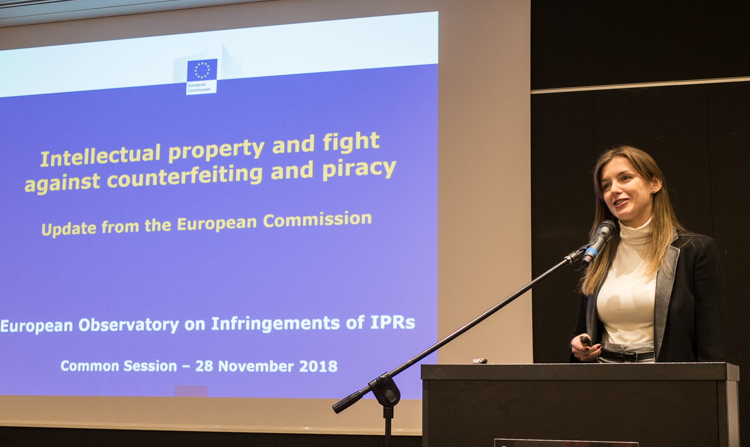 48_21
My Lithuanian colleague Gyta (on the right) in conversation with Linda, my favourite Latvian lawyer: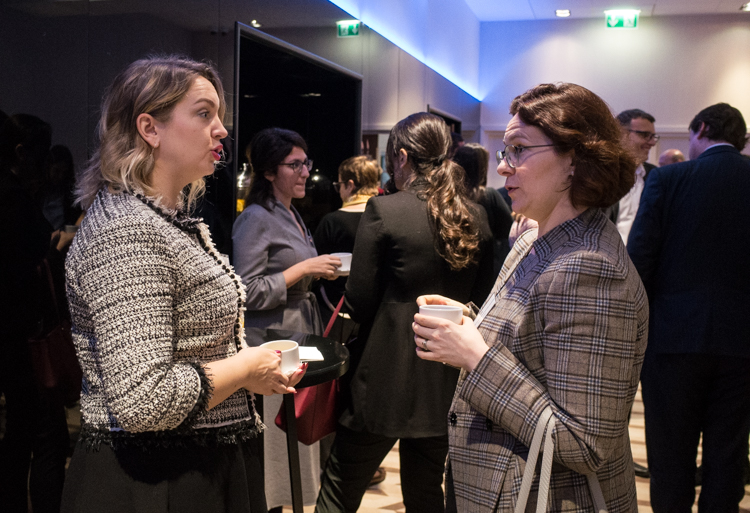 48_22
On Wednesday afternoon I walked through the Saxon Gardens park to Piłsudski Square, one of Warsaw's main squares, named after Poland's first head of state after the country re-gained its independence in 1918. It houses the Tomb of the Unknown Soldier: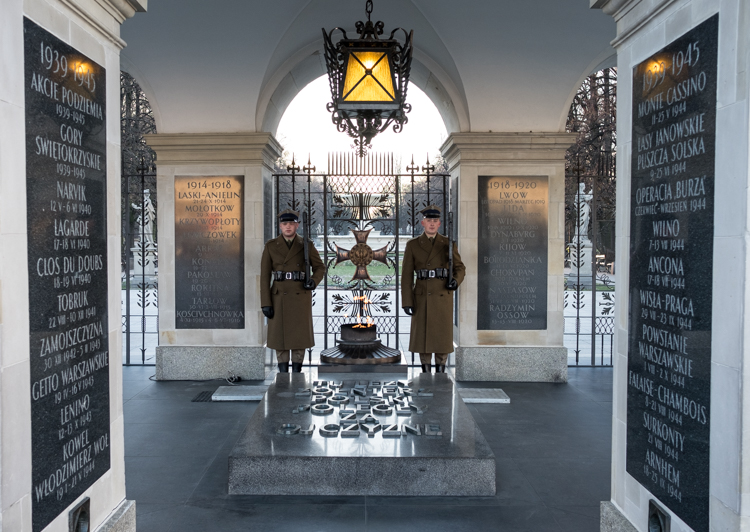 48_23
The overall view of Piłsudski Square. The big cross is part of a memorial to the victims of the Smolensk air disaster in 2010 which killed Poland's president Lech Kaczyński and scores of other senior officials. The crash was due to a combination of technical problems, bad weather and pilot error but to this day a significant segment of the Polish population believes that the crash was a deliberate act by the Russians: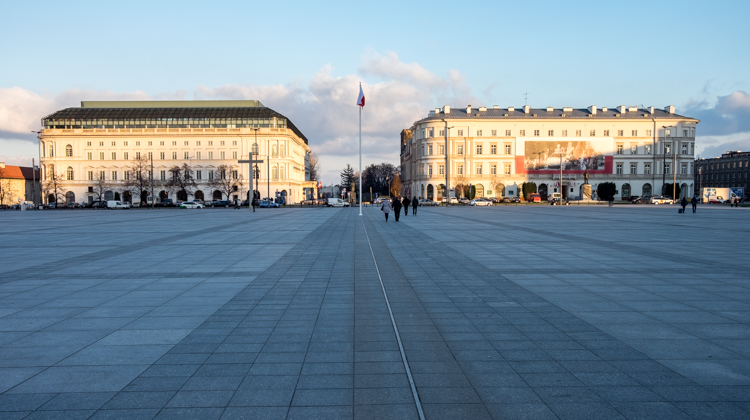 48_24
Statue of Lech Kaczyński outside the Warsaw army headquarters. It was erected earlier this month, and like everything else about the late president and his twin brother Jarosław who today leads the ruling Law and Justice Party, it is very controversial: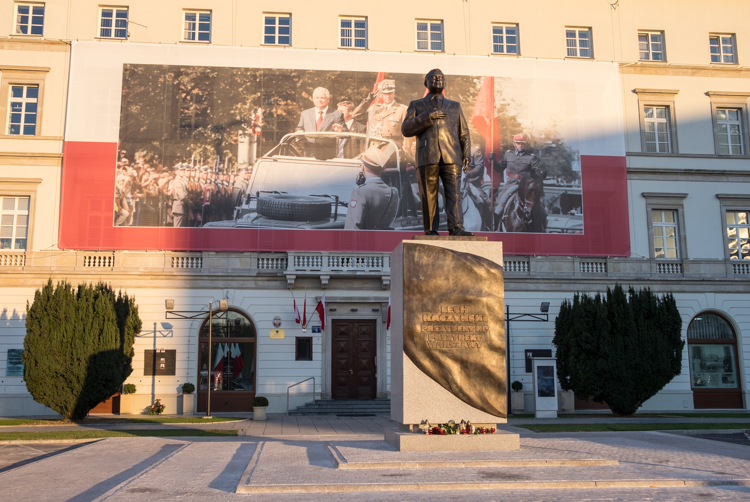 48_25
Thursday was very busy, so I took very few photos. But even when I am doing business, I always have my little Ricoh in my pocket and I am always on the lookout for photo opportunities–including when I need to pee! I noticed that in the Novotel mens room, instead of the usual advertisements above the urinals there were pages from the main national newspaper Gazeta Wyborcza. Very civilised, indeed: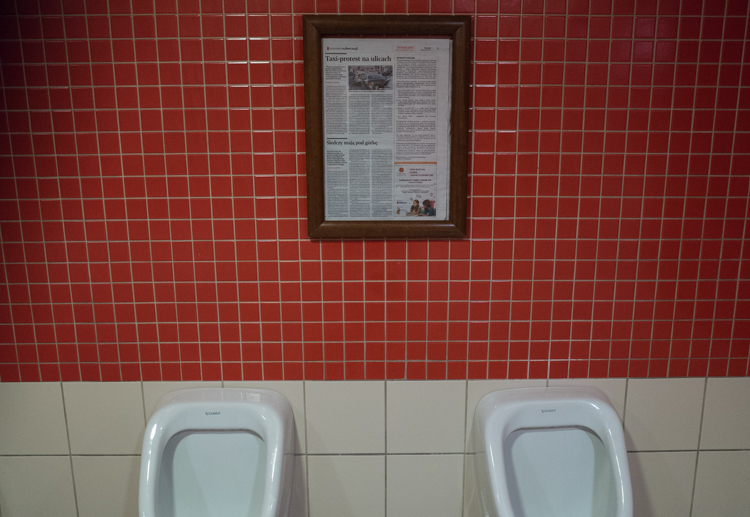 48_26
Finally, Thursday evening work was done, and I went out for dinner with some people from the OECD and some customs officials–we wanted to get some real-world information from them on counterfeit goods sent in small parcels, a subject of a report we are about to publish. This is my economist friend Piotr (yes, Polish) from the OECD, busy with a plate of steak tartare, a popular dish in Poland (for people scared of salmonella and such, a generous intake of vodka is recommended to go along with tartare):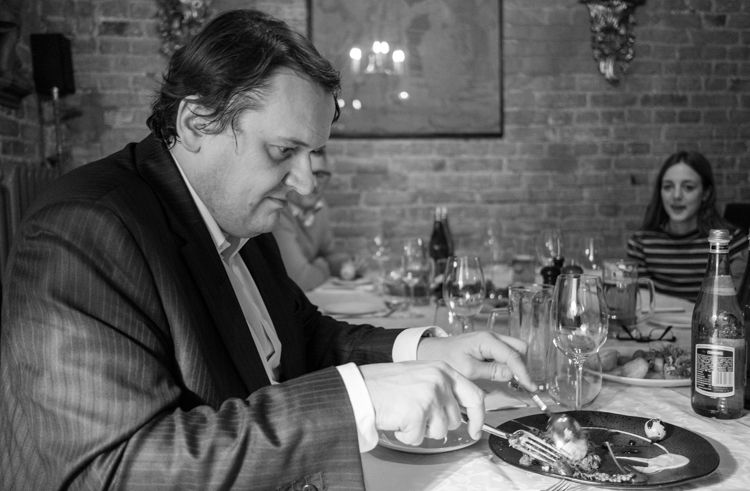 48_27
And two of my favourite people from the world of customs, Riika from Finland and George from Malta: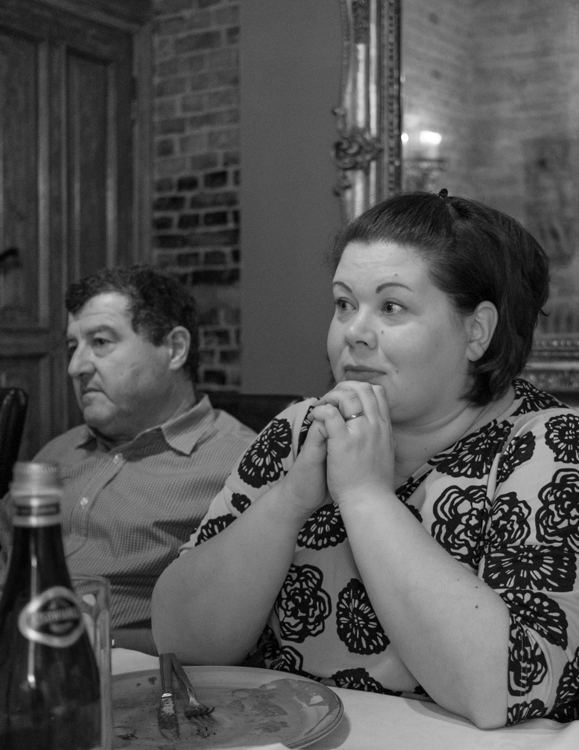 On Friday I made my way home via Madrid and, as far as I remember, I did not take a single picture!