Another week of summer, work, walking around my neighbourhood and in the centre of Alicante, and exploring my surroundings.
35_1
Another image of the elusive white cat on the golf course: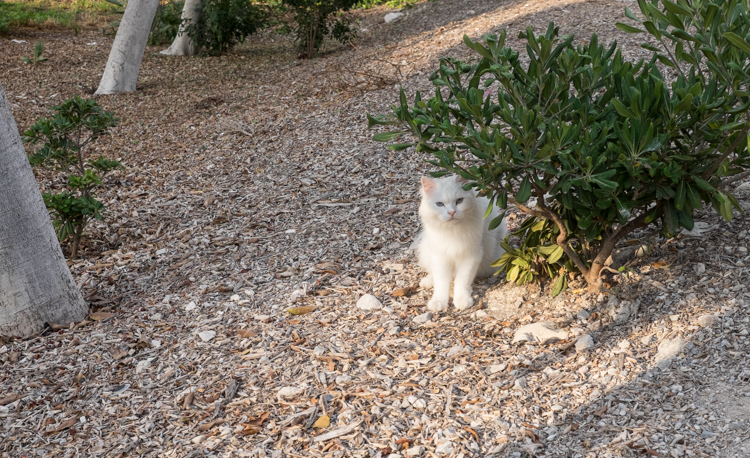 35_2
On Sunday, I cycled south to Santa Pola and stopped for a brief break at the harbour. It is my favourite of the harbours around here, because it is a proper, working fishing harbour, and the source of much of the great seafood we have around here:

35_3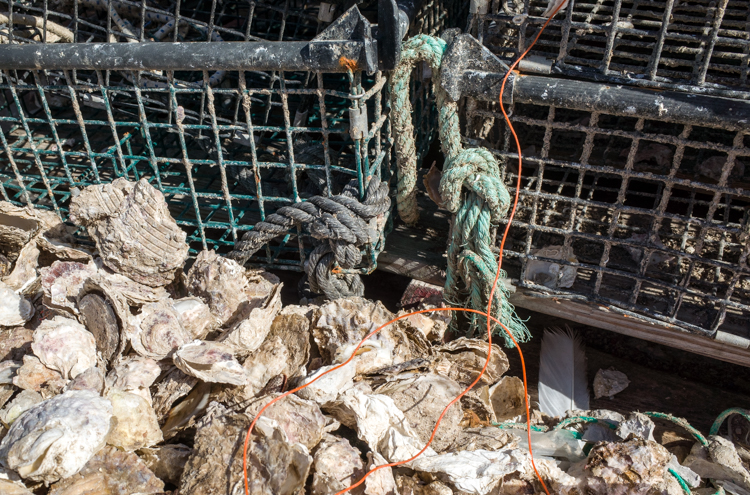 35_4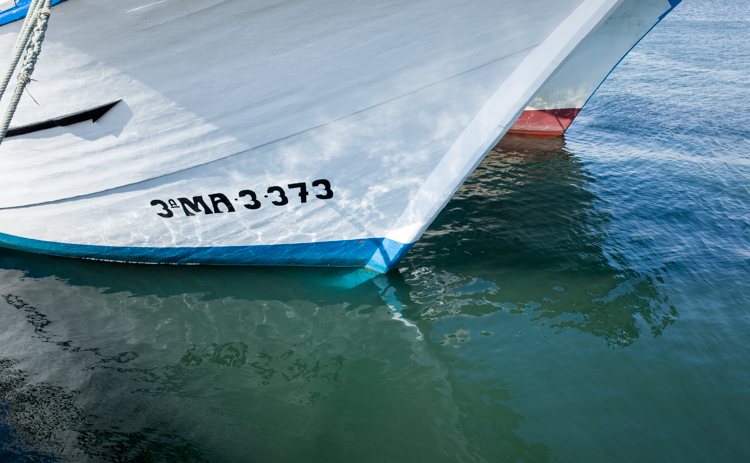 35_5
A couple of years ago, a new park was opened a couple of km from our home. It includes a large area for dogs to run around freely, useful for those who live in apartments. I have cycled or driven past many times, but until this week I have never explored the park. But now I have. It is very nice indeed, and the large pond has a dual purpose; to look nice and to provide a place for rainwater runoff when we get the torrential rains in the autumn: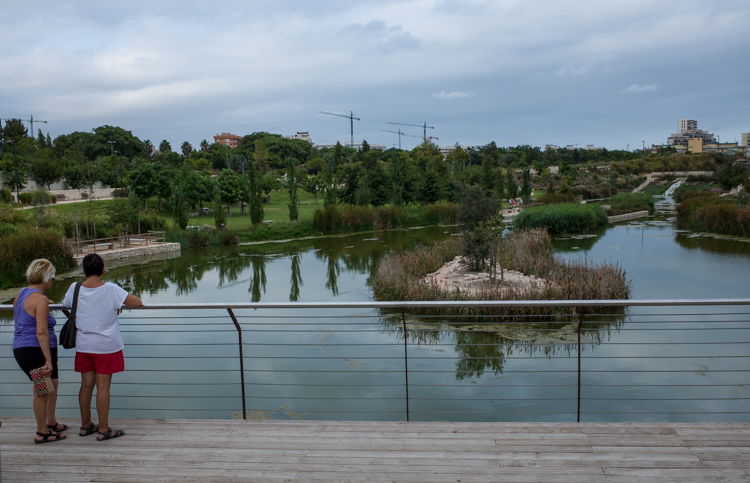 35_6
However, the main reason for visiting the park was to see the memorial tree for pets that my wife had mentioned to me:

35_7
Visitors are invited to hang a ribbon in memory of their departed four-legged friend: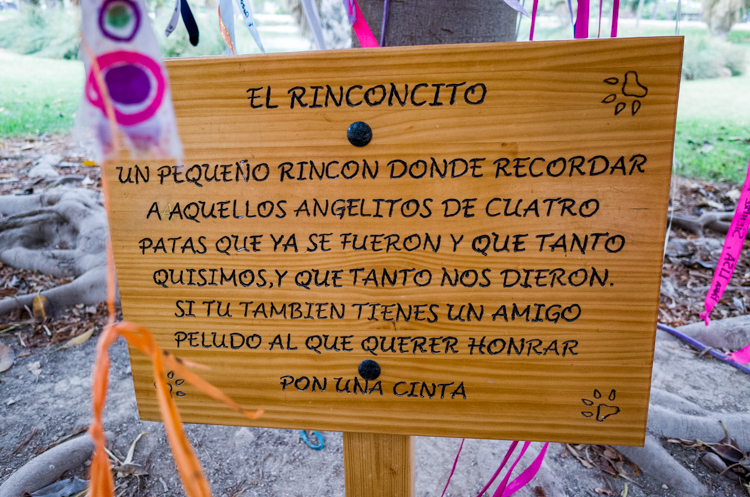 35_8
And many people have made use of the facility. We plan to hang a silver ribbon in memory of our beloved kitty Taco who passed away in March: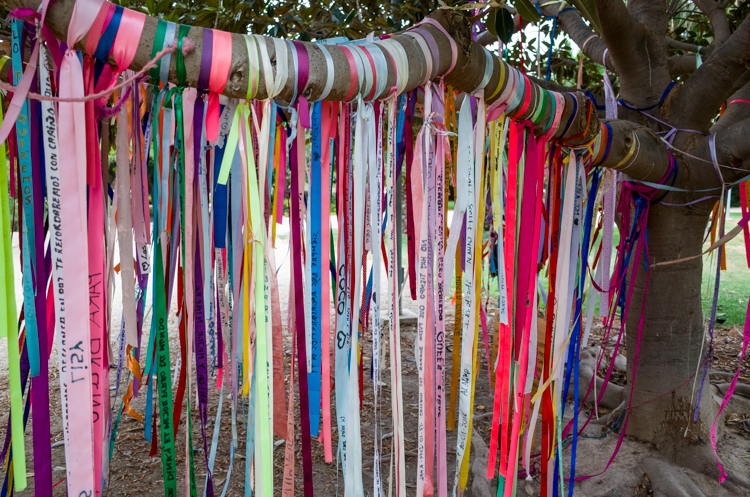 35_9
During August, I have been taking golf lessons twice a week, Monday and Wednesday after work. This week, we have had some nice clouds (although not a drop of rain). Of course, I have the camera with me at all times. The clouds made the driving range look nice, in colour: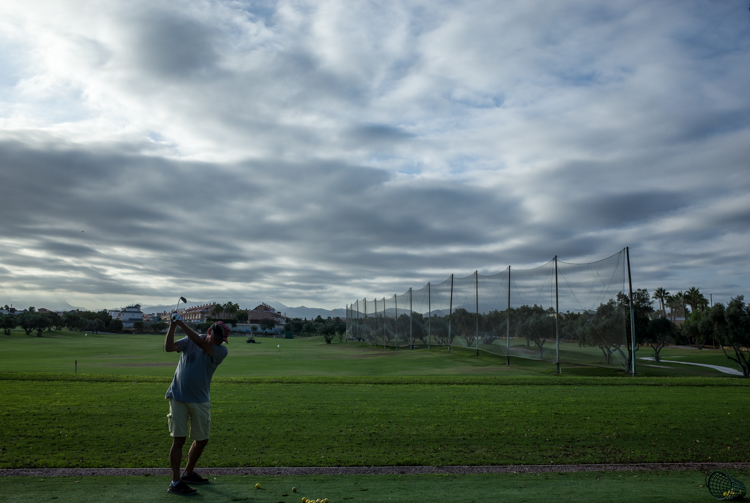 35_10
…and in black & white: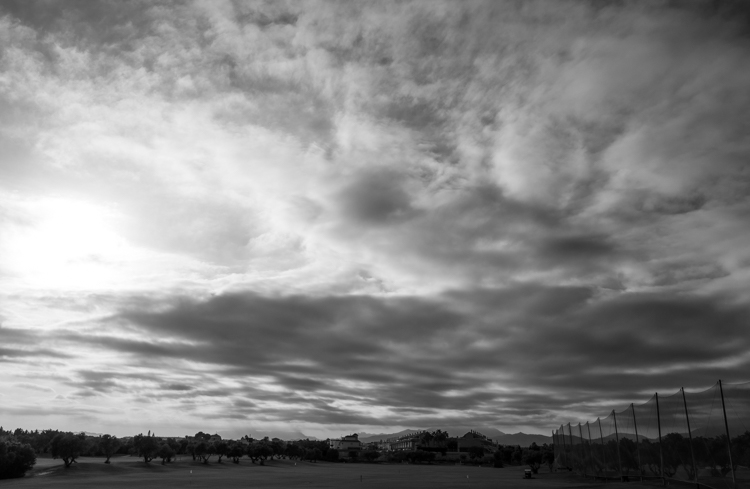 35_11
One day during the week I went out for lunch, and took a walk in the centre, near Plaza Luceros. It is not a bad neighbourhood but it has a seedy underside. On one little street, there is first a "bar de copas", a place where you go to buy overpriced drinks and meet prostitutes: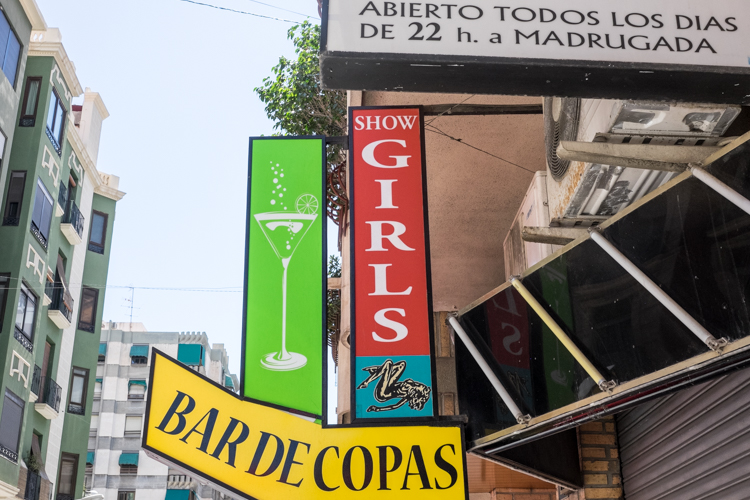 35_12
I wonder about the synergies between these two neighbouring establishments: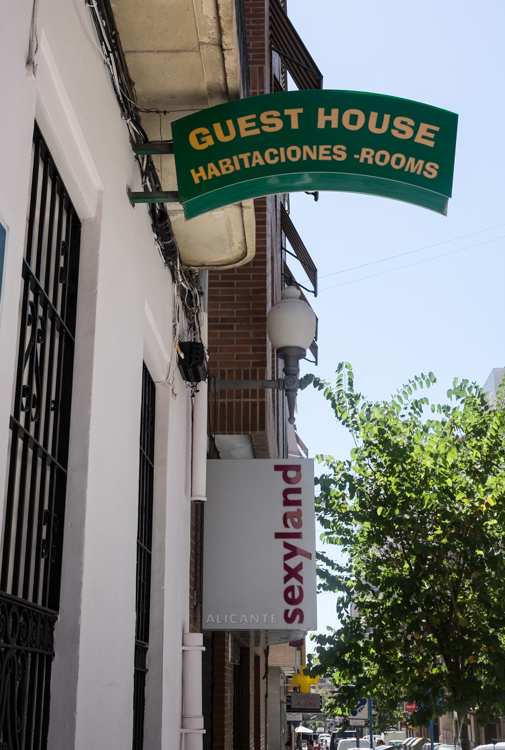 35_13
But in the same neighbourhood there is also some really interesting wall art, the most democratic artform there is, since it is accessible, free of charge, to anyone who walks by: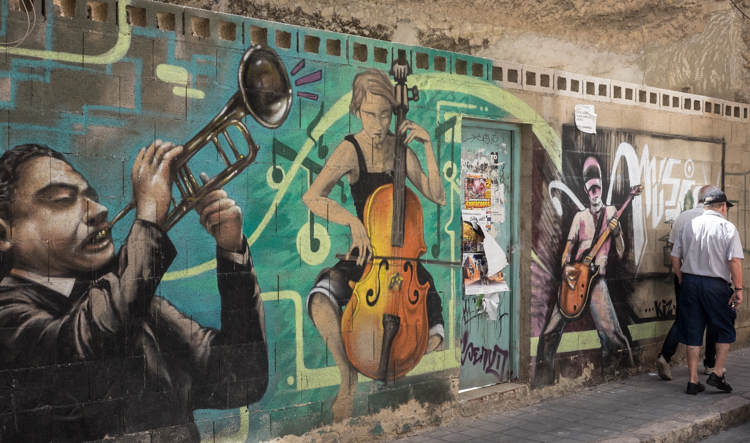 35_14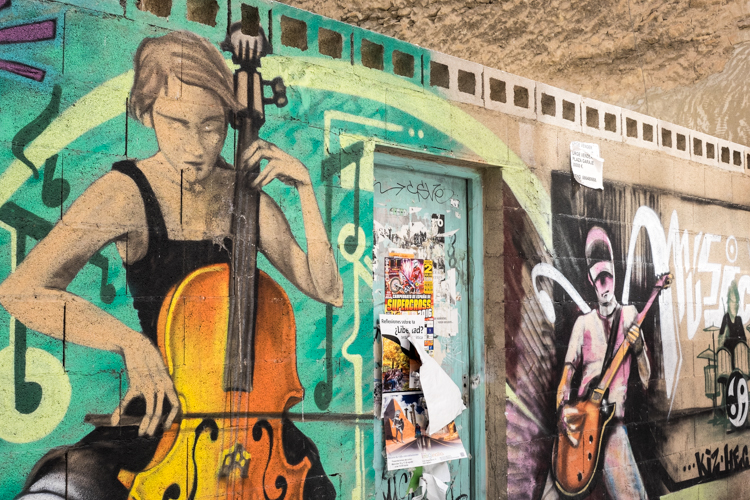 35_15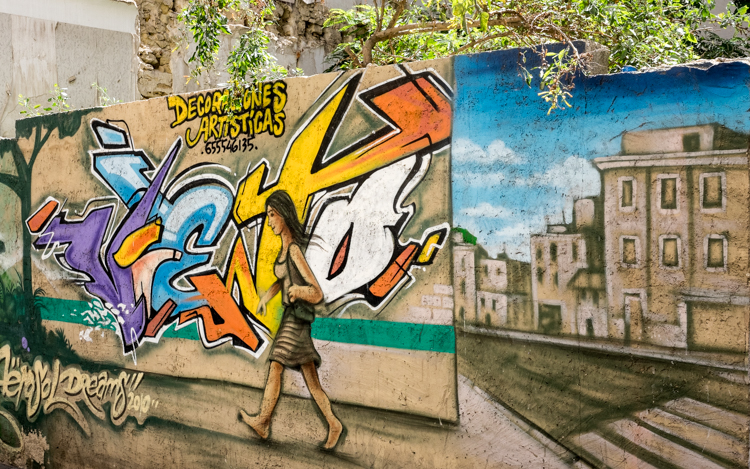 35_16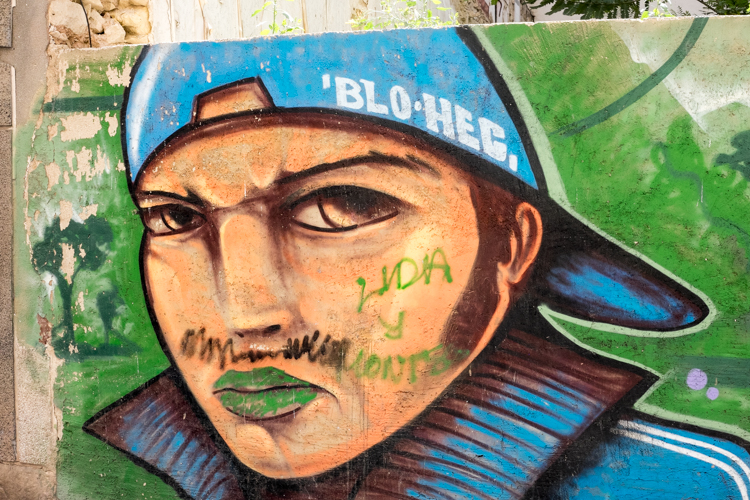 35_17
A couple of morning dog walk pictures. People waiting for the local post office to open:

35_18
Cycling with two dogs, Avenida Vicente Ramos:

35_19
I have often shown photos of my mother's cactus that treats me to one or more blooms every couple of months. It happened again last week, but here I show you the aftermath. In the August heat, the blooms do not last long: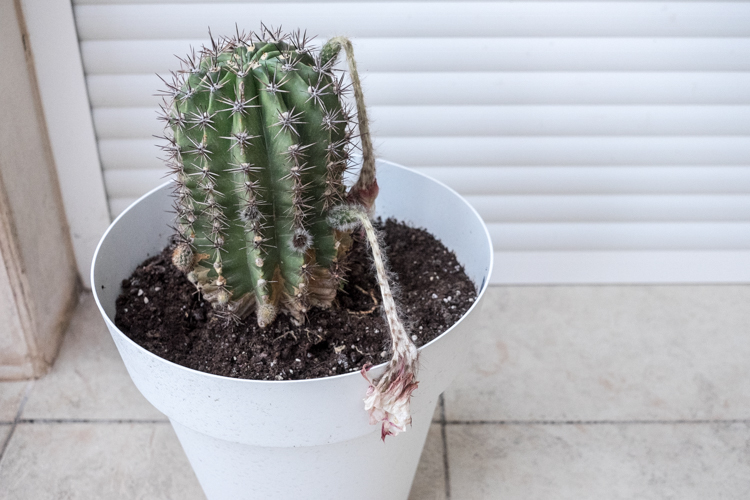 35_20
I continue to explore aspects of the new building; it is no longer really new, as it has been in use since March 2015, but I keep looking for different aspects and angles. This is the outside seating area of our coffee shop: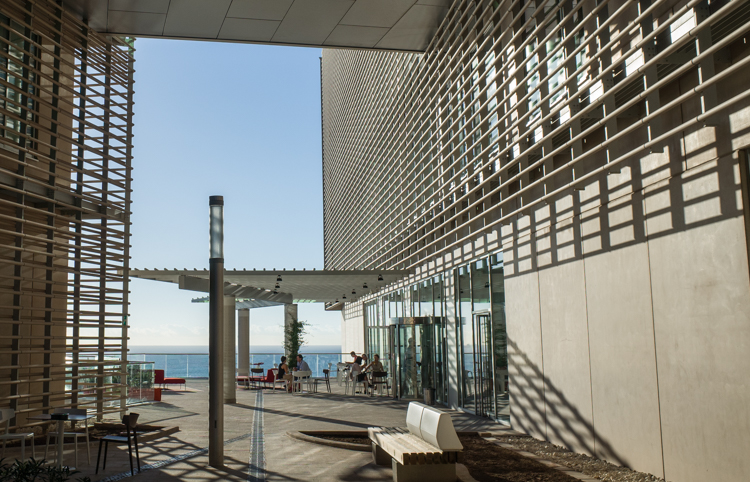 35_21
And this is a connection between the old and the new building: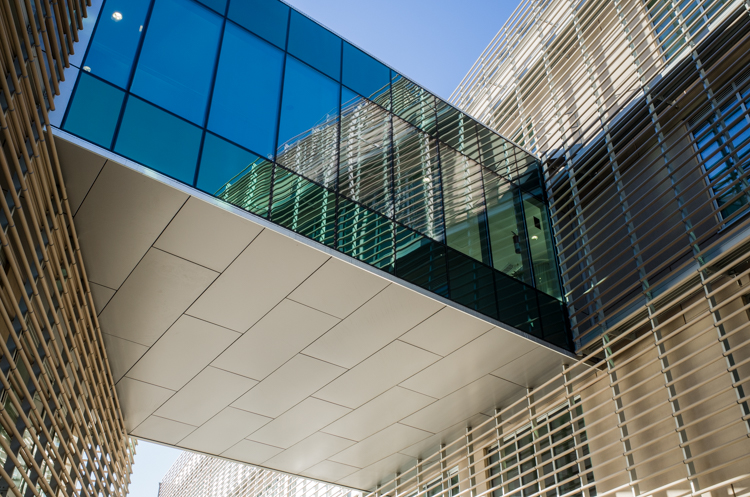 35_22
On the last Friday of each month, the fire alarm is tested at noon. It is not an evacuation drill (we have those too from time to time, but obviously they cannot be predictable), just a test of the sound. In my department, we take that as the signal to have an informal drink. People bring whatever they feel like and we just get together in the hallway. This time we had a heavy Eastern European flavour to it, as my colleague Michał brought kabanosy and smoked Polish cheese, and I had bought some Polish beer: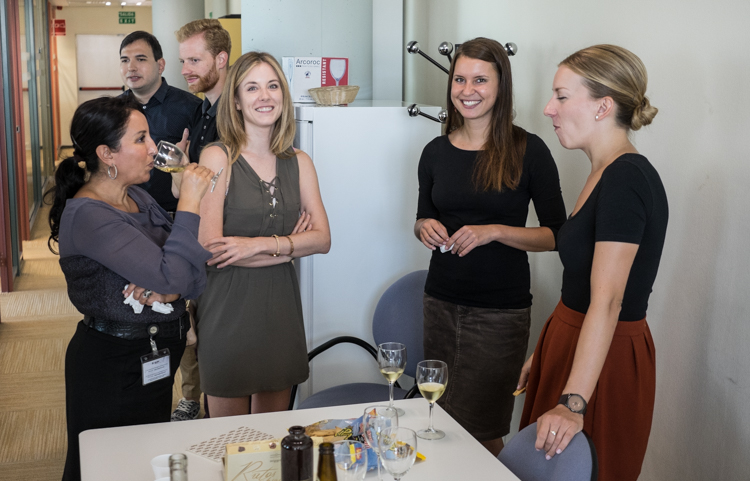 35_23
Eye contact: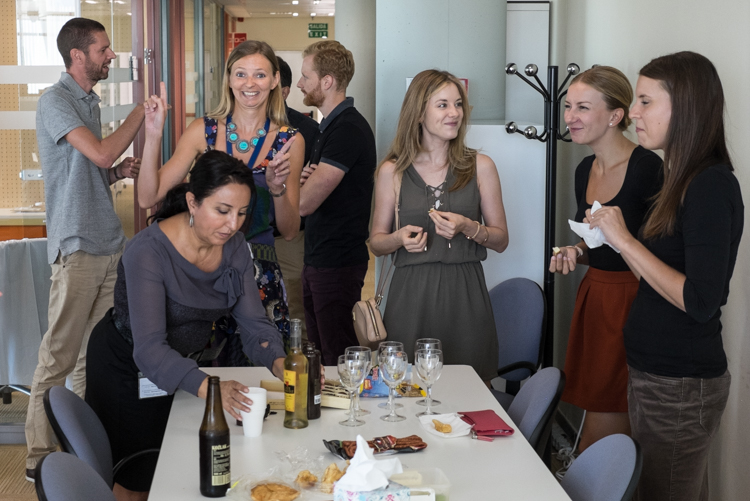 35_24
Kasia (Polish) and Adéla (Czech):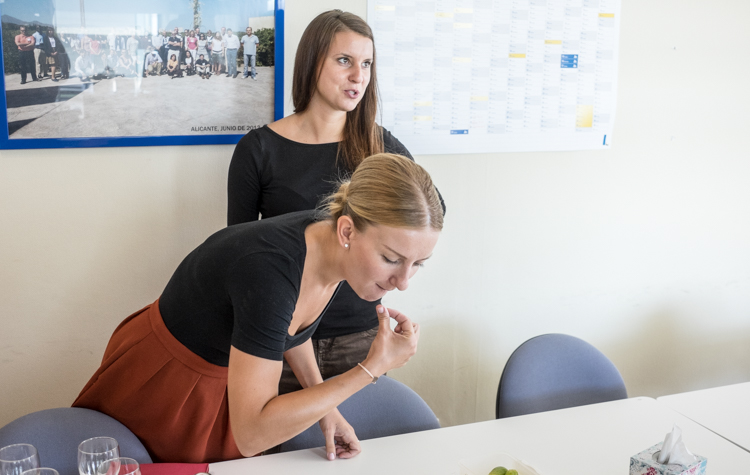 35_25
Latvian chocolate: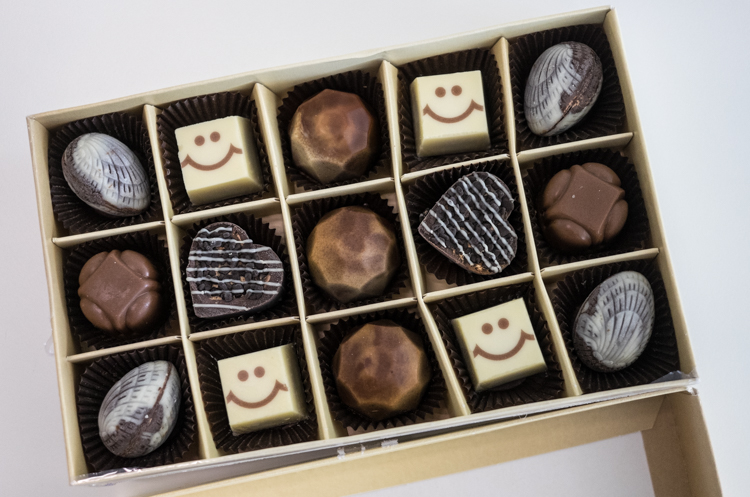 35_26
Three ladies in animated conversation–fuzzy Carolina, our newly arrived finance expert Carmen, and our Belgian secretary Fouzya. Behind them you can just about make out the mess that is my office: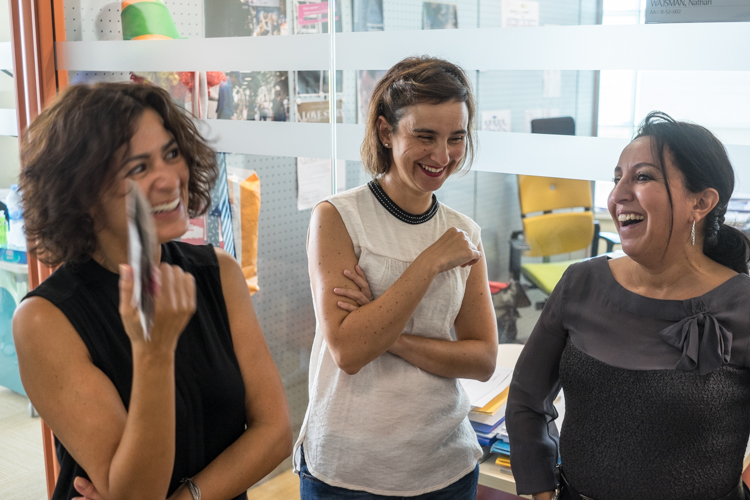 On Saturday afternoon, I drove to a beach near Villajoyosa, called Platja Bon Nou, to take some infrared pictures with my Leica M8. I have been meaning to visit this beach for some time, as it has some really spectacular rocks and views. I did take my IR pictures, to be shown later, but I also had a regular camera with me.
35_27
I had stupidly hoped that the beach would be as secluded as I remembered it from my last visit in the winter, but no such luck: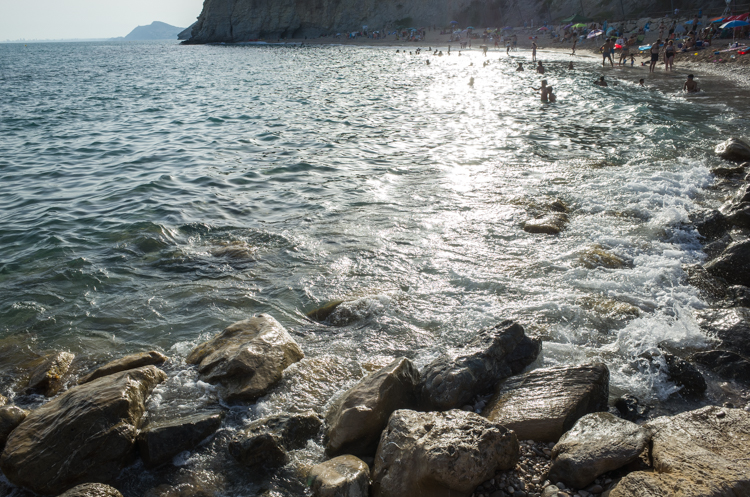 35_28
People on the rocks: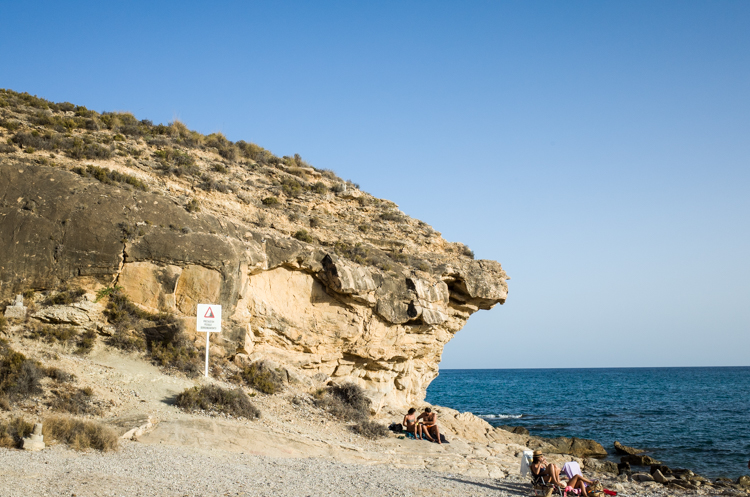 35_29
This is the view that draws me to this beach: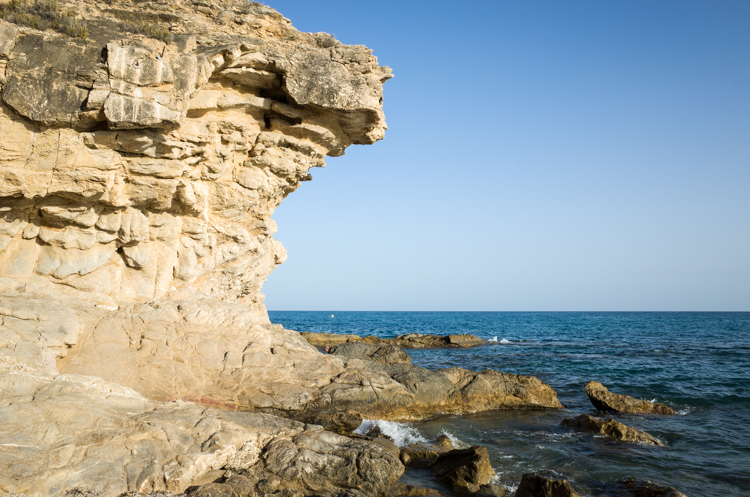 35_30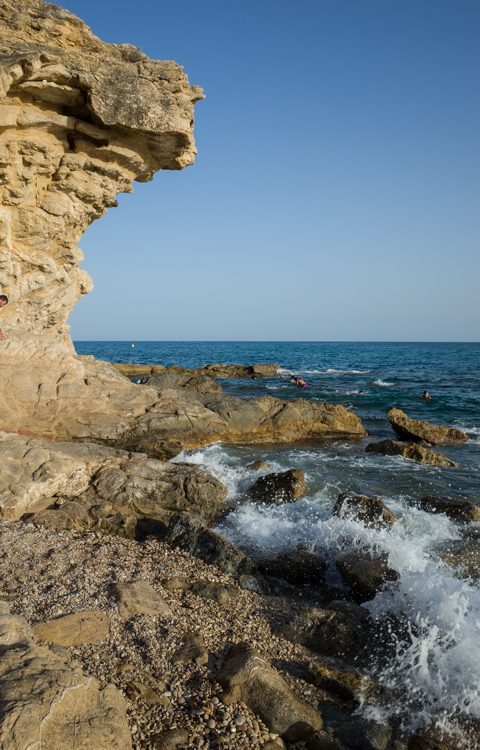 35_31
Above the beach stands a small ruin of a house which I explored a bit: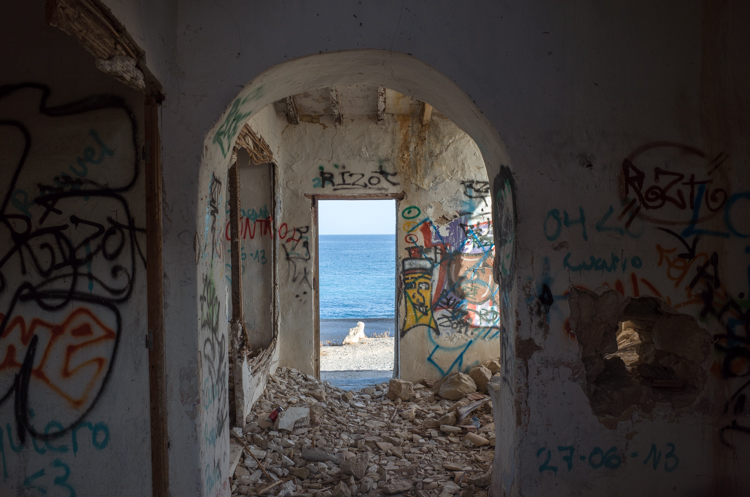 35_32
Clearly, it is used by homeless people from time to time. I did not linger long, it was actually quite disgusting, despite the nice light: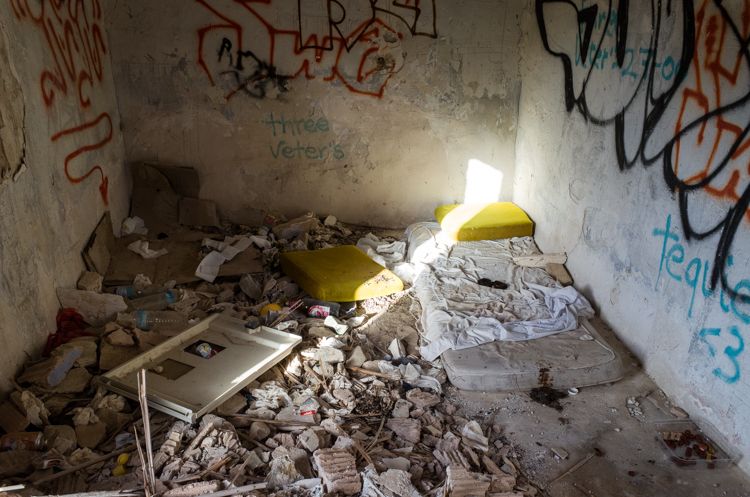 35_33
On the way back to the car, I stopped to photograph this inhabitant of the picnic area: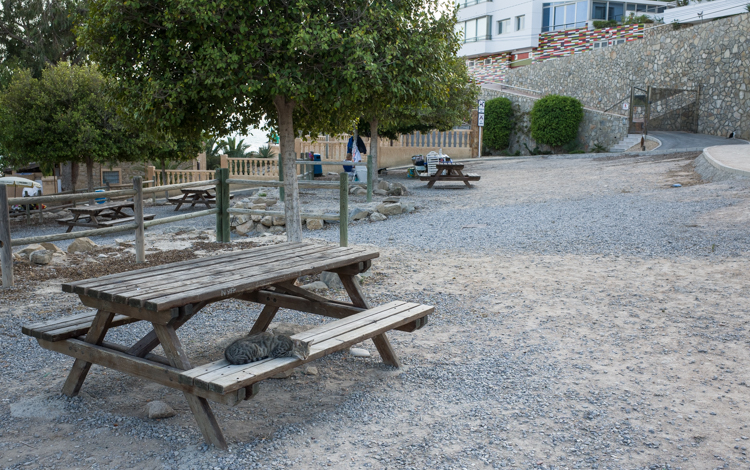 35_34
This cat was much less shy than my golf course cats at home. He opened his eyes, looked at me briefly and went back to sleep: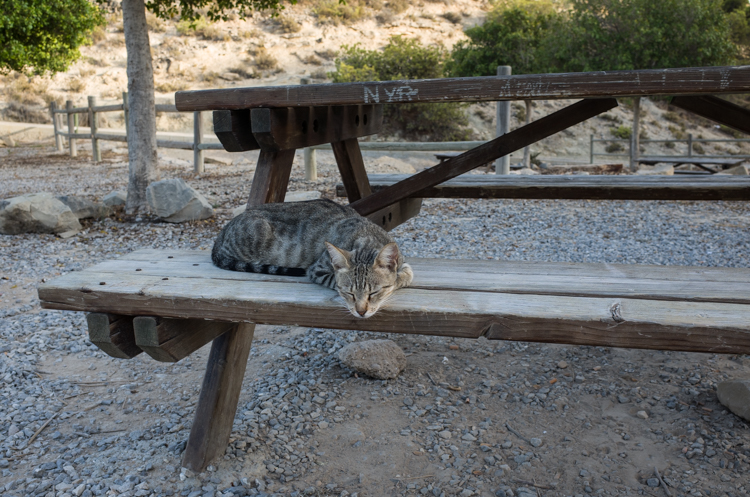 35_35
And then I drove home and cooked dinner. My wife is walking the Camino de Santiago this week, so being alone, I have been experimenting with new (to me) dishes, including some vegan recipes from the BBC: