I was away almost the entire week–in Brussels from Monday to Thursday, and in Paris on Friday. It was all business, but especially in Brussels I had some free time in the evenings to get together with my cousin and to enjoy the city and its Christmas markets. I have put together a separate gallery showing those markets and the way the city is decorated for the holidays. In this blog entry, I focus on other aspects of Brussels. The images are arranged more or less chronologically.
50_1
I arrived at Brussels airport around lunchtime on Monday. Normally this is a very busy airport, but on Monday there was a massive public transport strike in Brussels, and many airlines had cancelled flights to and from Brussels, since nobody was sure how people would get to the airport and whether the baggage handling and other ground services would be working. As it was, my flight was on time, my suitcase arrived with me, and I got a shot of this little dog waiting with its human: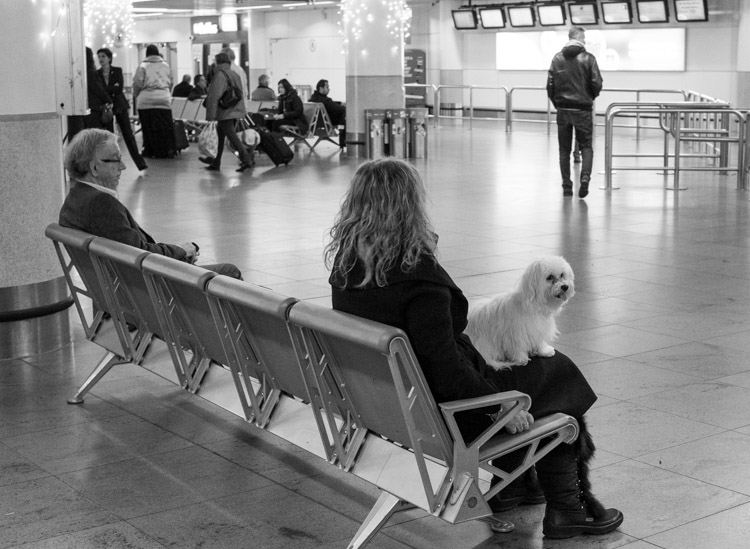 50_2
There were also threats that several major thoroughfares would be blocked. But as it was, traffic was very light and the taxi brought me to my hotel in the EU quarter without incident. After checking in, I went for lunch and a walk in the neighbourhood. The Schuman metro station was totally deserted: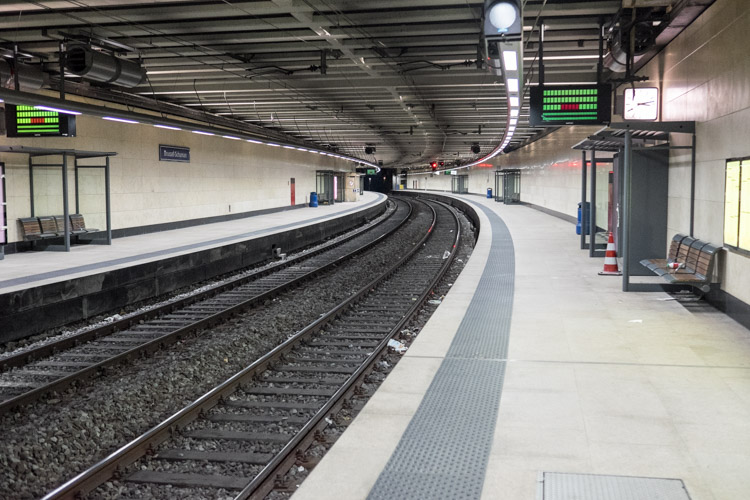 50_3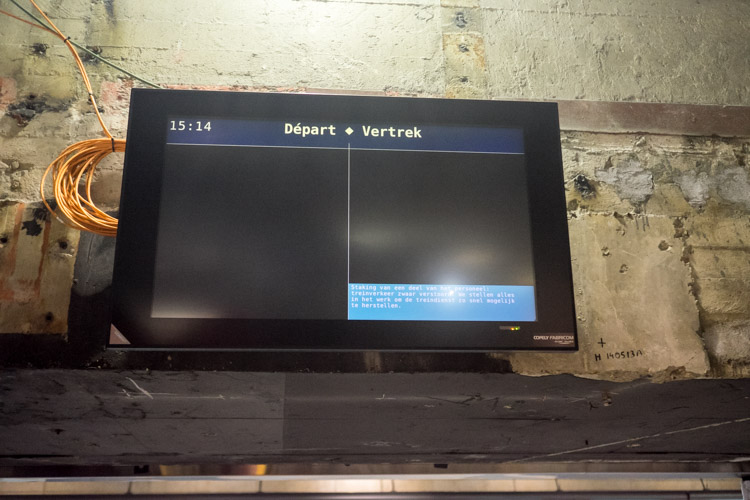 50_4
Many employees of the Commission were unable to reach their offices or chose to work from home, so the Berlaymont square was unusually deserted: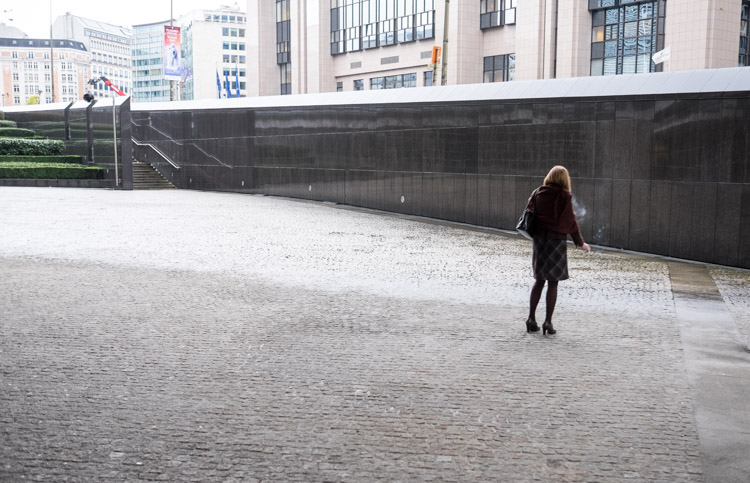 50_5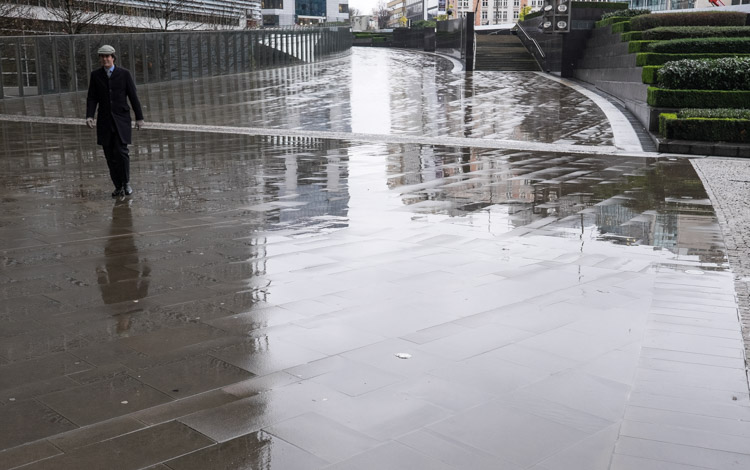 50_6
Since I have photographed Berlaymont so many times, I decided to take advantage of the rain and the absence of passers-by and use the reflections in the smooth pavement as the main image element: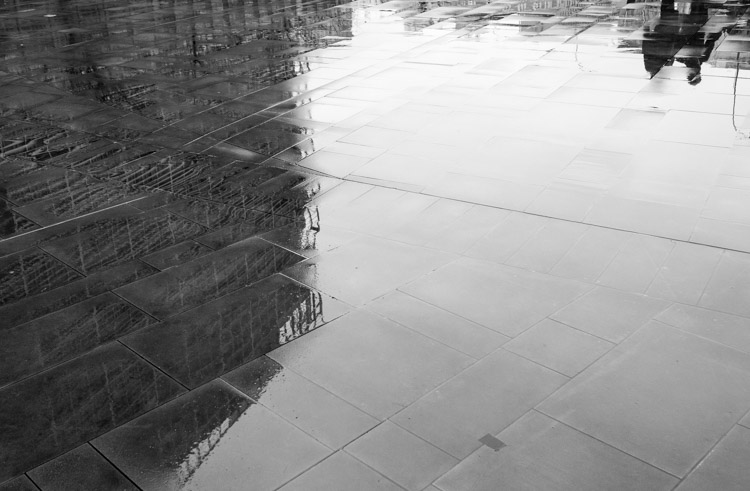 50_7
Looking down from the Berlaymont entrance. The Irish bar in the picture is one of my favourite watering holes in Brussels: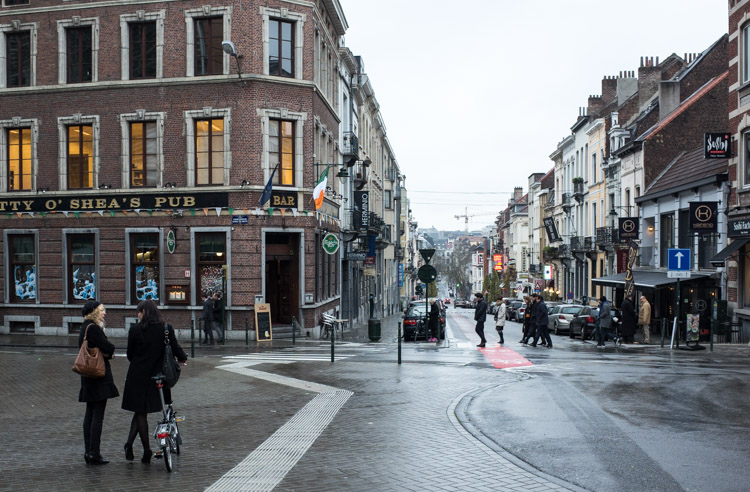 50_8
The flags outside Berlaymont at half mast. At first I thought it was for the Belgian queen mother who had died at the weekend, but it turned out to be for a former commissioner: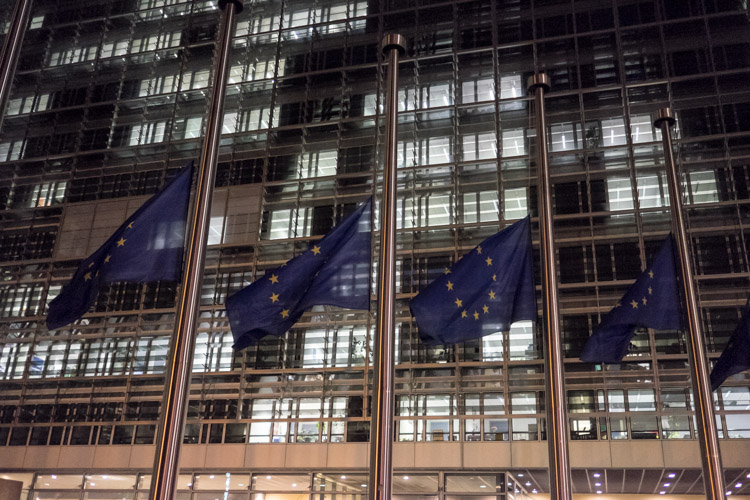 50_9
Monday evening, walking across the Parc Cinquantennaire. The light was quite special in the fine rain and mist: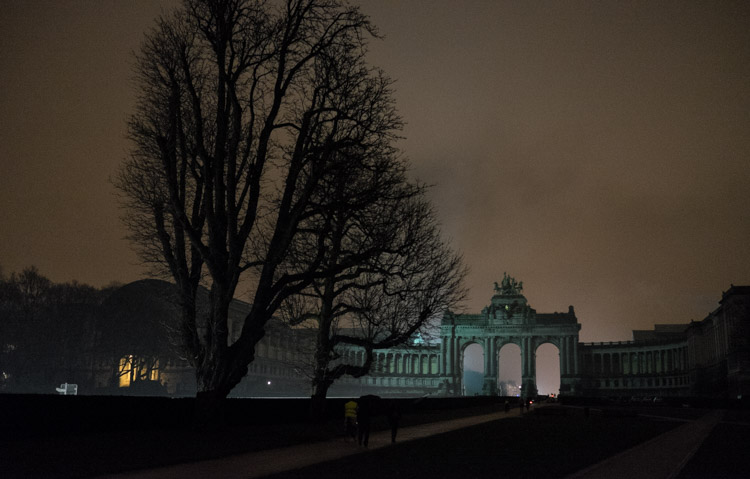 50_10
On Tuesday morning, I walked to the hotel on Rue de Commerce where I was going to spend the next two days in a seminar we had organised jointly with the European Patent Office. Just before reaching my destination, I stopped to photograph this piece of urban flora: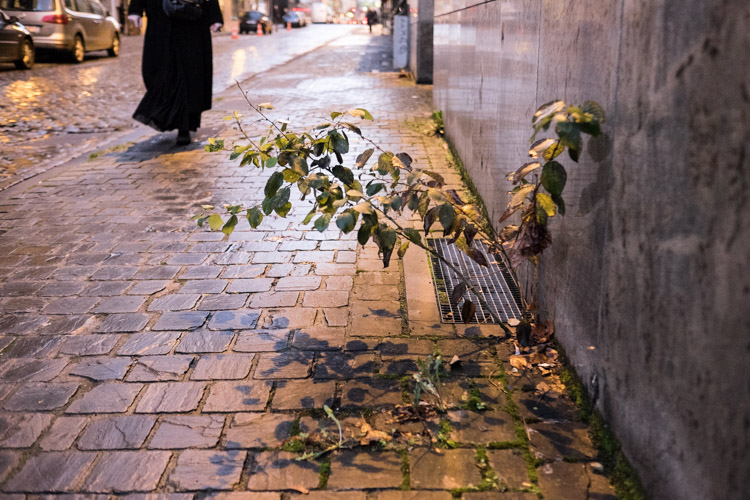 50_11
That evening, I went to the centre of Brussels to see the Christmas markets and decorations. I also passed this currency exchange place, decorated in a way that suggests that the target market must be Asian tourists: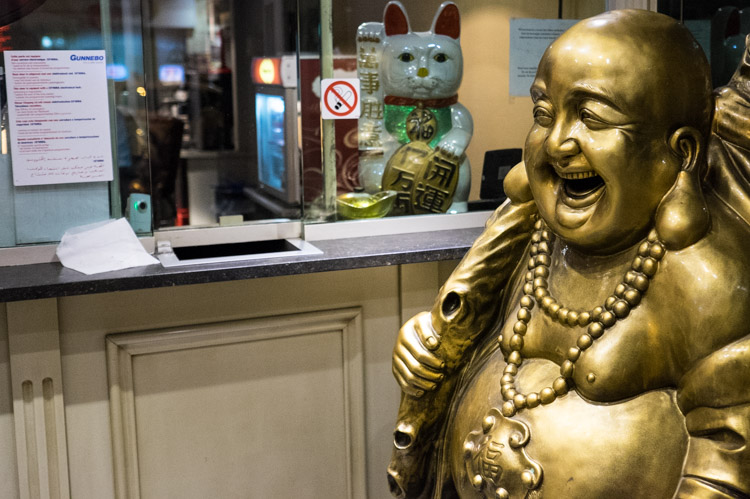 50_12
Shortly after taking the preceding picture, I reached Grand' Place which looked truly beautiful. The light on the guild houses was changing colours all the time. The tree comes from Riga, the capital of Latvia: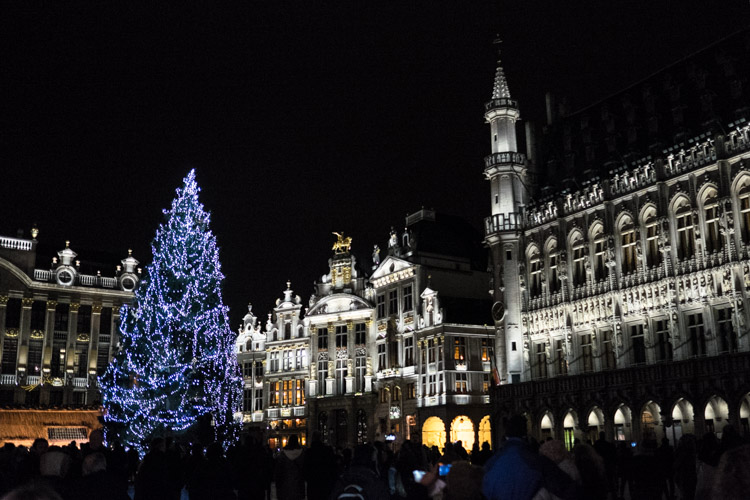 50_13
I went for dinner at 't Kelderke on Grand' Place, a place for traditional Belgian food, popular with tourists and locals alike. From my table, I had a good view of the kitchen: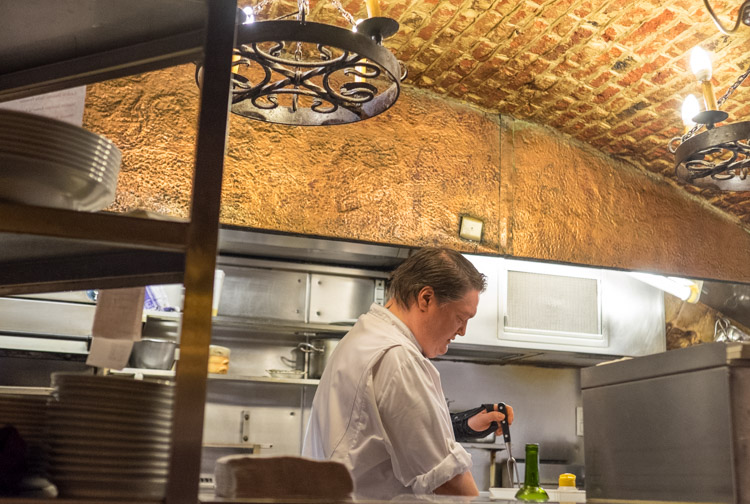 50_14
And this was my dinner, as traditional as it gets–stoemp and boudin: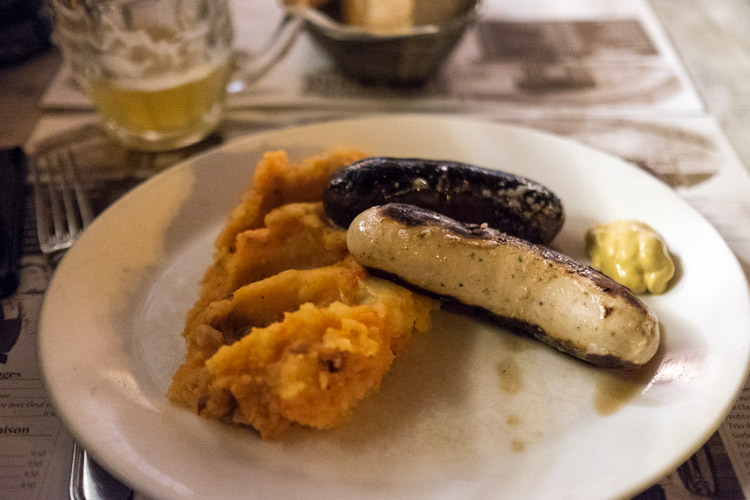 50_15
After dinner, I walked around some more and came across two scenes, both involving a lone male with a smartphone: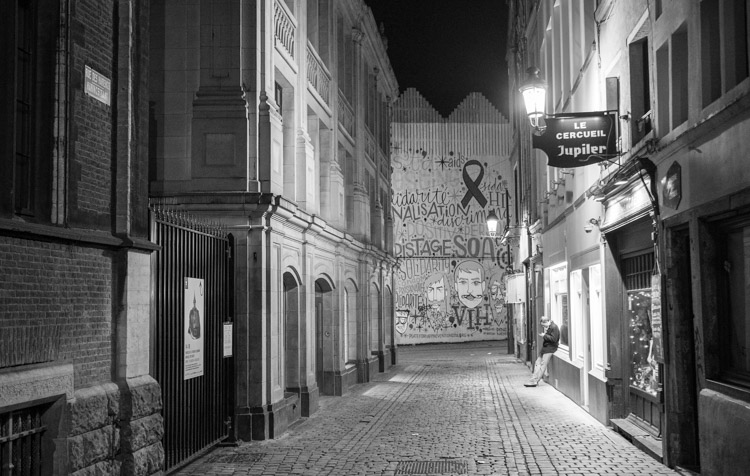 50_16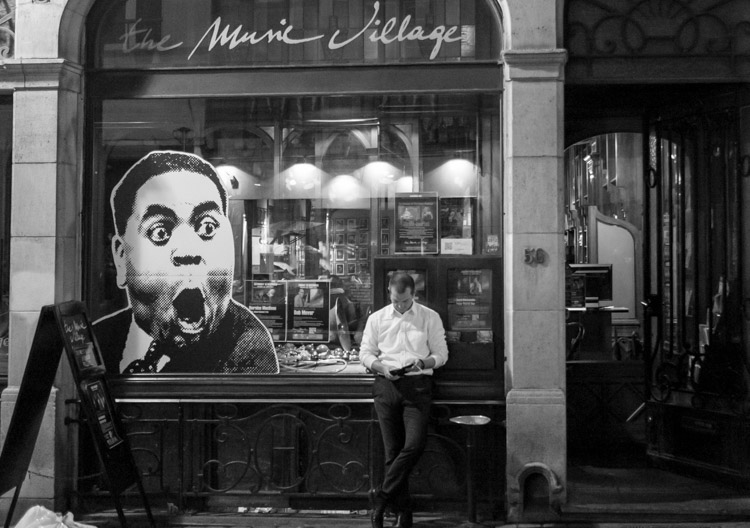 50_17
As always, I looked for details of the city that would amuse me, such as this shop sign and its reflection: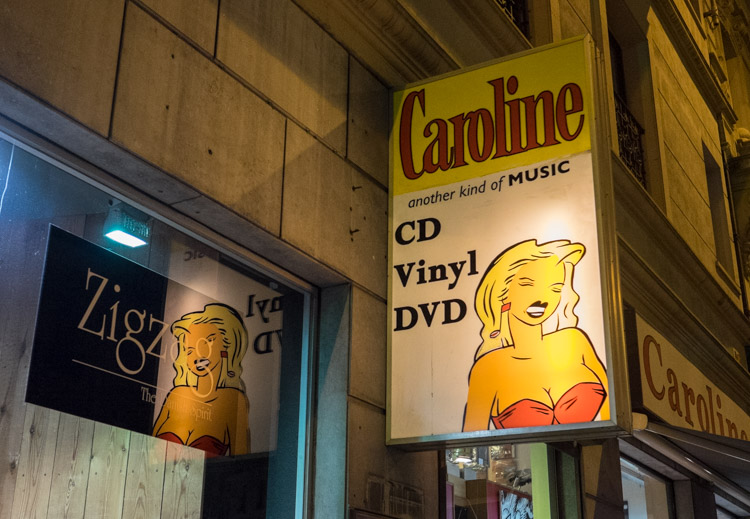 50_18
On Wednesday morning, again near the conference hotel, I made one of my favourite images of the week. A shop had discarded some displays which played well visually with the surrounding street:

50_19
Thursday was just an ordinary working day. Because I had to be in Paris on Friday morning, I had chosen to stay in Brussels and work out of our office there. When walking to that office, I happened upon a demo by Polish cattle and dairy farmers at the Schuman roundabout, a spot where one sees lots of events of this type (earlier this year, I have photographed some "save-the-bees" types there):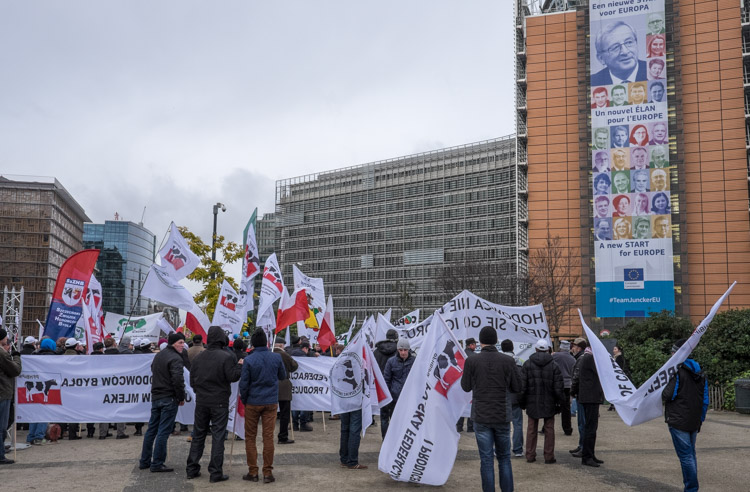 50_20
I speak fluent Polish, so understanding the text was not a problem, although it was not 100% clear what the protest was about. It had something to do with quotas and prices, the usual preoccupations of farmers everywhere in the rich world where agriculture is subsidised: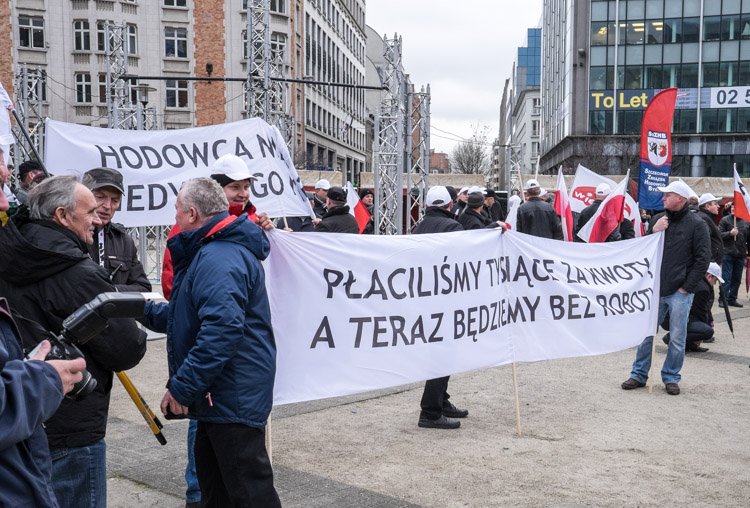 50_21
For the sake of the international press: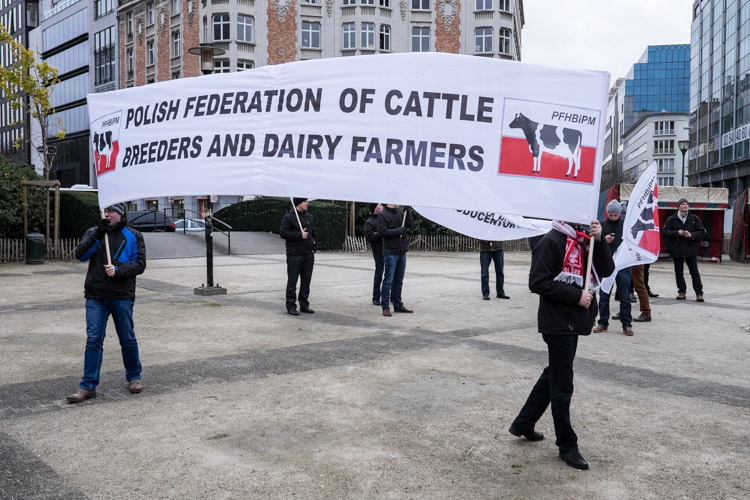 50_22
I like this kind of event because it allows me to mix with the crowd and take pictures without worrying about whether the people want to be photographed–by staging a rally in a very public place, they clearly indicate, or at least imply, acceptance:

50_23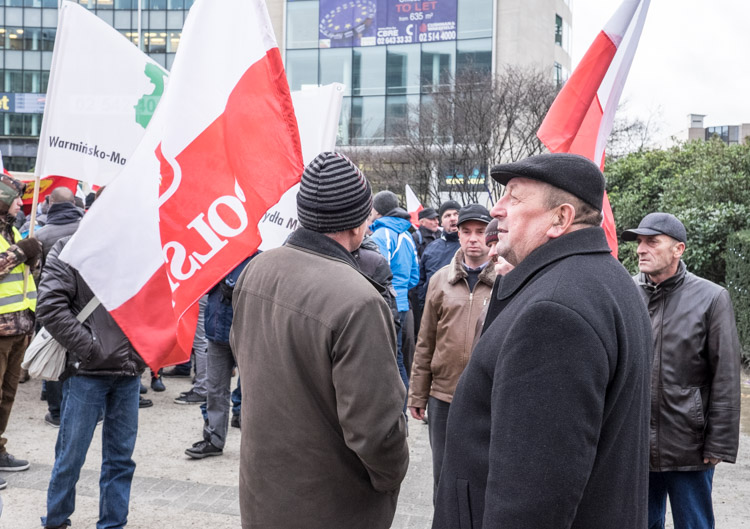 50_24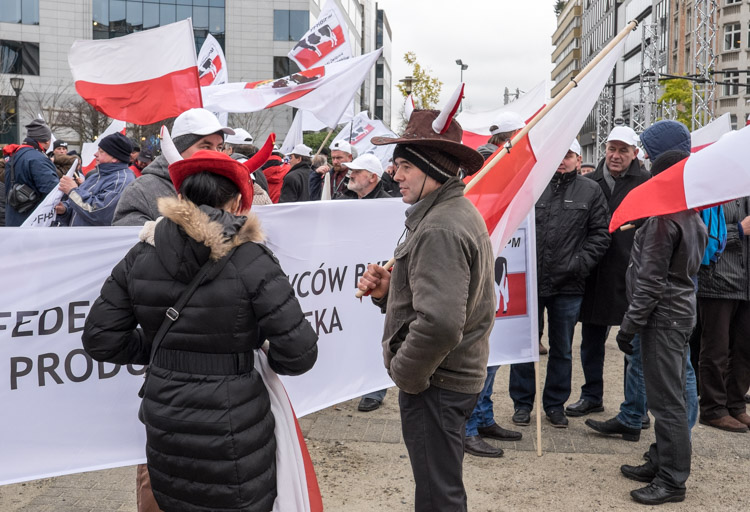 50_25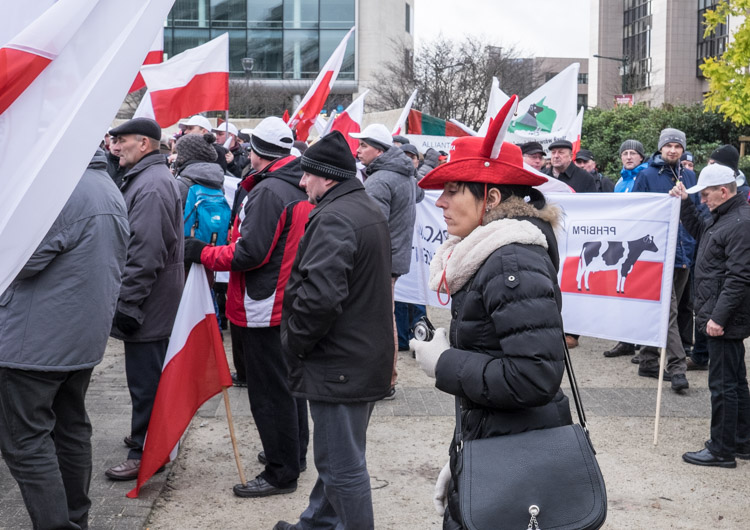 50_26
Thursday night I had dinner with my cousin Nicole, her husband Luc and their daughter Elsa who had just arrived from Montreal that morning. She attends Bishop's University and had sat exams earlier in the week. Here she is, checking the results: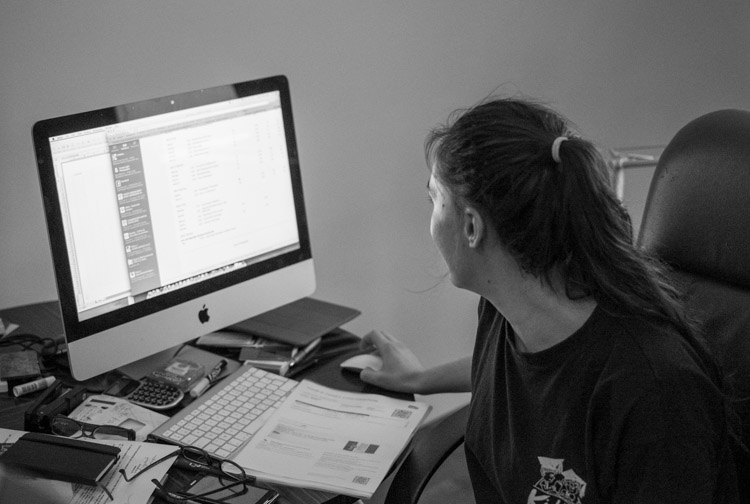 50_27
Relief–the grades were OK: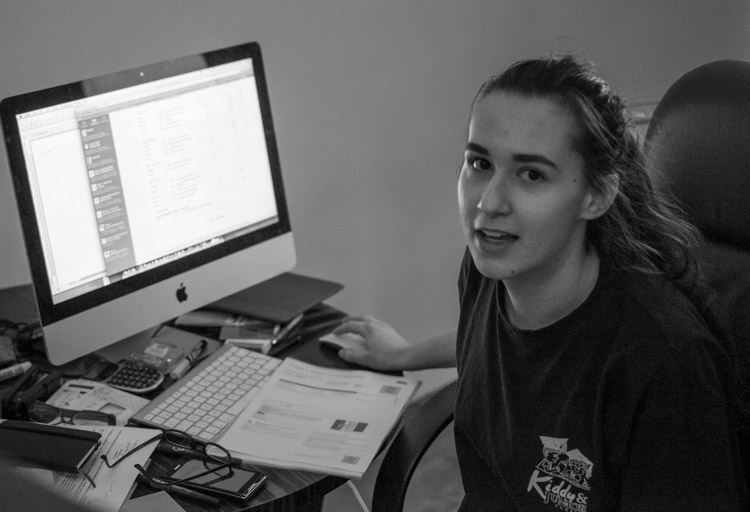 50_28
Later that evening, I took my last picture in Brussels this year, again of the rainy square in front of Berlaymont: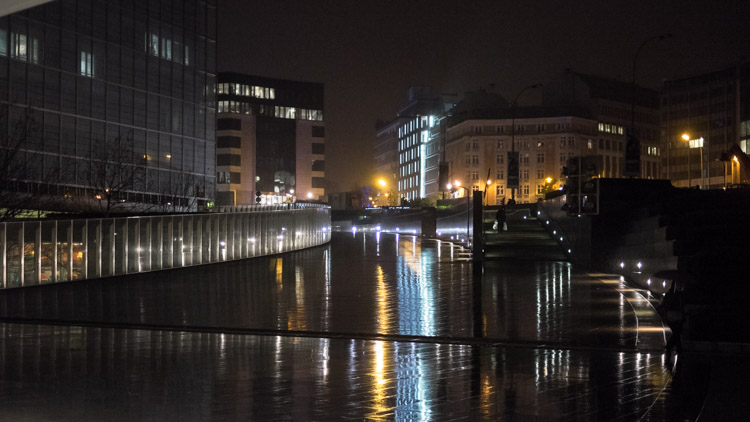 50_29
On Friday morning I took a 7 a.m. train to Paris and a taxi from the Gare du Nord to the OECD headquarters in the 16th arrondissement where I spent several hours in meetings before taking a taxi to Orly airport for my flight home. I took just one picture all day, inside the OECD building: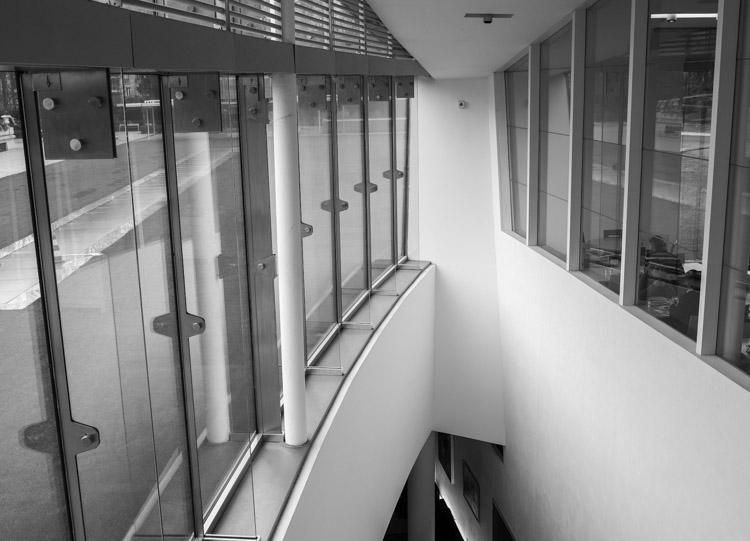 And that was the week.