It is always tough to be back at work after a nice, tiring (in a good way) and intense vacation. This was my first full week after the return from Denmark.
30_1
Appropriately, I start with a picture from my very desk at the office. Some workmen are outside, replacing the external window pane; I thought that their silhouettes had some photographic potential: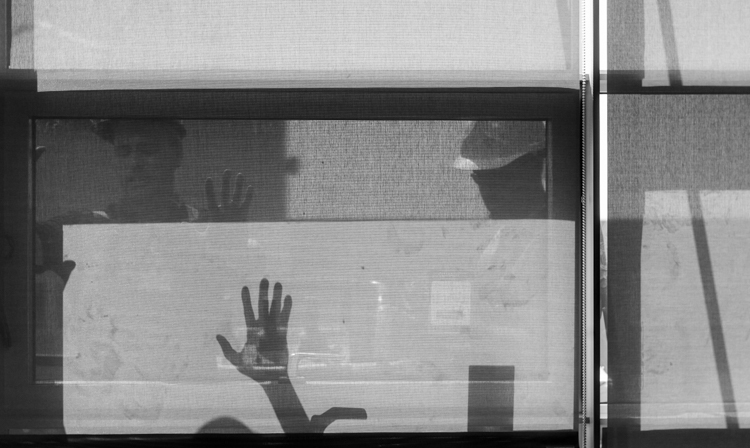 30_2
Tuesday night, a few of us went out for dinner at a local place called Erik Café to celebrate the launch of a major report. This is Claire, our communications officer and so a key person in every publication (French) and Michał, an economist on my team who was the lead researcher on the study (Polish):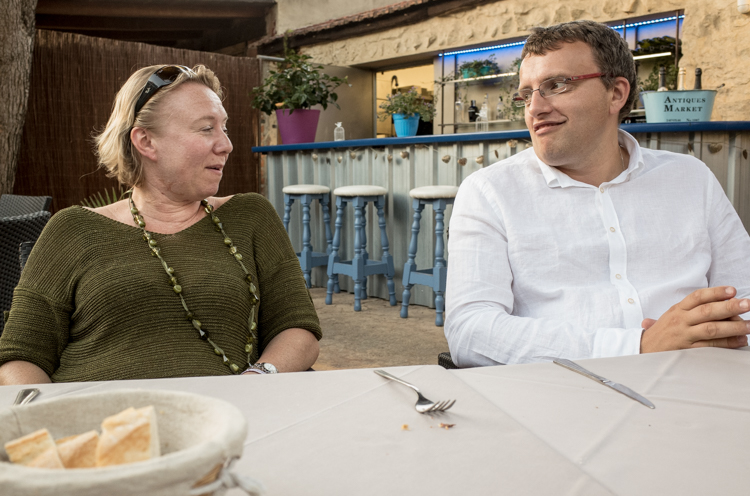 30_3
Erik Café is owned by a Belgian chef, and the food is traditional Spanish but with a big touch of French refinement–very nice: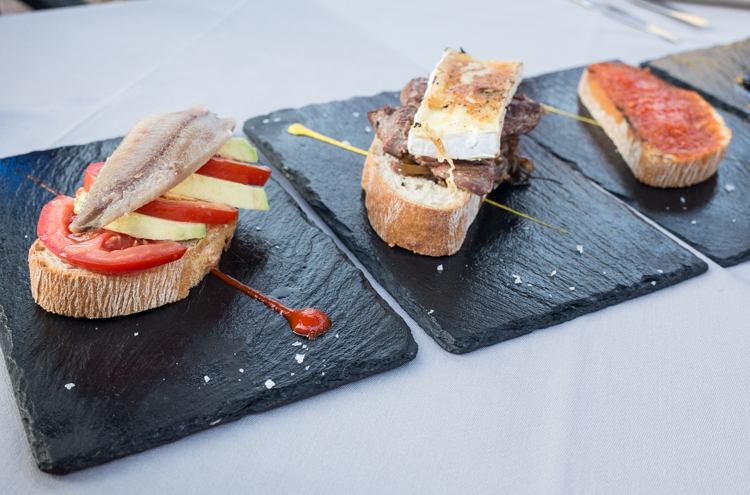 30_4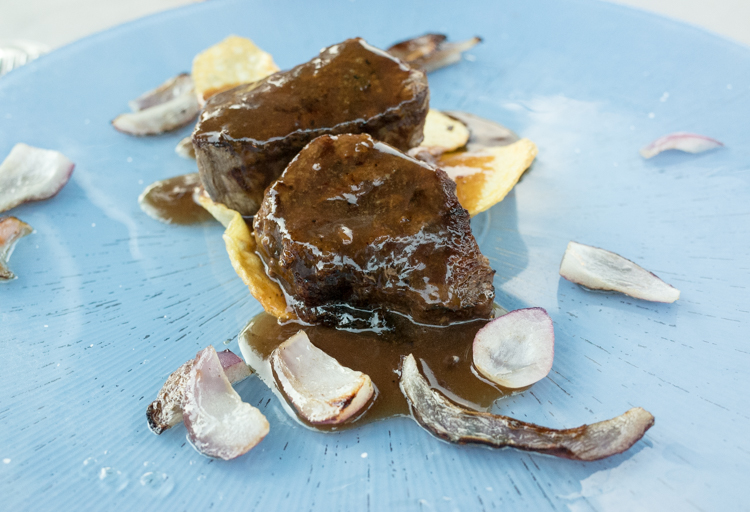 30_5
We ate in the courtyard, enjoying the warm (but not too hot) evening. We also had an onlooker: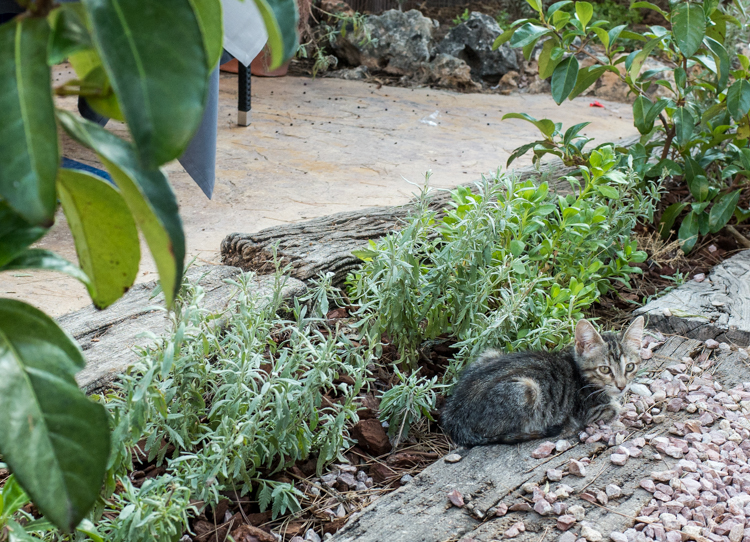 30_6
Staying with the feline theme, here is another portrait of one of the cats I feed. I just heard on the radio yesterday that Alicante has an estimated 3000 cats living around the city. There is now a sterilisation programme to keep their number down in a humane way: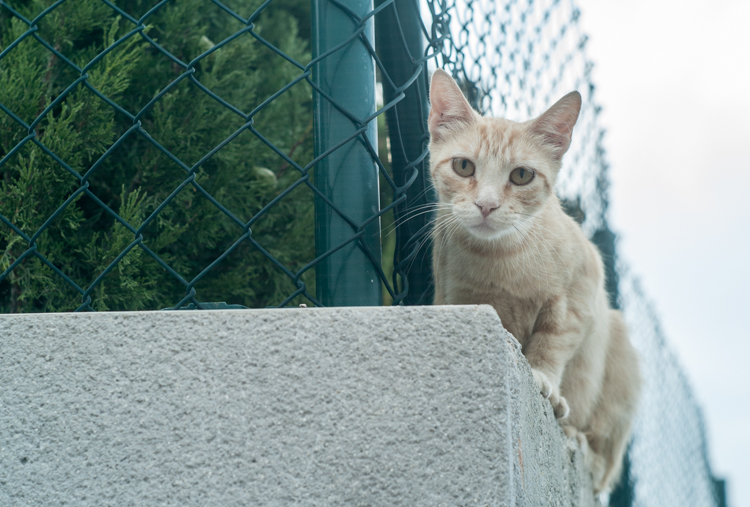 30_7
My daughter is home from university. During the week, we visited another new restaurant, a vegan place called Utopia, opened 3-4 months ago. The food was excellent and so plentiful that we ended up taking the desert to go. Here is Monica and her vegan burger (or the other way round–I was hungry and focused on the burger):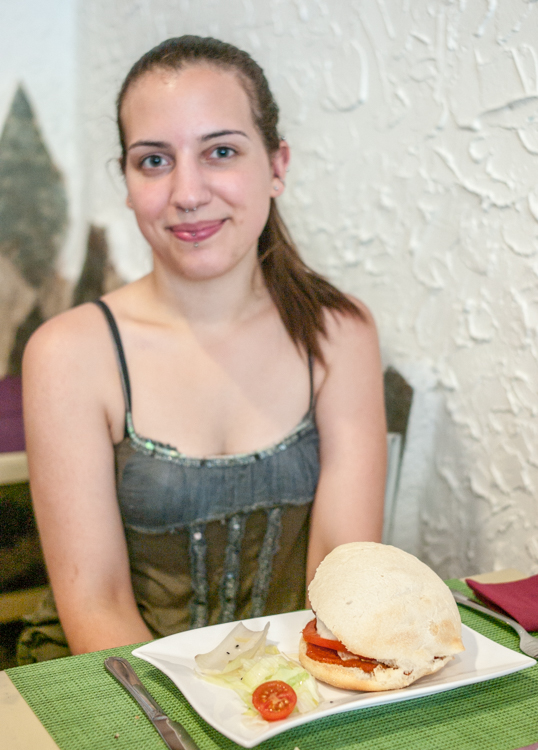 30_8
A vignette from the city, Plaza de Correos. A nice and colourful little square near my favourite beer shop: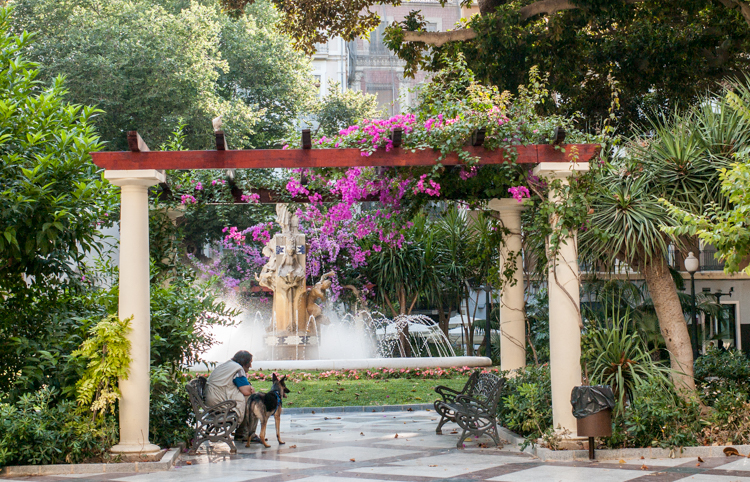 30_9
On Saturday, I was out cycling in the mountains as usual. The heat was intense away from the coast, around 40C. For a little while clouds rolled in, and it looked like we might have a summer downpour–but it was false alarm: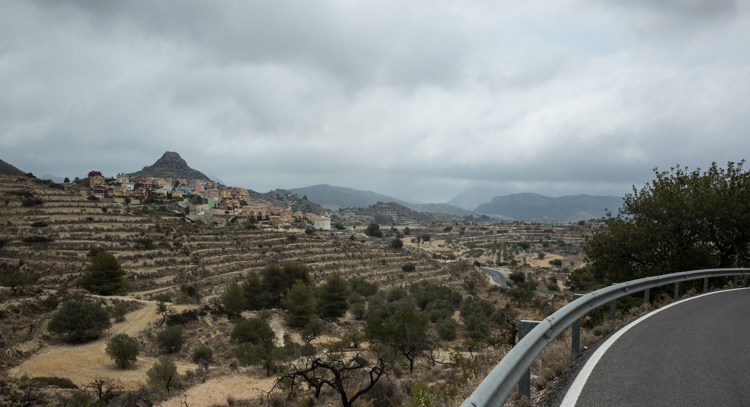 30_10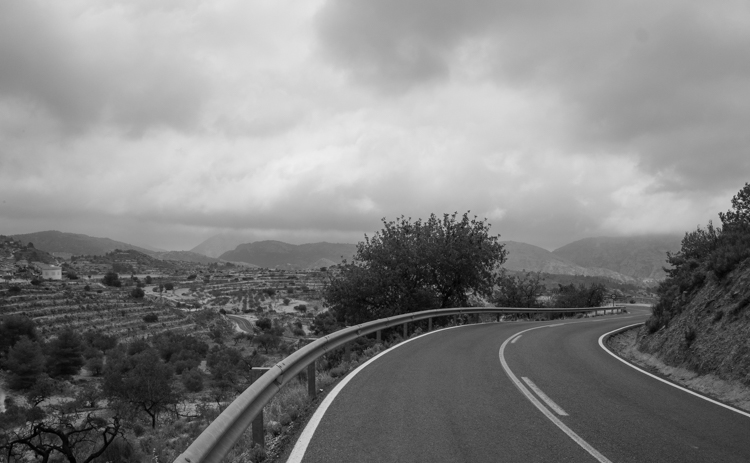 30_11
Strange place to discard a sofa, to put it mildly: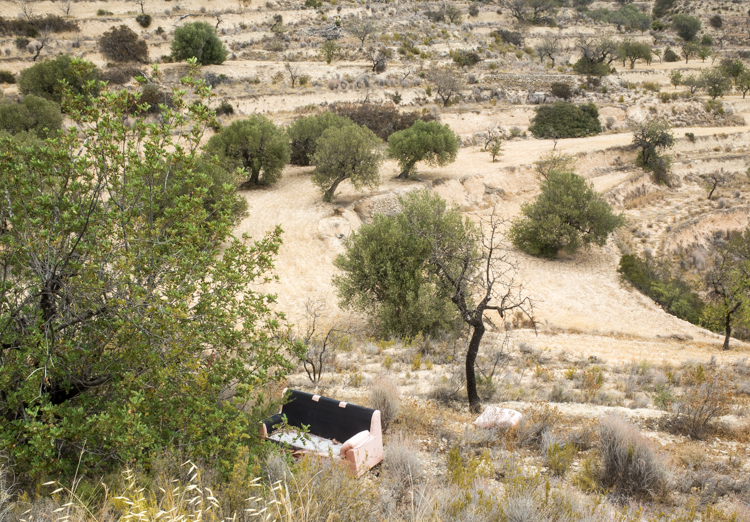 Later on Saturday, we attended a friend's birthday party near Benidorm. Given that his birthday is at the hottest time of the year, the party is alway a pool party during the afternoon/evening. Many of the people have a mixed Spanish/French Algerian background, something that is reflected in the language of conversation and in the choice of food.
30_12
The birthday boy Iñaki and his little dog: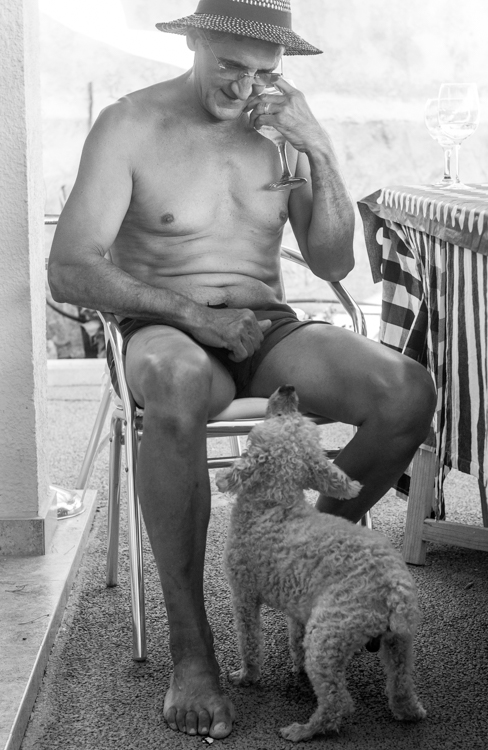 30_13
Iñaki's wife loves music and dancing, and she is always the DJ. She had actually prepared a playlist for the party: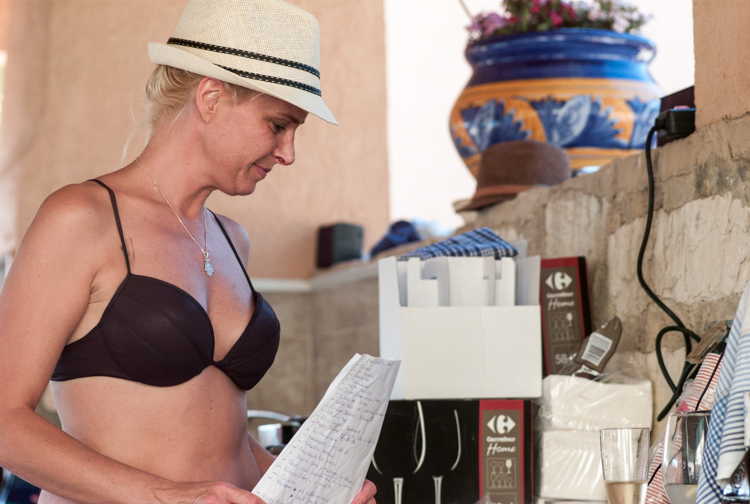 30_14
The music is on an iPhone connected to good speakers:

30_15
Conversation: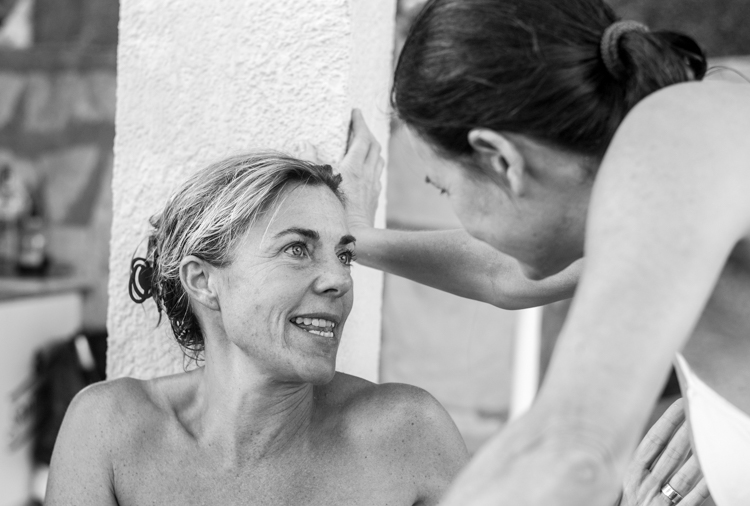 30_16
The cheese is on the table, and it is the real French stuff: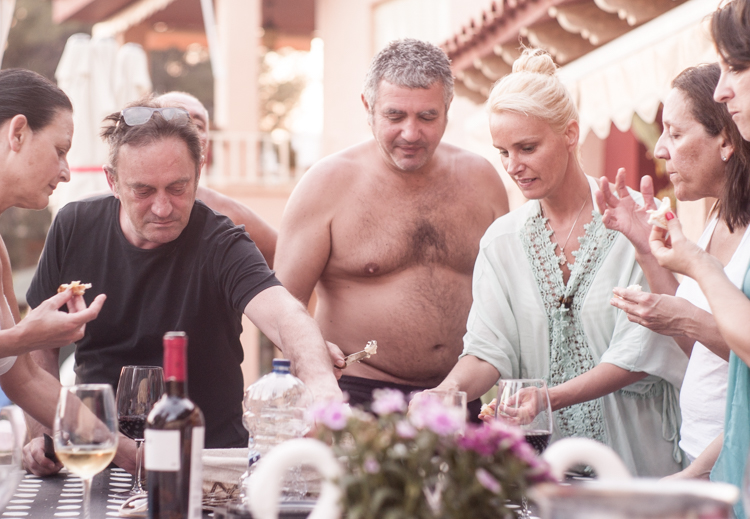 30_17
Cani takes a last dip in the pool: