I started the week in Copenhagen, and most of the pictures are from there, taken during the Easter weekend, which in Denmark means Saturday, Sunday and Monday. I came home Monday night, had Tuesday off as well, and then it was back to the usual daily acitivities–beach walks, work, cycling.
17_1
My sister had arrived late Friday evening, but we are both early risers so we were out rather early on Saturday morning. We were staying in a hotel in Ishøj, a suburb some 15 km south of Copenhagen. I had chosen that location partly because it is close to where our friends Marek and Tamara live, and partly because I had a rented car and so the fact that a suburban hotel would have free parking while one in the city would not (and parking in Copenhagen is expensive) was also a consideration. As you drive north towards Copenhagen from Ishøj, along the coastal road, the next suburb you reach is called Vallensbæk, and this was our first port of call, to visit a place made special for us because it was one of our mother's favourite places to go for a walk, a lake with some woods around it. My sister fed some of the birds there, just as my mother used to do 20 years ago: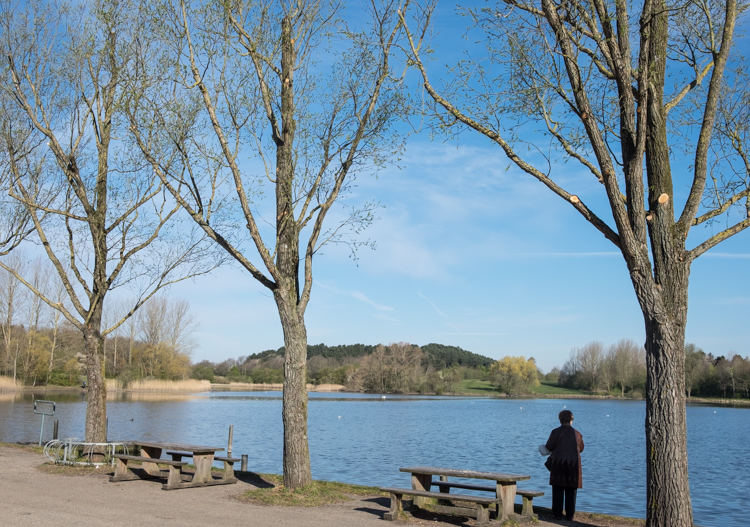 17_2
We then drove north to Copenhagen, and of course the first place in the city we went to was the cemetery where our mother is buried. We stood in our thoughts for a short while, knowing that we would be back the next day, the anniversary of her death: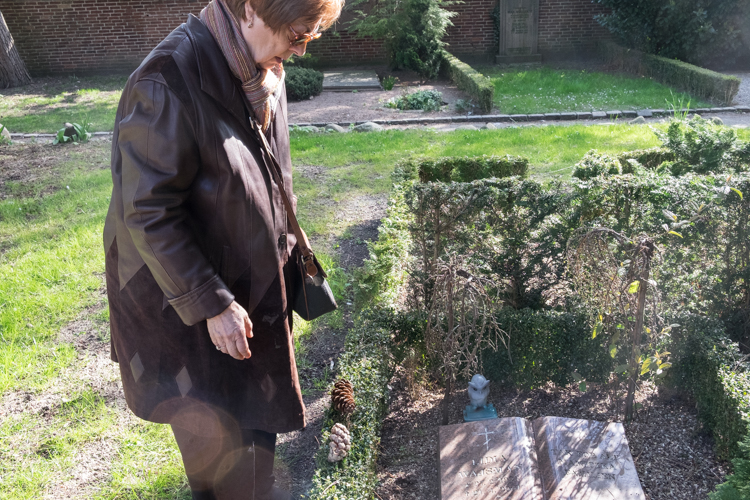 17_3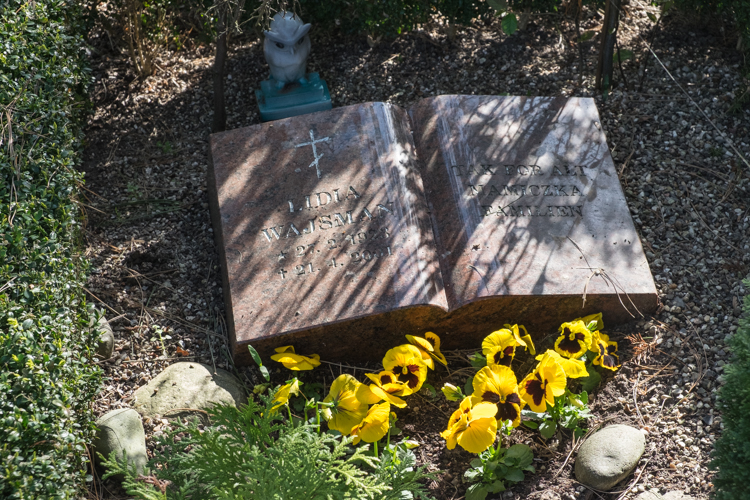 17_4
After having done our filial duty, we drove to the centre of the city and walked around a bit. There was a queue outside the Lego shop on the main pedestrian street: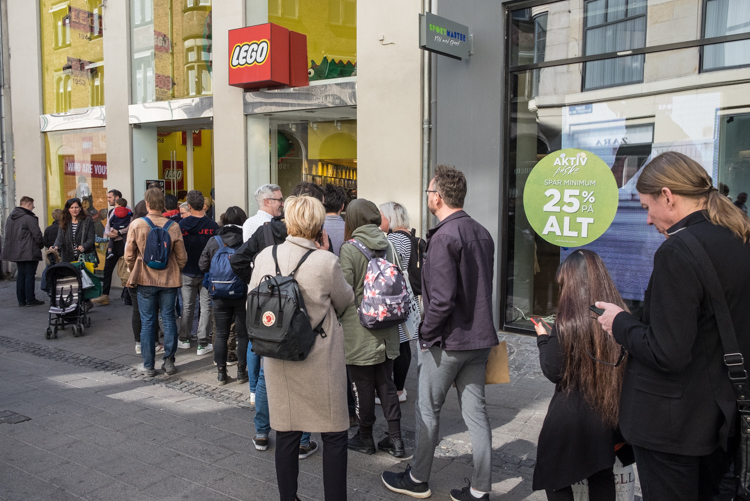 17_5
It is a wonderful place, for people of all ages: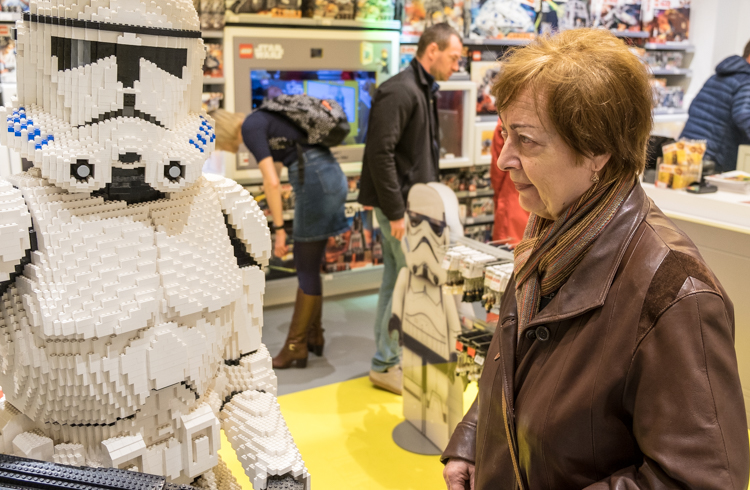 17_6
Small basic pieces are sold by weight or volume:

17_7
Wardrobe adjustment: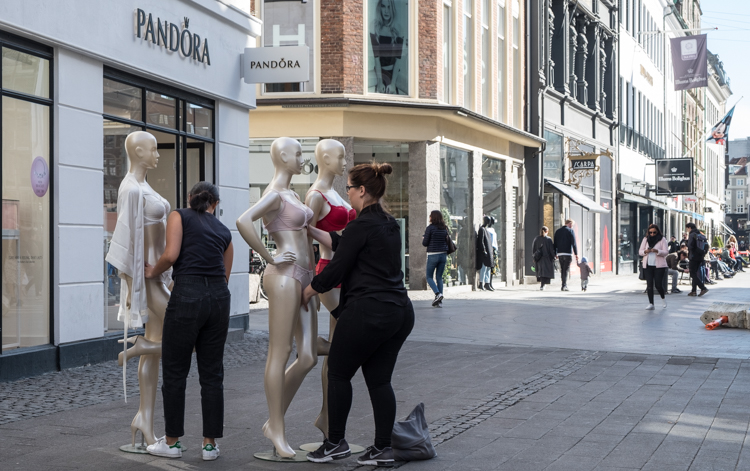 17_8
Further down the pedestrian street, we came across some amusing vegan slogans on the pavement: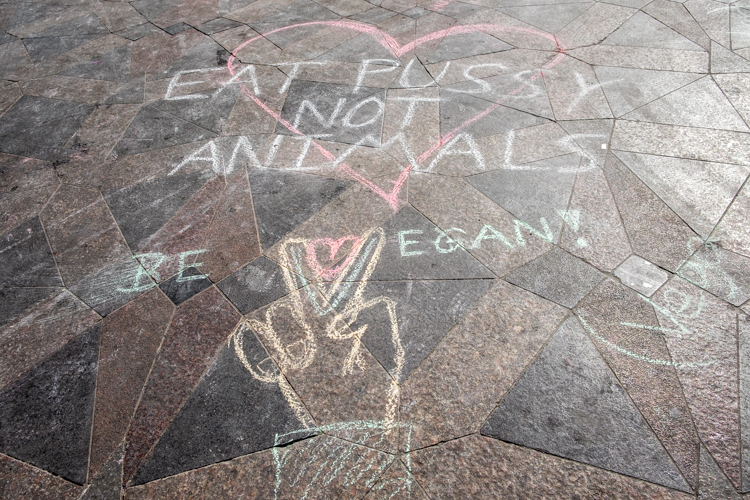 17_9
Veganism is growing strongly in Denmark these days, driven mainly by concern about the climate impact of animal farming: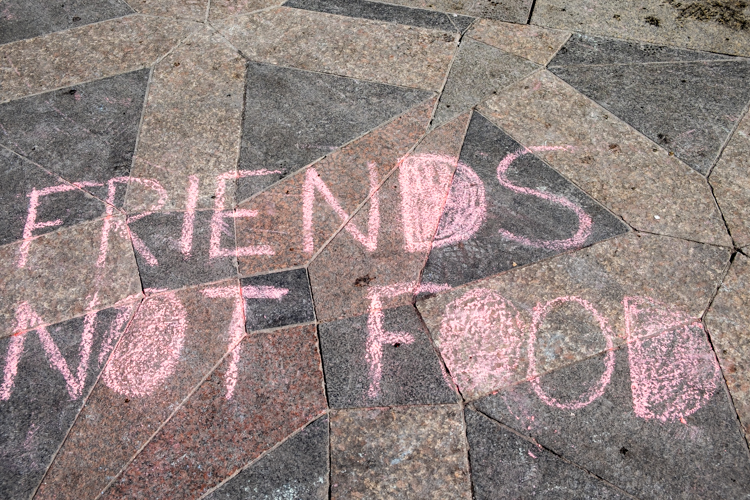 17_10
We walked on to Kongens Nytorv, one of Copenhagen's grand squares, home to the city's equivalent of New York's Waldorf Astoria, Hotel d'Angleterre. I have never stayed there, and when you see the kind of cars parked outside, you'll understand why: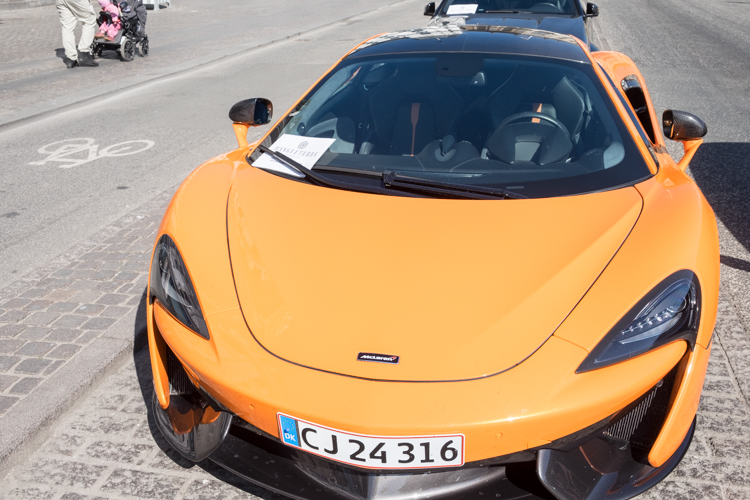 17_11
We drove on to Langelinie, a park just north of centre where the Little Mermaid is located. But we were there to see the Japanese cherry trees in full bloom. They were donated by a Japanese businessman in 2005 and are now a much loved part of Copenhagen, with an annual sakura festival held there: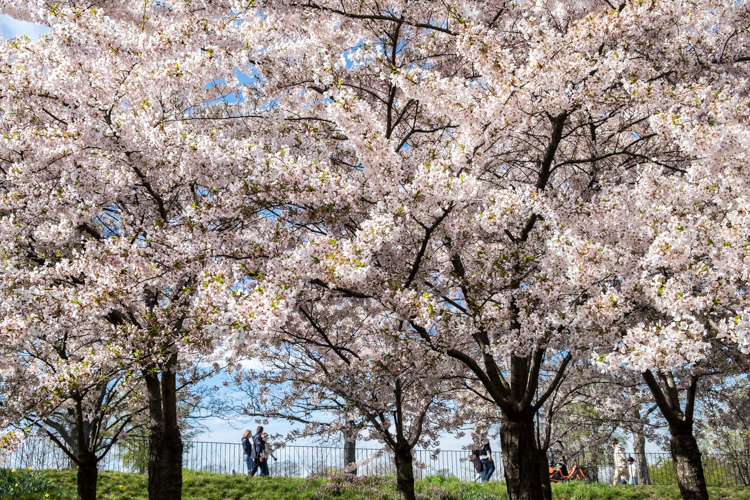 17_12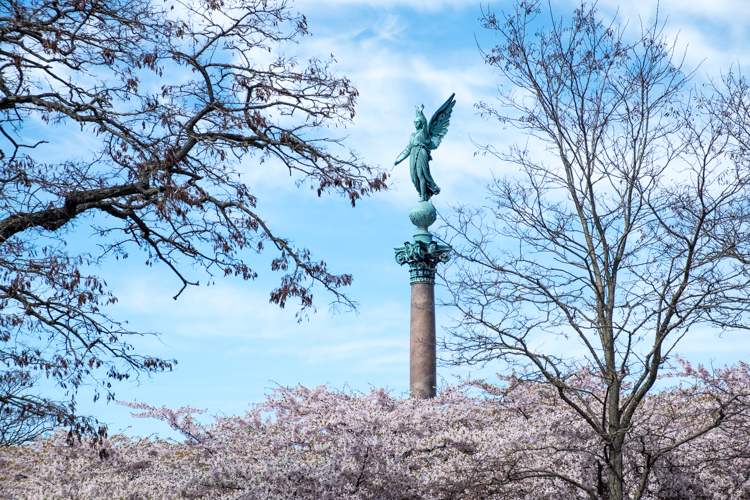 17_13
In late afternoon, we drove back south, to Brøndby Strand, where my parents lived until their deaths in 2001 and 2004, and where our dear friends Marek and Tamara live. They came to Denmark from Poland in the early 1970s, part of the Jewish migration wave that also brought my parents and me to that wonderful country in 1972. They are now in their 60s, and for the past many years they have spent enormous amounts of time and energy on the Jewish-Polish community in Copenhagen. The members of the Polish Jews Club in Copenhagen are mostly elderly people, some in their 90s, and Marek and Tamara are the driving force that keeps the club going, providing an invaluable social service in the process. They had invited us for dinner that evening. As we entered their building, I stopped to photograph this tulip, growing in seemingly impossible circumstances: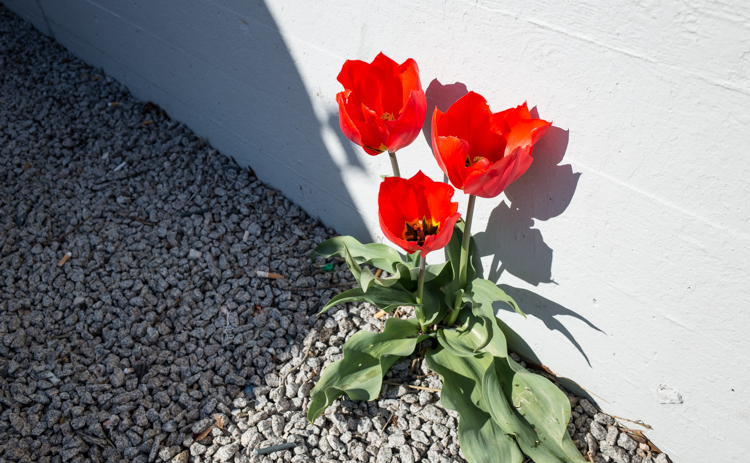 17_14
My sister talking with Tamara: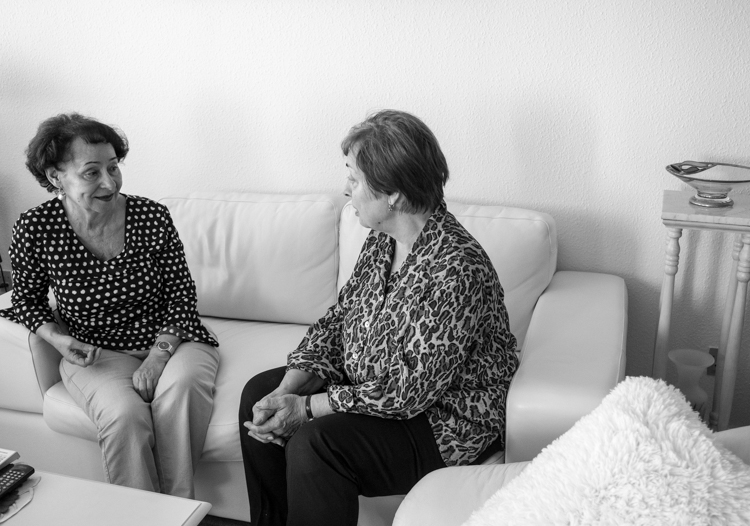 17_15
A casual portrait of Marek, in serious mode: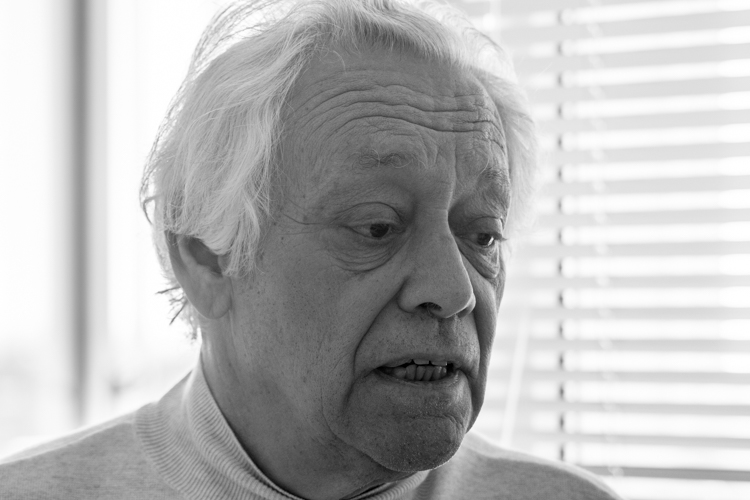 17_16
And one of Tamara, somewhat less serious: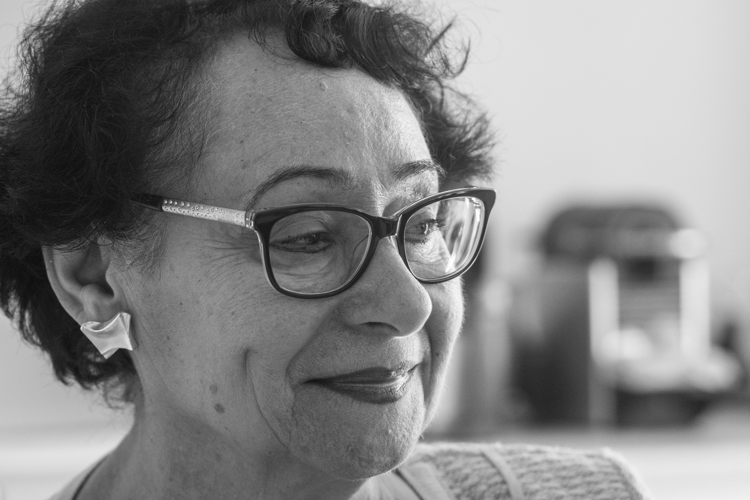 17_17
The next day, we went to the Louisiana Museum of Modern Art in Humlebæk, about 30 km north of Copenhagen, with Marek and Tamara. It is one of the world's great modern art museums, and I always visit it when I am in Copenhagen. One of things that makes it unique is that it was started in the 1950s with 100% private money. Public support only arrived 20-30 years later. The name has nothing to do with the US state; the wife of the man who built the main building in the 19th century was called Louise. I am a member of the museum's circle of friends, so I get free entry, and so do Marek and Tamara who also visit frequently. Here, Tamara is taking a photo of a new piece in the collection: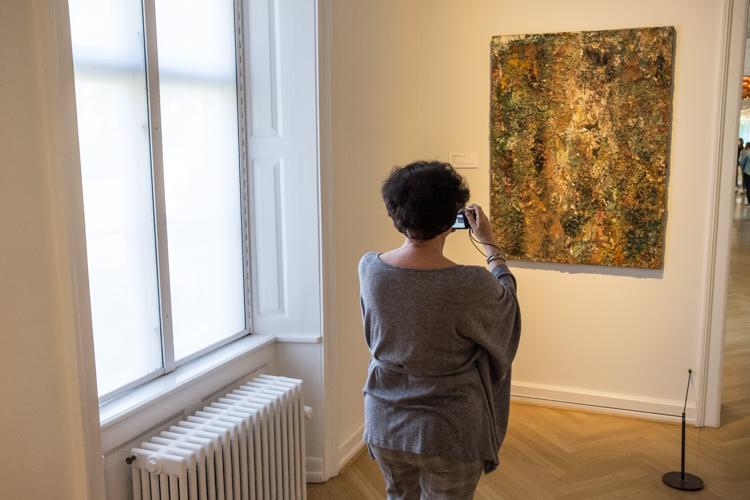 17_18
Sharp Giacometti and fuzzy Marek: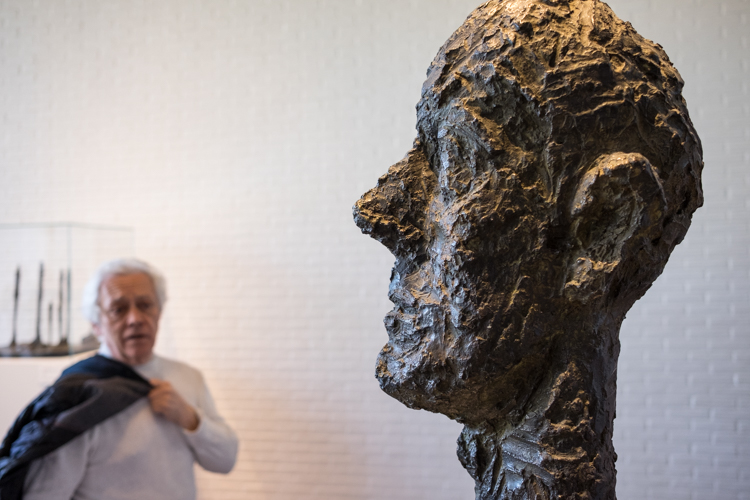 17_19
A family looking at a painting by Chinese artist Liu Xiaodong, part of a wonderful exhibition of his paintings from northern Greenland:

17_20
Marek and Picasso: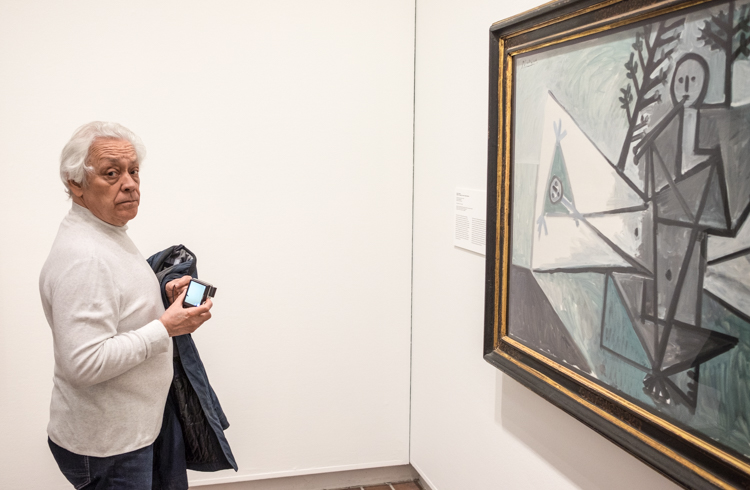 17_21
Part of the attraction of visiting Louisiana is the buffet lunch. Everything is organic, locally sourced whenever possible, and totally delicious: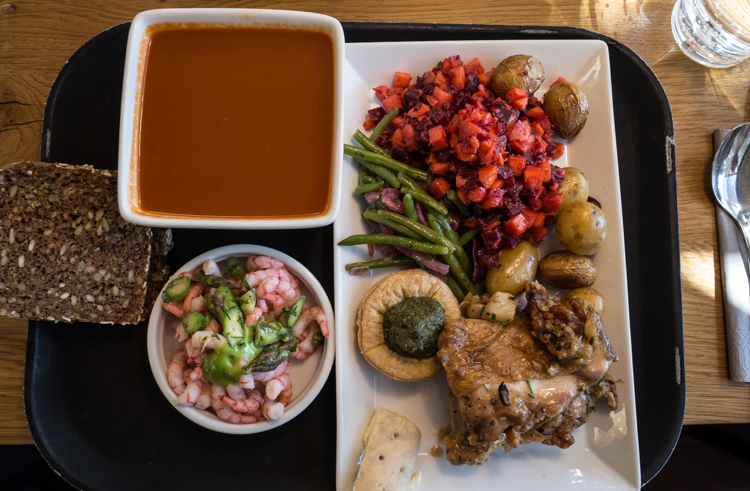 17_22
It was a gorgeous spring day, and the sculpture garden was full of people enjoying the sunshine and the view of Øresund with the Swedish coast in the distance: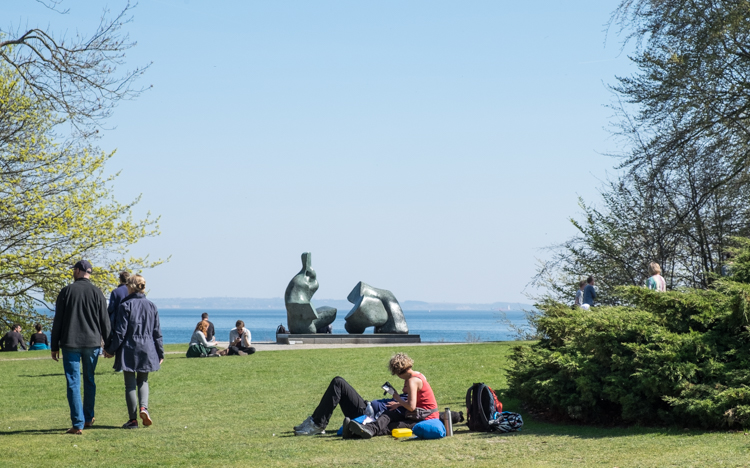 17_23
I was flying home to Spain on Monday afternoon, and my sister back to Poland a few hours later. But we still had the morning to explore, and we drove some 30 km south to the town of Køge, where I sometimes would go with my father to buy fish straight off the boats: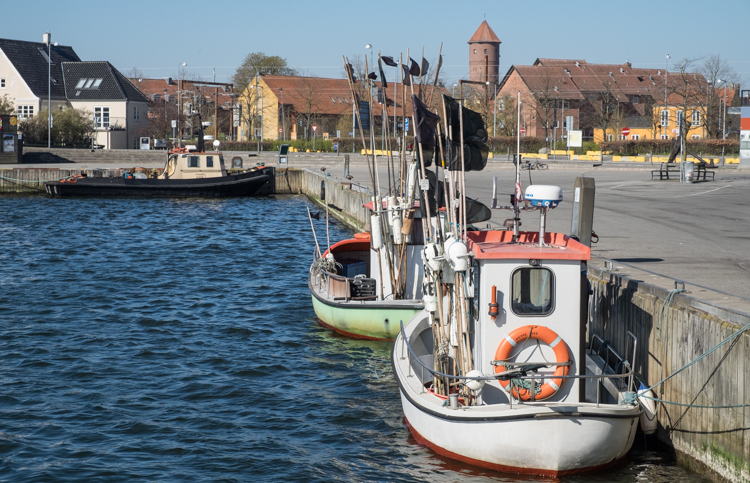 17_24
On the main square, a group of bikers of a certain age were gathering for a group ride: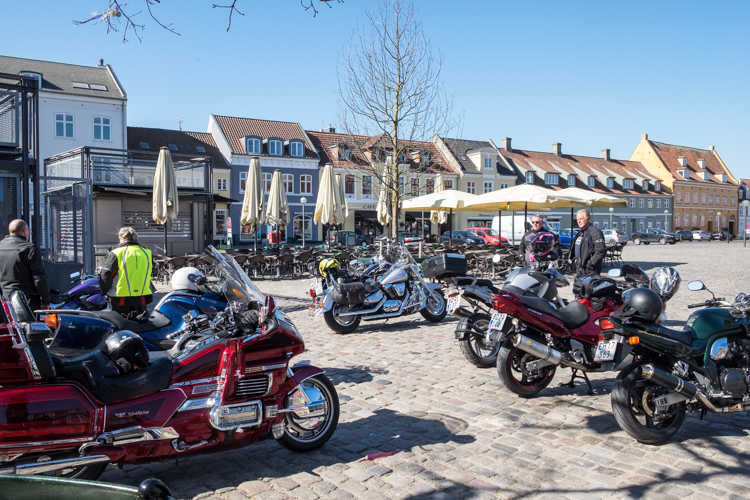 17_25
The poster on the tree trunk explains that the tree has been decorated by local schoolchildren:

17_26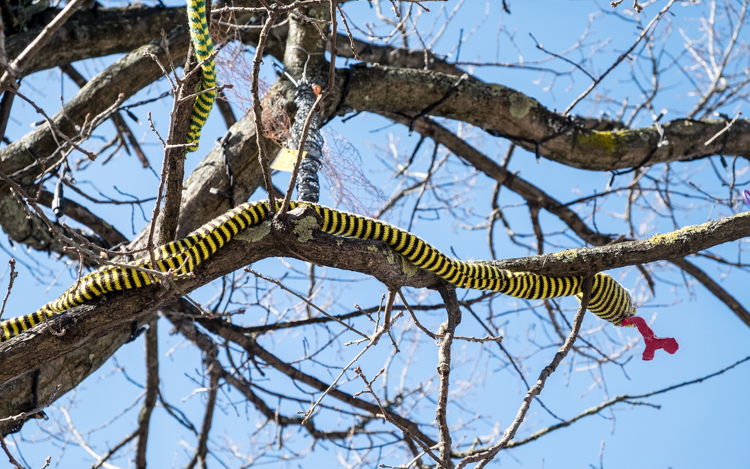 17_27
The main shopping street of Køge, very typical of small-town Denmark. Because it is Easter Monday, all shops are closed and so there are not many people out and about: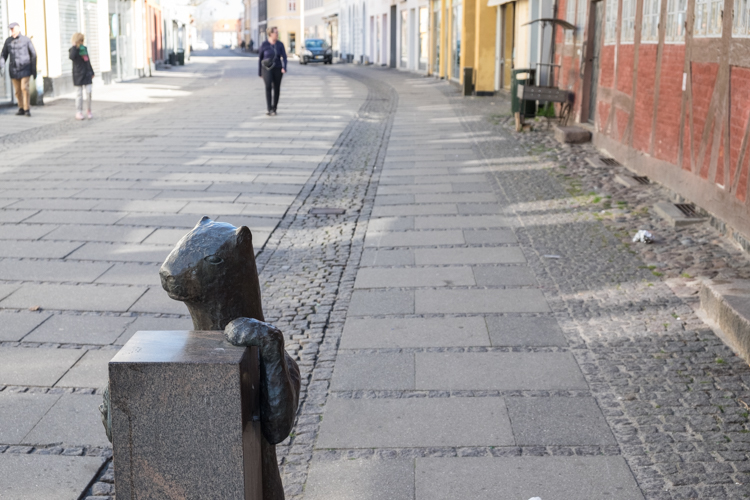 After our walk in Køge, we drove back to Copenhagen, met up for lunch with Marek and Tamara, and afterwards I said goodbye to everybody, drove to the airport and flew home to Spain. More photos from Copenhagen are in this gallery.
17_28
As is evident from my photos from Denmark, the weather there was beautiful throughout the Easter period. Not so back in Alicante; in an unusual reversal, the weekend back home had been rainy and windy. On Tuesday afternoon it was no longer raining but the aftermath was clearly visible on the beach promenade: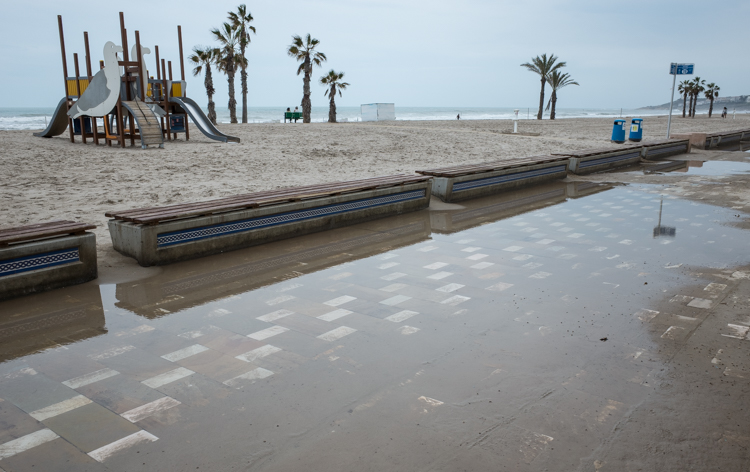 17_29
Despite the rather uninviting weather, some people were still determined to make the best of it (it was not cold, just windy and cloudy):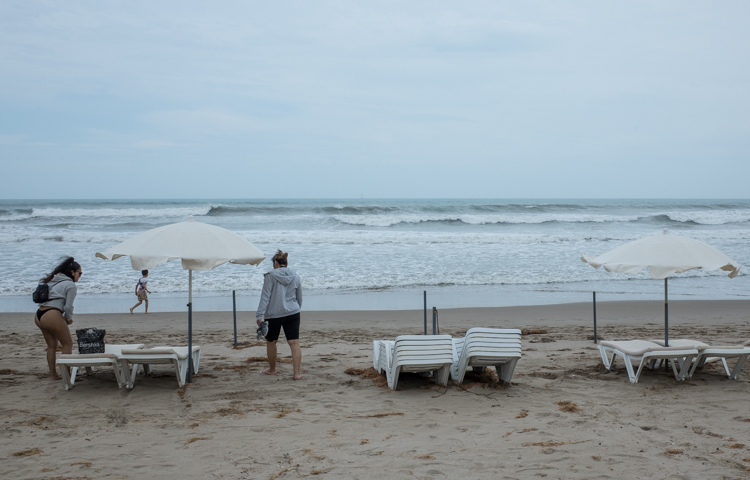 17_30
Later in the week, things returned to normal. This is early Thursday morning on our beach: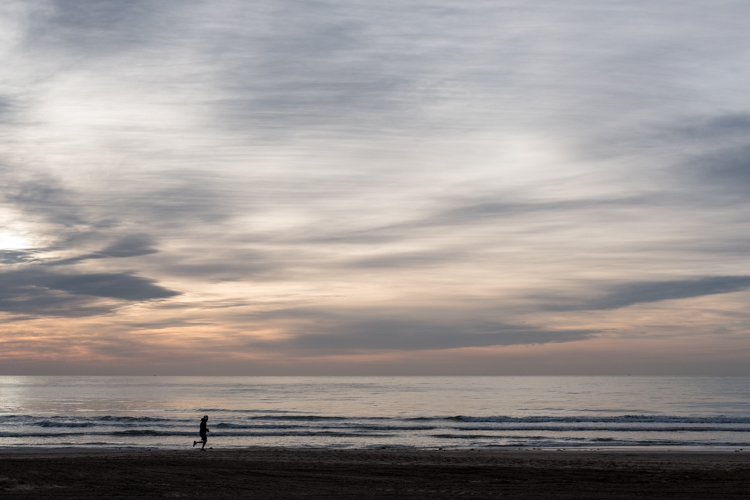 17_31
This man was out walking with his dog; then he sat down on the wall of the promenade, and the dog obviously knew that a treat was forthcoming: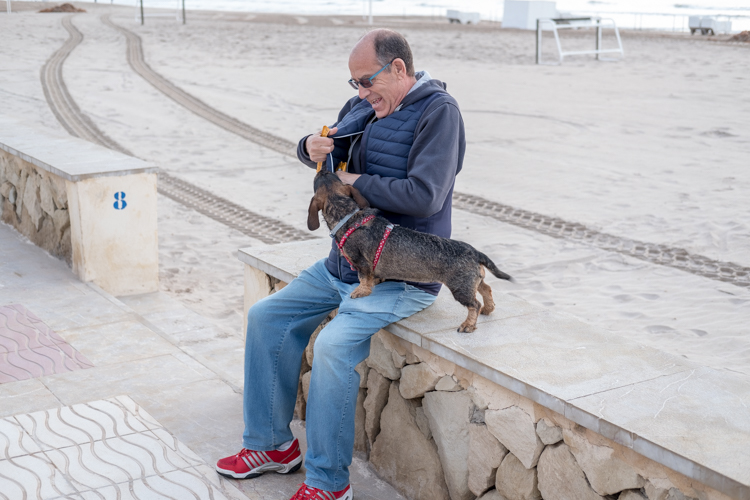 17_32
Thursday was an important day at the office. A member of the European Commission, Elżbieta Bieńkowska from Poland, came to visit us for the first time. She is the Commissioner for the Internal Market, Industry, Entrepreneurship and SMEs, commonly known by the abbreviation DG GROW. This is the directorate that is our "mother directorate" at the Commission, so Bieńkowska's visit was important. I was one of the people who briefly met with her, and here she is delivering her speech to the staff of the office:

17_33
A couple of snaps from Saturday morning's walk. Unemployment is not as bad as it was at the height of the crisis in 2010-2011, but it is still much higher in Spain than in Northern Europe, and many lightpoles are adorned with this kind of advertisements, mostly for cleaning, dog walking, handyman services and the like: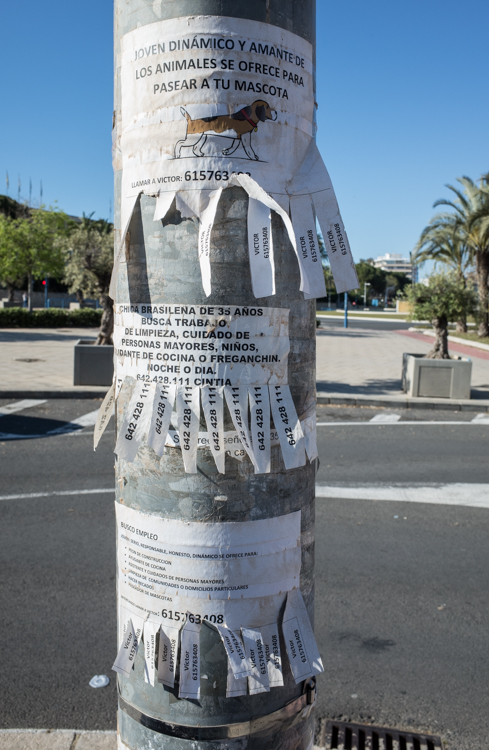 17_34
An amusing juxtaposition of signs. Paz Divina (heavenly peace) and Burger King. The signs are unrelated, they just happen to be near each other, and I purposely used a perspective to make them look closer than they really are: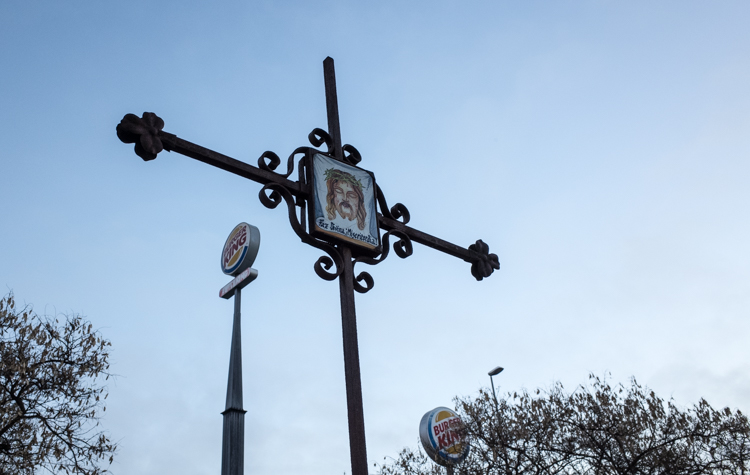 17_35
On Saturday afternoon, I was back on my bicycle, and back on the square in Aigües, observing village life. This dog was hot but it was still running around: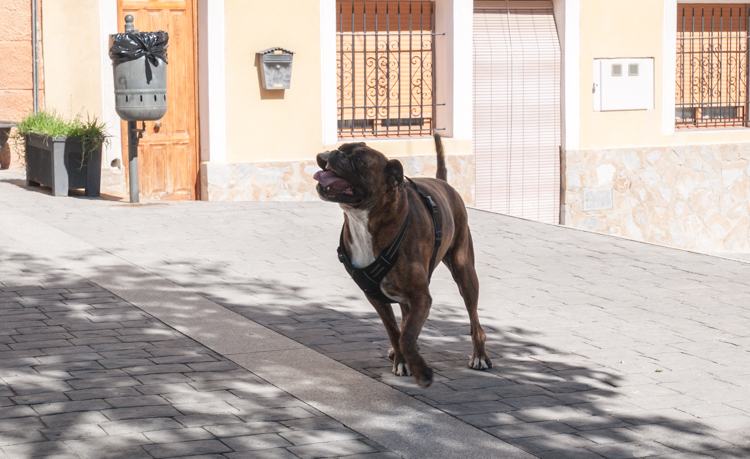 17_36
Looking for love: