This was the second and last week of my sister's visit, starting with her birthday on Sunday the 13th. We "celebrated" it by having a nice breakfast and then driving the 180 km to Valencia to vote in the Polish general election at the Polish consulate there–it was important for us to make our 3 votes count, to prevent the current nationalist-Catholic PIS government from gaining an absolute majority in both houses of the legislature (and we succeeeded). Later in the week, I spent some time driving around the mountains with my sister and brother-in-law–they love this part of their Alicante visits.
42_1
The morning of my sister's 74th birthday. As I do every year, I prepared a nice breakfast spread: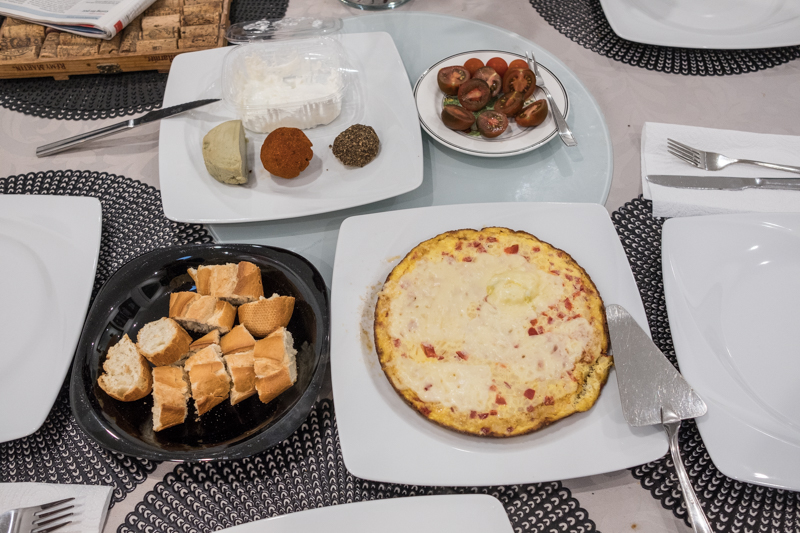 42_2
After breakfast, we drove to the Polish consulate in Valencia. The motorway was virtually empty on a Sunday morning, the weather was perfect, so it took me just over 1 hour 15 minutes to cover the 180 km. We then spent another 15 minutes looking for a parking in the residential neighbourhood outside the centre where the consulate is located. Nearby is Valencia FC's stadium, it must be a nightmare to try to find parking on game days. There is also this striking sculpture in a large roundabout, called Dama Ibèrica: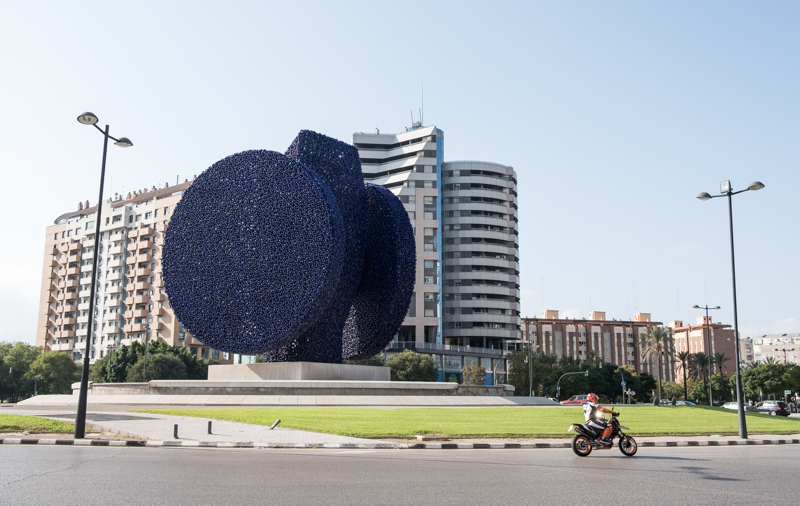 42_3
The consulate is located on the 1st floor of a large building. There was a queue to vote, and we spent 10-15 minute waiting to do our civic duty (in fact, it got much worse while we were there; when we left after voting, the queue stretched all the way to the ground floor):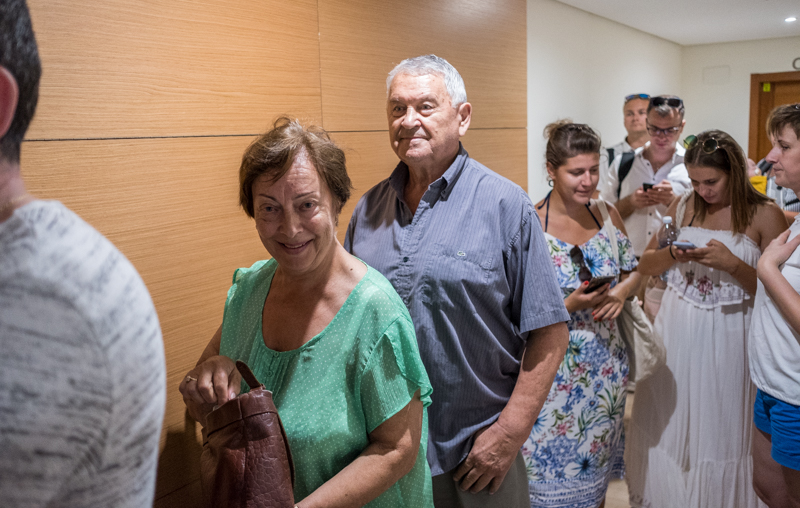 42_4
Afterwards, we drove to the centre of Valencia, found an underground car park, and spent a couple of hours walking around the old city. The narrow streets of the barrio were bustling with commercial life. Here, a coin and stamps market: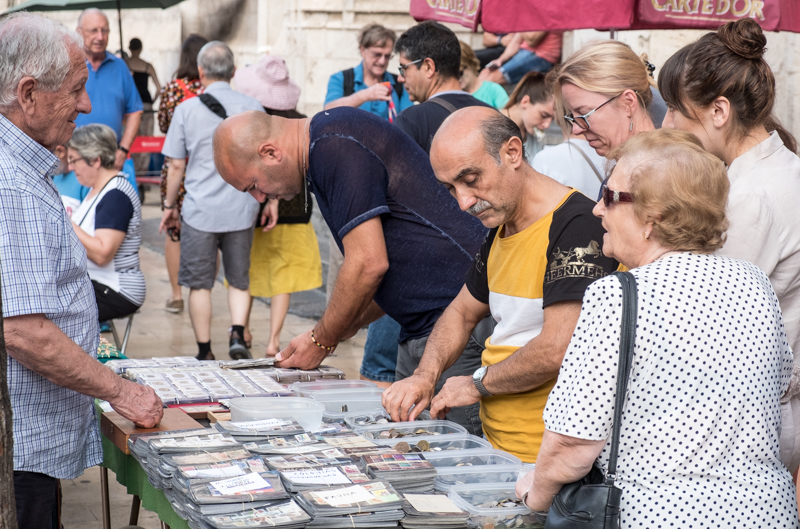 42_5
Serious buyers and sellers: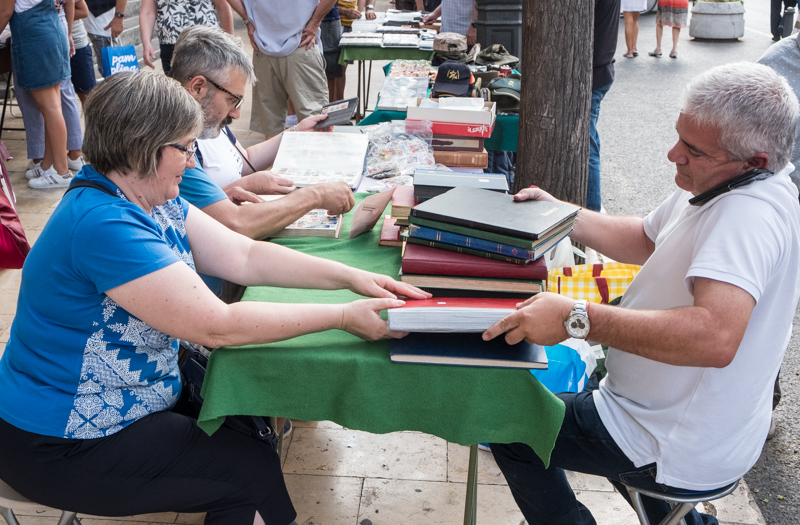 42_6
Most of the shoppers browsing the coins and stamps were on the wrong side of 50, but there were exceptions: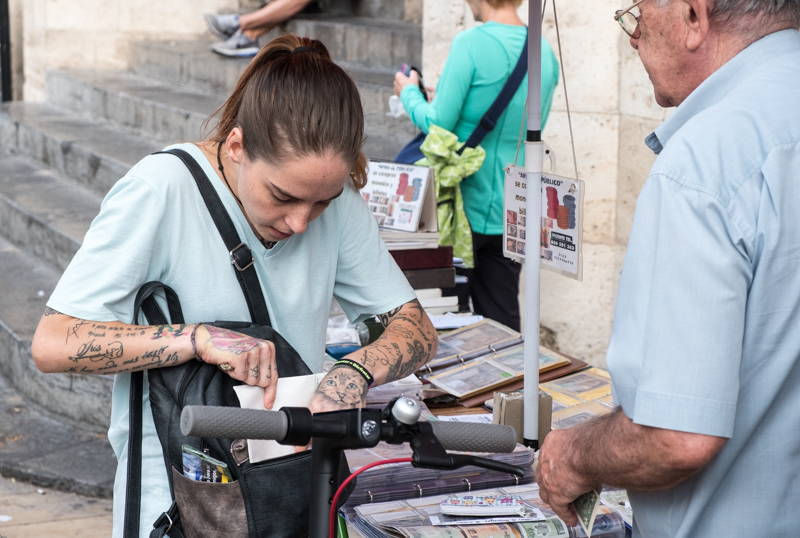 42_7
Further on, there was a general clothes and assorted junk market: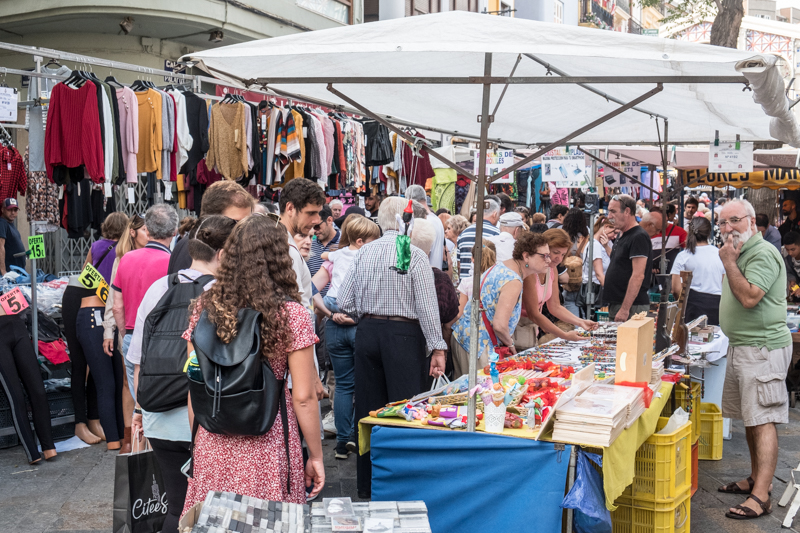 42_8
There were also many manteros, African sellers of counterfeit sunglasses, purses and the like. In cities such as Valencia and Barcelona there are many conflicts between these guys and the legitimate shopkeepers, with the latter complaining that the street vendors block the entrance to their shops and harass the customers: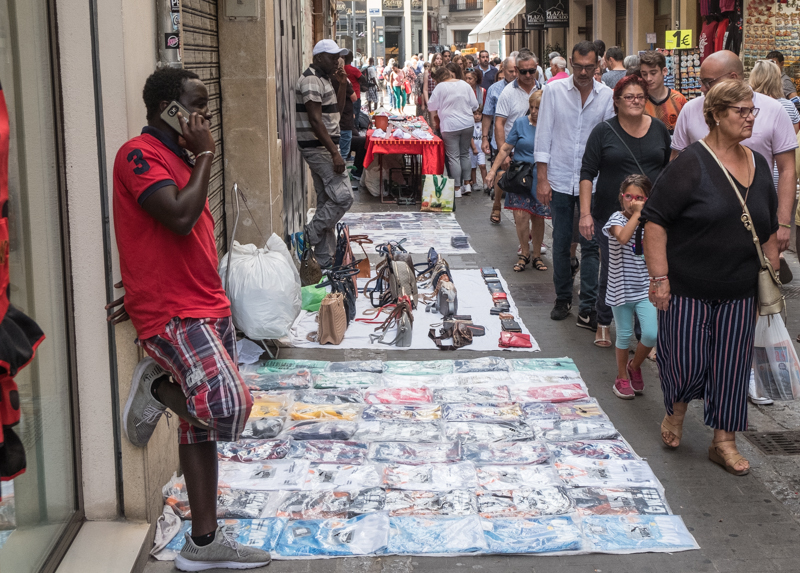 42_9
We escaped the throng of commerce and walked around some more. Valencia has many nice little plazas like this one: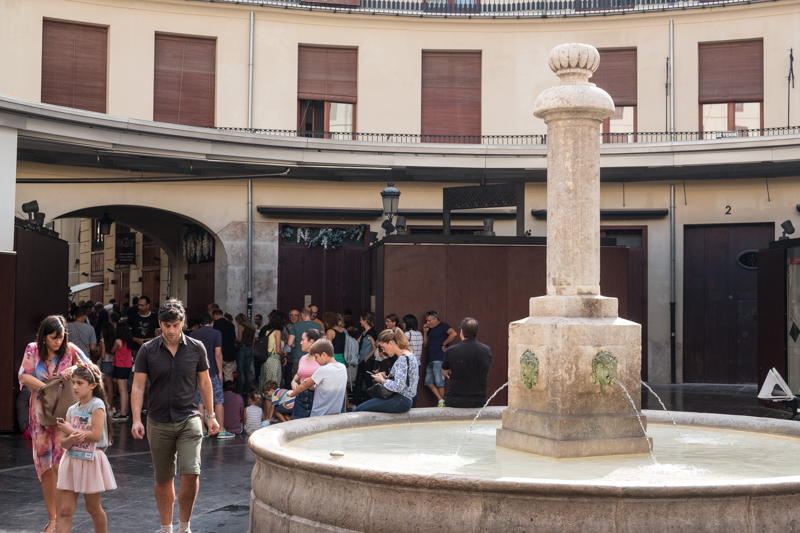 42_10
Climate change is an issue everywhere; this sticker on a bench says that if nothing is done the sea will be at this level: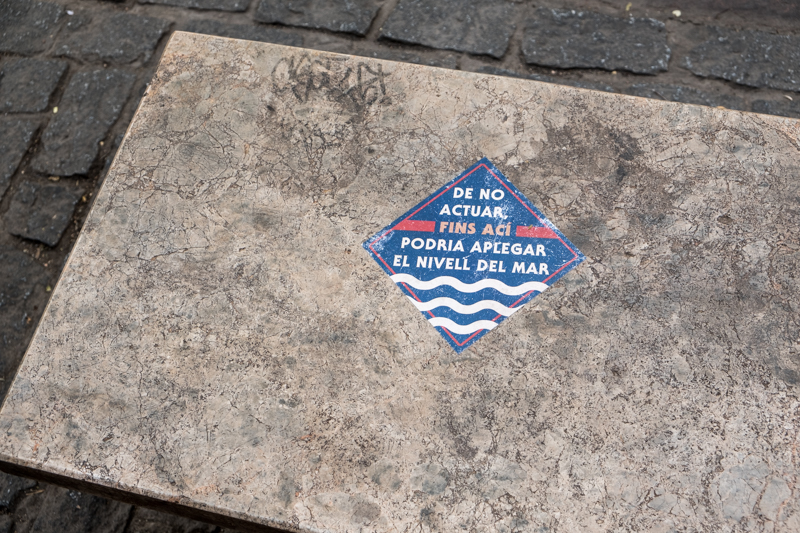 42_11
Staying with the environmental theme, this is an air quality measuring station on the Plaza del Ayuntamiento, the huge square in front of Valencia's city hall:

42_12
Plaza del Ayuntamiento is an impressive square, befitting Spain's third city and the capital of our region:

42_13
The city hall is also an impressive building with ornate decorations: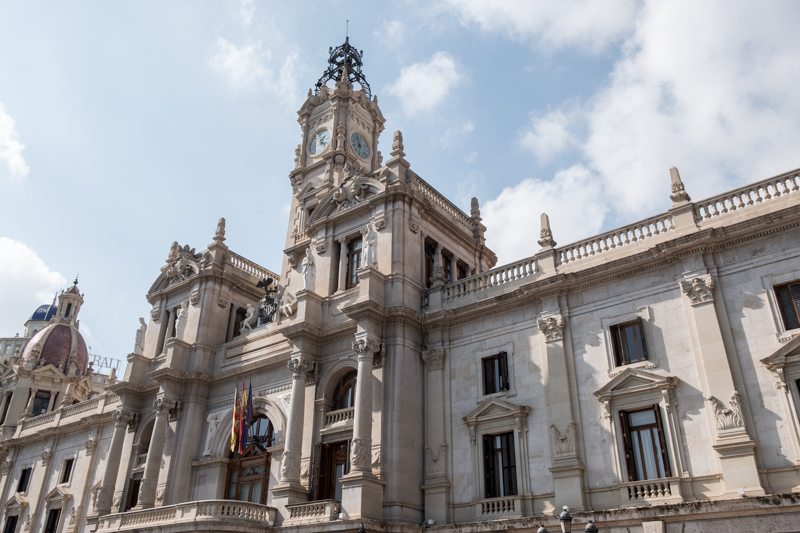 42_14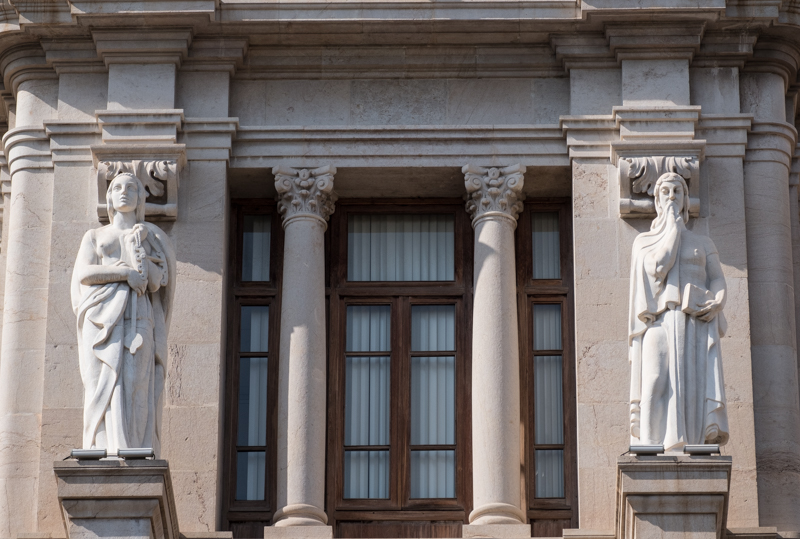 42_15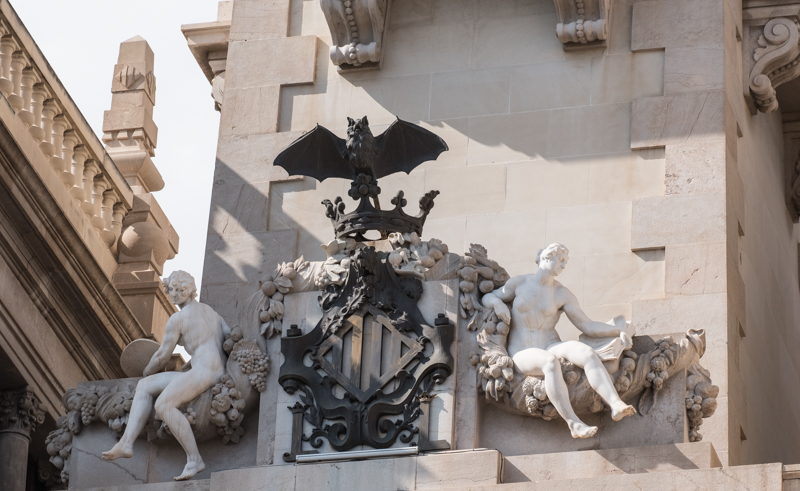 42_16
Paella is central to Valencia's identity; rice has been cultivated just south of the city for hundreds of years. On this day there was going to be some kind of paella-themed parade, followed by consumption of this giant paella that was being prepared as we walked by: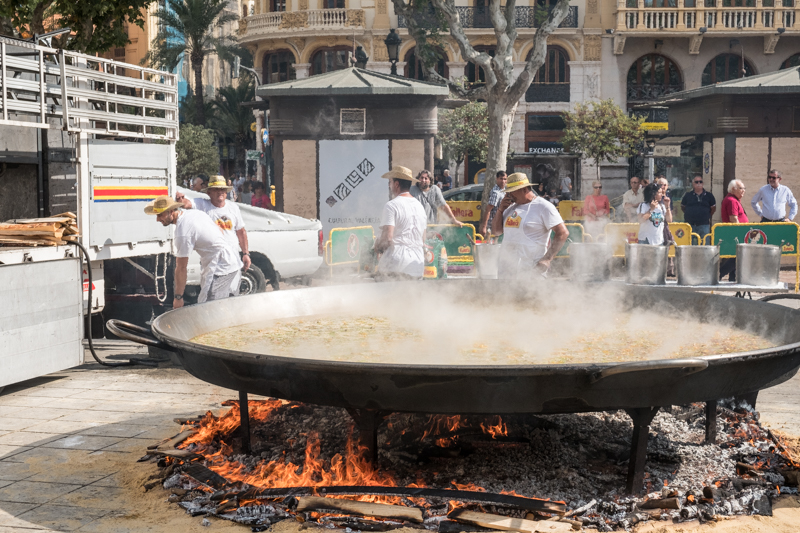 42_17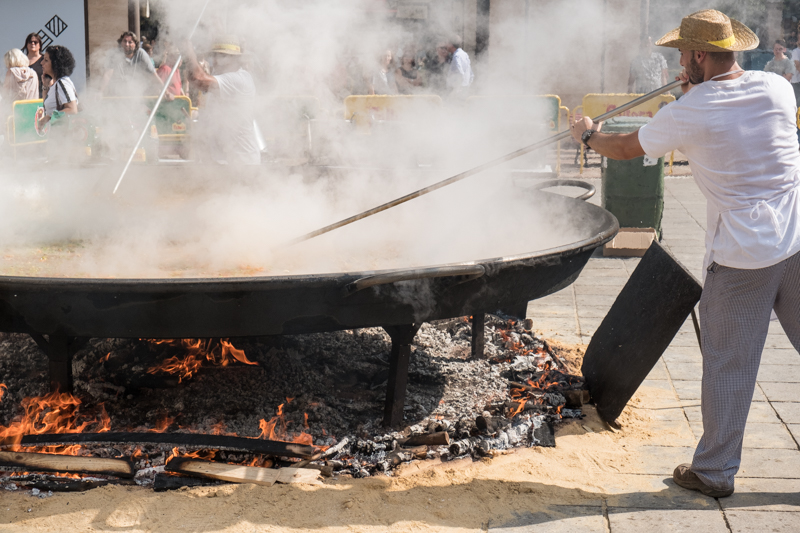 42_18
All lined up to feed hundreds of people. The people from the Valencia region are fanatical about their paella. I recently had a heated discussion with a native Valenciano who complained bitterly of having been served a paella valenciana in Madrid that contained an "unauthorised" ingredient: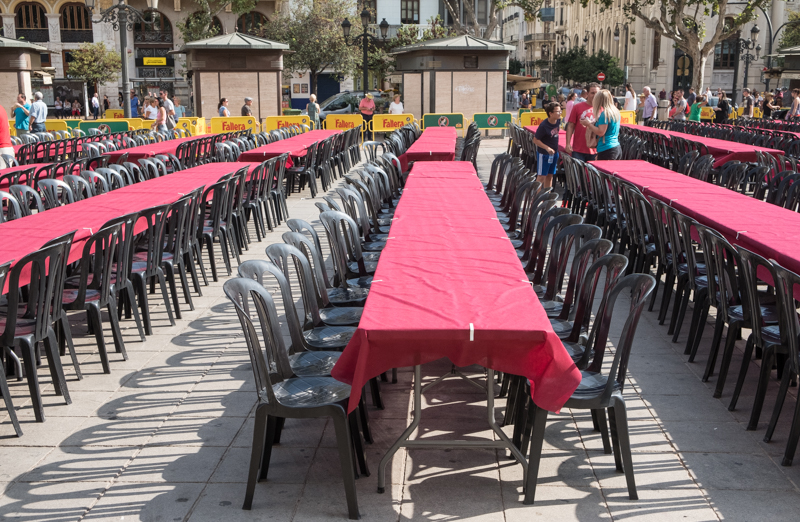 42_19
We continued our walk, straying into the market area again in search of a place to have lunch. This stall holder is protesting against some proposed city ordinance that would relocate them to a location outside the centre: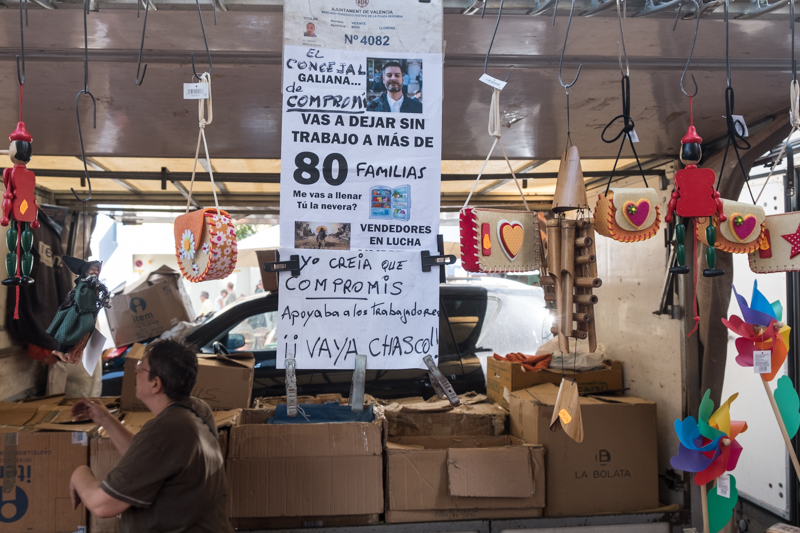 42_20
Shutter, near the Mercado Central (which unfortunately is closed on Sundays):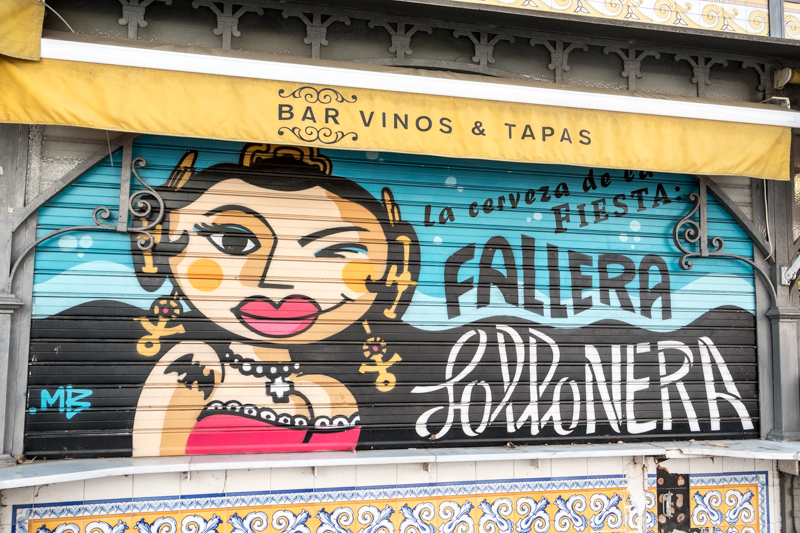 42_21
We did find a good place for lunch, and enjoyed the sights and sounds of the street from our outdoor table: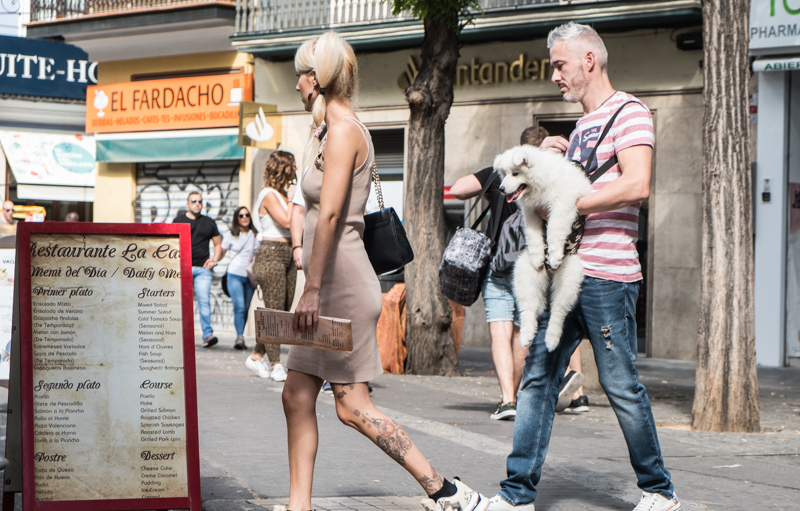 42_22
We drove home from Valencia, relaxed a bit, and went to the beach in later afternoon. While having our drink at the bar on the promenade, I photographed this African vendor doing business at the neighbouring table. In Alicante there is less conflict between shops and these guys because here they ply their trade mainly on the beaches, not on shopping streets in the city: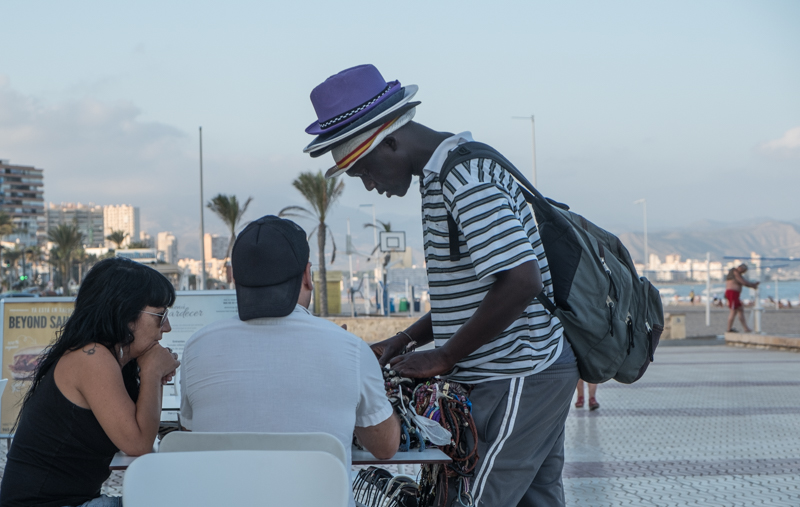 42_23
I had to work on Monday but was able to take Tuesday off to be with my visitors. One of things they love about Alicante is that we have both mountains and the sea here. So I took them on a long drive in the mountains. The first stop was at the Vía Verde del Maigmó, the old railroad track converted to a gravel path for cyclists and walkers. We walked through this tunnel and back: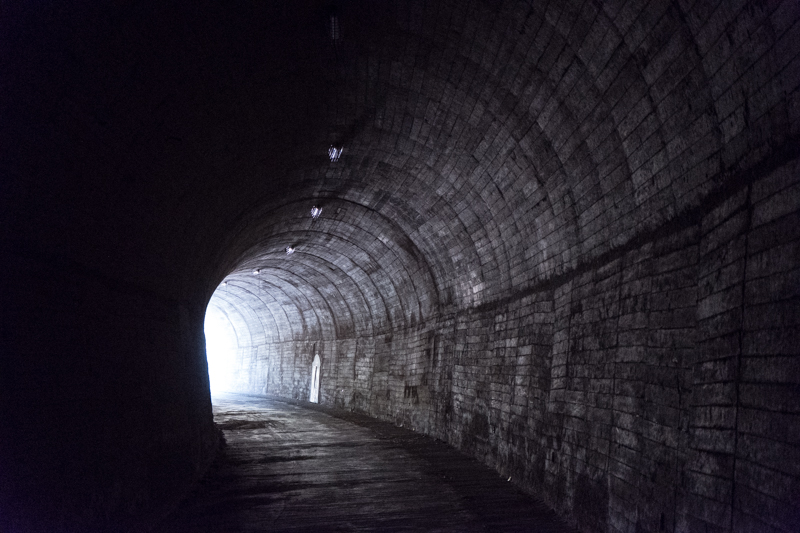 42_24
Towards the light at the end of the tunnel: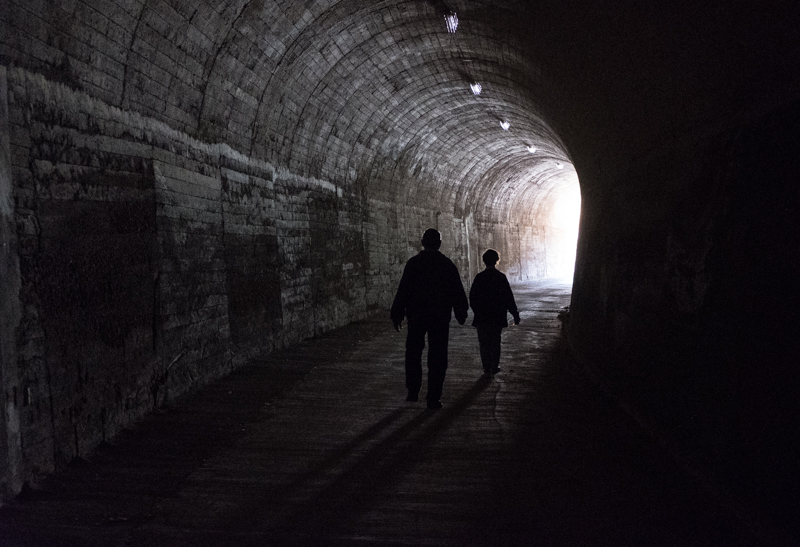 42_25
Emerging: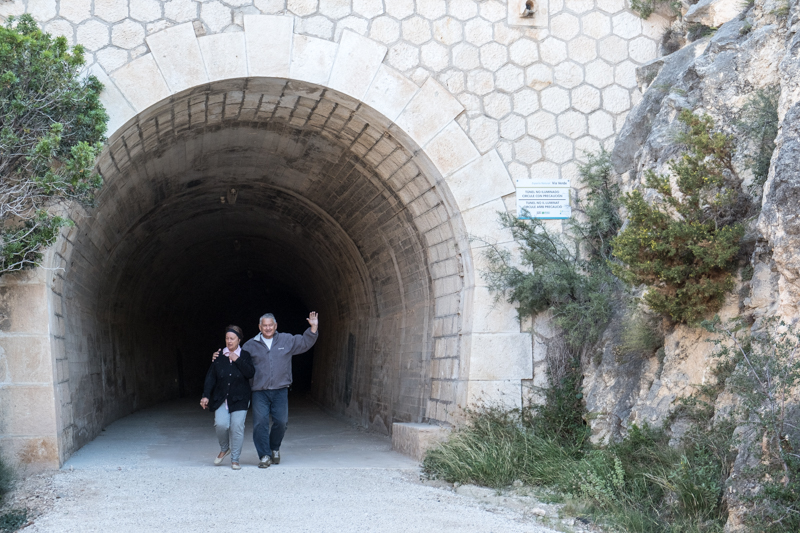 42_26
Afterwards, we drove to the Puerto de la Carrasqueta, a mountain pass at just over 1000 meters altitude, and an occasional bicycle destination for me:

42_27
We went home via Jijona, where we stopped for coffee. There was a vegetable market on the main street: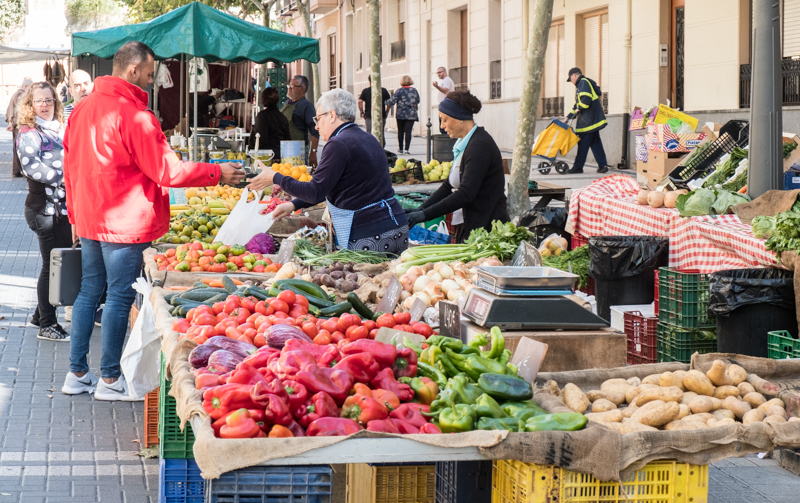 42_28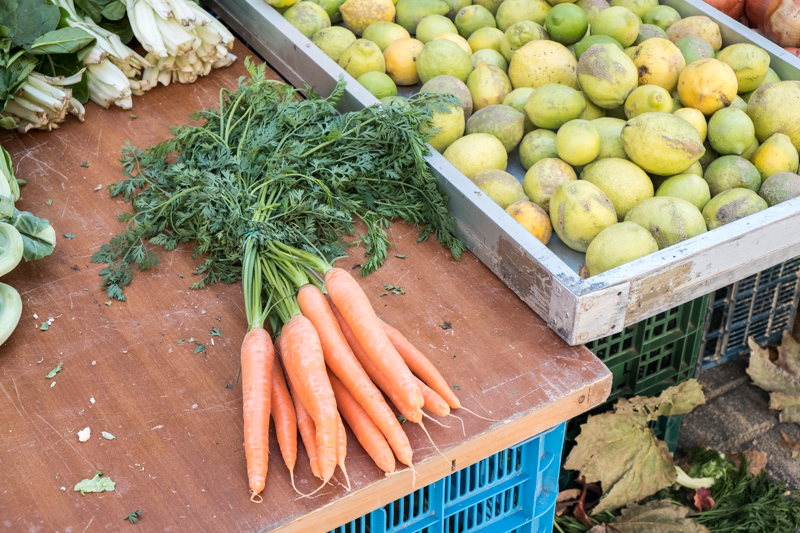 42_29
Napkin at the café in Jijona–"let us take care of the Earth, it is the only planet with beer and chocolate":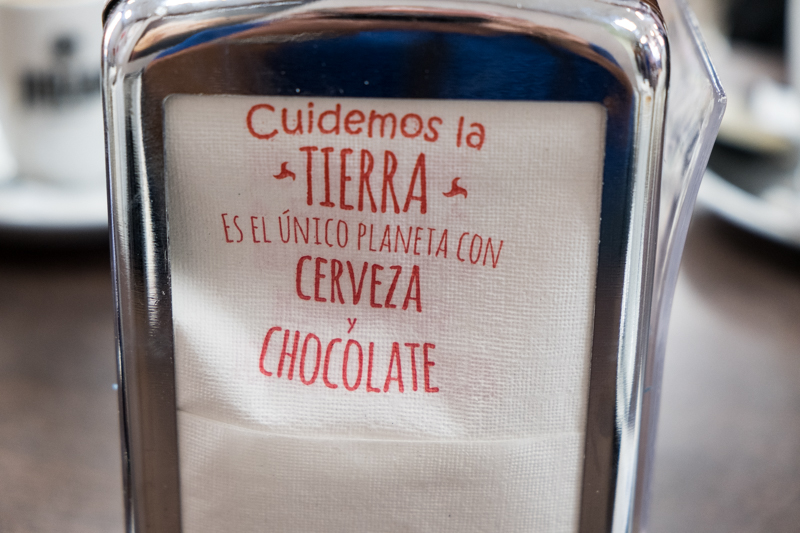 42_30
In the afternoon, I took my usual bike ride. The light was really nice; this is the view from Busot: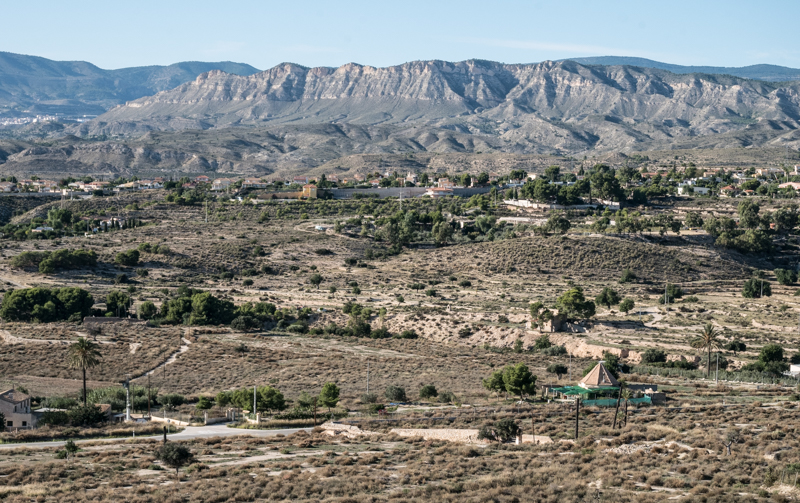 42_31
A detail seen during the ride–an embellished garbage container in Aigües: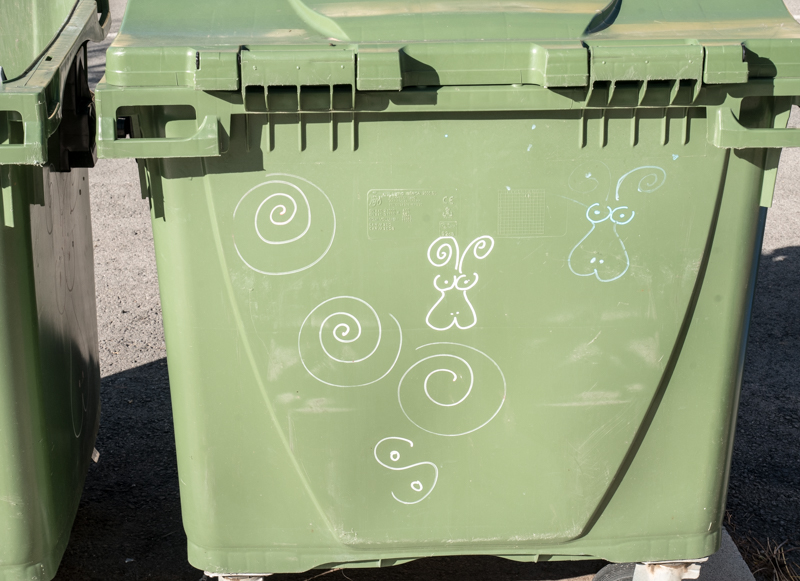 42_32
My sister and brother-in-law left Thursday night. I had to work in the morning, but I was able to take the afternoon off. Because of their flight schedule (leaving at 8 pm, arriving in Poland around 11:30 pm) they would not be able to have dinner that day, so we decided to have a bigger and later lunch than usual. My wife decided to use our outdoor kitchen for the first time, and made a delicious vegetable paella: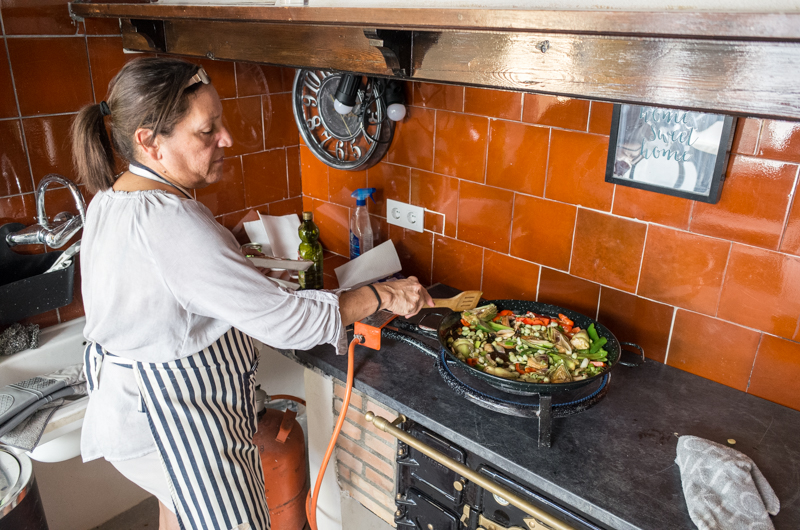 42_33
While the paella was being prepared, my sister and her husband were munching on moules and fried anchovies: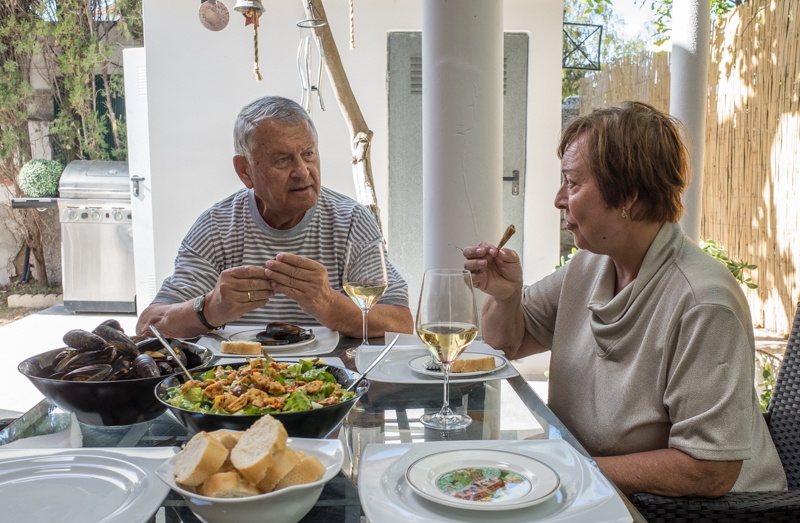 42_34
Monica came by also, and she was enjoying the salad while waiting for the paella: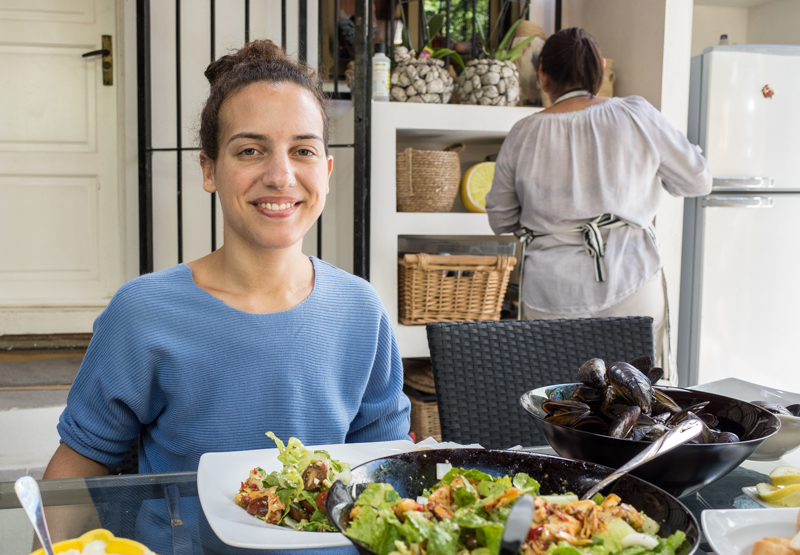 42_35
The paella is ready: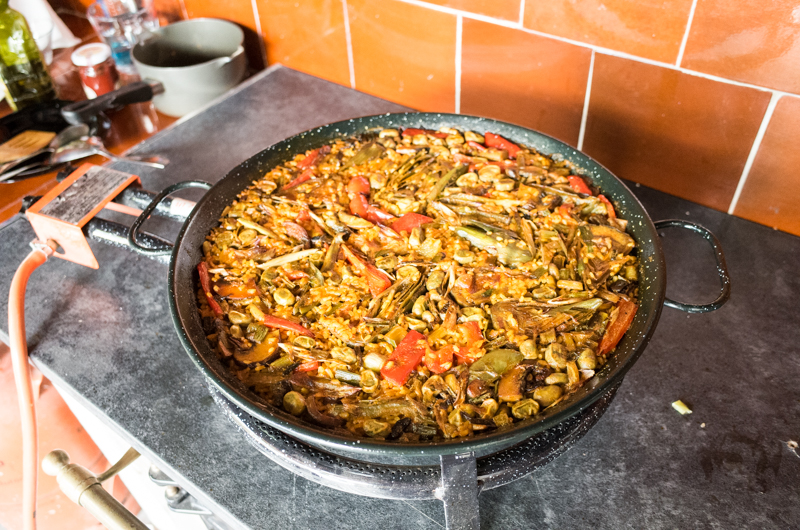 42_36
My wife doing an imitation of June Cleaver, albeit with a dish that Mrs. Cleaver probably never cooked: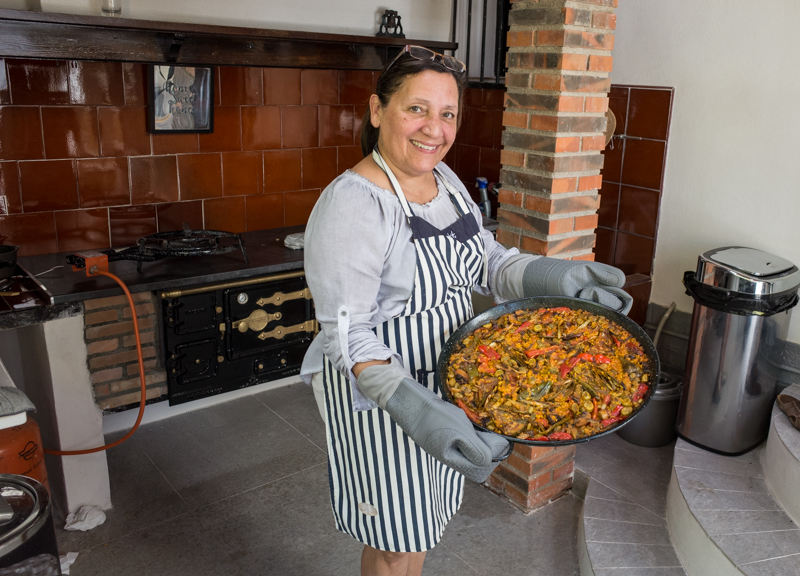 42_37
Serving the goods, with an interested onlooker: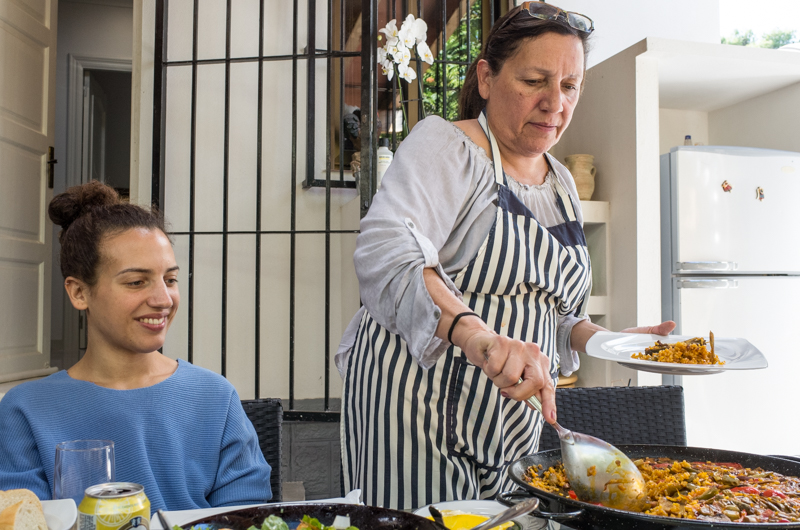 42_38
On Friday, the vice president of the European Commission, Frans Timmermans (Dutch) visited our office and gave a very nice and inspiring speech to the staff. I had a front row seat and was able to get some decent images with my Panasonic GX80 and the old Leica 50mm Summilux lens: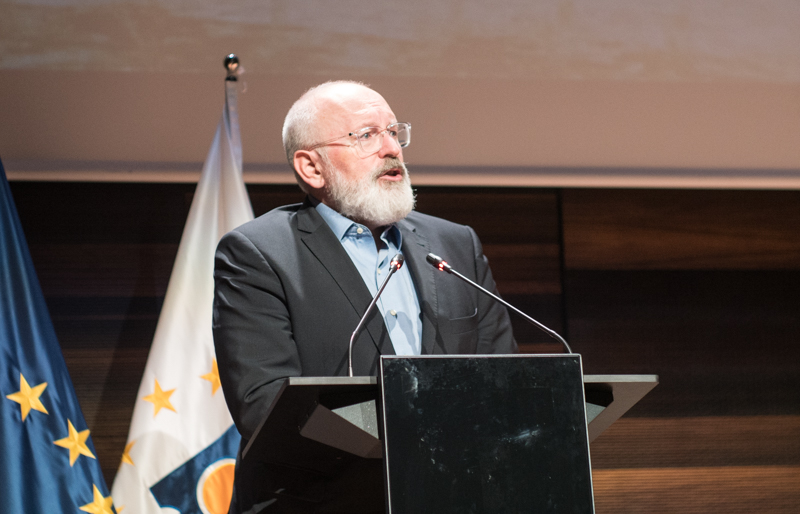 42_39
Friday night, a few of us went out for dinner with our ex-trainee Antanina, with whom we have stayed in touch for the past several years. She is a perfect example of what the EU has meant for her generation. Born in 1990 in the Soviet Union just before its collapse, she grew up as a citizen of an independent Lithuania which joined the EU in 2004. This gave her the opportunity to study in Italy on an Erasmus scholarship, then to spend a year with us, and later to go back to Italy and earn her PhD in economics from the University of Padova. We had a nice evening; here is Antanina and Carolina during the dinner: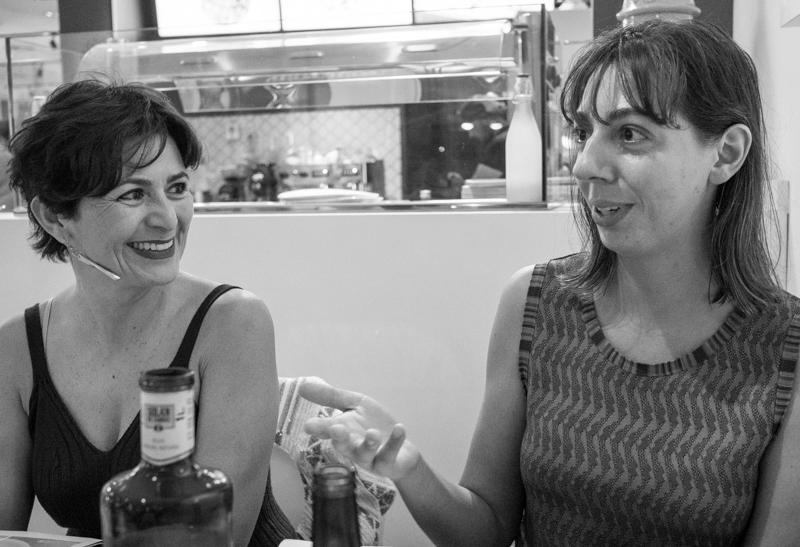 42_40
Monica spent Friday night at our house, and on Saturday morning the three of us went for a walk along the beach. It is fantastic do be able to do this in late October: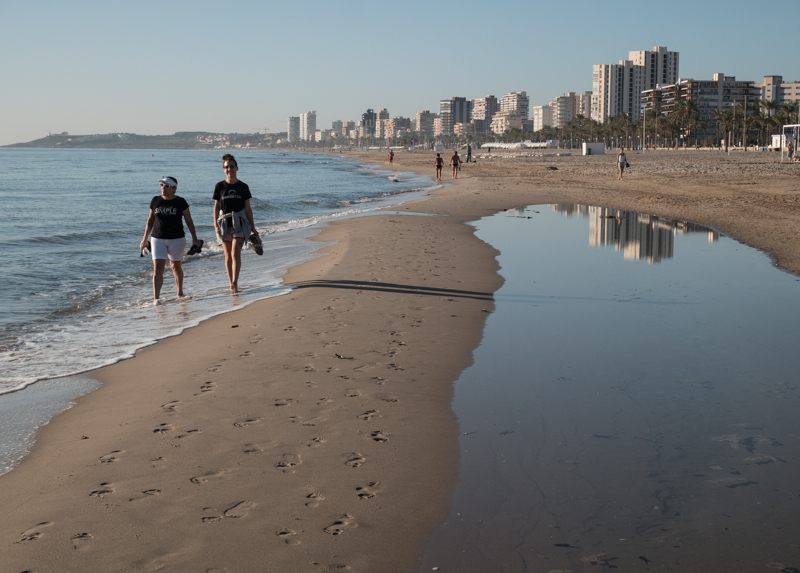 42_41
Other people had the same idea: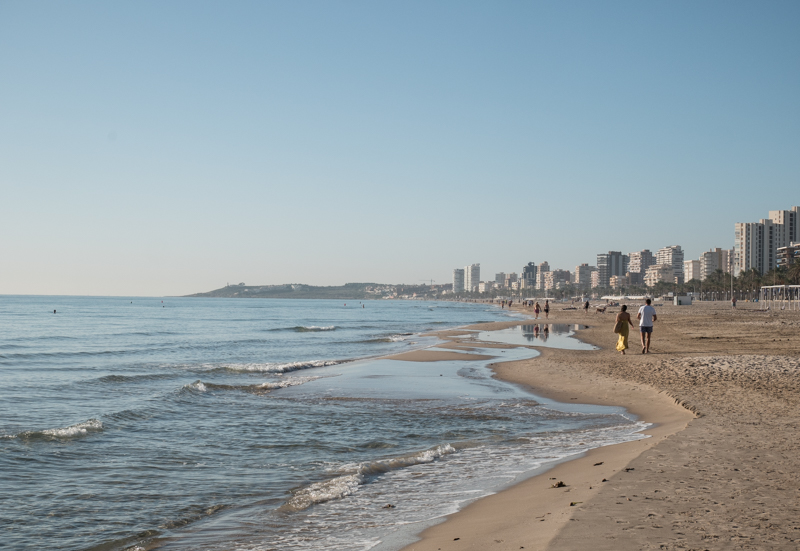 42_42
I indulged in some abstracts of the sand: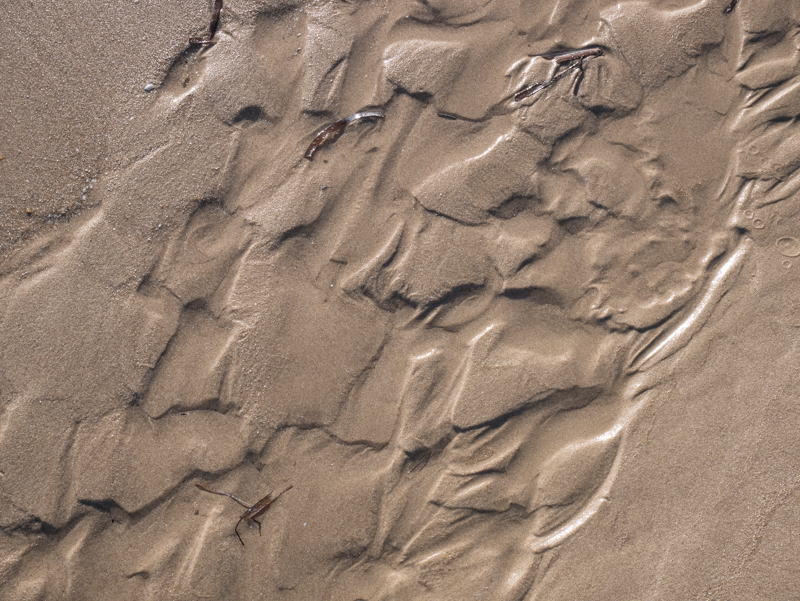 And thus ended an enjoyable week, at least photographically speaking.