My wife is an avid bridge player and often plays in tournaments, sometimes abroad (we were in Poland for one such tournament in the summer of 2018). In the last weekend of April, there was a tournament in Lisbon in which she wanted to play, so we decided to make a little trip out of this. Lisbon is 930 km from Alicante, so an easy day's drive. We were accompanied by my wife's bridge partner, Curra, an amazing 86-year old lady who is living proof that bridge keeps your brain sharp and clear.
16_1
In the early part of the week we still had some rain, and the beach was clearly marked: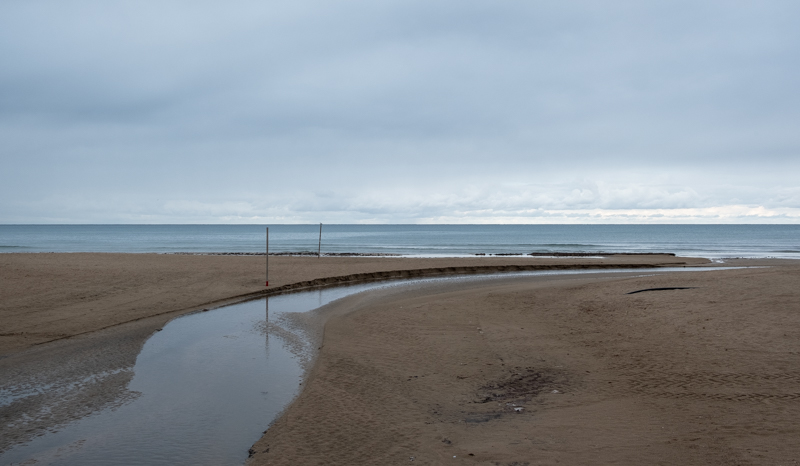 16_2
But as soon as the rain stopped, people resumed normal beach authorities: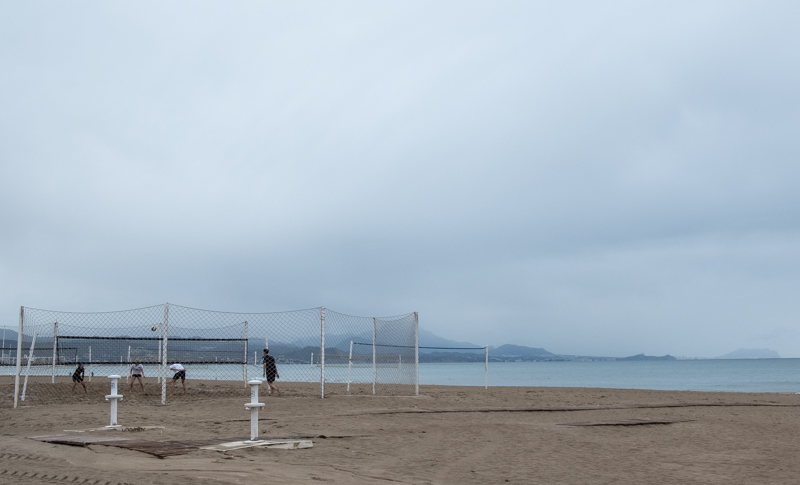 16_3
On Thursday morning we set out for Lisbon. I am always looking for pictures, and the semi-abstract roof of a petrol station somewhere in Castilla La Mancha caught my eye: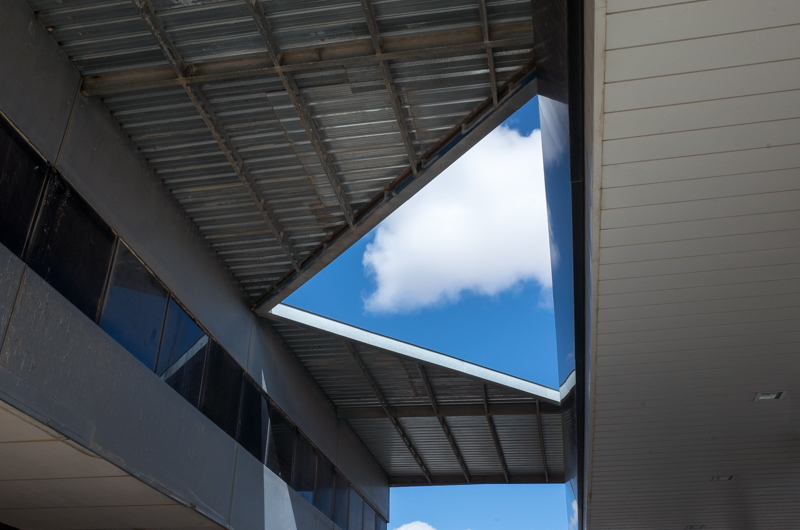 16_4
Most of the route to Lisbon was along nice motorways, but there was a stretch in the middle of a couple of hundred km of national road. This meant that I had to slow down from time to time when passing through towns and villages, but that also provided us with an opportunity to have lunch at a proper local place and not a motorway rest area: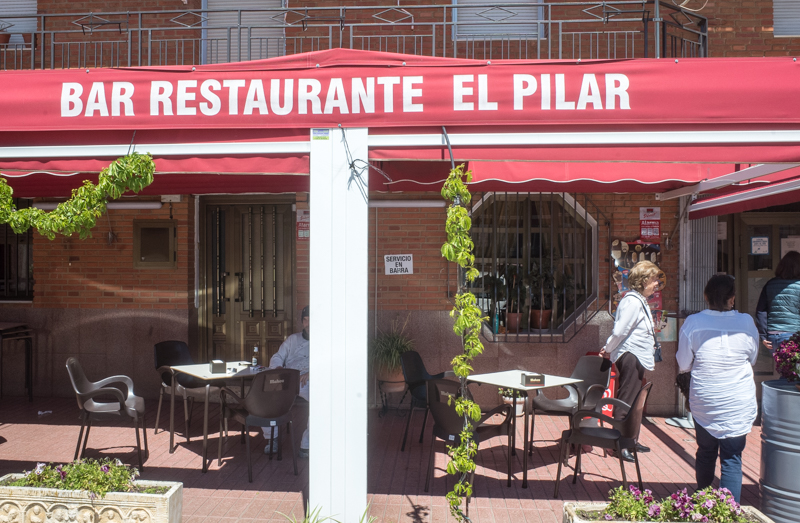 16_5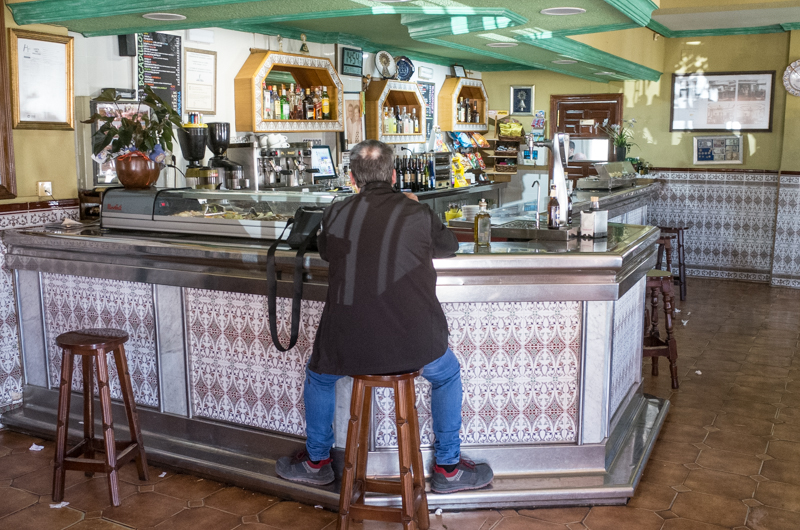 16_6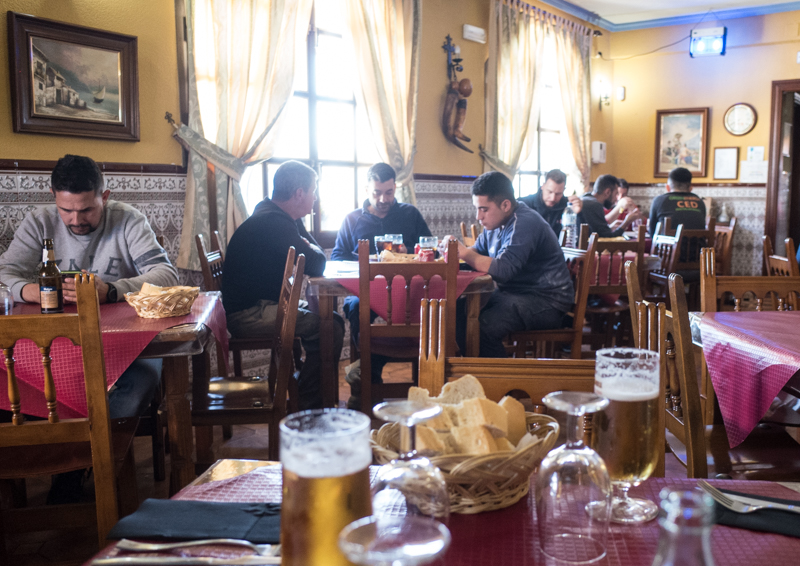 16_7
In the evening, we arrived at our hotel in Lisbon and enjoyed the view: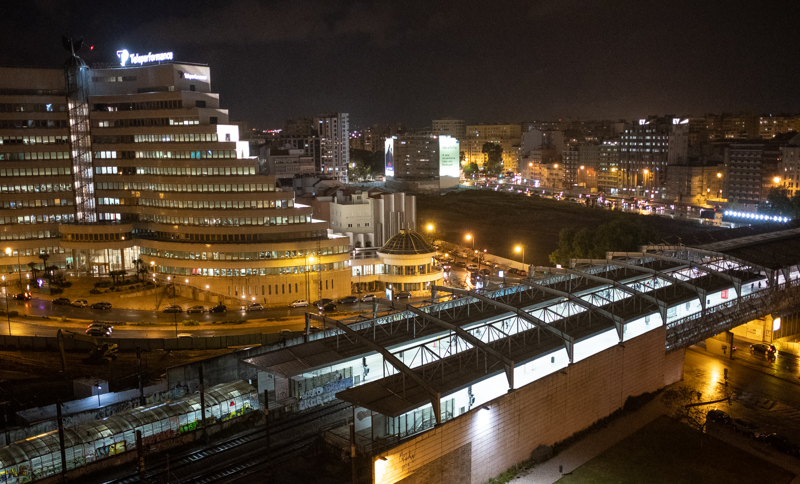 16_8
The following morning, I went for a walk in the neighbourhood, as always looking for small details: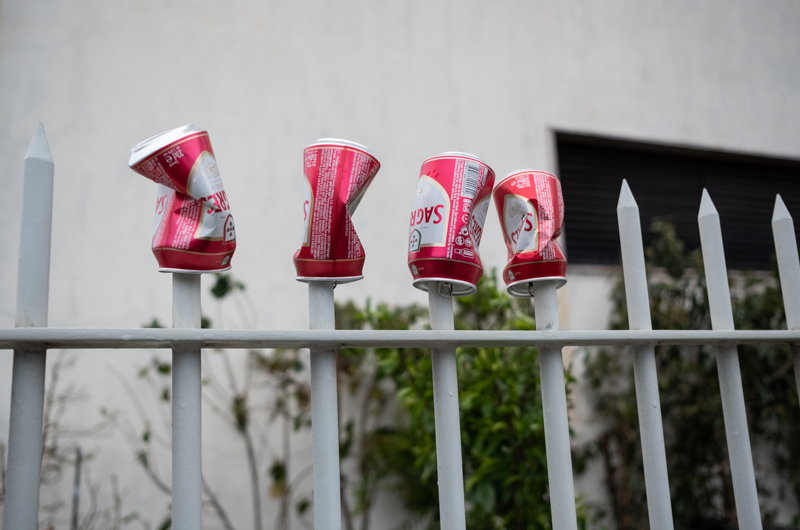 16_9
Morning traffic; and as is evident from this image, the weather in Lisbon was not the best: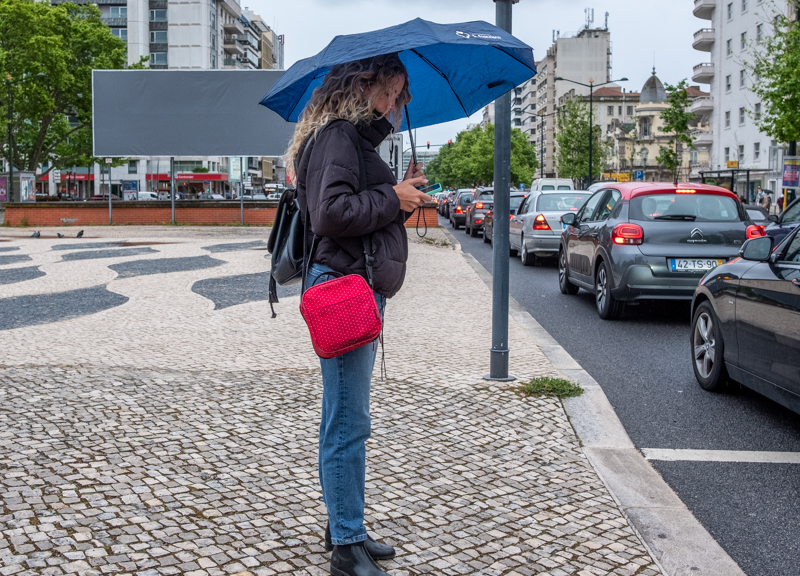 16_10
There was a large commuter train station near the hotel, called Entrecampos, and I enjoyed looking at the murals there: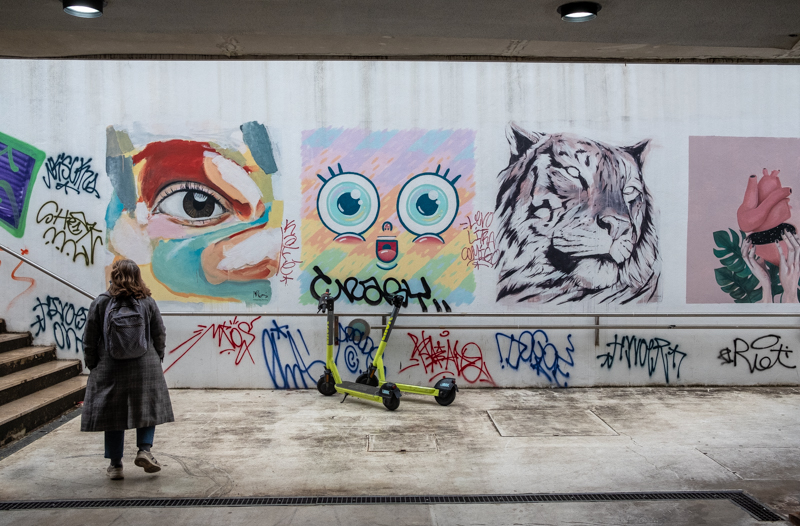 16_11
The bridge was in the afternoon and evening, so we could explore Lisbon during the day. I have visited the city several times, but my most recent visit was 15 years ago, so I enjoyed being back. The central square of Lisbon, right on the waterfront of the River Tejo (the longest river on the Iberian peninsula), is called Praça de Comercio, and it is gloriously beautiful, even in rainy weather: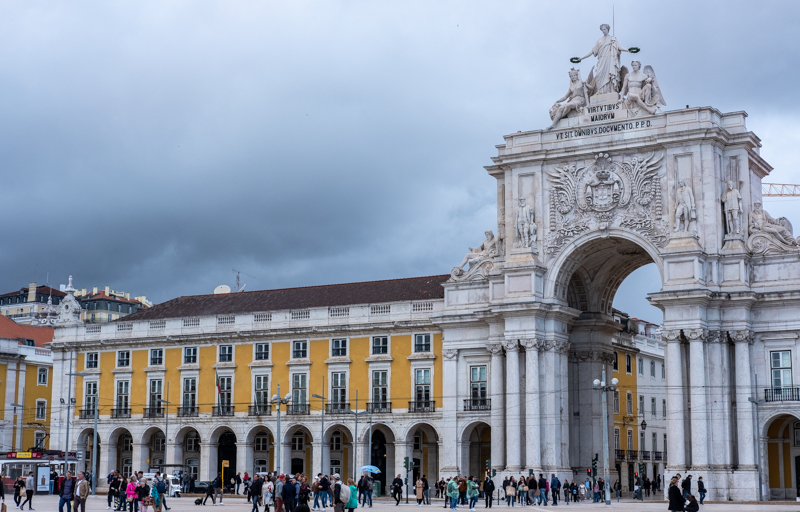 16_12
Lisbon's old-fashioned trams are an attraction in themselves: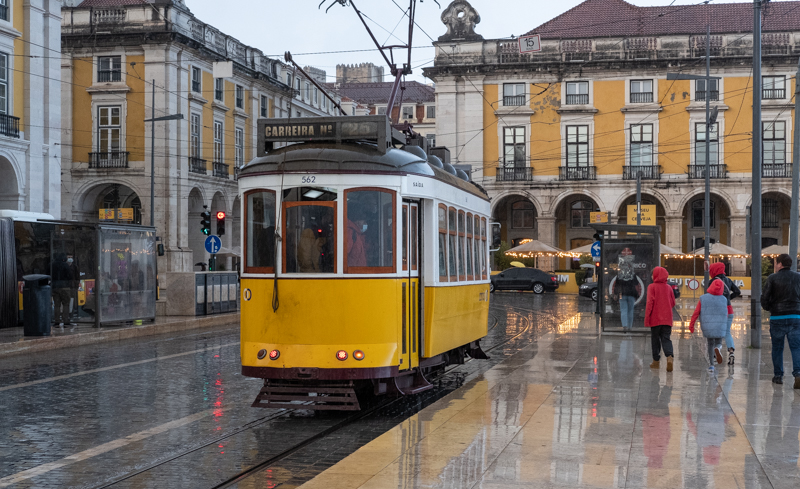 16_13
Another Lisbon attraction is the cod, bacalao: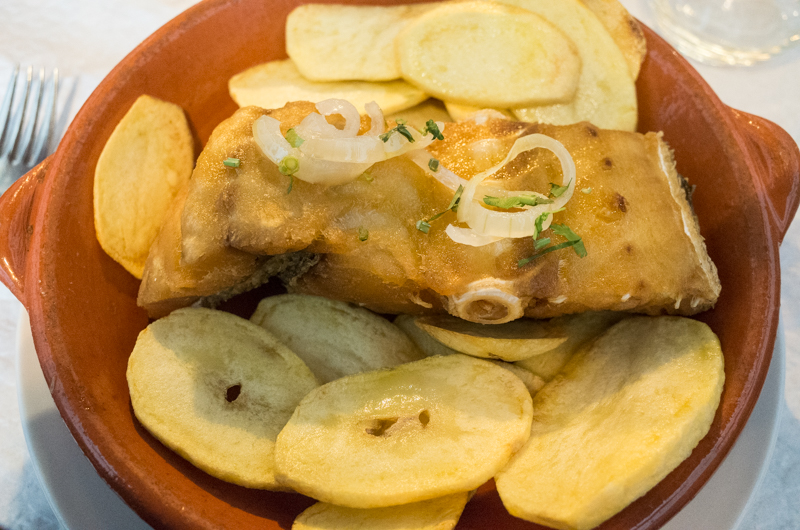 16_14
The next morning outside our hotel–the rain has stopped, for now: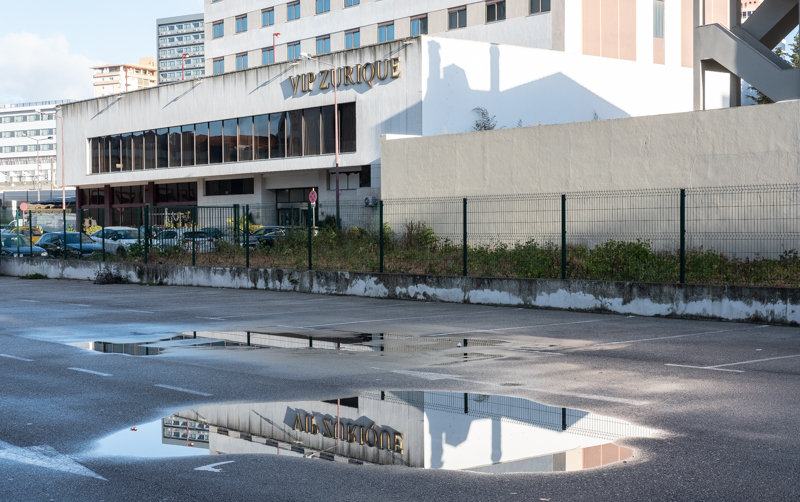 16_15
Breakfast at the hotel was outrageously expensive, so every morning we would walk to a nearby café and have it there. We would usually sit outside, with pigeons as company (Curra is in the background in this photo):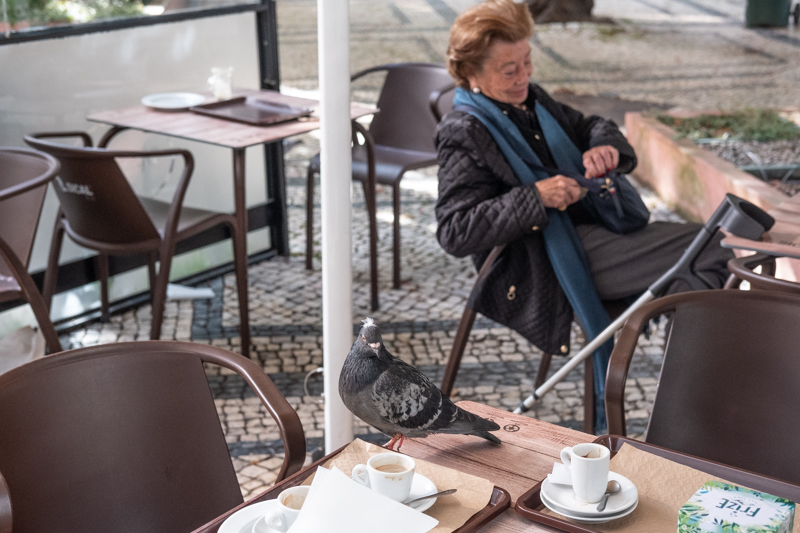 16_16
The pigeons really went to town when we left the table, looking for crumbs and other pickings: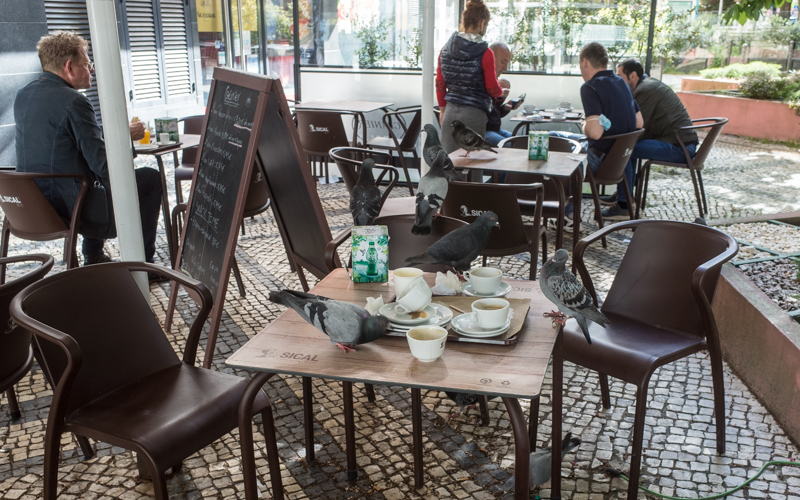 16_17
Later that morning, we drove to the nearby town of Sintra, home of a famous Moorish castle and various palaces, much visited by tourists: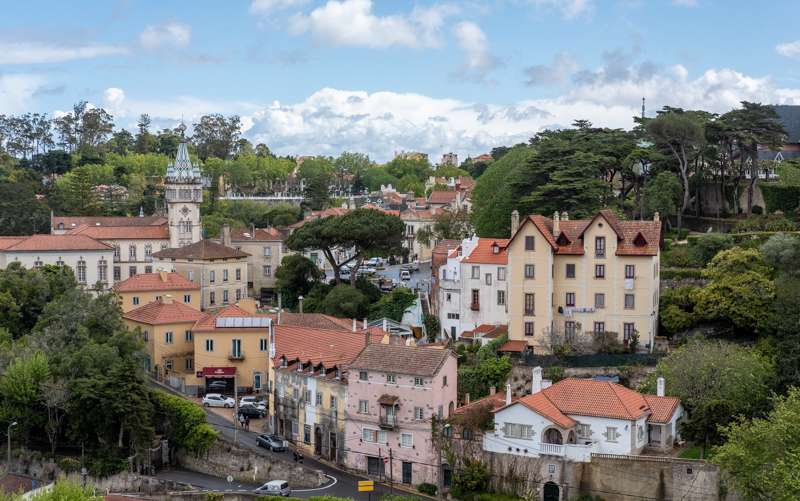 16_18
We walked around a bit; there were some pretty spots but overall, I found the place too overrun with tourists (I know, we contributed to this) to be really enjoyable: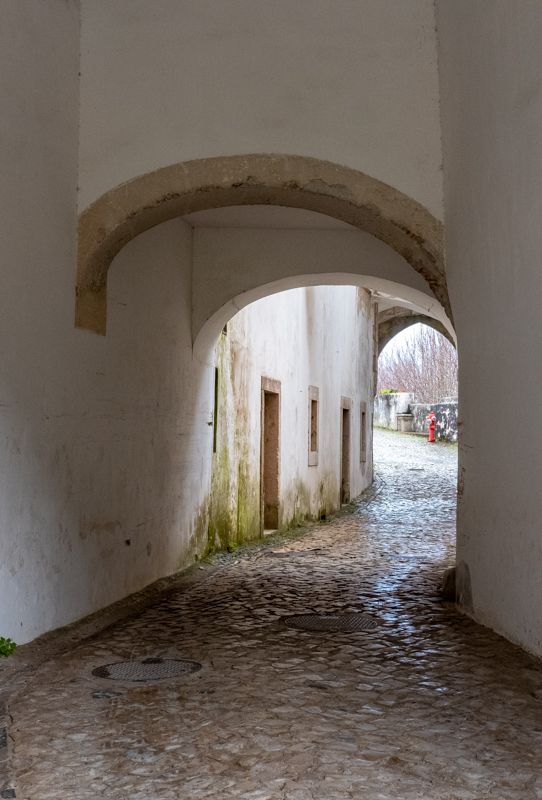 16_19
And then the rain started again: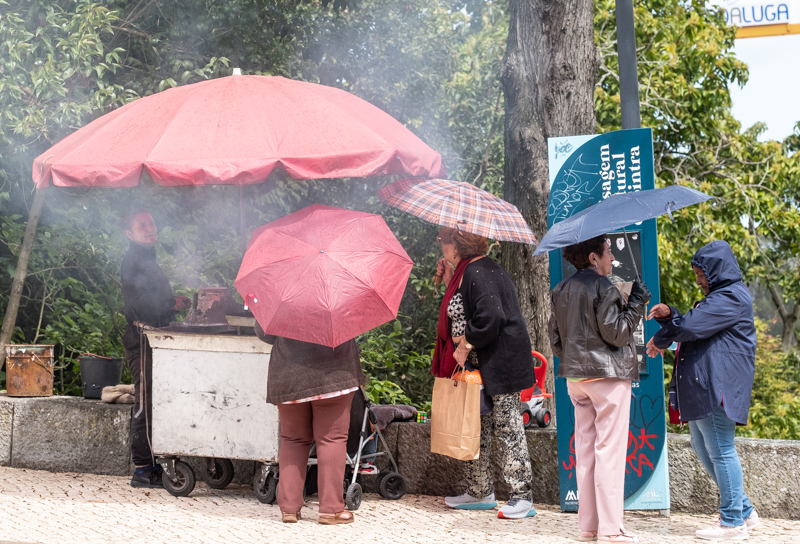 16_20
Back in Lisbon, my wife and Curra went off to play bridge while I walked in the centre. The sun was out again, and it was a glorious afternoon on Praça de Comercio: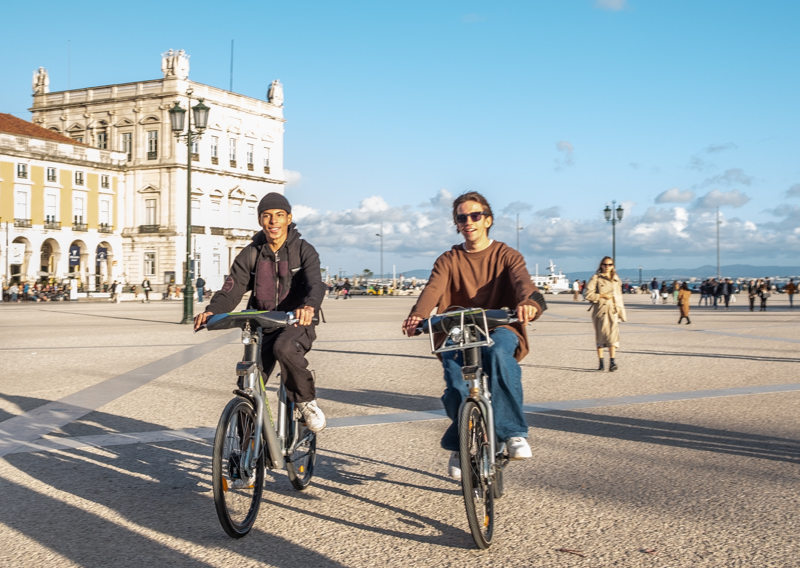 16_21
I had read about the Bertrand bookshop, supposedly the oldest bookshop in the world still operating. So I walked there and browsed a bit, but did not buy anything. However, in the adjacent Rua Anchieta there was a nice outdoor book market: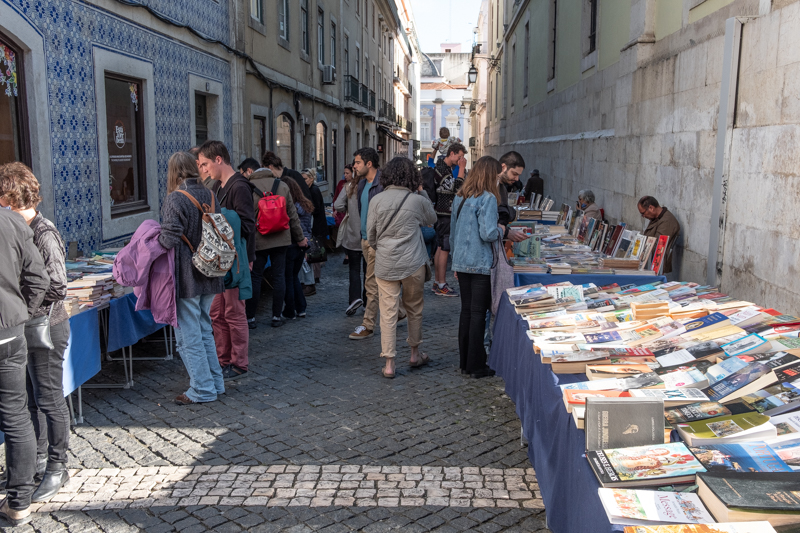 16_22
Lisbon is a hilly city, a bit like San Francisco. There are many streets like this, Calçada Nova de São Francisco: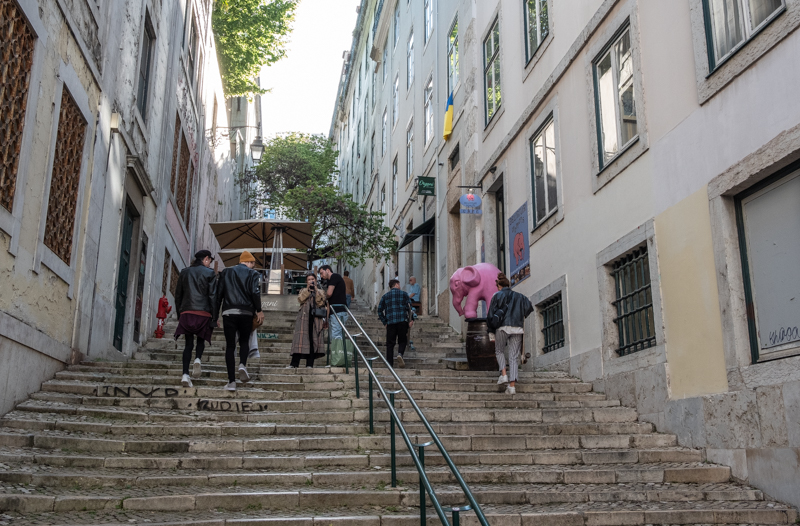 16_23
But on this very street, I found a true oasis: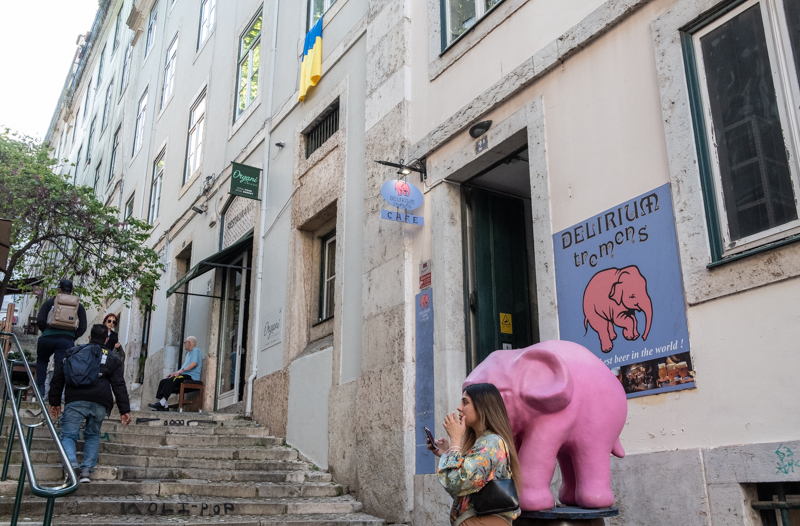 16_24
I went inside and received my reward for all this walking: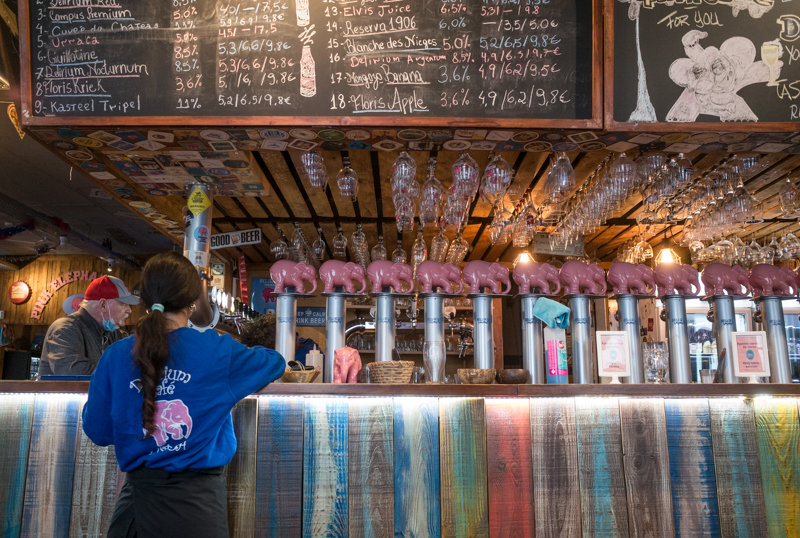 16_25
The following morning, we started our drive back to Alicante. We left Lisbon on the magnificent April 25th Bridge: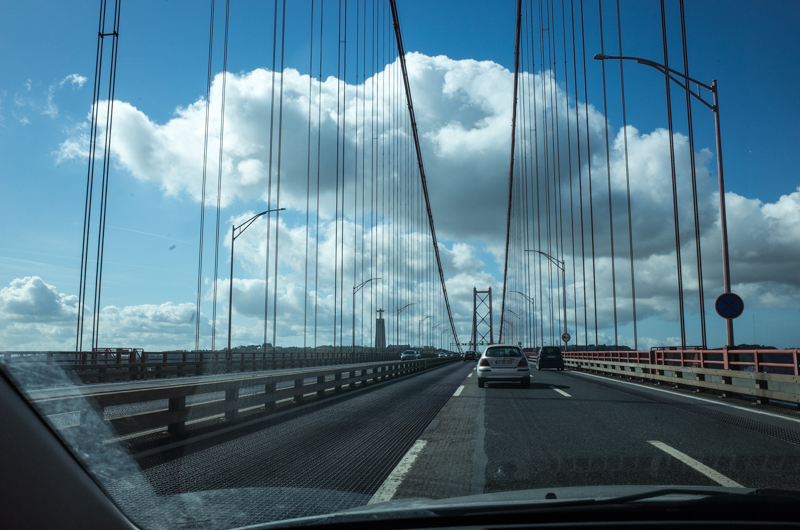 16_26
Just as we had done on the way to Lisbon, we stopped for lunch at a local restaurant in a village in Castilla La Mancha: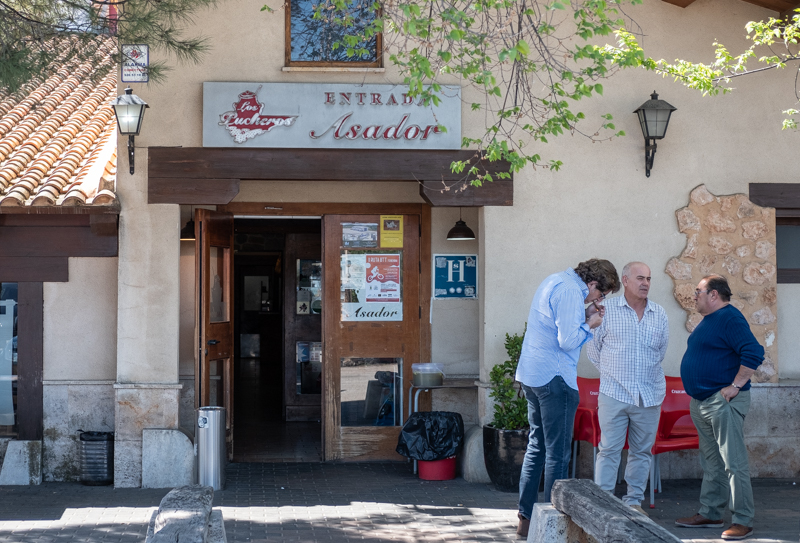 16_27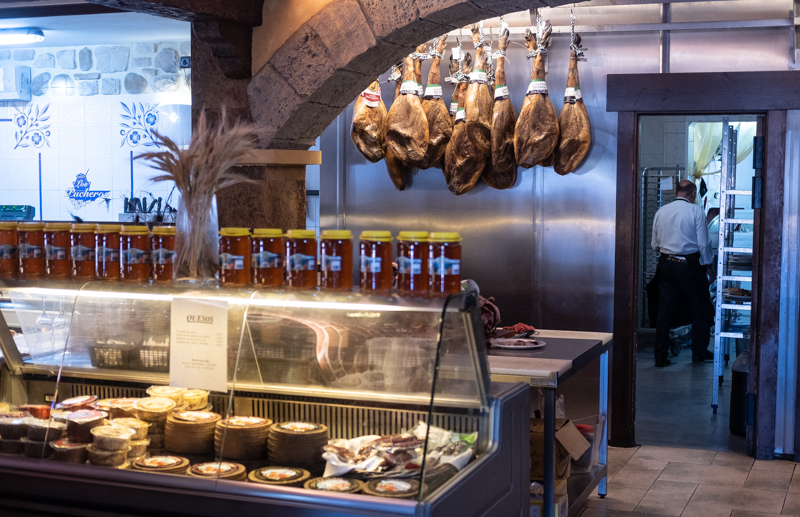 16_28
This is the Mediterranean diet, a nice salad to start the meal: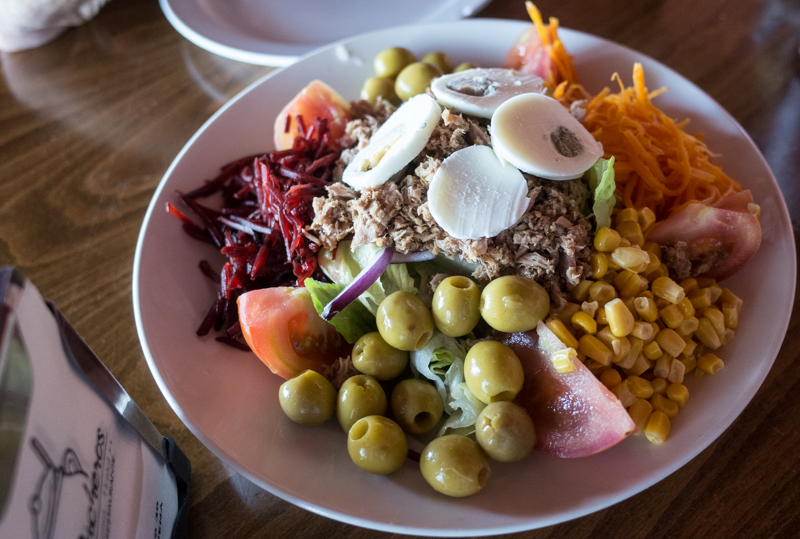 16_29
The main dish was a bit of a strange manchego combination of calamares, tortilla and fries: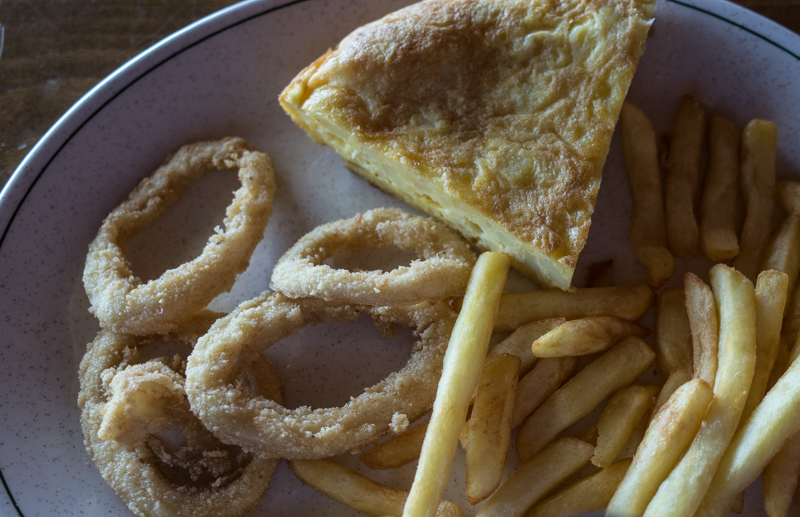 But it gave me the energy to drive the remaining 600 km or so.
A proper Lisbon gallery can be seen here.