Another week of work and cycling. For once, I spent a bit of time in the centre of Alicante as well. On a technical note, aside from the first four images, all this week's photos were made with two of my oldest digital cameras, an 11-year old Leica M8 and a 10-year old Panasonic GF1. Both still work fine.
7_1
But first a morning walk around my neighbourhood. A local restaurant has replaced the menu in the glass box with Spanish flags. This is most probably a political statement against Catalan independence. Until the "process" in Catalonia began in the autumn of 2017, I only saw Spanish flags displayed by private businesses and individuals when a big football tournament like the World Cup was going on. But since then, Alicante and other parts of Spain (outside Catalania) are full of flags like this one, as a sign of opposition against separatism:

7_2
A typical wall in our neighbourhood: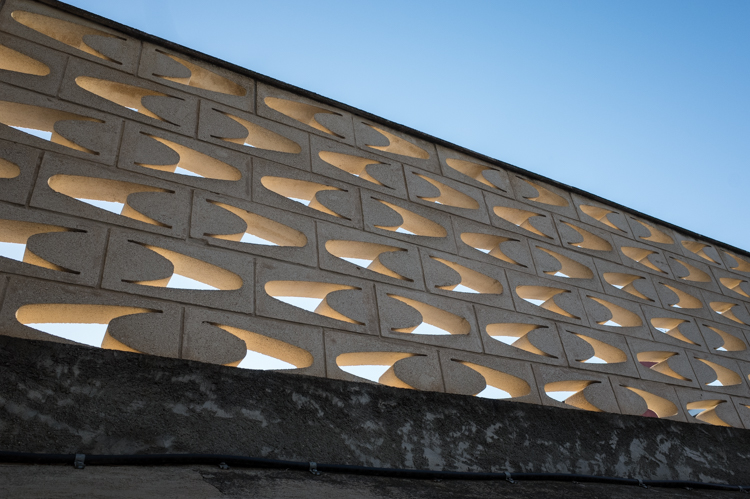 7_3
Peeling paint: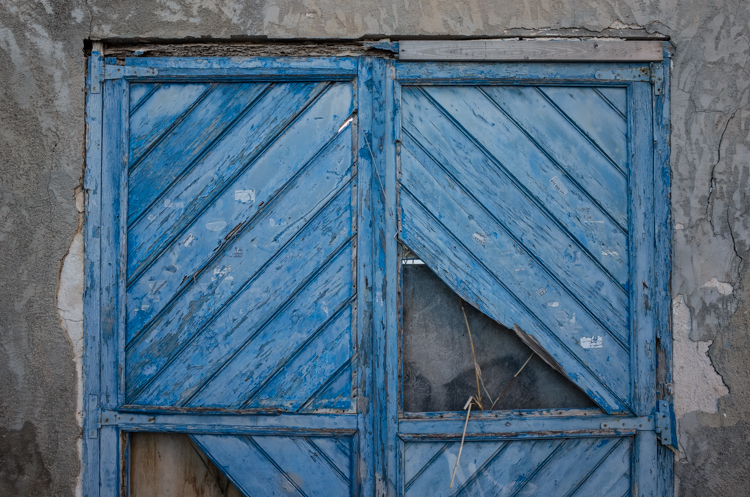 7_4
The lottery vendor has set up his table outside the newsstand, but he has just popped into the bakery next door for his morning coffee: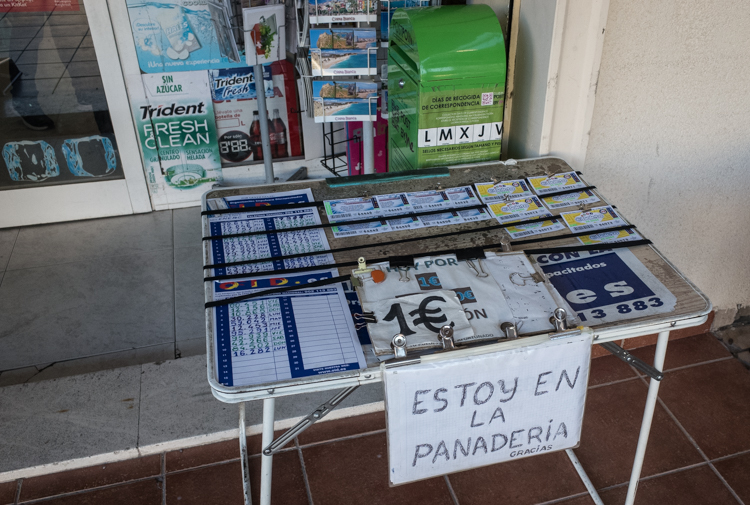 7_5
A few images from a Sunday drive along the beach. People are enjoying the afternoon sun at a restaurant on the paseo: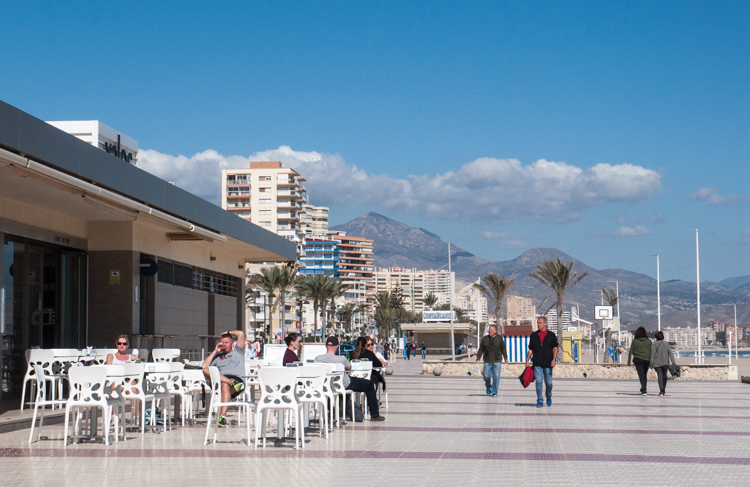 7_6
A few meters away, a couple sunbathing on Playa Muchavista: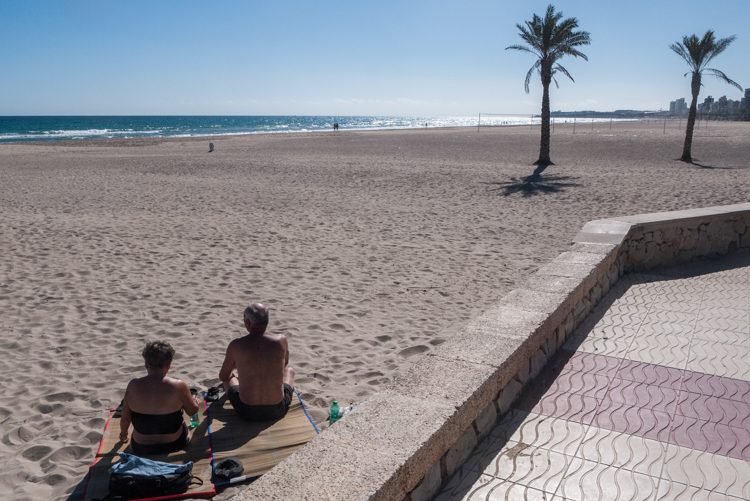 7_7
A few km to the north, at the beach in El Campello. It had turned colder and windier, so people were more dressed here. This young couple appeared to be meditating, or maybe just enjoying the sea: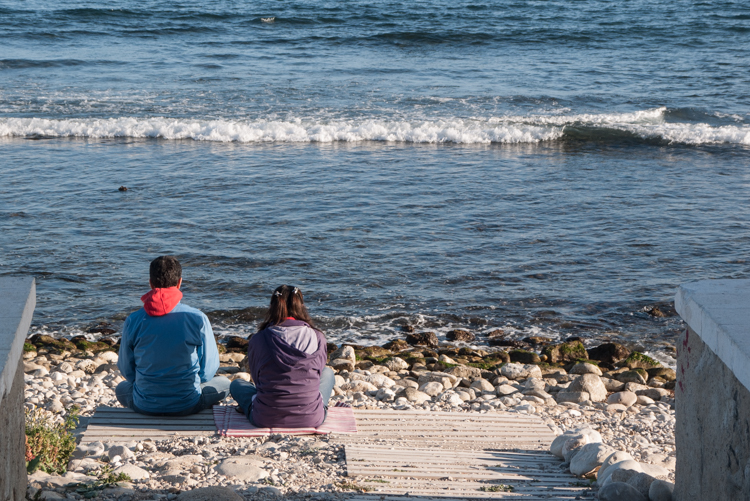 7_8
A father fishing with his two boys: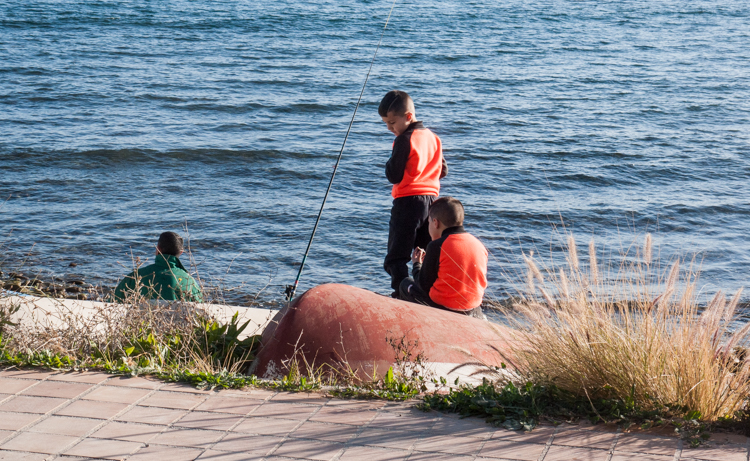 7_9
A sign pointing to the dog beach. I had taken Cheeta here in the autumn of 2016, so it is a place of bittersweet memories: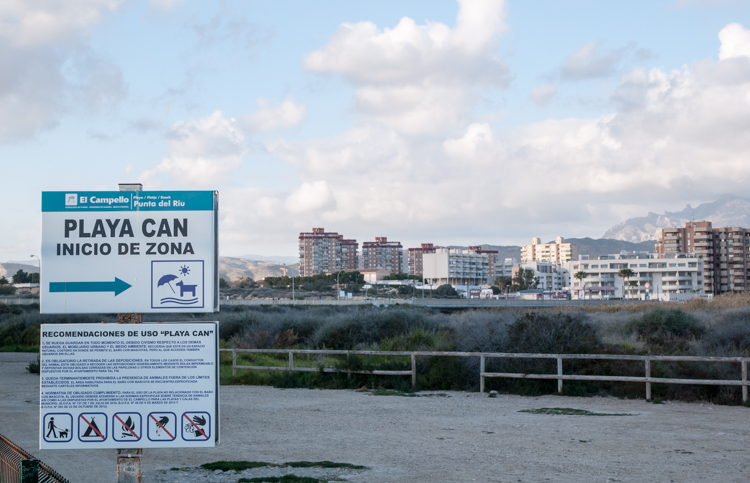 7_10
This part of the coast is stony but it did look pretty on this particular afternoon. Benidorm is visible in the far distance: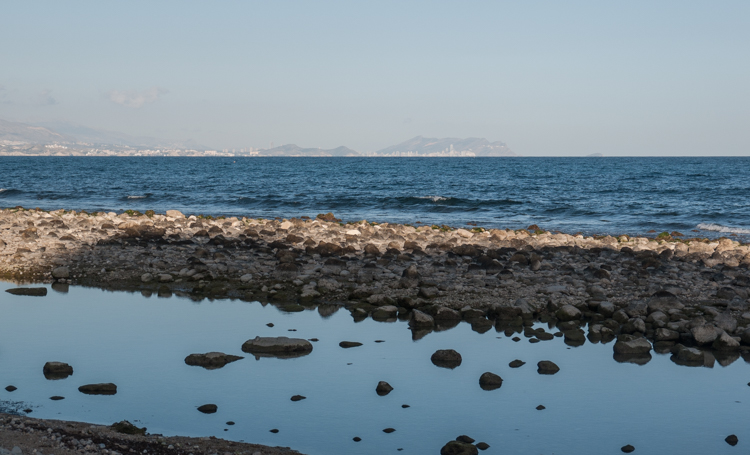 7_11
Stones and reflections: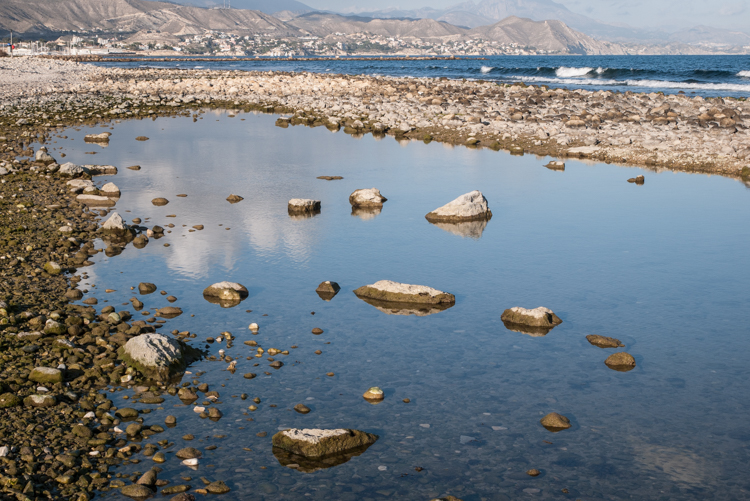 7_12
An image from the main street in El Campello, just up from the beach promenade. A luxury development is being built here, and a local man takes a look: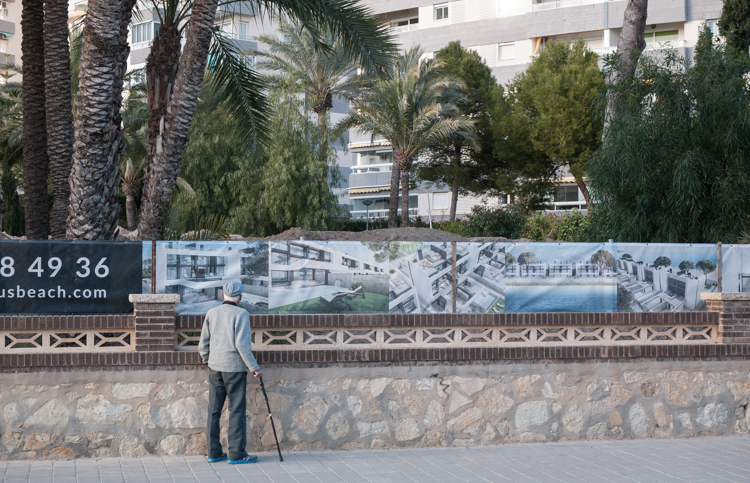 7_13
Colourful wine shop sign, El Campello: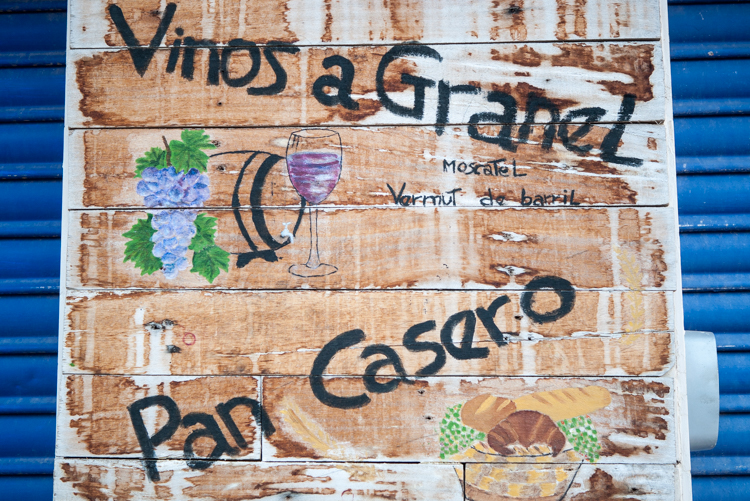 7_14
A snapshot from the office; our British colleague Andrew and his wife had a baby, and as often happens, the little one was brought to be office for a show-and-tell. Here, he is being introduced to European integration–he is being held by one of our Greek colleagues while the mother looks on: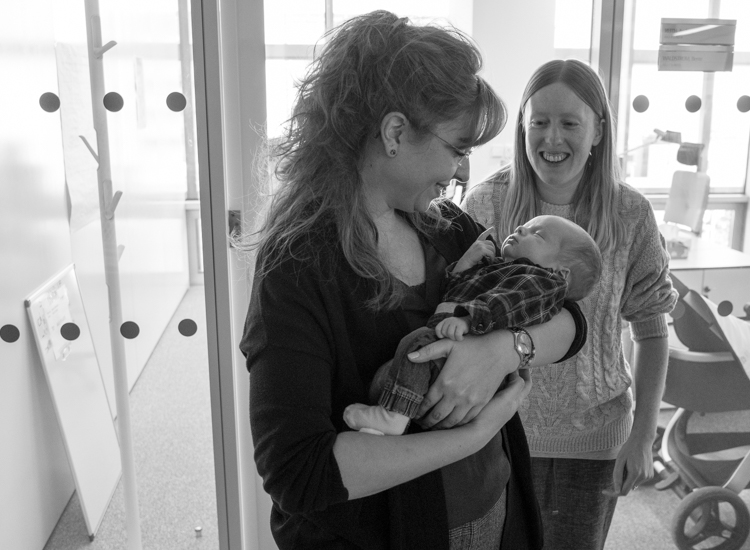 7_15
Friday night is pizza night in our home. Since the Tutti Pizza & Pasta is just 100 meters down the street, I do not bother calling ahead to order. I just walk down there, order, and have a beer while I wait. Of course I bring my camera too and take advantage of opportunities as they arise: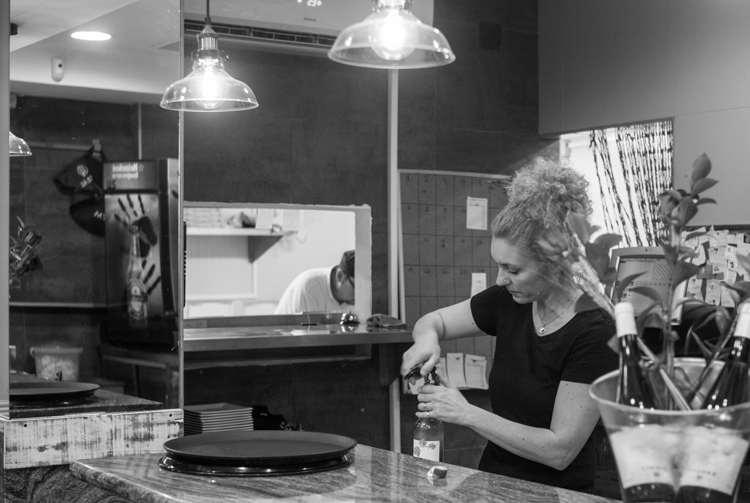 7_16
The waitress doing double duty: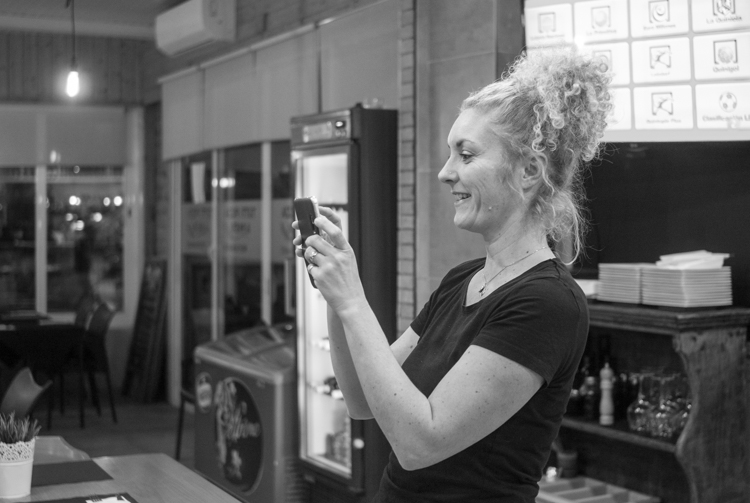 7_17
On Saturday morning, a strong wind was blowing in from the Mediterranean: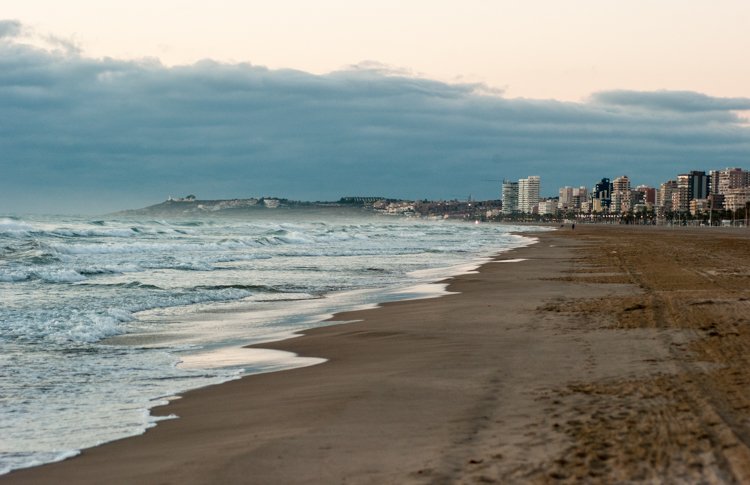 7_18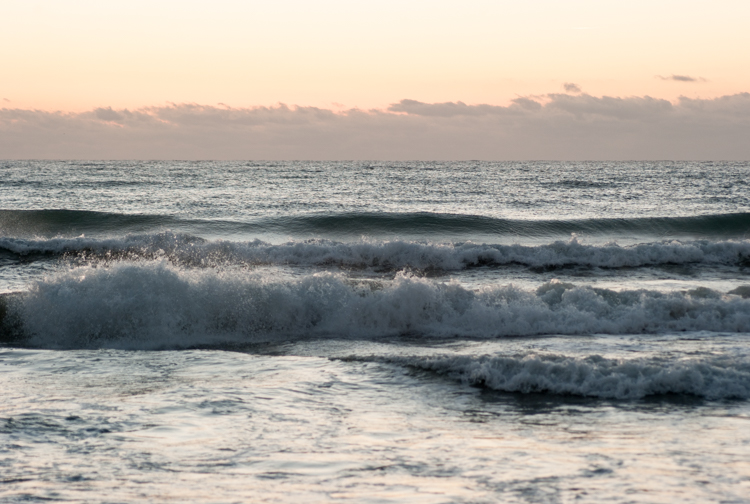 7_19
A group of people were doing some kind of exercise on the beach: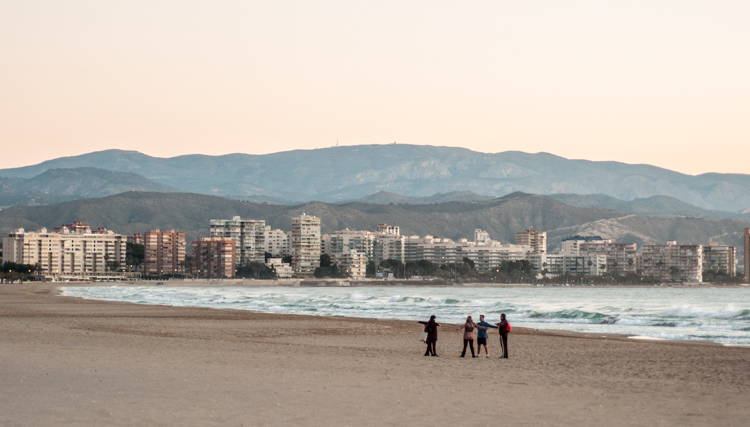 7_20
A lone jogger at the water's edge: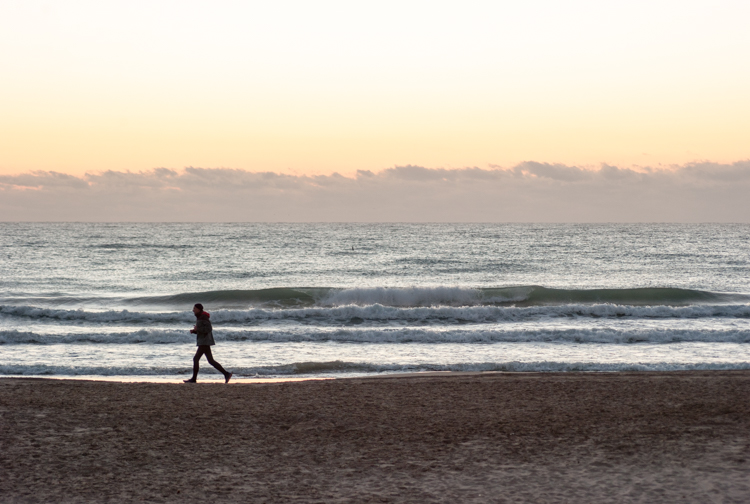 7_21
Later on Saturday morning, I cycled to the two mountain villages Aigües and Busot. The strong wind was nice, since it meant tailwind on the way up. This is the road between the two villages, with a fellow cyclist on the way from Busot to Aigües: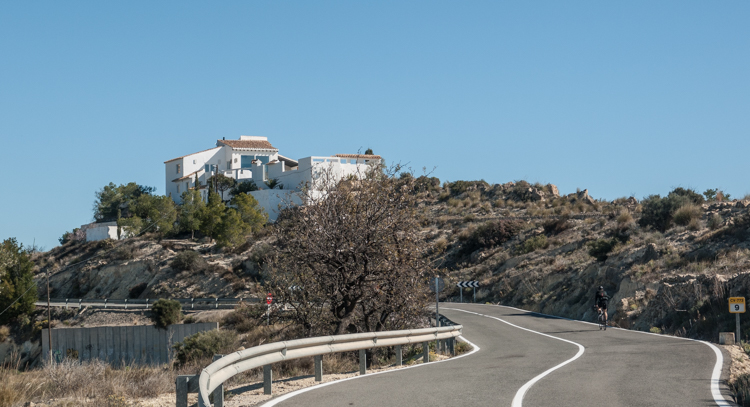 7_22
I love this view of Busot with its colourful houses set against the blueish moutains in the distance: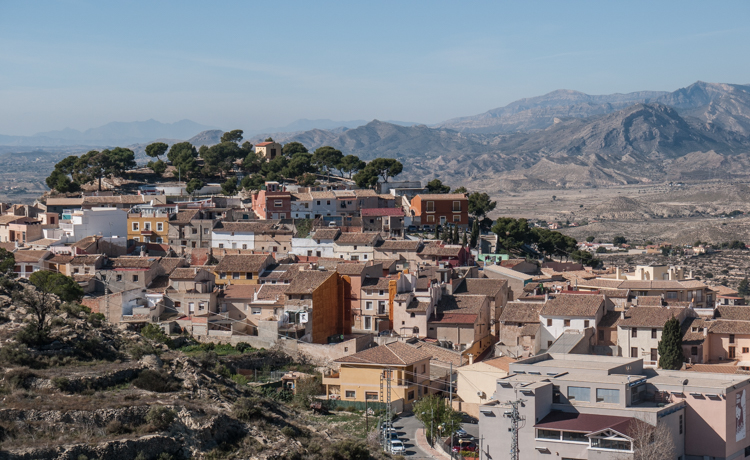 7_23
Typical scene on the square in Aigües. I have seen the same boy kicking the ball against the side of the church the last two weekends: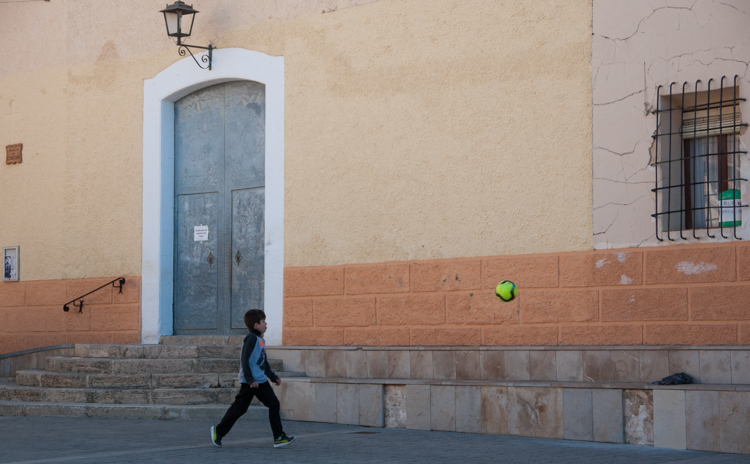 On Saturday afternoon, I went to the centre of Alicante. On a large square that previously housed the main bus station, Plaza Seneca, a community event was being held, with various booths inside the restored station building (including one with some excellent craft beers from a brewery in the town of Alcoy), and various activities outside.
7_24
A performance for children, and maybe also for the parents: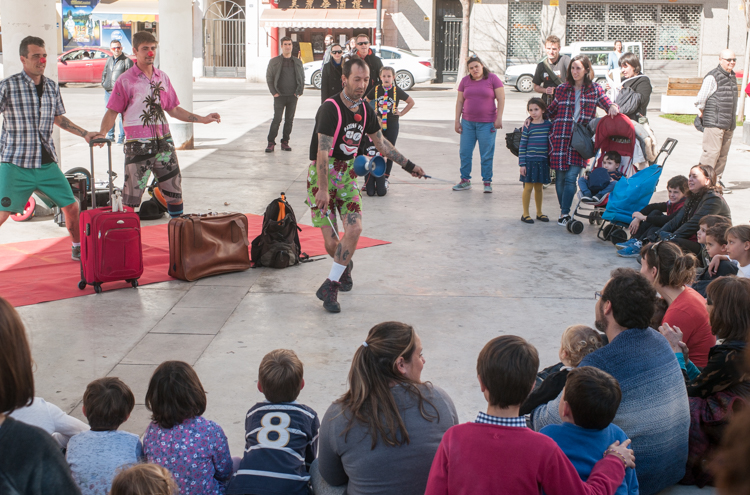 7_25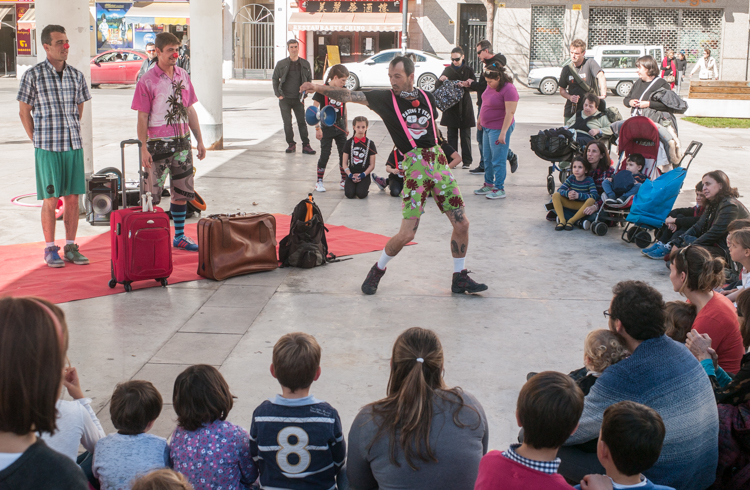 7_26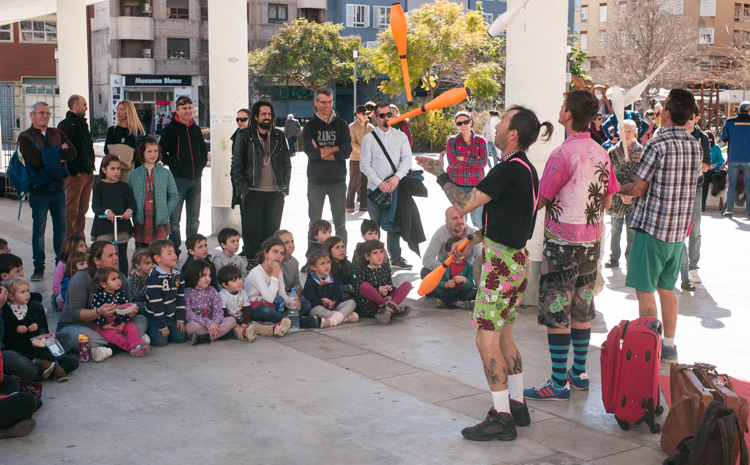 7_27

7_28
Small dog and red coat: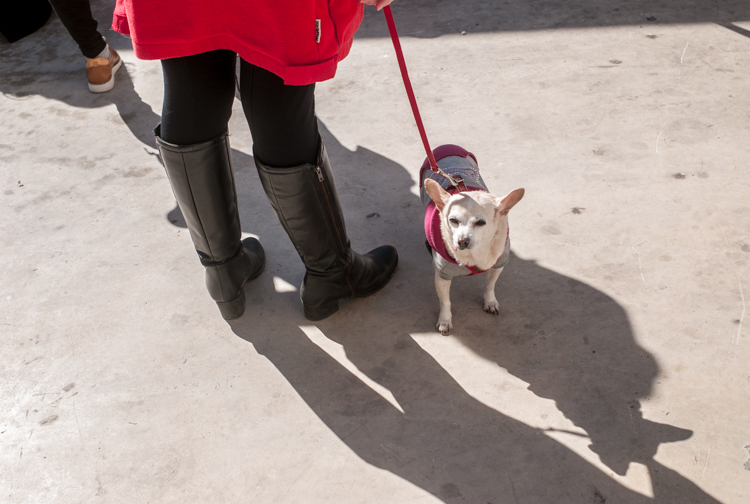 7_29
Dogs and people were all enjoying the sunshine: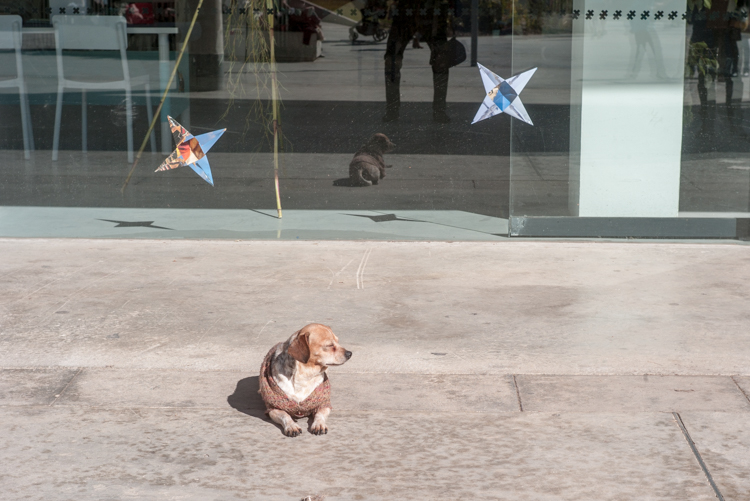 7_30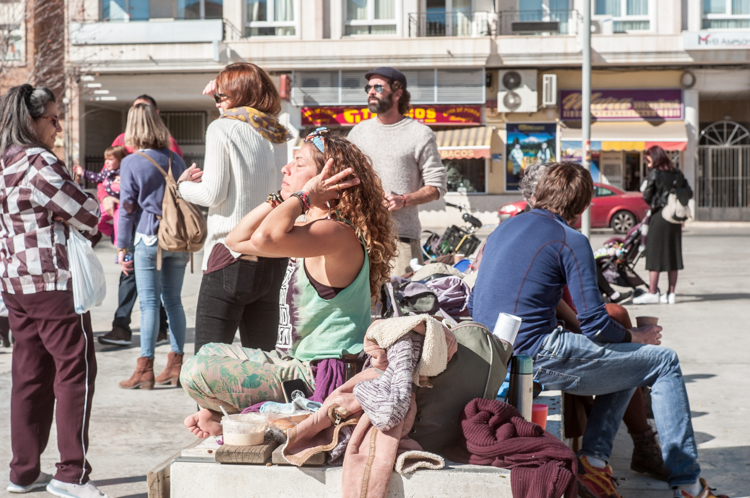 7_31
One of the distinguishing features of Plaza Seneca are the entrances to the bomb shelters from the Spanish Civil War. As one of the last bastions of the republican government, Alicante was heavily bombed by Franco's Italian allies during the closing stages of the war, so these shelters had a serious purpose. Later, they were simply covered up when the square housed the bus station. Today they have been restored and can be visited by appointment. They also provide a place for children to play:

7_32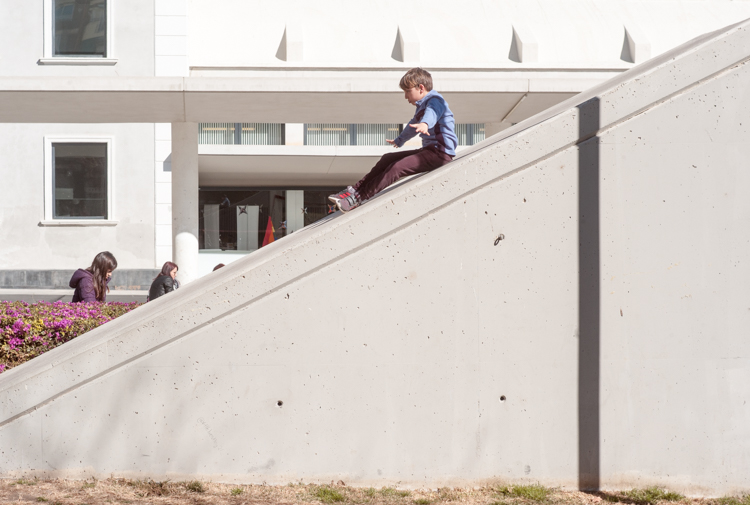 7_33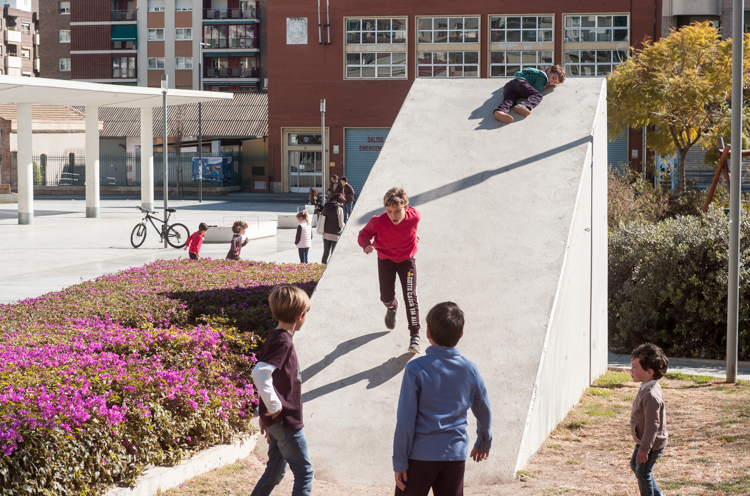 7_34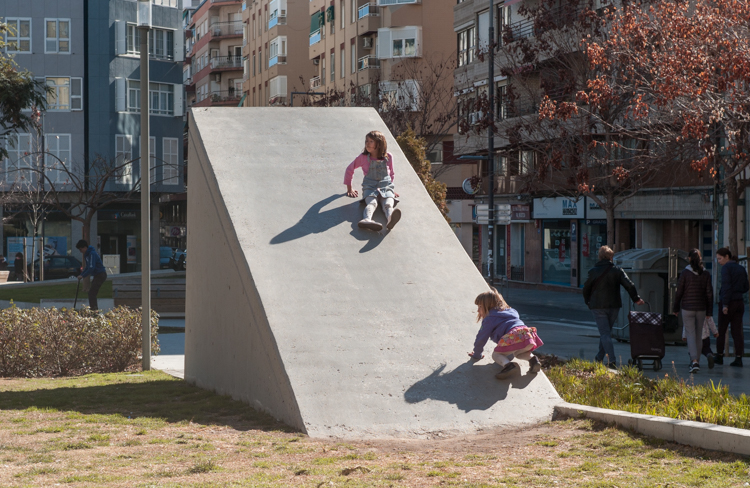 7_35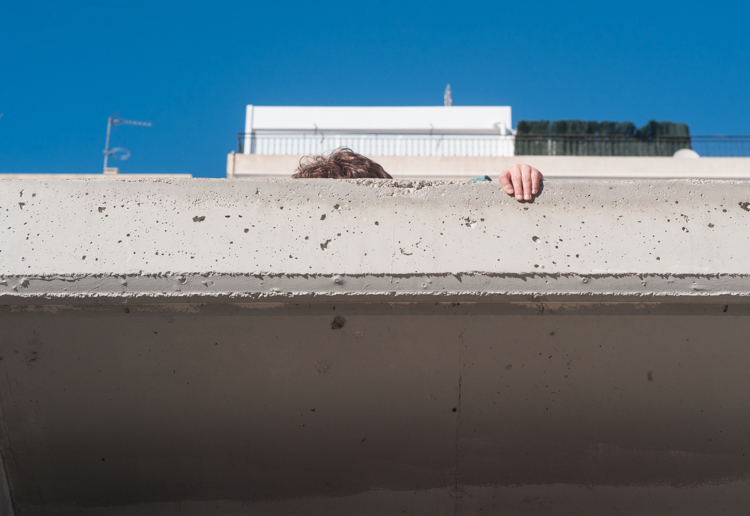 7_36
Late Saturday afternoon I went for another walk on the beach promenade. The wind was still blowing strongly, and some people were taking advantage: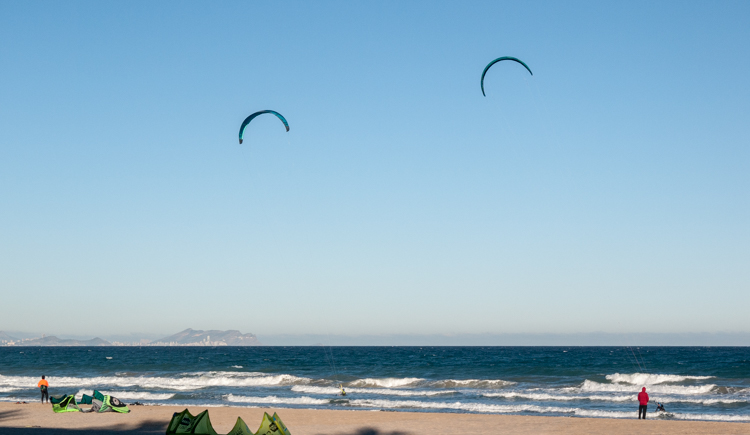 7_37
Spot the surfer: