My best friend Lars lives in Denmark. We have been friends since our 1st year in high school back in 1976, and the friendship has endured even though I left Denmark in 1983. We see each other 3-4 times a year, when I go to Denmark or he comes to visit me here in Spain. And that is what he did last week. Because we have a shared interest in photography (among other things), we took a lot of pictures, and so this weekly blog is larger than usual.
The first several pictures are from our kitchen. Lars and I both like to cook, but we make different things. His specialty is baking bread and making pasta from scratch. So every time he visits, he makes pasta, bread and pizza for us.
Main
The sauce for the yet-to-be-produced pasta is simmering slowly: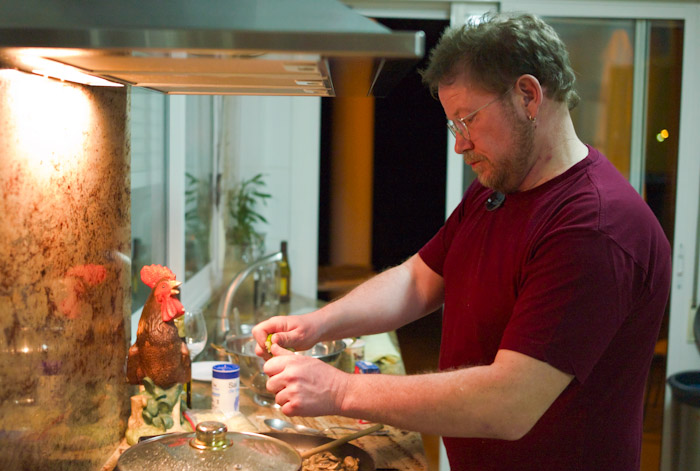 The alternates:
Alternate 1
Working on the dough: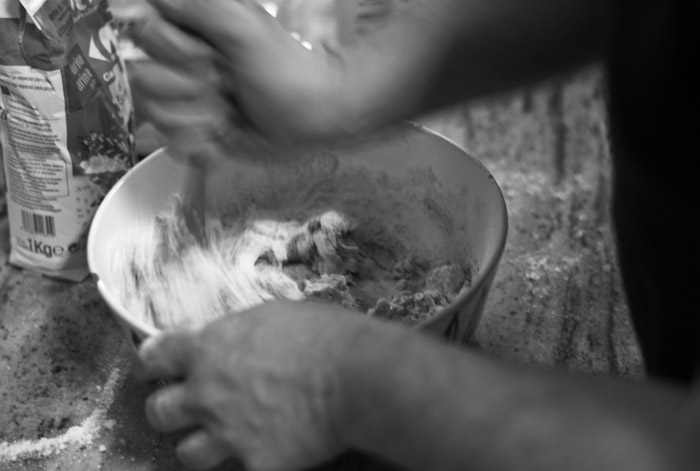 Alternate 2
The pasta "belts" need to be hung to dry a little while the counter is cleaned for the next steps: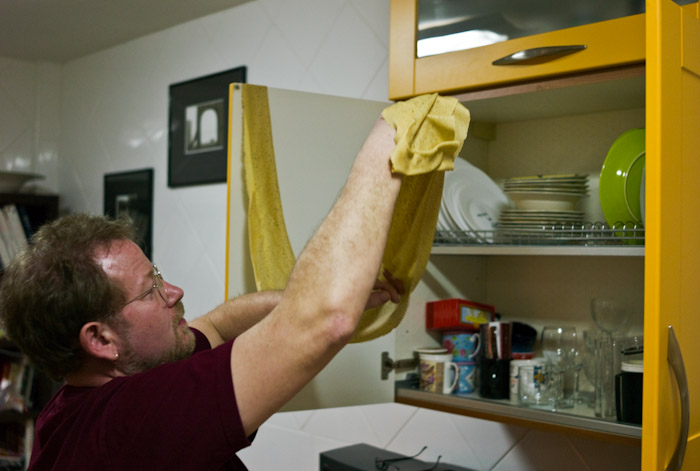 Alternate 3
Dough detail: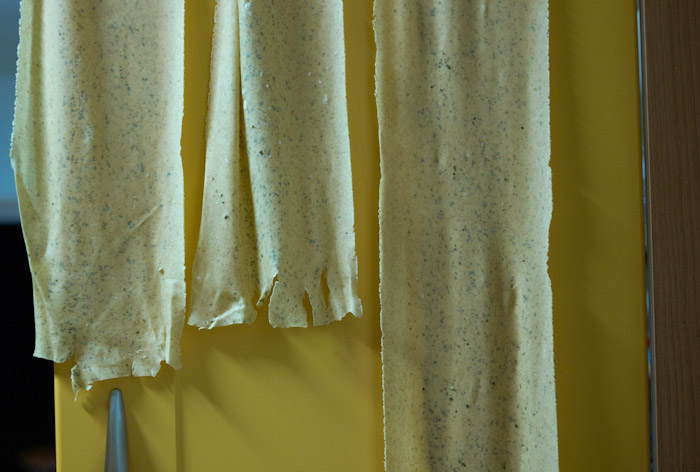 Alternate 4
Running the dough through the machine: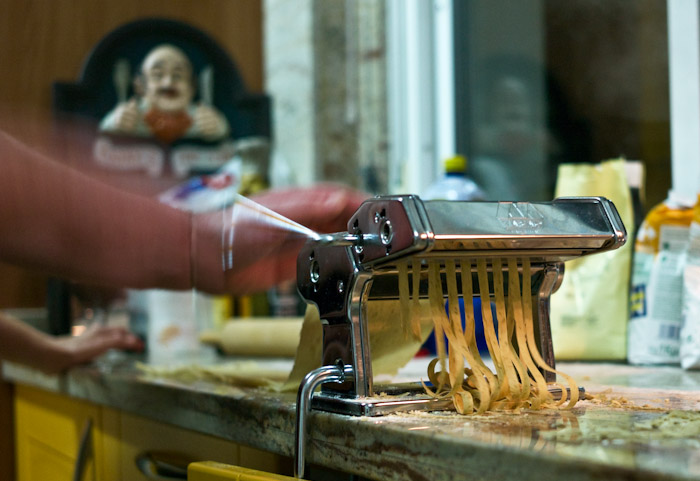 Alternate 5
Into the pot: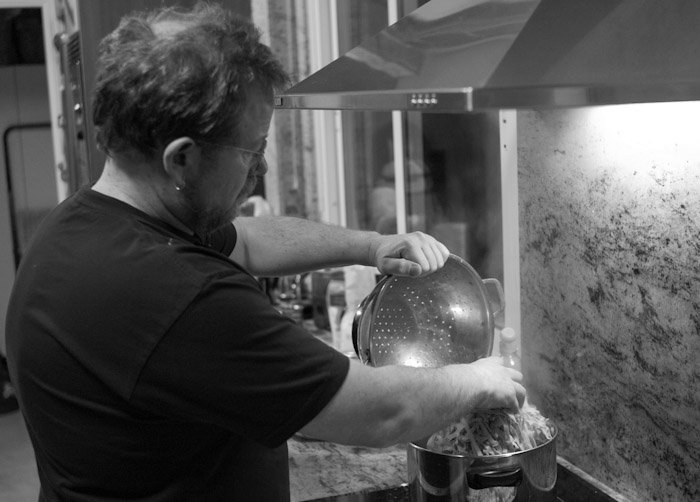 Alternate 6
Final step before eating–adding the sauce: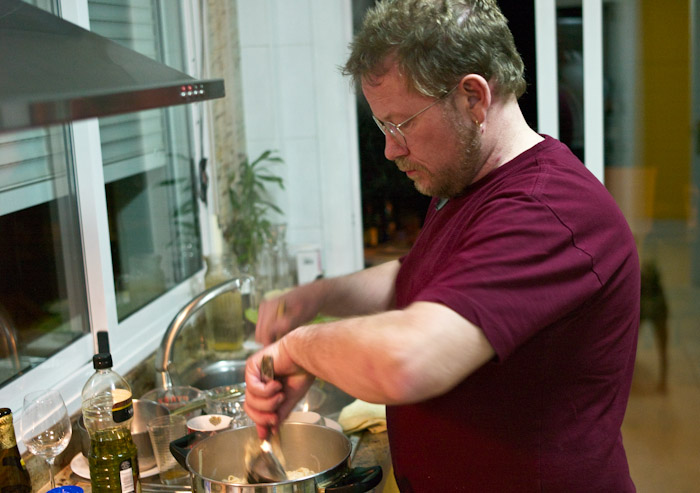 We also walked around Alicante with our cameras. One of the neat things about walking around your own city with a visitor who has a good eye is that you see things differently.
Alternate 7
A photographer mounted a makeshift exhibition on a construction fence: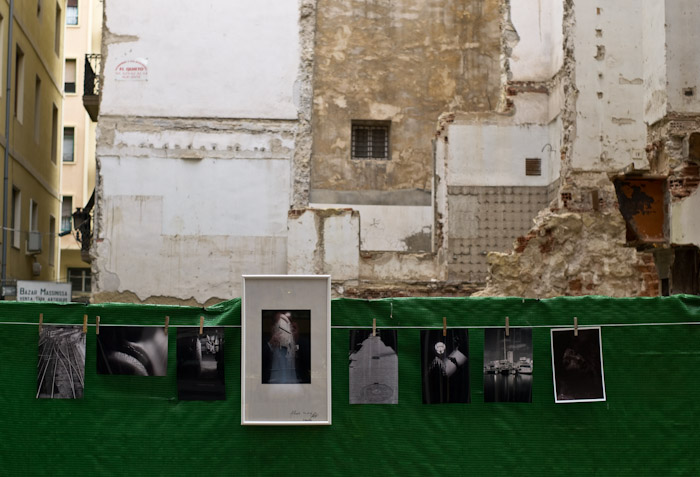 Alternate 8
Outside the Mercado Central: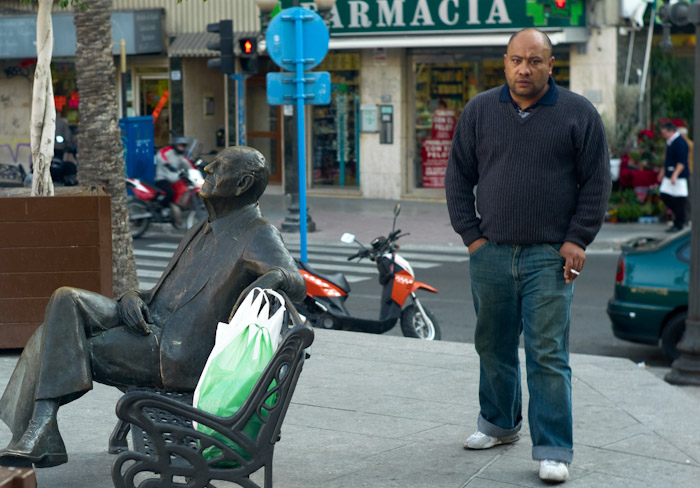 Alternate 9
Inside the Mercado: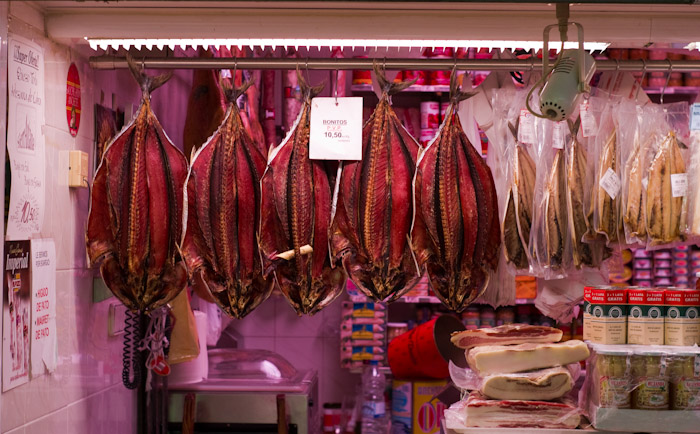 Alternate 10
Almost everything is prohibited: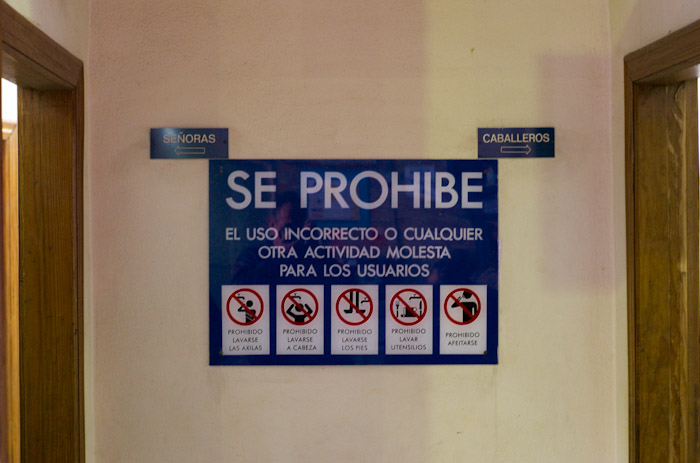 Alternate 11
People having breakfast outside the Mercado. Someone told me that one of the tests of having lived in Spain long enough is when one considers it normal to have a beer at 10 a.m.: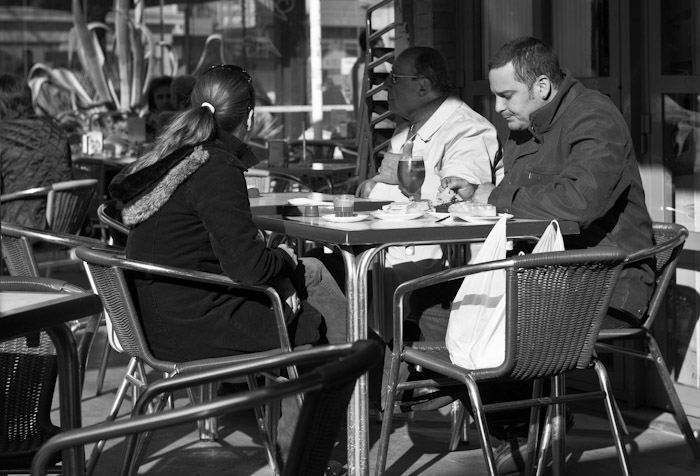 The rest of the pictures are from the weekend. My wife and daughter went skiing in the Sierra Nevada, so we two boys had an extended play day with our cameras. We chose to drive up to the town of Alcoi and explore the mountains in that area. It is only about 50 km from Alicante, but the landscape is very different, and the temperature about 10 degrees lower this time of year.
Alternate 12
Mountain road near the village of Busot:

Alternate 13
We stopped at the Puerto (pass) de la Carrasqueta (altitude a bit over 1000 m) for views like this: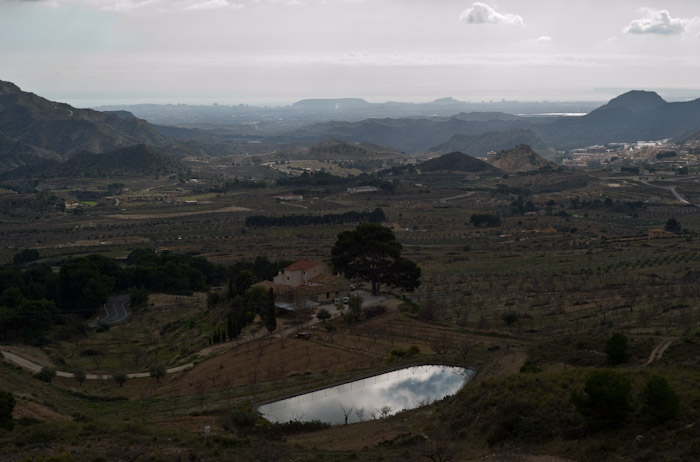 Alternate 14
This road is very popular among bikers, for good reasons: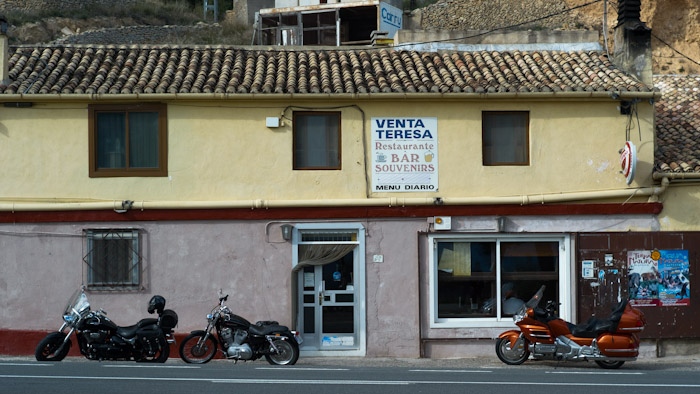 Alternate 15
Lots of pixels were captured: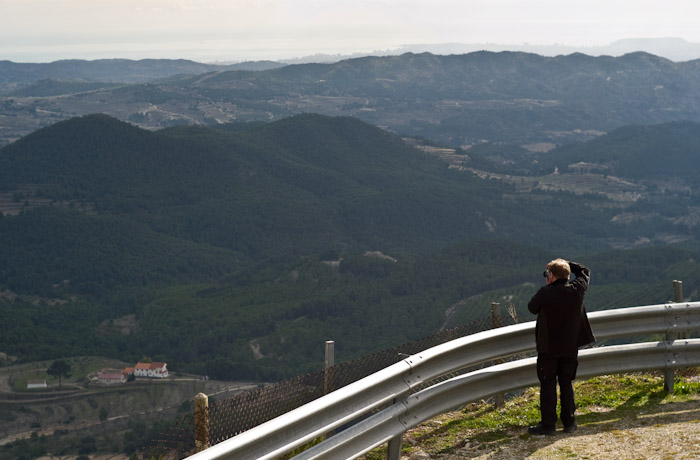 Alternate 16
Clouds and mountains: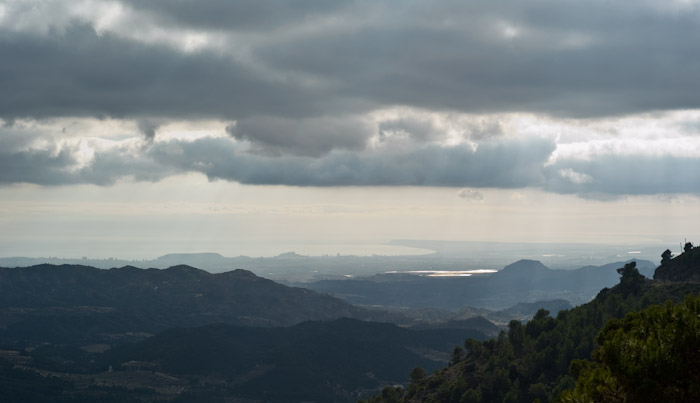 Alternate 17
A couple of km from the pass there was a good place for photography. One could drive almost all the way to the place we wanted. Lars is more tolerant of heavy equipment than I, so he had brought his tripod with him from Denmark: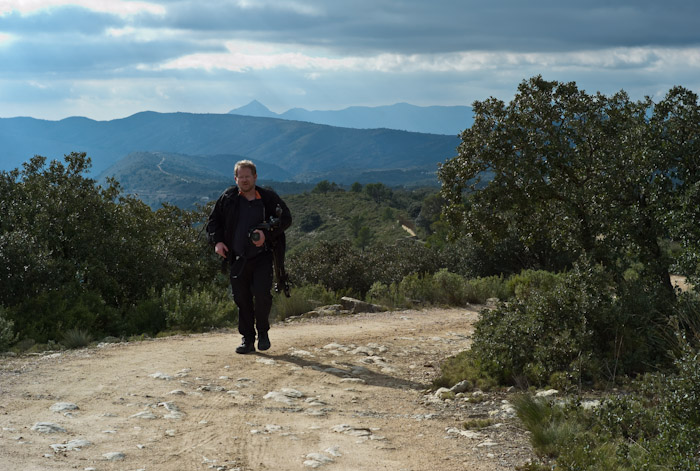 Alternate 18
The main purpose of bringing the tripod was to get raw materials for panoramas, something Lars does a lot these days, and very well: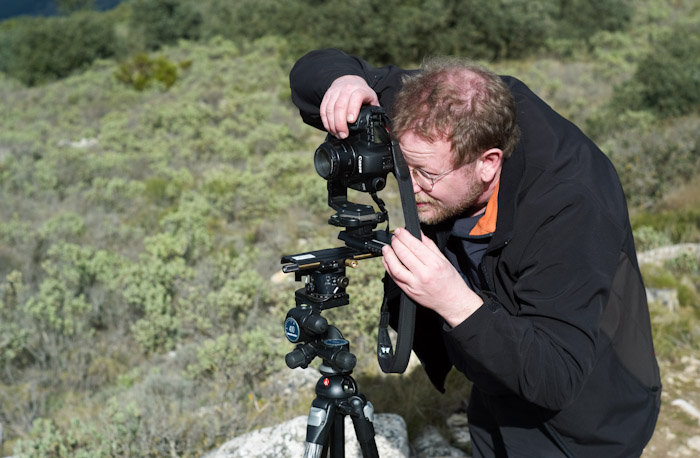 Alternate 19
These hills are not the Alps but they are close to home: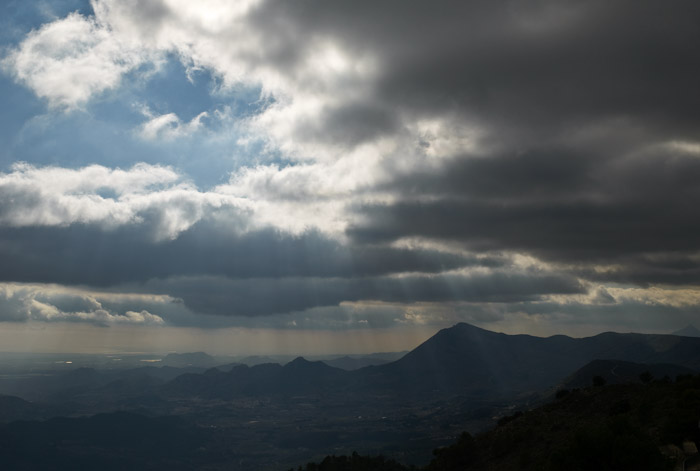 Alternate 20
Then we arrived in Alcoi, a town neither of us had seen before. It was the lunch hour, the weather was on the cool side, so there was not a lot going on in the streets. But the town is pretty: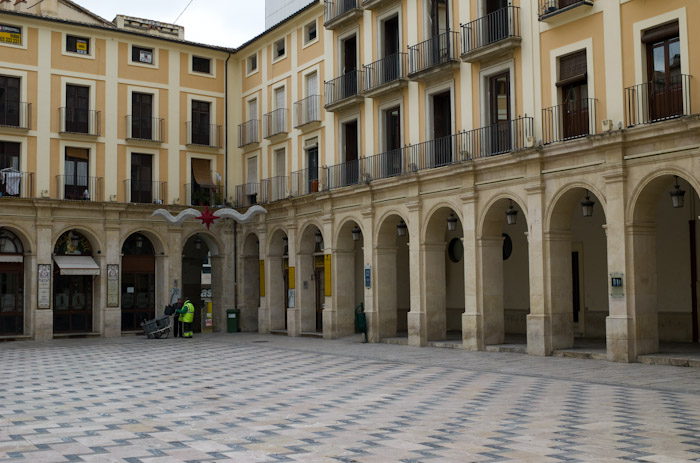 Alternate 21
These girls were playing in the streets and communicating with their parents by yelling loudly enough to be heard in the apartment: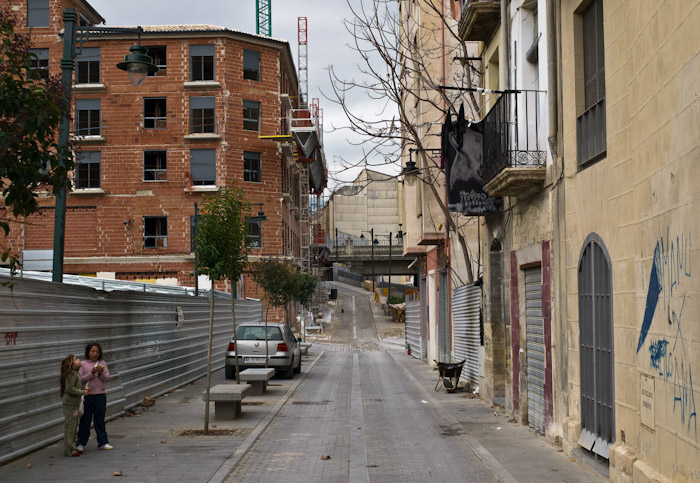 Alternate 22
Little girl, little dog: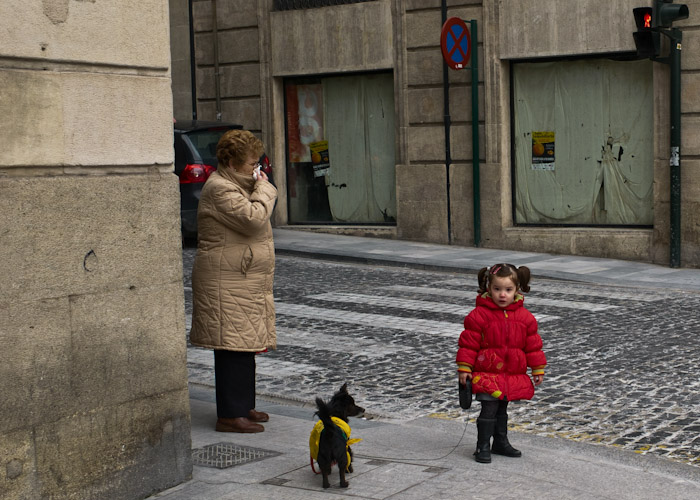 Alternate 23
We left Alcoi around 4 p.m., having decided to check out some lakes which looked interesting on the map. They turned out every bit as we hoped, and it was a beautiful place to watch the late afternoon sun: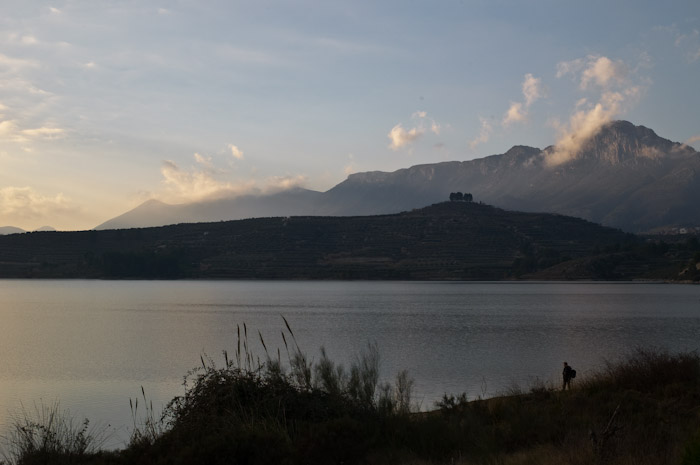 Alternate 24
One last errand before heading home to Alicante. Note the garbage people have left on the lake shore. Unfortunately this is quite typical here: