After the vacation trip to Poland the previous week, I was back in Eastern Europe this week, speaking at a conference in Bratislava organised by the Slovak Intellectual Property Office. It was pretty exciting, as this was my first visit to Bratislava, and I was interested in seeing how it compares to Prague in neighbouring Czech Republic, which I have visited several times. While I was in Bratislava, our part of Spain was hit by torrential rain and high winds, a phenomenon that occurs in the autumn, known as a "gota fría" ("cold drop"). Especially the areas south of Alicante were badly affected, with massive flooding, lots of destruction and several fatalities. We were fortunate–north of Alicante, where we live, it rained a lot but there was little flooding, and none in the vicinity of our house. Still, the beach bore clear traces of the bad weather after I returned from Slovakia.
37_1
But first there was a peaceful weekend of cycling and relaxing on the beach. On Sunday I went down to the beach promenade for my usual serving of beer and photos. A couple looks at a surfer trying to get up: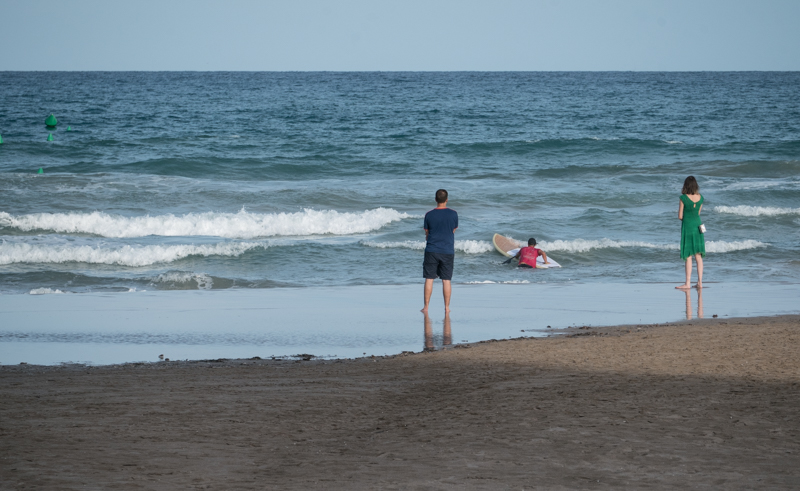 37_2
Beach volley–receiving a serve: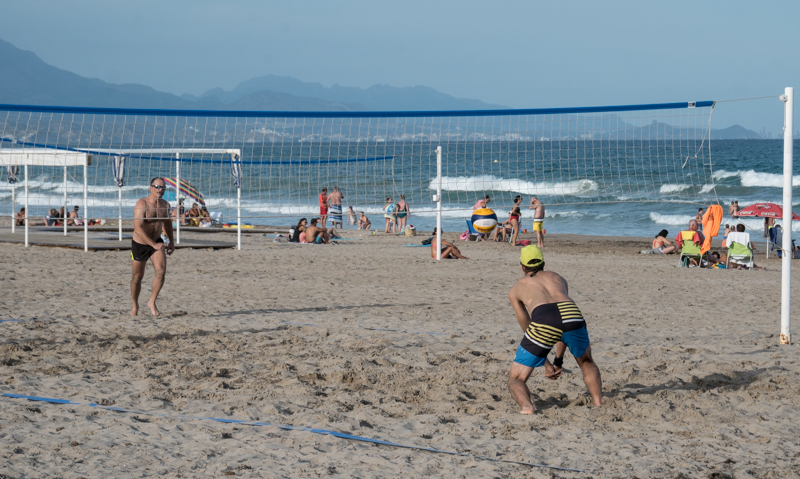 37_3
Beach volley–getting ready to receive a serve: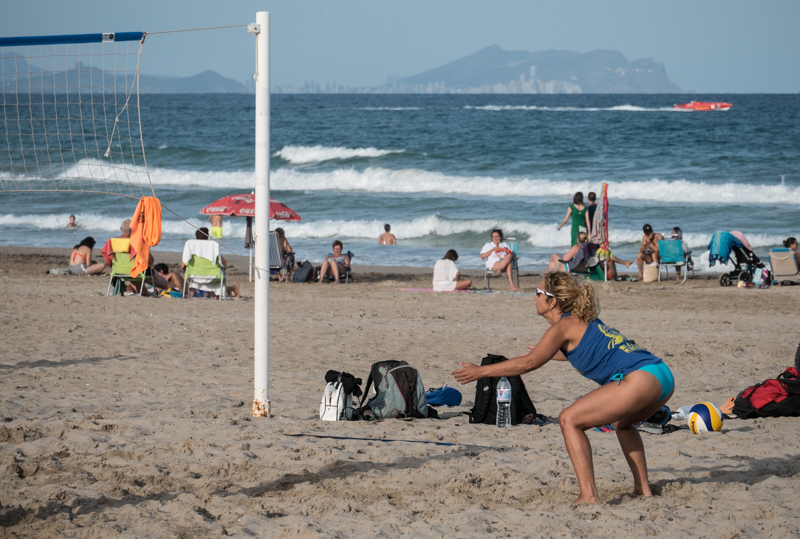 37_4
Beach volley–action: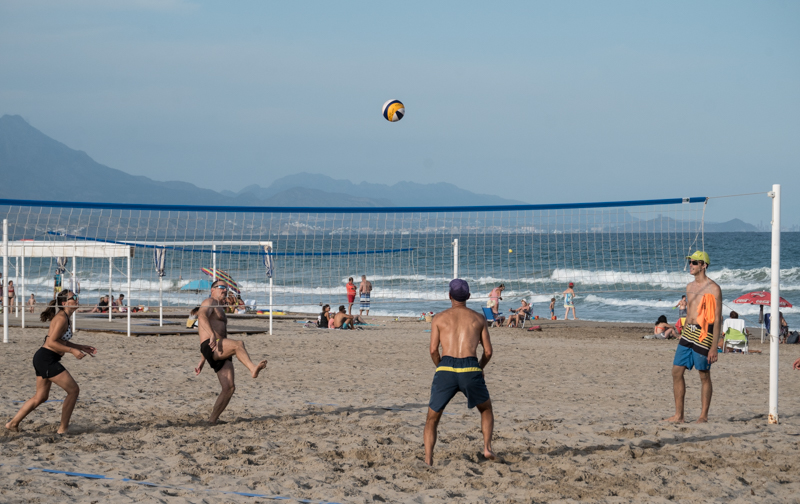 37_5
On Tuesday morning I had to go to the bakery early in the morning, and I stopped at the beach before sunrise. I liked the somewhat strange colours: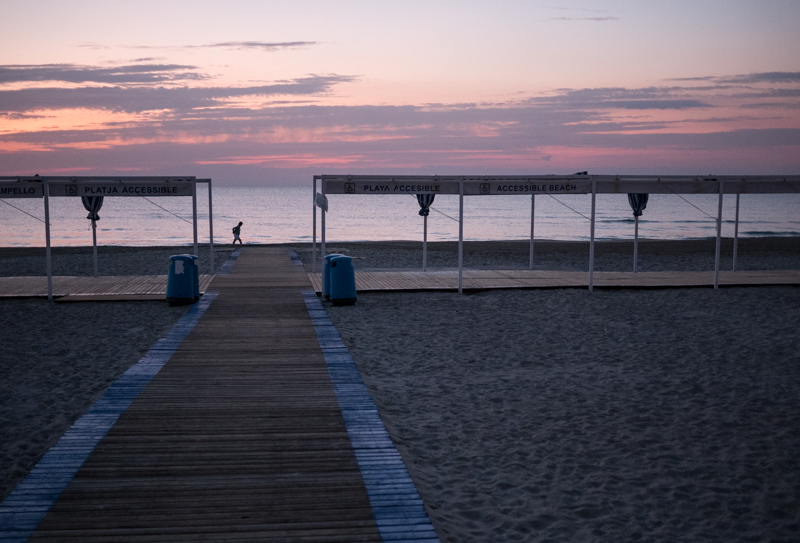 37_6
Later on Tuesday morning, while driving to work, I took this photo of three conversations, two human ones and one canine. It is pictures like this that make me always carry a camera–and when I am driving to work, I keep one on the passenger seat, just in case: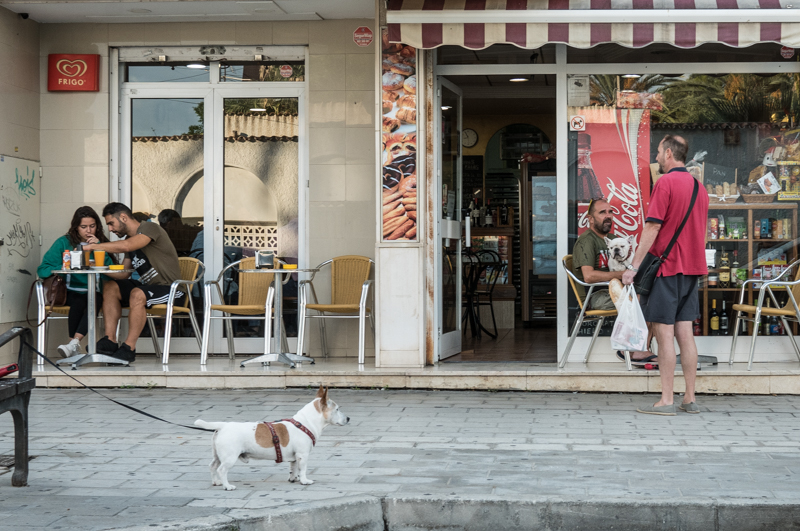 37_7
On Wednesday I went to work in the morning as usual, but at mid-day I drove to the airport, flew to Madrid, then from Madrid to Vienna, and finally I took a train from Vienna to Bratislava, just over 1 hour. My hotel was located in the heart of the old city, 100% pedestrian, so the taxi could only take me to the St. Michael's Gate, from where I had a couple of hundred meters to walk. No big deal, and I enjoyed walking after spending all those hours sitting down. This is the street where my hotel was, Michalská Street, with St. Michael's Gate: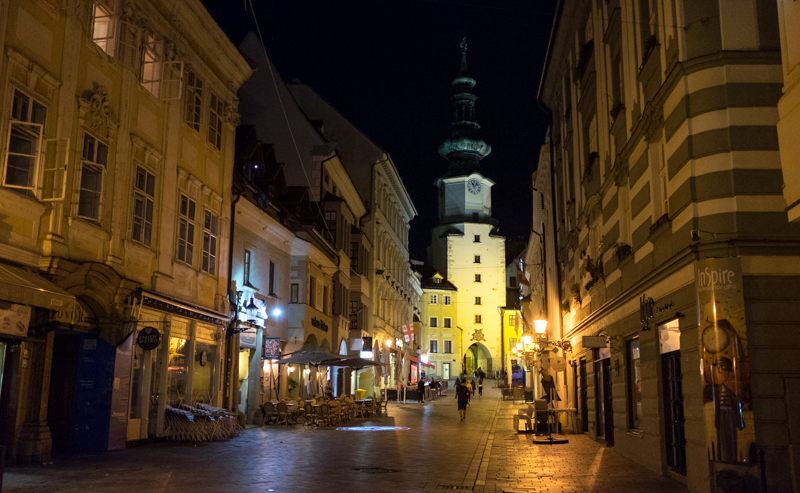 37_8
As usual, I checked into my hotel, hung my suit in the closet, checked that the wifi was working properly, and set out in search of beer and food (in that order of importance). A few minutes walk from my hotel, I saw this gate with a promising sign. "Pivo" means "beer" in Slovak, almost the same word as in my native Polish (in general, I found that while understanding spoken Slovak was beyond me, reading signs and information boards was relatively easy):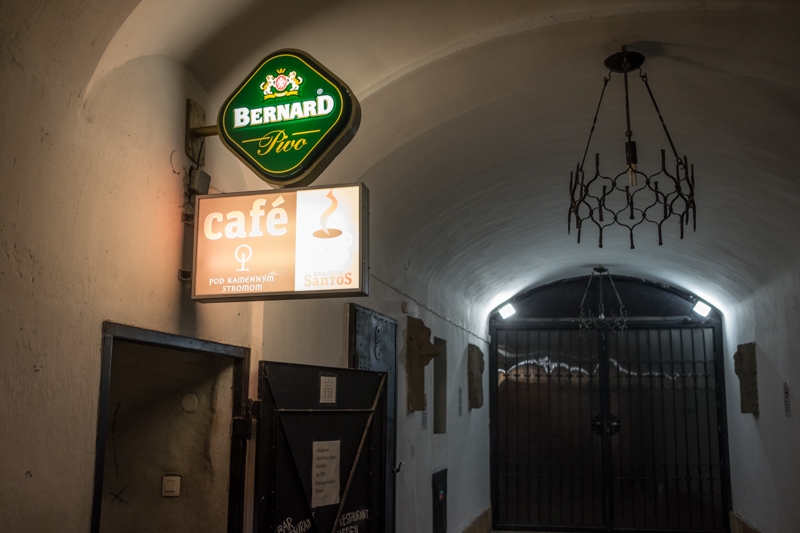 37_9
I went inside, and I was not disappointed. The bar had a quirky air to it, the local beer was excellent, and for a few Euros I got a delicious, light, late evening meal: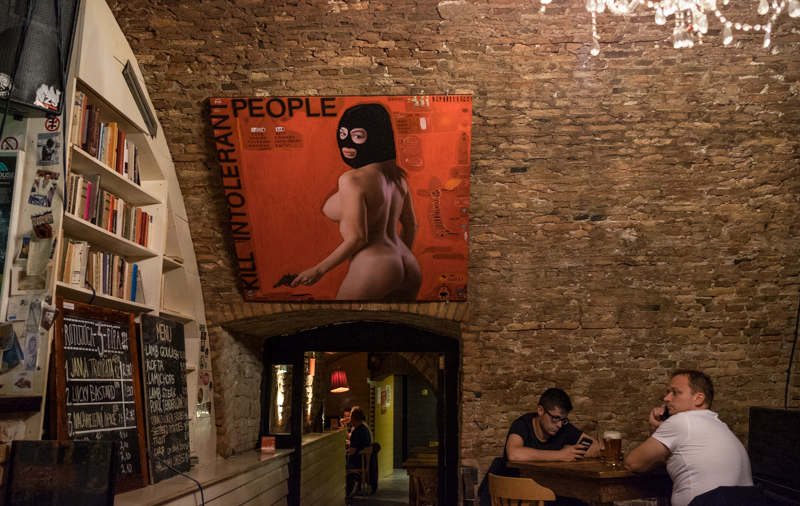 37_10
I had to be at the conference venue at 8:30 on Thursday morning; it was about 1 km from my hotel, and since I am an early riser and the weather was beautiful, I really enjoyed that walk. In fact, I took a detour to see the Danube and one of the many bridges of Bratislava, the Communist era SNP Bridge with the "flying saucer" on top:

37_11
The conference lasted until around 2 p.m., and since my flight home was on Friday morning, I had the rest of the day to explore Bratislava. On the way to my hotel to change into more comfortable clothes, I passed three places with a Danish connection, much to my delight. First, this exhibition of posters on one of Bratislava's big squares, with a Danish one in the foreground: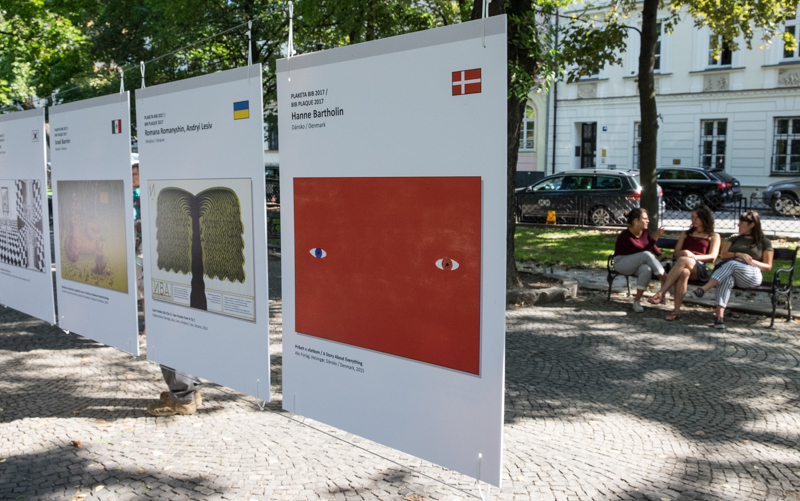 37_12
Not far from there, I came across a statue of H.C. Andersen: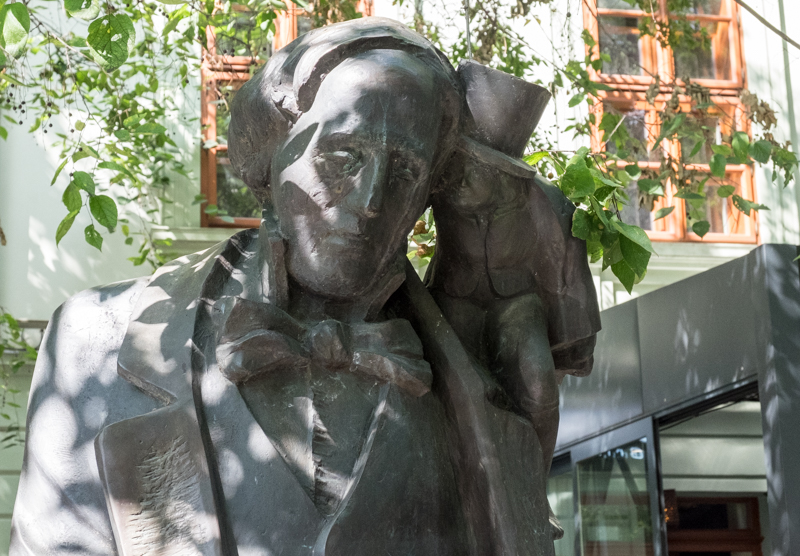 37_13
And a B&O shop in the old city: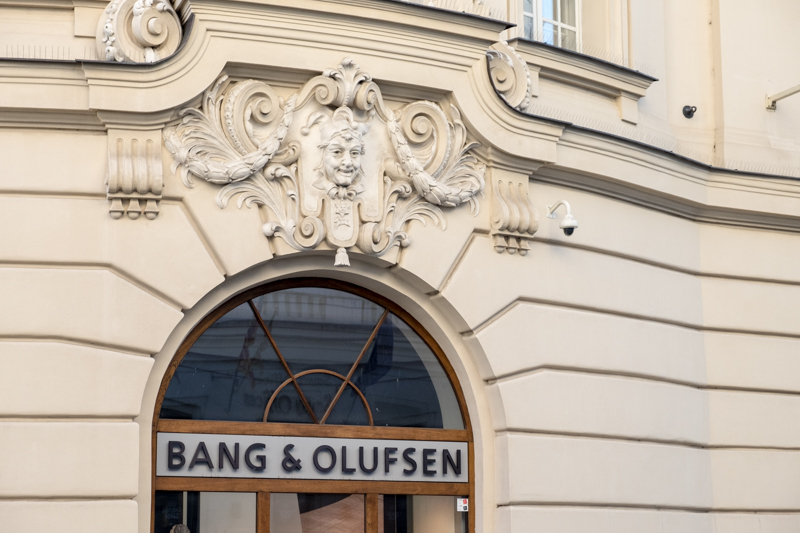 37_14
I spent the next sevaral hours walking around the city. The old part where I was staying is somewhat touristy (although much less than Prague), but I went to parts of Bratislava where few tourists venture, not because it is unsafe (it is perfectly safe) but because it just is not on their radar. But I really like to see parts of cities where ordinary people live. So, I passed by the main bus station, and saw something I have not seen anywhere else–a cheese vending machine. My interpretation is that people who are setting off on a long bus trip (there are buses to Vienna, Budapest and other cities around Central and Eastern Europe) buy some bread before the trip, and some cheese from this machine to eat during the trip: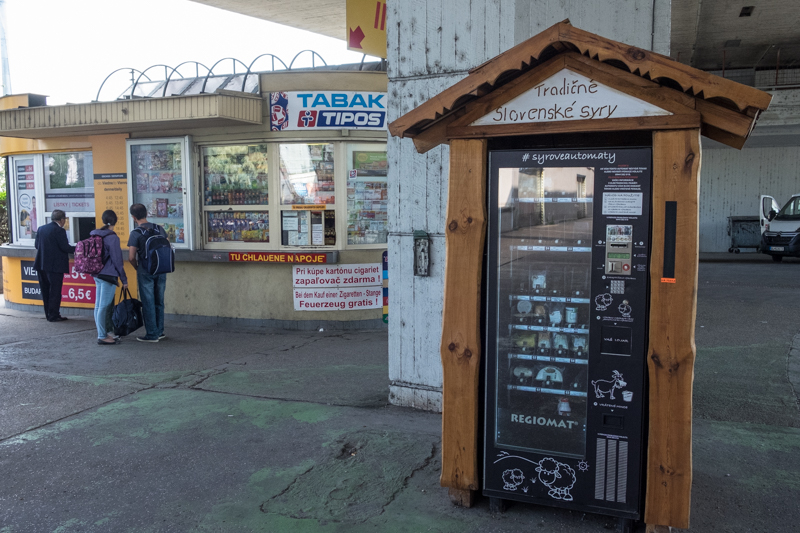 37_15
As always when wandering around a city, I was looking at the people. Here is a family looking at a restaurant menu; it looks as if the baby is being consulted too: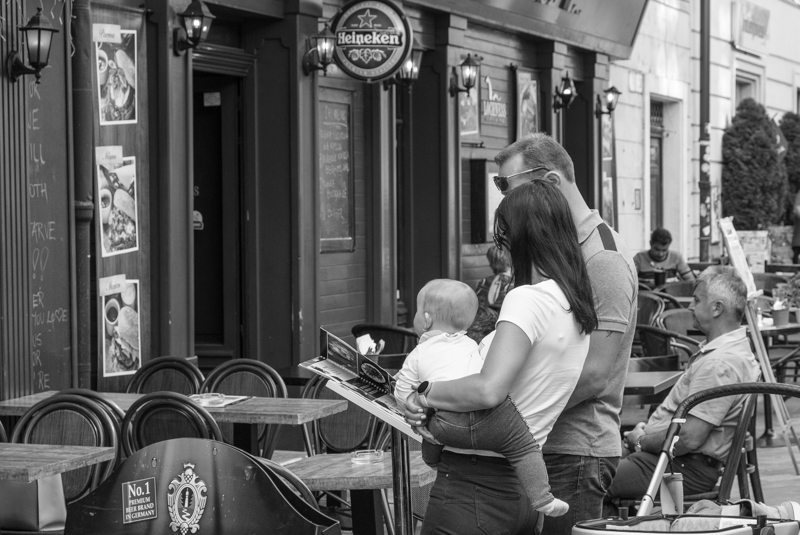 37_16
A smoke break: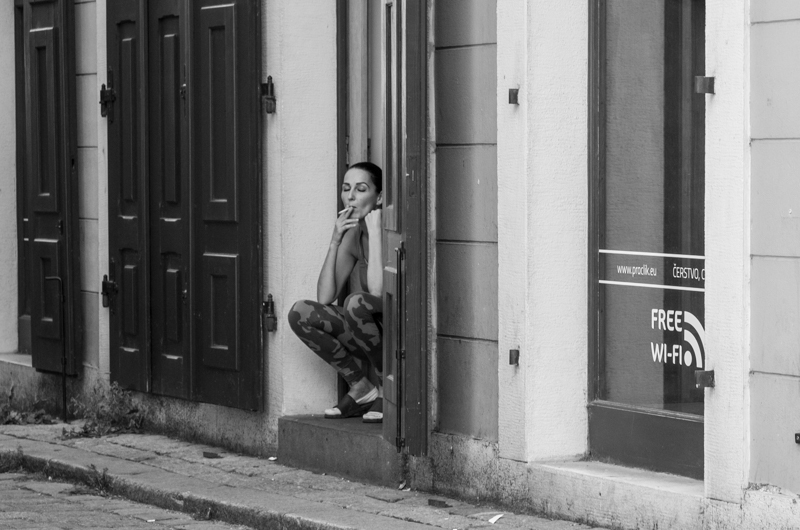 37_17
Street painter, across the street from my hotel: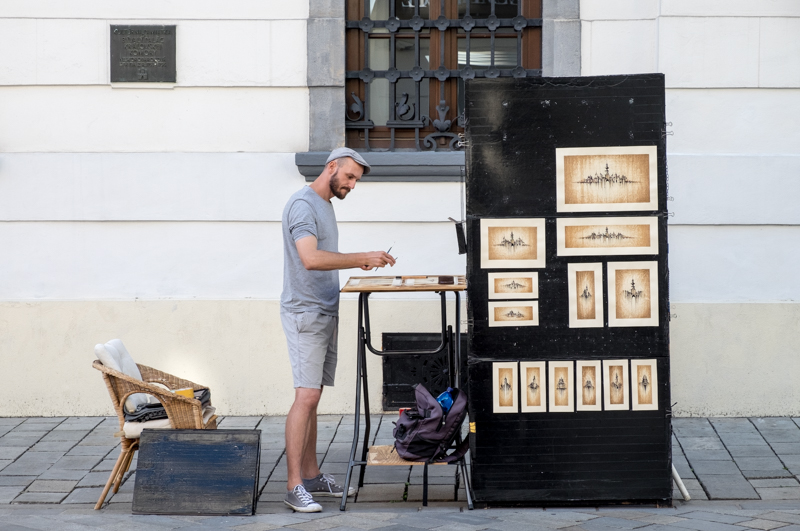 37_18
Three Scottish visitors in golf-themed clothing, downing pints at 3 p.m.: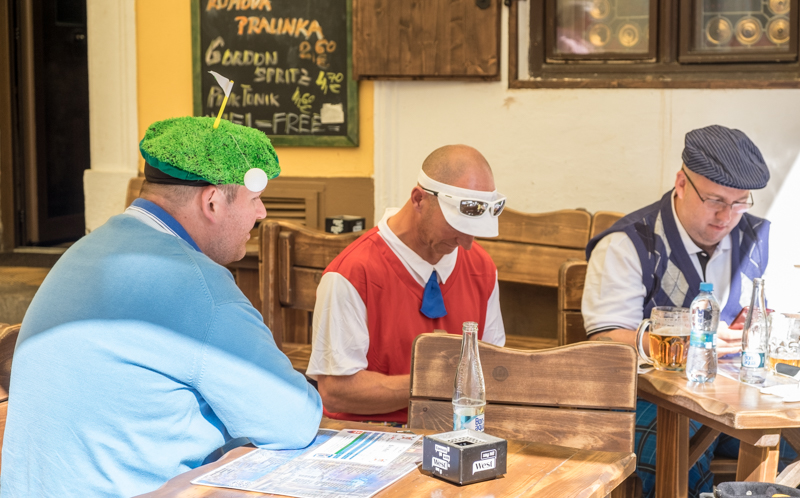 37_19
Playing on the grass, Freedom Square: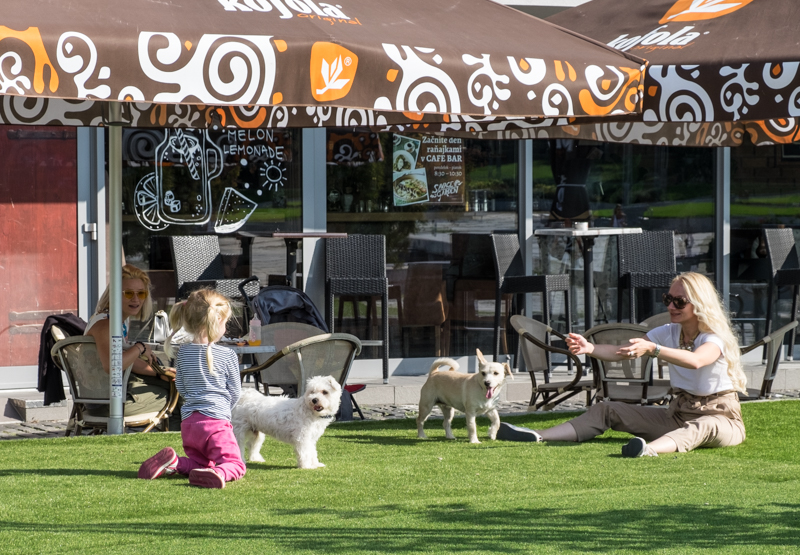 37_20
Working (?) at a café: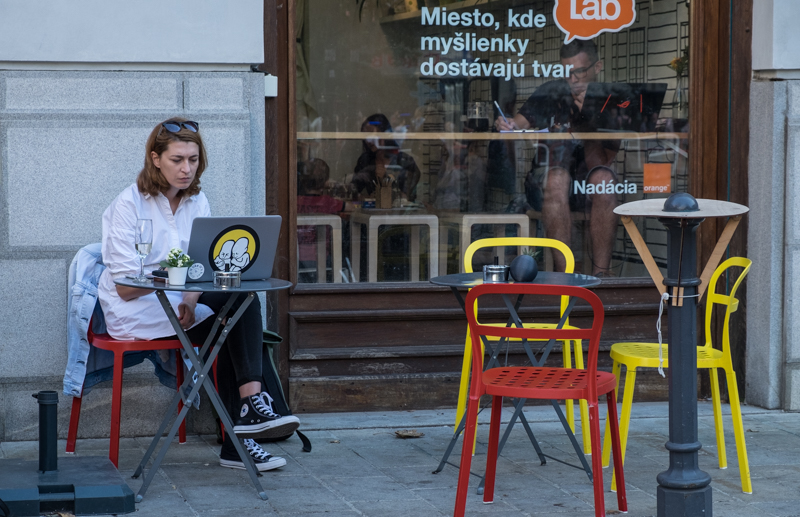 37_21
Like other cities, Bratislava is promoting cycling and building infrastructure for it. This bicycle parking rack near the technical university illustrates that in the space needed to park one car you can park 10 bicycles: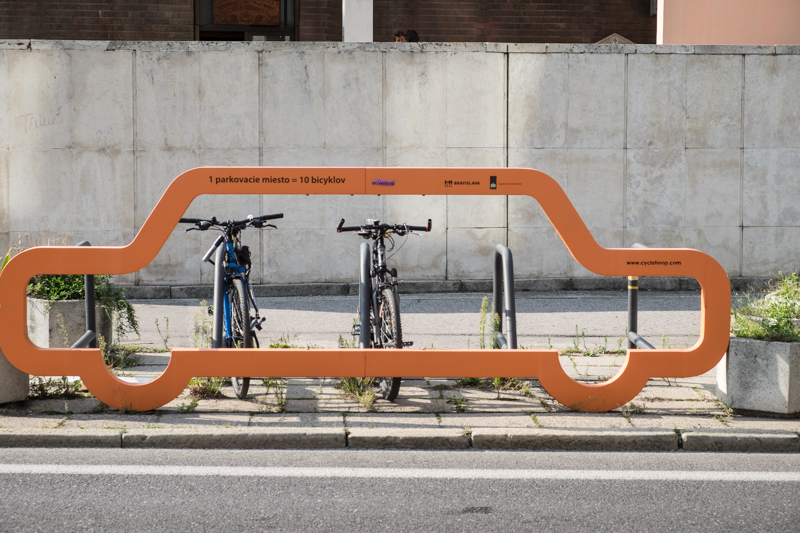 37_22
Another urban detail–the graffiti means "the Bible, Disney, porn, it is all the same":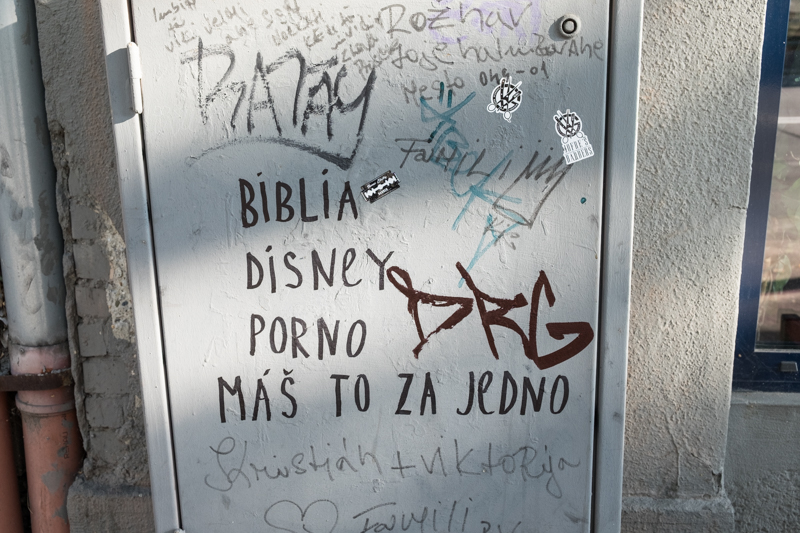 37_23
One of Bratislava's iconic buildings, the headquarters of the national broadcaster, built during Communist times. While much Communist-era architecture can be described as "brutalist", they did produce some striking buildings, probably because architects had more freedom than other creative workers. It does not seem like many tourists visit this place, all the signs and information were in Slovak only–not a problem for me but an indication that foreign visitors are not the target audience: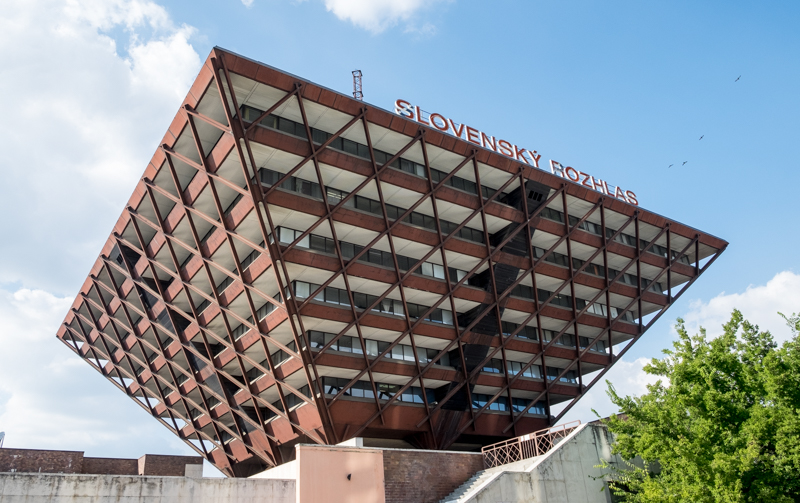 37_24
Another landmark, and this one is visited by tourists–the Blue Church, built in the early 20th century. I found it one of the most beautiful churches I have seen anywhere: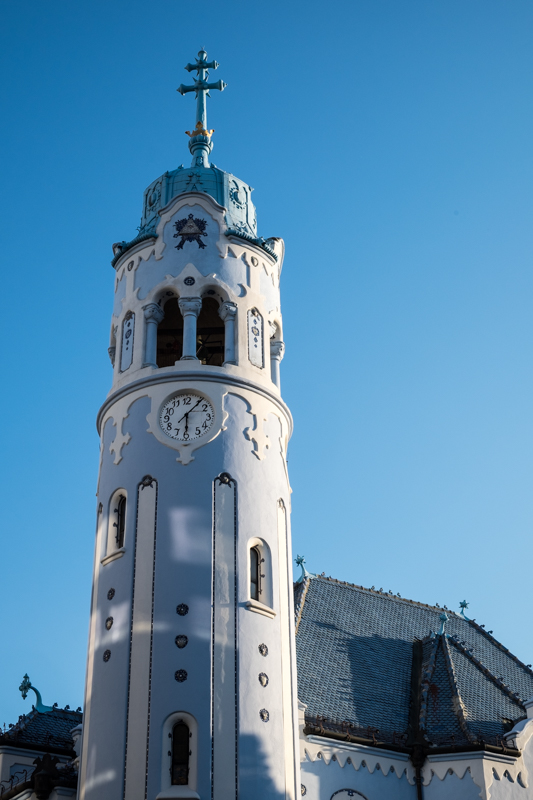 37_25
I crossed the Danube twice during the walk; I walked to the opposite side (from the city centre) on the Old Bridge, nicely illuminated by the setting sun: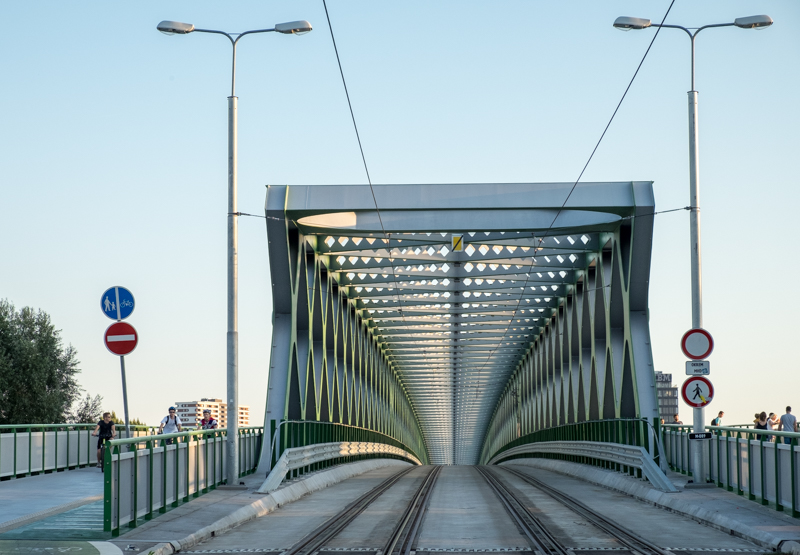 37_26
View of the modern SNP Bridge from the Old Bridge: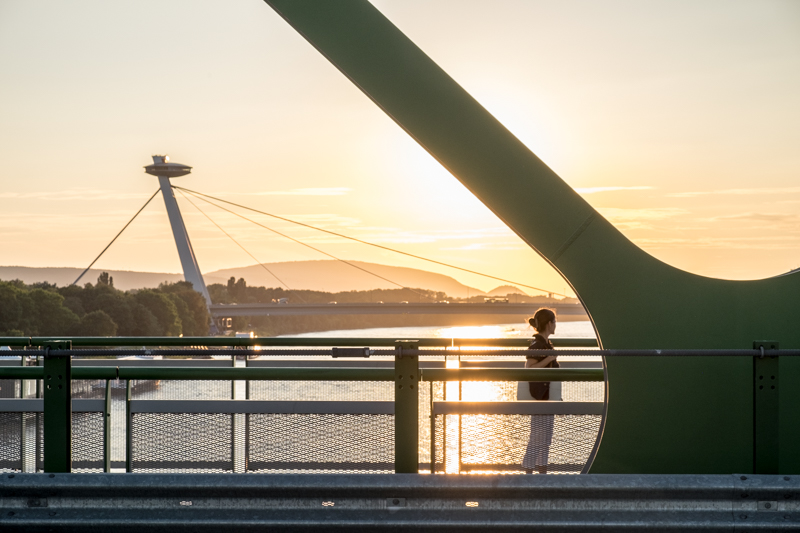 37_27
I crossed back to "my" side of the river on the SNP Bridge, from where I had a nice view of Bratislava Castle against the early evening sky: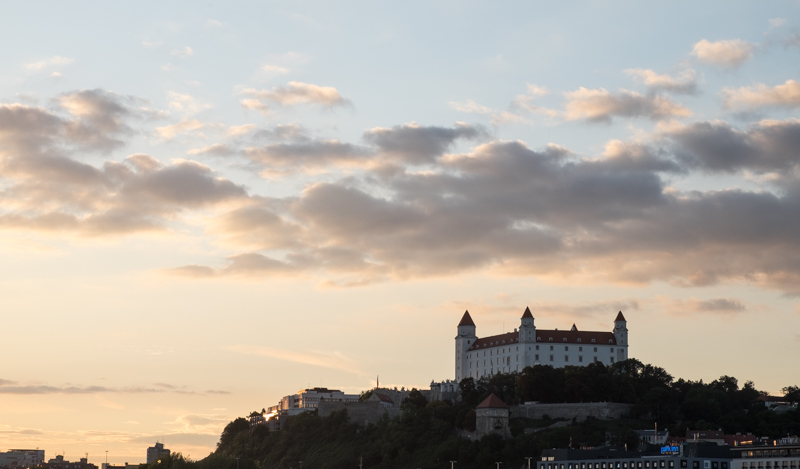 37_28
It was time for a pint and some food. I popped into a Scottish pub I had noticed earlier for that–they were advertising a Slovak burger which intrigued me, as the cheese on it was the local briney cheese (a cousin of feta) rather than the kind of cheese one usually gets on a burger. Inside the pub, I came across the same Scottish visitors I had seen several hours earlier–they were still going strong: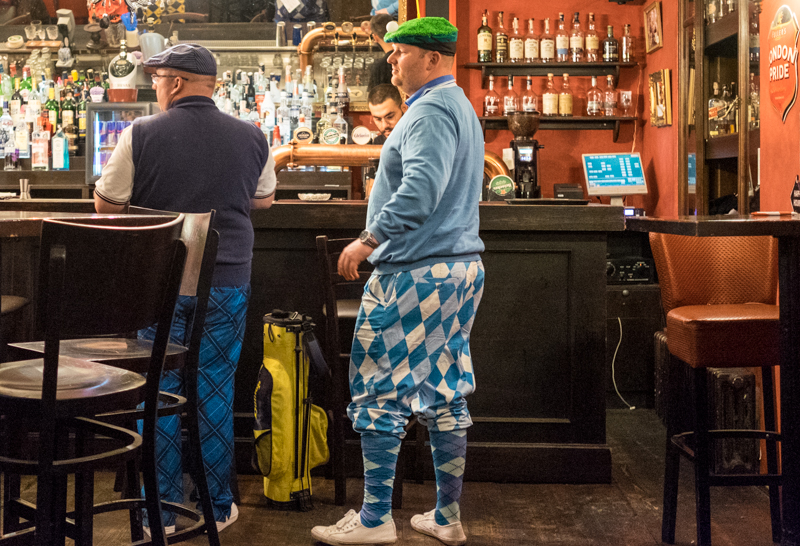 37_29
On Friday morning I got up early and made my way to Bratislava's main train station, using a tram (70 cents) instead of a taxi (15 Euro). The station is not pretty in the traditional sense but there are some interesting murals: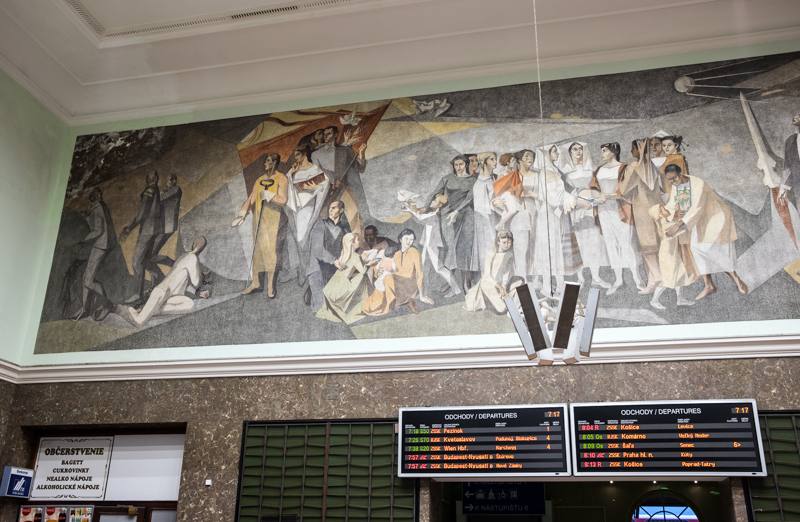 37_30
A bit over an hour later, I was at Vienna's main station, an altogether more impressive building. When the railroads were first built in this part of Europe in the 19th century, Vienna was the centre of the Austro-Hungarian empire, and many rail lines converge on that city to this day: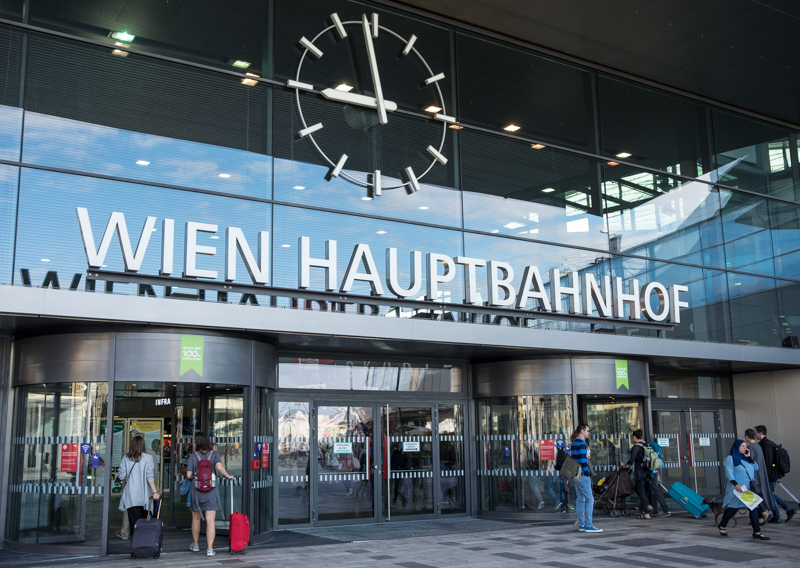 More Bratislava photos can be seen here.
37_31
I flew home from Vienna via Madrid, and arrived back in time to have our usual Friday evening meal, a pizza from Tutti's Pizza & Pasta. While waiting, I photographed this young woman who was also waiting at the counter. She was very absorbed in a chat with someone, and her expression changed accordingly. Here, she is smiling:

37_32
Pensive:

37_33
Serious: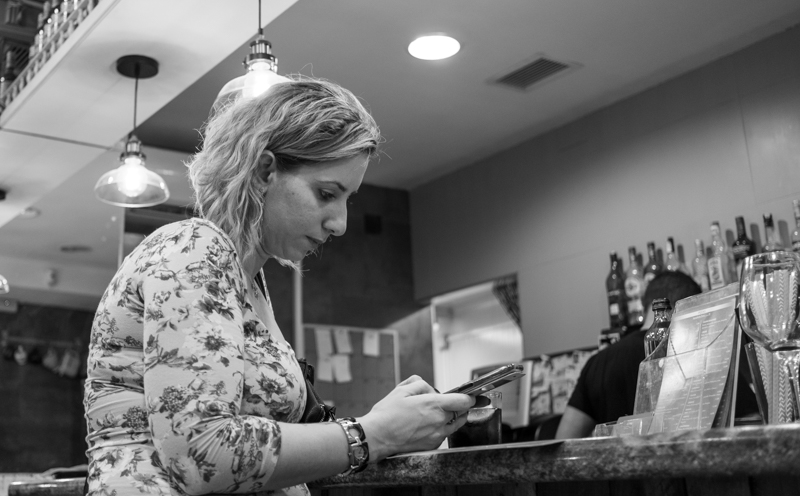 37_34
On Saturday morning, I went down to the beach to see what it looked like after the storm that passed by while I was in Bratislava. The sand had been blown about: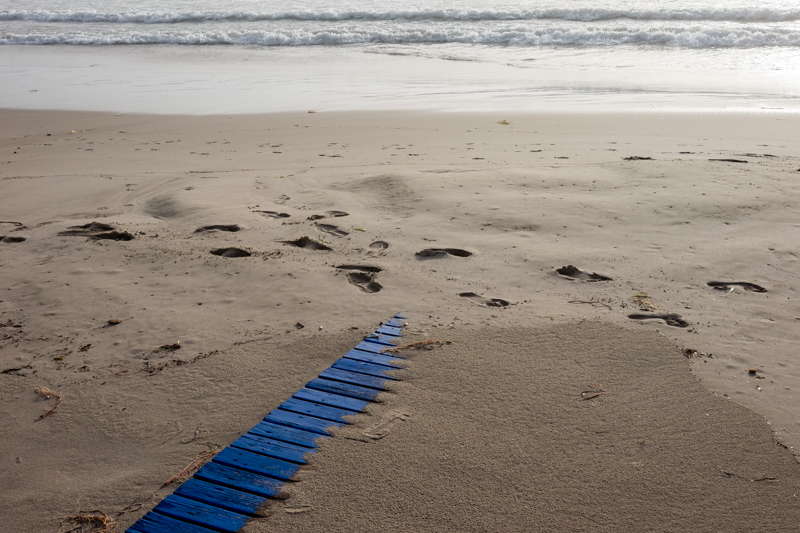 37_35
In fact, the wind was still blowing strongly: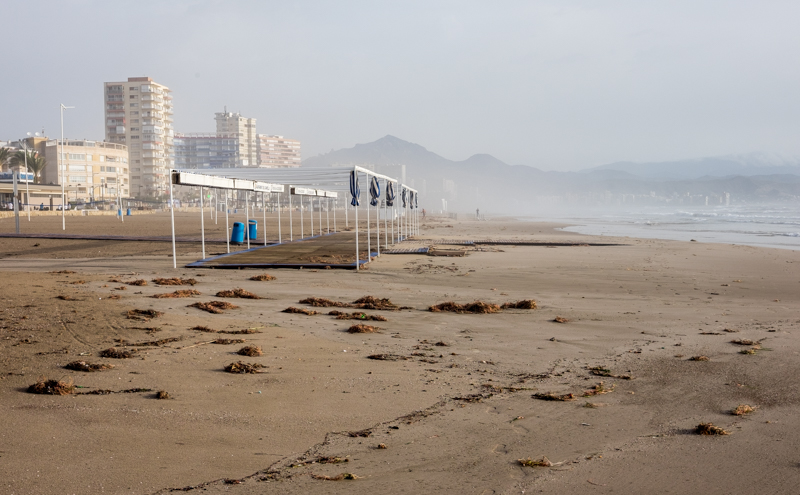 37_36
Deserted chiringuito: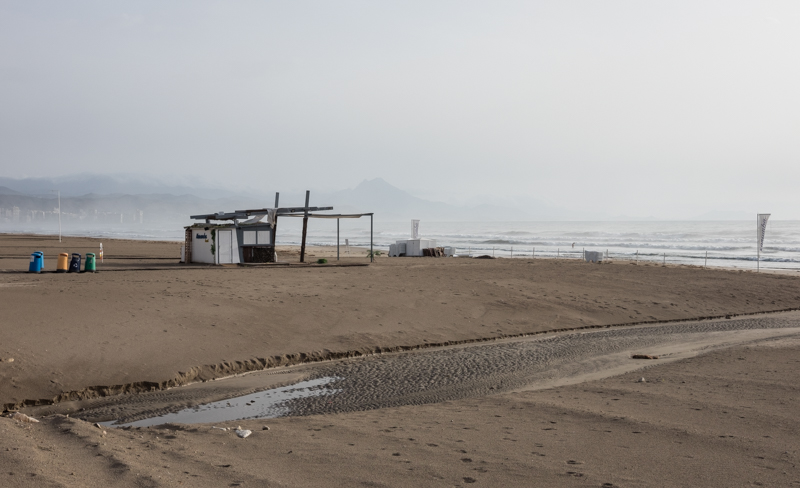 37_37
The rain water had carved a small canyon in the sand: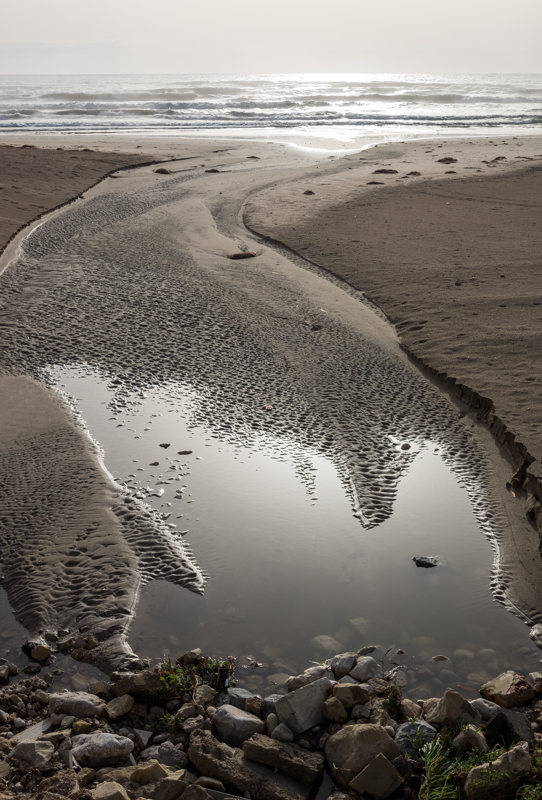 37_38
Various items had been blown onto the beach from the sea: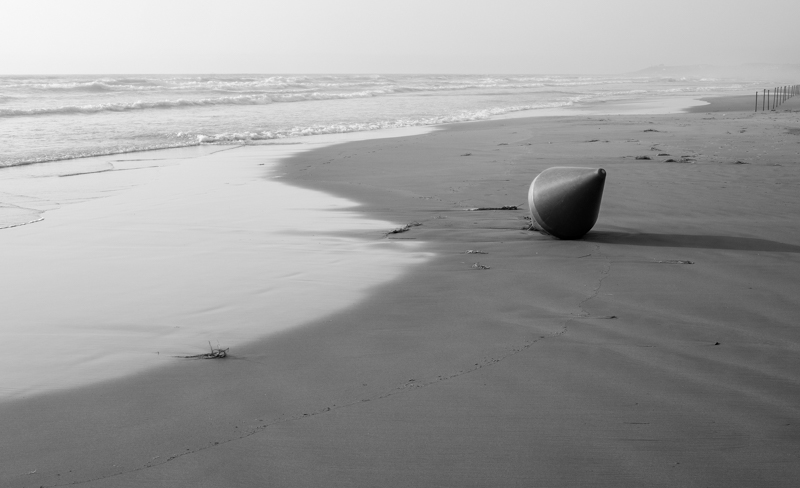 37_39
On Saturday night, the weather was calm and warm as usual, and we got together with our friends for a BBQ. I usually take one of my Fuji X cameras to such occasions, but this time I decided to take my micro 4/3 Panasonic camera (the same one I use for cycling) to see how it would perform in low light with the brilliant 1.7/20mm lens. It turned out very well. Here is Elio the master of seared flesh: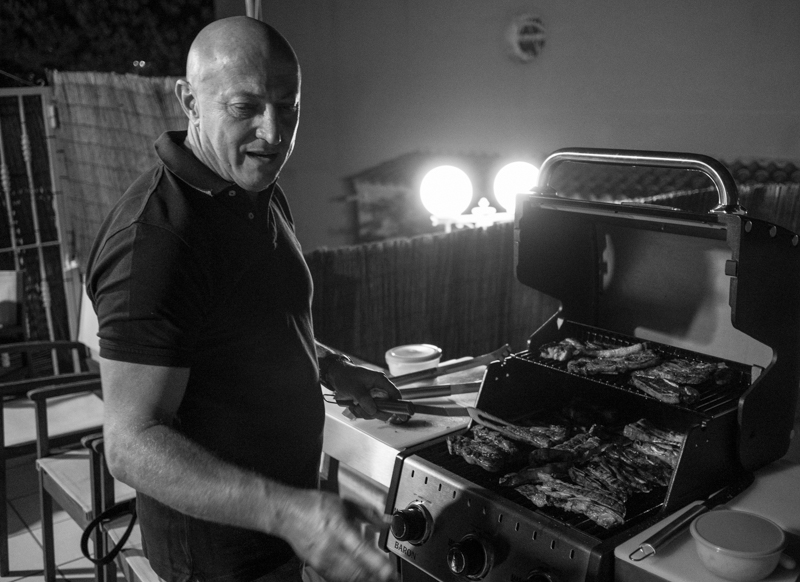 37_40
Taking the morcilla off the grill: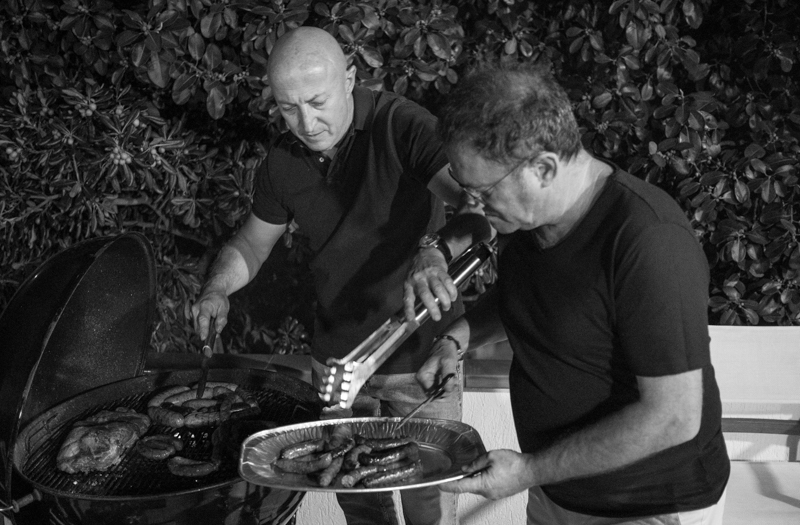 37_41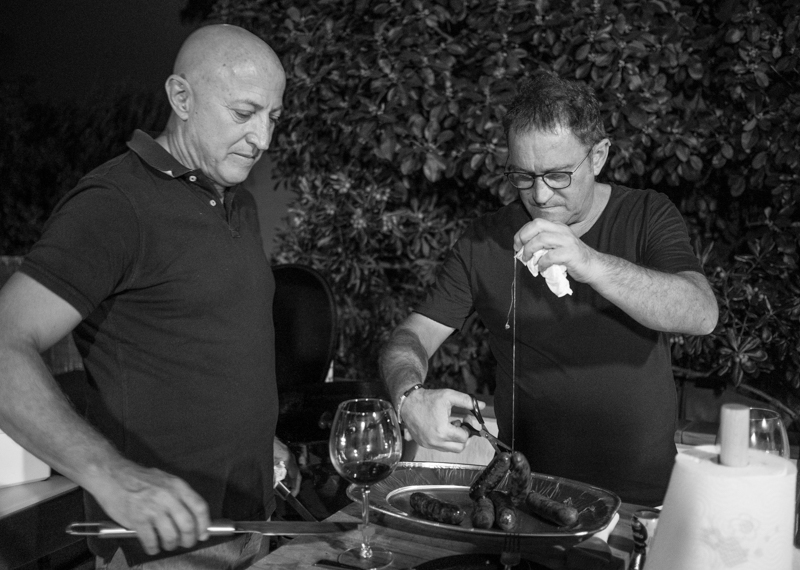 37_42
Serving the goodies to the ladies: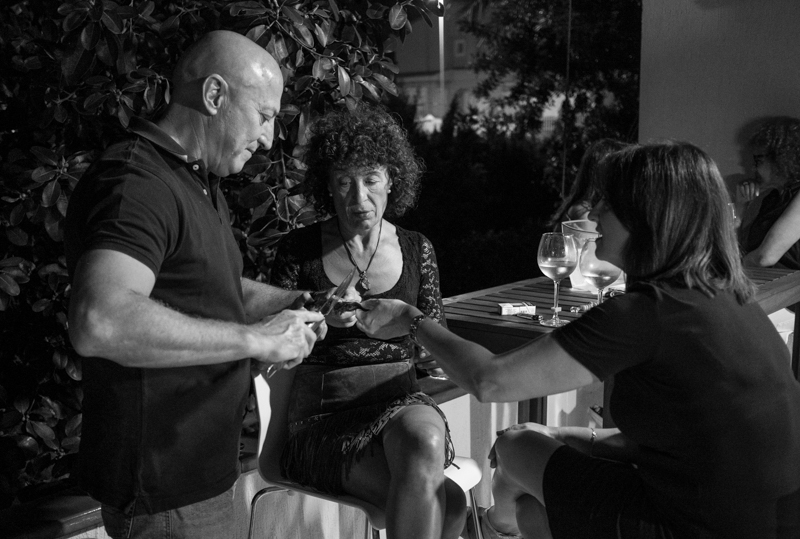 37_43
For dessert, we had some delicious cheese, brought by a French visitor: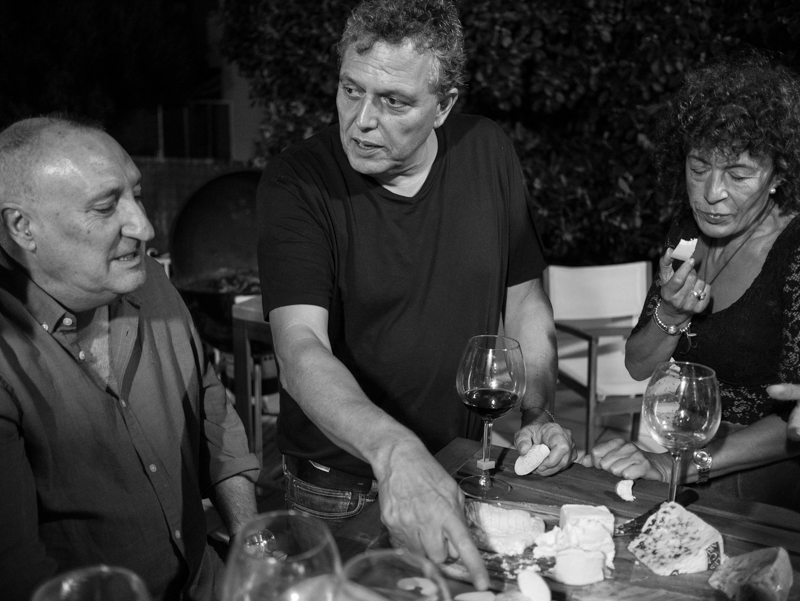 37_44
Cheese as it is meant to be–made with raw milk, full of flavour and terroir: