The first few pictures this week are from my neighbourhood, as usual. But the bulk are from a trip to Switzerland which began on Thursday morning with a 1350 km drive from Alicante to Orbe, near Lausanne, where my son has been living for the past year. It was a very picture-rich trip. The main gallery is on main travel site. What I show here are mainly pictures of people in the streets of Lausanne, Bern and Montreux. The pictures are presented chronologically.
First a few Alicante pics from the early part of the week.
28_1
Spain is a country with many laws and rules. Some are respected, some are ignored. This is a construction site in my neighbourhood. Like every such site, it has a sign outlining all the safety rules that must be followed. As shown by the guy working in the background, such rules are almost universally ignored here: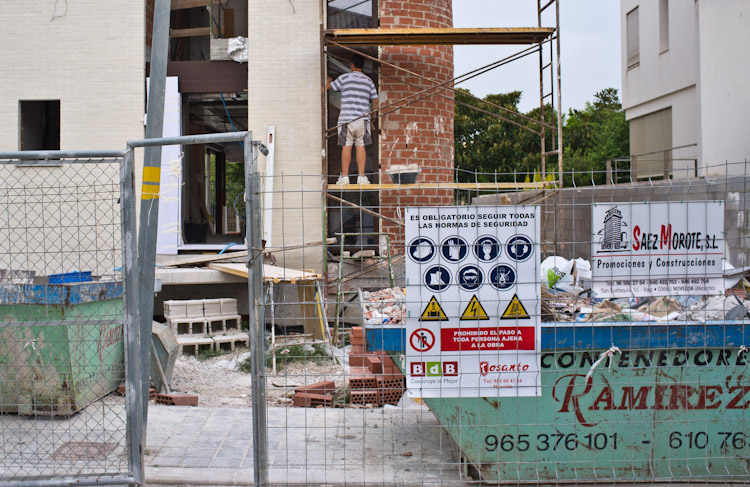 28_2
Early morning light, noticed while walking my dog:

28_3
On the same walk, a black kitten noticed my dog and tried to make himself look threatening: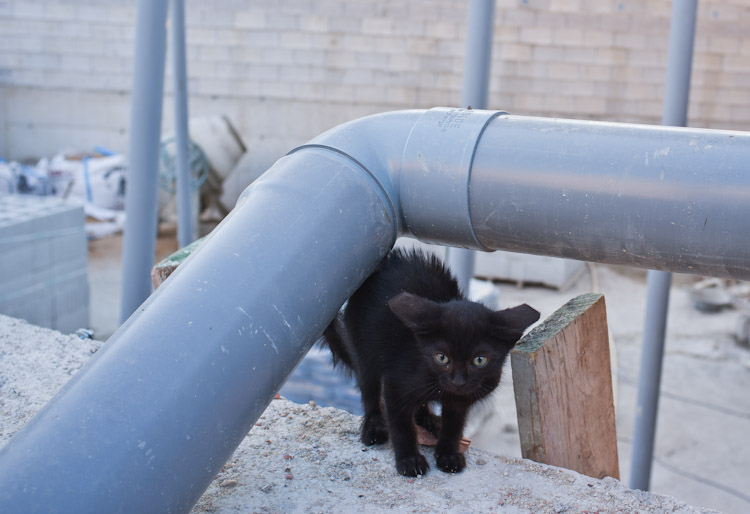 28_4
If this were a painting, I suppose I would call it "Alicante sky with lamppost and bird":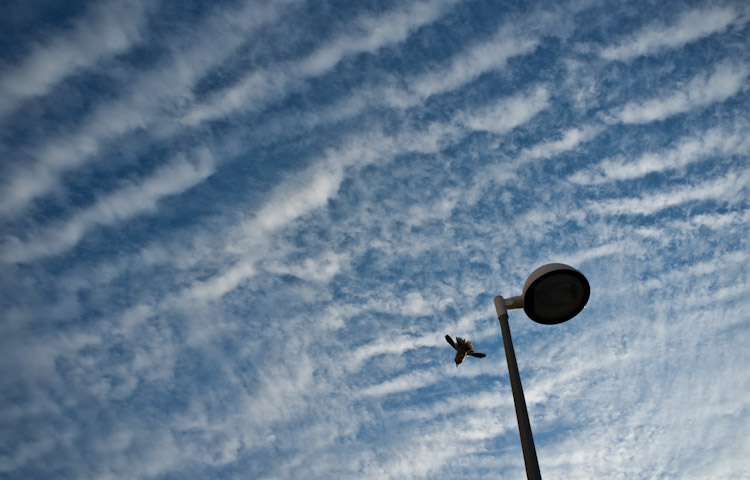 28_5
A scene which holds deep meaning for me. A man is waiting outside a clothing shop while his woman is shopping inside. Initially he was standing outside, but finally he entered the shop, just slightly, to avoid the afternoon heat. I have been in this position many, many times during my marriage: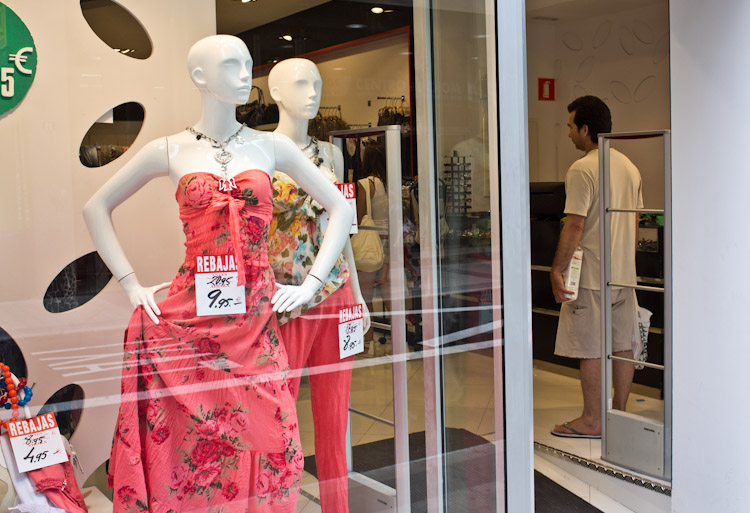 The remaining pictures are from Switzerland. No pictures from the drive, we covered the 1350 km in about 12 hours, so there was little time left for stopping and taking pictures along the Spanish and French motorways that constituted the bulk of the drive.
28_6
On Friday morning, we stopped at a café near Lake Geneva between Lausanne and Vevey. We were going to look at the vineyards in the area. My children were happy to be re-united: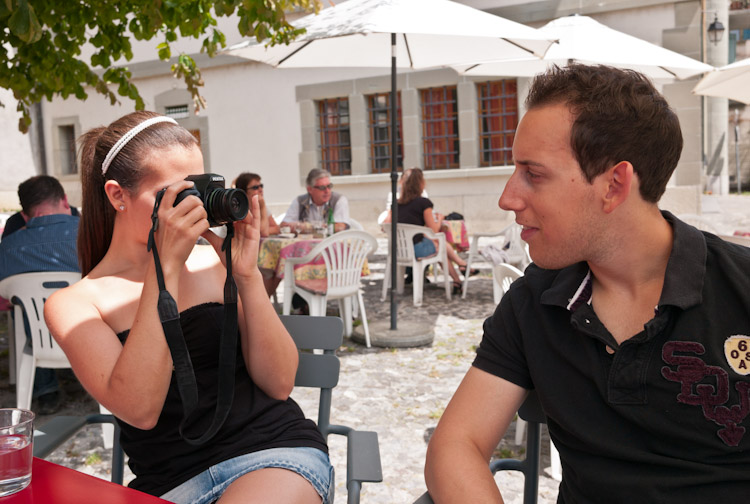 28_7
Every self-respecting bar or café must have its cat: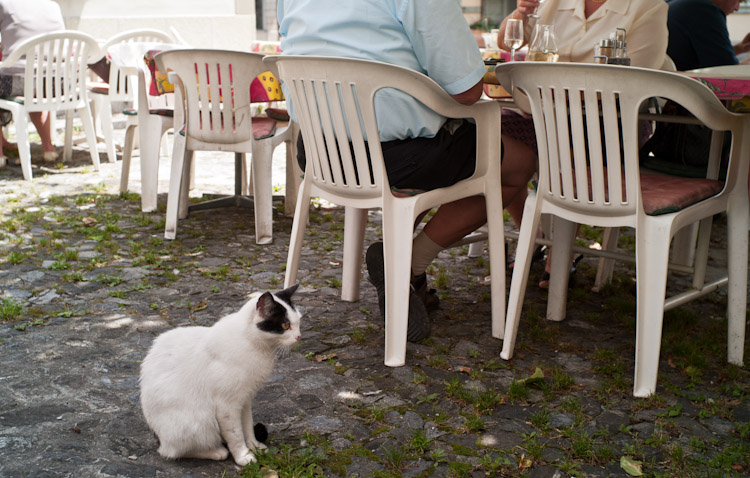 28_8
View of Lake Geneva near the café: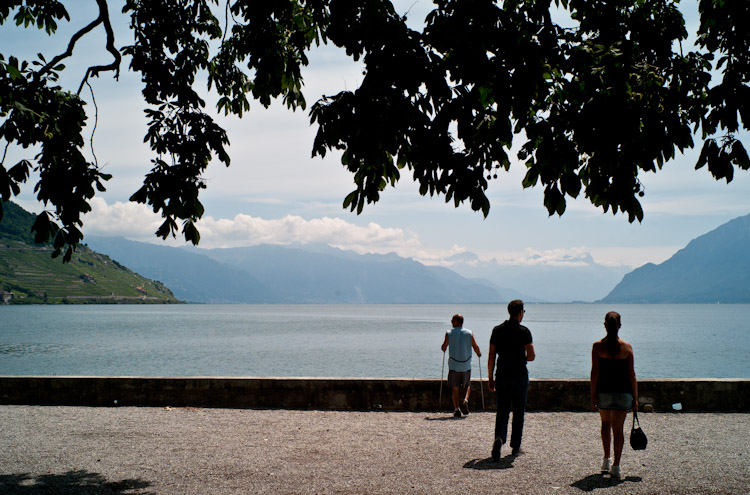 28_9
There was some gymnastics event taking place in Lausanne, and although these British visitors do not look particularly athletic, they had some part in it: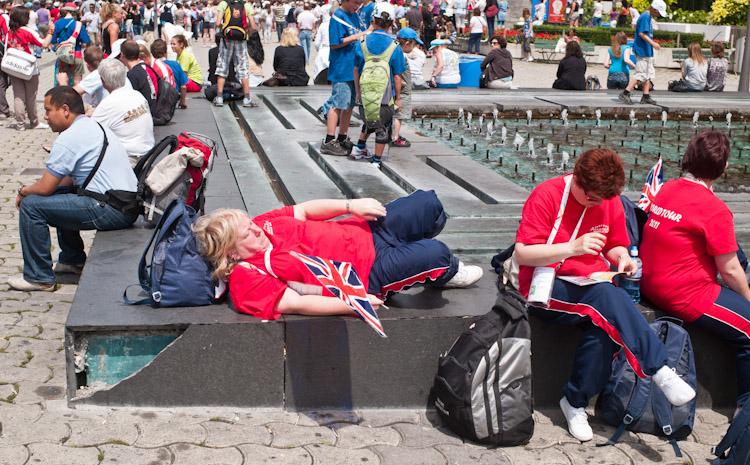 28_10
It was a warm day, so we ate lunch outside. Of course, I checked out the other guests at neighbouring tables: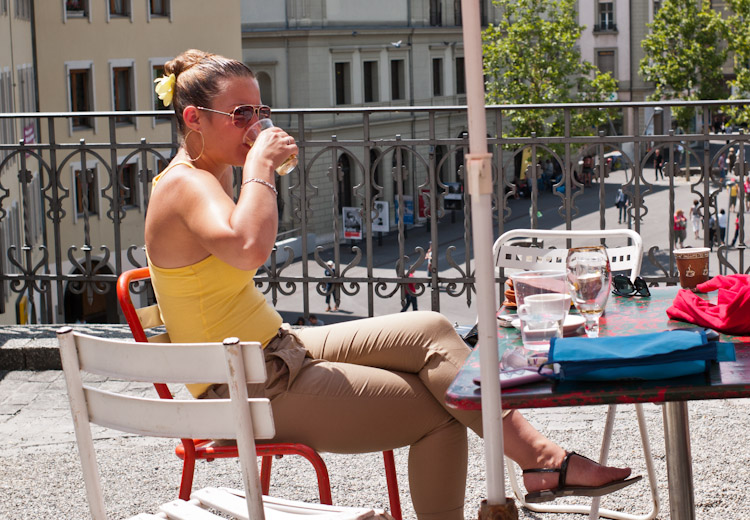 28_11
The table on the other side: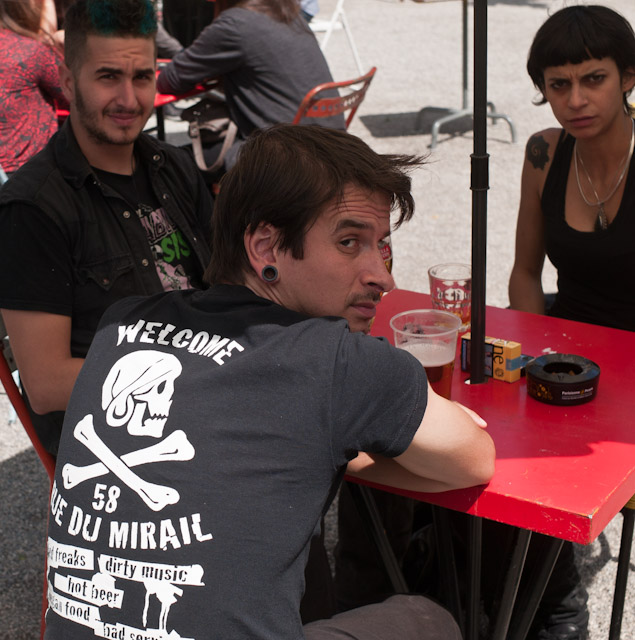 28_12
Lausanne is very hilly, and there are many nice lookout points like this one: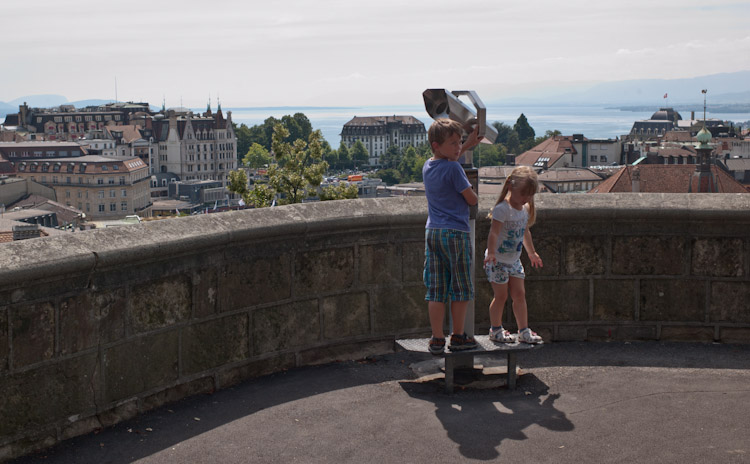 28_13
My daughter bought some organic cosmetics at the Lush shop in the centre of Lausanne. The woman serving her turned out to be a vegan too, although you wound not think so when looking at her: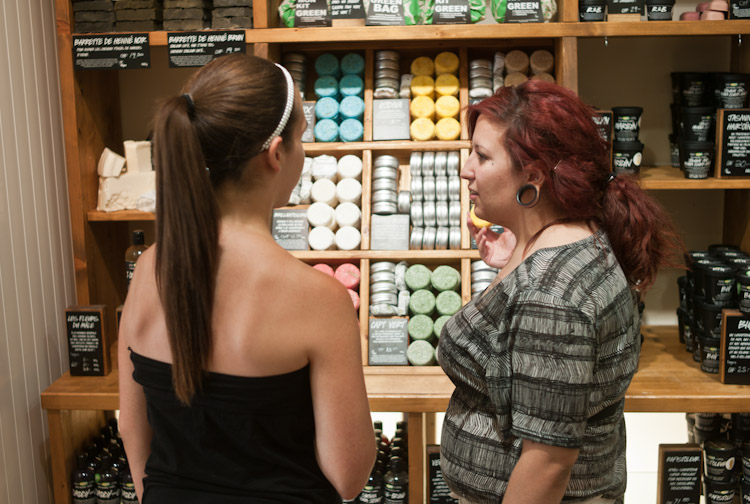 28_14
While my daughter was shopping, I hung around outside: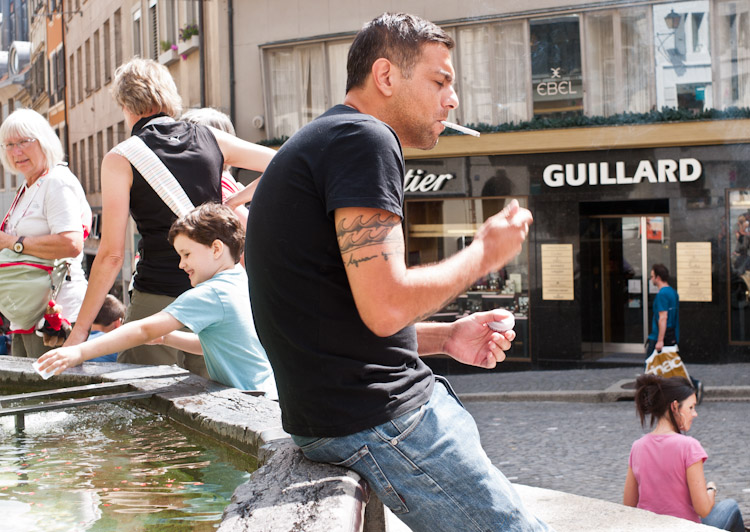 28_15
Despite the heat, these two men were impeccably dressed. They carried on an animated conversation for several minutes: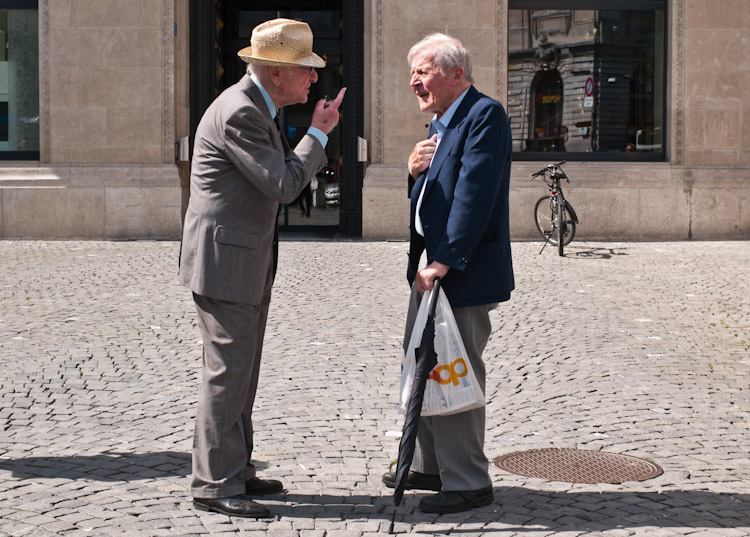 28_16
Creative transport solution: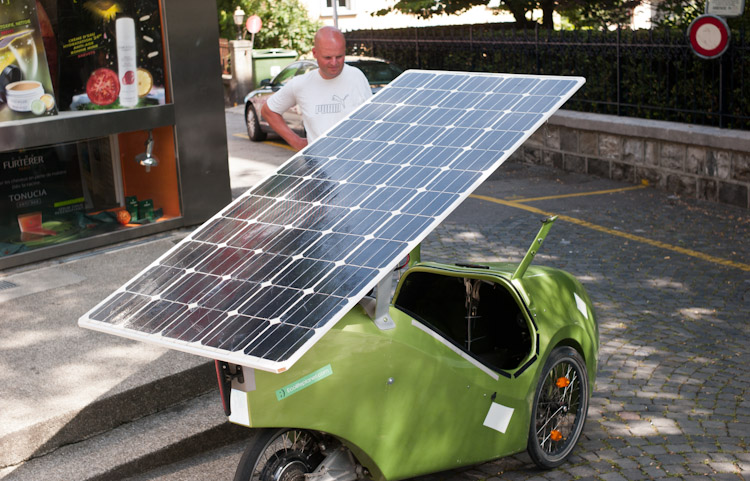 28_17
Colour-coordinated transport: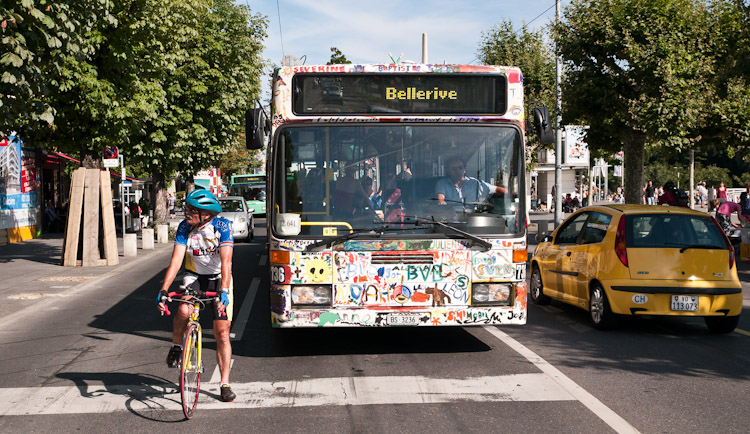 28_18
Skateboarding and rollerskating are popular in Lausanne. Here in the lakeside neighbourhood Ouchy: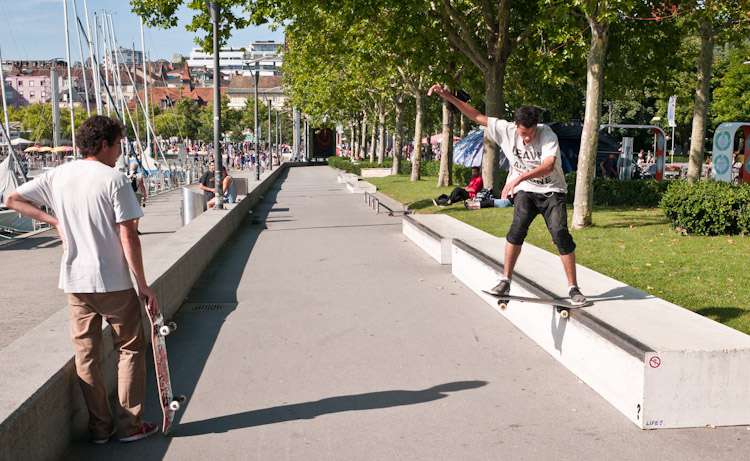 28_19
Urban fauna, Ouchy café: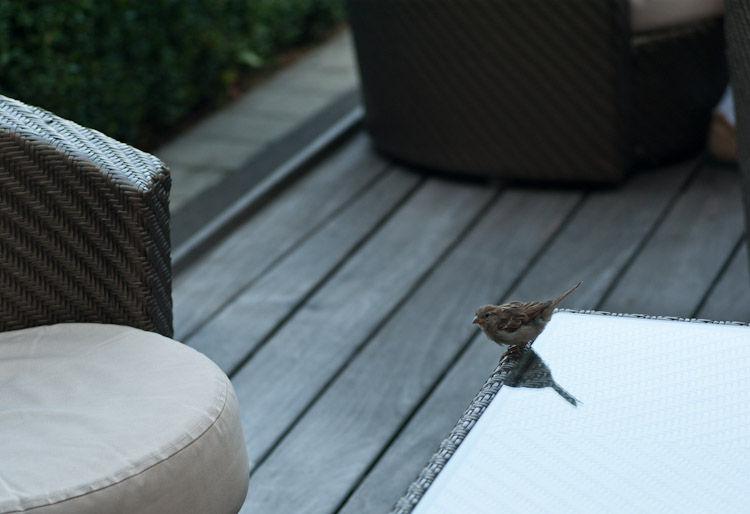 28_20
Ouchy is also the part of town where seedier establishments are located: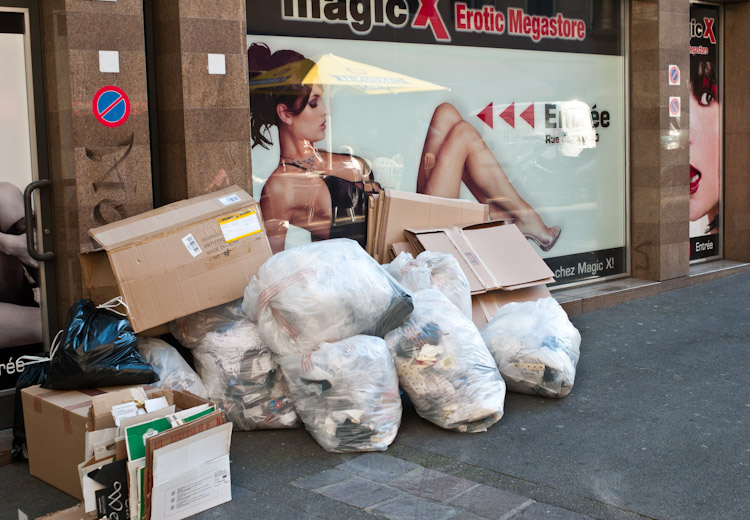 28_21
In the evening we had dinner at an excellent Ethiopian restaurant in Lausanne: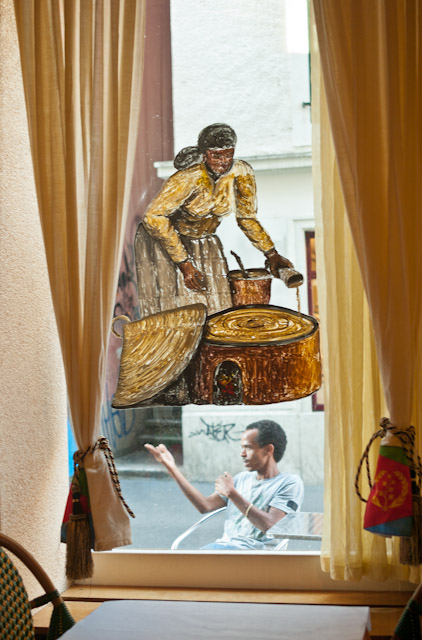 28_22
On Saturday morning we drove to Bern to have a look at Switzerland's federal capital. On the way, we stopped in the town of Murten, on the banks of the Murtensee. We were planning to rent bicycles there the next day and cycle around the lake (about 30 km). Here, a group of beginning windsurfers are getting their first lesson: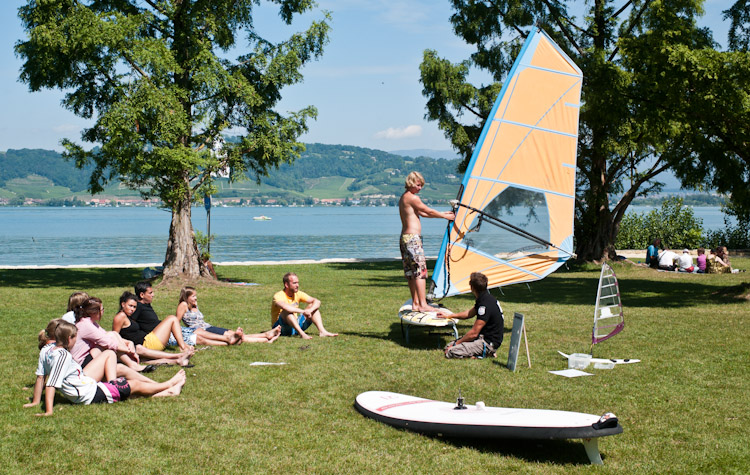 28_23
Couple in Bern looking down on the river: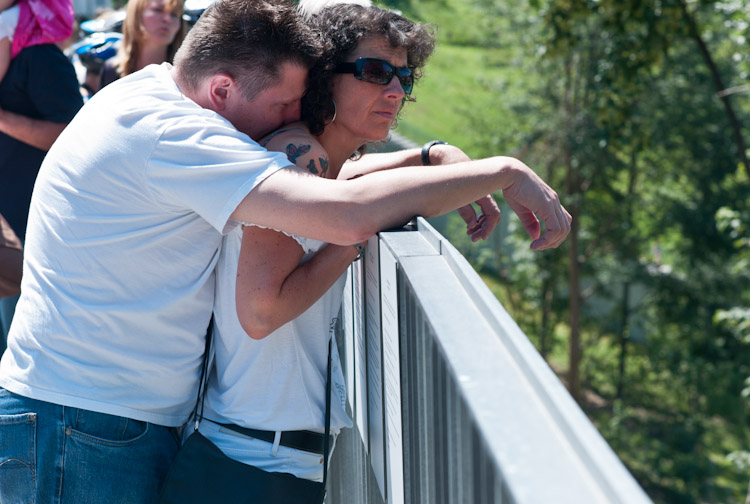 28_24
This is what they were looking at, Bern's famous bear park by the river: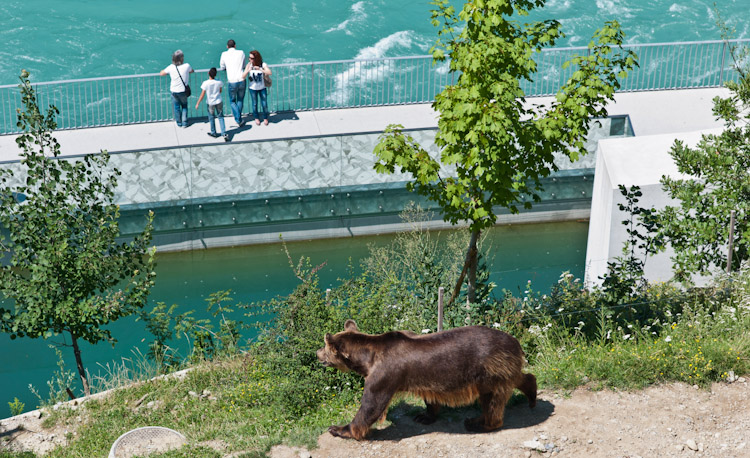 28_25
On the edge of Bern's main shopping district, a little girl is fascinated by the loaded scooter: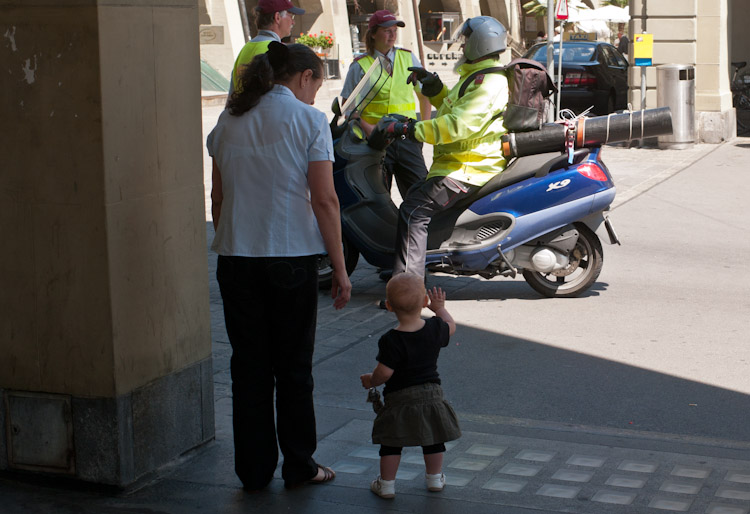 28_26
Wife is shopping, husband taking pictures. Sounds familiar…: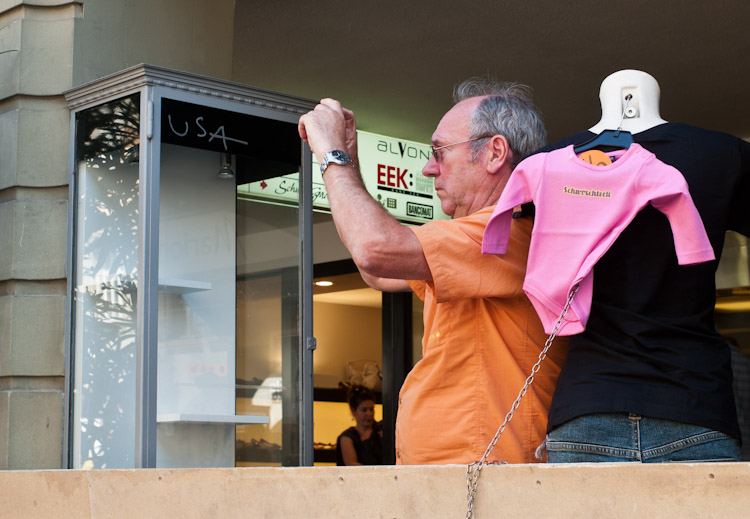 28_27
Big Mac being loaded for the trip home: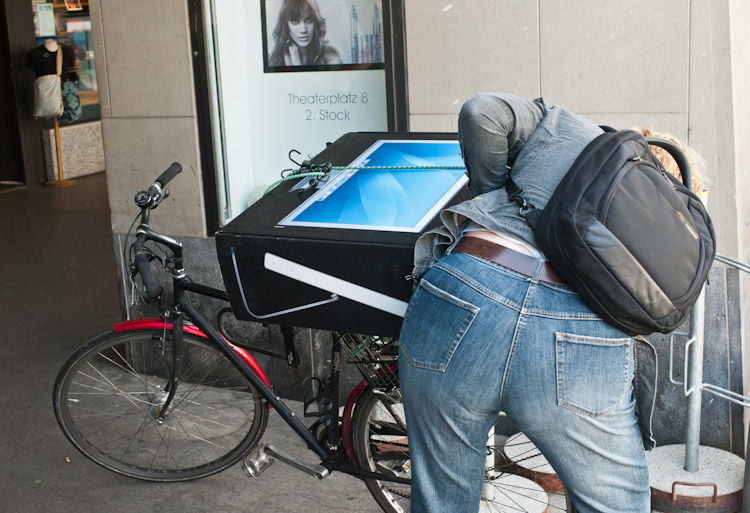 28_28
Saturday afternoon, back in Lausanne, we were going to Montreux for the last evening of the jazz festival. In fact, the festival has always interpreted the word "jazz" extremely liberally, and we were going there for a Deep Purple concert. Because we anticipated that parking in Montreux would be impossible, we took the train from Lausanne instead. A lot of other festival-goers did the same: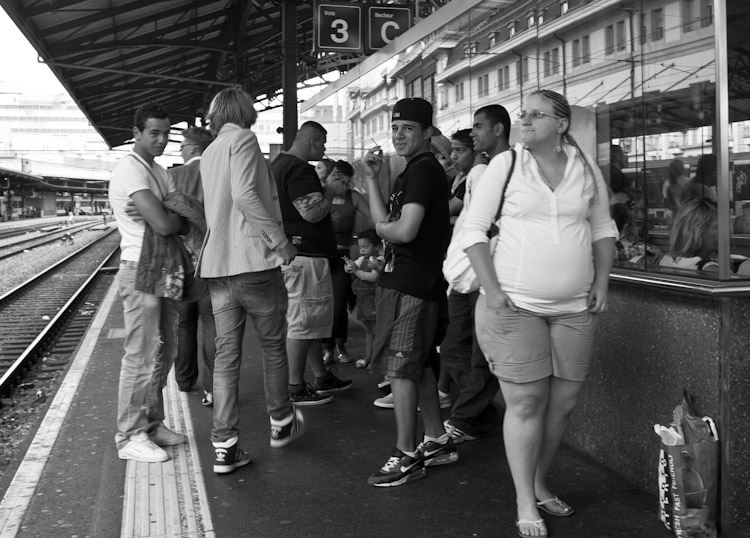 28_29
In Montreux, people were relaxing on the lawn next to the festival venues: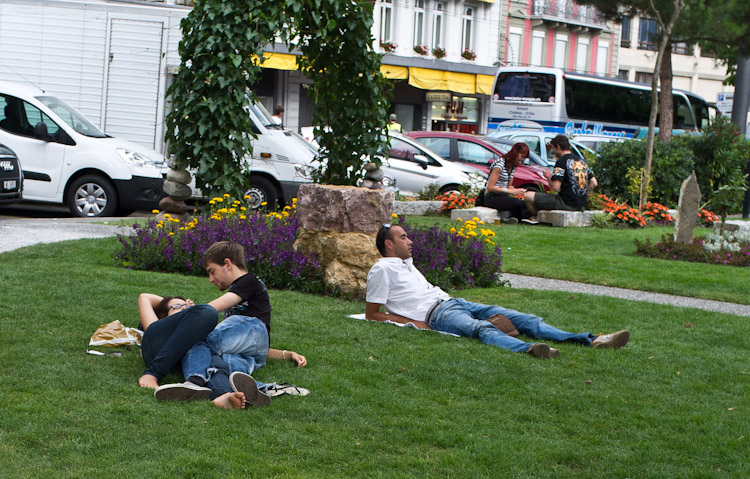 28_30
We sat down for a drink and looked at the traffic passing by: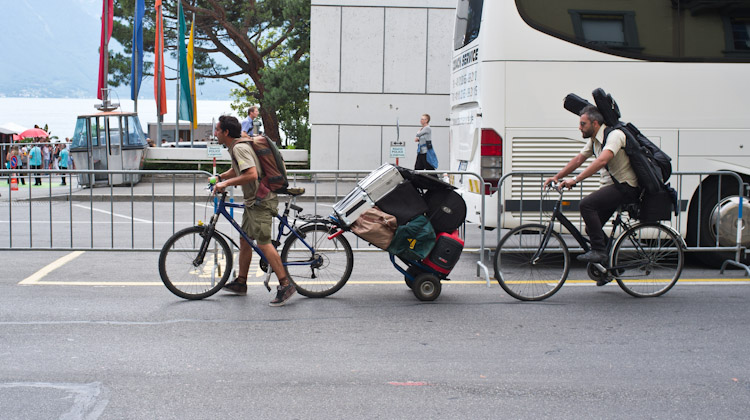 28_31
We walked around the festival grounds a bit before going to our concert venue. We met this smiling DJ with a blue face: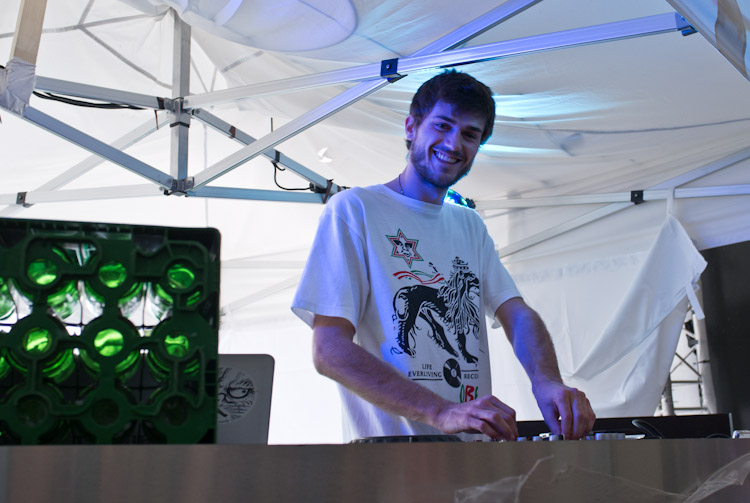 28_32
The lakeside bars were crowded: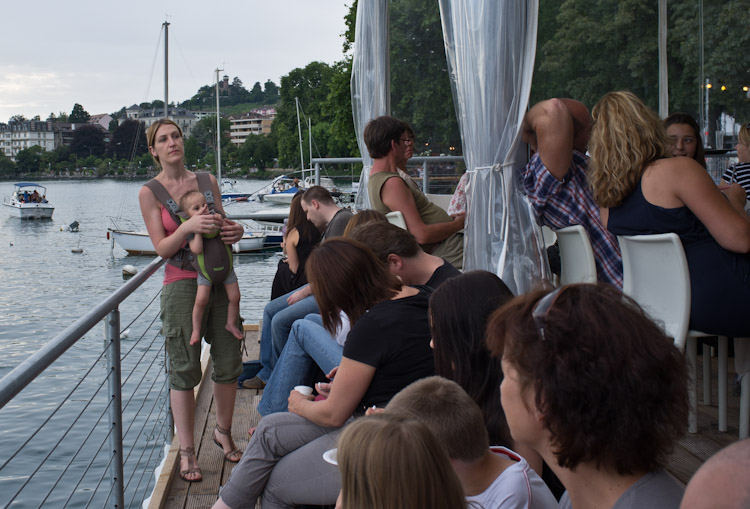 28_33
Two angels talking. "Angel" is the expression used for designated driver. The local police had a campaign going, quite understandably: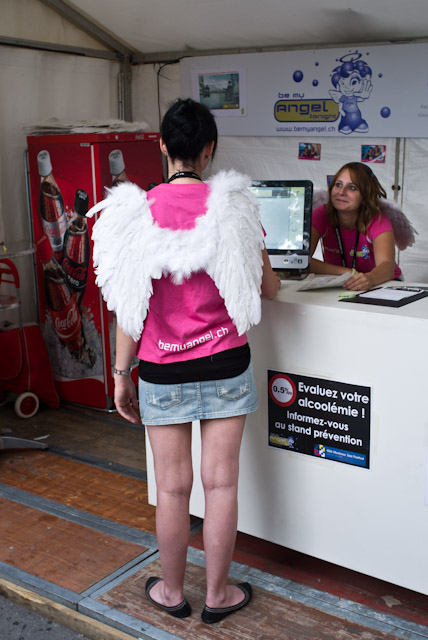 28_34
Now inside the concert hall. It was standing room, so like many others, my son and I sat down on the floor during the half-hour changeover between the opening act and Deep Purple: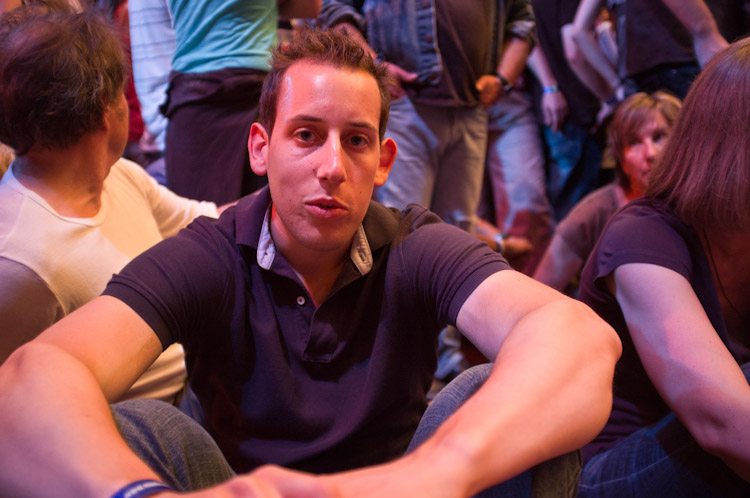 28_35
Deep Purple on stage, but too far away to get pictures of the musicians. DSLRs and the like were not allowed inside the concert hall, but my little Fuji X100 was not considered a "serious" camera by the doormen and so was let in: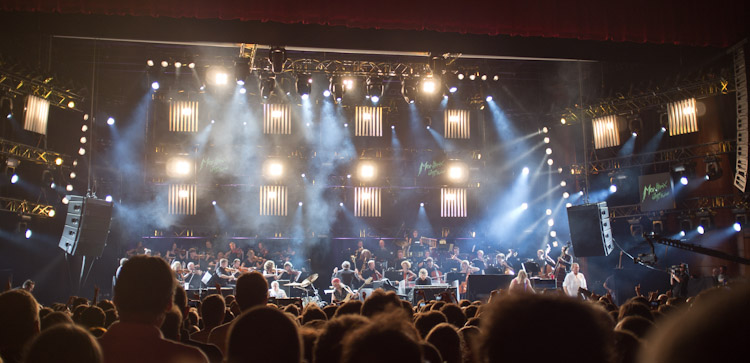 28_36
Instead, I tried to capture the mood by focusing on the audience: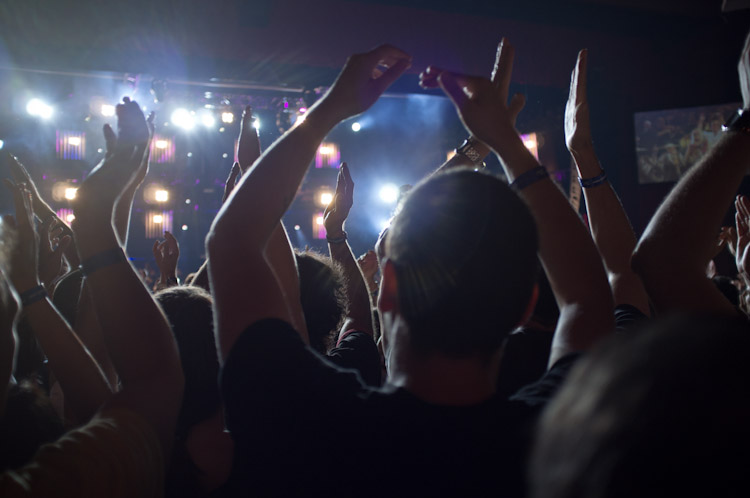 The above picture was taken just before midnight on Saturday, and so ended a very nice week.