A week with some familiar places but also some things I have not shown before. When showing places I have shown before, I try to find better angles, more interesting light and so on. Hopefully, I succeeded with this week's images from the Vía Verde del Maigmó, a place I visited for the third time during this week.
33_1
But I start with a typical local scene. This photo is by no means perfect, far from it, but I included it because it is an illustration of something very typical for Spain–three generations having dinner in a restaurant together, no special occasion, this is just normal around here: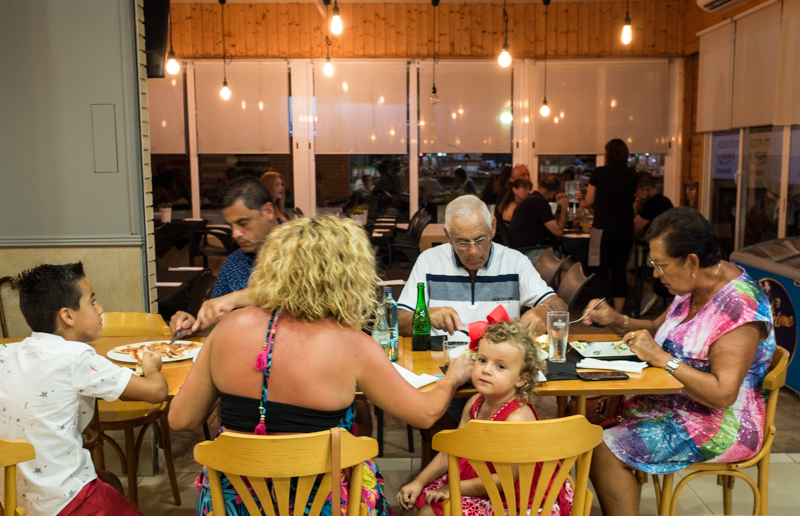 33_2
Then on to some kitsch. Along one of my habitual cycling routes, near Agost, there are several outlets selling locally made ceramic and stone garden decorations; we have actually bought a fountain there, but one day I stopped by and walked around a bit, trying to find the most kitschy stuff. Here is a classic, garden gnomes: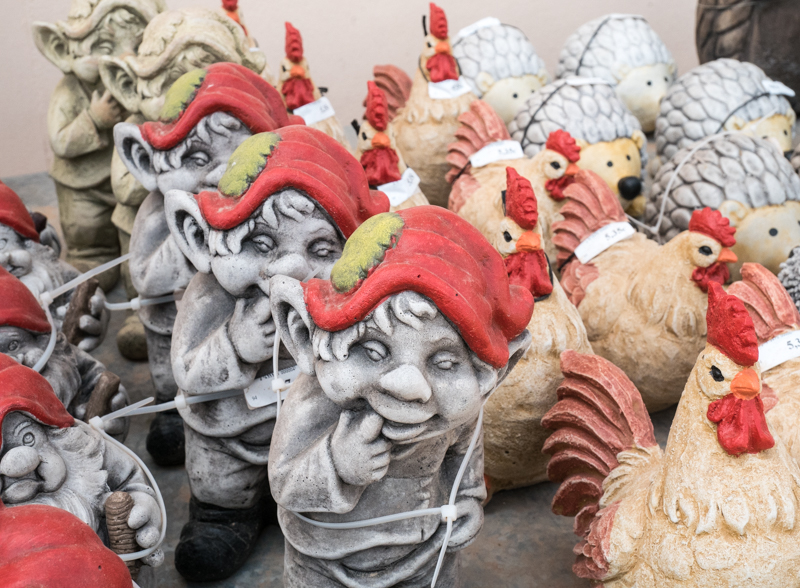 33_3
Some more gnome-like creatures: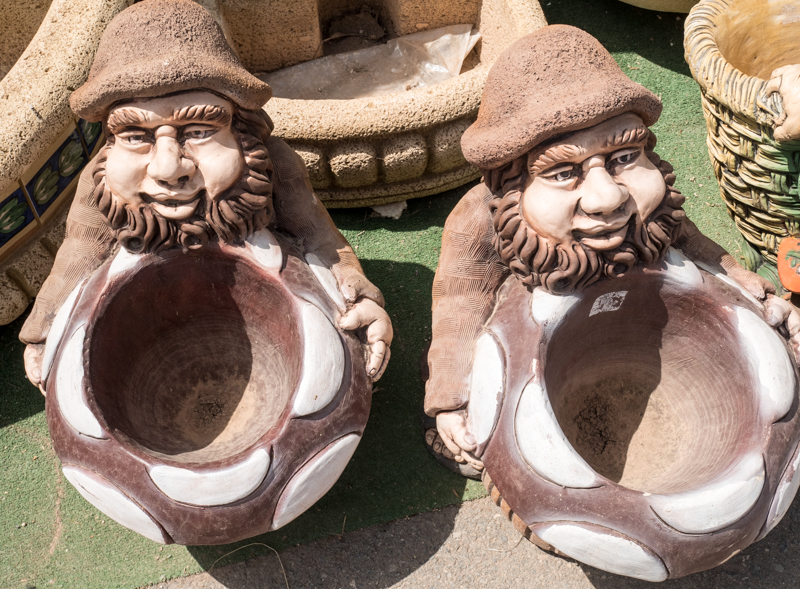 33_4
Two women: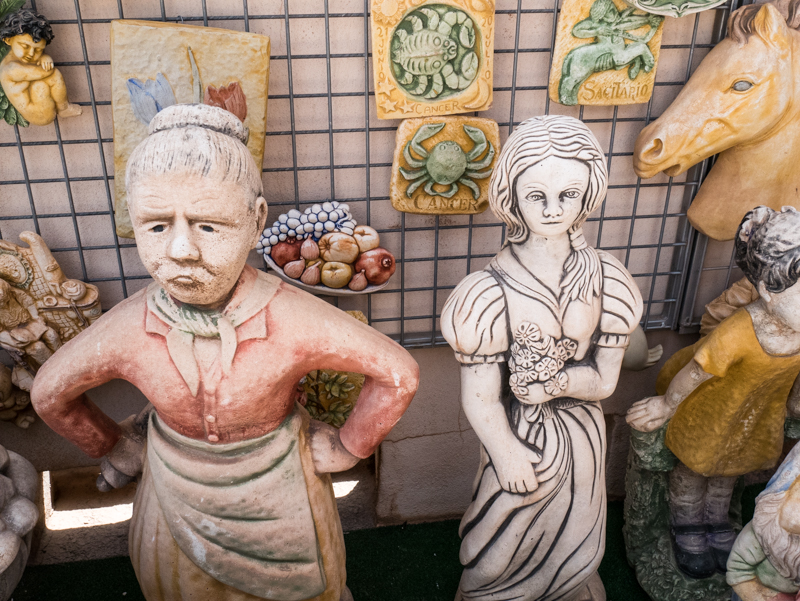 33_5
Cute dogs: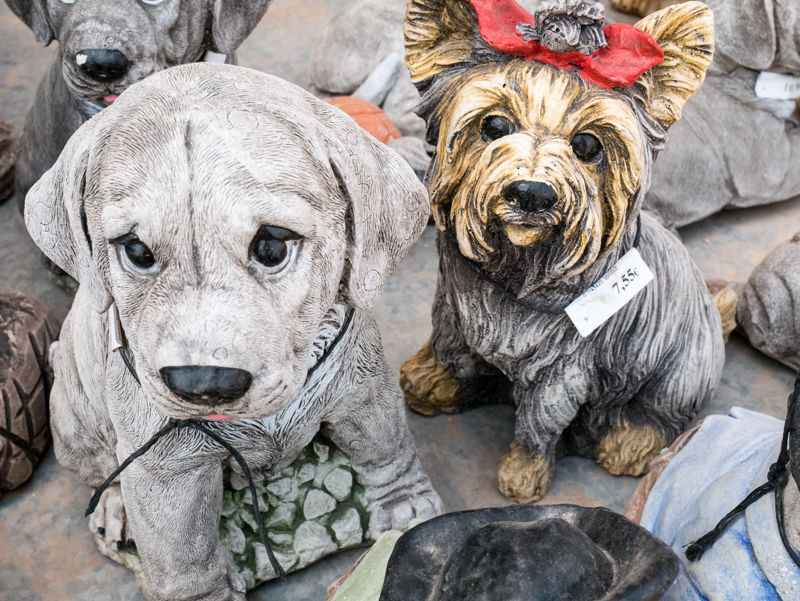 33_6
No hear, no see, no speak: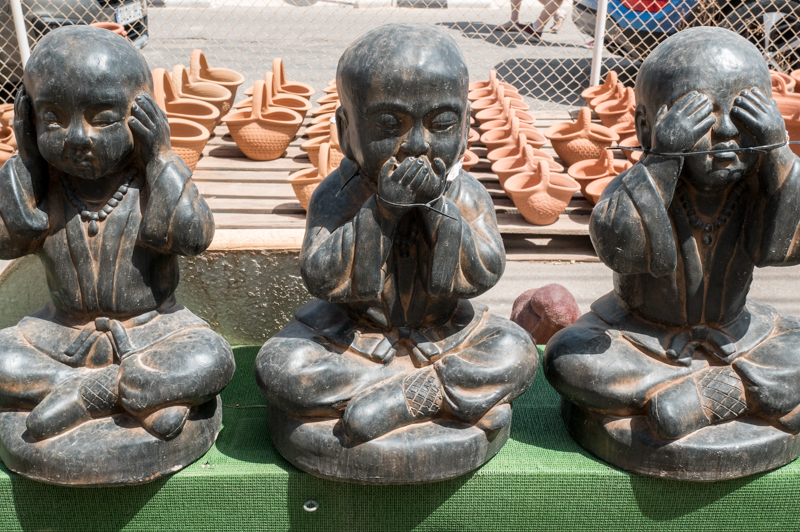 33_7
Cultural appropriation: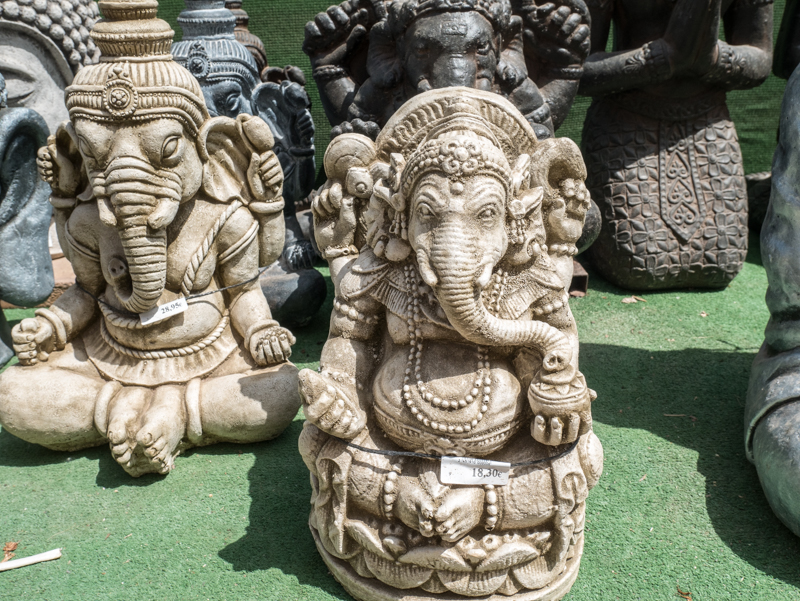 33_8
Gator (I actually considered it for our garden, but SWMBO vetoed the idea):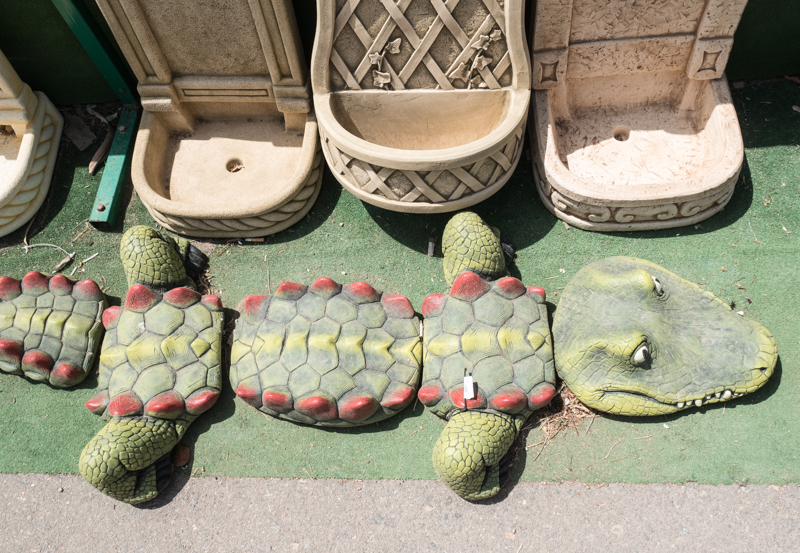 33_9
A few beach photos from a windy day: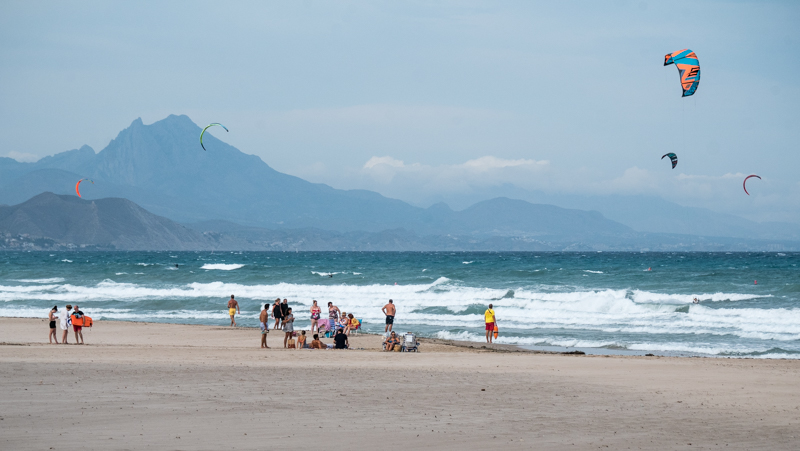 33_10
The different ways of enjoying the beach: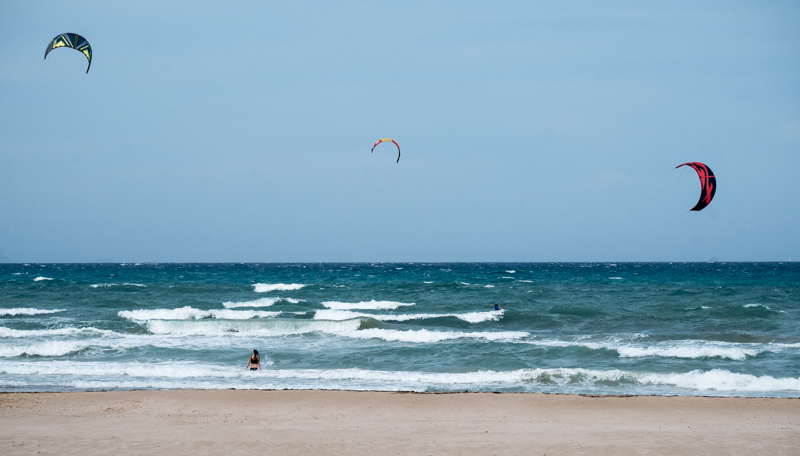 33_11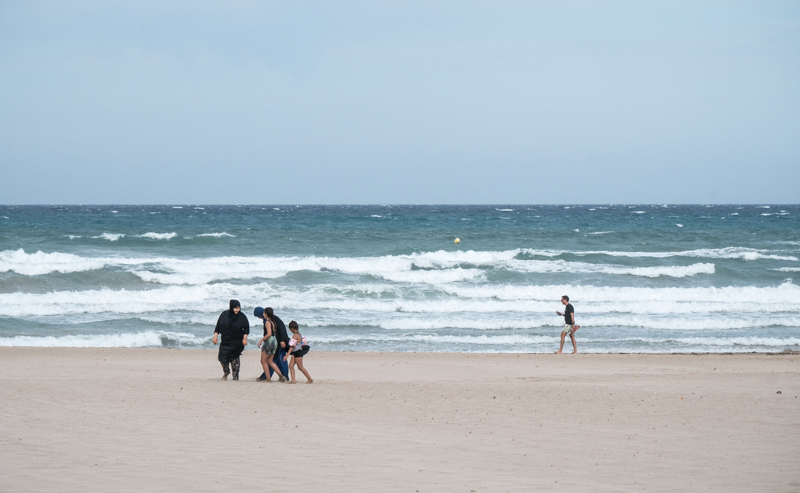 33_12
Another typical beach sight–an African vendor of counterfeit designer bags: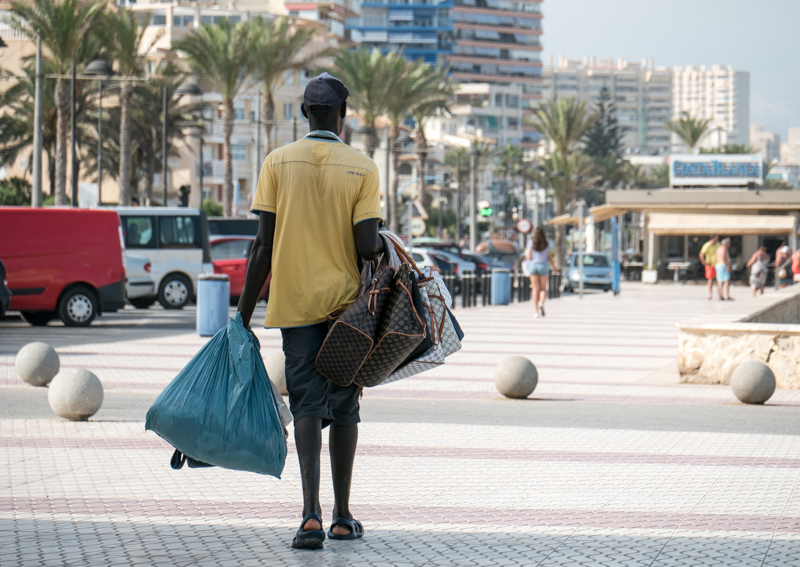 33_13
On Wednesday night we were invited to our friend Assumpta's birthday party, to be held at a beachfront restaurant. My wife's contribution was her cheesecake which everyone loves: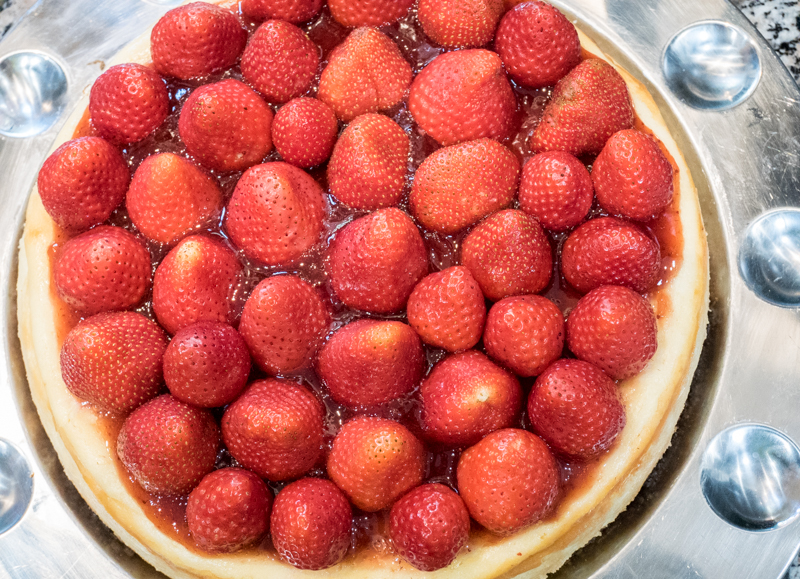 33_14
A violinist had been hired to play some of Assumpta's favourite tunes (our birthday celebrations are usually not this elaborate, but this was a 60th birthday):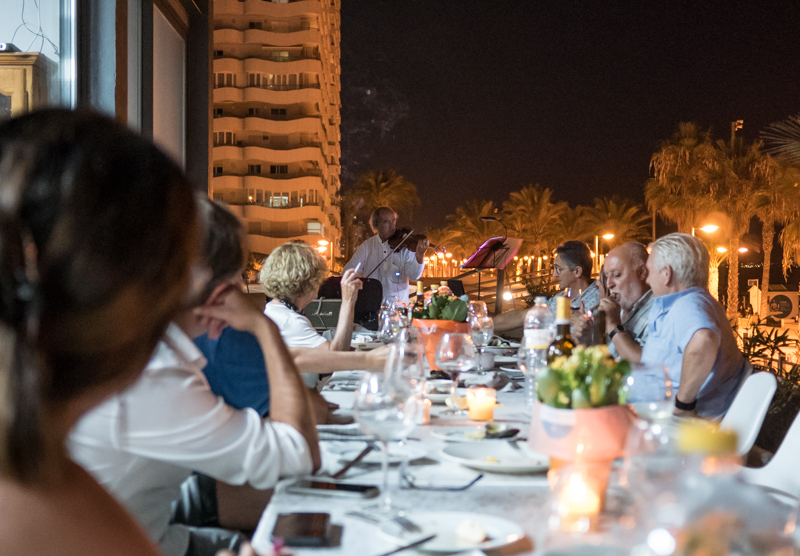 33_15
The birthday girl: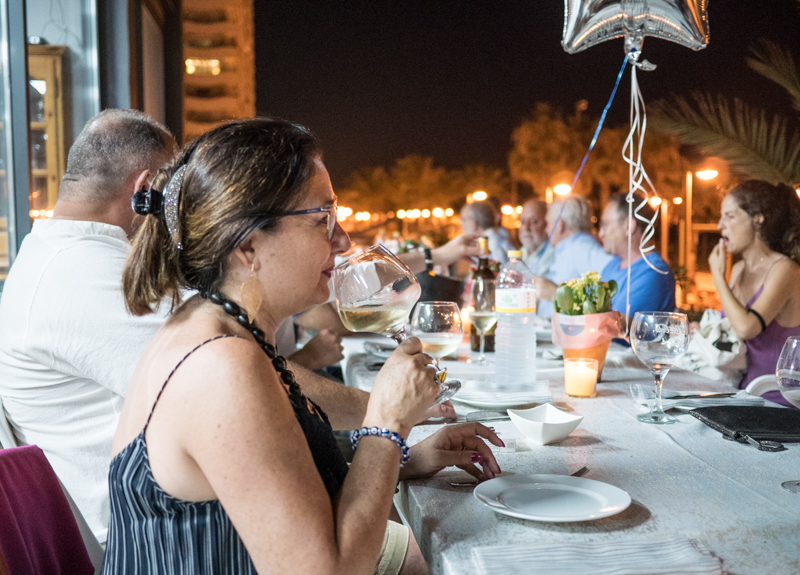 33_16
Because we were seated at one long table, it was difficult to move around, so I was restricted to taking pictures of the people across from me. Fortunately, it was a lovely young couple, Assumpta's stepson and his girlfriend: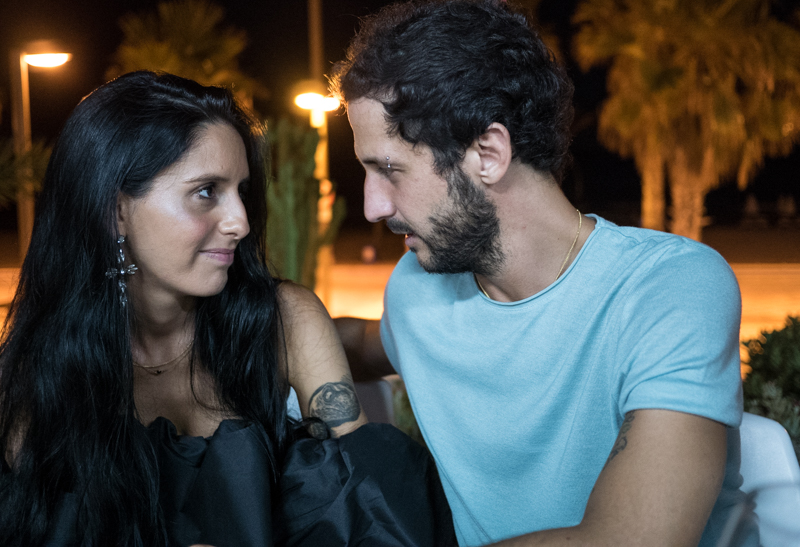 33_17
Cani comes over for a chat: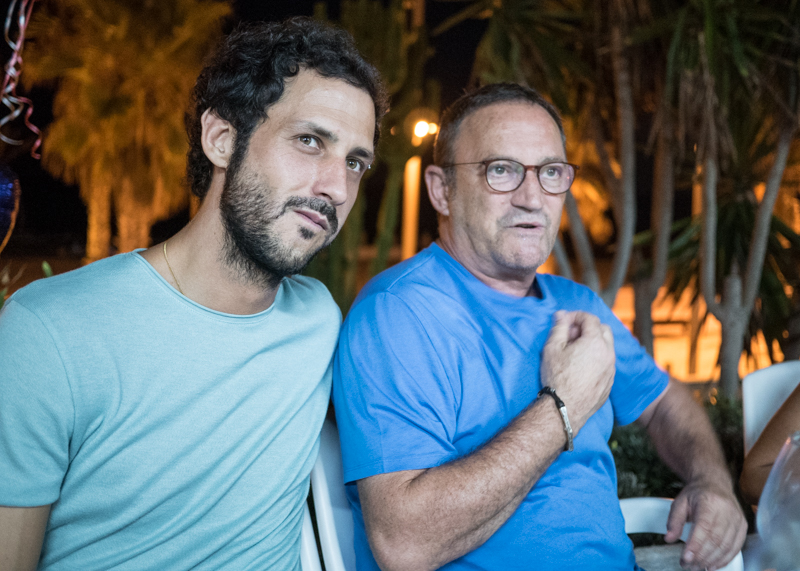 33_18
Thursday was a public holiday here in Spain, and like every sensible human being in this country, I took Friday off to create a 4-day weekend. So plenty of time for cycling and other favourite pastimes. Busot looked especially pretty one of those days. Now that I have a longer lens (35-100mm) for my Panasonic GM5, I have a lot more flexibility when taking pictures from the side of the road: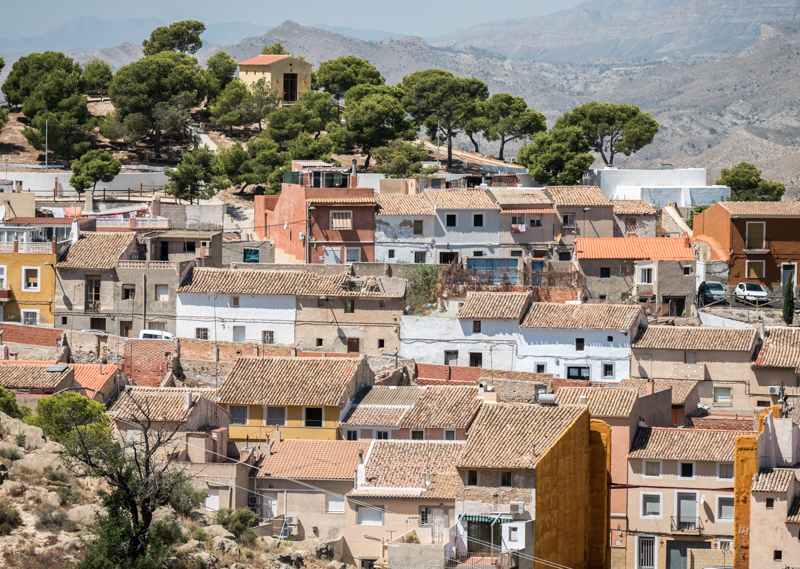 33_19
Next to Busot, there is an old castle ruin. To my knowledge, it cannot be visited, but there is always a flag on top: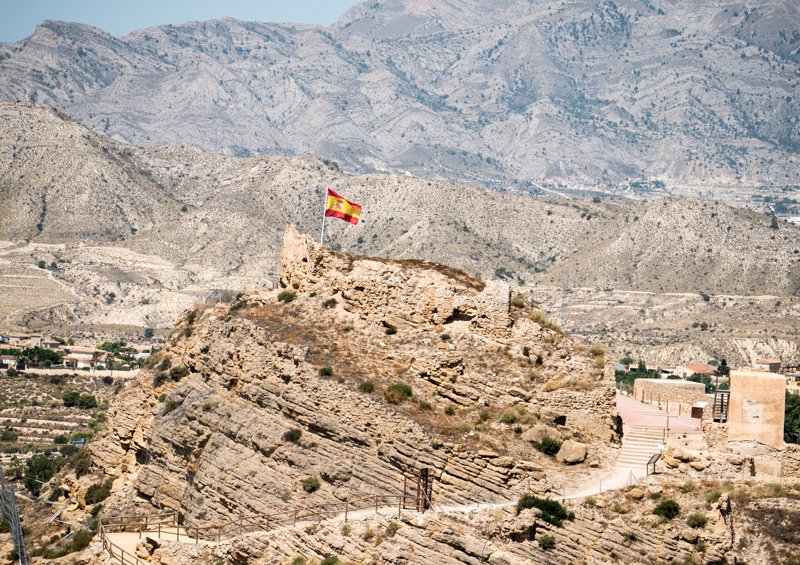 33_20
Another day I went for a walk in the neighbourhood and came across this. Apparently a homeless person has taken up residence in a local park: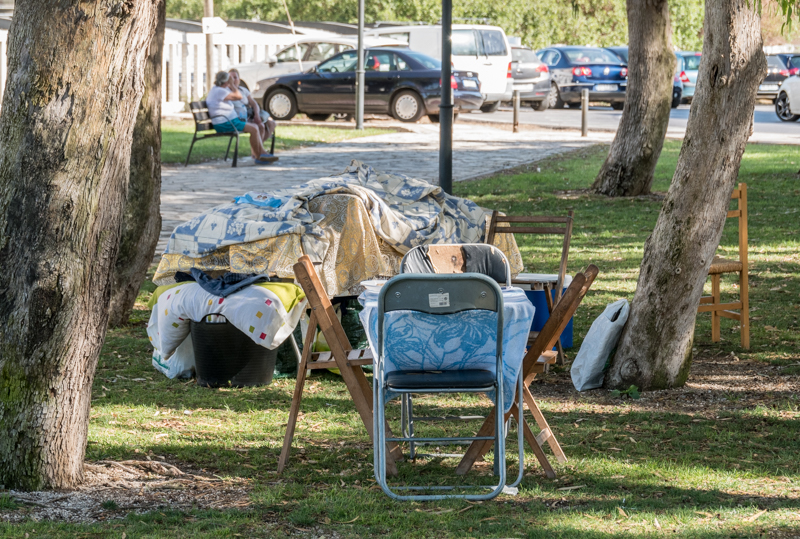 33_21
On Saturday I went out on my mountainbike to ride the Vía Verde del Maigmó. I did this last week too, but this time, rather than having my wife drop me off close to the start of the trail, I rode all the way. This meant around 19 km on paved roads, followed by around 5 km on this field road: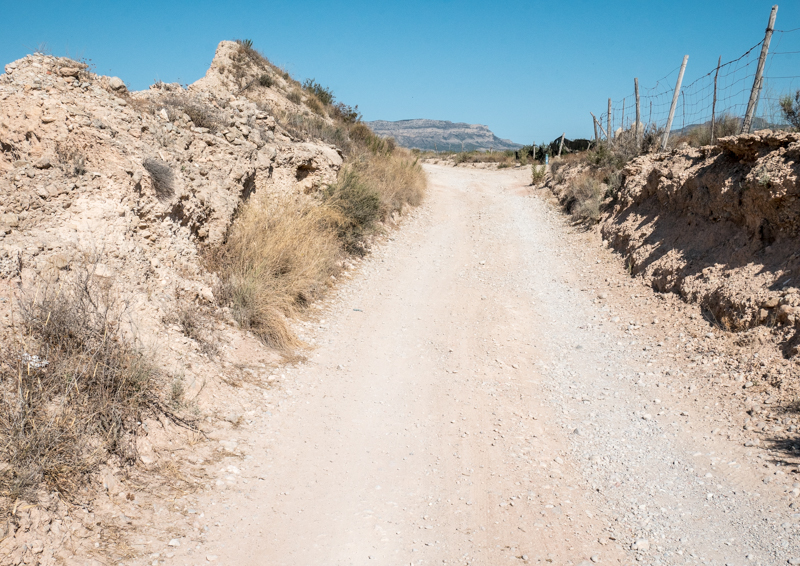 33_22
The landscape at the start of the Vía Verde. The white blob in the distance looks like piles of salt, but I am not sure what it is. There is significant salt production in the Alicante area, but not in the mountainous interior: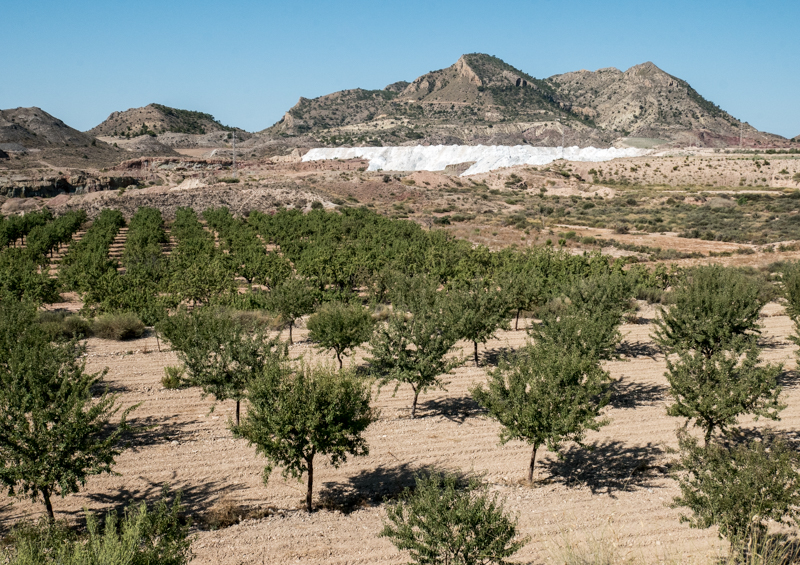 33_23
I have previously taken pictures at the 10 km marker of the Vía Verde. But this time I realised that the views are better a hundred meters or so before reaching that marker: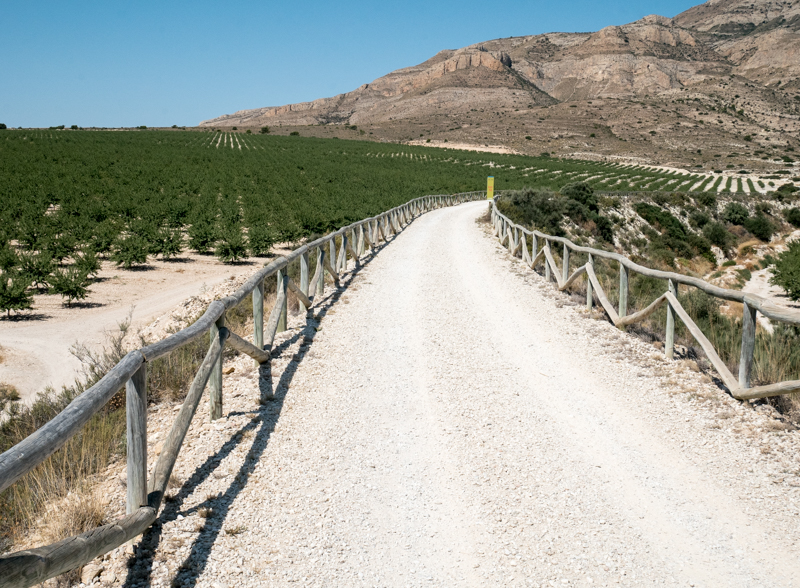 33_24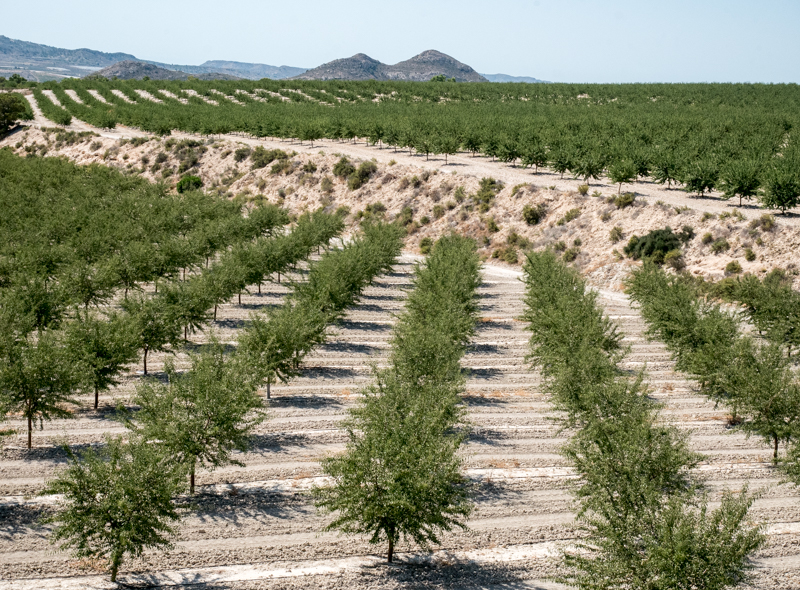 33_25
Around the 15-16 km mark, I stopped for a brief rest–I was running short on water and could feel my sugar level going low, so I took a break to eat some of my emergency candy and rest a bit. The landscape at this spot had some greenery, unusual for our area: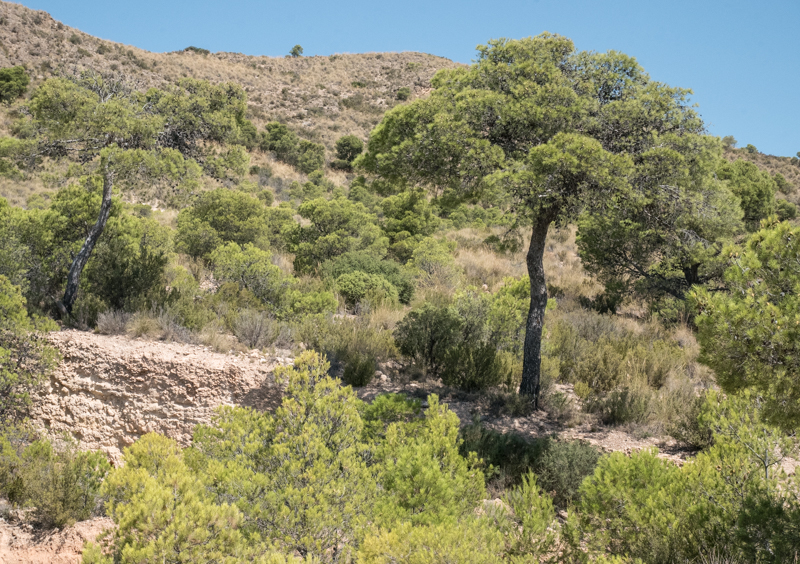 33_26
My bike, taking a break too. The handlebar bag contains my wallet, phone, a spare inner tube and, last but not least, the Panasonic GM5 and the 12-32mm and 35-100mm lenses (and a spare battery, of course):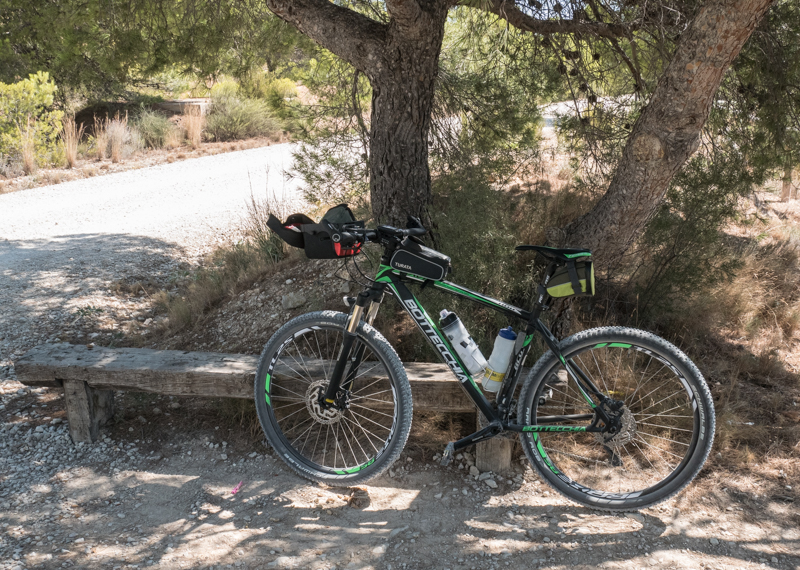 33_27
A couple of km further, there is a spot where the Vía Verde runs parallel to the normal road between Agost and Maigmó, one of my frequent routes on the road bike. In the end, the climbing is the same, you end up at around 630 meters above sea level, but the paved road has no tunnels or bridges, so it is considerably harder, even though the surface is smooth: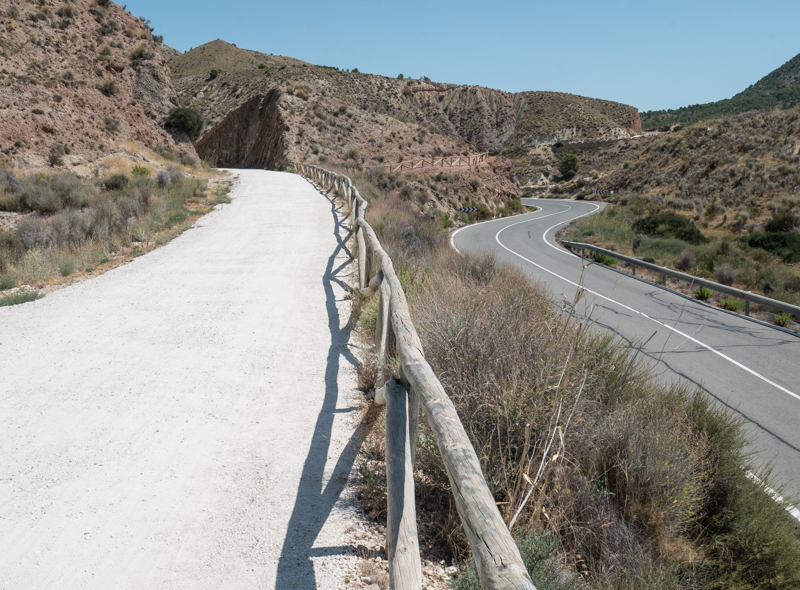 33_28
Of course, if you are going downhill, it is a different story: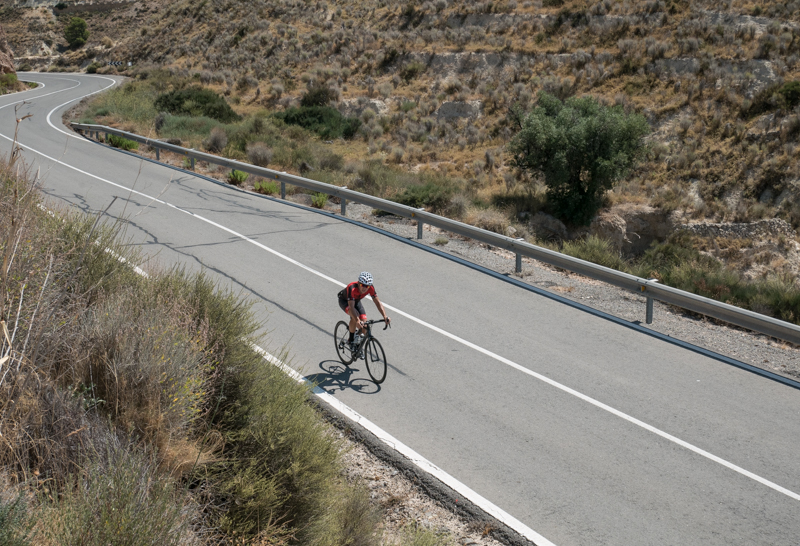 I completed the 22 km of the Vía Verde and then rode home on normal roads, for a total of 73 km of which around 27-28 km were off-road. I certainly enjoyed my cold beer that evening!