Last week, the first week of summer, marked one of the year's major fiestas in Alicante, Hogueras de San Juan. The word "hogueras" refers both to the holiday itself, and to the many statues made of plastic, wood, and other combustible materials that are put up around the city for a few days, only to be burned at midnight on June 24th. This is very much a week of parties, both private and public–several streets are closed to make room for large party tents called barracas where people would eat and drink from mid-afternoon until the early hours of the morning. We did not partake in this, but we did put on a "white party" on June 24th; and the party continued the next day, somewhat spontaneously. So lots of happy people in this week's set, although there are also the usual images from cycling and walking around the neighbourhood with my dog. The first few pictures are in the latter category.
26_1
Morning light: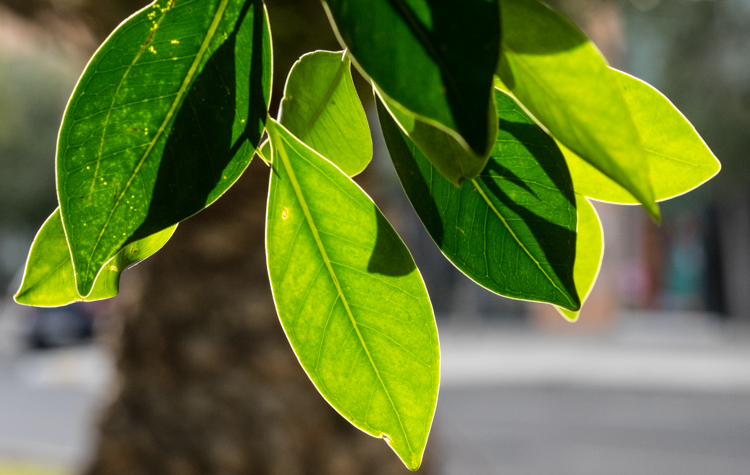 26_2
This large plot has been like this for several years, but now at least there is a sign on the fence. In fairness, several new apartment buildings have been completed in the past year, so it could well be that this project will also get going: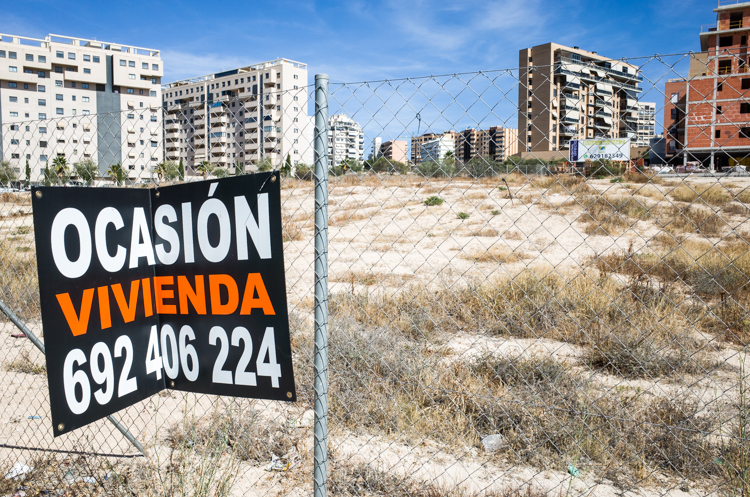 26_3
This is not one of "my" cats; he was hanging out one morning outside a local restaurant:

26_4
But this IS one of my golf course kitties, somewhat wary since I have the food for him alright, but I am also accompanied by the dog: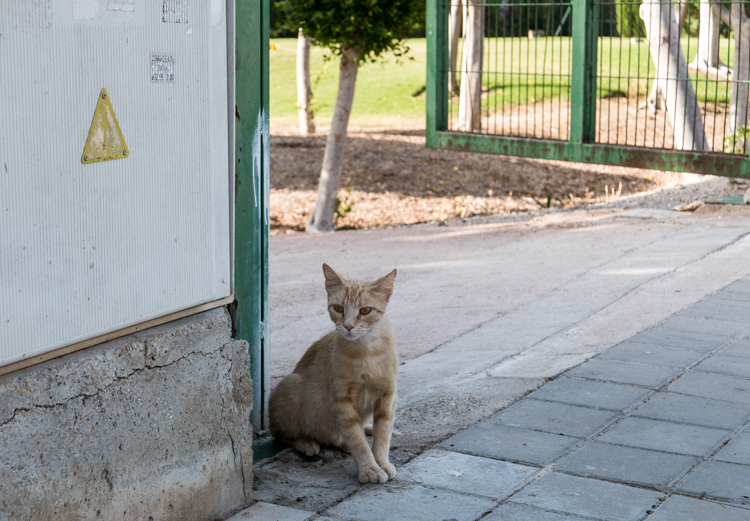 The next several pictures are of the hogueras around Alicante, captured mostly when I go out for lunch or (in the case of those in our neighbourhood) in the morning.
26_5
During the days leading up to June 24th, people walk around and admire the hogueras: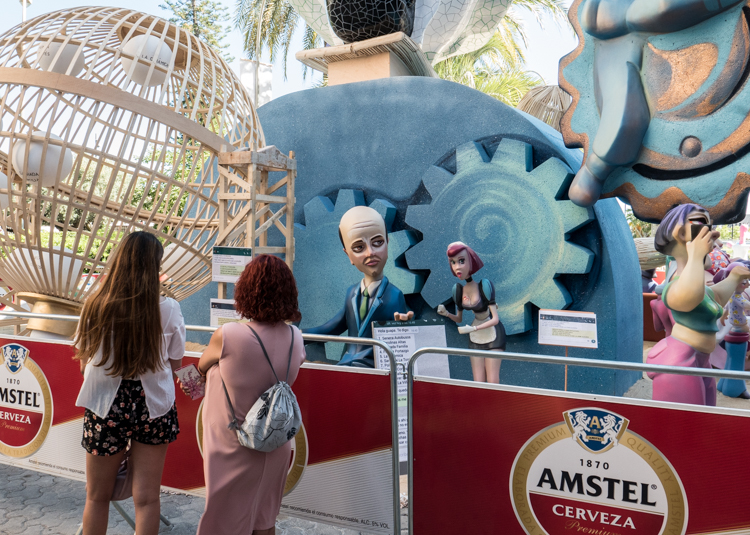 26_6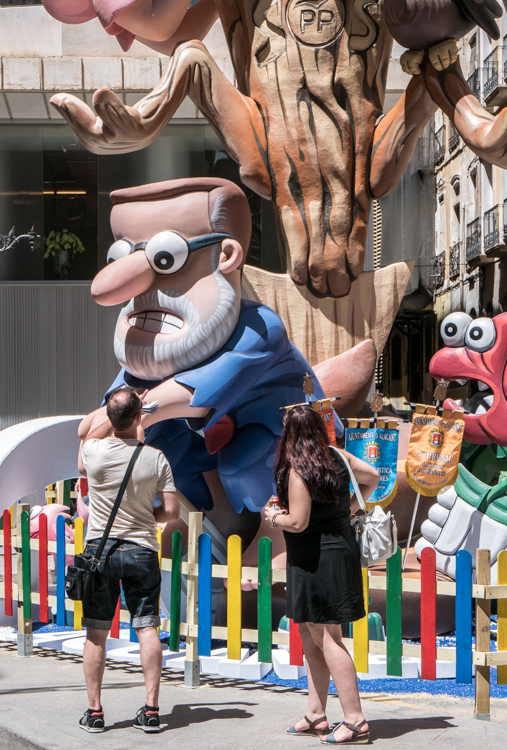 26_7
There are also city-wide competitions for the best neighbourhood hoguera. Here, people on Plaza Seneca celebrate winning such a contest: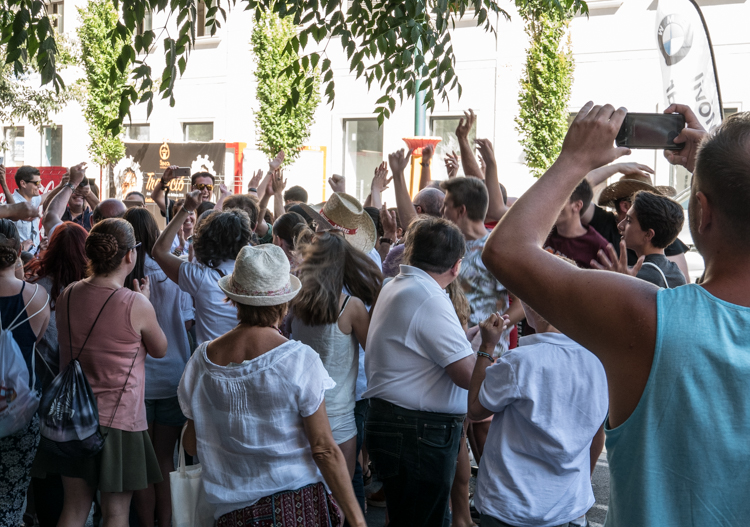 26_8

26_9
Looking pretty: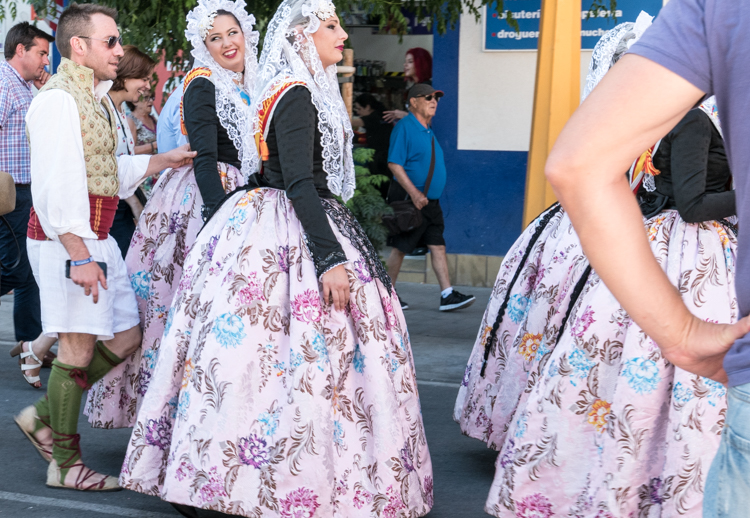 26_10
The restaurants on Esplanada de España, the main seafront promenade, were doing good business with their barraca-style setups: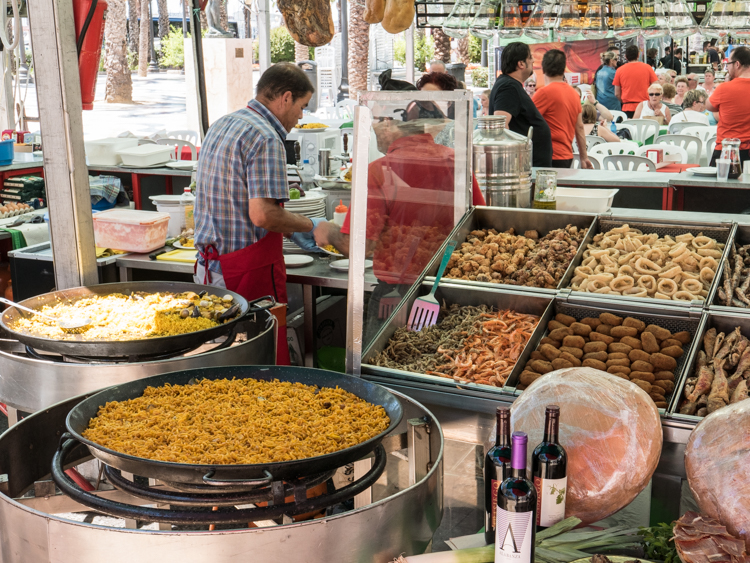 26_11
Hat vendor. It is almost impossible to eat outside in Alicante without being offered something like this for sale: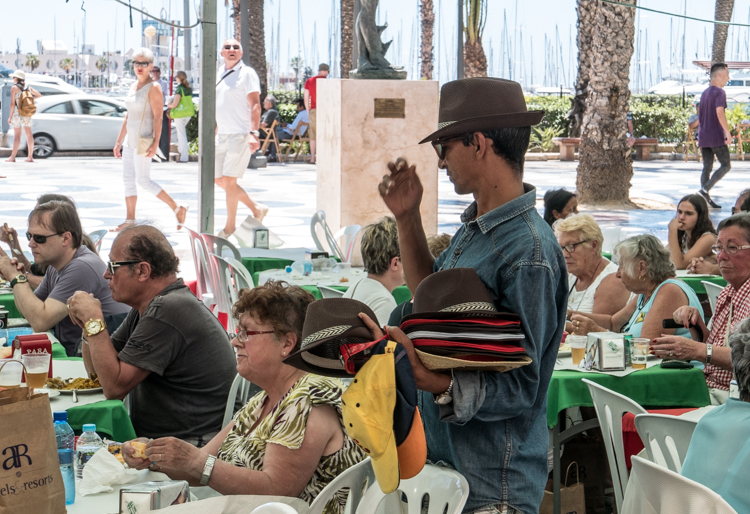 26_12
Another picture from the centre, an artful drainpipe: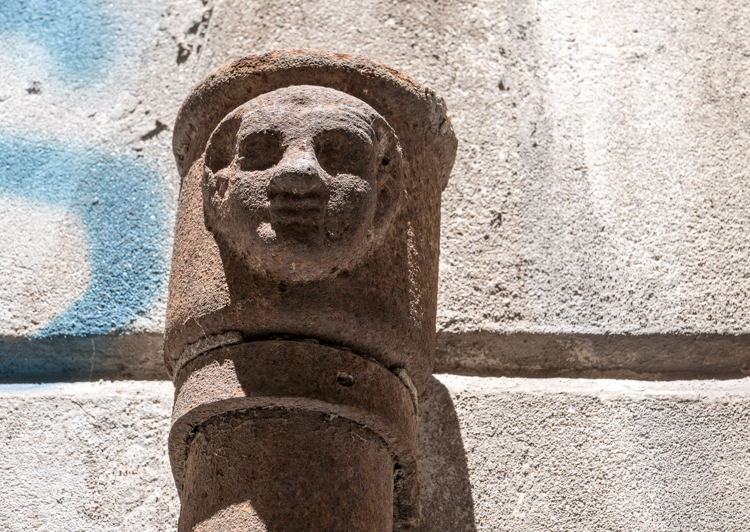 26_13
Back in my own neighbourhood, there were hogueras too, including this one of Shakespeare and Cervantes, both of whom died 400 years ago: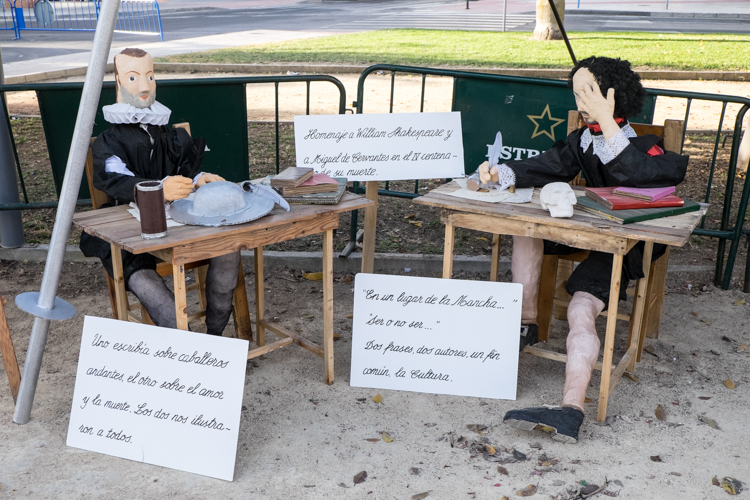 26_14
Festive ladies: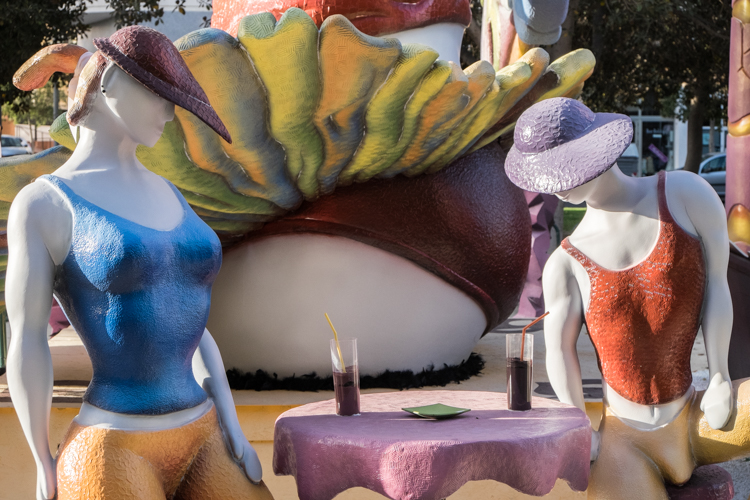 26_15
The less agreeable side of the fiesta, the local park is full of this kind of garbage early in the morning: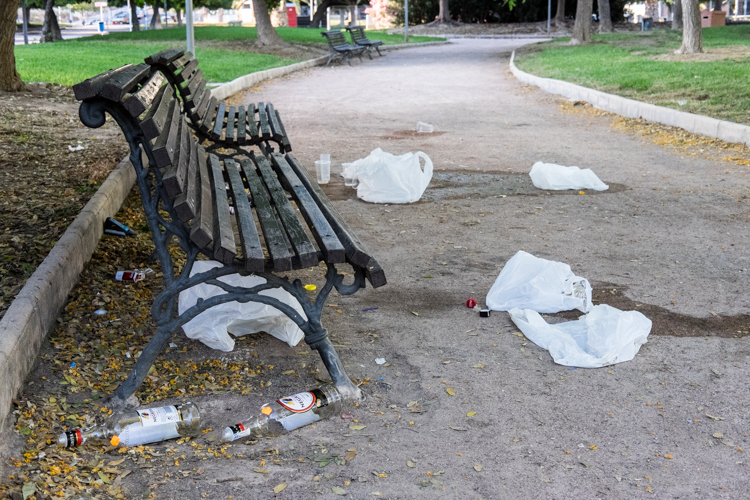 26_16
Friday was a day off, and we were hosting a party in the evening. But that was starting only at 9:30 pm, so there was plenty of time in the morning to go cycling in the mountains. I stopped to pee on the way up to the Puerto de la Carrasqueta and liked the way the landscape below looked, framed by the tree branches: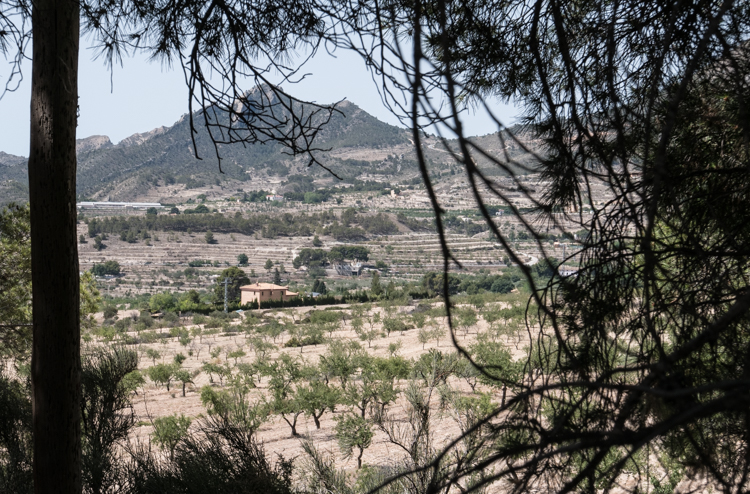 26_17
A sign prohibiting dumping of garbage; the fact that the fines are still stated in the old pesetas shows its age: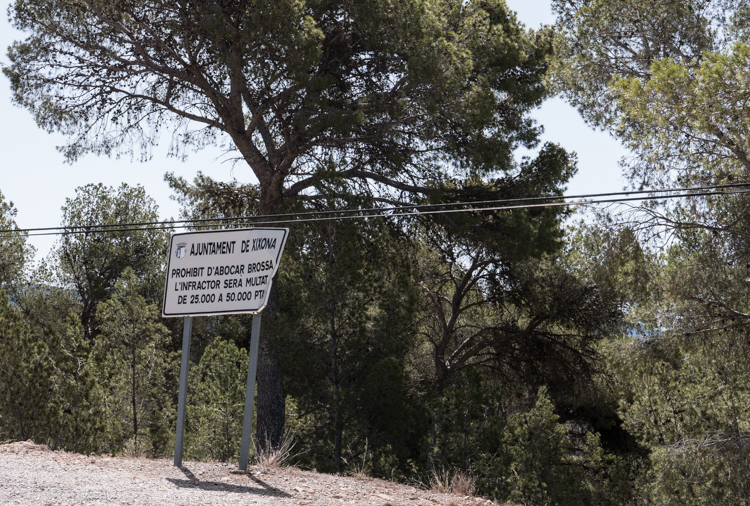 26_18
The abandoned gas station on the road to Carrasqueta. That road is extremely popular among motorcyclists, and some locals take exception to it. Thus, someone wrote "Race on the race track, assholes" to which someone else replied "No thanks, the racing is much better here":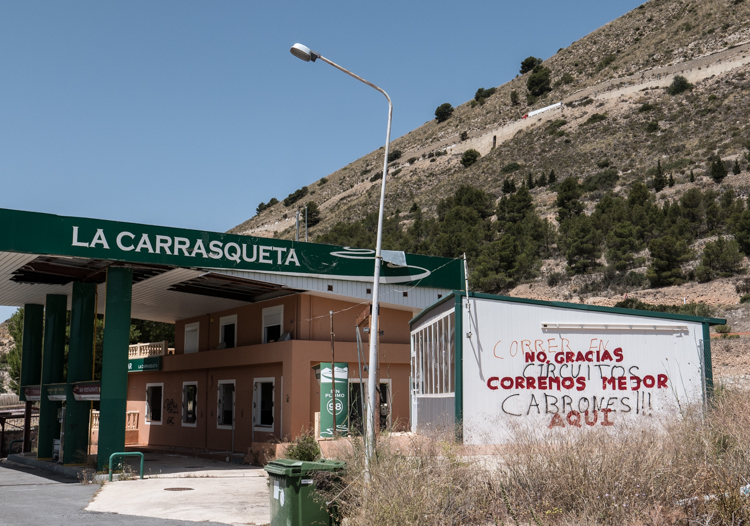 26_19
In the evening, our "white party" is about to begin. My wife decided on the name and decreed that everyone should wear white to symbolise the short nights this time of year (which are indeed called "white nights" in some parts of northern Europe, although not here in Spain):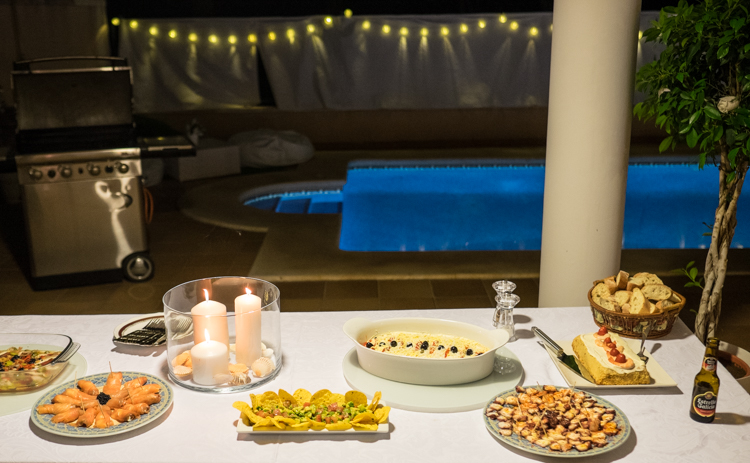 26_20
The guests have begun to arrive, and people are enjoying the warm evening: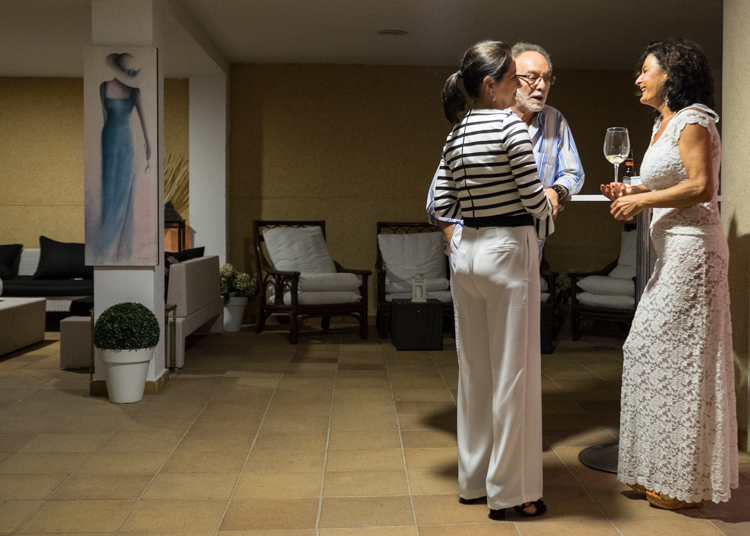 26_21
Inside, Cani is preparing something he and his wife brought while the two ladies provide moral support. It is typical at our parties that people bring some food, especially starters and side dishes: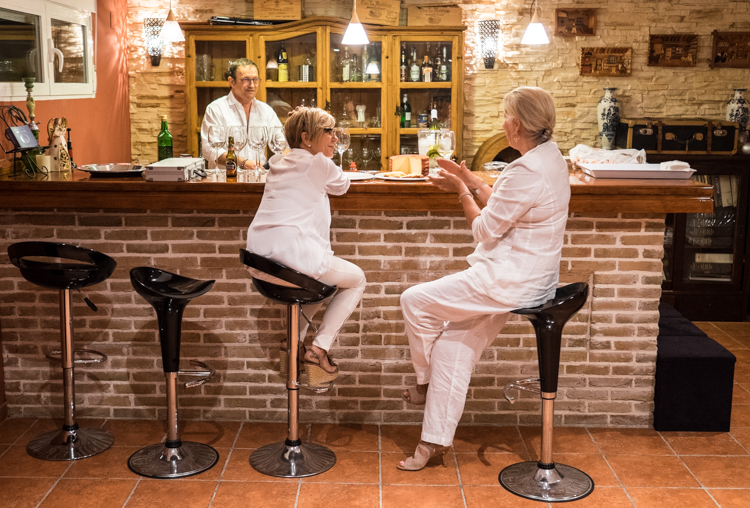 26_22
Later in the evening, it is time for the serious food and Elio the Argentine takes command of the grill: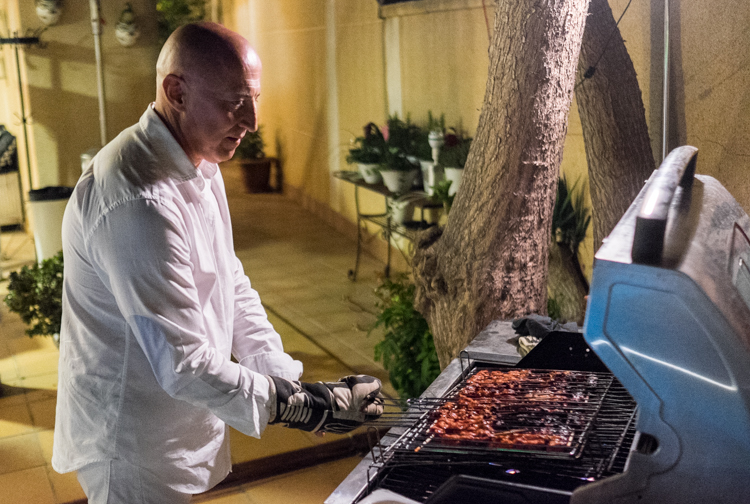 26_23
The chef gets a break: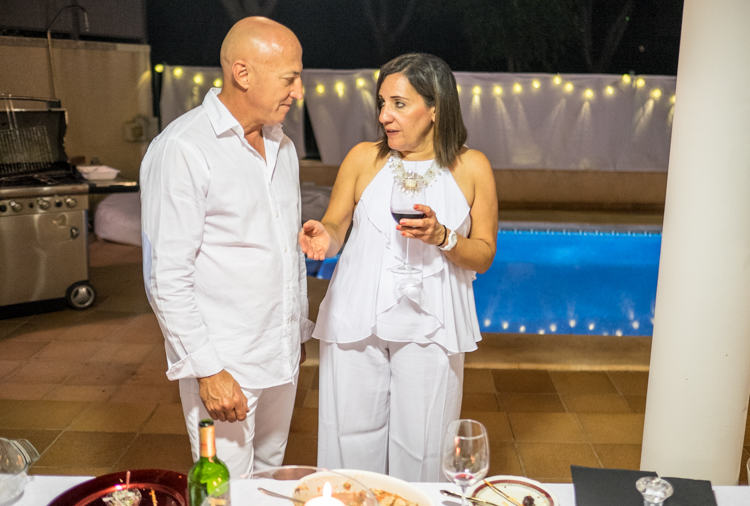 26_24
My wife in conversation with Mariluz and Roberto: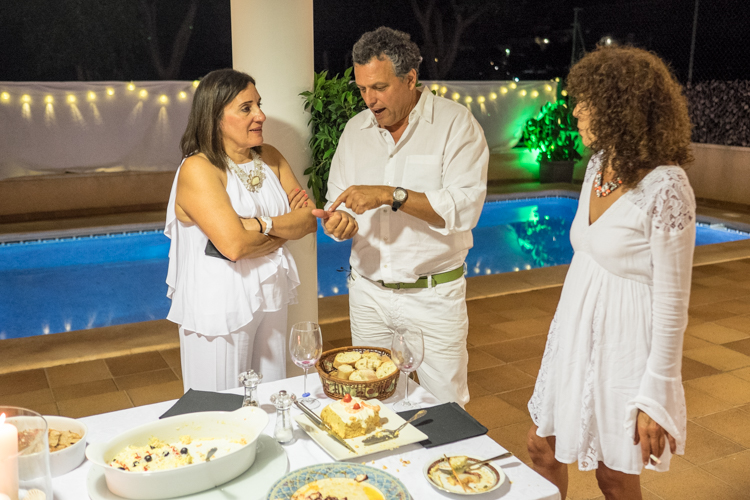 26_25
Elio back at work, although there is time to document his effort: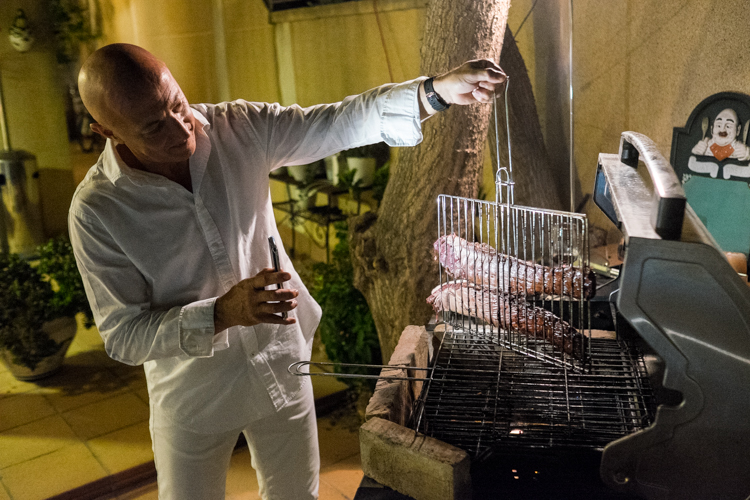 26_26
On Saturday morning I was a bit hung over, so I decided to skip the mountains and do an easy 80 km ride south of Alicante where the terrain is relatively flat. I stopped for a break in Santa Pola. This is a beach bar, and these guys are enjoying the beach the way I prefer it as well: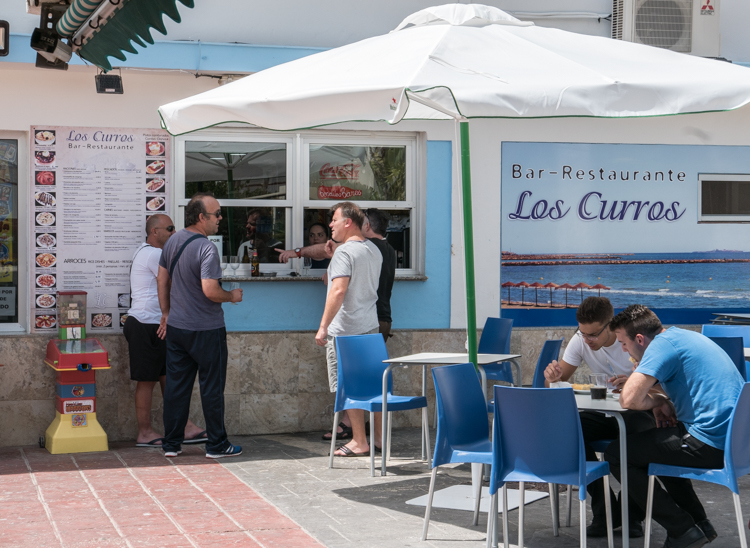 26_27
A family on the way to play in the sand: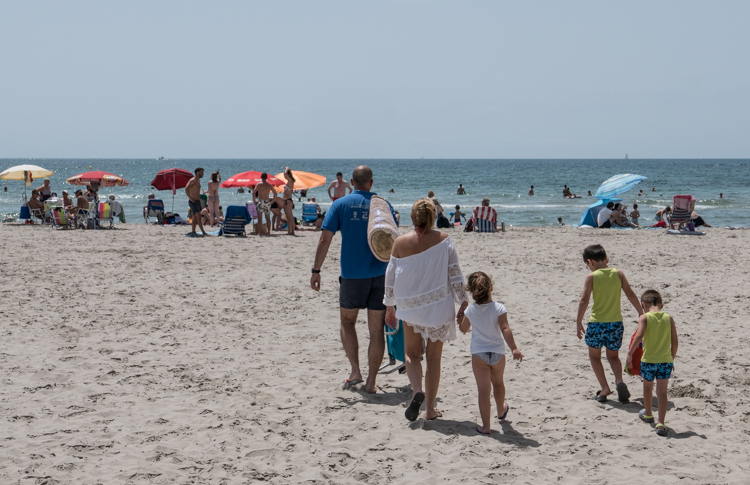 26_28
Daredevils along the road from Santa Pola back to Alicante: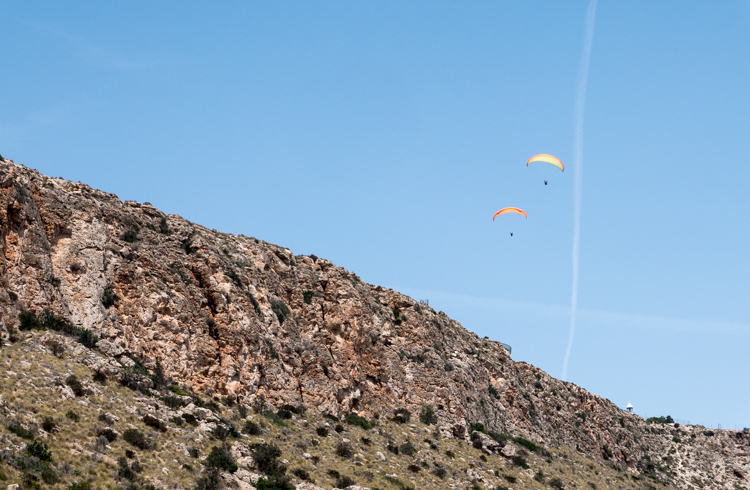 26_29
When I came home from the bike ride, my wife informed me that since there was plenty of food and drink left over from the night before, some of our friends would come and help us dispose of it. I said fine, as long as I could watch the Poland-Switzerland match in the Euro2016 football championship. So, in mid-afternoon, our friends arrived and a nice, spontaneous continuation of the party ensued: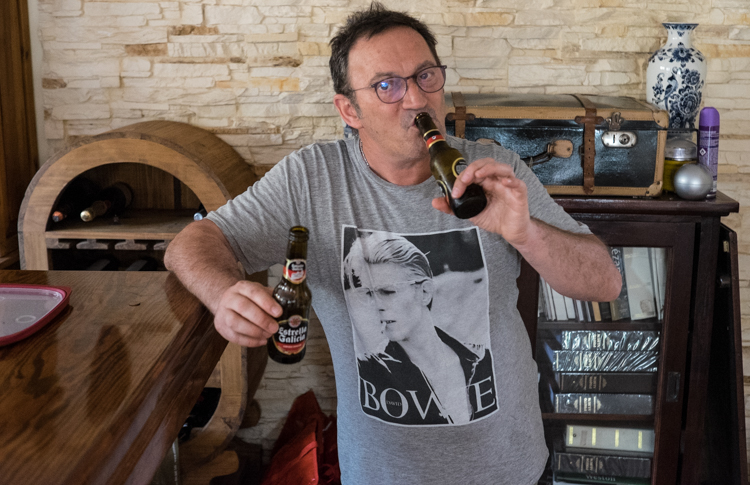 26_30
I wanted to wear something Polish for the football. The only thing I had was this t-shirt, bought at a Wegmans supermarket in Buffalo, N.Y. a couple of years ago. Buffalo has a large Polish community. "Bawół" means "buffalo" in Polish: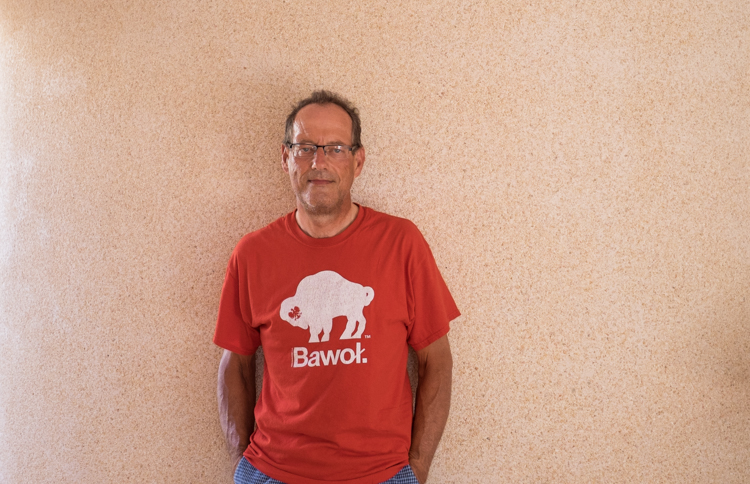 26_31
There was still some meat to be grilled, and so Elio's services were called upon once again: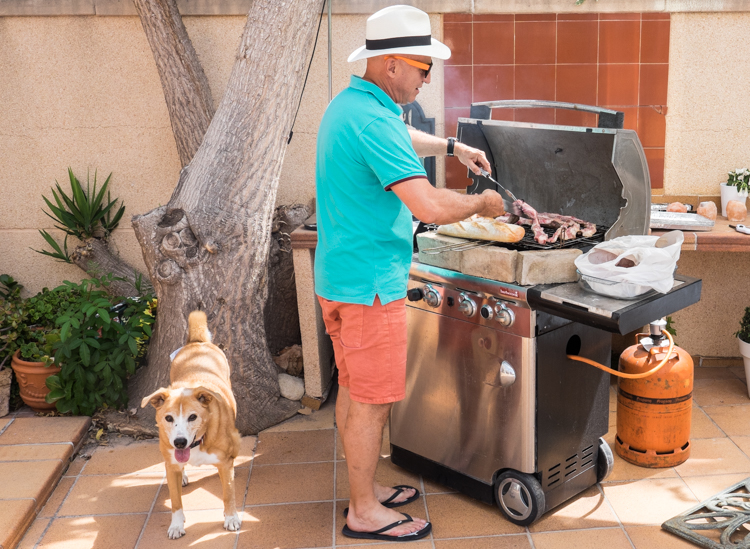 26_32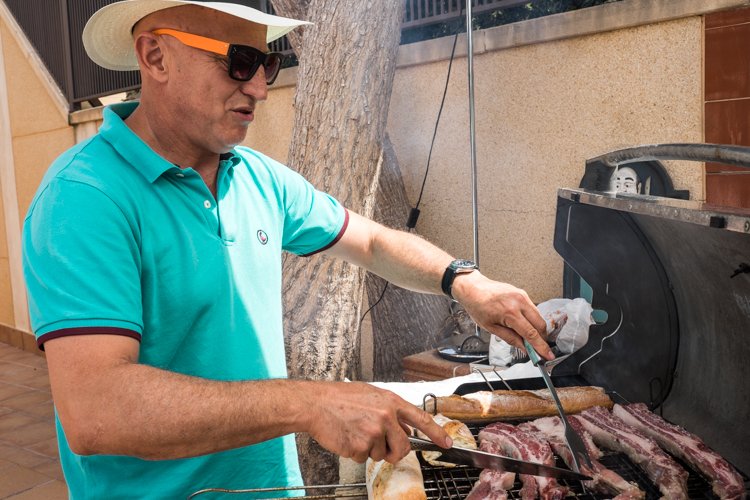 26_33
Cheeta in her usual position, under the table, looking for accidents or opportunities: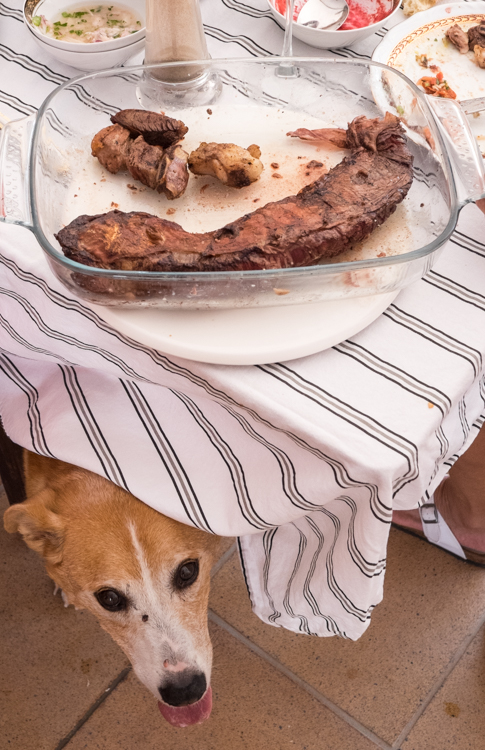 26_34
And her efforts were not in vain: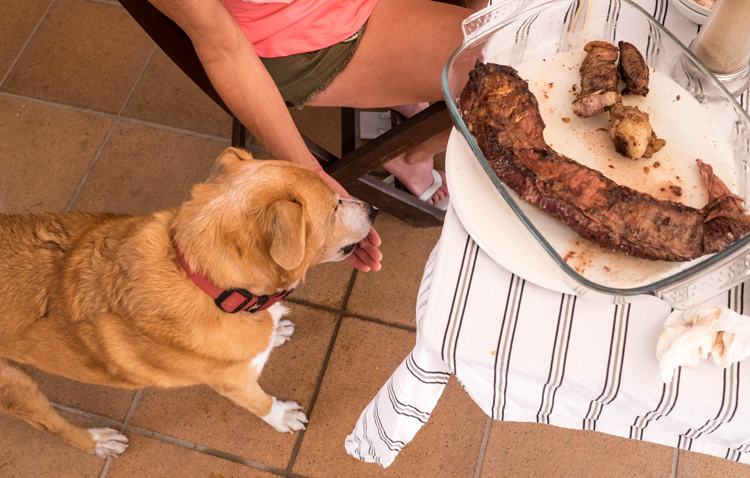 26_35
Things are winding down, and people are relaxing: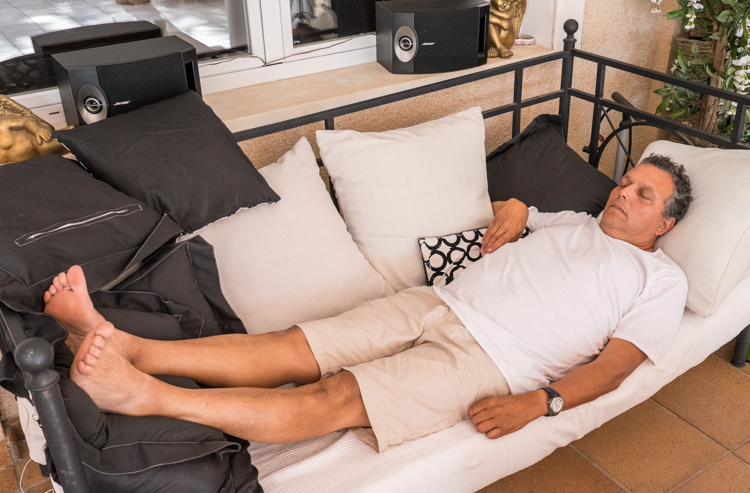 26_36
And so ended a nice couple of days: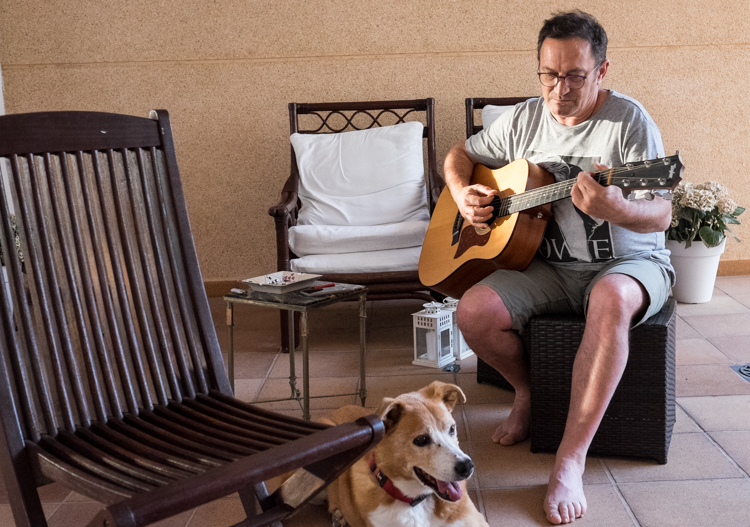 More Hogueras photos can be seen here.