The pictures from week 44 are mostly from my hometown Aarhus in Denmark, which I always visit at this time of year. Even though I left it in 1983, it is still my spiritual home, and being there and visiting my friends who have been friends since we were teenagers in the 1970s, is almost a physical necessity for me.
44_1
But first a few pictures from the office. On the last Friday of each month, we have an unofficial drink at noon, and the selection of beverages reflects the international nature of our office: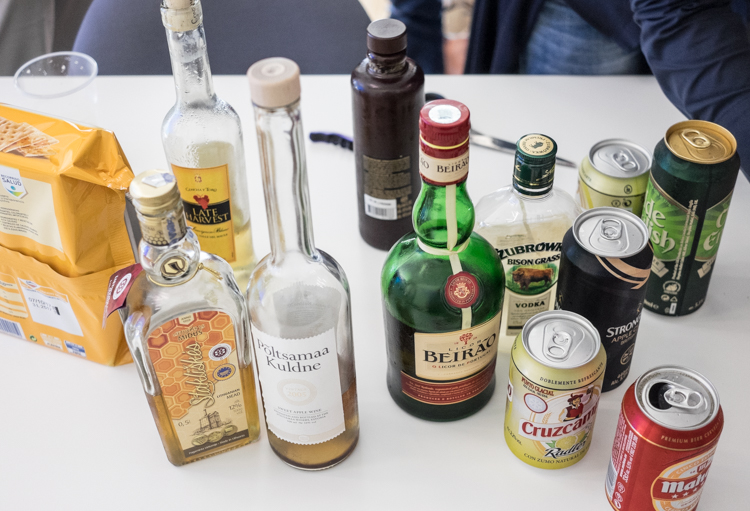 44_2
However, it is not just about the booze. Nicki brought some delicious homemade bread: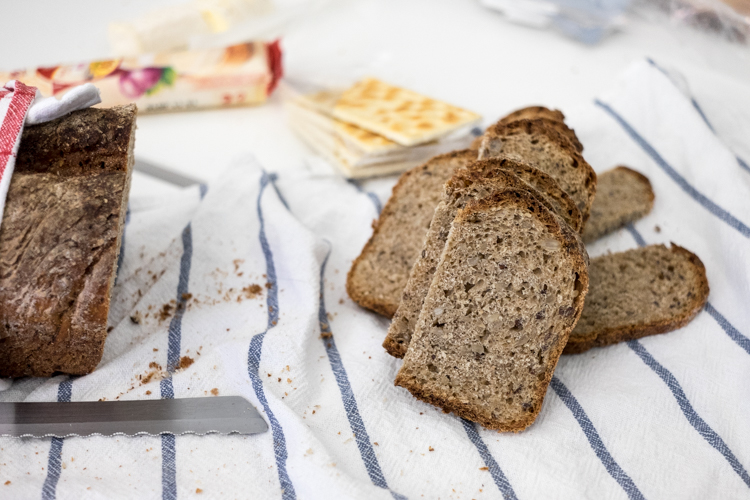 44_3
Nicki: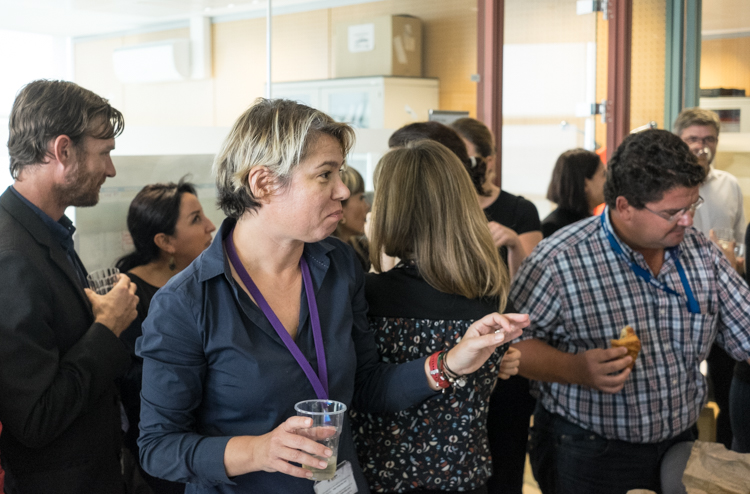 44_4
Mario: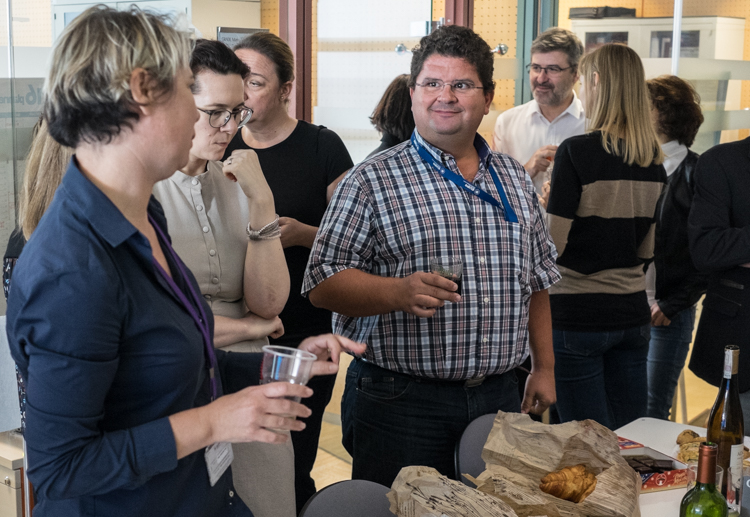 44_5
Our Spanish and Greek trainees contemplate a snack: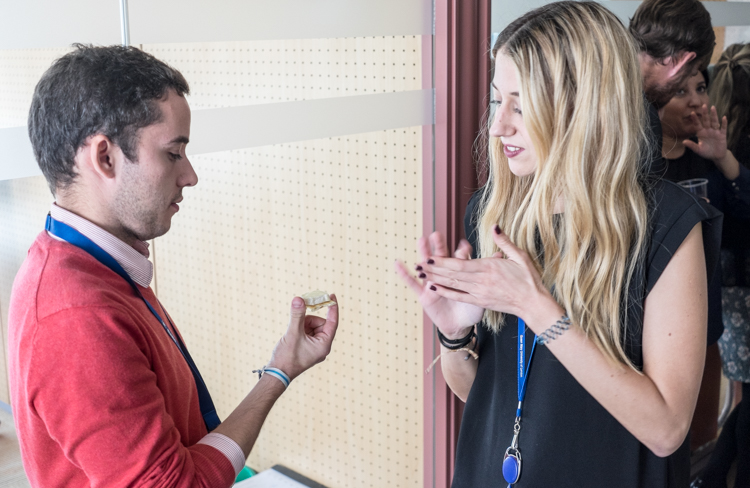 44_6
Tina, Stephanie, Kasia, Nino. Four great people, four different nationalities (German, English, Polish, Croatian):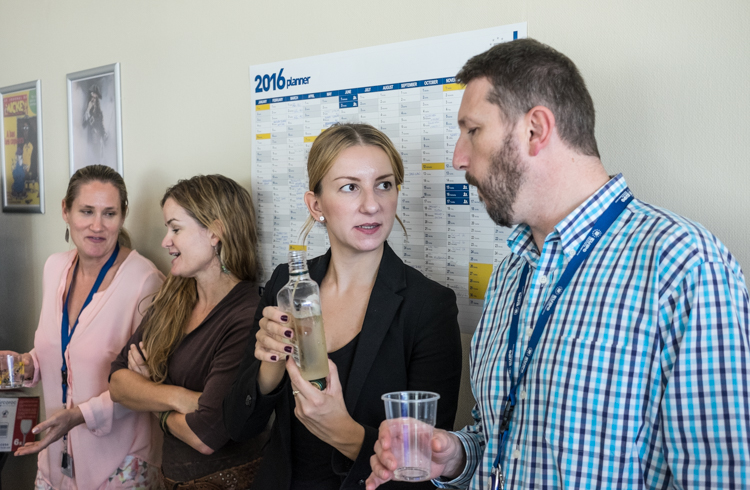 44_7
At 7 a.m. on Saturday, I flew from Alicante to Billund, the main airport in Jutland. Since I had an aisle seat, this is how I experienced the sunrise: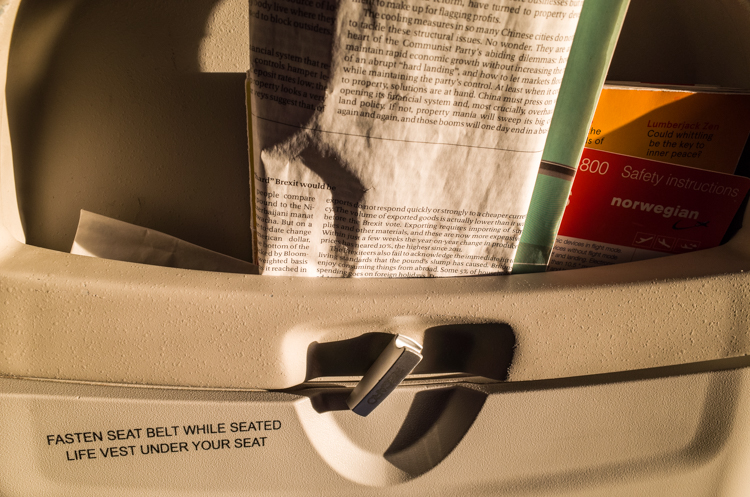 44_8
I landed in Billund about 3 1/2 hours later. Lars picked me up, we drove the 85 km to Aarhus, had a quick lunch, and took the bikes out for a spin. Just a short 40 km ride to enjoy the sunshine and this cold, crisp but sunny weather: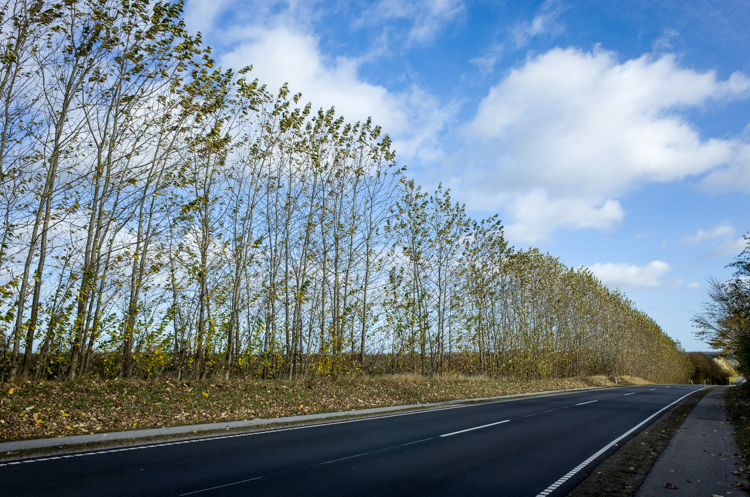 44_9
Then we walked to the ARoS Museum of Modern Art. On the way, I photographed this huge mural on Nørregade: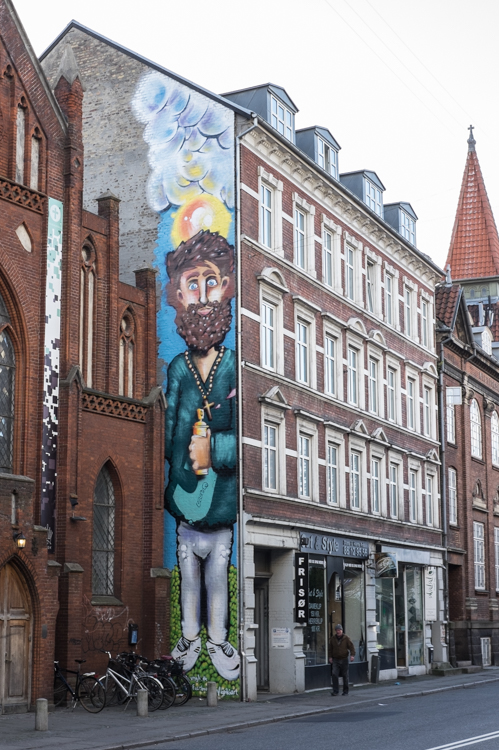 44_10
This is Mølleparken, the former site of Aarhus's main library. In the background is ARoS: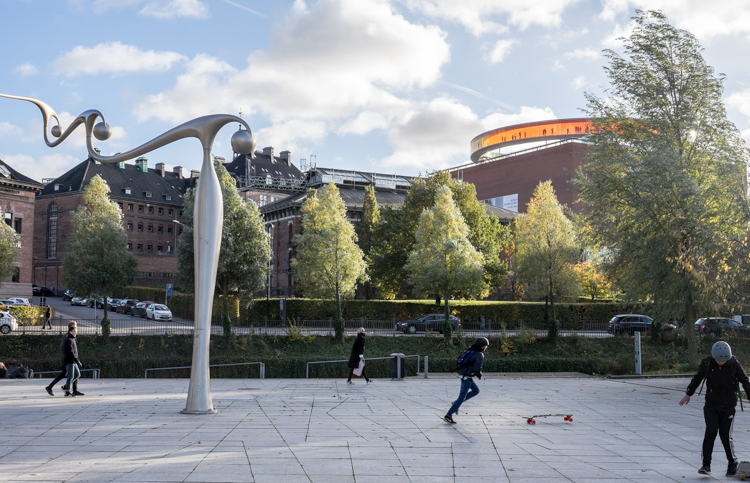 44_11
I had not noticed this sculpture before, but Lars assured me that it has been there for several years: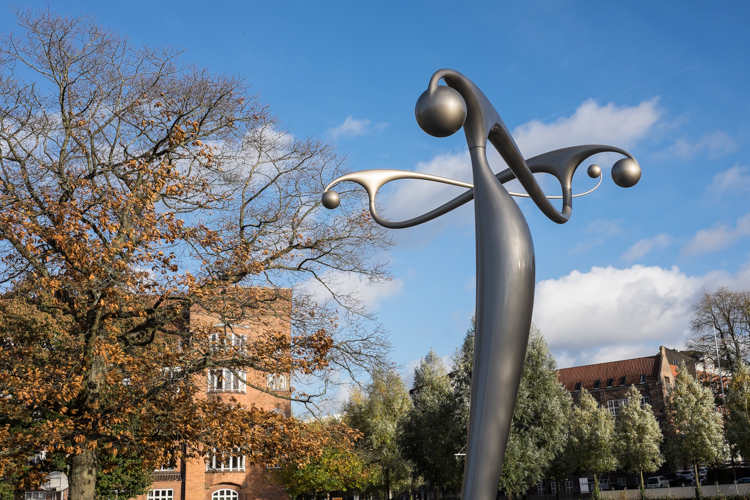 44_12
ARoS as seen from Mølleparken. On the right is an office building where Lars's younger sister Hanne and her husband, both criminal defence/family lawyers, have their office: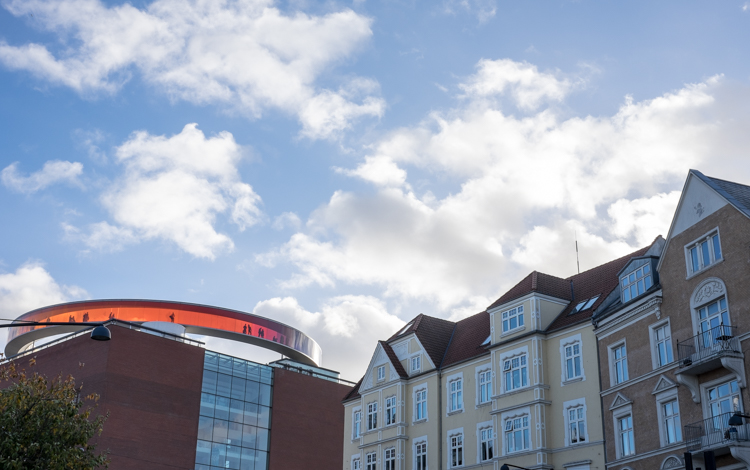 44_13
ARoS is a great modern art gallery. There are always interesting exhibitions and new installations. This time, the most striking one was Valkyrie Rán by Portuguese artist Joana Vasconcelos. It is more than 50 metres long and presents quite a photographic challenge. Hence I show seven different images: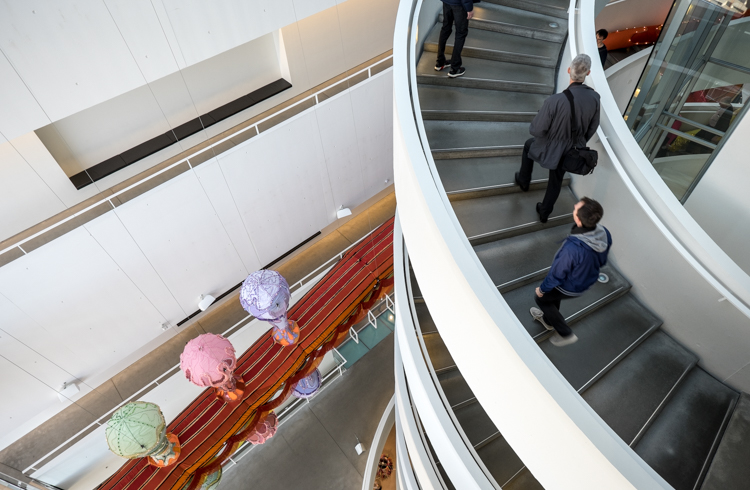 44_14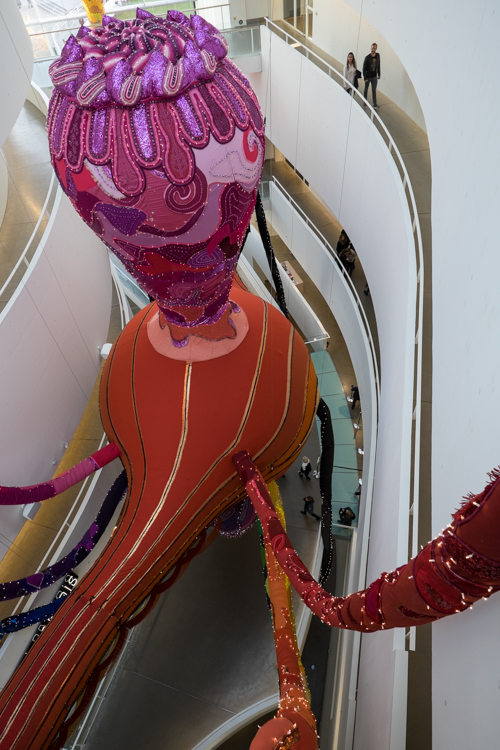 44_15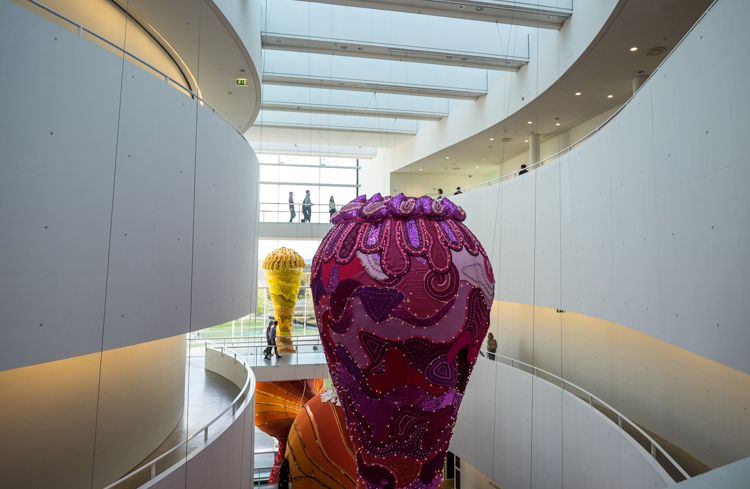 44_16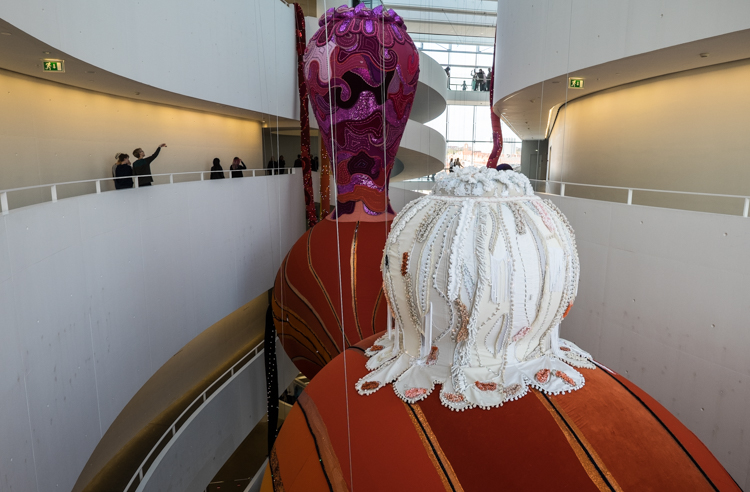 44_17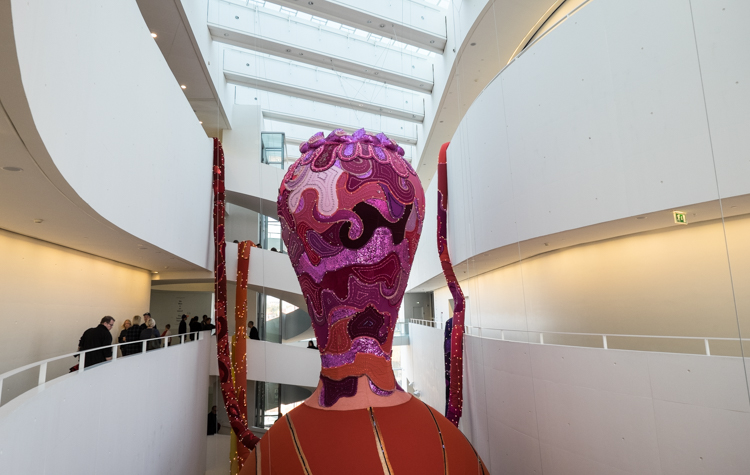 44_18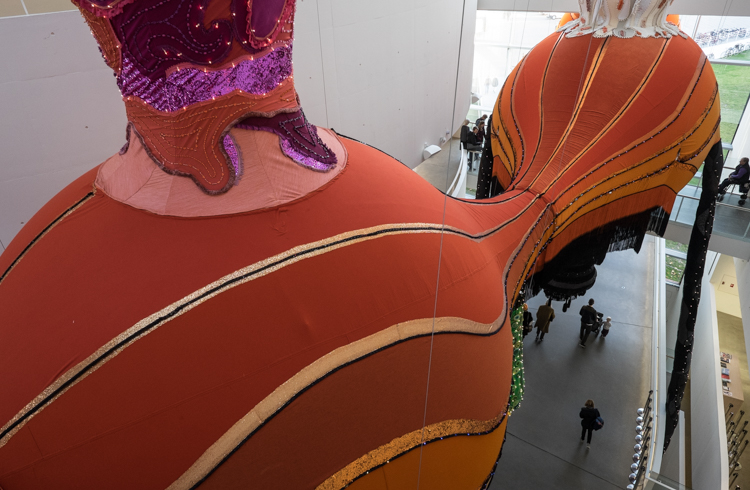 44_19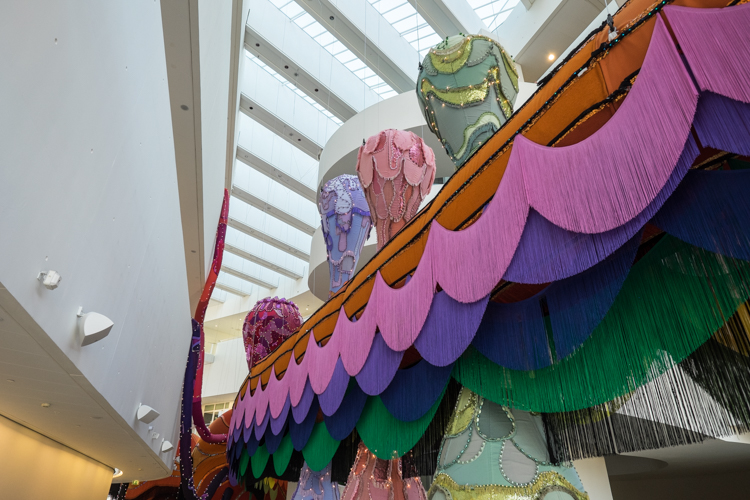 More information about this work can be found here.
44_20
Because of the Valkyrie Rán installation, the other huge work at ARoS, Boy, has been moved. But he is still there, and is still being admired by visitors young and old: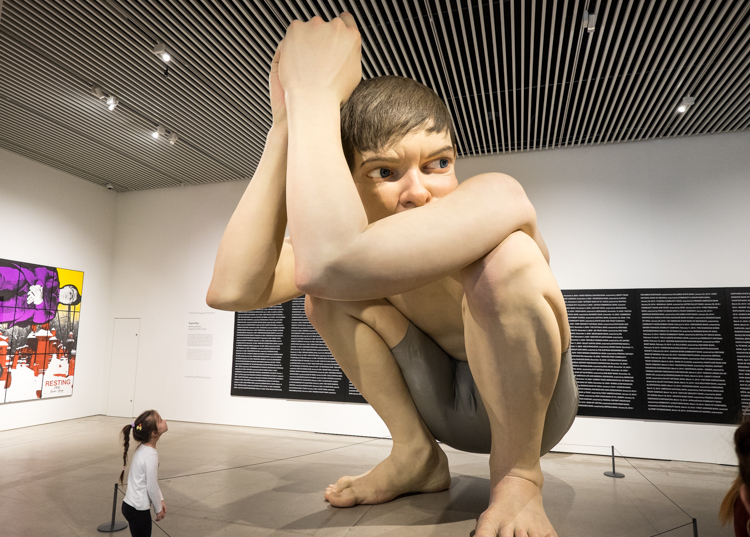 44_21
The other major exhibition at ARoS was a collection of Robert Mapplethorpe's people photographs (clothed and otherwise). Very complete collection of his work which I have seen before and like very much. What was new here was the juxtaposition of photographs with copies of classical statues that inspired some of Mapplethorpe's work: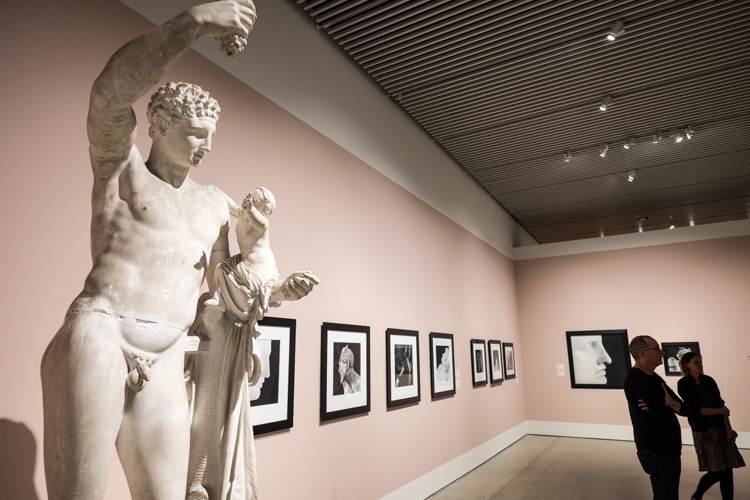 44_22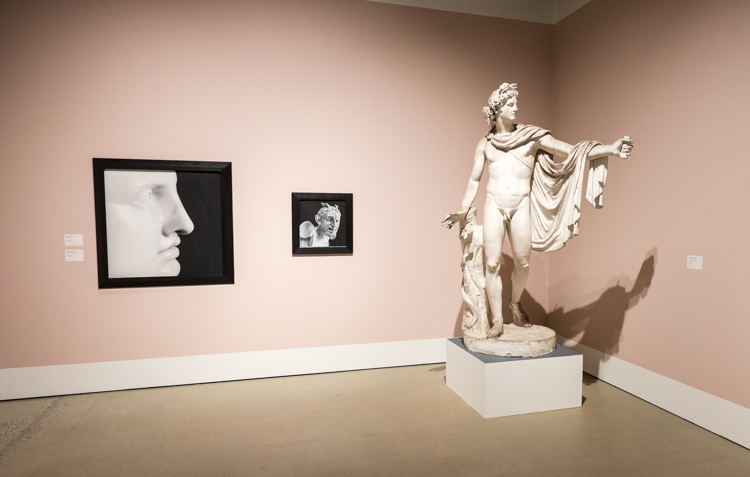 44_23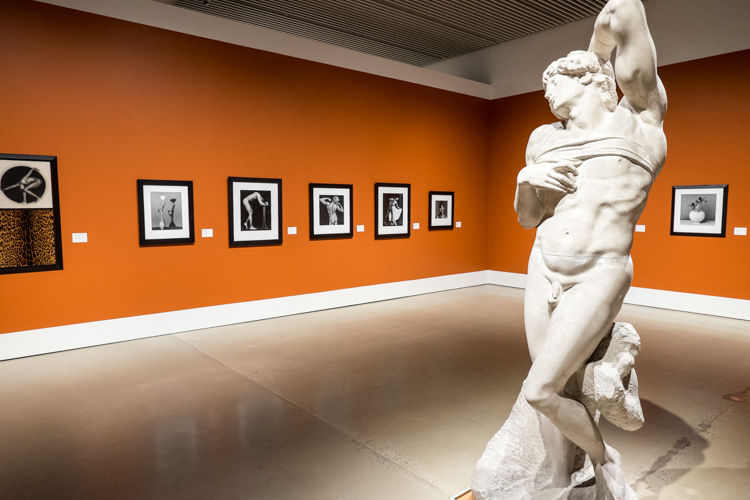 44_24
At the end of the exhibition there is a small studio where people are invited to re-create some of the poses and make portraits of each other: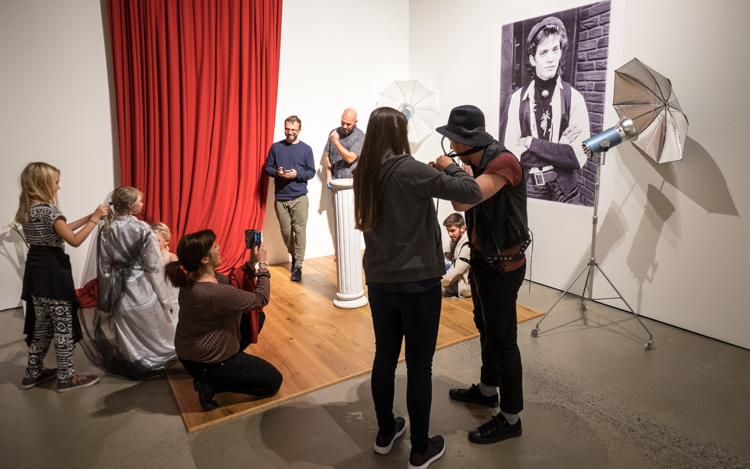 Besides the huge Valkyrie Rán installation, there was also a temporary exhibition of works by Joana Vasconcelos, called "Textures of Life." I had never heard of her work–which is one of the reasons for visiting places like ARoS. I come there a couple of times a year, and every time I see something new. "Textures of Life" is described as a "series of spaces defined by suspended textiles from Kvadrat in an architectural design reminiscent of a private home…Vasconcelos often uses 'ready-mades'–everyday objects such as saucepans, tampons, ties and plastic cutlery, plucked from their usual environment and recontextualised–to illustrate stereotypical gender patterns." What follows is a selection of some of the works that I found particularly striking. I provide the title and the year of the work as given by ARoS.
44_25
Strangers in the Night, 2000: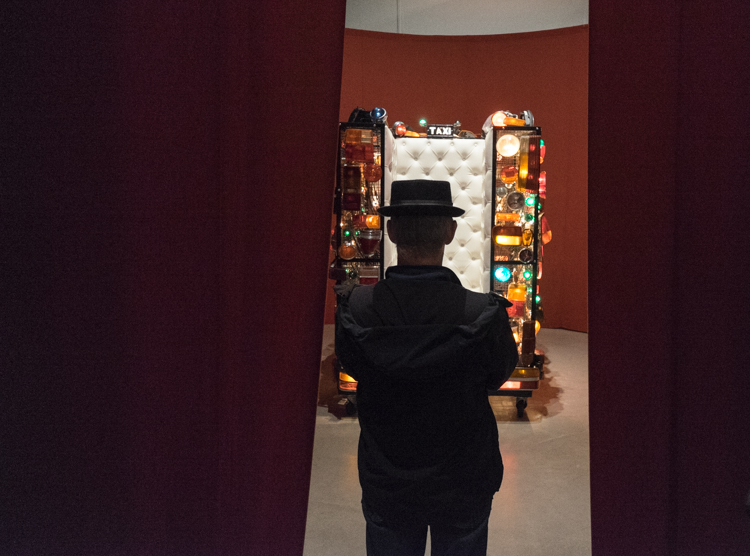 44_26
The Bride, 2001-2005: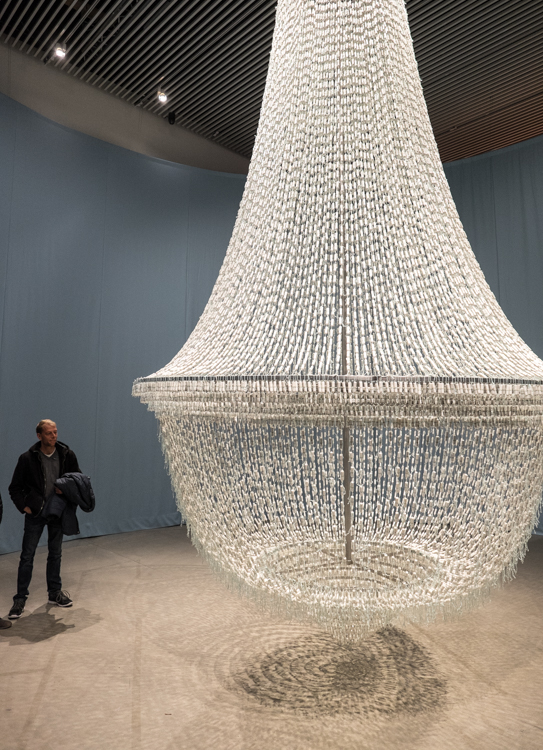 44_27
The Bride, 2001-2005, with Lars: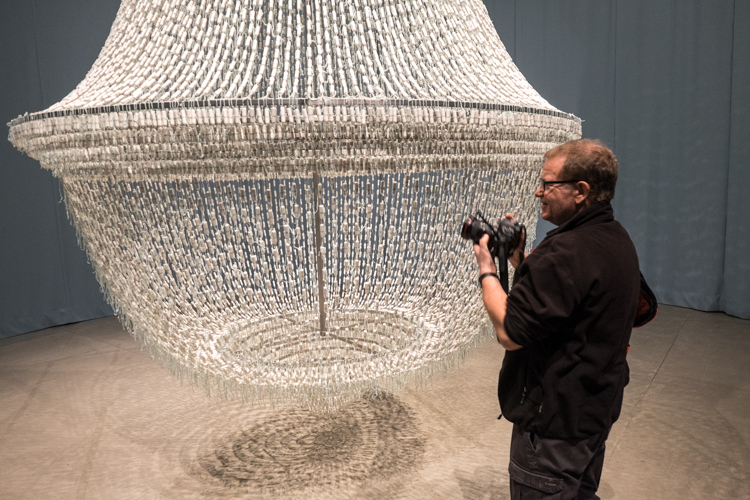 44_28
The Bride, 2001-2005, detail: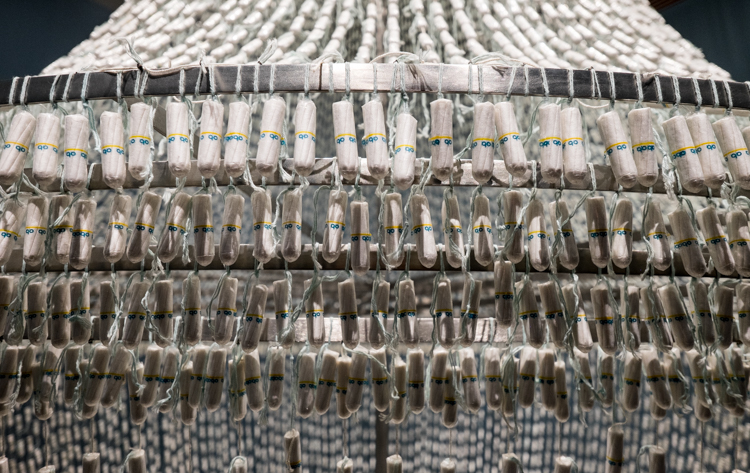 44_29
Lilicoptère, 2012: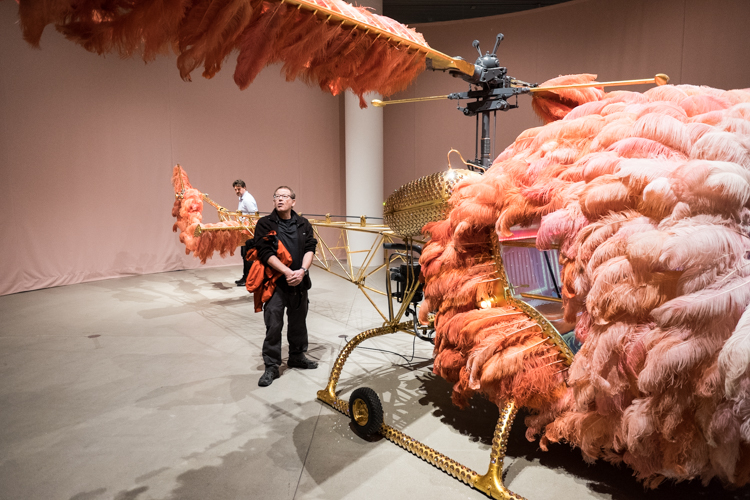 44_30
Marilyn, 2011: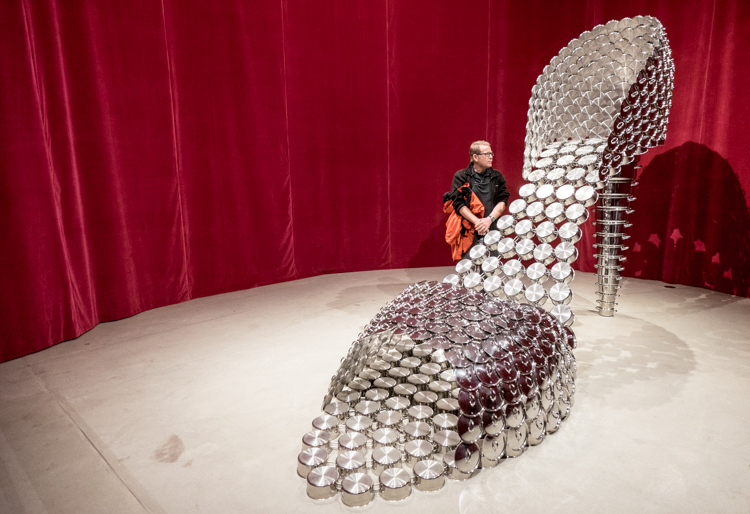 44_31
Marilyn, 2011, detail: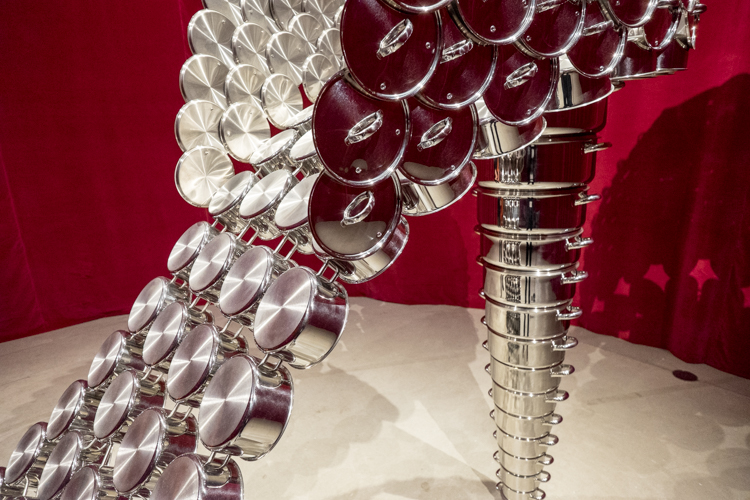 44_32
Burka, 2012, in the air: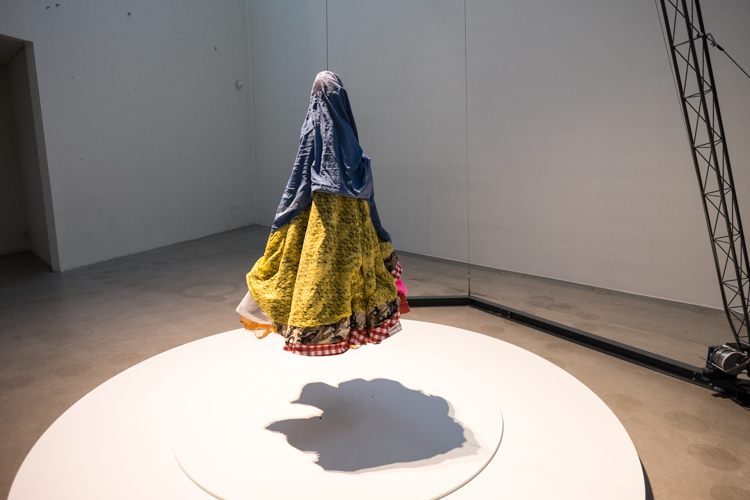 44_33
Burka, 2012, collapsed: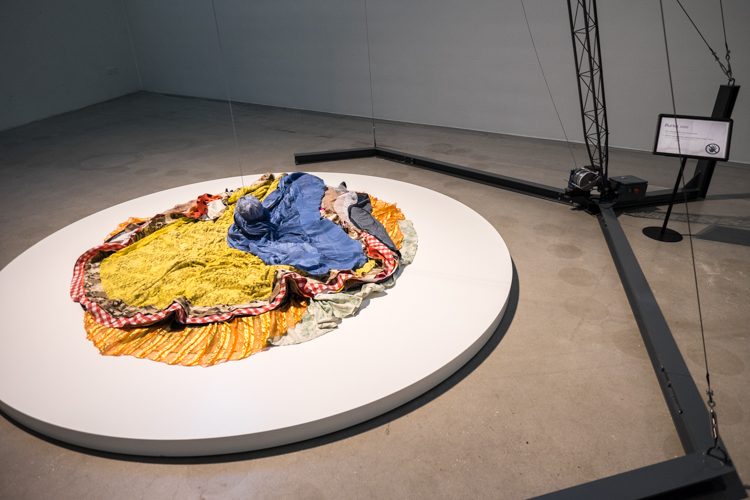 44_34
Thus spiritually enriched, we walked back to Lars's apartment to prepare and eat dinner. Along the way, I photographed Aarhus's oldest department store, which has stood at this location for more than 100 years. Today it is of course bigger and more modern than in 1906, and the Christmas decorations are impressive as well: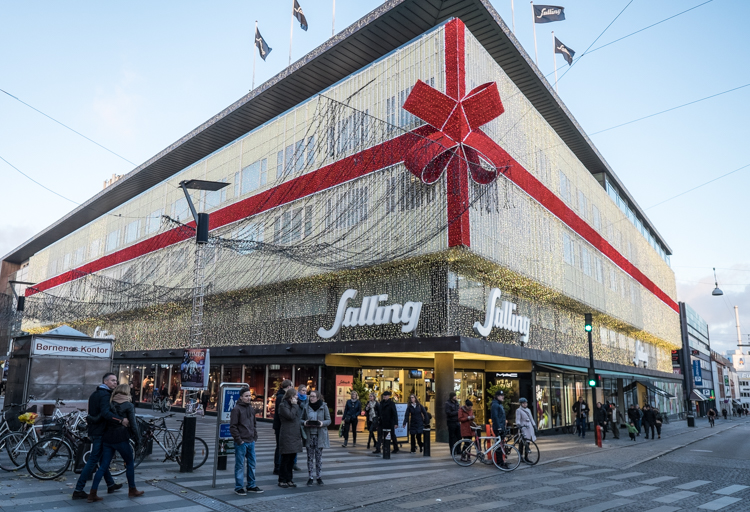 44_35
After dinner, we went to see a movie, and then continued to our favourite watering hole, Fermentoren. Both the cinema and the bar are within 5 minutes walk from Lars's place. We met up with Lars's daughter Marie who has recently moved back to Aarhus: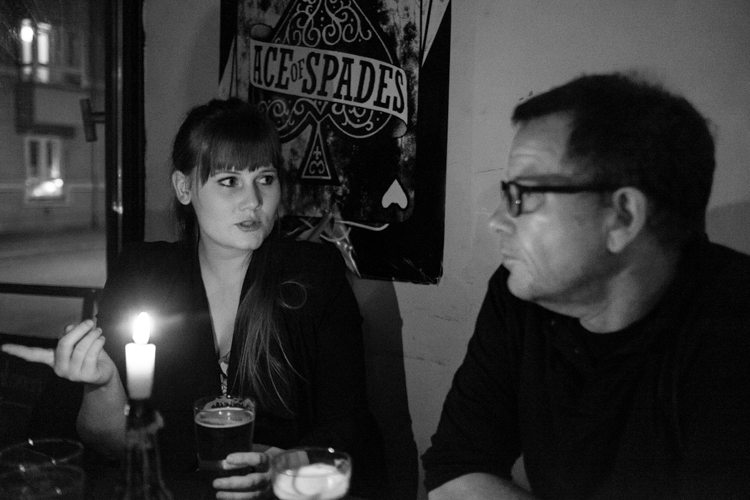 44_36
Like me, Lars always has a camera with him: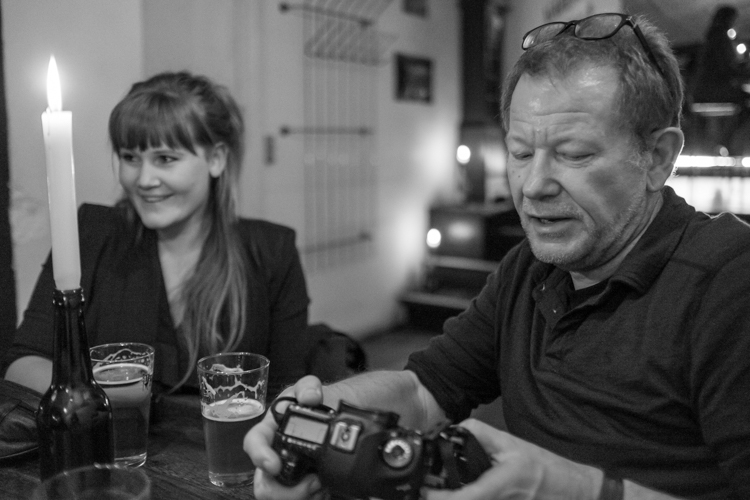 44_37
Giving Dad the look: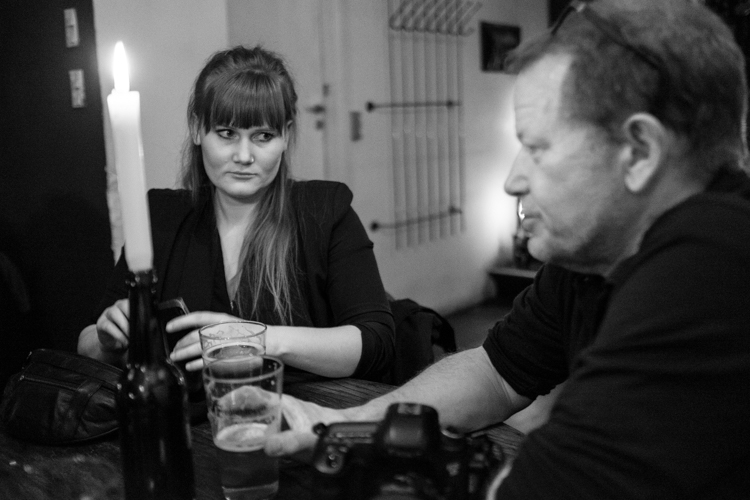 44_38
Marie by candlelight: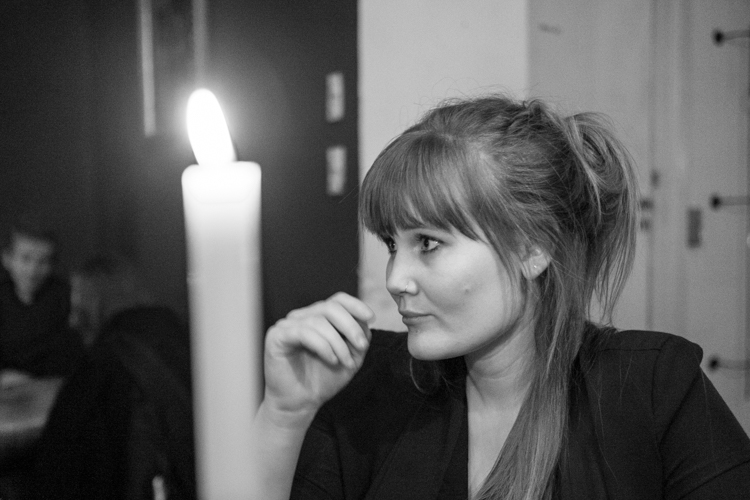 44_39
Fermentoren has more than 20 beers on tap, and not a single boring lager among them. All great quality. Here, the menu is being adjusted, as the bar has run out of one of the brews: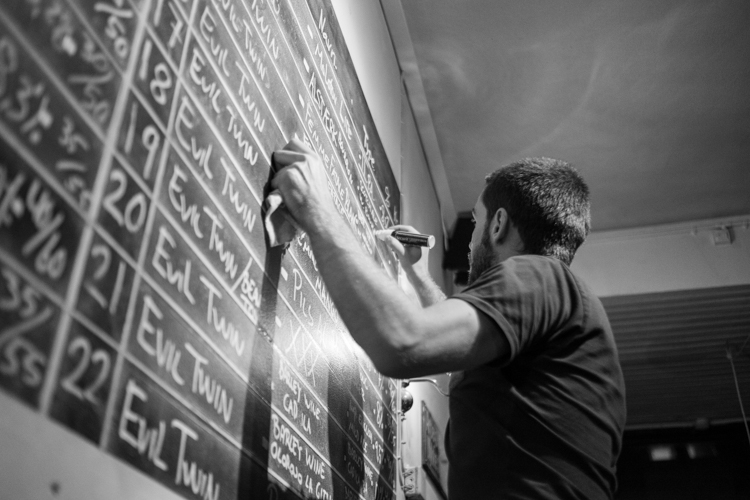 44_40
Smartphones are handy for many things, including providing illuminations for portraits: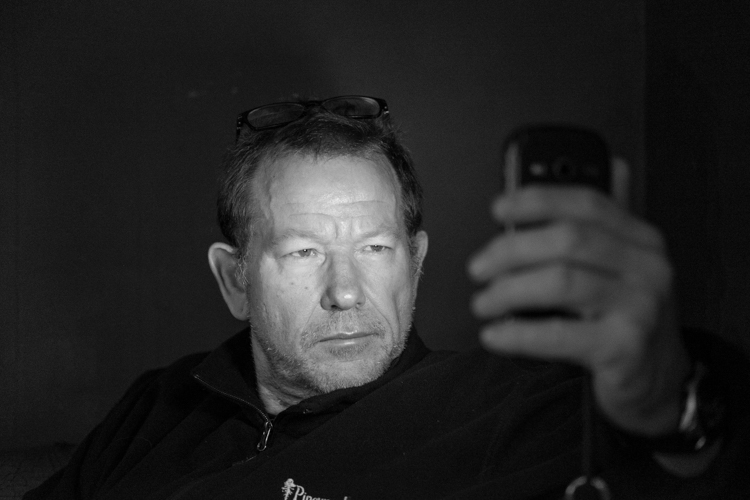 44_41
On Sunday morning I walked to the bakery to buy rolls for breakfast, taking some snapshots of Lars's neighbourhood along the way. Here is the nameplate of Lars's next-door neighbours: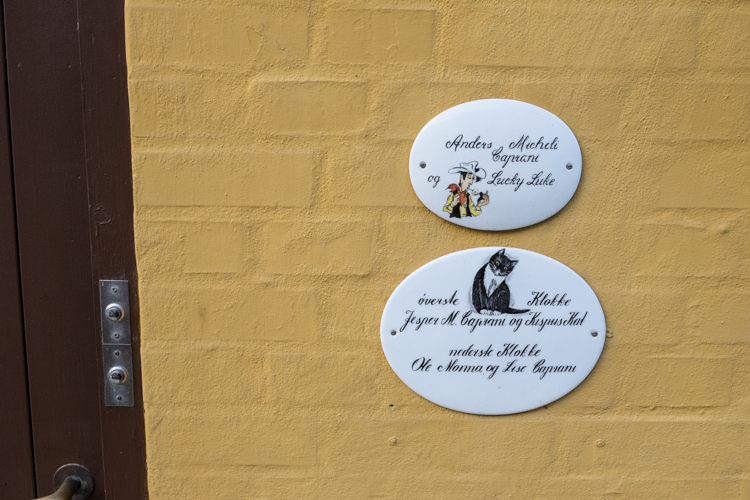 44_42
Fragile urban tree on Lars's street, Norsgade: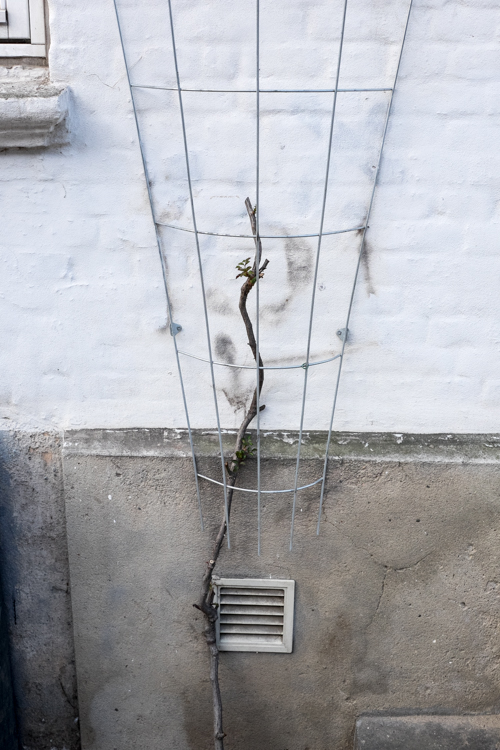 44_43
Wall and bicycles, Anholtsgade: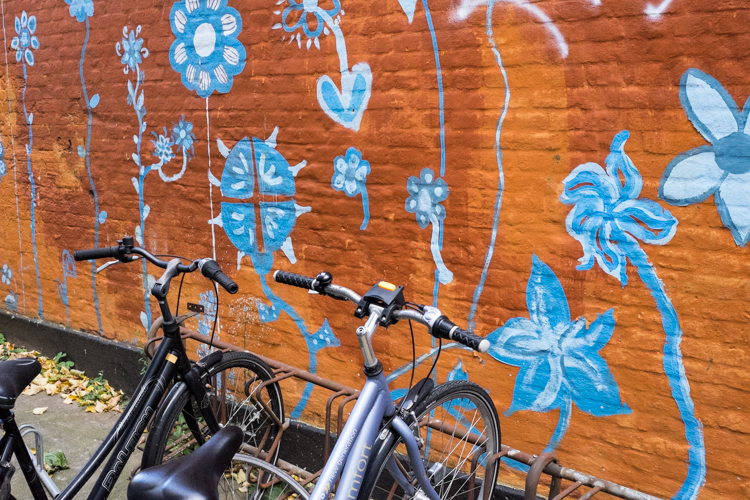 44_44
Birds, Anholtsgade: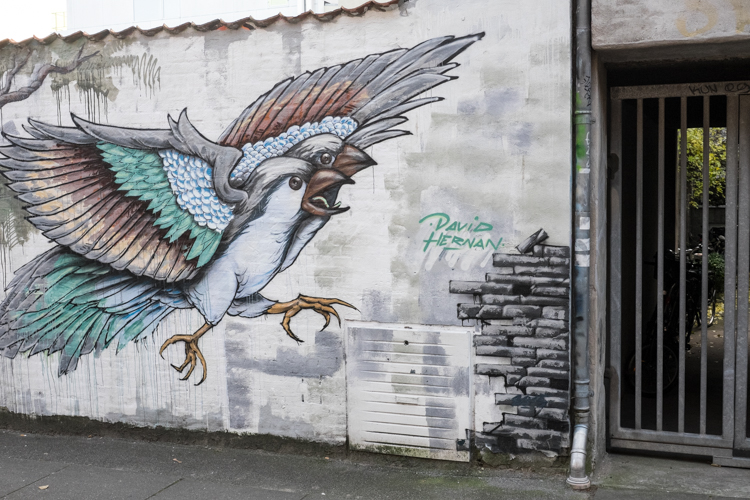 44_45
Laundry line, Anholtsgade: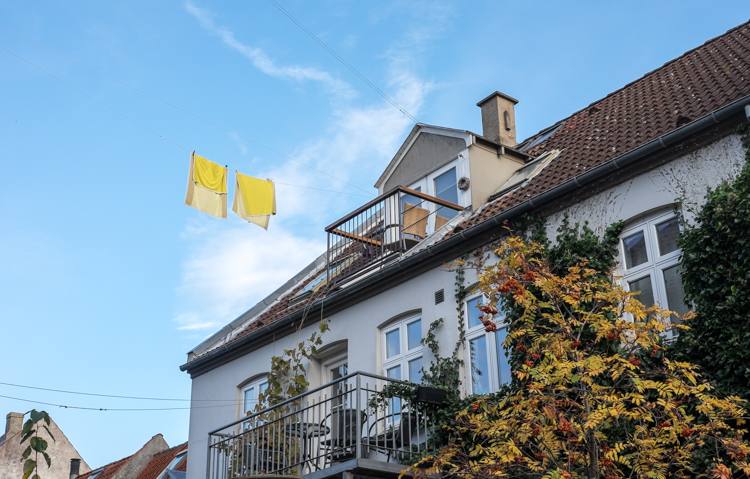 44_46
Autumn leaves, Norsgade: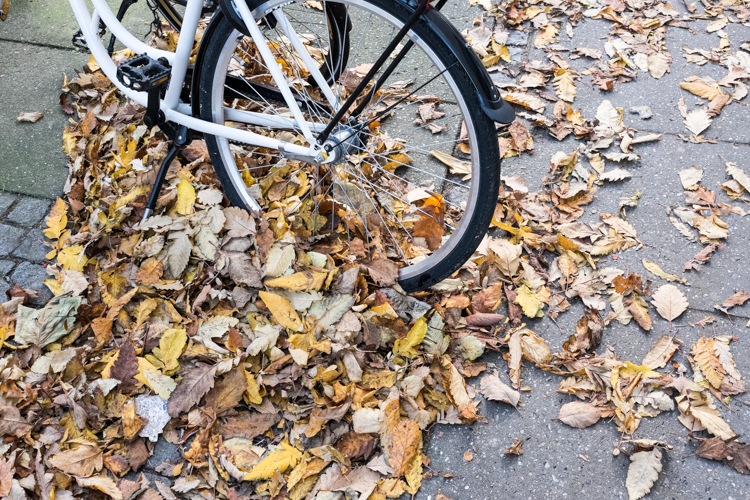 44_47
Later that morning, Lars and I set out on a 130 km bike ride. It was a nice, sunny and cold day, just about as good as it gets in Denmark in late October. We cycled north to the town of Hobro where we stopped for photos at the mouth of Mariager Fjord. This is me with our bikes; mine is the red one: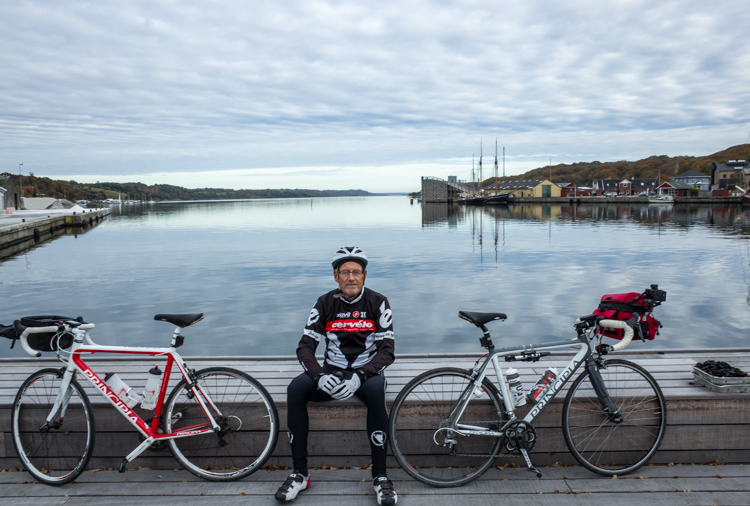 44_48
A selfie. Lars and I have been friends since our first year of high school in 1976: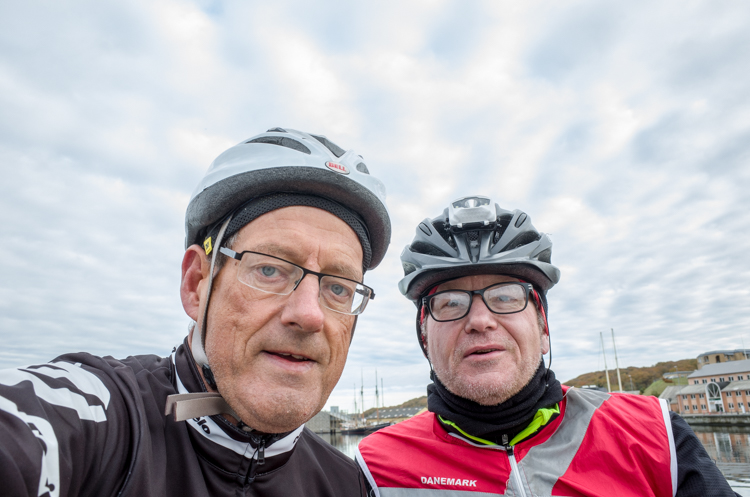 More pictures from our ride can be seen here.
44_49
Finally, a night picture of another Aarhus icon. This is the Øst for Paradis movie theatre where we went on Saturday night. It opened in 1978 as the city's first art cinema. It has stayed true to its original mission of showing films not easily seen elsewhere. This is not the place where you go to see the latest Star Wars flick. Rather, this is the place where you go to see new and interesting films, often from countries other than the Denmark or the US (which are the two principal countries from which films that are popular in Denmark originate):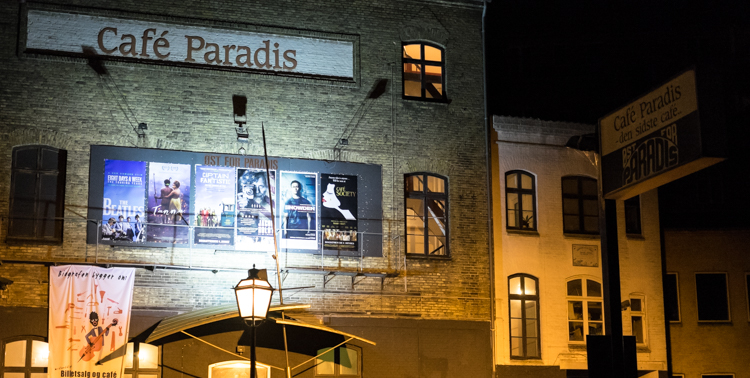 Incidentally, the movie was saw was a Danish one, Fuglene over Sundet, about the rescue of the Danish Jews in 1943. The film had just been released a few days earlier, but since it has an English title on imdb, I assume that it will be released internationally at some point. It is well worth seeing.